Monserrate Monastery on Monserrate Mountain and Bolivar Square was all I had in the diary for the day. I had seen it every day I visited the city centre and La Candelaria. No matter where you are in Bogota it is difficult to miss. Me seeing it…more like its ever presence is impossible to ignore. Like an impenetrable barrier of green rising up at the edge of the concrete jungle stopping its spread.
Unlike many of my visits to new places. My rule of thumb when arriving is to try get up as high as possible as soon as possible. This way, I get a vantage point of the whole area, making it easy to get the lay of the land. Being able to see as larger area as possible, makes planning daily routes much more efficient. Why I didn't do it this time…who knows, I'm guessing I was a little lazy and less energetic about Bogota. My entire time in Bogota felt a little like a prolonged accumulated jetlag fatigue – nothing to do with Bogota.
Monserrate Mountain
Bogota has an altitude of 2,640m, Monserrate Mountain stands at 3,152m. It's no wonder that it featured prominently in the lives of the pre-Colombians, the Muisca. They called the mountain "quijicha caca", meaning "grandmother's foot". This mountain likely played some part in their religious activities. At the June solstice, the sun (their solar god Sue) rises precisely from behind the mountain when views from Bolivar Square (more about Bolivar Square later).
How to get there:
Cable car (called the Teleférico) – cost around £2.5. Located at the bottom of this mountain (Google Maps)

Funicular – located at the same location as the Teleferico. I don't know the price, it wasn't operational when I got there.

Hike – The route is near 2.4km, with an elevation of 0.6km and an average gradient of 25 percent (quite steep)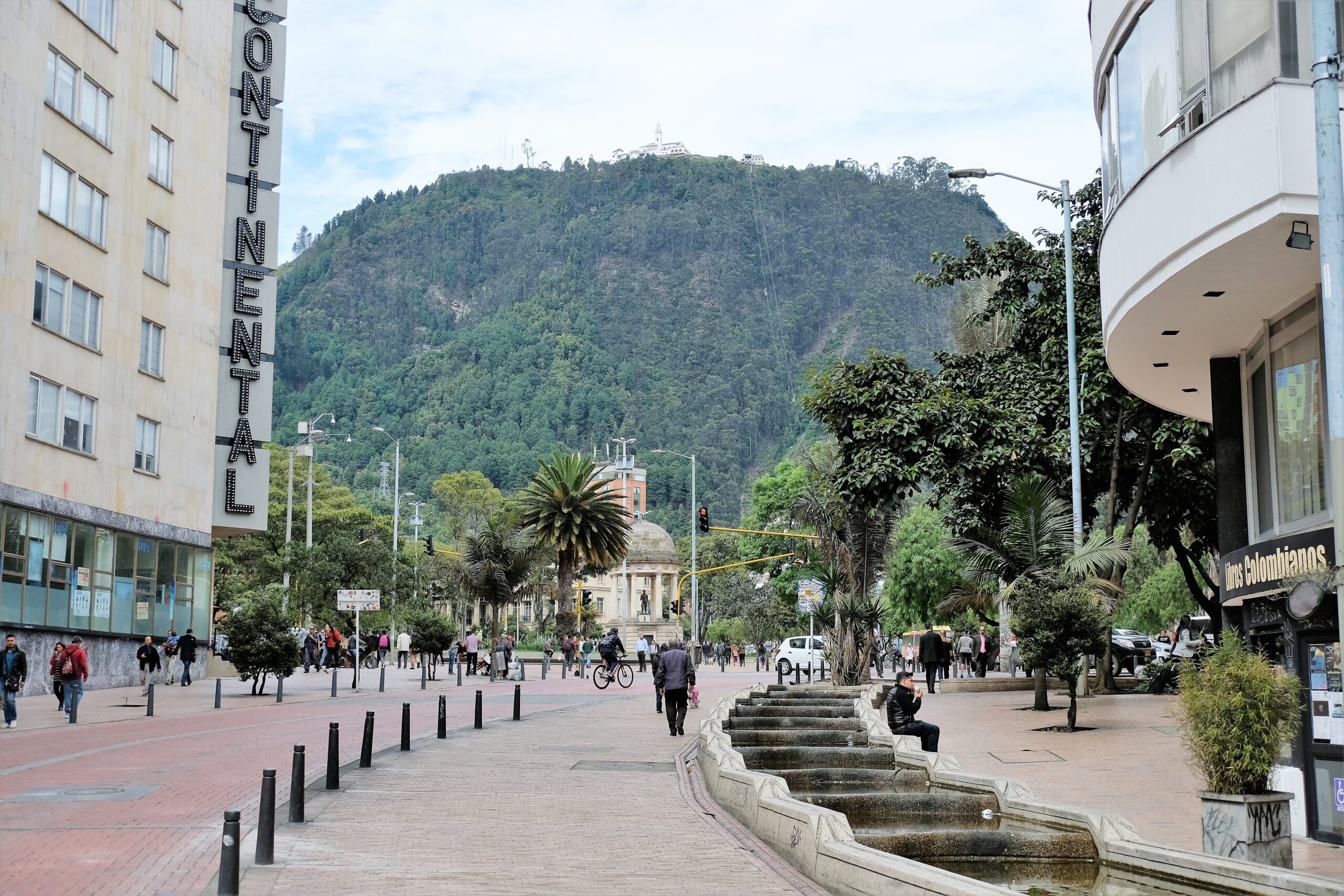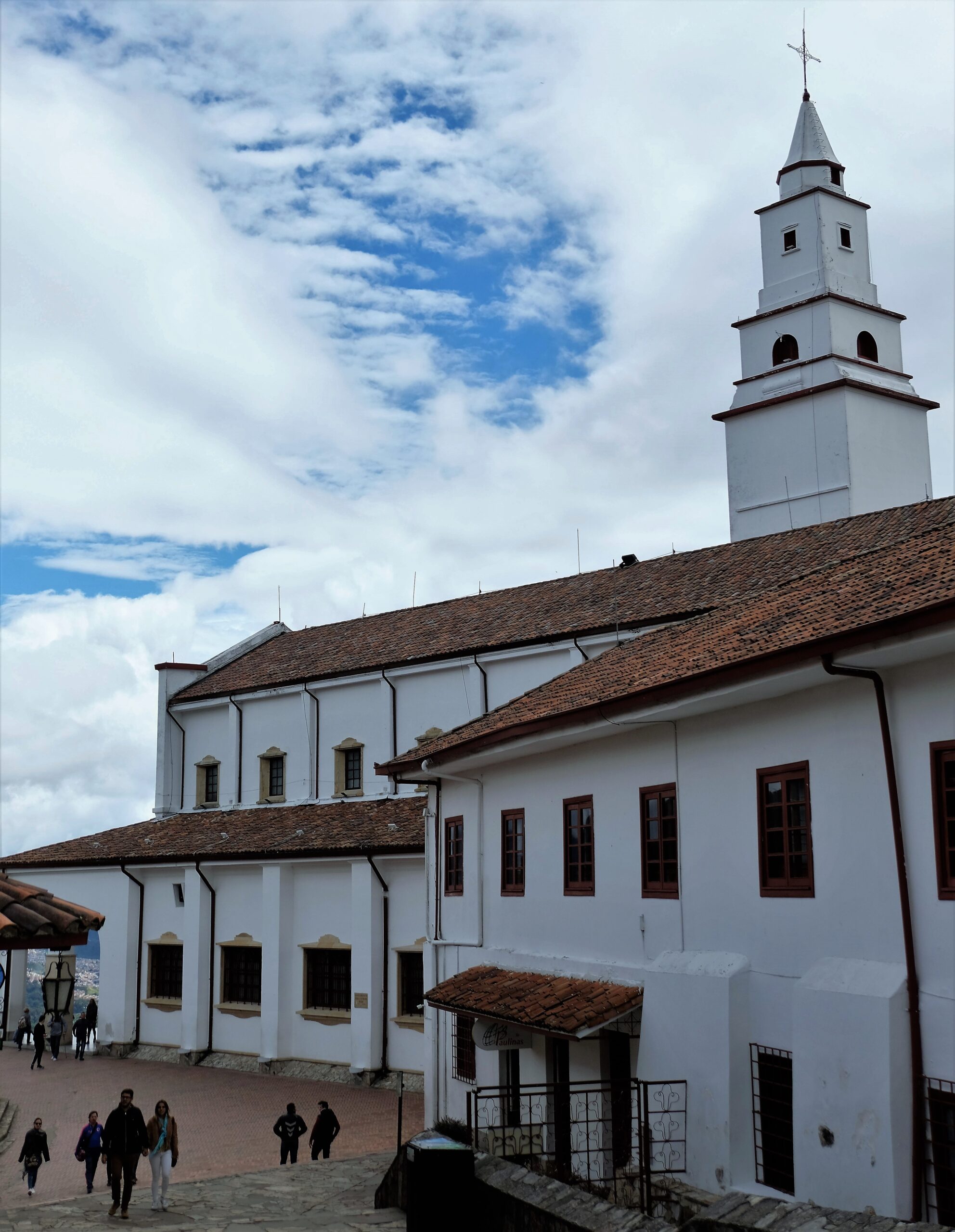 History
Starting off in the 1620s, the Cofradia de la Vera Cruz (Brotherhood of Vera Cruz) began using the mountain top for religious celebrations. Within a few years residence of Bogota joined in. Climbing up the hill as a sort of penance and pilgrimage. Then in 1650, the Archbishop and Juan de Borga (head the Tribunal of Santafe de Bogota; the highest Spanish court in the area) were approach to build a religious retreat at the top of the mountain. This retreat was named, Monserrat's Morena Virgin (Virgin of Montserrat – La Moreneta) – located in Barcelona. Eventually the mountain began to be referred to as Montserrat / Monserrate.
Though the sanctuary's patron saint is the Virgin of Montserrat, most people visited (and still do) to see the statue of "The Fallen Lord". This refers to a carving of Jesus Christ that was removed from a crucifix statue from 1656. As time passed, the Virgin of Montserrat became less relevant to visitors. Eventually in the 19th century, the statue of the Virgin of Montserrat was removed from its prominence on the mountain and replaced by what is seen today El Señor Caido / The Fallen Lord.
Bogota city from Monserrate Mountain spreads out on a flat plain, like a basin surrounded by hills and mountains. From here the city can be viewed as a whole. The rich-poor divide somehow is enhanced and diluted at the same time. If you look briefly, it resembles all cities; a mixture of urban and city, low and high-rise. It only take a little focus to see the brightly colour favelas. At this distance they look like playful fun areas. Like a town built of lego. These are the sorts of areas I would have like to visited, guided of course. Most cities throughout the world are very similar; cosmopolitan, busy, all with a very similar vibe just a different surrounding. It's places like these favelas where you meet the real people. Away from the advertising that assimilates our individuality creating a collective anonymity.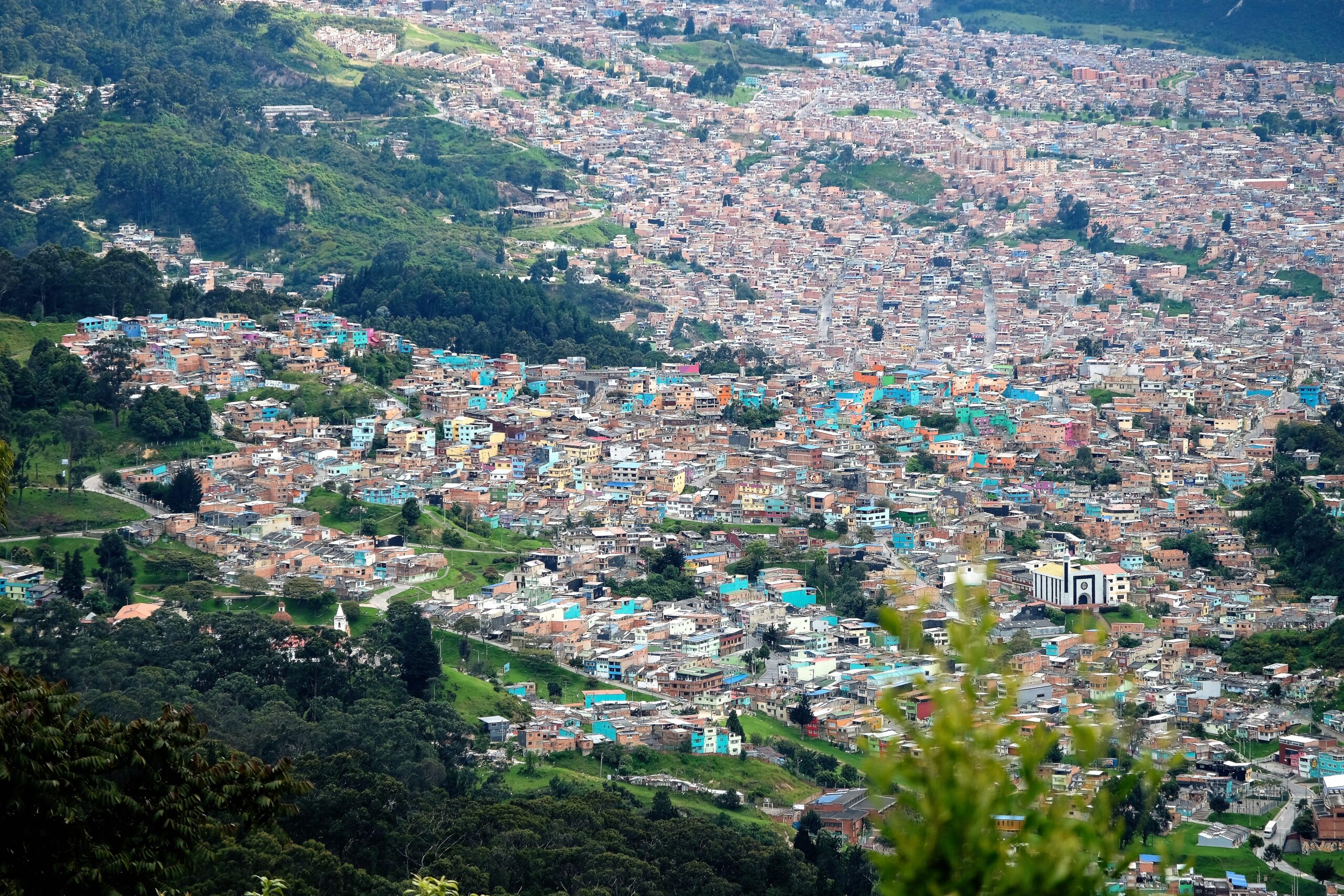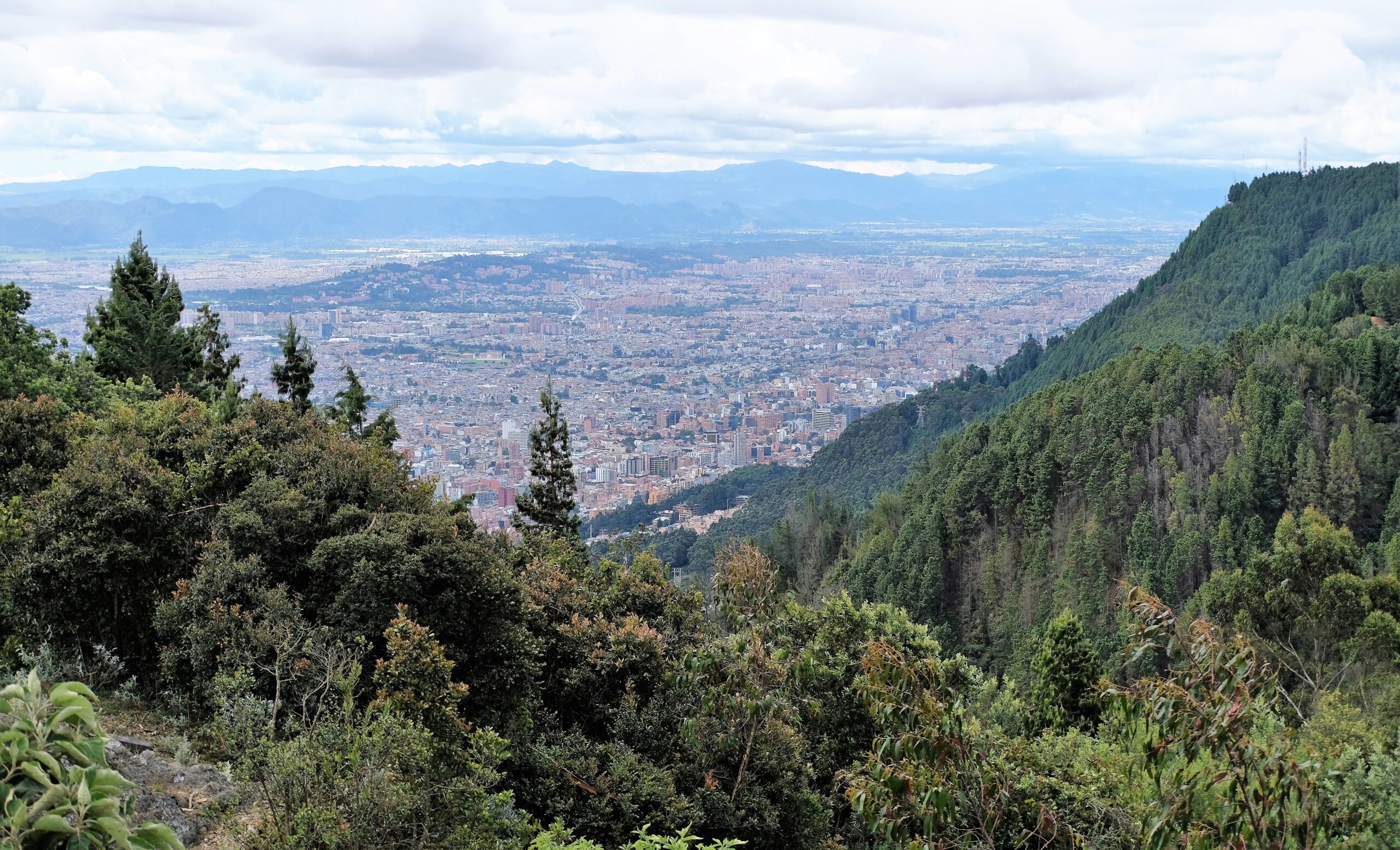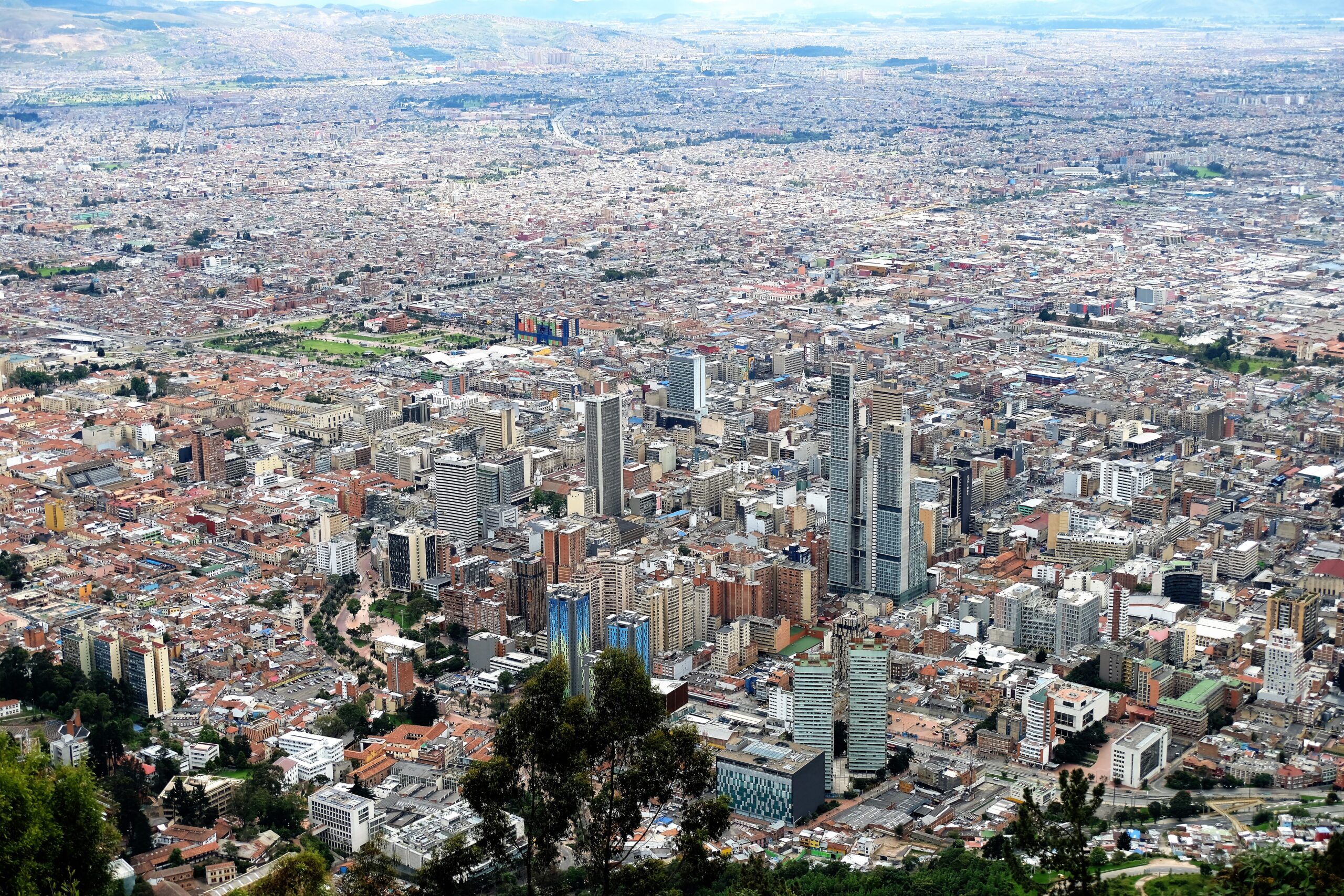 Guadalupe Hill
I didn't go there, but like Monserrate Mountain these two hills are as prominent as each other. You could be forgiven for thinking they are the same hill/mountain, or it could just be me 😊. Monserrate and Guadalupe are two hills on the same mountain. As with the former, Guadalupe Hill featured prominently in the Muisca religion. They buried their dead around this hill, and from Bolivar Square it place a part in the solstices. Called Muysccubun (quijicha guexica) "grandfather's foot". At the winter solstice (December), the sun (their god Sue), rises exactly over Guadalupe Hill. During the equinoxes (March and September) the sun rises in the valley between the two hills. All viewable from Bolivar Square.
As with the monastery on Monserrate, the same can be said about Guadalupe. This religious pilgrimage site has been destroyed by earthquakes on four occasions 1743, 1785, 1827 and 1917. It was rebuilt in 1945, with the 15m statue of the Virgin of Guadalupe (not the same as the one in Mexico – the two have nothing to do with each other) erected in 1967.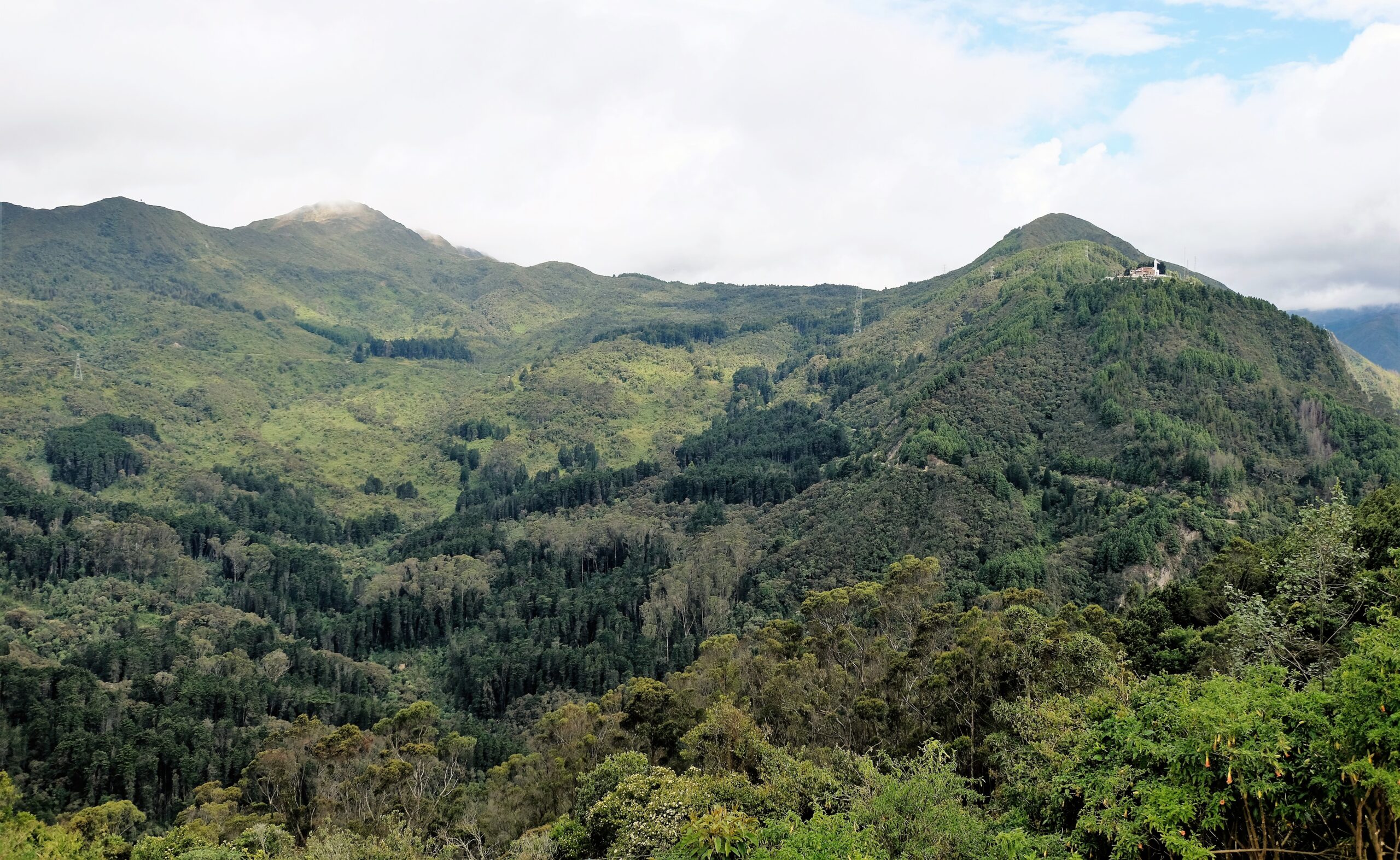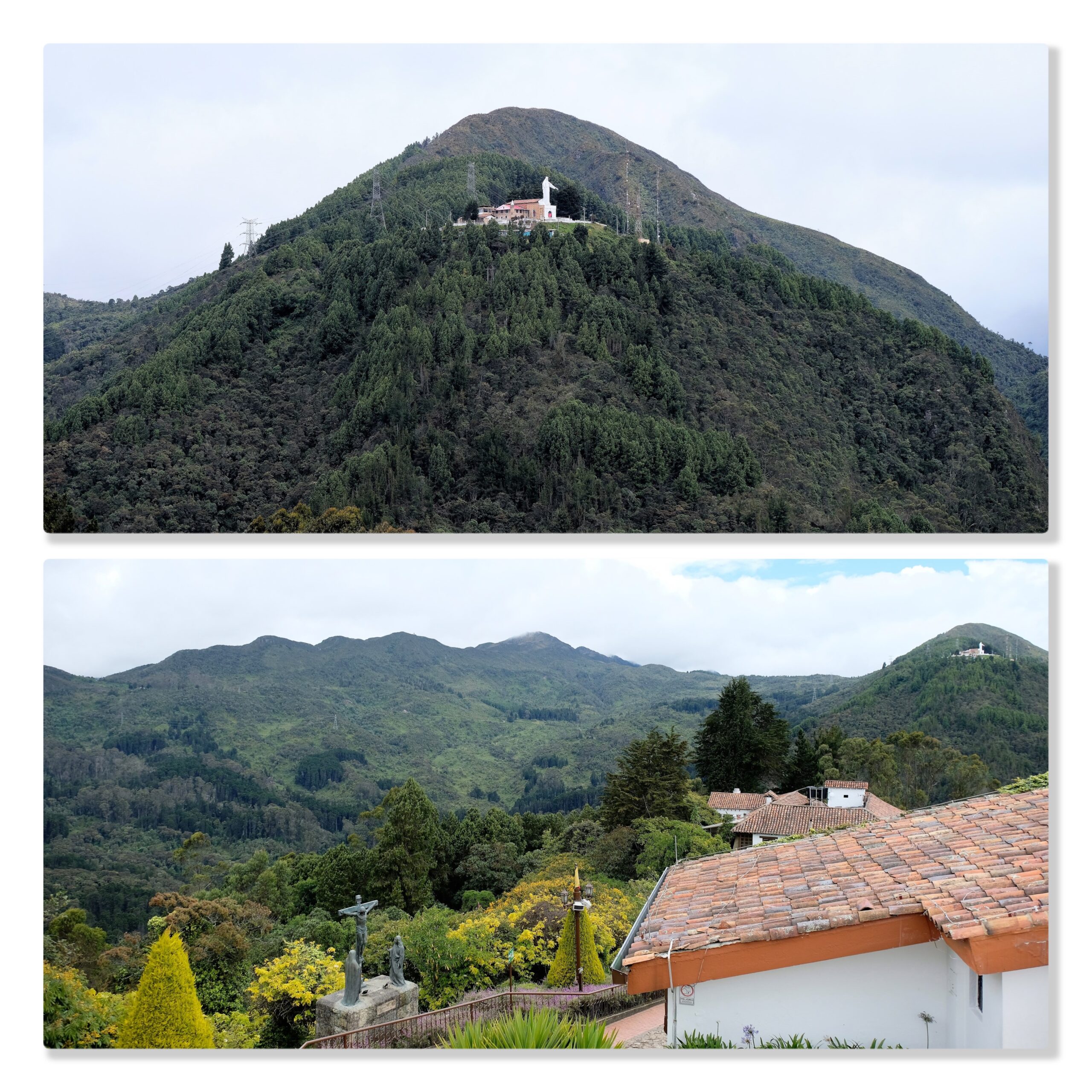 Plaza de Bolivar / Bolivar Square
Bolivar Square is the home of four of the city's most prominent and important buildings: Palace of Justice, Lievano Palace (Bogotá's city hall since 1974), National Capitol (Congress of Colombia) and Bogota Cathedral.
As with all Spanish towns, cities and ex-colonies, there is always a Plaza de Mayor, or equivalent. Bogota is not different (Lima, Barcelona, La Paz, Madrid etc. etc. Plaza de Bolivar / Bolivar Square, used to be called Plaza de Mayor till 1821. Then changed to Plaza de la Constitucion, followed by Plaza de Bolivar (English Bolivar Square) in 1846.
Bolivar Square is probably the location of Muisca temples for Sue, the Sun god and Chia his consort, the Moon. I couldn't find any history of this, but the Conquistadors followed a pattern; build churches or government buildings on top of the indigenous' most sacred sites. Good examples of this are in Cusco and Chinchero.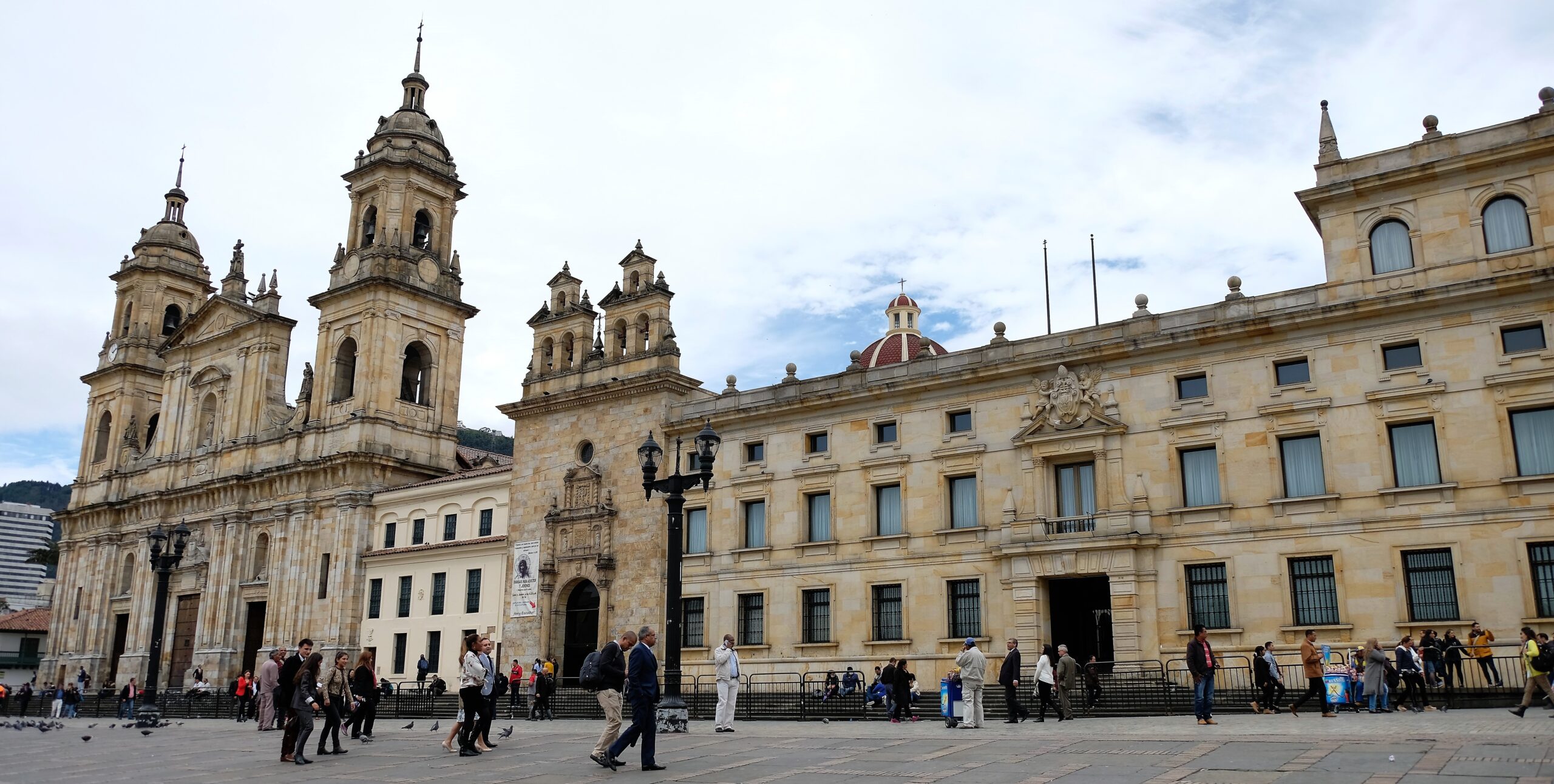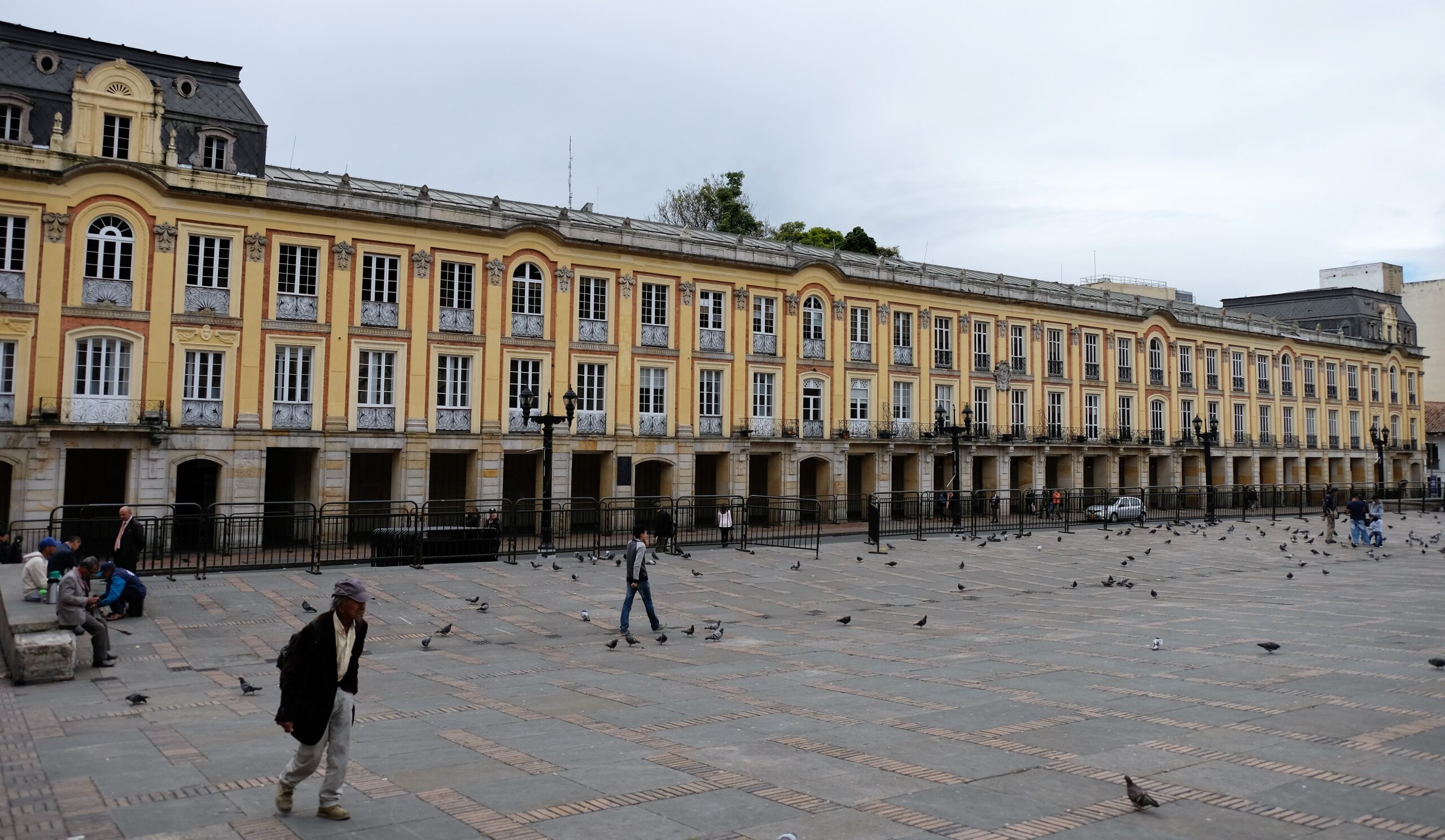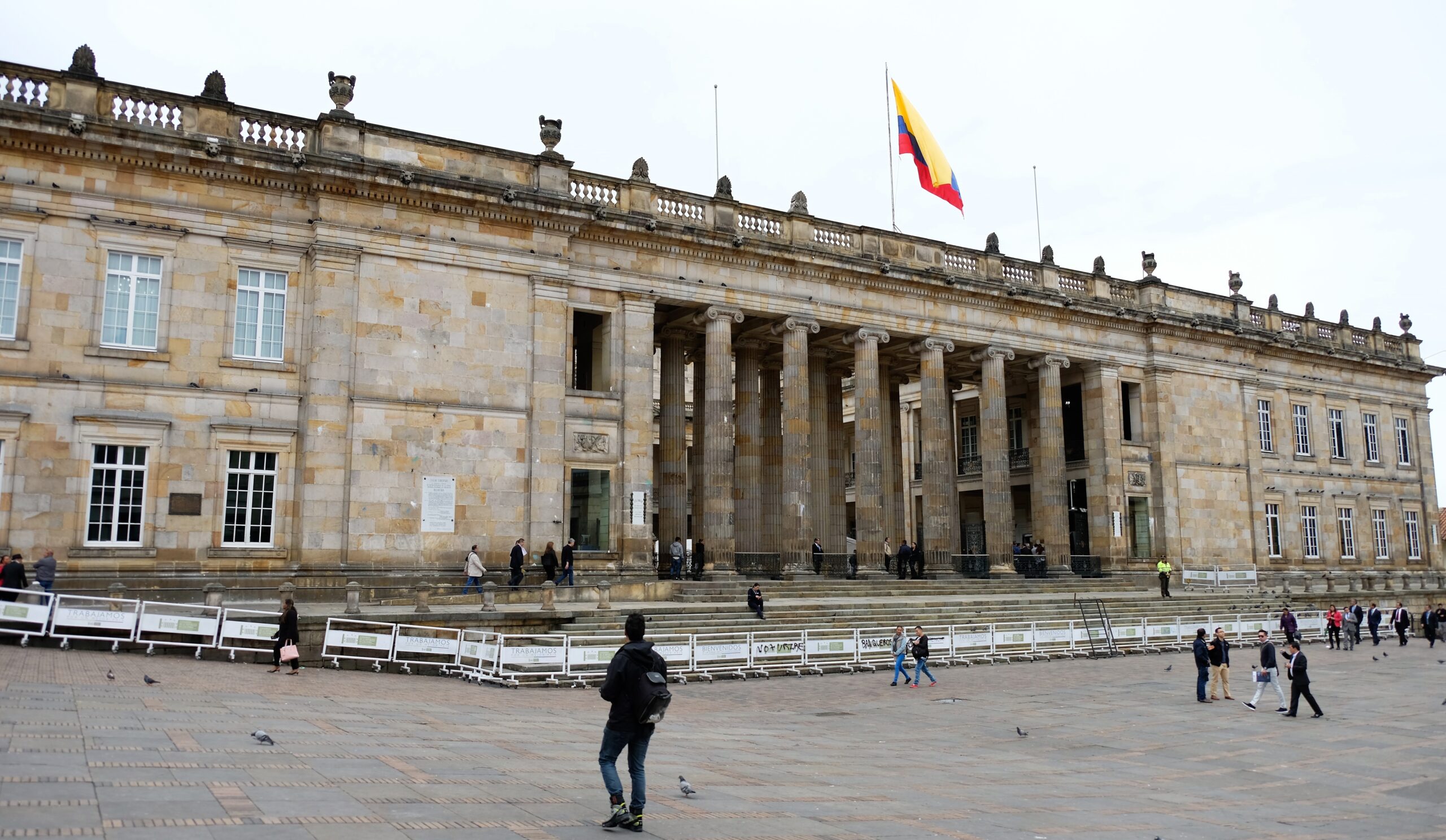 Primatial Cathedral of Bogota
Metropolitan and Primate Cathedral Basilica of the Immaculate Conception and Saint Peter of Bogota – what a mouth-full! More commonly known as the Metropolitan Cathedral Basilica of Bogota and Primate of Colombia…hardly less of a mouth-full! I'm going to call it Bogota Cathedral. Though its official name is Sacred Holy Temple Metropolitan Cathedral Basilica and Primate of the Immaculate Conception of Mary and Saint Peter – hardly rolls of the tongue either 😊! Bogota Cathedral is the head of the Catholic Church in Colombia. The current building was built between 1807-1823; on the same location where three previous iterations where erected.
Bogota Cathedral was the only building in Bolivar Square that I visited; not sure you can visit the others. I hadn't planned on going inside, but thought, why not. By surprise, it isn't ostentatious. Expecting ornate baroque or similar, it has an understated elegance to it. Next to Bogota Cathedral, is the Tabernacle Chapel. On a much smaller scale, this was more like I had expected. Rich red and gold decorations. I still can't figure out its purpose nor why it is where it is. Tabernacle Chapel is detached from Bogota Cathedral, different architecture and décor. Yet it is two doors away from the cathedral. For such an interesting interior I'm surprised I couldn't find any reliable information about it.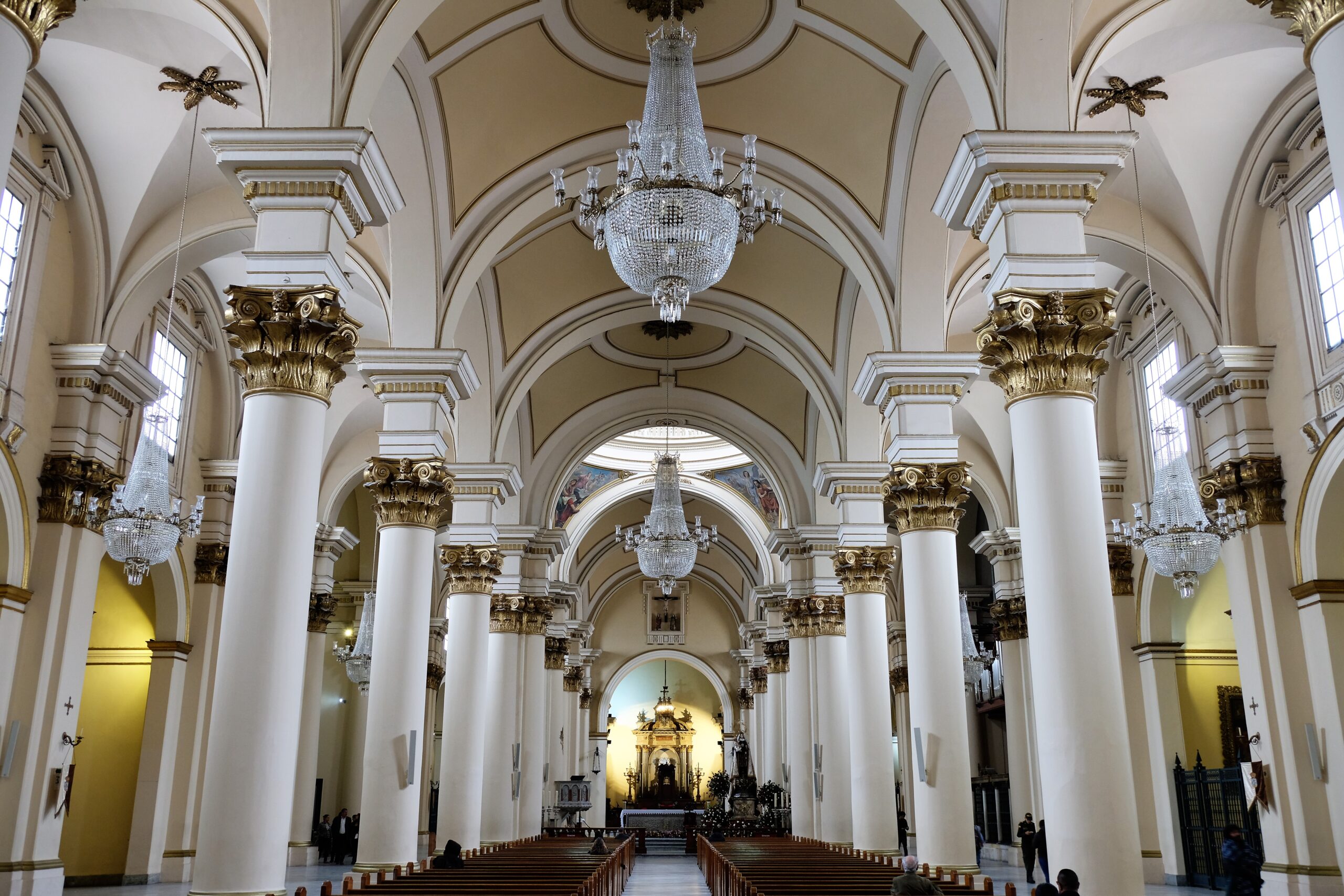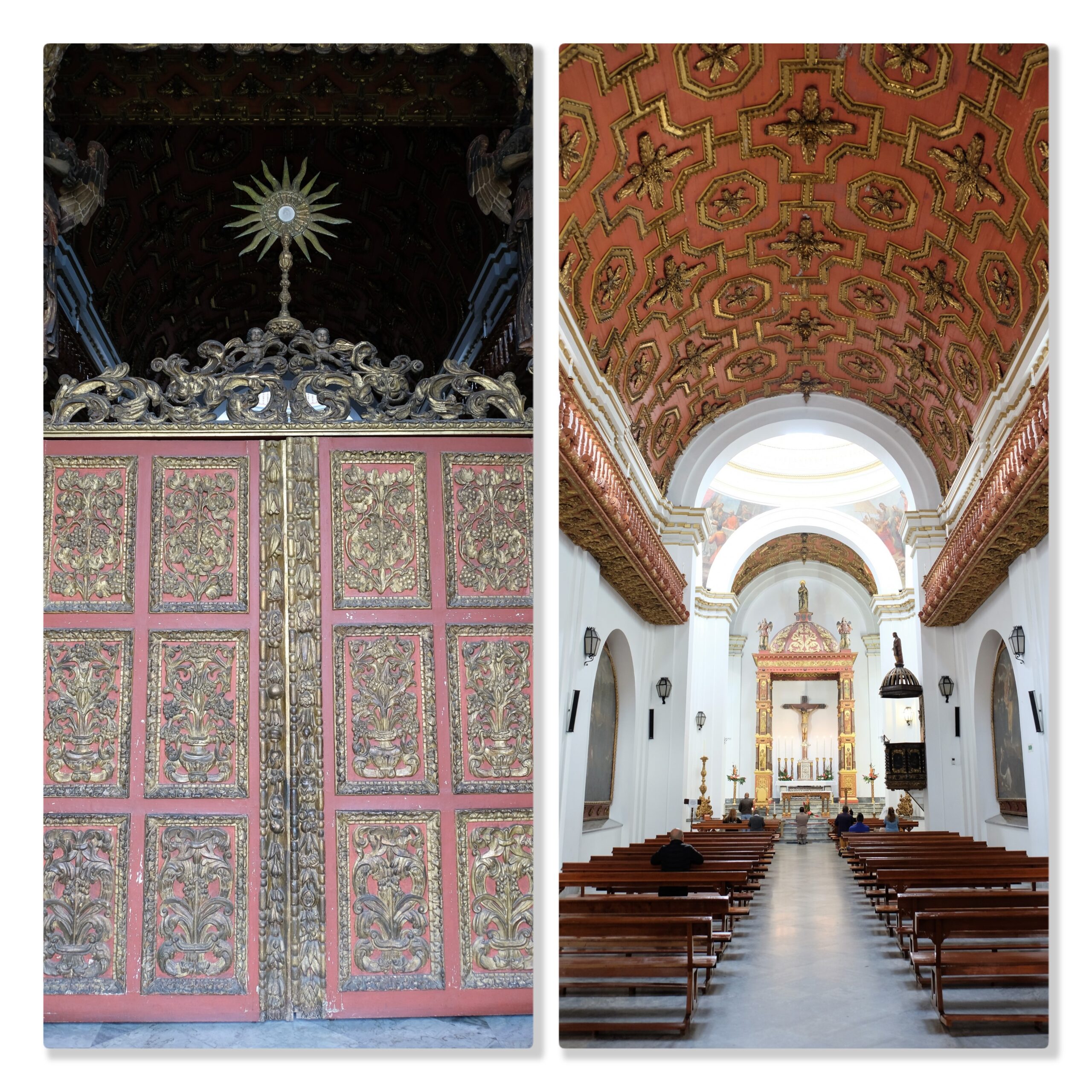 Bogota coming to an end
Feels like an anti-climax to my time in Bogota but that's how it goes. For the rest of the day I ambled around La Candelaria and surrounding area. Leaving anywhere is a mixture of emotions. From excitement to regret; more so "what if I missed something". Colombia isn't Bogota; Colombia has a lot to offer and I didn't even get close to scratching the surface. Like I said in my first post of Bogota, I did look at other places to go to. My decision not to go was down to a combination of cost and time – maybe a little bit of health and lack of motivation too.  Would I go back? Of course I'd go back to Colombia, but not Bogota.
The end of my time in South America
That's it for South America! Awesome time! I'm glad I didn't try see more countries. Even with the time I spent in Peru and Bolivia there is still so so much more I could have seen. They will have to be part of my next visit! My short stopover in Bogota could have been better spent. I have no regrets though. Next stop was New York. I had recouped well in Bogota and was ready for my next stop.
Highlights
Honestly…too many to say. Peru and the Inca Trail was a dream come true! Cusco, Machu Picchu, Moray, Rainbow Mountain…it was a trip of a lifetime and I left more to see for my next visit. Death Road was awesome. Uyuni was the best light show nature has to offer! Culturally it exceeded my expectations. I learnt more about South America's history, especially pre-Colombian. I don't think the pre-Colombian's are given the respect they are due – Ancient cultures as a whole.
Lowlights
I don't want to sound like a hypochondriac. In retrospect, I was sicker than I thought I was. The backend of Bolivia was tainted by how I was feeling. Some days staying in bed for two days just coughing in bed, especially when I got to Sucre. Only really getting back to normal mid-way through my time in Bogota. I should have taken things easier. No regrets. Though I would have appreciated things even more than I did if I was feeling better. Live, learn and try not to make the same mistakes again.
…Peru, Bolivia, Bogota….THANK YOU!!!