Early bird catches the sunrise over Machu Picchu…so I've been told. When the reception at Hospedaje Cajamarca suggest leaving early I thought 6:00 or 7:00am. "No that's too late!" was his reply! I'm not a morning person. He suggested leaving the hotel no later than 5:00am, not something I was looking forward to. Waking up that early is one thing, hiking up a mountain at that time is something else. Thankfully the hotel offers a kind of takeaway breakfast which was worth twice its price and usefulness. It's not the waking up part, it's hiking up a mountain at that time of the morning. That being said, I was finally at Machu Picchu, a dream destination since I was a child…5:00am…I'll gladly do it! Obviously you don't have to hike up, you can get the bus but what fun would that be. I'll get into the different routes later.
Tickets and disappointment
I bought my ticket whilst in Santa Teresa (picture of my ticket is on the link). When I bought it, I realised part of my disappointment; I wouldn't see the whole of Machu Picchu. For a full breakdown of the tickets here is the link (Ticket Machu Picchu), here is a summary:
Machu Picchu Solo – See temples, terraces, residences, water canals and some other structures, the most common ticket
Huayna Picchu/Wayna Pikchu & Machu Picchu – All the above and ascend to the Huayna Picchu/Waynapicchu There is a limit of 400 people per day for this ticket
Mountain & Machu Picchu – Same as the Machu Picchu Sole and the Machu Picchu Mountain but not Huayna Picchu/Wayna Pikchu
Machu Picchu Museum – As with the Machu Picchu Solo this also includes entrance to Site Museum and not Huayna Picchu/Wayna Pikchu nor Machu Picchu Mountain
My disappointment came when I saw that the Mountain pass was fully booked for the next three and a half weeks. To add insult to injury the Huayna Picchu/Waynapicchu tickets were booked up for the next two and a half months! I really wanted the Huayna Picchu/Waynapicchu ticket! Well that's the ups and downs of fluid travel. Let's be honest, not everyone gets to see Machu Picchu so who am I to complain. After I bought my ticket I came to terms with what I had got and was more than content.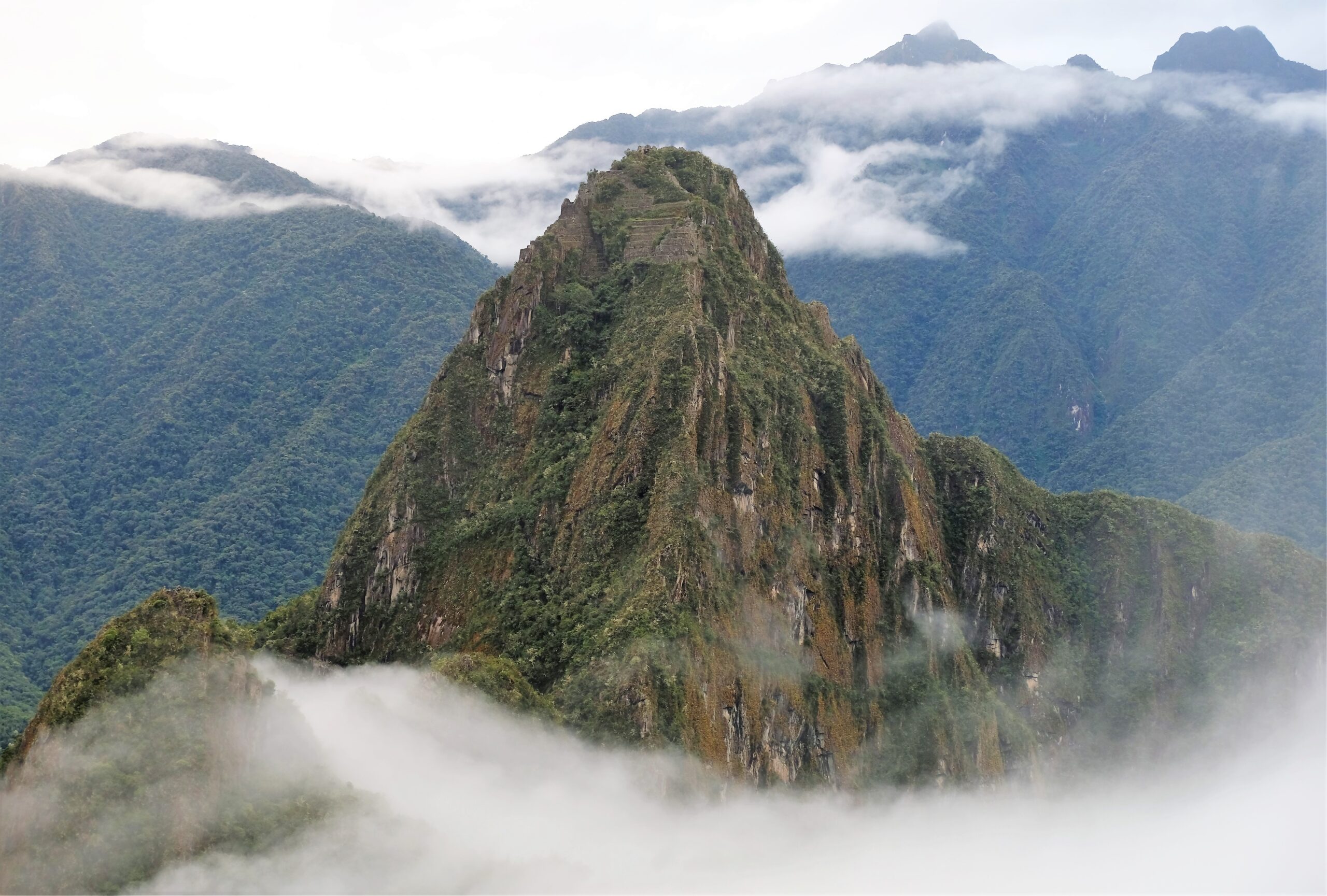 Getting from Aguas Calientes to Machu Picchu
There are two methods to get from Aguas Calientes to the entrance of Machu Picchu. Firstly, there is a bus service from the town to the entrance. Running nearly every 15 minutes, they start at around 5:30am, taking 30-40 minutes to ascent up the winding road to the entrance. Second is the hike, my option.
Hike up to Machu Picchu
Waking up at 4:30am, I was at reception by 4:50 to pick up my breakfast box before heading out. By 5:00am I was heading down the main road past the bus stop. I blame by morning fuzzy brain for forgetting to bring my headtorch. Thankfully I had my phone torch, better than nothing though not great to use when climbing steep stairs in the dark…as I'd find out later! So if you do have a headtorch I would recommend bringing it along. Only realised I'd forgotten mine once out of the town's street lights, and I thought I was too far gone to turn back. Admittedly my eyes did eventually adjust, still a headtorch would have been nice.
Back to the hike. Loads of people do it causing frustration with the traffic jam bottlenecks! The path is often very narrow only allowing one person at a time, obviously there are many wide sections. Stopping and going regularly is tiring and made me a little peeved. Especially when someone stopped on a narrow section (many corners) causing the long snake of people behind to stop and wait. I did chuckle a few times seeing people scurry up, passing them later as they had run out of steam before the entrance. Most people leave early to get to Machu Picchu as the doors open to watch the sun rise, particularly from Inti Punku/Intipunku/Sun Gate (another 315m further up). Gates open at 6:00am; meaning what's the use of leaving at the crack of dawn if not to get to the entrance at 6:00am.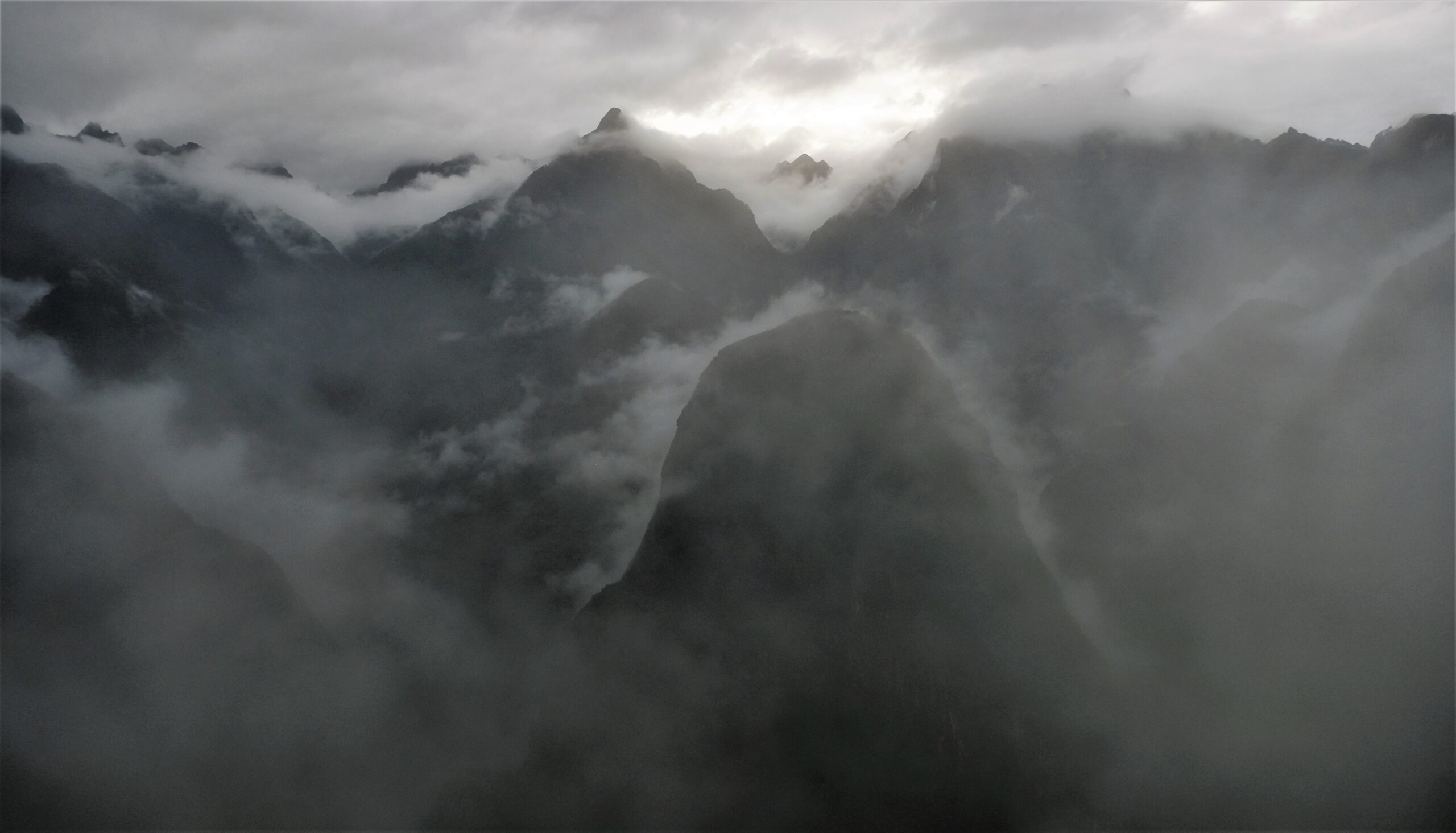 The route
The route is quite easily navigable with signage/directions. Heading from Aguas Calientes head of out town on the road (there is only one). Once you get to the metal bridge on the left, cross over. On the other side turn right and follow the arrows till you get to the entrance gate for Machu Picchu, as simple as that. The hike takes anything up to 2hrs max dependant on fitness, health etc. It's a combination of stone steps, dirt track occasionally crossing over the road used by the shuttle bus. Oh yes I forgot, elevation is 390m.
Most of the hike is steep and in the dark, include in the motivation of time i.e. getting to the entrance by 6:00am adds to the challenge. The low altitude definitely helped me, I arrived at the entrance at 5:50am, feeling like I'd run a marathon. I forgot to add the weather was cool, which was nice, but also the occasional lite drizzle. By the time I got to the entrance I was rather damp…and sweaty. The hike up may not be for everyone, if you do and want to get up before 6:00am I'd suggest leaving before 5:00am, maybe even 4:30. Dependant on your fitness adjust your time. Personally, I loved the hike up even with the occasional frustration.
Arriving at Machu Picchu
Surprisingly when I got to the entrance there where already about one hundred people, easily distinguishable which took the bus ?. The gates opened! In an orderly bunch akin to a rugby scrum the queue (bunch) heaved with polite passive aggressiveness to get through the gates first. Rules about Machu Picchu change regularly, with enforced guides being one of them but hardly enforced. I had a tout trying to get me to go with him, I politely decline and just kept walking (I was not alone in this tactic). If you're in a group a guide may be a good option, not for me thank you (there are pros and cons to this).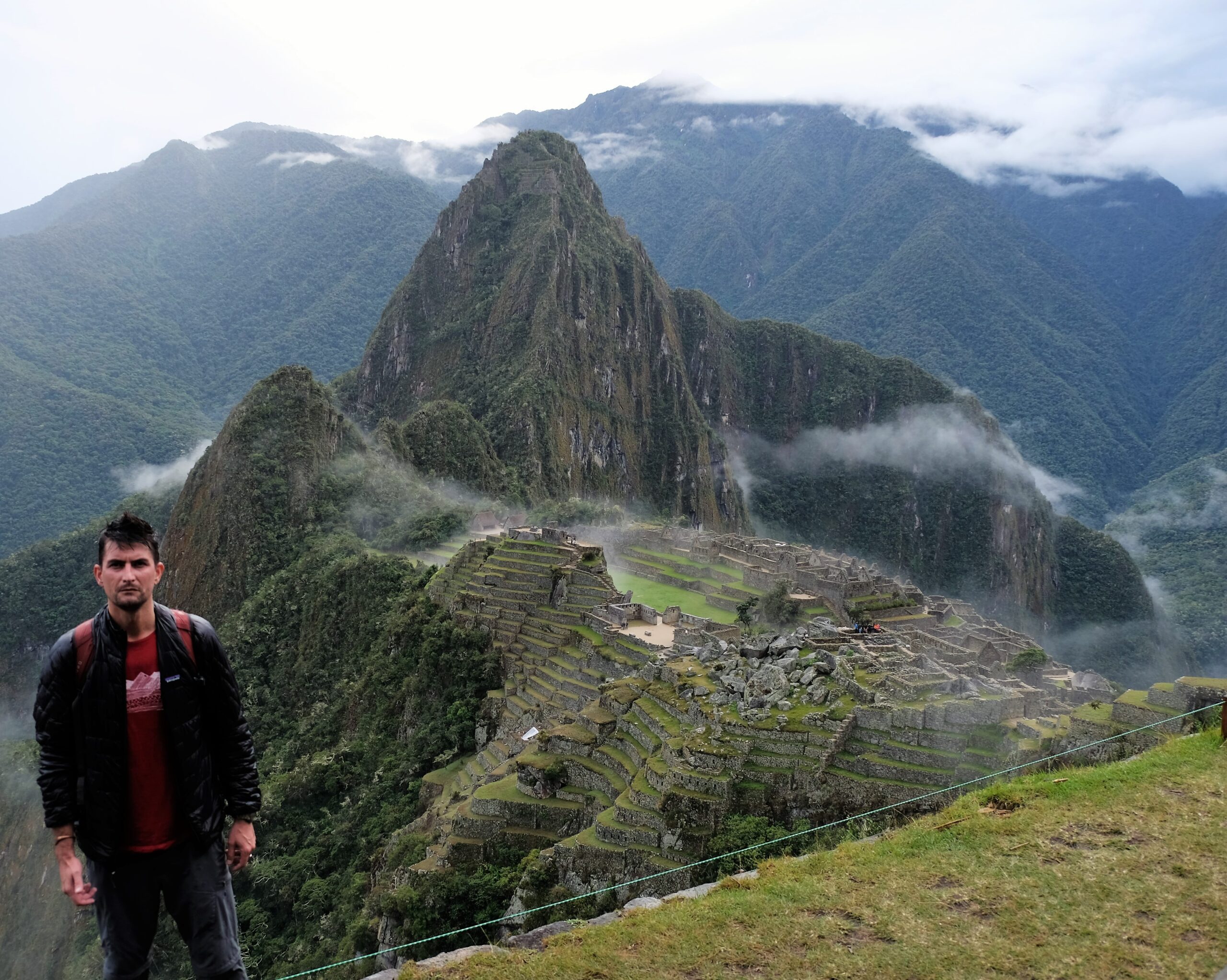 First impressions
It's a lot bigger than I thought, though Machu Picchu isn't the biggest Inca site by some distance. It doesn't have the most sacred places/temples, nor does it use colossal stones like at Sacsayhuamán. The terraces at Pisac are far more vast, Ollantaytambo was more prestigious and important…the list goes on. What makes Machu Picchu so very special is its setting. Without doubt it has the most spectacular setting, giving it an enchanted aura. Like a secret lair hidden in the mountains surrounded by dense unforgiving jungle. Perch on the crest of a mount, man's fortitude created this clandestine marvel in the most picturesque yet impractical of places.
The weather wasn't great at all; overcast for most of the time meant there wasn't a visible sunrise. Drizzles and misty rain carried over the mountains as if trying to hide the ruins from us prying tourists. For most of the time the citadel wasn't fully visible. An occasional glimpse through a break in the fog gave a tantalising peephole of what lay beneath. The weather in some ways added to the enigmatic nature of Machu Picchu. This gentle looking fog yet visibly impenetrable clinging to the mountains as if trying to hide this majestic place. The peaks of the mountains cutting through this blanket of white like pointed teeth. If you believed in dragons, this is where they would live.
…a little caveat
My pictures aren't great, I had a real problem with the light (lack of), causing many pictures to be blurry or out of focus (thanks fog?). Though they may not be the best of photos I really don't care; I have vivid memories which I will cherish for a lifetime. Needless to say, I was over the moon at being here, finally! I hardly felt the rain nor the changing weather. From my first glance at Machu Picchu it had exceeded my expectations.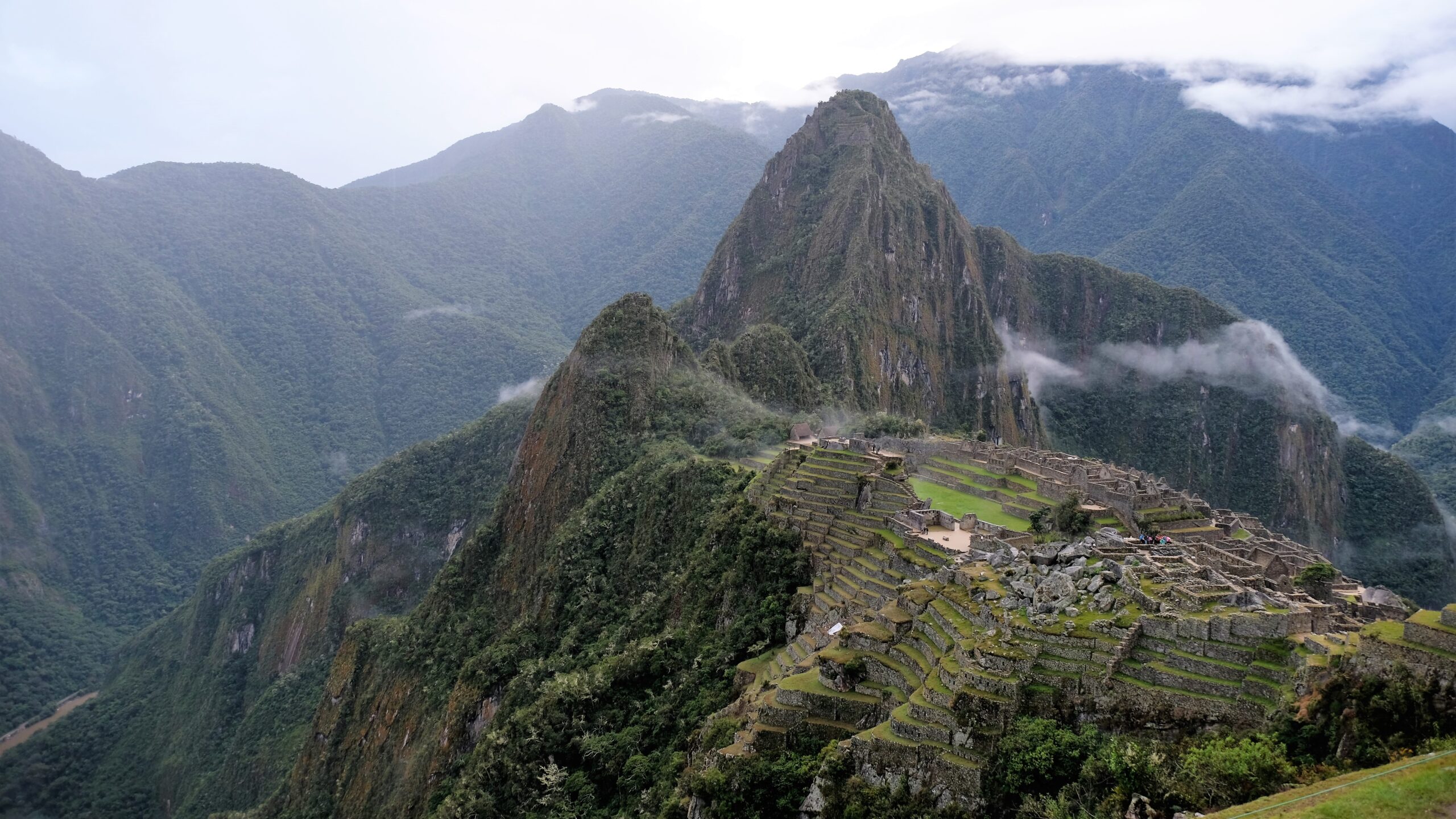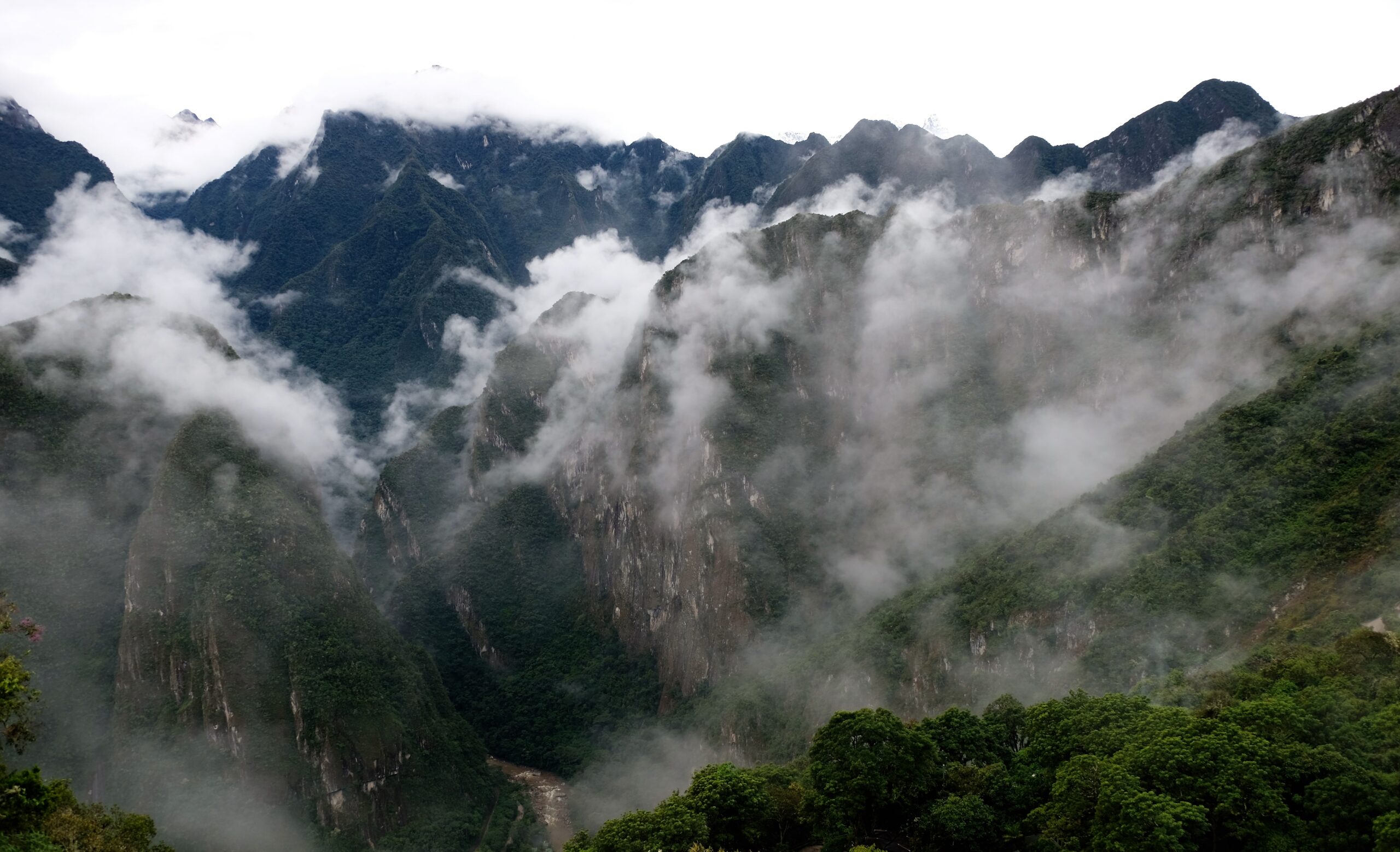 History
I won't go too much into its history, this blog would need to be a multi-part series if I did. With so many sources of information, I'll leave it to you to find out more details should you choose to do so. That, and I'm not knowledgeable enough to come across as the expert of this special place.
Machu Picchu's citadel is built at an altitude of 2430m and was occupied for 80-100 years. Like most Inca sites, exact information isn't certain, there are some agreed general consensuses. Probably initiated by Emperor Pachacuti (1438–1472), construction starting around 1450 and seems to have continued into his son's reign Túpac Inca Yupanqui (1472–1493). It was abandoned during the Spanish Conquest 1532 – 1572, possibly in the early stages of the conquest. The Conquistadors knew of a place called Piccho, but there are no records of them ever visiting the place; though likely Piccho was referring to Machu Picchu that is also not certain.
Most people agree that Machu Picchu was a royal estate like Ollantaytambo. Whereas the latter stayed within Pachacuti's estate after death therefore passing it down the line of succession, Machu Picchu wasn't. What this means I really have no idea because Machu Picchu was still occupied for the next circa. 80yrs. Some think its inhabitants contracted and died of smallpox through pre-Conquistadors traveller contact. All this is by and large speculation with very little evidence to rely upon. Machu Picchu was something akin to a prestigious retreat where around 750 lived, mostly servants. As its visitors were the elite, fortifications were built to protect the occupants and VIP visitors, the landscape and positioning creating natural security deterrent too.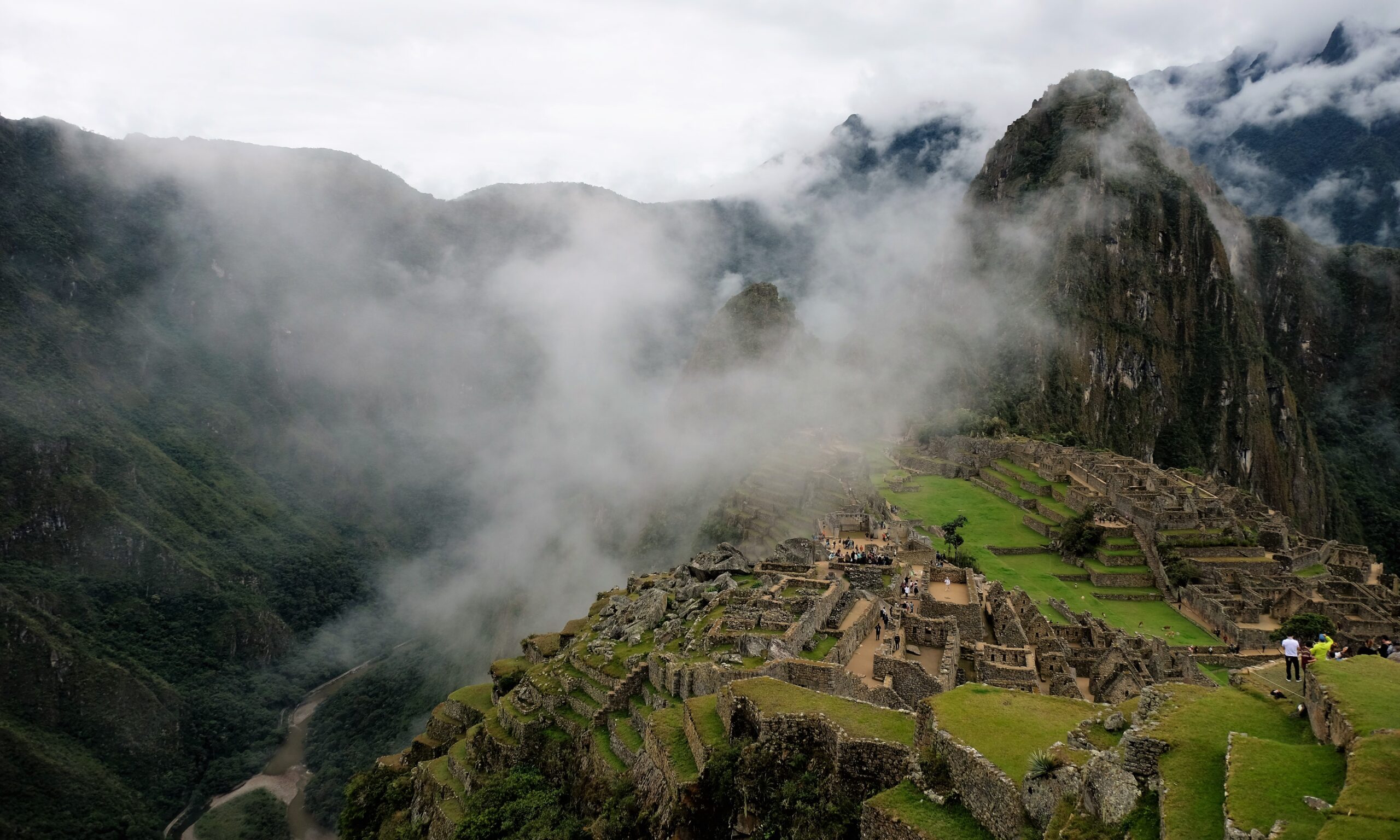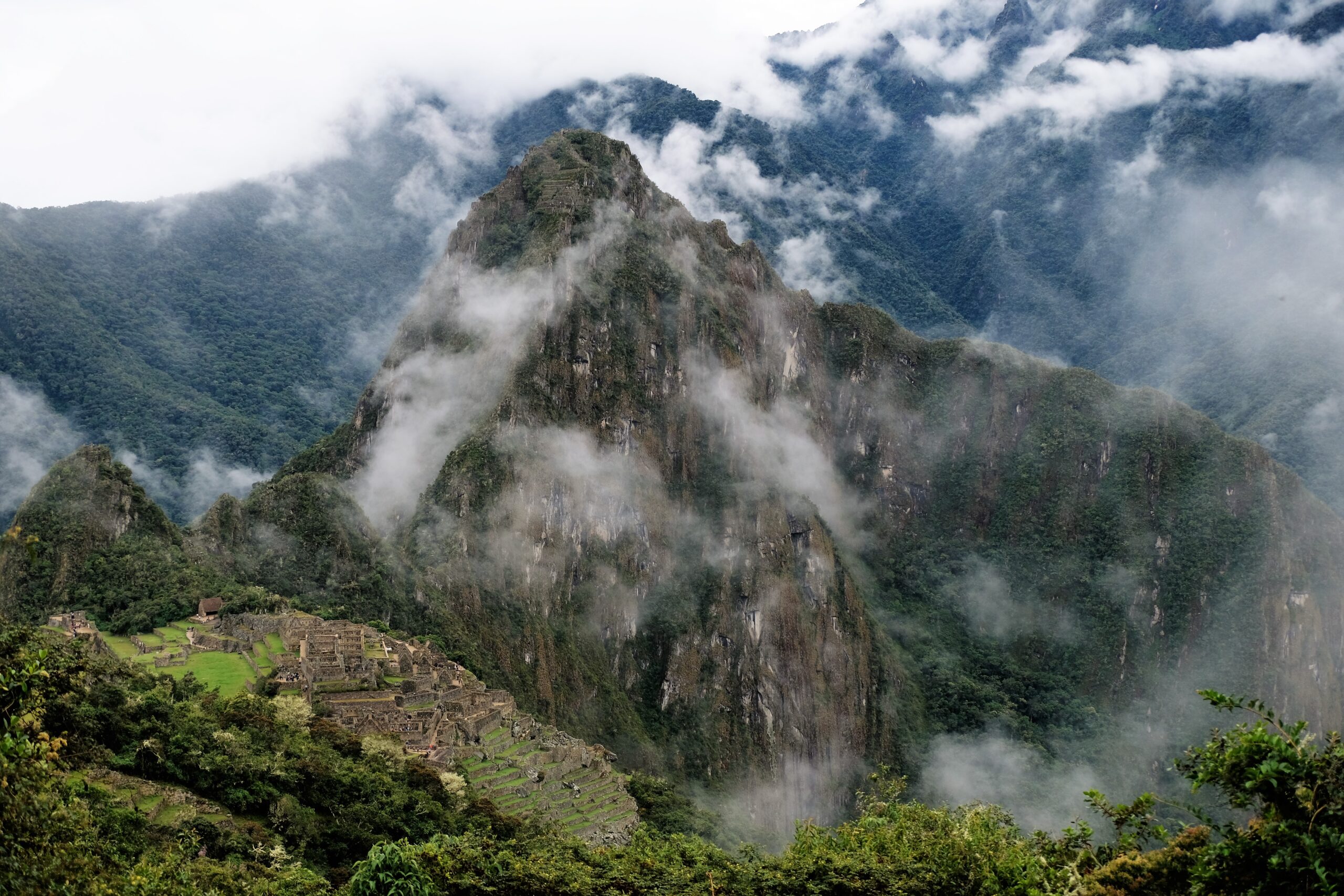 Its rediscovery
Just like Christopher Columbus went looking for India instead bumping into South America. Yale University Professor Hiram Bingham stumbled upon Machu Picchu in 1911 by chance in his quest to find Vilcabamba; the last refuge of the Incas fleeing the Conquistadors. This was their new kingdom (Neo-Inca State) created by Manco Inca. Bingham wasn't in fact the first Western (non-Quechua/indigenous) to visit Machu Picchu, in 1902 Agustín Lizarraga (born in Santa Teresa) and two of his co-workers, Enrique Palma and Gabino Sánchez visited Machu Picchu whilst looking for new farm land. Writing "Agustín Lizarraga July 14 – 1902" on the wall of the Temple of the Three Windows which Bingham found.
Extensive restoration work has been carried out on since 1913, firstly just cutting away the overgrowth. By 1976, 30% of Machu Picchu had been restored, a process they continue with today. Whilst there a few areas were closed to the public and restoration work was in full swing – I like seeing that sort of thing. One thing I must mention, is the site is one of the most well kept and cleanest historical sites I have seen, which is fantastic. Peru have enforced quite a few strict rules about visiting such as no walking poles (unless necessary), limits on sizes of backpacks, no eating, limiting daily visitor numbers etc. These may seem a little draconian, but if it weren't for many "stupid" visitors there wouldn't be necessary. Secondly, they are doing their upmost to preserve the site for future generations and for that alone they should be applauded.
Layout
Incas followed a blueprint when building a town/citiy, each part had a specific function. Religion played a pivotal part in everyday life, meaning religious buildings were integrated into residential areas. Here is no different: there are religious and administrative buildings, these were important buildings, then social and political. Machu Picchu is like a self-sufficient town (almost). Terraces to grow crops, qullqa/qollca to store food, aqueducts to supply water, administrative buildings to ensure people are doing what they should be and to account for comings and goings. Then the religious buildings to service their mythological and spiritual needs. Though there are many terraces it is unlikely they would suffice to feed a population of 750 (that's excluding when the Sapa Inca and his entourage). So they had to some import food from other parts of the regions.
The area is split into urban (upper town and lower town) and agricultural, the former has around 200 buildings. Many of the buildings are rectangular as they have been adapted to fit into the terrain i.e. built on top of terraces running parallel to the ridge of the mountain. These are separated by a large plaza, on its East likely residential, the West, religious. In amongst the qullqa/qollca are more residential buildings which were likely for the workers.
One thing that sticks out in all the Inca sites is the perceived harmony with nature. Somehow Machu Picchu feels as if it has been there for eternity, it was always meant to be there. The Inca's terraces and buildings throughout the sites I've seen enhance their surroundings. From Moray to Tambomachay and now here they look organic as if nature had a hand in directing them how and where to build. Incas must have been in tune nature to have built the way they did.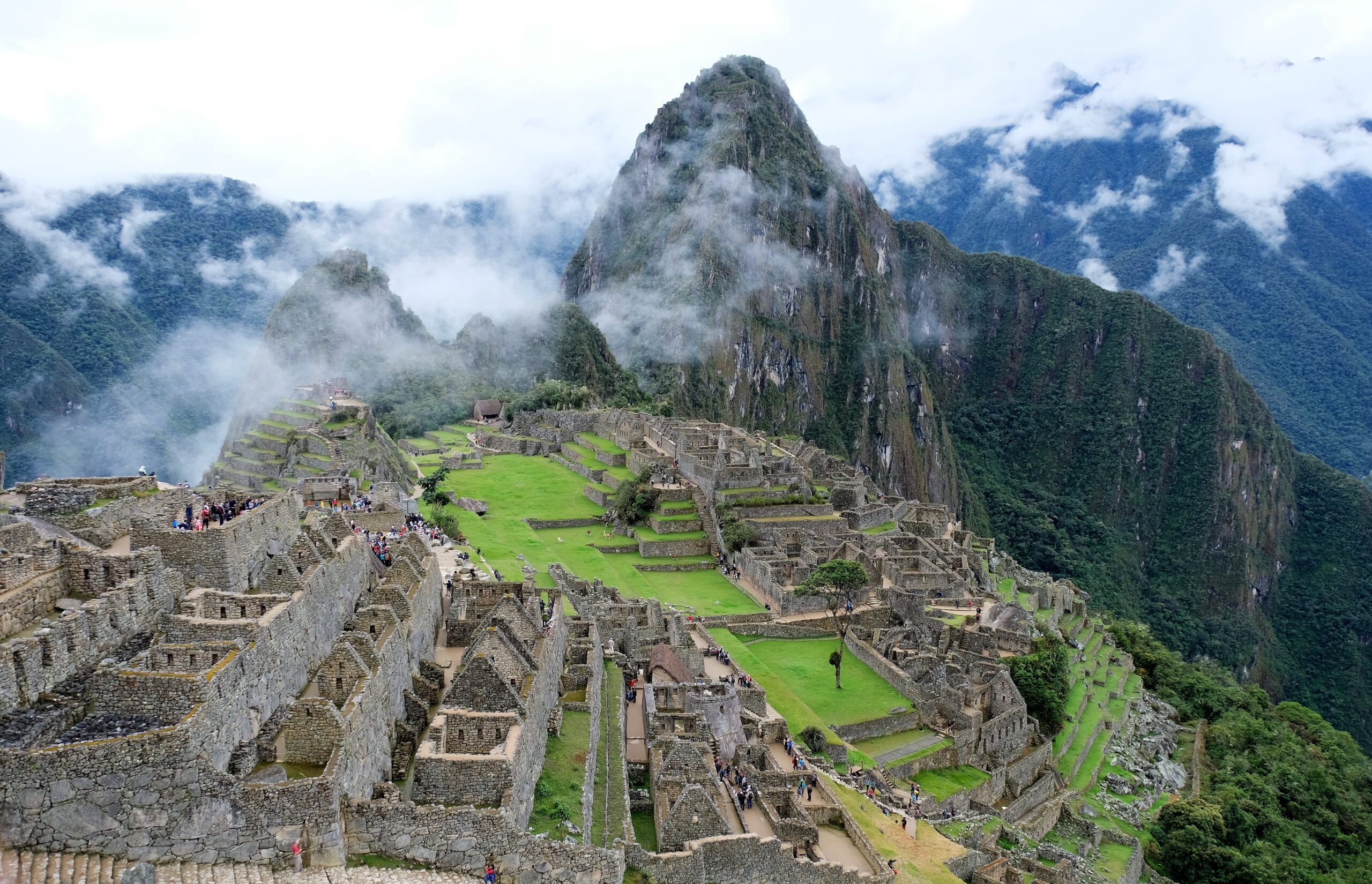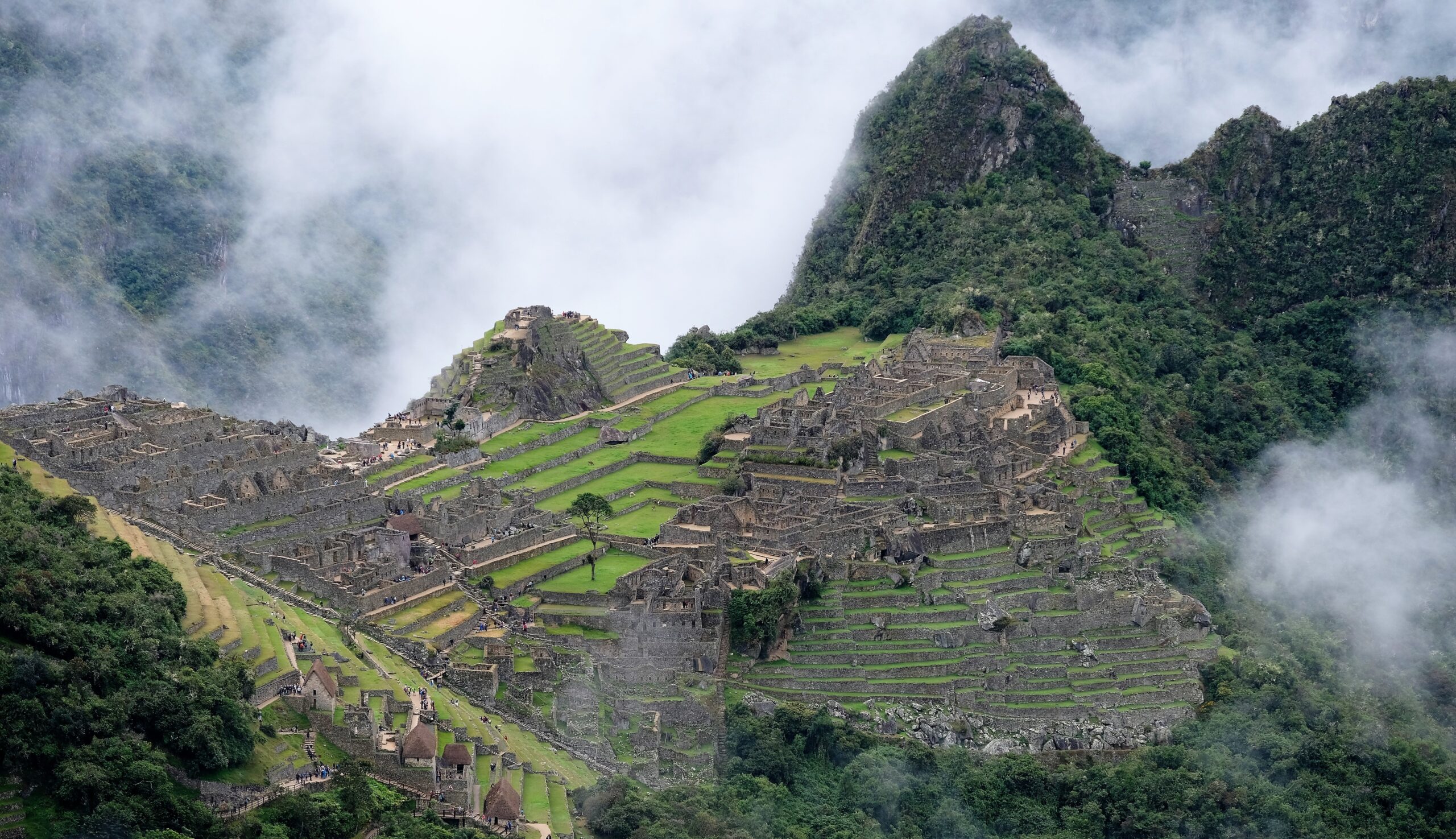 Sites to see
That's easy…the whole place! You don't need to know the details, you can simply stroll about taking in the breath-taking views. The place is fascinating, intriguing, skilfully crafted and yet we know little about the place, its inhabitants and the Inca as a whole. What is known is that they didn't use the "wheel" like many other cultures. They knew about it i.e. the concept, as wheeled toys have been found. Yet they managed to reshape the landscape and mountains to create sophisticated structures with ingenious infrastructure. I've digresses, written a lot but not said much about my visit. When I arrived, I hung around the citadel waiting for the clouds to clear, which they didn't. Wondering about I headed to the Inca Bridge
Inca Bridge / Inka Bridge
Master of their environment and engineering the Inca Bridge doesn't get many visitors. People tend to spend their time around the Citadel and the other more well-known sites. As mentioned, instead of waiting for clouds to disappear, I did some exploring, that's when I saw the signs to the Inca Bridge. From the house of the guardian to the funerary rock (a.k.a Guardhouse); the most common location to take photos of the citadel. Which I might add had a queue of some 100 people. Waiting in line for people to take all sorts of posed pictures, checking each one before another is taken – that to me is ridiculous!
Getting to the Inca Bridge
Anyway, from the Guardhouse the Inca Bridge is 20-25 minutes' walk. Getting there is easy, just follow signs. Only once you realise the path leading to the bridge is cut into the cliff face that you fully appreciate where you are walking. The pass twists and turns in sync with the curvature of the mountain. I was surprise how wide it is, though I wouldn't stray to close to the edge as the drop-off is nearly 600m! Parts of the path and bridge have been raised by stone making the route more level. When you get to the bridge you realise what the feat of engineering you've been walking on.
It was used as a secret/special entrance for the Inca Army (so it is thought). The path is canopied by vegetation, however the bridge is fully exposed and can be viewed long before you get there. You can't cross it; it is blocked off by a gate; no doubt some tourists would try cross it if they didn't block it off (that's just my cynicism). Exposed likely for security reasons there is a 6m gap in the path. Here 2or3 tree trunks would be used to bridge the gap; these could be raised and lower to control traffic i.e. stop any unwanted intruders. Simple but effective. The path continues up the other side of the mountain and disappears into the forest – now that's a path I'd have liked to explore!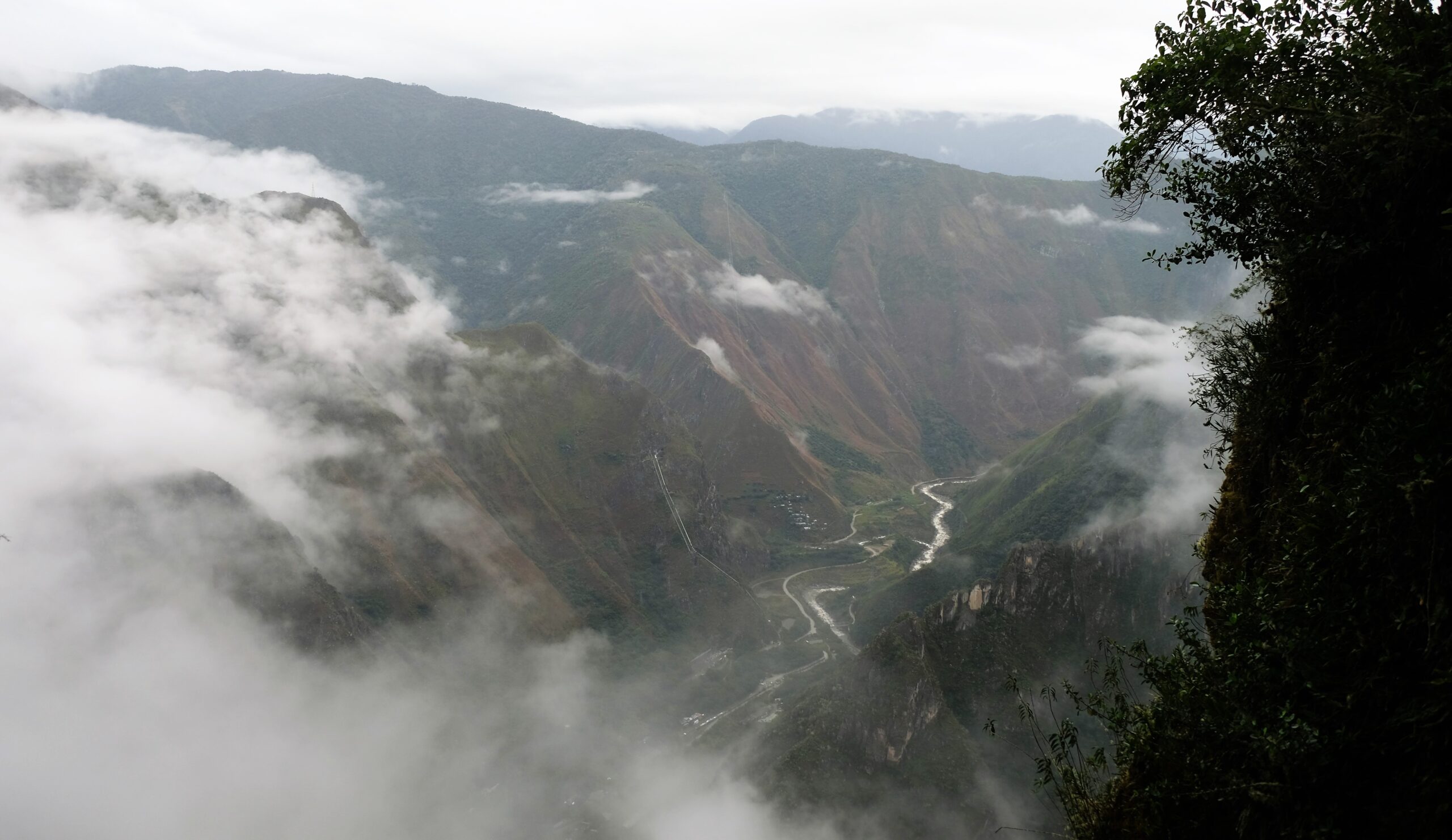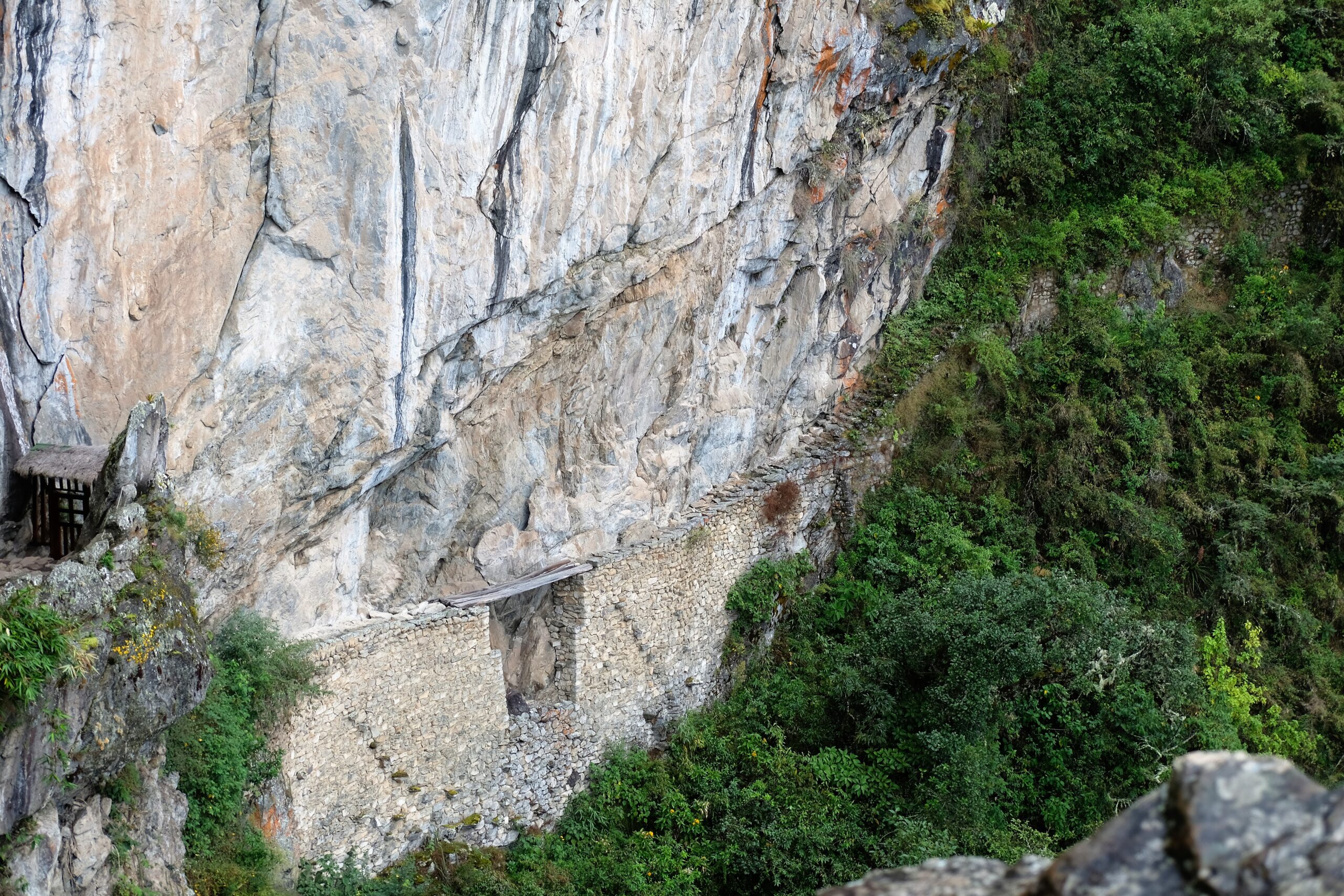 Inti Punku / Intipunku / Sun Gate
Back to the Citadel still hidden from site I headed up to Inti Punku/Intipunku. This was going to be my first destination, although sunrise time had passed, the sun hadn't shown its face yet. Inti Punku also known as the Sun Gate, is 290m above the Citadel. The path is in good condition, and yes you guessed it consists of many stone steps. Some parts are steep, I'd say accessible for most people. Cocooned in cloud whilst I was there it felt secluded from the rest of Machu Picchu, a world of its own. Guarded by the Inca Army, Inti Punku / Intipunku used to be the main entrance to Machu Picchu. From this vantage point you can see the city of Machu Picchu below (when the clouds blew over ?). It would have created a statement for any visitors, they had arrived at this exclusive retreat, the Incas Shangri-la.
This isn't just a guarded entrance. Religion was woven into everything, this entrance was no different. Inti Punku/Intipunku, in Quechua inti means "sun", and "punku" means door. Dedicated to the sun god "inti" the sun rising perfectly through the doorway on the summer solstice. Here too in every nook and cranny terraces occupy what would be unused space. At the very top are a few buildings, a combination of guard houses and maybe administrators controlling who enters and leaves. I hung around Inti Punku for a while, it was so peaceful there. Every now and then the wind would blow the clouds away for a few seconds to reveal Machu Picchu below…as if nature was teasing me.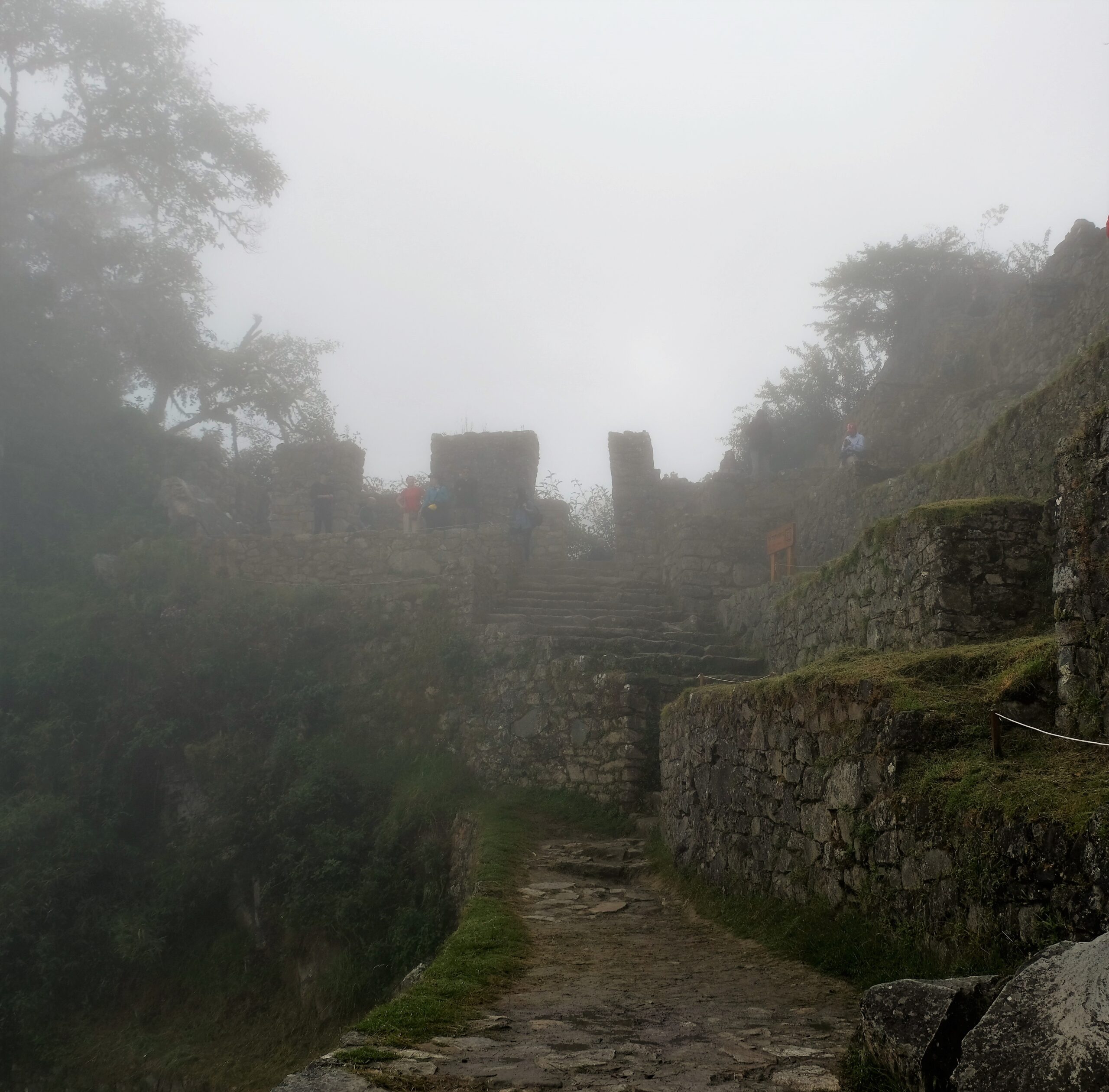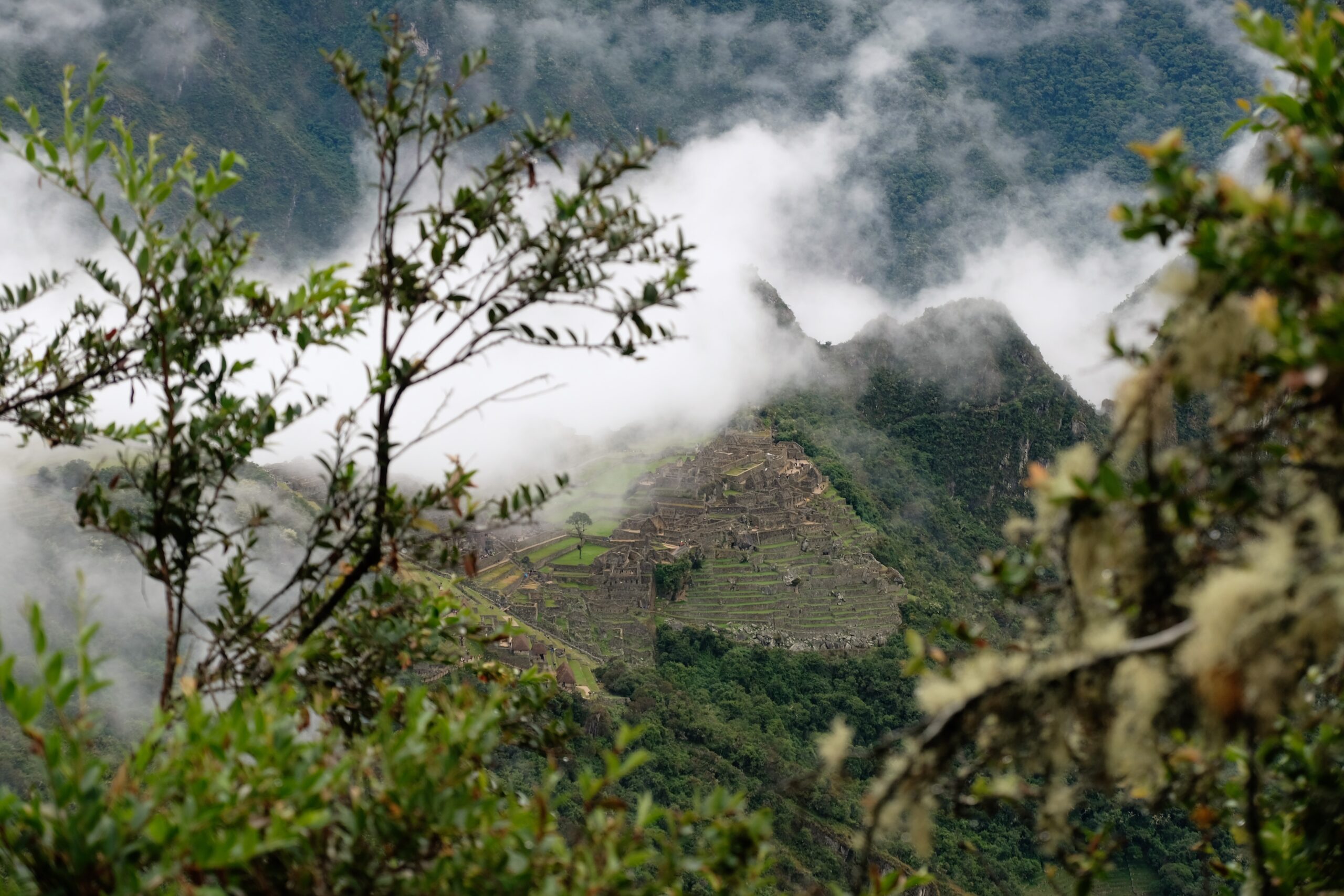 M

achu Picchu Citadel
Instead of rehashing what I've already said, the layout of Machu Picchu gives you a general understanding of what is where. I appreciate my description is far from in-depth, that's because the exact purpose of most of the buildings isn't known – except for the religious structures, qullqa/qollca and terraces. Using a template from other Inca sites, the buildings closer to the religious sites tend to have better build quality with finer stone. Who exactly use/lived in these grander structures isn't known. I didn't stand in the queue to get the "famous" view of the citadel; I wasn't here to get "that" shot/picture. The citadels magnificence and beauty can be appreciated from anywhere and any angle. I'll let you be the judge. My only caveat as already mentioned, I did struggle with the light!
Intihuatana / Inti Watana / Intiwatana
Unlike at Ollantaytambo and Pisac the Intihuatana at Machu Picchu is intact – to my knowledge it is the only one still intact. Archaeologists believe it is some sort of sun. In Quechua "inti" means sun and "wata" means "to tie or hitch-up", so this has been translated "Hitching post of the sun" or an instrument to "tie up the sun". In more resent times the only thing similar is a sundial. However, it is thought the Intihuatana played a more significant role than a wristwatch fixed to the ground. All Inti Watana throughout the Inca Empire were carved out of the bedrock, in a very prominent position either in or around temples.  Given its prominence archaeologists think it was used in rituals linked to their astronomical calendar. The only other thing I can think of that is similar is a nilometer, even that doesn't quite match up.
Intihuatana is aligned to the suns winter solstice, therefore its shadow would be in sync with the solstices; the winter solstice being point zero (that's my guess). This column would cast no shadow at all at midday on the equinoxes. Conversely, on the 21st June the column would cast its longest shadow on its Southern side, on the 21 December a shorter shadow on its Northern side. Considering how attuned the Incas were with nature (my opinion), the sun (changing seasons) would dictate their everyday life, therefore their yearly planning. What to plant, when to harvest etc. all dictated by their sun god. The sun is their personification of time and life, hence their adulation for it. 
An odd observation
To me is the shape of the column and its base. There are many places where the Inca cut perfectly round holes and flat surfaces. Inti Watana columns are not round, they look almost like square/rectangular columns that have been rounded. Their base also has at least one small stair leading up to the column and the base isn't flat either. I have no hypothesis on this, just think it's interesting that they don't look finished and their workmanship is low-grade compared to other Inca works.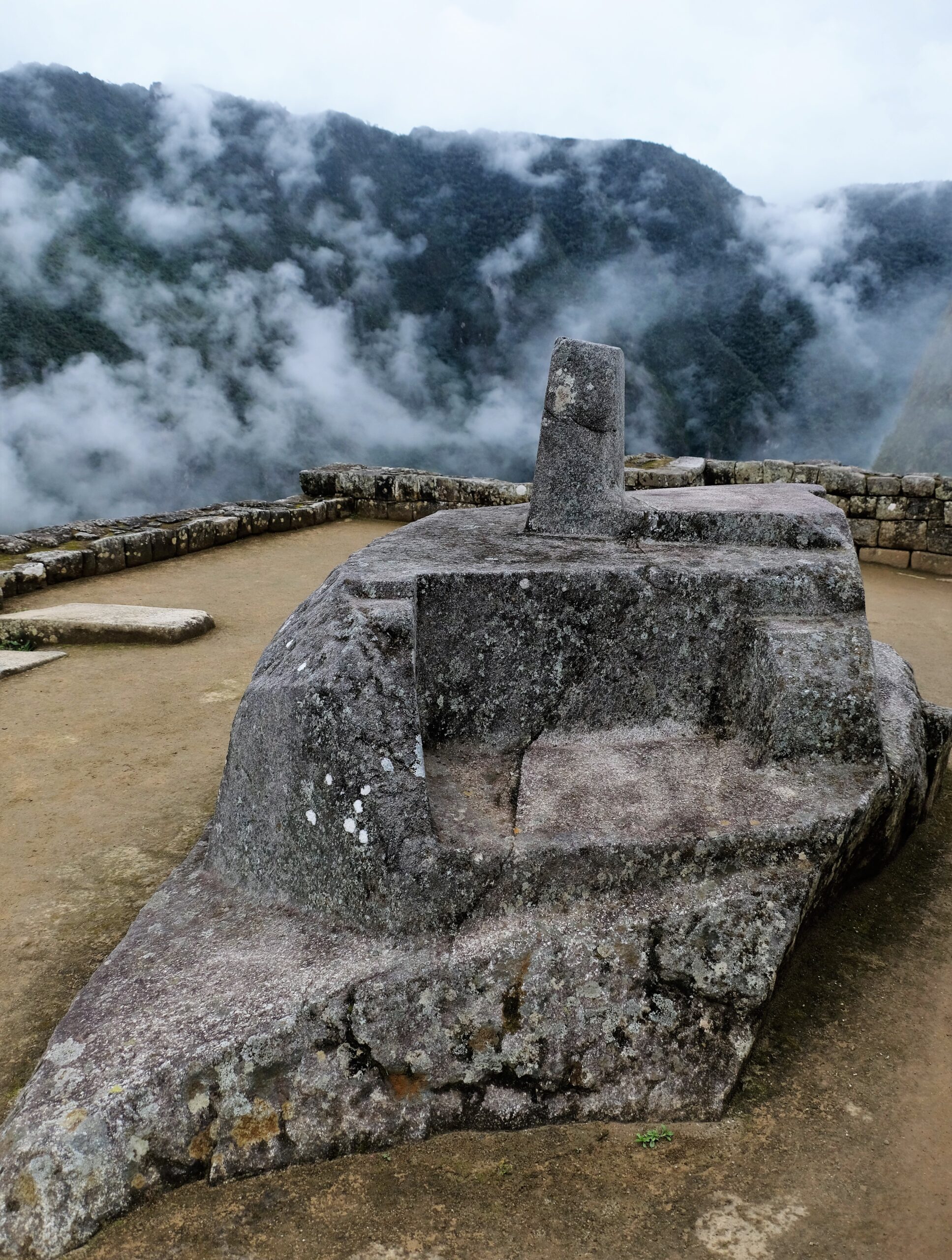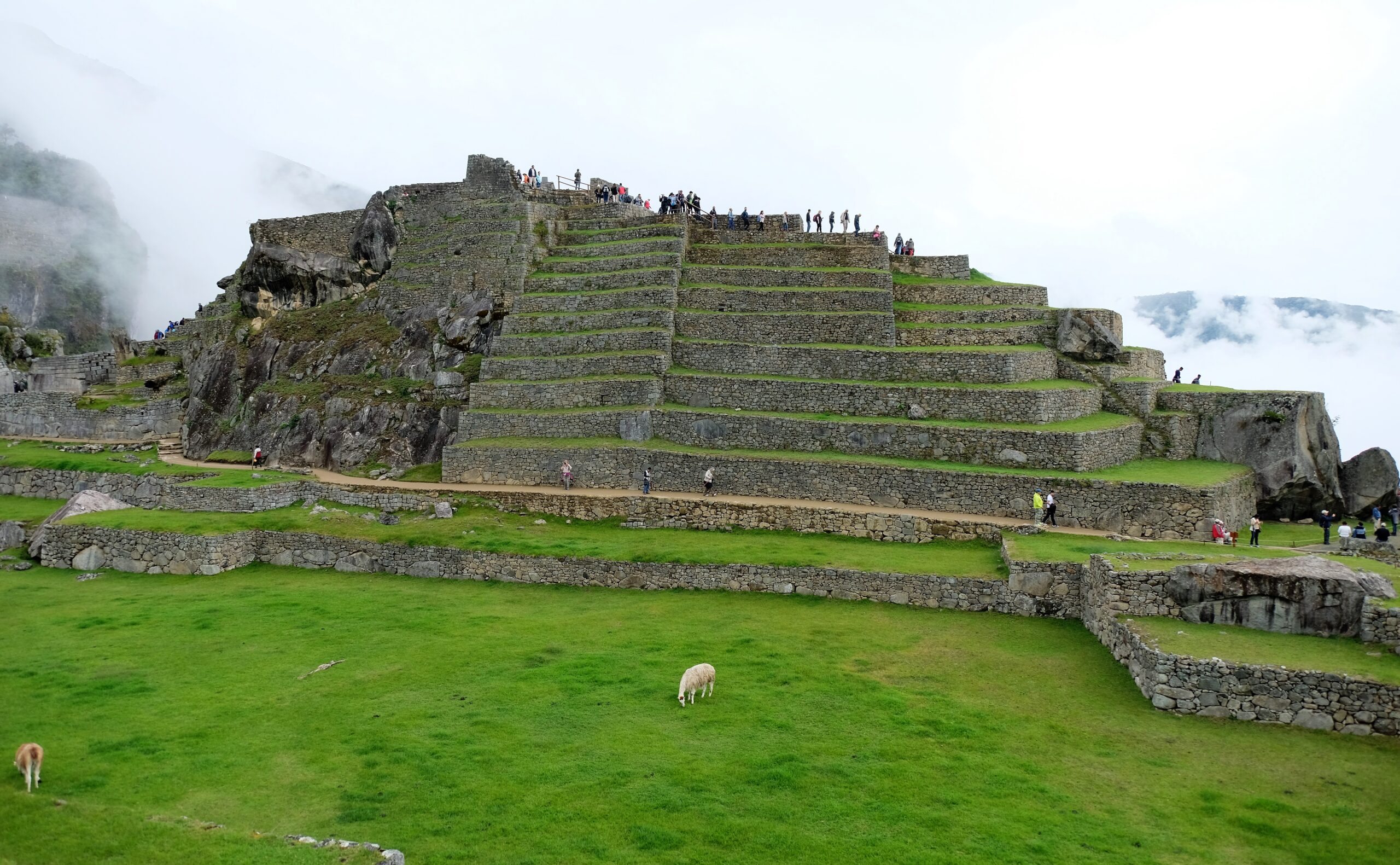 Room of the Three Windows / Temple of the Three Windows
Myths and legends are in abundance when it comes to Inca ruins, with the Room of the Three Windows a good example. In truth, nobody knows its purpose or significance. Located in a prime position in the Sacred Plaza it was likely an important building. Built exceptionally well with huge interlocking stones (they always remind me of tetris), the window wall seems to have been given extra prominence. The windows are symmetrical and trapezoid in shape, narrowing at the top and finished off with massive stone lintels. Windows face East, so some people think the structure had something to do with the rising sun…who knows. Another reason people think it has significance is because broken ceramics (pots, jars etc.) were found under the floor. These look to have been purposefully placed there and similar findings have been found at other sacred or places of significance.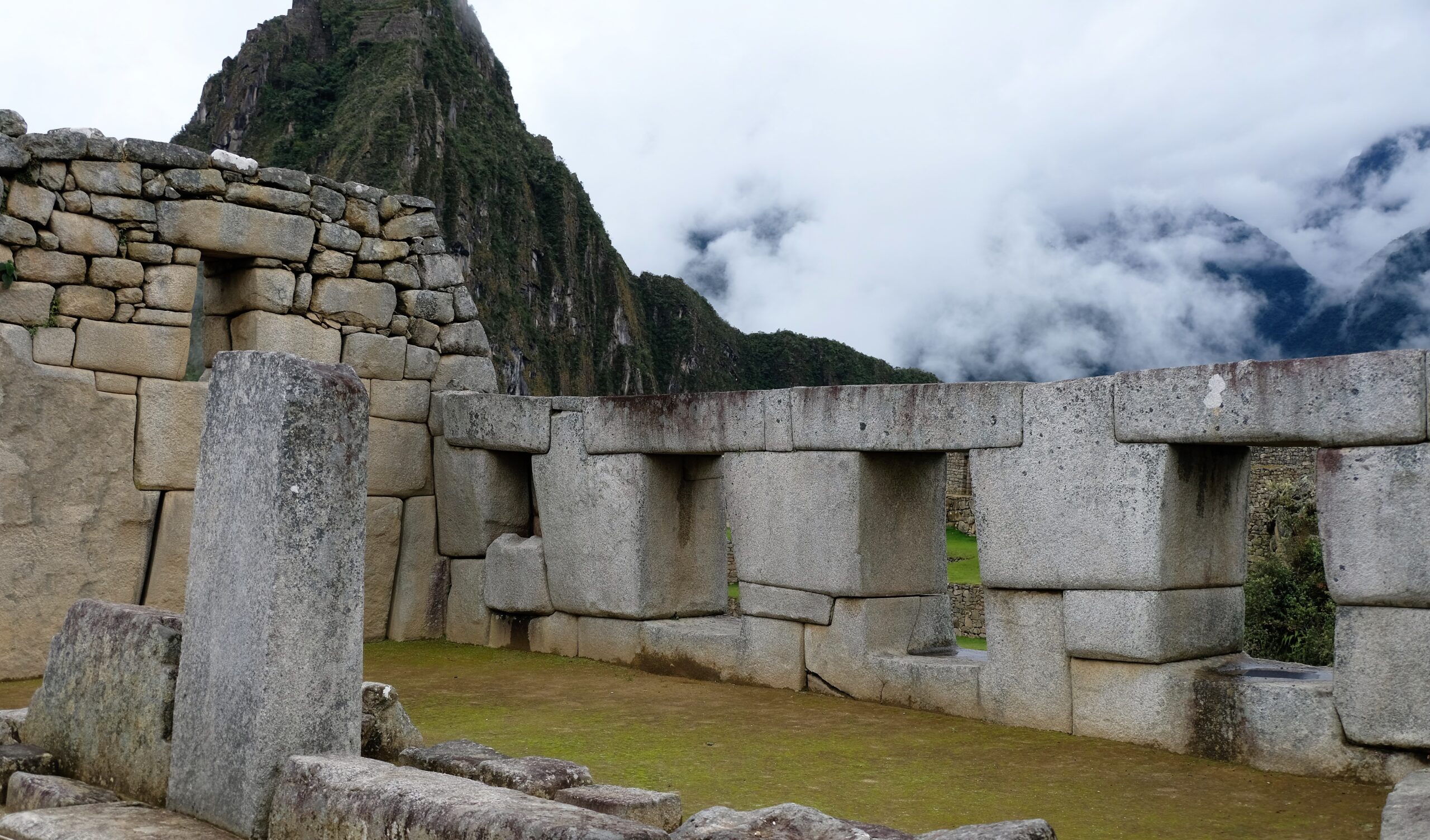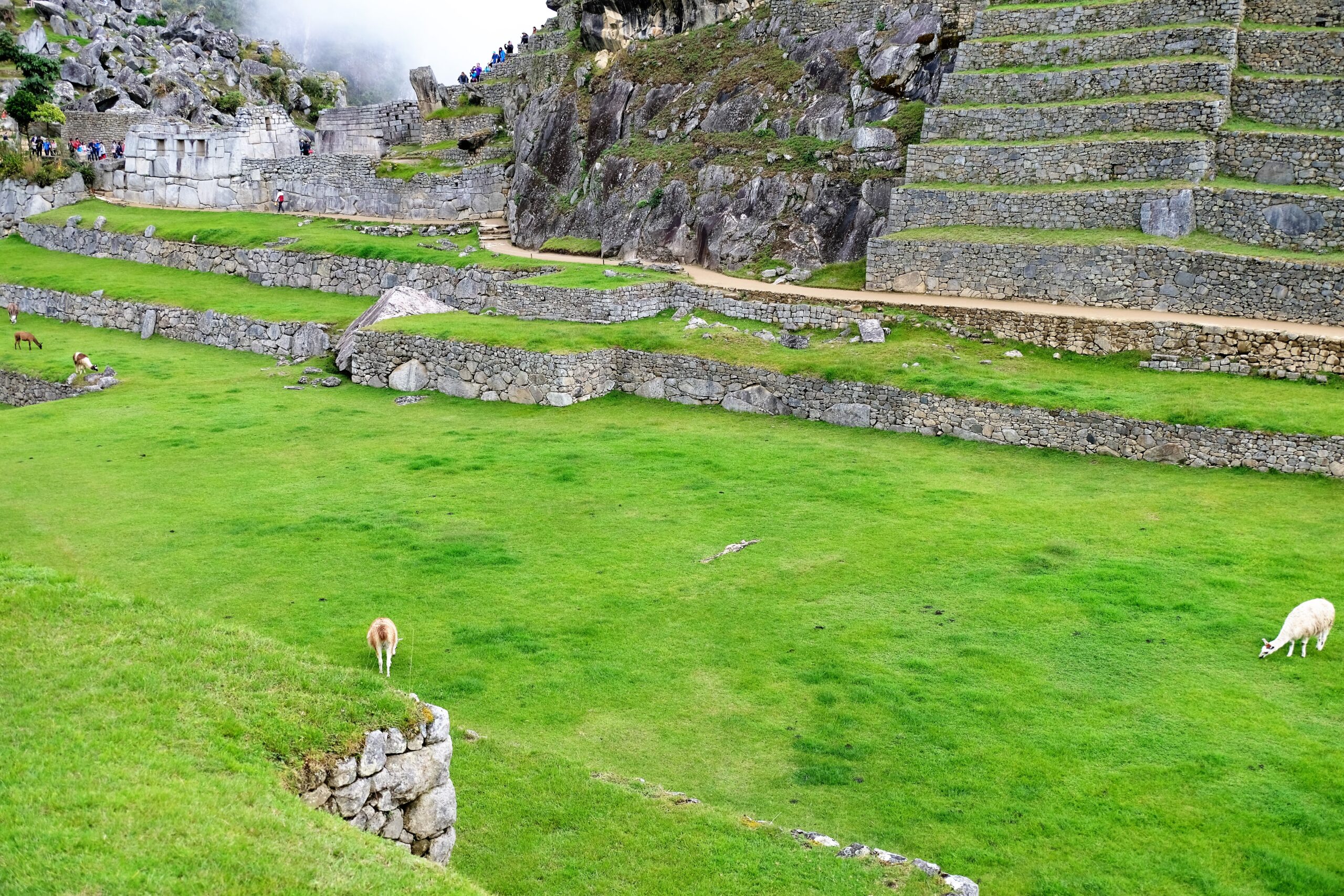 Temple of the Sun / Torreon
By the time I had come down from Inti Punku, visitors' numbers had grown substantially. I even saw a couple dressed very formally; the gentleman dressed like an 1800's English explorer (hat and tie) and the lady wearing high heels! They looked ridiculous! That's my rant done. Backtracking, the citadel area was filling up and I didn't want to stand in a queue just to walk past the entrance of the Temple of the Sun. Access inside wasn't allowed when I visited. Just like at Pisac the temple has a  semblance of a short tower. As if by template the structure is square with rounded corners and constructed of distinctly finer stonework to the buildings around it.
Inside there are a number on niches in the walls and two windows. These windows are called the "Solstice Window" and the "Qullqa Window". The former is perfectly positioned for the rising sun of the June solstice, and the latter perfectly placed to view the Inca constellation of Qullqu (Pleiades) at sunset (during the 15th Century). Taken from Wikipedia "as the patron of warehousing and preserving seeds for the next season. Of all the stellar pantheon worshiped by Incas, Qullqa was the "mother", the senior over all heavenly patrons of earthly things"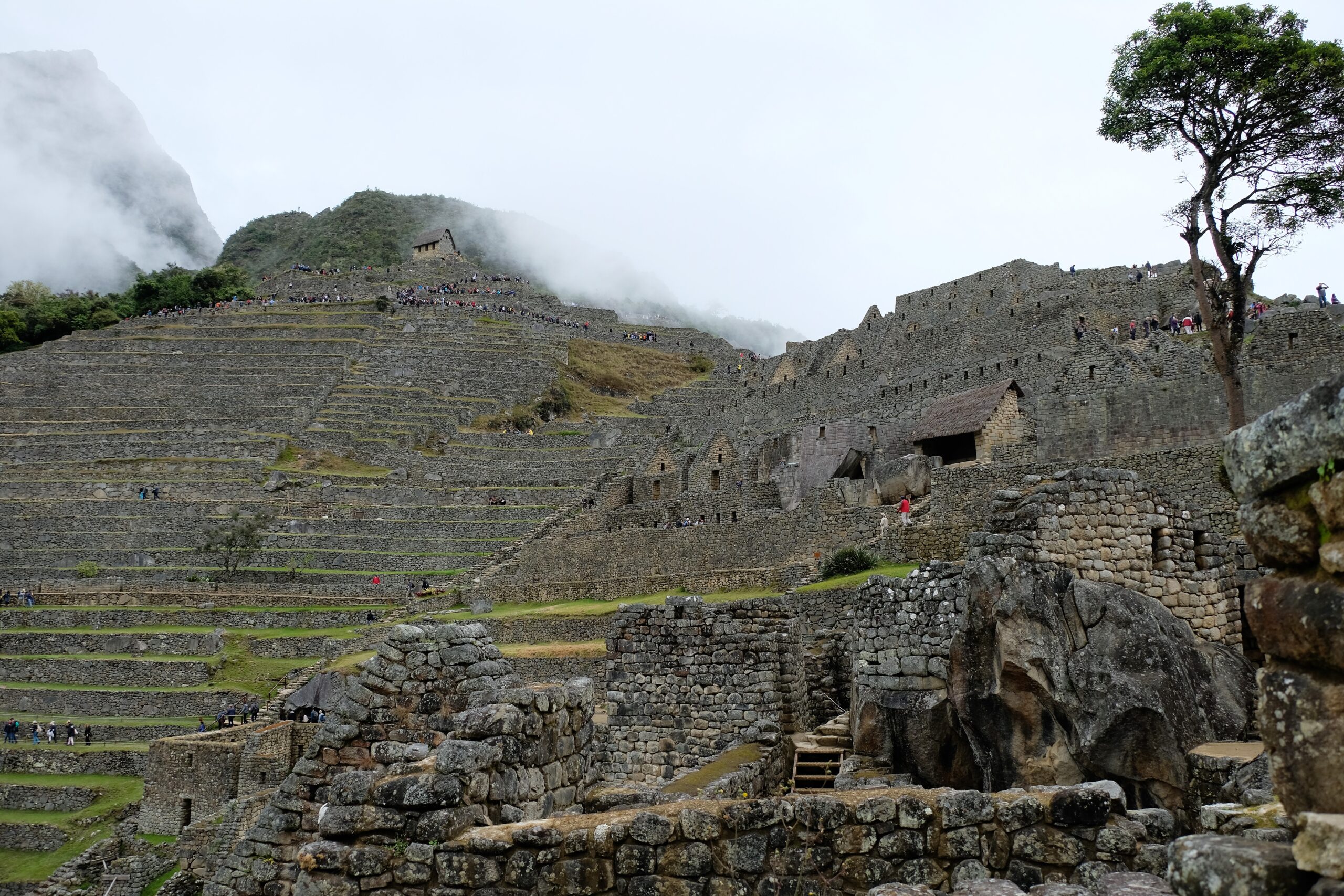 Altar of the Condor / Temple of the Condor
The artistic representation of the Condor is best viewed from the corner of this enclosure. This wasn't possible because of all the people. Surrounded by walls and natural rock formations, there is a mammoth piece of rock broken in the middle to form a "V" shape. On the floor some protruding rock which has been carve into the shaped of a condors' head. Standing back the "V" shaped rock with its coloured strata look like they could be sweptback wings. If nothing else, the Incas had a vivid imagination! Where they thought nature was telling them something or looked like something it must have meaning just like here at the Altar of the Condor. The altar (head of the condor) is thought to have been used during sacrificial offerings. Yes, the Incas did practise human sacrifices however this wasn't the normal, mostly using liquid, earth, food etc.
Behind the temple (behind and above) is a prison, though I'm not 100% sure if this is true. So some people have speculated (contrary to what I said earlier), some prisoners may have been used as sacrifices at the Temple of the Condor. Human sacrifices are difficult to confirm; the sacrificed weren't buried properly leaving little to no evidence today. There is evidence that people (plural) were sacrificed to accompany nobles/Sapa Inca and the very elite in the afterlife. These people could have been current servants or offerings, these individuals are called retainers and this sort of burial was used throughout ancient cultures.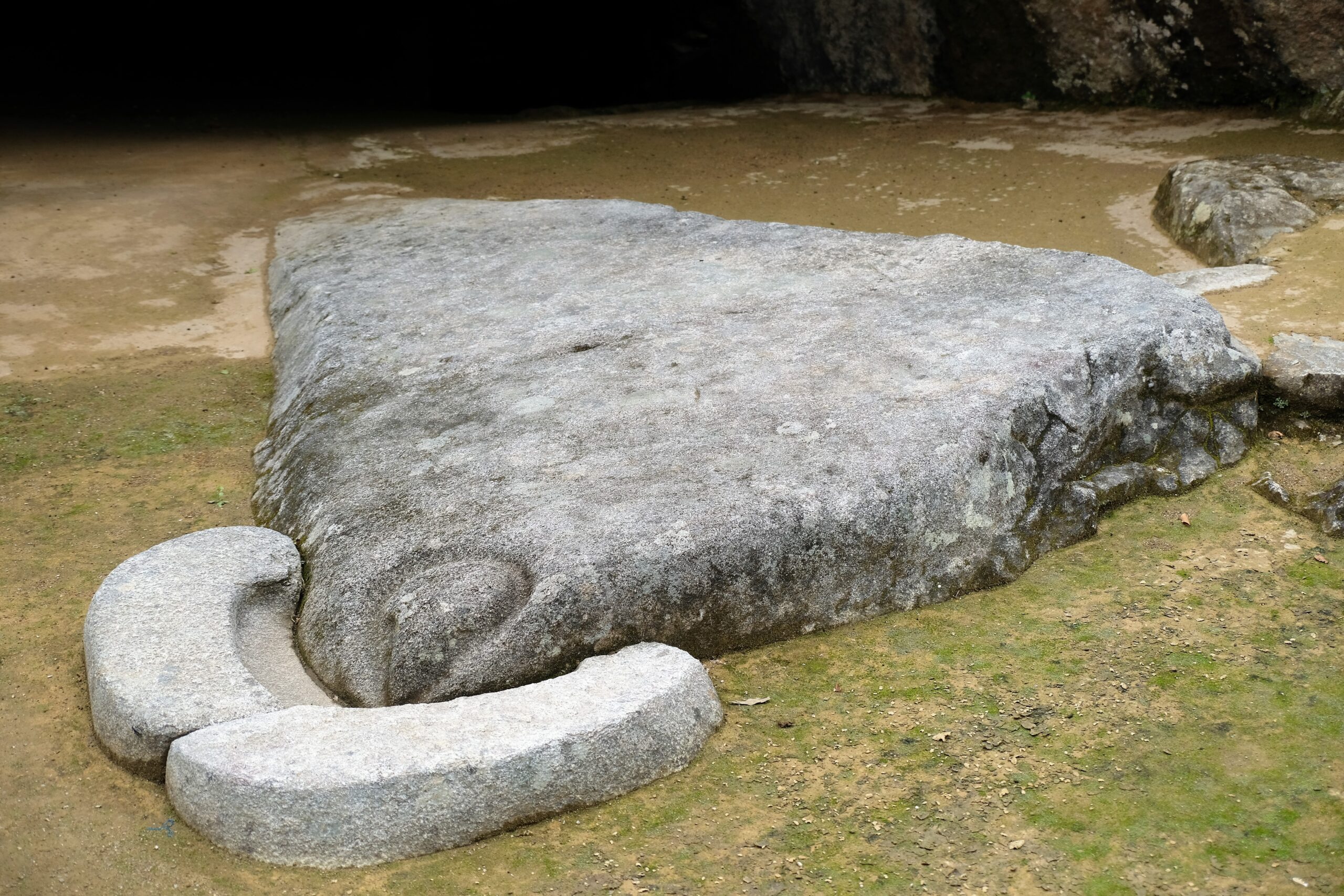 Guardhouse
An odd building in a prime location with the best 360 degree of the whole of Machu Picchu. Reason? It was used as a by guards with a perfect view of people arriving from Intipunku (Sun Gate) or the opposite entrance coming from Vilcambamba. It's odd because it only has three side walls, the fourth side is totally open. I can see the benefits of this design, more of a hut, but still odd.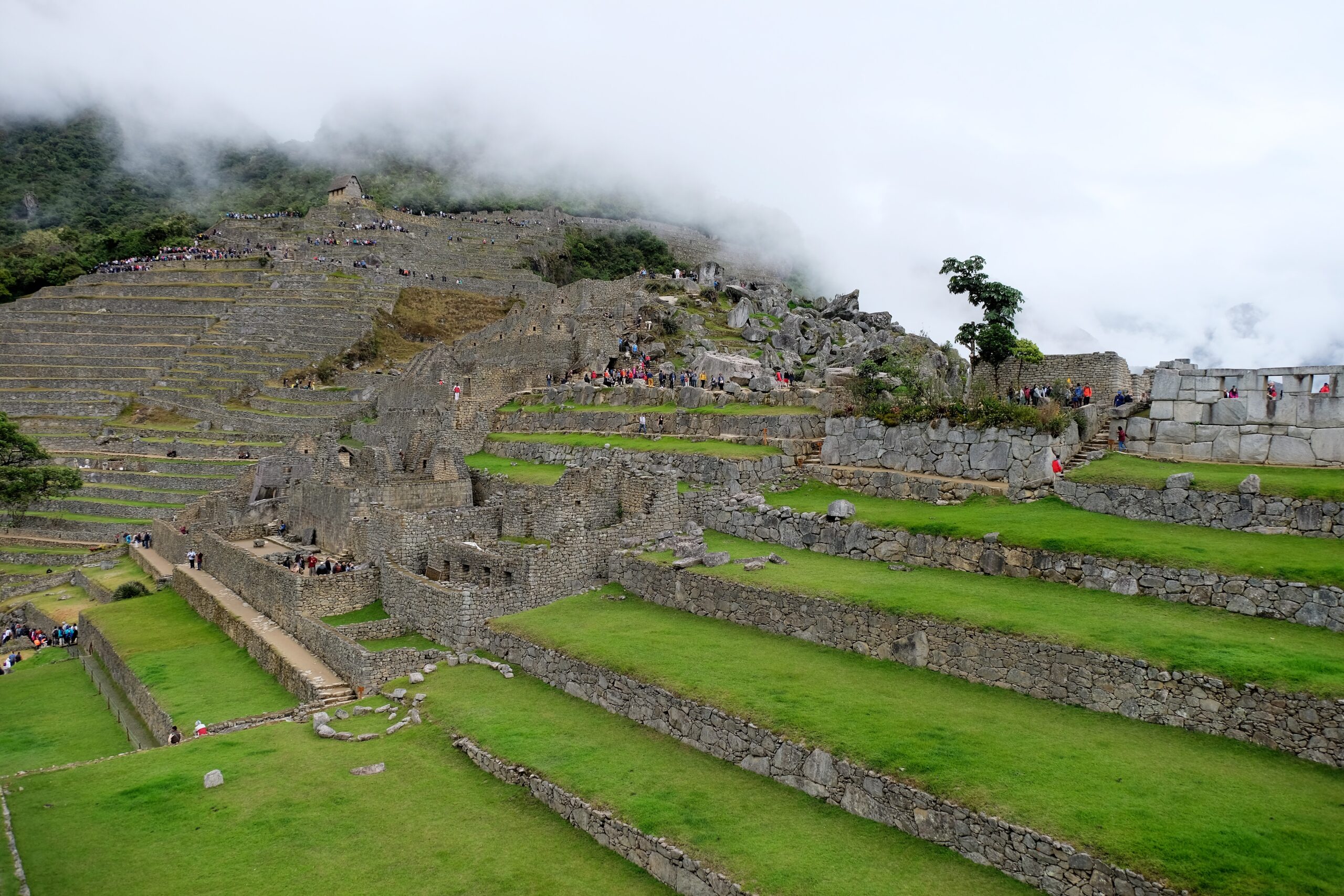 Pr

incipal Temple / Main Temple Machu Picchu
Prominently position right in the Sacred Plaza this three walled temple is adjacent to the Temple of the Three Windows. Looking a little dishevelled caused by earthquakes and ground erosion its superior workmanship is unmistakable. Built using a combination of very large stones for its base and smaller equal sized smooth stone bricks (bit bricks at that). Like the Guardhouse it seems odd to only have three walls, here the interior has 17 niches probable use to display important or religious objects…maybe even some of solid gold.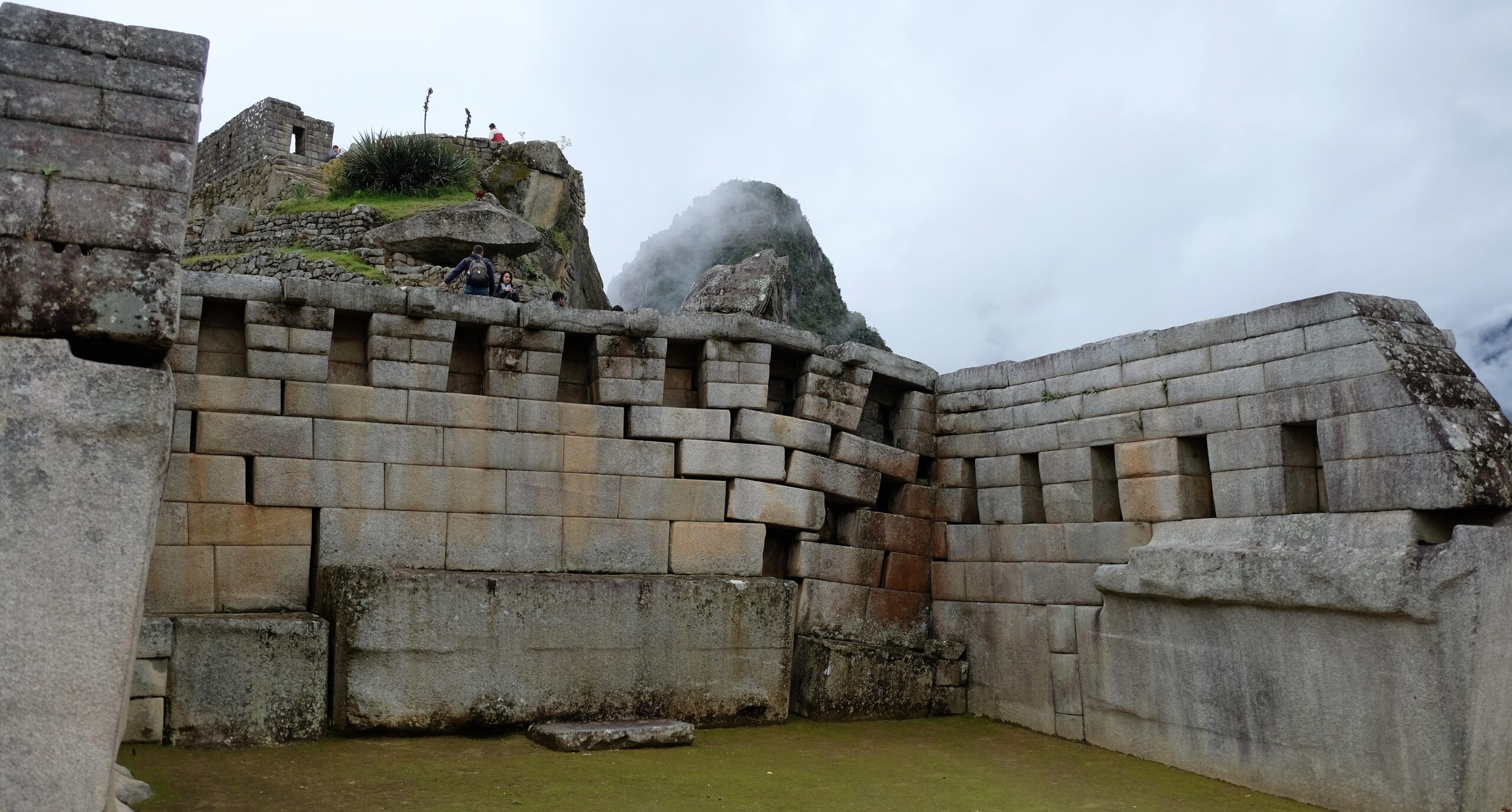 Sacred Rock / Wank'a
Flanked on either side are open sided buildings said to be used by people carrying out ceremonies, the Sacred Rock the focal point of proceedings. This monolith isn't from the bedrock, it has purposefully been positioned here. Some think it resembles the mountain in the background, I wouldn't know because the mountain was covered in clouds. Others say it has been carved to the outline of a puma, I don't see that and think people are grasping at straws. Nonetheless, it must have had a significant purpose to cut, move and position such a monolith!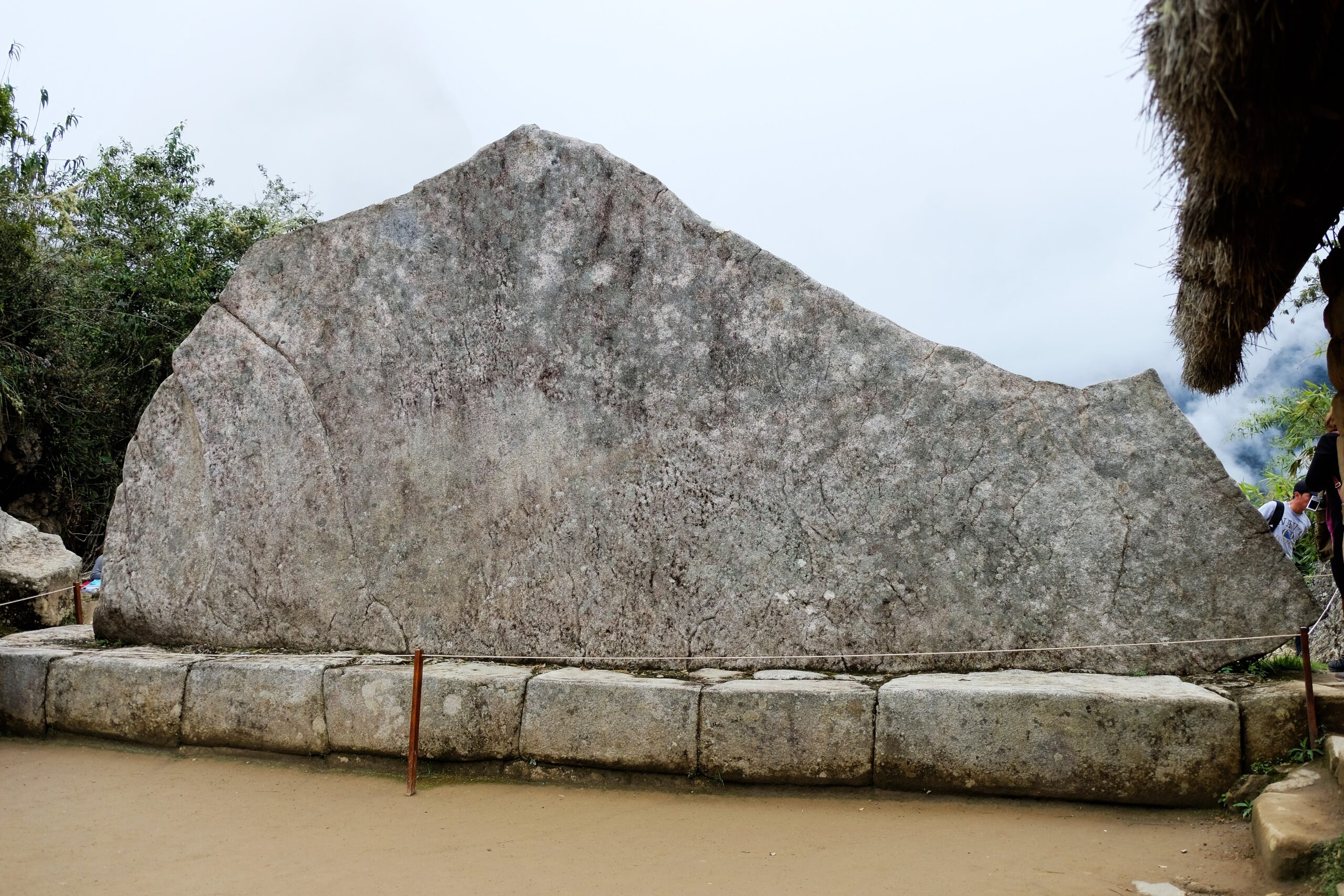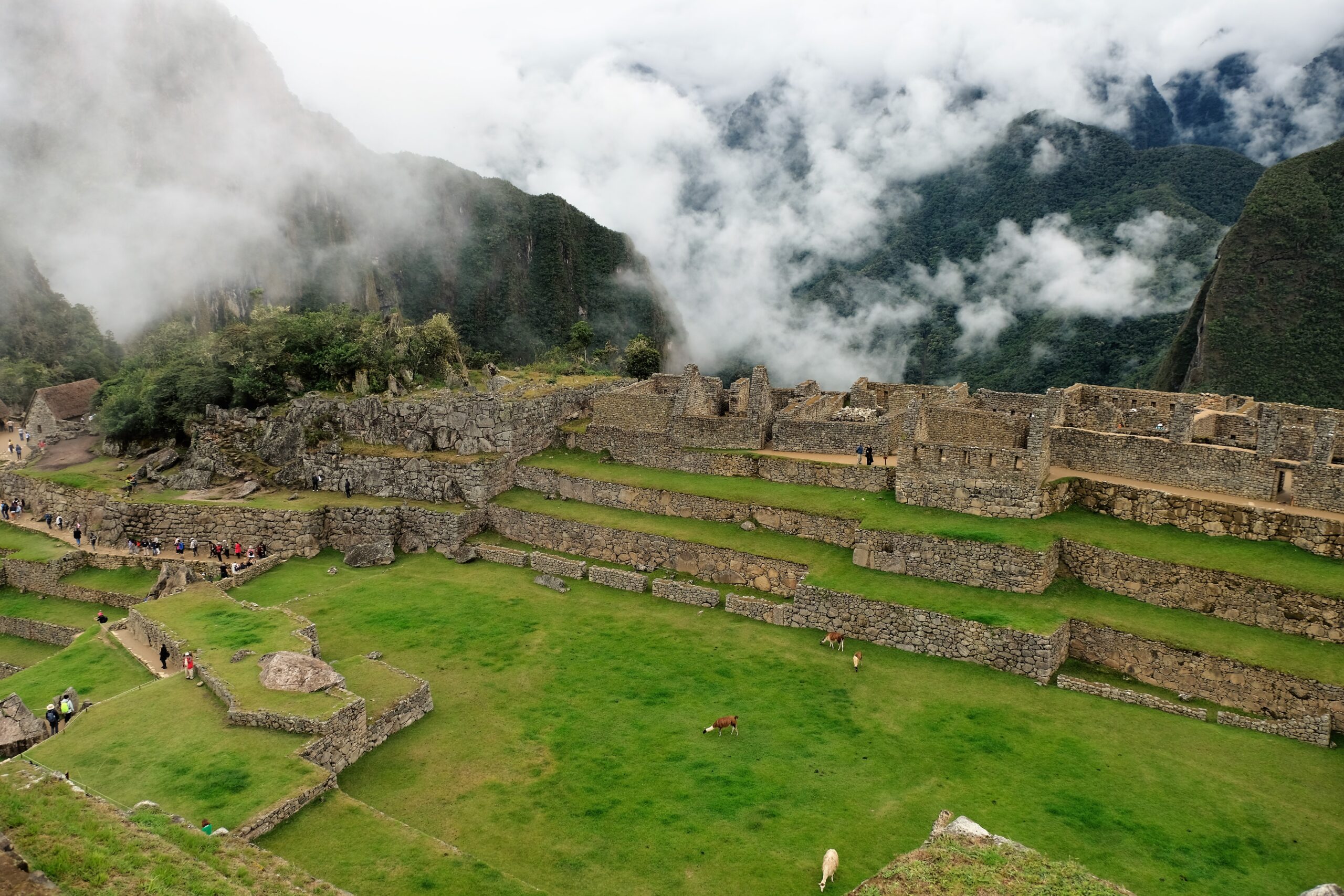 Water Mirrors / The Mortars
A word of warning here, Wikipedia is wrong, these are not at the bottom or floor of the Sun Temple – that I can guarantee. Found in an area referred to as Acllahuasi or House of women, where food was prepared, spinning and the making of chichi (Inca beer). Their exact function isn't known but there are two main hypothesises. Firstly, they are used as mortise to grind crops. I must admit, this seems odd because they have a squared lip. Using them as a mortise they would have needed an opposite shaped pestle, not impossible feet with the Incas skill. It would be a very different technique to anything I have seen before at historical sites covering 5000 years. Another note they are cared into the bedrock. Second theory is they were filled with water and used for some sort of astronomical observation; reflecting the heavens in the reflection.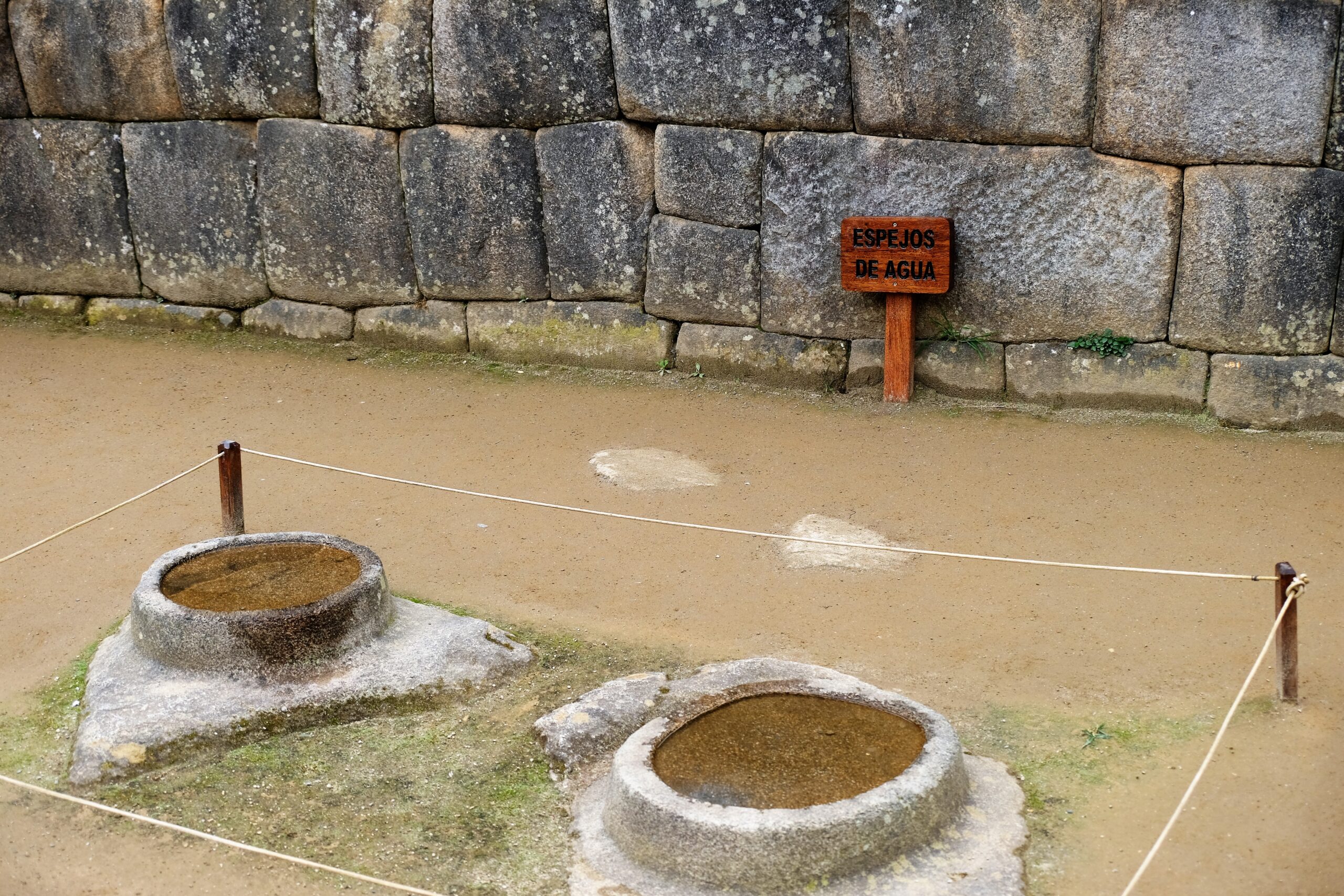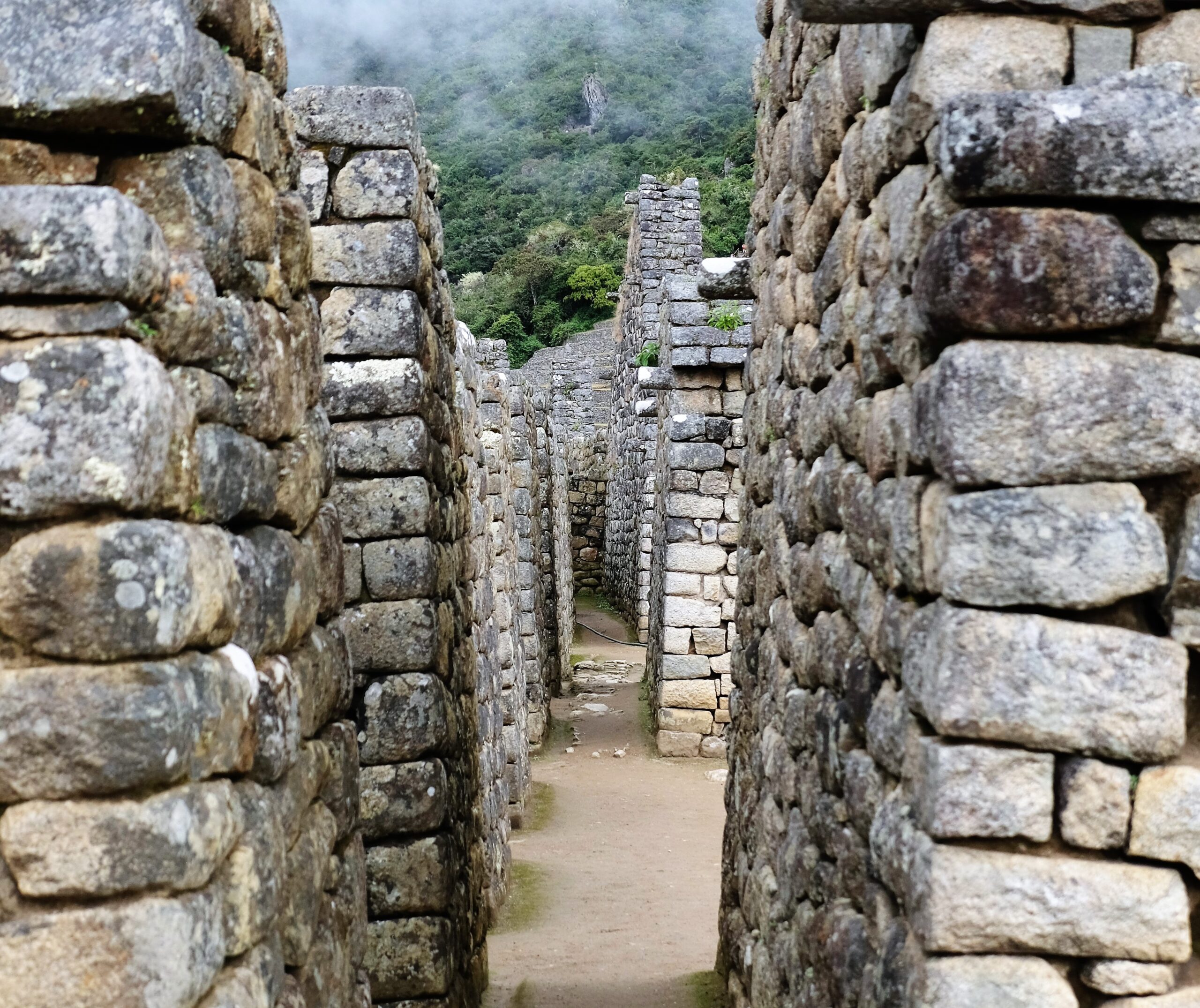 Terr

aces
Unlike many other Inca sites, here water to irrigate crops wasn't a problem, drainage was the problem. Machu Picchu gets about 1800mm of annual rain, so almost no irrigation system was needed. The engineering challenge was to ensure good drainage to prevent ground erosion and landslides. Building against a mountain at such a steep angle takes exceptional planning, experience and skill to execute on such a large scale. These terraces may not be as expansive as other sites, but their positioning and angle are just amazing. Even on the steepest parts of Wayna Pikchu the Incas built terraces. These were people that didn't shy away from a challenge nor did they take the easy route with anything. If they wanted or needing something done they did it no matter where or the challenges and they did it with skilfully aplomb.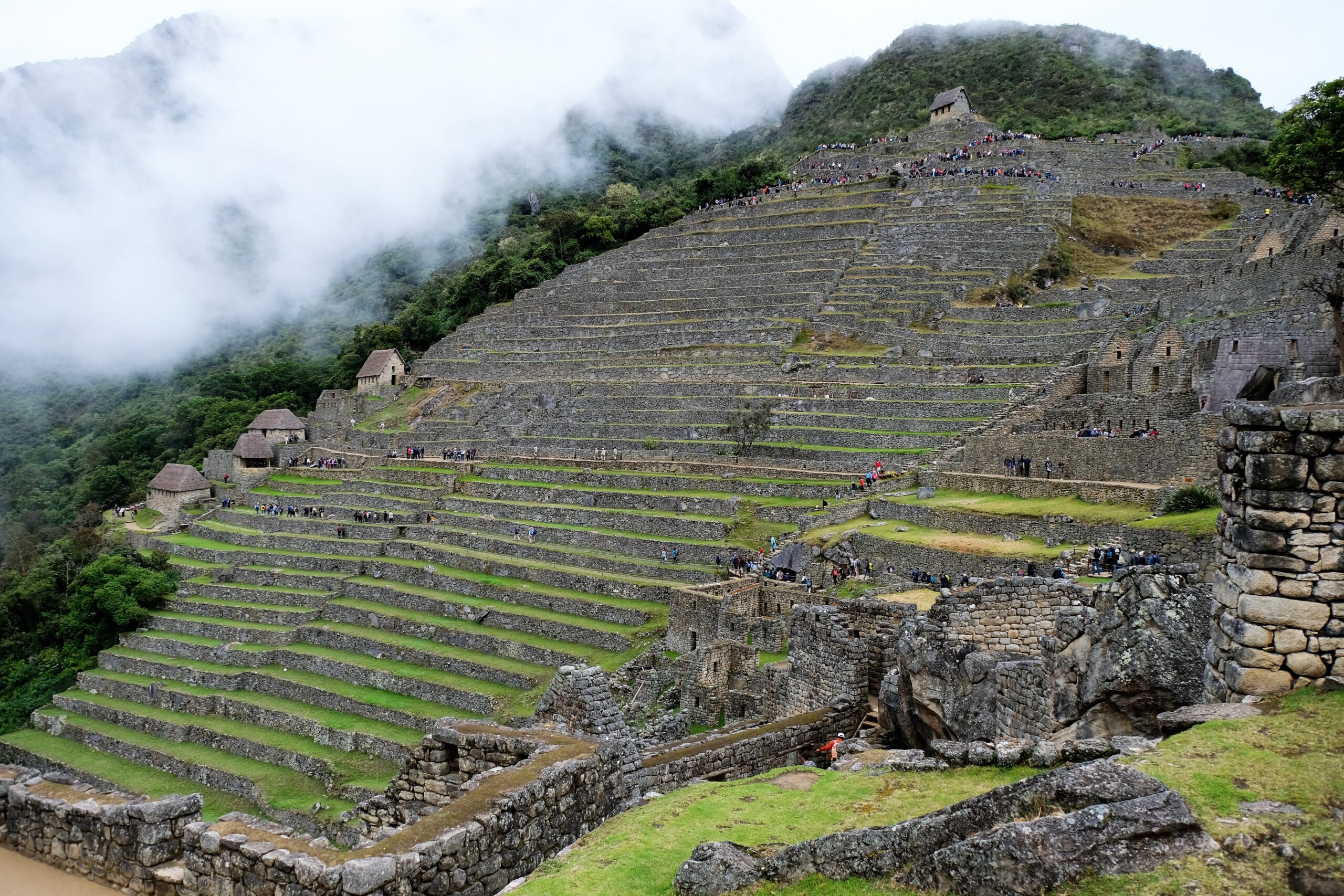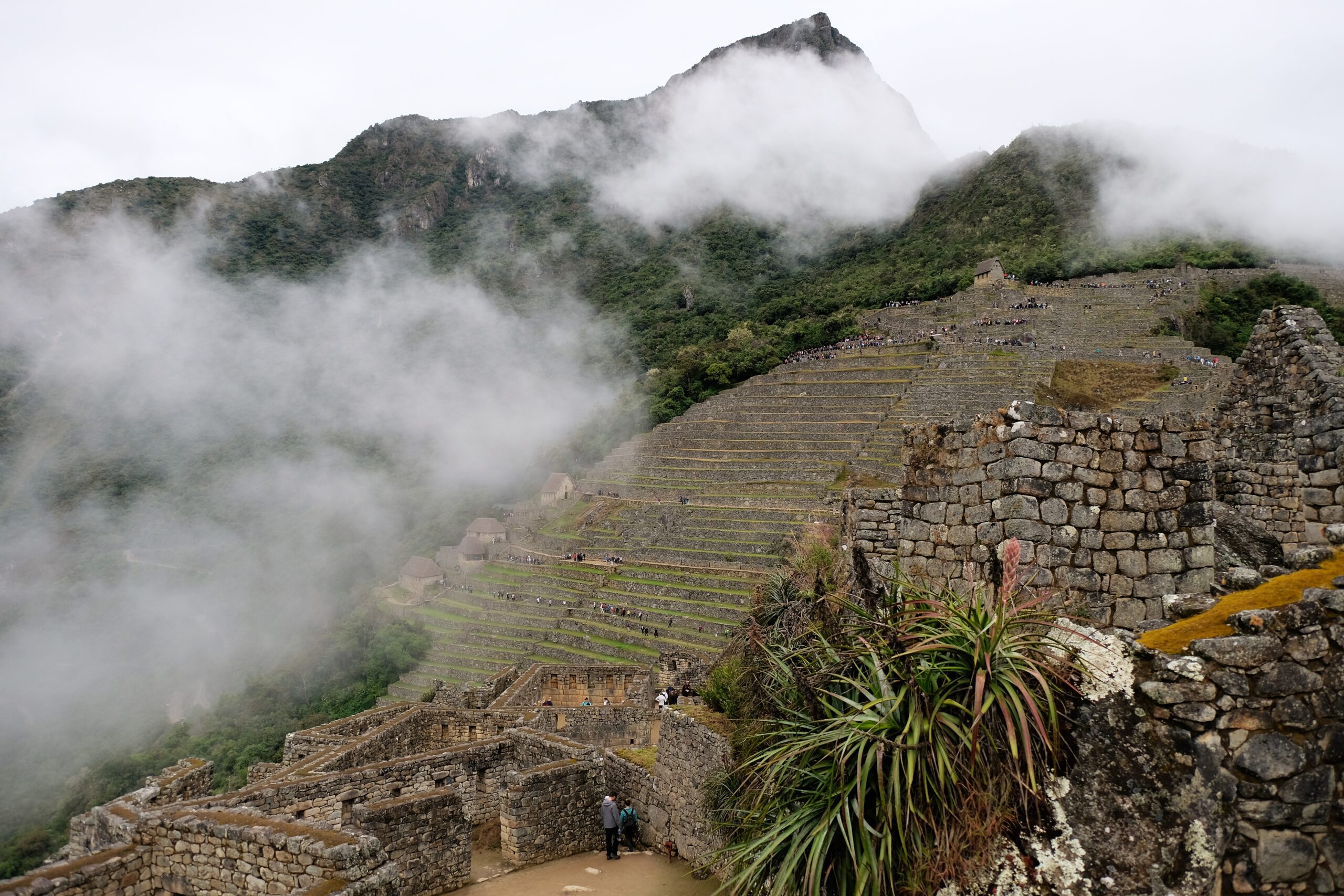 Other notable sites at Machu Picchu
There are so many, I saw most but not all. In some places by early afternoon it became overcrowded. Instead of becoming frustrated I just moved on. Still some of the other notable things to see are Monumental Mausoleum, Funerary Stone, The Quarry (which is almost everywhere), Old City Gate/Entrance and the Royal Tomb
A final word from Machu Picchu
As a UNESCO World Heritage Site and voted as one of the New Seven Wonders of the World (I don't agree with all of them), this is a fantastic place. The pictures don't do it justice. I enjoyed it so much that I extended my stay in Aguas Calientes for another day. Unfortunately all tickets were sold out, such a pity but not surprised. The next day I wondered about town making my plans to get back to Cusco. From there I would make my way to Bolivia to start a new adventure.
In my next blog, which will be considerably shorter than this one, I'll cover my trip back to Cusco. Mainly videos of the train ride from Aguas Calientes to Cusco, a scenic train ride. I've not written such a long post in quite some time, I do hope I have not bored you to death. This time I have a lot more pictures to post on my Batnomad Facebook page than I used in this post – I'll post them two days after publishing this so take a look