I really struggled to find a pair that I liked.  I didn't want running style shorts because the lack of and depth of pockets.  I didn't want cargo shorts either, usually made of thick material which is a bugger to dry, they are tough though.  So I looked around…..something with deep pockets, at least four pockets with one, preferably two that closed (back pockets in my opinion are not the safest), dark colour, strong material but not too heavy, easy to dry (gives a dual purpose as you can also use a pair of swimming shorts) and not khaki.
Shorts:
Kathmandu (grey)
Comfortable and ticks the box in most departments, they're the best pair I had found after a log of looking! Has it's own belt (not a full belt; build in so it cannot be used elsewhere) which makes them look a little smarter, the belt and buckle are not just for show, it really works well – the buckle is matt plastic and looks nice.  After searching around for ages these were the first pair of shorts I found that matched what I was looking for and much cheaper compared to other's which didn't match most of my criteria, especially colour; I found many cream/light khaki coloured shorts but I don't like light shorts because you site down once on something even slightly dirty and it leaves a mark.
Salomon Quest (Black)
I don't know if they still make these, I've look around and cannot find them anymore.  They may have discontinued or upgraded to the Salomon Wayfarer (I've not tried these before.  The Quest has two leg-side pockets with zips (mesh inside), two normal side pockets (with mesh inside), the right-hand-side has an addition zip pocket inside too, there is also one back pocket with a zip (mesh inside).  The meshing pockets in my opinion are excellent; helps with drying and because of the material of the shorts you could definitely use these to swim in.  They feel very comfortable, a slight slim cut but with lots of manoeuvrability.
Fjallraven
Men's traveller shorts (not exactly but close to navy blue) – I hadn't given this brand much thought, I know it quite well, nothing against them either, I just happened to stumble upon these by accident, very happy I did!  A waxed polyester and organic cotton blend but doesn't have that waxy feel.  They have two side zip pockets  (mesh inside), two back zip pockets (not meshed), two side pockets for your hands the left one with an internal zip pocket and a change/money pocket with a seal flap (not totally secure.  They also have a additional side pocket (more back than side) which can fit a phone with a single clip to close; my phone with case (S7 Edge) can fit but the button can't quite close.  All in all a great all round pair of outdoor shorts and they had a slight formalness to them so if you're in need to spruce yourself for whatever reason these could do the job too!
I take a pair of swimming baggies wherever I go, never a brand-new pair…don't want to look too much like a tourist! I could also use any of the above shorts to swim in too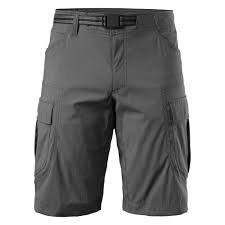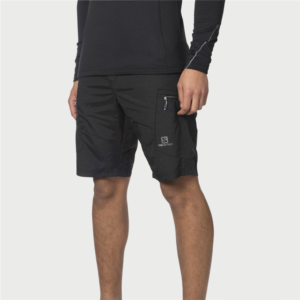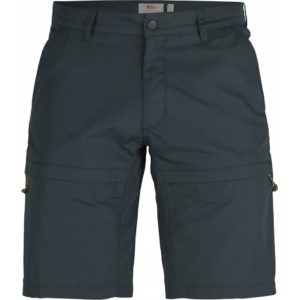 Trousers:
My criteria for these (only one pair) was down the same lines as the shorts; tough, reasonably quick to dry, not heavy nor too thick, four pockets (at least two that are deep) and look as plain as possible i.e. not look like combat trousers – preferably something resembling casual trousers.  I found it even more difficult than the shorts to find a pair that either didn't look like you were going hunting, flairs so wide you could have just arrived from Woodstock, or made from neoprene type material.
Orvis (Jackson quick dry trousers – grey)
They are lightweight fabric that dries fast (100% nylon), it has a combination elastic and belt loops so even if you don't have a belt they will fit fine.  Two normal pockets, one side and one back pocket, both with zips, all the pockets are half meshed and the cuffs at the back of the heels are reinforced too.  These trousers are head and shoulders above everything I've seen and tried on to date!  They are light, comfortable, could easily pass as a normal pair of trousers and with a nice shirt you could go just about anywhere.  If these last it will take a lot for me to not continue buying these.
Kuhl (green/grey/brown
Don't know what you would call the colour) – they look ok, the cut is ok, they are however comfortable even when you're on your haunches; the waist cut just works, the crotch is also gusseted with four small ventilation holes. It's an odd type of nylon material and reminds me of the Barber oiled coats.  They will definitely not win any fashion awards but I certainly saw and tried on many many other's that looked a lot worse!  Personally I think these trousers are more suitable for safari or using whilst in the bush so I'm going to keep these in the cupboard until I go on a trip where they are suited for.  For general backpacking, especially in summer/beaches etc. I think the Orvis are a better choice.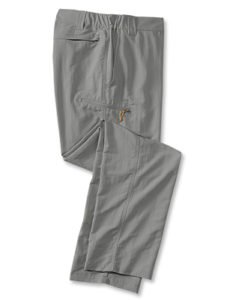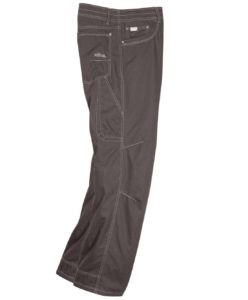 For my thoughts on how I go about choosing gear take a look at this link, Travel Gear and here are quick links to the rest of my travel gear:
If you'd like to read about my thoughts, experiences and stories here is the link to the blog page.  Alternatively, I have also included separate postings on my Facebook page just with the photos – Facebook Batnomad