Museum of Gold was the main ticket of the day, the rest would be exploring around La Candelaria. La Candelaria is about 35 minutes from my hotel. I would end up doing this trip almost every day. Normally this would have made me move. La Candelaria is a much funkier, exuberant and a million times more eclectic than around Hotel Bogota Virrey. I didn't' feel like dealing with the crowds day and night. I don't regret not moving but wouldn't stay in the same area again. Besides, I enjoyed the daily trip see areas less visited by tourists.
The route we took varied some days. Sitting in the back of the car I stared out the window like a child daydreaming. For such an interesting ride I didn't take a single photo. Instead, I took the time to observe. Each day staring out the window as if it were my first time (not far from the truth). It is quite easy to get caught up with just looking at places and things, without taking the time to "take-things-in". I've observed this throughout my travels, disturbingly; seeing people obsessed in getting "the" picture yet being oblivious to their surroundings or taking the time to merely enjoy what is in front of them.
Heading to La Candelaria the ever presence of Reserva Natural Cerros Orientales (I think!) looms in waves of lush dense green on the left. I'm not confident that's what it's called. Nonetheless, the wall of green is a contrasting break juxtaposed against the variety of urban bricks and mortar. Through high-end residential areas of mid-rise blocks. Past large uninviting metal gates offering glimpses of tree-lined driveways vanishing into the imagination of luxury. The road winding past poorer areas pepper with graffiti. Up and down hills flowing into everyday life of Bogota. Never passing by the equivalent of favelas, those can be seen on the outskirt of the city, to some degree even on the periphery of La Candelaria.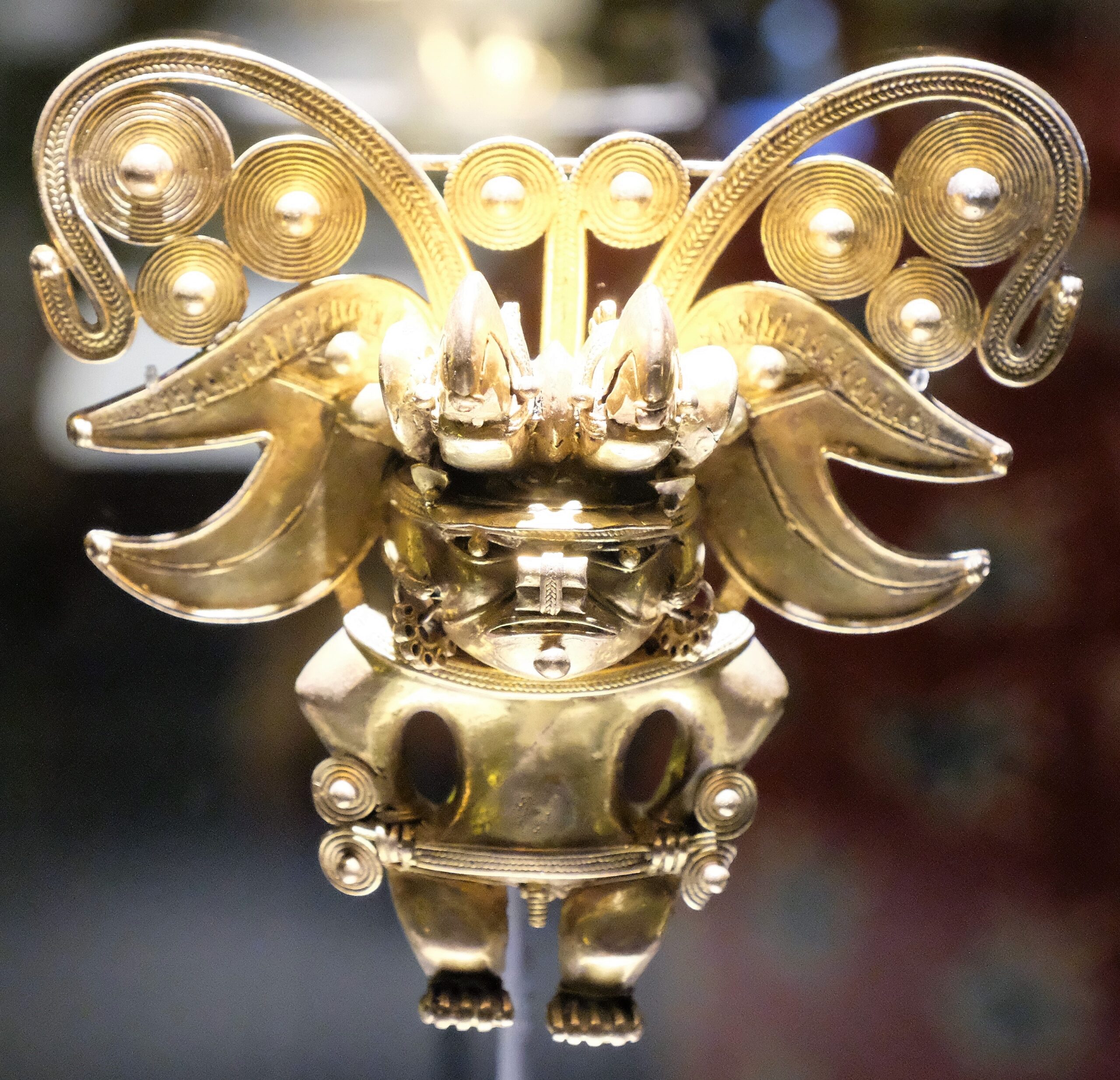 Museum of Gold / Gold Museum
Located in Cundinamarca municipal area, I think in the suburb of La Capuchina. Museo del Oro is the nearest metro station. A somewhat unassuming building, half old, half modern minimalistic concrete, out of sync with its surroundings. Well worth the visit. The type of museum that isn't a goliath taking a day just to travers the halls. Instead, you could easily walk through it in a morning, yet there is enough to explore for a lifetime. A place where you could revisit multiple times and never get bored, each time spotting something you missed the previous visits.
Speaking to locals, or in the very least having friendly knowledgeable hotel staff can be of great help. As was the case at my hotel. Thankfully I did because the museum was very busy, not even the busiest day. Museum of Gold cost around USD 1 for entry, an additional USD 2 for an English audio guide; Tuesdays to Saturday, Sunday is free (busiest day), it's closed on Mondays.
Museum of Gold primarily covers the pre-Colombian era; broadly pre-1492. It houses the largest collection of gold artifacts in the world. Central and South America are sadly mostly known for four groups of people; Inca, Aztec, Mayan and Amazonian tribes. Pity, as this region has many hundreds of years rich history. With populations into the tens of millions, covering vast areas, they left a wealth of artefacts, architecture, culture, and history. Today we are only beginning to scratch the surface of these complex cultures.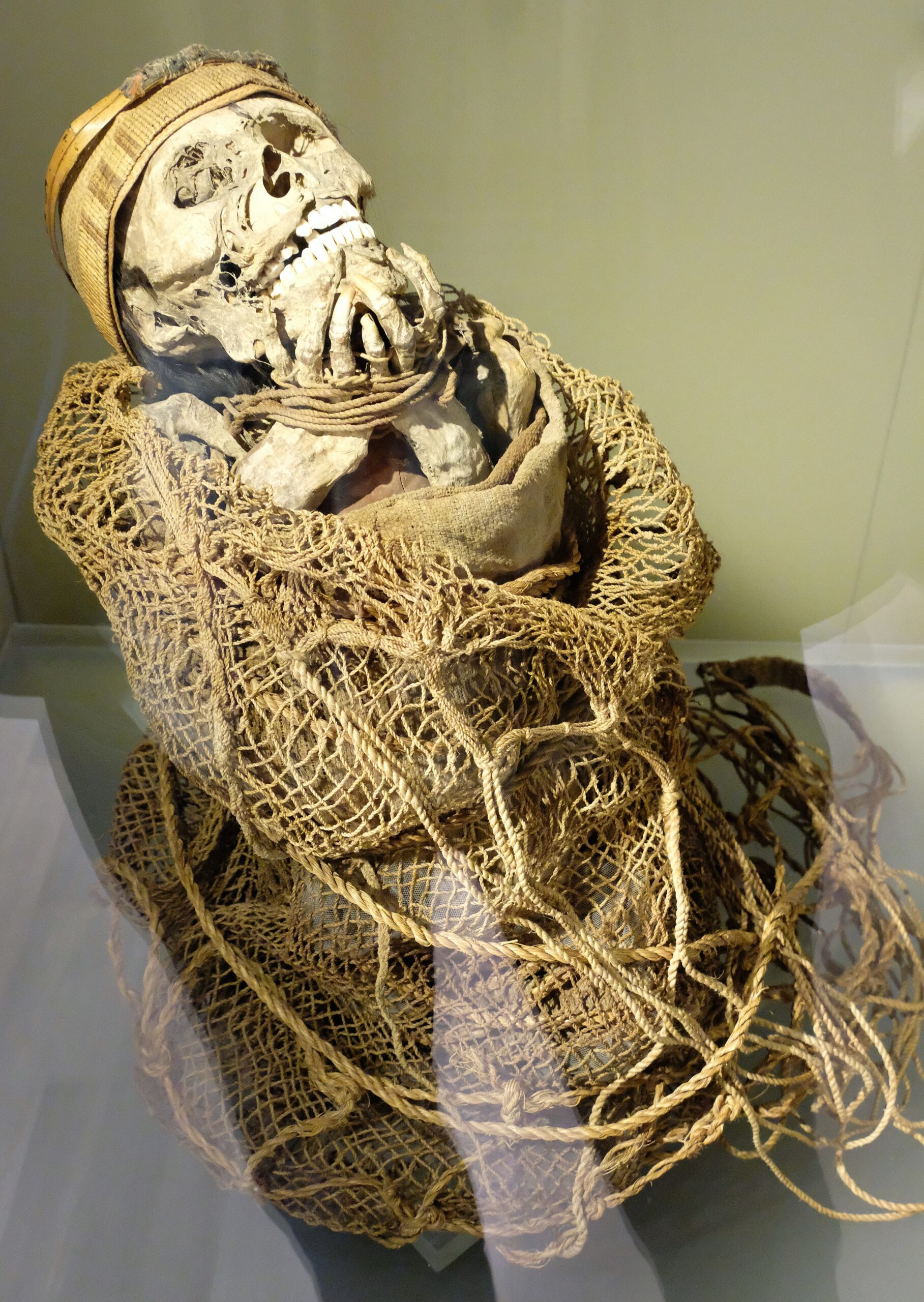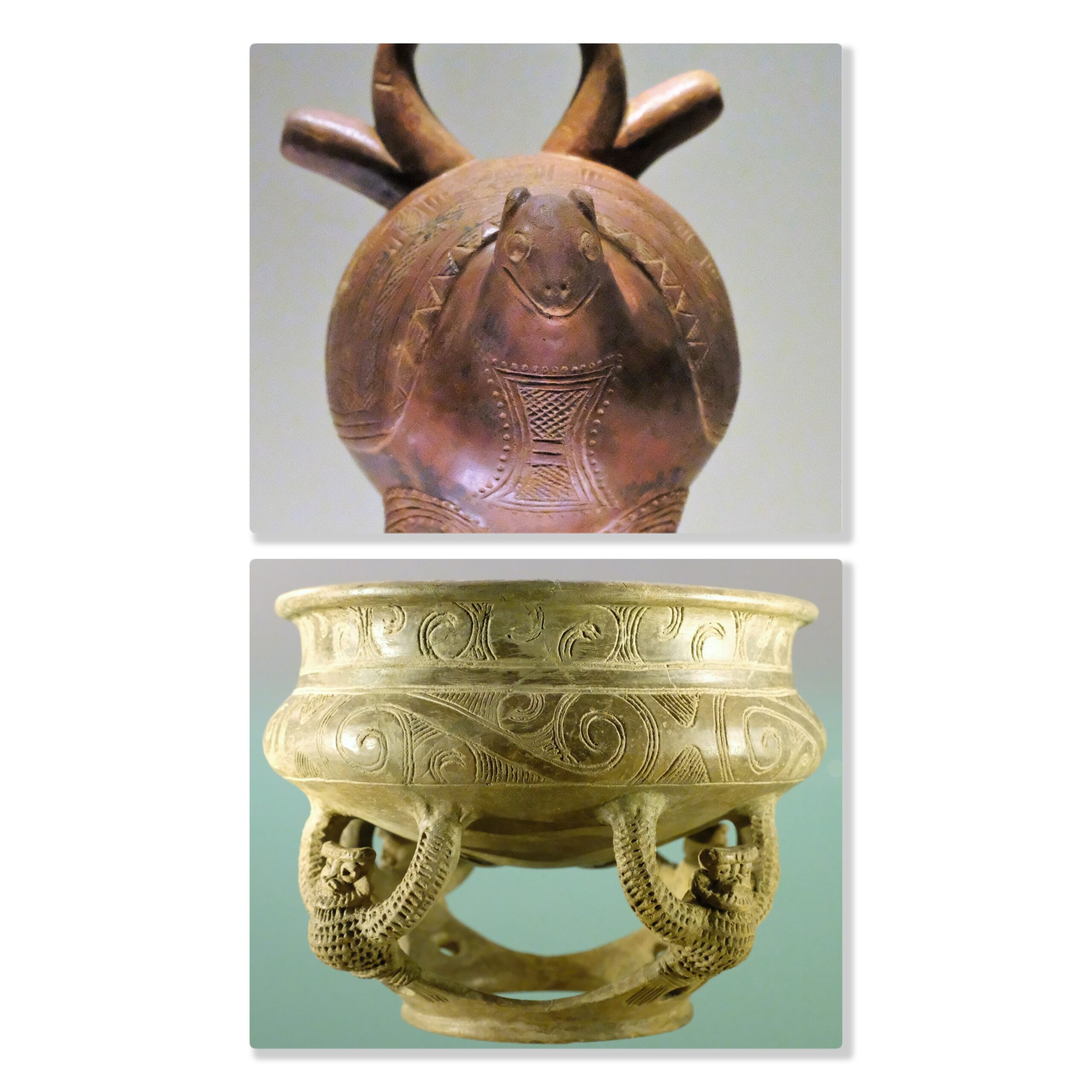 Value of gold
Back to the Museum of Gold. I would recommend the audio guide if you don't speak/read Spanish like I do. Even if you don't, you don't need to be an expert to appreciate the exquisite pieces on display….there are thousands! Made from an alloy of copper and gold, the Spanish gave it the name Tumbaga. This alloy offers the best of both worlds: melts at lower temperatures than the individual metals, durable and easy to work with, can be pounded paper-thin without breaking. Tumbaga covers any alloy with both metals. Ranging from 97% gold content to the opposite, 97% copper. To the naked untrained eye (a.k.a. me) it all looks like gold.
The artefacts on display reflect the museum lights behind their protective glass (my excuse for my picture focus 😊) as if the sun glistening upon them. That's precisely one of the reasons the pre-Colombian revered it so much. Gold, represented their most powerful god, the sun. Gold's intrinsic value (Western concept) had nothing to do with it. Indigenous people valued gold for its spiritual representation. So, when the Spanish arrived, this polar opposite value system resulted in greed overcoming the Spanish and the eventual near annihilation of the indigenous population.
Imagine 15th Century Europe, gold epitomised wealth. Conquistadors arrive in a foreign land where gold is displayed nonchalantly, unguarded, adorned in the streets by most. "Primitive" people flaunting their wealth, temples with gold plates and statues. More gold than these Spaniards had seen in their lifetime. Greed took hold, wars and skirmishes were fought. In the end, the Conquistadors technology (iron) and the diseases they brought with them decimated and ravaged the local populations.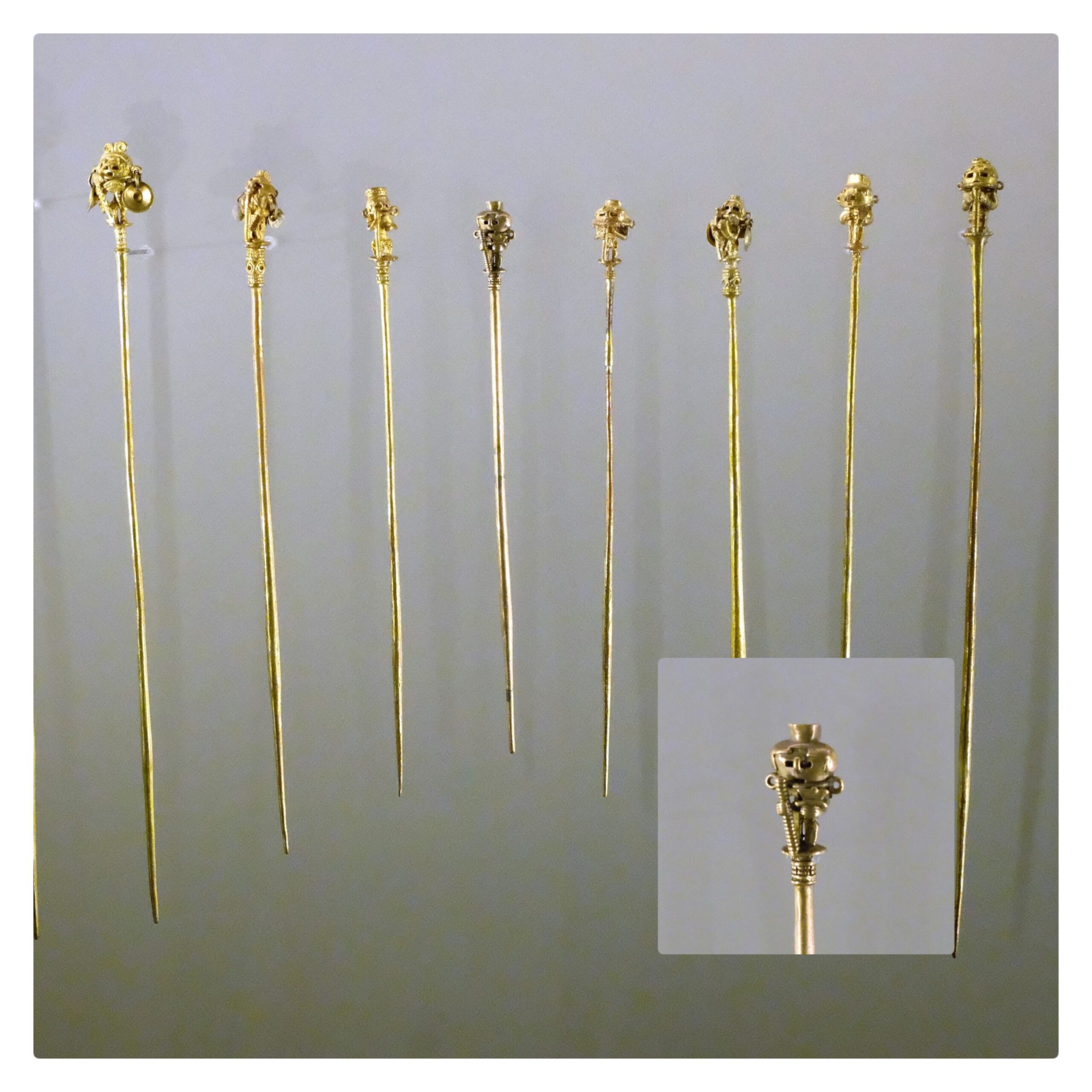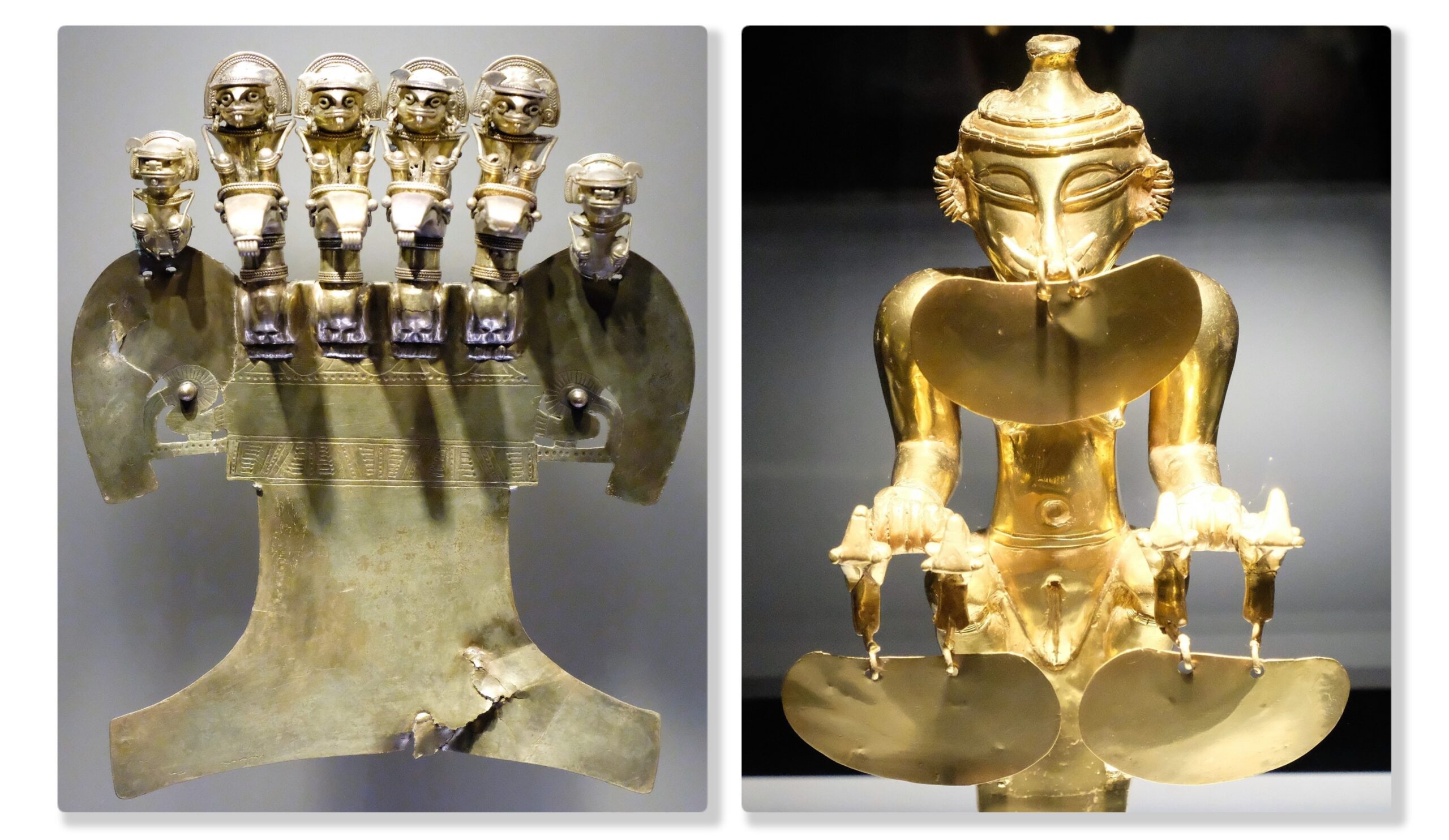 El Dorado
Fact or fiction? El Dorado stems from stories of a wealthy king; there is evidence of a wealthy king/chief. However, the extent of his wealth and related stories blurs between fact, fiction and myth. The Spanish originally referred to him as El Hombre (The Golden Man) or El Rey Dorado (The Golden King). El Dorado is the story a tribal zipa (chief/king) of the Muisca people. They live in the high plateau region of Altiplano Cundiboyacense. Part of an initiation rite, the zipa would cover himself with gold dush then go into Lake Guatavita. As all myths tend to do, the story has been elaborated and embellished over time. From man, to city, to kingdom to empire of gold.
My thoughts: I think there is some truth to the story regarding the initiation &/or ceremony. What fuelled the Spanish lust and centuries of explores afterwards is the Muisca gold raft. A truly magnificent work of art. With the finest of details, this delicate golden piece depicts the zipa on a raft surrounded by watchful companions.  
What makes the many of the artefacts so fascinating are their sizes. Many thousands of tiny golden status, jewellery, broaches, pins, all with minute details. Large pieces are normally draw in the crowds, but to me the true skill of these craftsman exhibited in the small pieces. These range from works the size of a hand, to the size of half a thumb. The detail and artistry is second to none. Craft like this takes expert gifted hands to create.  
I won't cover the various cultures on display, though the Museum of Gold works from: Calima, Quimbaya, Muisca, Zenú, Tierradentro, San Agustín, Tolima, Tairona, and Urabá, and a special room called "After Columbus" (Después de Colón). Having seen plenty of works post-Columbus I didn't even venture into this hall. Museum of Gold stimulated my interest even more of the pre-Columbus era. Not that is needed much stimulation. My time in Peru and Bolivia had cemented my interested fostered from the books I had read when I was younger. Still to come, would be my time in Mexico; their I would get my first exposure to Mayan, Aztec and pre these cultures.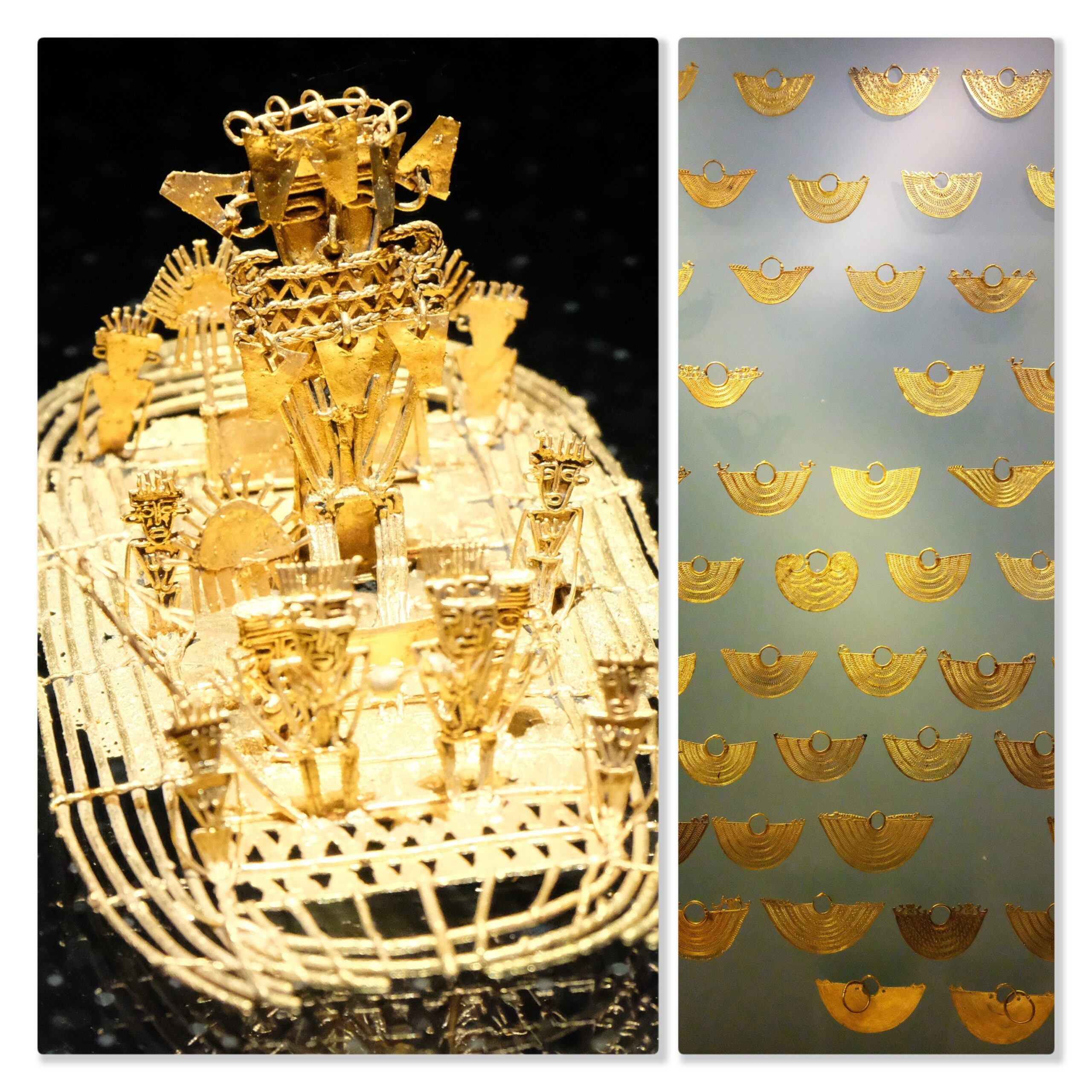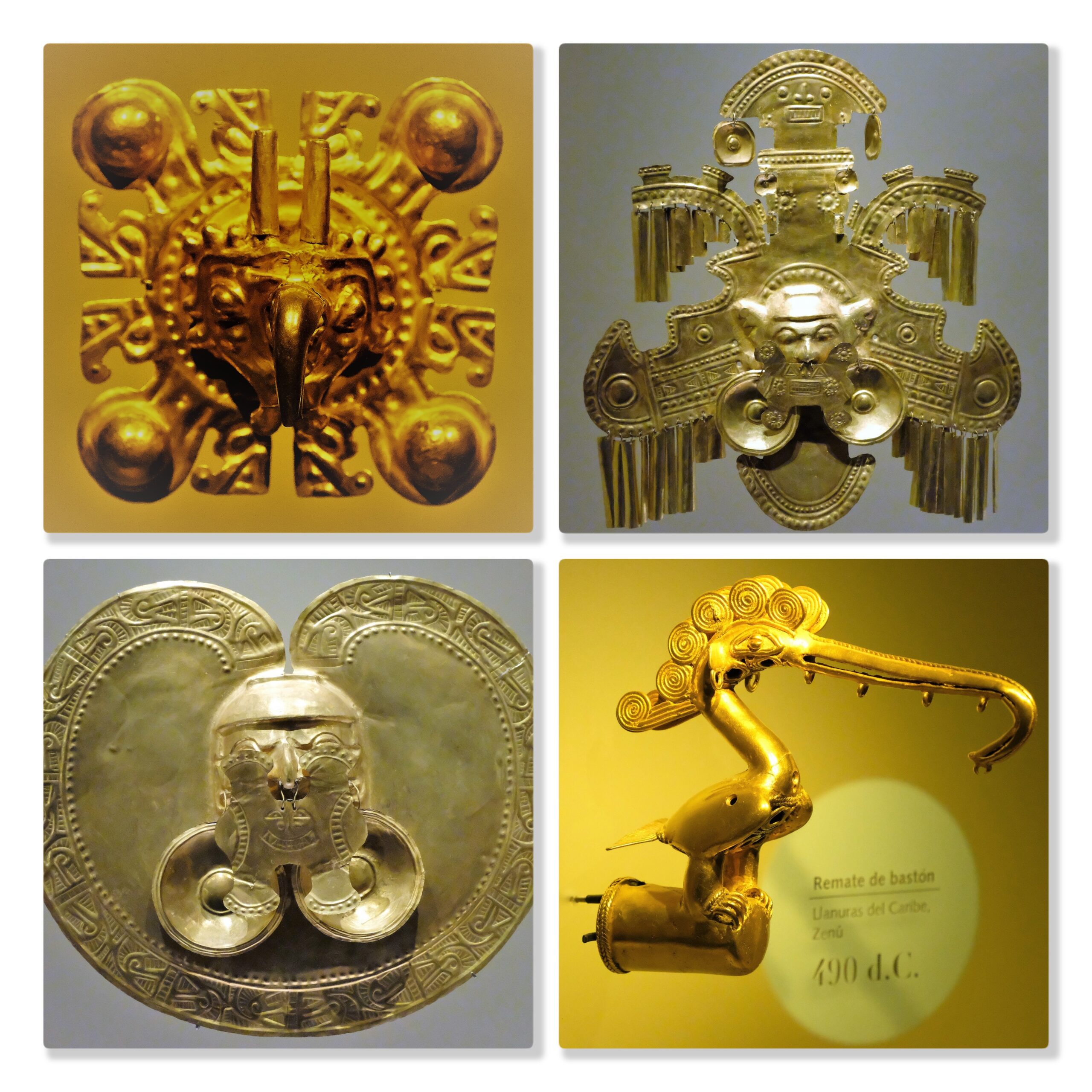 Carrera 7 and Carrera Septima
Once I left the museum I wondered around the surrounding area, mainly around Carrera 7 and Carrera Septima. Unsure if this road is like this every day, but when I visited the roads were filled with performers, hawkers and heaving with local visitors, buying anything from food to clothing. It felt real; like this is where locals would hangout. Like I've said many times before, I love observing people…so that's what I did. It's a vibrant area, bustling with people of all ages somewhat festive. Walking up and down the road and those adjacent. It helped reset my brain to the now. Caused by my visit to the museum my mind had been wondering about how this place would have been a thousand years ago.
La Candelaria
Funky and historical. That's how I would describe La Candelaria. The 17th locality in the city of Bogota, made of up the neighbourhoods La Catedral, La Concordia, Las Aguas, Administrative Center, Egypt, Belén, Rural San Francisco, New Santa Fe and Santa Barbara.  For me, La Candelaria is by far the coolest and most interesting area in Bogota. A mixture of old and new, an abundance of colour scattered throughout, and an effervescent vibrance for extra measure.
This is the type of area where you can wonder around aimlessly and still be visually entertained. If you wanted to explore deeper, it offers that too. From graffiti, food, hostels, history, government buildings and landmarks. La Candelaria extends back to the Miusca times. Chorro de Quevedo is where the Miusca zipa is buried. Architecturally, it feels like walking through an old  Spanish town. Colonial Spain's marked is entrenched into everything. But, the locals are proud of their indigenous past. This is reflected the food, art and even clothes. Yet with the sudden abrupt demise of the indigenous people a lot of their history and culture has been lost forever.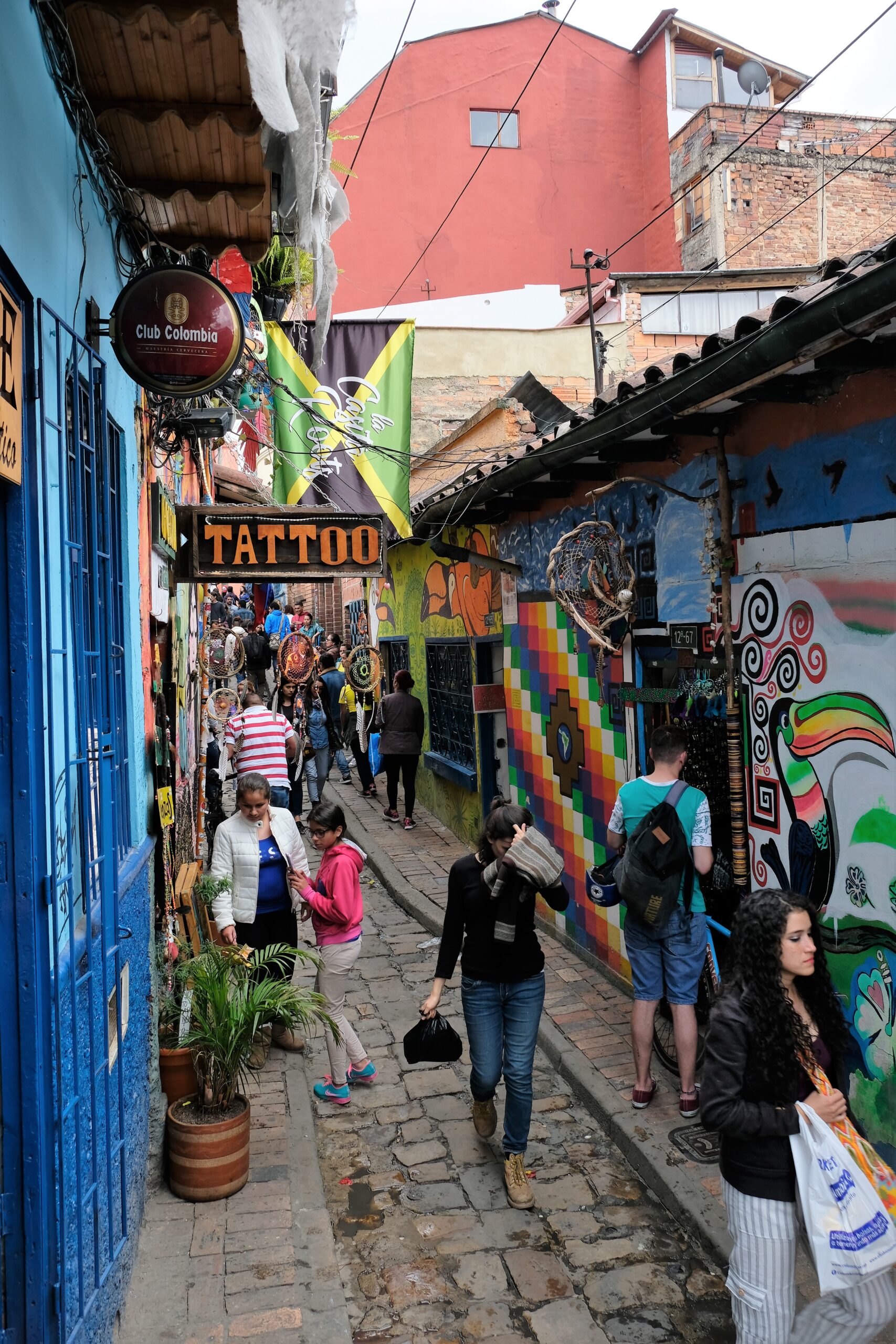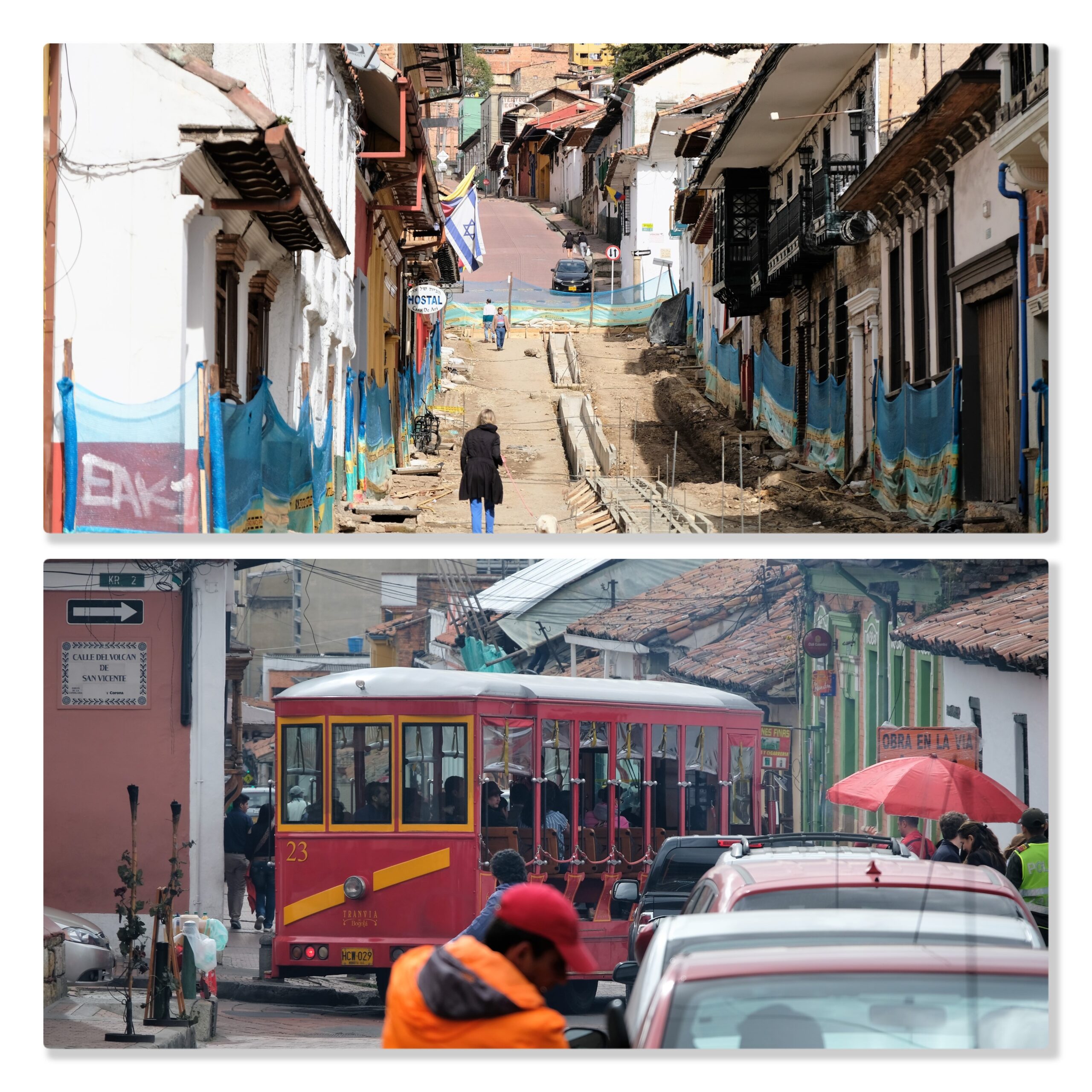 These old Spanish colonies have strong architectural legacies too. Throughout Bogota and especially in La Candelaria this can be seen. Along cobblestone roads aligned with quaint houses with ornate bay windows and balconies with floral cast iron balustrades. Very similar to Lima, and old parts of cities in Spain, La Candelaria feels like walking through an artists' town.
Here the graffiti murals adorn the entrances to shops, hostels and restaurants. Seamlessly integrating between art and commercial advertising. This is where you'll see a lot of street art with indigenous themes. One thing that anyone visiting the area should be aware of is straying to far out of the area, especially at night.  That's not just me saying this, it was our tour guide's advice. In crowded touristy areas petty theft is common around the world. When you combine areas of wealth and poverty as is the case in Bogota, it can be worse. Poverty doesn't equate to crime. With La Candelaria, you have poverty, tourists and wealthy locals. Simply looking into these neighbourhoods you can see a very different world. Far from the bustle and bustle of this eclectic area. These neighbourhoods ooze a much more challenging day to day life.
I'll leave it like that for now and hope the pictures speak a thousand words!