This will be a short post about two day trips I took in Switzerland from Zurich. Neither of these were to well-known destinations. In fact, I doubt most people have even heard of these places. You don't need to travel to "must-see" places to appreciate Switzerland's charm. One good example was the day I visited my friend Kim's now husband in Schlossrued. Second, was when I visited someone I met in Koh Samui, Natascha. On both occasions we ambled about taking in the picturesque landscape. Throughout Switzerland you are surrounded by beautiful undulating meadows, hills, mountains with scattered rivers, lakes and streams.
Whether its lesser seen Inca ruins. A cool restaurant or pub down a forgotten alleyway in London. Beaches off the beaten track in Thailand or Indonesia. Walking down a road for no reason other than to know what lies around the next corner. Of course, it nice to see famous places. It seems today's travelling has become more about getting "that" picture, and less about exploring and learning or getting out of your comfort-zone.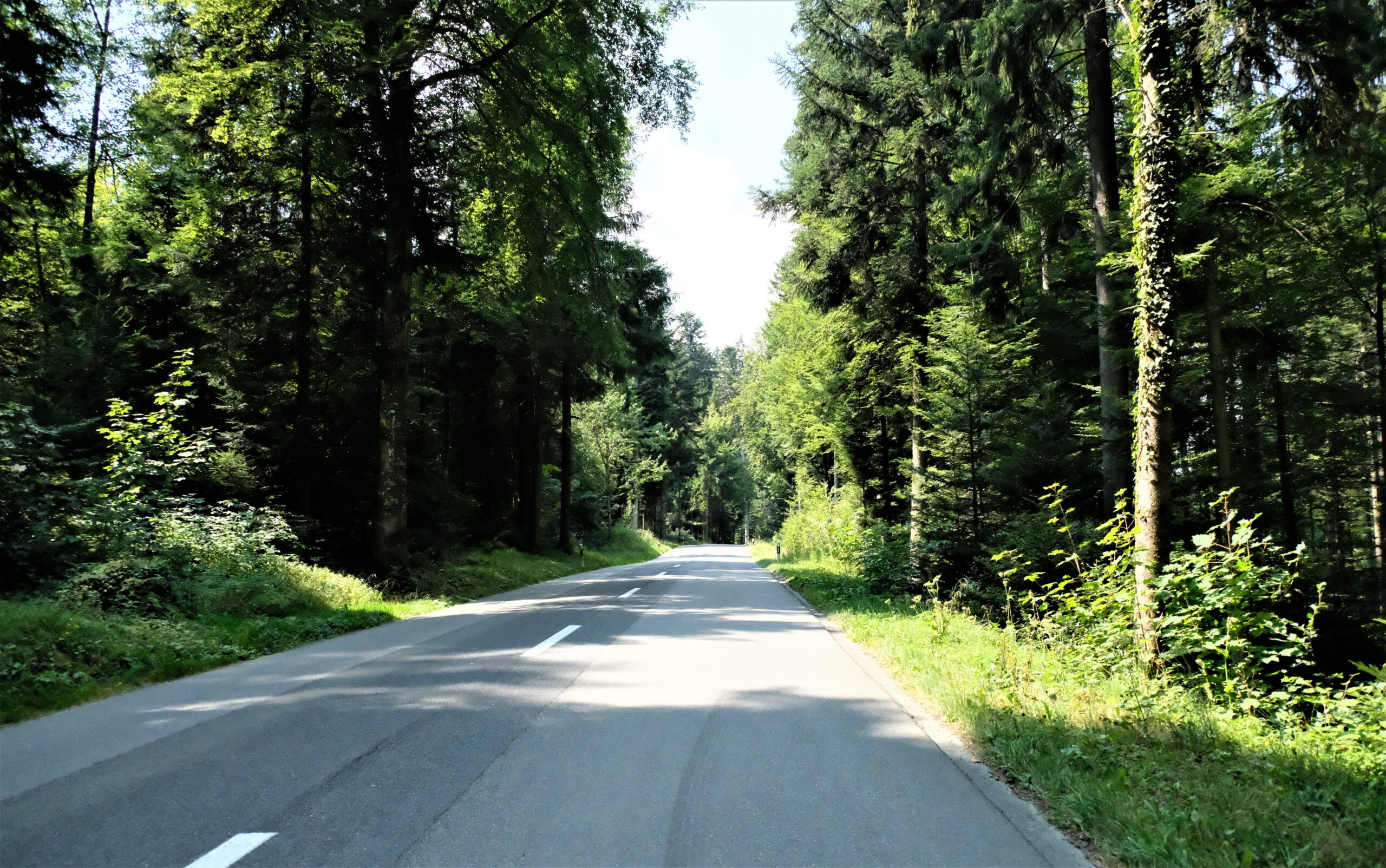 Badi Hüttnersee / Restaurant at Hüttnersee
I'm not confident in my translation, but think "badi" means public swimming pool. Hüttnersee lake could be referred to as a very large pond. Not like the surrounding lakes which are like little seas. My guess is that's why Badi Hüttnersee is referred to as a public swimming pool? Next to the lake is a little restaurant, run by my friend Natascha. Badi Hüttnersee, for a tranquil family friendly place to lounge about and swim, plus amazing food, I can highly recommend spending the day or afternoon there.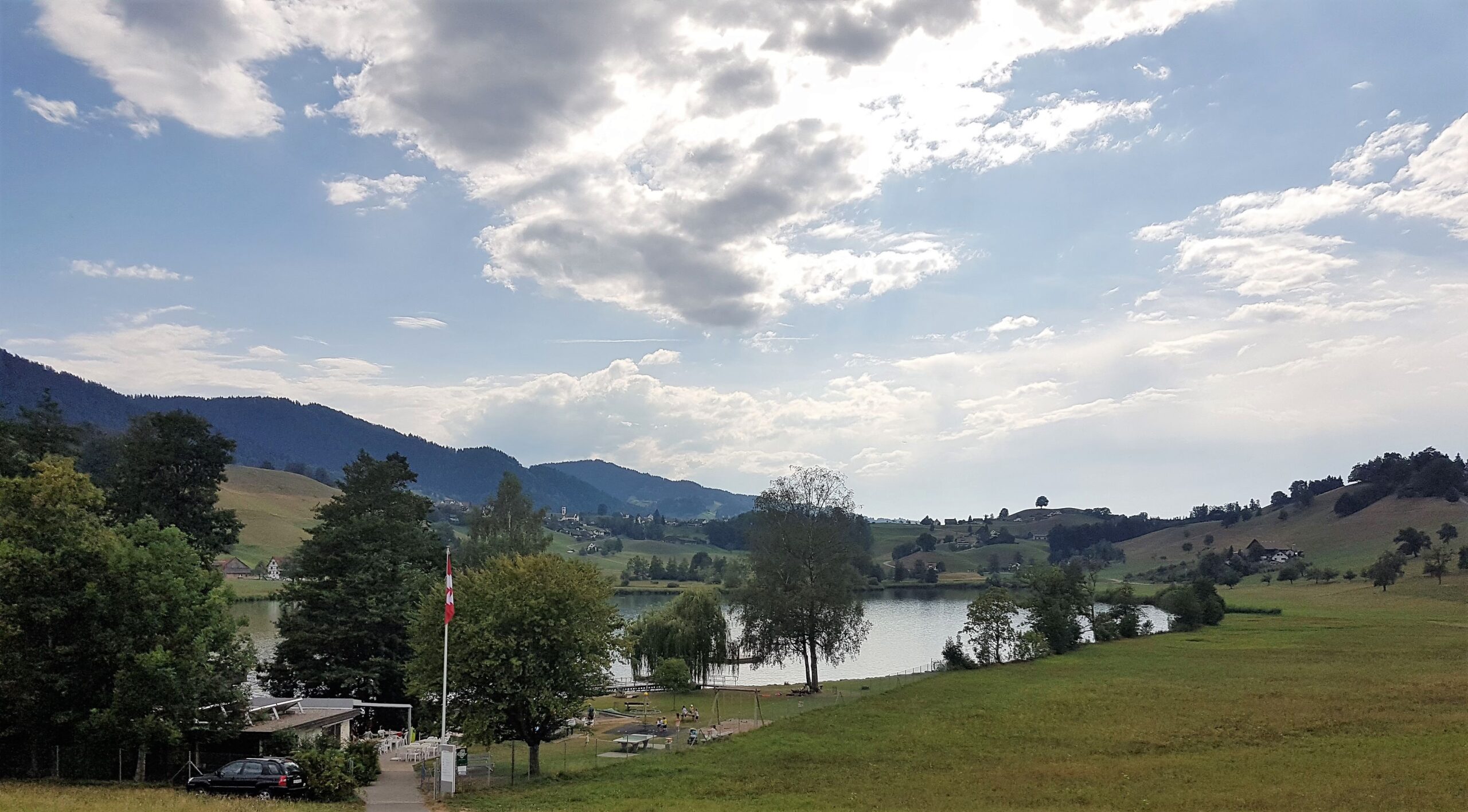 Riedholz Forest
We decided not to have lunch at her restaurant. Taking a break from work wouldn't be realistic if we had lunch at Badi Hüttnersee. On route we stopped at Riedholz forest. Natascha and I both like hiking…seems all Swiss do. This wasn't as much of a hike, more like ambling about through the forest. Hardly 20 minutes drive from civilisation and you feel like you are in the depths of nowhere. The only hustling here are the leaves moving like a Mexican wave to the gentle gusts of wind.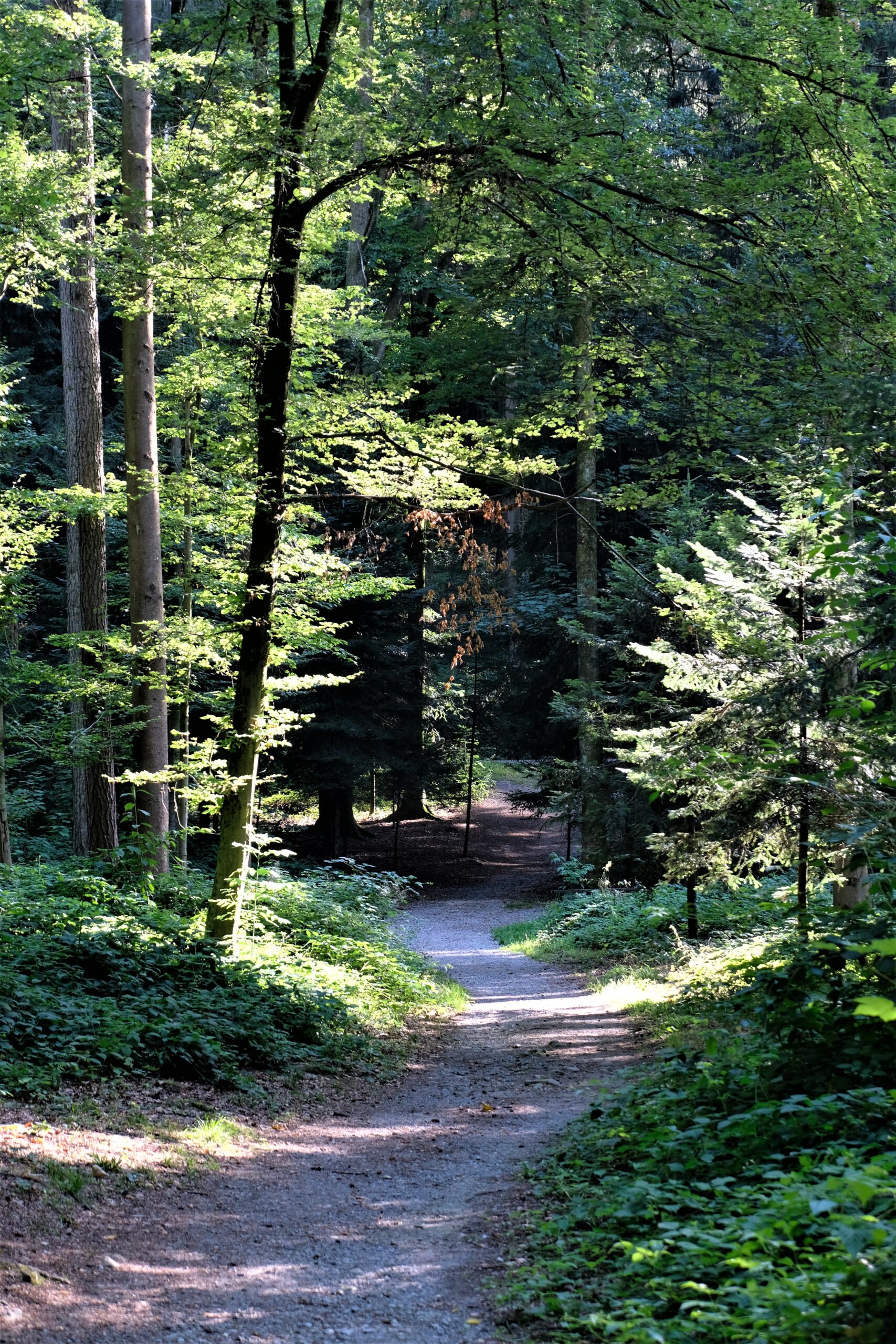 Alt Wädenswil Castle
Riedholz forest isn't big, yet big enough to escape and appreciate nature. A great place if you want some peace and quiet, to contemplate life or simply stroll amongst the trees. Within Riedholz forest are the ruins of Alt Wädenswil Castle. Considering Alt Wädenswil Castle is a heritage site of national significance I could find almost no information about. First iteration was built around 1200. Additions and expansions carried on till 1330. This area used to be the territory of the Barons of Wädenswil.
 The castle, their stronghold home. To quell the growing strength of the Barons of Wädenswil is precisely why it was demolished in 1557. Not much is left of the castle. Over the years it has been used as a quarry. Even used to build the railways in the region in 1870.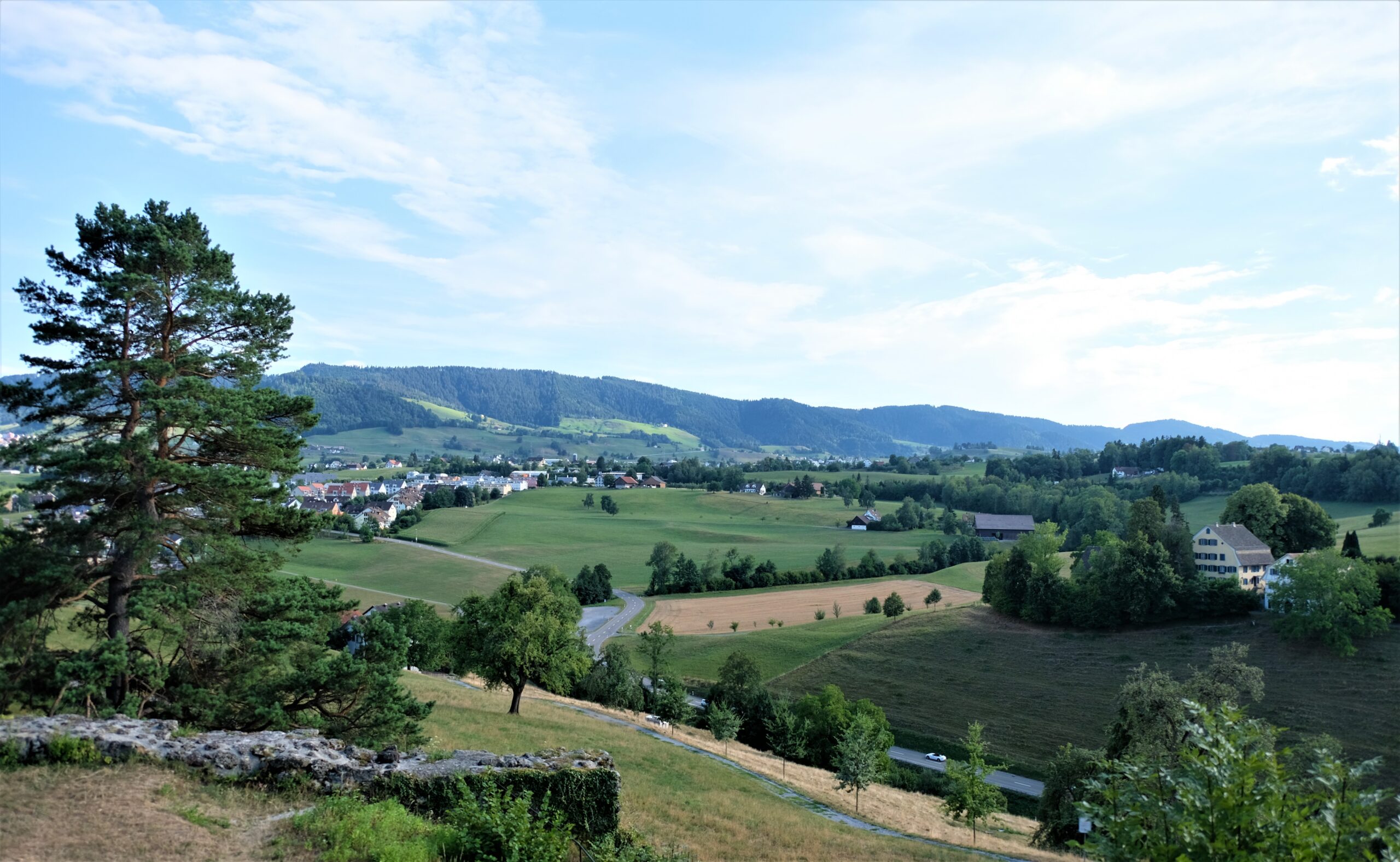 La Vista Feusisberg
Natascha and I ended up having lunch at La Vista Feusisberg. An unassuming restaurant on top of a hill, overlooking valleys up to Lake Zurich. One of those places I'm guessing tourists never visit, but the locals good…a very good sign. Nothing flash. The food was fresh, well cooked, and yes, the views added to ambiance. As always, a good lesson, speak to the locals and find out where they go. Natascha obviously knew the place, and her recommendation as a chef obviously added kudos to the food. So, if you're ever in the area, I can recommend La Vista Feusisberg.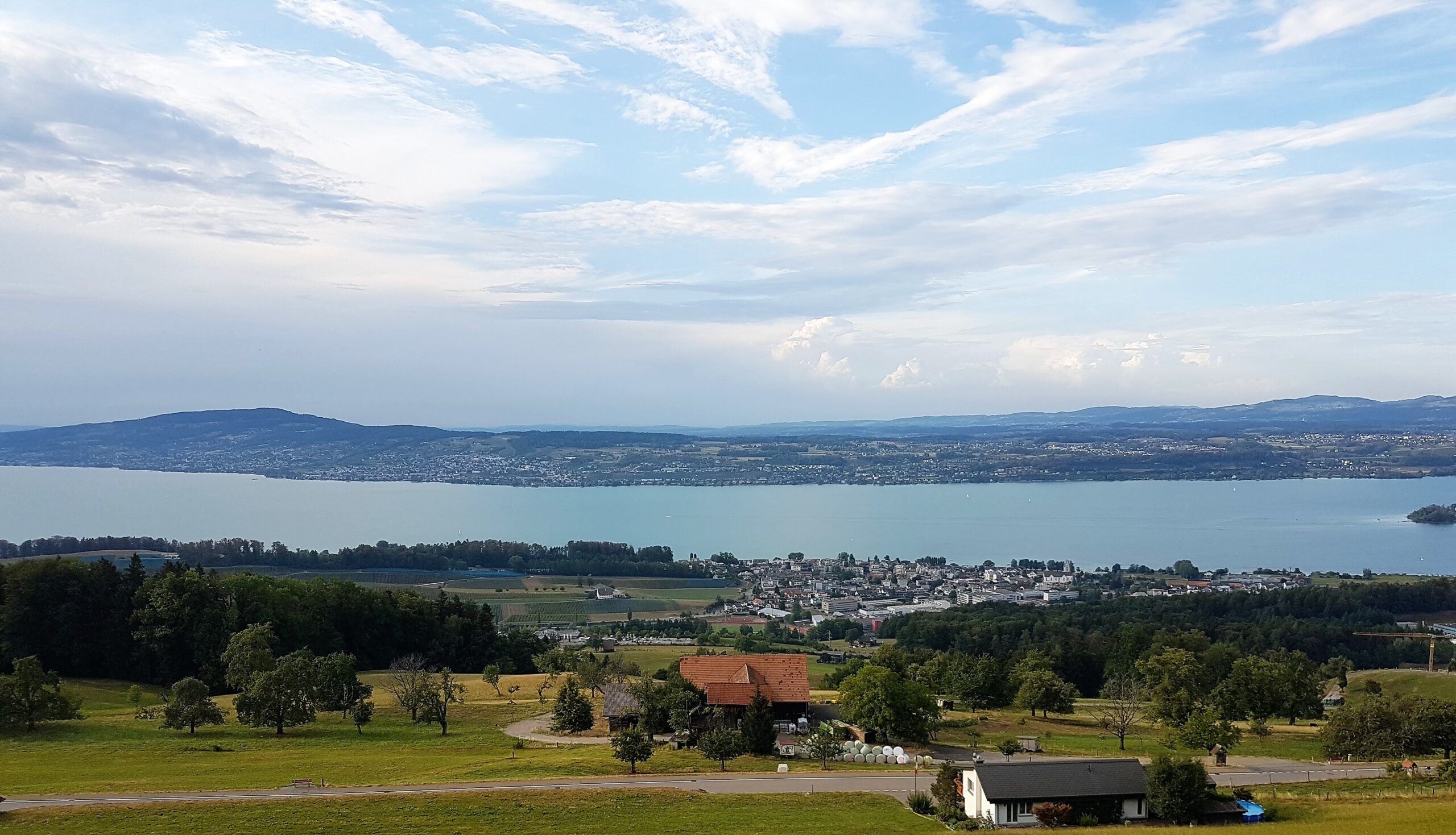 Quaint Swiss villages
Hardly a tourist destination, or on anyone's must-see-list we stopped by the village of Beromünster on route to Schlossrued. Kim and I only spent 30 minutes at most walking about this unknown town, but that's all it took to appreciate a lesser seen or visited part of Switzerland. Beromünster, a population of around 6500…not the epicentre of attractions. Even here, away from visiting eyes, everything looks and feels orderly. From neat gardens and public spaces, nothing flash, just well maintained. Throughout Switzerland there seems to be a minimum standard expected for everything; compared to most countries, the standard is very high.
You don't need to look for these standards, they are in every little detail. From gardens to architecture, from pavements to streets, from the people to their attitudes. Taxes are high in Switzerland, as with many other countries. However, here you can see where the money is spent – at least if you compare to many, many other countries. I won't list countries, I was born in South Africa…the exact opposite of Switzerland; high tax and all stated run enterprises crumbling under incompetence and corruption (a corporate word for theft). I've digressed.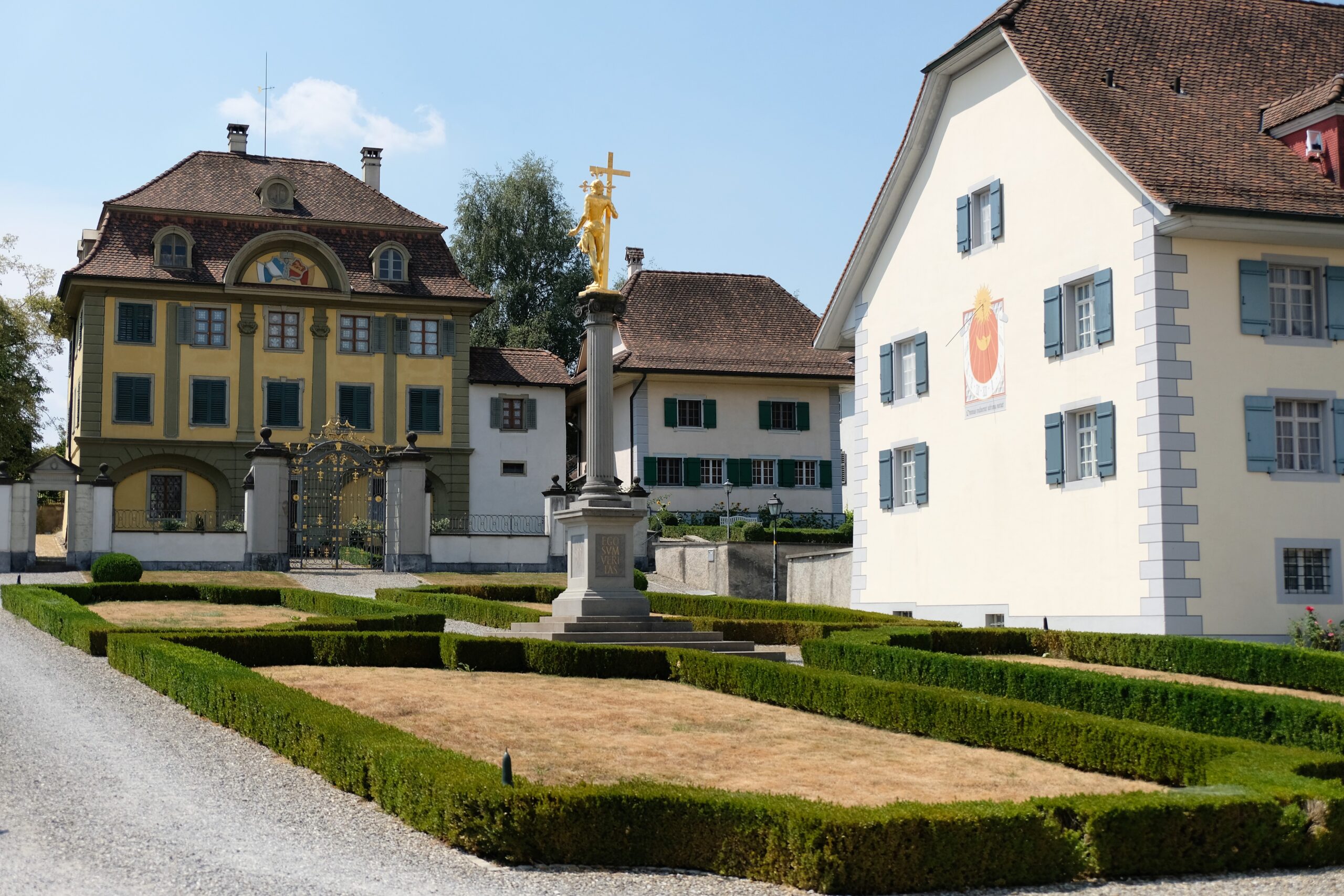 Canonry of St. Michael / Katholische Stiftskirche St. Michael
It dates back to the 16th century. On this occasion I'm not going to go into its history. Instead, I'm including it for two simple reasons. Firstly, it's just a pretty church in this little down. It's white structure squat'ish structure almost dwarfed by the red-terracotta spire. Secondly, the detail you can miss if you don't take notice. On this occasion, the guttering. It reminded me of the Nijo Castle in Kyoto and Himeji Castle. Built for practical purposes and still time and care paid to make it look like works of artisanal beauty.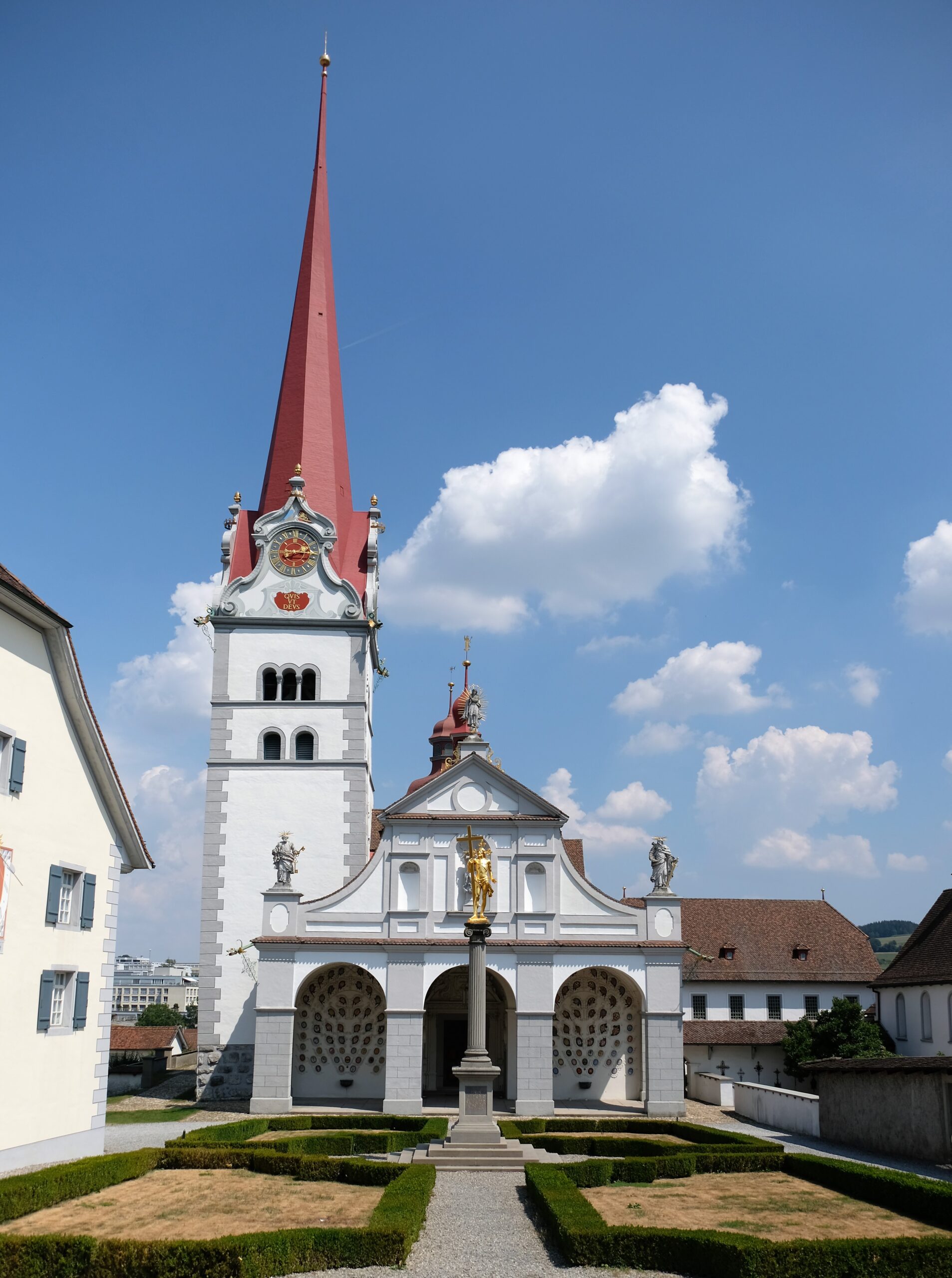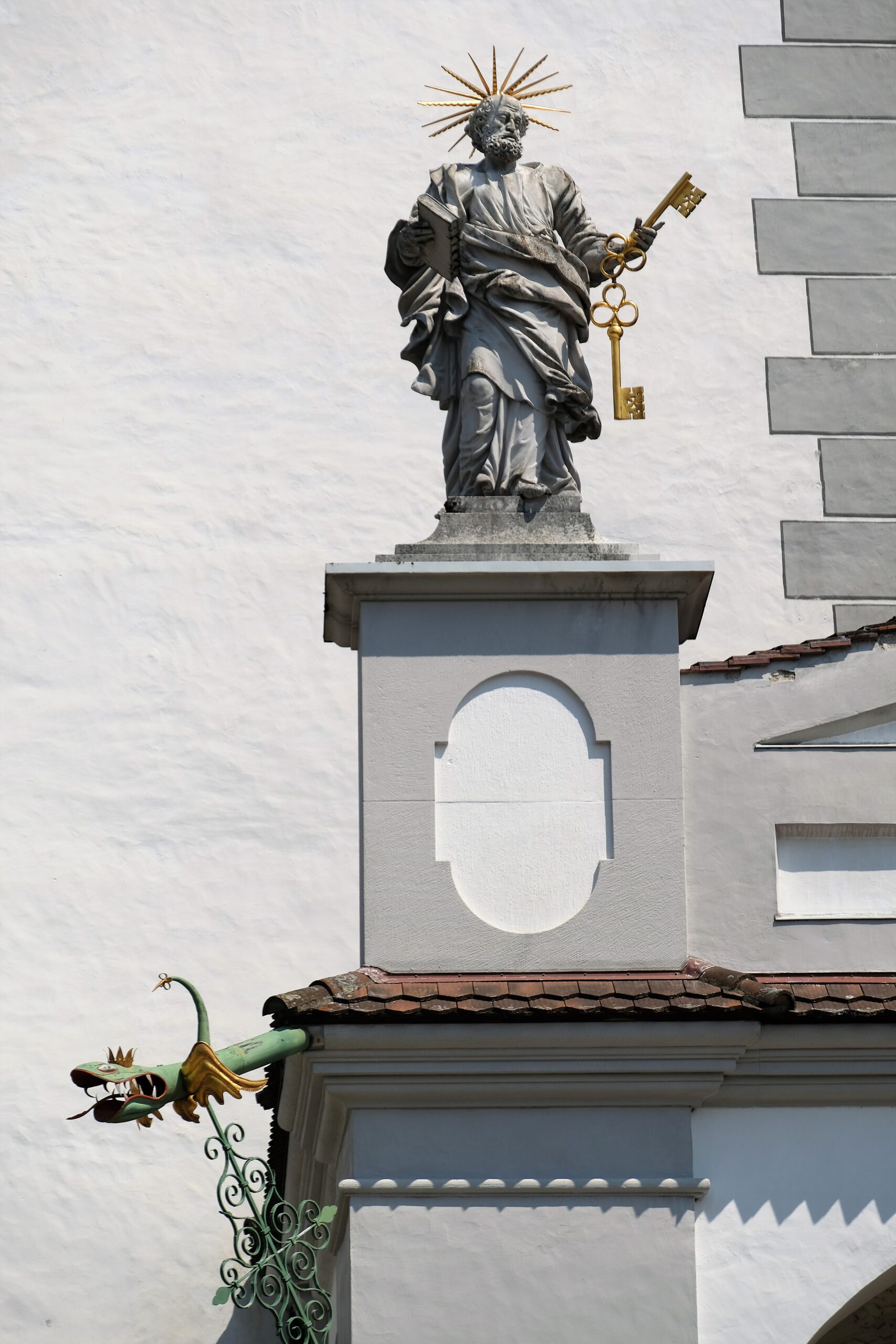 Schlossrued
We spend the afternoon and evening at Sam's family farm, an active operational farm. Before sunset, we took a short hike around the farm, taking in the views. I didn't really take photos. Sometimes it's nice just to take in the views and enjoy the moment. Good company, great setting. Going to Schlossrued I was surprised by how many shooting-ranges we passed (firearms). Contrary to Switzerland's neutral stance, and perceived pacifism, they are big on their guns. This is not a new thing, The Lion Monument, Swiss Guard, as a few examples…and yet you don't hear/read of much if any gun violence…interesting, no?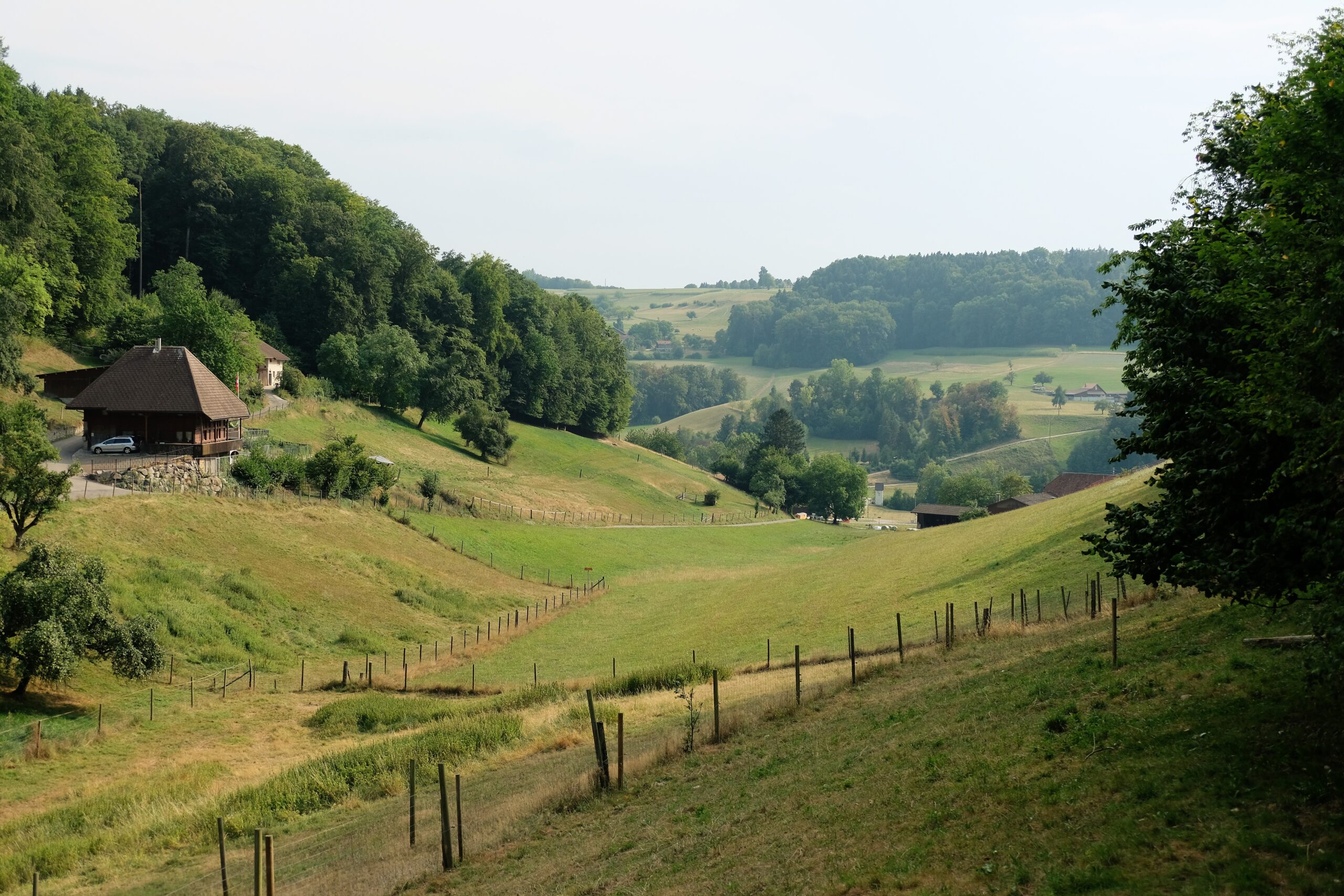 Sursee
Next morning Kim dropped me off at Sursee train station, I'd be heading off to Flims. Whilst killing time waiting for my train, I took a gander about Sursee. As with Berromüster, Sursee is never on a tourists list. Found a great graffiti mural in the parking lot of the station (hard to miss). Here too I found a few real gems to see. Through the town are little streams intertwined around the houses and town. You may have realised, I love water. From little streams to rivers, it brings me a sense of peace and calm. I'm always looking how clear the water is, or if I can spot any fish. Even the smallest of fish and I can watch them for hours. Not much else to say about Sursee. In short, don't always exclude the unknown places.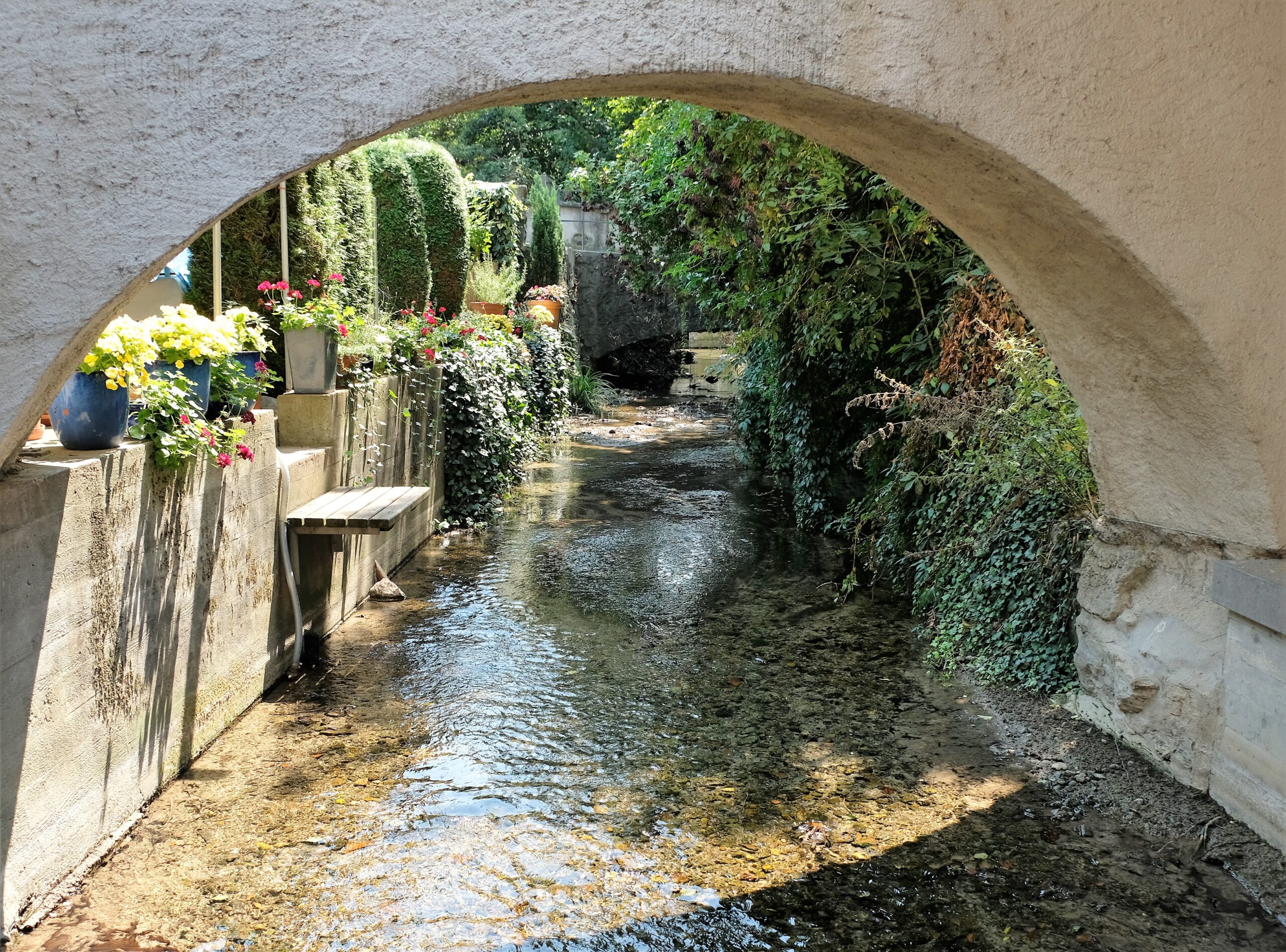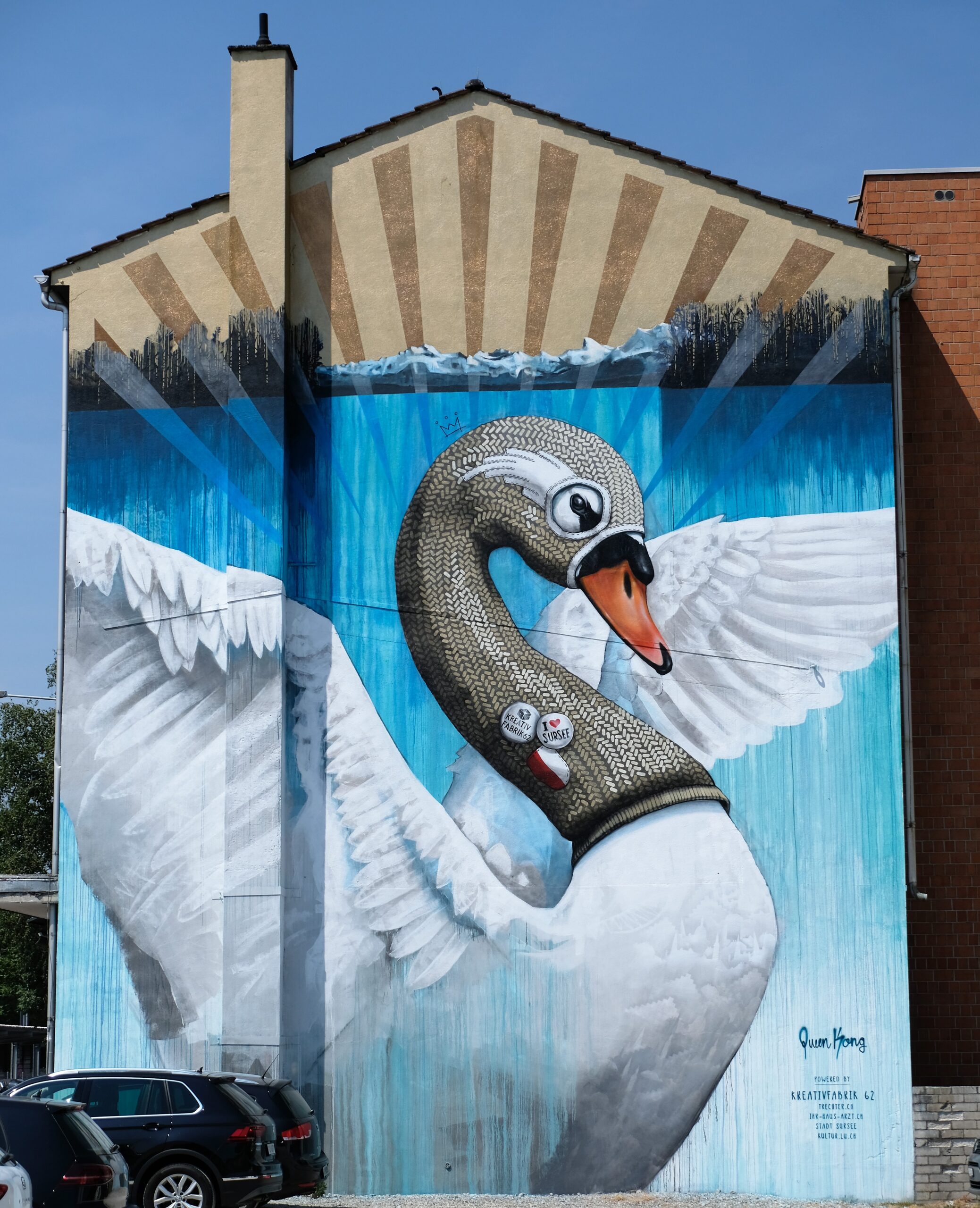 …Summary
I appreciate this is a mix-mash of a post. Very little "interesting" things by conventional standards. Yet, throughout my travels it has been these little unplanned excursions off the beaten-track that have taught me the most. You don't need to travel far and wide to experience life, to explore, learn and expand your being. Another, be kind and friendly and open to making friends in the most unexpected places. Natascha and I only briefly met whilst in Koh Samui. By chance, I was only staying at Wazzah Resort for two nights to extend my visa. Natascha was only there for two nights as she returned from a retreat. If you're open to opportunities they will present themselves. If your not looking for opportunities and open to experience, they will never present themselves.