Having never heard of Flims, I headed there because my friend Kim has a place there. Taking a few pointers from Kim about the surrounding area I headed off. Starting at Zug there is a direct train to Chur taking just under two hours. Chur is the local German word, Coira the Italian, Coire the French…there are a few other versions too. I'll be using Chur. From Chur I took a bus from the main terminal to Flims; a 30-minute journey.
…first impressions
Set at the bottom of a valley surrounded by mountains to one side and forest the rest. Flims has a village feel to it, especially outside of snow season. A mix of new minimalistic styled apartments and traditional authentic Swiss countryside architecture. Other than the high-street, which was quite abandoned during my time there, the rest of Flims is sparsely, yet purposefully developed. First impressions, quaint, quiet, picturesque. I was a little concerned there would be very little to see and do.
Brief history of Flims
Without making a mountain over a mole-hill, this will be brief. There isn't that much of a history to Flims. It sits within the canton of Graubünden. Probably gets its name from Latin word "fluminae" meaning "many steams", of which scattered throughout the area. The area has been occupied since the Bronze Age, first being mentioned in 765 as being called Fleme. First hotel was built in 1877 at lake Caumasee. Since then it has grown into a primarily winter holiday destination. Flim's Mountain to its North are UNESCO world heritage site for visible tectonic activity. That's it, its whole history in a short paragraph!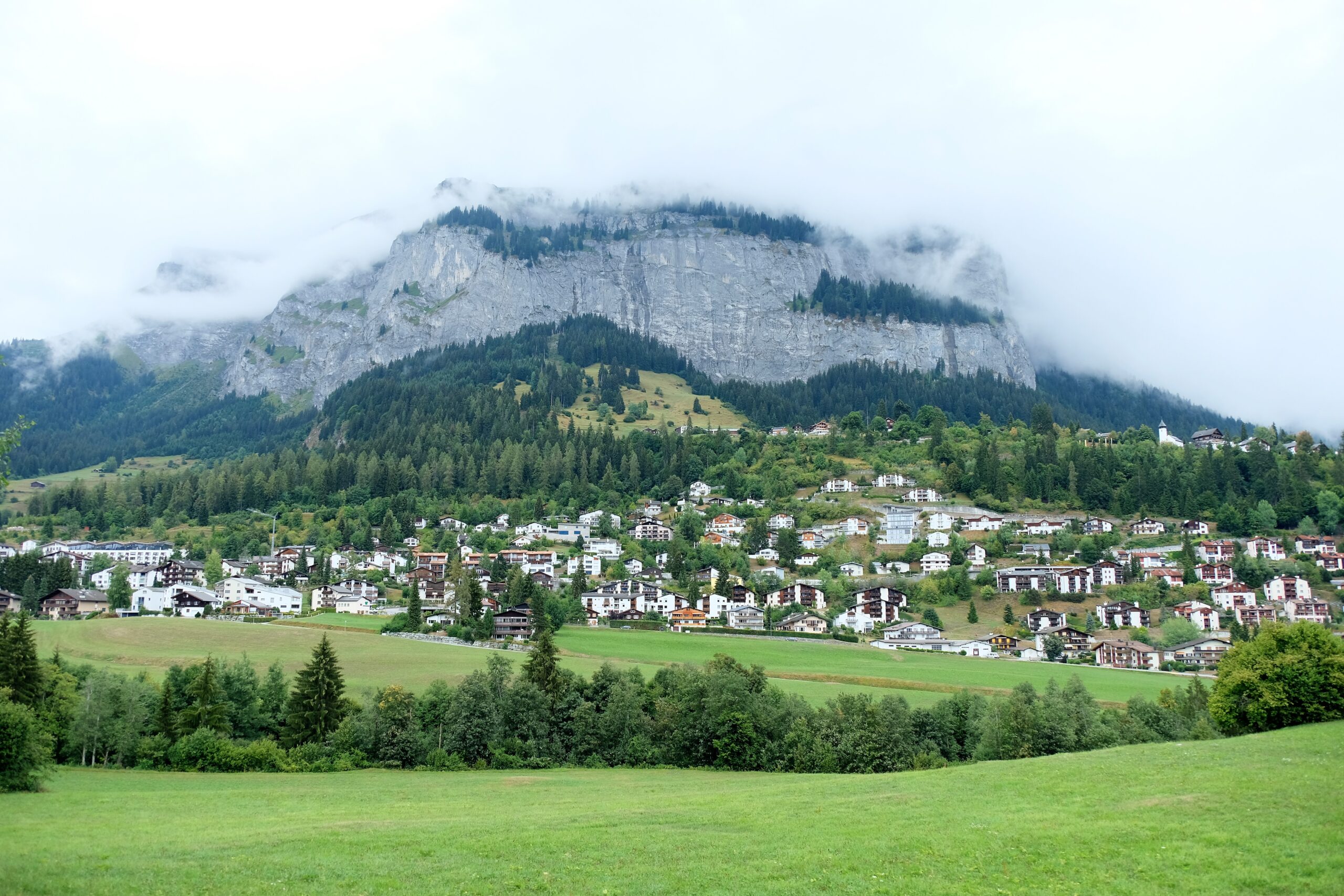 What to see and do out of season in Flims
There is loads…dependant on what tickles your fancy. Within two days I fell in love with the place, even though the second day was raining. On the second day I called Kim to ask her if I could extend my stay. She said of-course! I spent 4 days walking and hiking around Flims. Another day was spent on a day trip to Chur and Arosa. If turquoise lakes, forest walks/hikes, plush green meadows, fresh air, almost no tourists and tricking streams is to your fancy, then Flims is heaven. Without even including mountain biking, to me Flims is awesome!
Lake Crestasee
Only around 3.5km hike from Flims is lake Crestasee. A hidden away little oasis. Set around a forest of spruce trees. With clear water reflecting its surroundings of lush green vegetation, blue sky and wafting tufts of white clouds blowing across the sky.  Every angel you take in is picture perfect. I didn't take the most direct route to Crestasee. Some of the detour was to enjoy the area, other's because I took a wrong turn. Taking a wrong turn here is a pleasure. Nothing to complain about as each route is uniquely beautiful within the stunning landscape. Flims has 330km of mountain bike routes and 250km hiking routes. At best I did 30km during my visit.
Hiking in most places takes at least a little preparation. Some snacks to keep up the energy, but mostly taking enough water. In Switzerland this isn't a problem (at least where I went). There are water troughs dotted through the hills. Fresh cool mountain water. Nothing shops sell can come close to refreshing mountain water…and its free!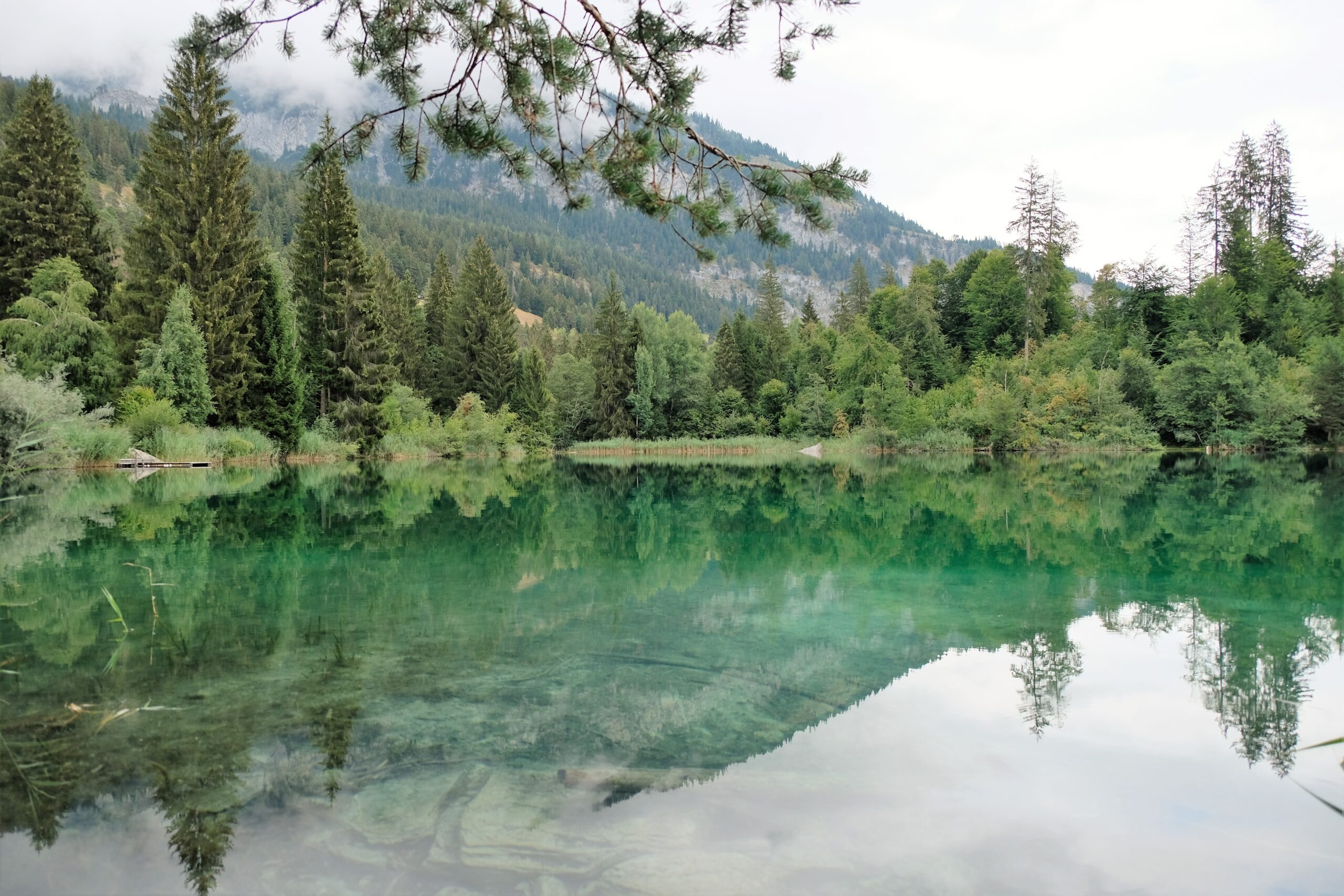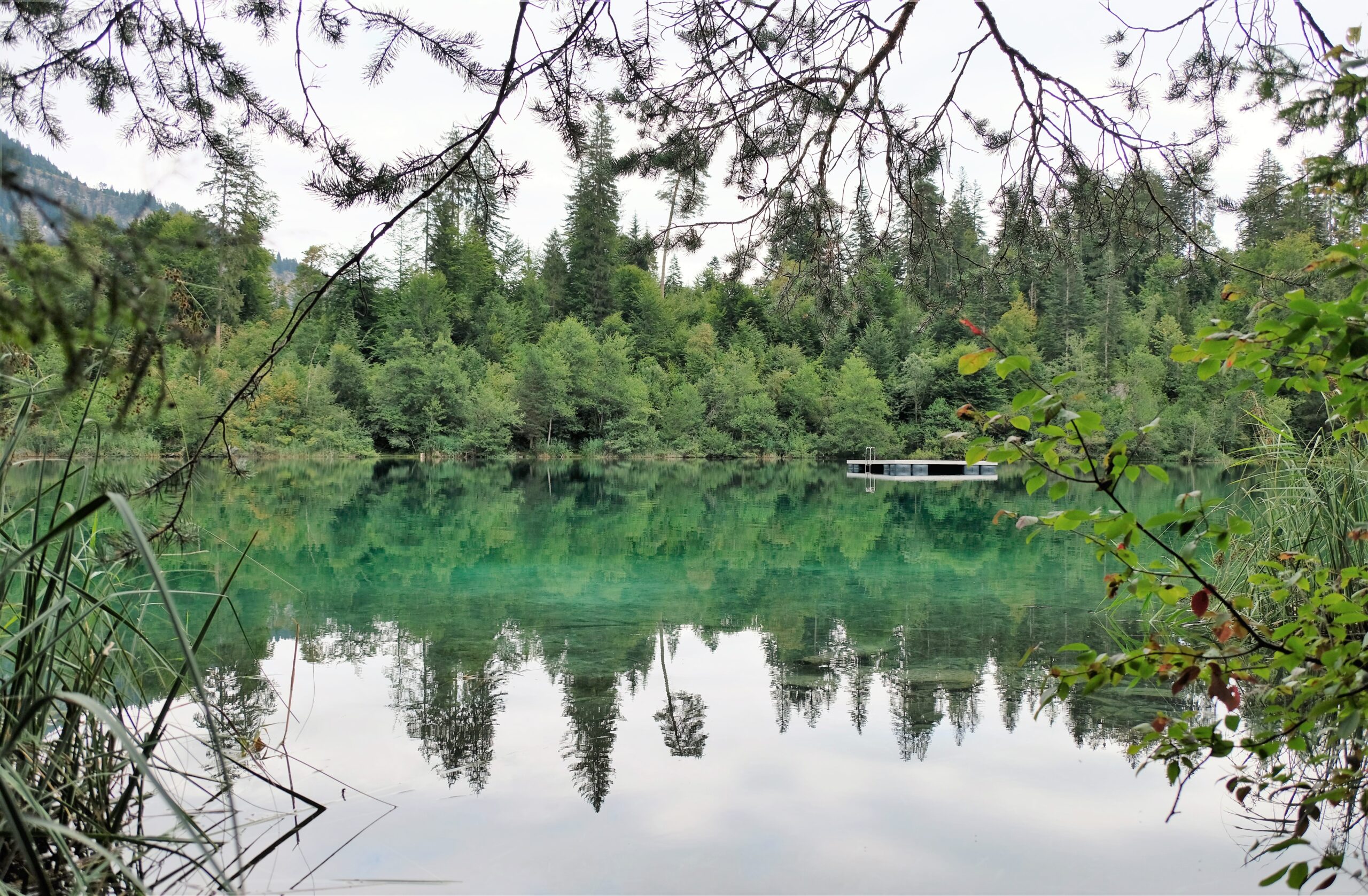 Il Spir
This is an architecturally sculpted lookout structure. Angular white and silver steal juxtaposed between the vertically organic surroundings. It's jagged unflinching lines sitting at odds between the gently fluttering branches of green. Il Spir means Eurasian Swift in Rhaeto Romanic (still don't know why it's called that), looks over the Ruinaulta (Upper Rhine gorge); the Swiss version of the Grand Canyon. The Vorderrhein river below, ebbing its way left and right from one end to the other. Like the Grand Canyon, the Vorderrhein river is the cause of this gorge. This gorge, known as the Flims Rockslide was created 10,000 years ago and is still a work in progress for nature. Flims Rockslide used to cover the original Rhine Calley with debris. The river is still running through the debris. Therefore, it has not reached the former valley making Flims Rockslide the biggest rockslide whose effects are still visible today. For those that are interested, that's the Rhaetian.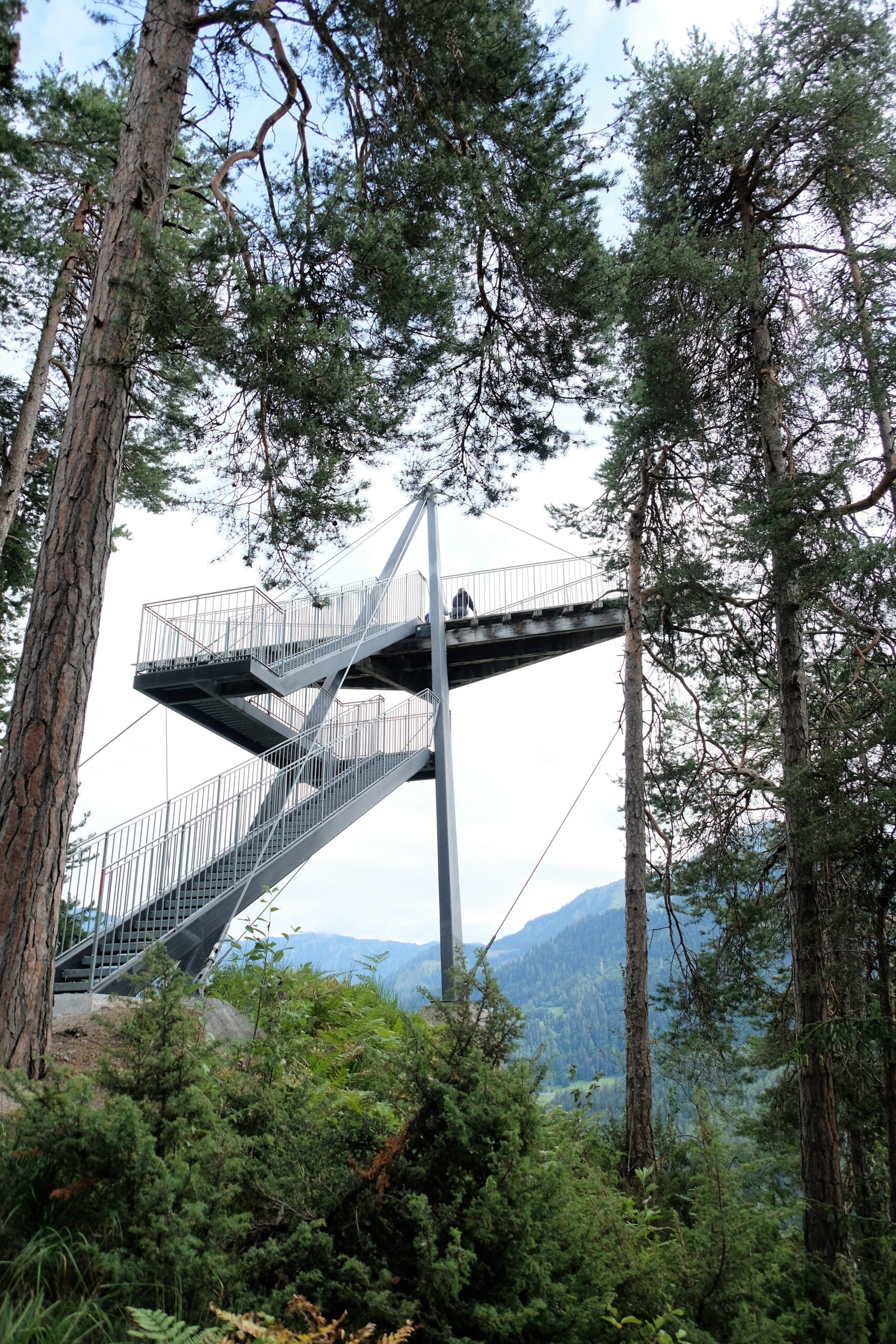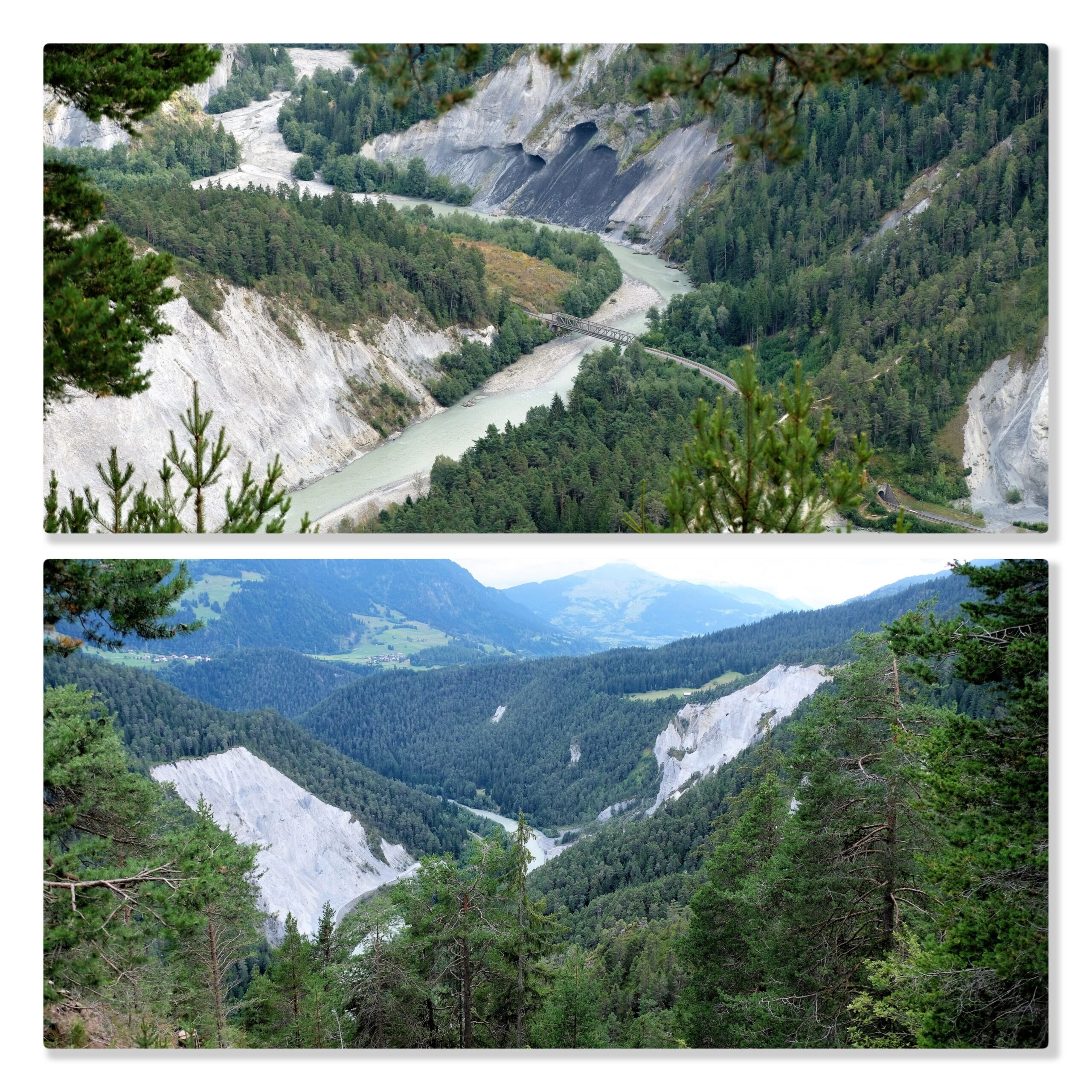 Railway below.
Lake Caumasee
Only a stone's throw from central Flims. Here, a natural lake has become a tourist attractions as well as a sort of public swimming pool; one of the most beautiful public swimming pools I've ever seen (there is an entrance fee). Lake Caumasee is in the Canton of Grisons, but a short walk from Flims town centre, about 3km. It's fed from underground sources with its level fluctuating throughout the year but the temperature remains quite consistent, between 21-24 degrees Celsius.
There's a hiking path around most of Lake Caumasee only a stone's throw from the water's edge, except on the one side.  On that side is a steep hill. Here you'll find a cute funicular which serves as the entrance to the visitors coming to spend time at Caumasee. Ferrying people up and down the hill…must be bloody busy when in season (I don't know when that is). Can't remember the entrance fee either. Go to Lake Caumasee for the day, even going there to take in the views is worth it!.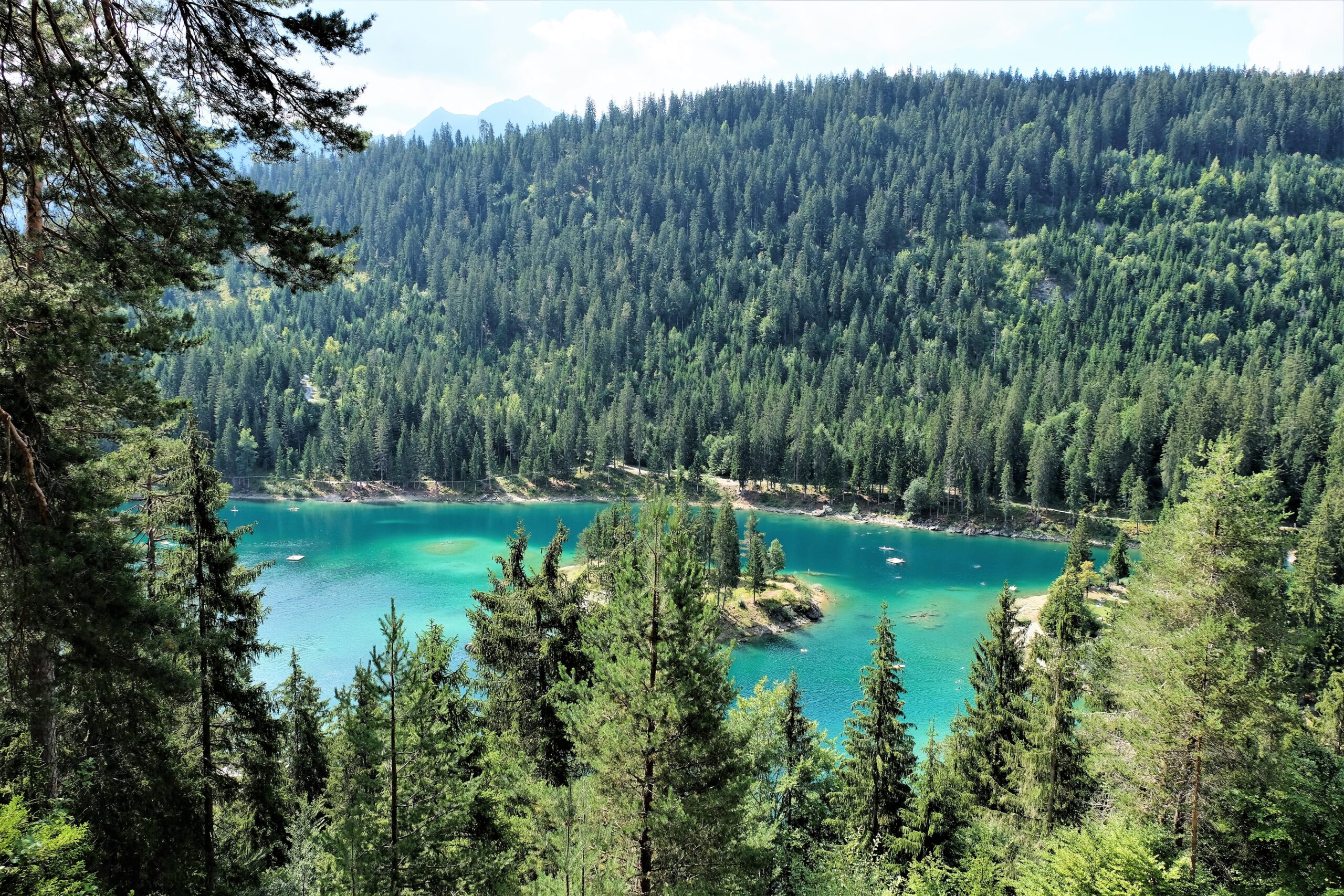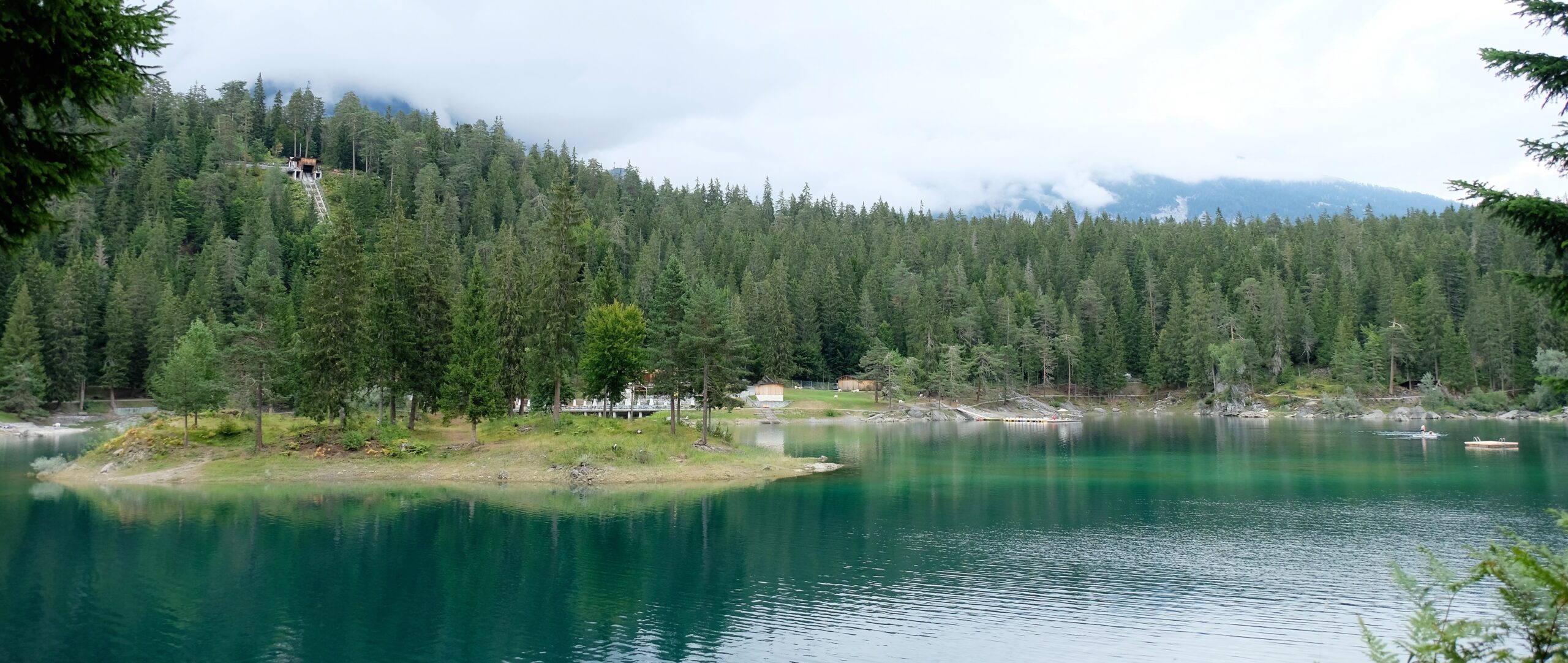 Anecdotes of Flims
Truth be told, I don't have much else to say about Flims. That's not because I didn't like it…I hope the above gives my sentiments of the place. I loved Flims. For hiking, scenery, get away from the city, the fresh air etc. etc. even its neighbouring towns are beautiful (next blog). With most shops and restaurants closed during this time of year I ate at Pomodoro every night. You should book a take, I didn't know, but they were very accommodating. They were more accommodating every night I went (without booking). Nice food, good prices and good service.
One thing I did forget to mention, the weather. From drizzling to hot, it changed throughout the day. Likely I wouldn't have stayed in Flims long if it weren't for an outdoor store there. I bought an Ortovox wind/raincoat (no, I've not updated My Gear page! My bad!) Very expensive, and ridiculously thin. I have been blown away by it ever since. Performance wise, amazing, and I've used it in blizzards and all sorts of weather. Performs incredibly, extremely thin, packs into almost no space too.
…the end of Flims
Flims is a place that most people should enjoy but they don't. This is a double-edged sword. I'm glad more people don't come here during the summer. Yet, it's a pity that more people don't. It has a perfect blend of urban development blending into its natural environment. Not far from Zurich. Here you can escape the city into nature. Nothing is flash here, except the flash of nature's beauty.
Ps. I'll upload quite a few more pics on my Batnomad Facebook page.