New York was my third-last stop of my around-the-world ticket through Star Alliance. Next would be Zurich, then back to my point of origin, Dubai. New York had never been on my bucket list to visit. As things turned out it was the easiest location to fly back to Europe, so that's why I chose it. It's not that I have anything against New York, I just didn't have much interest in visiting a big city. Going back to most of my posts, I think you'll see a trend; either nature, mountains etc. or old historical places.
During my time in Bogota I could feel an anxiety building up. Like this monkey on my back tapping my head as if to remind me, "what next?".  Heading back to Europe was like heading back home. What was I going to do then!? Even Dubai, it's not like that was ever going to be my end destination…or would it be!? This felt like a protracted inevitability, New York was just a means to an end…but what and where would the end be? This question hung over me like an executioner's axe. Any second it would fall. Meaning a decision would need to be made on the next chapter in my life? Was I ready, did I even know what I wanted to do? …did I need to stop…!?
Accommodation
During my last few days in Bogota I had looked into accommodation. WOW! New York was expensive! The choice between spoiling myself, staying in a dive, or trying finding something decent yet not killing the bank balance. There were a few places out of the city centre, but when weighing up the travel time and cost each day I decided the city centre was the best option. Pod 39 was my choice. For 3 nights, minus my Hotels.com discount (accumulating free days) I paid USD 102 per night, normally around USD 152 per night. I can't remember if the price included breakfast.
Pod 39, was nice, with a bar/club, roof top terrace bar, decent size room, and most importantly, very clean. Nothing fancy, but the location is very good, in Midtown East. 350m from the Chrysler Building, 450m from Grand Central Terminal, 1km from the Empire State Building. So, for USD 100, not bad. I landed at John F Kennedy at 5:25, took the subway either to Lexington Avenue or 5th Avenue, then walked the rest of the way.
Travelling during normal morning rush hour is rubbish. Somehow being in a foreign country makes the journey interesting. Watching and listening to people. Some, minding their own business. Other's talking too loud about business deals, yet their image not matching their story. I could have sat on the metro the day. Very entertaining and interesting 😊
Agenda for New York
Nothing. Obviously I had some ideas, Central Park, Empire State building etc. etc. Honestly, I thought I'd just walk around, with nothing on my "definitely" must see, do, experience list. Walking around New York is interesting. A place so familiar; as if I had lived here in a previous or parallel universe. Everywhere you go feels familiar, yet strangely new. With all the movies and TV being filmed here, I felt like I had been here before. Like endlessly walking through moments of déjà vu. The more I walked around, the more I liked New York. 
Central Park
Surrounded by tall buildings on all sides, Central Park is framed like a rectangular picture. In the heart of New York, Central Park it looks like it has been perfectly cut into the city scape. At 3.41km squared, it is double the size of Hyde Park in London. I do like big city parks. From Tokyo to Madrid, they all have a unique identity and feel. Central Park feels like it could be a huge gold course. Some parts manicured but not overly so making it feel natural, other parts look like a forest. It reminded me of the UK countryside or Richmond Park is Surrey; the latter three times larger than Central Park! Even here in Central Park, I felt like I was visiting an old haunt.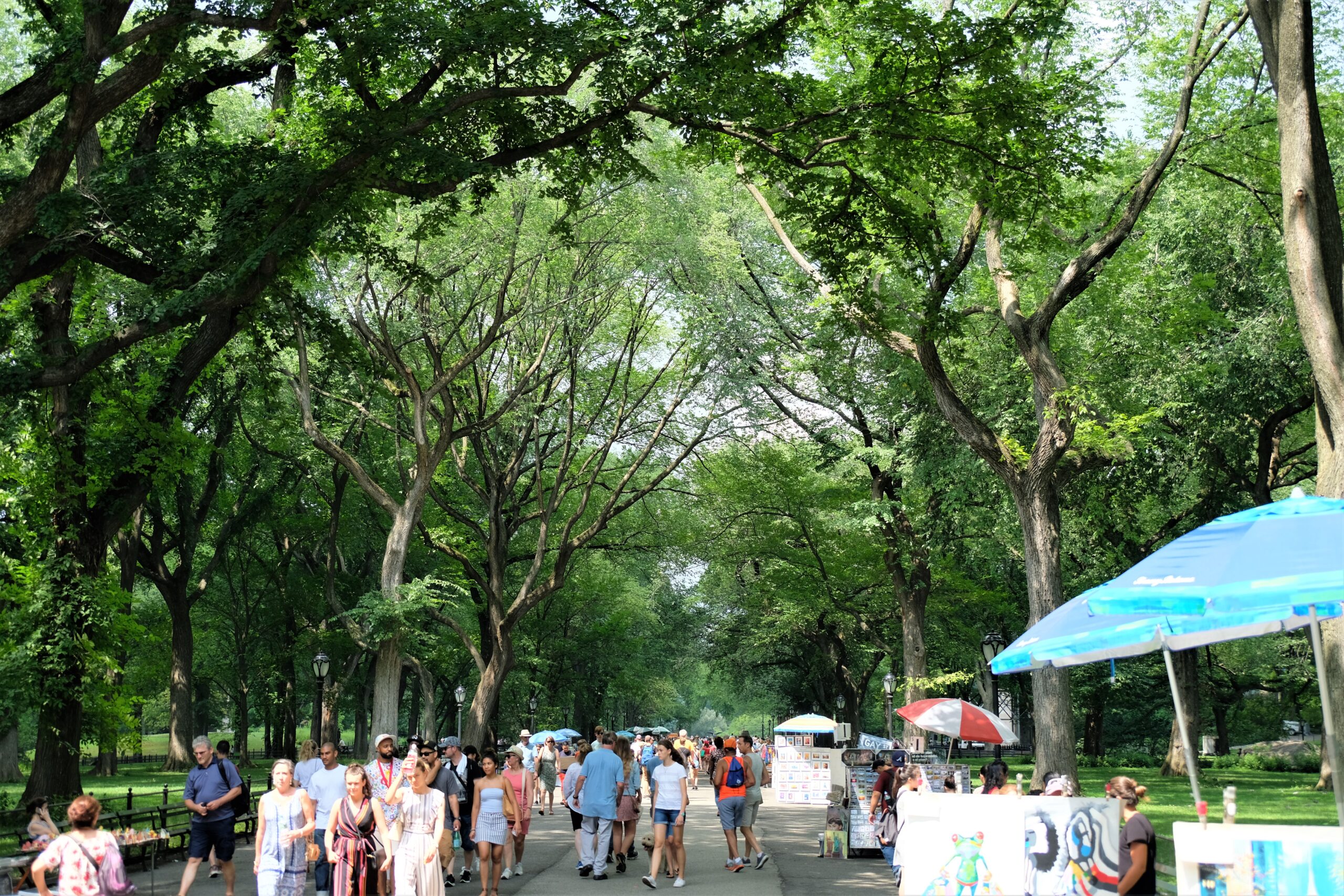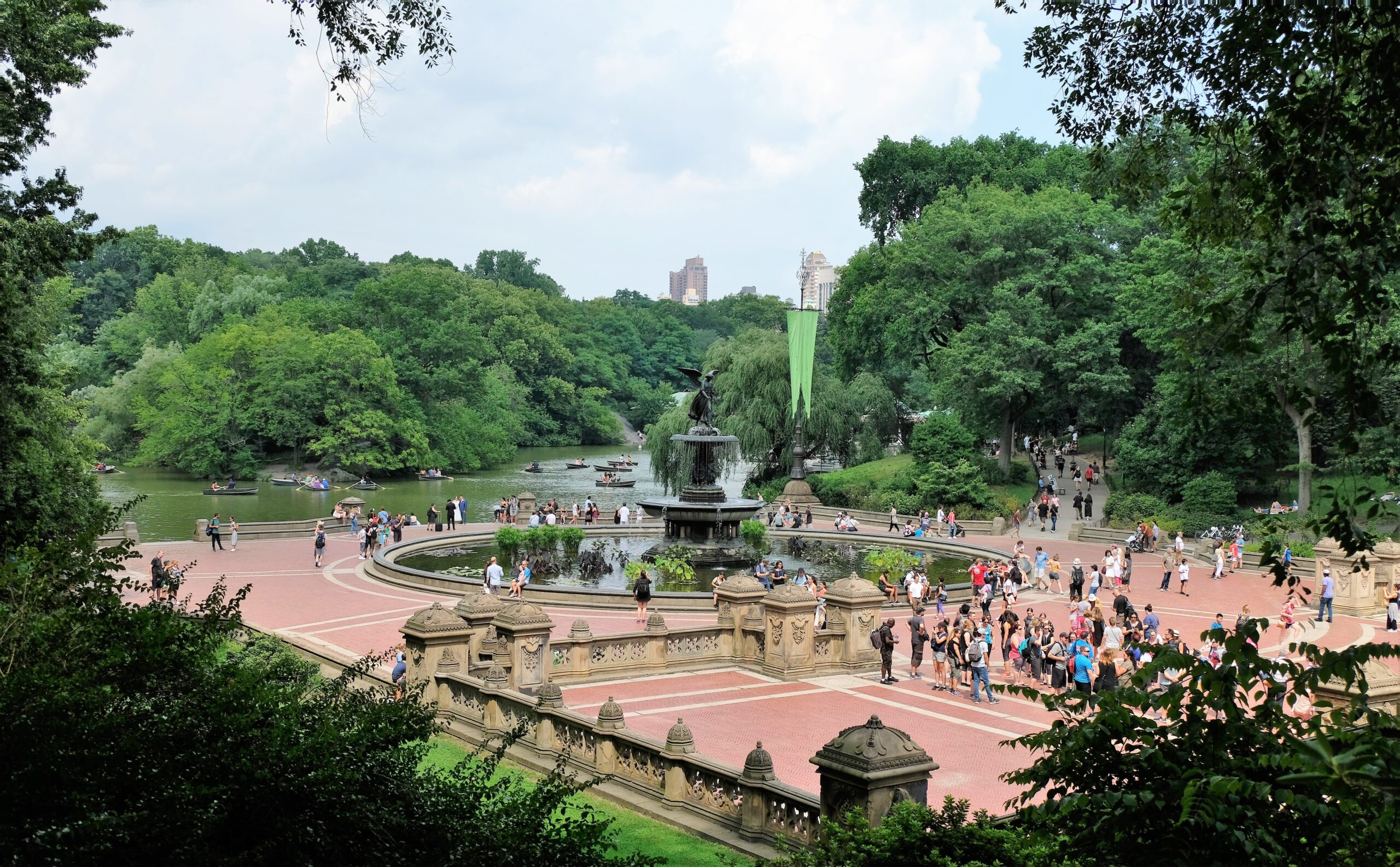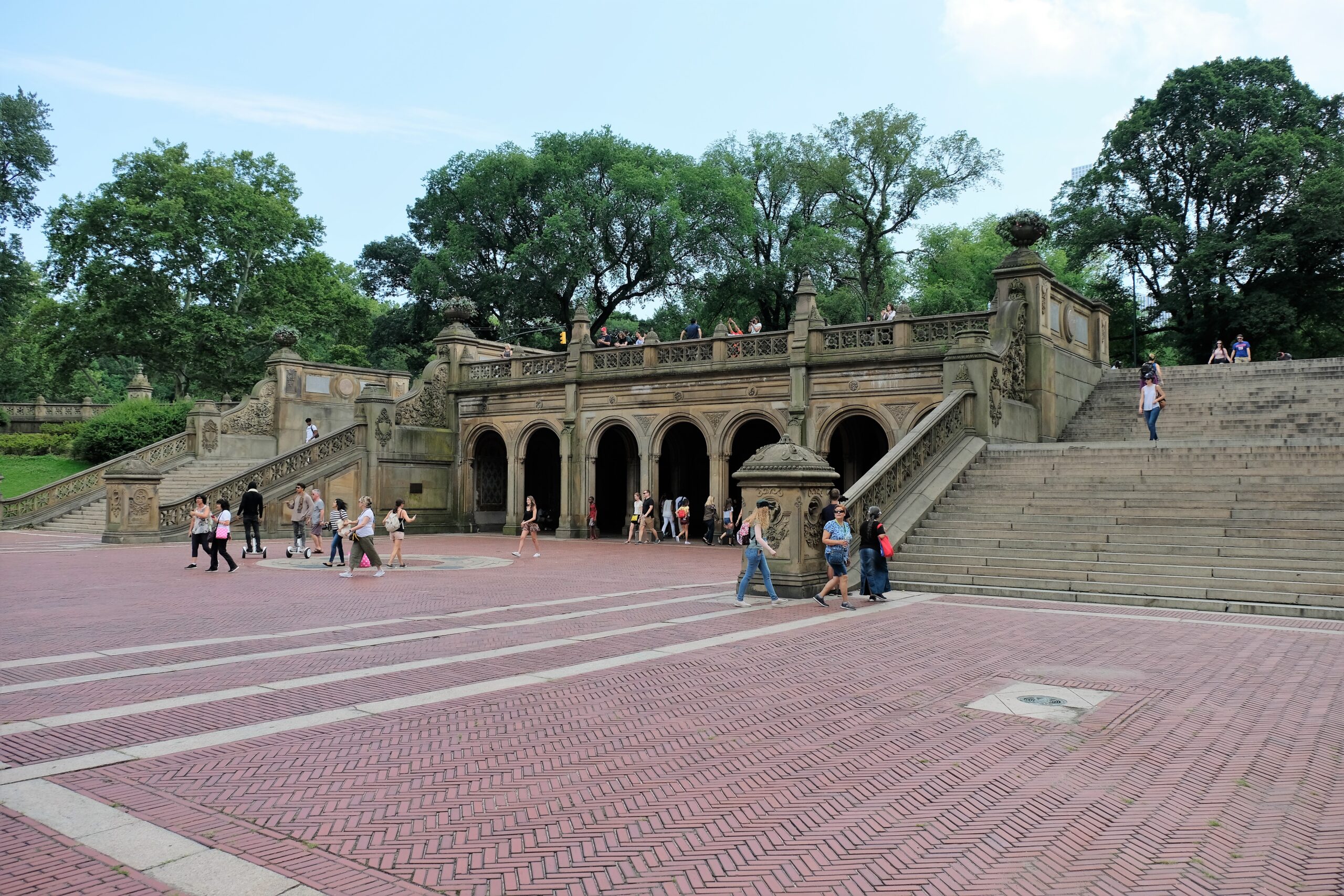 History
This is the short version of Central Park's history (and a little sarcastic 😊). New York's population was rapidly growing. Then in 1840, some rich people decided it would be good to have a park. Land was bought, $7.39 million compared to $1.7 million budgeted; the land cost more than the US government paid for Alaska. Poor people were evicted from the land. Following a design competition, in 1858 Frederick Law Olmsted and Calvert Vaux's "Greensward Plan"  design won. Many ups and down's followed, but construction, though slow, continued throughout the American Civil War. Including Olmsted and Vaux resigning, hired again, resigned again then hired again over a period of nine years. Central Park was finally completed in 1876.
The weather wasn't great; overcast, clouds getting darker, with a crisp smell of the imminent rain and cooling breeze. Though it didn't dampen my mood, it cut my strolling around not wanting to be stuck in the park during a prolonger rain. If I had more time, I would have revisited Central Park. It's a great place to get "out" of the city. It's large enough to visit multiple times and still not see every part. I could imagine visiting here if I stayed in the city, especially during a snowy winter. There are plenty of landmarks to see, with countless tv/movies being filmed here it felt nice finally seeing these places with my own two eyes. It's not everyone's cup of tea visiting these sorts of places (film/tv locations), it's not mine either. Central Park is just a cool place to visit in its own right. Cross the road from one of the biggest cities in the world and you're in a retreat of nature….that can't be a bad thing.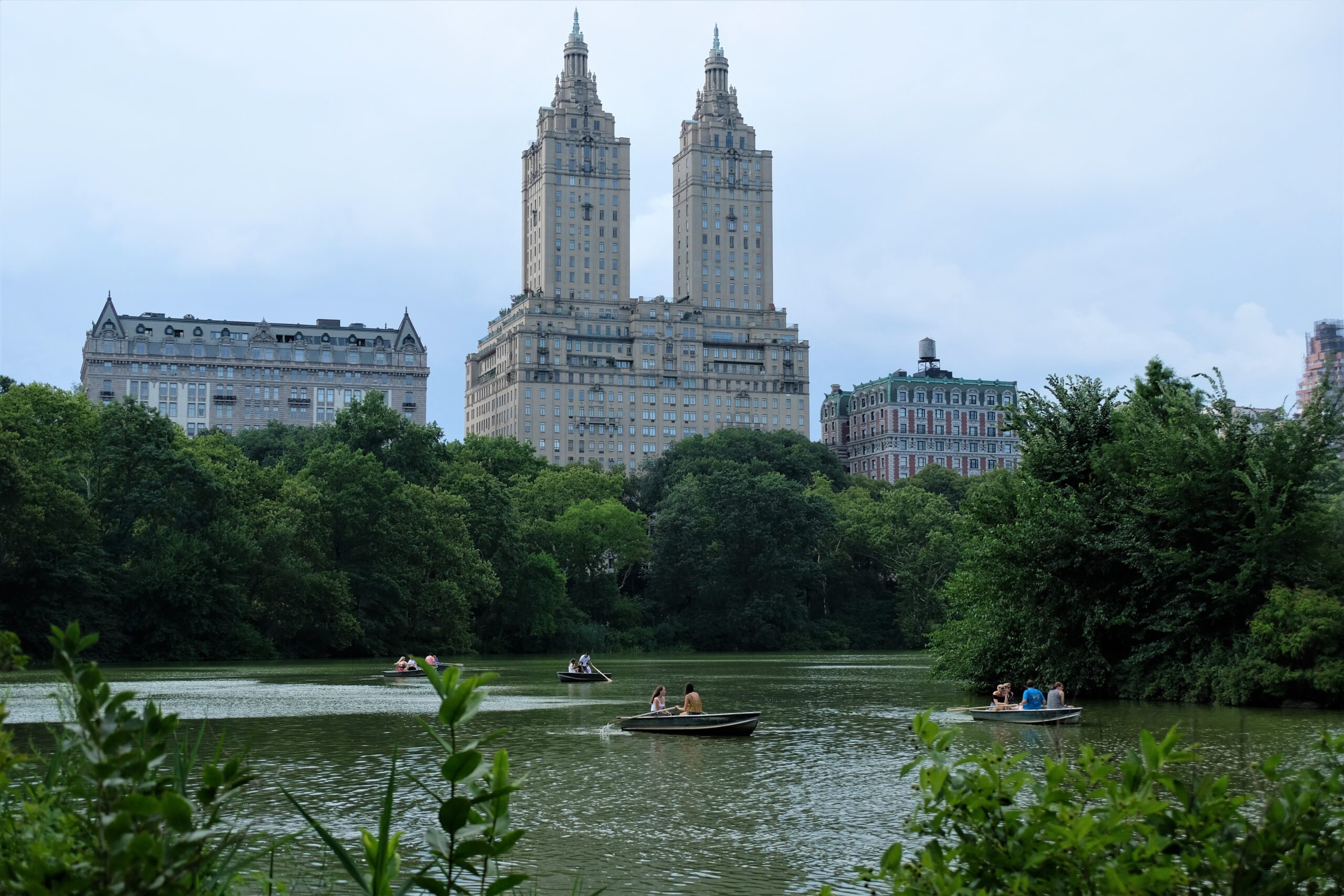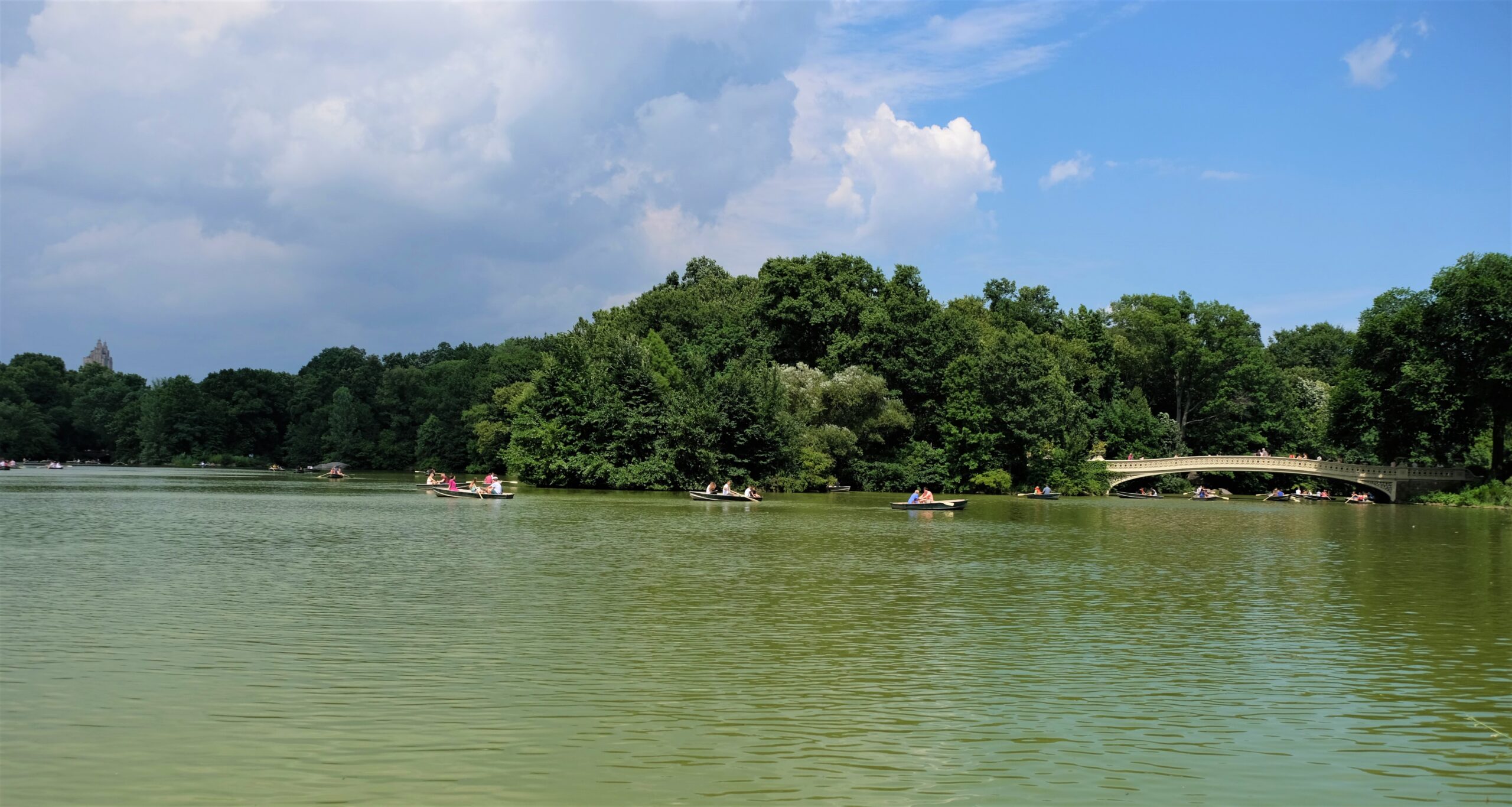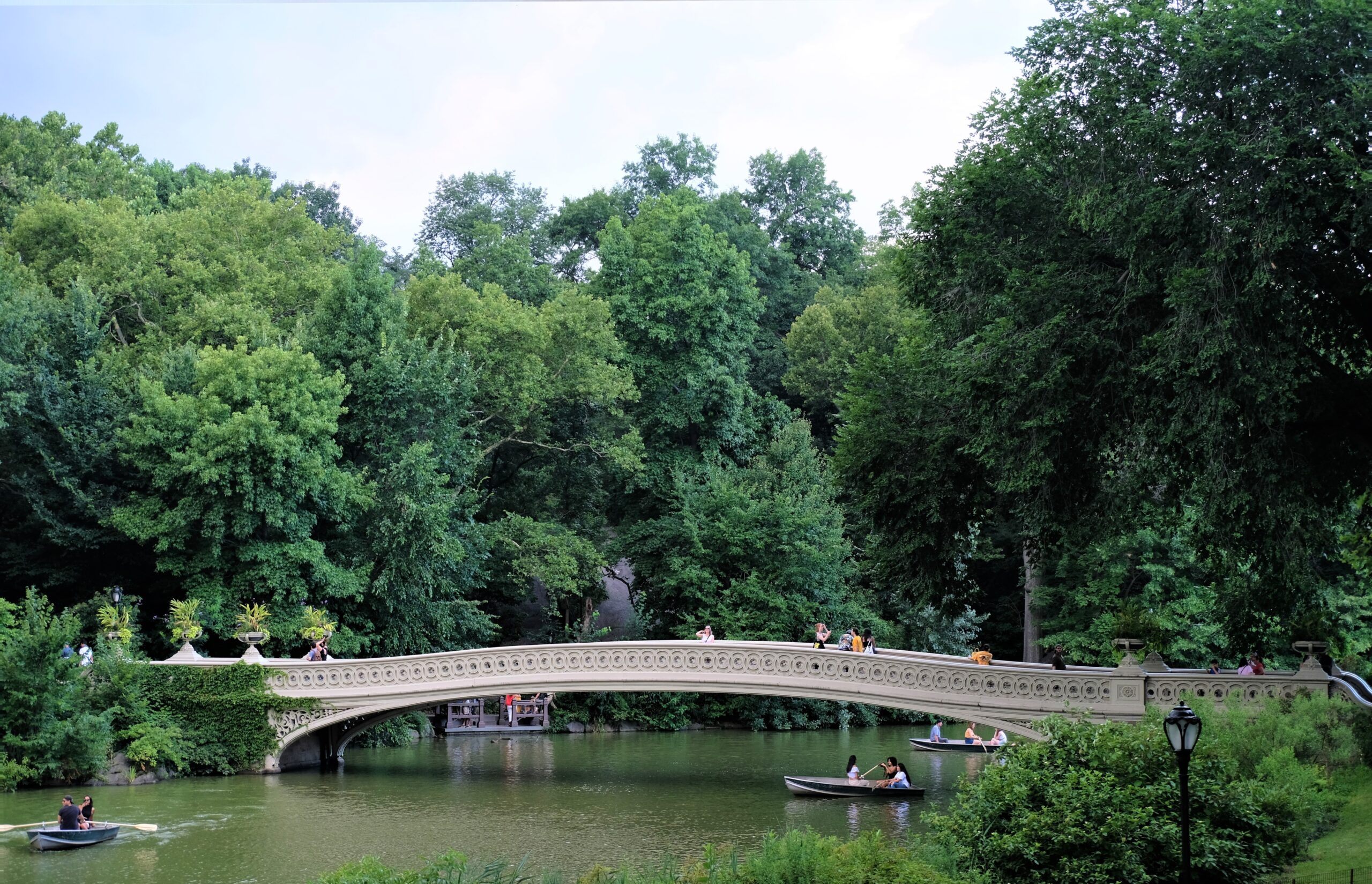 Guggenheim (Solomon R Guggenheim)
By coincidence I exited Central Park opposite the Guggenheim (Solomon R Guggenheim its full name). Much smaller than I thought it would be. Its white flowing lines a contrast to most of New York's buildings of glass, concrete or brick. I can't recall any city I've been to with so many brick buildings. These give New York a homely feel. Less cold and more welcoming than cities dominated by glass and concrete in my opinion.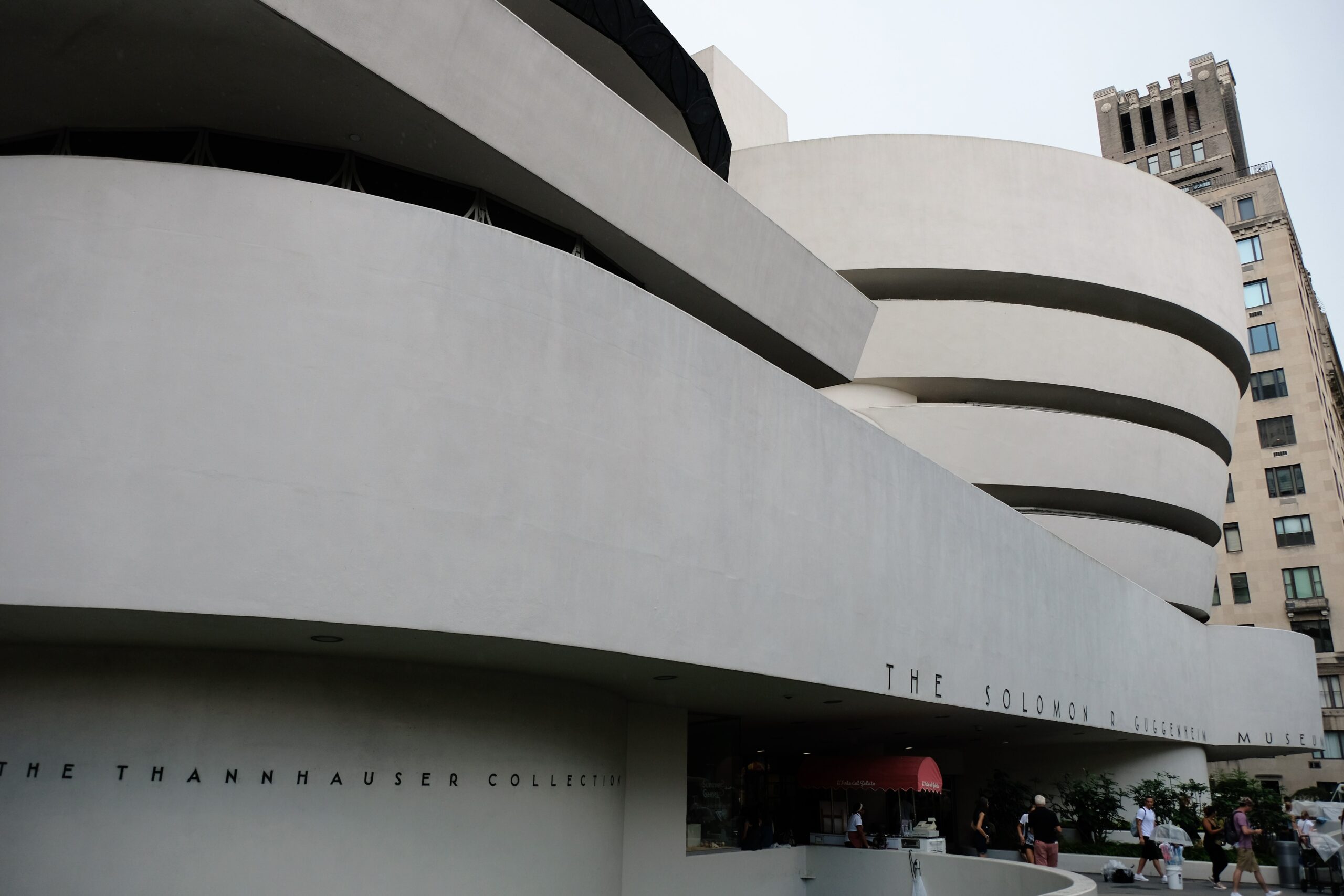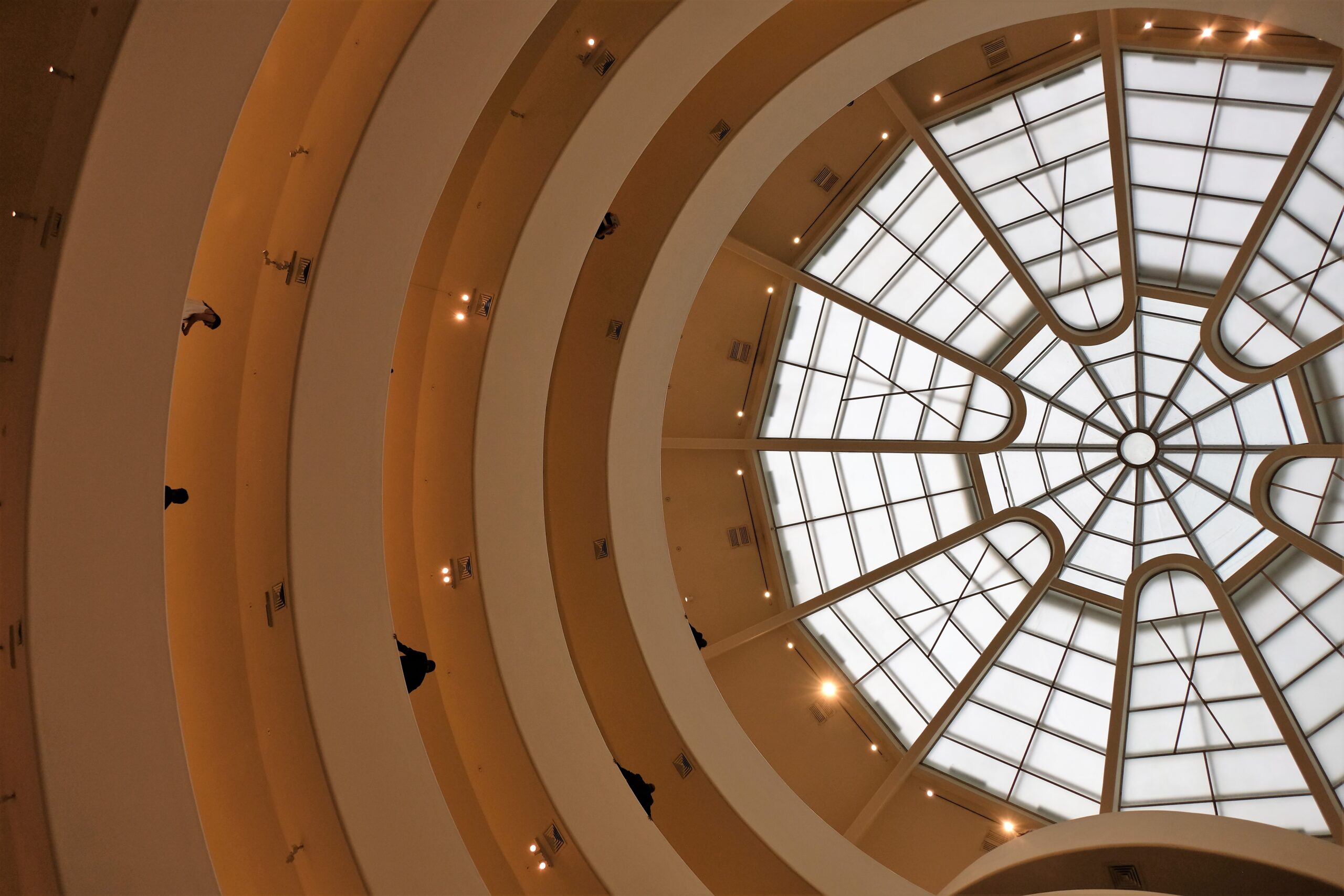 Back to the Guggenheim. As I exited Central Park, I received an alert text message warning me about possible flash flooding in the city. It had started drizzling, nothing more than spitting. Not enough for me to take out my raincoat. Was this a common occurrence in New York? I couldn't recall hearing/reading much about New York's flooding problems. Maybe it was an unexpected big storm heading its way (the clouds didn't look very ominous). I took a few clicks of the outside of the Guggenheim, then thought I'd take shelter inside whilst I awaited the impending storm or flood.
 From the inside the exterior flowing lines continue. Not like most museums I've visited, the interior is warm and welcoming. Simplistic in colour and near minimalistic in style but not cold. The large window skylight lighting up the interior like a spotlight. Guggenheim's interior is as much a work of art as those which hang from its walls. For such a welcoming building, housing many works I like and admire, I didn't visit. Why? There's an opportunity cost when visiting most places. See "this" and the expense of not visiting another place, or at least not spending more time at another. I've been fortunate enough to visit and see many of the greatest works of art around the world. From the Cairo Museum to the Louvre in Paris. I felt spending a few hours walking the rooms of the Guggenheim could be better spent elsewhere during my time in New York.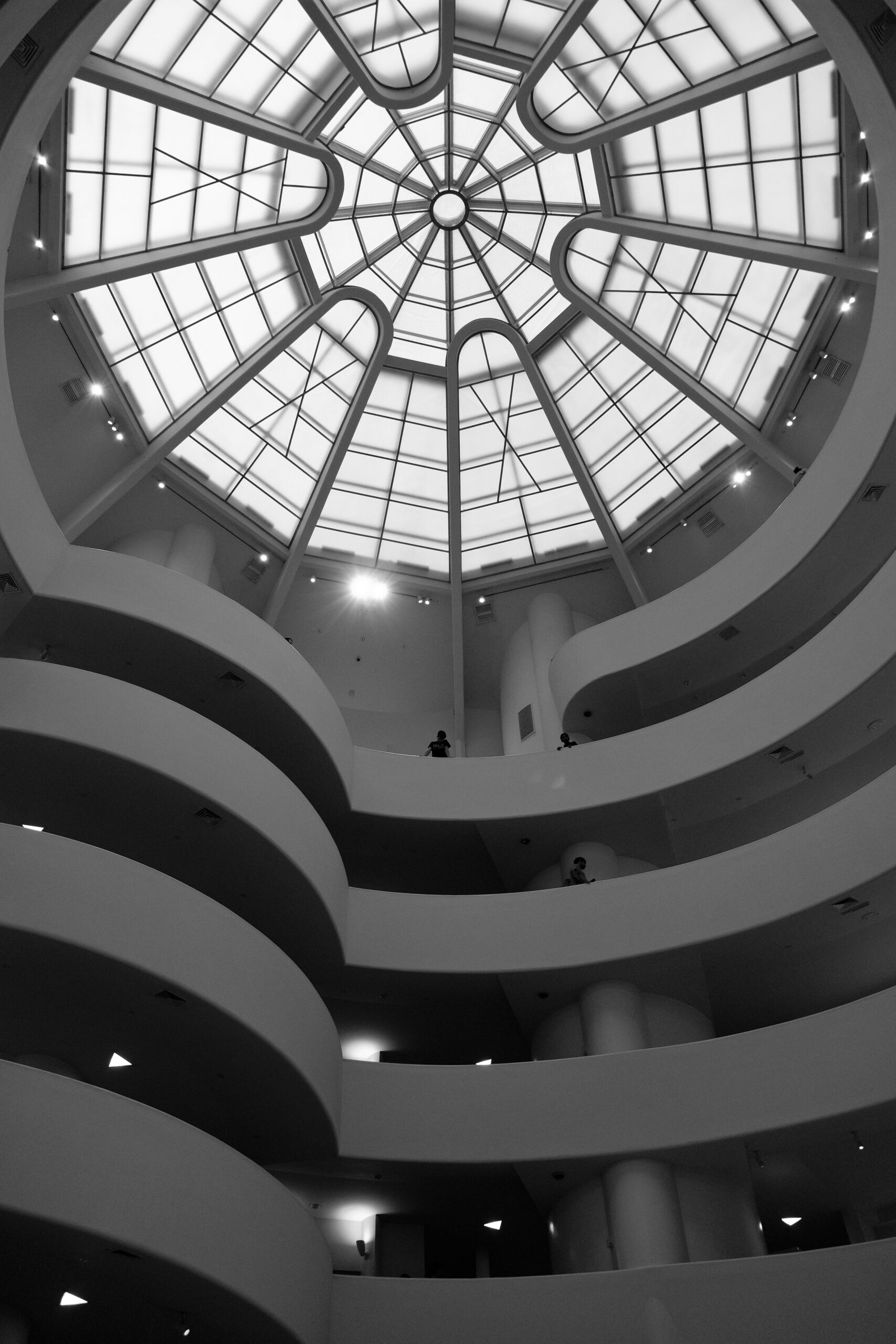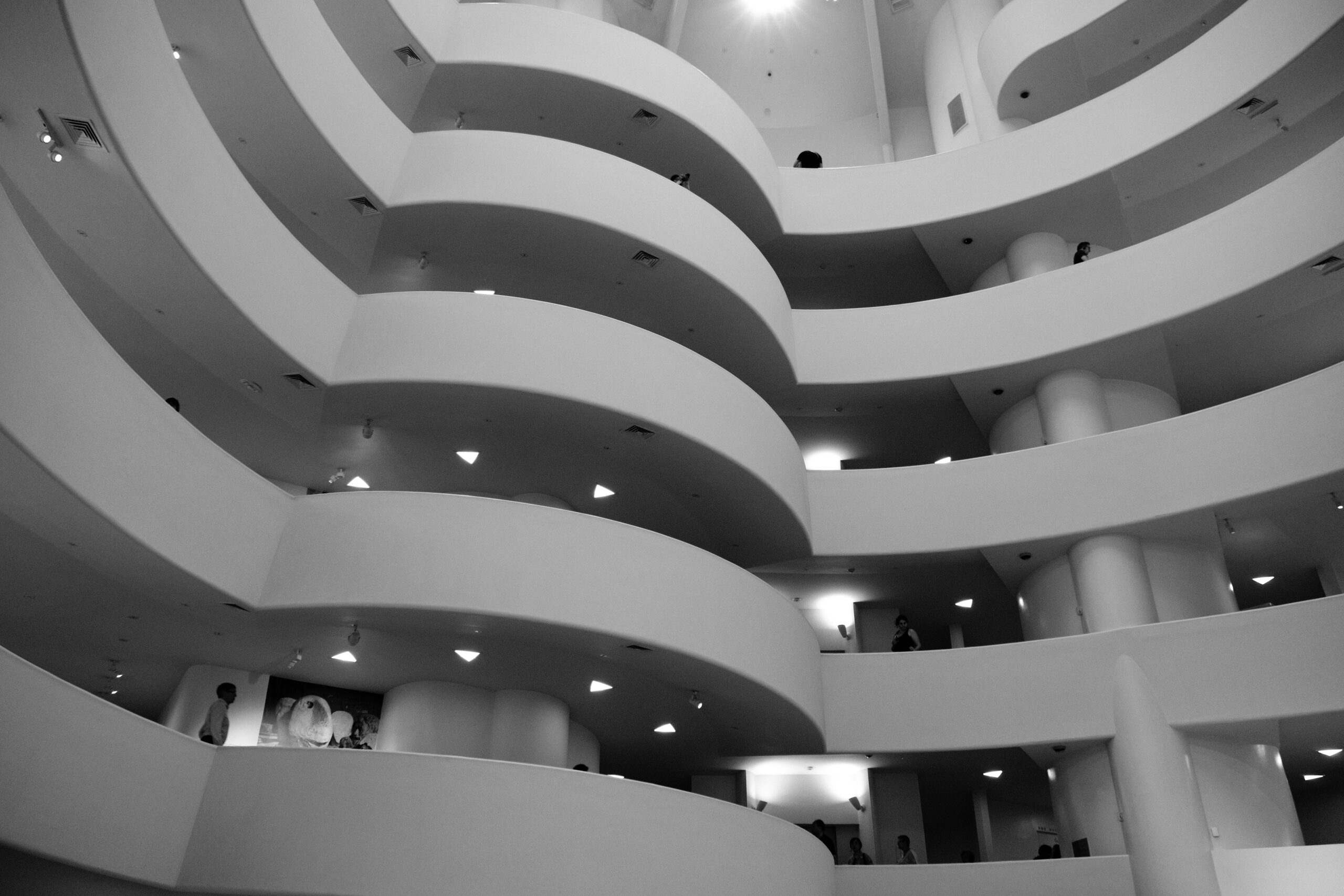 Neue Gallery / Neue Galerie – Klimt Exhibition
Heading out of the Guggenheim to no particular destination (the impending flood never arrived), I saw some posters advertising a Gustav Klimt exhibition (2018) only 200m from the Guggenheim. Maybe I was feeling guilty about letting the opportunity of visiting the Guggenheim pass me by. Klimt's work were being exhibited at the Neue Gallery; a much smaller gallery, housing 20th century German and Austrian art. At least here I could see a body of Klimt's work in a short period of time. I'd never seen any of Klimt's work in person before. They had his famous Portrait of Adele Bloch-Bauer "The Woman in Gold" on display too! This I couldn't miss. Sorry, no pictures from the exhibition – no pictures allowed. You'll have to take my word for it, WOW!
 Ambling through New York
Finally the impending downpour arrived. No, the heavens didn't open. Instead, a light stop-start drizzle. Not enough for me to put my raincoat on. I hope my mild irritation about receiving an emergency text message is coming through. Maybe I'm being cynical, or maybe New York gets flash floods. If yes, then I apologies. What irritated me (and in life) was this "cry wolf" situation. Too much of this type of thing happens in daily life. Everything seems to be an emergency or critical. Or, people covering their arses just in case something bad happens. My rant over.
Moving on. I really enjoyed my first day in New York. May not seem like I did much, a lot more walking than visiting actual places. But, walking about in a new place is site seeing. Looking back I do regret not spending time at the Guggenheim. Though the Klimt exhibition was a very cool bonus. Thinking back I still remember saying to myself how I like the city, especially the brink buildings. Anyway I won't drag this on longer. Day 1, enjoyed myself.