Chinchero would be my afternoon visit, the last of the day. Not to rehash my route and how I got there, I covered that in my previous post. Chinchero wasn't high on my list of places to see, however I was more keen to visit it than Maras Salt Ponds. Yes, the Salt Ponds were interesting but didn't tickly my fancy. As you may or may not have gathered, I like old looking stuff! Arriving in Chinchero I began to question my rationale; the town was exceptionally quiet; less than a handful of visitors (literally). During my entire visit I saw less than 10 people.
Saying Chinchero wasn't high on my list may sound like a contradiction to what I said in the previous post. Not really. From the pictures I had seen it just seemed more interesting than Maras Salt Ponds. Less people visit Chinchero compared to other sites in the Sacred Valley / Urubamba Valley. Why, escapes me. I'd go so far as to say it is one of the nicest sites because so few people visit – that along with its history and size; the latter meaning it's easily accessible, not that big, so you can see the whole site without breaking a sweat. Summary…it's a great little gem of a place and I'm glad I went.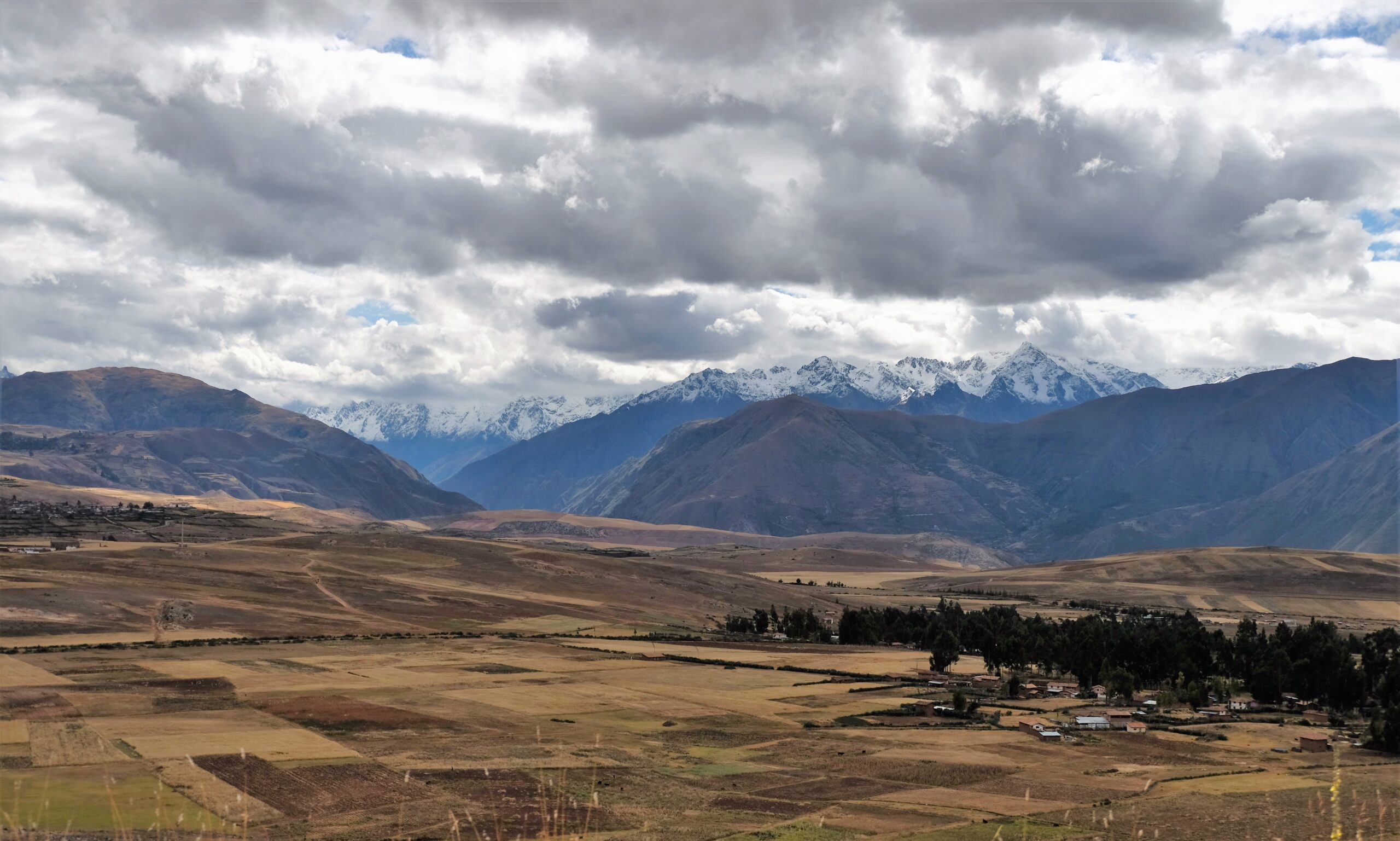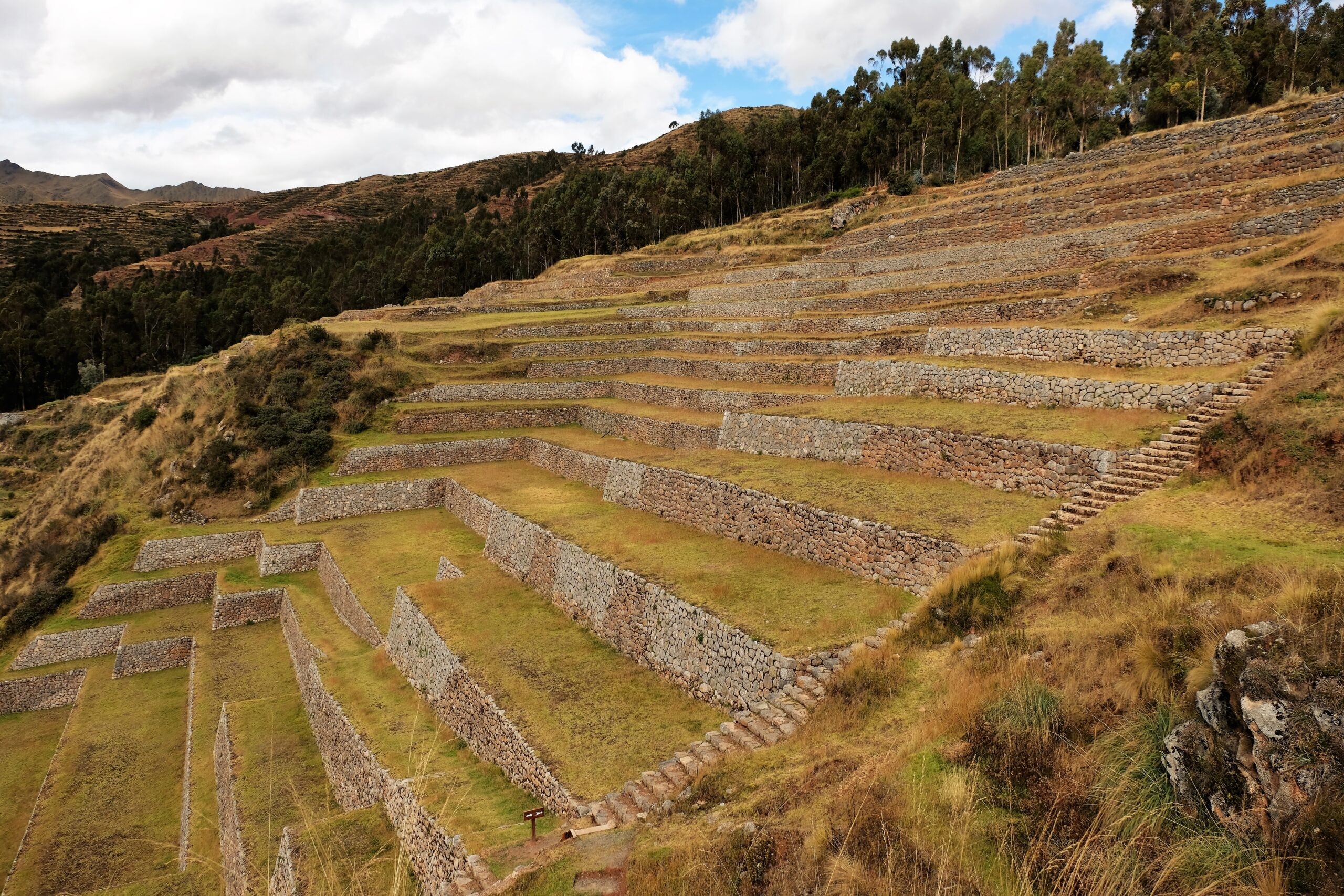 Getting to Chinchero Archaeological Park
I use the term archaeological quite loosely. Just like, yes, I'm going to say it again, all Inca sites there is almost no real information about them – Chinchero is no different. From the main road passing through the town, you head East; heading in the direction of Cusco that would be left. Ambling through the narrow stone paved roads with neat a gutter slotted in the middle. These roads are pedestrian roads, with houses and shops forming the boundary on either side. To some degree it reminded me of a Greek island town. The buildings built of either mud brick &/or stone, all with the same roof tiles and walls painted in the obligatory slightly faded white.
You don't need to follow the signs to the site, just follow the roads lined with curio and wears stalls. They do brighten up the monotone buildings with the vibrant colours covering the spectrum of a rainbow. If there is one thing that I'll always remember of Peru (except the Inca ruins) is the vibrant colours of the traditional clothes. Coincidentally, in Inca mythology Chinchero is the birthplace of the rainbow. It was given the name K'uychi which means rainbow, however its original name during Inca times isn't know.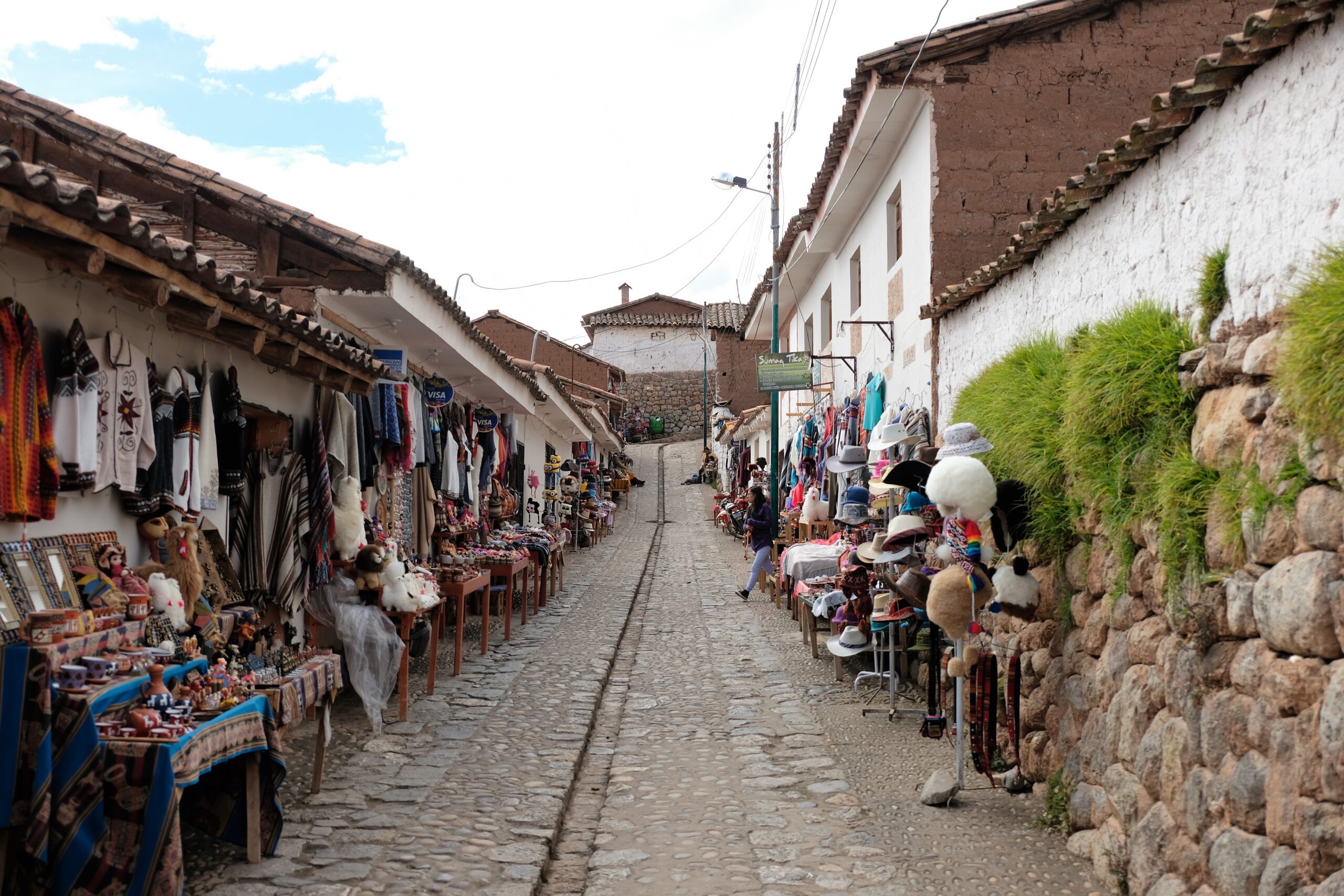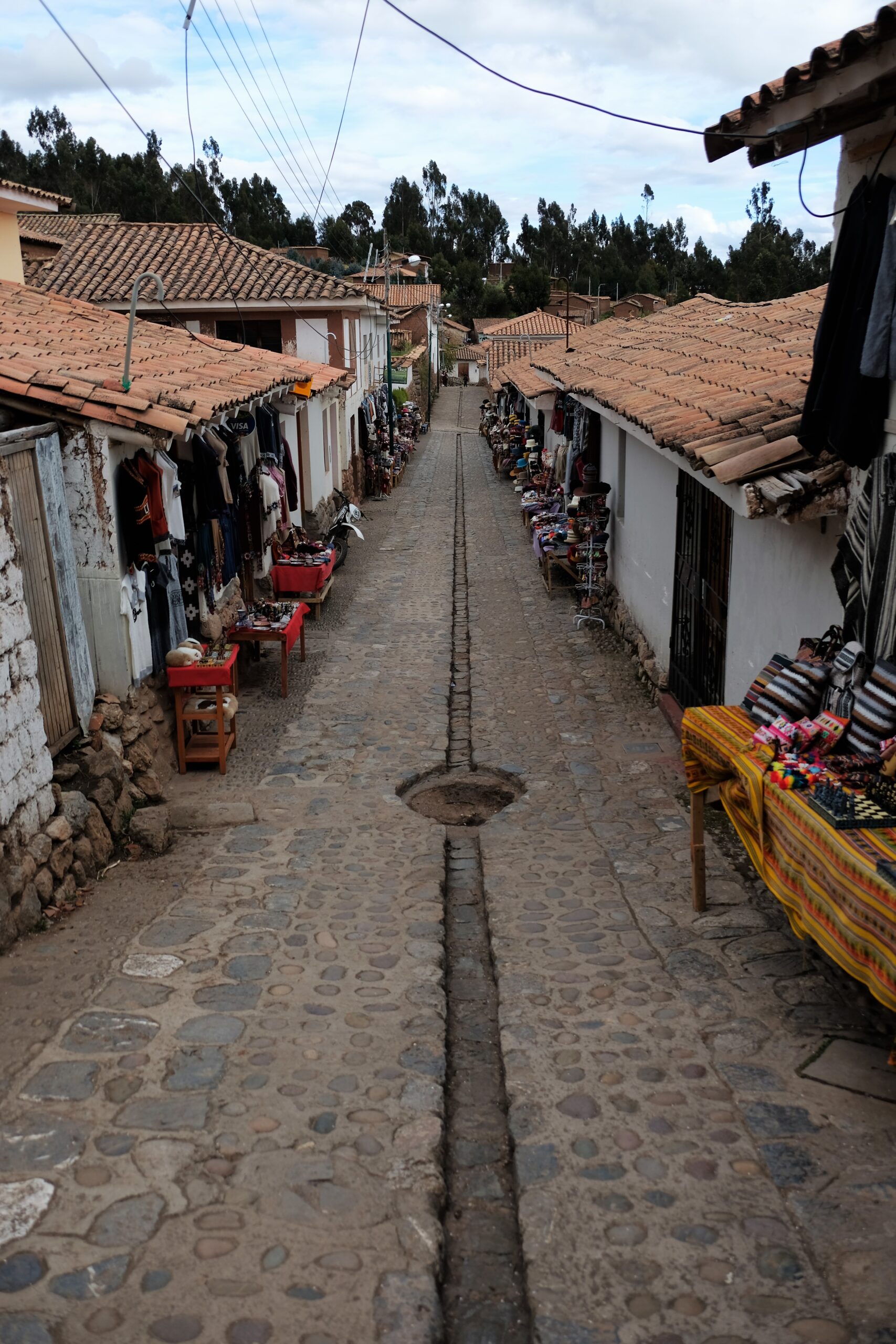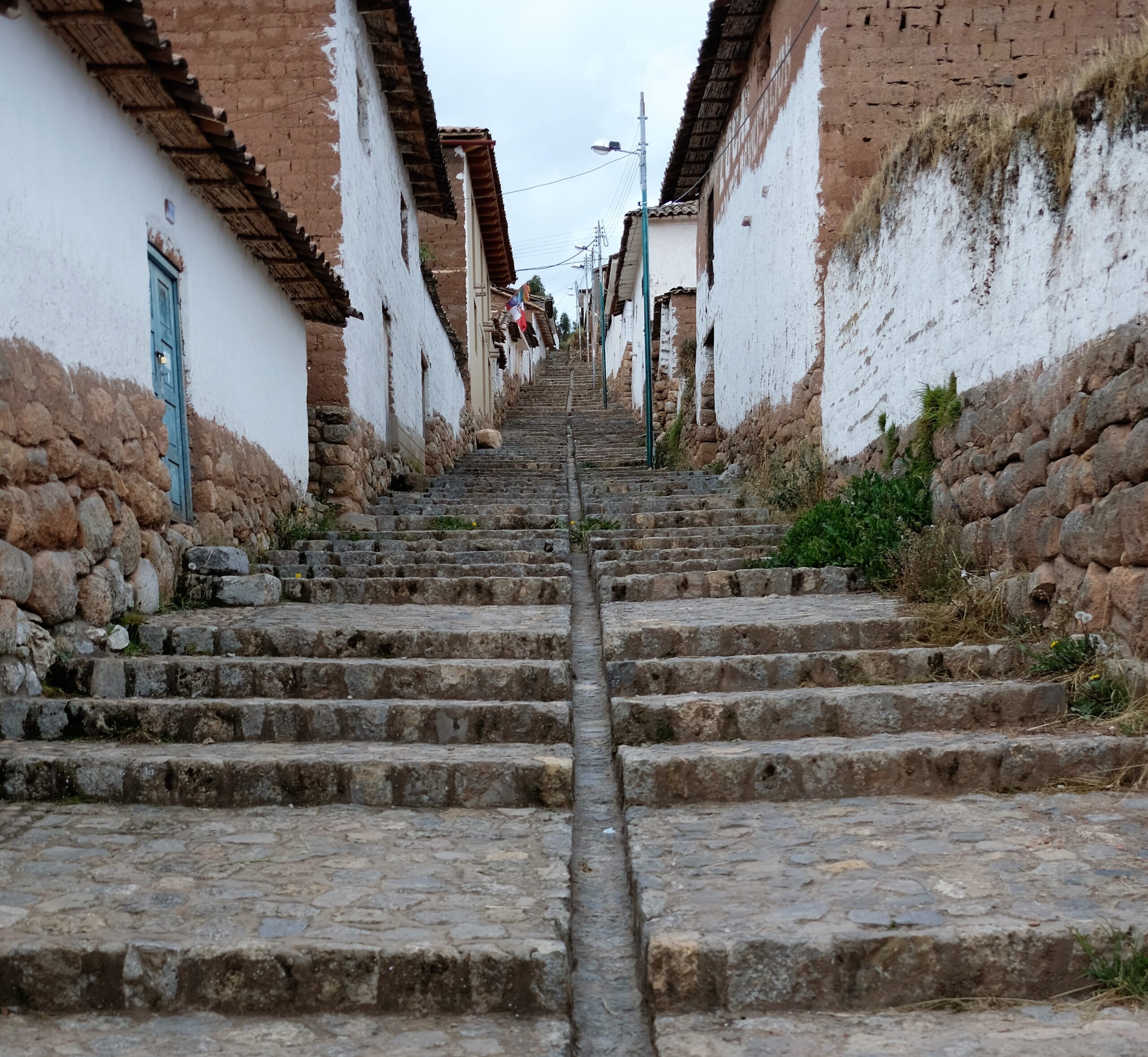 Plaza de Chinchero
This is the hub of the town, used for ceremonies, celebrations and of course the town market. Chinchero is known for its authentic fabrics, that along with anything of a traditional nature are sold by ladies in their regalia. I didn't buy anything, though I would have liked to. Buying little/large trinkets as I travel adds up to kilograms. Even if I bought one small item per country, I would still be lagging loads more weight around. I do have some regrets, and I would have liked to contribute, even a small amount, to many of the extraordinary crafts people I met during my travels. Mementos are great, my memories are forever but supporting people keeping ancient trades and skills alive is extremely important.
Plaza Chinchero is cool, but nothing spectacular. What makes this place special is what is hides…more precisely what lies beneath. This whole area is built on top of Inca ruins. Once part of a palatial palace. And, as with most palaces and places of high importance i.e. temples etc. they are surrounded by the most opulent and sacred places. So if you do visit, tread carefully and just imagine what you are walking over ?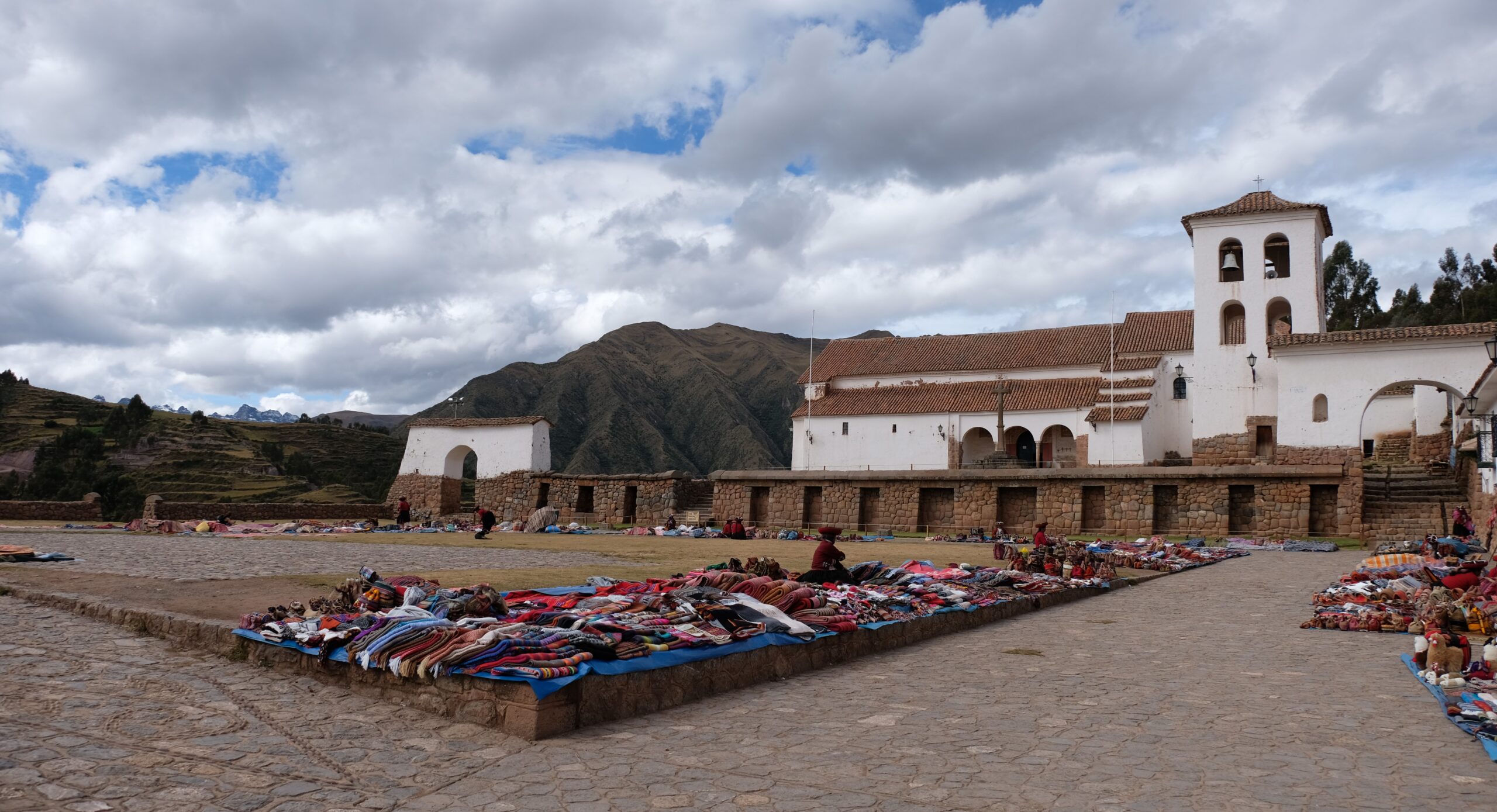 Church of our Lady Monserrat
Bordering Plaza Chinchero is an old church. My first impressions were that it doesn't even look like a church. Frankly it looks like a large school or town hall, weighted by the strain of time and fighting to stand upright. This is the Church of our Lady Monserrat, build circa. 1607. Spoiler alert, I have no pictures of the inside…what a shame. Outside is a clearly marked sign saying no photos. I almost didn't go inside, from the look of the outside (and the many spectacular churches I have seen) I didn't hold much hope. Well, don't judge a book by its cover comes to mind.
Inside was beautiful, not at first. Once my eyes adjusted to the dark interior, light every so faintly by sparse tiny windows (almost nonexistent), did I begin to see all the detail inside. It's dark inside, exacerbated by dark wooden panels and ceiling struts. Some may say it is neglected, not so in my opinion. Chinchero is poor by anyone's standards, and yes, the church could do with some serious renovations. However, I would bet my last pound that the community spends what ever possible to maintain this church.
Once my eyes settled only then did, I begin to see the rich colours painted everywhere; the roof trusses carved and painted with deep vibrant colours now fading with time. Everywhere you look there is more detail, with crafted wood comparable to anything I have seen. I tried to take a sneaky photo, but my camera made a noise when I turned it on. The "guard" politely asked me not to take photos to which I obliged. I just wish I had taken even one picture. Not to get "that" picture, it was just such a different and beautiful place. A shabby-chic church with more character and appreciation than the best of cathedrals I have seen.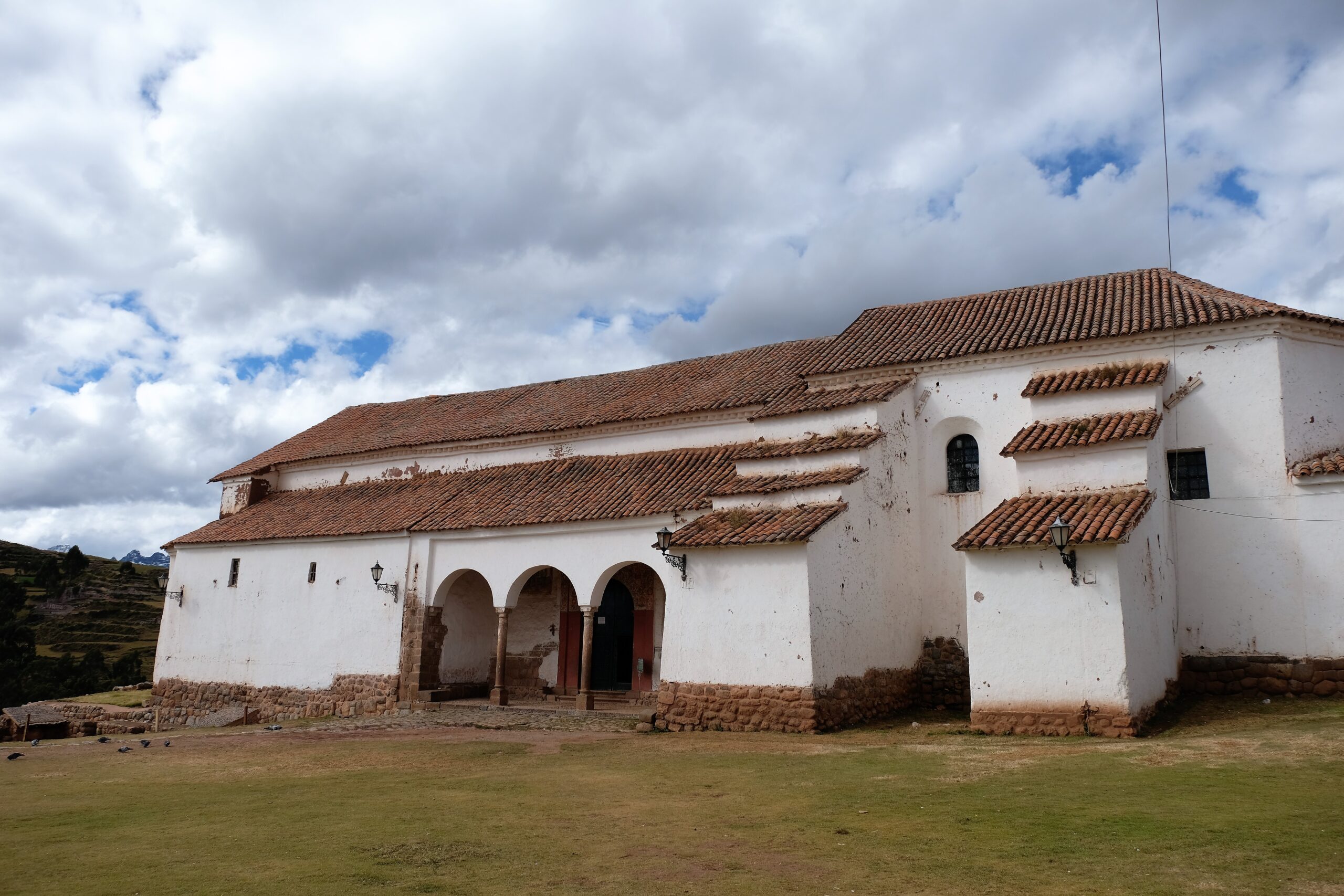 Inca Palace
As I mentioned, what lies beneath this area is, or at least could be, extraordinary. The Spanish's systematic process to wipe out the Incas religion and enforce Catholicism was reinforced by building on top of Inca sites. What more could representative of this policy than building a church on top of Inca temples and religious sites, in this case a holy site and palace – like a representation of submission. Remnants of this site was found during restoration work on the church's foundations. Some of the foundations and walls are still in situ next to the church but not the huge smooth large stones that were found under the church.
Topa Inca Yupanqui (Túpac Inca Yupanqui) is said to have build the palace and expanded Chinchero, using it as a sort of holiday house or retreat. How true this is will never be known. He died in Chinchero circa.1493 have ascended to Sapa Ina in 1471 (born circa.1441). Topa Inca Yupanqui was a formidable leader of the Inca army, continuing his father's expansion of the Inca Empire – his father was none other than Pachacuti; arguable the most famous and prosperous Sapa Inca and the founder of the empire as we know today. Far from playing second fiddle to his father, Topa Inca Yupanqui is the one who fortified Sacsayhuamán/Saqsaywaman.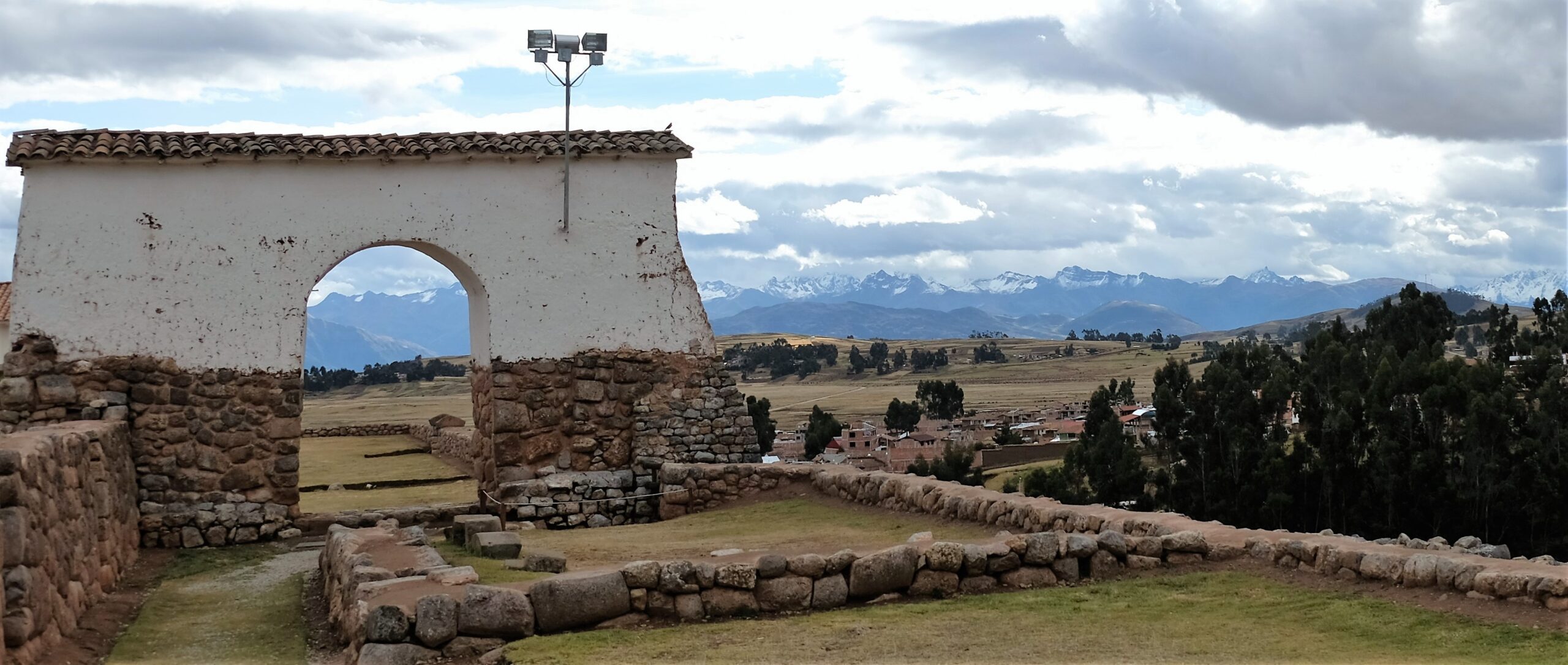 Huaca / Wak'a at Chinchero
Puma Qaqa / Wak'a Puma / Huaca Puma
Following the main path from the church are the remains of a revered Inca site, Wak'a Puma. The name gives it away, what would have been a rock, destroyed long ago, it was in the shape of a puma (could have been two). Now what stands is the base and "stairs" cut into the rock. The stonework, though not as large and elaborate as some sites still have the trademark odd shapes neatly fitted together and smoothed compared to the terracing rocks throughout Chinchero.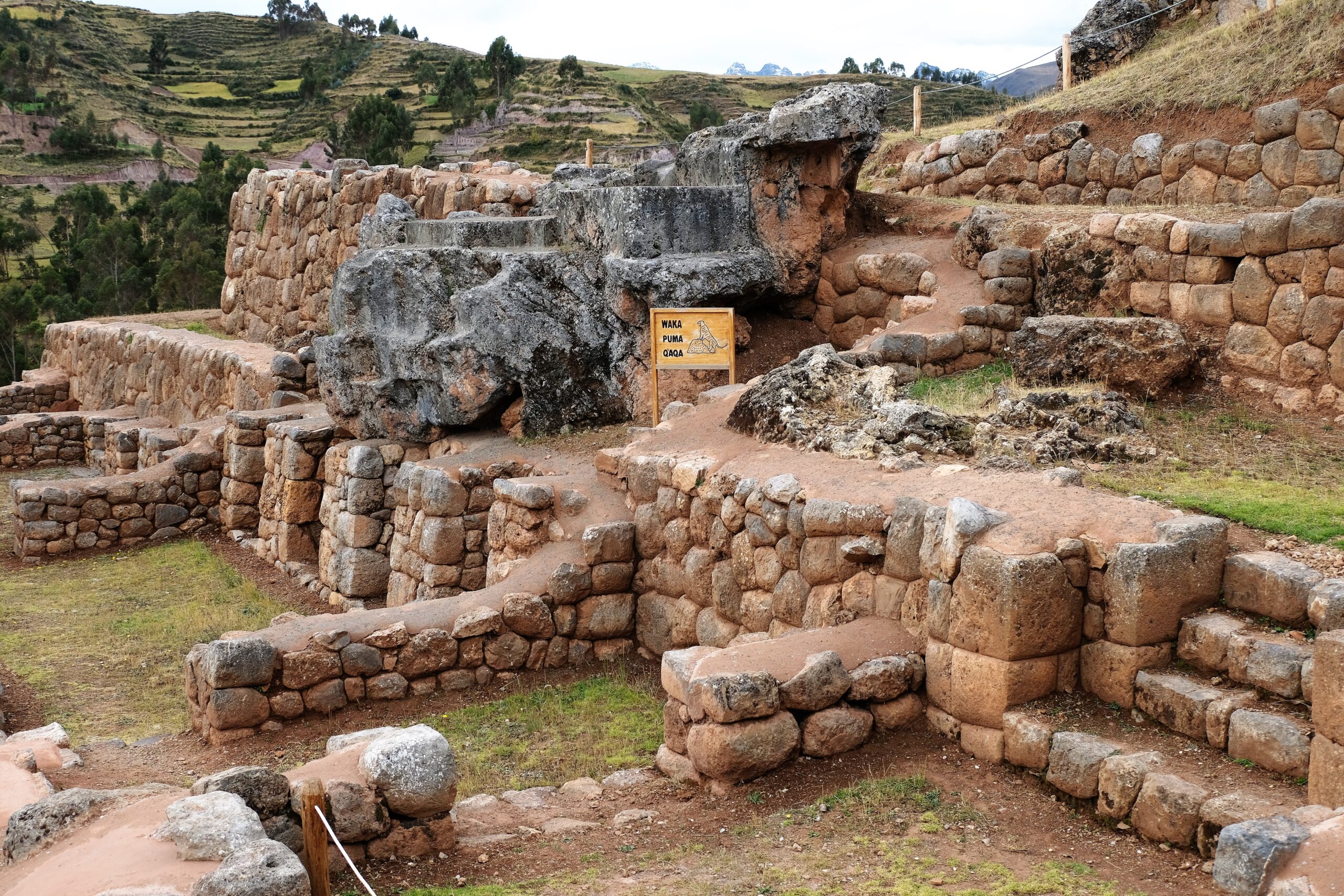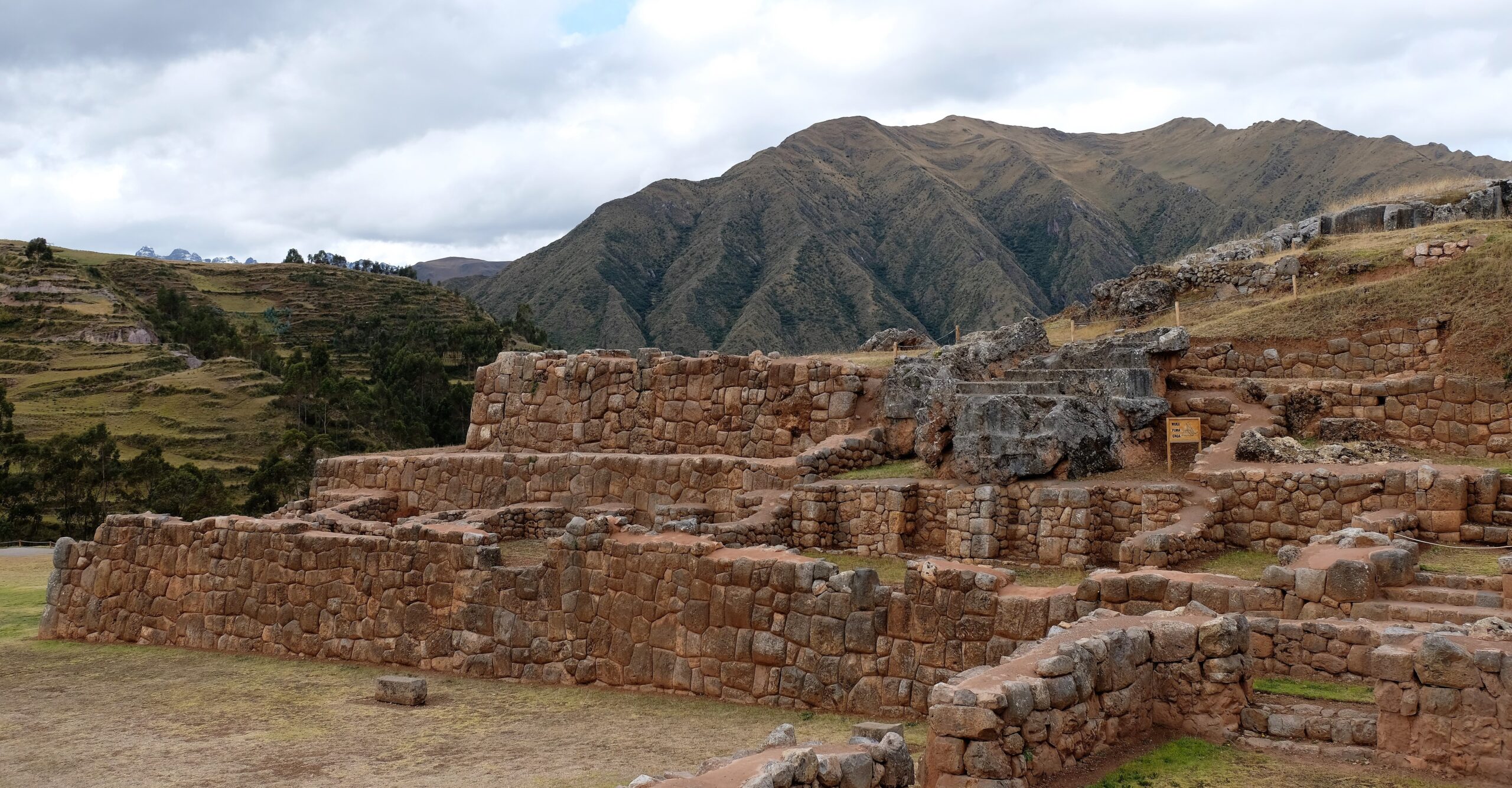 Titiqaqa and Chinkana
Along with Huaca Puma the two other sacred sites are Titiqaqa and Chinkana. As for the Chinkana; I wrote about them during my visit to Sacsayhuamán / Saqsaywaman. At Chinchero there is one distinct Chinkana; a short passageway with stairs leading through a diamond shaped hole cut through into the rock. This small "tunnel" may seem insignificant, however considering the energy and work required to cut through this rock it is highly unlikely it was done as a short-cut. Walking around the rock would take less than 30 seconds, so it must have been done for a reason. Something I thought about later on when looking at my pictures of the Chinkanas (here and other sites), maybe they are a representation of birth, life a new dawn so to speak. I say this because of their shape…just a thought.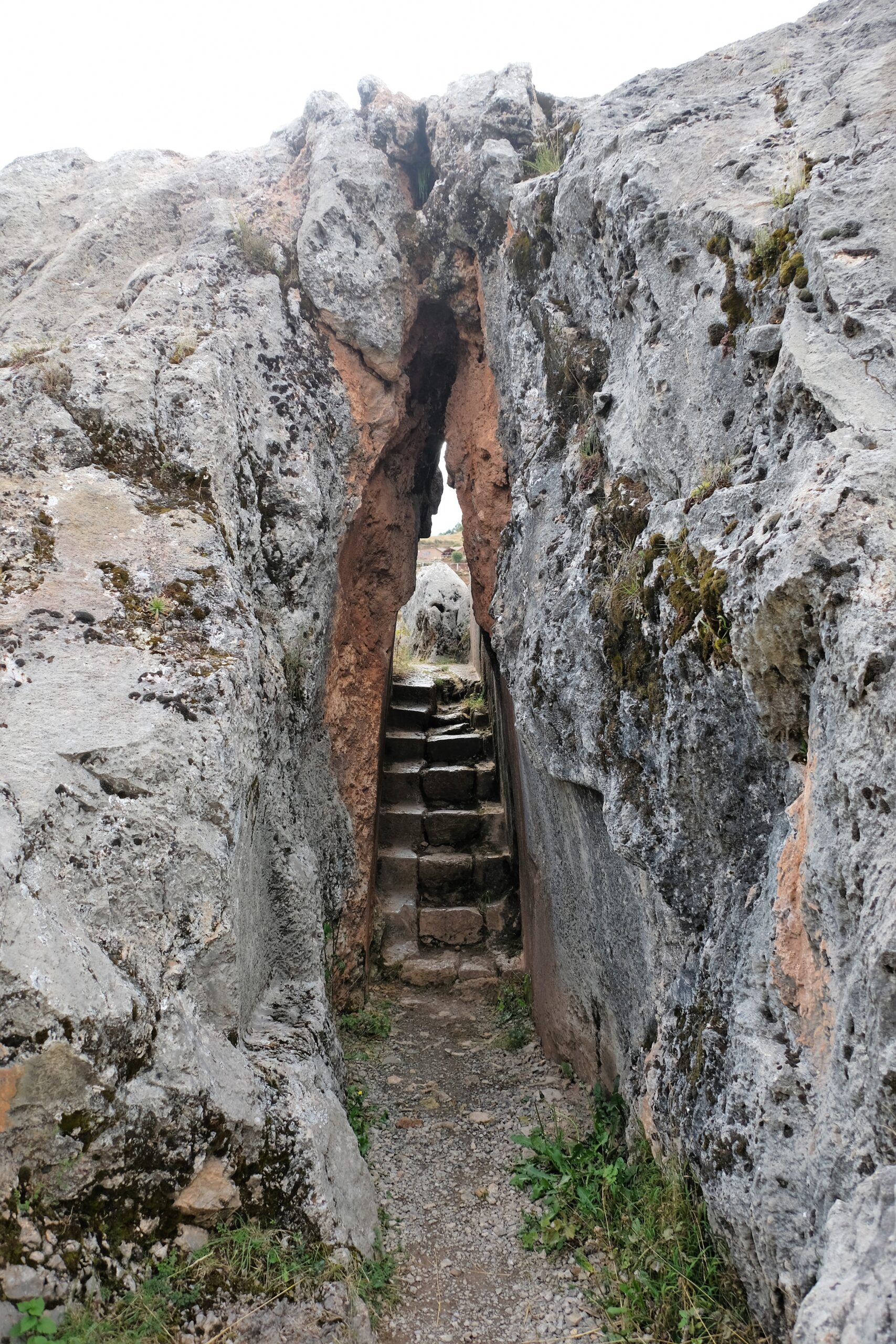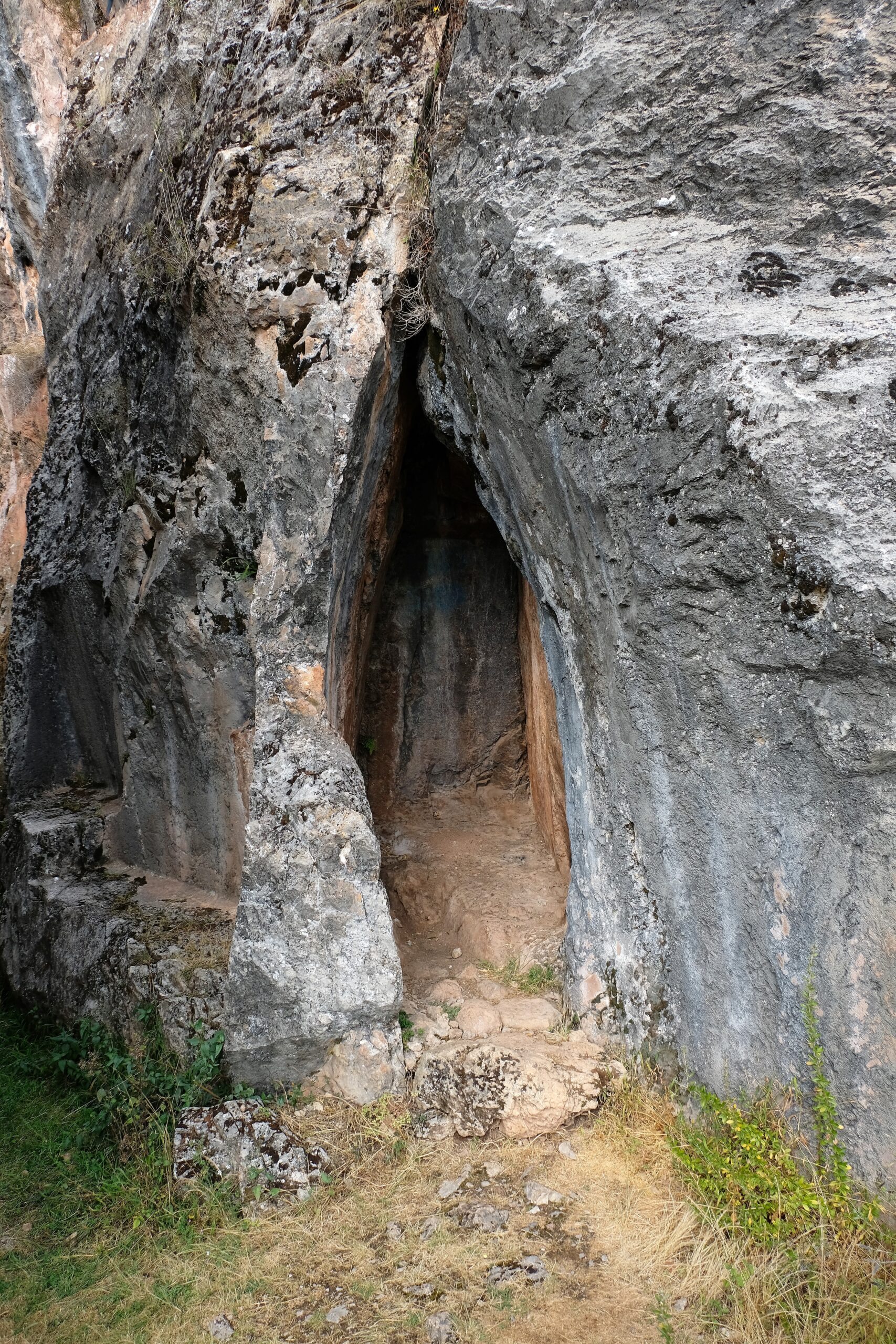 As for the Titiqaqa, I couldn't find much information about this, not even it's exact location at Chinchero. I'm reasonably confident I know what is being referred to as the "Titiqaqa" but cannot be 100% certain. In all probability Chinchero has/had at least four sacred sites Puma, Titiqaqa, Chinchero and the Palace, however, could have had more. Without finding much conclusive information about Titiqaqa I'll leave it at that. Personally, I think there were likely to be many wak'a at Chinchero. Simply because of the many monolithic rocks with stairs cut into them and other shapes, including what resemble massive seats or thrones. One set look like a row of seats, where you could imagine high priests, judges or royalty seated whilst presiding over a ceremony, meeting or court – no evidence of this though.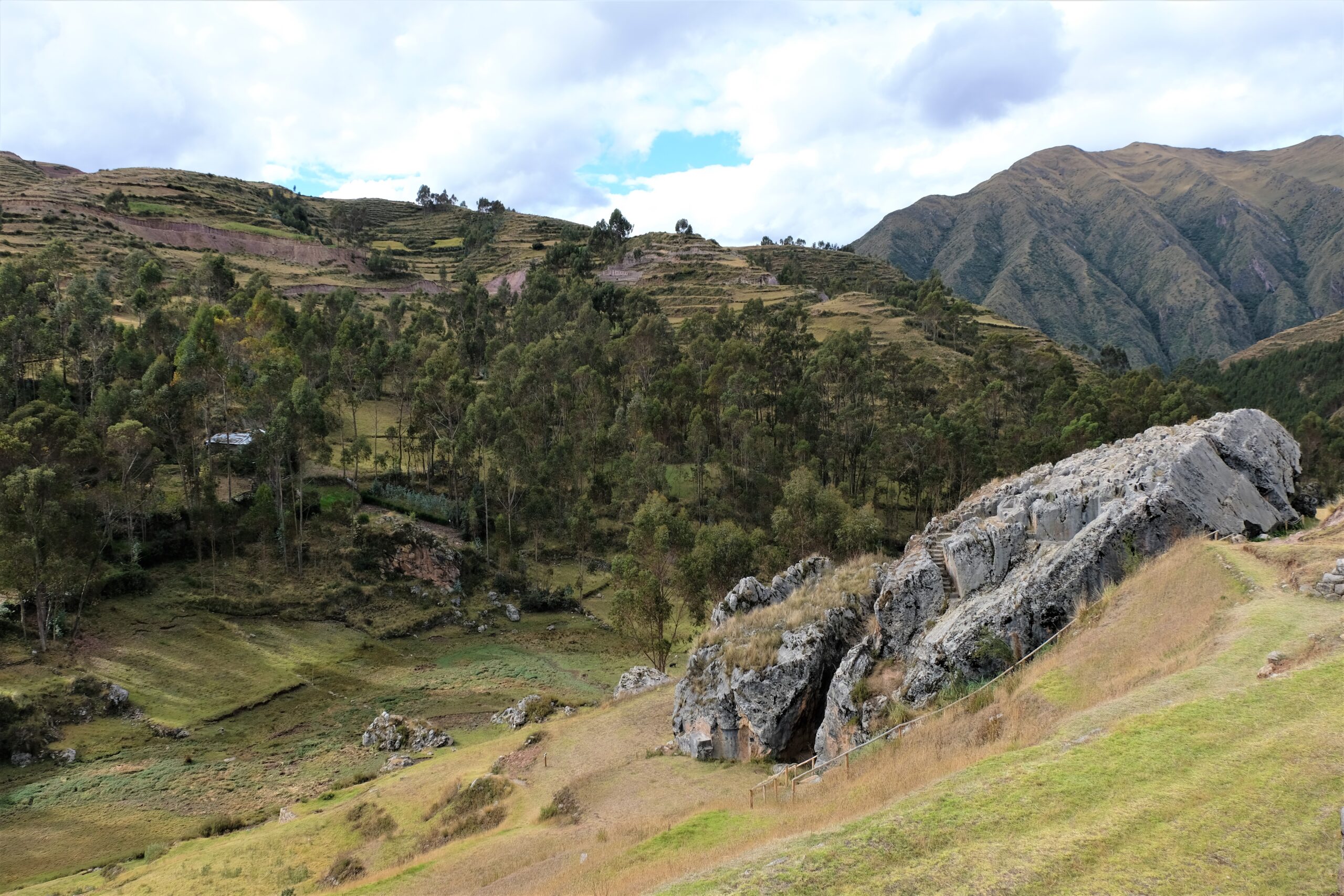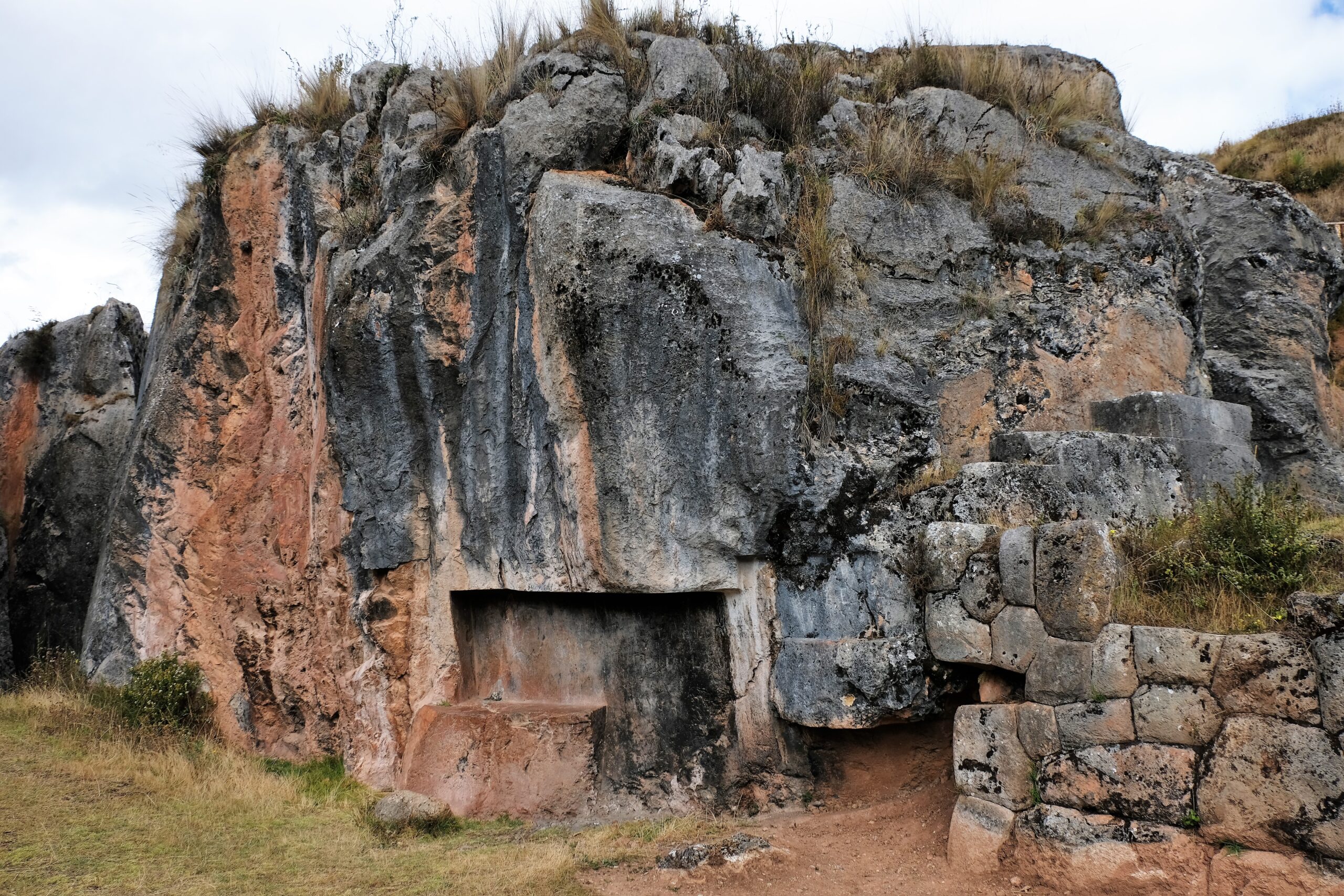 Two key Sapa Incas of Chichero
Topa Inca Yupanqui
Chinchero played its part in the history of the Inca Empire, with two notable instances. Firstly, the Sapa Inca Topa Inca Yupanqui (Túpac Inca Yupanqui) is said to have used Chinchero as a retreat, something akin to a holiday resort of type. Holiday resorts are normally associated with history, however Topa Inca Yupanqui along with his construction and expansion of Sacsayhuamán, also expanded the Inca Empire. He formed part of a dynasty that would increase and shape the Inca Empire to what we know today, through his exploits and that of his son Huayna Capac.
Topa Inca Yupanqui expanded the Inca Empire into Ecuador building the city of Quito with architects form Cusco, sadly I didn't manage to get to Ecuador. Legend be told, and there is some evidence to corroborate it, he voyaged not only deeper into South America, but also into Pacific. There is some proof that he reached either the Galapagos Islands or Easter Island. Either would be an astonishing achievement. Easter Island is 3700km from Lima, Galapagos Island is 940km from Ecuador. Either would have been an epic exploration of the time, let alone with the technology they had. Nothing I've read about the Incas has shown then to be masters of ship building capable of exploring the oceans. Reaching either island in river fairing vessels is more than impressive.
Topa Inca Yupanqui died in Chinchero around 1493, well murdered, by one of his wives Chuqui Ocllo. Tupac Inca was convinced by Chuqui Ocllo to make her son (Ccapac Huari) the next Sapa Inca, only later for him to change his mind and announce  Huayna Capac would succeed him. Incensed by Tupac Inca's change of mind she poisoned him, killing him. Her fate? She and her son were soon killed after the poisoning.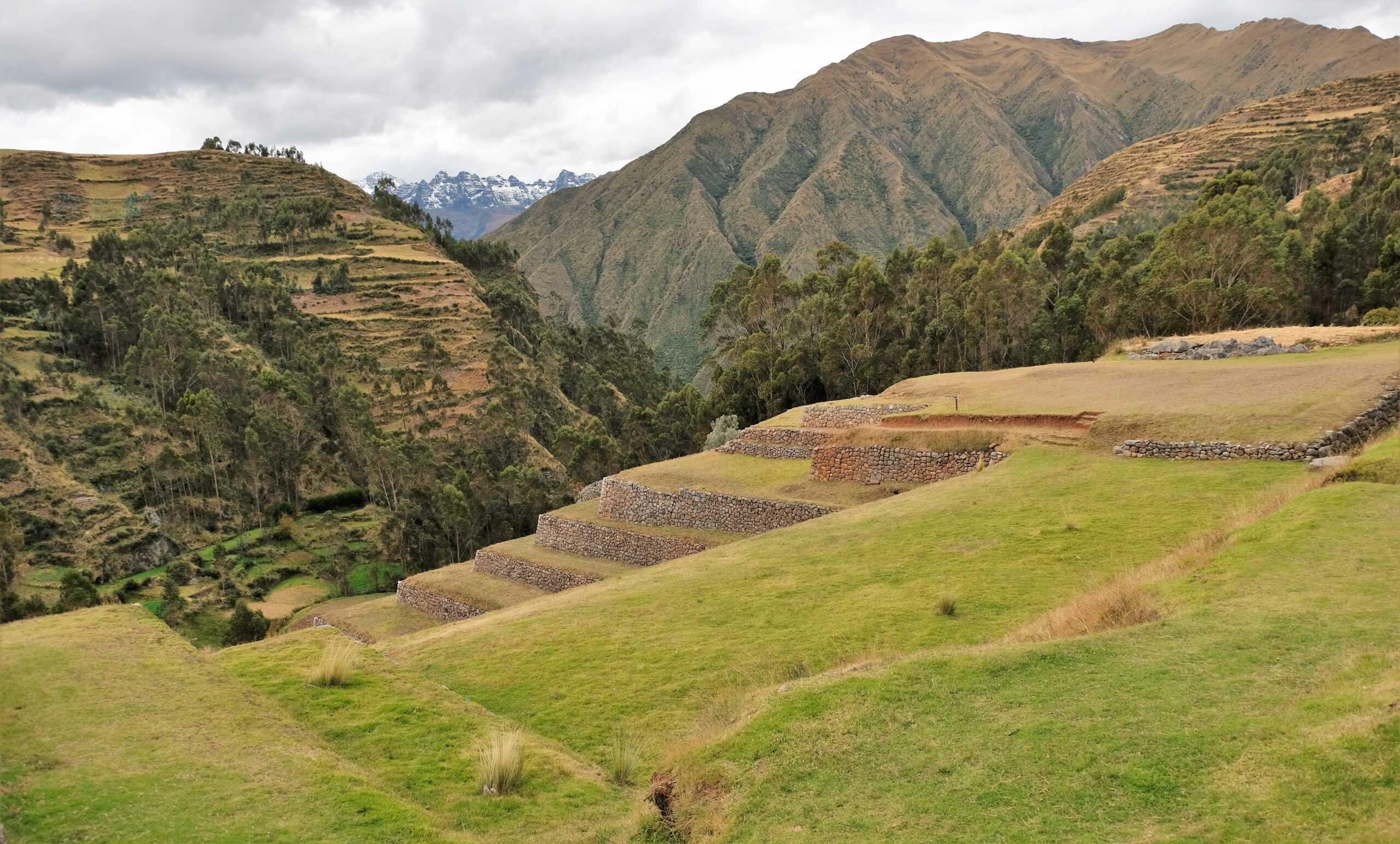 Manco Inca Yupanqui
Chincheros other important part in the Inca Empire history was during the ruling of Manco Inca Yupanqui; I mentioned him in my post about Sacsayhuamán. Manco Inca was a proxy Emperor, put in his position by the Spanish as a façade to the Incas; they were still be ruled by one of their own. He came with a credible lineage adding credence to his ascension.
During the reign of Atahualpa (I covered part of his story in my Sacsayhuaman post), Atahualpa tried to kill all the descendants of Huayna Capac i.e. anyone with the right to ascent to the throne…that included Manco Inca. With the help of the Spanish, Manco Inca fled. Manco Inca rallied troops including Spanish Conquistadors under the command of Francisco Pizarro to overthrow Atahualpa, they were successful. This partnership with the Spanish facilitated Manco Inca to become Inca Sapa. Manco Inca was likely naïve in not understanding the Spanish's motivation, this would come back to bite him, badly. No sooner had he become Inca Sapa, Pizarro left Cusco and put his two brothers in charge. They mistreated Manco so badly that he tried to escape in circa. 1535, so he was put in prison.
He escaped on his second attempt; whilst helping the Spanish find and retrieve a golden statue of his father Huayna Capac…the Spanish would do almost anything for gold. This time Manco Inca gathered a 200 000 strong army to fight back, including attaching Cusco in Pizarro's absence. The attack, unsuccessful, lasted 10 months. Manco Inca had not option but to retreat, eventually basing himself at the fortress of Ollantaytambo (I'll write about Ollantaytambo later). During his time at Ollantaytambo Manco Inca held his ground through many Spanish attacks, including coordinating attacks on the Spanish as far as Lima.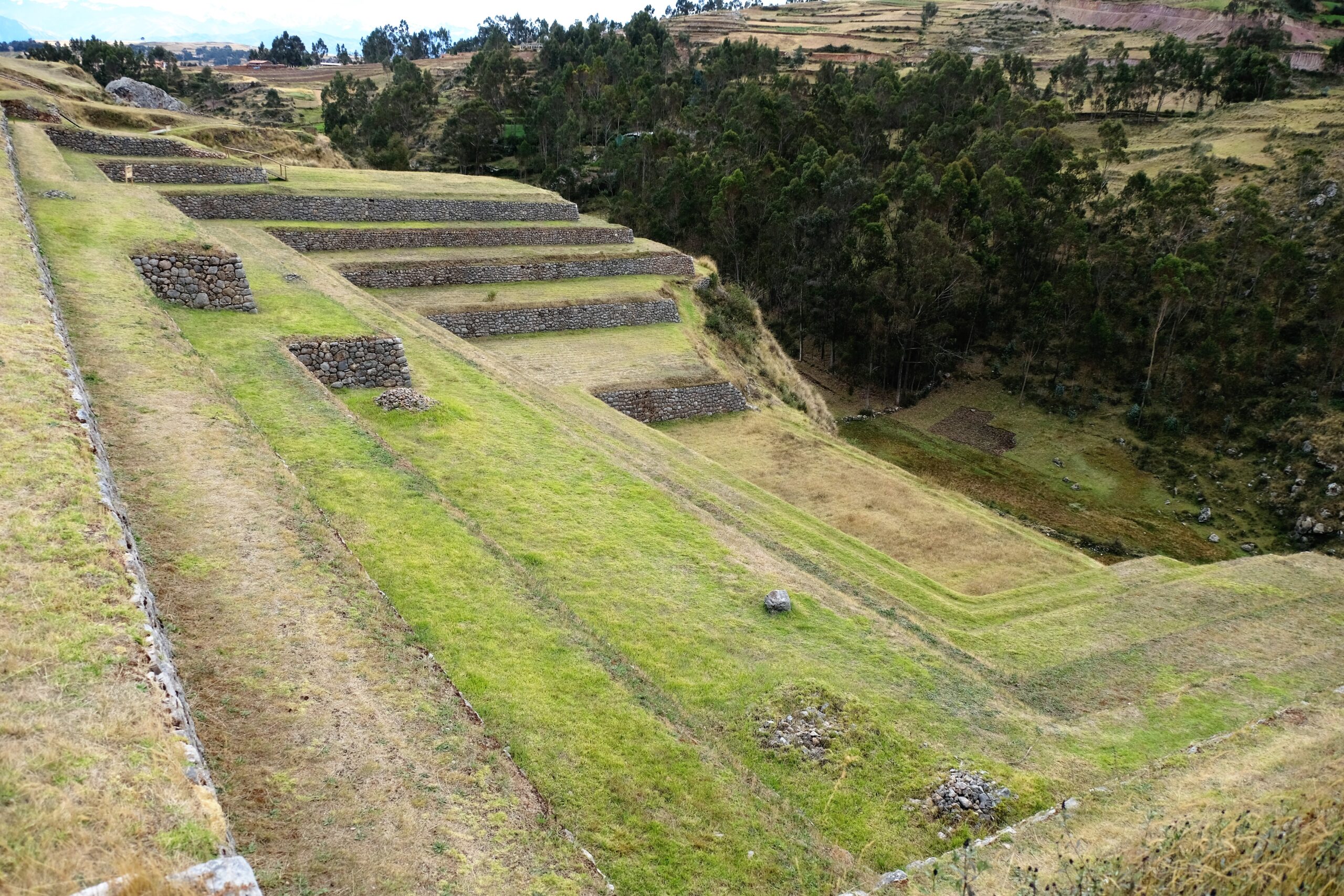 The new Inca Kingdom
His position eventually became untenable leading Manco to retreat to the remote jungles of Vilcabamba. From here, he restarted the Inca Kingdom as a Neo-Inca State. Manco Inca Yupanqui spent the rest of his life fighting for the Incas, fighting against the Spanish and their collaborators. He was murdered in 1544 by supporters of Diego de Almargo who were under Manco's protection – Diego de Almagro assassinated Francisco Pizarro. After Manco's death his three sons followed in succession as Sapa Inca, Sayri Tupaq, Titu Cusi, and Túpac Amaru. This new kingdom ended with the death of Tupac Amaru in 1572.
Back to Chinchero. In part the state of Chinchero's decline is due to Manco Inca. On his retreat to Ollantaytambo he burnt down Chinchero. Chinchero was like a breadbasket for the area and Manco didn't want to leave any food nor shelter for the pursuing Spanish.
Agriculture and Farming
Terranced hillsides are what Chinchero is primarily known for. This is how the Incas farmed and the main purpose of Chinchero agriculture. Here the Incas grew and cultivated potatoes, olluco, oca, quinoa and fava beans. Chinchero has some of the richest and most fertile soil in the sacred valley, that along with a consistent water supply and steady rain fall. I think many people skip Chinchero because it isn't as grand nor as vast as many other sites, it is more intimate though.
For most part the terraces are intact and in very god conditions.  There are parts that are in disrepair with big trees growing where once would have been crops, but access to these areas are not allowed. The Incas mark on the landscape isn't isolated to the tourist site. Looking over at the adjacent hills the distinct lines of terraces remain. I can only imagine Chinchero's plantations would have incorporated most of the surrounding hills; what is left today is only a small fraction of this farming heartland.
PS
I didn't think Chinchero would take so long to write…I may have gone off on a tangent. Next day I would visit Ollantaytambo, another great Inca Site. I would like to revisit Chinchero, I've read there are two or three great hikes along the river to little towns almost never visited. Along these hikes are more Inca ruins, rivers and beautiful lakes….next time!