Over the years I've used and tried many options and products for travelling, if I'm happy with something I keep it, if not I replace it and that's why I have a previous gear page.  On many occasions even if I'm happy with what I'm using I keep abreast with whats new and happy to put it to the test against what I'm using. Previously used gear is really just to show what I have tested and used against my current products.  I'll update this from time to time as things progress.
Shorts
Simond (grey)
Not heard of this brand before, I think it may be a Decathlon brand, they have a terrible web site but great shops, prices and good quality – I bought these as a last resort, I had shopped for ages and had only found the Kathmandu's, I would have bought 2 pairs but didn't what two of the same colour and at the time they only had grey in stock. My logic in this choice was that climbing shorts, although they may not dry the quickest they are tough, offer great movement and feel very comfortable.  For the price if I was wrong it would have been a cheap mistake to make (£21).  I've been pleasantly surprised with this purchase on all fronts; they are quite stylish, the longer legs (just past the knee) is my preferred choice, I'm not a fan of very short shorts, although it goes past the knee there is no restriction in movement because of the gusseted cut – even if you are on your haunches it doesn't hook or pull down at the back.  I'll definitely explore climbing clothing the next time I'm looking for something. Note – although I stick to what I said above, after the first wash the button (metal) left a greenish stain on them in a few places (I guess it has copper in it).  This is a real shame, I still wear them around but they stay in my cupboard and take the Kathmandu and Salomon's when I travel.
Toiletries
Shampoo (J.R. Liggett's Shampoo Bar)
Yes, shampoo in a bar! Before I went travelling I didn't even know that these existed!  The shampoo bar takes up considerably less space than your traditional bottle and last twice as long.  There are two main types of shampoo bars, my recommendation is DO NOT use any that contain SLS/SLES (sodium laurel sulfate / sodium laureth sulfate).  It takes some getting used to but it does work.  This is a great product and brand, but as with shampoos etc. they are personal and work differently for each person.  I used three bars and they worked well, but made my hair slightly waxy and somehow also dry and that's why I decided to try other brands.  As a soap to wash you body it worked fine for me, clothes hmmm so so but not bad either.  I'd recommend anyone who wants to try a shampoo bar to definitely give J.R. Liggett's products a try.
Other Essential Clothing
Fleece (Haglof – blue)
Fleeces are very versatile, light and warm. If you get caught unexpectedly in cold weather (weather can change from great to scary in a matter of minutes when you are high up in the mountains!), a t-shirt, fleece and thin windbreaker/raincoat can be very warm and offer great protection (if travelling in winter or snow…..prepare appropriately!).  I bought with the criteria of comfort, tight woven therefore not very bulky and won't take up much space.  I've had my Haglof for a few years now and it's great – the market here is huge so this is an easy purchase colour, price, fit.  Although I've change to merino wool as my travel fleece I still use this one regularly and if cost is an issue no need to go merino wool a good fleece will work perfectly
Sunglasses (Persol 714 Polarized)
I have quite a few pairs, but all of them have rather large carry case, no use having sunglasses with scratched lenses.  My newest purchase is this pair of Persol foldable sunglasses.  They take up less than half the space of a normal pair when in their case and very easily fold to fit into your pocket without the case.  They're a bit on the expensive side which is a downside but when saving space it's a real bonus.  These are great sunglasses with brilliant lenses, after about a month of travelling (hiking and loads of walking in the head) they were just too heady; in 35+ degrees, sweating a lot they slip down your nose all the time.  Fantastic fashion or travelling/holiday glasses but not for the travelling I'm doing.
Socks & Shoes: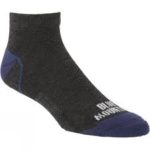 Nothing wrong with these socks, I just upgrade that's all.  I was doing a minimum of 10km walking per day and felt these were a little too thick considering the average temperature was around the mid-30 degrees.  I upgrade to a thinner running pair, yes also merino wool.  I still have these and use them all the time whether at gym or out an about. Smartwool make great products so don't just go for the running pair the normal ankle socks are awesome too.
Shirts:
Just an added note, I've not discarded these t-shirts I still use them regularly but they are no longer part of my main travel gear.  The reason I've changed my t-shirts is to get more versatility from my clothing and to more "normal";  The Rab and the Kathmandu are a slimmer/tighter fit, similar to sports clothing in particular the Kathmandu (I now use it all the time for cycling), the Icebreaker works very well, I've upgraded to their Tech Lite series (T-shirts & Shirts), the Mons Royale is a little think for the weather I've been travelling in.  I'd recommend all the t-shirts I've used, for some people it may be down to style, cut, colour or cost, they have their differences but all are very comfortable.  The Icebreaker Tech Lite series is my favourite, Rab is second. If budget is a priority, then I'd say best option is the Kathmandu and to be honest the next time I buy one my first stop will be the Kathmandu shop or web site.  You will be in good hands with any of brands I've tested.
Rab (red)
Has a very light feel to it when wearing, thinner than the other three, sleeves are longer than a normal t-shirt and it's not 100% merino wool but works just fine, it's very comfortable in feel and fit. It was the priciest of the four.
Mons Royale (turquois/blue)
Looks more like a normal t-shirt (cut and style) therefore it looks less like trekking/traveller/backpacker clothing. It's the thickest of the four but performs very well in hot weather because of the merino wool (I first tested it in 30+ degrees and I had no problems)
Icebreaker (grey)
Slightly slimmer cut compared to Mons Royale. Icebreaker is the merino wool brand to go to for most people because they have a great, and well-deserved reputation.  Looks wise it is just a plain dark grey t-shirt, fits nicely and does what it is made to do
Kathmandu (green)
Marginally tighter fit compared to Icebreaker, with breathing holes in a darker shade (same material) under the arm and down the side giving it a bit of a sporty look. Very comfortable and soft compared to the Monds, Icebreaker but the Rab is by far the lightest and softest feel.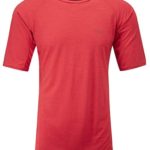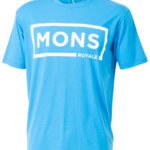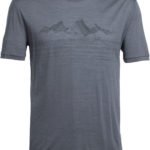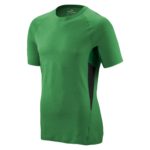 For my thoughts on how I go about choosing gear take a look at this link, Travel Gear and here are quick links to the rest of my travel gear:
If you'd like to read about my thoughts, experiences and stories here is the link to the blog page.  Alternatively, I have also included separate postings on my Facebook page just with the photos – Facebook Batnomad