Barcelona was on my itinerary but only much later after I had spent more time at some of the smaller coastal towns, inevitably even the best of plans' changes.  My brother called me to suggest we fly my mother out to the UK for her birthday which is the 1st September, since I am travelling and my brother and sister-in-law are moving to New Zealand later this year, this would be a perfect opportunity, likely the only for a very long time, for us all to spend time together – the last time we were all under the same roof was just under six years ago.  To cut a long story short, my mother could only come earlier, second week in August (coincidentally around my birthday) so my plans for Spain were cut short by about one month.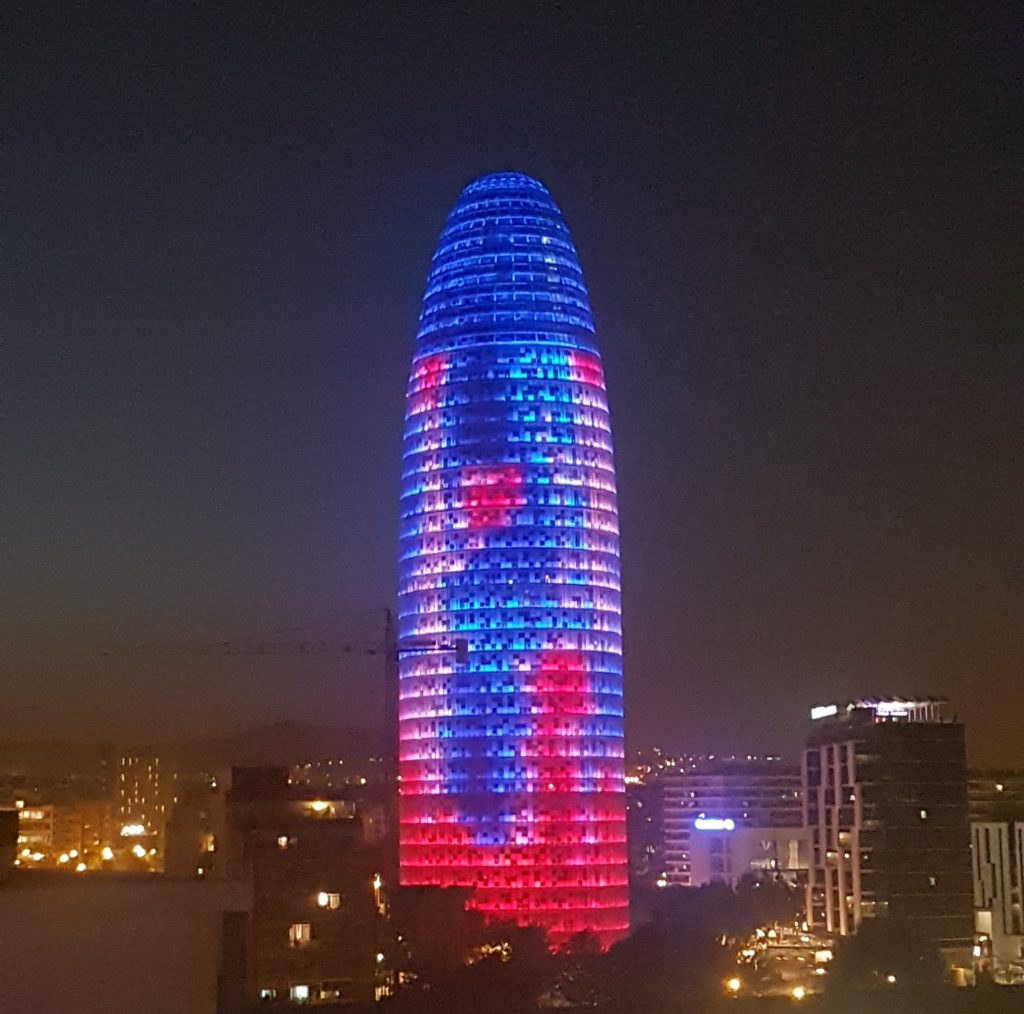 Accommodation
I stayed at the Golden Tulip Hotel about three blocks from the Agbar Tower.  It's a proper hotel, nothing like I had been staying in in Portugal nor Spain and out of kilter to how I wanted to experience my travels.  Truth be told it was the only place available and the cheapest I could find in Barcelona at just under €100 a night, excluding breakfast; booking at short notice, peak holiday season in a key European destination was bound to be more expensive than my previous destinations.  The hotel has everything including a rooftop bar and swimming pool and comes with all the bells and whistles you come to expect from a hotel so value for money it a good deal, just not what I wanted.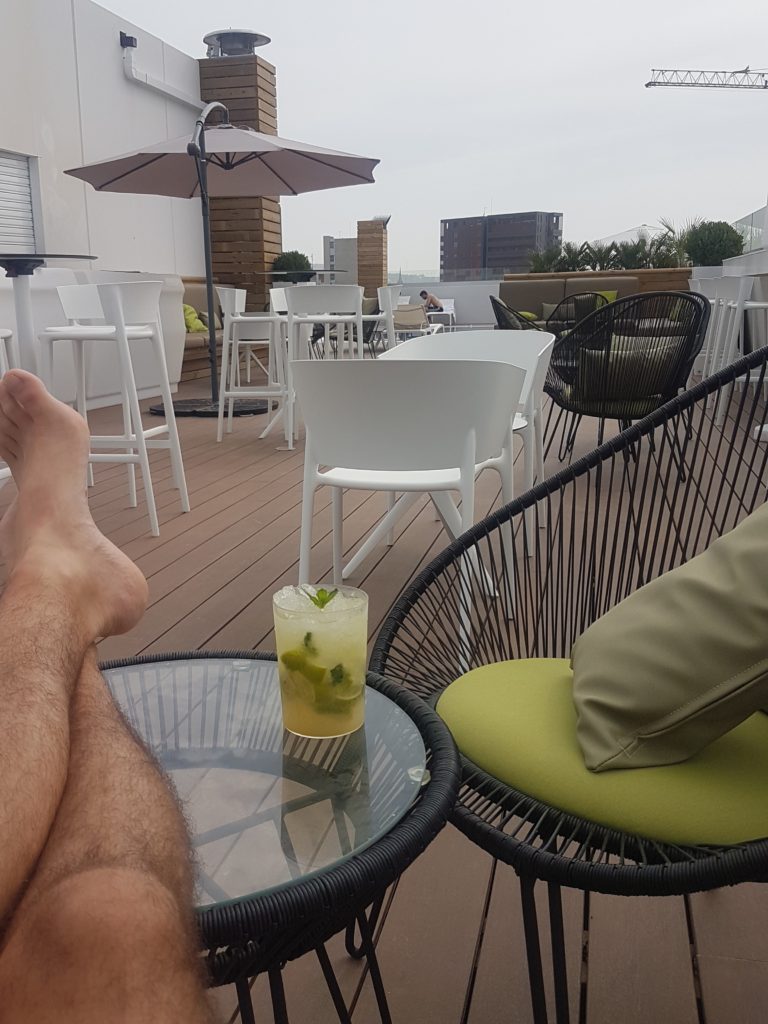 My time in Barcelona was going to be limited and I hadn't planned properly, something which would come back to bite me in the butt a few times during my visit.  I hadn't realised how busy Barcelona would be, many of the attractions get fully booked in advance so a couple of kilometres walk in the blistering sun to arrive at e.g. The Gaudi Experience only to find out they are fully booked and you need to come back the next day having booked a ticket online…..not always possible if you are limited for time; Picasso museum same thing and even getting train tickets to Figueres for the Salvador Dali museum, the latter being one of my favourite artists! GRRRRR!  So, this blog isn't what I'd call the best of Barcelona, rather a whistle stop of alternative attractions…….the outcome of my trip cemented my conviction to visit the city again, it is a fantastic city!
La Sagrada Familia Basílica i Temple Expiatori de la Sagrada Família / Templo Expiatorio de la Sagrada Familia / Basilica and Expiatory Church of the Holy Family
How do you describe a building that looks and conforms to no other (Antoni Gaudi buildings excluded ?).  Construction started in 1882 with the idea of building a Gothic revival church, Antoni Gaudí took over as architect in 1883 and radically changed the design much as it is today.  The church itself is not completed and very little was done between Guadi's death in 1926 till 1950, the building only reached half way in 2010.  Fortunately, construction seems to be in full swing, unfortunately the church was obscured almost everywhere with cranes, scaffolding and tarpaulins.  I didn't even try to go inside with a 100m queue nor had I booked a ticket online so I really was disappointed not to see the inside, but like I said I will definitely be going back to Barcelona…properly prepared too!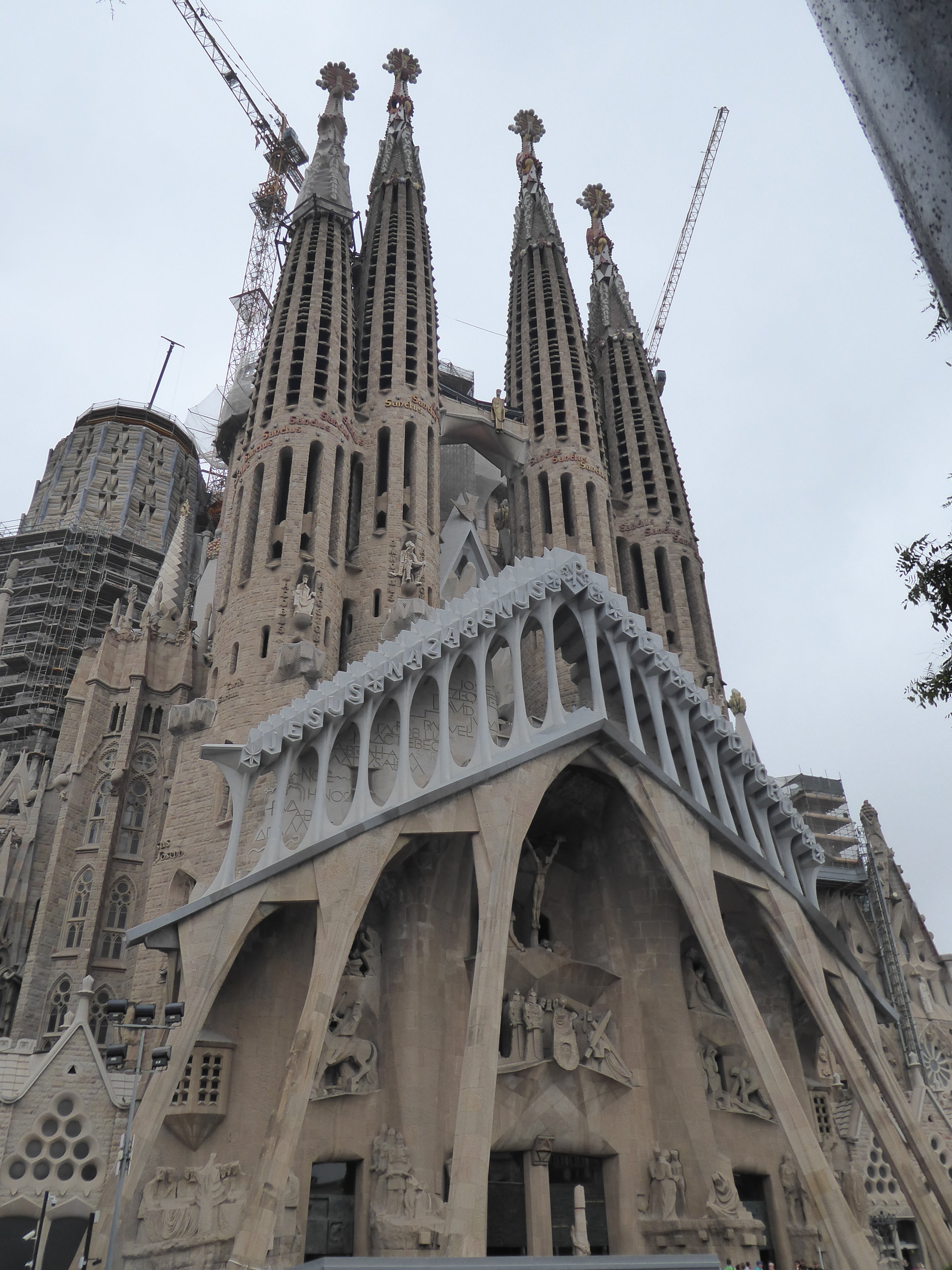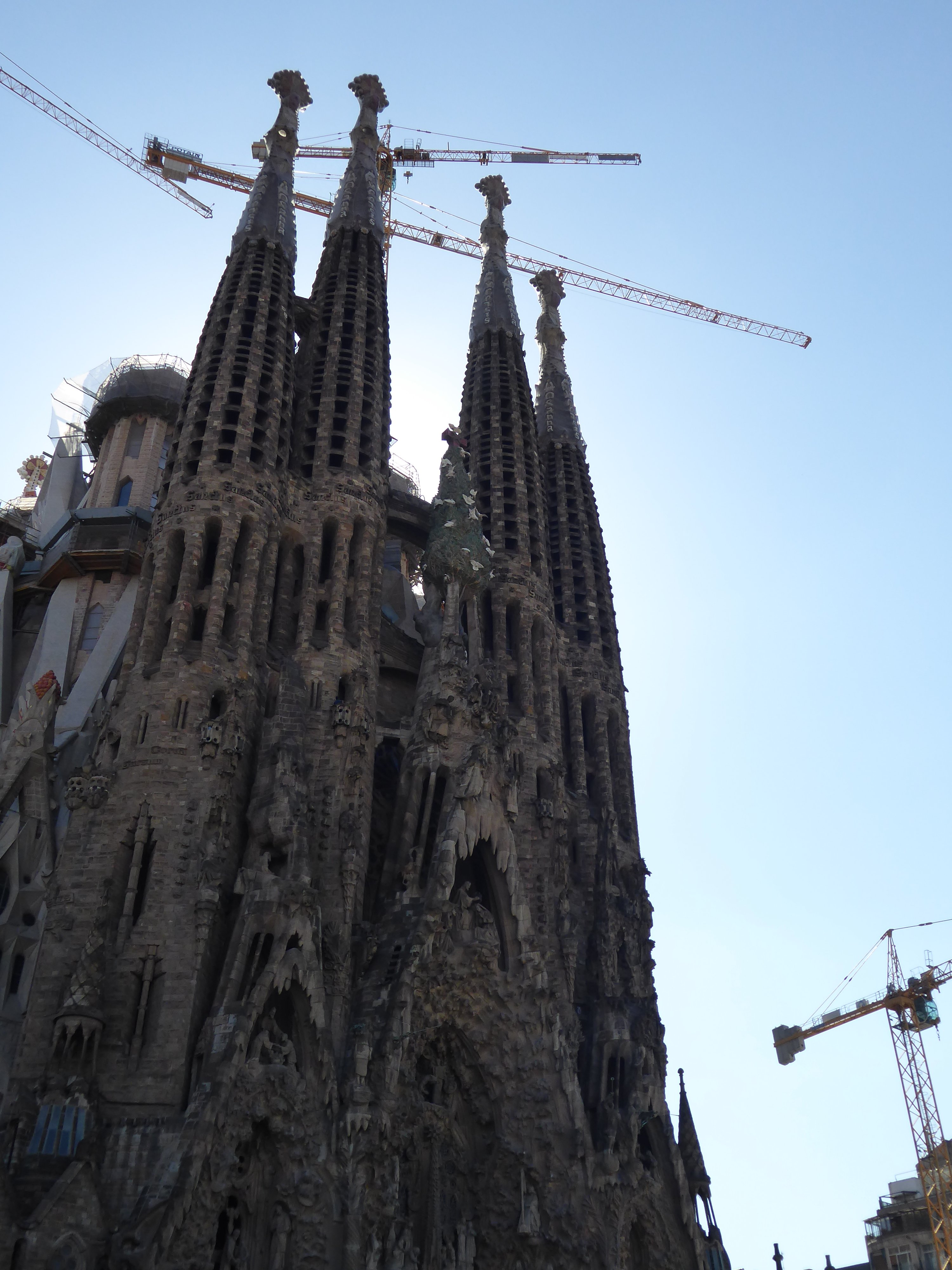 Casa Batllo / Casa dels ossos / House of Bones and Casa Mila / La Pedrera / Open Quarry
I didn't go into either of these for reasons already mentioned, they really are a tourist magnet, even to get close to them is a feat in itself with crowds of people squeezed onto the pavement like herded cattle!  Both these Gaudi buildings stick out against their neighbouring buildings like sore thumbs and I mean that in the best of compliments.  Once every now and then a free thinker enters an industry and doesn't only break the status quo, but enlightens people to the realm that the boundaries are self-impose limitations we or society impose upon ourselves, Antoni Gaudi is one of those free thinkers.  Unfortunately as his style is so unique, it is a style of his own and therefore should only be categorised as such, however his work is broadly a mix (I use "mix" very lightly) of  Modernisme or Art Nouveau, but is neither, Guadi's style is Guadi.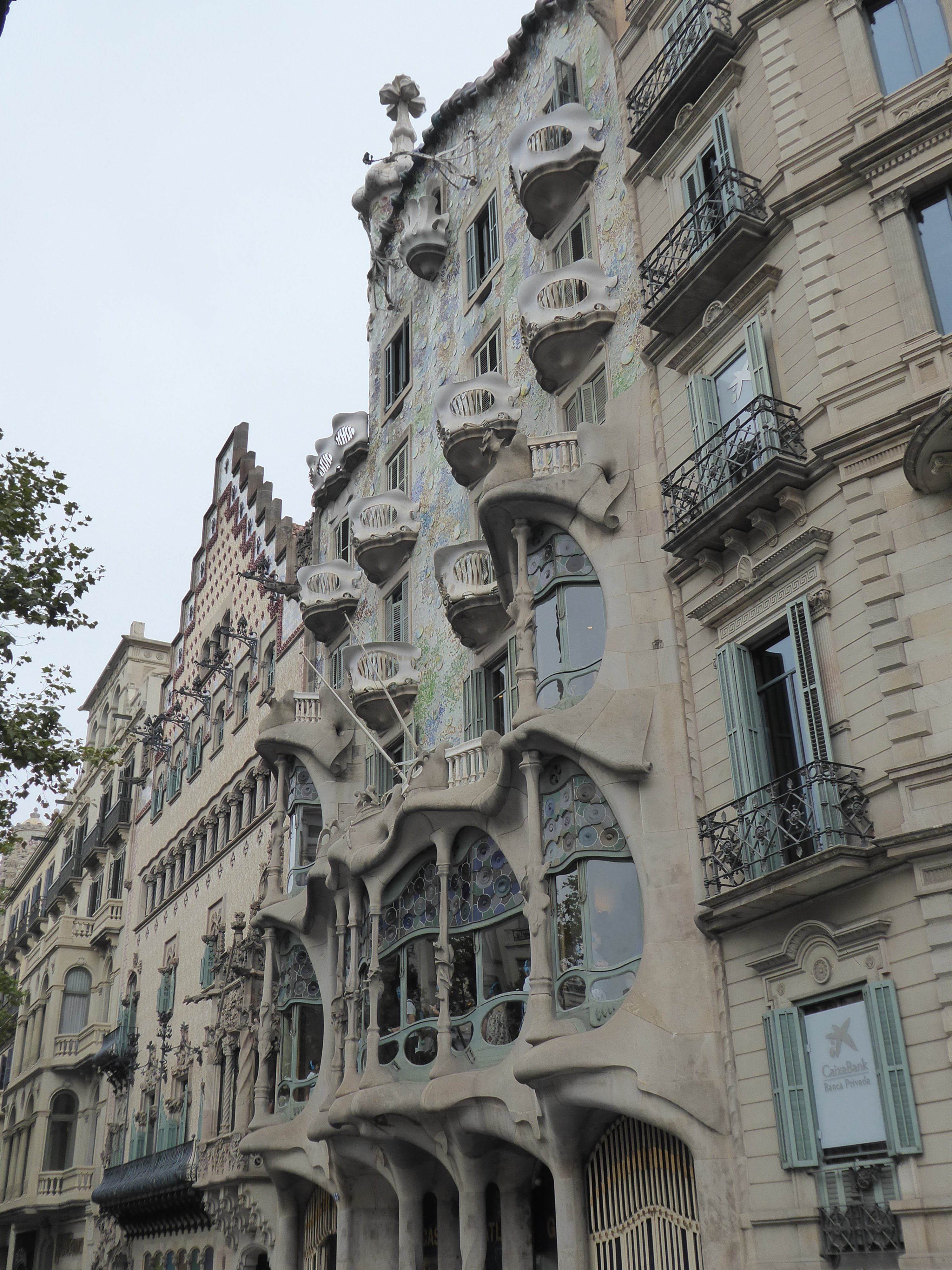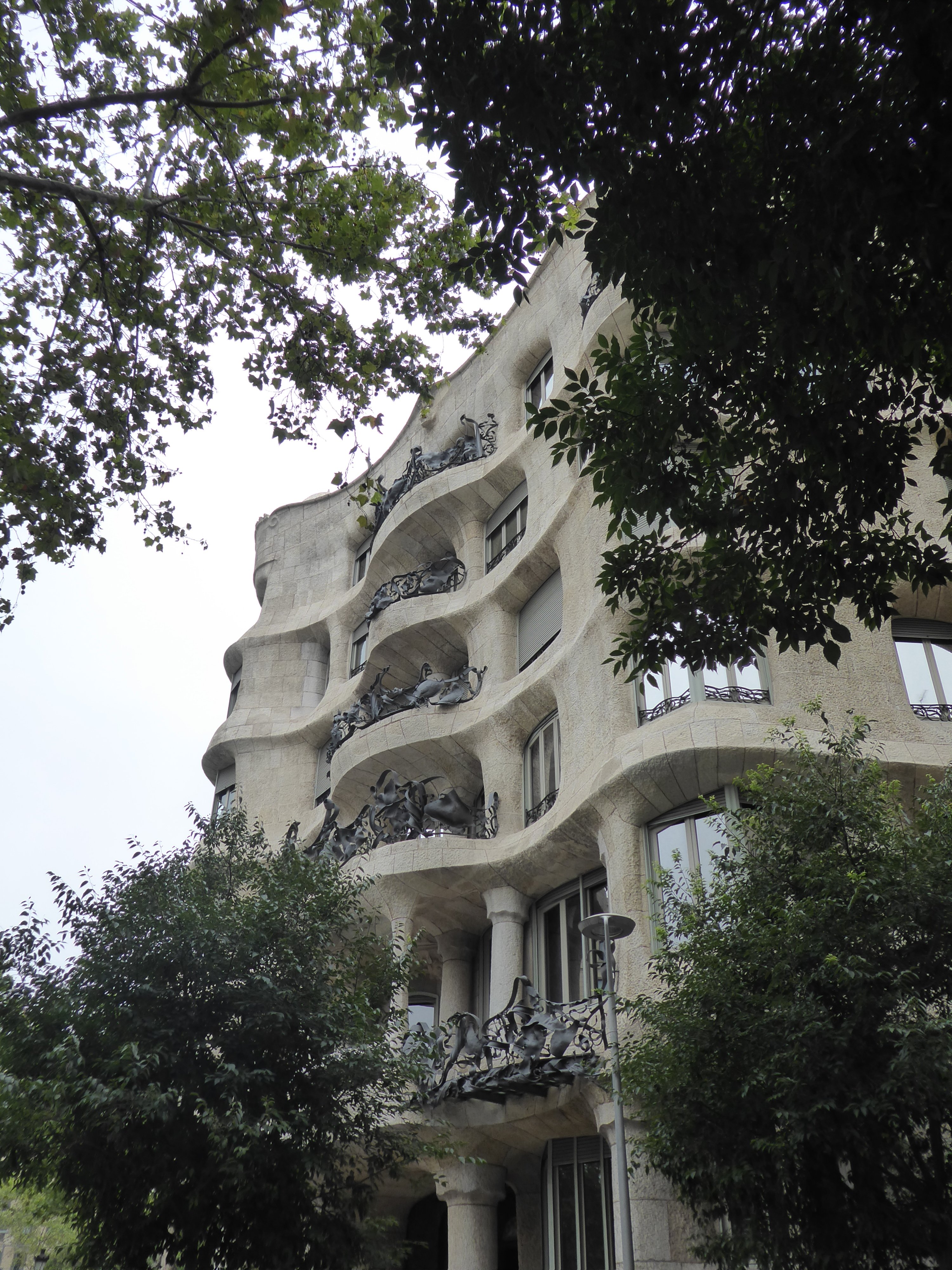 Casa Batllo
It is a remodelled house which was bought in 1900 by Josef Battlo and remodelled by Guadi in 1904 with construction completed in 1906.  If the outside is anything to go by then the inside must be rather special too, I shall have to find out on my next visit to Barcelona.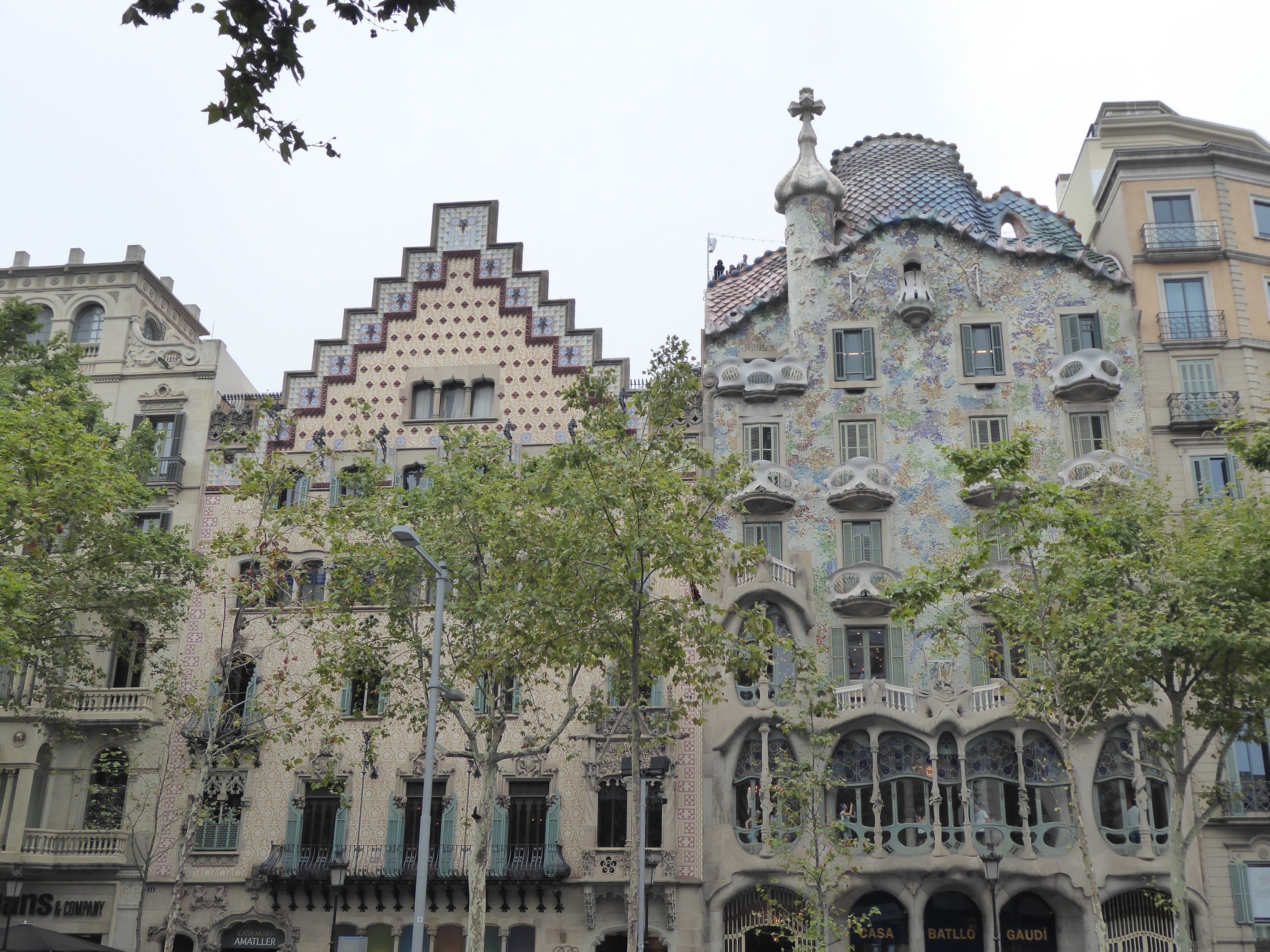 Casa Mila
This was the house of wife and husband Roser Segimon and Pere Milà, designed by Gaudi, they moved in in October 1910, the rest of the floors they rented out and were completed a year later.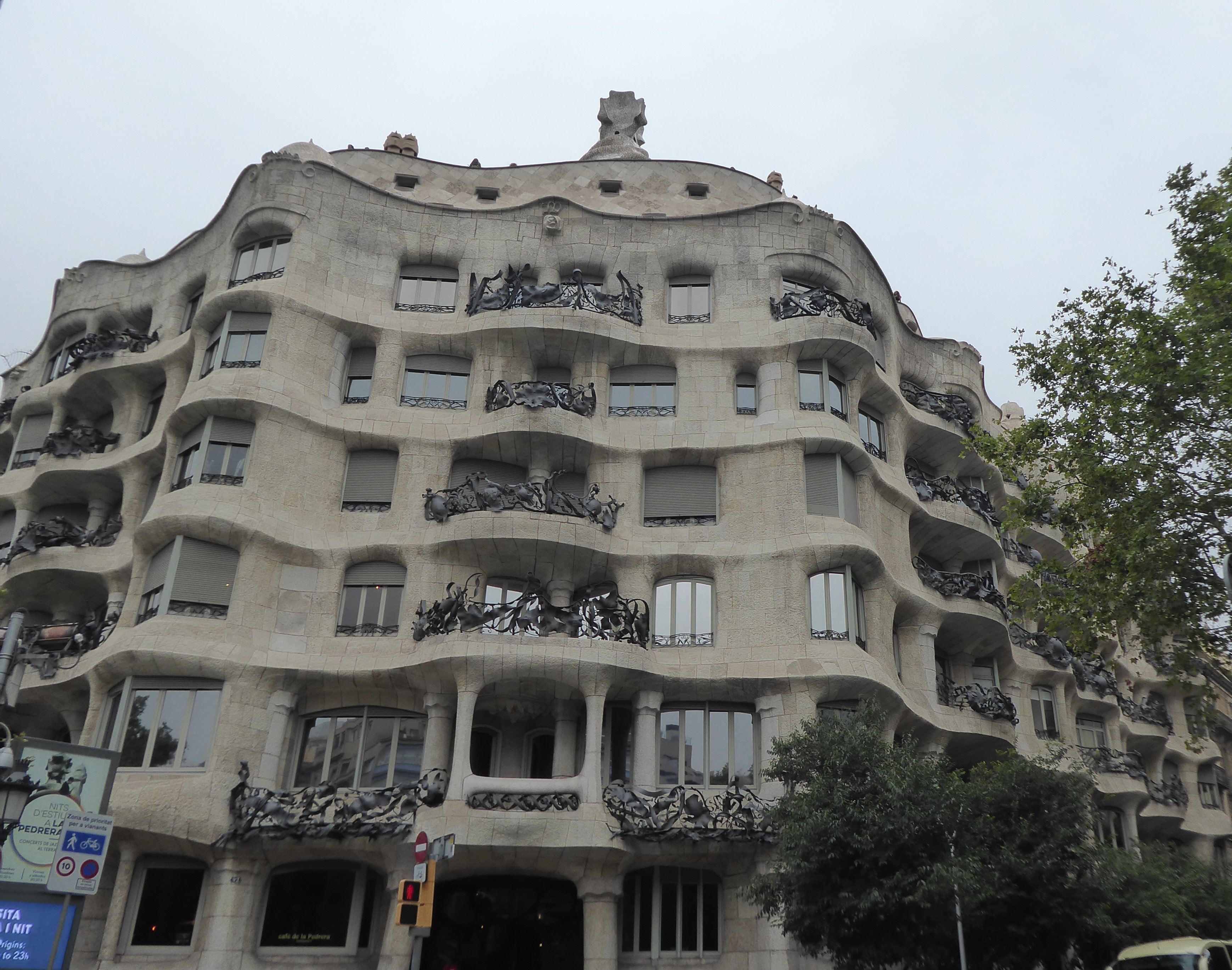 I'm not going to say much about these buildings just because I only saw the outside and they are much more deserving of a thorough visit before I give my thoughts on them, inside and out.  For now, I'll just give a glimpse of them with a few pics.
I'm beginning to sound like a stuck record; having only taken pictures of a fraction of what Barcelona has on offer.  I merely wondered around Barcelona in my own little world taking in the sites and atmosphere.  Not being able to immerse myself in the city's history, architecture or exploring the interior of many of the sites didn't deter from my enjoyment of the city nor my visit.
Plaça de Catalunya / Catalonia Square / Plaza de Cataluña
The main historical part of Barcelona is quite compact, there are obviously locations scattered throughout the city but if you start at one side of La Rambla and head the other way it could take you a very long time to go visit (outside and in) everything.  I started at Plaza de Catalynia and headed down the road towards the sea, no, I won't harp on about everything I "visit" from the outside only ?!  Instead I'll just add a few photos of the enticingly interesting buildings beckoning me to explore when I next visit.  Going down La Rambla turn off into as many of the perpendicular roads as possible and you will be amazed how different the city is, my favourite part, hands downs is the Gothic Quarter.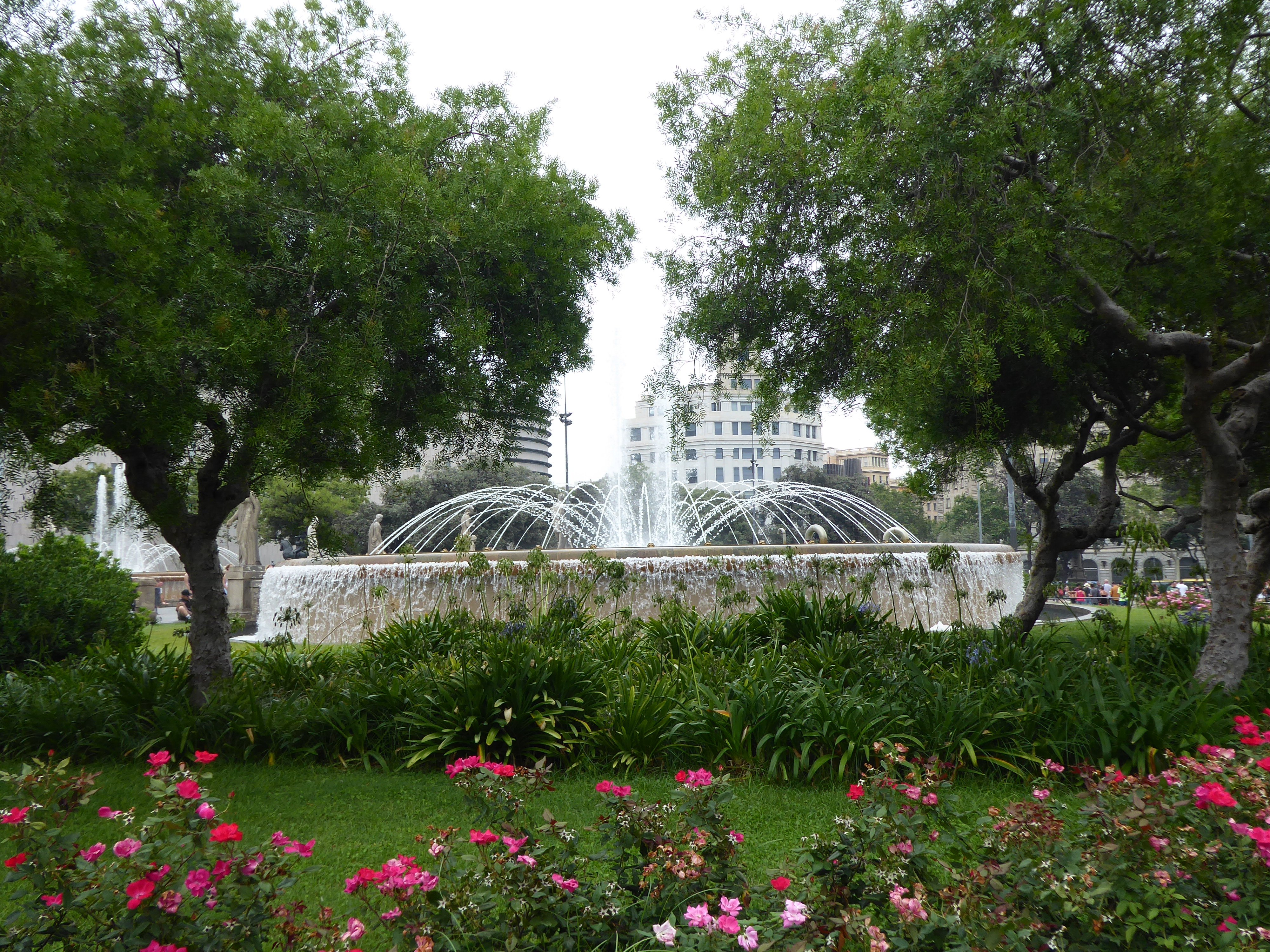 I passed the Chocolate Museum, wasn't planning on visiting but I did pop into their shop.  I'd like so say that the pictures I took of the chocolates I bought were out of focus, the truth is that I ate them before I got back to the hotel! YUM YUM YUM!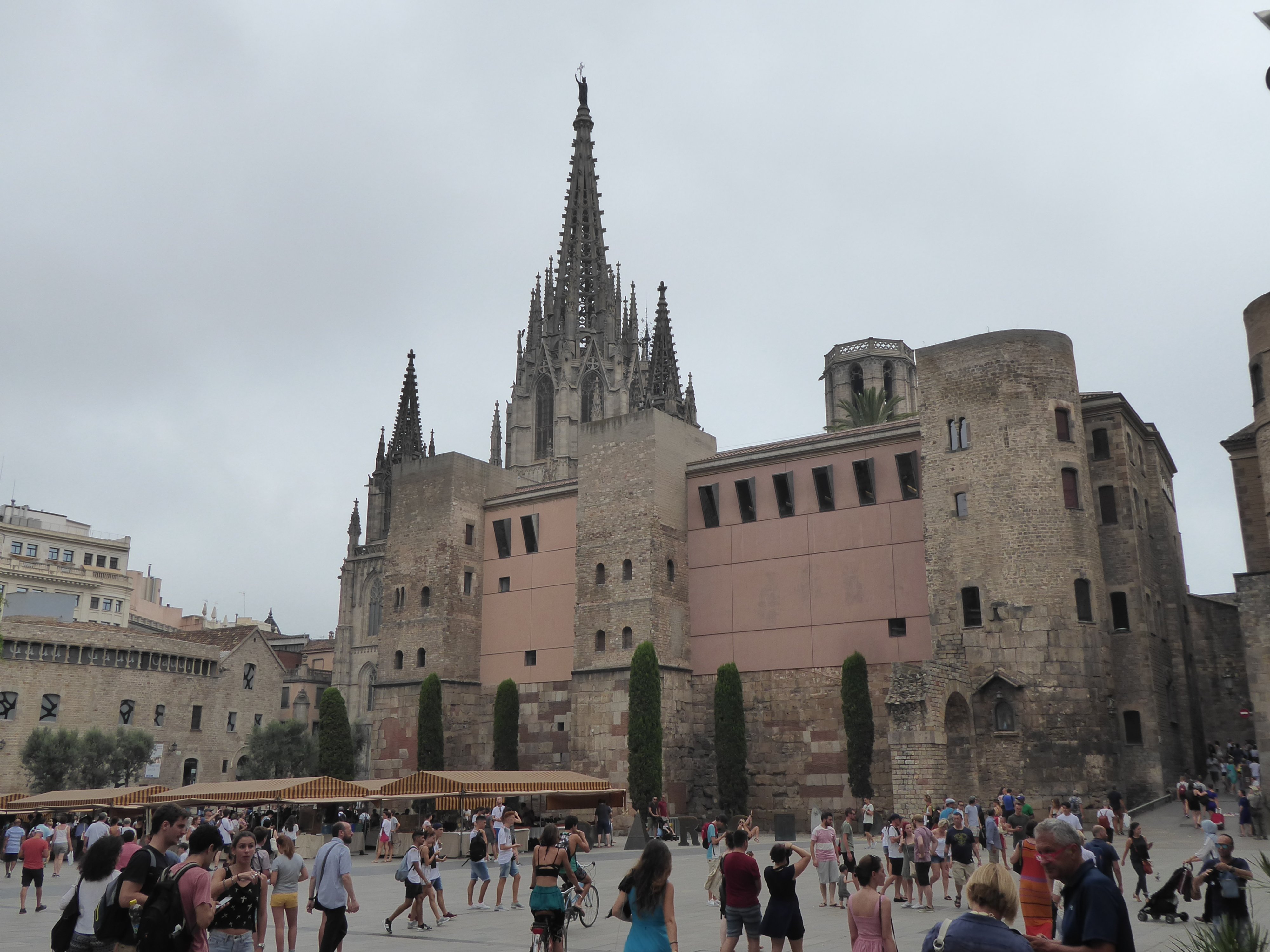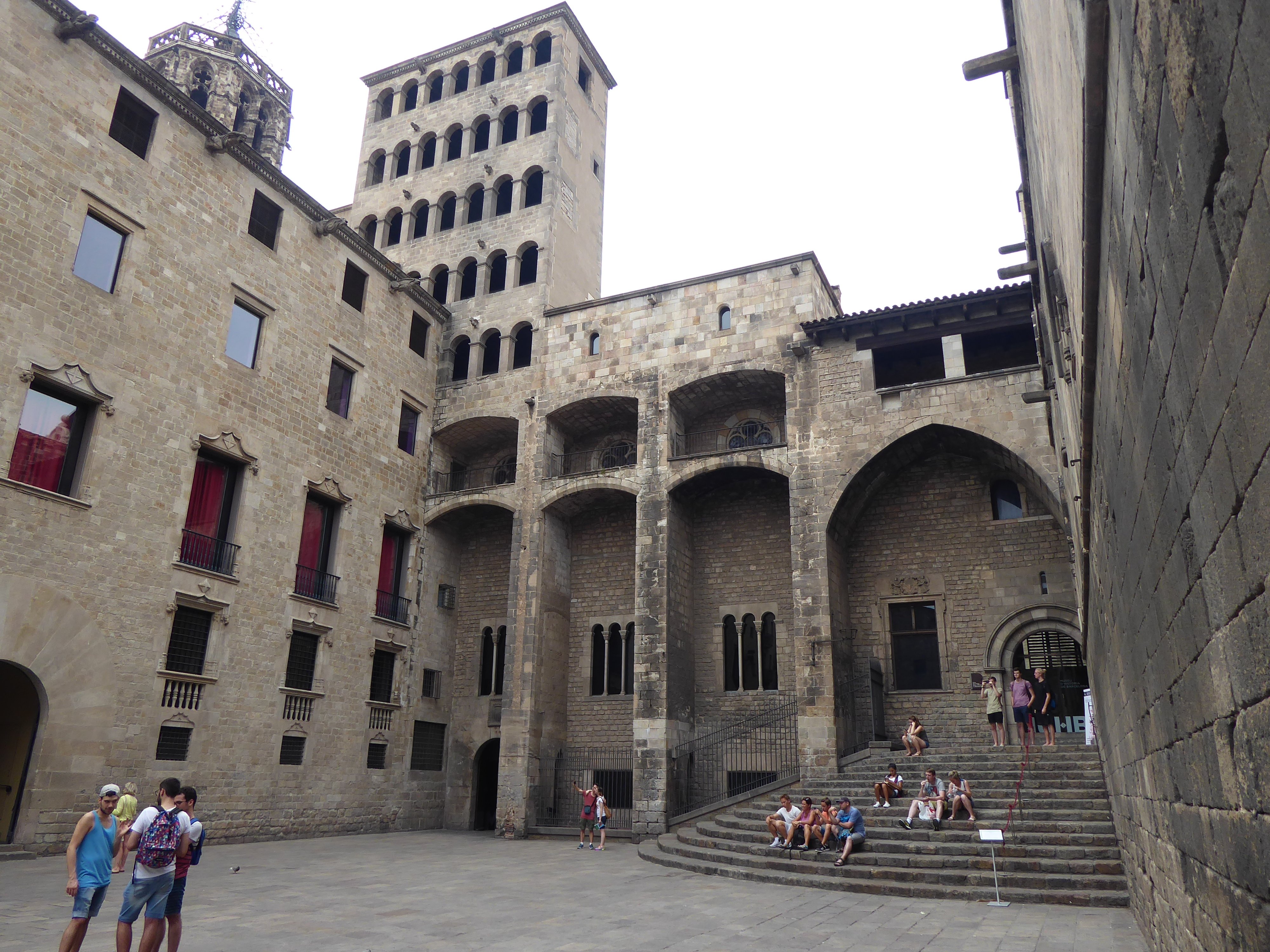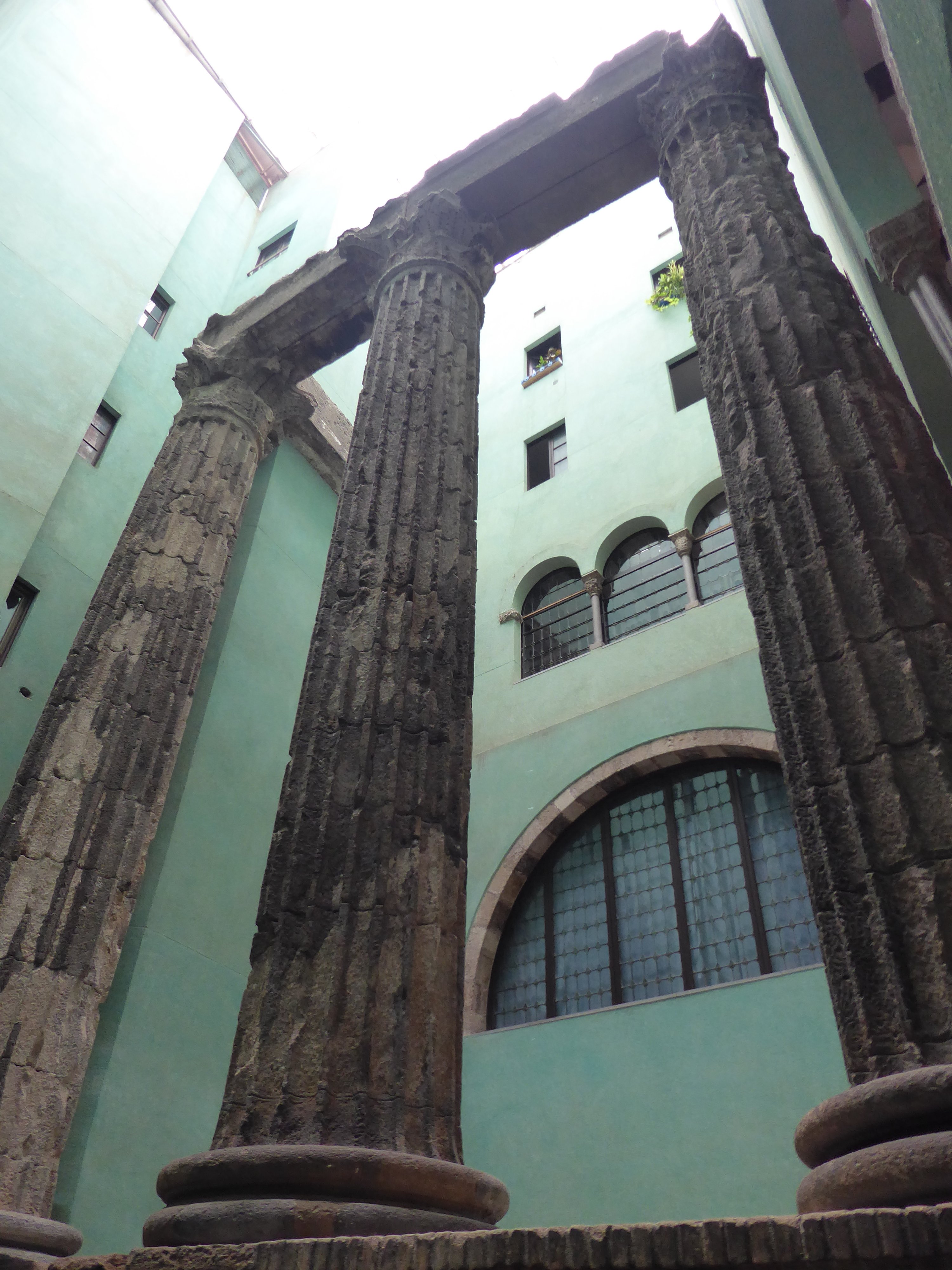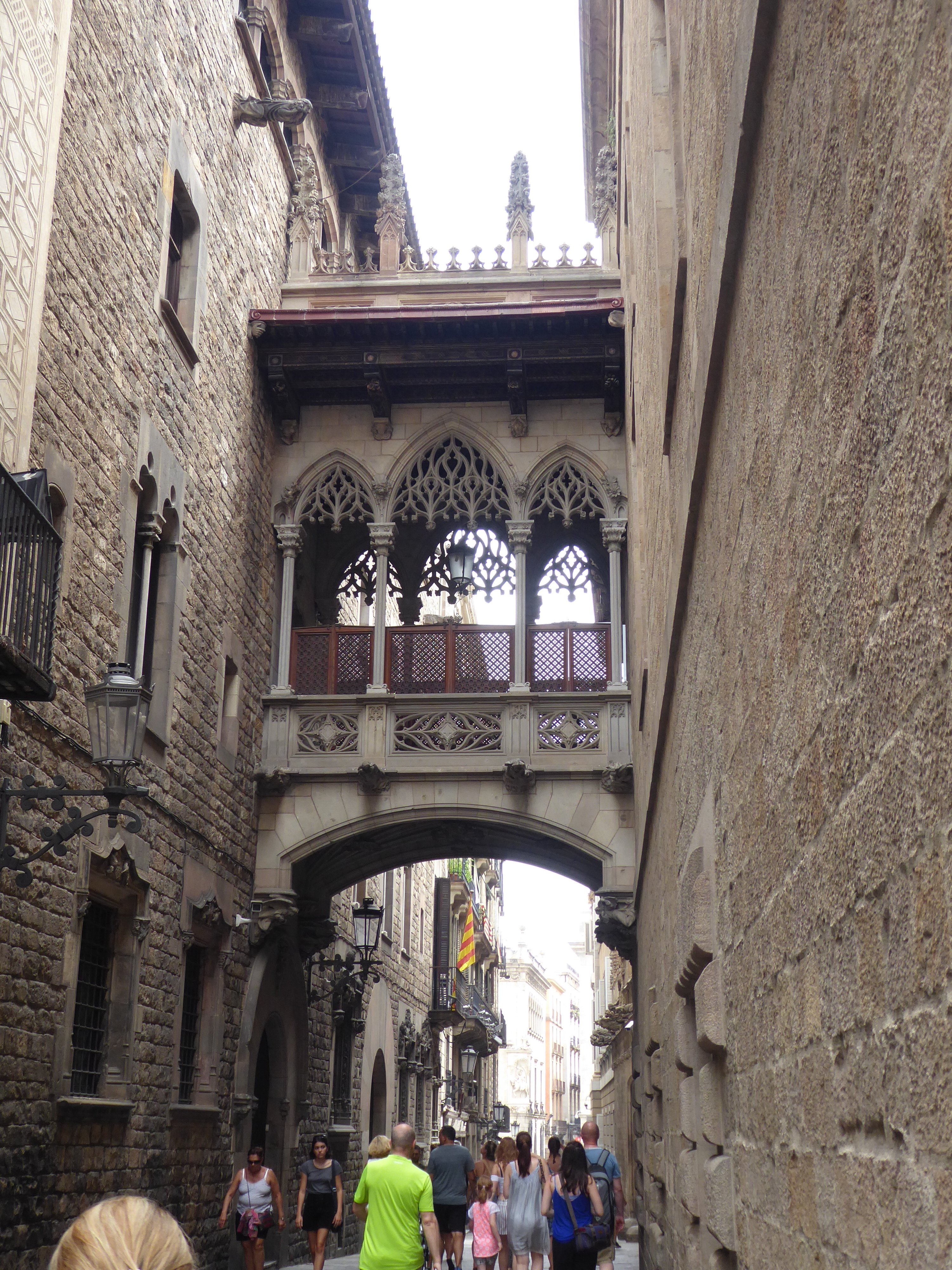 Parc de la Ciutadella / Citadel Park
Around the corner from the Chocolate Museum is Parc de la Ciutadella which is where to Barcelona Zoo is too, I'm not a fan of zoos so didn't go and much preferred walking through the park.  A well-established green haven from the hustle and bustle of the city and tourists, a majestic lake with a 9m waterfall and water spouting stone dragon fountains.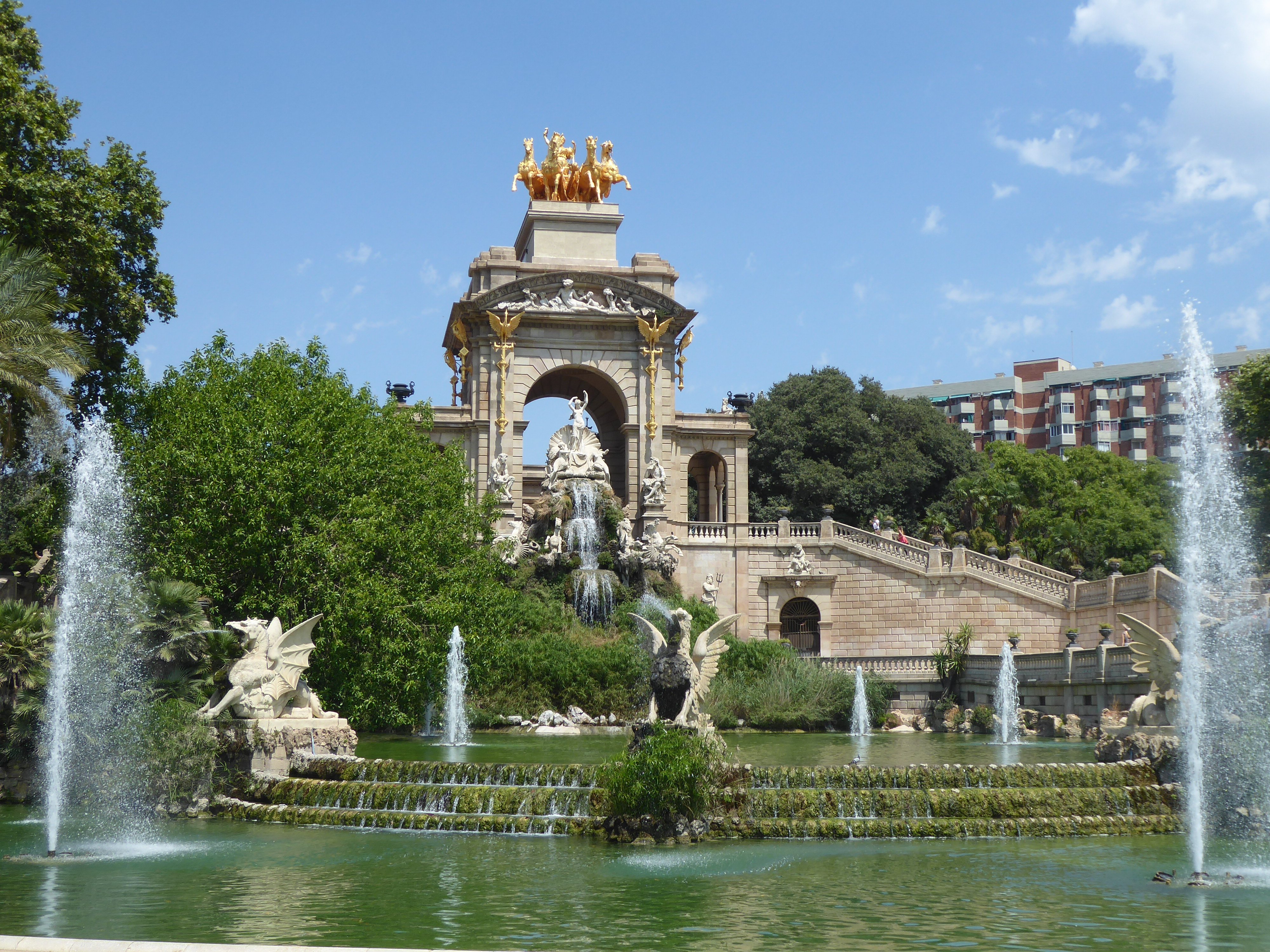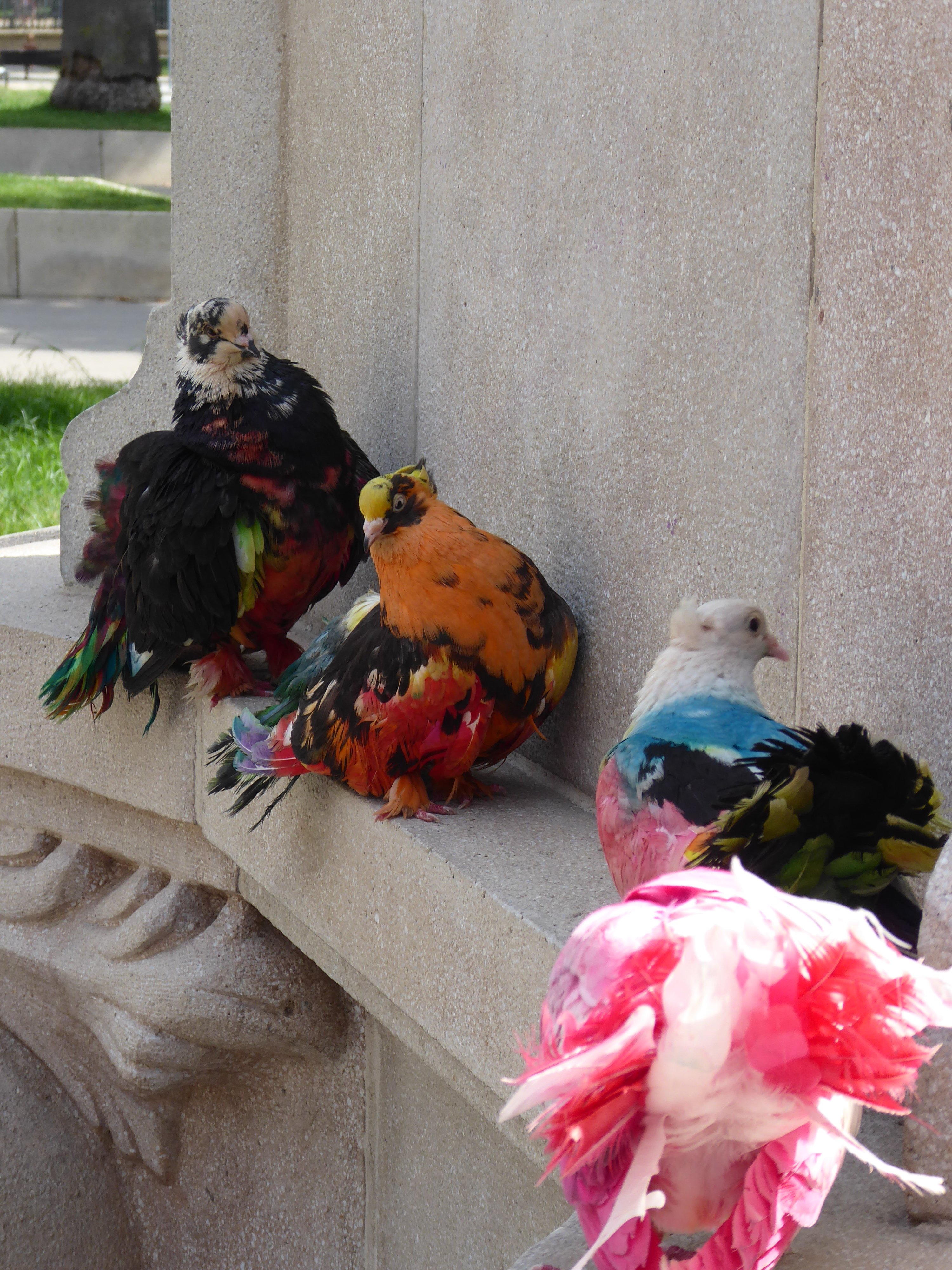 Arc de Triomf / Arco de Triunfo
Next to the park at the end of Passeig de Lluís Companys and the beginning of Passeig de Sant Joan you can see the Arc de Triomf in the distance spanning across the whole promenade, even at such a distance it's a commanding structure.   Neo-Mudéjar is style it was erected in 1888 as part of the Barcelona World Fair which was situated where the park and zoo is now.  As I walked down the promenade I caught something bright and colourful out of the corner of my eye…not often you get to see rainbow coloured pigeons!  I spoke (I use that word loosely) to their owner to try and find out more about them and how she coloured them but her English being better than my Spanish, which isn't saying much, made it impossible – very friendly lady and the pigeons seems happy and healthy.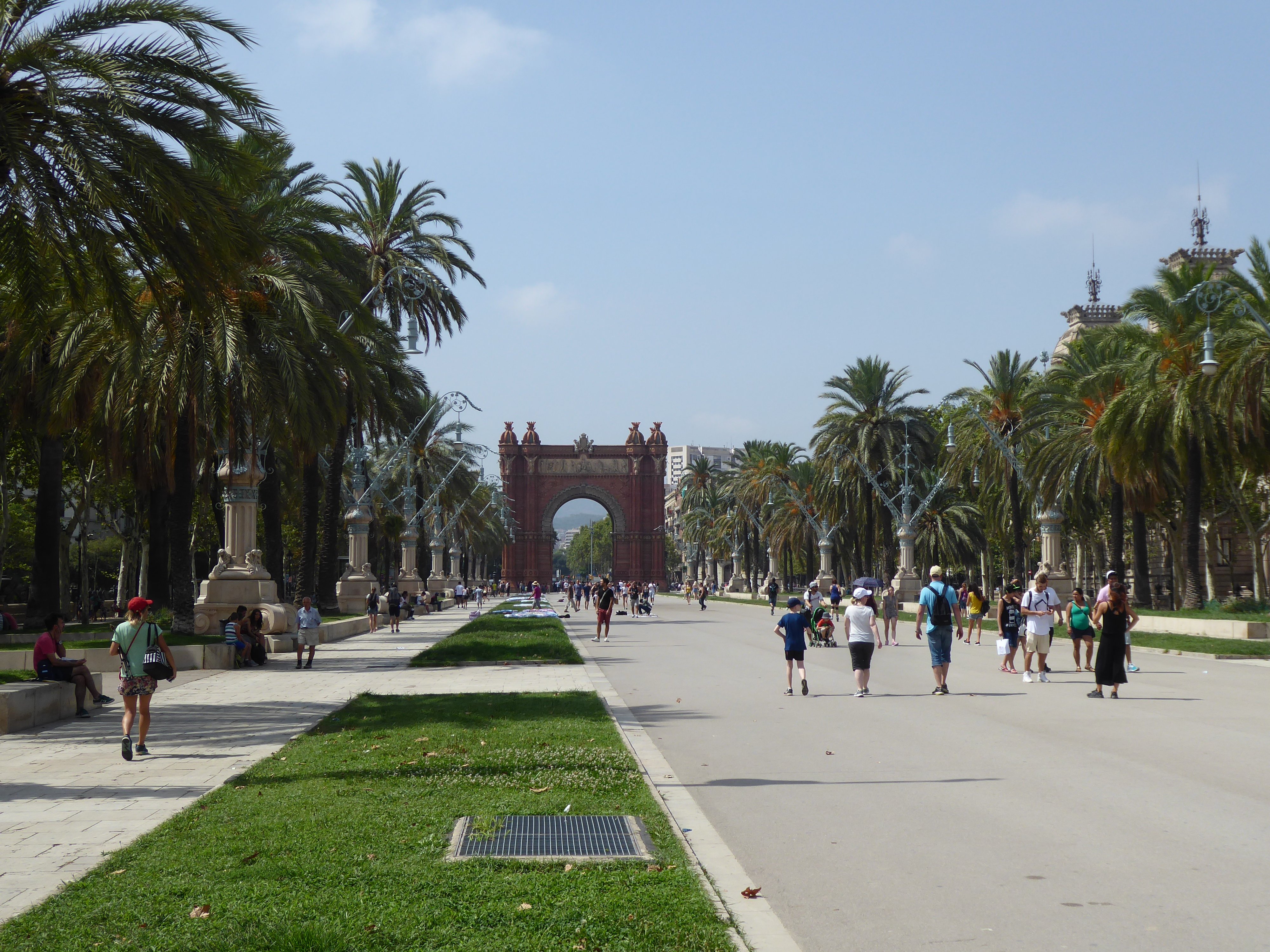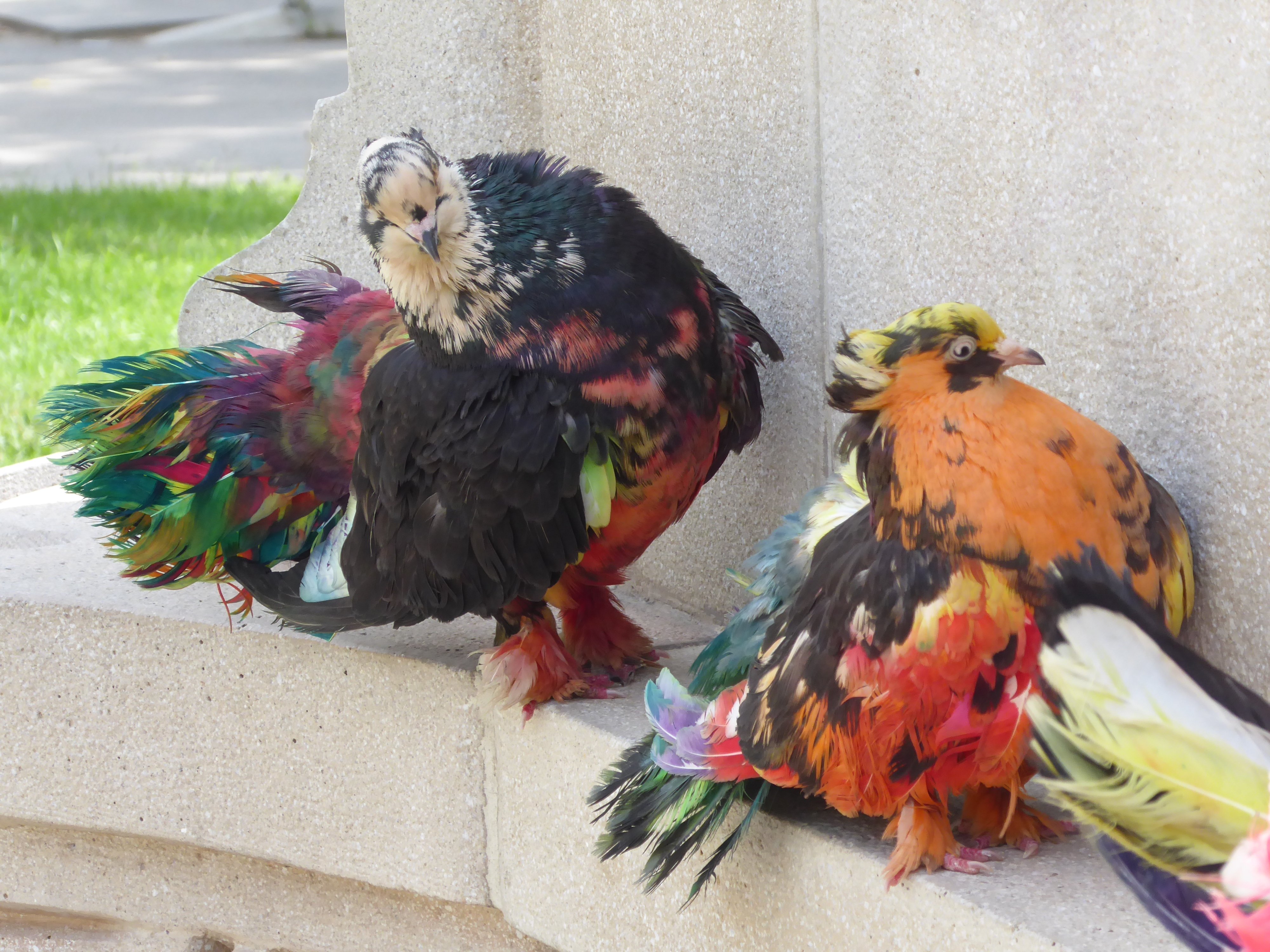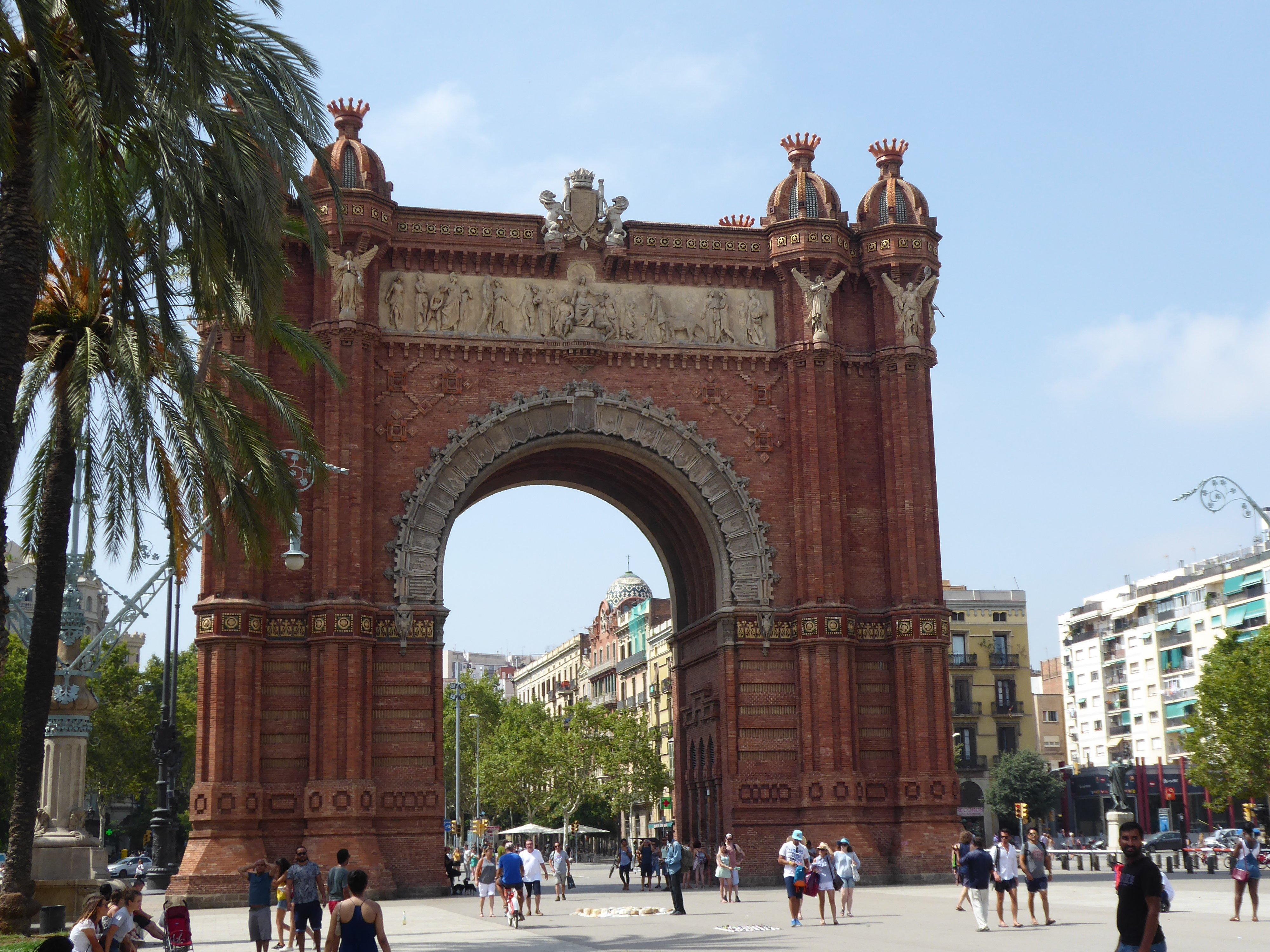 Hospital de la Santa Creu i Sant Pau / Hospital of the Holy Cross and Saint Paul
If you want to see a stunning art nouveau complex then look no further than Hospital de la Santa Creu i Sant Pau.  Famous in its own right, I cannot fathom why it less visited compared to other buildings in Barcelona.  To think that it was a fully functioning hospital till 2009 makes it even more remarkable.  Built between 1901 – 1930 it became a blueprint for hospital design globally for many years.  The original Hospital de la Santa Creu was nearer the centre of what is now Barcelona and was an amalgamation of six small medieval hospitals in 1401.  The name changed slightly with the addition "Sant Pau" at the end as a thank you to Pau Gil, a banker who funded the new buildings in the 1900's.
A grandiose main entrance akin to a stately building or cathedral with a large decorated bell tower straddled between four-storied elongated wings, they are angled inward like the wings of a crested eagle emblem; its body the bell-tower a display of size, colour and ornamentation, the wings of red brick with the creme stone arches of the lower floor its lightened primary and secondary wing feathers.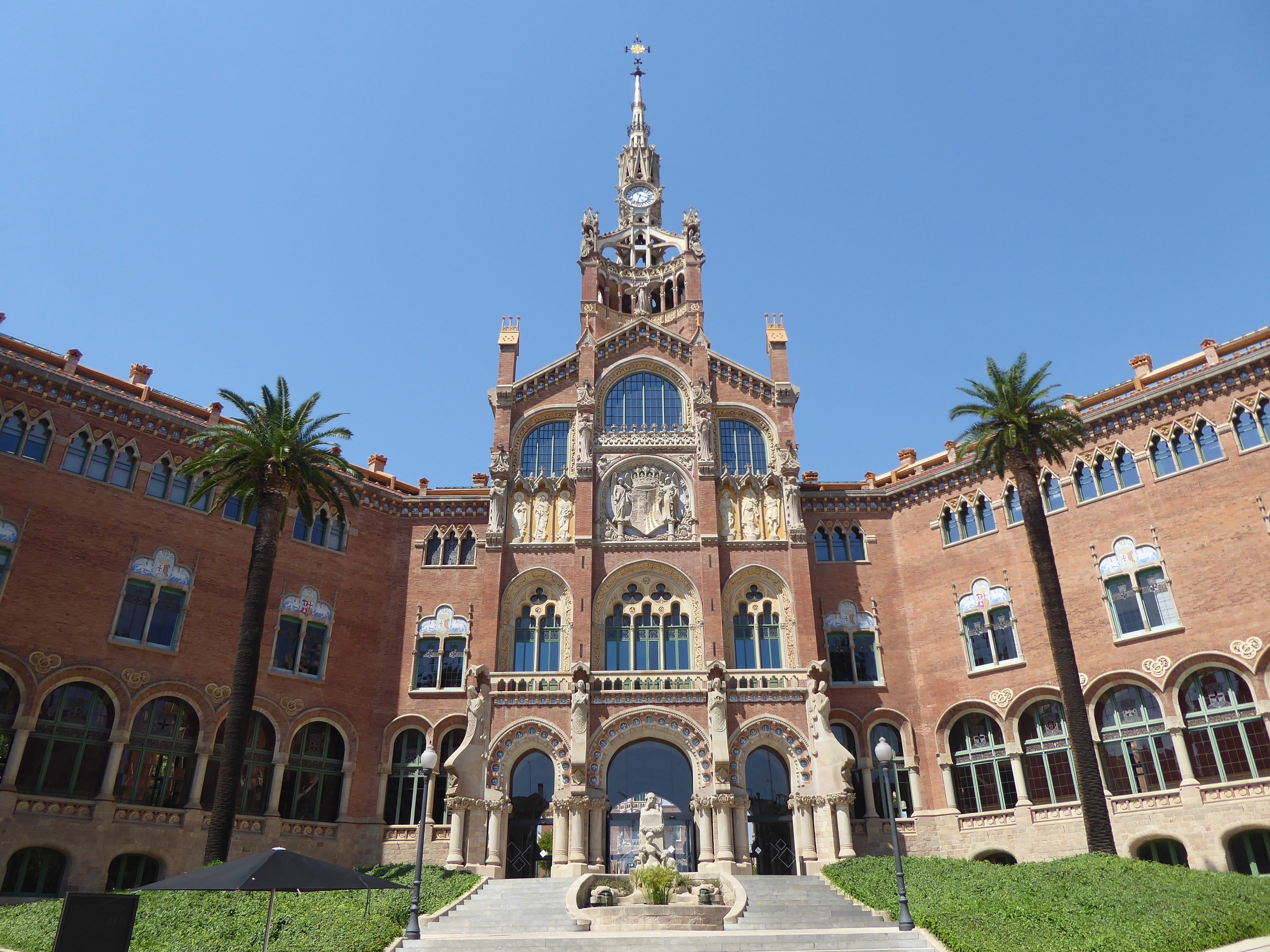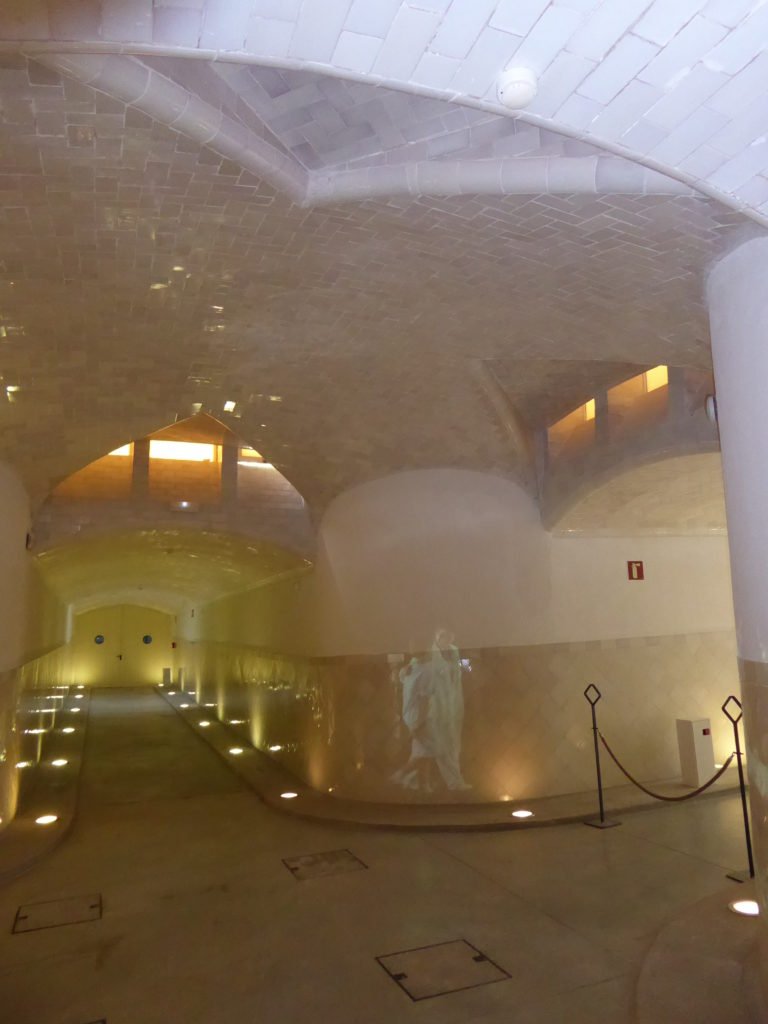 The complex consists of the main building, behind it a dozen or more separate buildings which I'll get to later, the buildings are connect by underground passages that are lit naturally with lots of rectangular windows which when above ground are near knee height and camouflaged into the surroundings.  The passages create a calming and clinical mood with the white gloss tiles on the walls and the entire ceiling too.  From the clinical monotone white, you enter the first ward where you are overwhelmed by glistening coloured tiles, like stepping from a hospital into a Disney world room.  Except for where the floor meets the walls there are no right-angles and everything is tiled floor, walls, ceilings; particularly the ceiling is an art nouveau beauty, off-white with light green motifs tiles within segmented elongated domed roofs separated by baby blue with a dash of turquoise tiled curved beams that run the width of the room.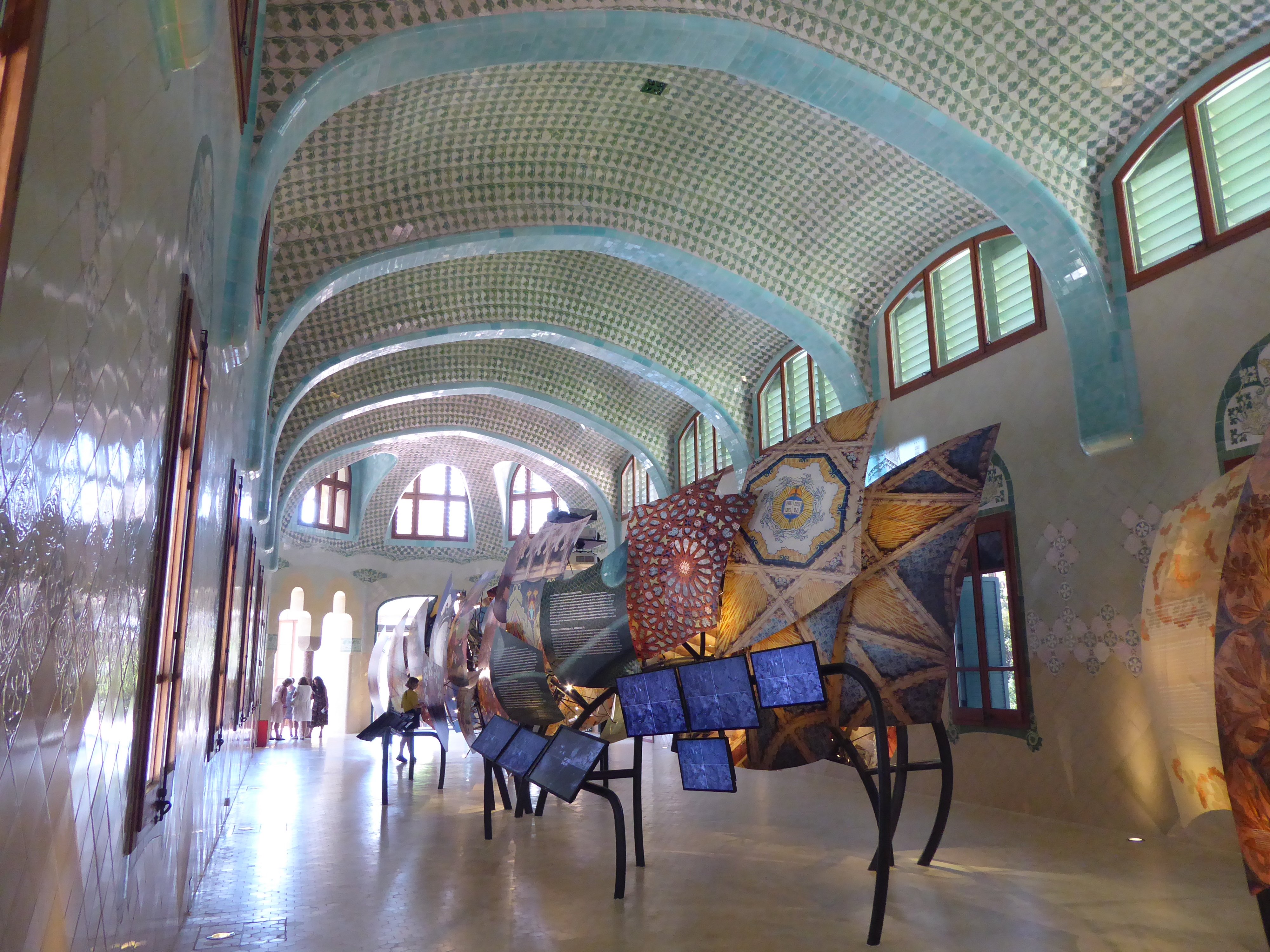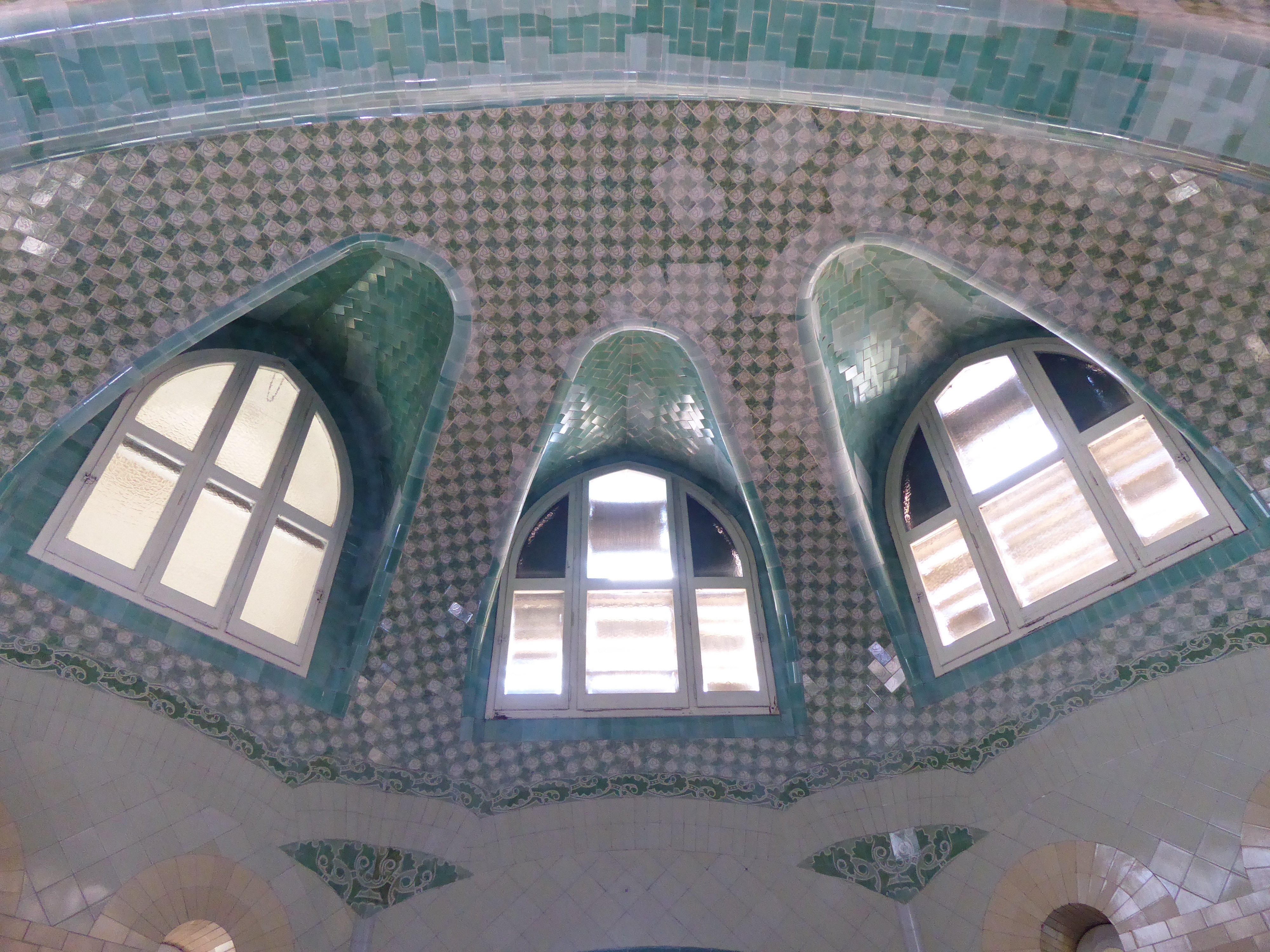 The whole complex is an art nouveau masterpiece!  The main complex behind the hospital's entrance building could easily be mistaken for some fantasy complex like and Alice in Wonderland moment, their exterior only surpassed by their colourful tiled interiors.  For most of my visit I forgot that only a few years back this was a fully function hospital, people would have died here and here I was gawking at the design and colours – I reconciled my happy mood with the thought that this environment could only had aided in the recovery of sick people; compared to the usual sanitised hospitals of nowadays this was an uplifting environment and could only have done good to the patients.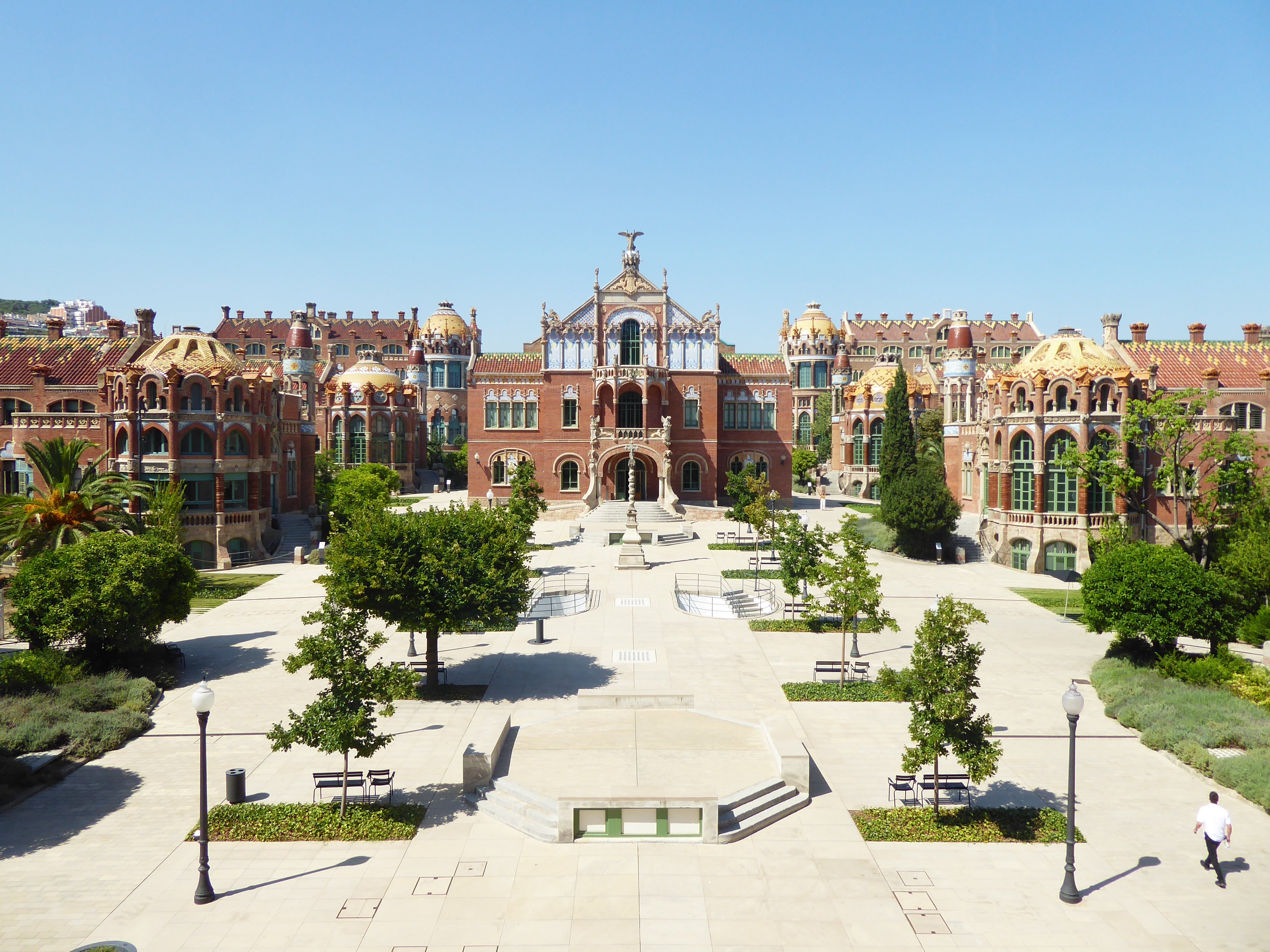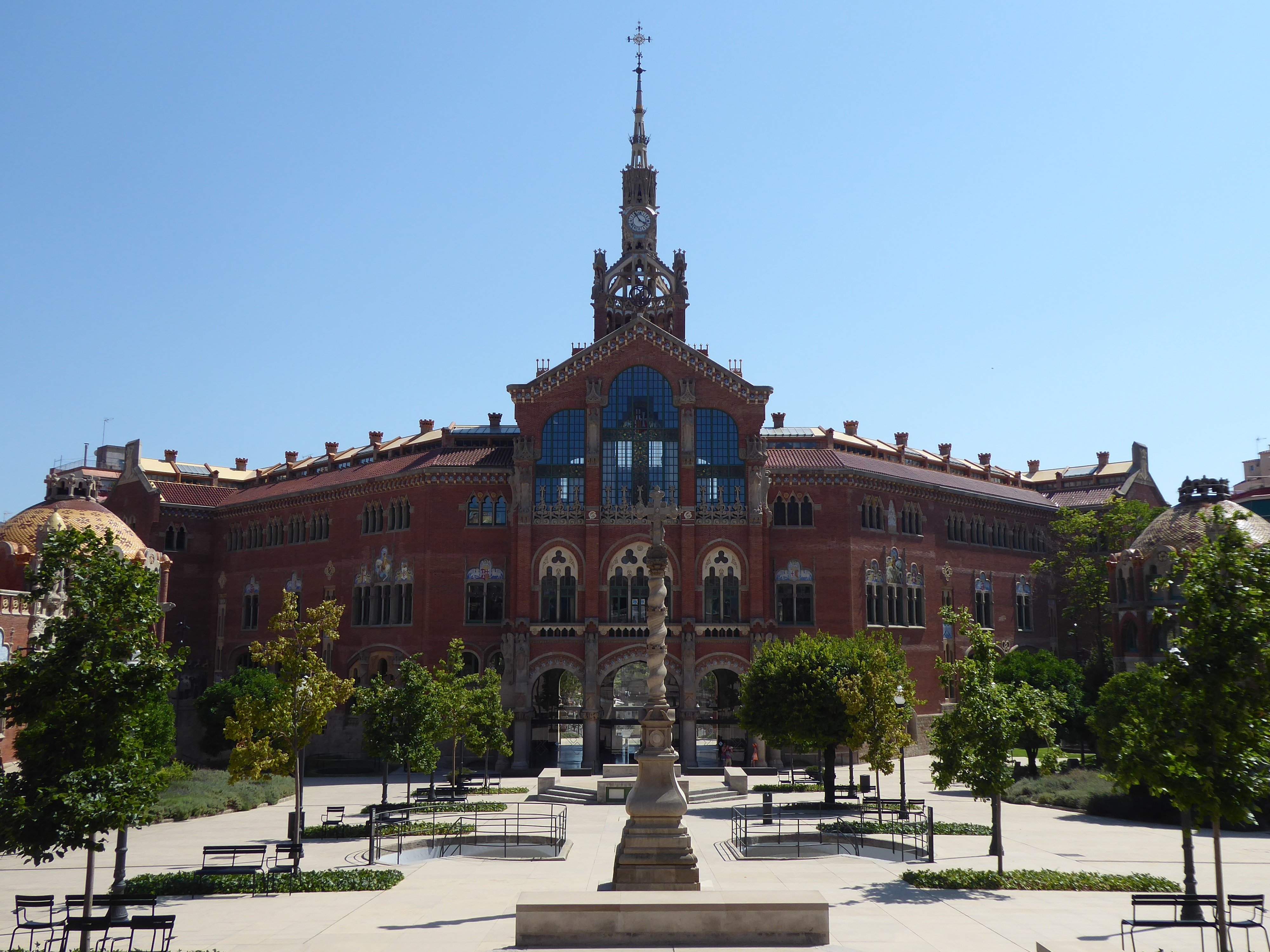 The interior of the main entry building is awash with pastel pink tiled semi-domed ceilings, held up by pink granite/marble (I think) columns.  The room below the bell tower a mix of pastel blue, pink and yellow a mixture I would normally associate as kitsch but here put together in splendour and enhances the building's features.  You almost forget to look at the shell of the building and instead dart your eye from one place to the next as its extraordinarily positively different to any building complex I've ever been to, oh yes, did I mention it used to be a hospital!? ?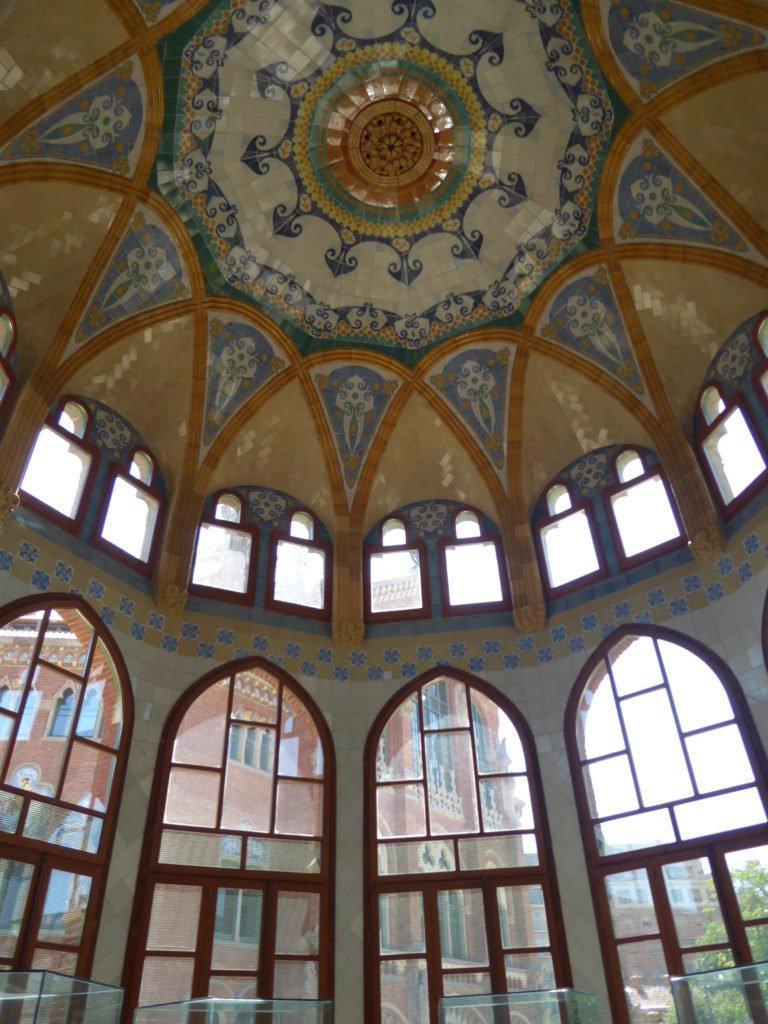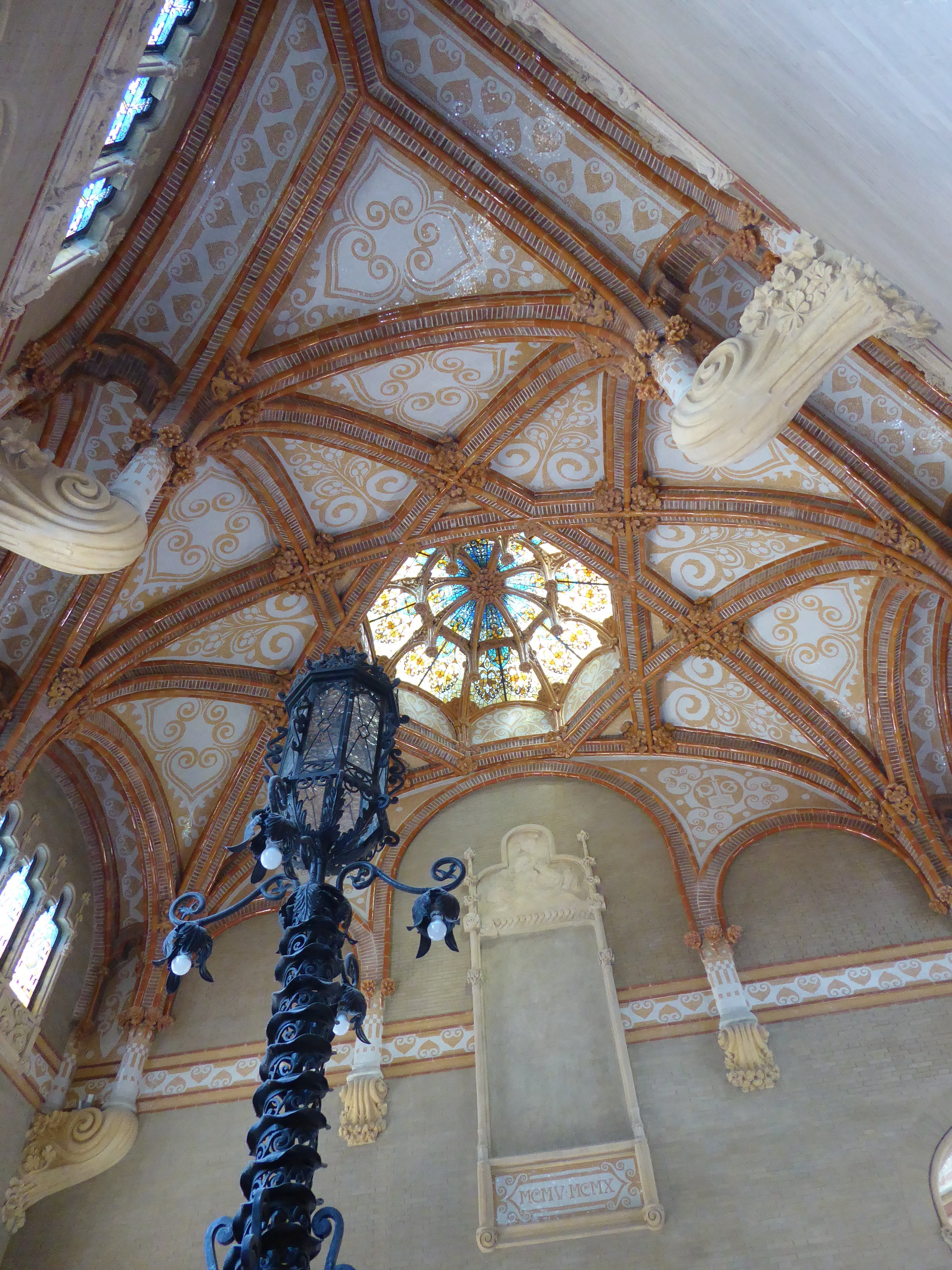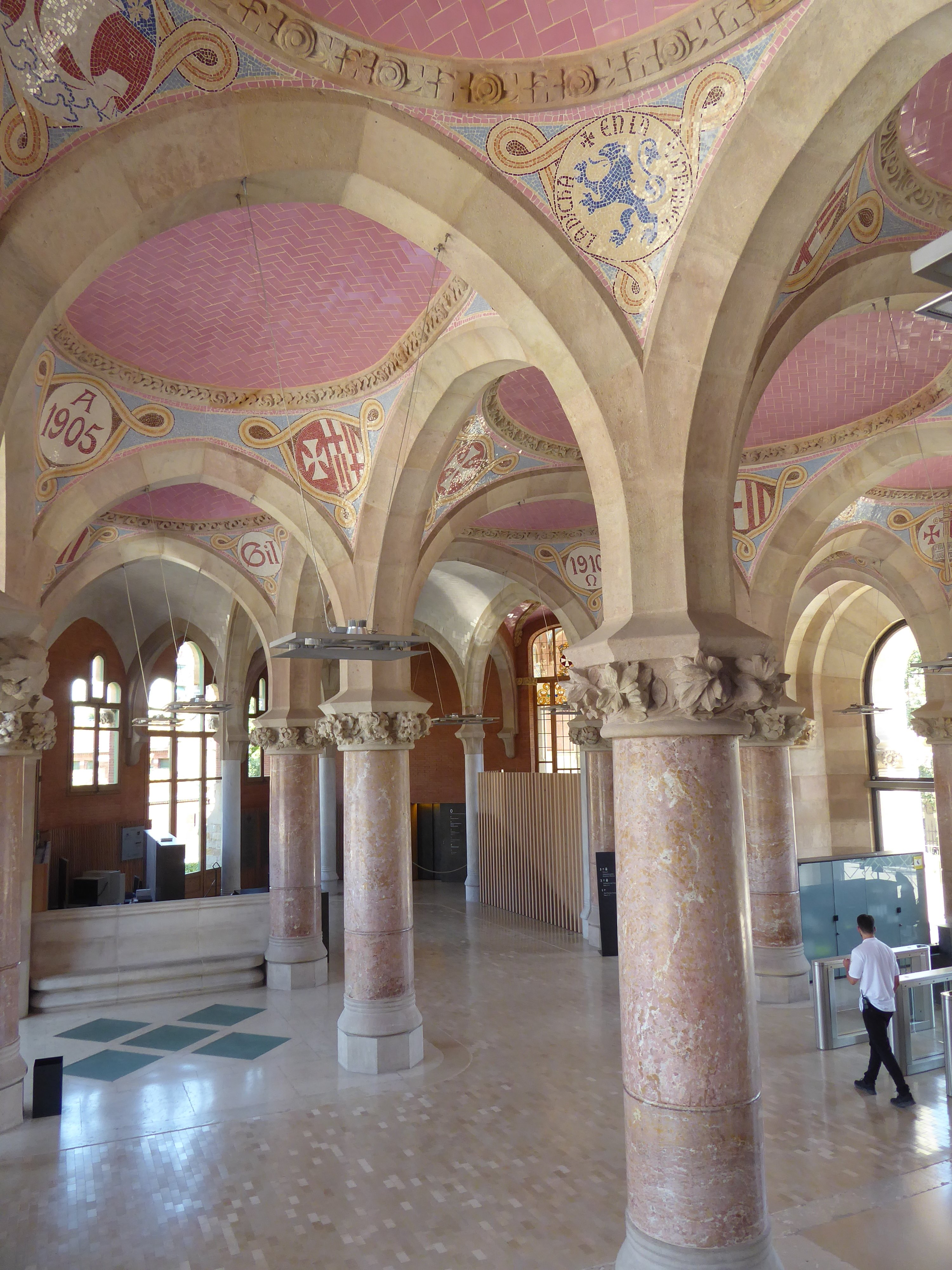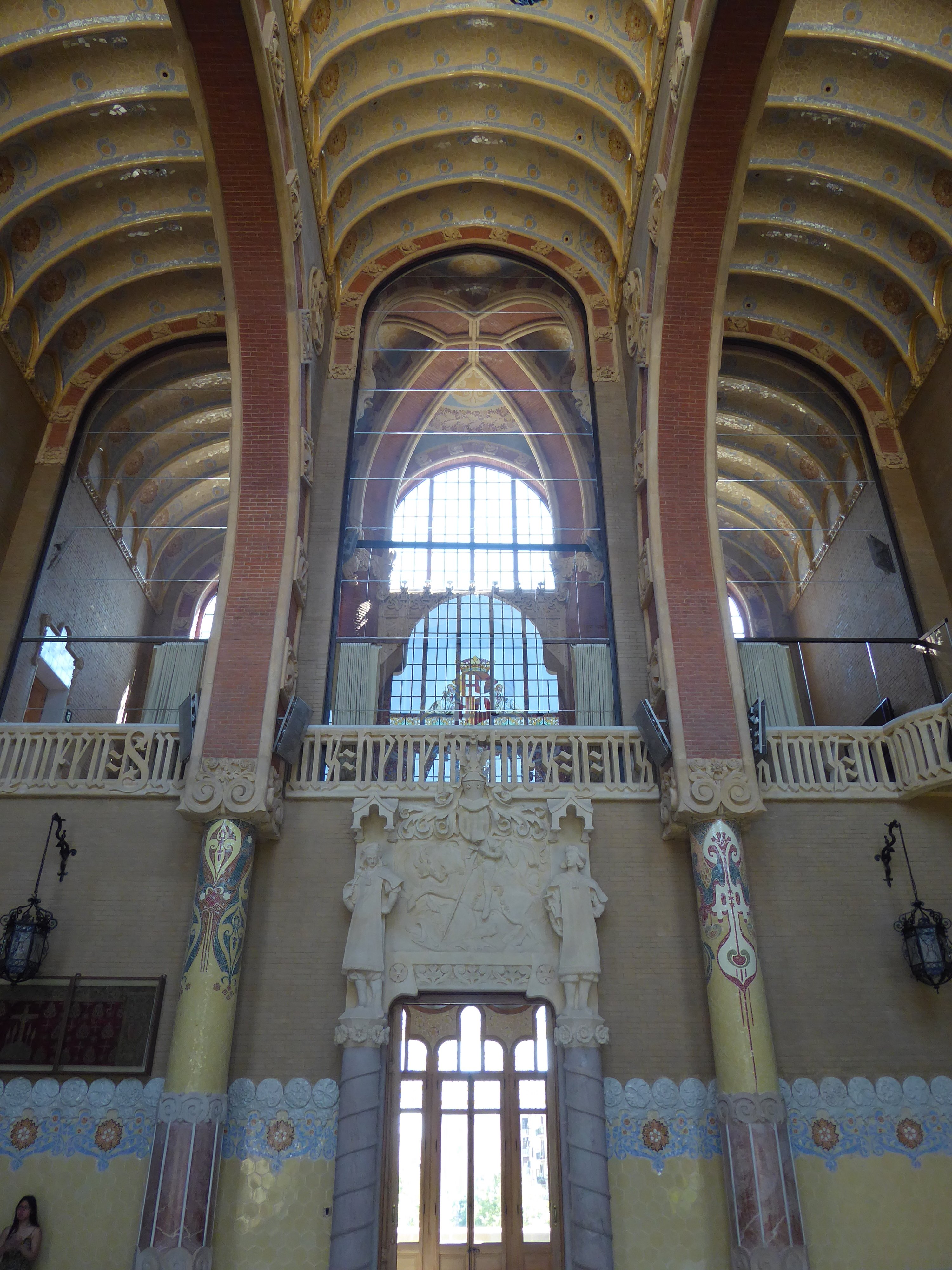 Palau Güell / Güell Palace
Is actually a mansion and not a palace but its splendour, ingenuity, design and beauty is deserving of the title palace.  At only around 500 square meters the design fools you into thinking that it's much bigger; the use of materials, space and trickery of light it has got to be one of Antoni Gaudi's prized achievements.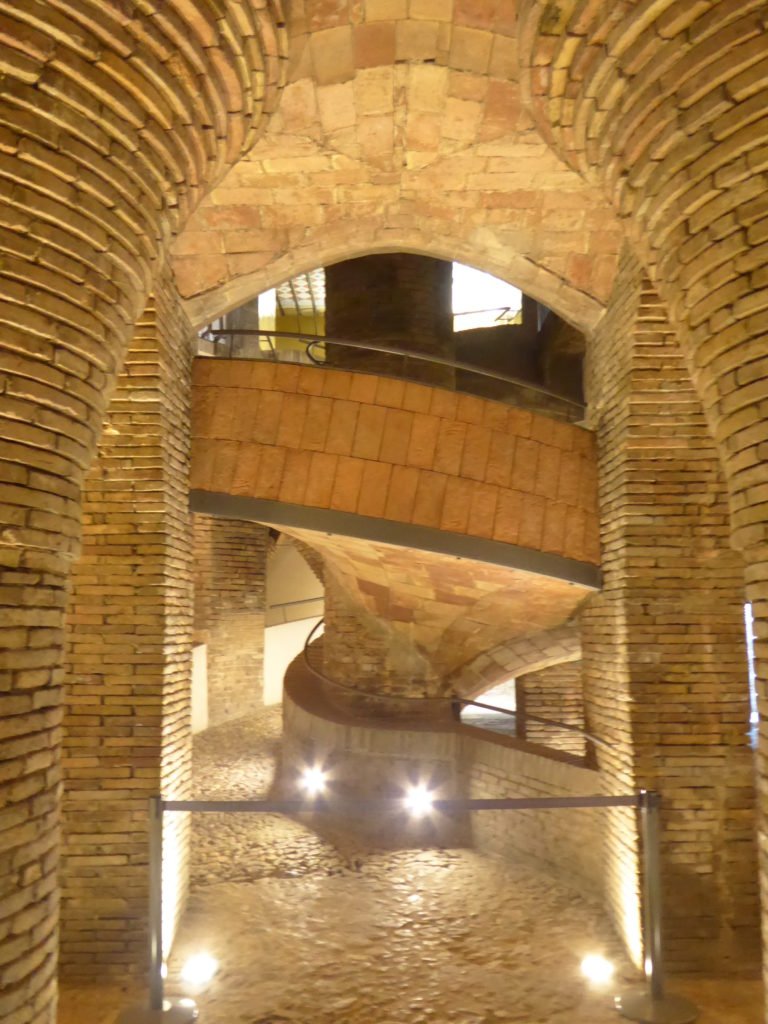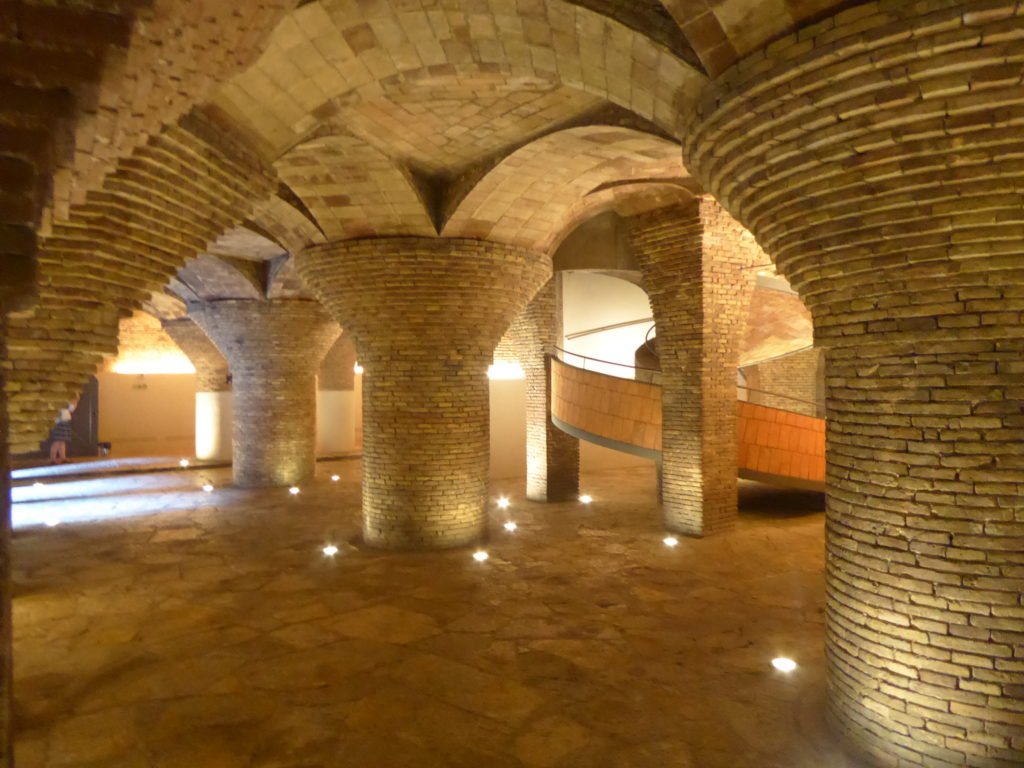 Nothing in this mansion is by mistake from the forged iron motif crest above the front door, the basement (used to be horse stables) to the roof top every inch has been thought out and design with meticulous attention.  Built for Eusebi Güell, an industrialist of substantial wealth between 1886-1888 no money was spared in this house and it is far from ostentatious.  On the contrary it's a mixture of understated at first glance and ultra-opulence but managing not to be "over the top".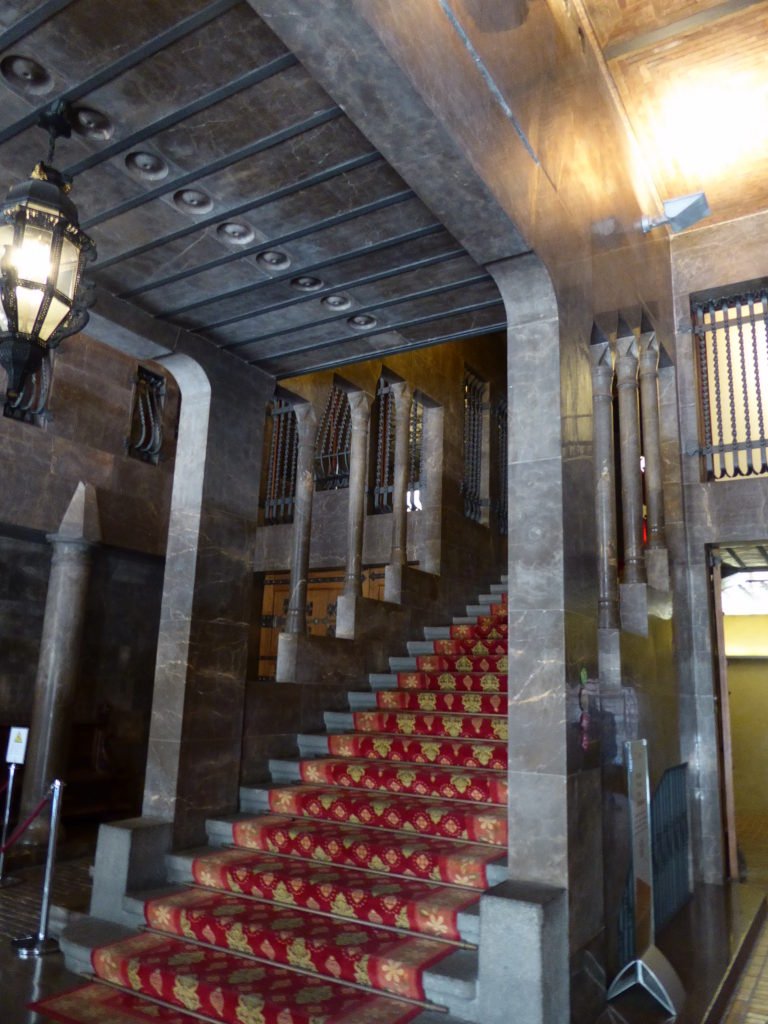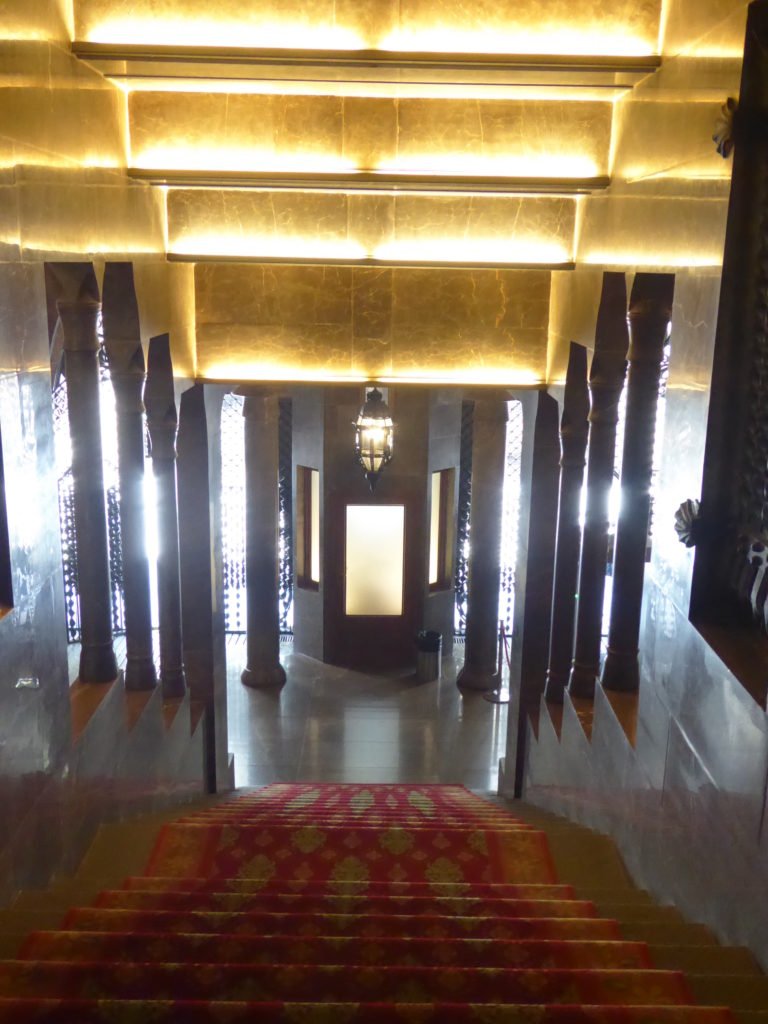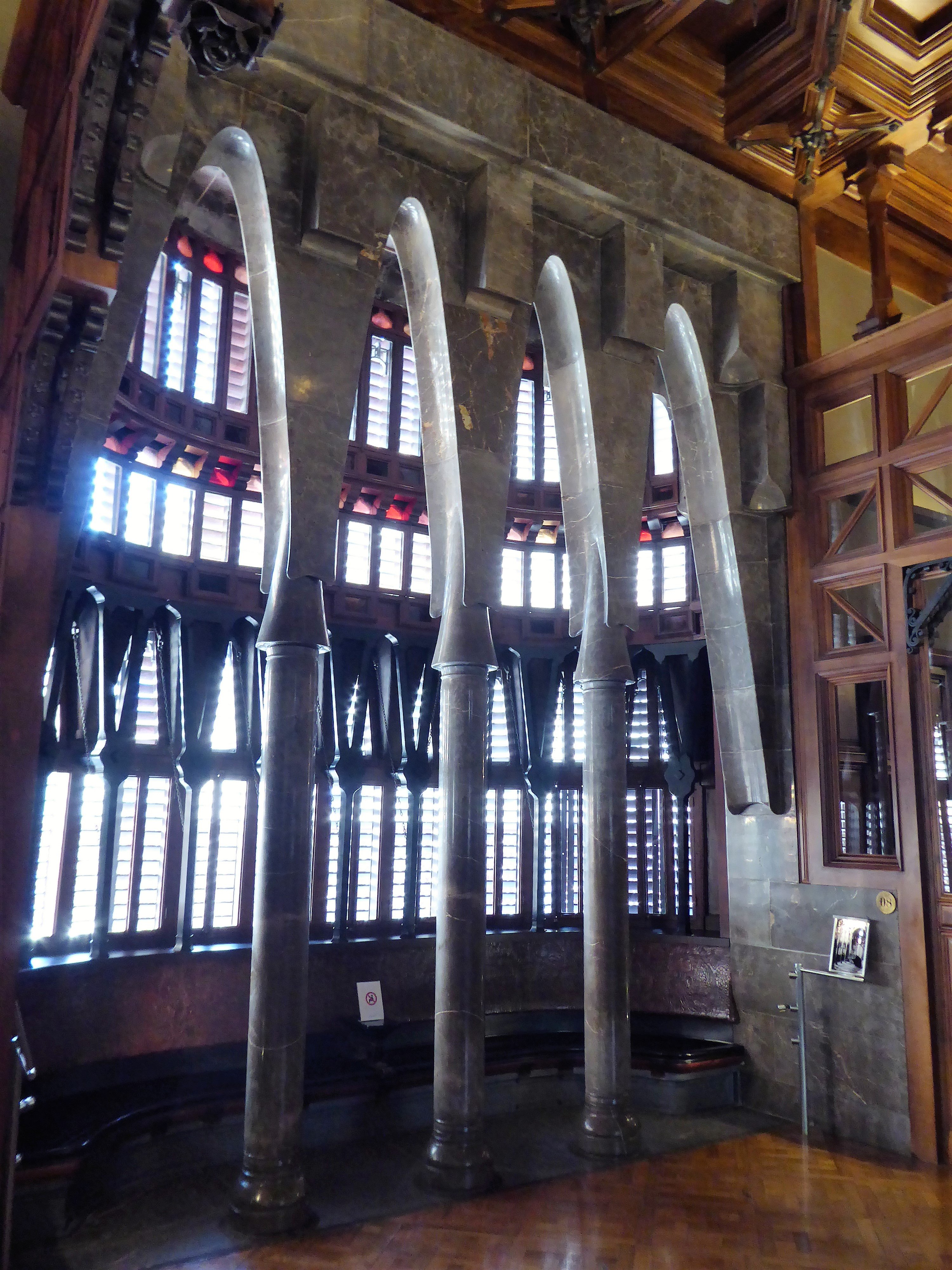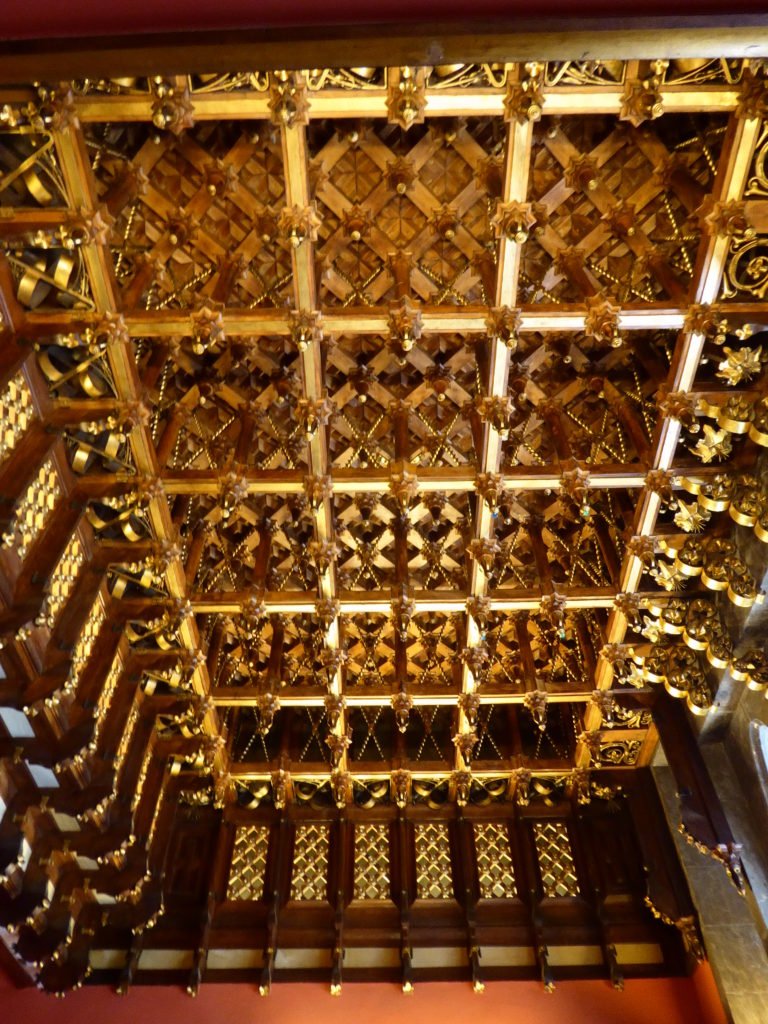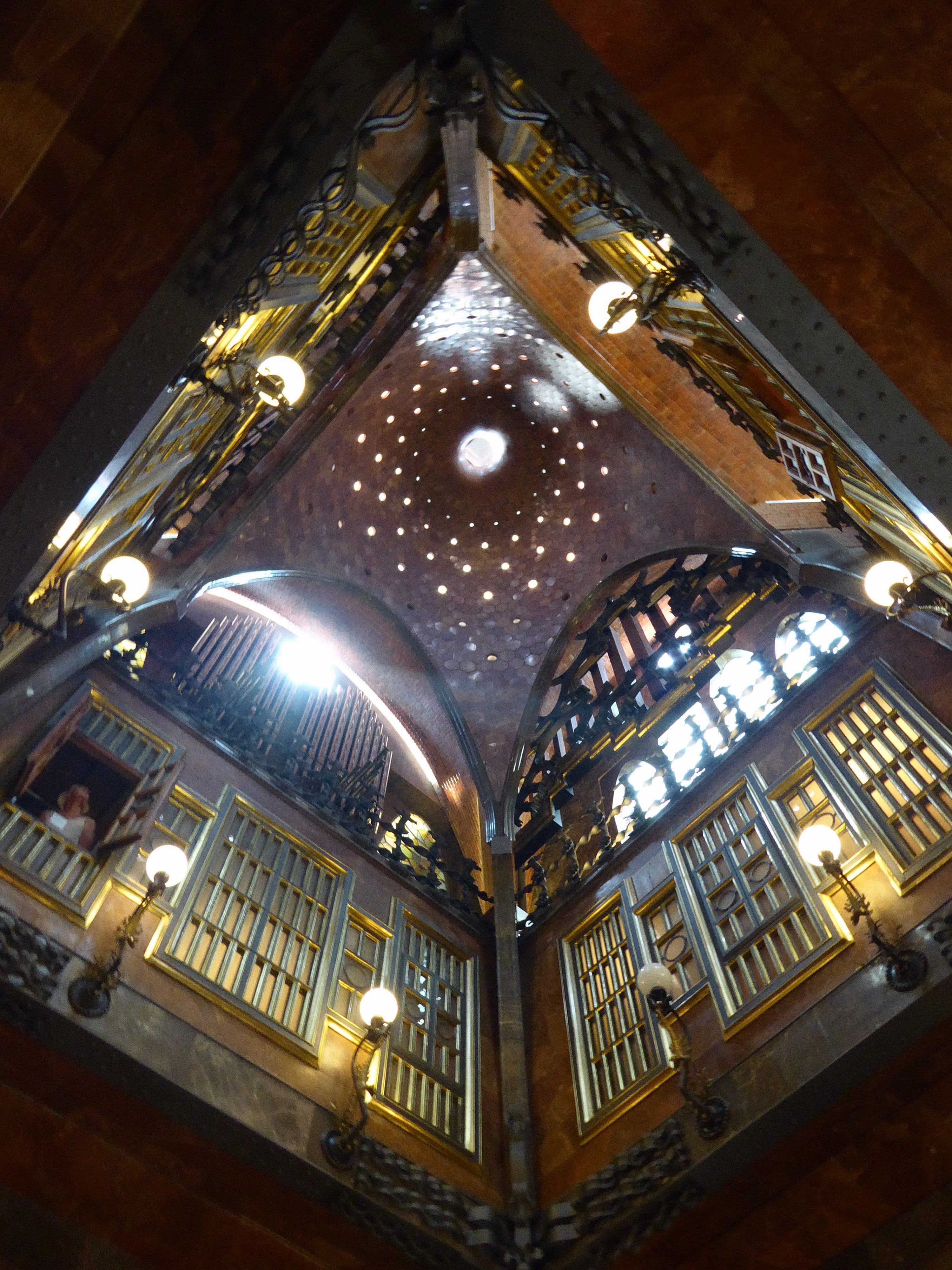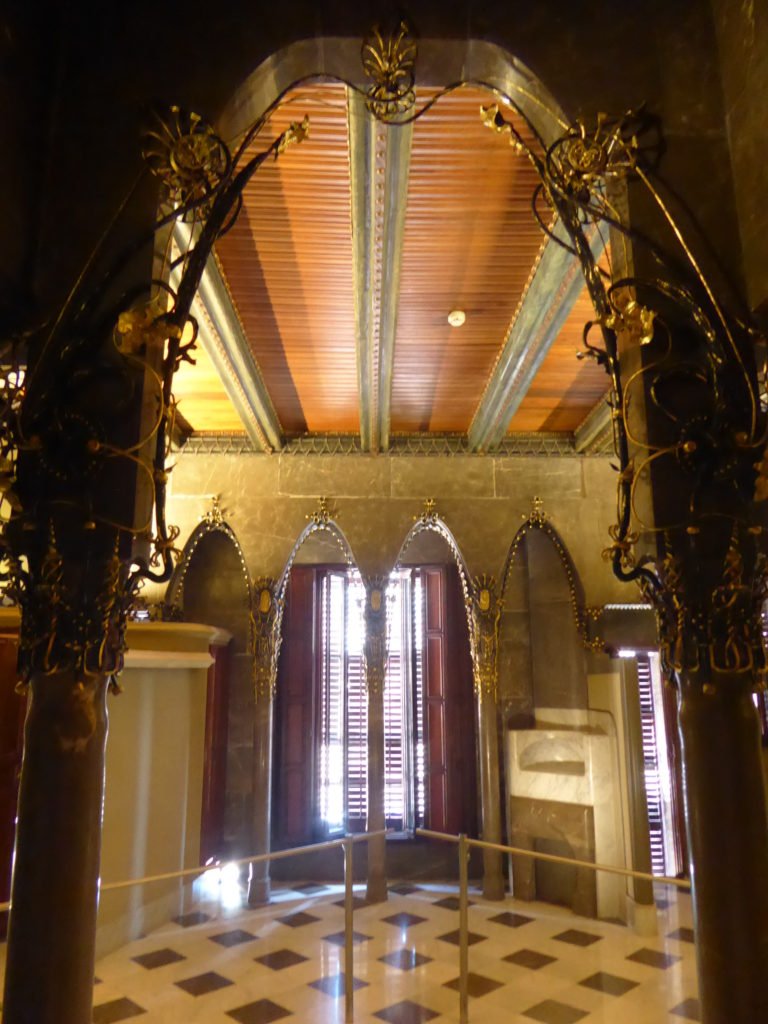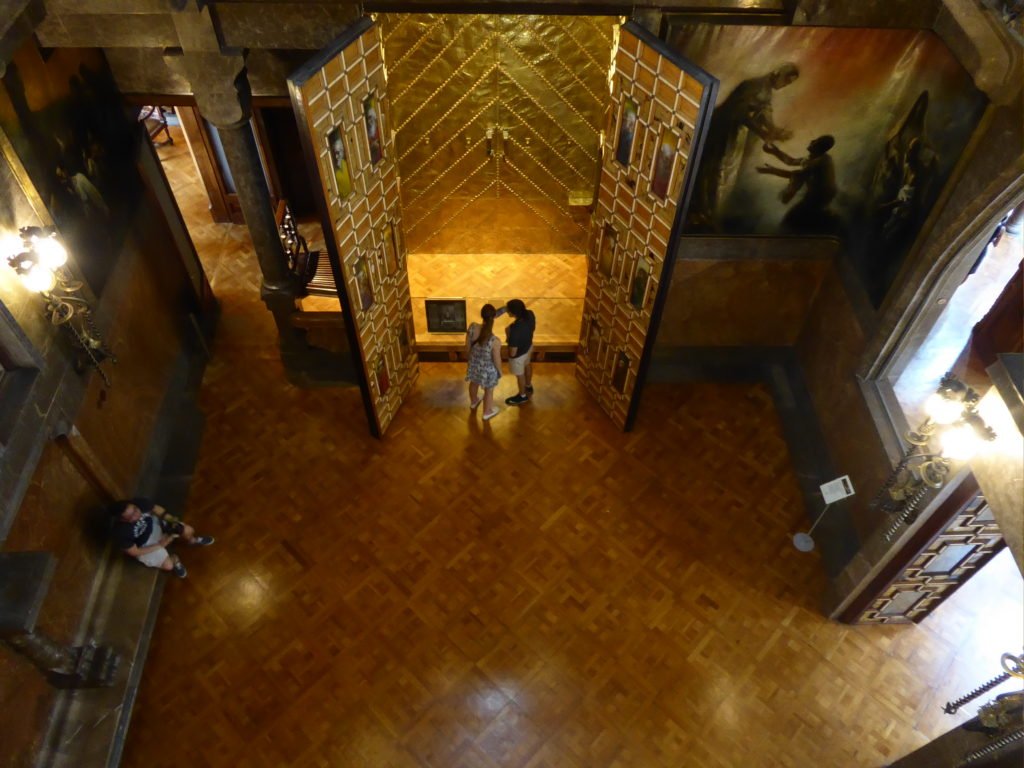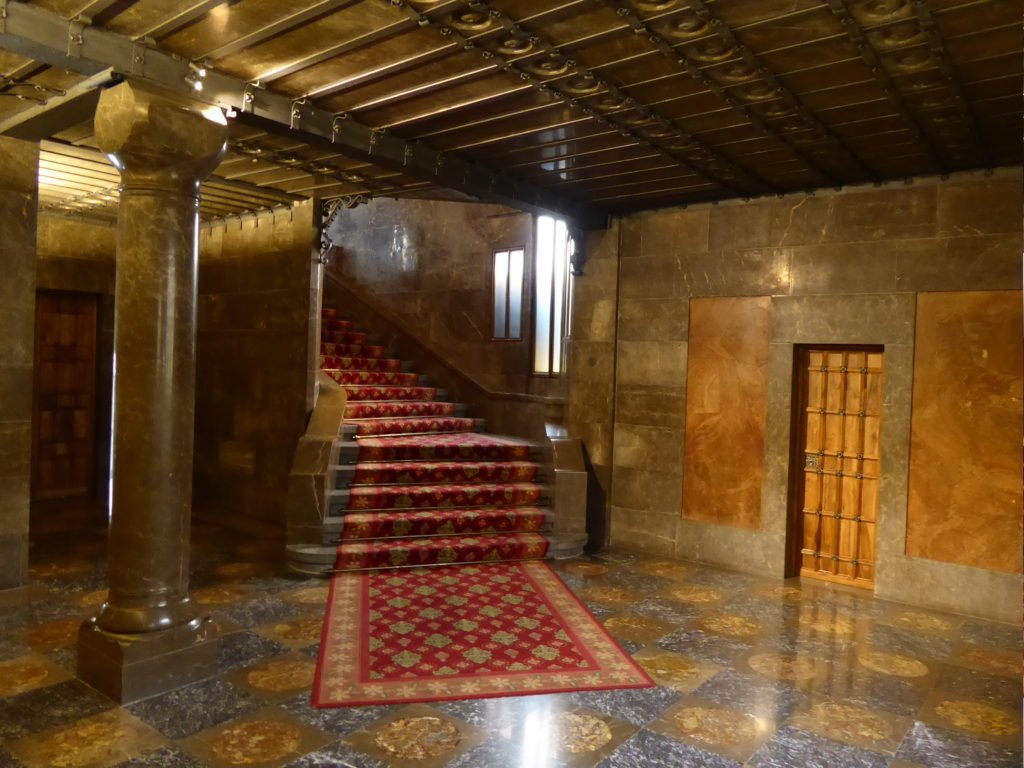 There is so much to say about this house I would go see it again and is deserving of a thesis in itself, I'd be surprised if one or many have not been written.  The basement is beautiful, the house is beautiful, the exterior is beautiful……and no Gaudi didn't forget the rooftop either…..it's beautiful too!  Who would think to decorate the chimneys…Guadi would.  A rooftop is most often than not forgotten about but here, as with many of Gaudi's buildings he makes it part of the house extending the living space to get panoramic views of the city.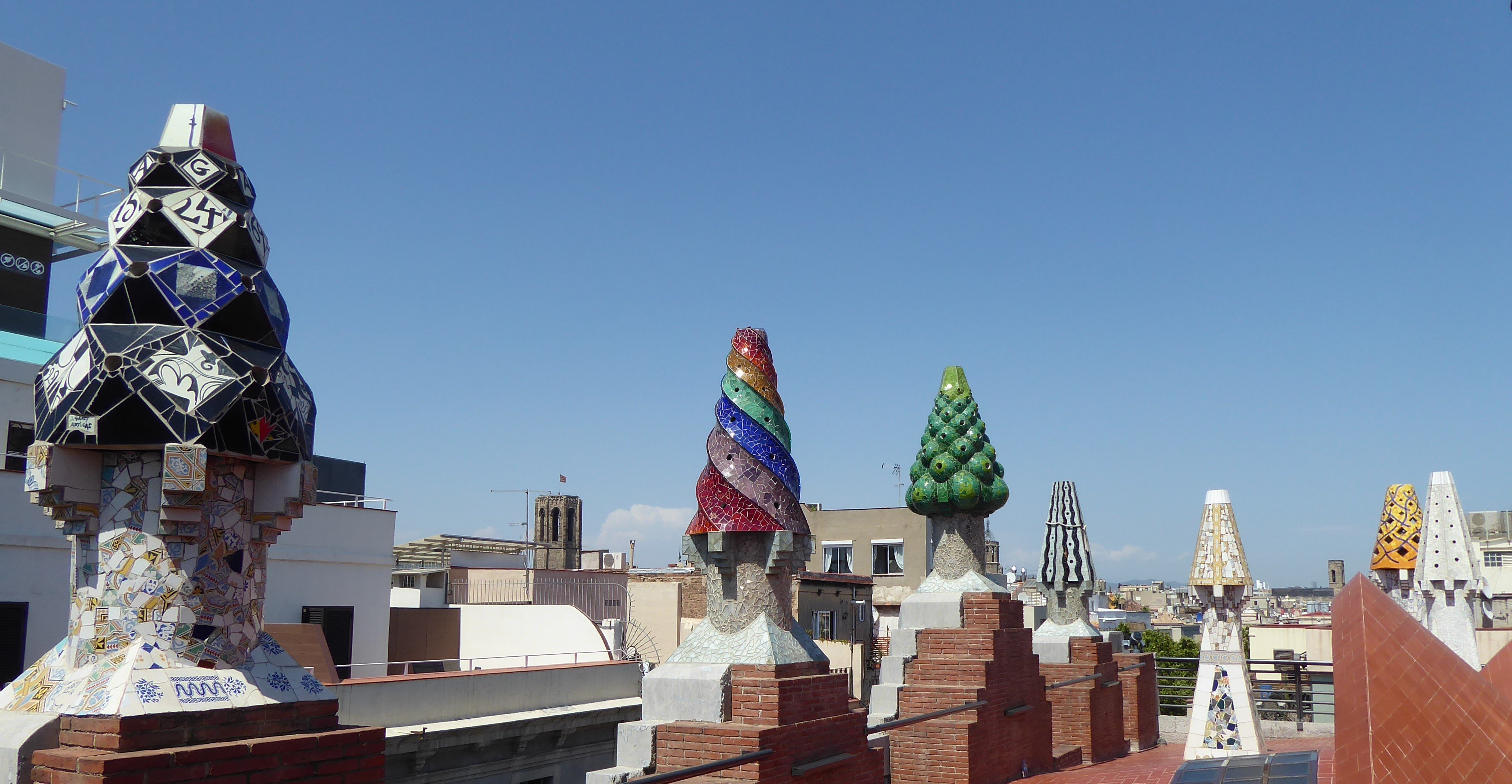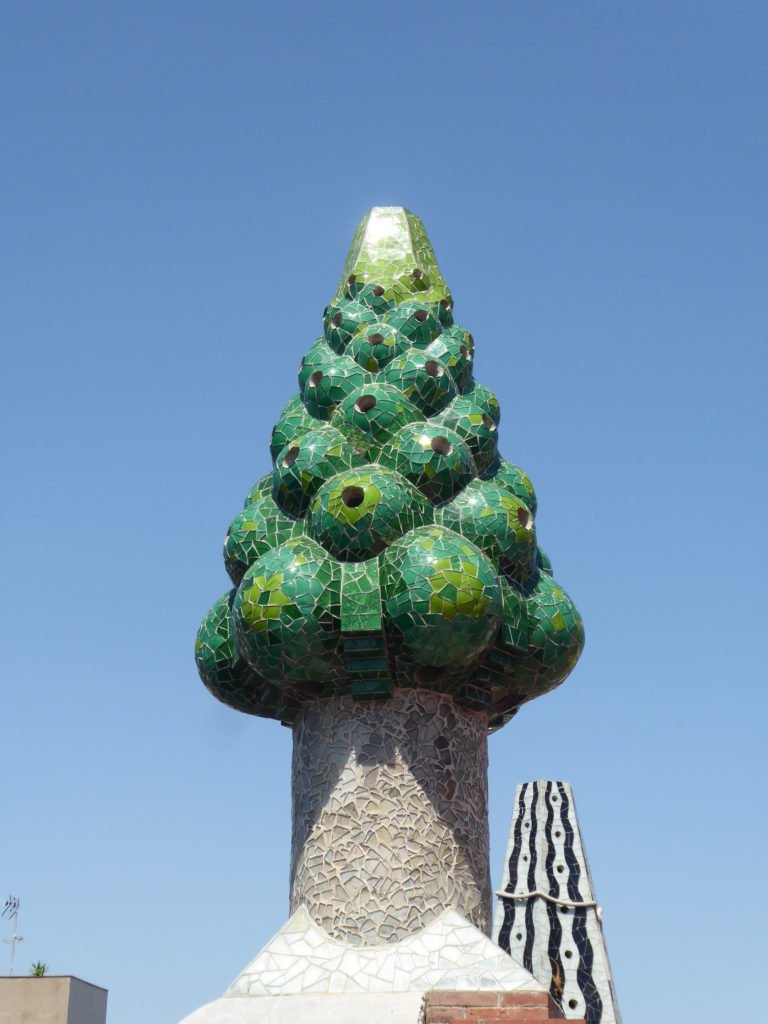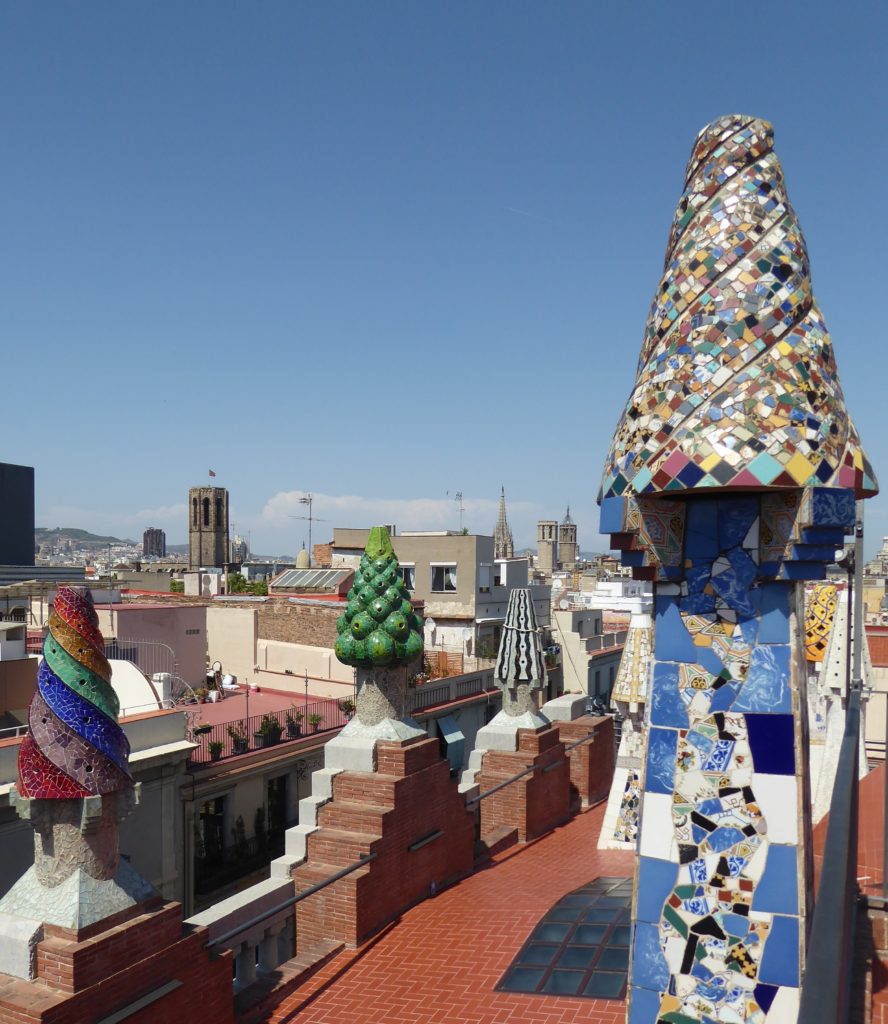 Although I'm not writing about these I wanted to finish my Barcelona visit (first of more to come) with a few additional pictures.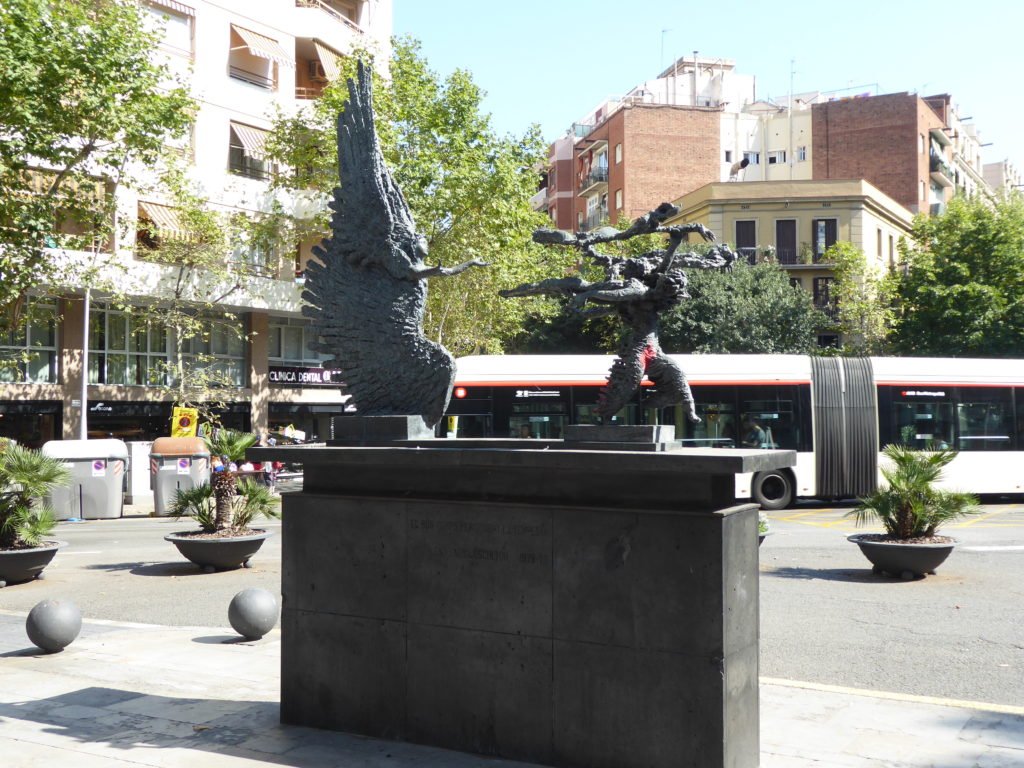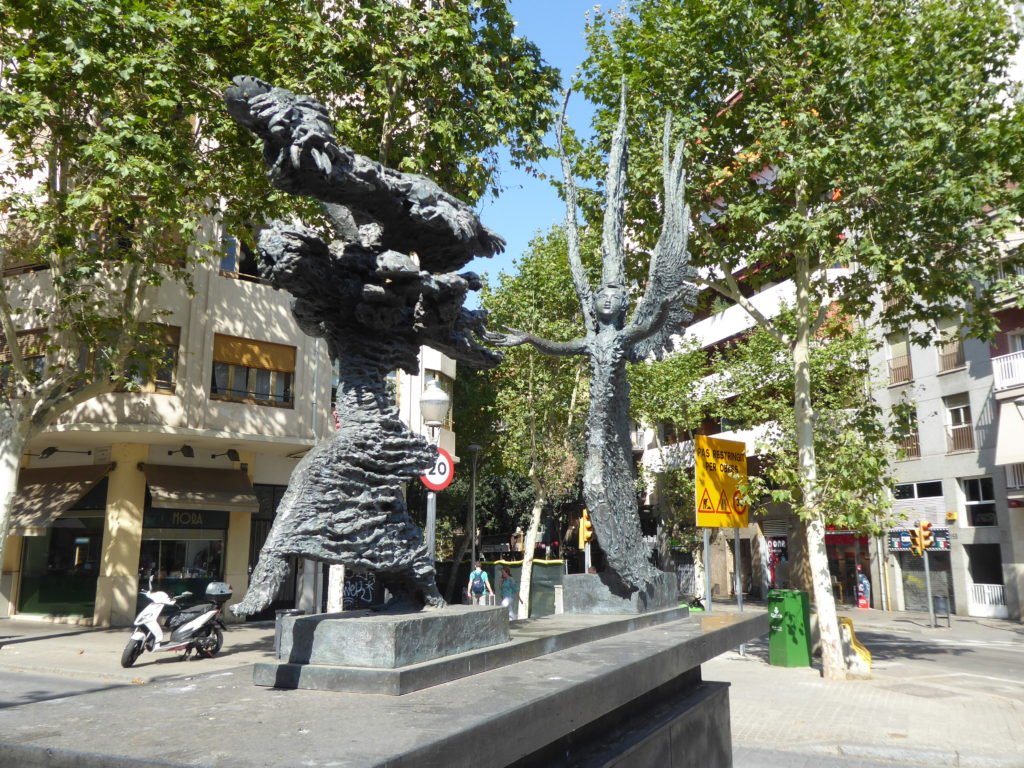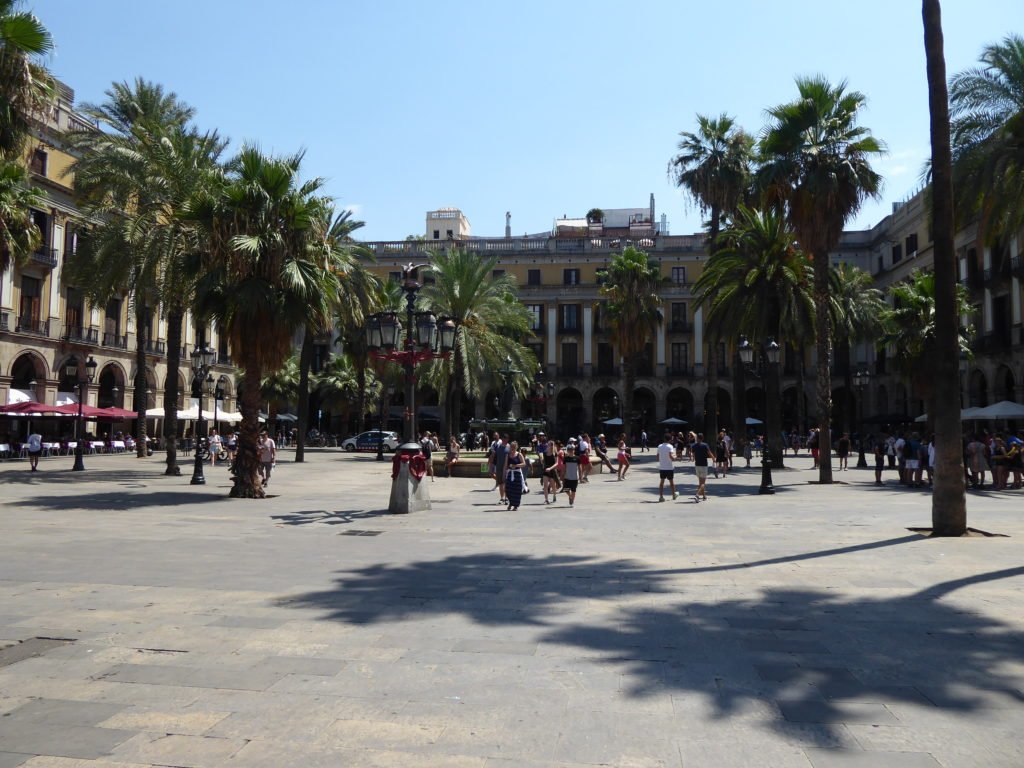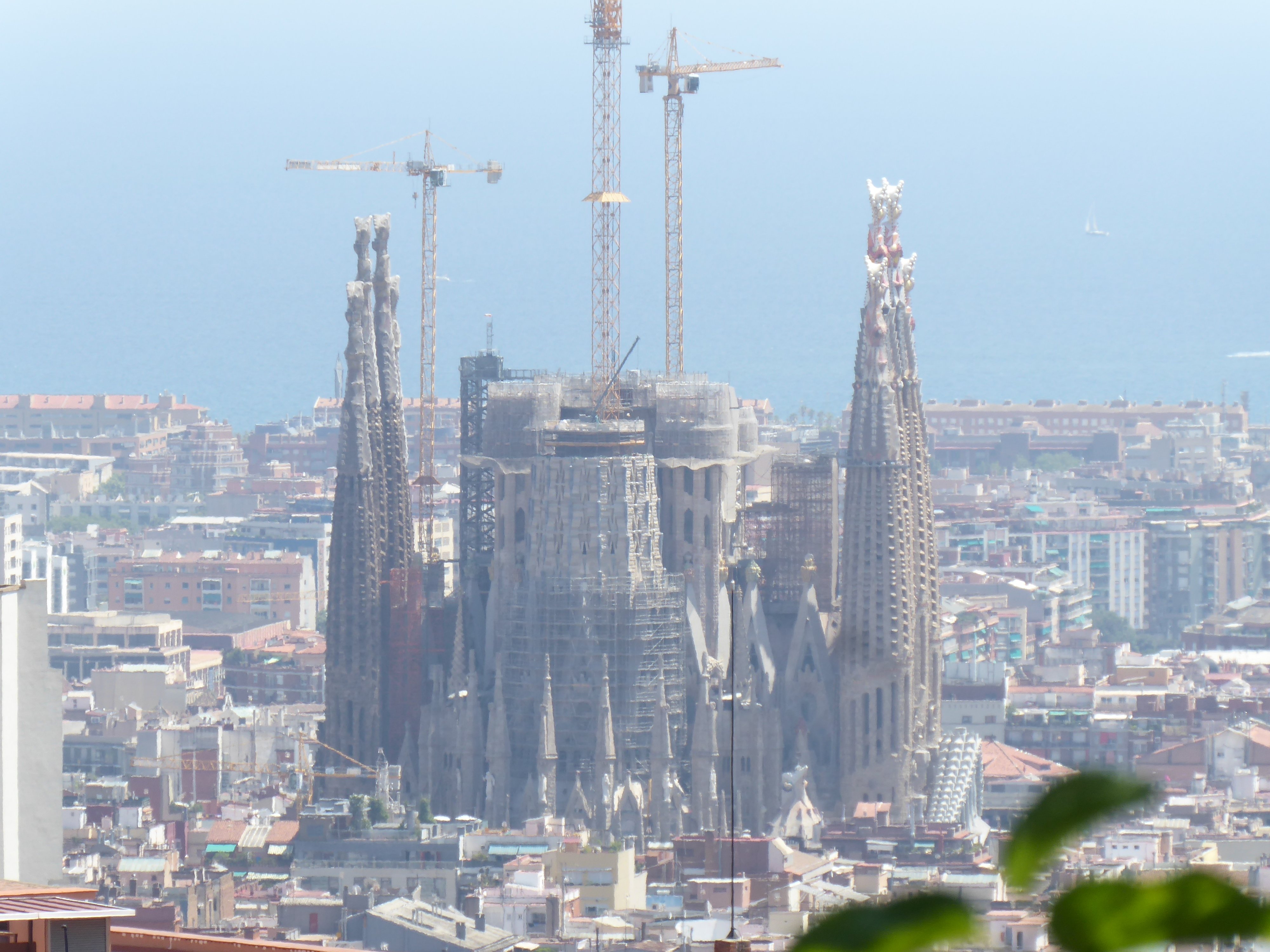 Prior to Barcelona I was in Tarragona, take a look if you like or take a look at a quick pit-stop I had in London for a family reunion:
Tarragona – historical, lovely beaches with the friendliest people