Whilst researching things to do and see in Bogota I found the Salt Cathedral, more accurately, the Salt Cathedral of Zipaquirá.  This is my third post about Bogota, in reality I think it was my sixth there. Like I said in my first post on Bogota, I was taking things easy. Finally I was sleeping normally. I had forgotten what a full night's sleep felt like without coughing. Bogota was my recoup time; mentally, physically and for motivation. For the previous two days I walked around the neighbourhood by hotel. Spending time in the area of Carrera 13; lots of restaurants, where I had dinner every night. Exploring an area of around 500m radius. Nothing planned, nowhere to go or see, just walking around and taking things in.
Tired of trying local food, I had dinner at the same restaurant almost every night, The Chef Burger Company. Food was decent, my continued return was because of the dessert! Wow, delicious! There was an italian restaurant not to far from the hotel, La Diva, went there a few times – good food too. One thing I did have on my to-do list…haircut. I don't remember the barber shop name nor location – that's not due to a lack of looking! I was certain I kept the details "safe"! Me keeping their details was to give them a hat-tip. Felt like a new man when I left – including some sort of face treatment that I didn't ask for, all for at total cost of USD13!! Anyway, not that this would help, it was in a mall around the area, maybe Centro Comercial Atlantis or Andino or El Retiro Centro Comercial.
Each morning I would start of with breakfast, then head down the road to have some nice coffee at Hotel Virrey Park. I'd take my laptop, do some writing and planning, and of course just watch the people. There's something comforting finding a local coffee bar, even if it's only for a few days. Sit down, waiter brings you your coffee without ordering. Every now and then washing it down with a tasty desert.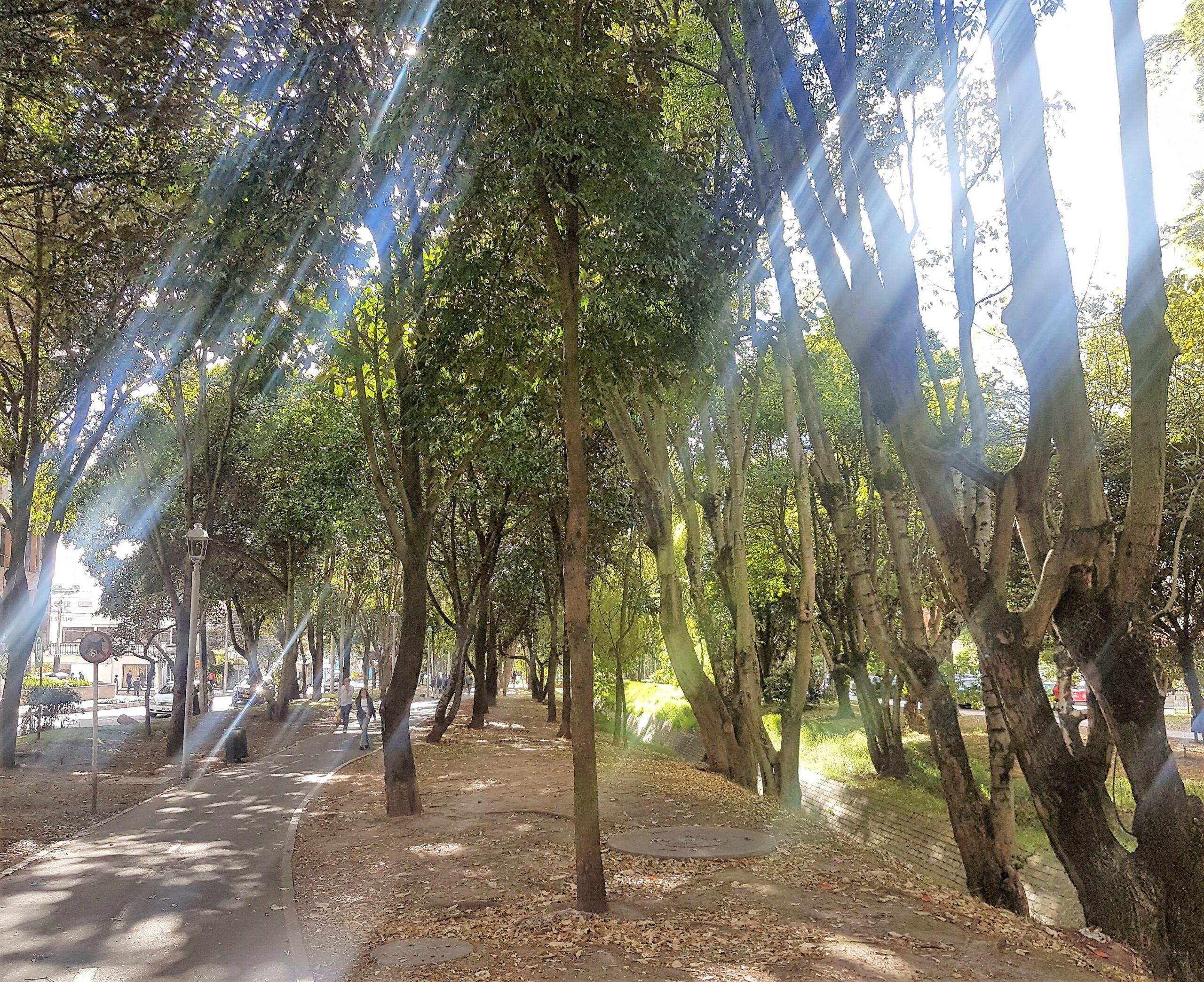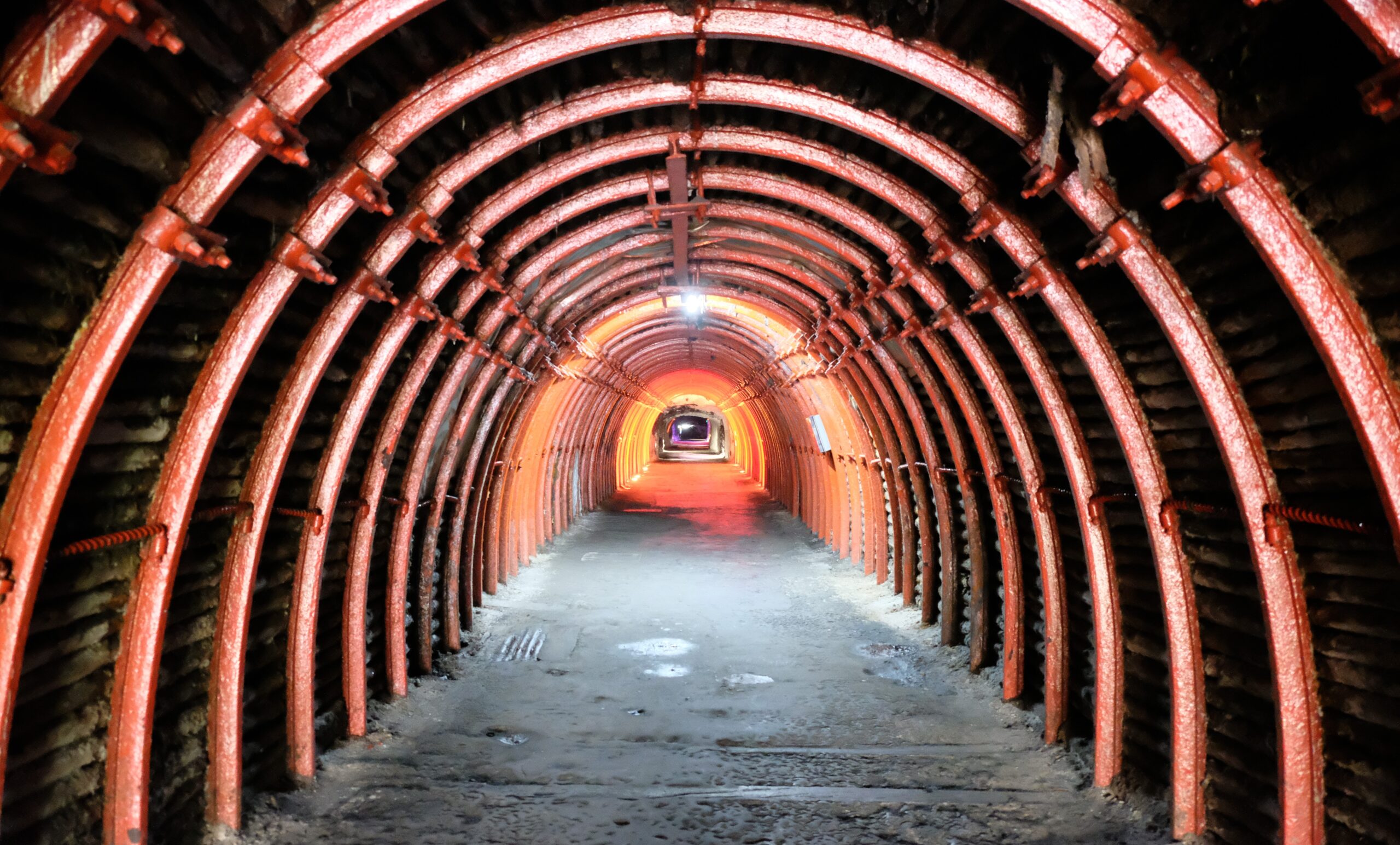 Salt Cathedral of Zipaquirá
On a rather damp and overcast day I headed to Salt Cathedral of Zipaquirá. Hotel Bogota Virrey had arranged for a driver to take me there, wait, then bring me back. Thanks to Google Translate, having a driver that cannot speak the same language isn't such a problem. Conversations do take much longer, and if you're patient they can be a lot of fun too. Using the microphone function on Google Translate. The driver and I had convoluted conversations breaking out into sporadic laughter. Caused by the sometimes, very interesting translations; nothing close to what either of us were trying to say!
Anyway, back to the destination of the drive, Salt Cathedral of Zipaquira. Located on the Western outskirts of the city Zipaquira about 45km North of my hotel in Bogota. Often referred to as just the Salt Cathedral, it isn't actually a cathedral because it has no Bishop.  Whether or not it was because of the time of year, day of the week or weather the place was empty! I hoped to myself that I hadn't wasted my time. One of those failed places they try get tourists to go to, to recoup their costs. An attraction that isn't an attraction at all, just a money-making place. Great looking pictures only to find it is in fact a disused mine made to look pretty. Well, I was wrong.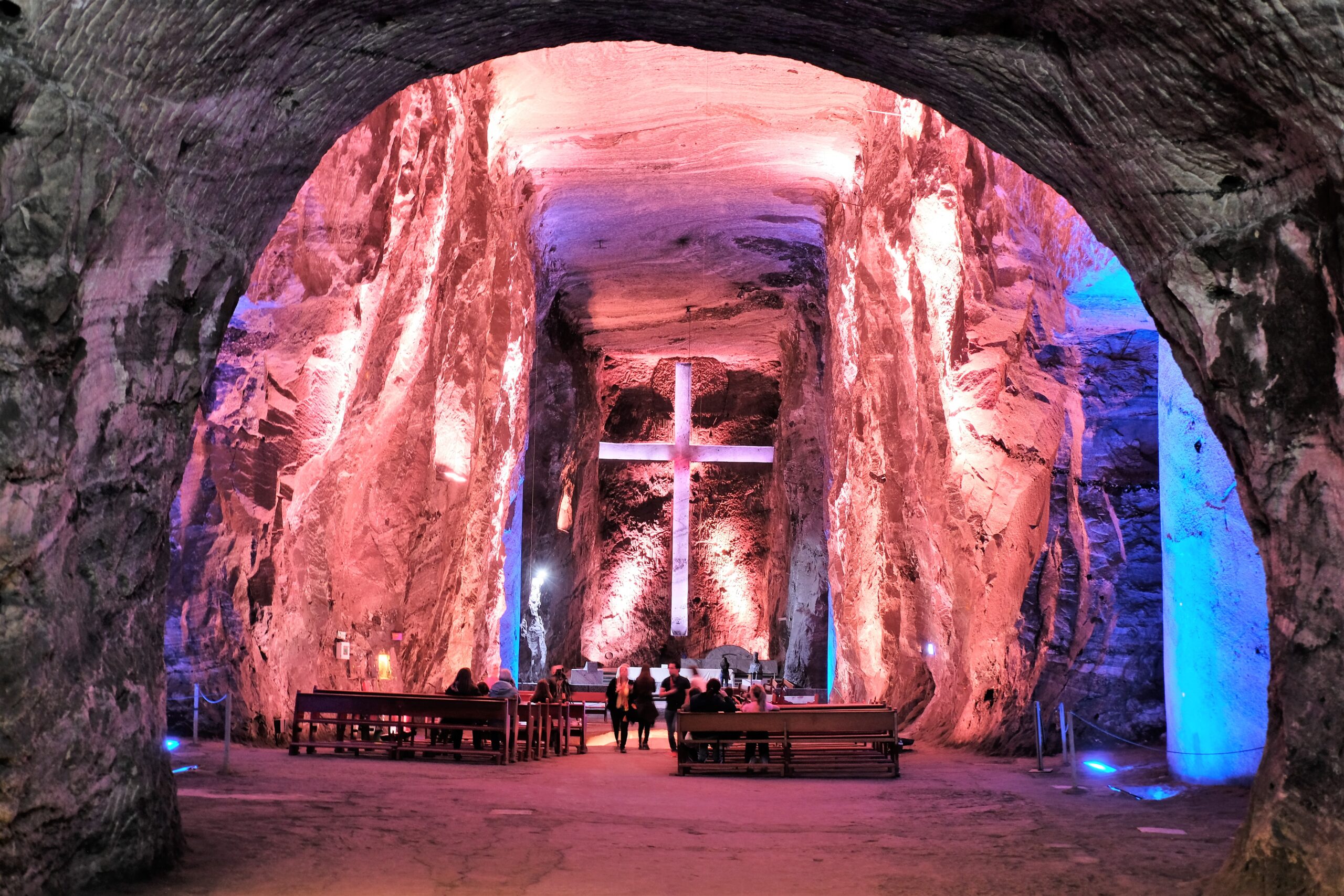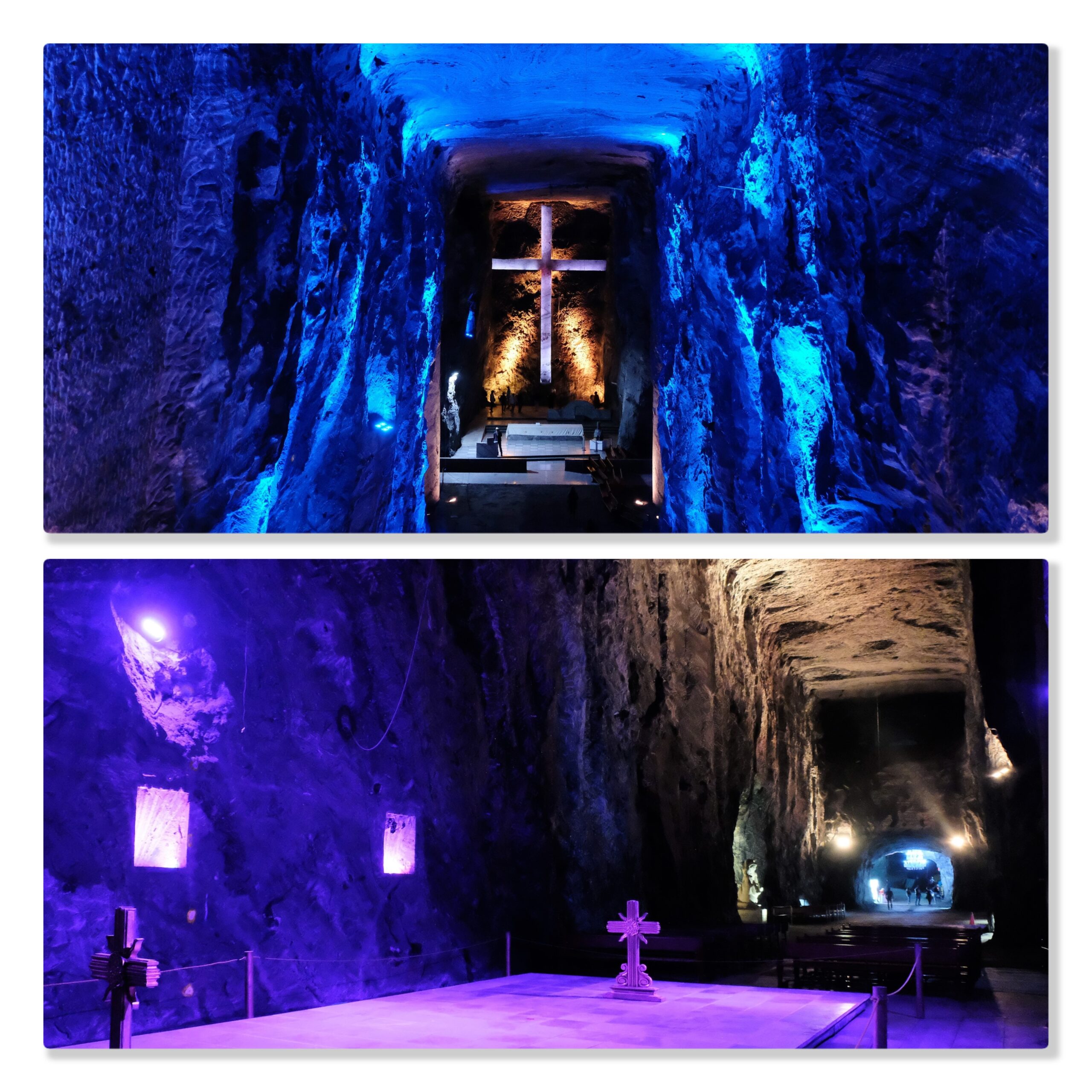 History of the Salt Cathedral
Salt Cathedral of Zipaquirá is a disused halite mine, a.k.a "rock salt". No, I'm not contradicting my earlier statement 😊. It is also a fully functional church, holding service every Sunday. With a capacity of 8000, around 2000 people attend regular service. Pre-Colombian Muisca's started mining here in 5th century BC forming an important part of their economy. At the beginning of the 19th century it was possibly one of the biggest halite mines in the world. The mine is around 200m, during mining, the miners dug out an area (around 1932) where they could pray daily for protection.
Converting the mine into the Salt Cathedral began in 1950, inaugurated on 15ht August 1954. It is dedicated to Our Lady of the Rosary; patron saint of miners. It has three naves and part of the galleries date back to the Muisca mine. The construction of the "cathedral" was done whilst the mine was still active, eventually causing structural problems. Both the mine and cathedral were shut down in September 1992 for safety reasons. I've found some costs of the construction, but USD 285 million cannot be right!?
What you see today isn't the original cathedral. The new cathedral's construction commenced in 1991 following a design competition. Today's cathedral is about 60m below the original, inaugurated on 16th December 1995.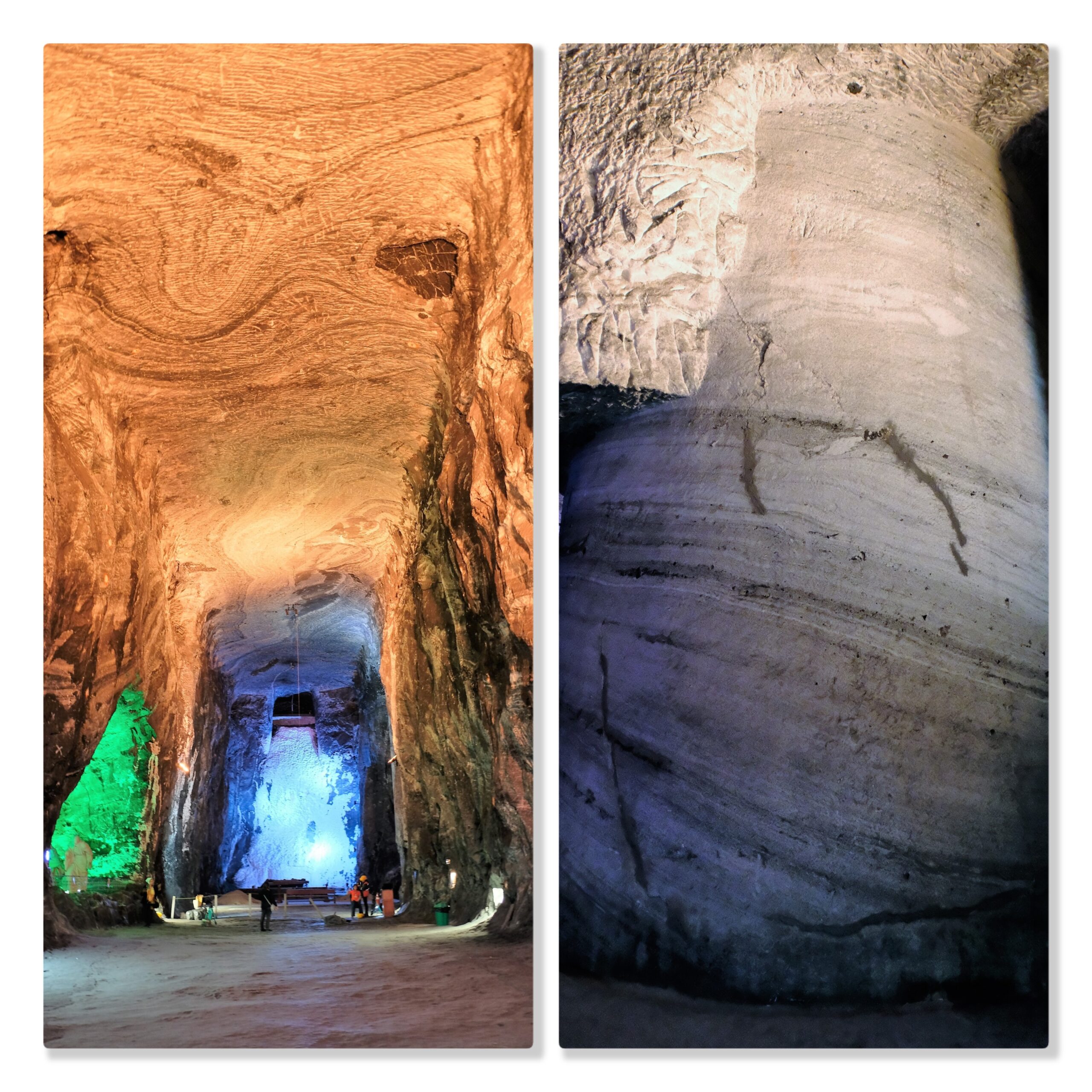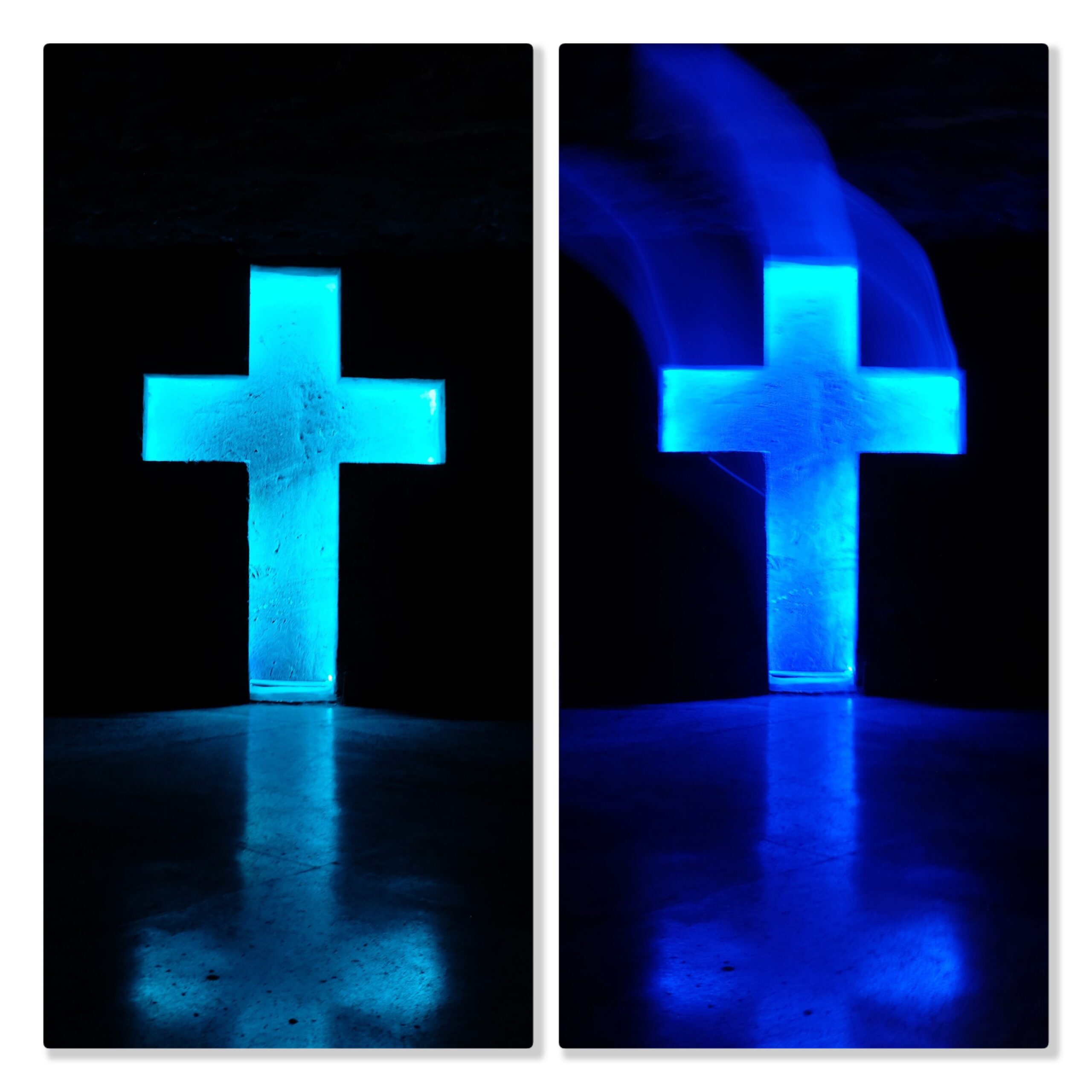 …the visit
It is impressive. More unexpected; from its unassuming entrance, entering into vast halls in what you would expect to be a dark, dingy hole. I'm glad I went but wouldn't go back. That's not to say you shouldn't go. If  you have free time in your schedule I'd recommend going. What I found most interesting was the rock formations. They look alien, very uninviting, almost eerily dangerous. Quite a contradiction considering its produce is use on/in our food every day. Of all places you could think of, this would be last the last place you would imagine finding something to put on/in your food. From luxury shops to fashionable health stores selling invitingly packaged organic rock salt…this place is quite a contradiction to their image.
One thing I must say, the Salt Cathedral is much larger than I imagined. Far from just a large hall, this place is more like a small town. From large halls, to tunnels, naves, nooks and crannies. You could wonder around here for hours if you wanted to.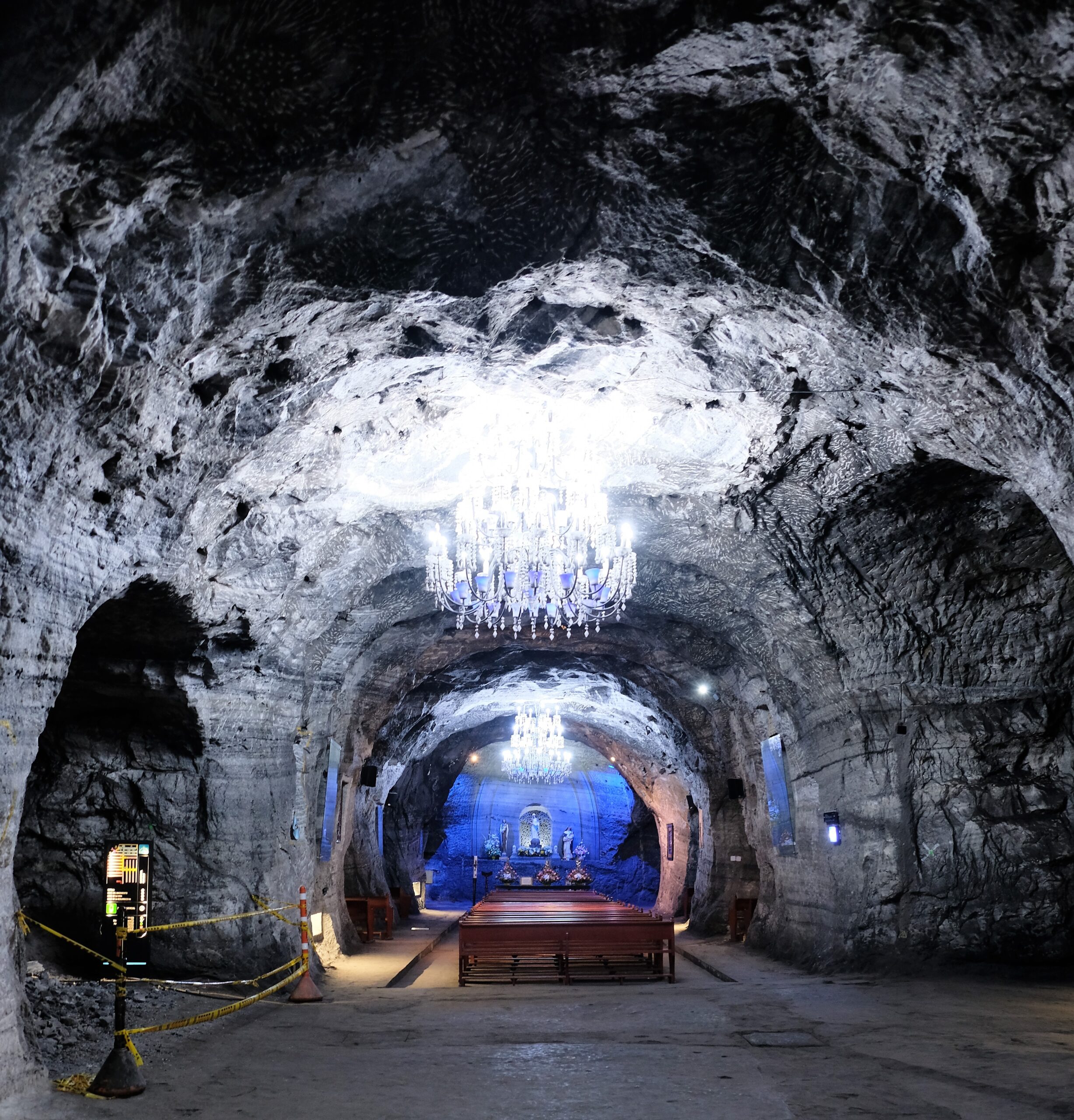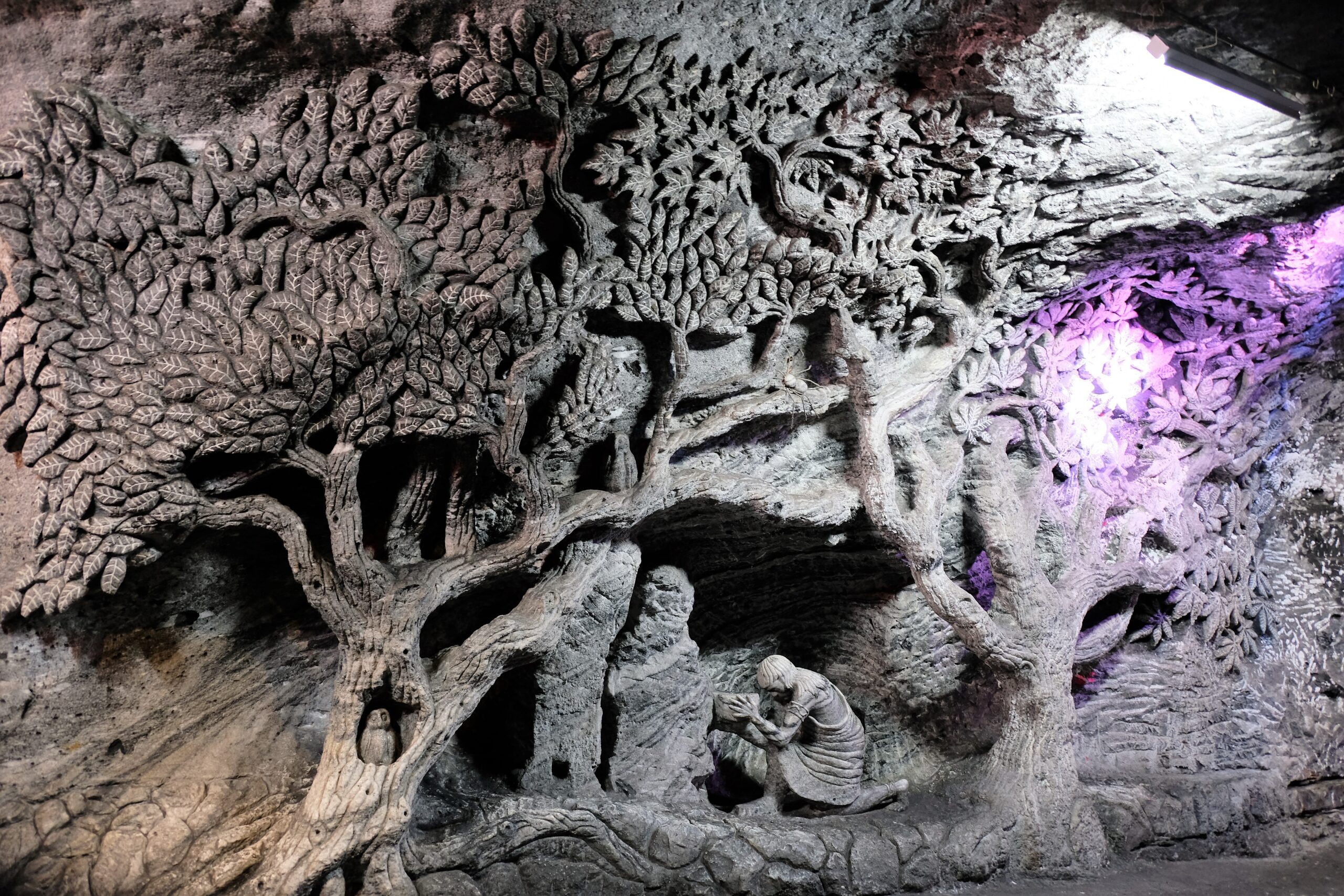 Off topic
I don't know what they do with the fruit and vegetables here in Colombia!? Think they use steroids 😊! In my last post I have a picture of a trolley fully of fruit. At my hotel I took this picture of a trolley full of avocados – biggest I have ever seen! You see these trolleys all over Bogota selling fruit and vegetables. I never bought any, don't know why, but I regret not.
Next post will be my last of Bogota. After that I headed off to New York, New York – so nice they named it twice (don't know who said that; I recall hearing it in a movie).