I was heading to Sucre, also known as the White City known for its sea of white buildings topped with terracotta rooftops. Plan was to be in Sucre for two days then move on to Potosi. That changed which I'll get into shortly. My last day in La Paz was quite long; spending the day at Tiwanaku then getting the overnight bus to Sucre. By the time I got back from Tiwanaku I was feeling worse than I had in the morning. At least there wasn't much else to do on the overnight bus to Sucre but sleep!
Getting from La Paz to Sucre
Retrospectively my brain wasn't functioning normally. Throughout the whole visit to Tiwanaku I took no notes at all. I cannot rely on my memory 100% on how I bought my ticket to Sucre either. Having gone through my emails I'm confident I asked the hotel's travel company to arrange the tickets. All other tickets I bought through ticketsbolivia.com, except I have no record of a ticket bought to Sucre, hence my deduction I arranged it through the travel agent. Tickets to Sucre are a standard route and cost around US$26-30. The more I think about it the more I'm sure I used the travel agency; I had no motivation to do anything! Back to the subject matter…the bus trip. There are a two commonly used routes from La Paz to Sucre. I chose the direct route; an overnight bus taking 12 hours if traffic and conditions depending…it can take longer.
Buses to Sucre
Of the two overnight buses going to Sucre I chose El Dorado (I hope ?), the other company is Trans Copacabana (cost was around 180BS). For a 12hour minimum journey and that it was overnight I wanted a full reclining seat, these are called "full-cama". Not all buses offer full-cama, most offer semi-cama (half reclining). Both El Dorado and Trans Copacabana offer full-cama. If I'm honest I didn't have too much faith for the bus and seat comfort nor that that the seat would in fact fully recline. I blame my pessimism on my declining health – I'm serious. Well, I was sorely mistaken! The bus was great, the seats were very comfortable, and they did indeed reline as flat as a bed. It was like a little pod, with some privacy too. Not like Business or 1st Class flights but for 180BS I was extremely impressed!
If it were not for the comfortable bus and seats, I don't know what I would have done. I tried my best to sleep but coughed the entire night. It felt like I was constantly drifting between sleep and awake, punctuated with constant coughing. Like I had mentioned previously I had not taken either antibiotics, instead using throat lozenges and plenty of cough syrup! To a make matters worse I kept hoping that my incessant coughing wasn't keeping any of the other passengers awake – thankfully the bus was quite empty!
The journey there
Can't say much about the journey there. What I do remember is opening my eyes occasionally, seeing the side of the road rising like a mountain covered in snow. I think the route we took would be a scenic one and worth doing during the day…maybe a two-day trip with a stopover. I'd love to tell you what time I left La Paz, but I can't remember. Except it may have been around 20:30, arriving in Sucre late morning, maybe 9:30/10:00. To be honest the journey was a blur and I felt like shit throughout, though that had nothing to do with the bus nor journey. About the only thing I do remember is La Paz Bus Terminal, very different to what I have experience in London, it was interesting, loud but actually very efficient.
NB. You can by your tickets upon arrival at the Bus Terminal, but tickets get sold out, so buying online or through an agent before your departure is recommended.
A caveat for my next week
Before I continue, I need to add a few conditions and caveats…not just for my time in Sucre, but almost for the next week! I didn't get to see much in Sucre nor Potosi. My condition for want of a better word got worse and I struggled on a few days just to get out of bed, some days I didn't. I really wasn't feeling well when I left La Paz. My rationale for leaving was that it may help, unfortunately this meant me missing sites to see and places to explore. Earlier I mentioned my plan was to stay in Sucre for 2 days. I extended this by 2 more days out of necessity as I spent the first one and a half days in bed.
Needless to say, I didn't do Sucre nor Potosi justice; trying my best on days when I felt better than worse to get out and explore. On the days out I was just going through the motions which just irritates me. Walking by places without giving them a second glance, taking pictures just because of habit. This is my way of asking for leeway for the next few blogs if they come across as lean or disinteresting. I doubt Sucre nor Potosi are the highlights for anyone's visit to Bolivia, but they certainly do offer more than what I saw and did.
Arriving and accommodation!
I arrived at Terminal de Buses Sucre (Sucre Bus Terminal) late morning and headed to my accommodation, B&B Santa Cecilia about 2.2km away – it felt like 10km away in my state. By the time I arrived I was exhausted, sweating as if I'd run a marathon. After checking in, I literally dropped my bags on the floor of my room and crashed on the bed. At some stage I woke up and ate a banana and protein bar and went back to bed…waking up too often to count by my own coughing!
My accommodation B&B Santa Cecelia was a decent place, I'd say above average which was reflected in the price US$25 per night (including breakfast). From the outside it didn't look like a B&B; a double story white wall with large wooden door. Honestly, I think only recall seeing the owner four, maybe five times and they were very friendly. This was not because of their lack of service, it was because of my irregular sleeping and lethargic starts to my late mornings…just in time for breakfast! When I needed help they were accommodating without trying to "sell" anything. The location is perfect, right only a few blocks from 25 de Mayo Square (the blocks are small ?). If I went to Sucre again, I wouldn't hesitate to stay there again. I'm not sure how good a guest I was, speaking very little and I hope I didn't annoy other visitors during the night with my incessant coughing (sorry!).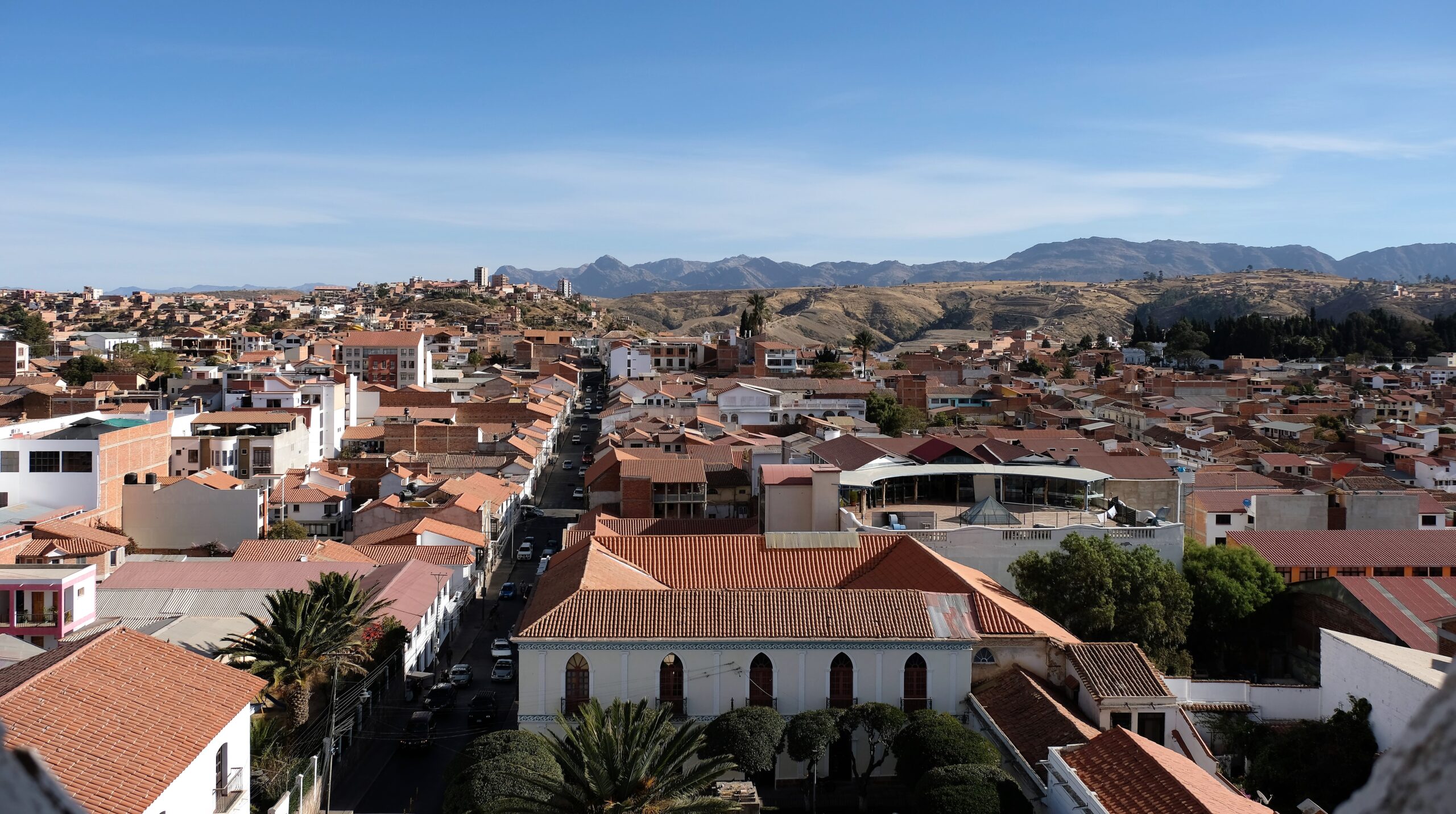 Sucre
Back to my visit of the White City, Sucre and less loathing in memories of self-pity hahaha! Sucre, lies lower than La Paz at 2810m above sea level. I may not recall many of the details of my time in the city, I distinctly remember the air feeling crisper and fresher. Like the majority of Bolivia there is a quaint feeling of being in a Spanish village. Here is Sucre with all the white buildings is like a much larger version of the white village, Zahara de la Sierra. It is an old city, has a historical significance to the Bolivian people not just because it is the constitutional capital of Bolivia. Small compared to La Paz, still it is the 6th largest city in Bolivia by population size.
Pre-Colombia this area was known as Chuquisaca, which was part of the Inca Empire. Far from its past former prestigious ranking within the region it is now somewhat less significant in reality even though it is the constitutional capital. Sucre has one of the oldest continuously used universities in the world Universidad Mayor Real y Pontificia de San Francisco Xavier de Chuquisaca / University of Saint Francis Xavier which was formed in 1624. The city also holds the seat of the Roman Catholic church in Bolivia. A little earlier I mentioned Sucre's low altitude (compared to many of the other cities); this gives it a mild temperature throughout the year and a more forgiving environment too. These attributes made the city the favoured base to work from especially during the silver boom days when Potosi was exceptionally wealthy – more about that when I write about Potosi in my next post.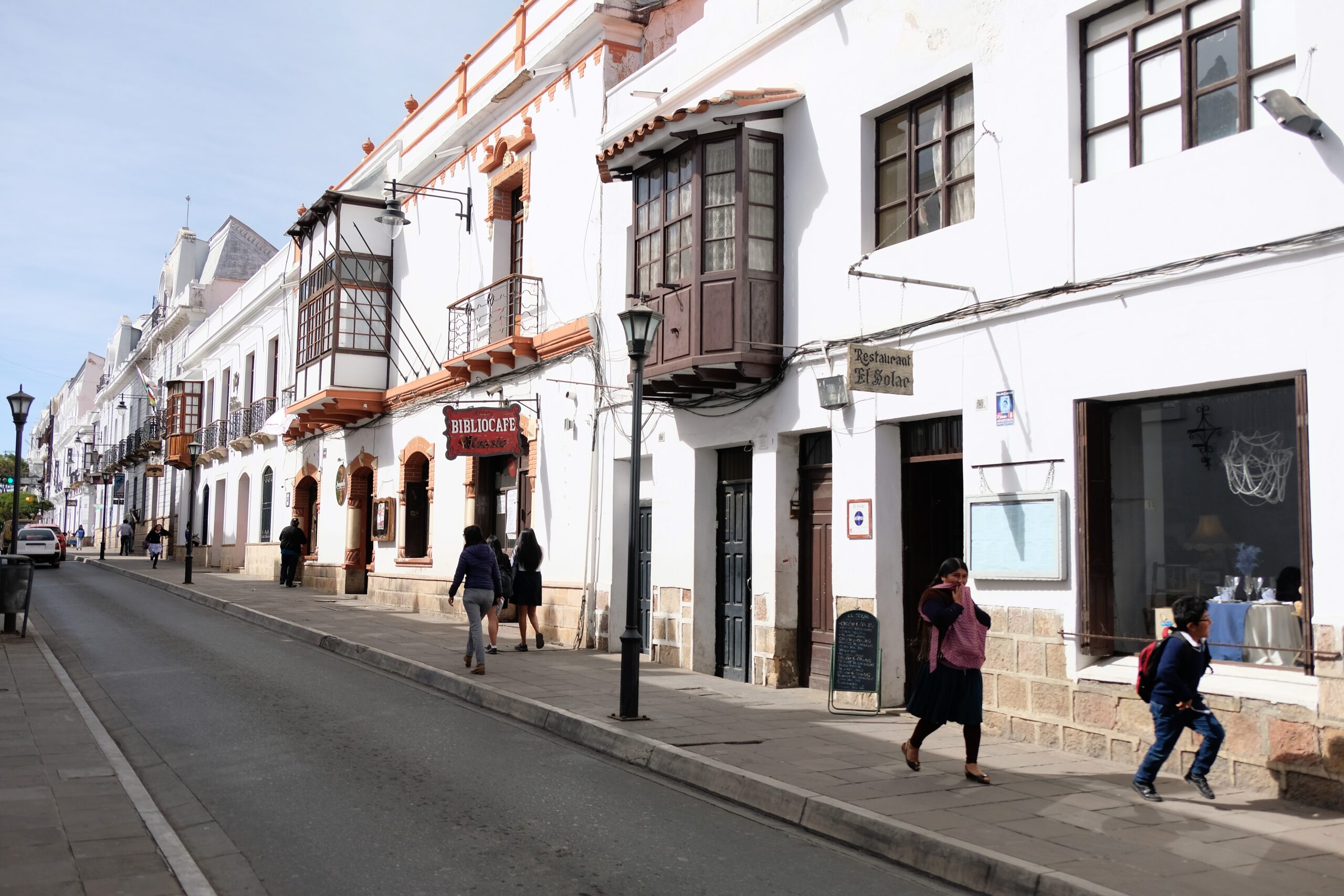 History
The White City has been called many names during its occupancy. In pre-Colombia times it was Chuquisaca, occupied by the Charca People (Aymara speaking people) which encompassed the Inca Empire. During the Spanish Empire times it was referred to as La Plata. It was given the official name of Ciudad de la Plata de la Nueva Toledo (City of Silver of New Toledo) by Pedro Anzures, Marqués de Campo Redondo on 30th November 1538. The area was corralled into a larger region by the Spanish King Philip II called Audiencia de Charcas in 1559; this region included what is now know as Paraguay, South-eastern Peru, Northern Chile and Argentina and most of Bolivia. Up until 1776 this whole region was under the administration of Viceroyalty of Peru, then it was transferred to Viceroyalty of the Río de la Plata.
Bolivia's independence movement started in Sucre with the ringing of the bell of Basilica of Saint Francisco. The bell still exists today where it rang out on 25th May 1809 to near breaking point. Still called La Plata until the early 19th Century it was the judicial, religious and cultural centre of the region and installed as the capital of Alto Peru (later, Bolivia) in July 1826. President José Miguel de Velasco announced on the 12th July 1839 that the city's would become the capital of Bolivia. During this same announcement he also changed the city's name to Sucre, named after the independence revolutionary leader Antonio José de Sucre. After the decline in Potosi's silver industry the capital city of Bolivia was changed to La Paz. Bolivia gained its independence from Spain in 1825, and today Sucre is a UNESCO World Heritage Site
Sites to see
I'll put money on this…ask anyone who has been to Sucre what their top two places to see are. The answer will be the rooftop of Convent of San Felipe de Neri and the dinosaur footprints on the cliff of Cal Orck'o. It may not be in that order but I'm more than confident both will feature.
Convent of San Felipe de Neri
Less than two blocks from 25 de Mayo Square is the unassuming Convent of San Felipe de Neri (by comparison to the other historical buildings). What has made Convent of San Felipe de Neri a top tourist attraction is its rooftop platform and the panoramic views it offers over the White City. It was built by Friar Antonio de San José Alberto as a monastery from 1795 to 1799 solely using stone from Churuquella hill nearby. These days it is part of the all-girls school Colegio Maria Auxiliadora / María Auxiliadora School. Convent of San Felipe de Neri is a pretty building in its own right. Neoclassical in design, the large central courtyard is surrounded by the double story building. Unlike many Spanish courtyards the balcony arches are high and wide make the corridors and courtyards feel like one. Forgot, there is an entrance fee, it is less than US$1, yes less than one dollar!
Convent of San Felipe de Neri Chapel is nice, so is the courtyard…let's be honest, people come here to get the rooftop views! I've been on quite a few church complex's rooftops, Convent of San Felipe de Neri is right up with St' Peter's Basilica – of course not in size and grandeur. This rooftop is subtle, the kind of place where you go to contemplate and get solace. Likes a desert oasis, this is Sucre's oasis, with a terracotta tiled floor and white varying sized walls. You could have 100 people up there each with their own hidden space. There are bell towers of different shapes and sizes. The floor (roof) is multi-level which makes it feel like each level was designed separately. I wouldn't call the views spectacular; they are expansive and pretty. A semi bird's-eye view across what once was the most important city in Bolivia. Now we come here to see the White City away from the crowds and admire its past from this rooftop of Convent of San Felipe de Neri.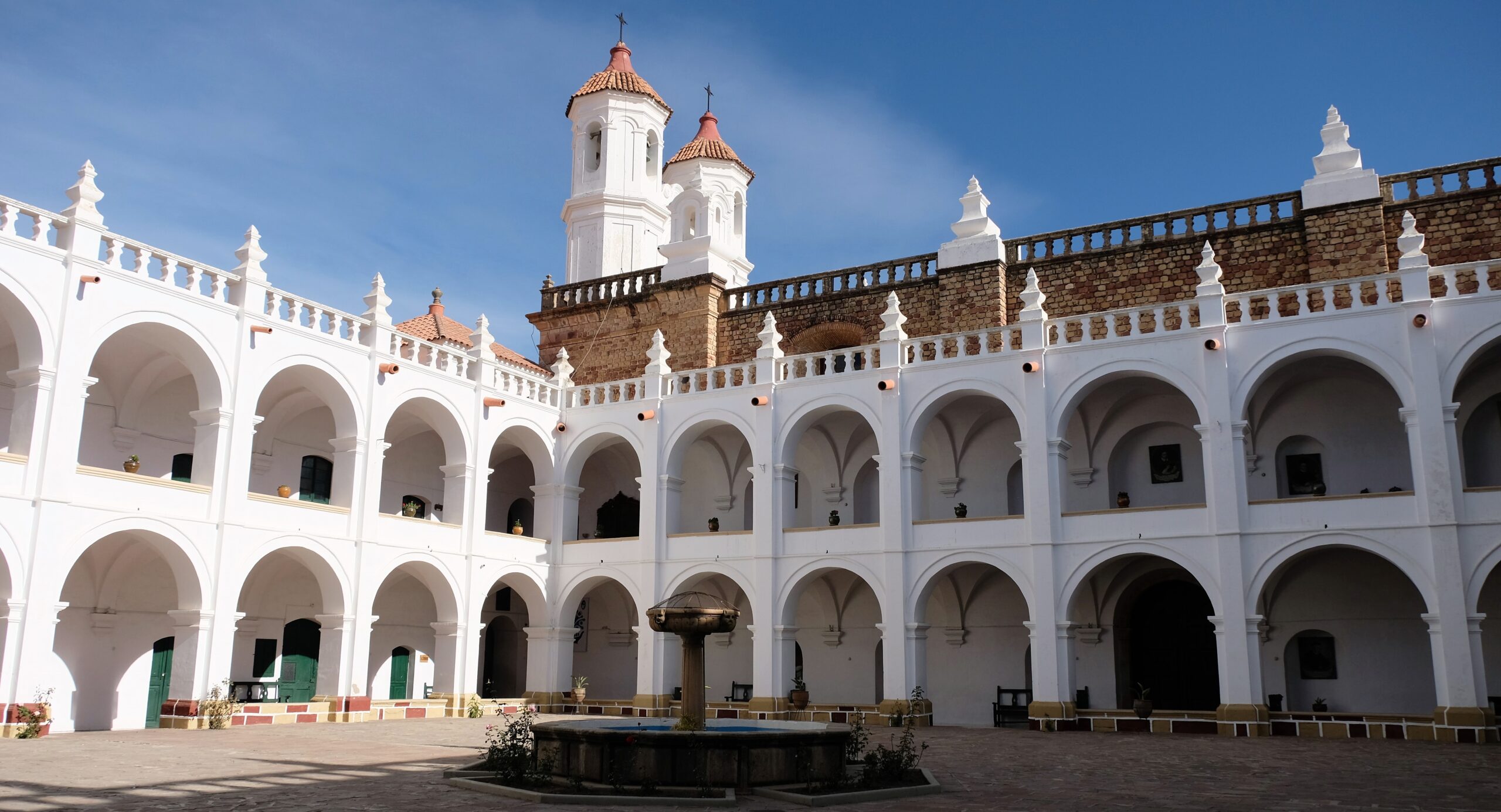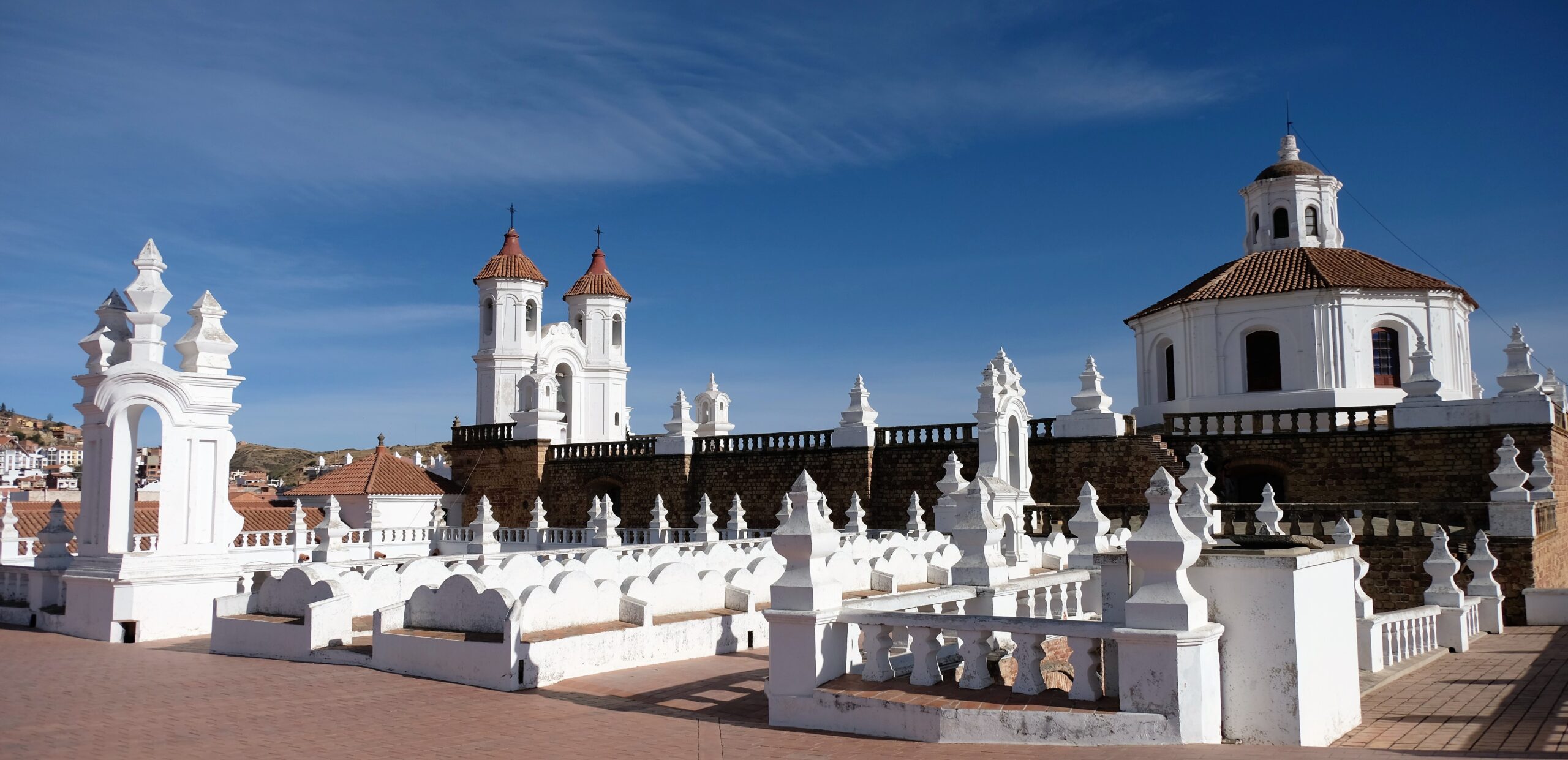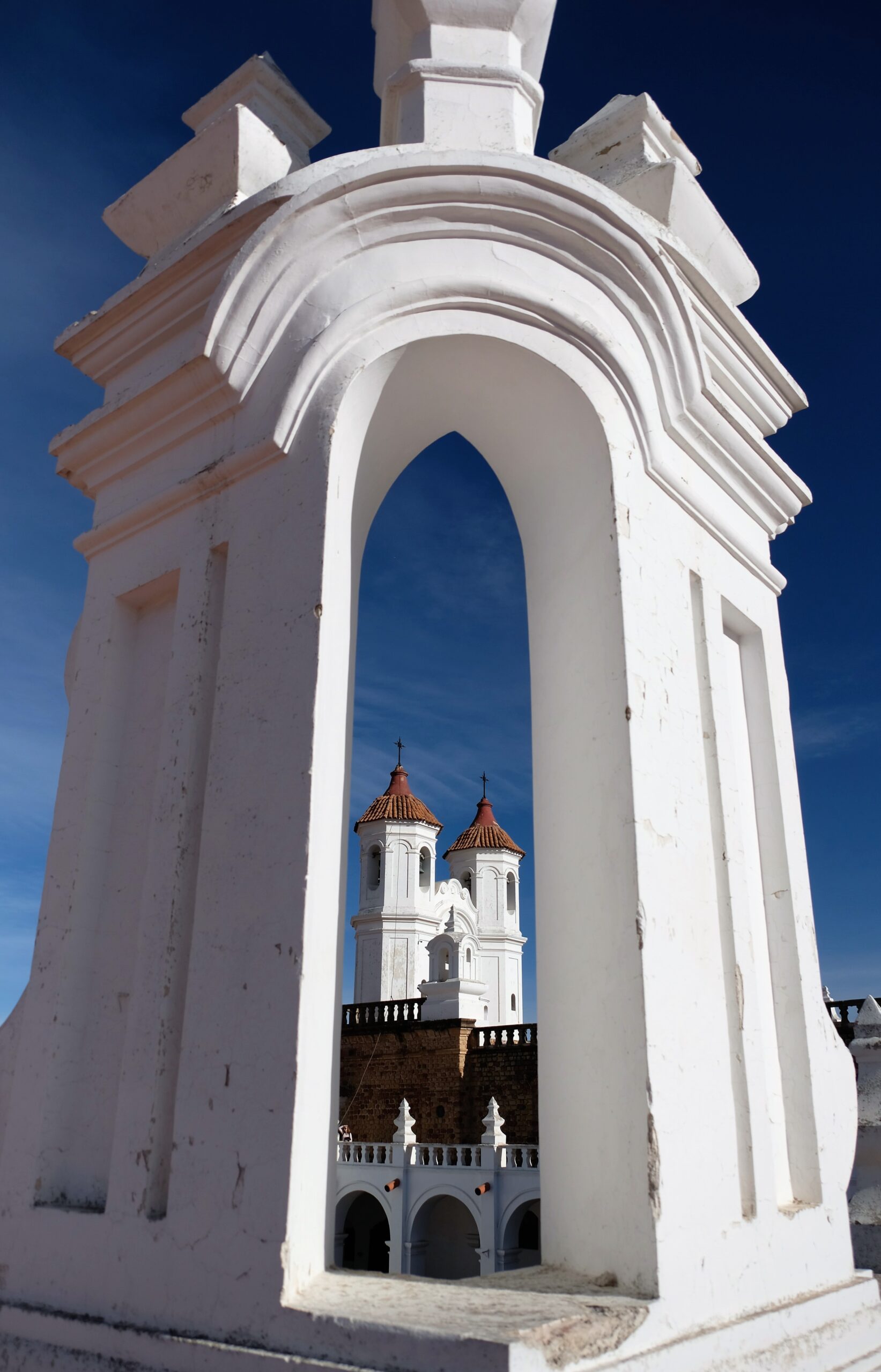 Cal Orck'o – Cretaceous Park
Sucre is an old city but nothing compared to the footprints left at the Cretaceous Park. Those date from 68 million years ago! Cal Orck'o lies about 8km from 25 de Mayo Square with regular bus services from the city. At first sight it looks like someone has cut a hill in half like a cake. What you see is a near flat surface around 1.2km long and 110m high. You might think dinosaur foot prints a common, not so at all. On display at Cal Orck'o is one of the largest collections (natural) of footprints from Mesozoic Era, Cretaceous Period (Upper Maastrichtian).
So that I don't get my facts mixed up, here is the explanation from the Cretaceous Park's site. "Towards the end of the Cretaceous period, 68 million years ago, there was a large marine entrance extending from the South Atlantic coast, crossing what is now Argentina, until the Valley of Potosi in Bolivia. The Late Cretaceous was a time of warm climate and it was characterised by periodic floods, in ta landscape dominated by plant forms such as ginkgo, conifers, pine, cycads and agnolias. During this time, the huge titanosaurs, the last giant long-necked dinosaurs, were roaming the plains leaving their footprints in the clay soil of what is not the most important cliff of dinosaur footprints in the world, Cal Orck'o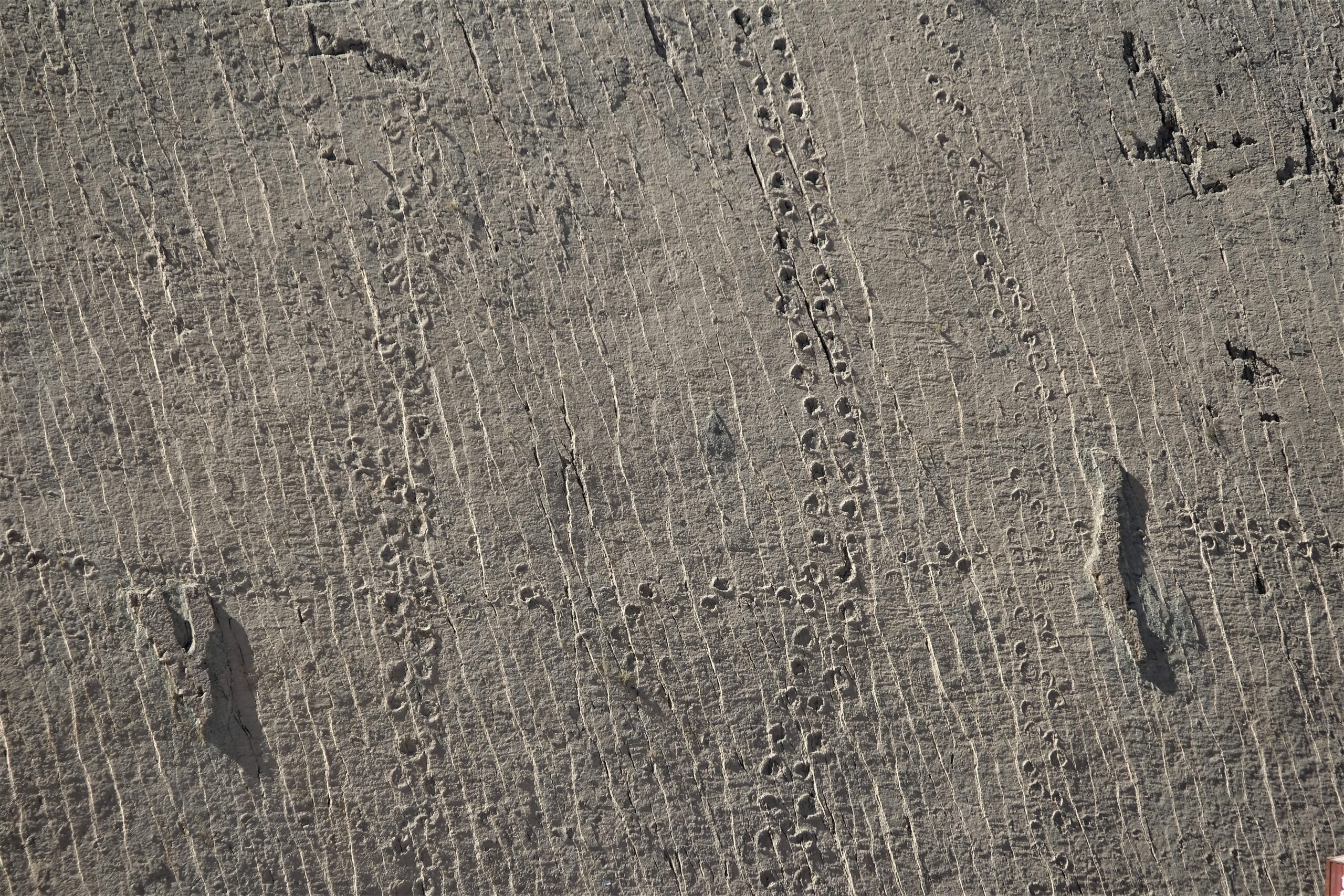 Among the immigrant species were herbivorous dinosaurs such as hadrosaurs with gregarioys habits, which travelled in large herds that included many adults and juvenile specimens. Ankylosaurs and ceratopsians were in these migratory groups who were searching for food and escaping from predators that followed his traces. During the rainy season these lands were flooded with mud, a layer of sediment was formed encapsulating and preserving the footprints leaving the stage set for the registration of new steps. And the dinosaur's footprints from Cal Orck'o were formed.
Later, during the Tertiary the Andes began to form due to the continuous movement of the continental masses, radically changing the topography, forming hills and mountains, raising the central valley of Bolivia and the Potosi Basin, taking that land so high that they were separated from the sea, these movements formed the Highland and nearby regions, this was what was once a beach became the cliff where the dinosaur footprints of Cal Orck'o and exposing one of the most important, extensive "trace fossils" of the world. The dinosaurs footprints of Cal Orck'o has more than five thousand tetrapod footprints of about 15 different species, among which are the titanosaur sauropods, theropods, ornithopods and ankylosaurus" – Quoted from Parque Cretacico
I won't say much else about Cal Orck'o other than my disappointment with my pictures. Why I did not take a close-up with some sort of perspective I just don't know. Some of the footprint are more than a meter wide! Visiting Cal Orck'o felt serial also gave me a feeling of insignificance. You can almost touch the footprints, made by remarkable creatures incomprehensibly in the past. We get to occupy such a minute time in the grand scheme of things yet think we are masters of the universe.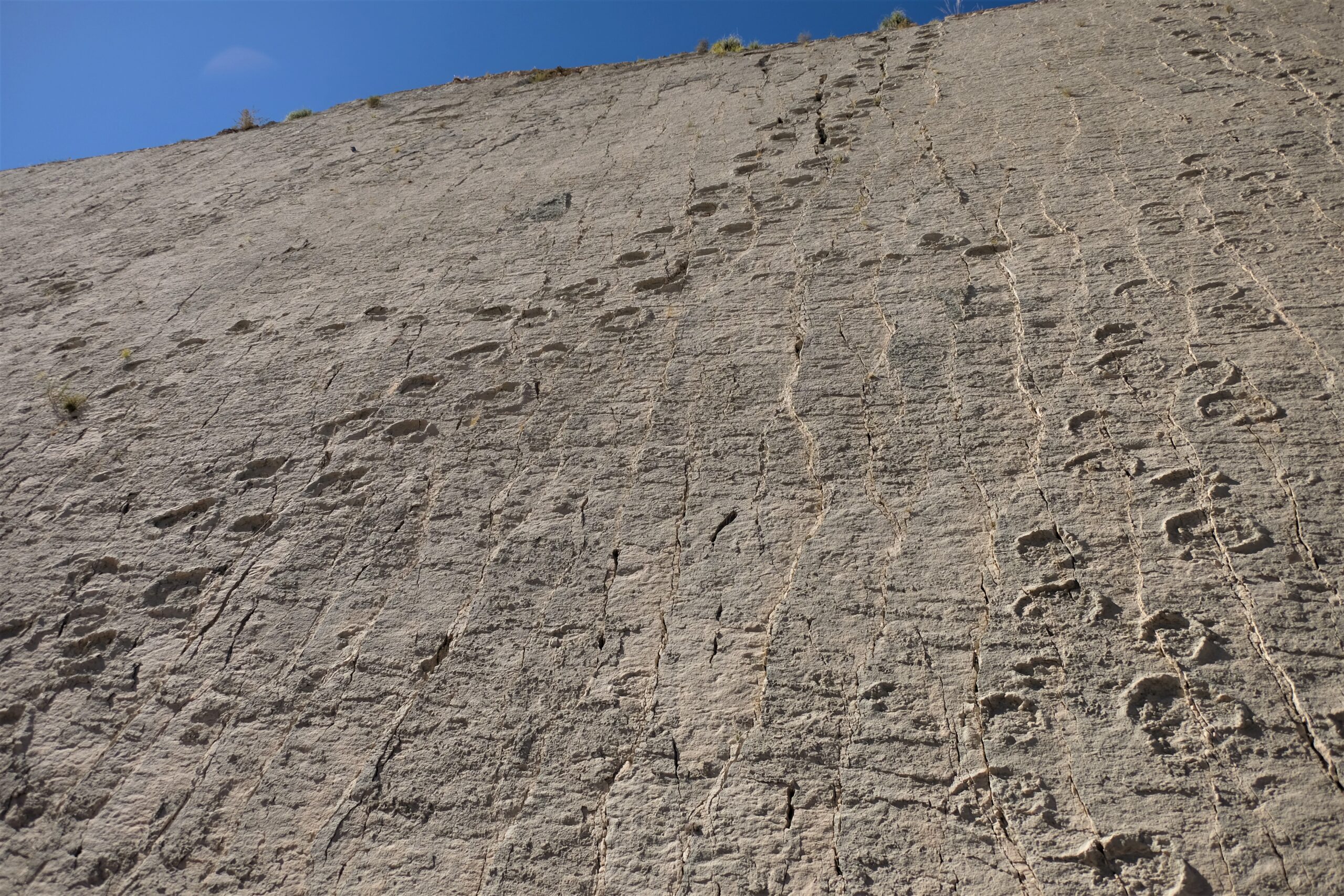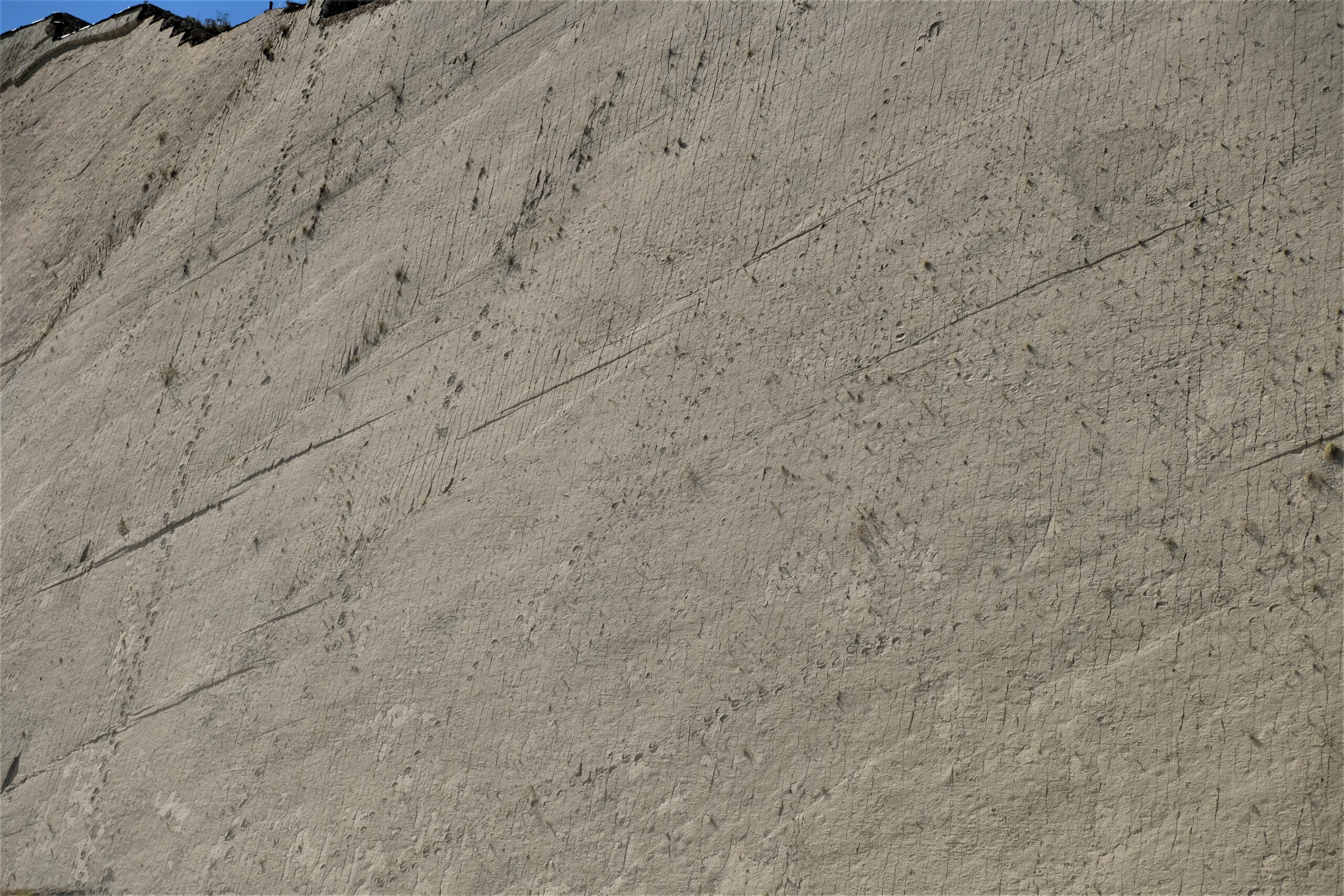 25 de Mayo Square
As almost every town, village, city in ex-Spanish colonies there is a central Plaza, Sucre is no different. 25 de Mayo Square, also referred to as Plaza Mayor and Plaza de Armas sits in the heart of historical Sucre. Surrounding this quadrant of cultural and historical heritage is: Casa de la Libertad, Metropolitan Cathedral and Municipal Mayor's Office and the Interior buildings. This is where you will find tourists and locals lulling about or sitting on the benches watching people and time pass by. 25 de Mayo Square homes monuments of some of Bolivia's more revered independence revolutionaries like: Libertador Simón Bolívar, Antonio José de Sucre and Bernardo Monteagudo.
There were a few instances during my time in Sucre when I ran out of steam and motivation. Everytime this happened I found myself parked on one of the seats in the plaza and just chilled. I do enjoy watching the people. Here you can sit in the shade, recharge, and soak up the relaxed environment of the White City. Whereas some plazas are like ornamental peacocks, 25 de Mayo Square has authenticity. This is were locals come to a pretty place which just so happens to be historically significant too. It is a place to honour people of the past and where people of the present come to enjoy its solace. Though it is the centre of the tourist area, there are more locals than tourists…something I really like.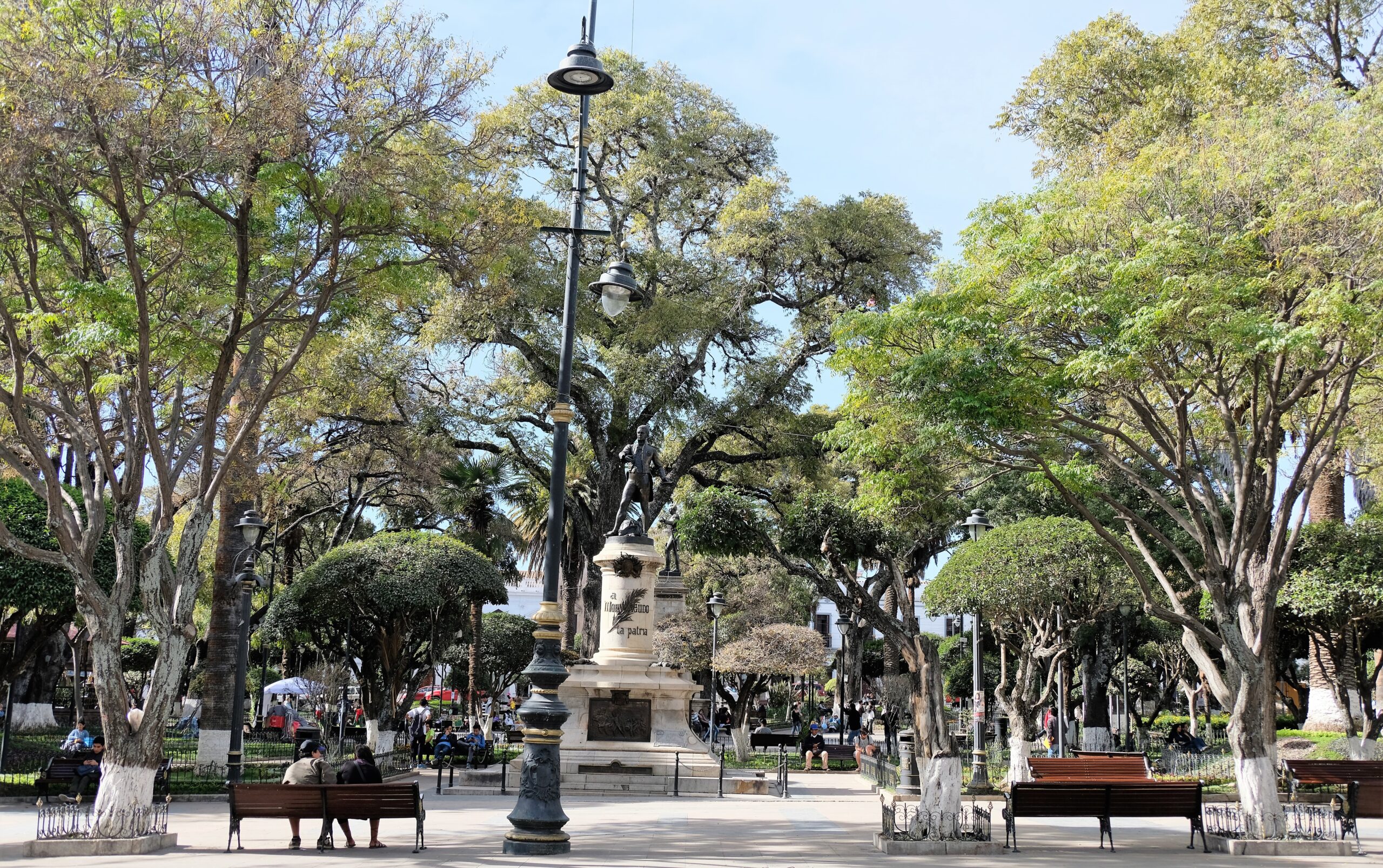 Casa de la Libertad / Freedom House
A mildly interesting building from the outside, it hardly stands out amongst others around 25 de Mayo Square. Its exterior hides some of Bolivia's most important moments of independence. What is now a museum of Bolivian history started off as the chapel for Jesuit priests, the building formed part of the Jesuit Block of the city. Freedom House is where the Act of Independence of Upper Peru was sign in 1825. Here too is where Bolivia's first constitution was drafted. Freedom House's Independence Hall is where Bolivia's Congress met until 1898 like the UK's House of Parliament. An unassuming building from the outside yet historically the most important building in Bolivia representing the formation of the country as we know it today. No longer a political building, today it is the central depository of Bolivia's history, now incorporating the areas indigenous people too. Freedom House is not a big lavish museum, that's not Bolivianos style. Instead is represents their struggle in a proud yet modest and honest manner.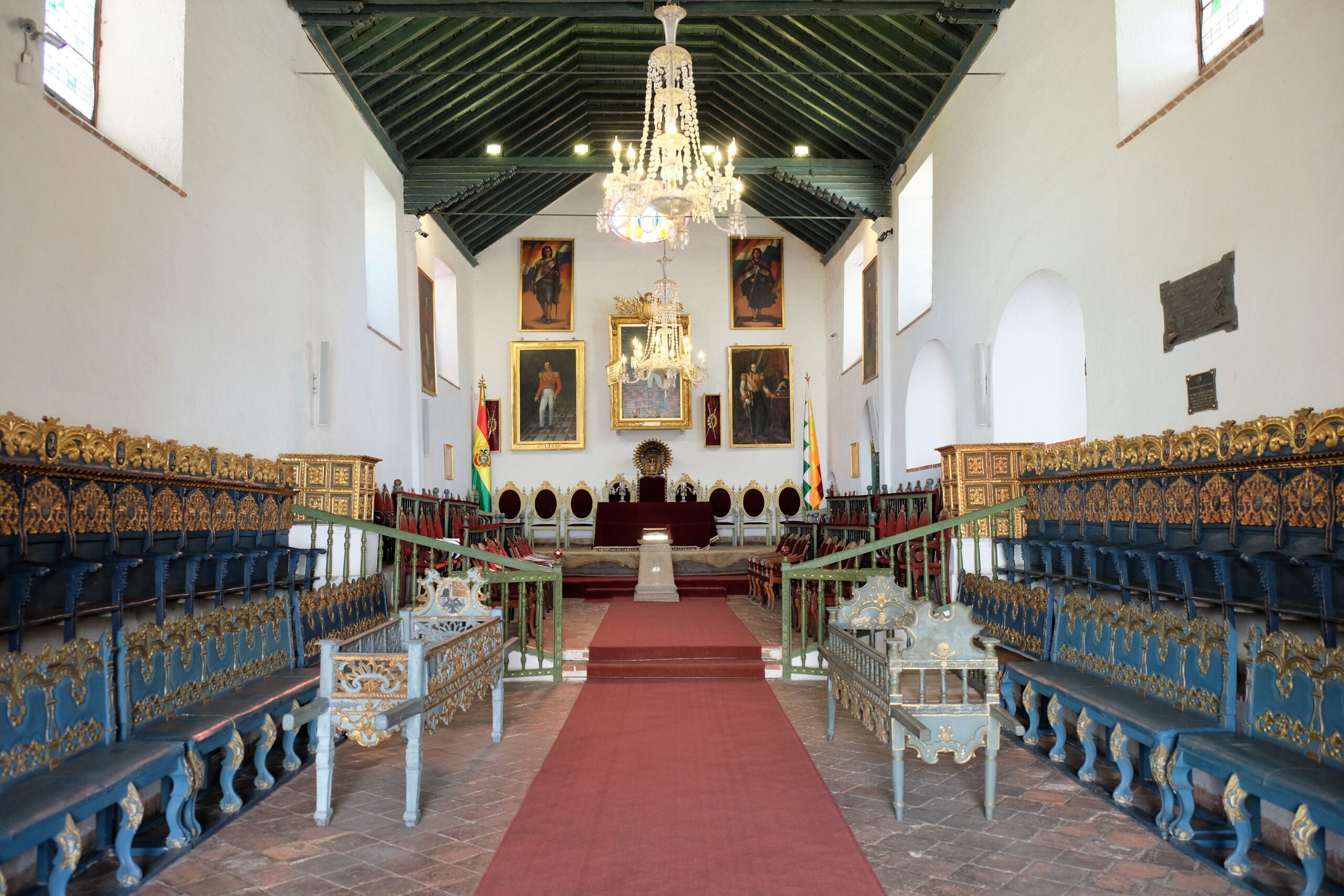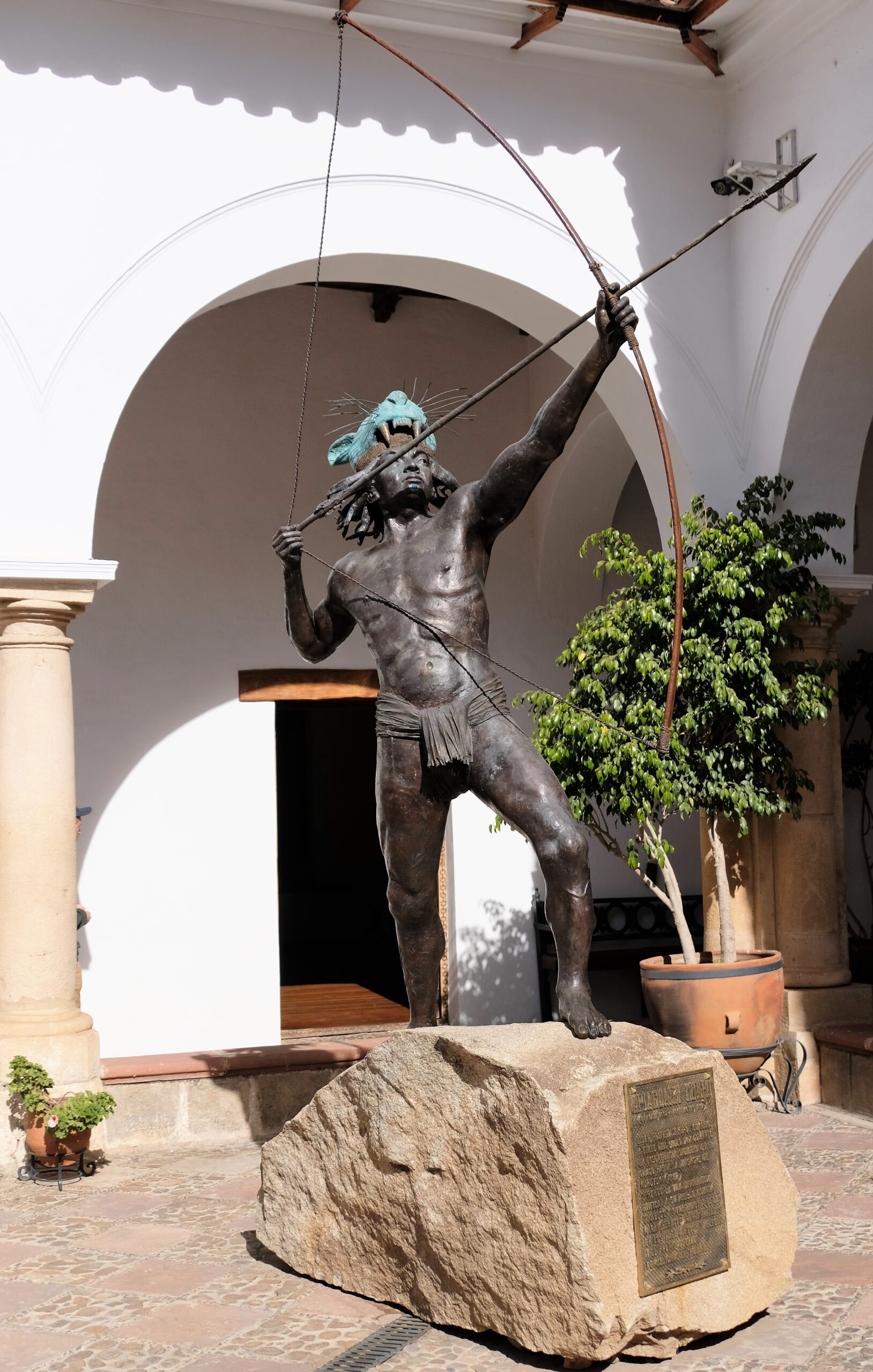 Sucre Cathedral / Metropolitan Cathedral of Sucre / Cathedral Basilica of Our Lady of Guadalupe
Holding the seat of the Roman Catholic Church in Bolivia, Sucre Cathedral is the most important religious building in Sucre. The church started in 1552, but building only commenced in 1559 and added to in 1712. Stylistically it is a mix of Renaissance, the part built in 1552, and Baroque additions of 1712. Like many old churches in Bolivia, they would have been the epitome of Spanish elegance and ostentatiousness when built. As Bolivia's financial wealth declined (much linked to the decline in silver prices and desire), so to did the churches wealthy patrons. Old churches in Bolivia represent a unique moment in time; the changing financial exploitation and decline of the country's economic fortunes.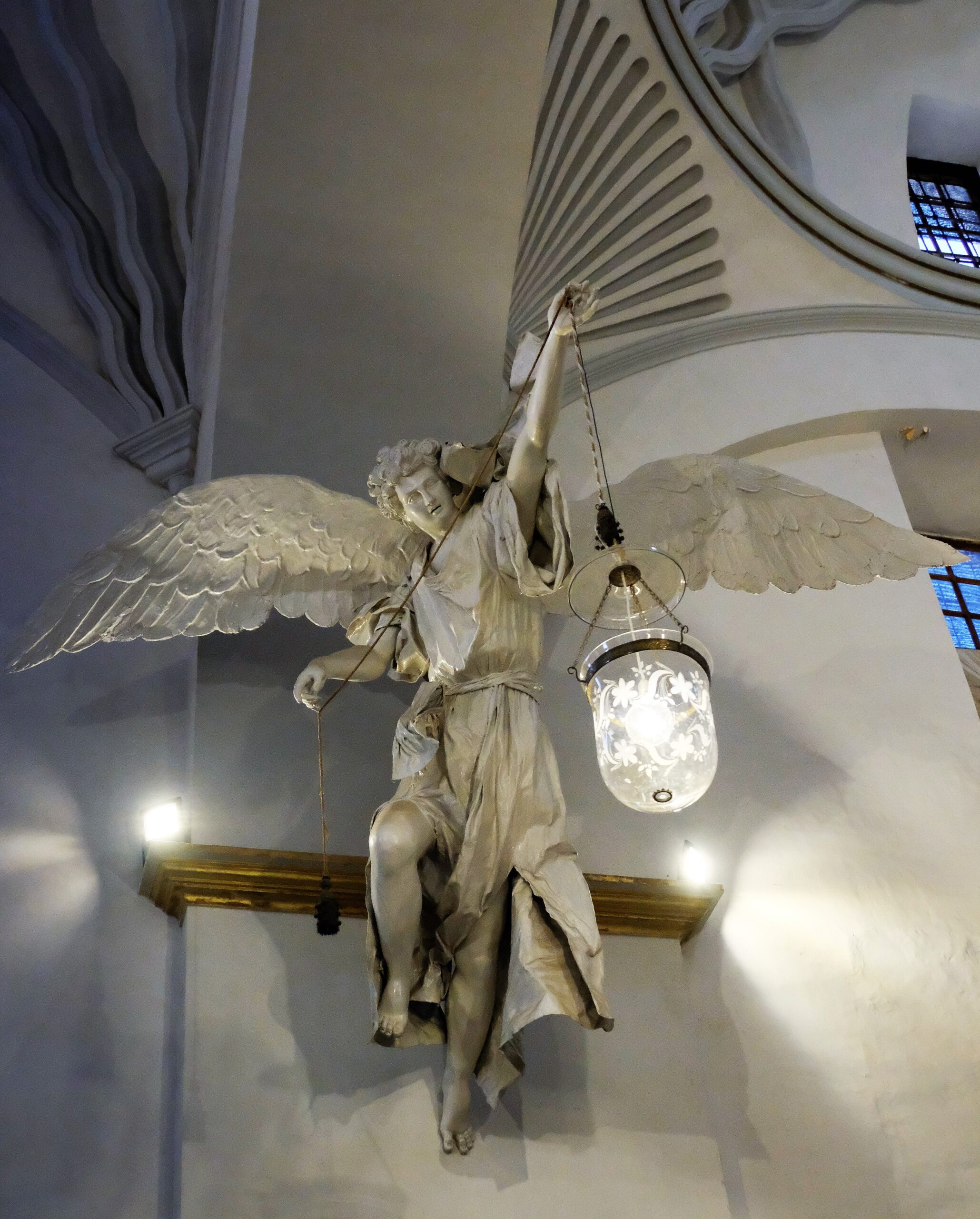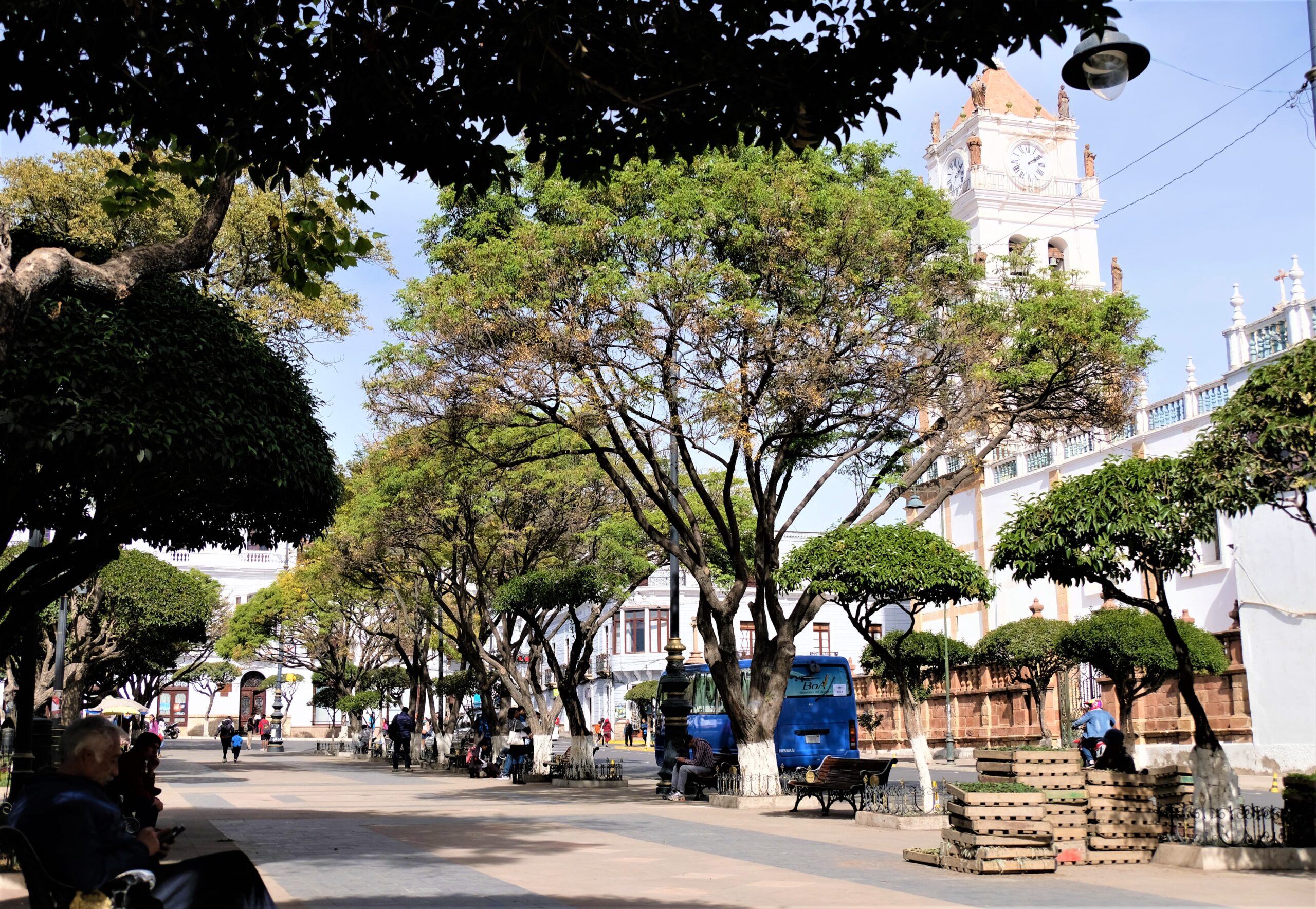 Chuquisaca Governorship Palace
The building was closed during my time in Sucre, which is a pity as it represents the first government public building after independence. A proud building by anyone's standards, it was built in 1896. Upon completion this was the Palace of the Government of Bolivia. I'm sure when it was inaugurated it would have been to grand pomp and ceremony and joy throughout the country. Sadly, when the capital city moved to La Paz it lost some of its significance. These days it houses the autonomous seat of the regional governorship of Chuquisaca; now referred to as the Chuquisaca Governorship Palace.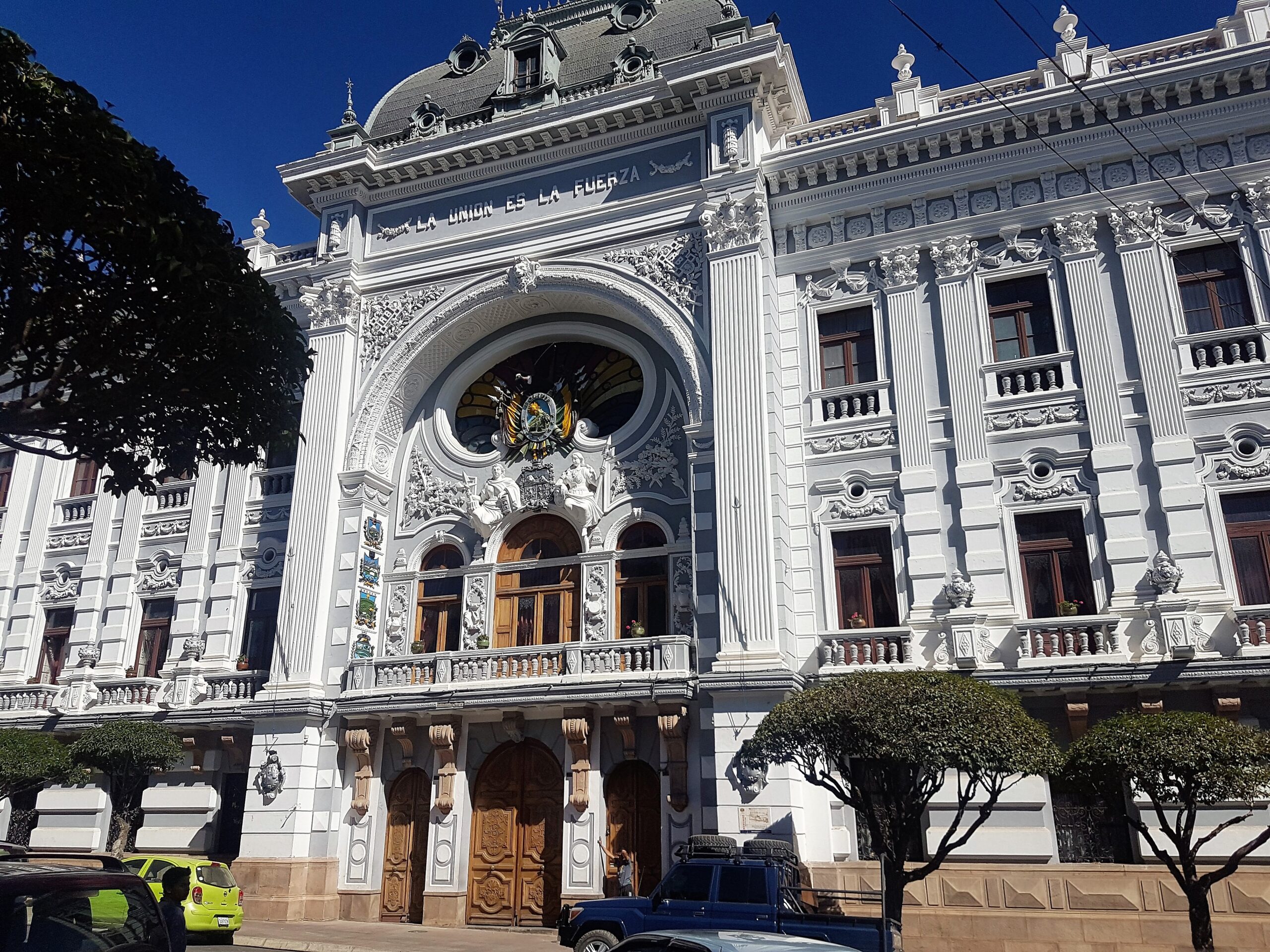 Food
I tried a few small restaurant but wanted to treat myself on an evening I was feeling a little better. You know what it's like when you're not feeling well, you just don't have much of an appetite. One place I can recommend is ON GastroBar, a combination hotel, bar and restaurant the decor is strikingly camouflage by its exterior. Compared to everything else I saw in Sucre this place would fit in any swanky part of any metropolitan city. The stylish interior is matches by the food; a classy twist on national dishes many with Spanish undertones. Friendly service even though I look dishevelled. I gobbled my food with gusto and delight…my body needed it!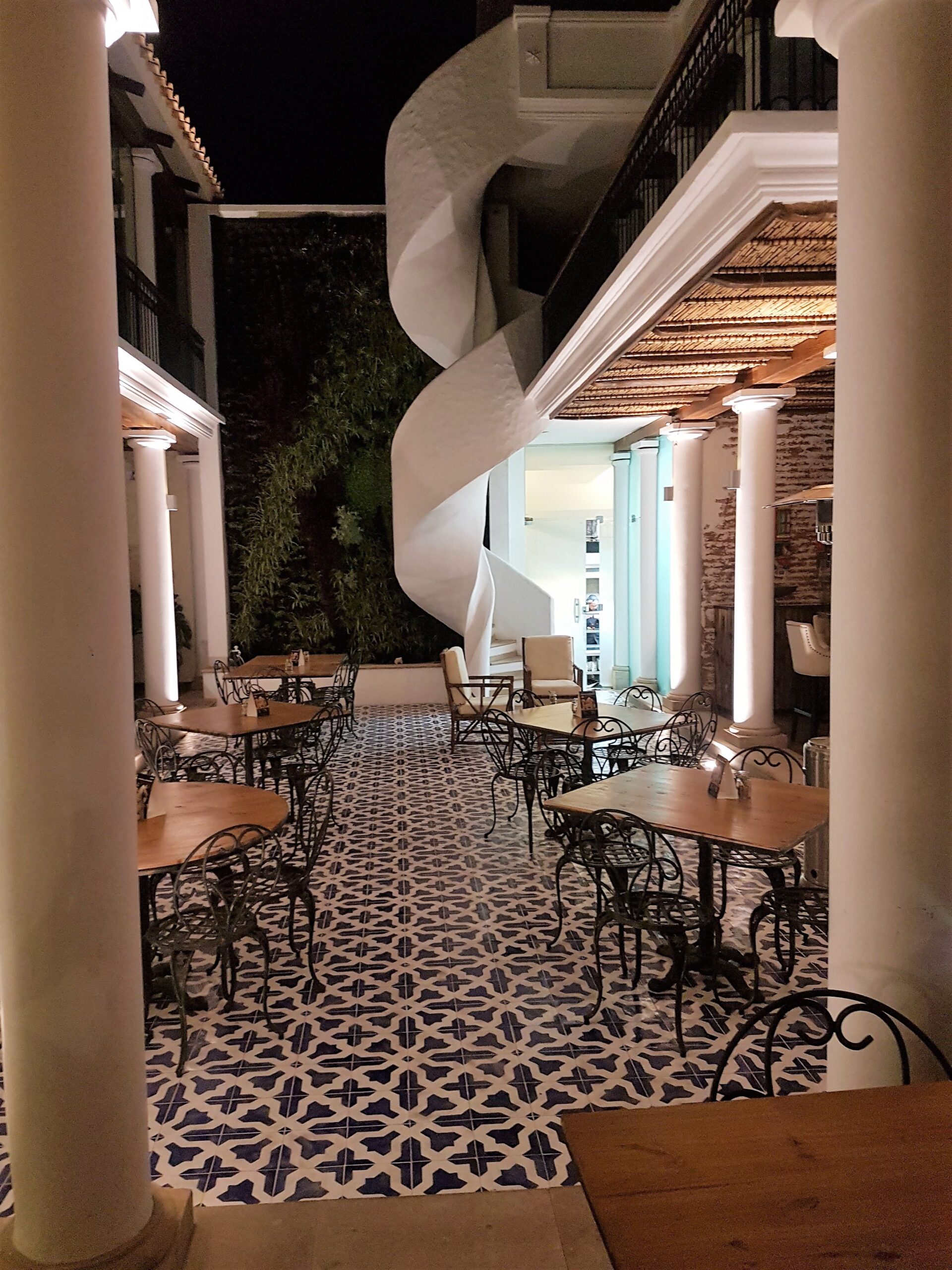 Next up…Potosi
Embarrassingly that's it for Sucre. As I mentioned in the beginning my four days here were not productive. Looking at my pictures I can hardly say they are good. Even so, not all memories are bristling with sunshine and smiling faces. Sucre and Potosi were on route to my actual desired location…Uyuni, specifically to visit Salar de Uyuni – Uyuni salt flats. Next post will be on Potosi, once one of the wealthiest cities in the world…that was a long time ago. Thanks for reading. I'll post these pictures and more which didn't make the post on my Batnomad Facebook page a few days after posting this.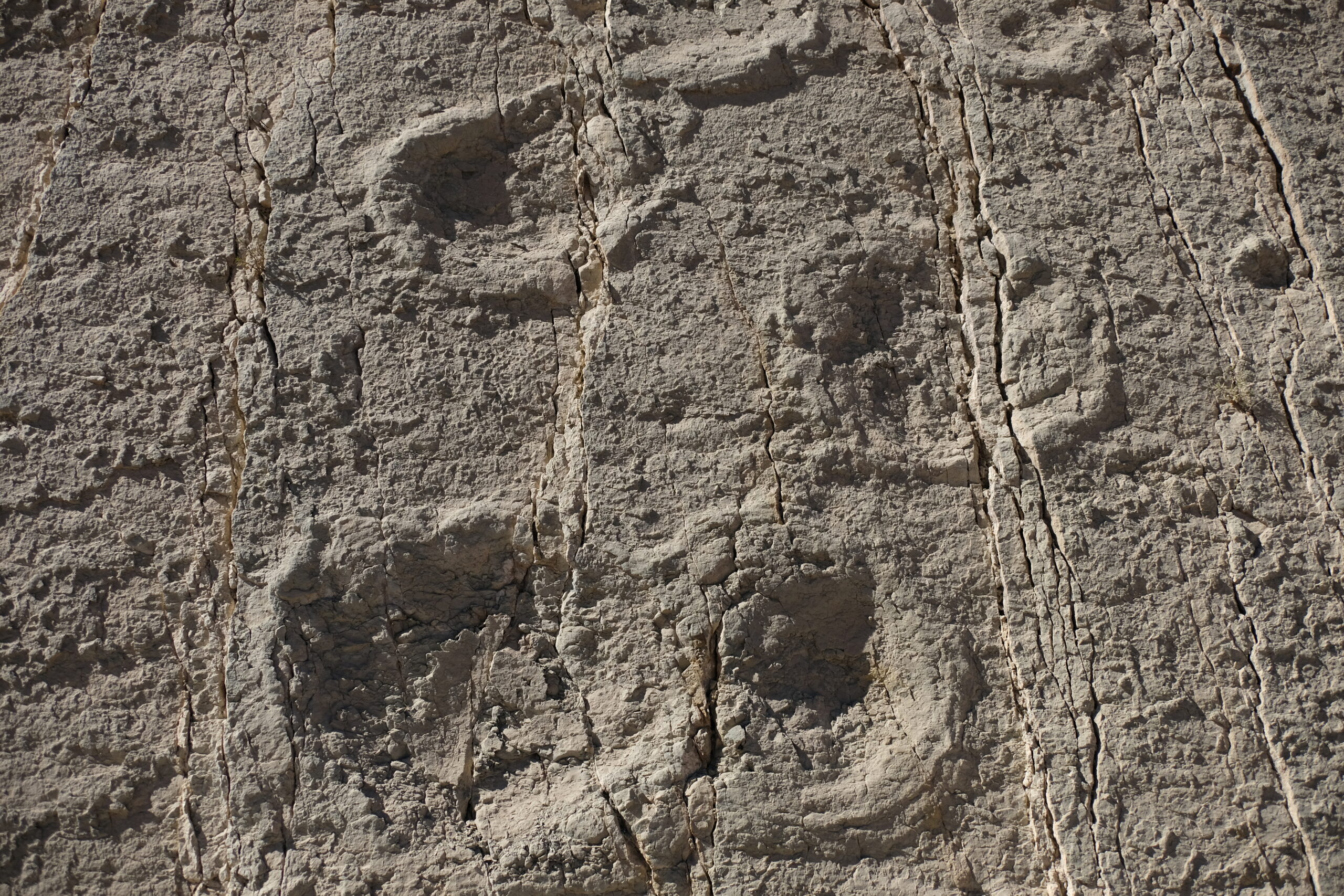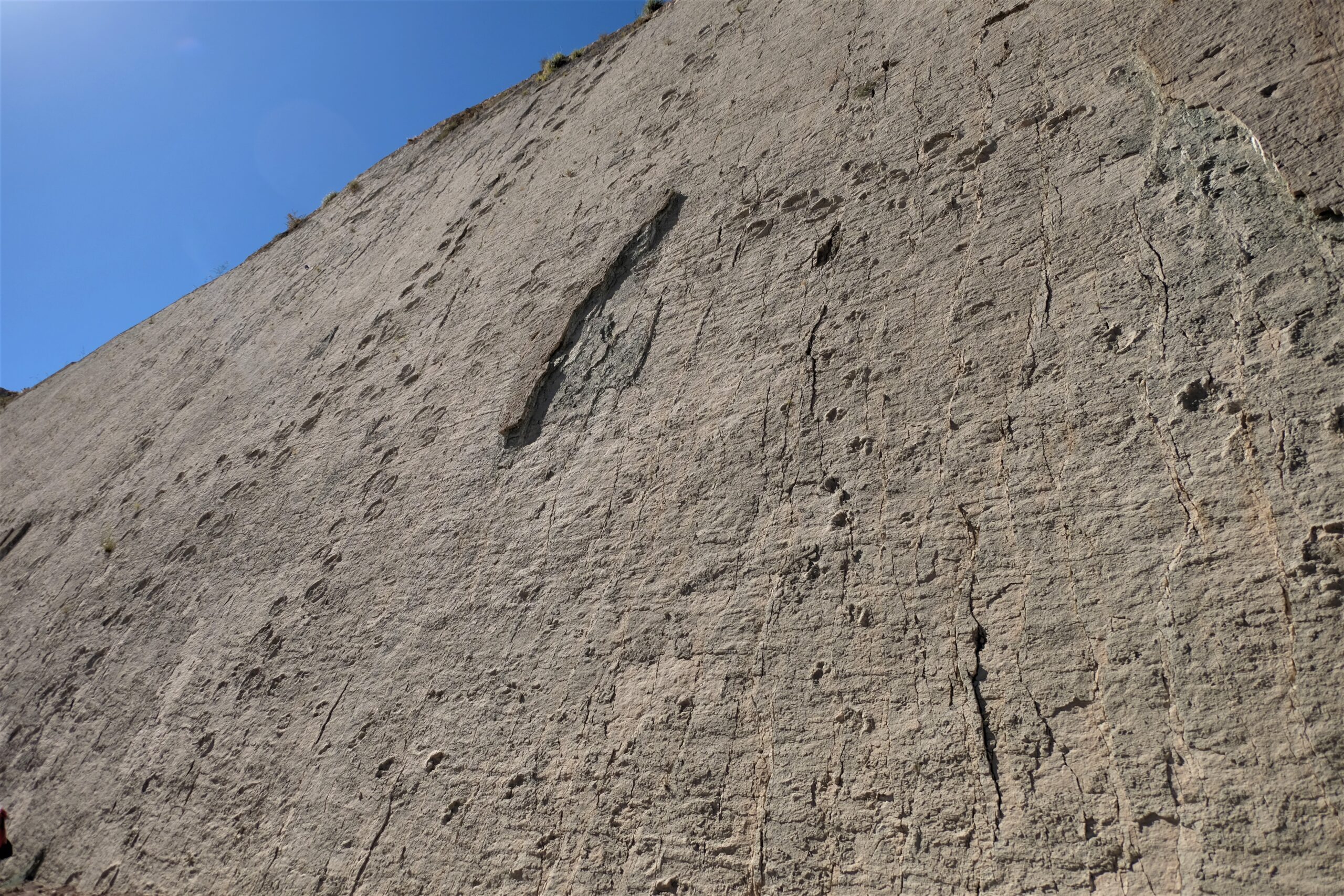 A quick video heading back from Cal Orck'o (Cretaceous Park) gives you an idea what Sucre is like away from the historical centre – Bolivia