In this post I'll cover some anecdotes about La Paz like Mirador Killi Killi, Plaza Murillo, Popular Cocina Boliviana, Parque Mirador Laikakota, Illimani and more. Many of these are things I saw or did throughout my time in La Paz, with the format not following my usual chronological order of writing what I did each day. Some just didn't fit into the"each day" process or made a post too long or disjointed.
During my time in La Paz and in between activities I roamed around the city. To be honest I didn't do as much as in most cities. There are two reasons for this. Firstly, in my opinion the city does not have that much on offer as sightseeing goes. It in an interesting place and does have more to see that what I did, hence the second reason. Secondly, as I mentioned when I visited Moon Valley, I was not feeling 100% my usual self after Death Road. I wrote it off to a long day of exhilaration, fun and exercise the day before. Alas it was not a tired body. Retrospectively I should have known better because Death Road wasn't a heavy exercising day. Not to deviate too much for now, it felt like I had a cold with a dry chesty cough, which got progressively worse. More about that saga later.
Mirador Killi Killi
Only a short walk from my accommodation, about 1.7km, but the second half was steep! By this time, I had already bought some lozenges from a pharmacy up the road from Hotel Sagarnaga. A local product infused with coca (I don't say that sarcastically). They seemed to work, though I was coughing and walking/hiking at altitude does leave you out of breath more so compared to normal – the dry air in normal conditions tickled my throat anyway so didn't pay much attention to my body nor how I felt.
Anyway, back to Mirador Killi Killi. It offers great views of La Paz, nearly 360 degrees. In the distant left is the looming Illimani mountain. Even at such a distance from the city it sits ominously in the background dominating part of the horizon. The views stretch across the city; La Paz sits in a "V" shaped valley. Like a walled complex, except the walls are mountains. As the city has grown it has expanded further down the valley up the sides of the mountain overflowing over the ridge. The buildings by comparison bring light to the valley. With the mountain looking sterile and devoid of colour and light. Whereas the buildings reminded me of a 60s revival, quite colourful and retro.

Landmarks
Olympic Stadium Hernando Siles dwarfs all the buildings around it. The exterior is a tad dull but the interior with the coloured seating screams out at you from Mirador Killi Killi. The pitch, a deep green looks like someone has painted it. The lush green grass a contrasting lively landmark in a city of concrete like an oasis of life in this harsh environment. Bolivia is not a financially well-off county, and I somehow got the feeling they must be proud of this stadium (rightfully so)…its upkeep is immaculate.  
Mirador Killi Killi is now just a place to view the city. It did play a significant role in the past. Tupac Katari had his headquarters here when he laid siege to La Paz in 1781 (check out my first post on La Paz). Here he could survey the entire city and plot his attacks on the Spanish. At the top of Mirador Killi Killi is a archway/monument, however I cannot find out what it is called nor what it is for…or even if it is a monument. It's a cool place to check out the city. If you're pressed for time, I'd suggest taking a bus or taxi and not walking.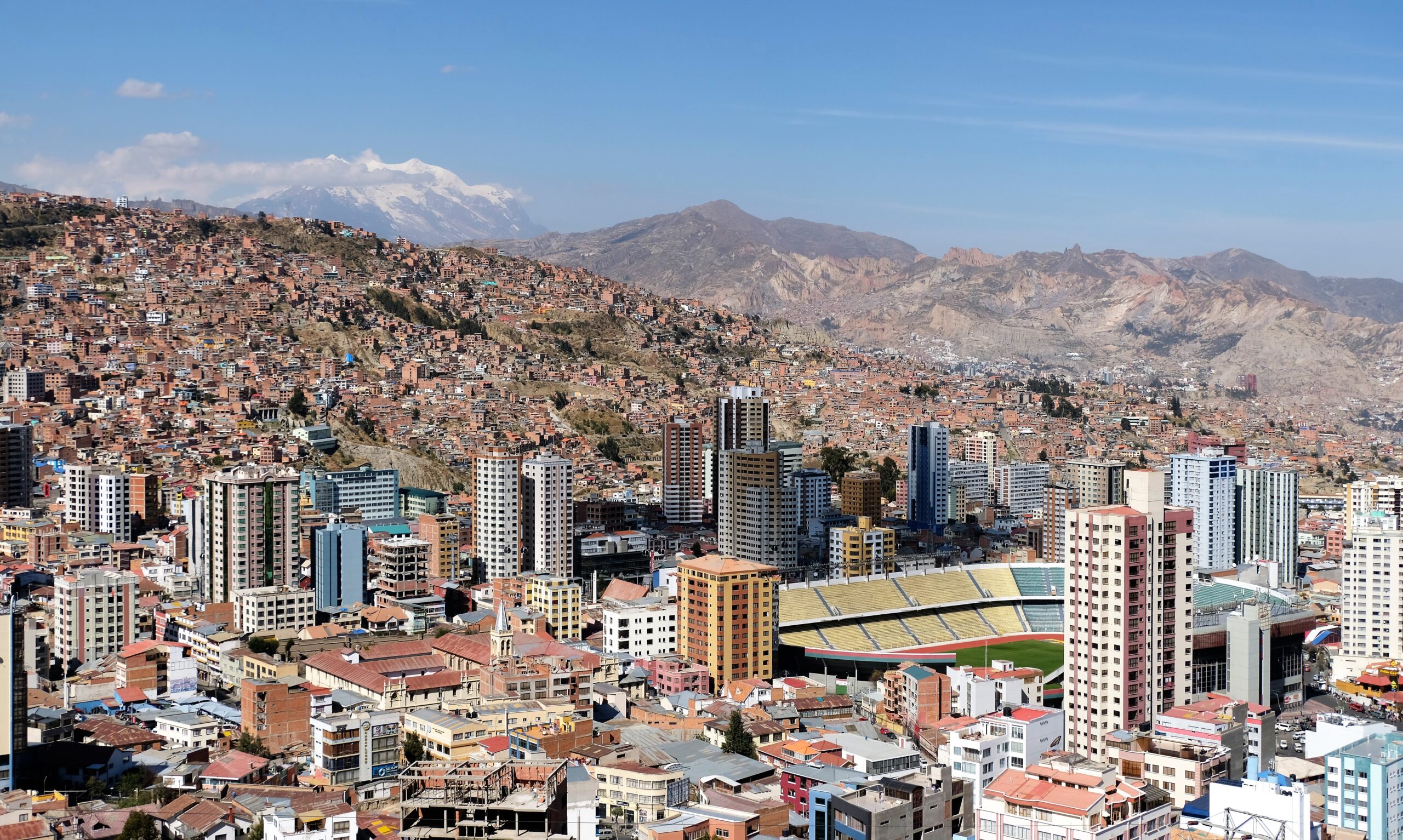 Plaza Murillo
For the life of me I cannot remember when I passed through Plaza Murillo. It was on the way back from somewhere, either Mirador Killi Killi or Mirador Laikacota, think it was the latter. In total I spent 15 minutes there at most, so my apologies as this one will be light in content! Part of the original "new" design of La Plaza in 1558 and became the new hub of the city. The old plaza in a Spanish settlement taking second fiddle, which is now called Plaza Alonso de Mendoza.
I certainly didn't know this was the centre stage for many of Bolivia's political battles as I dismissively walked through. Plaza Murillo has been the main arena for political revolutions in 1809, 1811, 1814, 1862, 1865, 1871, 1898, 1946, 1952, and 2002. These political clashes weren't just ideological demonstrations or debates. Oh no, blood has been shed during these revolutions and a lot has been spilt on Plaza Murillo. These killings include many of the leaders of the independence movement. More recently, in 1946 Gualberto Villarroel López (Head of state of Bolivia) was hung from one of the lamp-posts in Plaza Murillo – that after he had been killed and thrown from the balcony of the palace window.
To be honest I felt a little embarrassed of my dismissal of Plaza Murillo. I have been to so many plazas that I didn't give this one a second thought. What makes matters worse, is I had long left Bolivia when I found out its significance to Bolivian history. I have no excuse for not giving it the time it deserves. My only reason is that I was tired (I think), which isn't a great reason especially considering I was only staying up the road.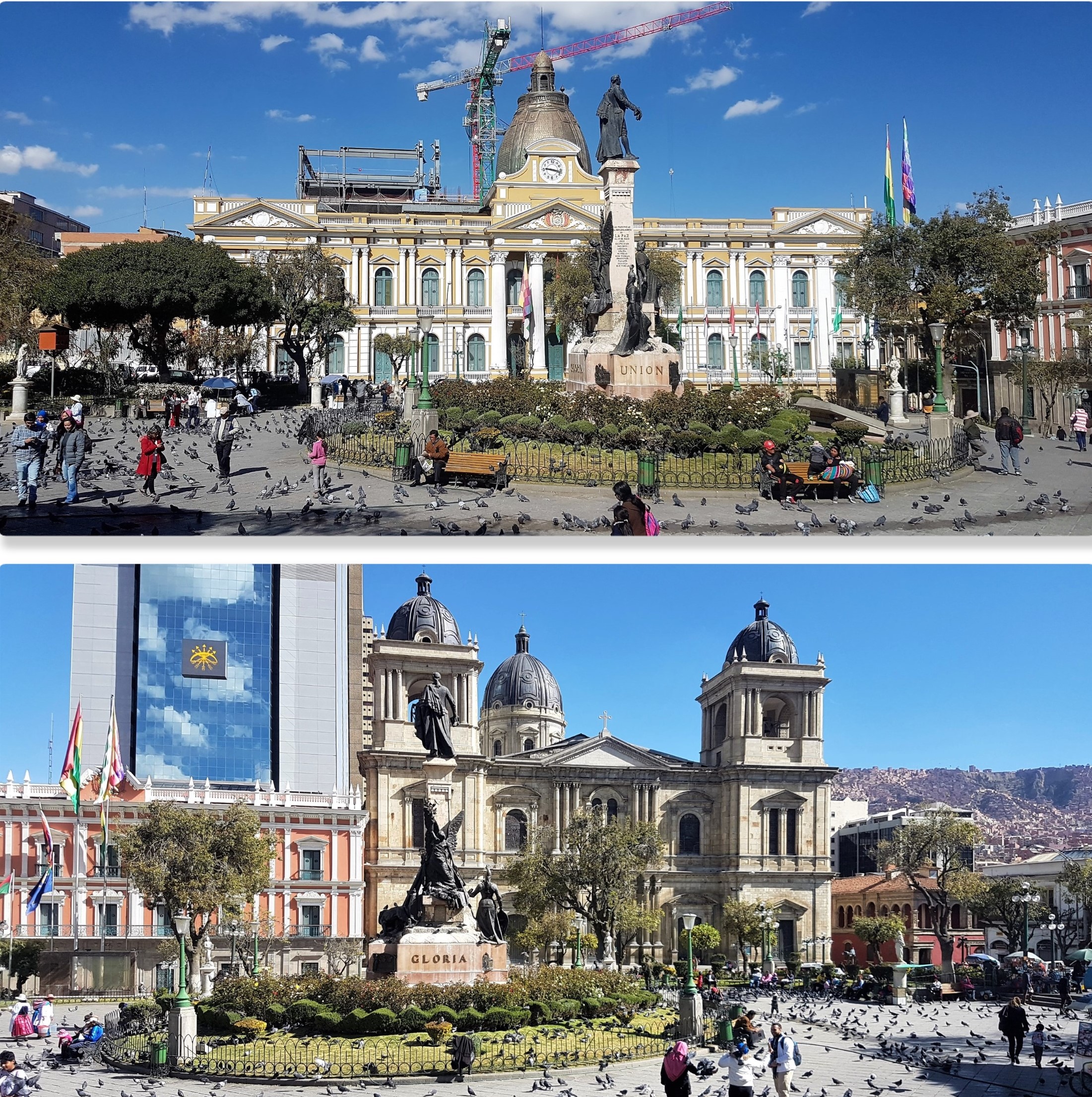 Illimani
There is something quite magical and intriguing about Illimani. Visually juxtaposed these two worlds, the city and Illimani seem alien to each other. Normally when looking up to a mountain the snowline is high up. Here, because of La Paz's altitude it feels odd to be looking almost horizontal to the snowline. Then Illimani keeps extending an additional 2.4km up! Even Illimani's peak at 6438m doesn't seem that high, Mirador Killi Killi is 4000m above sea level. This weird distortion caused you to almost dismiss Illimani as a big hill on the outskirts of the city. Illimani is not a mountain to be trifled with, it is in fact in the top 100 list of highest mountains.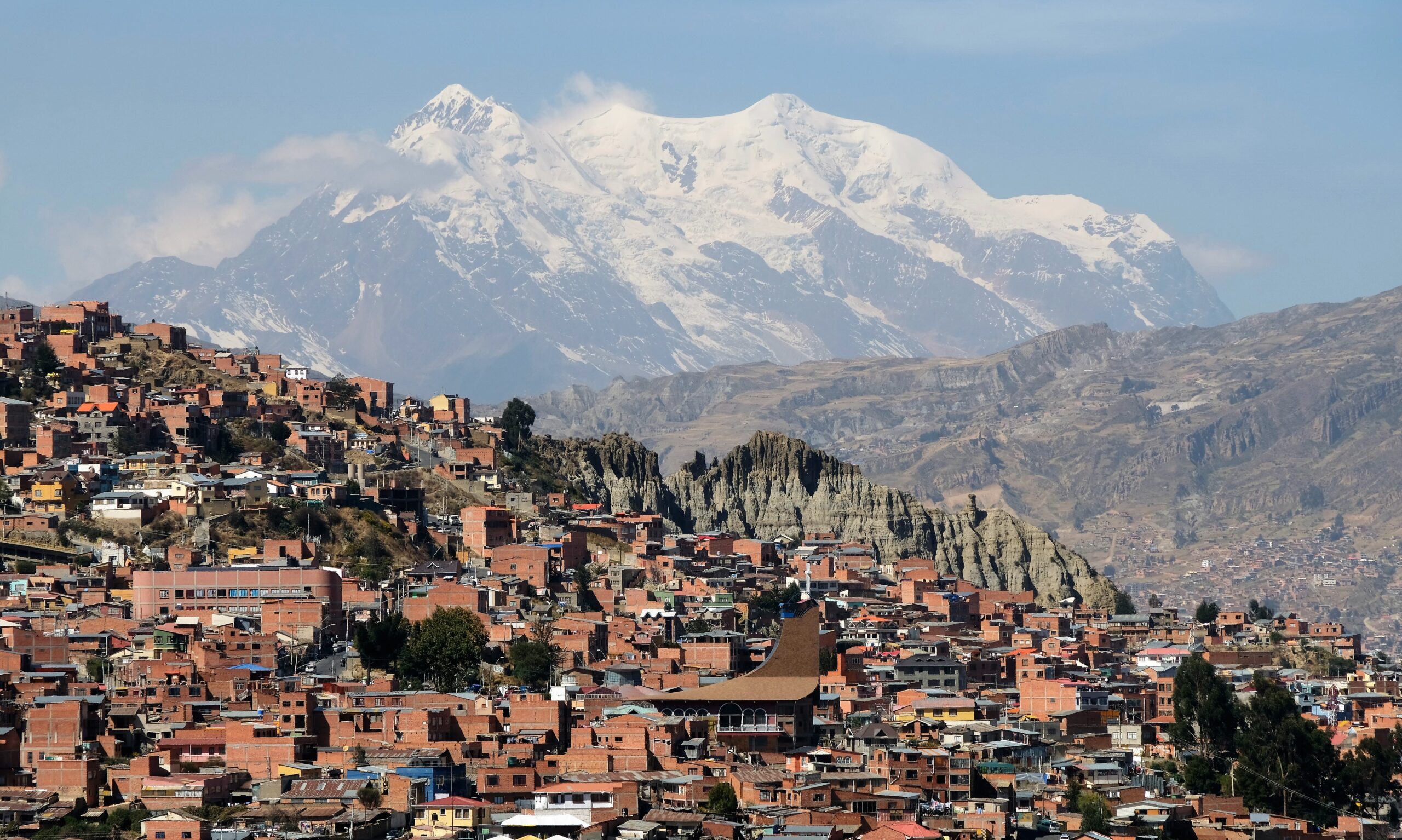 Regrets & disappointments
That is a perfect sedge way into one of my main regrets of my time in Bolivia. From La Paz, there are many tour operators offering hiking to 5 mountains which peak over 6000m. This is one of the best and easiest places (I've been told) to climb above 6000m. Ascending any of these were blown out of the water as my sickness/illness got progressively worse. The more I think about it, even now, the more disappointed I am that I didn't get to summit over 6000m. To this day I still don't know what illness/sickness I had.
Constant coughing till my ribs hurt, I barely slept an hour of two per night for a few days. I don't see how it could have had anything to do with altitude as I had been staying above 3600m for almost a months by the time I got to La Paz. I had been having coca tea every morning for breakfast and a few cup during the day. How I felt in Cusco was also totally different to La Paz. The latter, no headaches, no stomach problems etc. My illness in La Paz came about suddenly, a real lack of energy and a constant cough. I'd go so far as to say the worst cough I've ever had which persisted in its worse state for over a week – I was still coughing 3 weeks later, though not as bad.
I don't think it had anything to do with altitude because by the time I got to Potosi the cough had started to subside. Potosi is 4000m. Before Potosi I was in Sucre which is 2810m, and there I spent almost 2 days in bed! That's all in the past now. It is just a pity that I didn't get to climb above 6000m.
Cable Car
Two other things I didn't do because of my state, was try out some of the network of cable cars connecting La Paz. These were installed to make movement of people easier and quicker from the lower and higher parts of La Paz. As I have previously mentioned, the elevation in La Paz can vary by 400m across very short distances.
Valle de las Animas
Again, I just was not able to get out bed. Valle de las Animas is a spectacular landscape about 20km from Hotel Sagarnaga. Moon Valley is cool, Valle de las Animas is like Moon Valley on steroids! Such a pity as it is so close to the city; realistically visiting wouldn't have taken long either. I guess Valle de las Animas and a 6000m summit will have to wait for my next visit.
Parque Mirador Laikakota / Mirador Laikakota
Mirador Laikakota is a viewpoint of La Paz from the Central Urban Park / Parque Urbano Central. It's not the nicest of parks by a long shot, however the views, especially if you want Illimani as a backdrop are second to none. A large part of the park was cordoned off and hadn't seen attention for a very long time. That which was still being used by the local kids distinctly in much better condition. I would like to know what the closed off areas were like years back, what was sticking out of the overgrowth look oddly interesting. In one of my pictures you can see a big crocodile figurine; the windy dusty path leading up the hill was closed but the path looked to be in regular use.
Anyway, for views of the city Mirador Killi Killi are best. For an alternative view of the city, and in my opinion the best views of Illimani, Parque Mirador Laikakota takes first prize. Walking there, though further from Hotel Sagarnaga at 2.2km, is much easier – there is a cable car station at the bottom of the hill too. Most people go to Mirador Killi Killi meaning Parque Mirador Laikakota is quieter. In fact Mirador Laikakota isn't mentioned in most site, don't know why!? I was the only tourist when I went, except for the kids playing about it felt like I was where the local hangout. If I had to choose between the two, I'd pick Mirador Laikakota.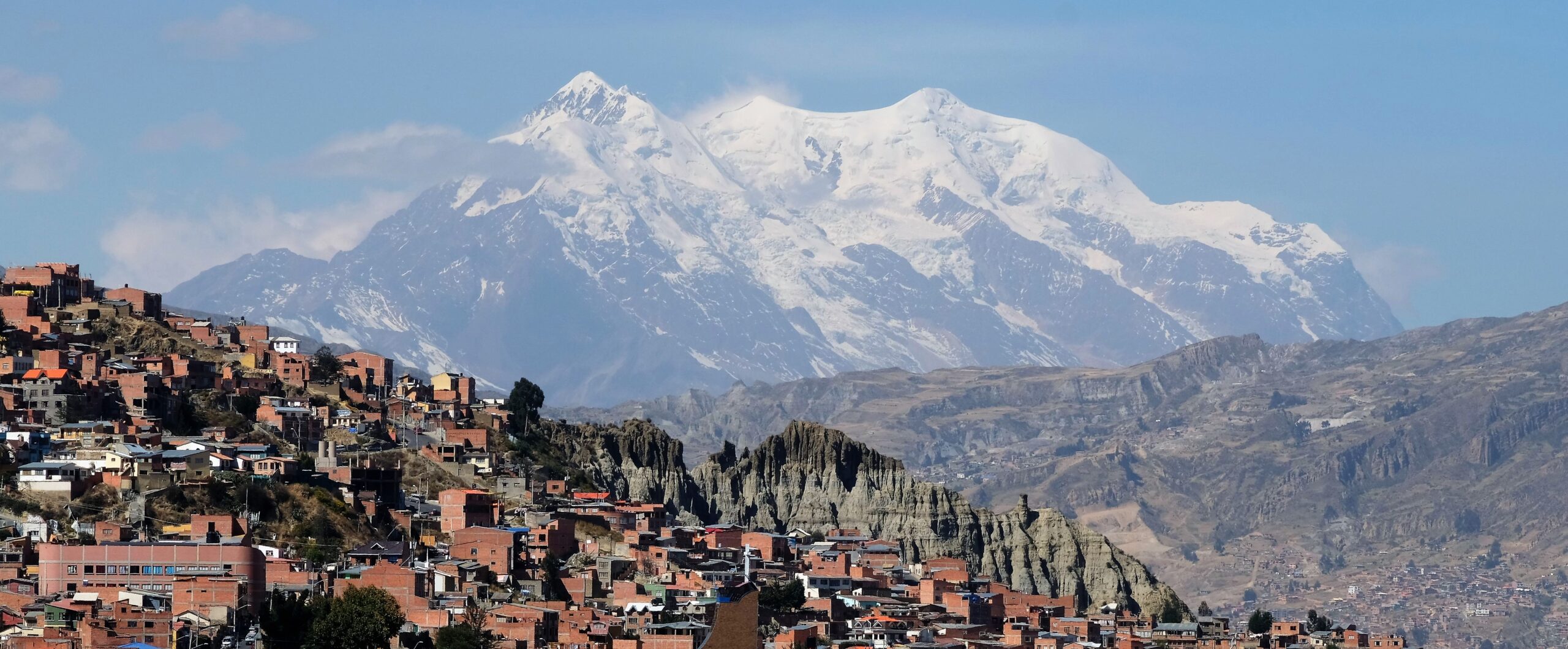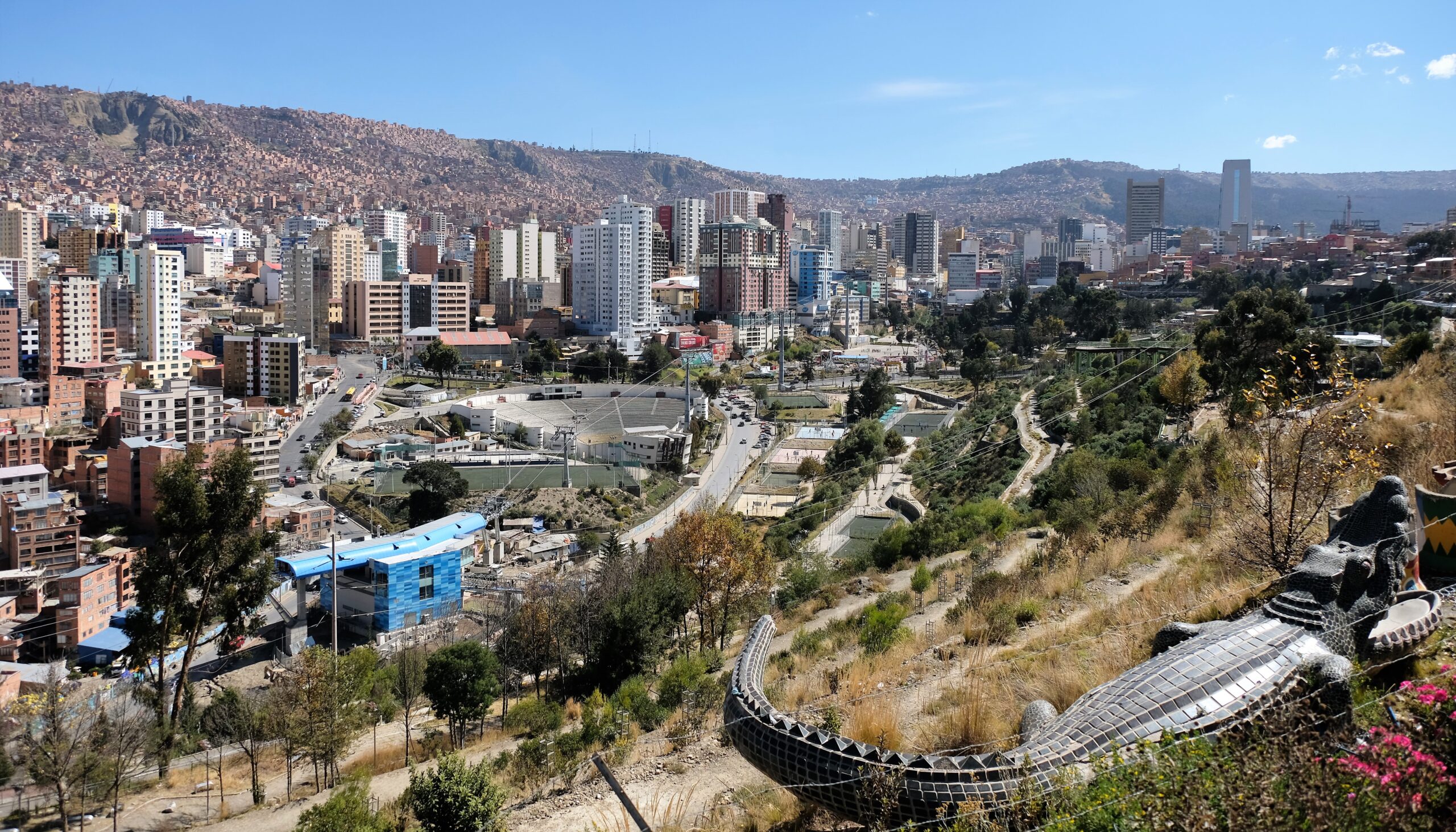 Bolivian Popular Food
I'm not a foodie so seldom write about it. When I do it's either very good experiences of very "different". Bolivain Popular Food / Popular Cocina Boliviana falls into the former category. A real little gem hidden from site but worth going to the effort have eating there. The food is a blend of traditional Bolivain food with a twist, the twist looks fantastic and tastes as good as it looks. Set in an open plan layout including the kitchen with a rustic décor. The menu changes every week I believe, with a set three-course meal with fresh fruit juice drink for 45 Bolivianos (that's around £6.50 for a unique delicious three-course meal!!!)   
Bolivian Popular Food only does two settings per day. Best advice is to go at least an hour before opening to book a table, you cannot book telephonically! That may seem antiquated, but it is worth it. Their service is vibrant and energetic, the environment is youthful and relaxed, the food is authentic and scrumptious. I didn't even know about it, Gary & Maddy found out about it, got there very early and secured a table for us. Gary & Maddy, Grace & Joe and I had lunch there the day after Death Road. That would be the last I saw of them as we headed our separate ways on our travels. Here is a link to Popular Cocina Boliviana's location Google Maps, and Facebook page.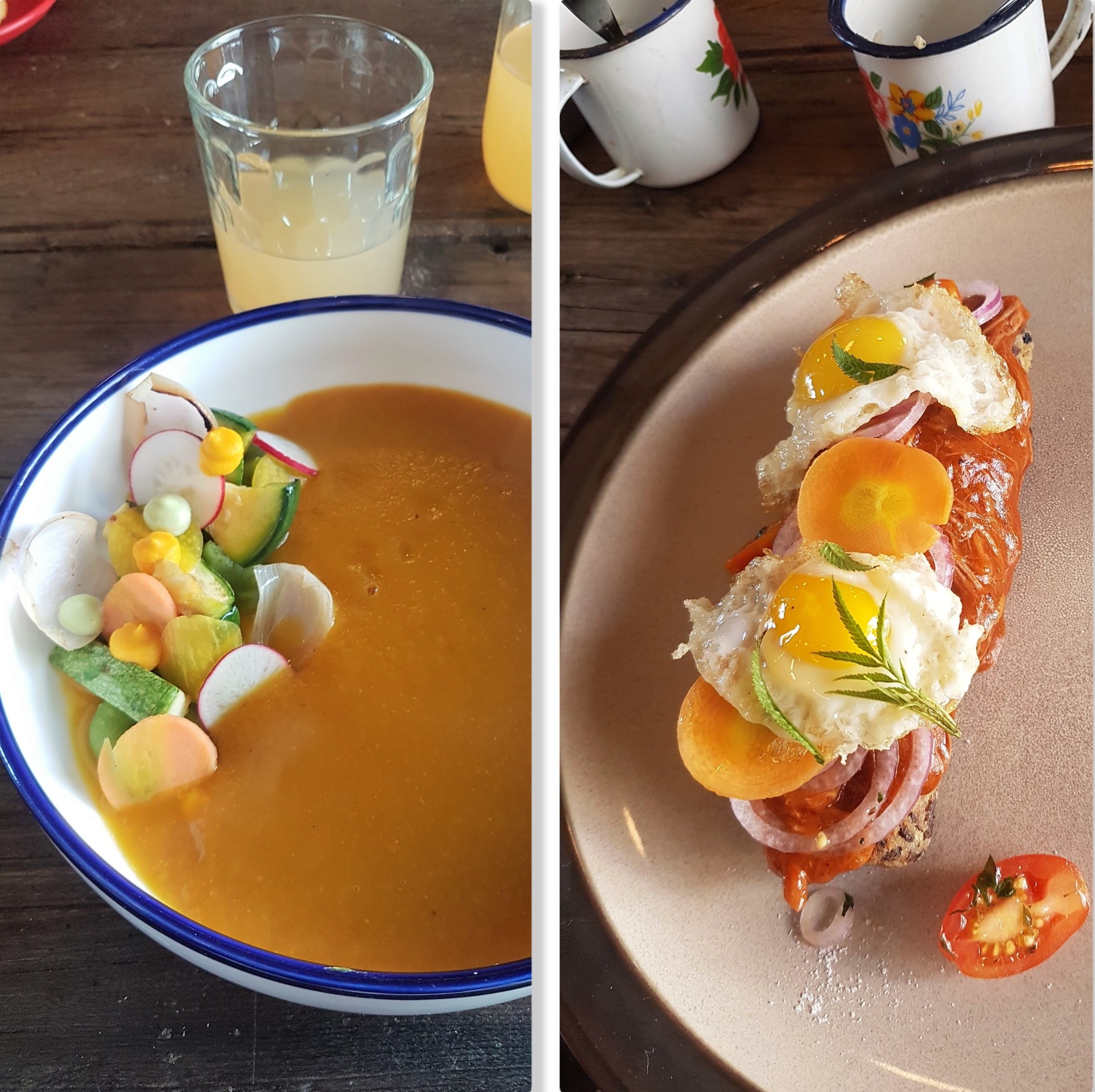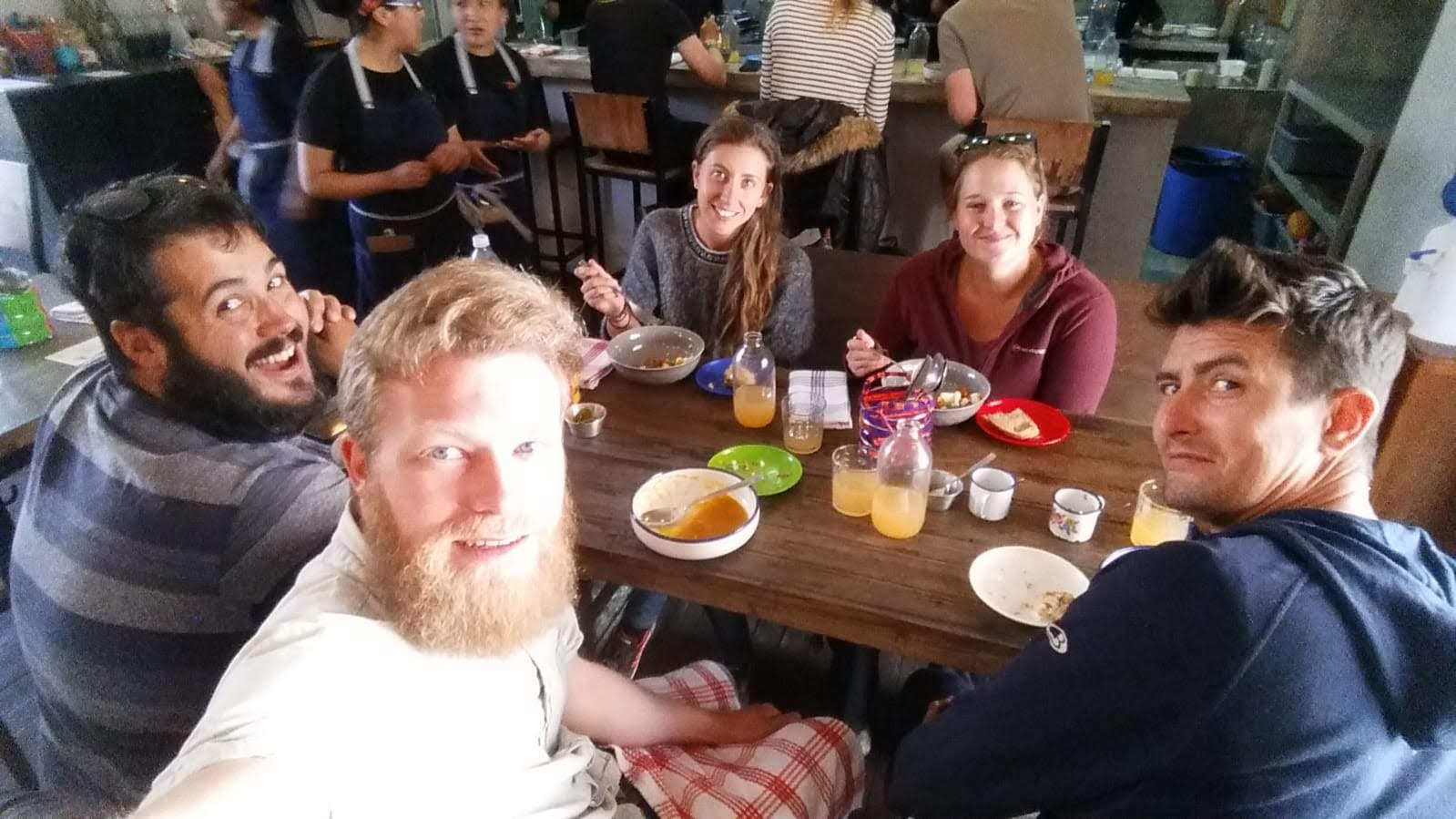 Buses in La Paz
I almost forgot about the buses in La Paz! These local buses are perfect representations of 60s retro and I think they looked super funky! Pity I never rode in any of them! They all looked very well maintained, and spotless on the outside. Of those I saw the blue and green coloured buses were the most common. How the drivers saw out of the windshield I have no idea, they were covered in stickers and signs. They are a mix of art deco design with 60's retro colour. In amongst a rather colourless rundown city these buses are shuttles of vibrance throughout the La Paz. It many seem like I'm making a mountain out of a molehill, but La Paz's city busses are super cool in my eyes!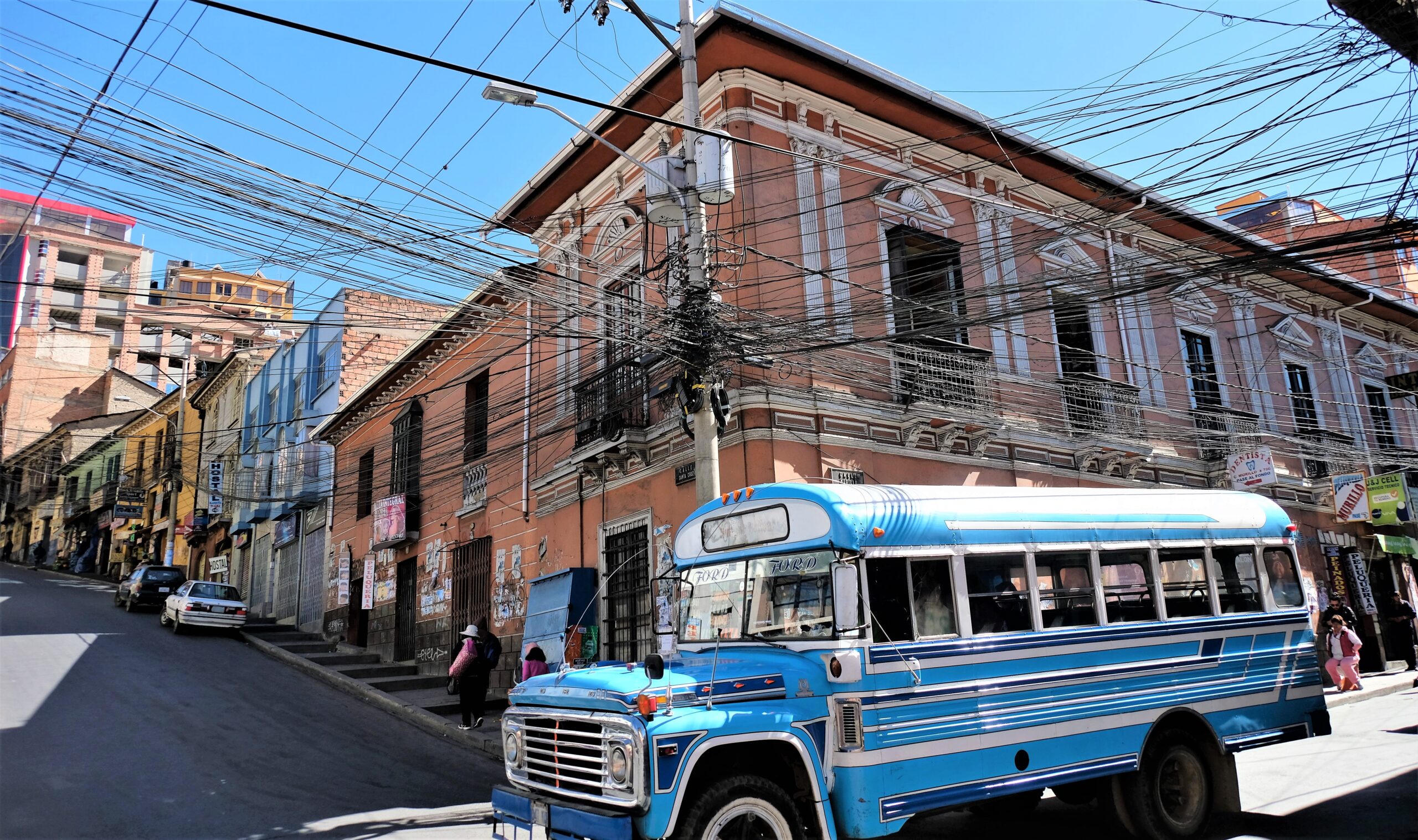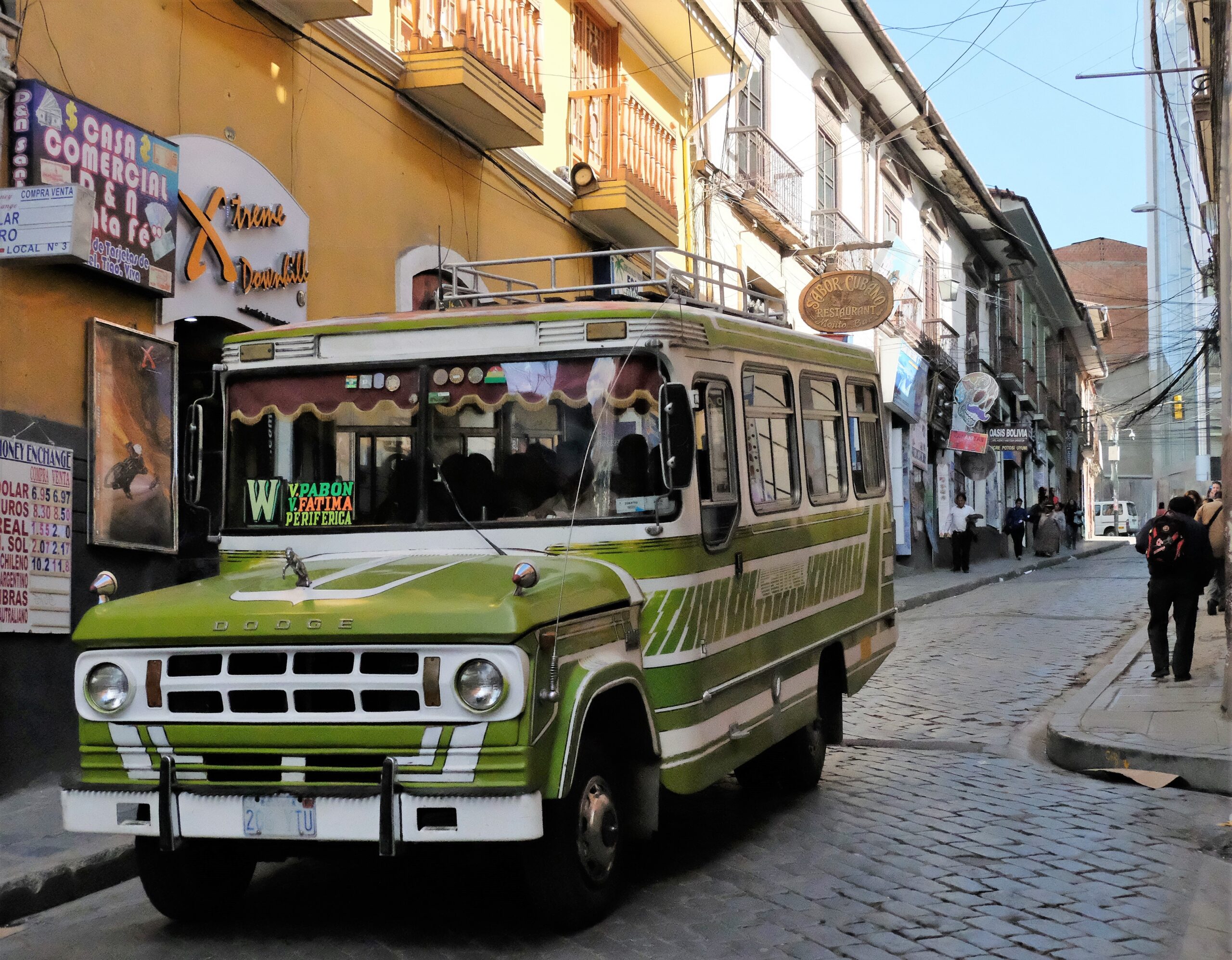 Getting sick overseas
I won't get melodramatic. Yes, I got quite ill, but I wasn't dying nor was my condition life threatening…I think ?! Compared to being sick in Cusco, I knew this was different and more serious – I know my body. After consuming a few types of lozenges, those infused with coca worked considerably better, I decided to speak to a pharmacist. He gave me antibiotics, the first time I had used antibiotics in many years. When I got back to my hotel I looked into the tablets, they were for cancer patients! I'm no doctor, but this seemed extreme and didn't make sense to me. I went to another pharmacist and he also gave me antibiotics which seemed more "normal". However, I know doubted both of their advice and decided to take neither. Whether this was a good or bad decision on my part I don't know. 
I guess what I'm getting at is countries work differently. In many countries' antibiotics can only be obtained with a doctor's prescription, others not. I do travel with good travel insurance (World Nomads), which did give me some comfort, but getting sick overseas does cause some anxiety…especially when there is a language barrier. I ended up taking loads of lozenges, how knows how many bottles of cough syrup! In the end I spend a few days in bed in La Paz, Sucre and Potosi. When I got to Uyuni I was far from 100% but at least my energy levels had increased!
Summary of La Paz
This is my last post fully dedicated to La Paz, that's why it's a mix-match of content. I did one last day trip from La Paz to Tiwanaku before leaving the city and heading off to Sucre. After that I went to Potosi, then Uyuni then coming full circle back to La Paz before leaving for Bogota, Colombia. I really enjoyed my time in La Paz, sure it's a pity about the ending. As always there are a few things I didn't get to do…a great excuse to go back. My next blog, Tiwanaku, a Pre-Colombian archaeological site dating back to around 800AD.
La Paz has some very interesting things to see and offers exciting things to do. That being said, it is more of a city to use as your base, and not a city to spend loads of time roaming around the streets – I don't mean that in a negative sense. I would go back at the drop of a hat!