As much as travelling is entertainment in itself I can't escape all my old habits.  Unlike when I'm working or travelling on the Underground in London I don't site-see with my earphones on.  What's the point of exploring other countries if you don't at least try to entrench yourself in the environment and atmosphere.  That said when on a train, bus, plane or even just chilling at a hotel or beach it is nice to just sit back with some good old entertainment, whether that be listen to some tunes, audio books, movies or podcasts.
One of the most enjoyable things when travelling is the lack of constant entertainment like TV and internet; where you get consumed every minute of the day with repetitive news and glazing into your phone without ever looking up.  I'd hardly say entertainment should be the priority of any journey but when away for longs periods it is nice every now and then.
Music – it will take a lot to beat Spotify, www.spotify.com I've got the paid version but you don't need this if you don't mind a few adverts about every fifth song – I had the unpaid version for ages before I upgrade.
Podcasts – I have an array of podcasts that I'm signed up to using www.podcastrepublic.net as my interface/app – use what ever you are comfortable with using, but if you don't listen to podcasts you are missing out on a lot!  I'm quite surprised that there are so many people out there that have heard of podcast but don't listen to them….like living in the stone age!
Audio Books – As I've mentioned I don't like to carry books around with me so I prefer audio books and there isn't any better than www.aubible.com 
Movies – I'm not advocating breaking the law but there are so many apps you can use to download movies.  Other alternatives are obviously Netflix and Amazon Prime.  I don't travel to spend my time watching movies so this is at the bottom of my priorities and entertainment.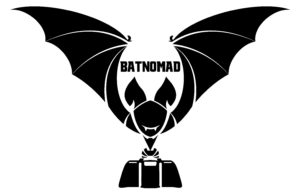 If you'd like to read about my thoughts, experiences and stories here is the link to the blog page.  Alternatively, I have also included separate postings on my Facebook page just with the photos – Facebook Batnomad