The bigger the backpack / bag the more you pack, the more you pack the more you have to carry!  Don't succumb to the urge to fill your bag, pack what you need and nothing more.
I'm a fan of Osprey, I bought my first backpack of theirs about 5 years ago which was my work laptop bag.  Then bought my day bag (with wheels) for when I had short stay travel for work, then my mountain bike backpack (like a Camelbag) and all "do what it says on the tin": great fit, durability, robust and they look nice – I've become a big fan!  Even so, I spent ages reading reviews and blogs about which backpack is the best for RTW travelling, Osprey in the majority came tops, specifically the Farpoint 55 backpack. I didn't hesitate and bought one and am not disappointed in the slightest and am now even more a fan of the brand.  The pack works well in all areas, no frills or gimmicks; everything is made well and has a purpose.  There are two sizes: Small/Medium (slightly shorted and wider) and Medium/Large (slightly longer and narrower) – capacity 40l + 15L, I'm 6.2 and the M/L is perfect.  I can't speak for everyone but if you do decide to buy one try both on for size before you buy.
Tip – if possible (and the retailer allows) fill the pack so there is weight in it; an empty pack and full pack don't feel or sit the same so whenever possible replicating reality is good practice – you should try this with most of your gear.  For more info on the Farpoint 55 check out Osprey's web site, there are also many videos on YouTube and reviews are aplenty!
Tip – No matter what brand you go for I'd recommend getting a travelling backpack and not a hiking backpack.  There are subtle differences which equate to huge differences with the way the packs open up, many travel backpacks have a detachable day pack etc.  Buying the correct equipment for the job makes the job a lot easier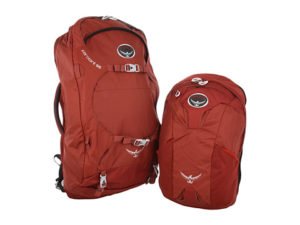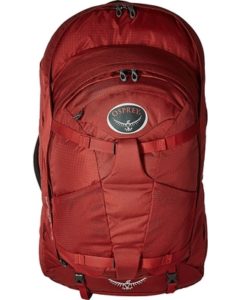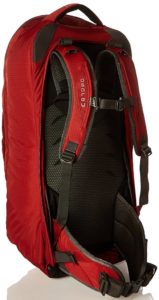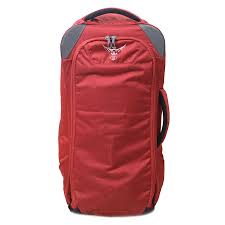 For my thoughts on how I go about choosing gear take a look at this link, Travel Gear and here are quick links to the rest of my travel gear:
If you'd like to read about my thoughts, experiences and stories here is the link to the blog page.  Alternatively, I have also included separate postings on my Facebook page just with the photos – Facebook Batnomad