What could more epitomise New York than Time Square. The previous night I didn't do my usual planning for the following day, causing a late start to the day. Time Square was the only thing I had decided on. I'd walk there and take in the city on my feet. I did a few other things I won't cover in this post. Like, finding an electronics shop to buy a new Kindle…mine had broken months previous. The battery wouldn't charge, yet I kept it with me the whole time. Why? Don't ask me. I have no idea. I found a place and went there later that evening; pass the Empire State building, more about that in a later post.
In no rush to get to Time Square I took my time walking there. I actually have loads of pictures of my time in New York; most for memorabilia and to reminisce in years to come – they're not really pictures to post or write about. Nonetheless, if you're like me, walking through a city or most new places is exciting and interesting. Even when you're not seeing "must see" places. Walking around just taking things in. Appreciated being in a different place, country, environment. These are the things that make you enjoy a place, even the quiet days. With this caveat, this will be a very succinct post, with more pictures than writing.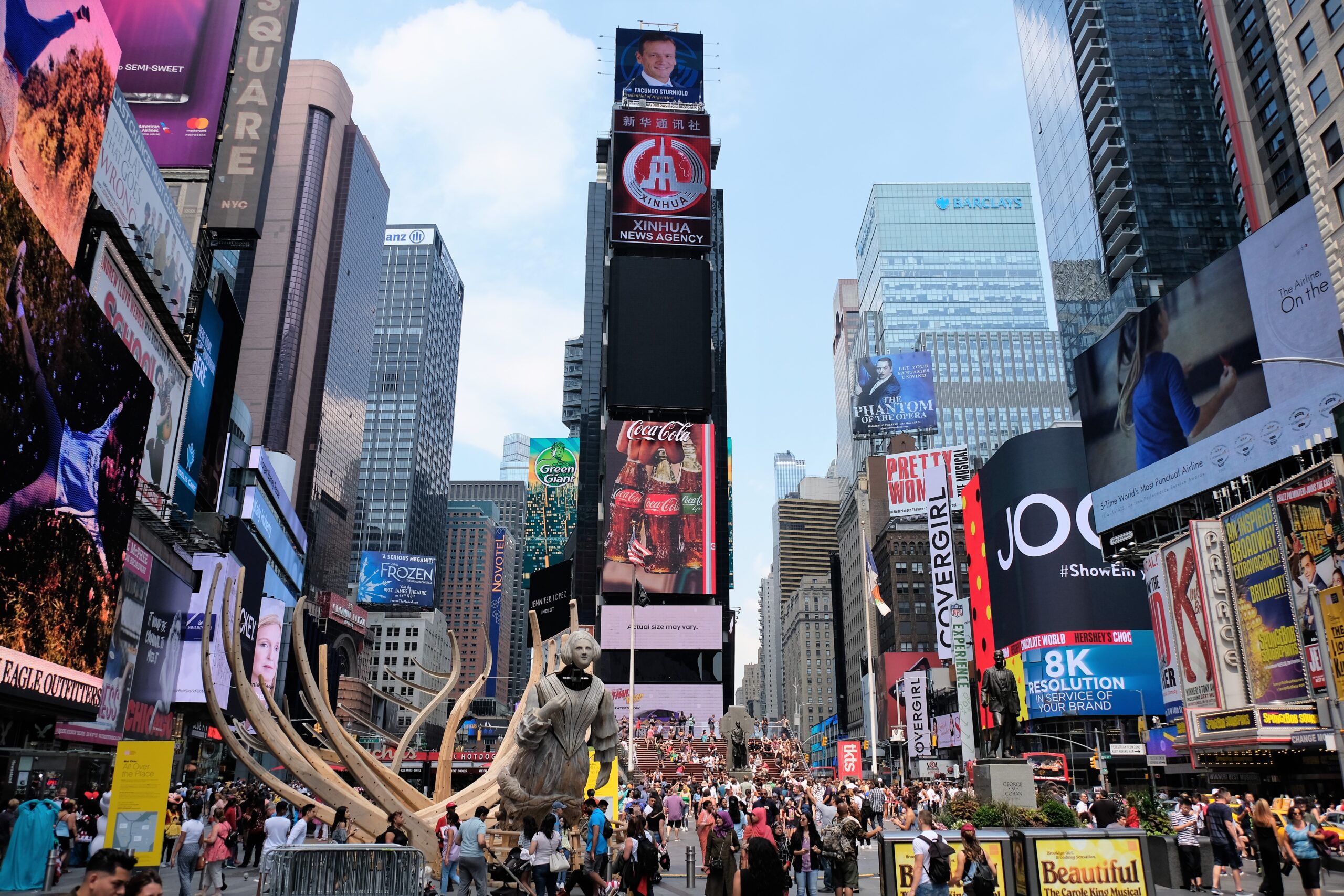 Time Square
Arriving at Time Square during the day is impressive. I can imagine what it's like during the evening. The neon lights, massive billboards and some of the biggest screens I've even seen, this place must feel like a nightclub in the evening. Take Piccadilly Circus, Leicester Square, Covent Garden, and Canary Wharf put them together and you get something like Time Square. Even more relevant, take Akihabara, times it by ten, and you have Time Square minus the Anime theme. Here each advertiser has tried to outdo the other.
It's almost not possible to take everything in. Everywhere you look is a sign, changing screen, billboard all screaming for your attention. This is advertising on steroids. I spend quite a lot of time just watching people. A mixture of tourists like me and every-day people going about their daily business. It was busy for a normal working day of the week. I can't imagine this place during New Year's Eve! Time Square is New York's hub for theatre. Advertised in the main area of Time Square, but if visit don't forget to explore the peripheral and perpendicular roads of the main road. Some very interesting and artistic billboards/signs.  
Not much else to say, I'll let the pictures do the talking.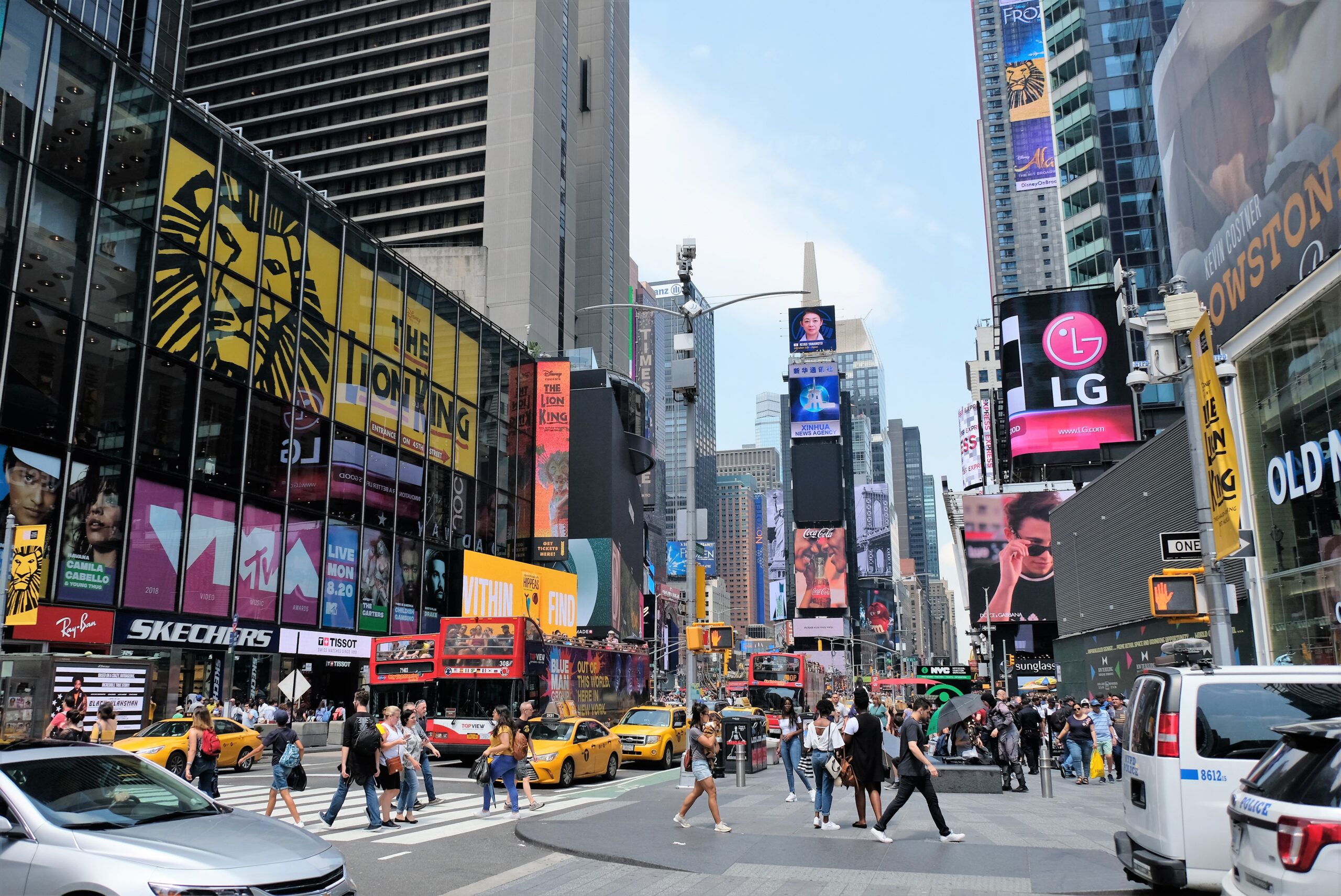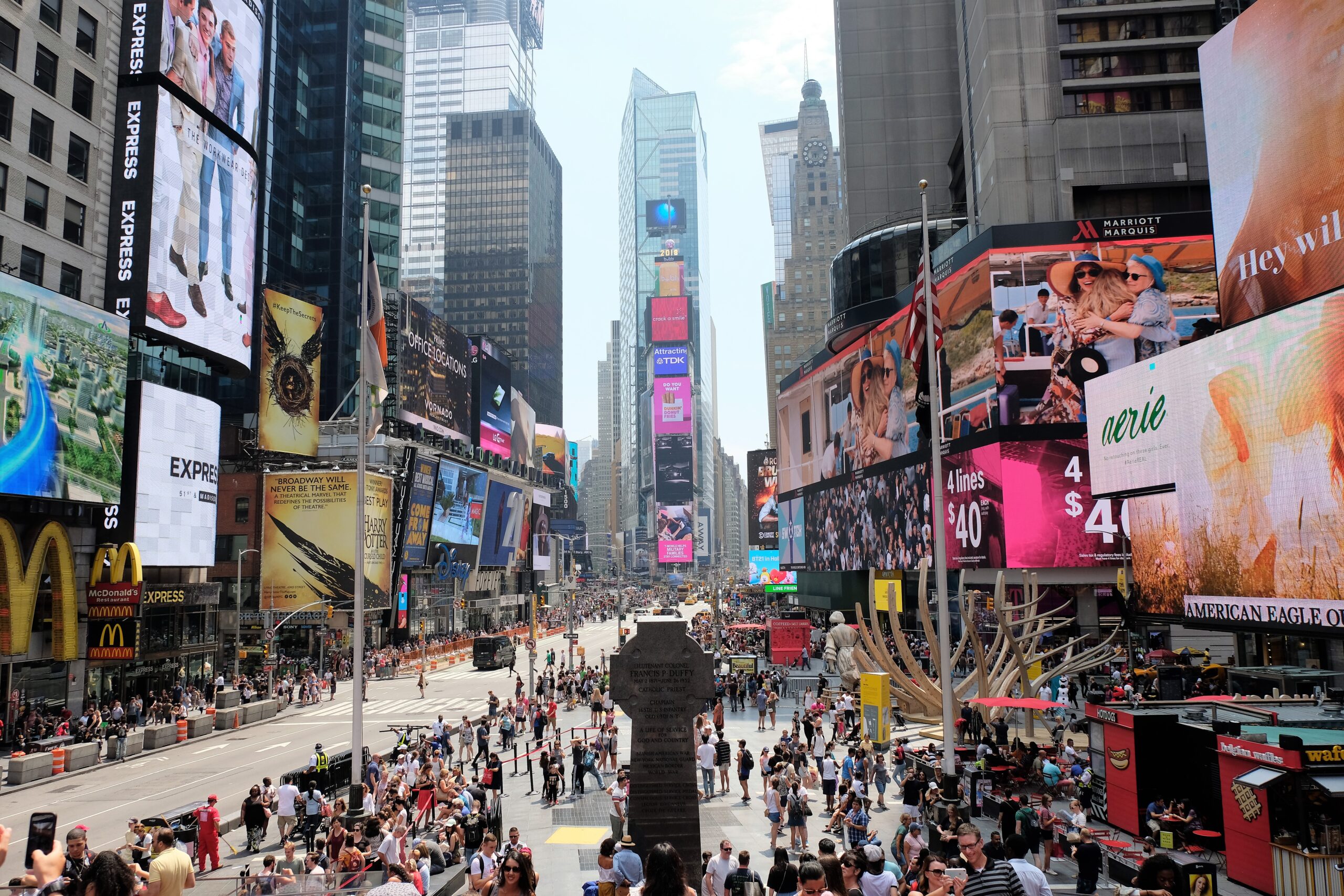 United Nations
Don't worry I won't get political. Once I left Time Square I headed Eastward towards the East River, not that the United Nations building was my destination. My actual destination was the East River, well not exactly, I just wanted to head towards the water. On route, was with everywhere in New York, it all seemed familiar. Passing by many consulate like buildings, even for some of the smallest nations. The one that caught my eye was for Eswatini (previously Swaziland). I'd hate to think how much rent they pay here, or if they own the building, the cost!?!?!?
Nearing the river I couldn't find a path leading parallel to it. I was hoping to find a promenade of sorts. No luck. So following the road, by chance, I ended up at the United Nations building (United Nations Secretariat Building). An inconspicuous building considering its purpose. I thought it would be a much bigger building, not sure why. It's a very narrow building, not just compared to buildings in New York; it would be narrow for any city. It's form doesn't seem fitting for its function; hosting all the countries on earth. Decisions made in this building have shaped the socio-economic and political landscape since 1951 when the building was completed. I could quite easily go off on a tangent about the United Nations, but this isn't the platform to do so.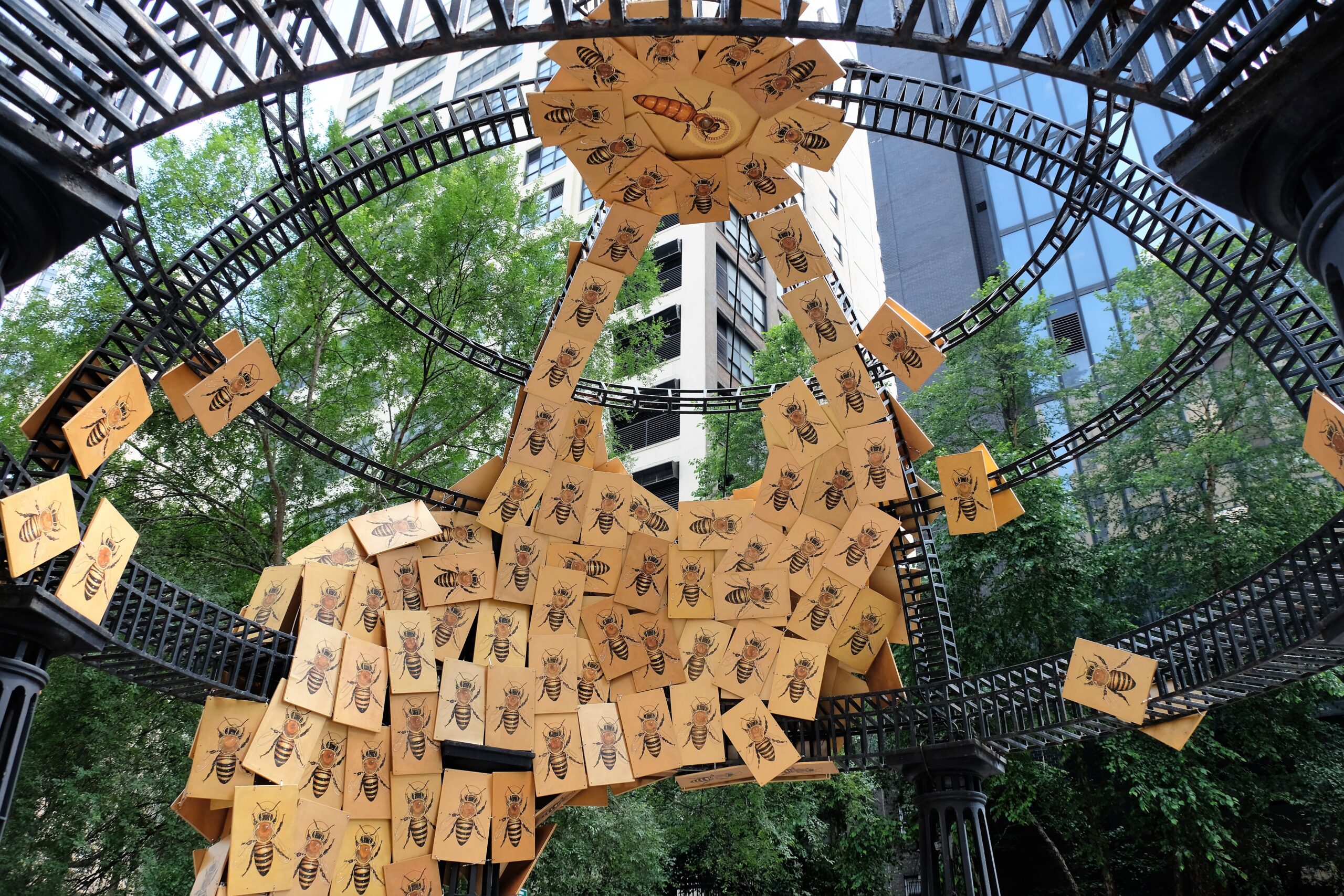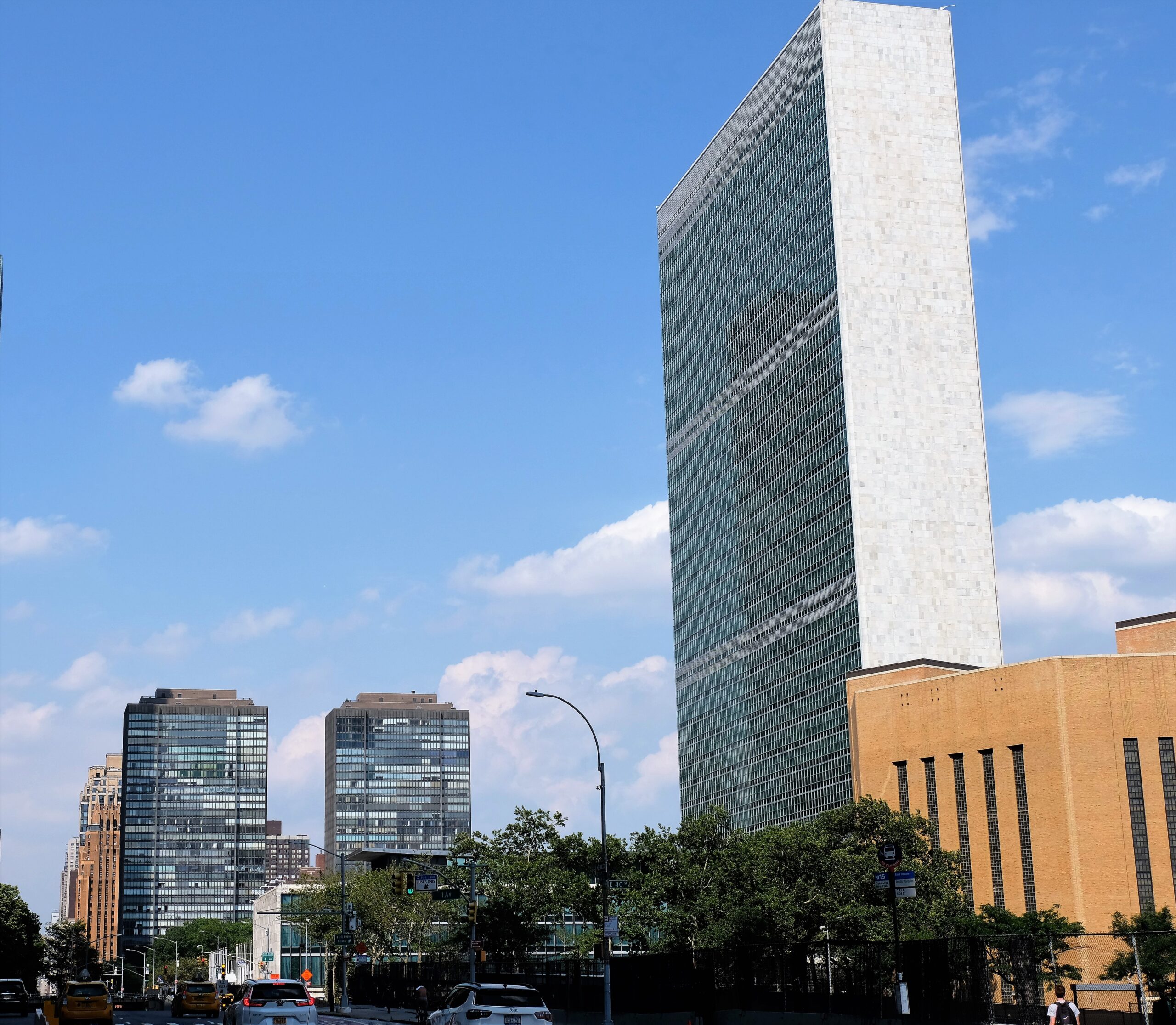 What an odd post
Normally I take my pictures of the day and write accordingly. Sometimes, when picture-wise I don't have much, I combine two days. Unfortunately, on this occasion it wasn't possible because the following day has so much. Making this probably the shortest post I have ever written…and the most boring. Nothing to do with Time Square, it's just a visual thing and I'm certainly not going to try bolster it with a history background 😊!
…next day…Ground Zero in New York