My choice to use Inca Rail to get back to Cusco was done out of necessity, so I tell myself. I saw on the news that the weather over Abra Malaga (my memory still very fresh) had worsened and that the pass was closed. This made my decision on how to get back to Cusco very easy, and I was rather relieved too! There's not much to say in this post just a few pics and some videos. Normally I would have included this sort of this at the end of a blog, but the previous one was long enough. I couldn't link it to my next chapter as that will be about La Paz, Bolivia. This is my way of saying sorry for the short post with almost no pics and a little boring ?.
Thoughts leaving Peru
Reluctantly I knew my time in Peru was at an end, I needed to move on. Peru has so much to offer and I had only scraped the surface. Thinking back on my time in Peru it had its ups and downs, though the downs have turned into some of my best memories like my trip from Cusco to Santa Teresa. When I try to remember how cold I was those memories are overpowered by how I felt once I had put on more clothes! I still smile when I look at the photo. Stuck on a mountain during a blizzard pushing a bus and I can't help but laugh. What an amazing experience and memory. Needless to say, I loved Peru.
Incas have fascinated me since I was a child. Now I had seen them first hand (you know what I mean) I left left Peru with more questions than when I arrived and even more intrigued. Peruvians may seem standoffish at first, this couldn't be further from the truth. They are friendly with an innate respect of their cultural past. With a fascinating and bloody past, they are economically poor except their hearts are the size of mountains and they welcome people with arms stretched wide like the Andes. I left Peru with some regrets of not seeing more, that I cannot deny. Even so, I left Peru feeling fulfilled and was happy to move on. Actually my other regret was not knowing more Spanish, here in Peru, then Bolivia and Colombia it would have really help. It's not essential though and I got around just fine.
My Plans
Primary goal was to get back to Cusco, then start looking at flights. I thought I'd treat myself to a nice place in the heart of Cuzco's Historical Centre at the Encantada Casa Boutique Spa Hotel. It has a great location and the rooftop terrace have fantastic views of Cusco below. There are quite a few stairs getting from Plaza de Armas to the hotel, sadistically I had come to enjoy them. Only problem with the hotel was that the whole area had a cable break meaning the internet was near dial-up speed. Things like this happen anywhere and it wasn't their fault, the whole area was affected. Luckily I had my mobile and still plenty of data left, yes the same one I bought in Lima.
Back to my plans. Do a little research on the best locations to stay in La Paz. Then book a flight, then book accommodation. For the rest of the time in Cusco, two and a half days, I'd stroll about town with no aim nor agenda just enjoy the city.

Inca Rail from Aguas Calientes to Cusco
If my memory serves me correct, there are two companies that offer a service from Machu Picchu to Ollantaytambo. All leaving quite regularly and there is quite a difference between the service:
Vistadome – More expensive so more comfortable. Prices are not static; they vary quite a lot dependant on date and time (even on the same day)

Expedition – The cheaper option normally, however per above the prices vary dependant on date and time

Inca Rail

have three service

Private – I didn't even check these prices!

First Class – Expensive

The 360 – This is the ticket I got at US$65, I got a good price for this because I had flexibility on the time

The Voyager – Cheapest ticket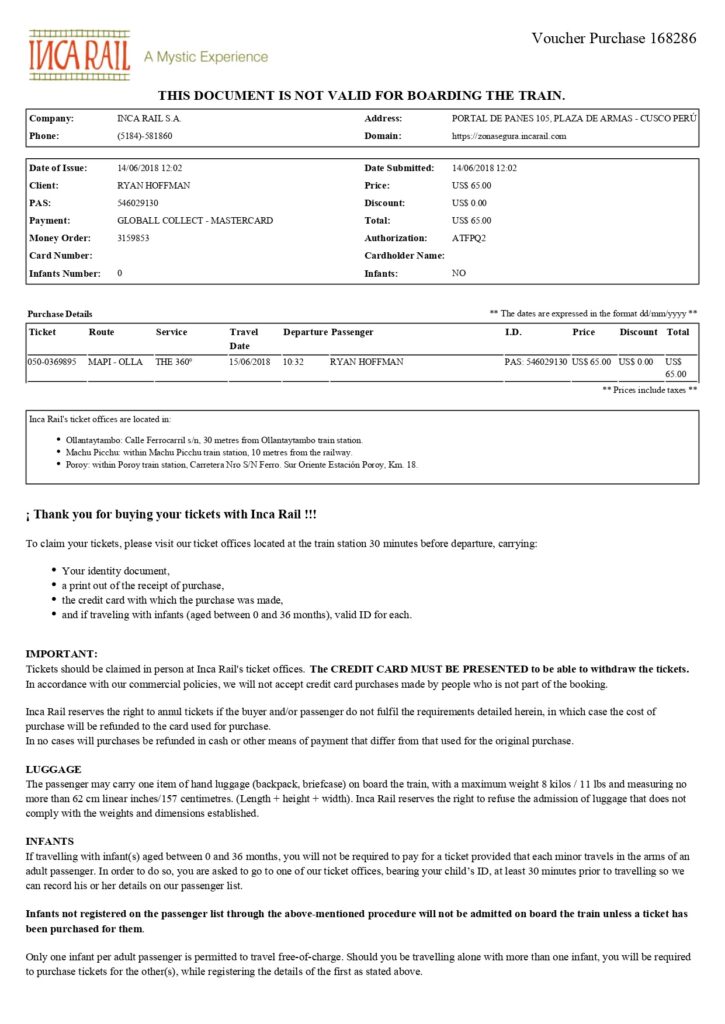 Inca Rail 360
It's a very nice train, I was impressed. Nothing like any of the other Peru transport I had use. It was spotless and the service impeccable. The Inca Rail 360 has and viewing carriage with no windows, the normal/seating carriages have huge panoramic windows that wrap over the ceiling, you get a lunch box and there is wifi. For a 2-hour train trip (Machu Picchu to Ollantaytambo) I personally can't see the rationale in paying a lot of money. My trip was the cheapest leaving at a reasonable time and most Voyager tickets cost the same, sometimes more. If you don't get the train to Cusco you still (like I did) need to get to Cusco; taxi or colectivo from Ollantaytambo to Cusco, 72km and another 2 hours easily. Still, the taxi/colectivo only costs 20 od Sols and it too is a scenic ride.
The videos aren't exciting, I do hope they give you a sense of the surroundings as the train follows the Urubamba River. I have four other longer videos but can only upload a max of 100MB files. When I reduced the quality of the files to under 100MB the picture is terrible, so you'll have to make do with these five. Keep an eye out for the many terraces during the journey. Arriving in Ollantaytambo I gazed up at the ruins for a bit, they are stunning, then headed to get a colectivo.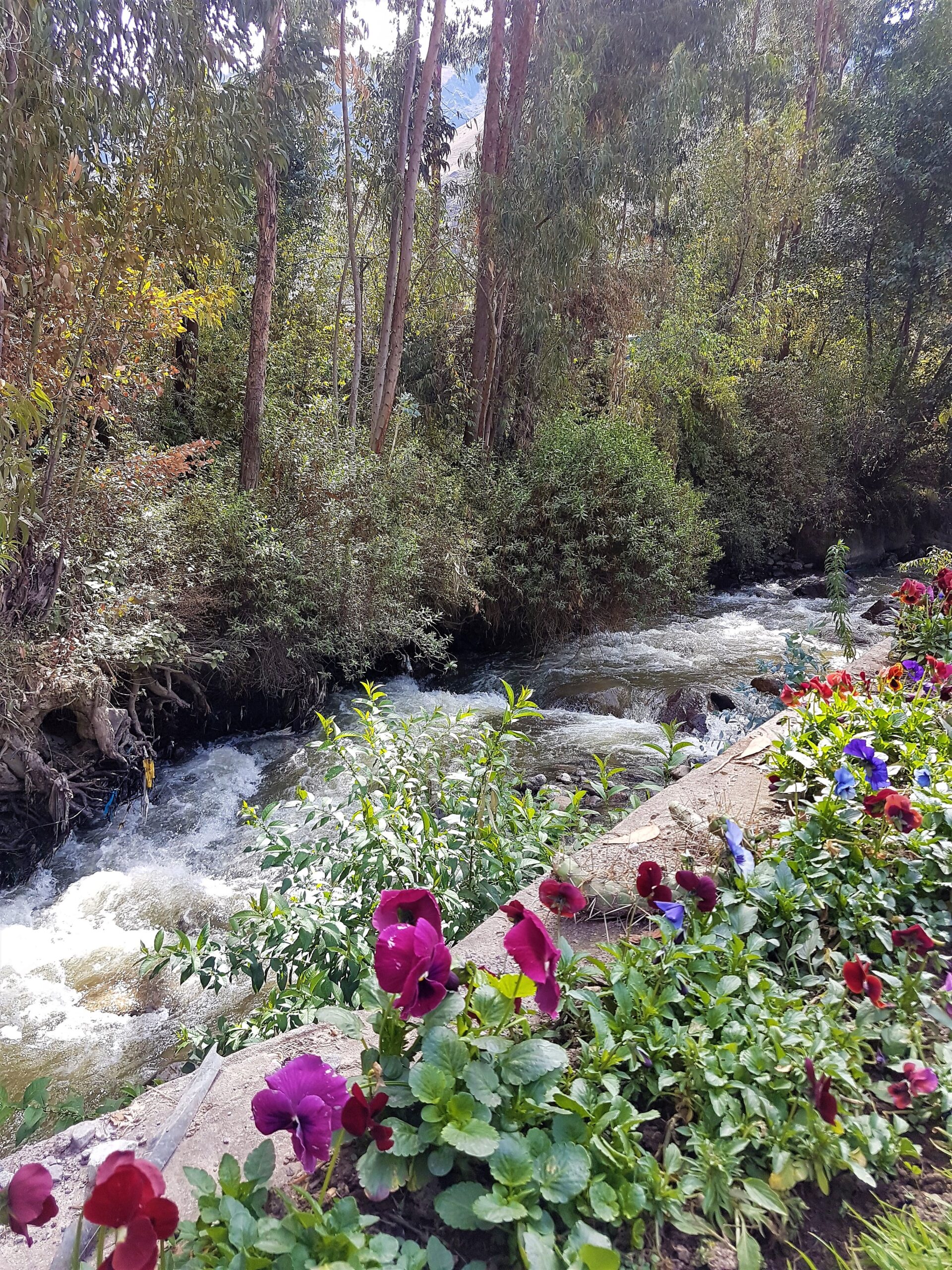 My time in Peru ends
Ending my time in Peru with Machu Picchu was the cherry on the cake. I had heard a lot of very good things about Bolivia so was excited. I said earlier I had some research but that was only on accommodation in La Paz. Other than what people had said I knew very little else what it had to offer. So, signing off for Peru…for now. Next, Lap Paz, Bolivia!
Inca Rail 360 from Machu Picchu to Ollantaytambo – Peru
Inca Rail 360 from Machu Picchu to Ollantaytambo – Peru
Inca Rail 360 from Machu Picchu to Ollantaytambo – Peru
Inca Rail 360 from Machu Picchu to Ollantaytambo – Peru
Inca Rail 360 from Machu Picchu to Ollantaytambo – Peru