Cusco (or Cuzco ?) is festive to say the least, Caporales topping the list! During my time there it felt as if they were celebrating something every other day. Plaza de Armas and the park in front of Convent of Santo Domingo always feels busy. If not in the throngs of a festival or ceremony, they are practicing and preparing for one. Some are more sombre like religious festivals, others are more commemorative and proud demonstrations. There are those I have no idea what they are about, with others dancing and singing as their core which have a cultural connection.
Not to put a negative on these gatherings. I read in a few places that pickpocketing if "rife" during these gatherings especially around Plaza de Armas. I'm sure pickpocketing does happen, but rife, I don't think so. Honestly, pickpocketing happens in almost all countries throughout the world, especially when there are thousands of people in crowds. Add thousands of silly tourists and you'd be a target no matter where in the world you are. At no time in Peru did I feel concerned. I'm always cautious with my things and conscious of my surroundings, still, I never saw or heard of any instances of pickpocketing/robbing.
A little correction – I may have made an error in a previous post; I recall saying I was in Cusco at the end of April, that is incorrect. Arriving on the 30th May and left on the 10th June, minus the first two days gave me 9 normal days; leaving on the 10th to head to Machu Picchu.
What's on in Cusco
Something is always happening, or so it seems. I once asked Coco what festival was happening that day, his reply "Who knows! Some or other thing, there are too many to keep up with!". I'm reasonably confident I've got the correct names for the parades/festivals I saw – if you know I've made a mistake please let me know.
Corpus Christi of Cuzco
Part of the Holy Week this is the culmination of the week with the procession of 10 Saints and 5 Virgins. Peru is 80% Catholic and manages to incorporate this Catholic festival with a Peruvian (Quechua) flavour. The saints & virgin statues are brought from their respective parishes (some are 10km from the city) and paraded around Plaza de Armas. Once the parade is complete, they are taken back to their respective churches. Peru is a very religious country, making this the biggest festival, not just in Cusco but throughout Peru. Plaza de Armas gets packed with locals coming from far within the Cusco region to be part and to watch the procession.  The procession ends when the La Carozza, a large type of trellis with a shrine on top covered with 166kg of silver. Even at a distance it glimmers from the streetlights.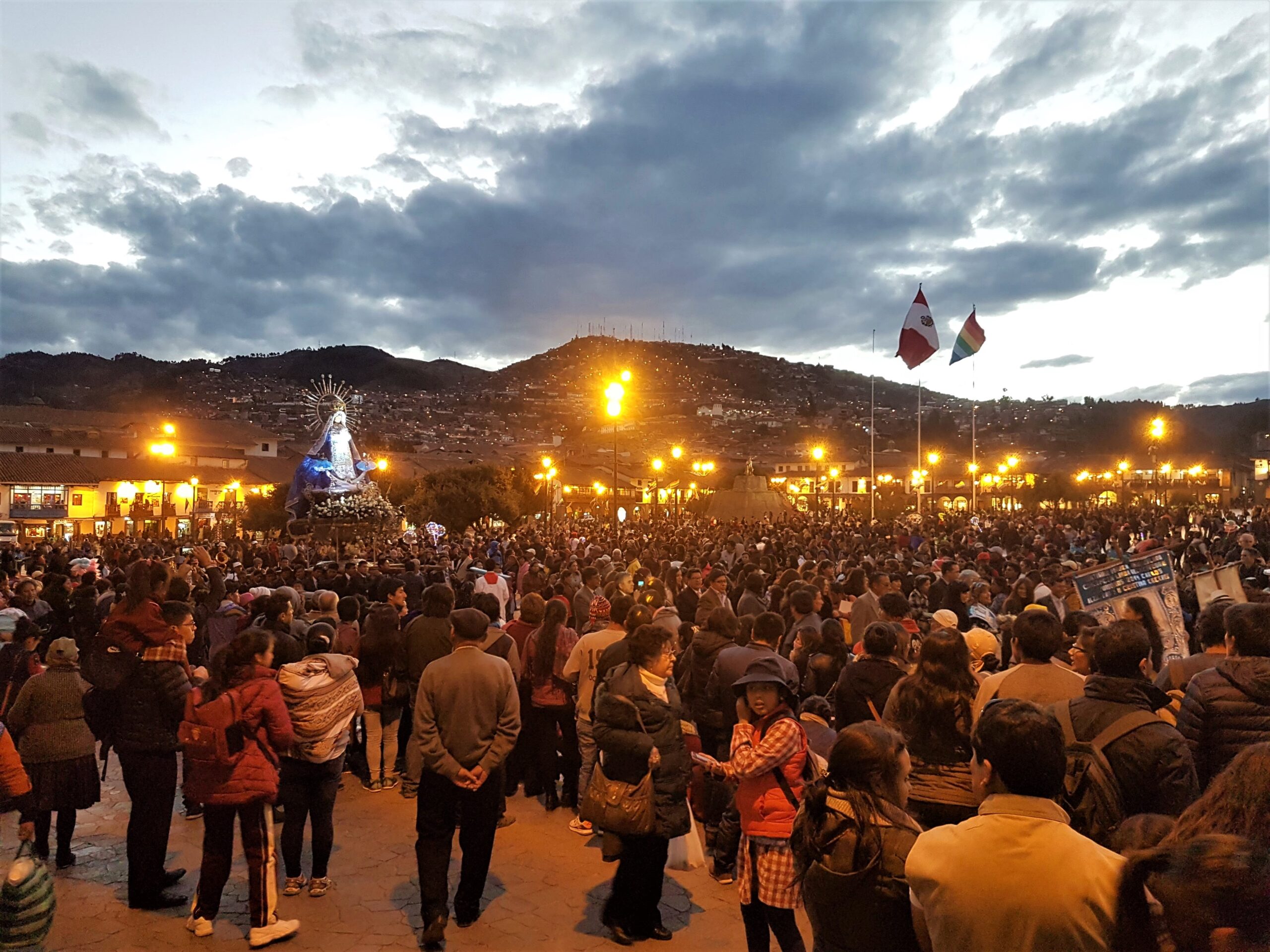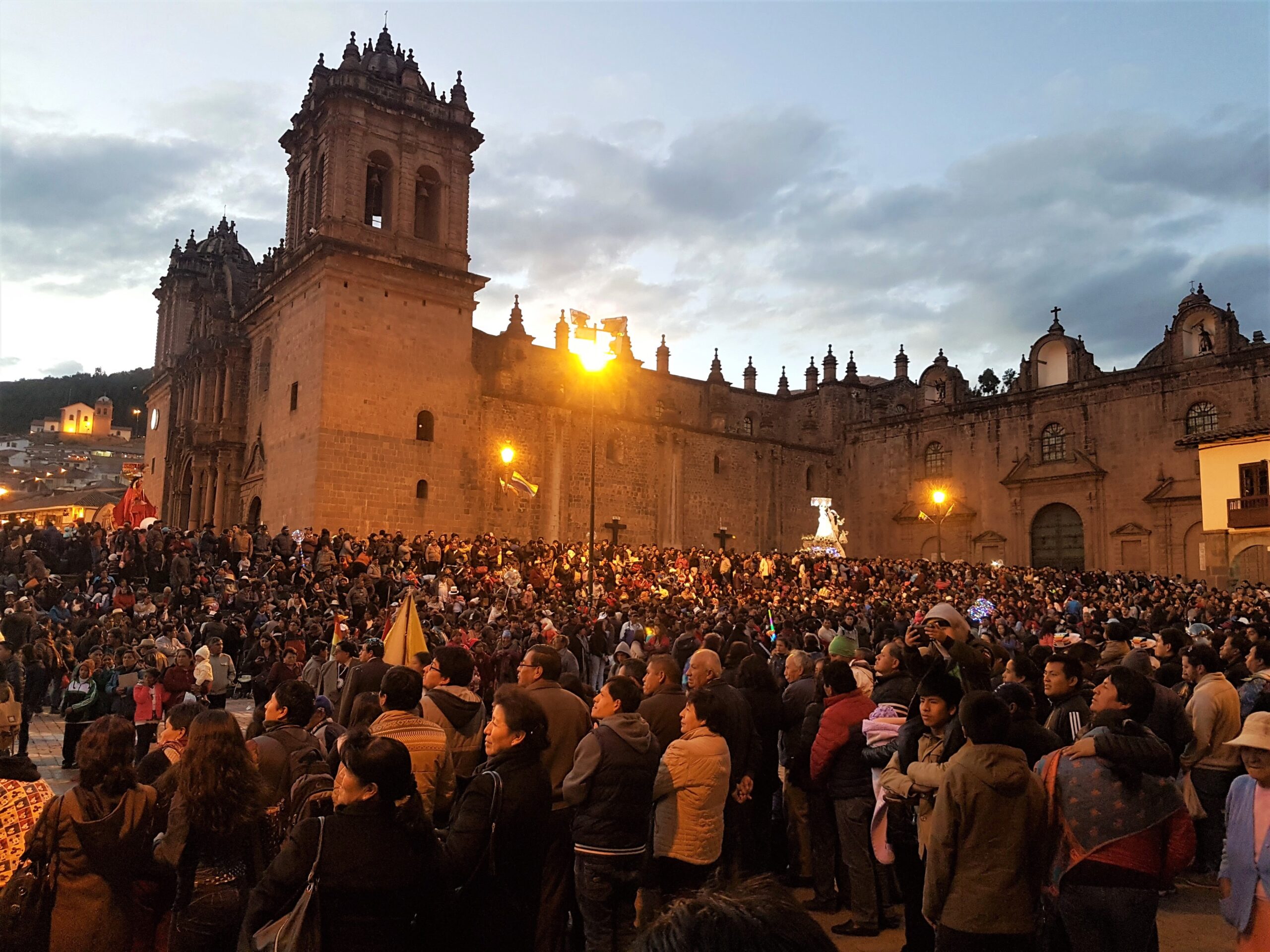 Flag day
Held every year on the 7th June, this is a celebration not just of Peru's flag but of its history and their patriotism. Flag day commemorates the Battle of Arica (Assault and Capture of Cape Arica); fought between Peru and Chile (Bolivia fought with Peru but withdrew before the Battle of Arica). Against all odds 1600 Peruvians fought valiantly against 8000 Chileans, though ultimate loosing. Colonel Francisco Bolognesi led the 1600 of which more than 1000 died including the Colonel, in the process becoming national heroes. Chile captured Morro de Arica (Cape Arica), then Tarapacá and Tacna provinces followed by the toppling of Lima. Peru never regained the city of Arica.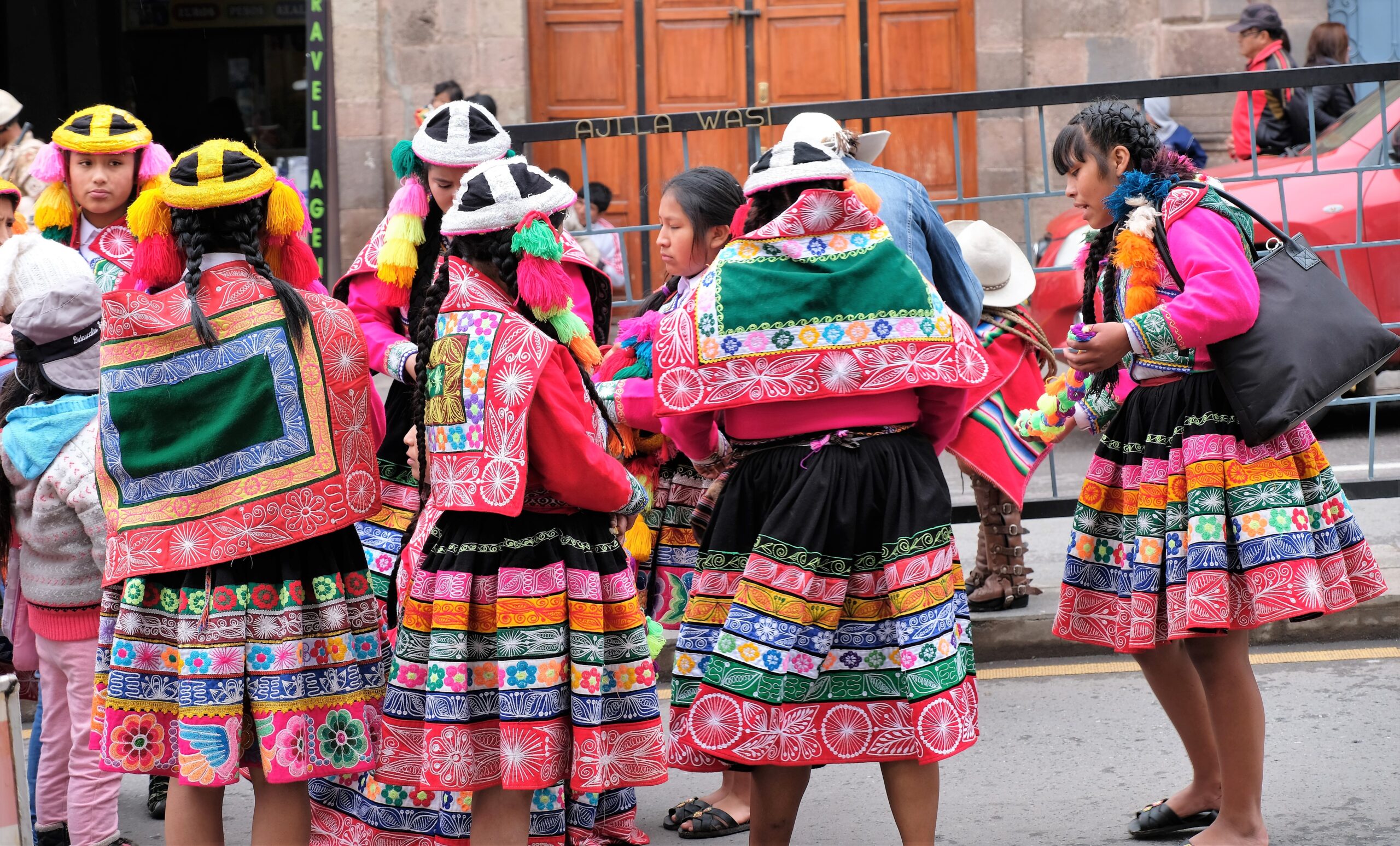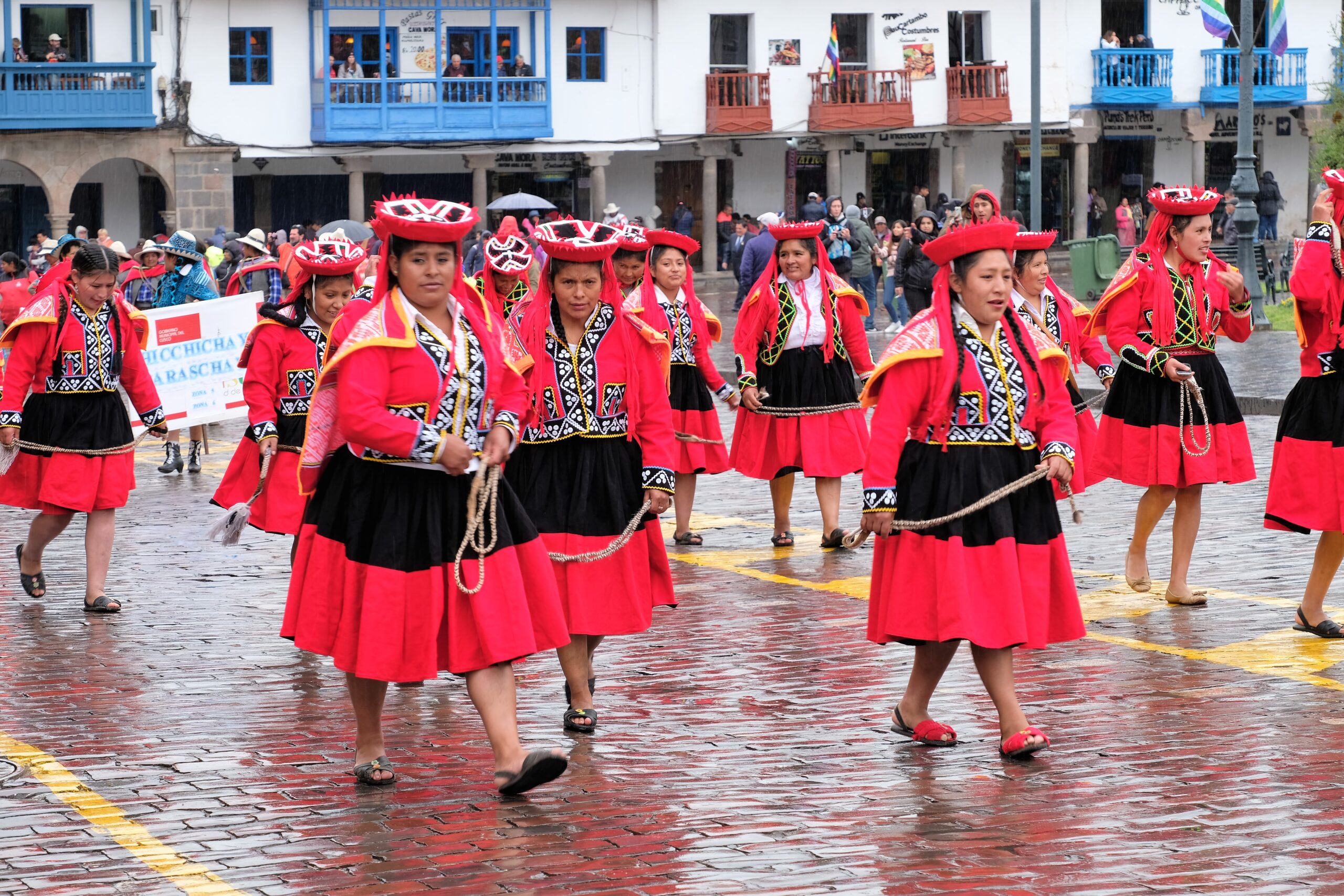 It was wet, cold and dull. Still it didn't stop participants parading through the city and round Plaza de Armas. Parading in traditional dress involving all ages, though I mainly saw older people. It is more of a procession including regional traditional dancing. Brightly rainbow colours dominate the outfits made me forget the bleak weather and that I had been standing in the rain. However, it felt more like a procession than a festival. Far from somber, just comparing it to other parades this was cheerful and vivid yet dialled down. Andean traditional dress is fascinating. Set in a region of extremes their attire would bring happiness and life to the harshest of areas.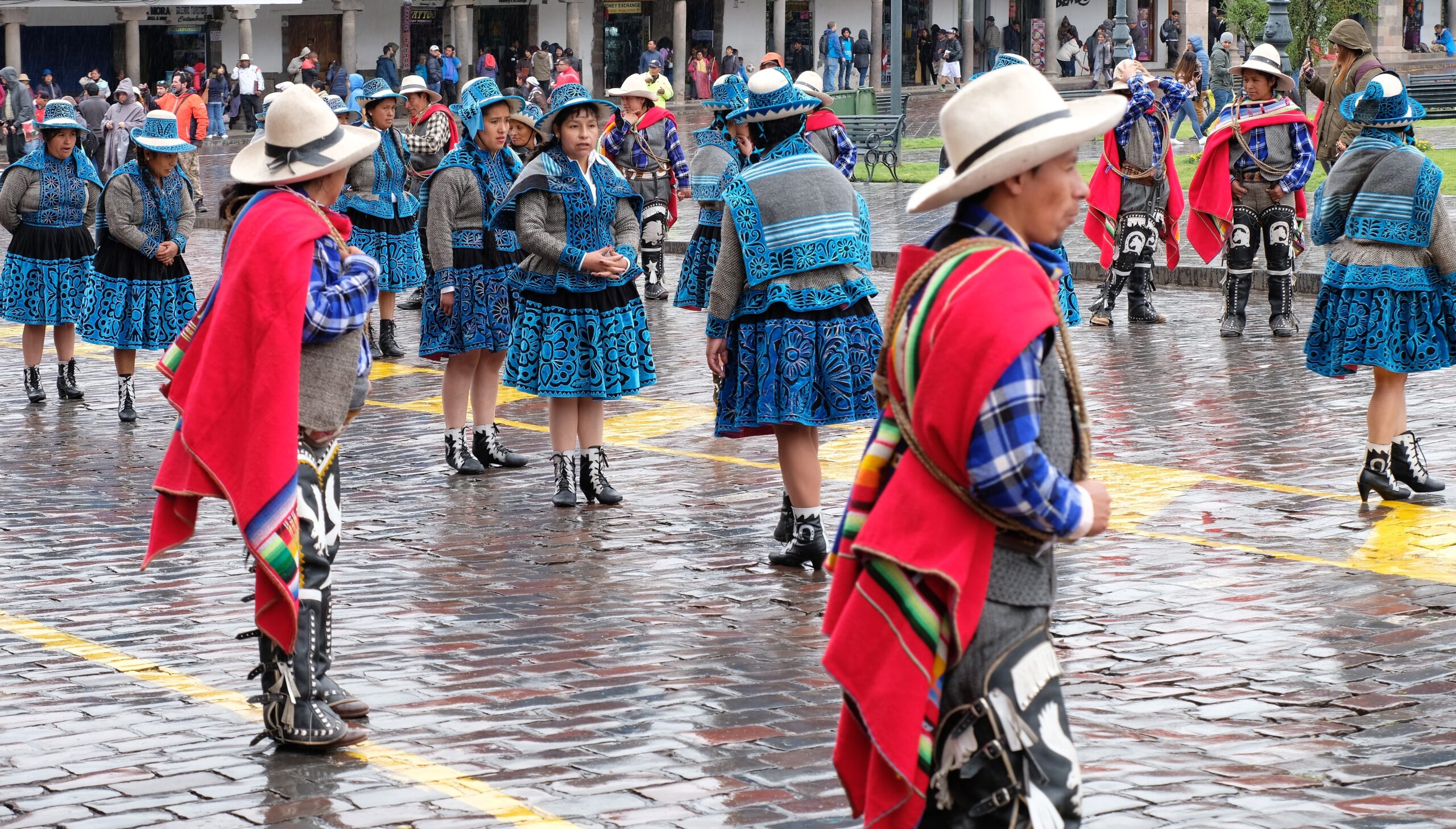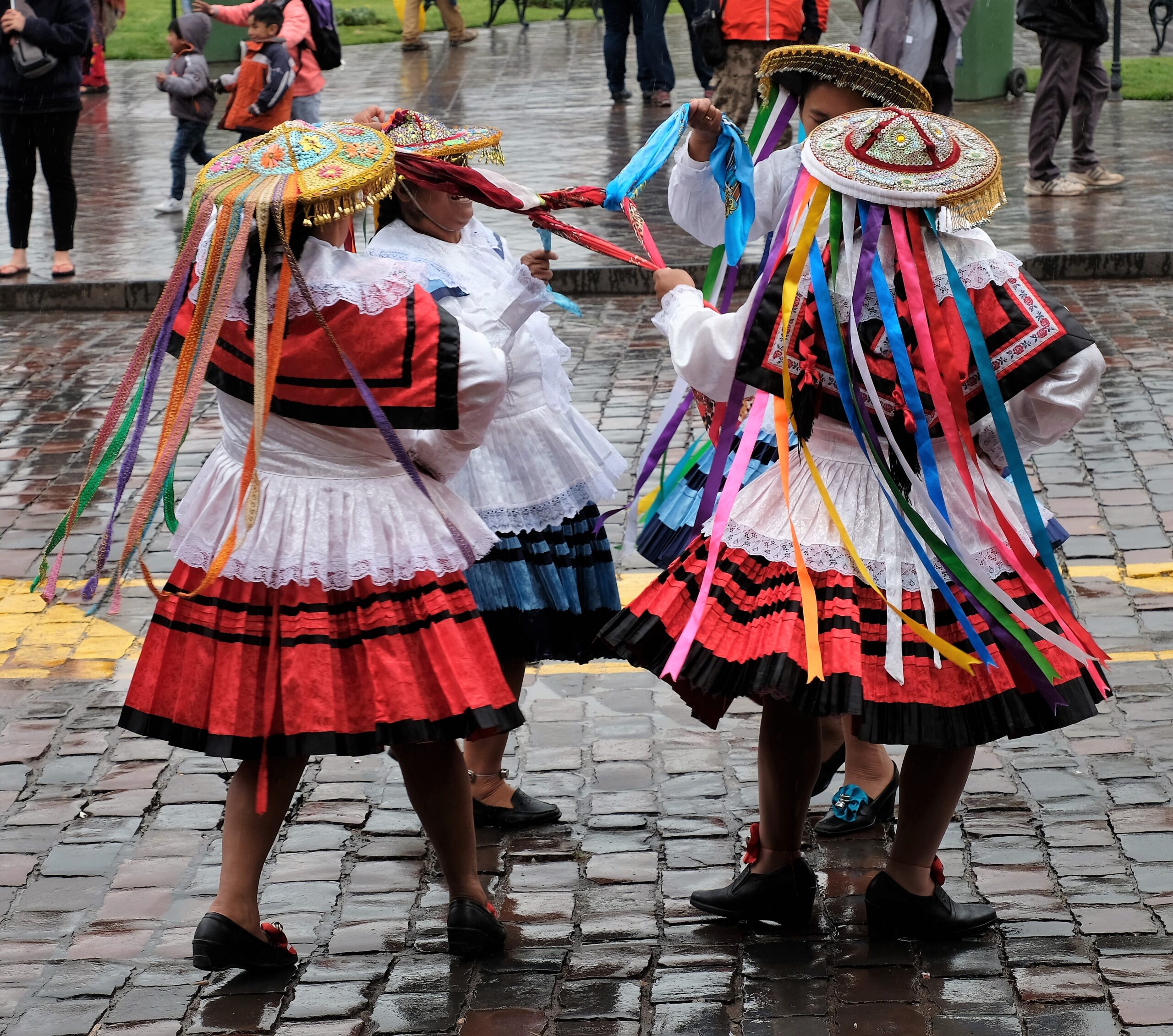 Parade of allegories
I had no idea what this parade was about. The floats had no consistent theme, in fact they looked completely random…and they are. Held around Plaza de Armas, as everything does. It didn't take much time to find out what this was all about. Floats are made and paraded by art students of the university, National University Diego Quispe Tito (School of Fine Arts). This parade seems to be all about fun, and they succeed. Some of the floats are odd to say the least, still interesting. I wish I could have spoken to the students who made them to understand their motivation or the meaning (if any) of their works of art ?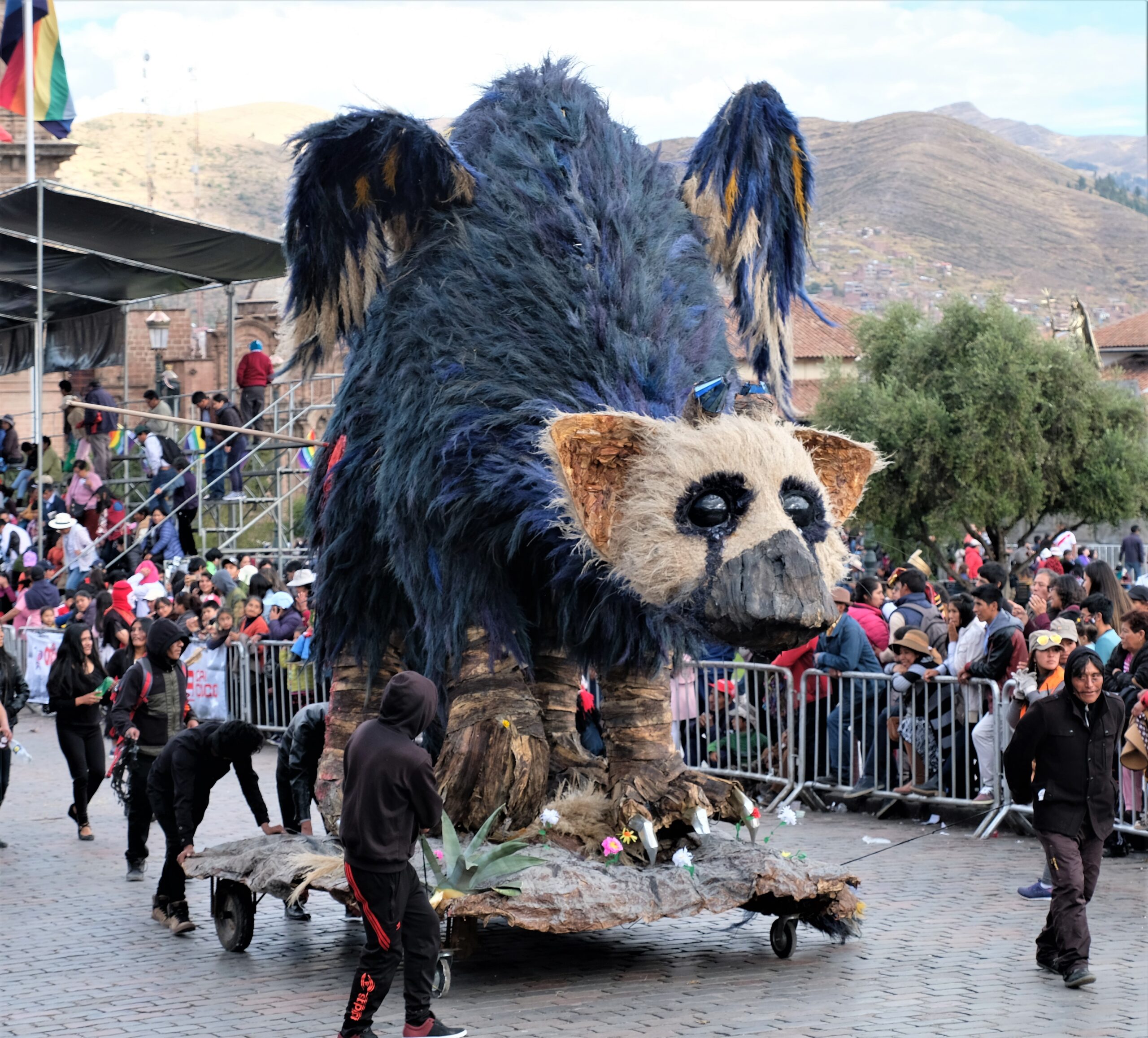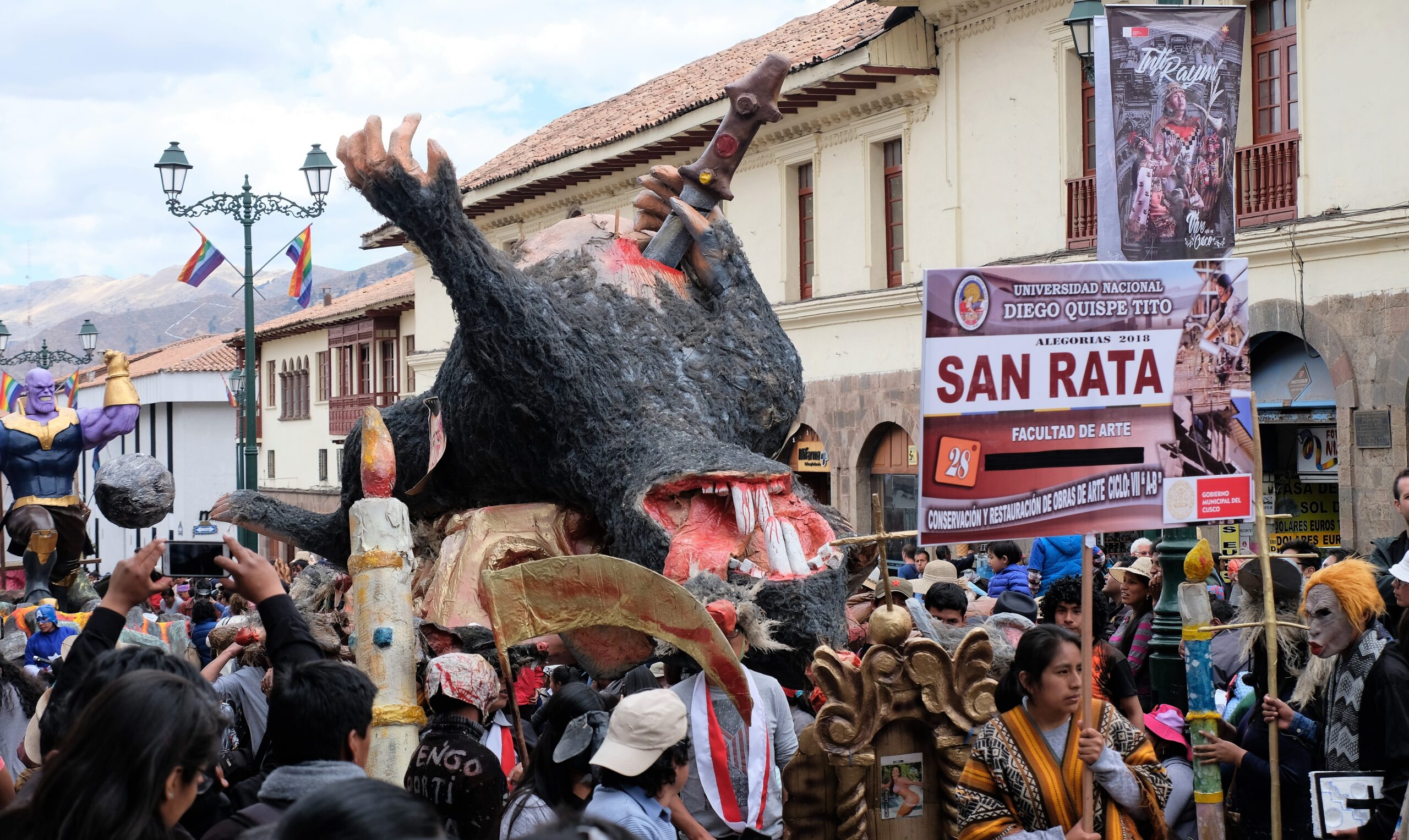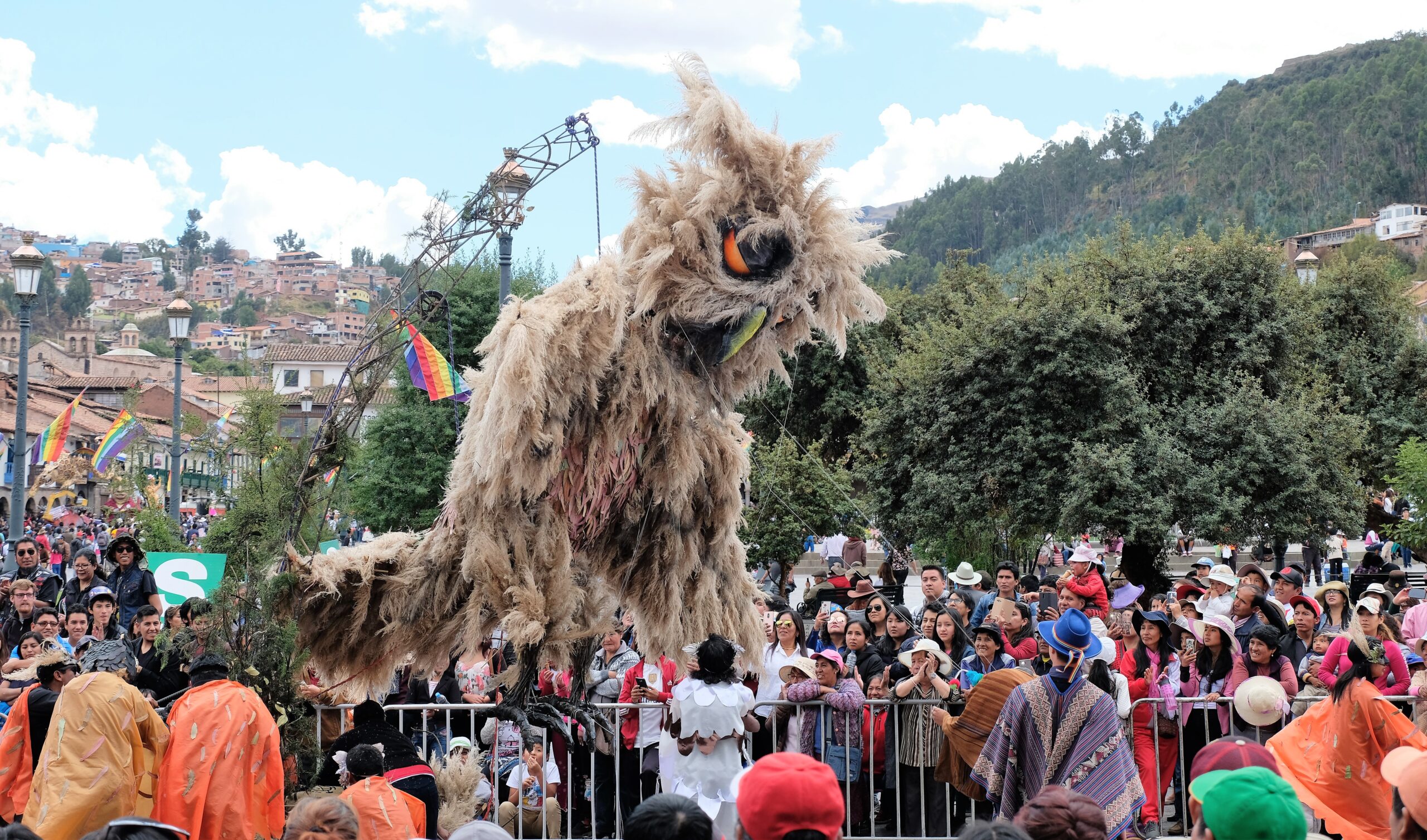 Civic Parade
Won't say too much about this one, think the name says it all. This is the one parade I'm not too confident about the name. Anyway. Marching proudly around Plaza de Armas to the sound of a big brass military band were: different parts of the military, police, fire brigade and any civil service people you could think of. Lots of formal speeches made on a podium and a large temporary grandstand opposite Cusco Cathedral. This was the least busy ceremony/festival in Cusco, the cold rainy weather couldn't have been much help to draw the crowds. I think this parade is done once a month – not confident with that statement either.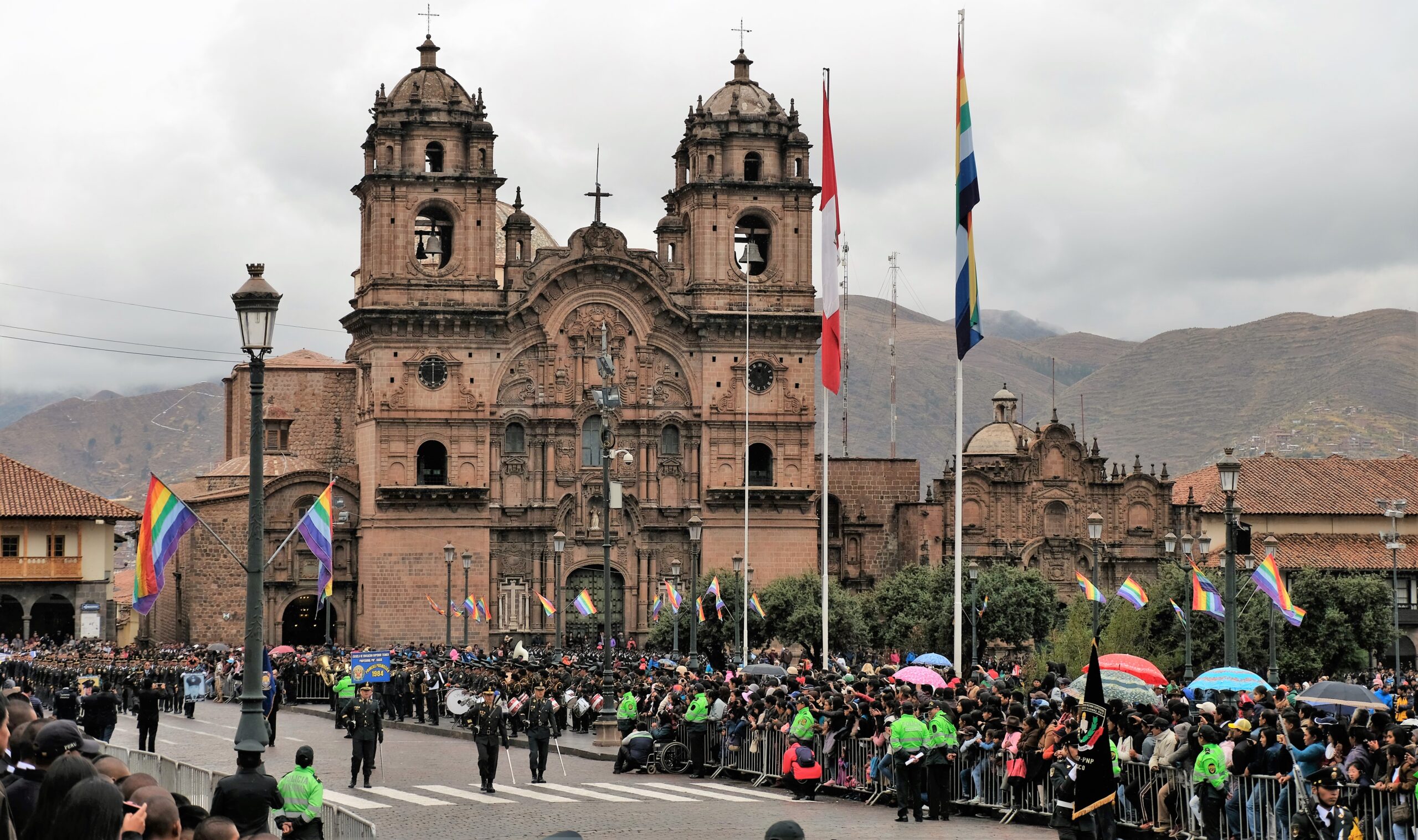 Caporales in Cusco / Salute from Collasuyo/Qullasuyu to the Imperial City of Cusco
No I wasn't confused what to call this festival, it's because I found three different names for it! GRRRR. From what I thought was different regions &/or clubs showing off their style and flare, this festival actually has some depth to it.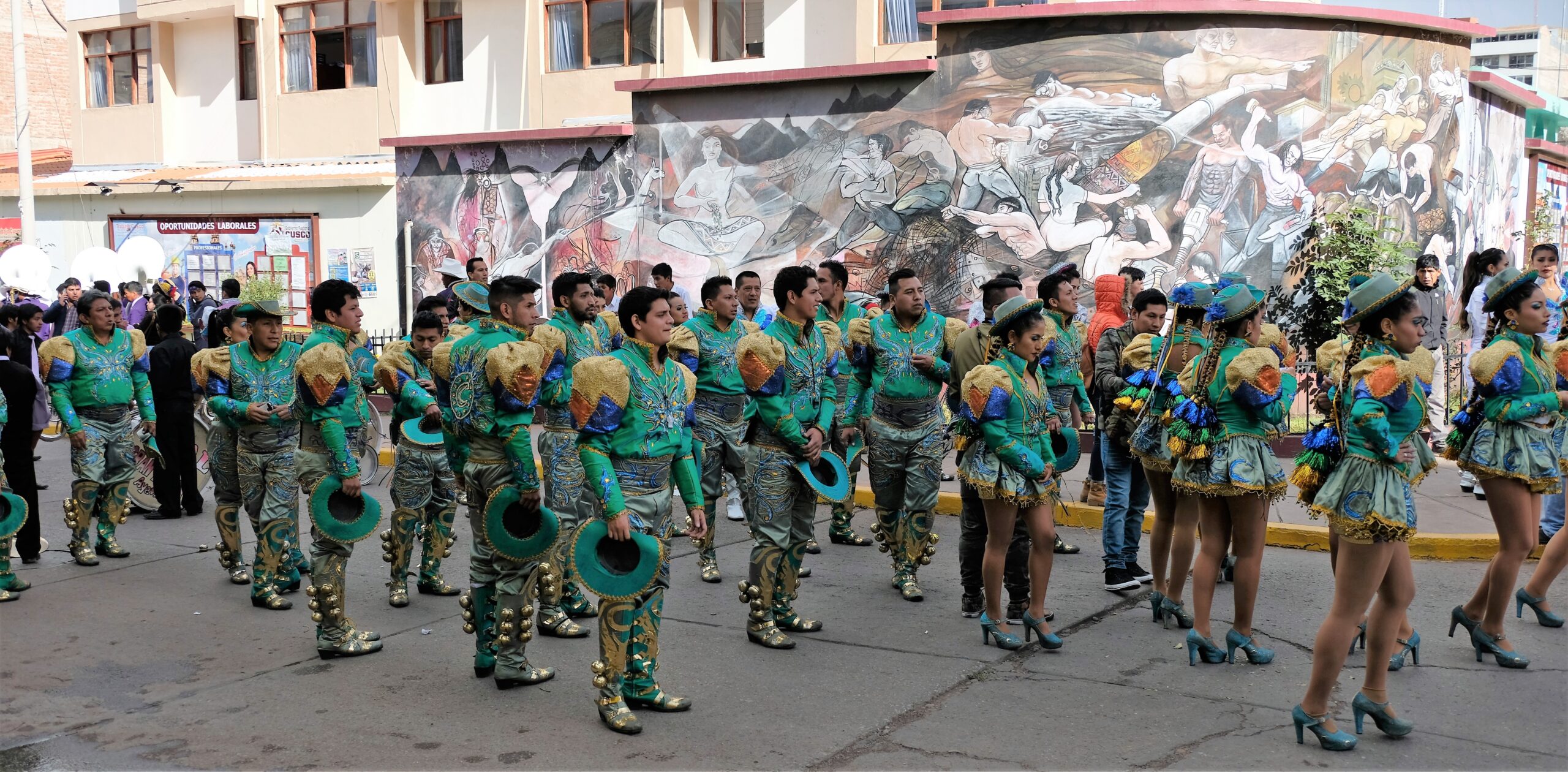 Background to Caporales / Corporal
Its origins come for the Bolivian region of Yungas, where many African slaves were forced to work on farms. The dance was created by the Estrada Pacheco brothers (Jorge and Carlos) in 1969 (I don't know their origin but think they were Bolivian), around the representation of the El Caporales/Corporal. This "person" in most instances was a mix-race individual (Afro-Bolivian or Afro-Peruvian, mostly male, occasionally female). The Caporales would watch over the slaves and is represented dressed Cowboy'ish, with boots, hat, bells around their boots or ankles and often carrying a whip. The dance-parade began in La Paz and has spread through to many Andean countries but mainly Ecuador, Peru, Argentina, Chile and Bolivia. Caporales/Corporal is now the name of the dance.
Now the dance has an added religious dimension. Dancers dedicate the dance to Virgin of Socavón (patroness of miners) and promise to dance for three years of their life (obviously not continuously ?). Taken from Wikipedia "In June 2011, through a Supreme Decree, Caporales along with other dances were declared Cultural and Intangible Heritage of the Plurinational State of Bolivia; according to the government entity, this measure was taken to curb the attempts of appropriation by neighbouring countries"
Towards Plaza de Armas on Avenue El Sol, Caporales in Cusco – Peru
Caporales in Cusco, heading up Avenue El Sol – Peru
Caporales Cusco Folklore Association
Caporales Cusco Folklore Association are the festival organisers and invite the regions (groups/associations/clubs) to join the "Corsican Collasuyo Salute to the Imperial City of Cusco". FYI – the largest Caporales festival is held in the Peruvian city of Puno. Some 2000 dances take part in the Cuzco parade. Each group is split into two; firstly, men (Caporales), though some women dress up like them too, following behind is the second group of women only. All wearing bright lively colours decorated with sparkles and sequins. The men's and women's styles are consistent throughout, with each "team's" colours complimenting each other.
To fully appreciate the festival, you need to observe it for a few minutes – a rhythmic cadence consistently repeated starts to reverberate through you. I was there for an hour or two…or more. One of the tunes reminded me of the song for "Three Blind Mise", maybe that's just how my brain works. Even now when I watch the videos I cannot get Three Blind Mise out of my head for the rest of the day! This folkloric dance mixes ancient, recent past and current traditions and myths to create a story of its own as only the Andeans can. Sensual without being crass, proud without being arrogant, lively without being raucous the Caporales is a true reflection of the Andean people.
This is the final stretch around Plaza de Armas for the Caporales in Cusco – Peru
Around Plaza de Armas for the Caporales in Cusco – Peru
Best place to watch Caporales in Cusco
Give credit where credit is due. Though the dance seems simplistic, it isn't. You only need to be watching a short while to appreciate this has been choreographed over months! Caporales in Cusco starts early afternoon about 2km from Plaza de Armas, lasting into the evening. You try dancing for upwards of 6 hours and see how your feel…without wearing an elaborate outfit!
 The procession heads up Avenue El Sol culminating around Plaza de Armas so anywhere along that route is a good place to watch. Plaza de Armas is the climax so it's worth getting there early – even if you don't the parade carries on for hours. Still, with 2000 well organised dances there are bottlenecks; the concertina effect tends to happen as they enter Plaza de Armas so if I were you I would avoid this spot.  I say avoid this area because the dances often have to stop there and wait their turn to enter Plaza de Armas. They have danced for hours before they get here and know the end is in sight. This is what they have waited for, what they have practised for the whole year. Plaza de Armas is their victory lap, using their remaining energy for the grand finale!  
On Avenue El Sol the festival of Caporales in Cusco – Peru
Bottle necking at the entrance of Plaza de Armas doesn't stop the singing, Caporales is Cusco – Peru
Dancing never stops with Plaza de Armas less than 100m away, Caporales in Cusco – Peru
Summary of my time in Cusco
Cuzco got of to a rocky start literally. From the little fender bender on arrival heading to my accommodation, to my dismissal of Coco's advice to take things easy because of the altitude. The 1.5 days in bed then the follow day passing gingerly could have been substantially more productive, in the very least more comfortable and enjoyable! I got to see a lot during my time in Cusco, though I could have seen so much more. What I haven't included in my posts were the few days in Cuzco after my time in Machu Picchu; during this time I wondered about city with no aim or plans for the day. Trying to get a feel for the city away from the tourist hotspots.
I stick with what I've said, Cuzco isn't a pretty city (if you include the non-tourist areas). If you took away the Inca and Spanish era sites no one would visit the city. However, people made a city not the buildings. The people of Cuzco are reserved and conservative, yet with an underlying zest and connection to their past. This region has a rich culture which they are proud of, rightly so. They are the descendants of a remarkable empire, have gone through a cultural genocide and come out the other side possibly even stronger. Many Inca traditions which the Spanish banned are again part of the fabric of everyday life of Cusco. People from across the region come to Cuzco to once again remember their rich heritage and customs. Cusco is a charming city, its people make it special and the tourist attractions are just a bonus.
Sites seen and sites yet to see
Cusco wasn't a tick-box exercise for me. I spent as much time at each as time would allow, and I would go back to all of them again, honestly. There's just so much to see! If you include all the places/sites I didn't get to I could have doubled my stay and still not seen everything all. Do I have any highlights, hmmmm, yes, Saqsaywaman and Rainbow Mountain and the Red Valley. Contrary to what you may think, I enjoyed every minute of hiking at altitude. It taught me a lot about myself (mind and body), that was a surprise lesson I wasn't expecting to get out of this visit. In case you missed any of the previous posts, here is everything about Cuzco and the day trips I took:
My tips and regrets
Not spending the first day or two acclimatising

I like keeping my plans fluid though could have spent just a little more time planning. This wouldn't have taken much time, half a day at most and I could have made my time twice as productive

Wishing I knew a little more Spanish. Did my usual of learning a couple of phrases. If you're willing to spend a little time and common sense many signs can be understood; English and Spanish have a base in Latin so many words are translatable without Google Translate. You may not understand every word but should get the gist of it. Why I wished I knew more Spanish? In order to understand what the people were singing at the festivals. Sung with a repetitive gusto and melodic elegance I wish I knew what they were singing about. If anyone knows, please tell me

My regrets… a feeling of longing to go back
What's next…?
Machu Picchu! I planned this one quite well. Get a bus from Cusco to Santa Maria, then another bus/colectivo/taxi to Santa Teresa. There I would spend one night, heading to Hidroelectrica (will explain in the blogs to come) the following morning then hike to Aguas Calientes – the base town for Machu Picchu. Except, my plans didn't work like I had hope! All did turn out just fine in the end. I hope you enjoyed my stories about Cusco and its surrounding areas as much as I did. If the opportunity arises in the future to visit again, I'd grasp it with both hands!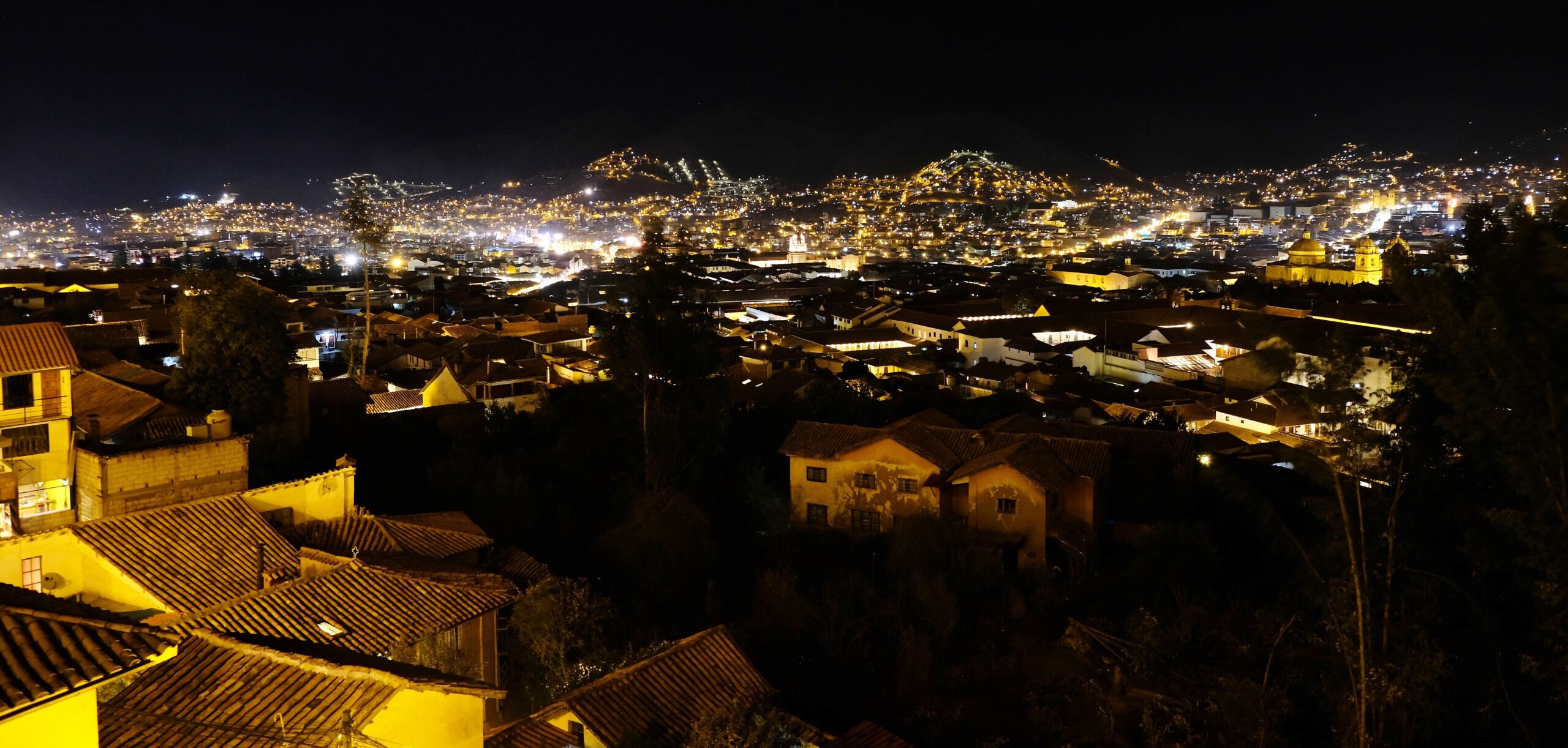 I have no idea what this festival was on the 15th June – Cusco, Peru
Practicing dancing in the garden in front of Convent of Santo Domingo – Cusco, Peru