My journey to Machu Picchu (Aguas Calientes) started in Cusco, via the Abra Malaga on a bus to Santa Maria, then taxi to Santa Teresa where I'd spend the night. The next morning head to Hidroelectrica and then hike along the railway to Aguas Calientes, the base town for Machu Picchu – nothing complicated. El Tuco was a perfect hostel come B&B; Coco was great so was his wife and daughter who helped and guided me many times. One thing I thought was odd, check-in was any time after 10am, that's very early compared to most places. Check-out was 9am! That's the earliest of anywhere I've ever been! This doesn't seem to be much of an issue, many flights land and leave early. Many day trips or leaving Cusco to continue travels/destinations/tours require an early start such as the Inca Trail.
NB. I didn't have a ticket to Machu Picchu…that would come into play later.
From Cusco to Aguas Calientes / Machu Picchu
There are a number of ways to get from Cusco to Machu Picchu. Just to be clear, when you head to Machu Picchu you need to go to the town of Aguas Calientes; this is the town at the bottom of the mountain from Machu Picchu. From here you can hike, take a bus or a private tour up to the entrance of Machu Picchu etc. etc. Cusco to Aguas Calientes is just over 70km away as the crow flies, however getting there isn't straightforward. I'm not going to run through all the routes possible to get there, instead here is a brief summary:
The Inca Trail – varying in prices and duration, lasting from 3 day up to 7 on average. Lots of Inca Trails start from

Ollantaytambo,

some start in Cusco

Colectivo/Taxi from Cusco to

Ollantaytambo

then a train to Aguas Calientes

Cusco train to Aguas Calientes – Train leaves from Poroy Station (10-13km from central Cusco), It's the fastest option therefore one of the more expensive options too with booking getting snapped up fast. FYI – this train passes through Ollantaytambo

There are a few (I think 3) train operators. The more luxury you want the more expensive

My route. Leave Cusco on bus to Quillabamba getting off at Santa Maria (3-4 hours), then a bus/collective to Santa Teresa (1 hour), taxi to Hydroelectric plant (30 minutes), then hike to Aguas Calientes (just over 10km). This is the cheapest option especially if when arriving at Santa Teresa you head straight to Hidroelectrica and start the walk to Aguas Calientes. I was going to take it easy; spend a night in Santa Teresa and start my walk the following morning nice and early.
Bus from Cusco to Santa Maria
Starting earlier than normal, I headed to the Quillamaba Terminal in Cusco arriving at 6:45am. Yes, the station is called Quillamaba Terminal however the destination is Quillabamba (slight difference in spelling). If you decide to take this route, I was told to get there early as seats get booked quickly, hence me getting there at 6:45. You can go the day before to book a ticket.
Quillamaba Terminal is what I would call a "basic" bus terminal. There were 2-3 operators leaving to Quillambamba and they all via for your business. Choosing can be a tussle with operators openly trying to persuade you to use them and not the other; good open competition it was all very civil. My decision was made easily, who was leaving first?  To Santa Maria cost about 30 Sol (less than £10). During my time in Peru I had seen some very dodgy busses. When I saw my bus I was relieved, a decent size (smaller than a Greyhound) and looked in good condition…PHEEEWWW! How lucky I was I thought, the bus was quite empty and I had a double seat all to myself too! WOOHOO! If only that's how the rest of the journey went!
Quillamaba Terminal may look rudimentary, yet even here the tickets have seat numbers…I just didn't notice. Needless to say I didn't have a double seat, nor was the bus going to be empty. Not long after I got myself comfortable when another passenger let me know (politely) that I was in his seat. Between our broken English/Spanish I understood why he preferred his seat to my allocated seat. Being blunt, my seat was next to a very large lady…who also had a child. By now the bus was Peruvian full.
Peruvian full
Is a term that only people who've travelled on a Peruvian bus/colectivo/shared taxi outside of Lima can understand or appreciate. Full doesn't mean every seat is taken. It means every seat, overhead storage, aisle, your lap and the rack on top of the bus is full. Contents could be anything from huge bags to chickens. In my case full also meant only fitting one butt-cheek on the bench seat. My main bag was squashed into the overhead and my daypack on my lap. Oh well, it would only take 3.5-4 hours to Santa Maria (178km away), plus we'd stop about halfway for a snack & toilet break. This would be the start of a long and interesting bus ride…
My new neighbour could have been in her late 20's, her daughter maybe 5 or 6, too big to be sitting on her mother's lap (especially because of the size of these bench seats). As I mentioned the bus was in good condition, I'm 6 foot 2; meaning my legs don't fit into most seats without squeezing my knees into the seat in front of me. Hence me hanging one cheek off the side of the bench allowing my neighbour to get her daughter on her lap. Though my neighbour was young and half my height, I'm not exaggerating when I say she was twice my size. I felt sorry for her, clearly she wasn't financially well off so maybe couldn't afford to pay for an extra seat for her daughter. She looked at me and I think I could see embarrassment in her eyes – there was no need.
Mother Nature doesn't care about your plans!
We hadn't been on the road for an hour before the heavens opens. Rain pelting down and getting worse as we carried on. The bus zigzagging up the windy roads heading up hills and mountains reminded me of a child's roller coaster. Around the same time my neighbour took out a clear plastic bag, discreetly spitting into it…or so I though. My luck, my travel companion was car sick. All the bus windows were closed because of the rain and the faint smell of sick began to waft my way. This carried a few more times till we stopped at our halfway point for 20 minutes; something to eat from the roadside restaurant a toilet break and for me to get a breath of fresh air. Not the best of stops considering it was pouring. Either you sat in the restaurant or huddled under the corrugated overhangs. I wasn't complaining, I could stretch my legs and the smell of fresh air was more than welcomed!
If my neighbour and her continued sick were all I had to contend with for the rest of the journey that would be fine, alas that was just the beginning. After our break we headed up the mountains again to Abra Malaga (I think translated it's called Malaga Pass). Distracted by playing something through my earphones, anything to distract me from my numbing butt-cheek and burning nostrils, I hadn't noticed the changing scenery outside. Outside was blanketed white with snow and a thick haze blocking out the valley and mountains. The fun was about to begin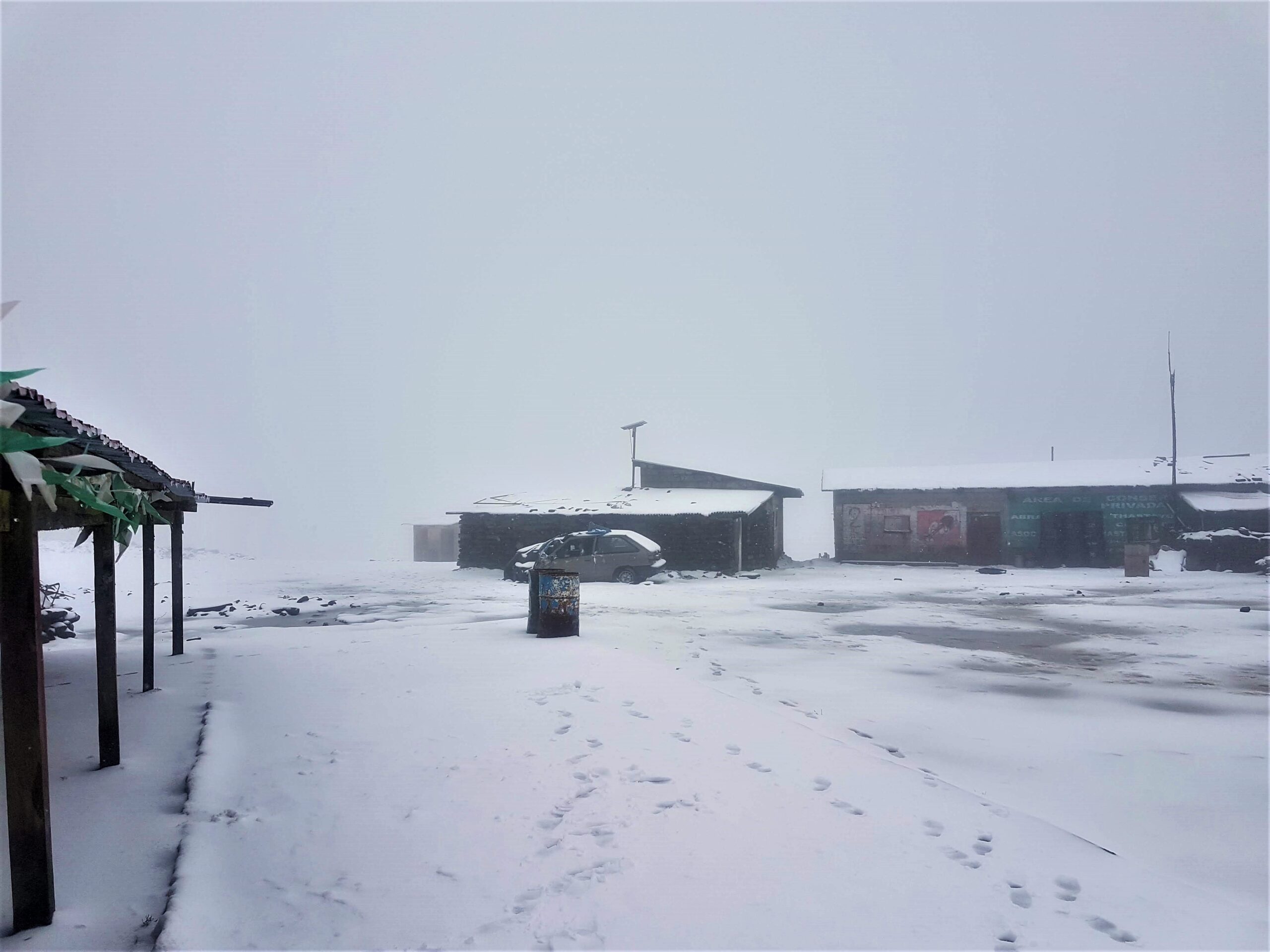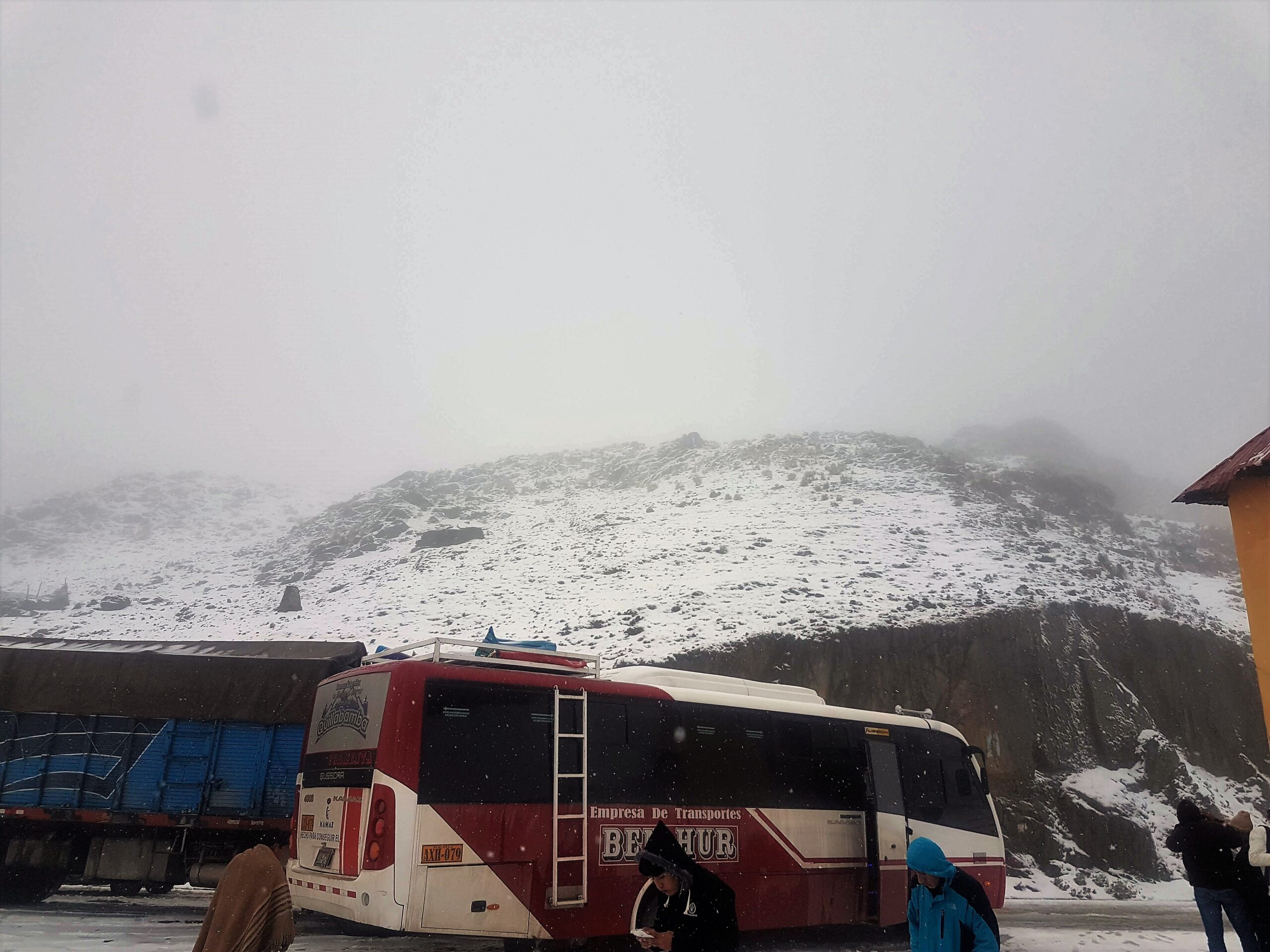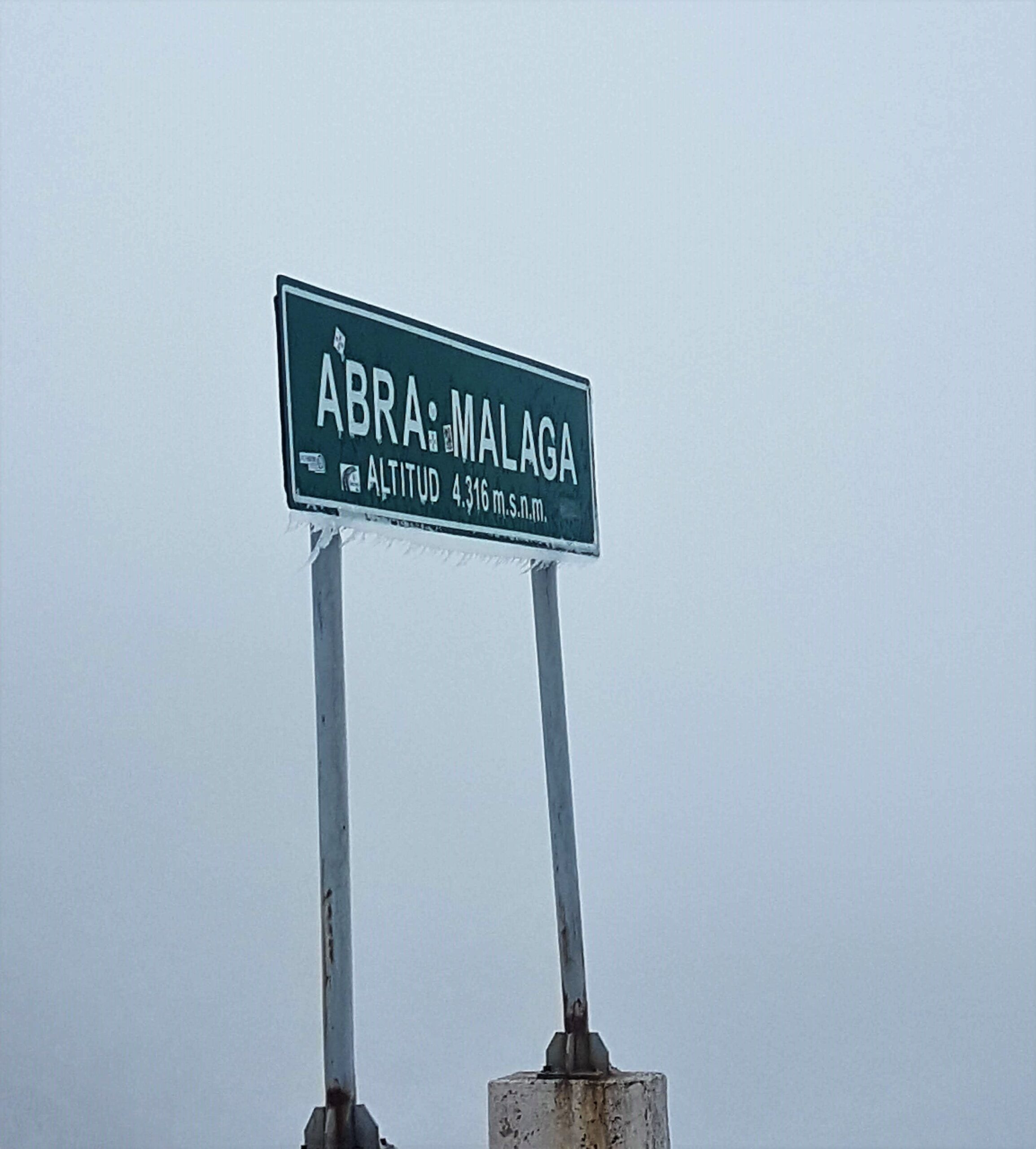 Abra Malaga / Malaga Pass
When we got to the top of the Abra Malaga (4312m above sea level!), the bus stopped, we were all asked to get out. Our driver would ascertain the conditions but for now we would be here for 10-15 minutes. Not expecting I'd be trudging through snow, I dressed accordingly that morning: a t-shirt, pair of trousers, short running socks and a fleece. Never mind, my legs got a welcomed stretch and the cold fresh air was great for my nose ? By the time everyone got back on the bus the wind had picked up and heavy snow had started to fall.
We hadn't gone 100m past the crest of Abra Malaga when our bus started to snake across the road. I'm not a nervous passenger, us ice skating on the road in a bus made me unquestionably concerned. With mountain on our right, there was nothing on the left, not even a barrier, except a 50m drop off a cliff…hence my concern. Though we were driving slowly our driver seemed determined to get down Abra Malaga. What heightened my nerves was that we were the only vehicle attempting to do so. Everyone else had stopped, they were going nowhere. Next thing our bus starts to crab to the left, then the back starts drifting out towards the cliff. I wouldn't say I shat myself, but I did have clamp like butt-cheeks!!! ? Finally, what felt like a minute (it was only a few seconds), the bus stopped with its backside stopping too…about 2m from the cliff's edge.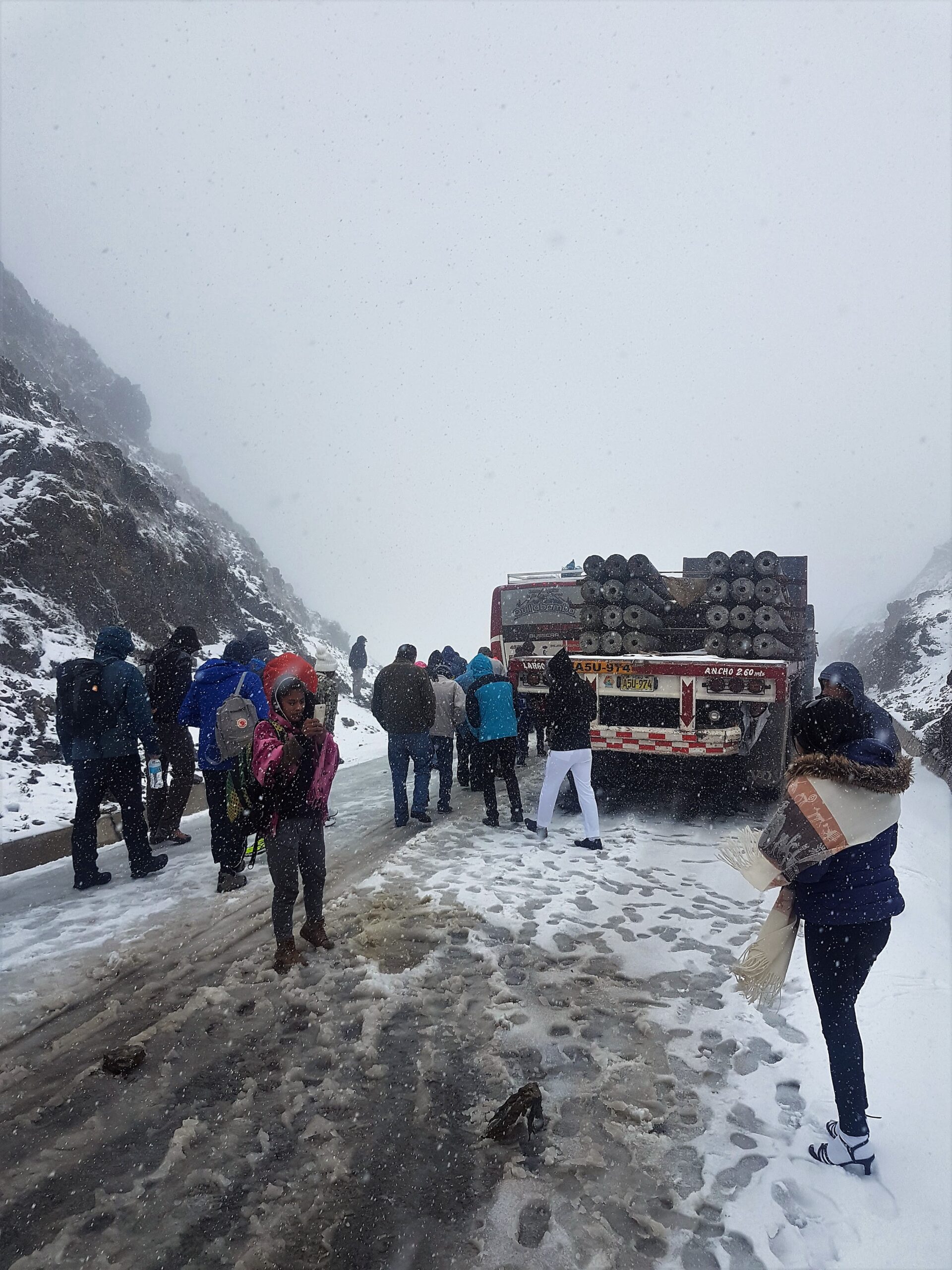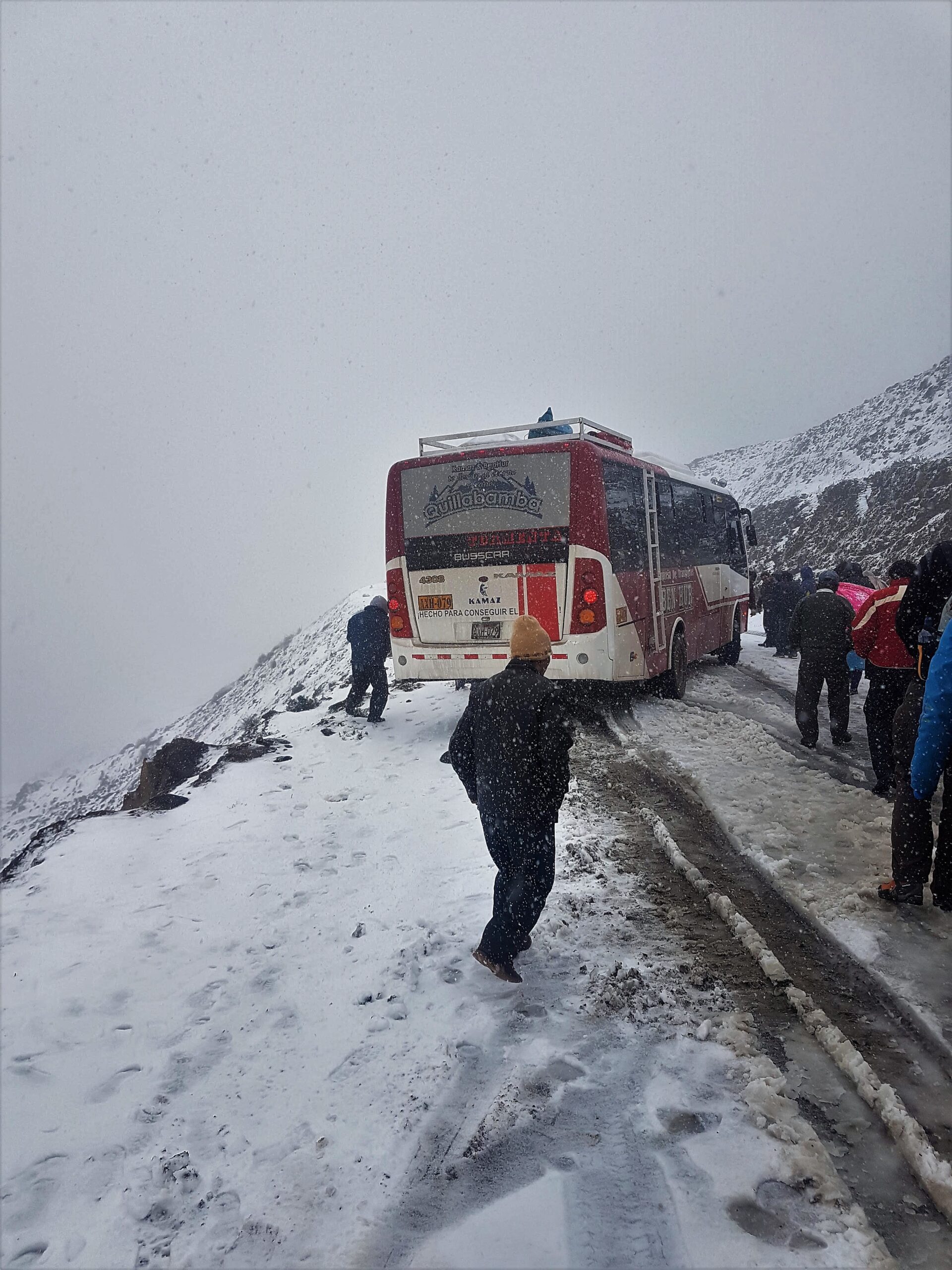 There's more to the journey!
Politely yet hurriedly we were asked to get out. Once outside I saw we had drifted across our lane and into the next. Can't think of another time I was happy to be outside in the frigid cold! For the next hour we were outside, to make matters worse a blizzard started! After 15 minutes my shoes were drenched in icy water, making my feet numb. I have no idea what the temperature was, definitely below zero Celsius! Some locals helped dig the bus out of the snow, while others including me pushed. The cold had bitten through to my bones!
After an hour we had moved 150-200m at most. We pushed and walked trudging through the slush and snow, passing countless other vehicles, their passengers looking at us in bewilderment. Finally, we were allowed back into the bus, it couldn't have come sooner! An extra pair of long socks over those I was wearing, an additional t-shirt, long shirt, raincoat and beanie! I've never got dressed so quickly! After an hour in the bus, now fogged up like a sauna, now smelling of wet clothes…not forgetting the smell of sick too! Again we had to get out of the bus. This time I was more prepared and the smile on my face shows it ?!
Blizzards came and went but I was much happier now, even though we were outside for another 2 hours! By the time we were allowed back into the bus I was bloody frozen, still more comfortable than the first time! The rest of the journey on Abra Malaga, though warm, was wet and smelly. Heading back down Abra Malaga was one of the most twisting and winding roads I've been on. That made my neighbour get sick more often, eventually her daughter joined in too!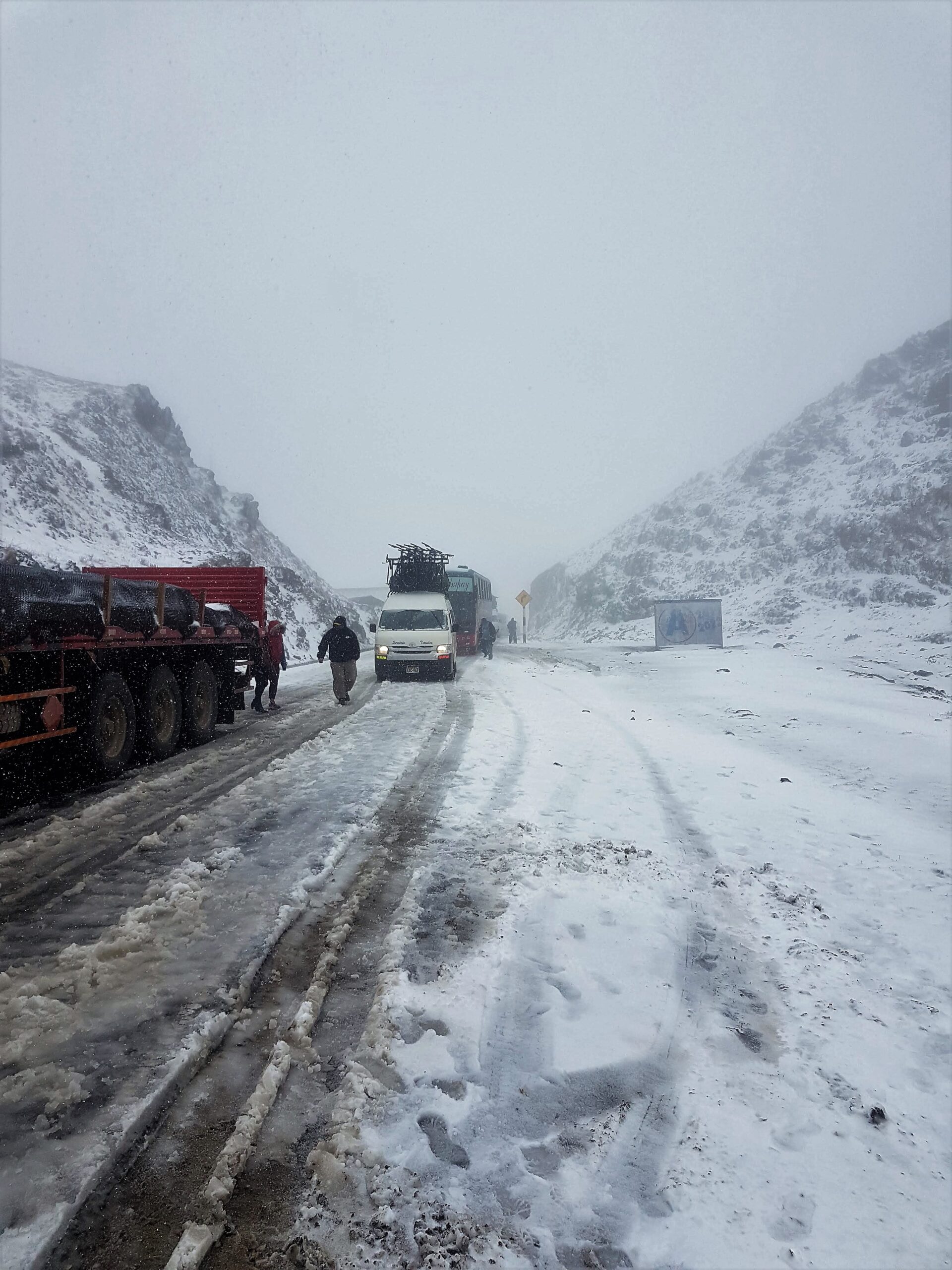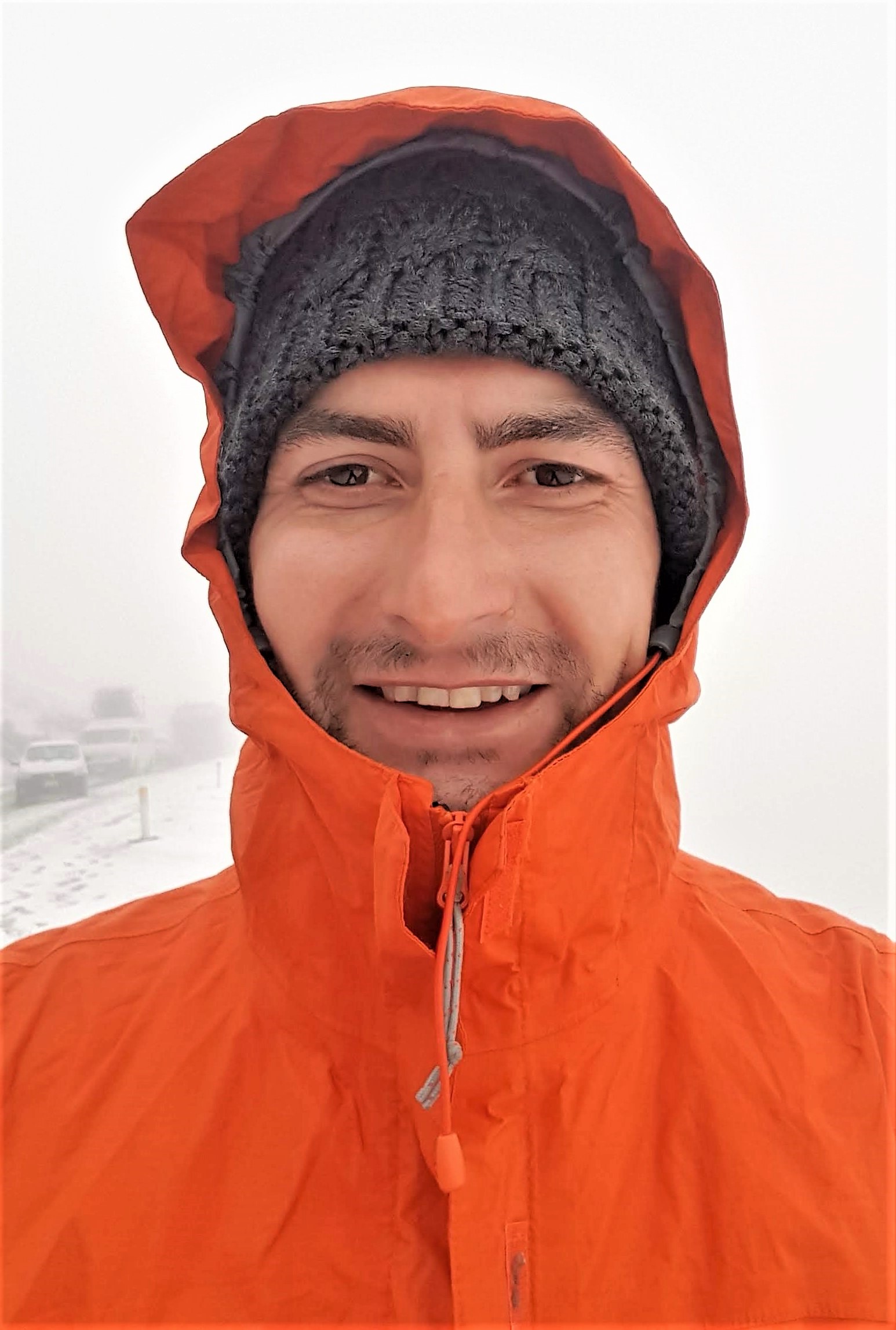 Santa Maria to Santa Teresa
We arrived at Santa Teresa as the sun was setting. I joined 3 German guys and we shared a cab to Santa Teresa. Their journey was worse than mine! Their tickets for Machu Picchu were for the next day, meaning they would hike from Hidroelectrica to Aguas Calientes that evening, in the dark! Driving from Santa Maria to Santa Teresa during the day I imagine would be scenic pity we couldn't see in the dark. What I do remember was the gravel sand road being very bumpy with lots of twists and turns taking less than an hour (23km, slow because of the condition of the road). Arriving at Santa Teresa I wished my German travellers well and best of luck!
My timings above may not be one hundred percent accurate. What is accurate is that I got to Santa Teresa at night. Cusco to Santa Teresa had taken a smidgen under 9 hours to cover 201km!! I found the only restaurant that was open, had some dinner and hit that sack! Even when I got into bed, I could still smell the scent of sick URGH!
Santa Teresa
If you want a metaphor for a little town then Santa Teresa would be a perfect example. My stay was originally for one night, that changed because of my journey there so I extended for another not. Not because of all the exciting things Santa Teresa has to off! I needed to sort out my ticket for Machu Picchu; needing a printout which I got from the internet shop next to my accommodation. The town is a "stopover" or "go through" town. People normally only stay here for a day or two, mostly for the same reasons as I was. Quiet and still during the day, the few restaurants and cafes around love playing load music to spice up the area…I'm assuming.
My accommodation was very basic, Hospedaje Cajamarca is in the centre of the town, though that's not saying much considering the size of Santa Teresa ?. Hotels.com had nothing in Santa Teresa, I nearly exclusively use them so this time I used Booking.com. Basic accommodation was all I needed,  and the staff were very friendly and helpful. The next day I thought about exploring but decided not to, even after I had done my admin i.e. accommodation in Aguas Calientes and got my ticket for Machu Picchu for the 13th June.
One thing some people do when in Santa Teresa is visit the hot springs 5km out of town – Aguas Termales Cocalmayo de Santa Teresa / Santa Teresa Hot Springs / Cocalmayo Hot Springs. Another thing I thought was odd about Santa Teresa was the discos at night. I call them discos. In my 1.5 days there I only spotted about 5 other tourists. At night the cafes and few bars/pubs turn up the tunes.  You'd think there's a huge nightclub packed with people only to find a solitary barman trying to keep awake at the bar counter.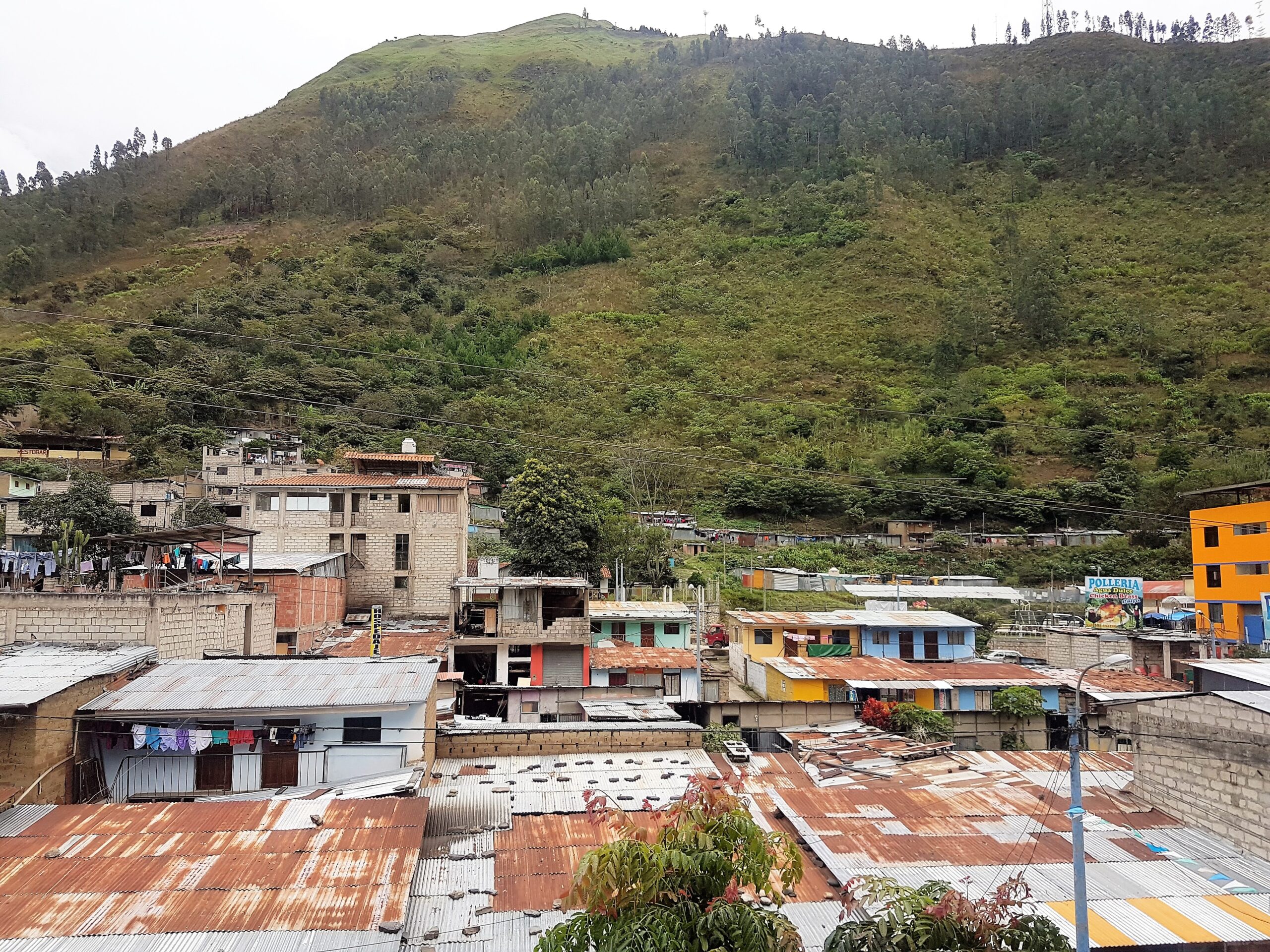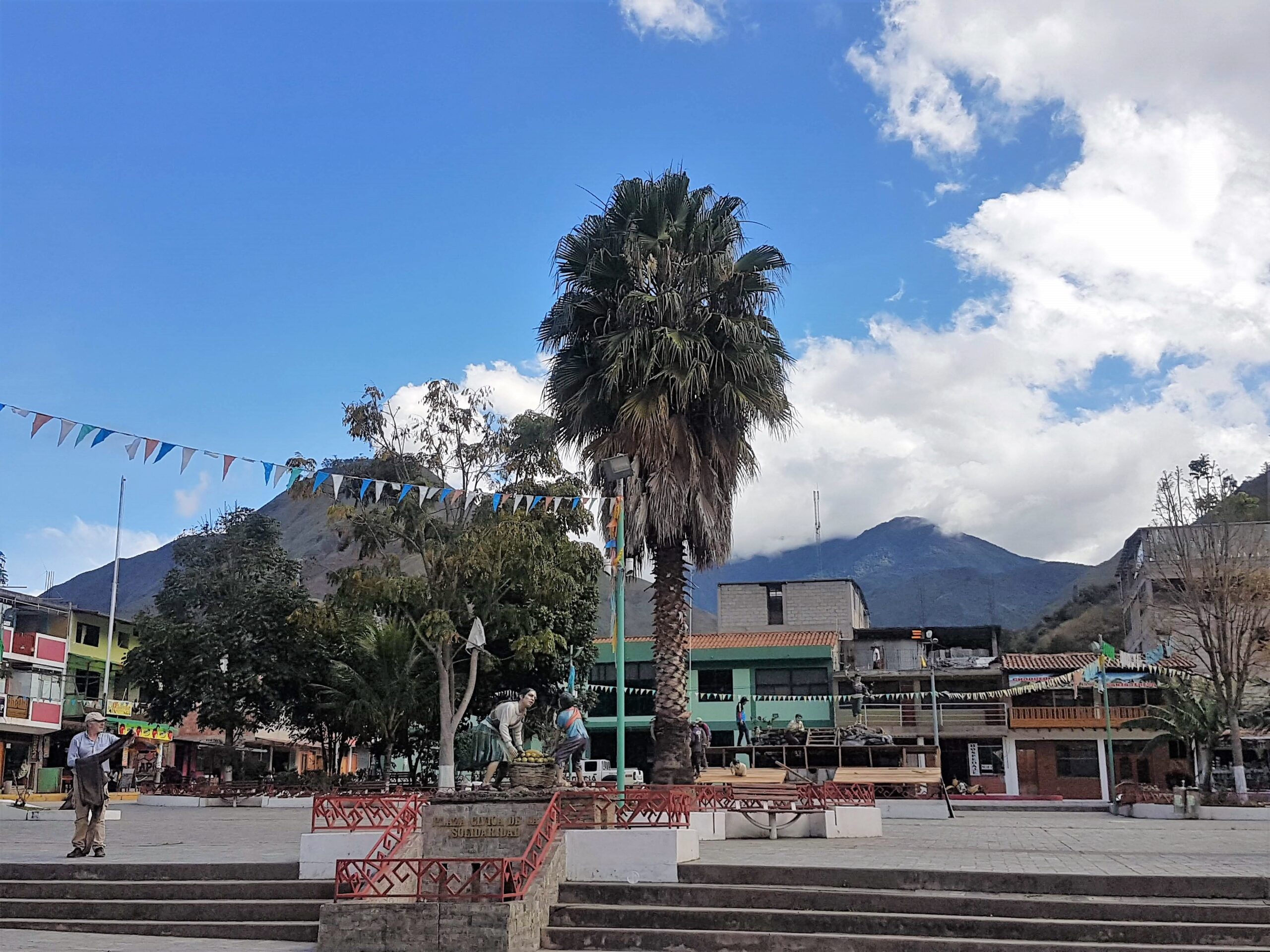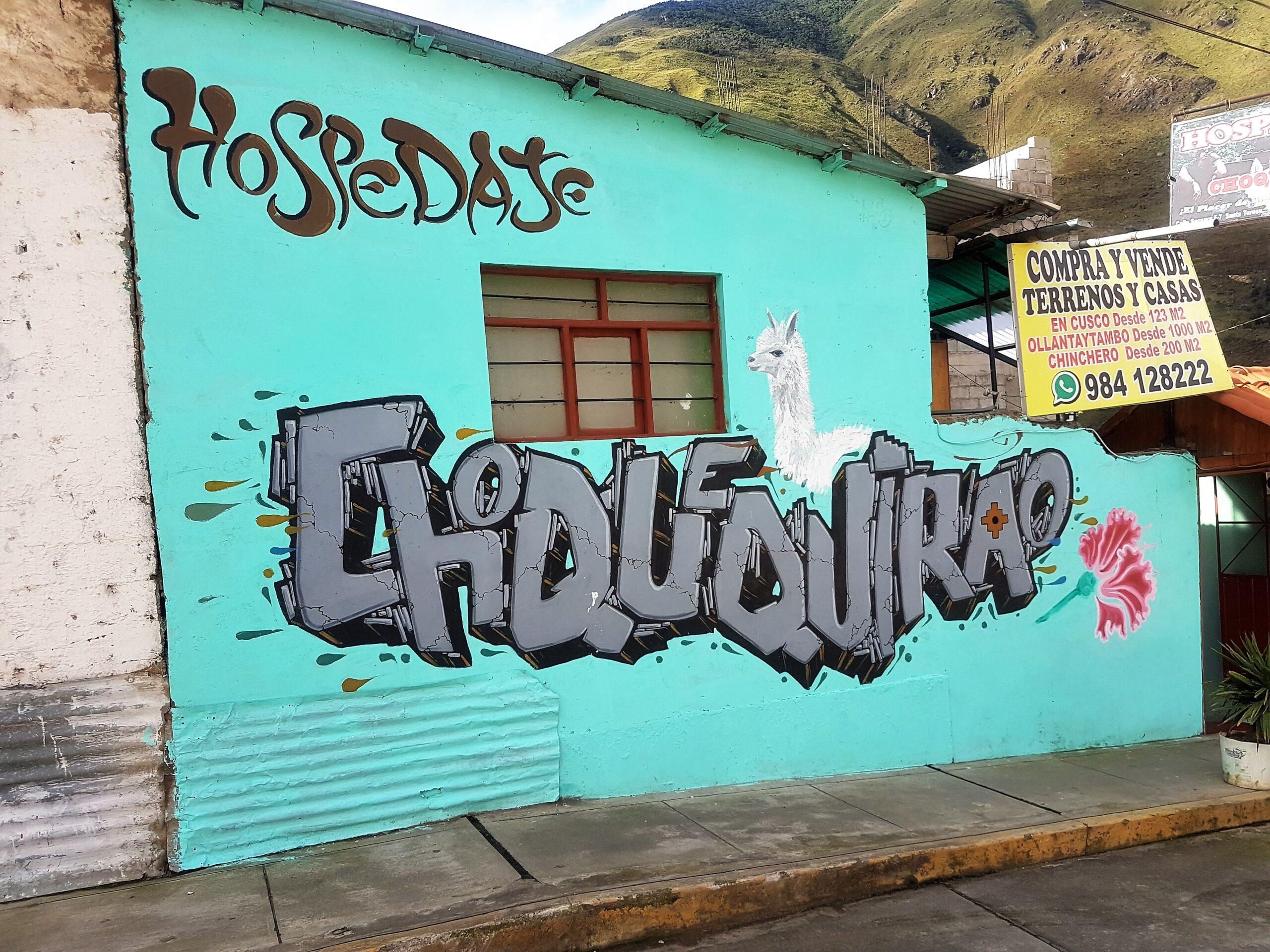 ….Next
Two nights good sleep and I was ready to head to Aguas Calientes. Next post will be a short one; my walk/hike from Hidroelectrica to Aguas Calientes. I was excited for the days to come, they had been years in the waiting and were now within arm's reach!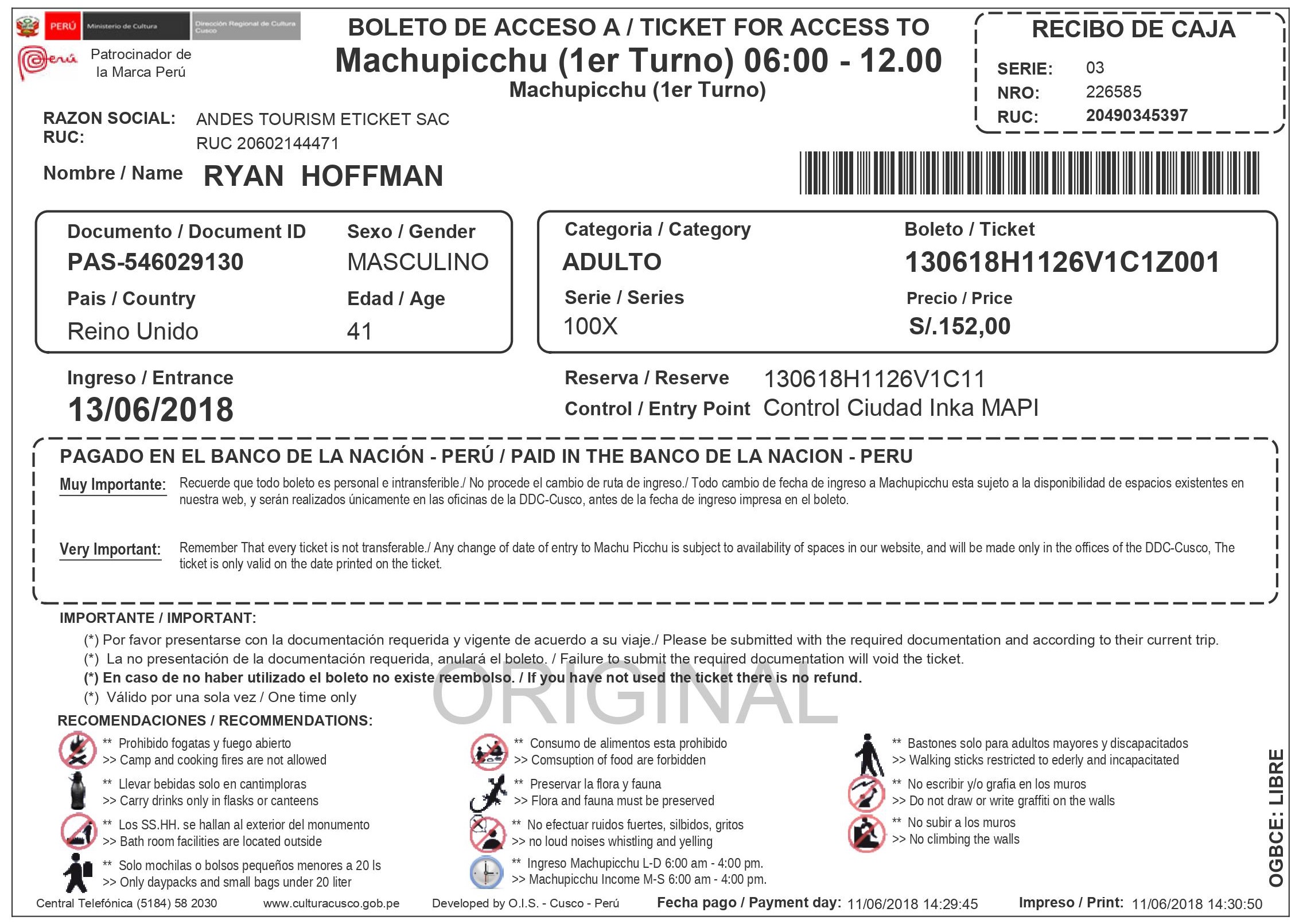 You can see the views, hear the party music but there ain't any people – Santa Teresa, Peru