Sydney was my next destination, so I'll be covering the Sydney Opera House and Sydney Harbour Bridge.  I was heading there not specifically to see the city.  Exploring Australia would take time I did not have (at least I thought so), nor the time it deserves.  Sydney wasn't a random choice; my friend Craig and his wife Alie (Alison) had a baby girl the year before, Cameron.  Realistically, chances are high I may never be in the neighbourhood again, this gave me the opportunity to visit them.  Knowing many people throughout Australia from family, friends and ex-colleagues, I wouldn't be able to see them all, which was a shame.  This happens every time I visit South Africa too; it's impossible to see everyone during each visit.  Even so, I would try to see as many in Sydney as possible, though I'd be satisfied in just seeing and meeting Cameron.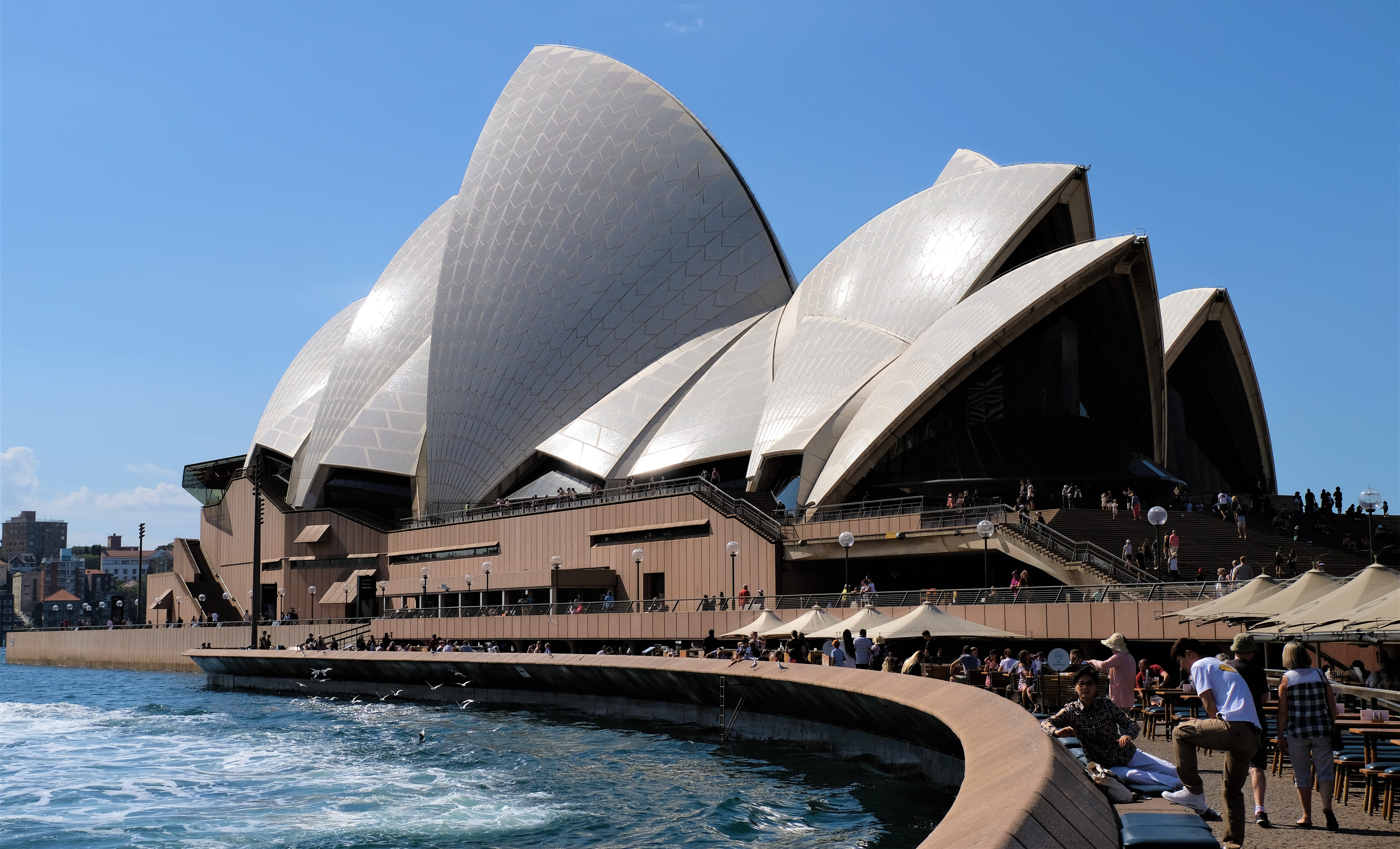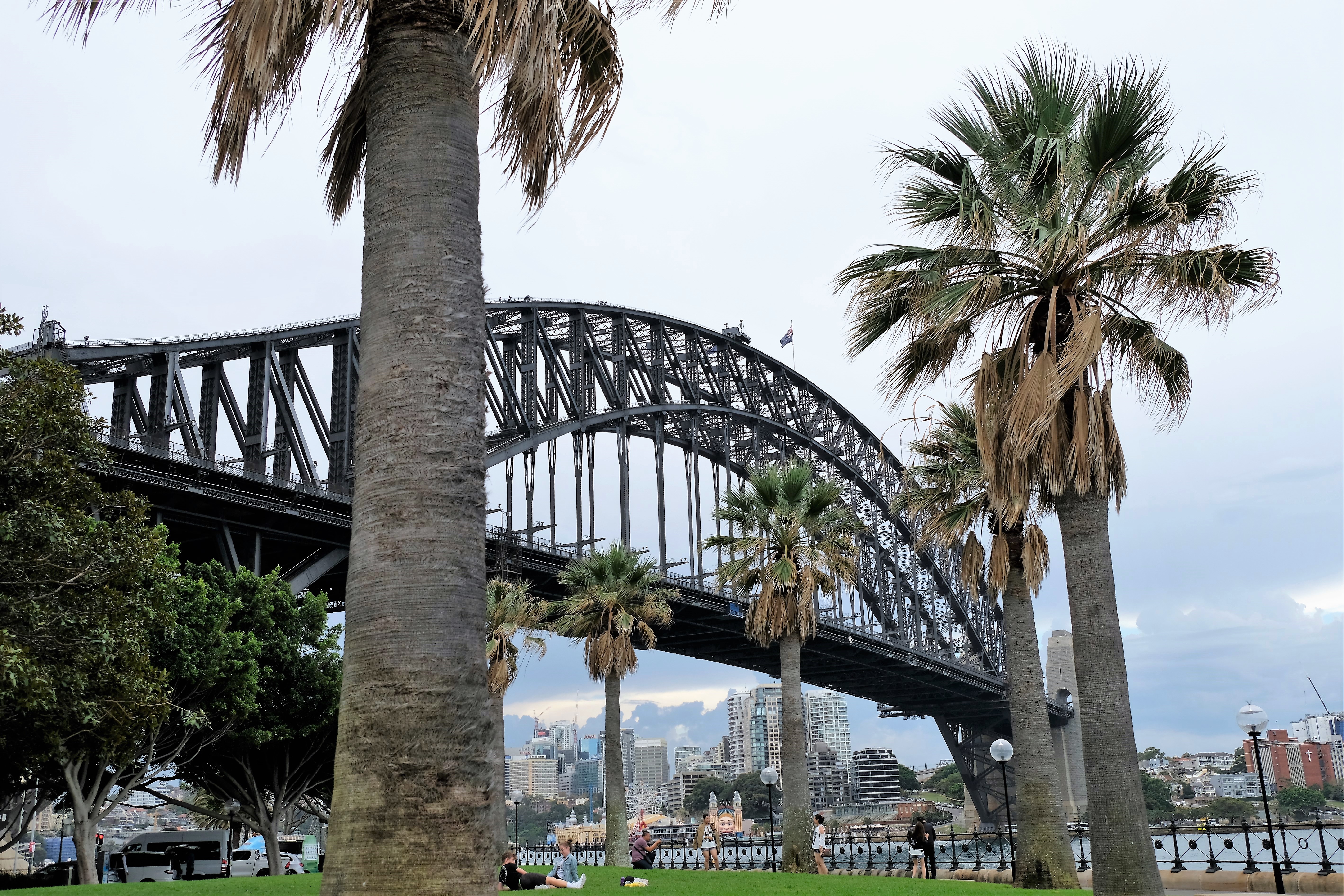 My journey getting to Sydney
In my previous post on Hiroshima I alluded to an eventful journey to Sydney.  Following on from that, I nearly didn't get there out of my own negligence and complacency!  Starting with me forgetting which airport I'd be flying to Sydney from!  The night before my flight I thought I was flying from Osaka to Sydney, wrong!  In fact, I would be flying from Osaka to Tokyo first, from there onward to Sydney, no big deal in that.  This additional flight from Osaka would be what saved my skin!
I'll try my best to be as conscience with the turn of events.  Whichever way I explain what happened, I come out looking like a muppet!  Shinkansen's run frequently between Kyoto and Osaka & Osaka Airport.  Once again, I used my trusty JR Pass which was met with distain by the ticket inspector at Osaka Airport Train station.  My ticket had expired!  To be precise, it expired two days ago.  I had bought a 7-day JR Pass, which meant its last valid day was when I went to Himeji Castle.  Thankfully the ticket inspector at Himeji Station wasn't as vigilant.  The Osaka Ticket Inspector wasn't happy at all.  Whilst I repeatedly apologised, he vigorously scrawled many times across my ticket with his red felt tip pen.  In no uncertain terms he ensured I or anyone else would now know the ticket had expired.  I wasn't going to argue with him, I paid for my Kyoto to Osaka ticket (can't remember the price) and walk on as the Ticket Inspector kept watch.  That was a taste of things to come.
I couldn't check-in on line, however with loads of time on my hands and a long journey ahead I got to the airport early.  Thinking I'd check-in then chillout in one of the lounges.  Check-in, that's really when the fun began.  All Nippon Airways (ANA) staff, you are saints!  Check-in was going smoothly, until the lady asked me "do you have a visa?".  "I don't need a visa, I'm on a British Passport" was my reply; thinking back now, my response must have come across as obtuse.   Yup, in my complacency I forgot to check if I needed a visa for Australia.  Which I did!  Here I was at the airport looking at best like a rookie traveller!
To summarise the events that followed:
I needed to apply for an E-Visa – Electronic Travel Authority (ETA) online, this could take 24-48hrs

My flight to Tokyo would stay as is. The next flight would have to be pushed back a day, or even two.

The lady, now joined by her senior colleague, apologised that I may have to pay extra for this new flight. Apologised!?  It was my fault!

Whilst standing at the check-in counter I was already online with my ETA application; a tedious pain when using a mobile/cellphone. The two ANA ladies were on the phone to get more information for me.

About 20 minutes had passed, I was still on-line getting nowhere fast. After who knows how many calls, the two ladies had an update for me:

There was a travel agent at Tokyo (Haneda) Airport who could assist with my visa. Catch was they closed at 19:30; my flight only landed in Tokyo at 19:30

The two ladies had already started to book me on an earlier flight to Osaka

They OK'ed it for me to take all my luggage as hand-luggage (reminded me of my flight from

Da Nang

airport!)

Carefully explaining to me where I need to go when I got to Tokyo Airport. From the terminal I was landing in I had to make my way to another terminal.  One of the lady's even drew me a map to ensure I knew where to find the travel agent.

I dashed to my new flight which was about to leave, arriving as the last passenger. Seated on the plane, I was sweating with nerves and speedy heartbeat!

Plane landed, hand-drawn map in hand, backpack strapped on..I was ready to start running!

As I exited the plane an ANA representative was standing there, placard in hand with my name on it!? He seemed rather confused, telling me his job was to ensure I got onto the correct bus to take me to the other terminal.  He waited outside with me until the bus arrived (free terminal shuttle bus).  Repeatedly telling me to get off at the second stop and exactly how long it would take.

My hand-drawn map was as accurate as Google Maps! I arrived at JAL ABC (the travel agent), filled in my form, paying about £50 if my memory serves me correct.  Well spent money considering the alternative of paying for another flight and accommodation!

Time was ticking by. Needless to say, I was still anxious with no guarantees I would get my e-visa in time to catch check-in.

Within less than and hour I had my visa! WOOHOO!! Having more than enough time on my hands I skipped over to the check-in counter
When I got to check-in the gentleman was somewhat aware of my situation.  I asked him to call his supervisor.  He was reluctant at first, enquiring if he had done anything wrong or if I had a complaint.  I insisted on speaking to the supervisor assuring him it was for no fault of his.  When the supervisor arrived, I commended the two ladies at Osaka Airport.  Thanking them for going far and beyond their duties and doing so with professionalism and a smile to match.  Caused by my own stupidity, if it were not for the two ladies it would have cost me, a lot!  Again, thank you ANA and the two ladies at Osaka Airport.  On a separate note, my only regret was not taking the names of the two ladies.  Everything at the time was such a rush nor was my brain functioning!  Yes, I did write an email to ANA's customer service thanking them.
…back to Sydney
My second day in Sydney
Skipping my first day because the first was taking up with catching up with sleep caused by jetlag.  That, along with catching up with Craig, Alie and meeting Cameron, they live in Manly.  Getting to Manly from the airport covers quite a bit of the main sites.  Catching the train from the airport to Circular Quay, here you exit and arrive slap bang in the middle of Sydney.  With the Harbour Bridge on the left and Opera House on the right.  A 30 odd minute ferry ride from there takes you to Manly.  Riding from the ferry terminal to Manly is itself a lovely journey to take.  On my second day I would head back to the ferry terminal to explore the bridge and opera house.  I'll take more about Manly in a later post.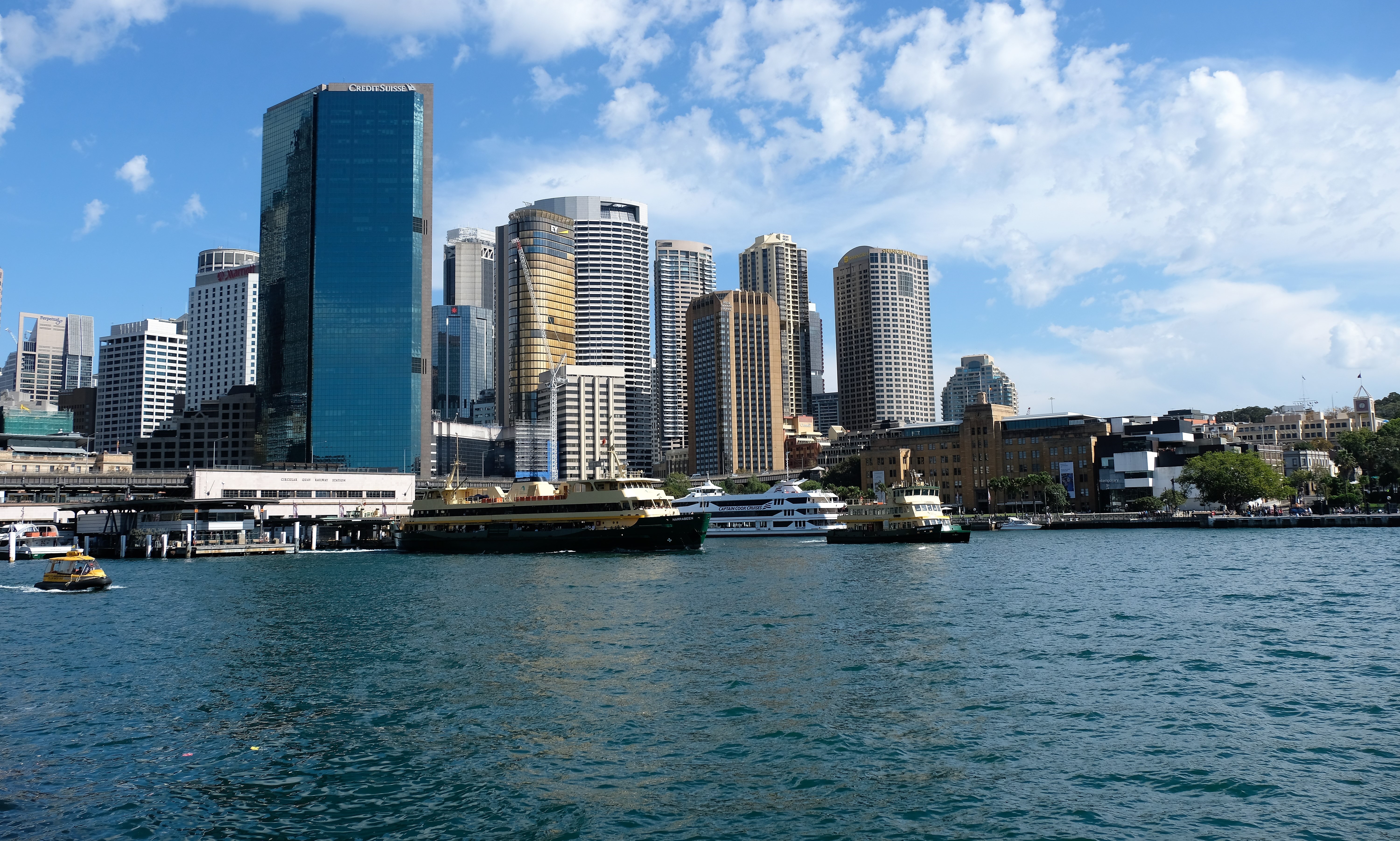 History of the Sydney Opera House
Opened in October 1973, the process from "idea" to opening took 33 years!  Prior to the opera house, theatrical performances were held at the town hall.  However, Sir Eugene Goossens rallied for many year to have a purpose built venue to accommodate large performances.  From inception starting in 1940, Goossens finally obtain enough support by 1954.  Jørn's design was chosen through an international competition starting in 1955, ending in 1957; 233 applications were submitted from 32 countries.  Construction commenced in 1959 to be completed in 1973.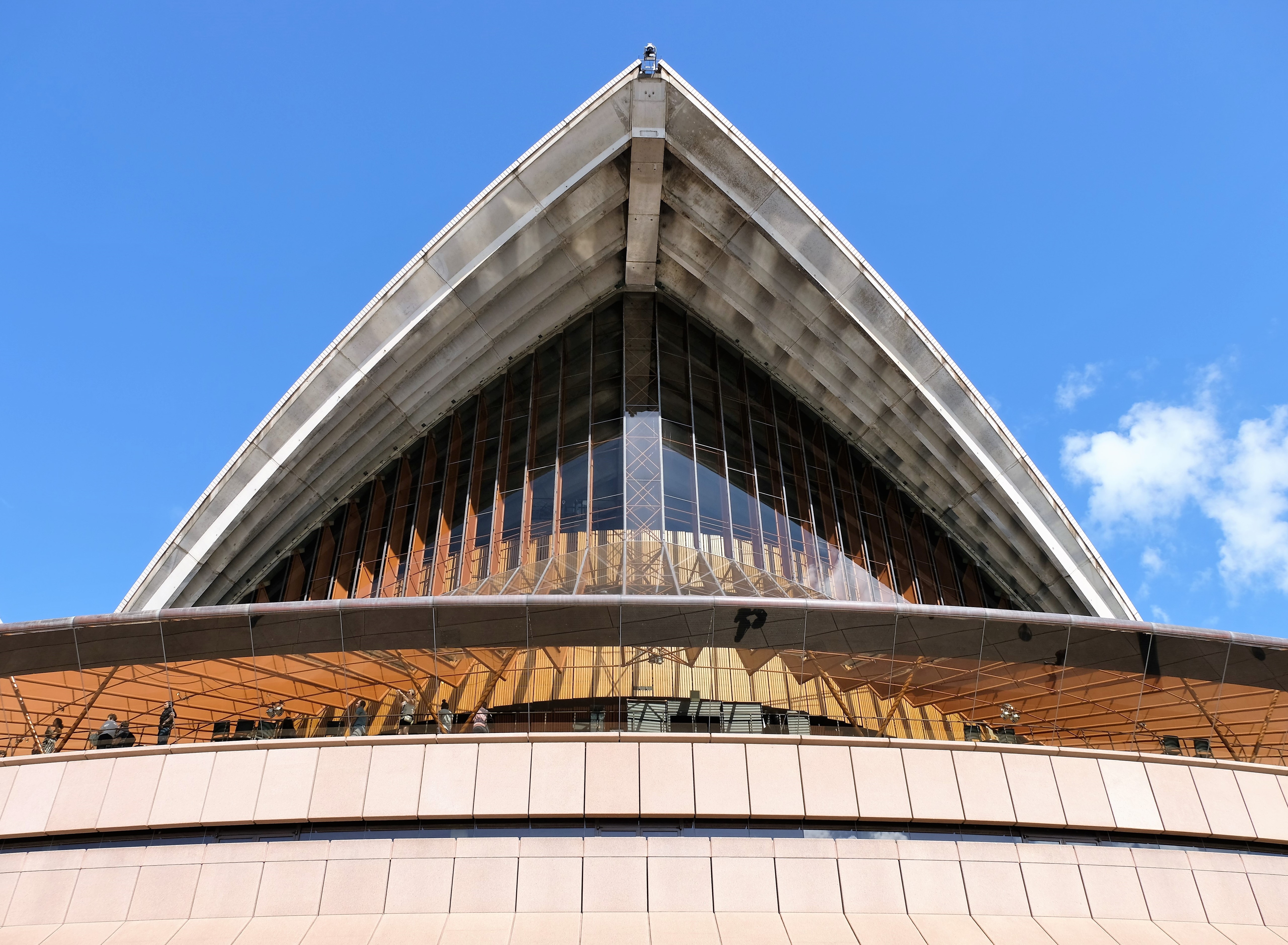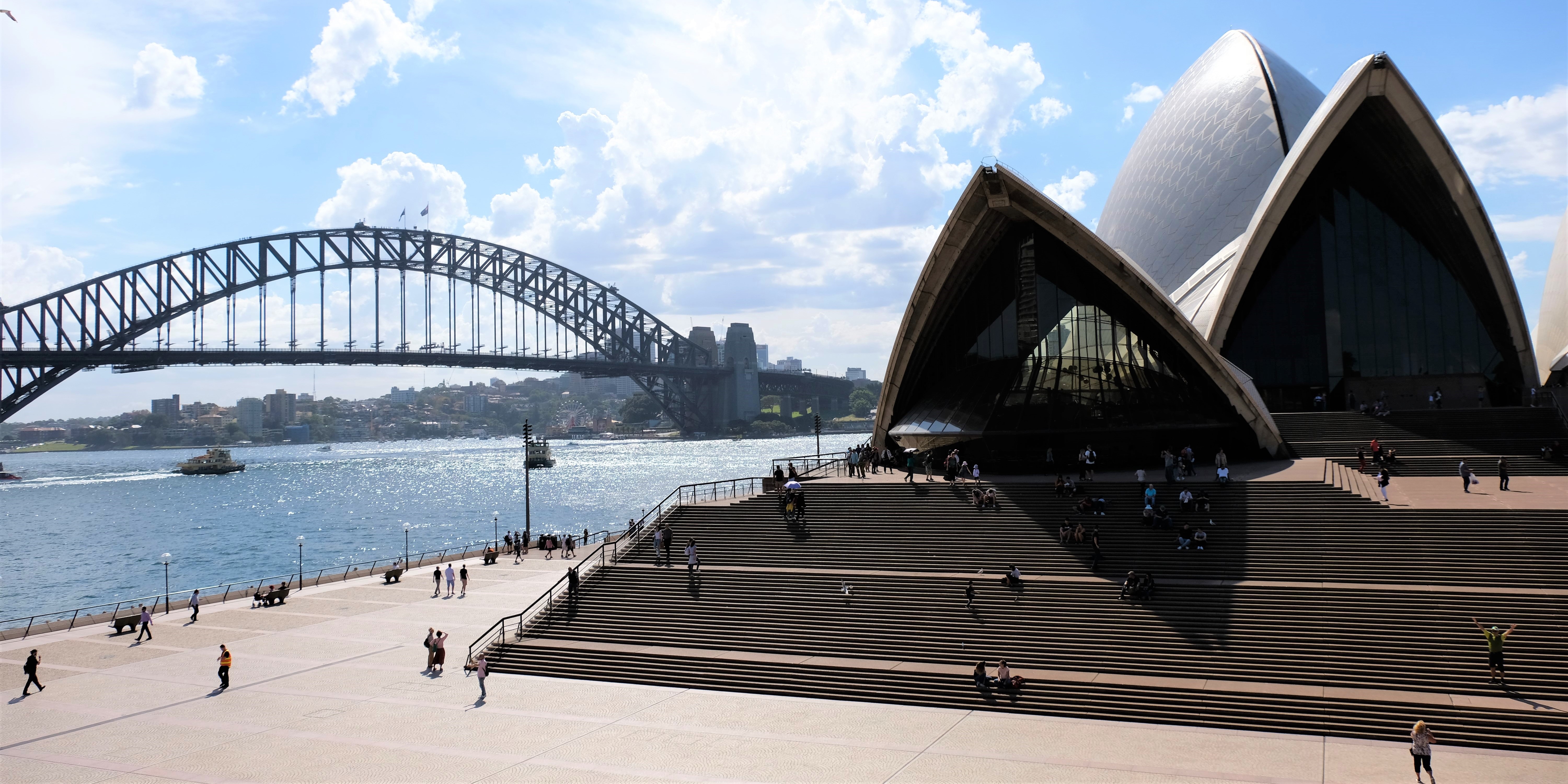 Exactly why it took so long to finish is a combination of stories.  As a start, the original design was for 2 theatres/halls, this was changed to 4 halls; Concert Hall, Opera Theatre (now called Joan Sutherland Theatre and an additional three stages now called Drama Theatre, the Playhouse and the Studio.  In addition, many other changes were made to Jørn's design including cladding, paving, interior walls etc. etc…you get the idea.  All these changes boiled over in February 1966 with Jørn resigning.  Reading about the history and background, it seems there were a small minority who disagreed with how Jørn worked.  They went out of their way to make his life as difficult as possible which culminated in Jørn's resignation out of frustration.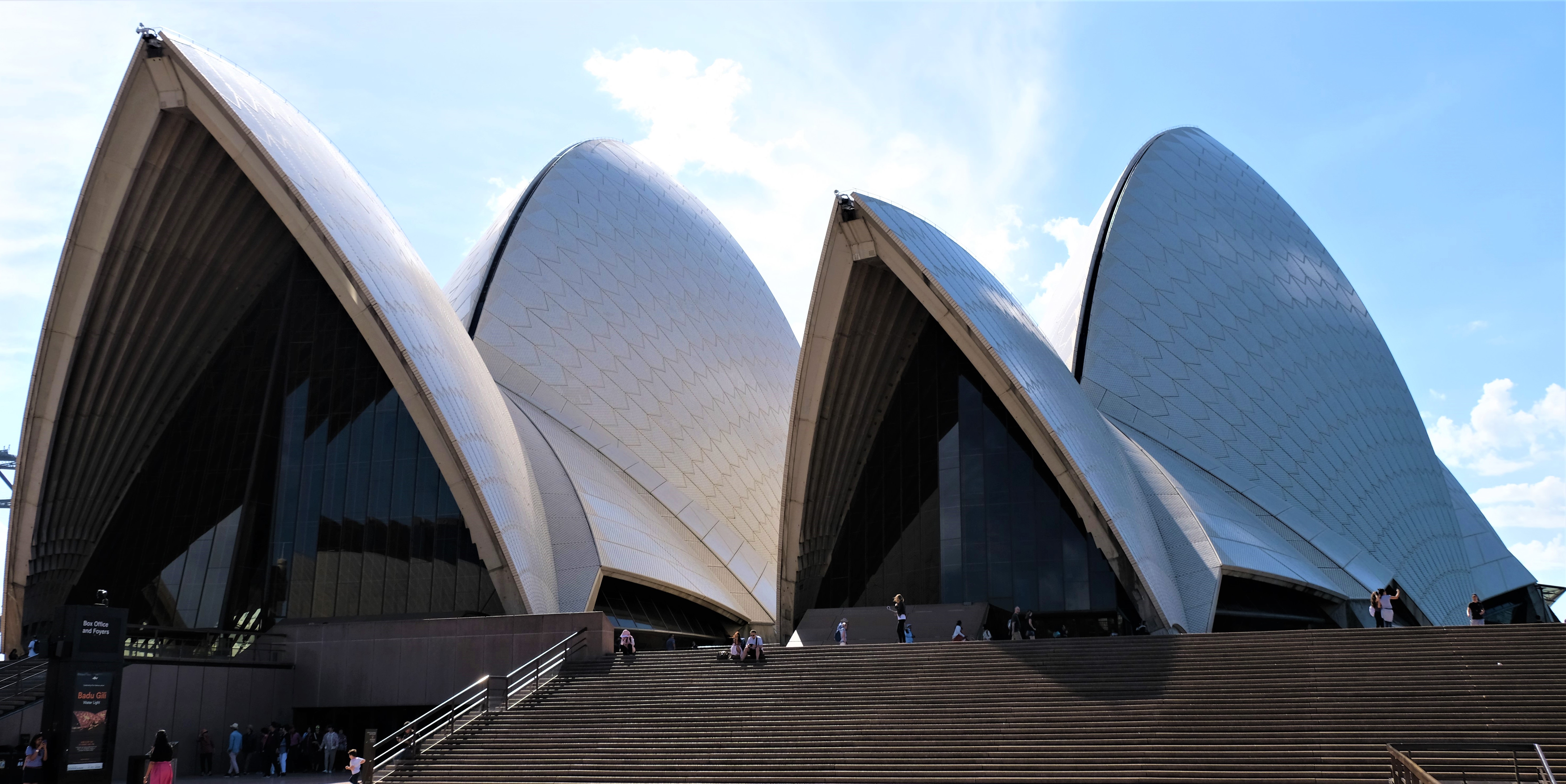 Sydney Opera House
No wonder the Sydney Opera House is famous, it is a visual spectacle.  A remarkable building which broke from architectural norms of the times…even today's norms.  The parasol like roof tops with peaked rims reminded me of Spanish Conquistadors helmets.  That and at a distance the sails of an old Chinese merchant sailing ship.  Or that of an excited cockatoo's head feathers.  Either way, it's an interesting structure no matter what the imagination conjures up.  Comparatively in my opinion would be the architect Frank Gehry, who was only 11 years younger than Jørn Utzon (the opera house's architect).   Maybe Gehry saw the Sydney Opera House and that inspired his designs.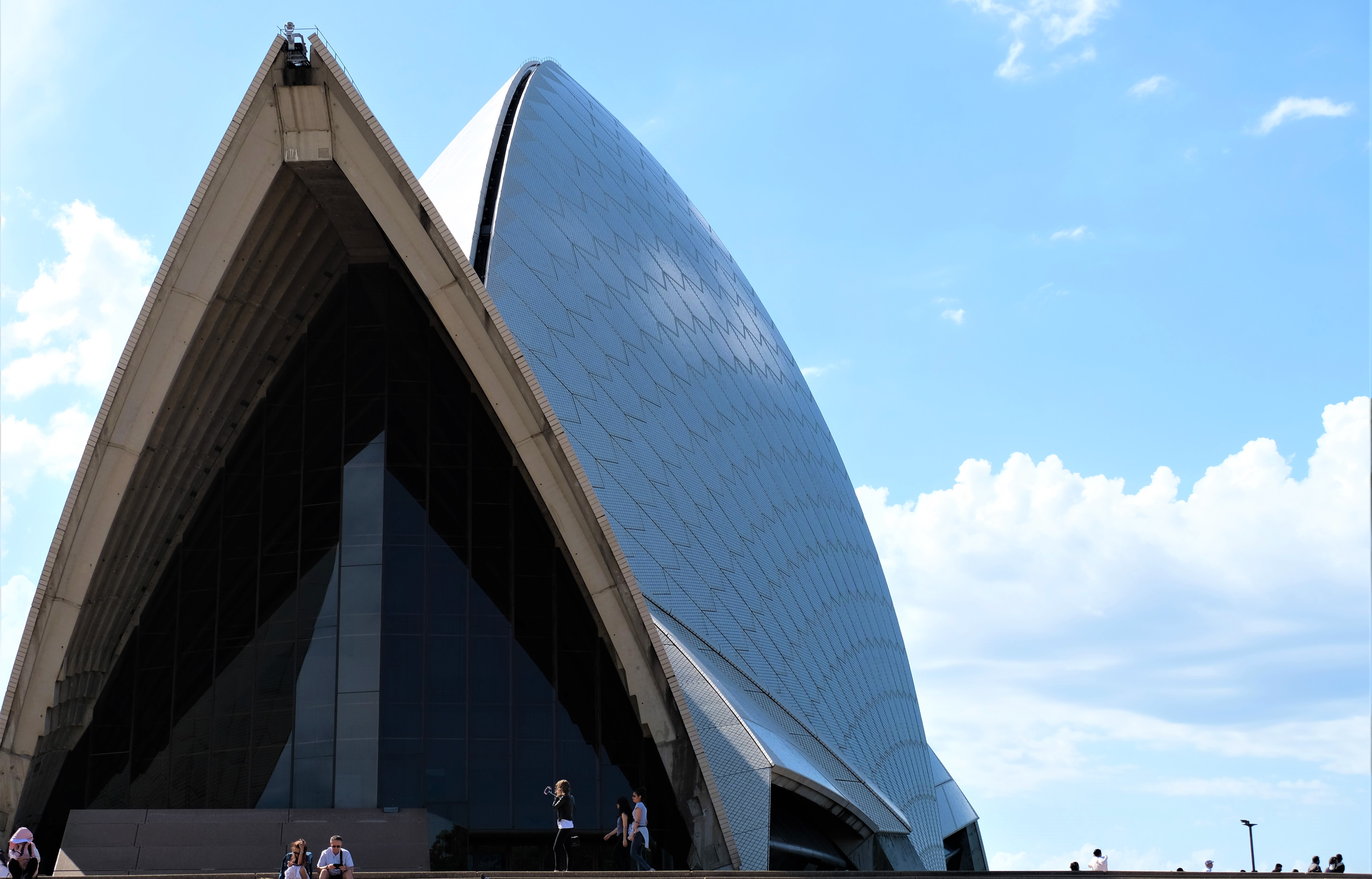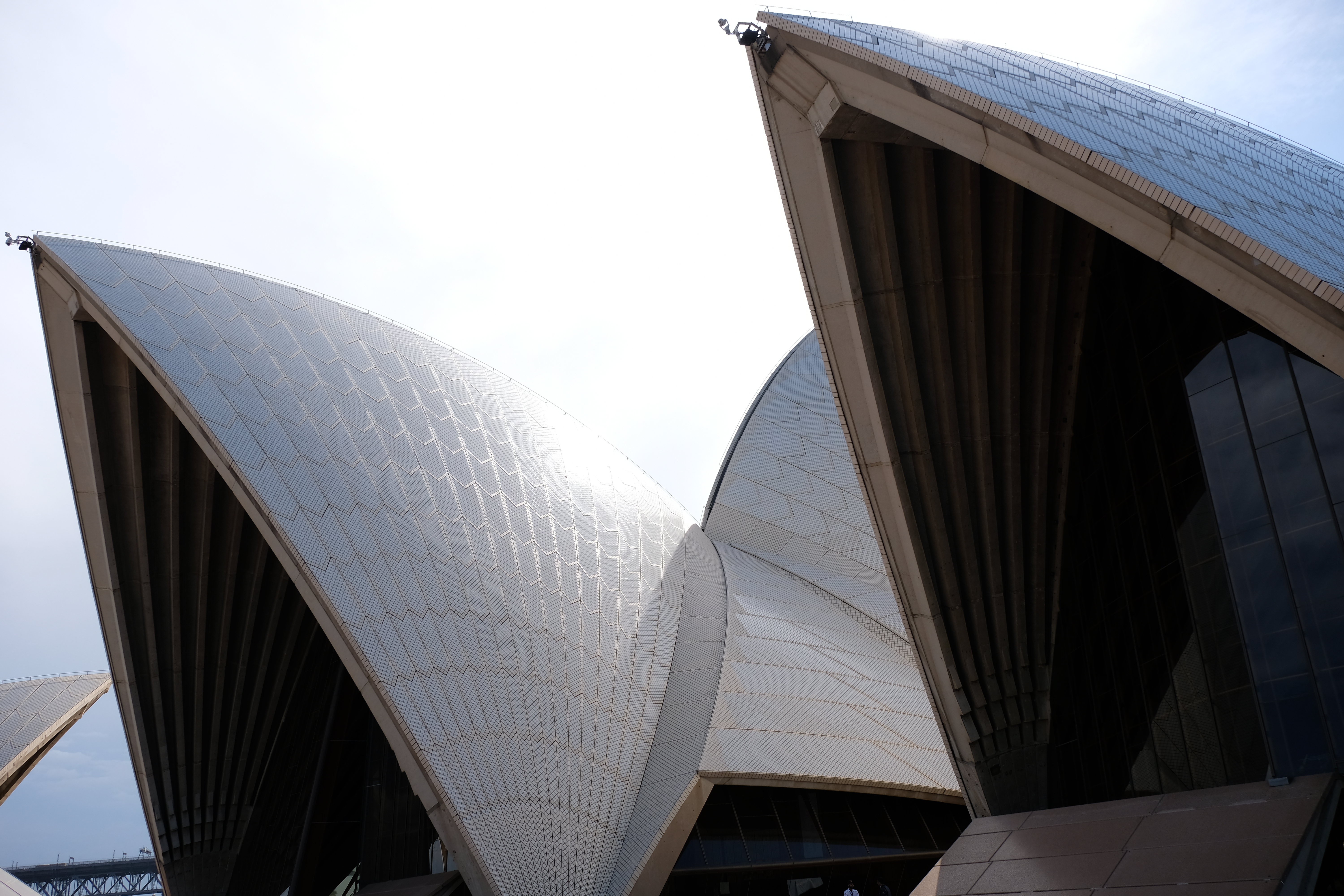 I was wearing sunscreen, so hardly a cool autumn's day.  Instead the sun glared down, with an occasional welcomed gentle cool breeze.  Some clouds scattered the sky, the breeze like a silk screen; fading the sapphire blue sky with a misty hue of gentle grey.  Arriving at the opera house I either had the sun blinding me from one side, the other side shadowed by the flared parasol roofs.  Ambling around the building you don't need to be an architectural student to appreciate, it really is striking.  Sometimes architecture is different just for the sake of being different, almost showing off.  Whereas the Sydney Opera House is totally unique, still putting function before form.  Additionally, it still sets standards today in design, aesthetics and sure artistry 46 years after its doors opened.  No wonder it's a landmark of Australia and architecture globally.  What a striking, elegant and timeless structure.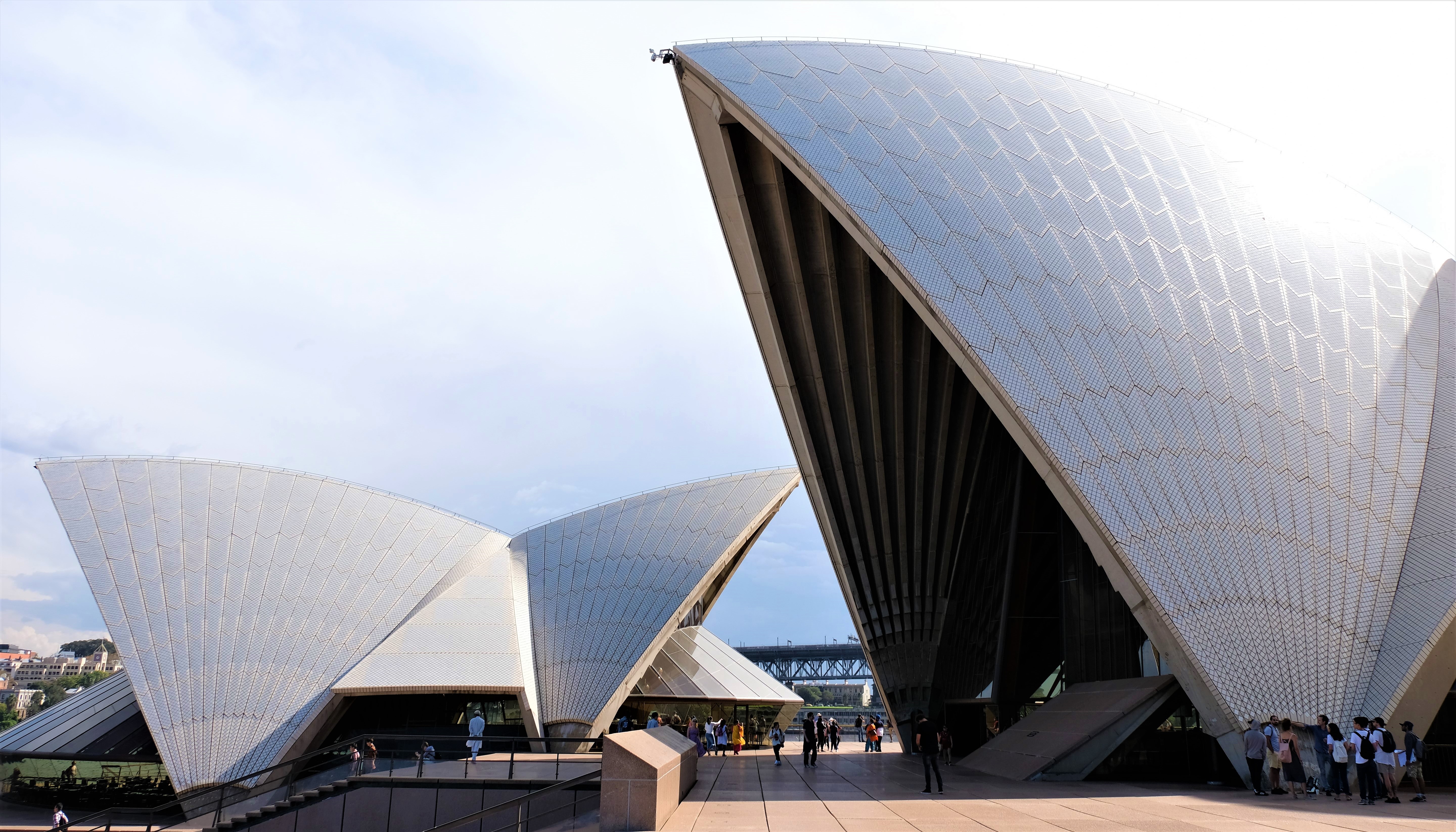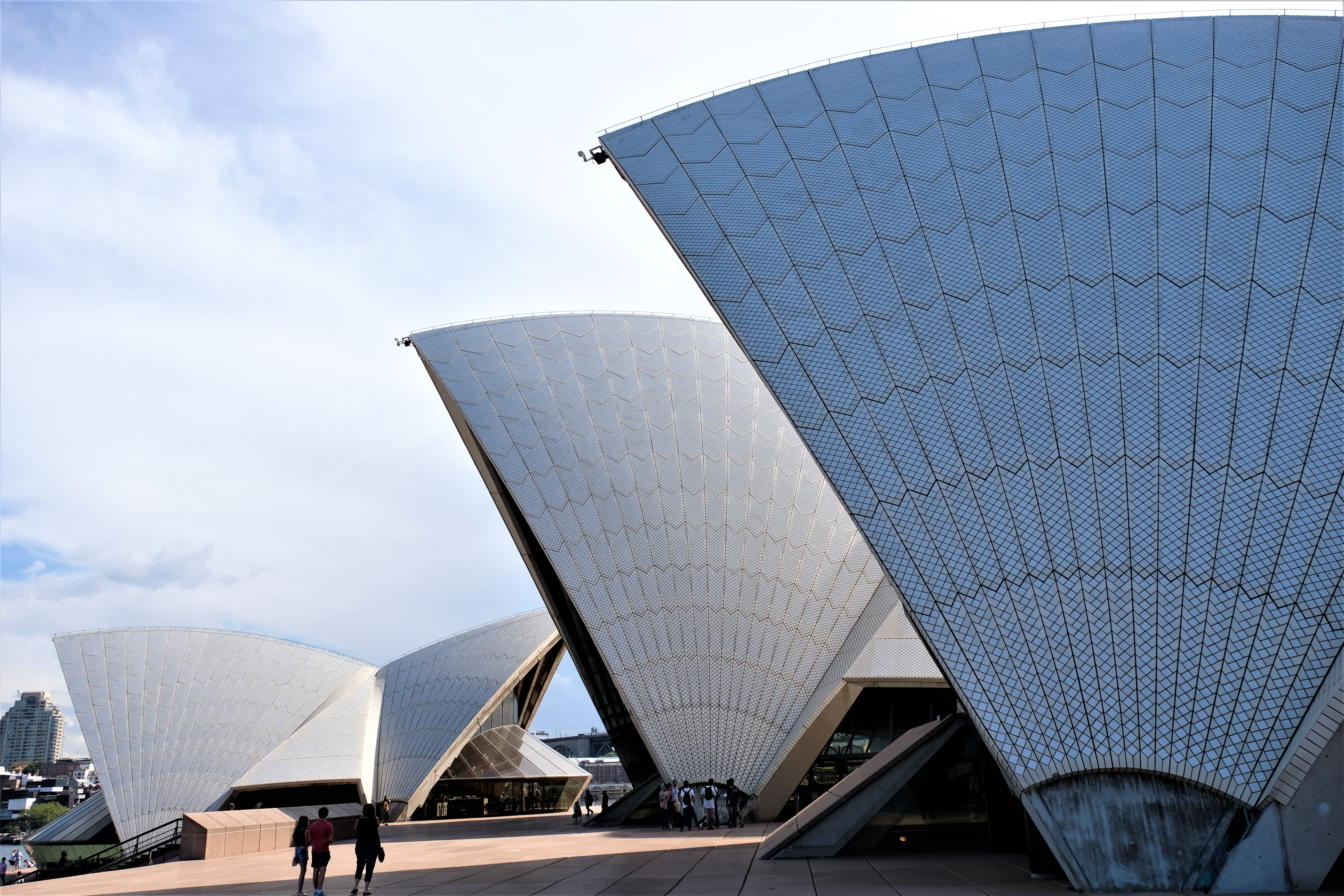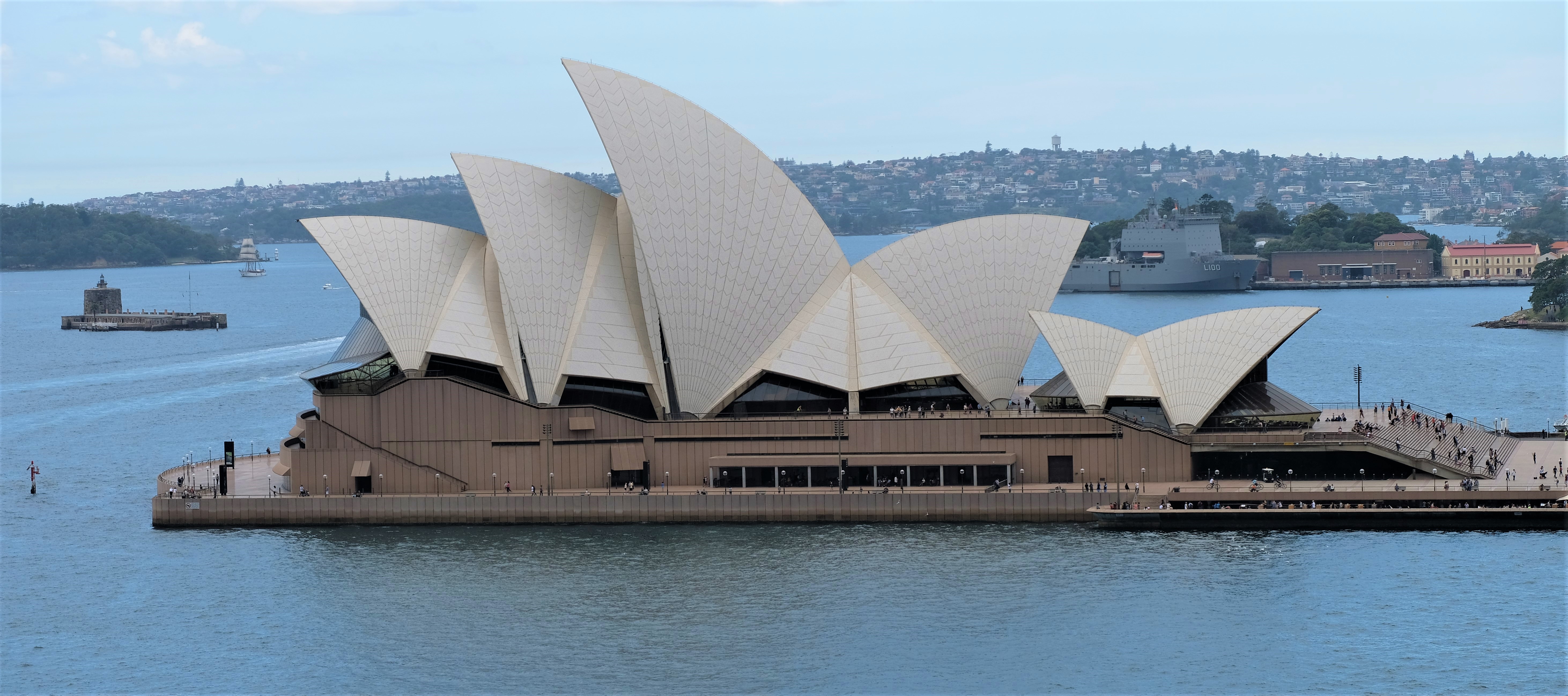 Sydney Harbour Bridge
Besides the Sydney Opera House, the Sydney Harbour Bridge is equally synonymous as Sydney's signature landmark.  Towering above its surroundings, forming a backdrop no matter where you are in the city.  Walking along from the opera house, past the ferry terminal onwards to the bridge is a hustle of activity.  I've been to a few large central business districts in cities based next to the sea, Sydney however is different.  I know see why people rave about the place.  Property is very expensive, comparable to London, maybe a little more expensive if you can believe it!  I digress, back to the Sydney Harbour Bridge.
I was very keen to hike to the top of the bridge arch.  From there I can imagine what the views must be like.  Yes, I said "imagine".  One disappointment I had with Sydney, the only might I say, was the price to climb to the top, AUS$179 per adult!  That's ridiculous!  To put things into perspective, to visit Valley of the Kings would cost around AUS$8.4.  If you wanted to see Tutankhamun's tomb too, it would cost an additional AUS$8.4.  That makes climbing up the bridge more than 10 x the price to visit the Valley of the Kings and the most famous tomb in the world!  Looking back, I sure the Sydney Harbour Bridge is the most expensive tourist site I've come across.  Out of principal I decided not to such a ridiculous amount to climb a bridge.  Instead I climbed up one of pylons.  Moving on, enough moaning ?.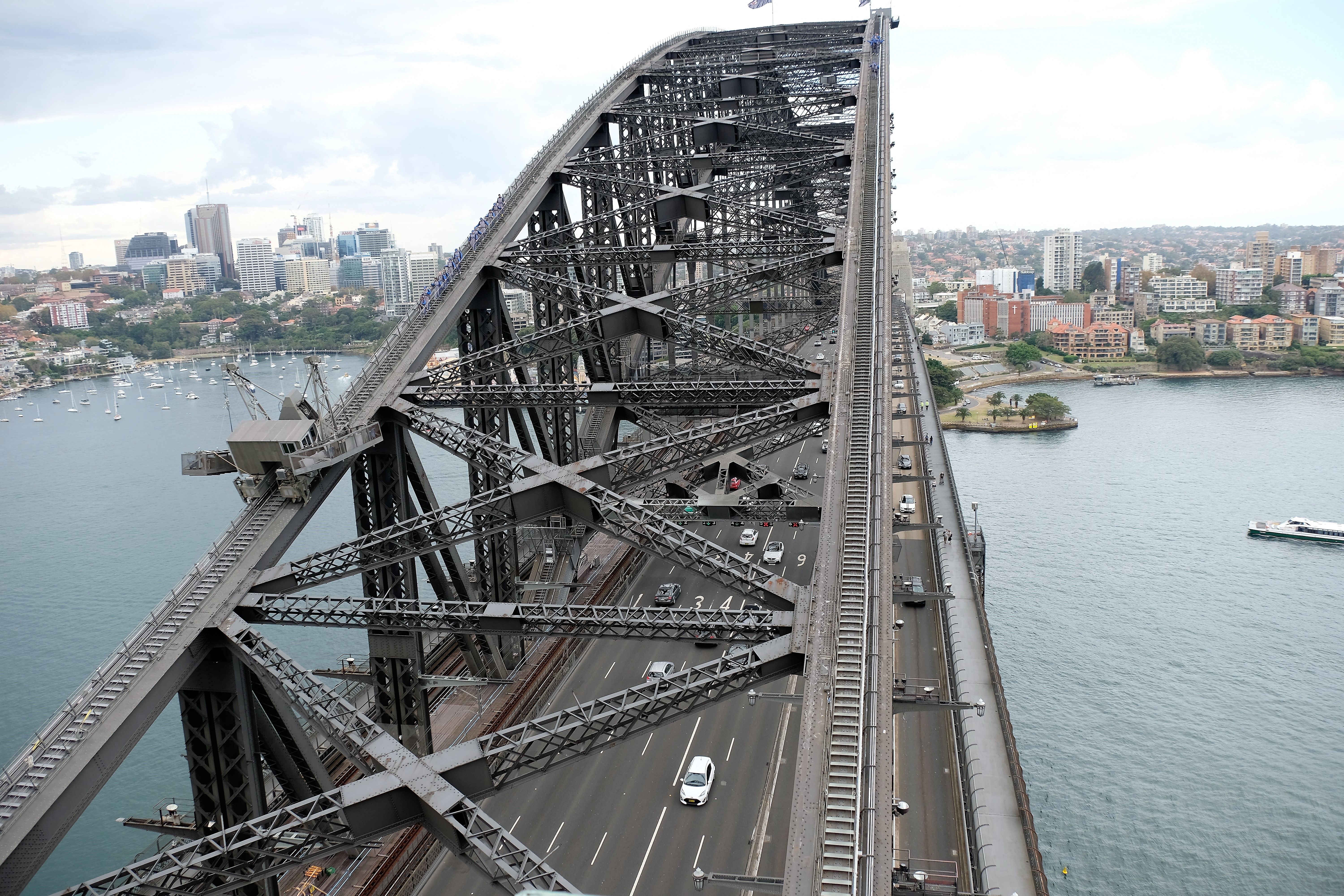 History of the Sydney Harbour Bridge
Inspiration for the bridge came from the Hell Gate Bridge in New Your City.  Like the Opera House (not as bad), building the Sydney Harbour Bridge was a long process; construction starting in July 1923 and its inauguration in March 1932.  It joins the CBD of Sydney with the North Shore in grandiose style.  Far from being as stylistic as the Opera House, the bridge is function over form, but still in great engineering style.  I lived in Newcastle for two years, another great city known for its bridges – these two bridges are not related.
From the ferry terminal or on the ferry it doesn't look that big, but it is, it's bloody big!  It's chunky in all proportions.  Holding the world record for the widest long-span bridge until 2012 (Port Main Bridge in Vancouver).  Here are some of its statistics:
Total length – 1 149m

Width – 48.8m

Height – 134m

Pylons – 89m high

6 million handmade rivets

79% of steel was imported from England
Each end of the Sydney Harbour Bridge has two pylons, in essence these are for aesthetics purposes having no structural purpose.  They were used to create a more uniform look and in keeping with their Hell Gate Bridge inspiration.  These days the pylons are used, one is a small museum of the bridge (the pylon I climb to the top of.  Another is used as a centre for traffic control, two on the North side have ventilation for the Sydney Harbour Tunnel.  Views from the South-eastern Pylon (the Museum Pylon) are fantastic!  I was much happier viewing Sydney from the top of the pylon than paying for the views from the top of the arch.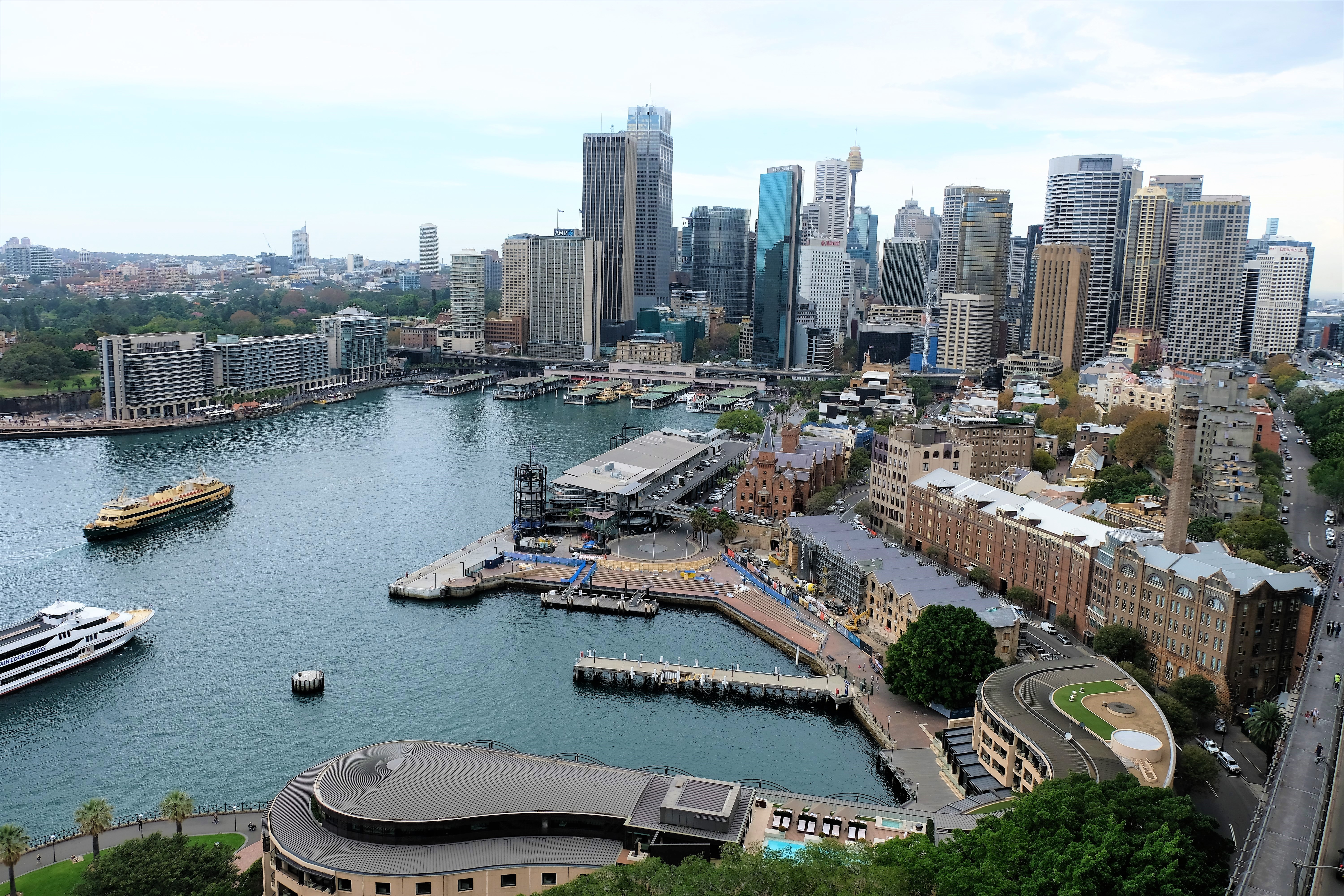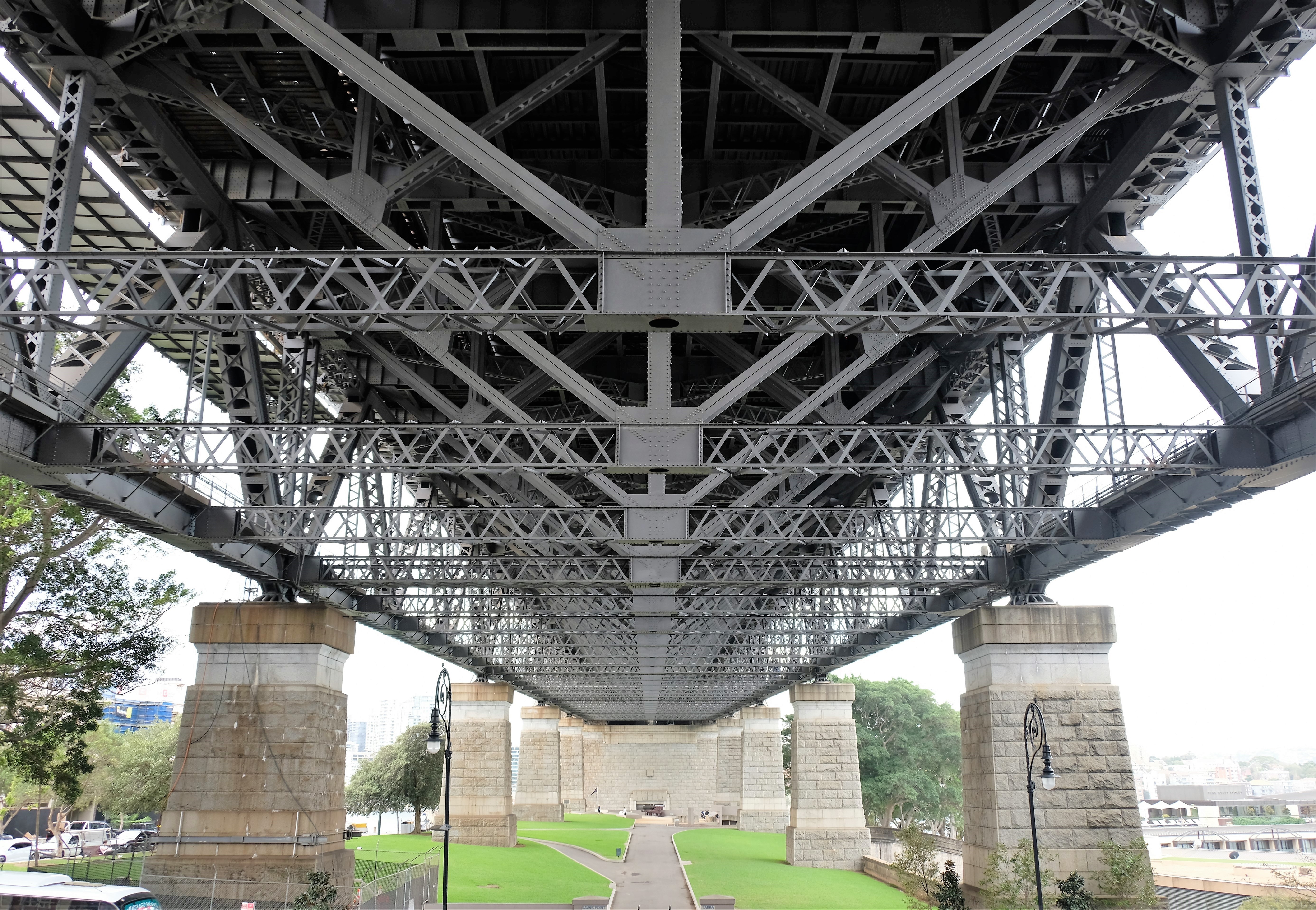 Without doubt the Sydney Harbour Bridge is well worth visiting.  And, if like me you don't want to pay an arm and a leg to hike to the top, the "Museum Pylon" is certainly worth it.  Like I said, I was slowly beginning to like Sydney.  It has a beautiful setting, great architectural landmarks and a very positive vibe.  I know that's not much for one day, even so I think I'll leave things there.  Another four more days in Sydney awaited, and I was looking forward to them!