Before I begin about my time in Kuala Lumpur (the Batu Caves were a surprise), I cannot skip the journey I of getting there from Vietnam, beginning from An Bang.  Like I had previously mentioned, I thought 15 days in Vietnam would suffice and get me from Hanoi to Ho Chin Minh City/Saigon…I underestimated just how much there is to see and how beautifully diverse the country is.  So, back to my last post, leaving An Bang.  I booked a flight from Da Nang airport which is only 30 minutes' drive from An Bang to Tan Son Nhat Inter airport (Ho Chin Minh City/Saigon) on day 15 (I only had a 15 visa, which I got upon landing in Hanoi), this gave me a few 2 hours 45 min in Ho Chi Minh before my connecting flight with a different airline.  From there I would catch my flight to Bangkok, spend one night there and catch my early morning flight to Kuala Lumpur, with a different airline.  The reason I had to go back to Bangkok was because that is where my next leg of my round the world ticket flew from (I got through Star Alliance).
An eventful trip getting to Kuala Lumpur
Even the best of plans can go awry, well almost!  Somehow, I got the timings wrong about my flight out of Da Nang, getting to the airport more than 5 hours early, nothing wrong with that though. Checking-in and security were fine, that's when the fun began.  I noticed some of the earlier flights were delayed but my flight seemed fine, by delayed I mean some were delayed by 3 hours with the flight only being 1 hour 20 minutes.  Time ticked by with a slight nervous undercurrent building up…now my flight was delayed, first by 10 minutes then 15, then 1 hour!  I couldn't take the chance of missing my connecting flight, so I headed to the nearest gate with a VietJet attendant to explain that my predicament.  Luckily the lady spoke quite good English, still I had prepared myself for a long saga with pleading leading into frustration and anger.  She would need to make a few call and check a few things, she had to leave but asked me to stay where I was and she'd get back to me shortly – as if I haven't heard that one before!
Less than 10 minutes later she returned, she had arranged for me to be put on the next earlier flight (also delayed), arranged for them to find my checked-in luggage which I would take as hand luggage and given me a seat in the front row of the plane so I could bolt out when we landed.  My bag arrived, it had to go through security as I would take it as hand luggage (I'll get to that shortly), we ran to the flight gate, I was the last person to board!  Only casualty was my Leatherman had to be confiscated as I couldn't take it on board.  By my calculation I would have 30 minutes from landing to make cut-off for check-in which was at a different terminal to the one we were landing at.  So, we landed, I ran as fast as I could, quite a distance and in the heat and make check-in by 15 minutes.  I must confess that after telling the check-in attendant from Nok Air (flight to Bangkok), she and her colleague laughed retorting with a smile "VietJet…always delayed!"  Yes, their flights were delayed, but the service I got from VietJet was bloody fantastic!  I'd fly with them again anytime…maybe giving myself a little more of a buffer though ?!  Ps. If I had missed my flight to Bangkok (which was the last flight of the day, that would have meant another night in Vietnam, but my visa would have expired and that could have put a whole new spin on the problem.  Flight to Bangkok went smoothly so was my flight to Kuala Lumpur, and that's my short story on how I got to Kuala Lumpur.
Kuala Lumpur, like most cities they have a similarity about them with only a dash of colloquialism therefore unlikely to reveal the "real" culture of a country.  Nevertheless, I would spend a few days in the city, enough time for some exploring and planning the next stage of my trip to Indonesia.  For the first 3 days I stayed at The 5 Elements Hotel, less than 100m from China Town – a good location and value for money.  I tried to extend my stay but couldn't as they were fully booked, not a bad sign.  After that I spent three days at Mov Hotel Kuala, definitely a upgrade room and location, the small rooftop swimming pool was worth a million dollars after a long hot, humid day of walking – obviously more expensive than the first but still good value for money considering its close proximity to the malls and Petronas Towers.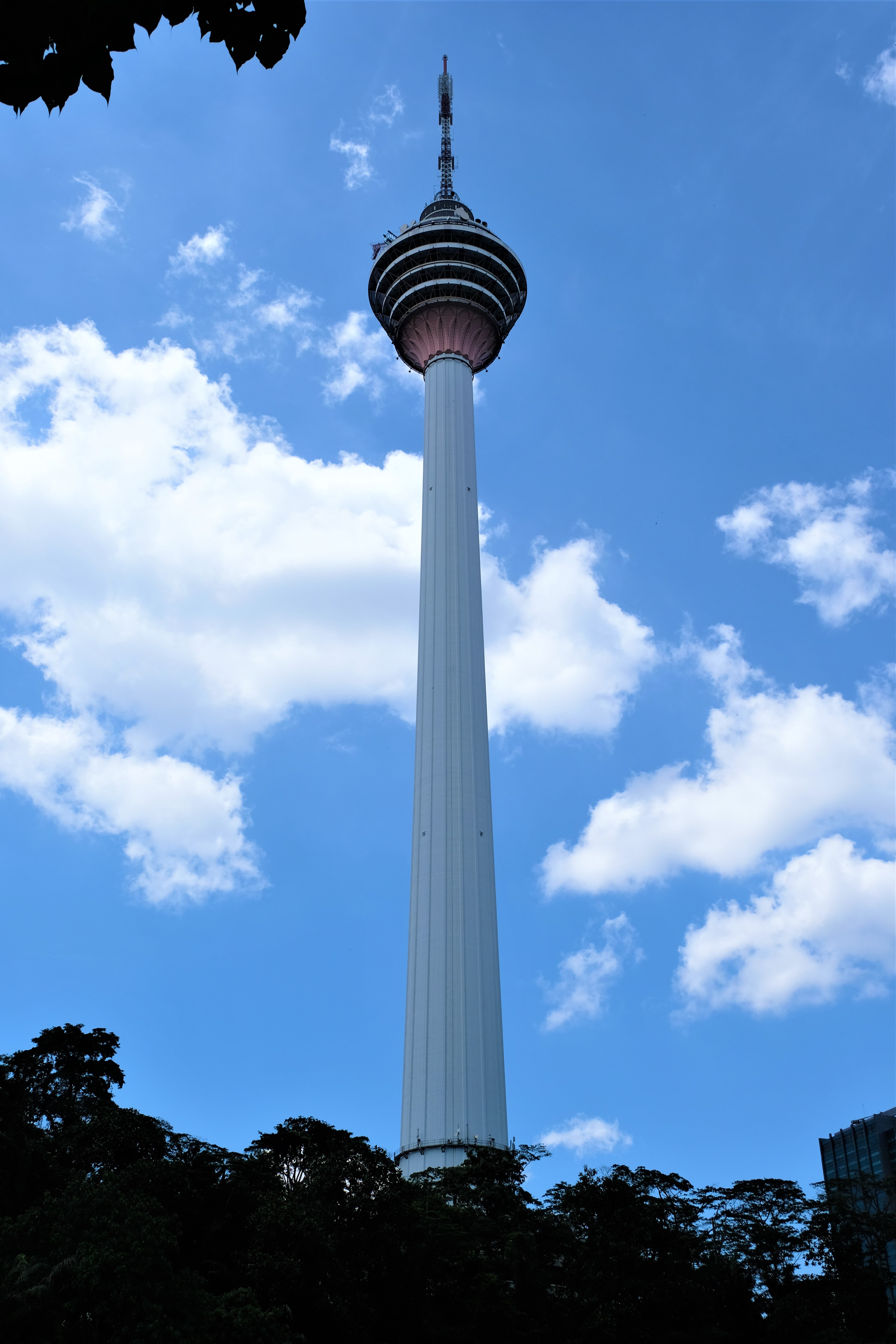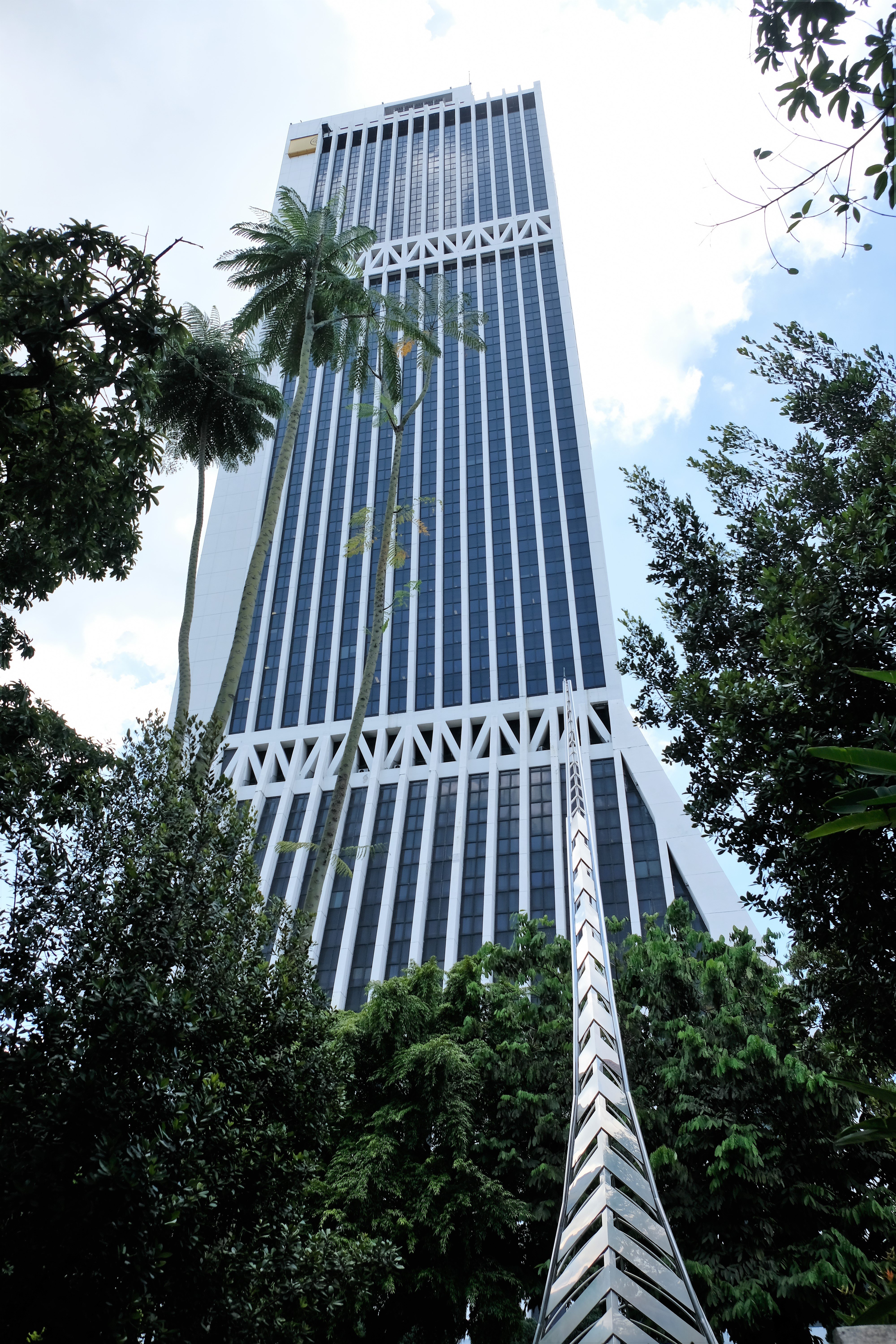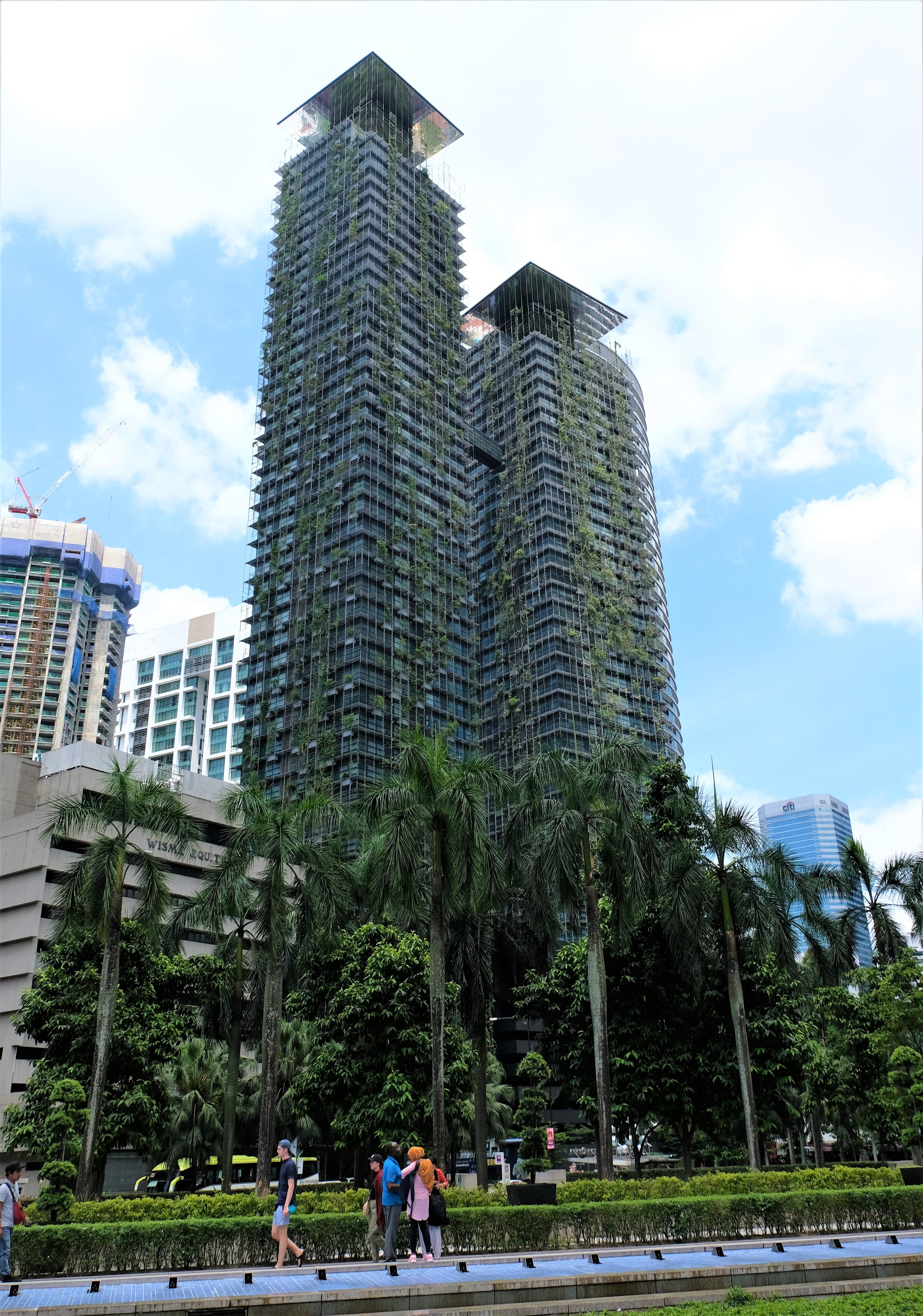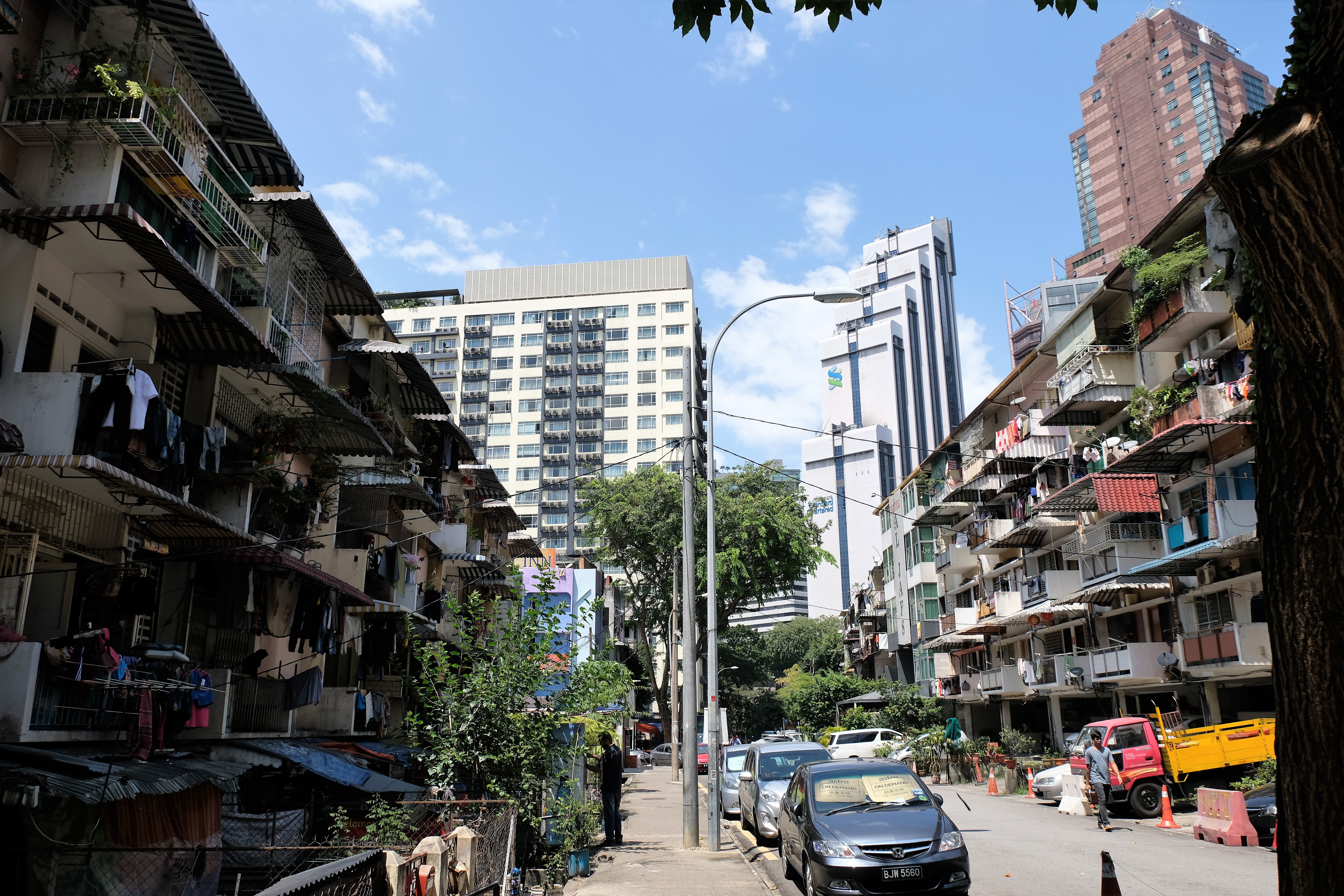 Kuala Lumpur
Enough about hotels!  My initial thoughts on the city was unmistakably of a place experiencing financial growth.  Parts of the city are as swanky as you can get, but you don't need to look far to find many people struggling.  In amongst luxury stores, malls and hotels you just need to walk a little way, to see where those who are serving people at these posh places live, a different world, yet to be affected by the economic strength.  Even so, you cannot miss the fact that this is a city, and country, on the rise.  Kuala Lumpur is a big city, a population of around 1.7 million, if you include the Greater Kuala Lumpur or Klang Valley that increases it to 7.3 million.  The city has 3 major ethnic groups, Malay (44.7%), Chinese (43.2%) and Indian (10.3%) making for a cosmopolitan environment not just statistically, that includes architecture, food and religion – Islam (46.4%), Buddhism (35.7%) and Hinduism (8.5%) and Christianity (5.8%).  Though Islam is the predominant religion, it seems to be a moderate Islam, with as many bars and nightclubs as I've seen in European cities so things like alcohol are readily available and advertised.  I don't know what I was expecting from Kuala Lumpur, I've said many times before that I'm "over" cities, part of travelling in my opinion is best experienced when you are away from metropolises.  Yet, wondering the city streets is never dull, it is a vibrant city and I felt safe no matter where I went.  I'm sure there may be dubious neighbourhoods, all cities have them, but I didn't experience any.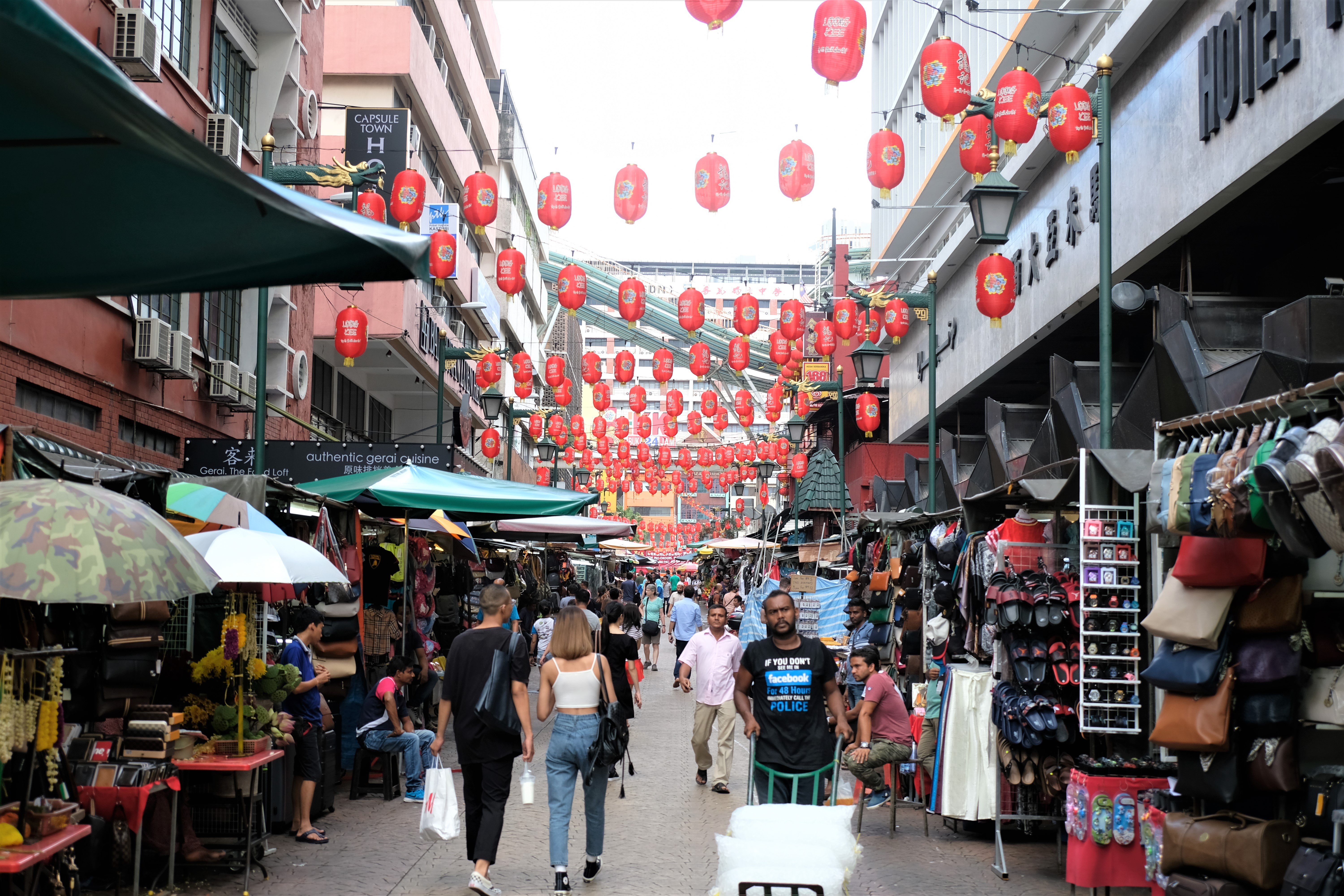 Sri Mahamariamman Temple
The narrow elaborately decorated and exceptionally colourful gateway of the Sri Mahamariamman Temple is tucked between a larger part of the temple on a busy road, the last place you'd go looking for a temple.  It stands oddly alone on an otherwise commercial area a stone's throw from China Town.  You can't miss it; how could it be with its bright colours covered for door-level to roof top with Hindu figurines.  The temple itself is beyond the gate, which is called a Gopuram, pity I could not go inside as it was closed – I don't actually know if they allow visitors inside.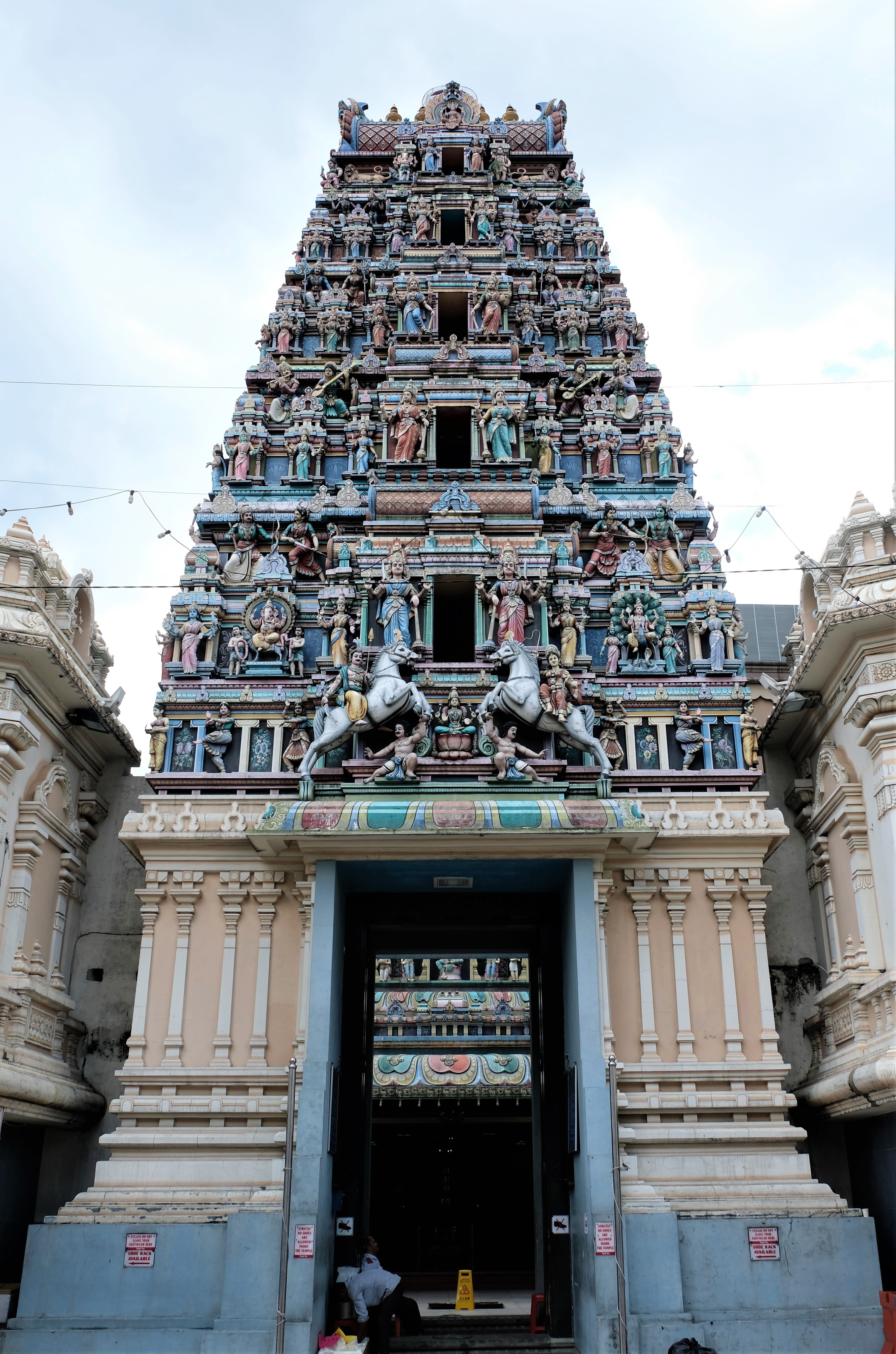 It used to be the private shrine of the Pillai family, founded in the late 19th century by K. Thamboosamy Pillai (a prominent businessman and Tamil community leader), which was opened up to the public in 1920 and is the oldest operating Hindu temple in Malaysia.  What is seen today isn't part of the original temple, that has been knocked down and rebuilt, what is there today is the third incarnation, with the gopuram being built in 1972.  I'd be seeing more Hindu statues and temples later during my time in Kuala Lumpur, even more elaborate and colourful…wait till I get to the Batu Caves!
Petronas Towers
A new iconic landmark not only of the city but of Malaysia, it marries its past and culture (by design) with its prominent position it plays within the region and globally.  Famous for many reasons not just its use as a backdrop for movies, but also for the innovation in its construction and height. In building it, they made a statement within the region and across the globe that they were a serious player.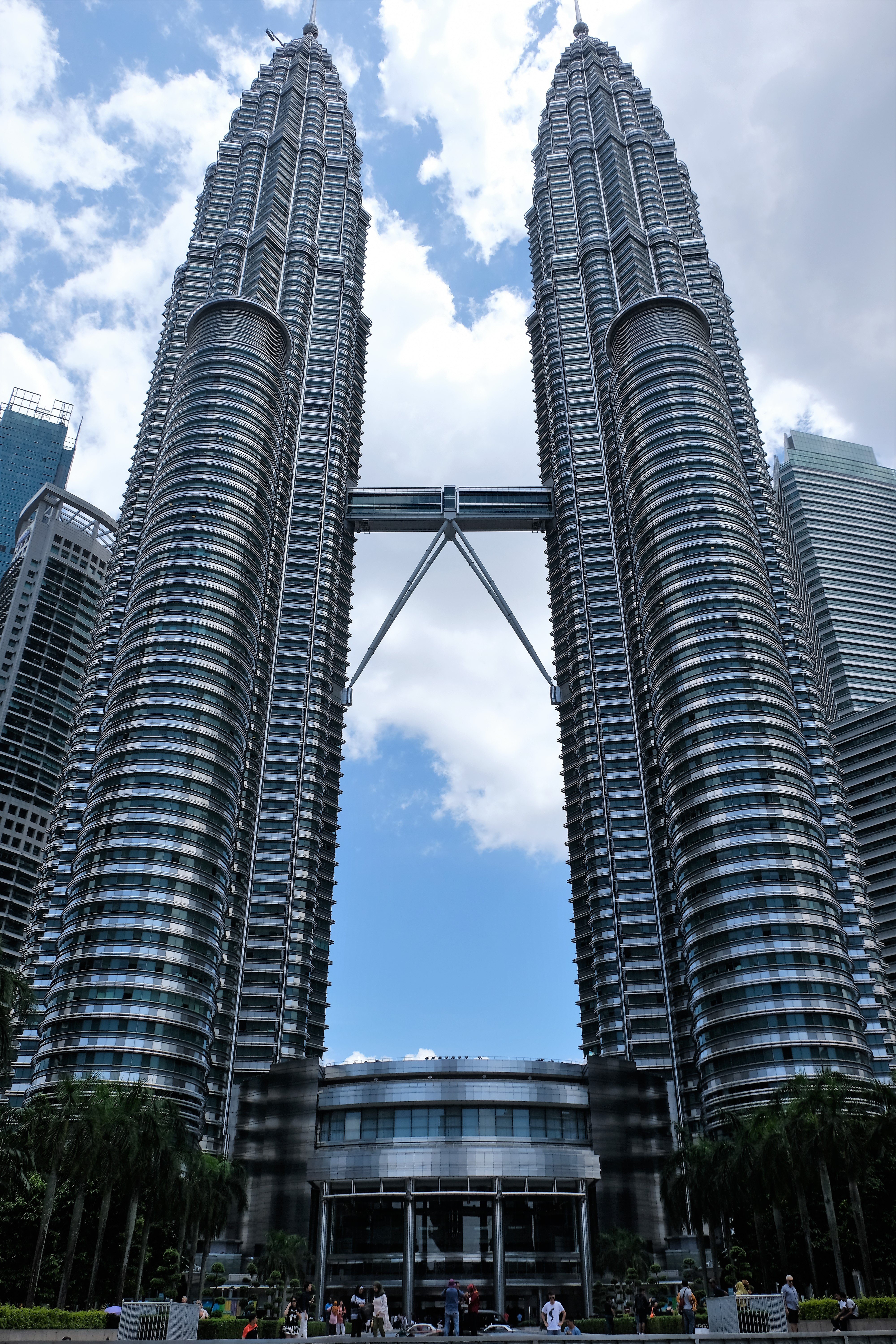 Personally, I think it took many people (Western) by surprise that something like this could be accomplished within the region.  It held the record for the tallest building from 1998 till 2004 and still holds the record for the tallest twin towers.  The top of the roof stands at 378.6m and the top of the antenna/spire stands at 451.9m.  They are impressive buildings, not the smooth mirrored glass structures that seem to be the style of the day.  No, the Petronas Towers are reminiscent of some of the older mosque minarets, here they are made of steel and struct into the ground, like modern obelisks.
Bukit Nanas
I saw Bukit Nanas on the map and a few sites had mentioned it but didn't think much about it until I got there.  Frankly, I had been walking around and there was a faint drizzle rain coming down, so I thought I would go check it out.  Well, besides it being like walking through a sauna it very cool.  Not just a city garden, Bukit Nanas is 9.3 hectares of virgin rain forest slap bang in the middle of a city!  I couldn't believe how the climate changed from the pavement into the forest, the humidity was ridiculous!  Bukit Nanas isn't a sanitised forest in a city, it has monkeys, poisonous spiders, snakes and scorpions, with pathways, raised platforms and rope bridges enabling you to explore the forest at close range.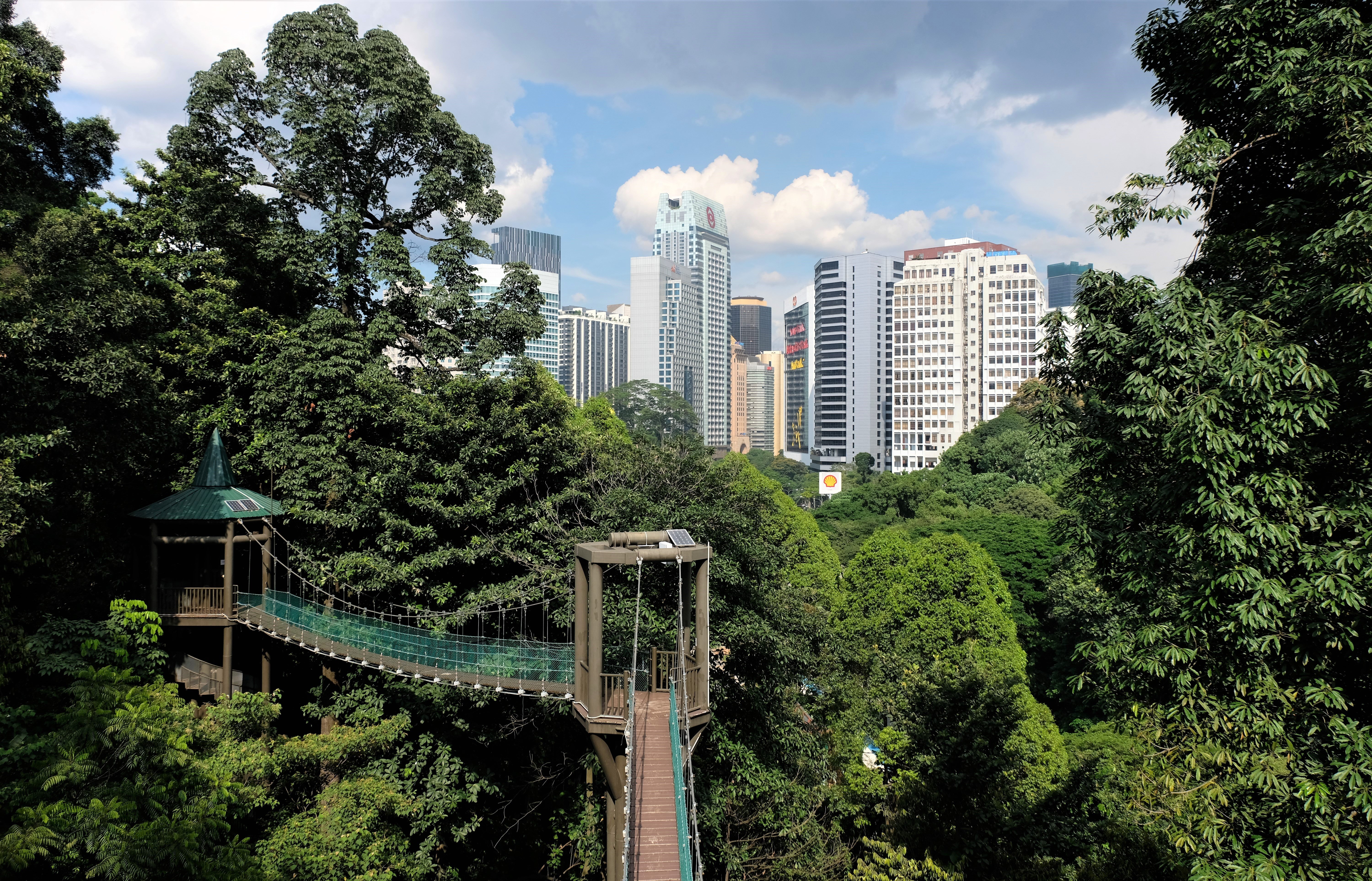 I'm used to manicured city gardens, this is a totally different experience and very cool.  Every now and then you remember you're a in a city.  Skyscrapers sticking out behind the trees, or a sudden opening of the bush reveals a backdrop of glass and concrete, including the KL Tower which is difficult to miss no matter where you are in the city.  You really do feel out of the city, it is only a small forest but if you happen to be in Kuala Lumpur it is a quick and enjoyable visit.  The name Bukit Nanas means "pineapple hill" and covered a larger area, pineapples were grown there as a deterrent against attackers during the Klang War (1867 to 1874).  The original proposition to keep the area a natural forest was in 1906, the area was 17.5 hectares.  Over the years building encroached in to the forest, hence it now being 9.3 hectares.
Kuala Lumpur Tower
Still an attraction in the city, the KL Tower as it is mostly referred to is the 7th tallest freestanding tower in the world at 421m including the antenna, 335m to the roof pod.  I don't' know what I was thinking, I couldn't have been thinking at all, but I didn't go right up to the tower…meaning I didn't know you could go up the tower!!!  The views must be excellent, sadly I don't know.  Perched on top of a hill right next to Bukit Nanas, it is a elegant structure; so thin for such a high structure, you can't imagine it being stable with the bulge at the top.  Can't say much else about it, how stupid of me not to find out or at the very least walk to the base!  GRRRR……next time!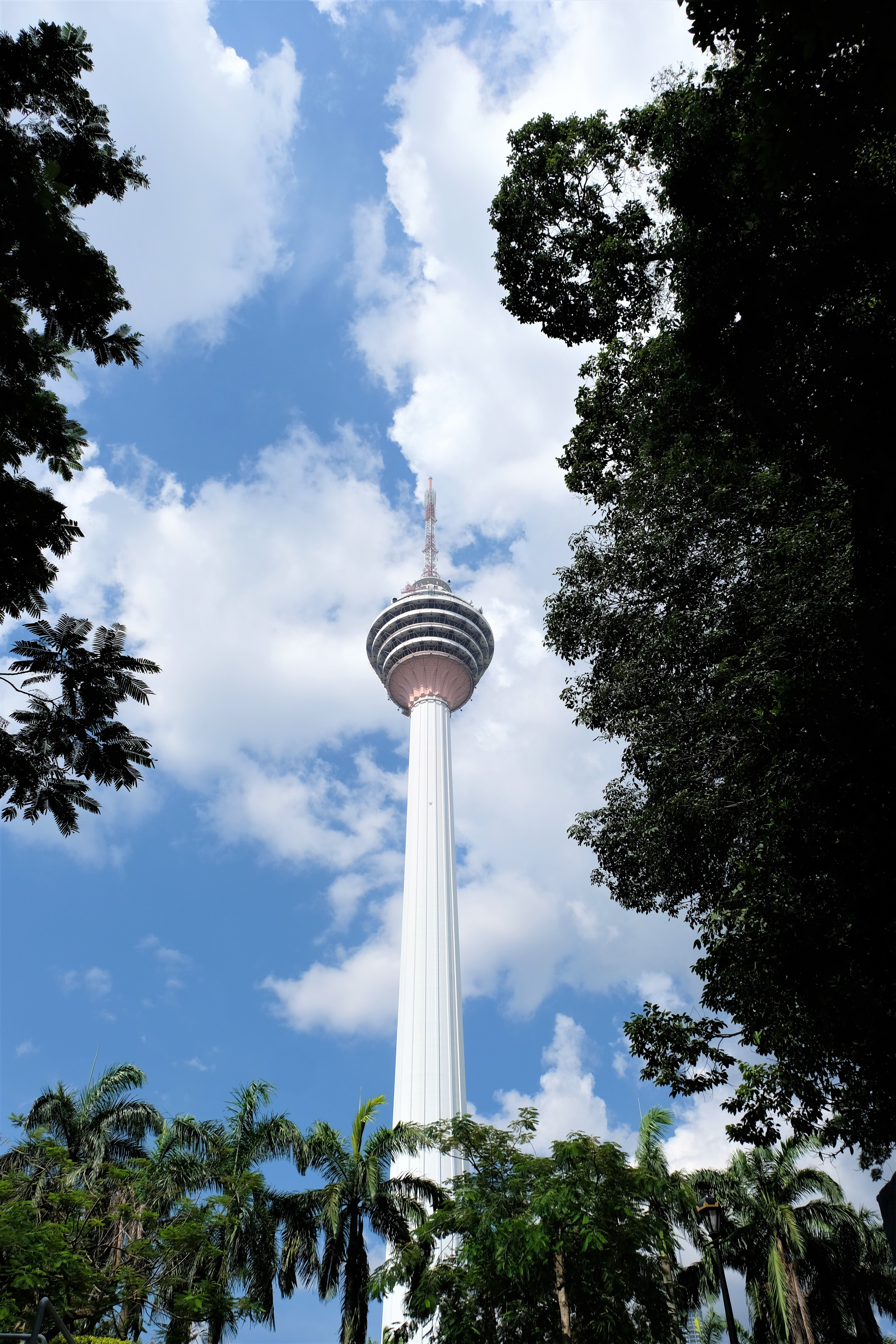 Though I spend 6 days in Kuala Lumpur I didn't really sea that much, yes, I went to the shopping area with all the glamorous shops and mall, those just aren't my thing – I'm not going to include pictures of shopping malls!  I got to catch up with some writing and planning, it was also nice just to have a break, taking things easy and stroll around the place – I even had a Nando's…twice!
Batu Caves 
On the edge of the city, away from everything that's new and shiny are the Batu Caves.  Not dissimilar to many cities, the outskirts being occupied by a mix of industrial, commercial and pooper inhabitants intertwined into each other you can find the Batu Caves.  Long before arriving there you see the limestone hills, like a little mountain range covered in dense green, a lovely backdrop juxtaposed what I found the poorest area I had seen in the city.  As we got closer the colossal 42.7m golden statue of Lord Rama glimmered in the sun, behind what looked like a conveyor belt of stairs leading half way up into the depth of the mountain.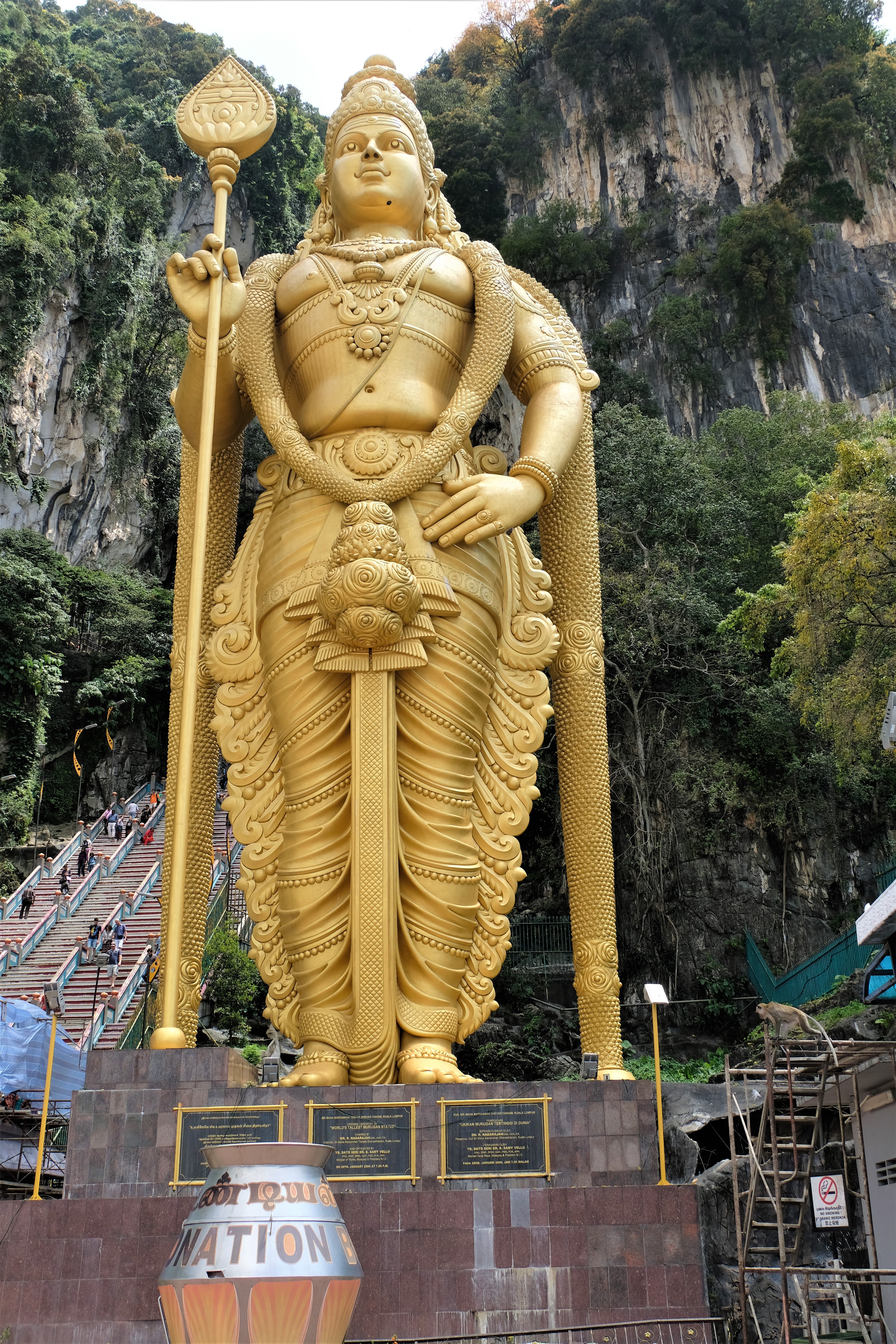 There was a lot of construction going on everywhere at the Batu Caves, some new and some restoration – always a catch 22, great to see restoration work, selfishly a pity from a visual perspective.  For a temple/place of worship, this place doesn't have that solemn feel, not at all, it's closer to an amusement park environment, very much family and tourist orientated.  The Batu Caves are obviously thousands of years old, as a temple complex only since 1890, also founded by K. Thamboosamy Pillai – the same man who founded the Sri Mahamariamman Temple.  Prior to the temple it isn't certain what or how the Batu Caves were utilised or if they were ever occupied by human.  The earliest known human use was by the Chinese in the 1860; they used the guano as fertiliser for their crops.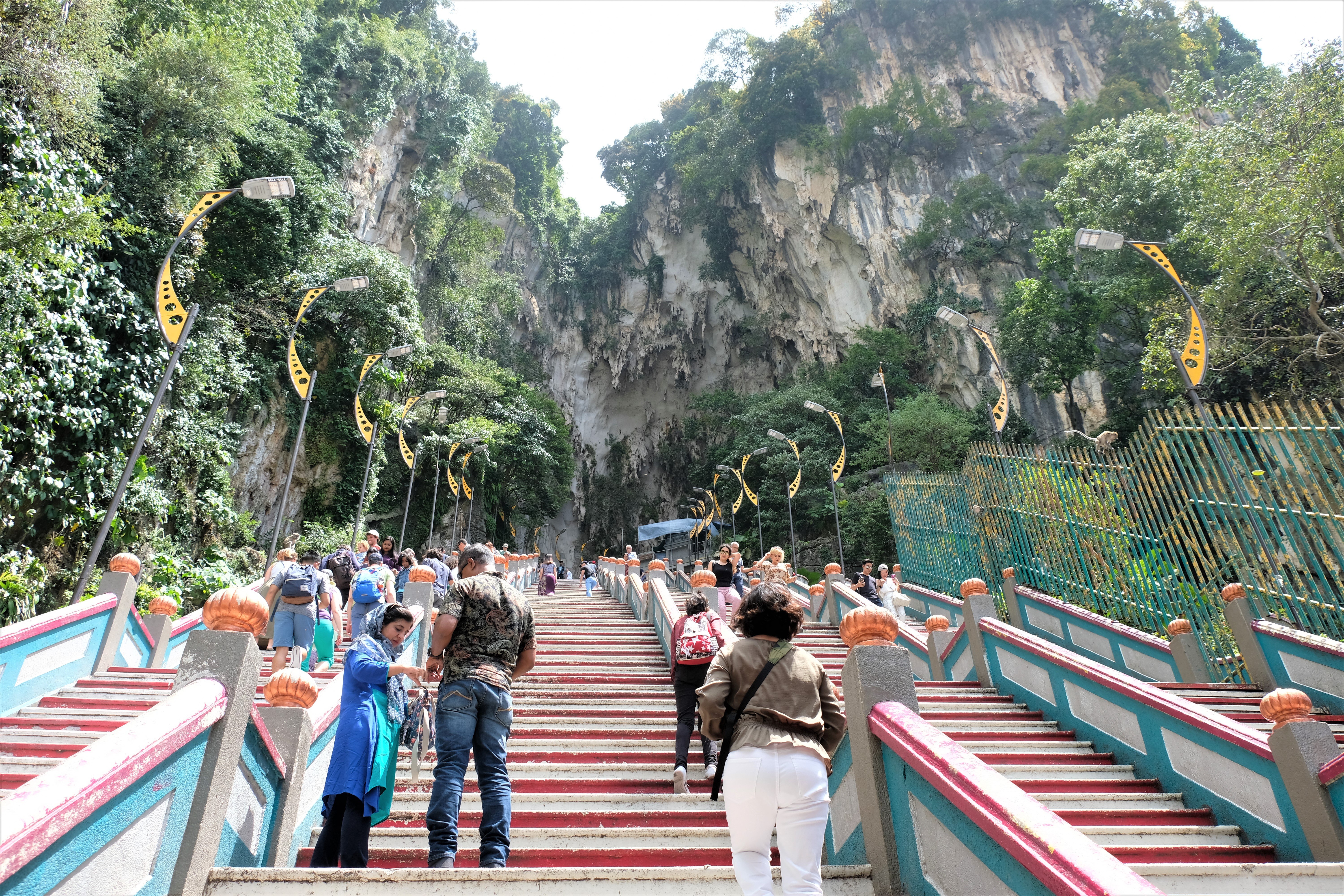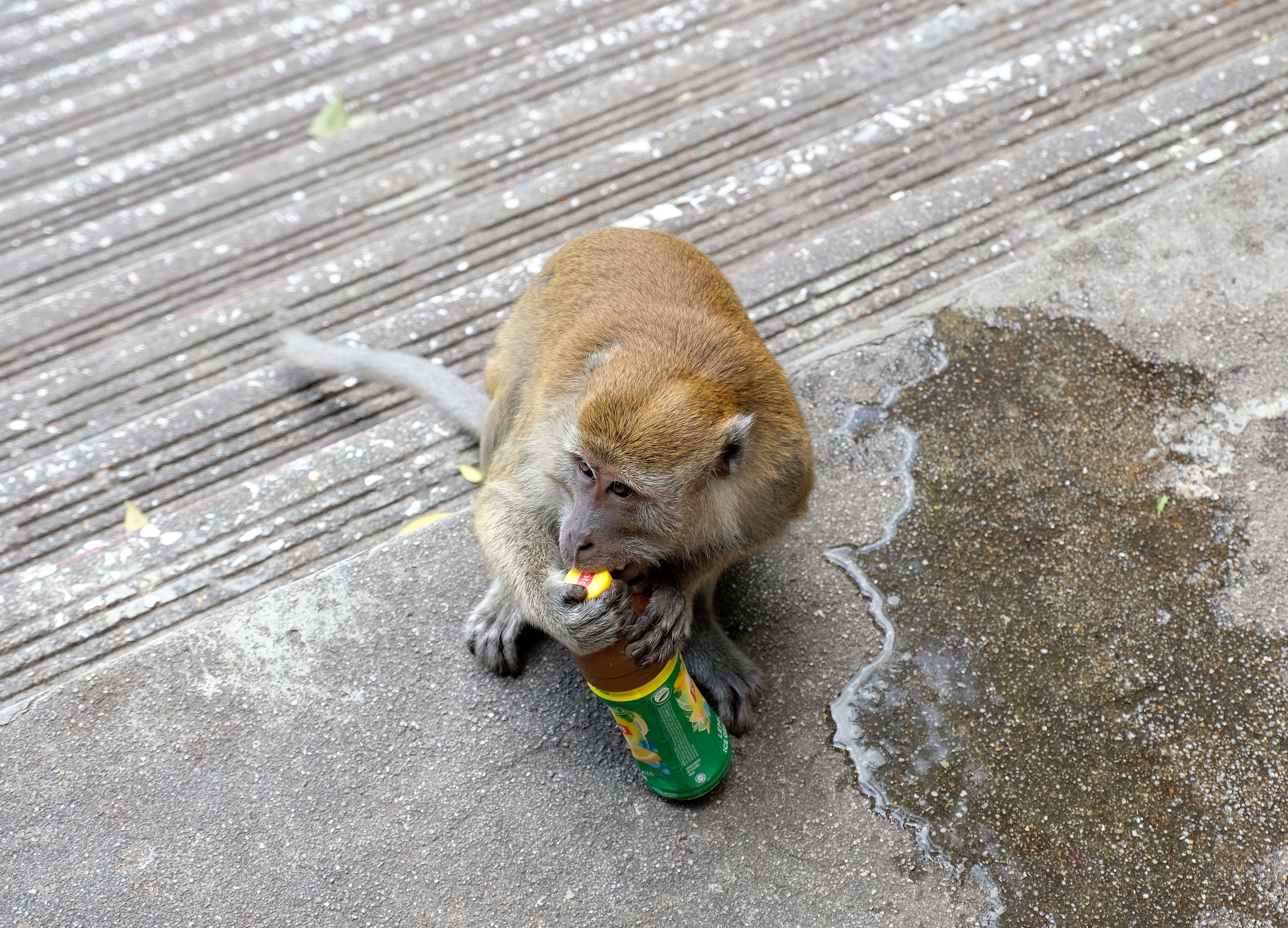 Within the Batu Caves complex there are three large caves; one about 2/3 up the main stairs, the other at the top of the stairs (the biggest) and another at ground level about 200m from the bottom of the stairs (facing the stairs).  Going up to the biggest cave, called the cathedral or temple cave, there are lots of monkeys lining the stairs; there are many throughout the area, especially in the cave too.  These little buggers are rather cheeky and quite daring!  They won't hesitate to grab any food or drink you have in your hand, even anything loose or hanging from your bag.  You are warmed not to feed them, I can see why, I even saw two of them opening a can of Pringles that was totally sealed!  I had an empty protein bar package taken, don't even dare try taking it from them they get very territorial.
The entrance of the main cave leads into a huge hall, higher and longer that it is wide.  The ground has been concreted level, I'd easily say big enough to fit a football pitch inside.  It's so big and because they've raised and levelled the floor it doesn't feel like you're in a cave.  The fact that another little temple is being build inside the cave along with permanent shops you could be in some themed park.  The big hall is rather dull, the walls and ceiling the only original part of the cave, the ceiling the only interesting part in my opinion, maybe I'm being too cynical.  The hall has its natural beauty, it is a very open cavernous space (pun intended), there is just something about it that has lost its wow factor; I think a lot has to do with the partial commercialisation of it, seems more is it to come.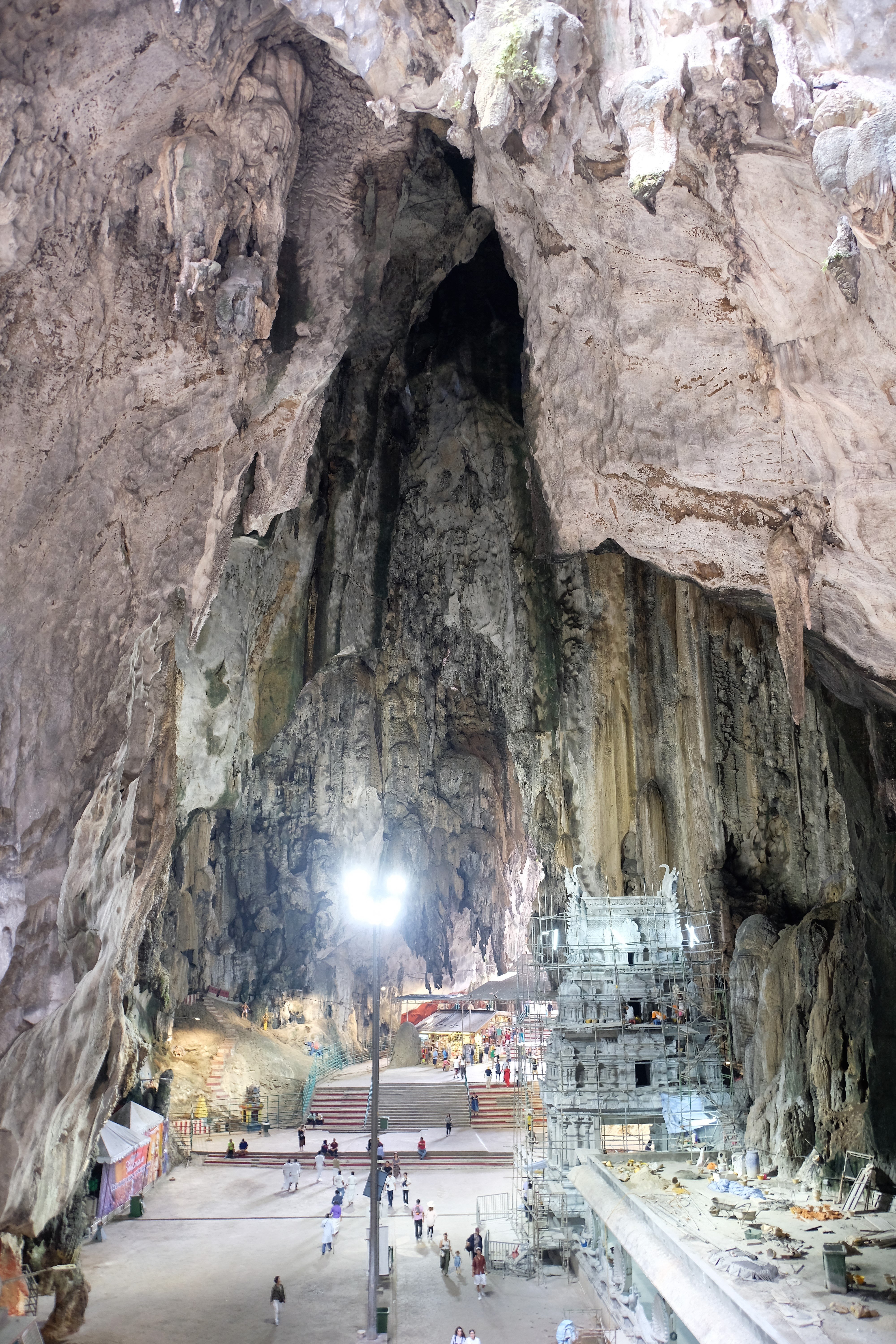 Straight ahead on the other side of the cave is another set of stairs leading further up into a second part of the cave, a magical setting.   At about a ¼ the size of the first hall, this second hall isn't really a cave at all (at least now after hundreds of years of erosion), no, half of the ceiling is missing.  With a gaping hole narrowing towards to top creating a column of light shooting down from the sky.  In stark contrast to a somewhat gloomy interior of the carve, this skylight is brimming with green growing ever denser till the rim.  Here there are even more monkeys, at least more at home in the shrubbery coming down every now and then to pester the visitors for food…or just taking it and running! A few small temple shrines are spread out in the second hall, they blend into the atmosphere of the environment around giving a more intimate feel – still full of people making a little too much noise, but without the roof the sound doesn't echo as much.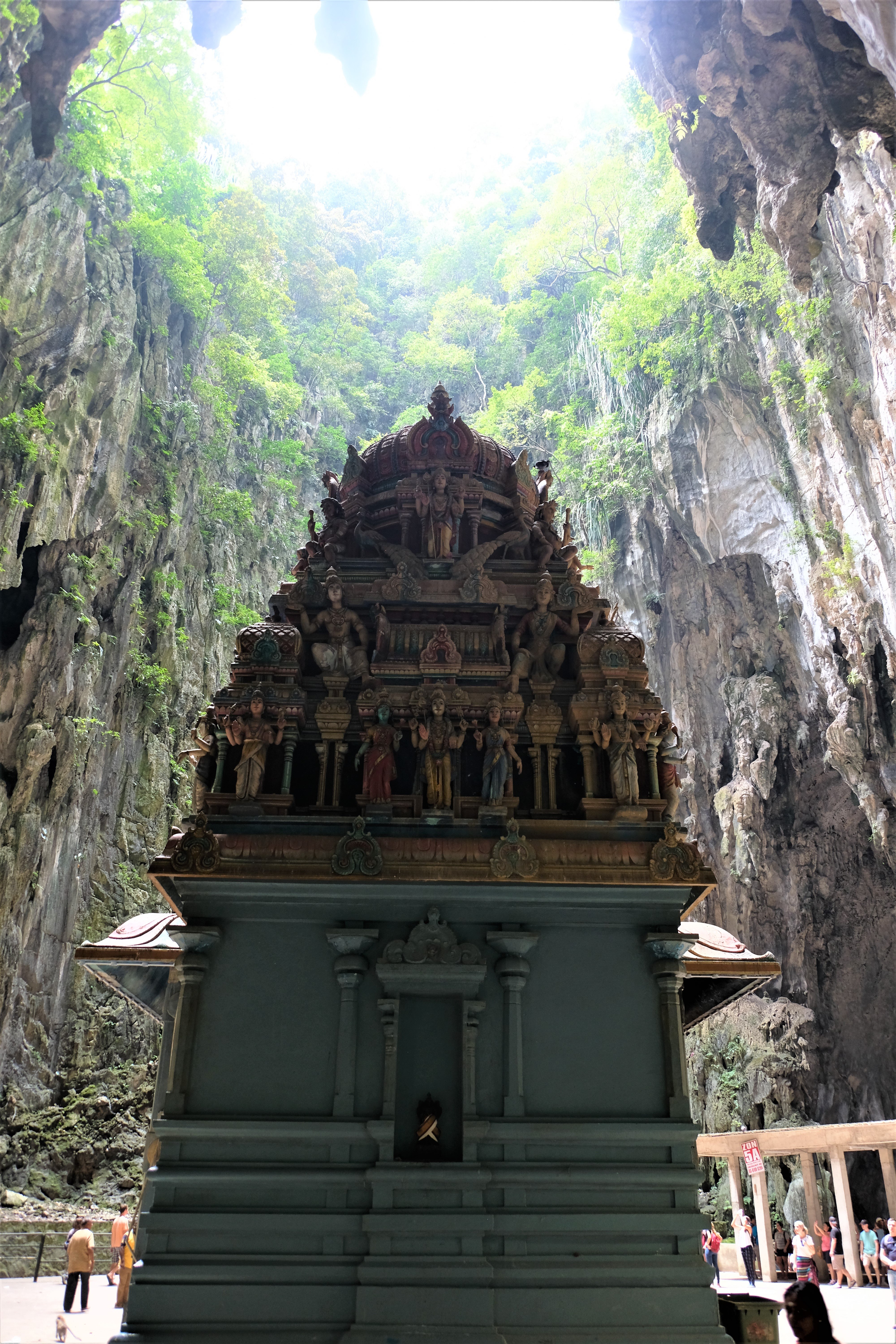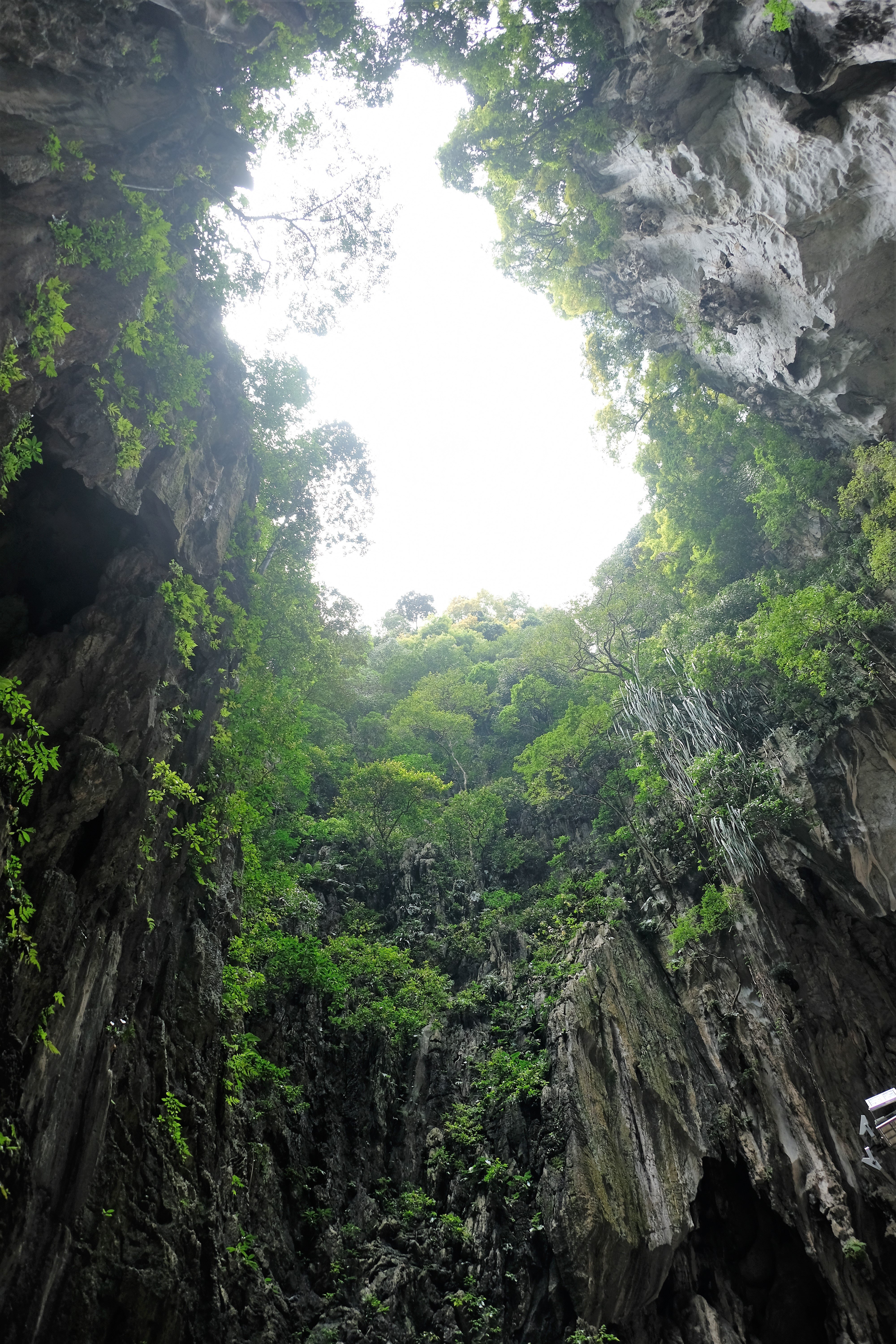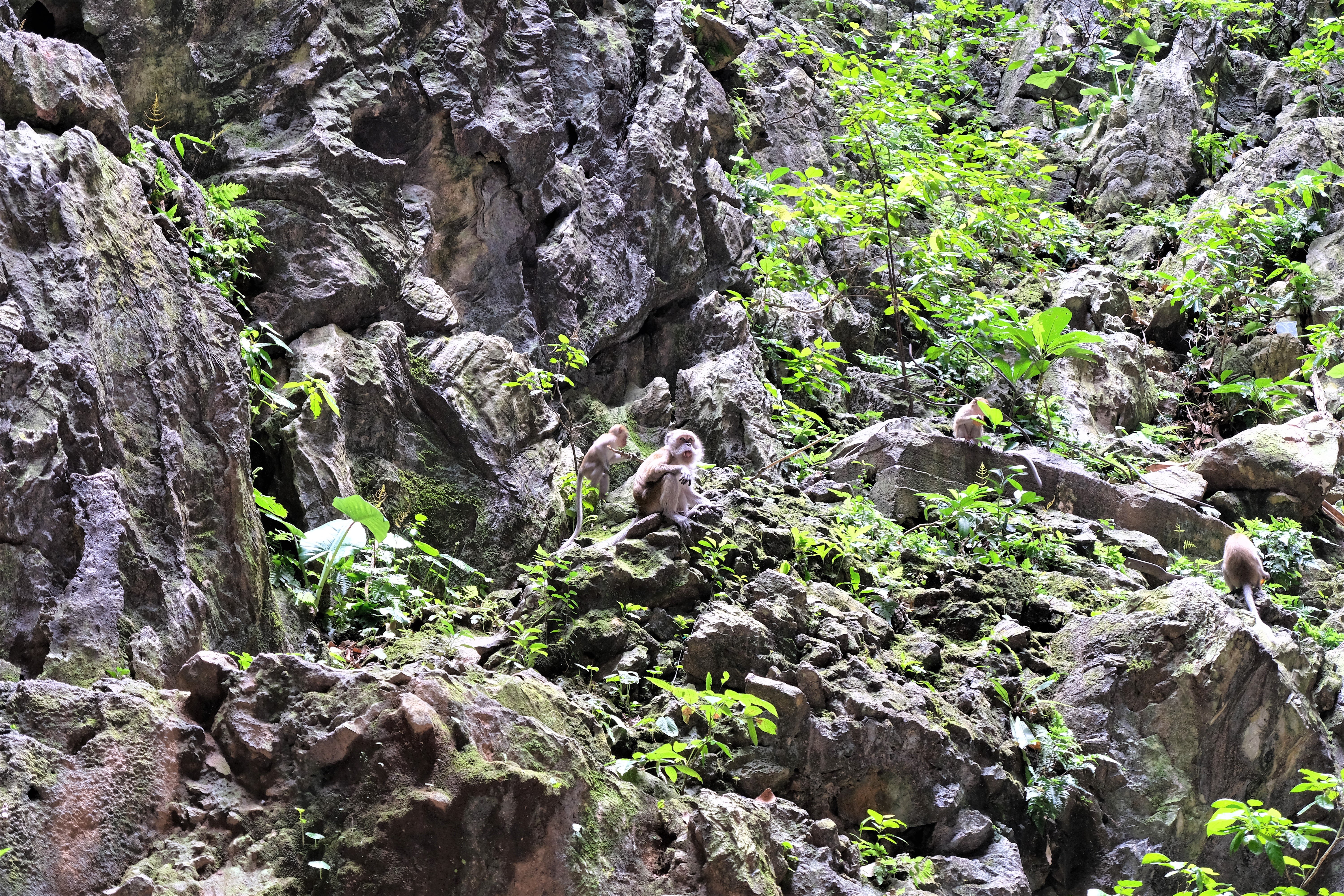 Heading out of the caves back down the main stairs, at the bottom turning right, you follow path along ground level till you get to the next big cave. Before getting there you pass a big statue of Hanuman to a part of the complex that was closed when I was there, shortly after is the entrance to the other big cave.  At the entrance (I serious hope my interpretation is correct!!) is a statue of Lord Krishna riding a carriage of bronze horses; a representation of Lord Krishna delivering the Gita Upadesha – the front plaque dedicating the monument to the teachings of Gita "Gita Upadesha" – upadesha referring to teaching/instruction of a spiritual nature.  I changed the last two sentences on 14th August thanks to an accurate translation/interpretation from one of my readers.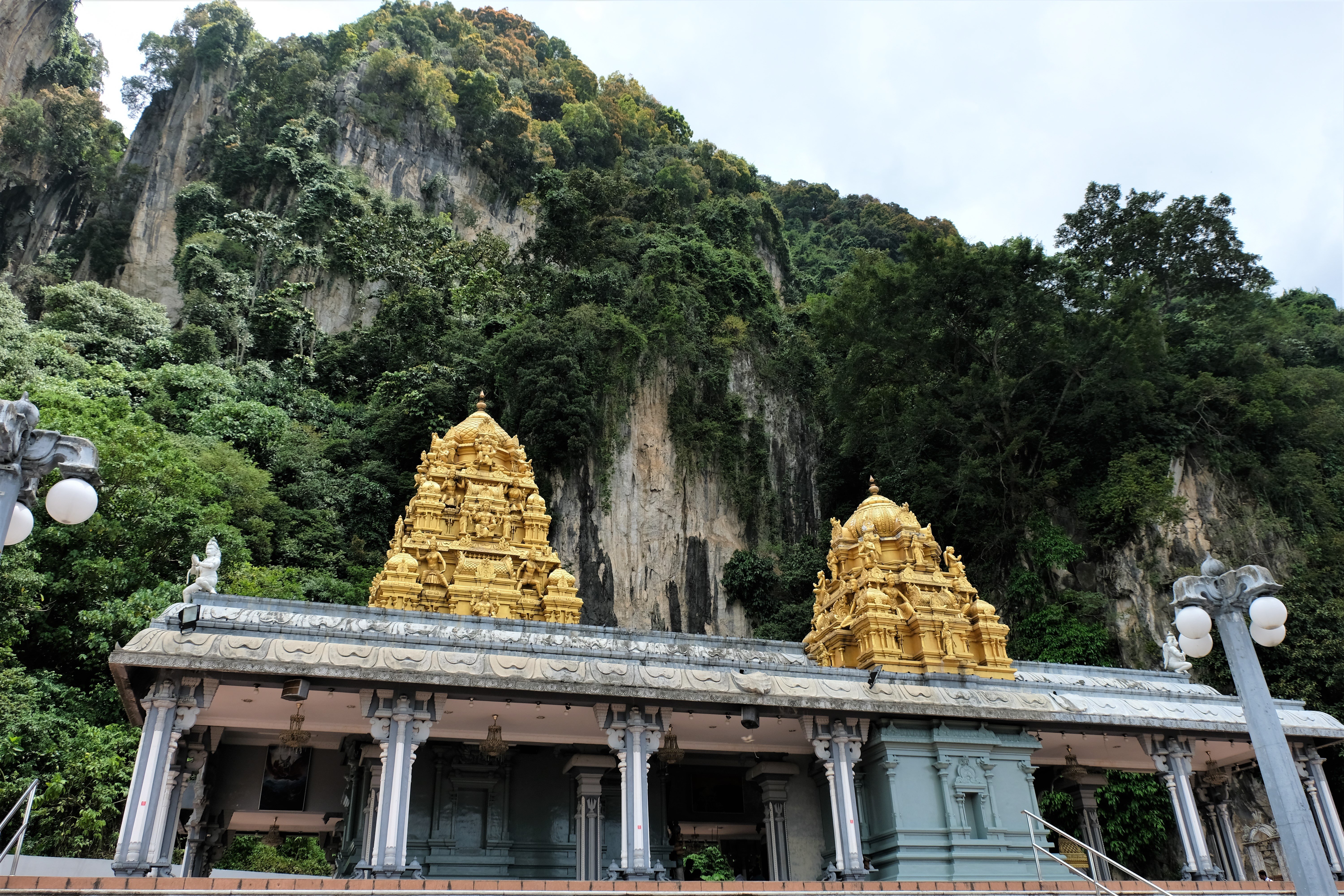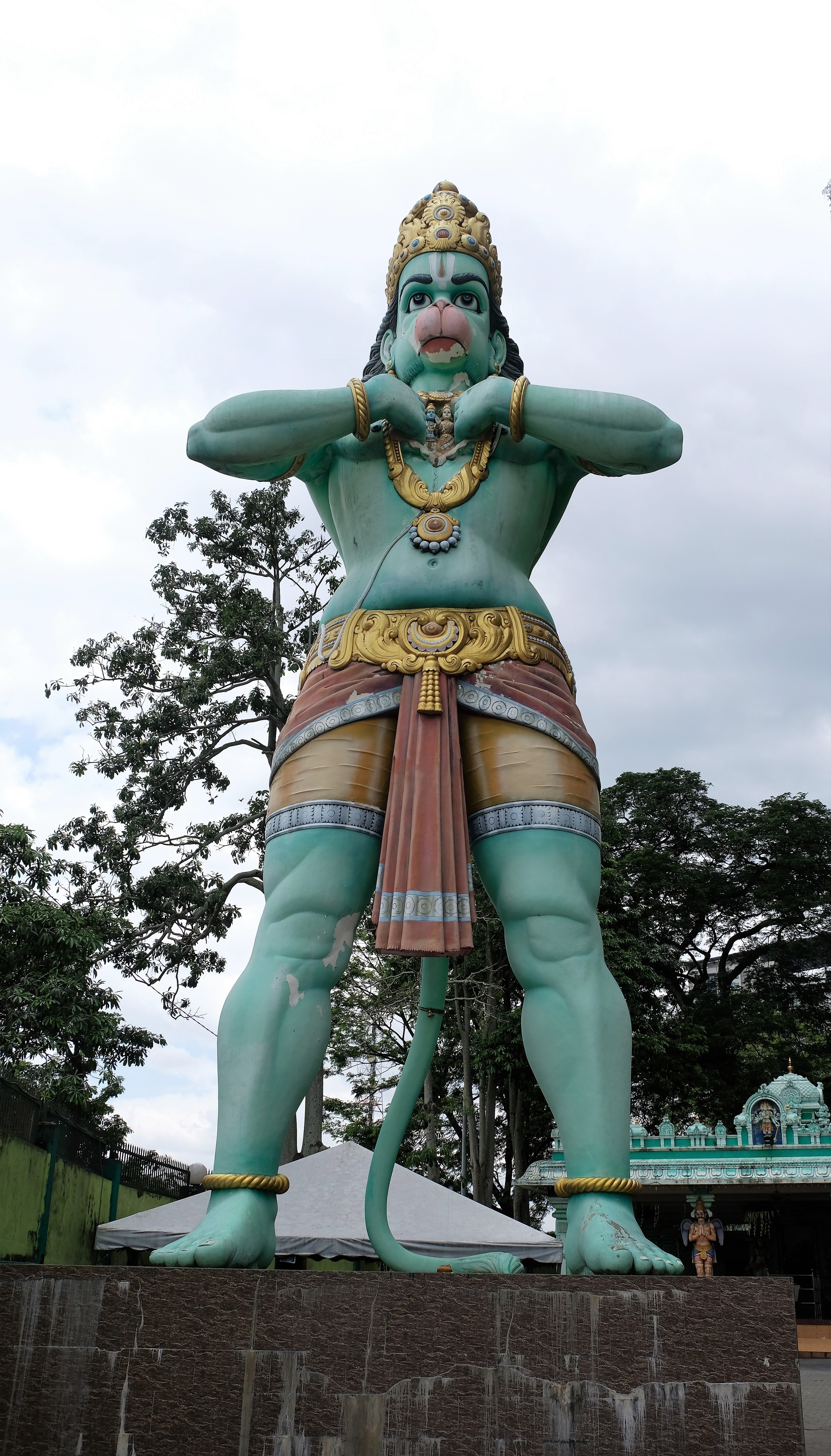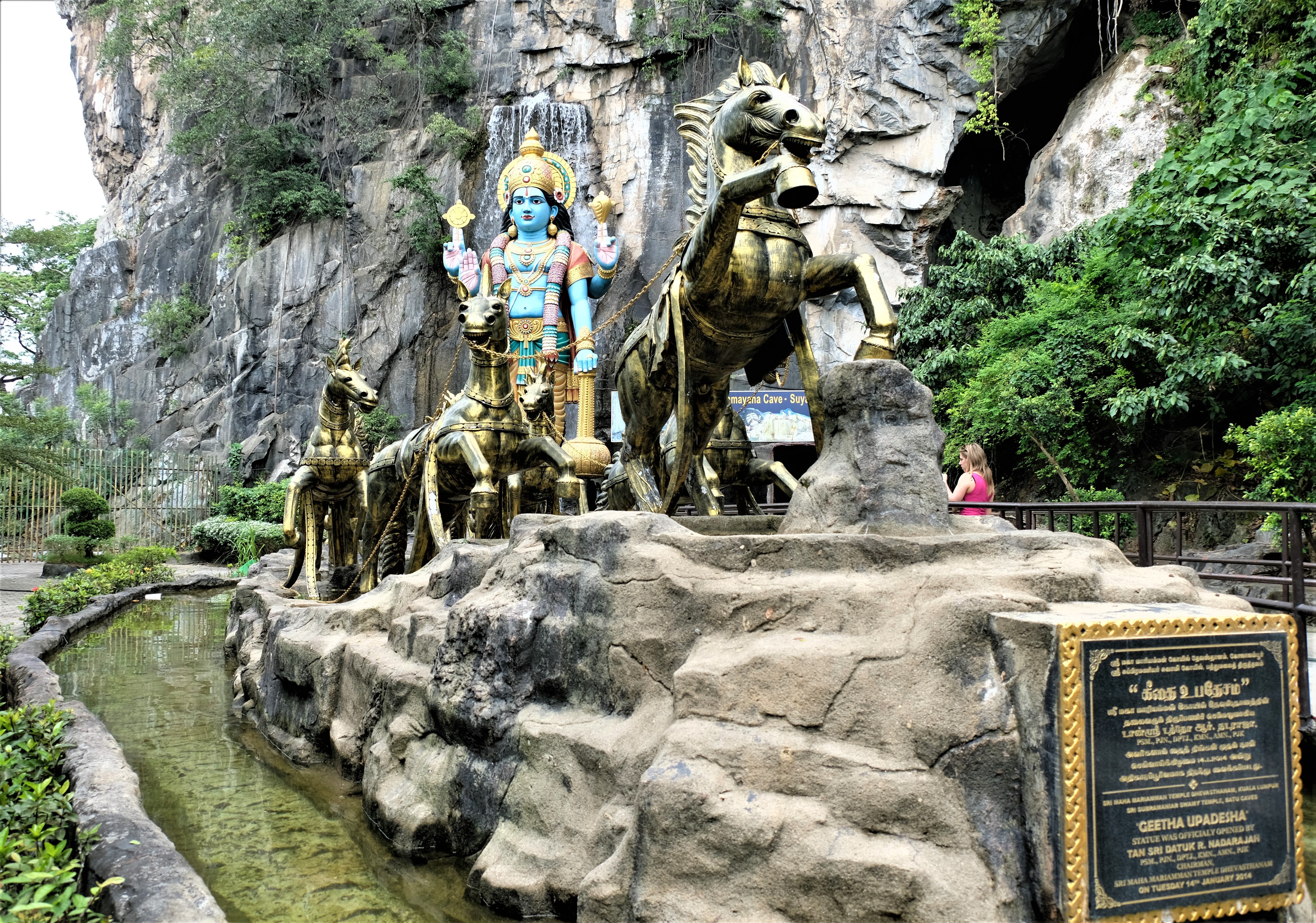 Like I had said earlier, my knowledge of Hindu mythology is non-existent so my journey through this cave was perplexing to say the least.  The cave itself contrasts to the cathedral caves in that in this one the rock formations were more rounded, giving the cave a gentle feeling like it had been made over thousands of years by flowing water (further into and higher within the cave its resemblance to the cathedral hall was more similar).  Now I'm beating around the bush about the cave because I'm procrastinating addressing how the interior is decorated, Alice in Wonderland comes to mind – I mean no disrespect to Hindus.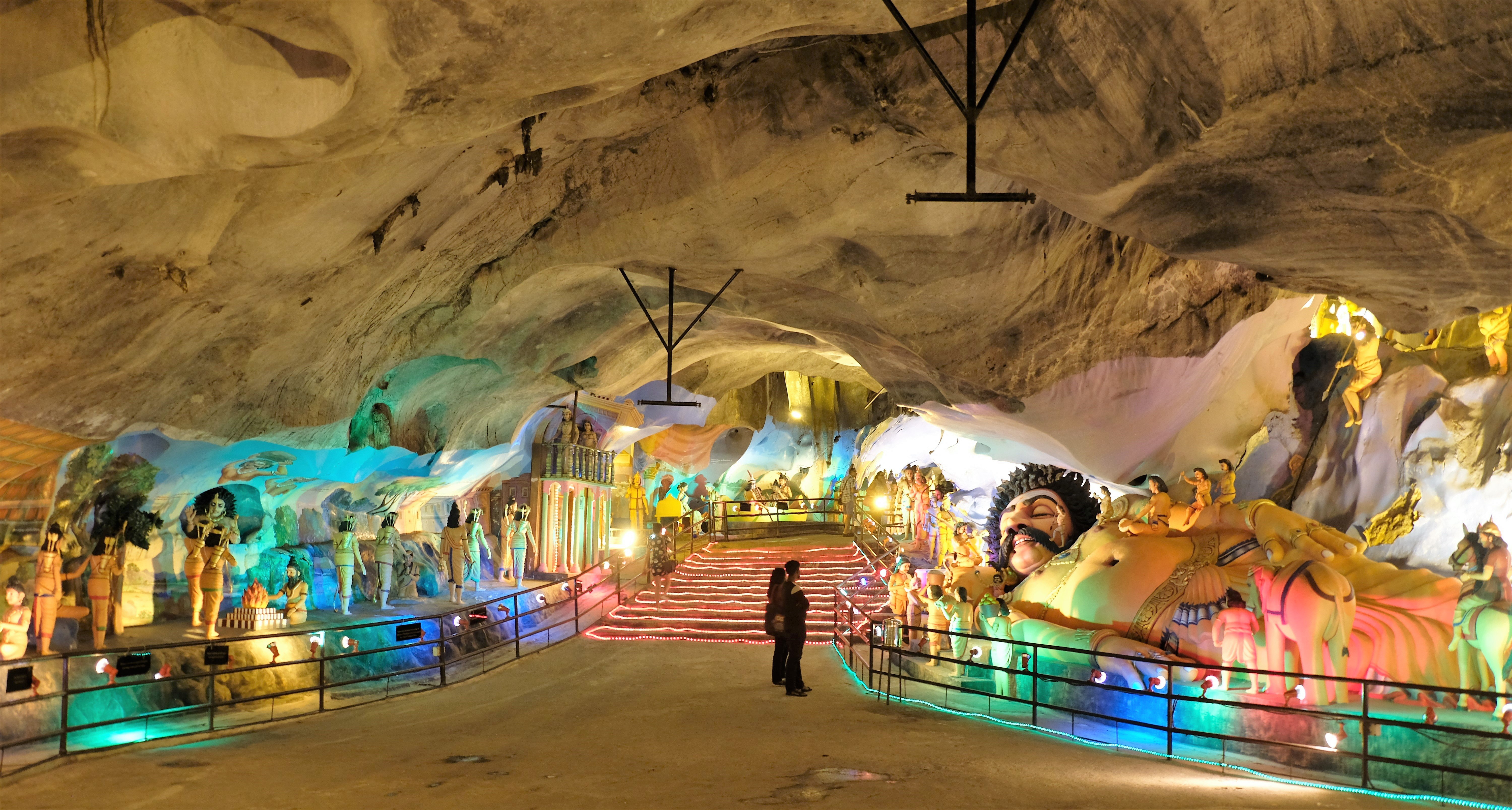 Filled with neon string lights, human and god'ish figurines depicting religious tales/fables, it really is a world apart from the other caves, not what I had expected at all!  Bright colours painted against the walls as are many of the displays I really got the feeling of going down the rabbit hole.  I'm confident, no, I know for certain that I've never seen such a psychedelic religious display.  It felt so out of place, here in this cave to have such a contrasting display to its surroundings.  There was no one to ask to explain the display, yes, I know it tells a story, but who represents who and what represent what, I just don't know.  Taken at face value or sight, if I wasn't aware of it being a religious depiction I would have thought it was a children's display or story, even then I would have thought it very peculiar.  I headed further into the cave, still lit up with coloured lights only more restrained.  Though the cave does have an end, there are a few rooms and levels you can explore – quite whitewashed with stairs and handrails.  If nothing, the last cave is interesting just for the sake of seeing it.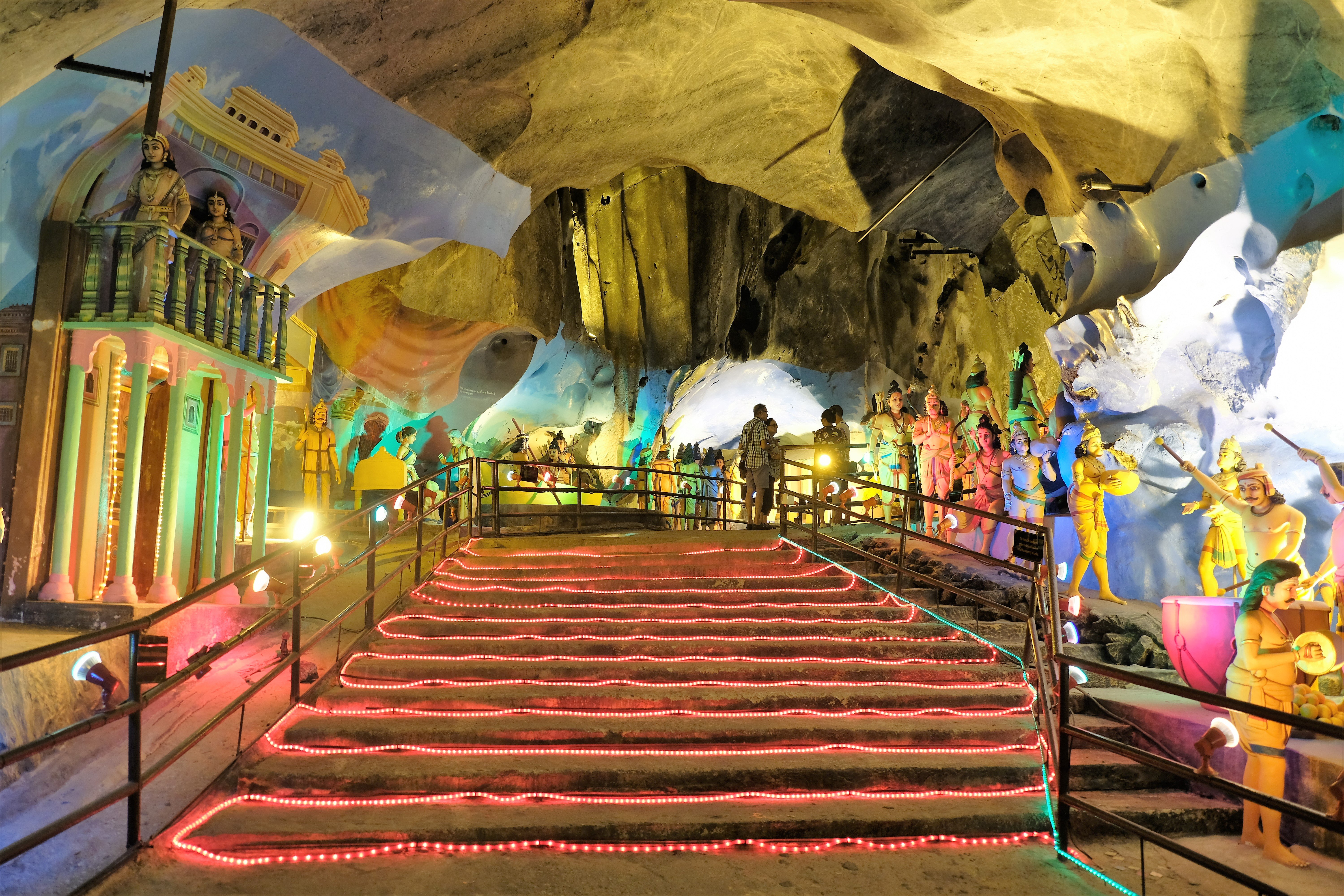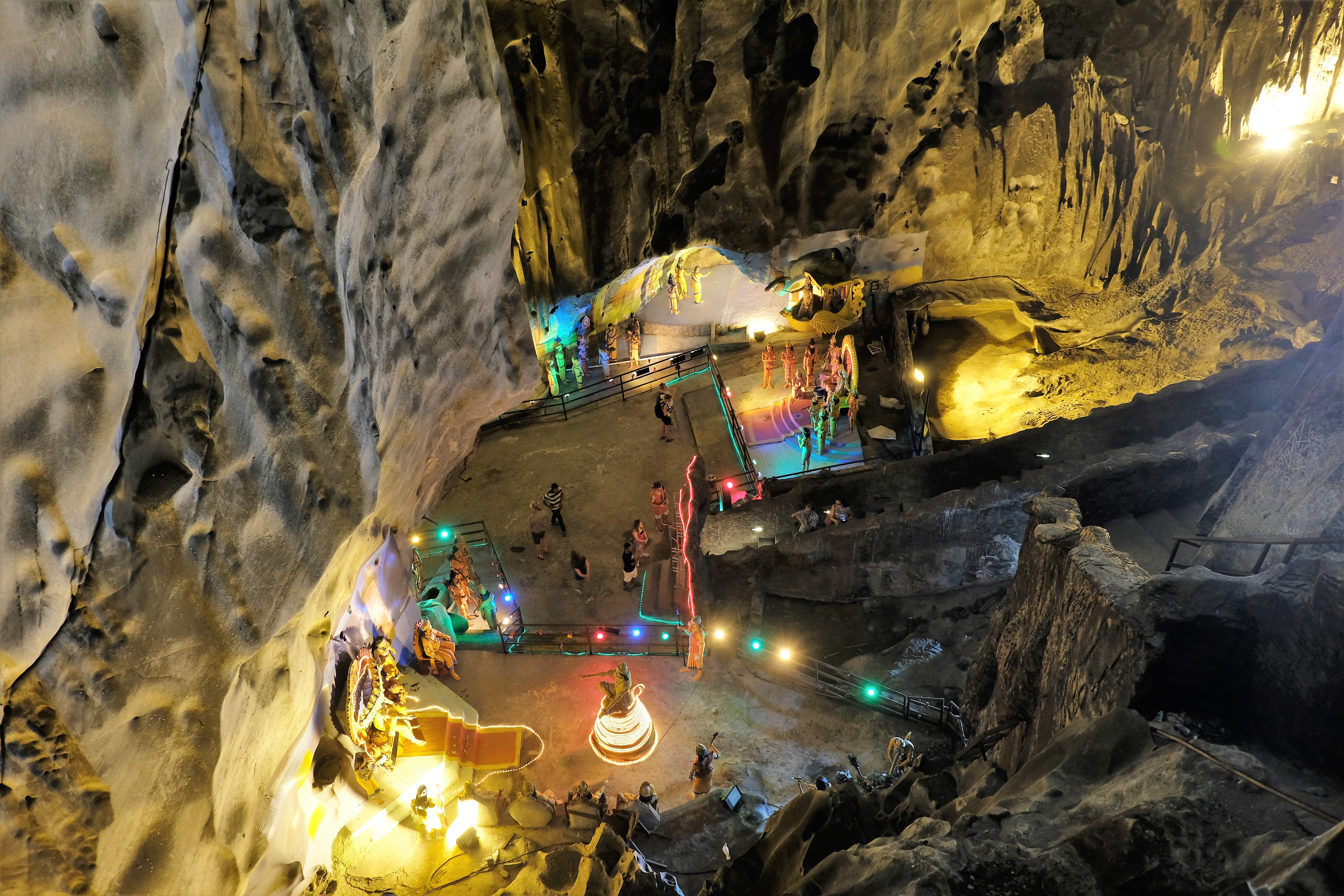 That was my time in Kuala Lumpur, a city with a few things to see and do that tickled my fancy, yet it is still a city.  I had seen what I wanted to see and used the rest of my time to plan my next stage to Indonesia, other than that I just wondered the streets.  I'm confident Kuala Lumpur has other things to offer, considering what it has there is likely something to interest everyone.  My calling was to head to the islands, next stop would be Bali.