Getting to Koh Samui from Bangkok is easy, there are three main methods 1. Fly to Surat Thani, then get to one of the ferry ports to get a ferry across or fly directly to Samui, 2. Get the overnight train to Surat Thani, and follow the rest of point 1, 3. Get the overnight boat/ferry from Bangkok to Surat Thani…follow the rest of point 1.  I took option 1 with the thought of staying overnight in Surat Thani to explore the town…I wasted my time!  There are places to go and see within the province but Surat Thani town to me is a waste, you live you learn.  I stayed in a very odd hotel filled with Thai Airforce pilot and support staff, one of the if not the blandest hotel/motel I've ever stayed in Bunjongburi Hotel.
It may have been because of the hotel's regular clientele that I was surprised they couldn't quite understand how to get to any of the ferry ports that go to Samui.  Luckily, one of their staff knew, it helped that I had read quite a bit on the various routes the night before – the staff were friendly and helpful but just didn't know the answer.  A quick taxi drive to the centre of Surat Thani to the ferry company, I bought my ticket and in return was given a yellow sticker saying Samui, this was placed on my chest, I know brandished my new yellow Samui tattoo (I'll get into the stickers more shortly).  Riding to Donsak pier was uneventful followed by a short wait at the pier with fellow travellers brandishing their different coloured stickers too.  Crossing with the ferry was fine and before I knew it we had arrived in Samui, Nathon Pier; my ticket from the ferry office included a transfer to my hotel so another 25minute ride to Lamai Central hotel/motel.
Thailand and the transport stickers!
Going to Samui was my first actual experience of the transport system outside of Bangkok – I would end up using it many times during my 5'ish weeks.  At first, and I know it was not only me judging by the expressions on the many perplexed faces of those when after paying for a trip and getting a little sticker in return, sometimes a little paper-slip too with an unrecognisable scribble on it.  Some background information may help; you can organise your transport from most accommodations, go to a travel/tourist shop or buy your ticket directly at the pier/terminal (bus).  In most parts the first two options mean you pay upfront and get given a handwritten receipt, this is handed to whoever picks you up – they take you to a terminal/pier where you get given your sticker.
Having used public transport extensively in the UK, Europe even Jordan, I'm no stranger to different methods or styles of organised transport, especially how they are administered.  Thailand's administration is best described as organised chaos, BUT it does work.  Every time I arranged transport I was apprehensive, every time it worked out just fine.  Just like all the other travelers you can see the concern in their faces at every pier/terminal…at least those who had not experienced it before.  The lack of clear communication i.e. the language barrier combined with their "unique" style of arranging transport adds to the visible stress you see in travelers faces, this turns to relief when they arrive at their destination as planned.   It seems and feels disorganised and you constantly check that you do indeed still have your only proof of purchase, this valuable coloured sticker, but it works just fine.  What works for them won't work in other places, so what, their system works for them and the thousands of travelers they move from A to B.
Koh Samui
…back to Samui.  My hotel Lamai Central was OK, cheap, it had an air conditioner and little fridge which is a real bonus, however not in the best of locations – easily remedied by hiring a scooter the next morning.  I had heard of a few tricksters when hiring a scooter, I think its easily overcome by arranging this through your hostel/hotel as they all seem to do it.  Having not spoken to anyone about Thailand, my booking for was three days to suss out the place, extend or more if needed.  My delusion of a quiet yet vibrant island was jolted into reality, yes, it's an island, yes, it's vibrant, no, it's not quiet!  My expectation wasn't so blind to think there would only be a few tourists, no, I expected lots of them but more travellers not "holiday makers".  Elusions of riding down tranquil twisty island roads were derailed by hectic roads filled with motorbikes and cars crammed into narrow roads.  No, Samui is a built up as you can imagine with malls and a Hard Rock Café with everything in between.  As a comparison it closer to a very big town or small city without the skyscrapers.  Sure, there are quieter places and beautiful beaches, but this is not want I expected from my island get-away, oh no, Samui is a tourist commercial mecca!  In short, there are beautiful parts of Samui inland and beaches, but it is far from tranquil and full of proper tourists and holiday goers.
First day on the bike was great, looking for less visited areas to get away from the noise and people.  First time I had ridden a bike is years, riding down the road with the wind blowing in my face caused the automatic reflex of a smile, a mix of an all out smile and a naughty happy one.  I miss riding, before I left to the UK I would ride my motorbike (off-road) every weekend!  I look back during parts of that time of my life with happiness, only small part but a little is better than nothing.  Nostalgic memories seem to surface easily as I write this by the beach in the more remote North East of Bali ?.
Wat Racha Thammaram / Snake Stone Pagoda
As I road along a main road heading clockwise I pasted a terracotta temple, hey I was cruising about with nothing on my To Do list so why not stop and take a look.  Right off the main road, this small and yet stately like temple stuck out from the others, where all those I had seem before (Bangkok, Surat Thani and even the drive from the pier to my hotel) were brightly coloured that standout like a sore thumb, this one was monotone, not an ounce of colour bar the sandy-red terracotta.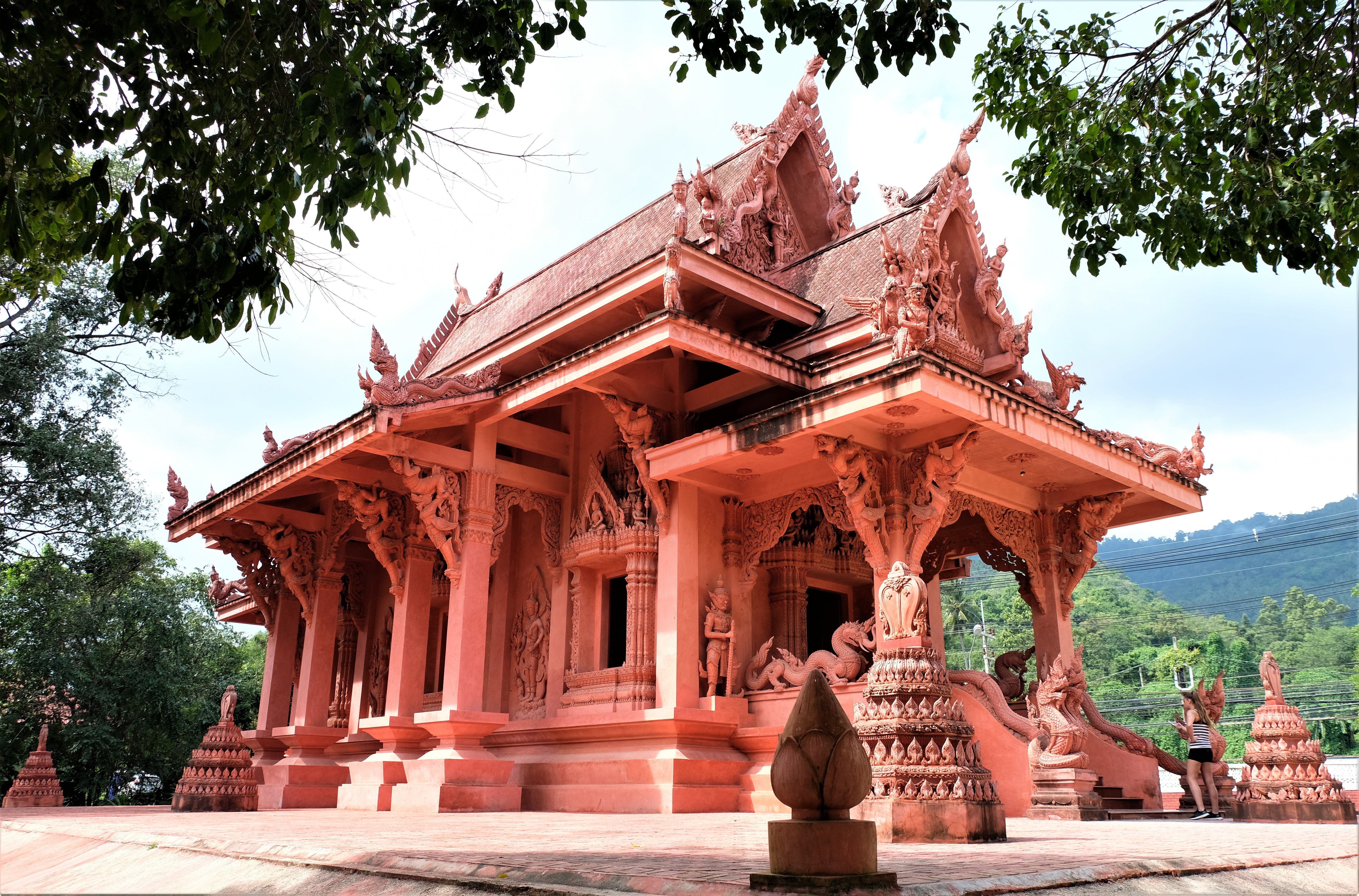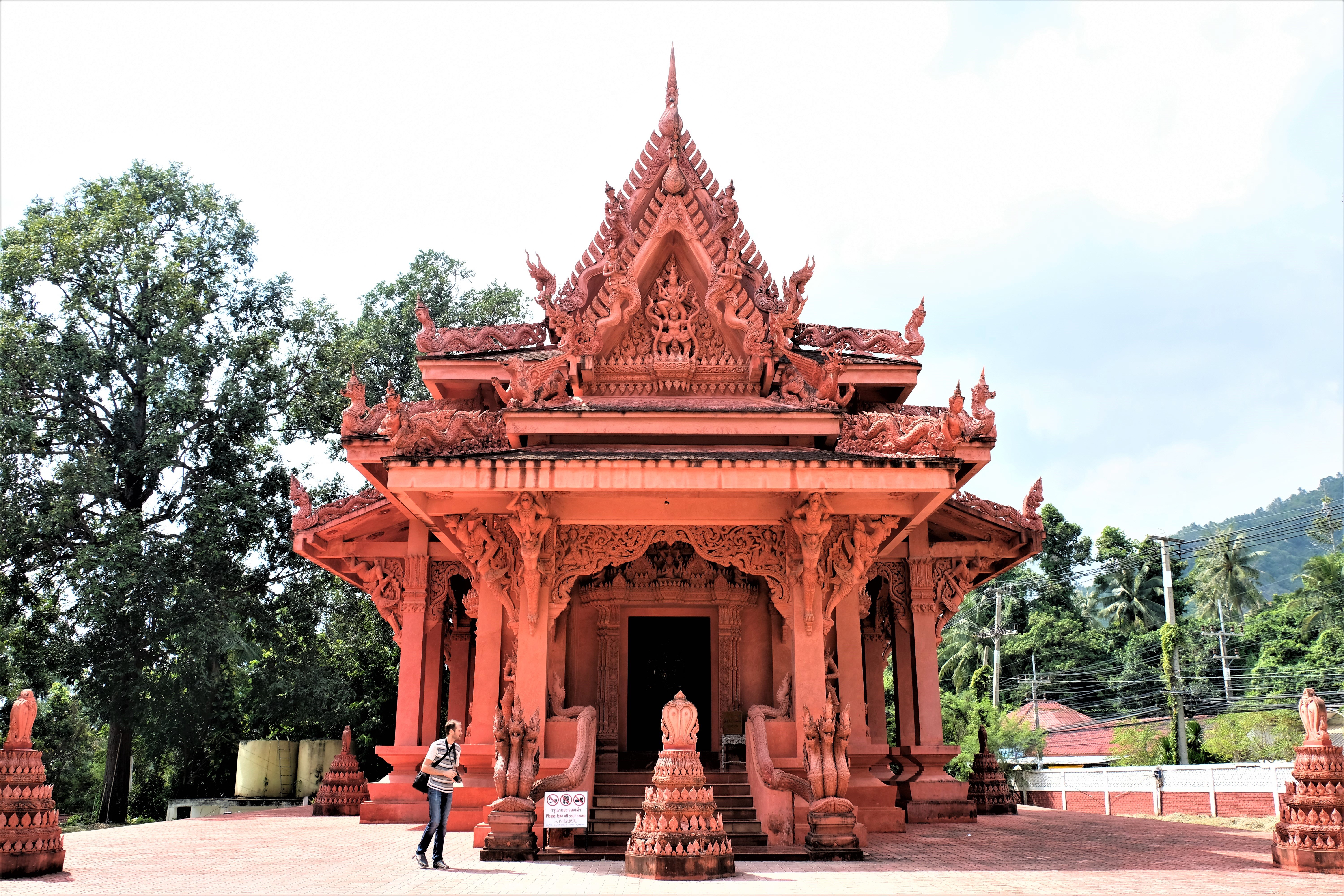 I tried researching Wat Racha Thammaram / Snake Stone Pagoda because it is so different and couldn't find any concrete information about its history and why it is only one colour, nor why there are so many stone snakes within the complex…everything else within the temple complex is very colourful.  The only bit or information is that is was "recently" built with no idea in which context "recently" refers to.  Anyway, it looks cool, has a gothic look about it added to by the carved snake and snakes.
A little past the temple/wat are stairs leading down to the beach, not just any stairs; a golden cobra mounted on top of each balustrade running the full length in a wave like rope being shaken causing a ripple effect, the head of the cobra at the bottom of the stairs in striking pose – not very scary looking.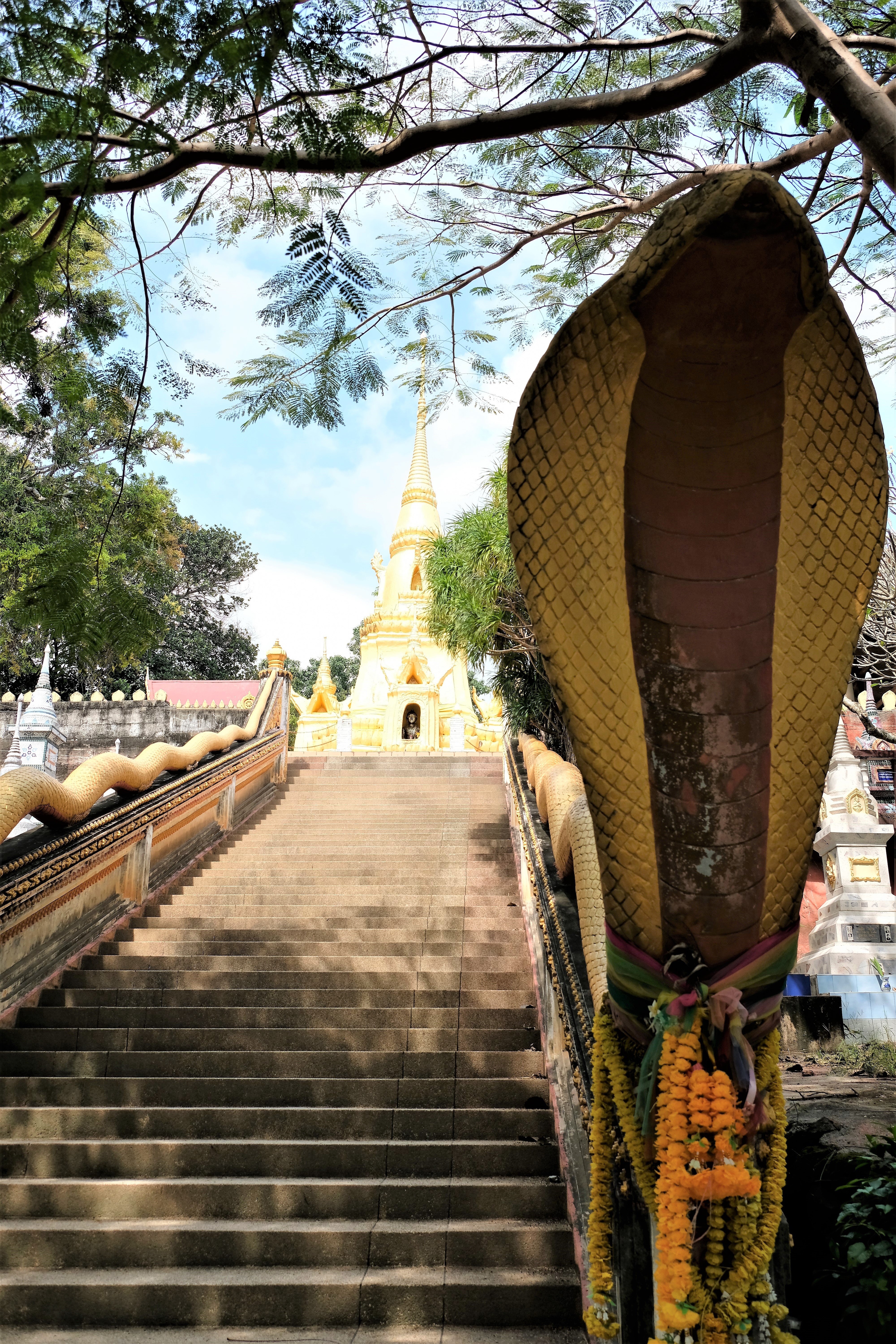 Waterfalls
There are a few waterfalls that I know of in Samui, no idea the exact number or how many are easily accessible.  Just from riding around not far past Snake Stone Pagoda (still going clockwise) I spotted a sign for Na Mueang 2 Waterfall.  From the entrance the walk to the waterfall is a bit steep but very doable, they do offer a drive up, for a charge of course.  Once you have done the little trek to the entrance of the waterfalls there is a charge which really cheesed me off because at the bottom they said entrance was free…the small print…into the park is free but not to the waterfalls! ARGH!!! Things like that really piss me off, once you've done the 20/30 minutes' walk I can't see anyone not paying, it wasn't expensive, maybe £2-3 at most, it's the principal.
Oh well, the walk nor the charge was going to hinder my enjoyment of the waterfalls.  Something about water, especially running water in streams that I love, nature blending sound of water against rock and stones.  Even the most torrent of waterfalls crashing down like deafening thunder has a tranquility about it, I could sit and watch as minutes turn to hours.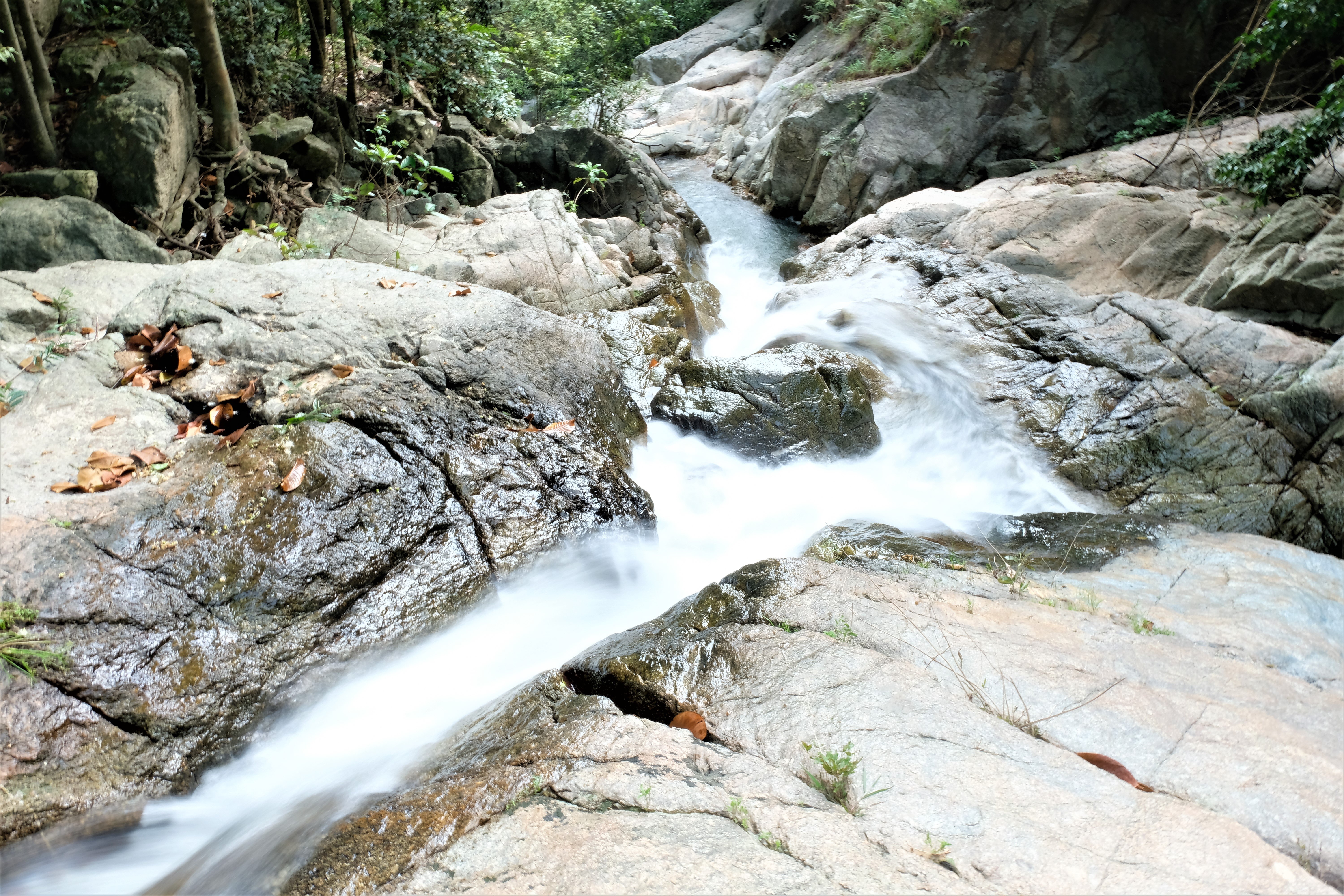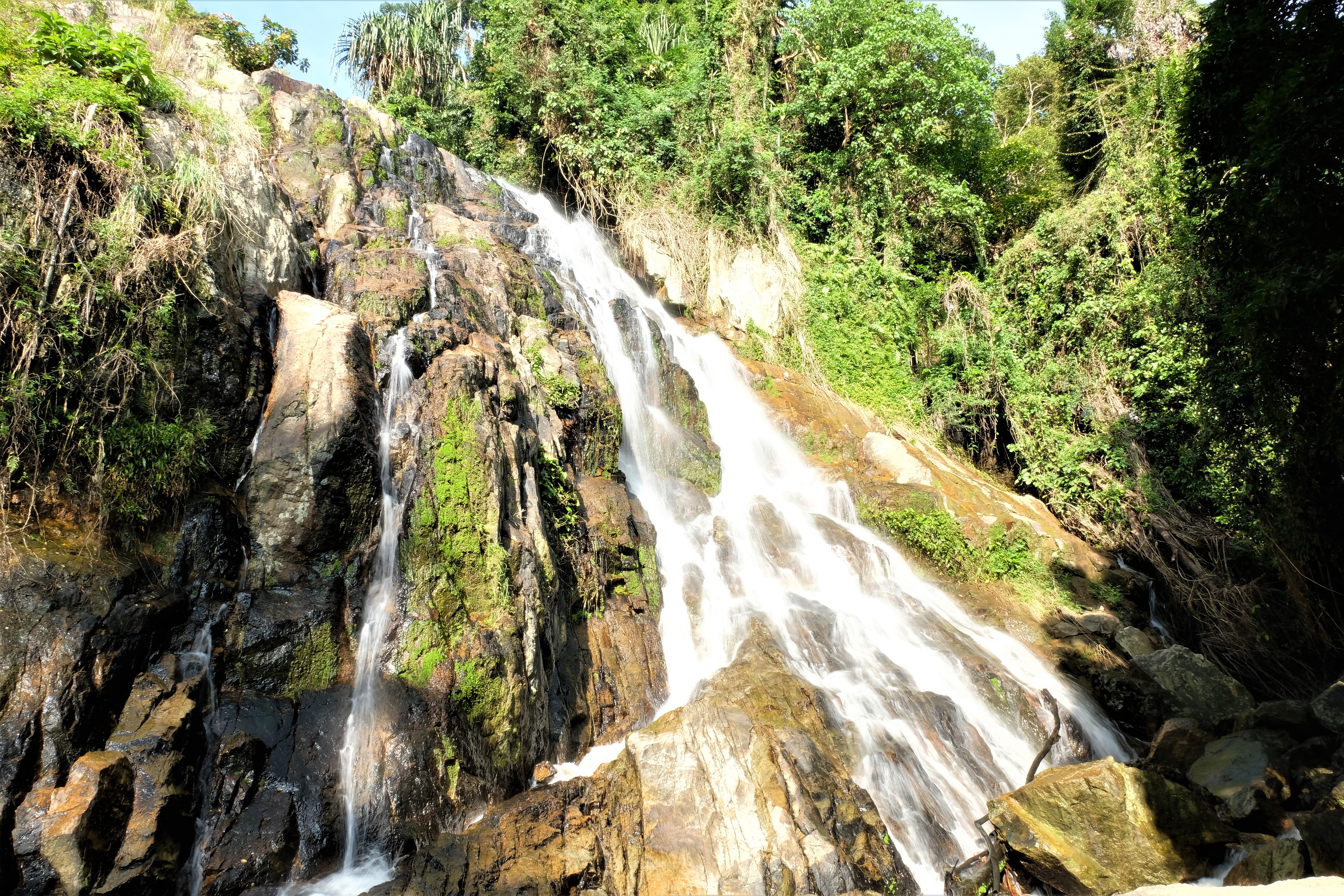 At Na Mueang 2 Waterfalls there are quite a few ranging is size and height as the water makes it way down the mountain to the valley below.  I'd say there are four main waterfalls here, the first is at the entrance, the second is a little walk up the hill next to the path with a nice pond at the bottom, the third is further up the hill (very easy walking, grrrr the eye broke of my flip flop!) where the path stops in between the top of the second and the bottom of the third – I hope that makes sense!.  The fourth, most people don't go to see, I think they think it is not possible to access, but it is very easily accessed and is just a little  further on past the third – because of the water there doesn't seem to be a path, if you follow the sound of the water you cannot miss it, personally I think it is worth it…for only 2 minutes' walk.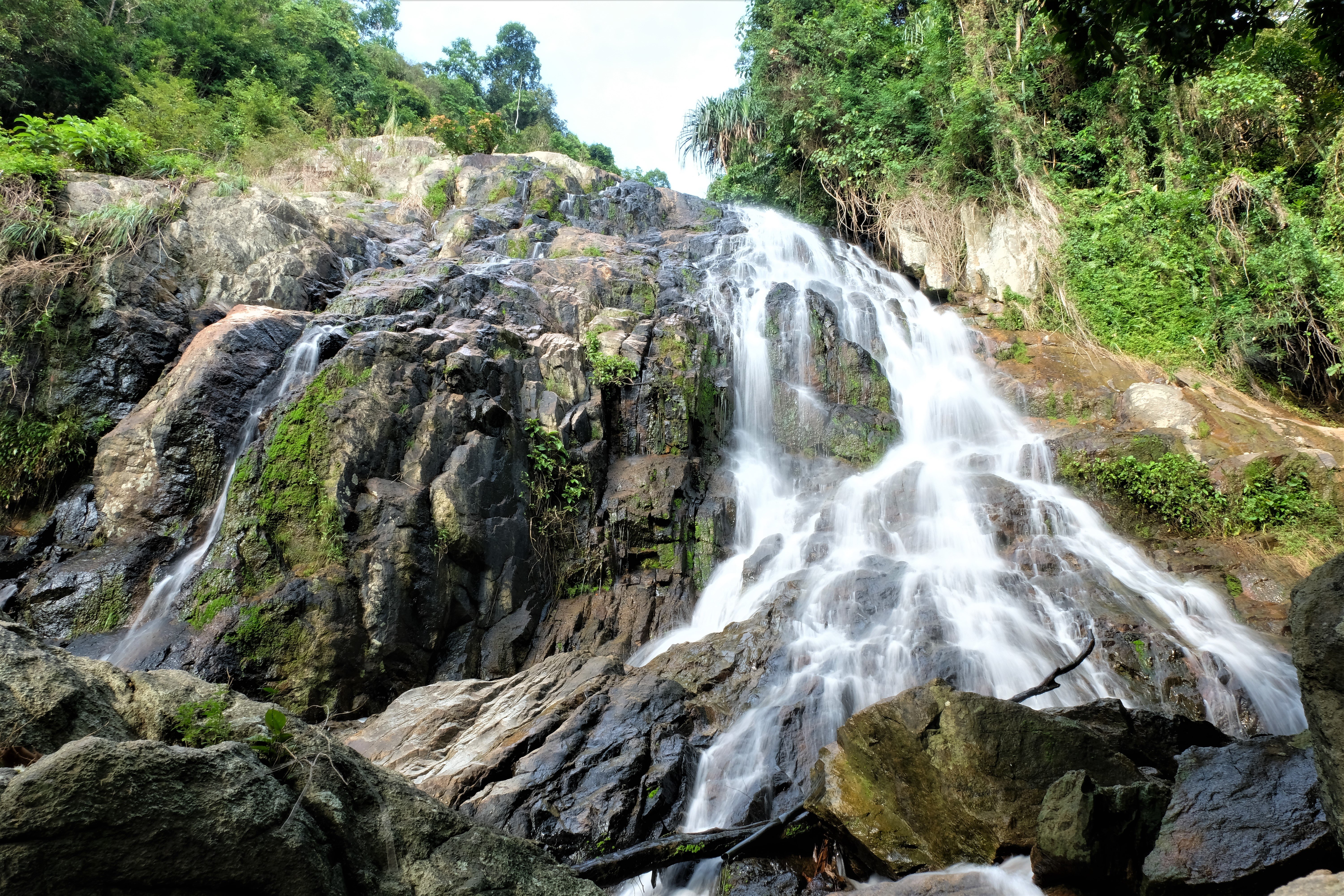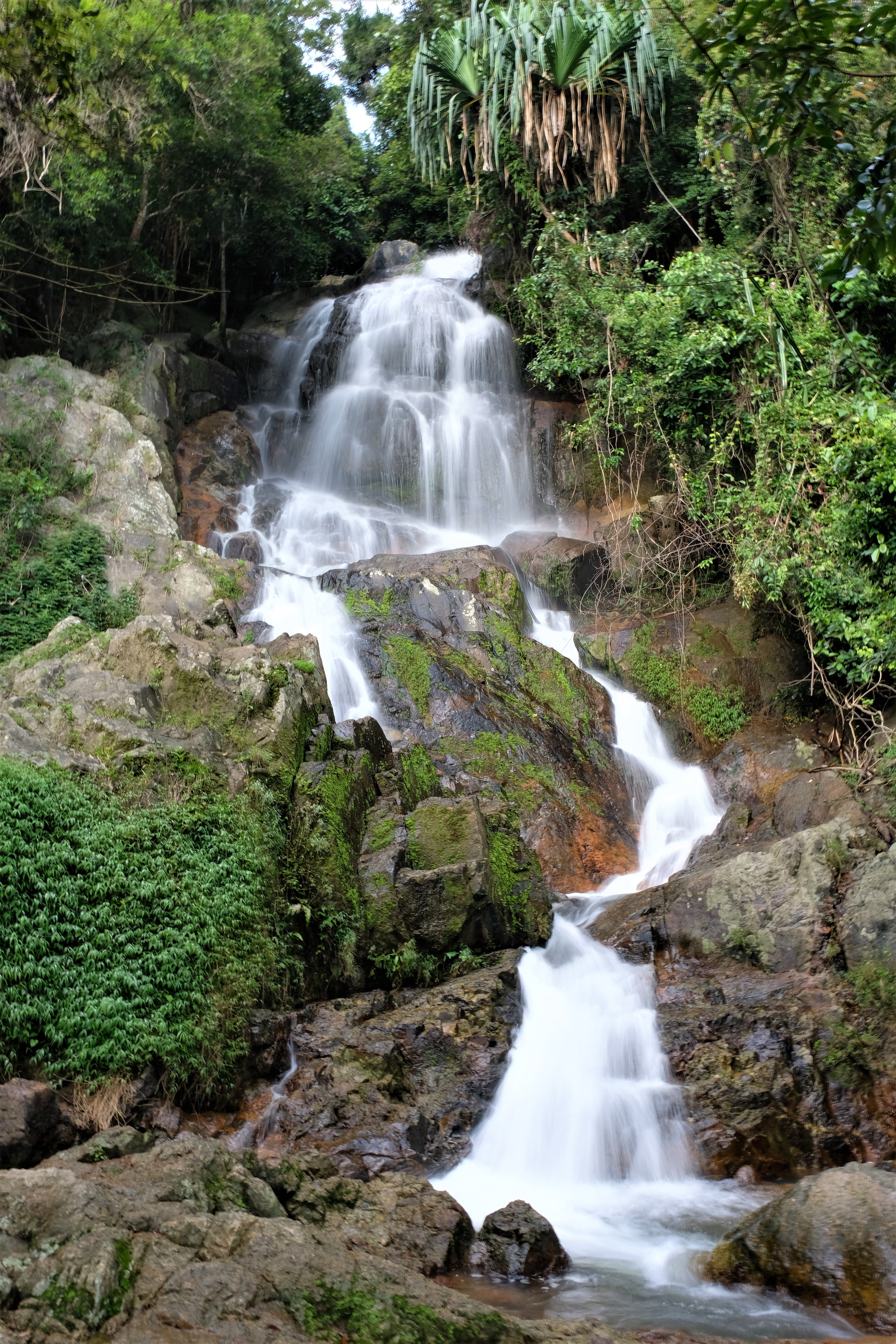 Flip flop broken I headed back down to my scooter barefoot, my feet more accustomed to shoes were rather tender by the time I got down, the hot tar road (only a part of the road is tared) made me walk quickly with a quick action for anyone who saw me I must have looked like a flamingo.  So my flip flop was a minor spanner in the works, but cruising along the road stopping at the roadside stores looking for a pair gave me the opportunity to take things easy whilst I drove from market to market.  I had ridden all the way back to Nathon Pier where I found a pair, great I now had shoes so could continue with the day's exploration….even though it was late afternoon.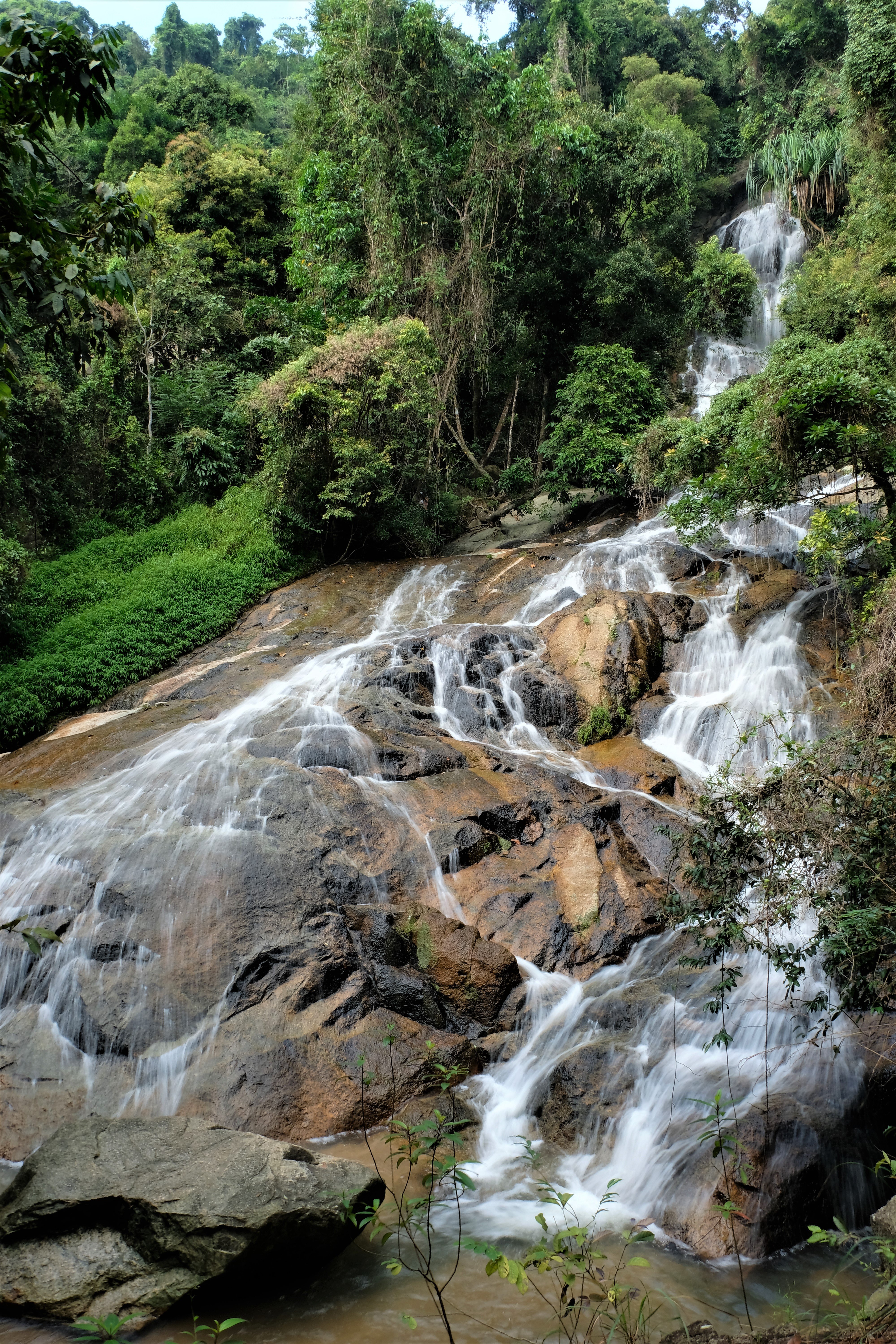 Secret Buddha Garden
It is invigorating riding with no helmet on, silly/foolish yes, but liberating and invigorating nonetheless!  I rode around like a Cheshire Cat, new fip flops feeling like I could take on the world with my 125cc scooter…pretending it's a Harley and I'm riding a deserted highway in the middle of nowhere ?!  The signposting to the Secret Buddha Garden is good, then just stops when you get to a t-junction….50% chance then, I chose the wrongly, never mind, I was cruising.  So, a little detour through the hills of Samui, I was back on track and arrived at the Secret Buddha Garden.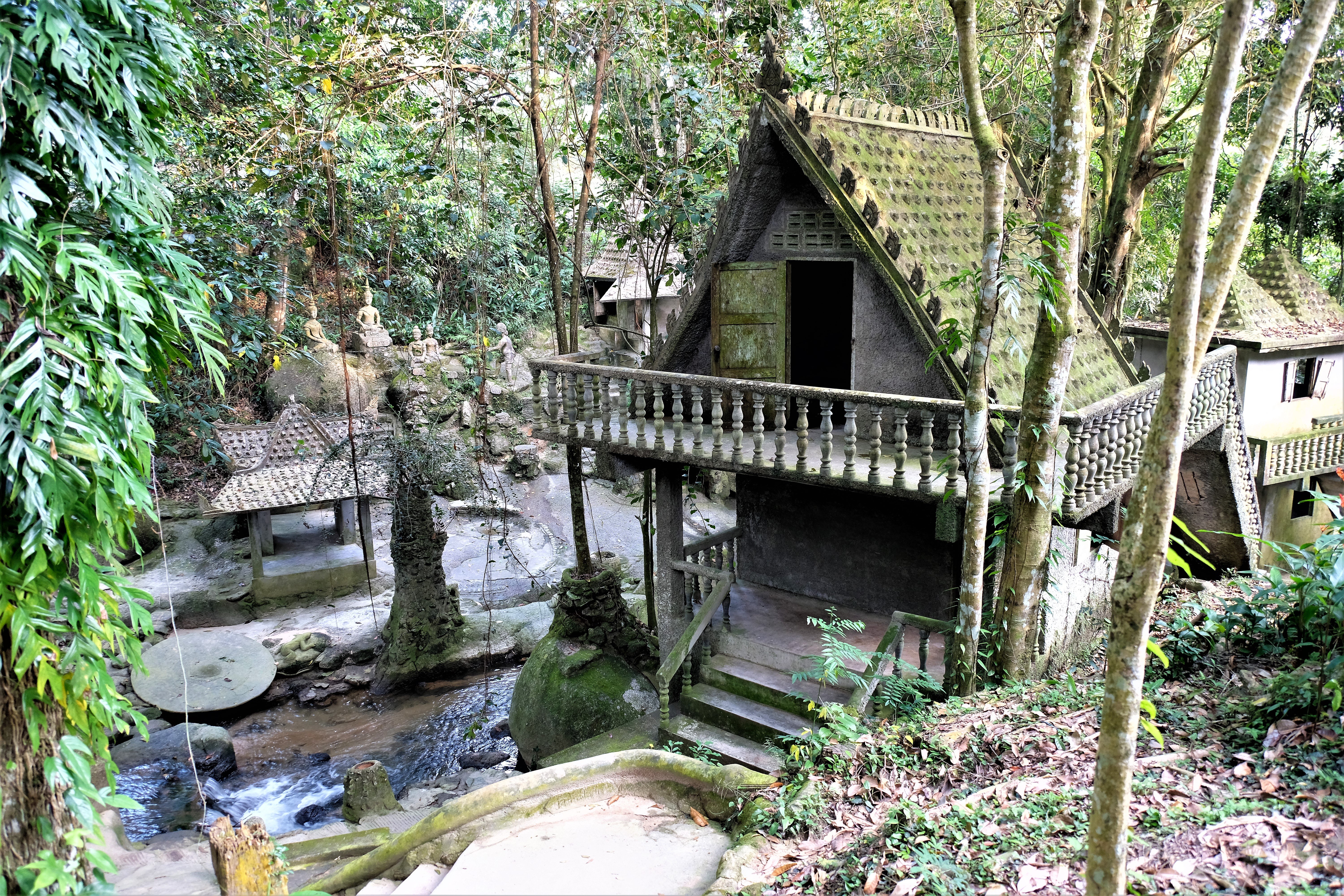 The first thing I noticed when I arrived was the noise of the forest, a screeching sound, unable to detect where is was coming from as it enveloped the whole area.  An odd noise, like a million oversized crickets on steroids leaving yours ears buzzing as if you've just left a nightclub after dancing the whole night next to the speakers.  When I left I asked the lady working at the ticket counter what was making the sound, she said it was a type of bird, but I'm not sure if my question was lost in translation or if she had perfectly understood and it was just me not believing her….I couldn't see any birds but that doesn't mean she was wrong.
Although Secret Buddha Garden is listed on many sites as a "place to see" it wasn't all that I must admit, interesting yes, the ride there is scenic too, especially if you take a wrong turn like I did, but it is a man-made concrete site set in a lovely area on both sides of a little stream so the location is tranquil and serene.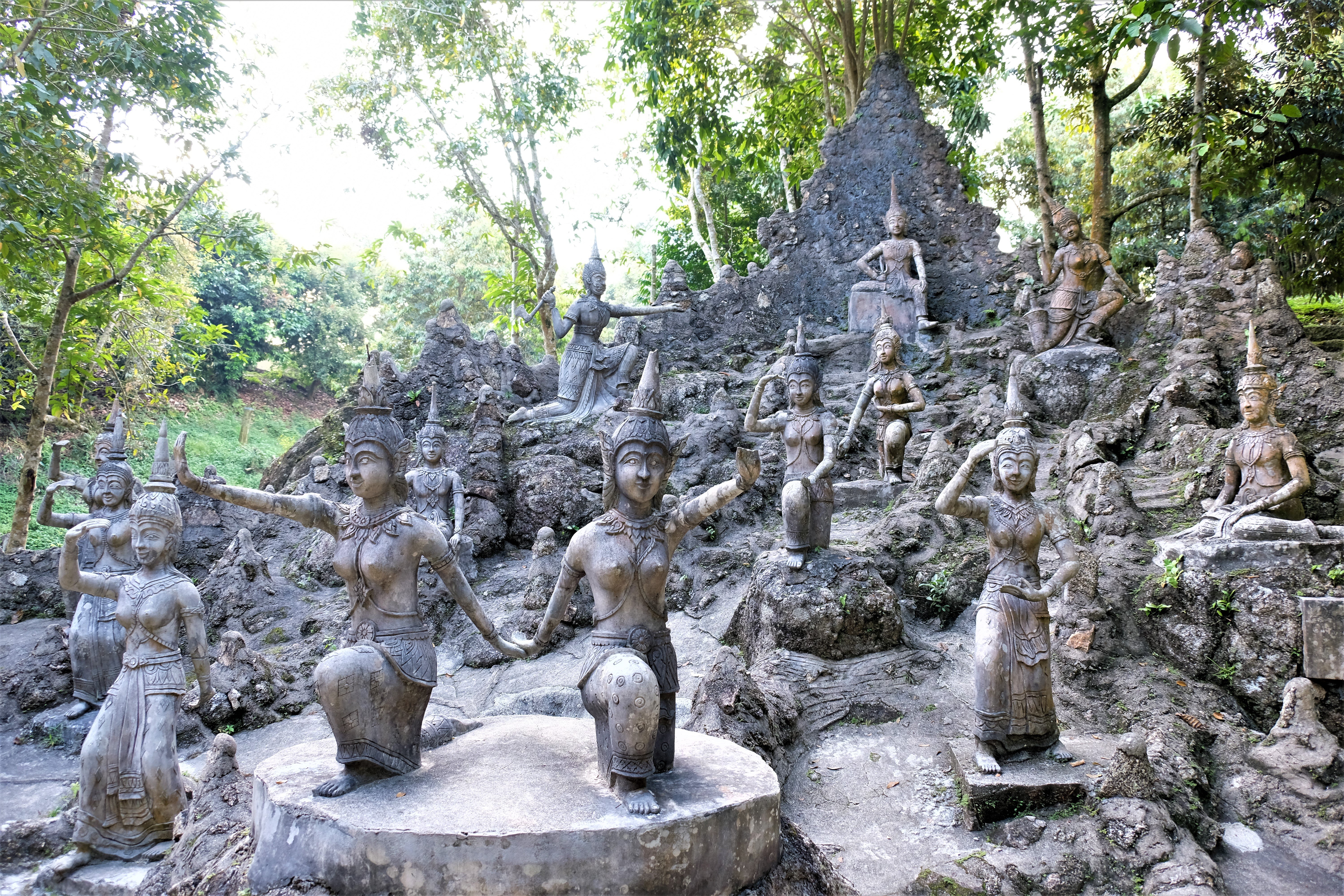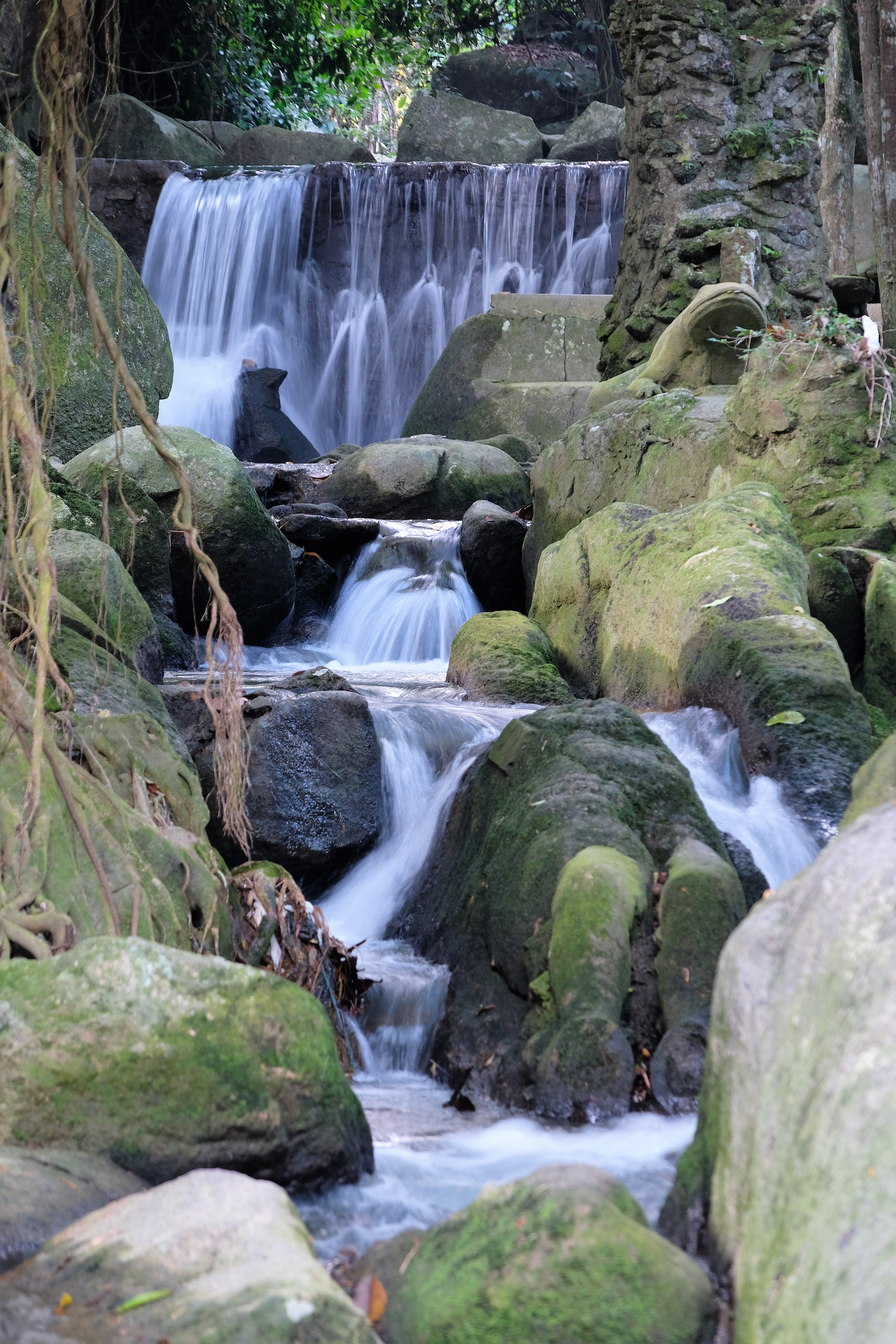 Dusk was upon me with my stomach telling me it was time to head back eat and call it a day.  The main roads of Samui were not to my liking, but the ride home with the sun setting, glimpses of the many beaches and side roads I had explored on the day had added effervescence to my visit with positivity and possibilities of what more Samui would offer on day 2.  Still a lot to see, even more waterfalls and plenty that would keep me busy and away from the hordes of tourists.
Before I got to Koh Samui I was in Bangkok, here is the link if you'd like to read – Bangkok, love it or hate it