On the agenda for the day was Kyoto Imperial Palace, Nijo Castle, Nishi Hongwanji, Higashi Honganji and some of Gion to try spot a Geisha or two.  I had planned to see Sento palace and Omiya palace, but was unable to, I'll explain why later.  Yesterday had been my first full day of exploring in Kyoto (Day 1), it did not disappoint.  Day two would be spent within the centre of Kyoto.
I've tried wracking my brains about what I did the night before, including dinner, but I have no recollection what so ever.  The only thing I do remember, was that I didn't venture far from the hotel and had yet to fully explore the local cuisine.  My agenda for the second day came about the previous evening, that I do know.  With so much to see within central Kyoto, you really don't need to venture far.  In addition, I would have to be checking out of my hotel UNIZO Inn Kyoto Kawaramachi Shijo the following morning.  Staying close to base would make things easier to get back and find alternative accommodation (&/or speak to my hotel to extend my stay).  Yes, I have already decided to extend my time in Kyoto…that was the easiest decision ever made.
First things, where to find a good cup of coffee to kickstart the day.  Less than 50m from the hotel (as you exit the hotel turning right) I found the coffee shop recommended by the hotel.  If they hadn't told me about it, I doubt I would have gone in.  I've tried finding the place's name on Google, even running through Streetview with no luck.  Nothing wrong with the place, it just looked more like a small bar/restaurant.  Their coffee, great taste and bloody strong, just how I like it.  With the contraption they make it with, it looks more like a science experiment than coffee maker!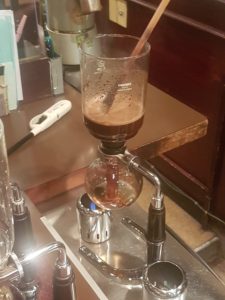 Kyoto Imperial Palace
The palace is in a park about 1km North of the main shopping district in central Kyoto.  This park used to be part of the palace grounds measuring 1.3km long and 800m wide.  By far the largest park within central Kyoto, and within it there are two separate enclosures.  Firstly, is the enclosure of Sento and Omiya Palace (I'll explain more later).  Secondly, is that of Kyoto Imperial Palace, which was my first stop for the day.
As expected, the park is well maintained, but what struct me was how wide the internal walkways are.  Some are at least 10 cars wide if not more, made of coarse gravel that kicks up into your shoes when you walk.  I didn't have any preconceived ideas about what to expect from an old Japanese Palace.  Having been to many European palaces, I guess I was expecting something similar, with a Japanese flavour of course.  Elegant, yes, but so far from the ostentatious of European counterparts that it may be from a different planet.  It is ornate, but like so many things in Japan it has an understated presence too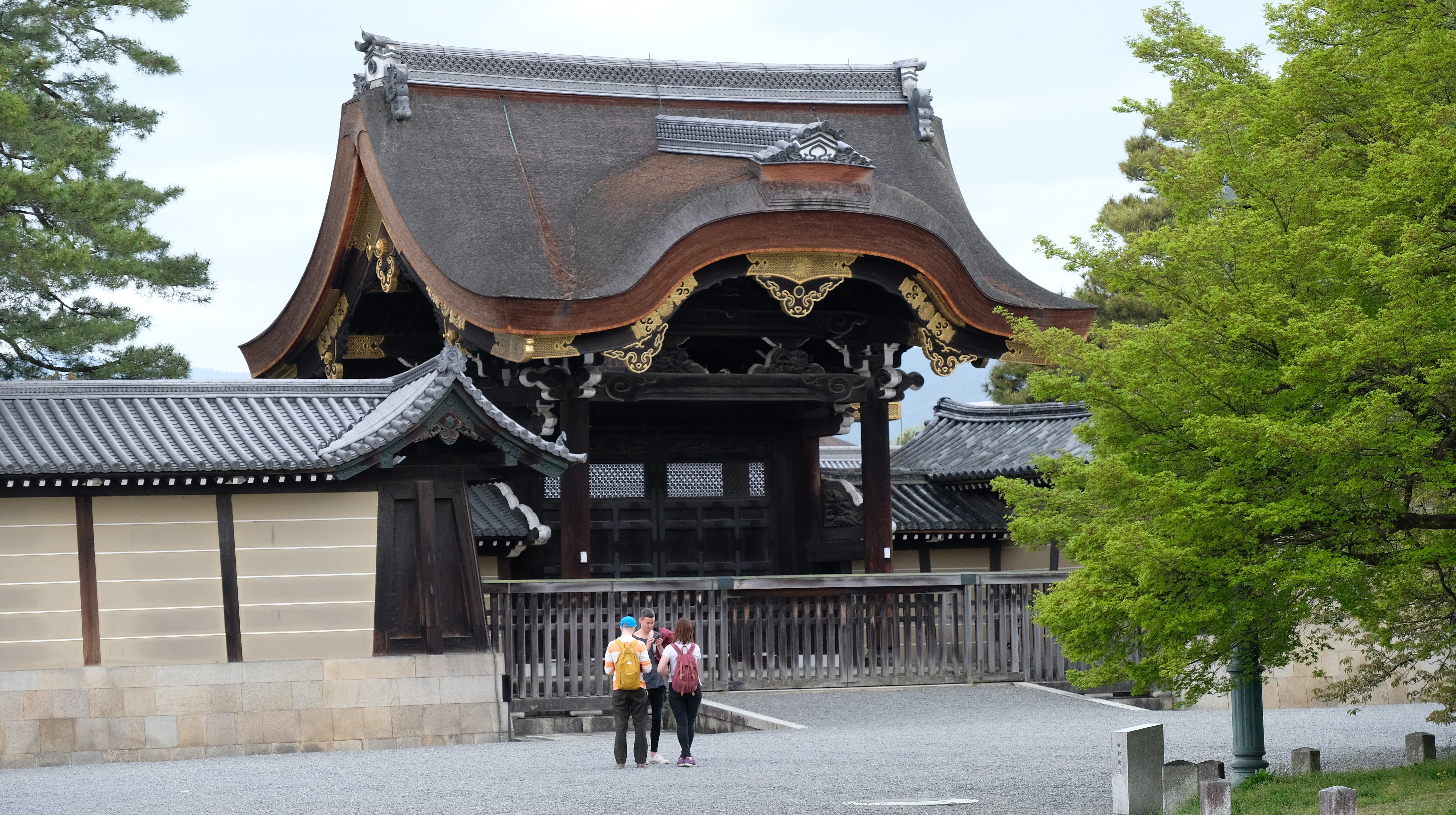 Background
Wood and fire have never been friends, which is aptly demonstrated throughout Kyoto's historical monuments.  Many monuments, Shrines and temples have been burnt down and rebuilt, some many times over.  Kyoto Imperial Palace is a perfect example, having been rebuilt eight times, six of which was during the Edo period – during a time of peace.  This is one of the reasons that its current location isn't the original which was South West for where it stands today.  It has been in its current location since the 12th century, having been in its original location since 794.
Kyoto Imperial Palace officially superseded Heian Palace (Heian Shrine) as the official residence of the Emperor after it burnt down in 1177 (may have been 1227).  For over 1000 years Kyoto Imperial Palace remained the primary home for the Emperor, only to be moved to Tokyo Imperial Palace during the Meiji Restoration in 1869.  Saying that, Kyoto Imperial Palace as it stands today is a reincarnation built in 1855 (with a few additions afterwards).  This rebuild included changes to included more architectural resemblance to the Heian Palace.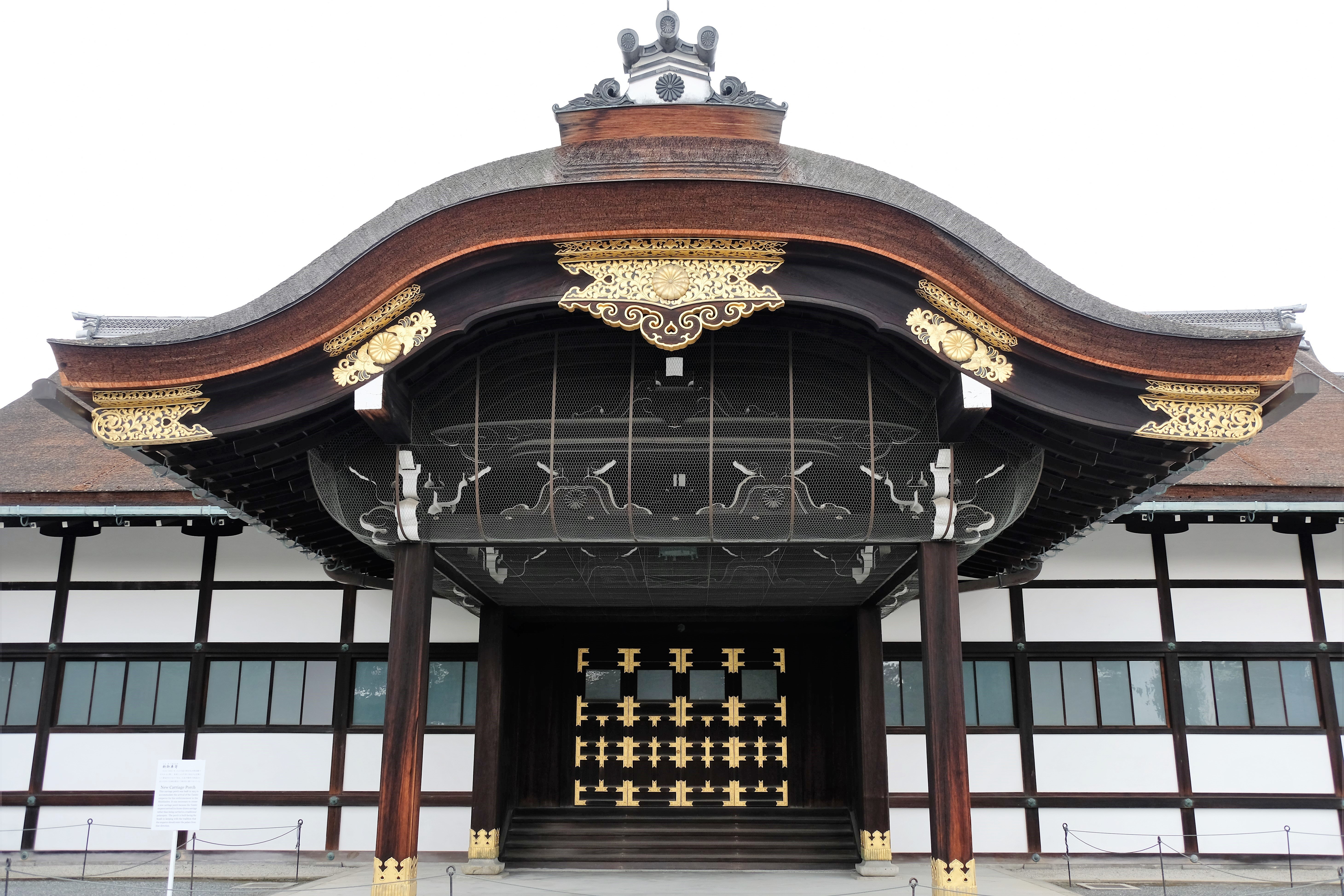 Known in Japan as Kyoto Gosho, Kyoto Imperial Palace is like visiting Buckingham Palace but with more access, but not everywhere (no photos inside either).  Other than being an Emperor/King/Queen's residence that's about the only similarity to Westerns Palaces.  Of course, this would have been the epitome of elegance, money whilst adhering to traditions and decorum, but not ostentatious.  I can't go through every little detail of every room, so I'll try mix it up with highlights, thoughts and pictures…in the hope of doing it justice.
Whilst Europe was at the beginning off its Gothic and Renaissance era, Japanese architecture seems to be on the opposite site of the scale.  Naturally each Japanese era had its own style, but there seems a distinct similarity.  More like a gradual change with only a few tweaks here and there.  To me their inspiration and motivate in their buildings is near the opposite of European buildings.  Whereas Europe seemed to be driven by being more grandiose, here being part of nature and the earth is the inspiration.  I'm struggling to find the words, without diminishing the artistry, ingenuity and craftsmanship these building exude.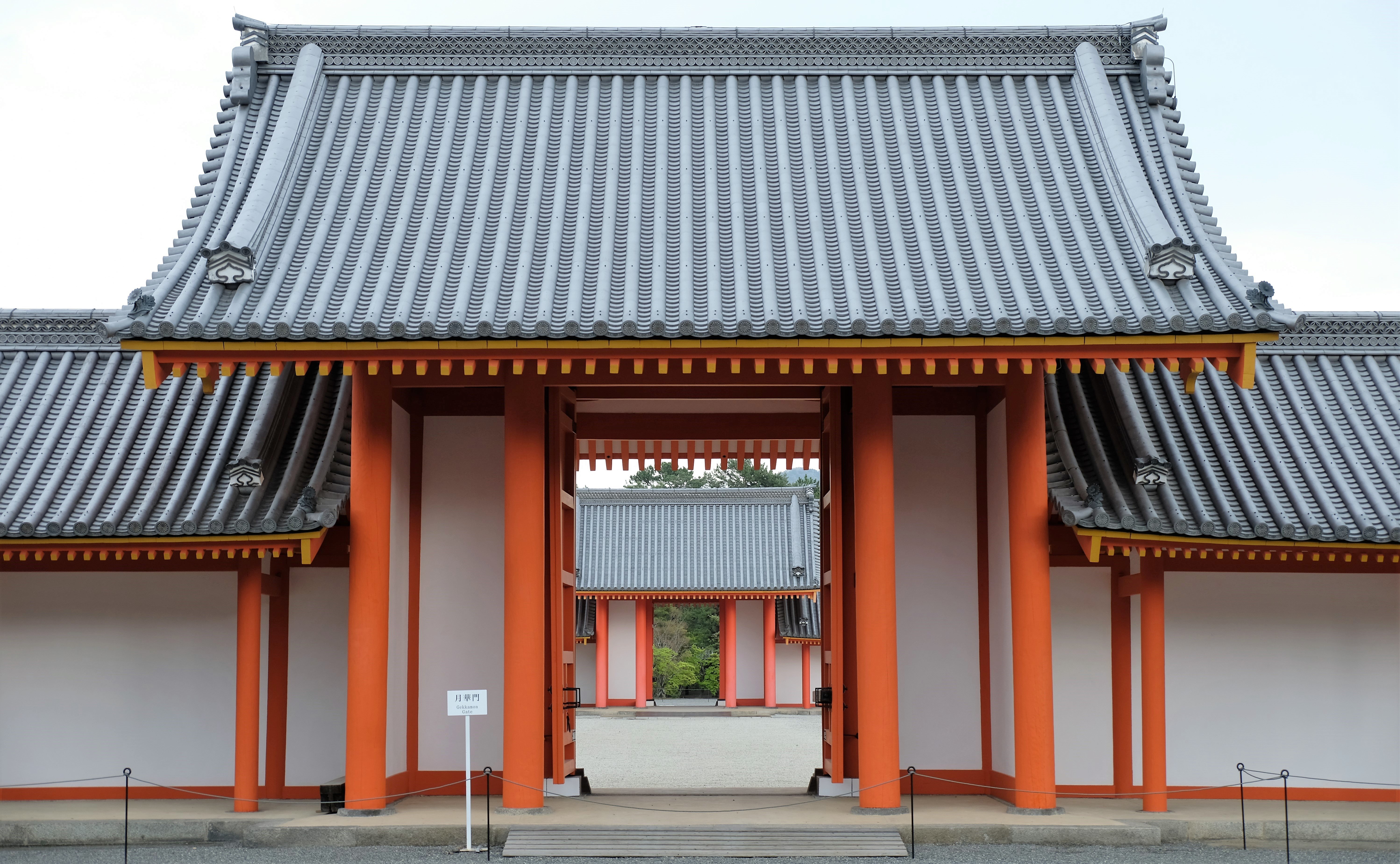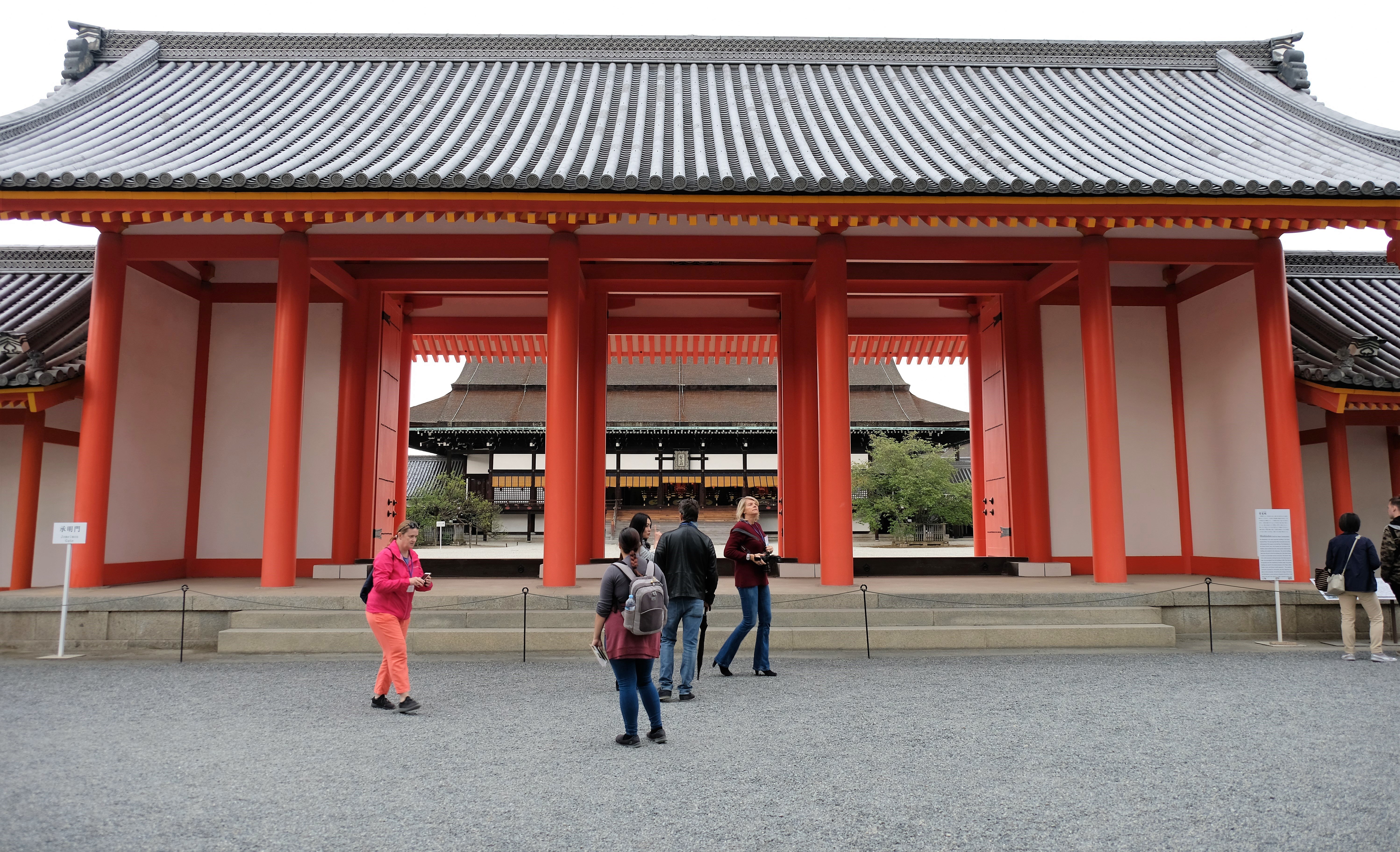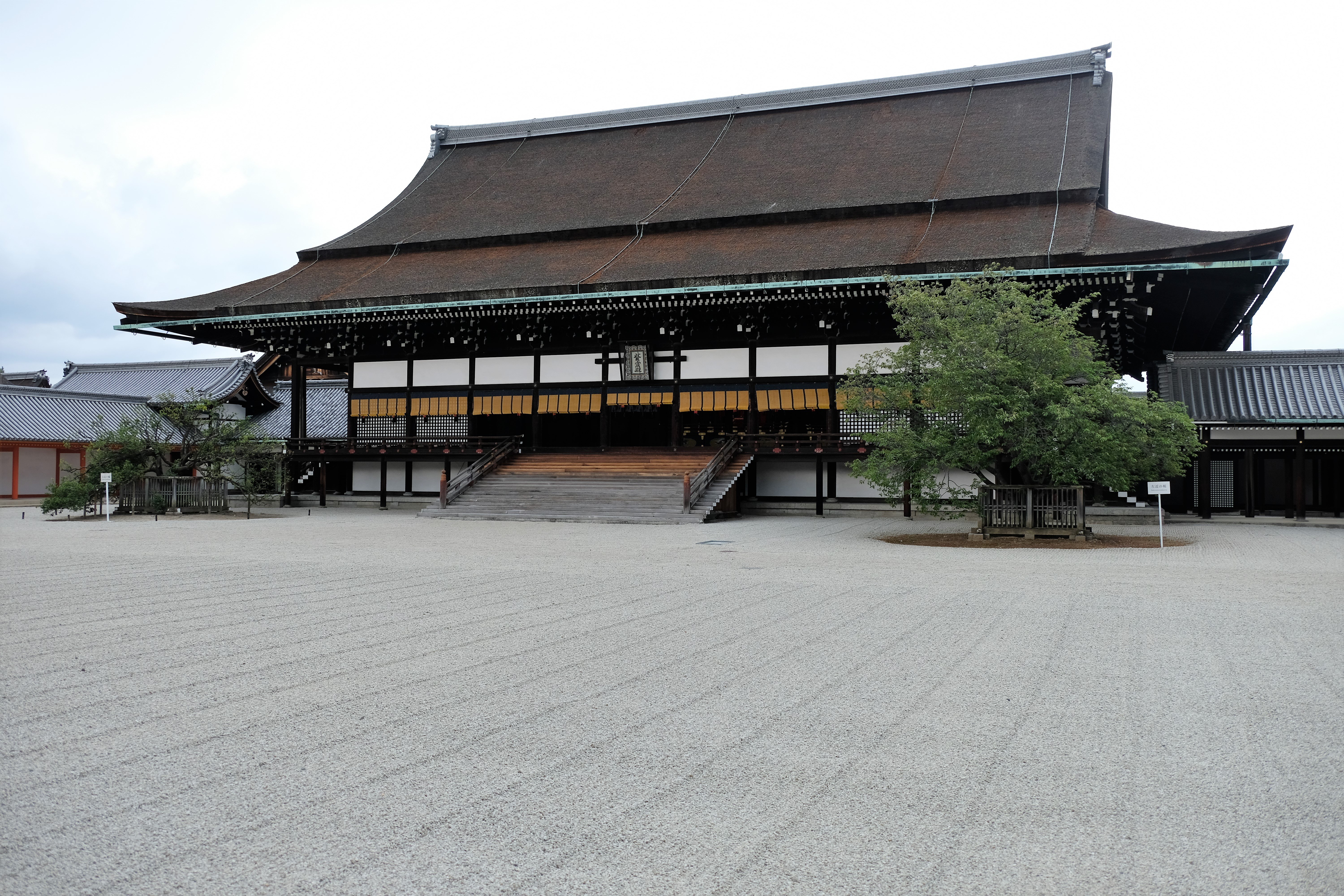 From a distant, many of the buildings look alike, quite long, as they get longer the squatter in appearance.  The devil is in the detail, which can only be fully appreciated and admired when you get close-up.  With the most complicated rafter system I have ever see, allowing the building to move, making them earthquake resistant.  Their roof tops either thatched or tiled, both fraying out like wide hips to the gutters.  I've tried to describe historical Japanese style and architecture, but I'm yet to find the words that match my thoughts.
The pitched roofs seem disproportionately high in relation to the living/worshipping spaces below.  From the front and back, the roof splays out elegantly like a starched apron curling up ever so slightly at the tips.  The sides of the roof almost always vertical and exposed, but understated ornately decorated.  These decorations in muted colours of different woods, copper, bronze and gold.  Granted gold isn't a muted colour, yet somehow it is used with the right proportions.  A contrast against the dark wood, reflecting the sunlight so that these rooftops can be seen dotted throughout Kyoto.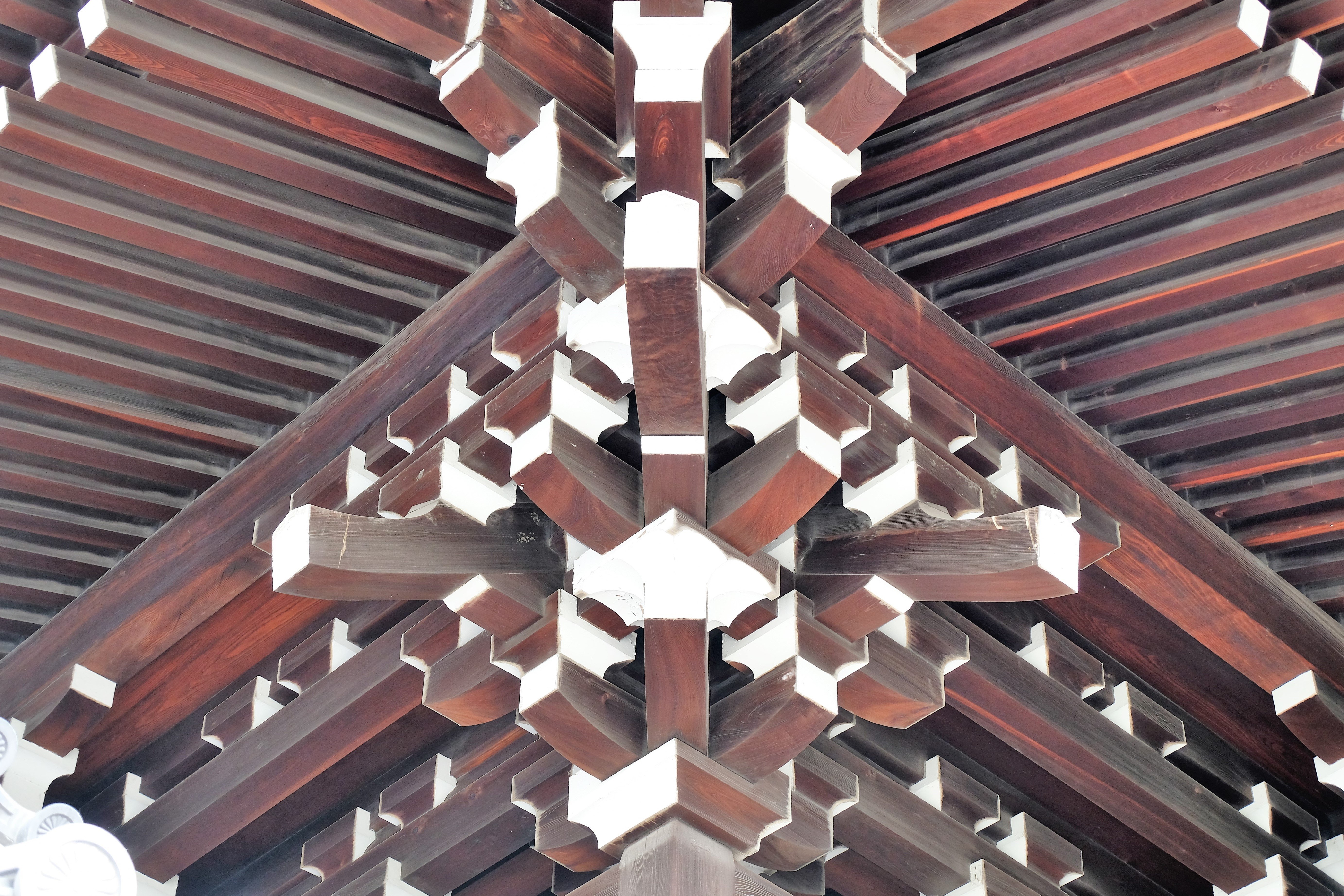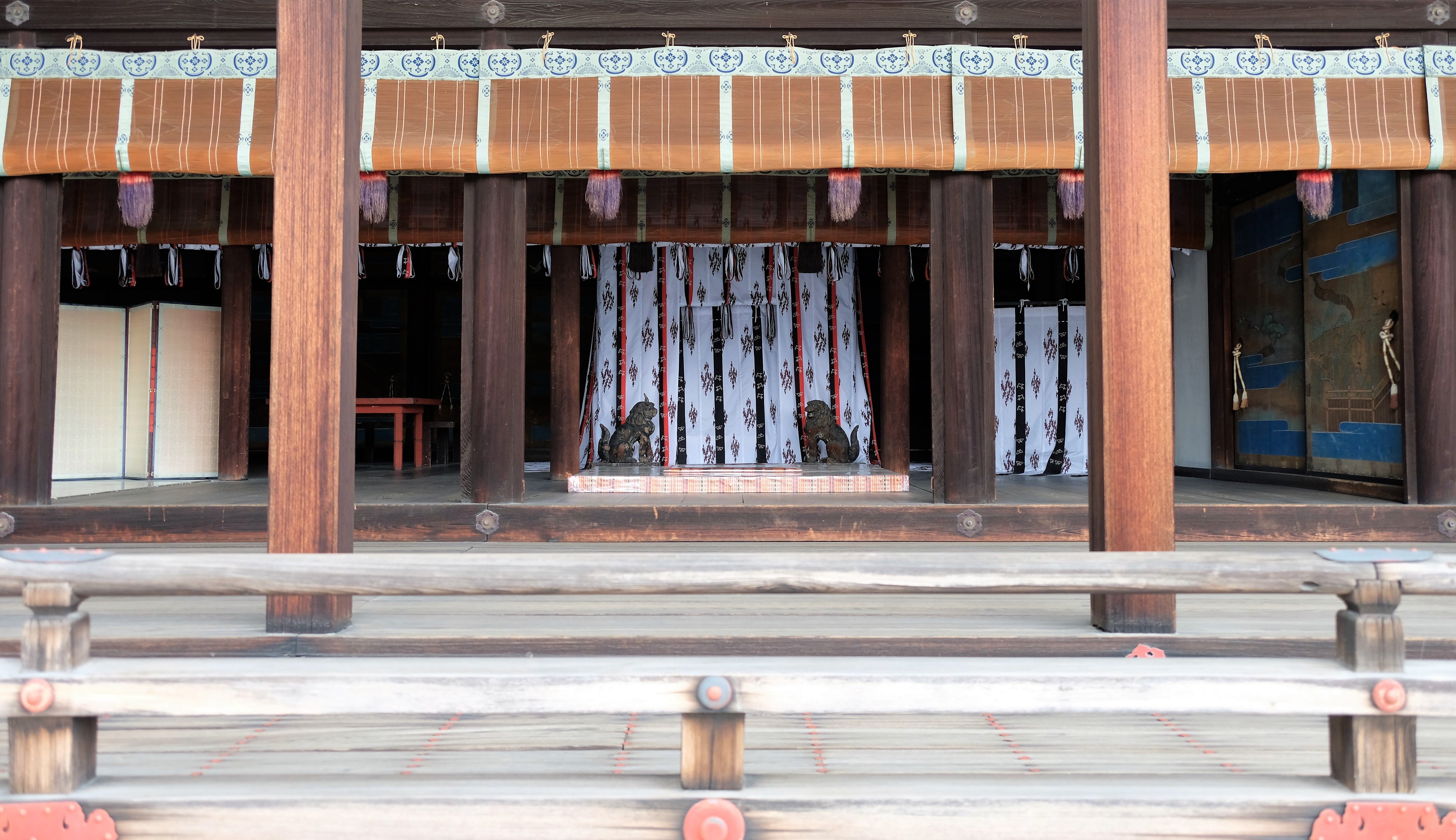 Having waffled on I haven't said much about the palace.  I thoroughly enjoyed the trip, taking my time strolling the corridors, courtyards and of course the gardens – they are beautiful as I had become expectantly accustomed to.  Much of inside the palace is/was closed to the public, but that didn't dilute the experience at all.  From the waiting chambers painted in accordance with ranking in society:
Room of the Cherry Trees – everyday visitors

Room of the Cranes – for intermediate visitors of good social standing

Room of the Tigers – for the most senior in society, royalty, envoys, ambassadors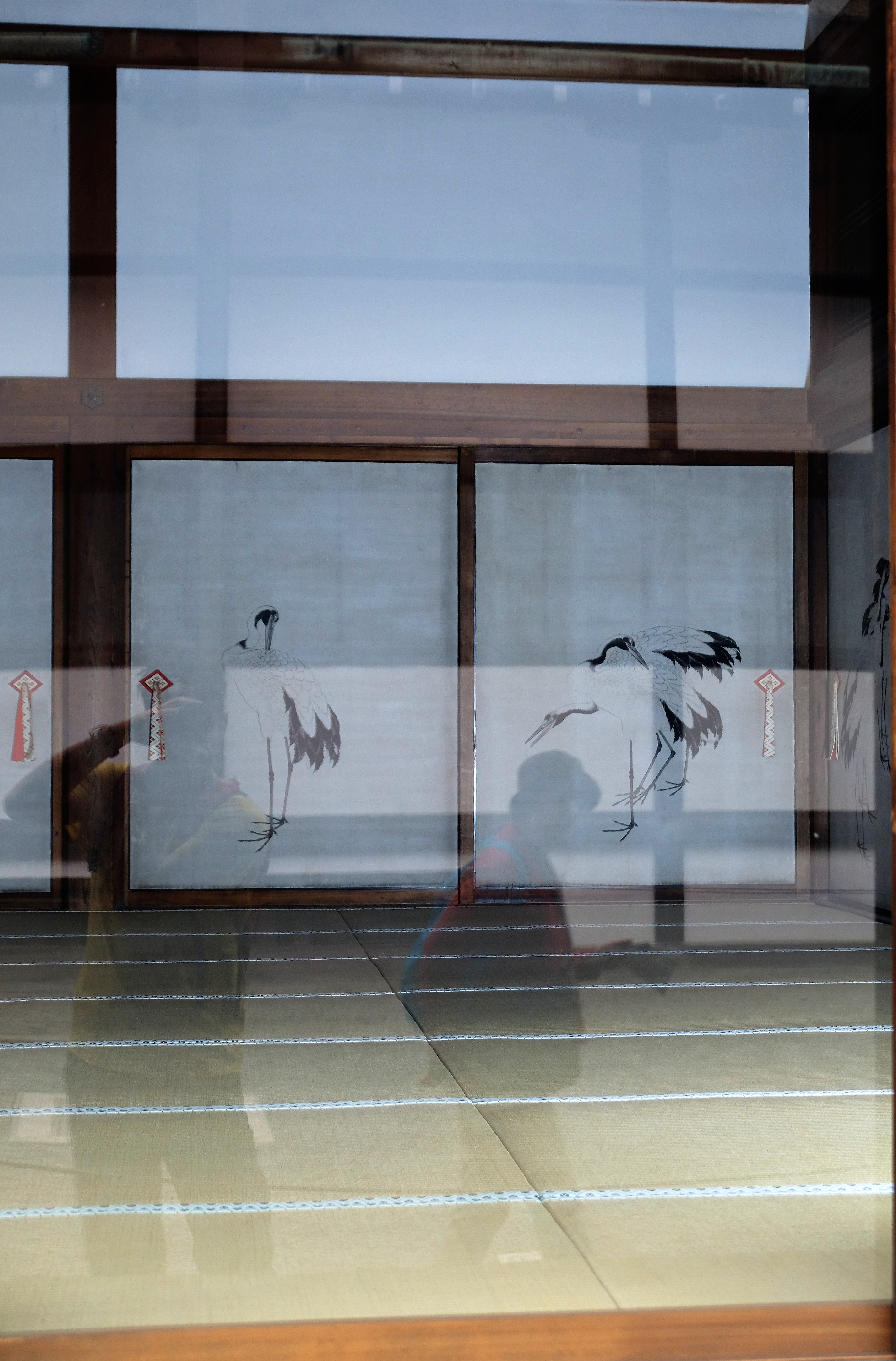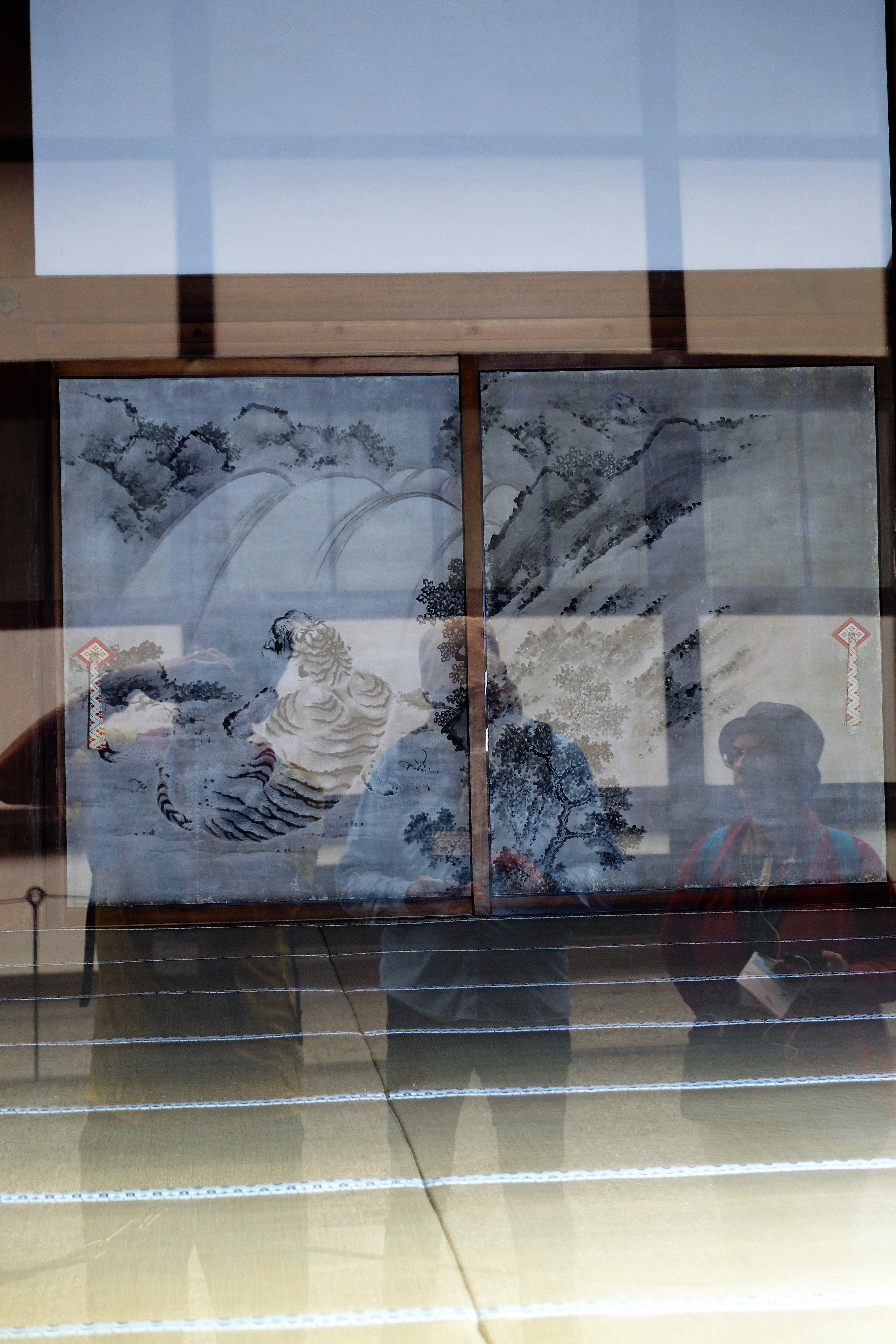 NB. An interesting fact I learnt. If you look are early Japanese depictions of tigers, they seem embellished and anatomically incorrect. This oddity seems to contradict the precision of Japanese art, calligraphy and everything else they did.  The reason for this inaccurate portrayal is simple.  Tigers are not indigenous to Japan, the first time they saw them was from tiger hides/skin brought to Japan for Asian.  It is from these skins that they tried to piece these creates together in their paintings/drawings – like a reverse taxidermist.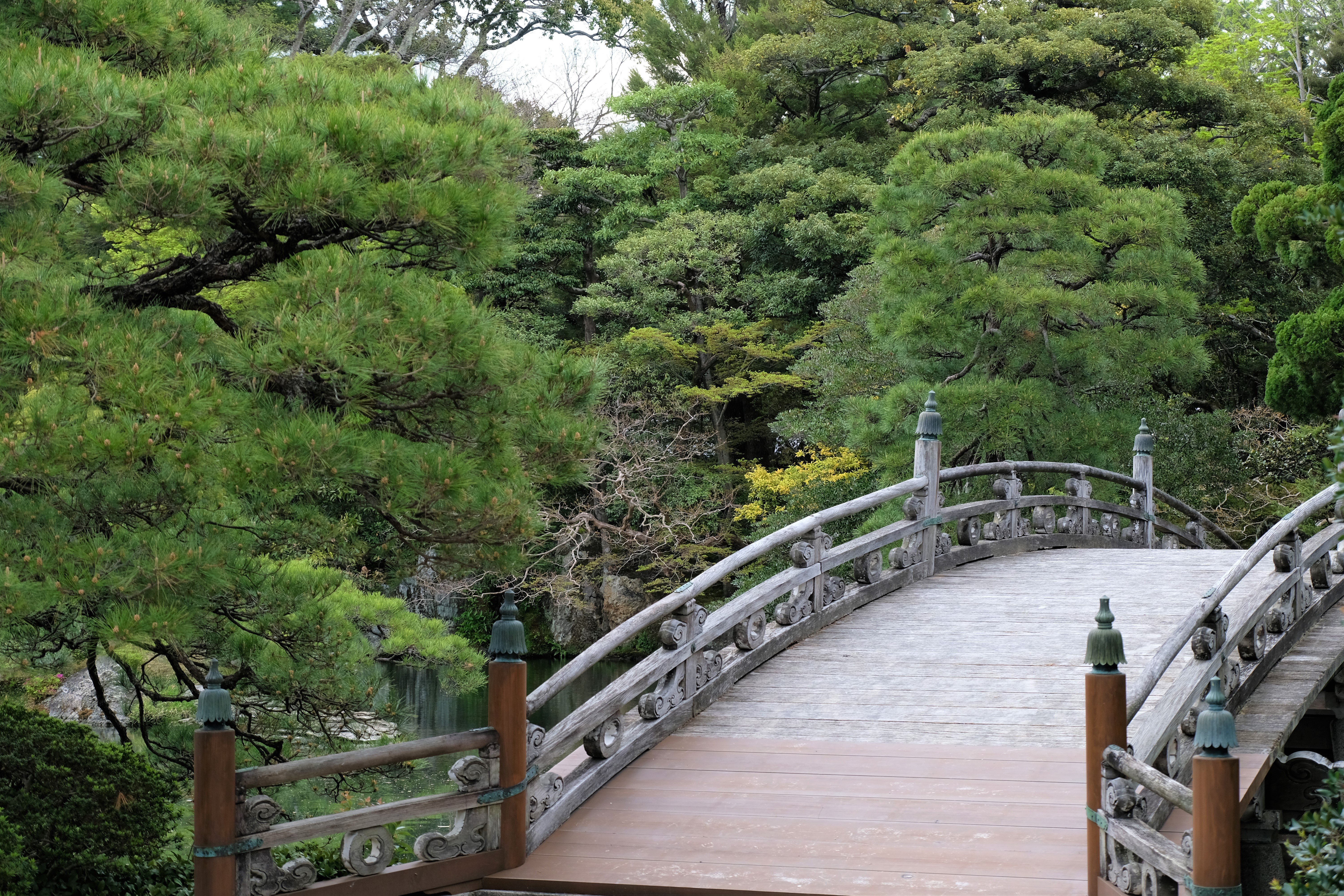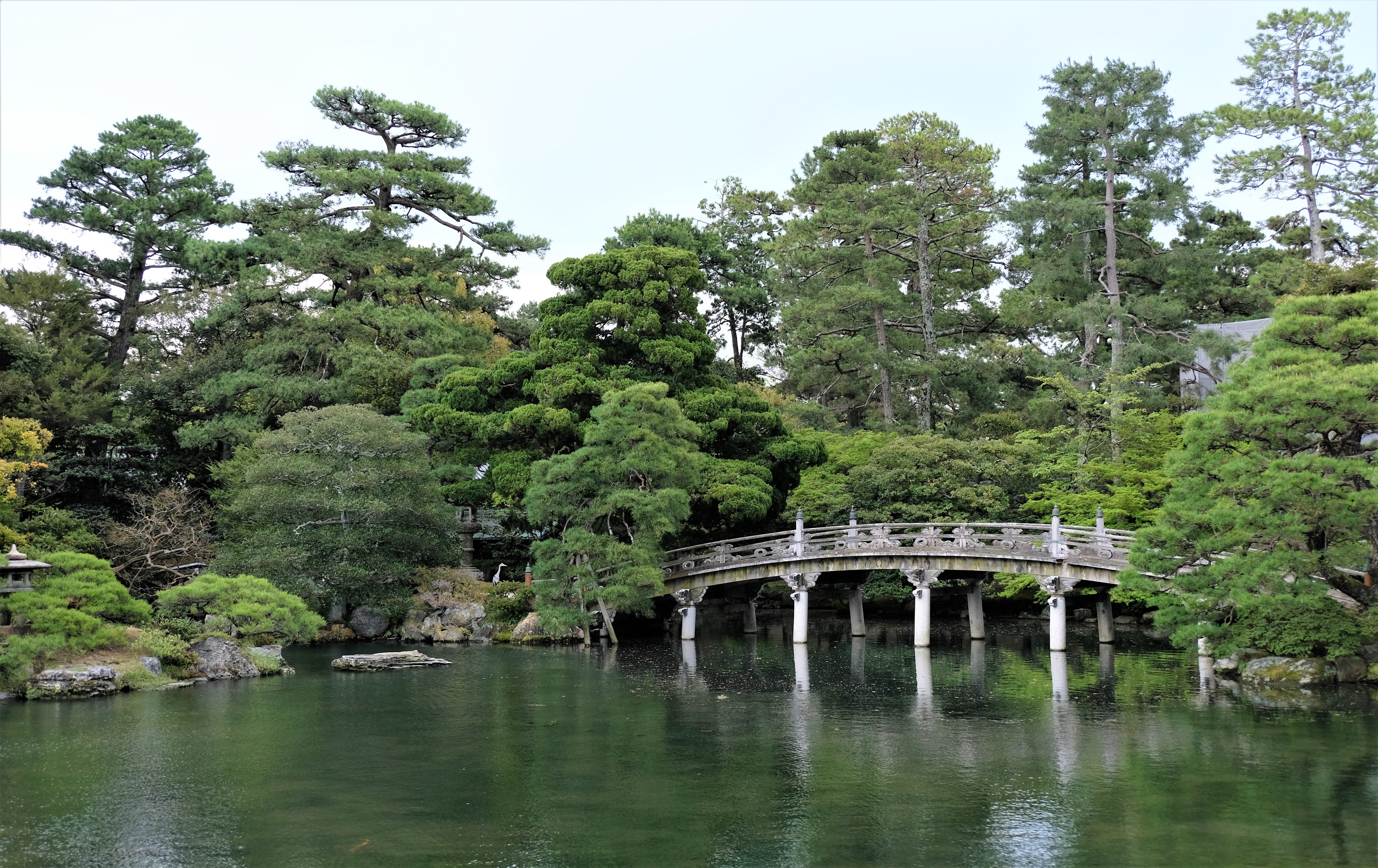 I hope the pictures and the descriptions do the Kyoto Imperial Palace justice.  If I had to opportunity to visit Kyoto again, obviously I would like to see the hundreds of other things I missed first-time around.  Though, if I got the opportunity to visit the palace again, I wouldn't hesitate in doing so. Concluding, I'll stop blabbering on without saying much.  The weather had started to turn with a murky grey sky.  It wasn't the coldest of days, though not shorts and t-shirt as the day before.  From palace to castle, my next stop of the day was Nijo Castle.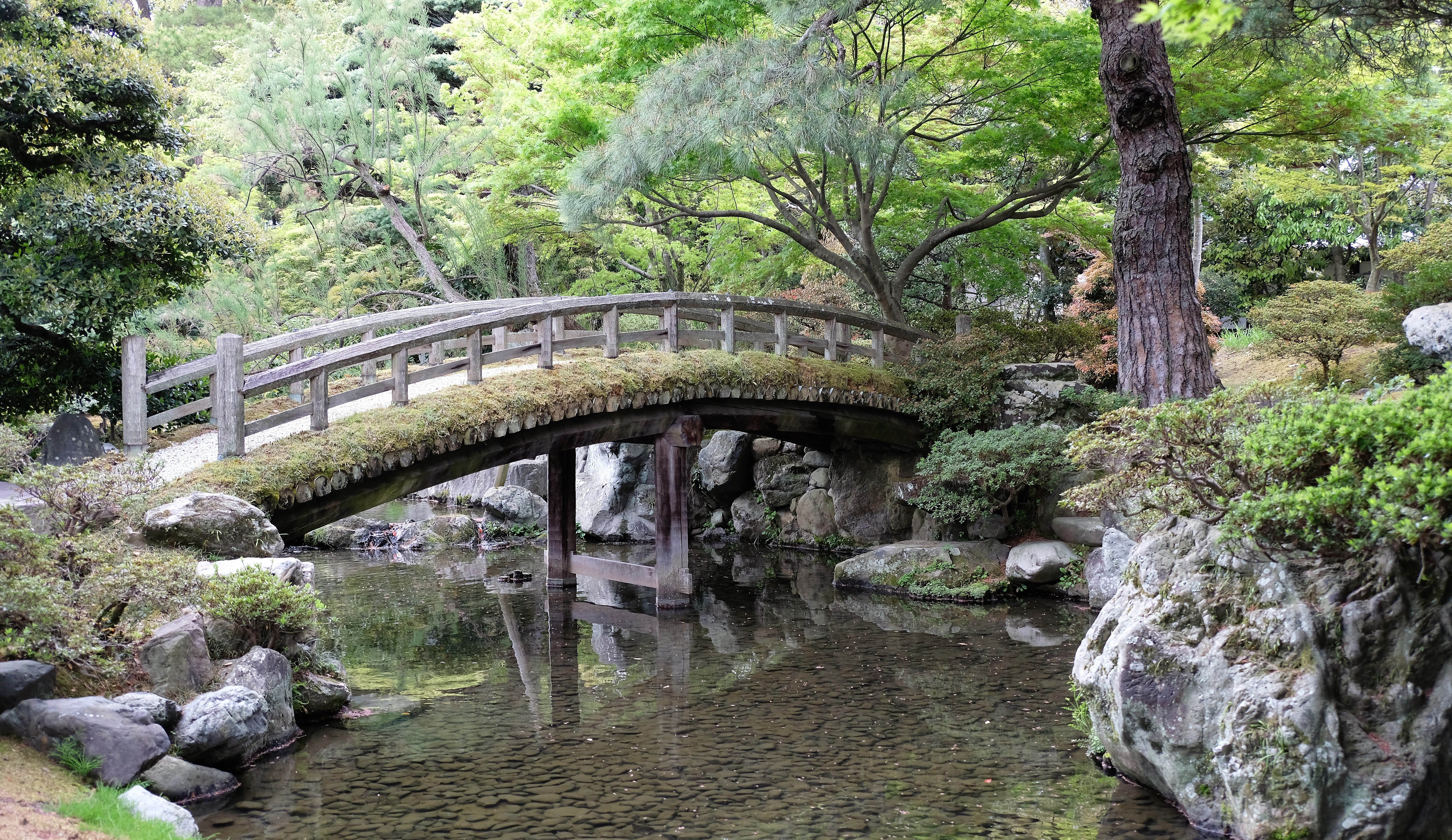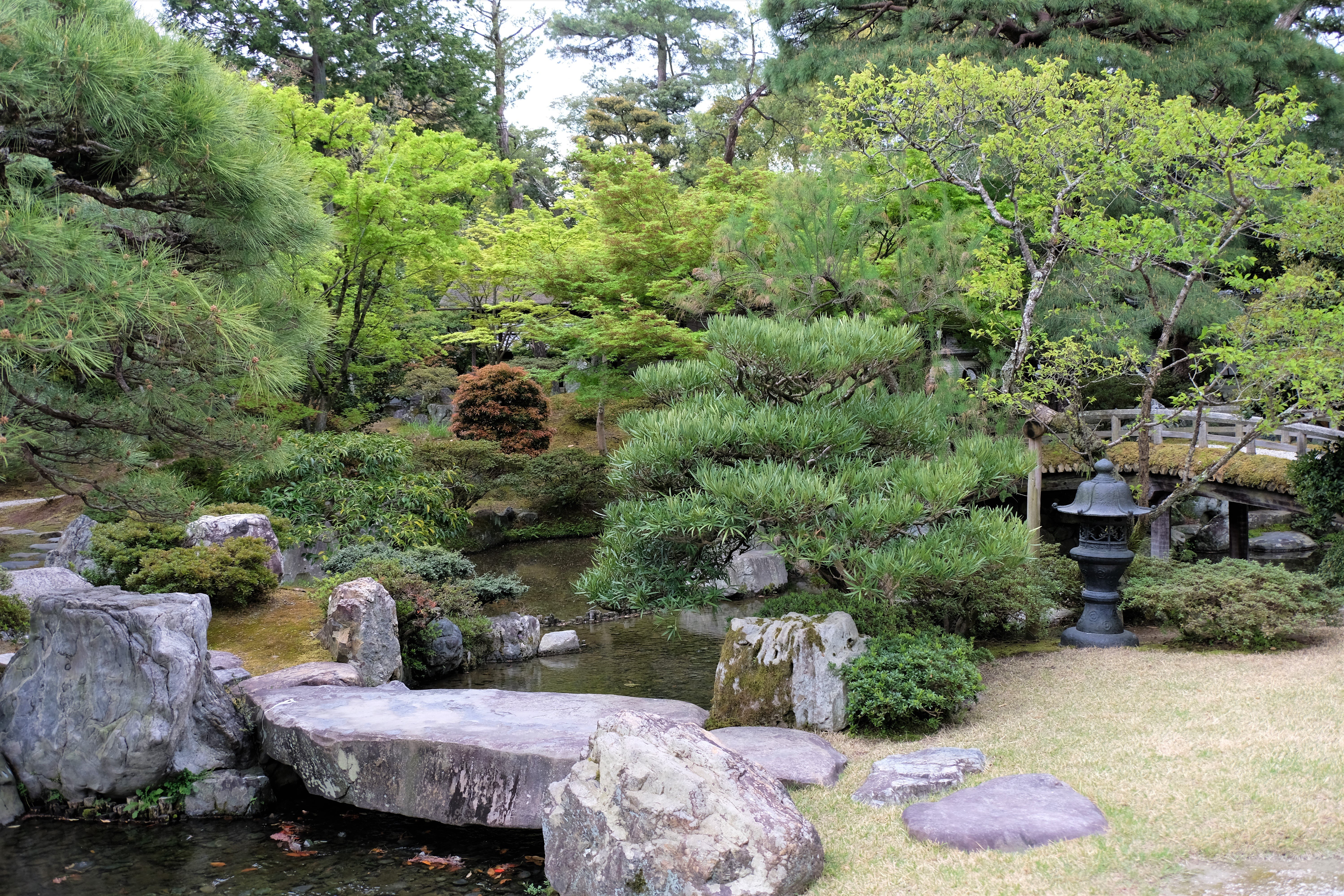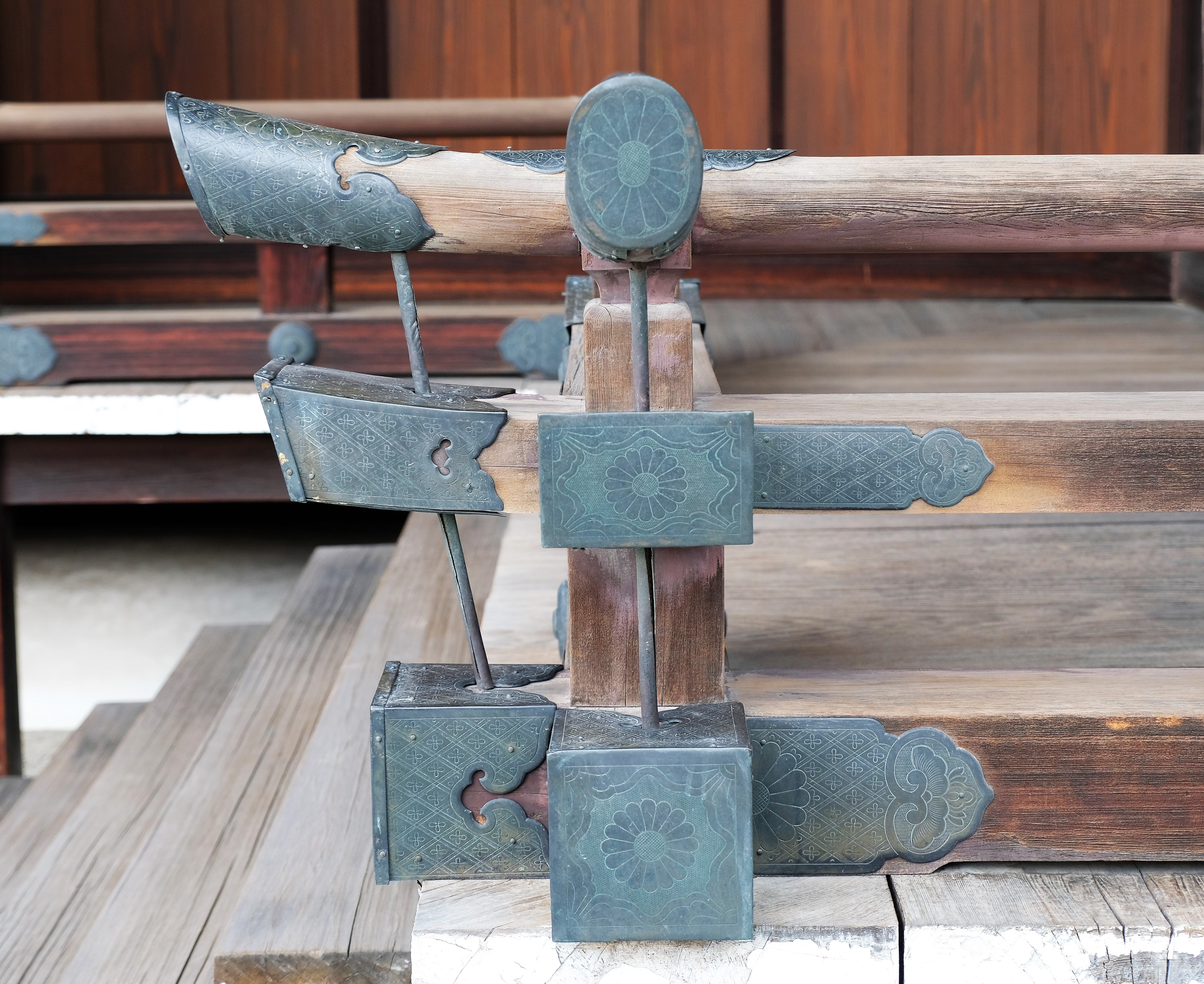 Ah yes, I almost forgot!  Next on my list was to be Omiya and Sento Imperial Palace, within the same park grounds as Kyoto Imperial Palace.  I tried to entre, however you need to book in advance and they only take a few visitors per day.  Plus, it is only open (with a booking) during specific times of the year.  Like I said, it was open though fully booked.  Although nothing except foundations remains of Sento Palace (finally burnt down in 1854), Omiya Palace was rebuilt in 1867.   Omiya Imperial Palace is the official residence for the current prince and princess when they visit Kyoto.
Nijo Castle
I've said so before, but I like castles, and Nijo Castle even looks interesting from the outside.   Of the many castles I've visited (primarily in Europe), I categories them into two criteria. Firstly, those situated on a vantage point, using the lay of the land as a natural defence.  Secondly, building fortifications as protection – normally on flat land.  Nijo Castle falls into the second category (in my thinking of categorisation ?).
Located between Kyoto Imperial Palace and downtown Kyoto (where the shopping area and Nikishi Market it), except it's a few blocks West.  The lay of the land surrounding the castle is as flat as a pancake.   The first thing that struck me was the light grey stone walls of the inner circumference of the moat.  The long walls built at a gentle inward slope of smooth large stones that seems to grow out of the water.
These long spans of walls broken by three gated entrances on the North (Great North Gate – Kita-Ote-mon), East (Great Eastern Gate – Higashi-Ote-mon) and West (West Gate – Nishi-mon); the latter what looks like a disused small drawbridge or service entrance.  The only other break in these sleek moat walls is a tower on the South-eastern corner called a yagura – one of the more regular photos taken of Nijo Castle.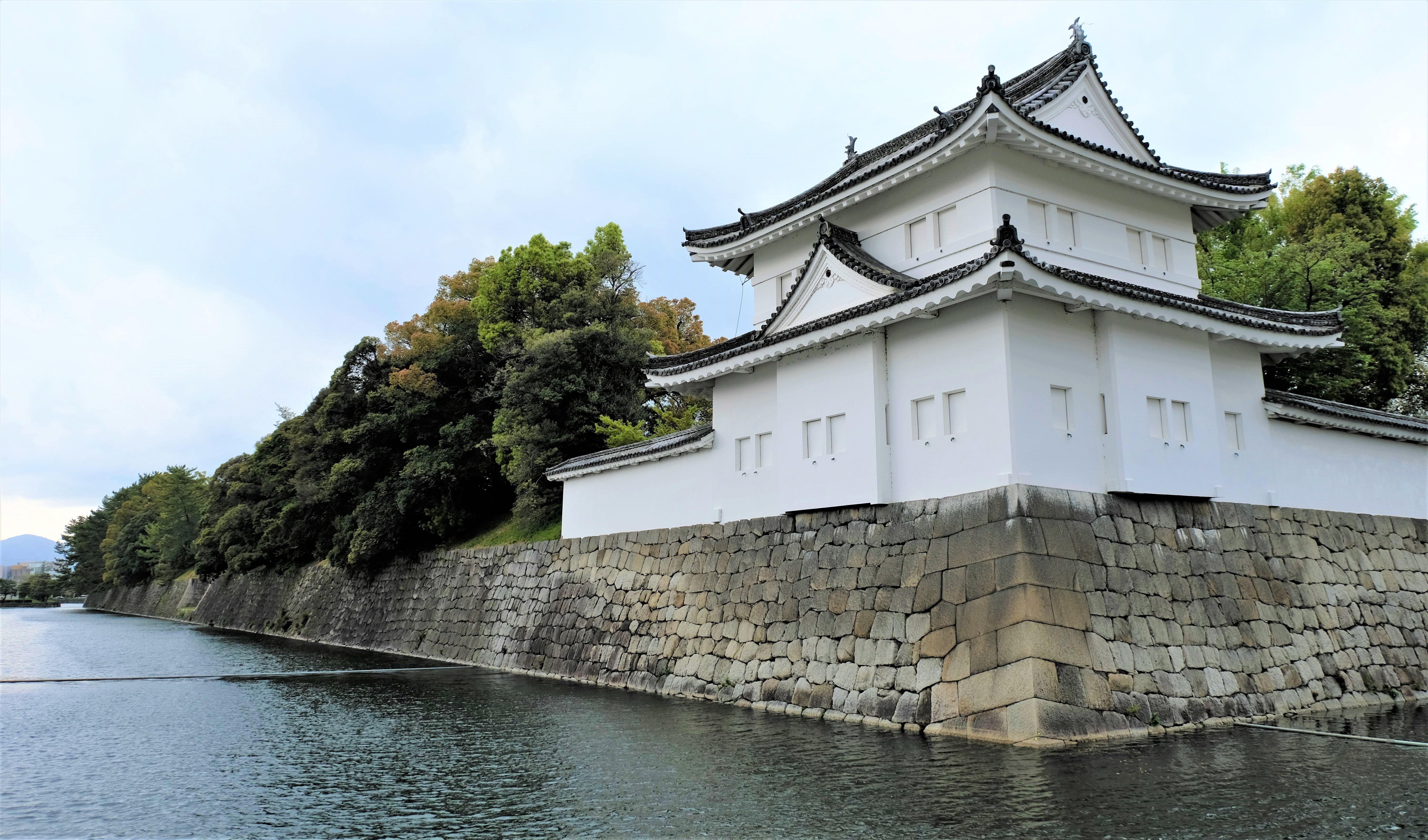 Layout of Nijo Castle
In order to make things a little easier to understand (for me that is), I'll explain the general layout of Nijo Castle.  In fact, there isn't a "castle building", instead it houses two palaces.  Crossing the first outer moat gives you access to Ninomaru Palace.  Once inside the complex you cross an inner moat to access Honmaru Palace.  This second moat too is surrounded by high fortification walls.  Both moats have square corners adding to its austere uniformity, almost like concentric squares.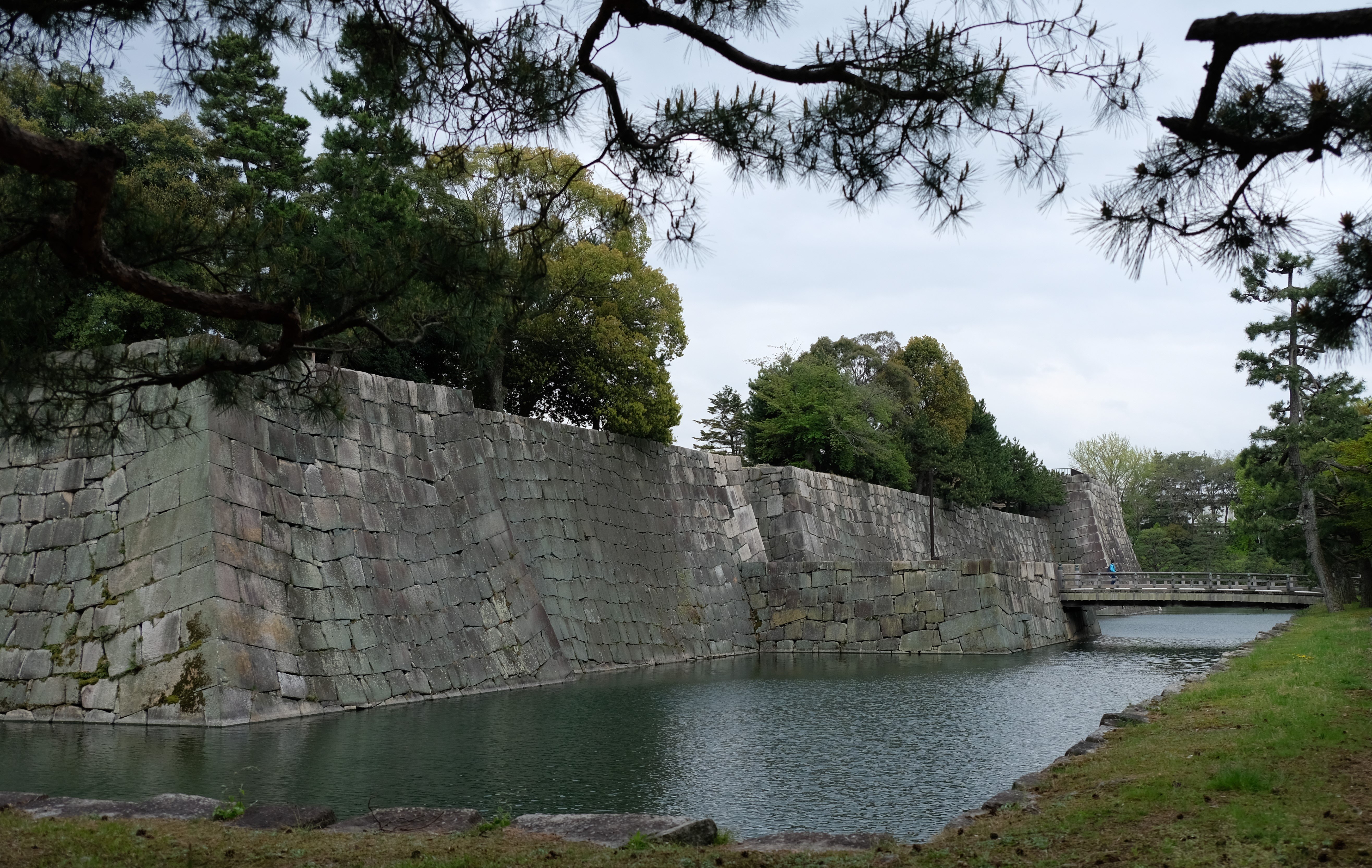 Background
Nijo Castle was the brainchild of Tokugawa Ieyasa (January 31, 1543 – June 1, 1616), with construction completed in 1603.  Tokugawa was a unifier of Japan, after a prolonged period of civil wars.  This unification brought about peace and prosperity for nearly 260 years.  Starting with bringing together all the feudal lords and building Nijo Castle.  The Tokugawa shogunate ruled Japan until 1867 when the Meiji Restoration brought back Imperial Rule.
1601 – Tokugawa instructs in feudal lords (diamyo) of Western Japan to build Nijo Caste
1603 – Completion of the castle
1614 – Tokugawa conquers the Toyotomi family (the previous rulers of Japan) during the Siege of Osaka.
1624 – large scale renovations done to the castle as preparation for an Imperial Visit by Emperor Go-Mizunoo
1750 – Lightning strikes the keep tower and it burns down
1867 – In October, Tokugawa Yoshinobu calls a meeting with all the heads of the clans at the Great Hall (Ohiroma) of Ninomaru Palace.  Yoshinobu announces at the meeting that he will be restoring Imperial Rule to Japan
1884 – Nijo Castle becomes Nijo Rikyu (Nijo Imperial Villa
1915 – Nijo Castle is used for the coronation of Emperor Taishō.  In a purpose build banquet hall, now the location of the Seiryu-un Garden – on the North side between the two moats.
1939 – Imperial Household Ministry gives Nijo Castle to the City of Kyoto
1994 – Nijo Castle becomes listed on UNESCO World Heritage
2011 – Full restoration of Nijo Castle
Ninomaru Palace / Ninomaru-Goten Palace
Access to Nimomaru and Honmaru Palace was mostly restricted to walking around its exterior, where you could go inside no photography was allowed ☹.  I'm not going to pretend I remember the details of the inside, it was understatedly impressive, a composed ambience.  Suffice to say I enjoyed my time there, spending a few hours – I hope that says enough.
Both a highlight and frustrating moment was walking through the "nightingale corridor".  As you walk on the wooden floor the creaking creates the distinct sound of singing nightingales.  These floorboards were intentionally made to creak, and calculatedly the creaks made to sound like nightingales.  How on earth this was deliberately achieved I have no idea, remarkable and ingenious craftsmanship.  This sound was created as a security feature; in order to hear anyone walking in the corridor; so that no one could sneak up on anyone in the rooms.
At first, it's as if there must be an aviary filled with nightingales behind one of the walls.  Singing nightingales fills the corridor as more people walk through.  My frustration came with people talking loudly as they walked through.  Instead of enjoying and just listening to this unique experience, some people just don't think or consider other people – well that's my theory.  I've attached a recording, unfortunately it is dominated by people speaking, but if you listen carefully you can hear the creak of nightingales (near the beginning and the end).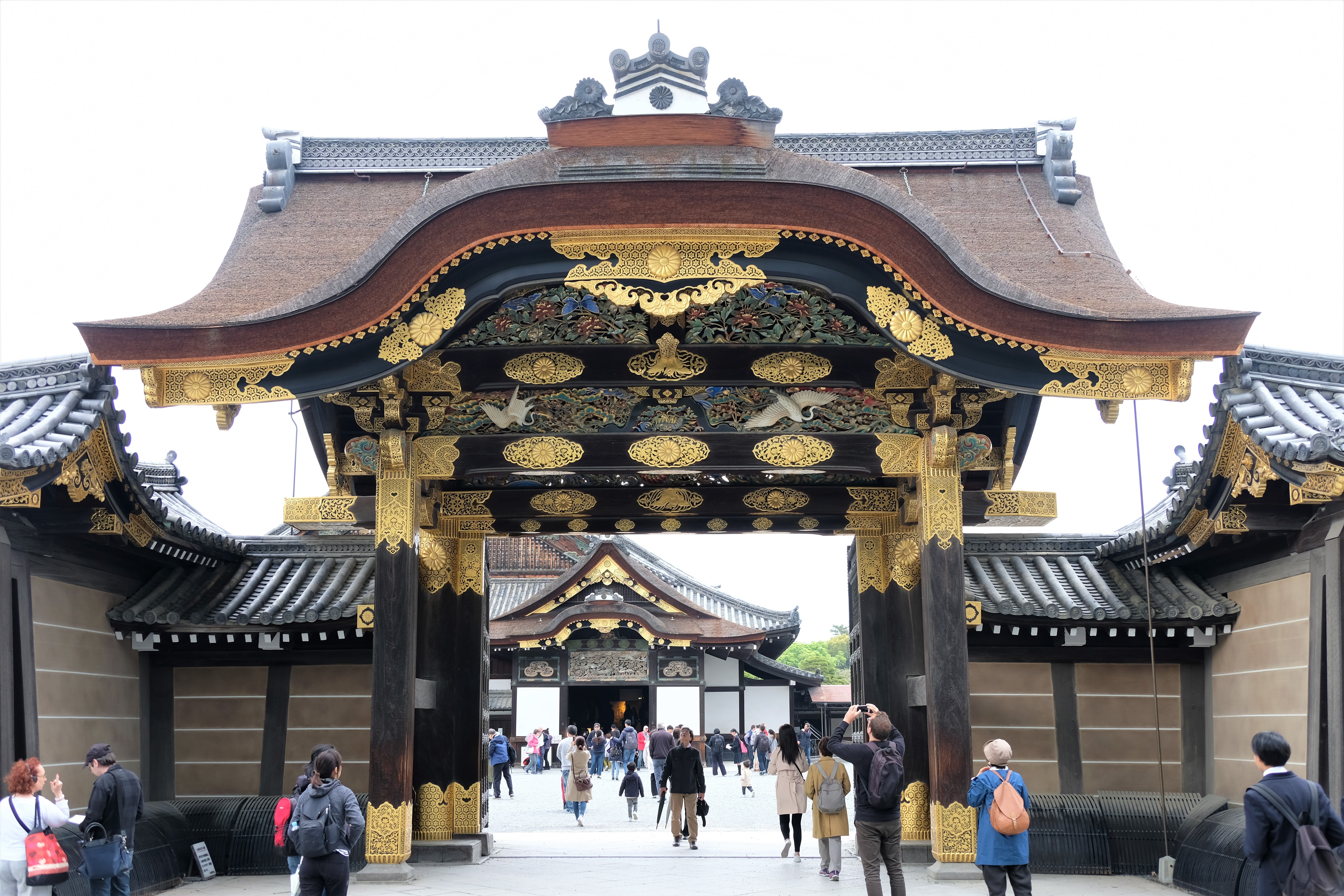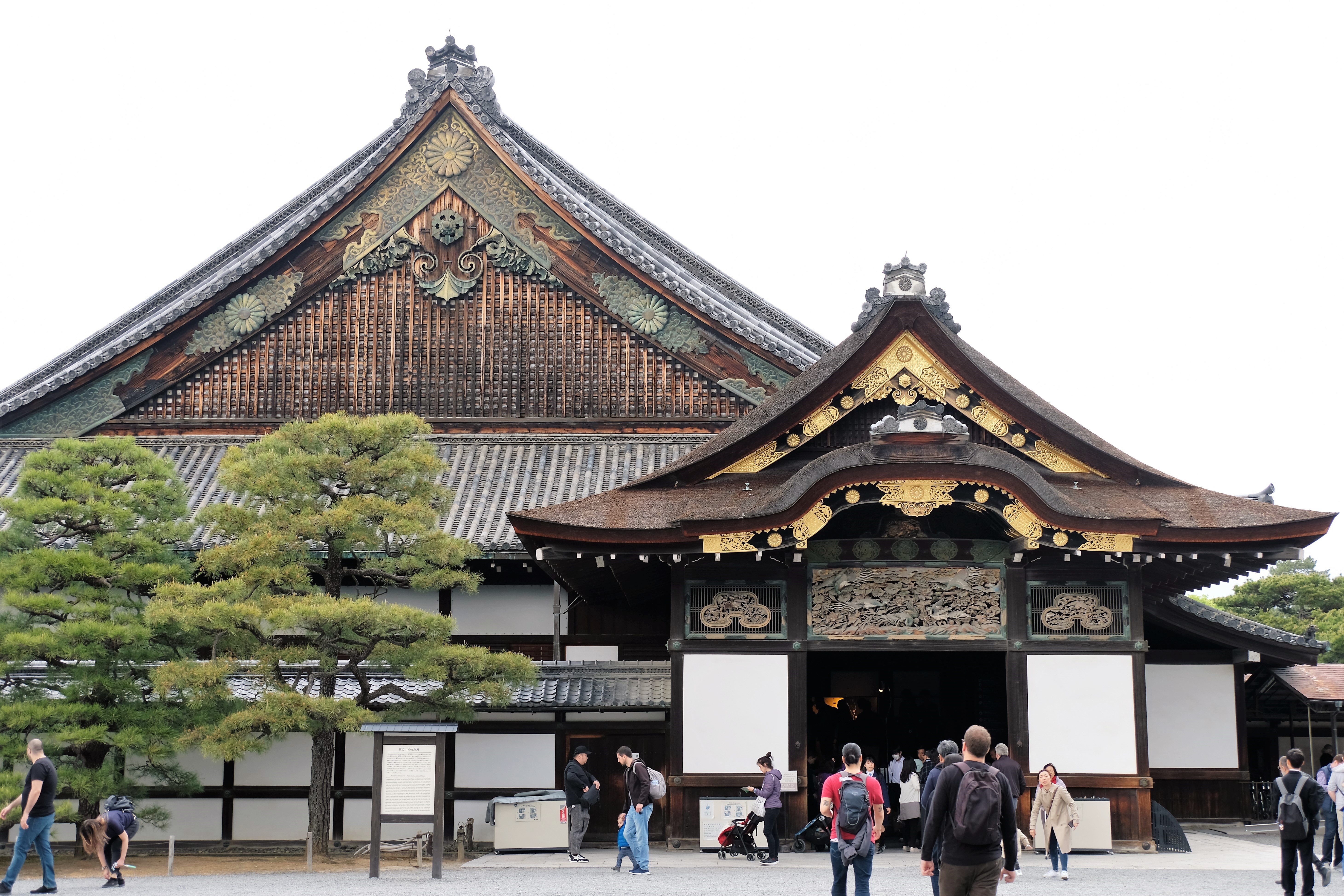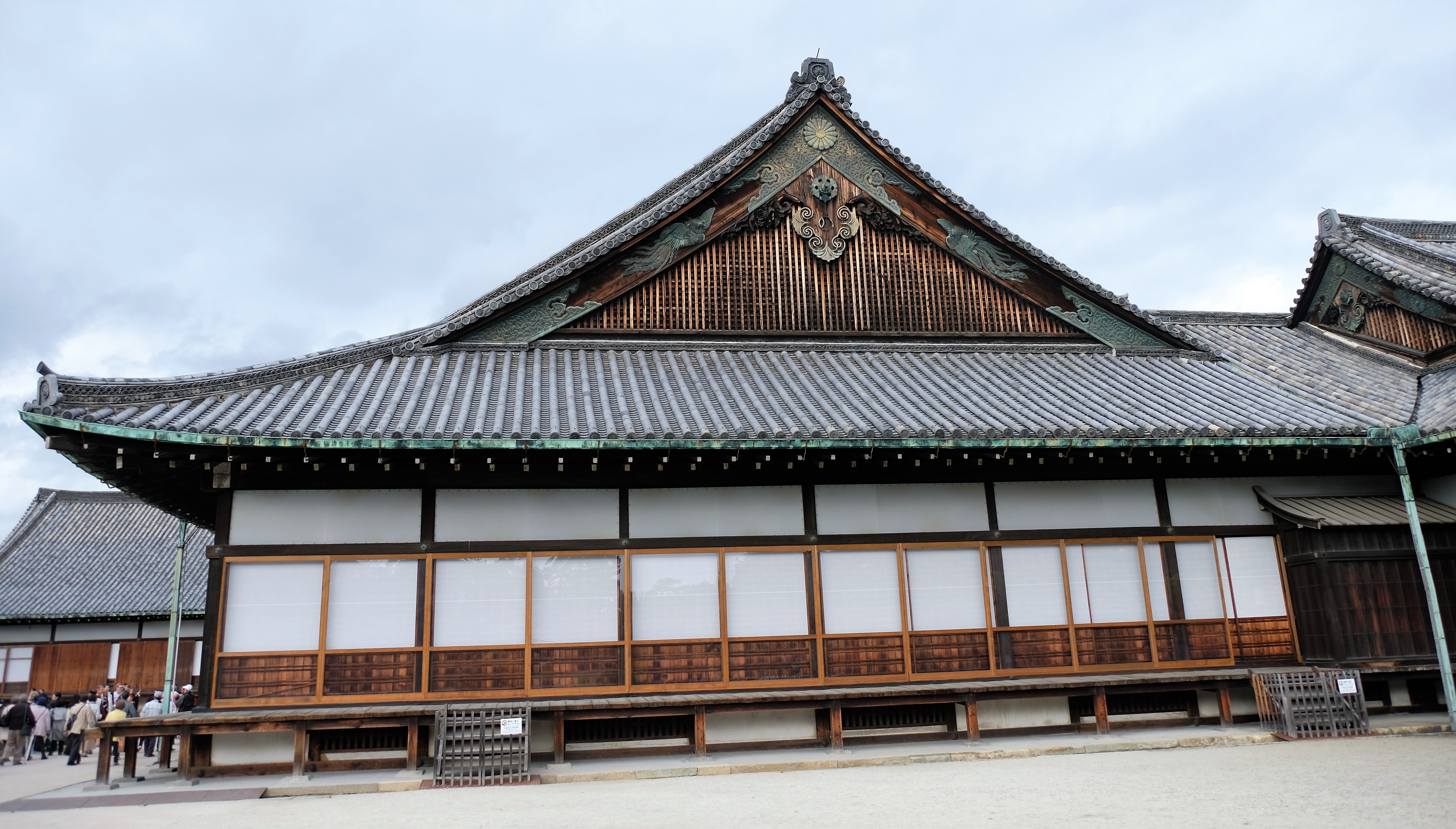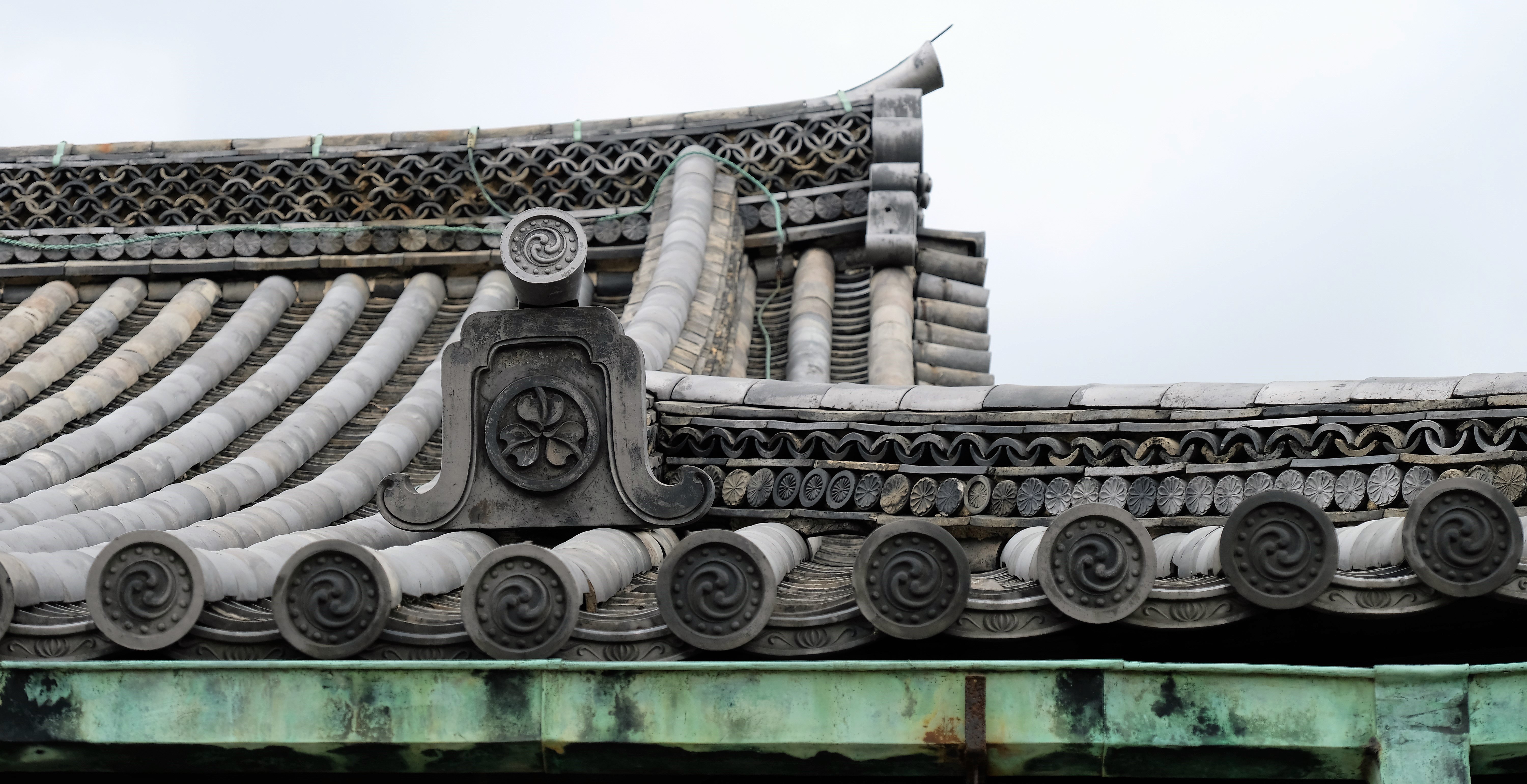 Ninomaru Garden
It was altered as part of the 1626 Imperial Visit.  Of course, it's in immaculate condition, that goes without saying.  A pond with three islands linked by low stone bridges is the focal point.  The beams of each bridge a singular piece of stone stretching from one side to the next, no handrails.  They look like monoliths, cast into place by nature, lying there for thousands of years.
Nothing in these gardens are down without purpose.  The largest island is a Horai-jima Island which represents "paradise", then there is a crane island and turtle island, both metaphors for longevity. All the trees look like they've been pruned like large bonsai's, accentuating their colours and forms.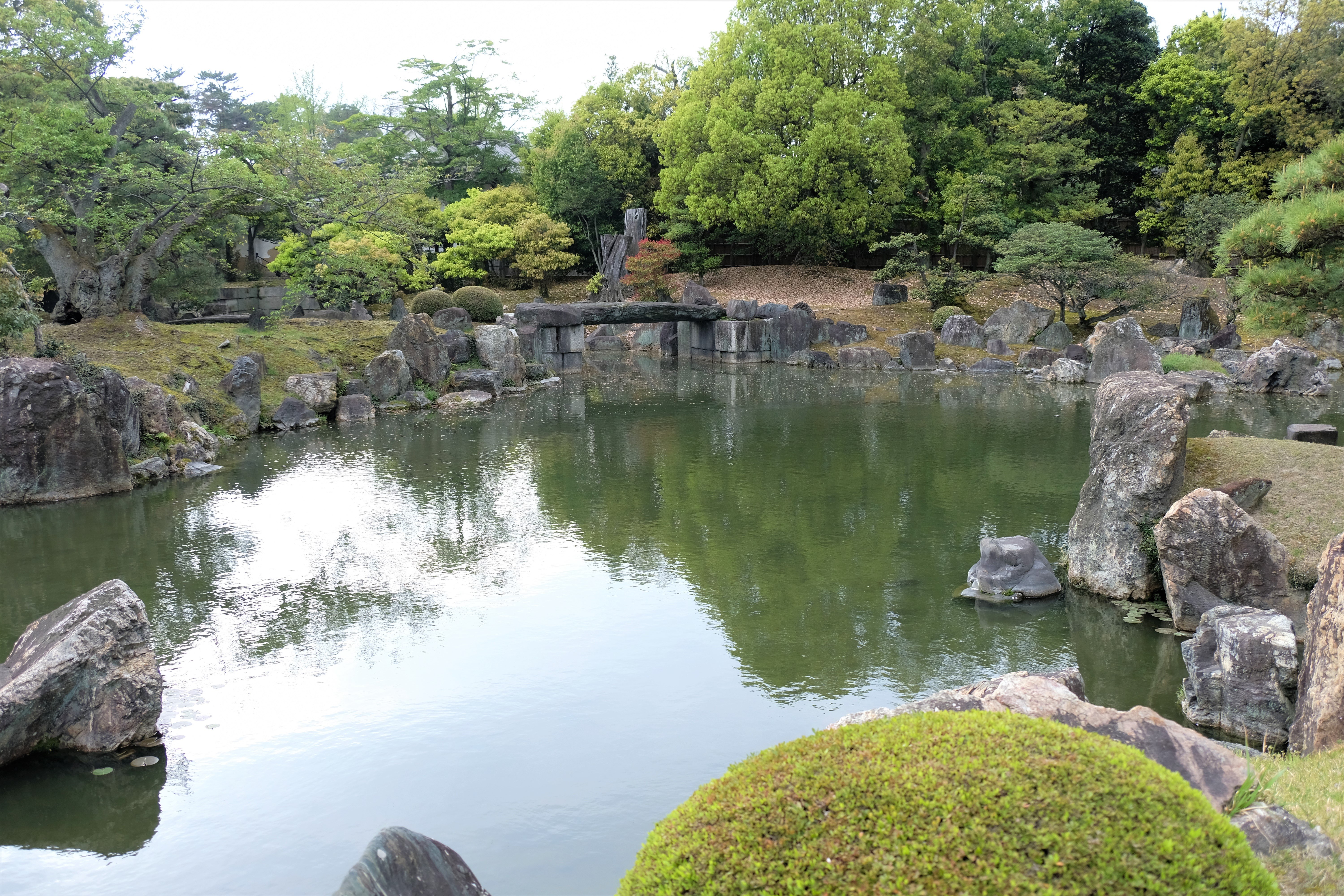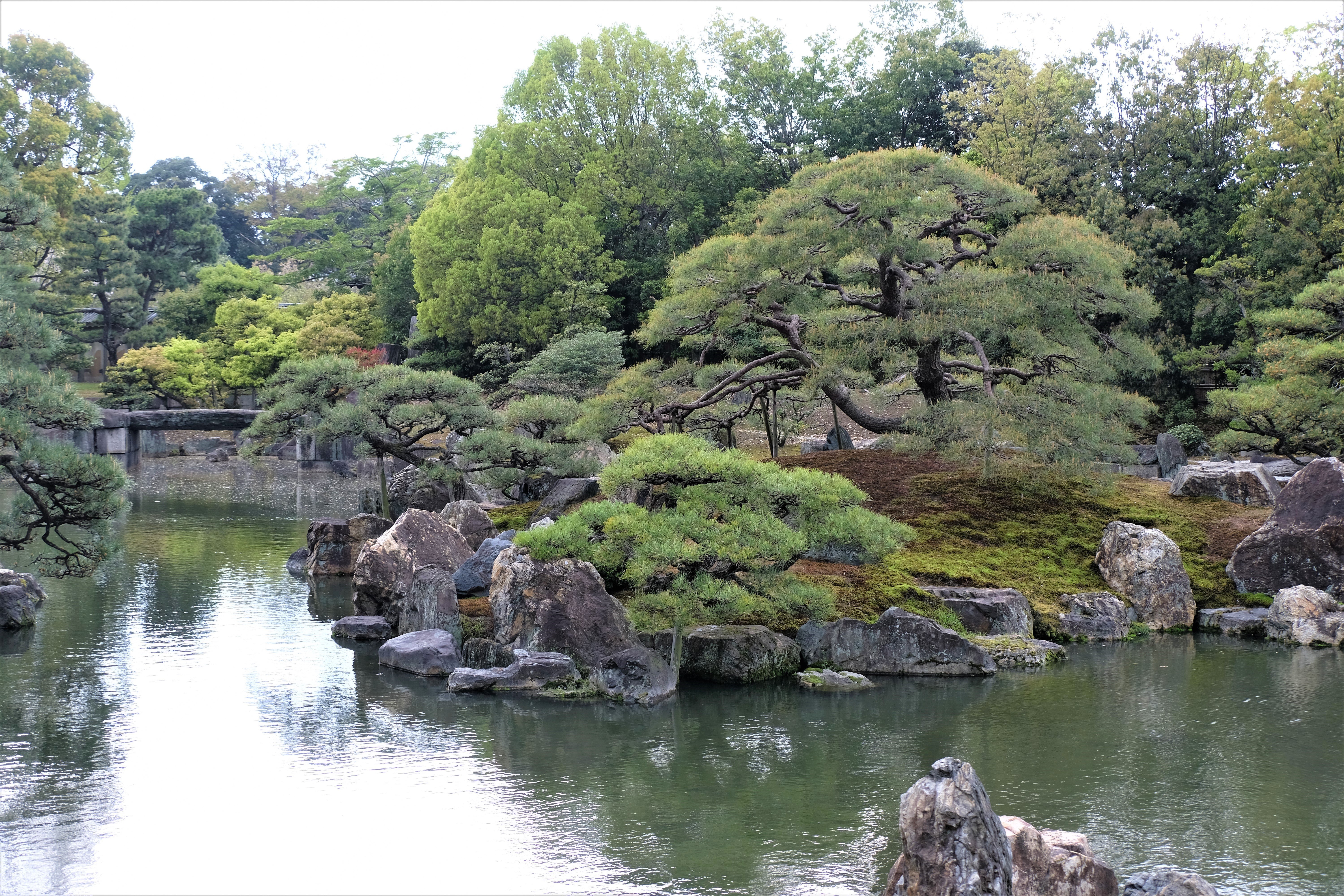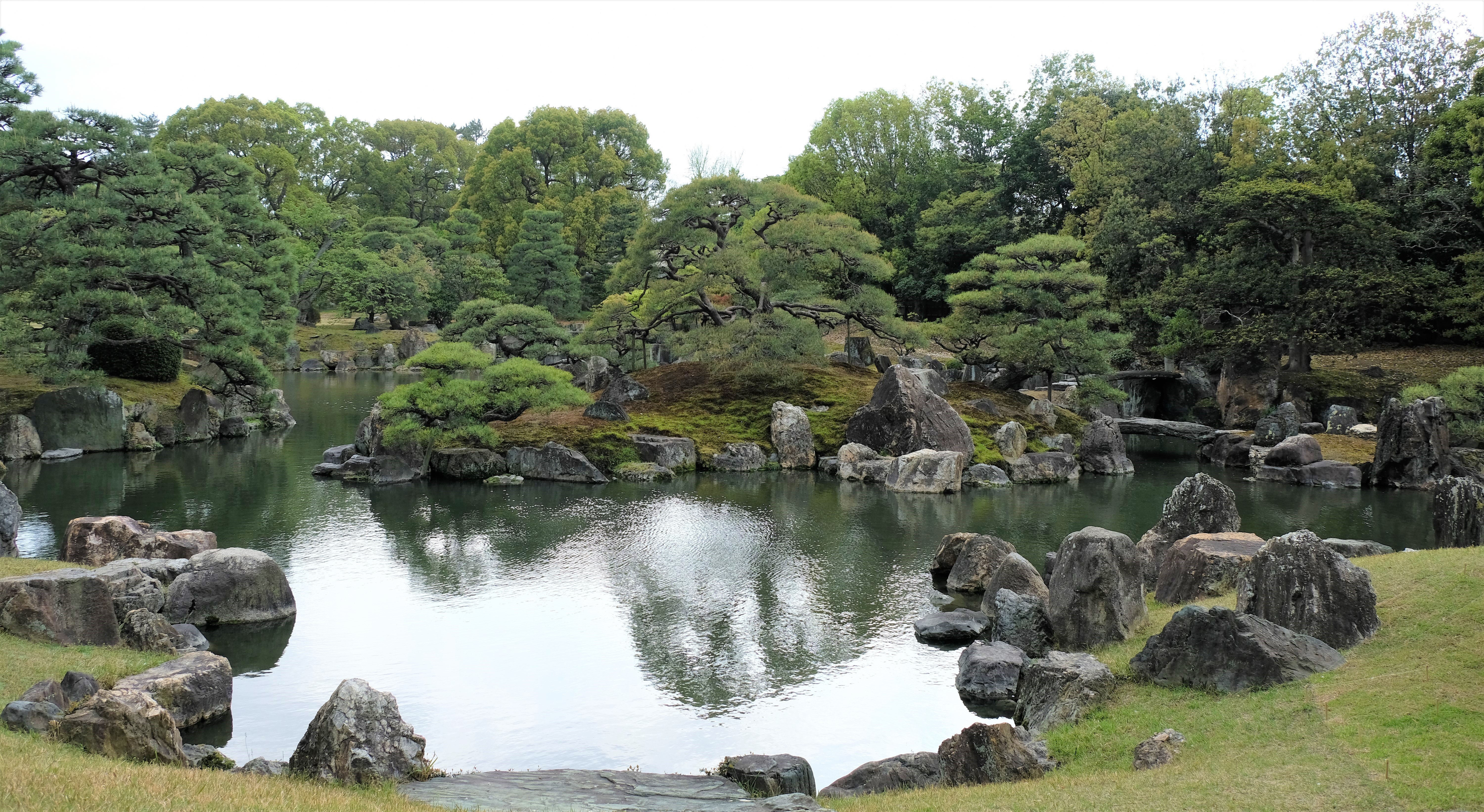 Honmaru Palace / Honmaru-Goten Palace
Crossing over the moat on the Honmaru East Bridge you entre through the Honmaru Yagura-mon Gate.  The fortification walls ever so slightly smaller that the exterior walls, making you feel like you've walked into a safe inside a safe.  None of Honmaru Palace was open to the public, with the best views from the elevated base of the burnt down keep tower (1750).
This vantage point gives a great lay of the surrounding land with Honmaru Palace and Honmaru Gardens below.  Now that I had become a Japanese garden snob, I didn't spend much time Honmaru Gardens.  Had it been anywhere else in the world, I would have likely admired it deservingly, but from what I had already seen in Kyoto this garden was below par.  Added to my low grading of the garden (I'm just being facetious), Honmaru Palace was closed, so I exited on Honmaru West Gate crossing the moat.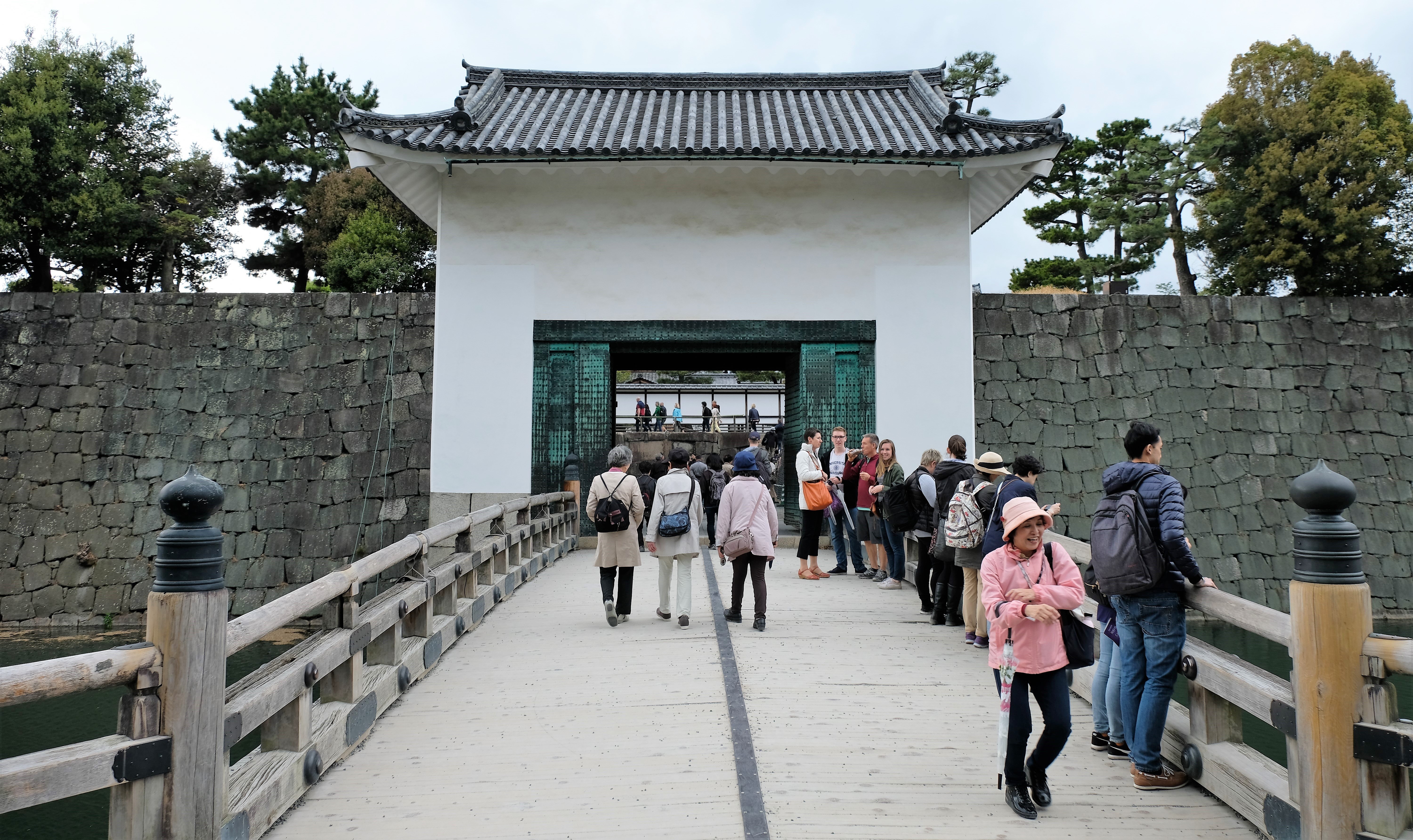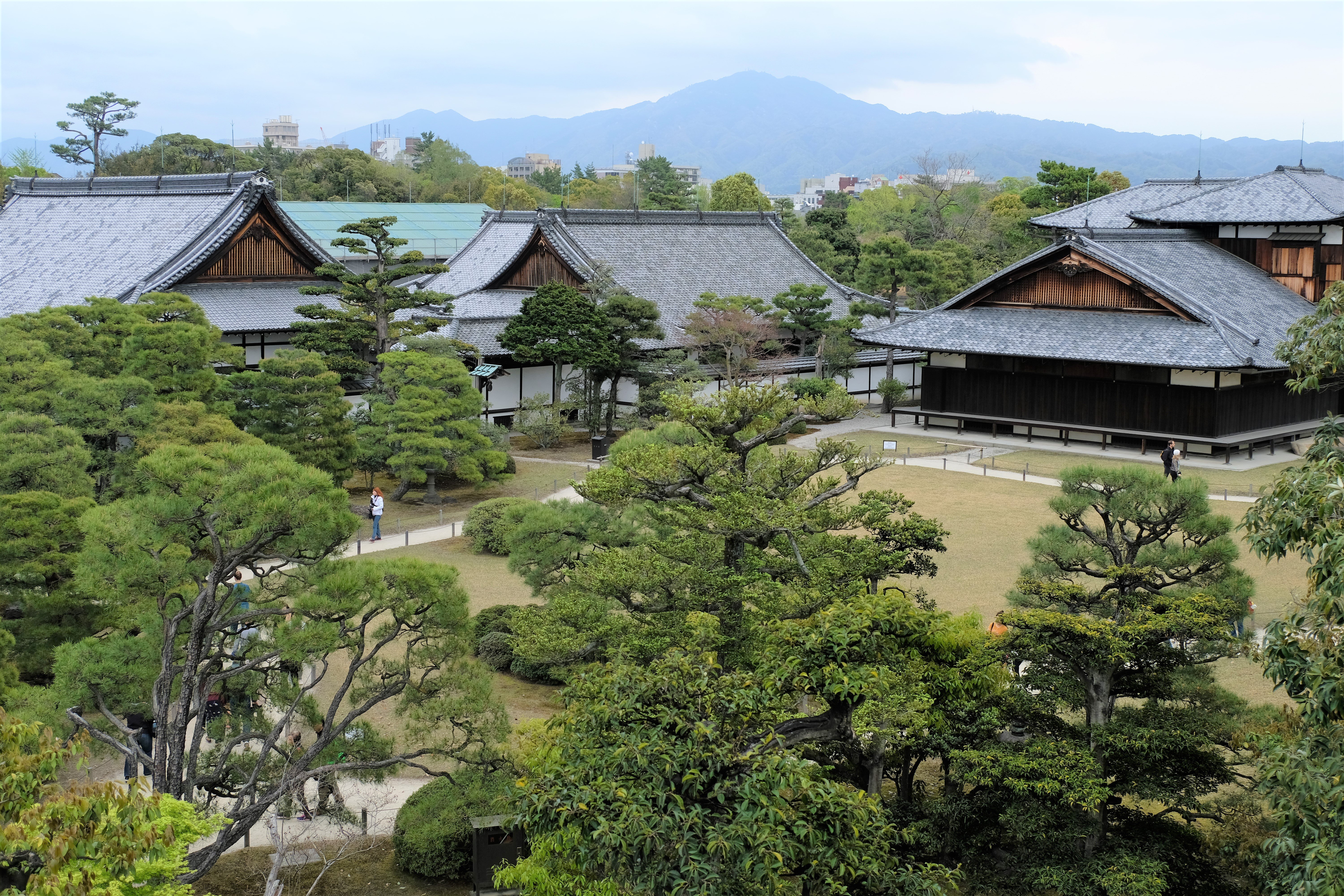 Almost the entire Western half of the whole complex is made up of various gardens – between the inner moat and the outer exterior fortifications.  From cherry trees in their last bloom, small grassland meadows with wild flowers, to manicured shrubs with rich red and pink flowers.  These gardens are distinctly more natural to the others, like walking through fields or parks.  From meadows to the Seiryu-en Garden (moving clockwise around the garden), a more traditional garden with the symbolic islanded (I hope that's a word) ponds.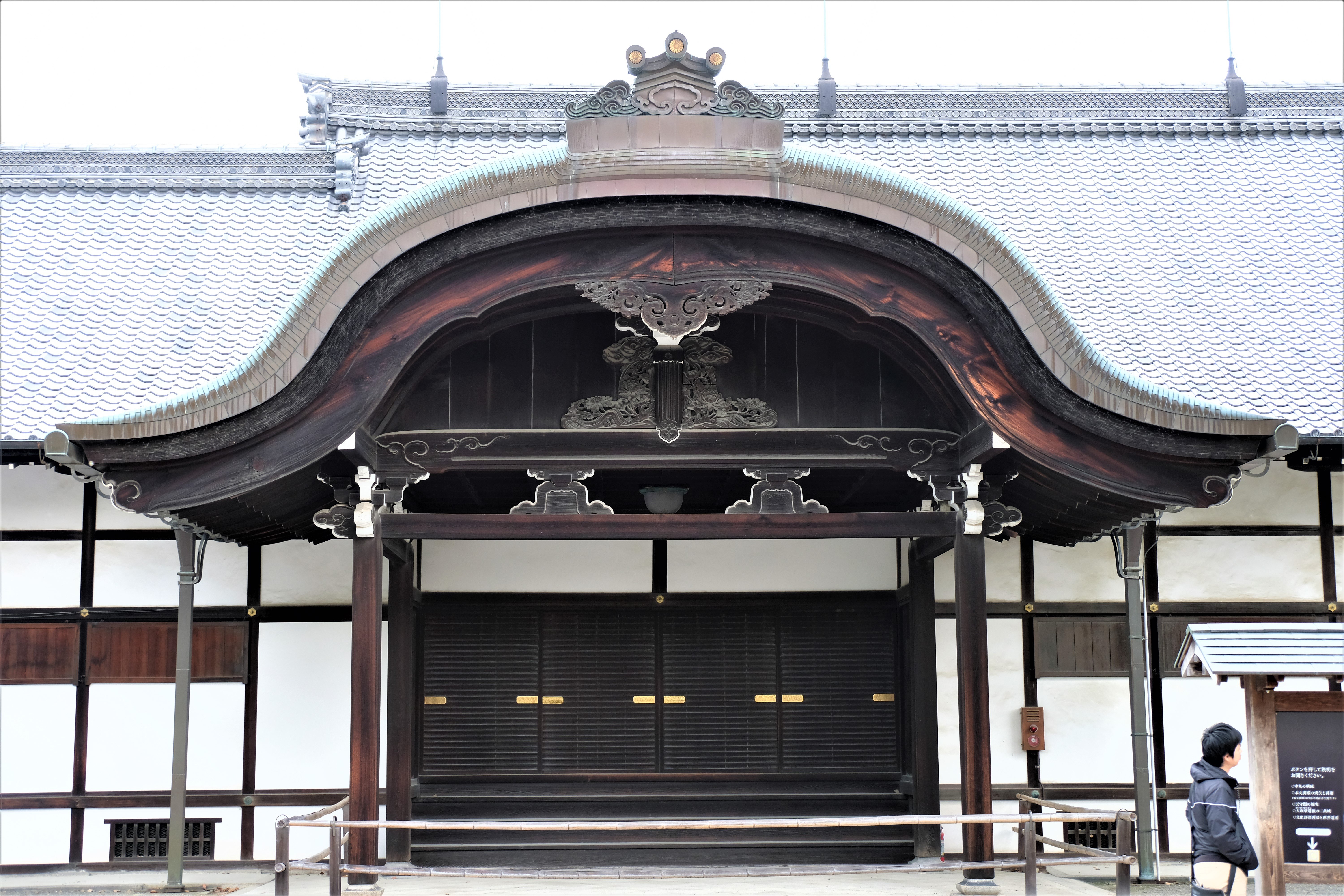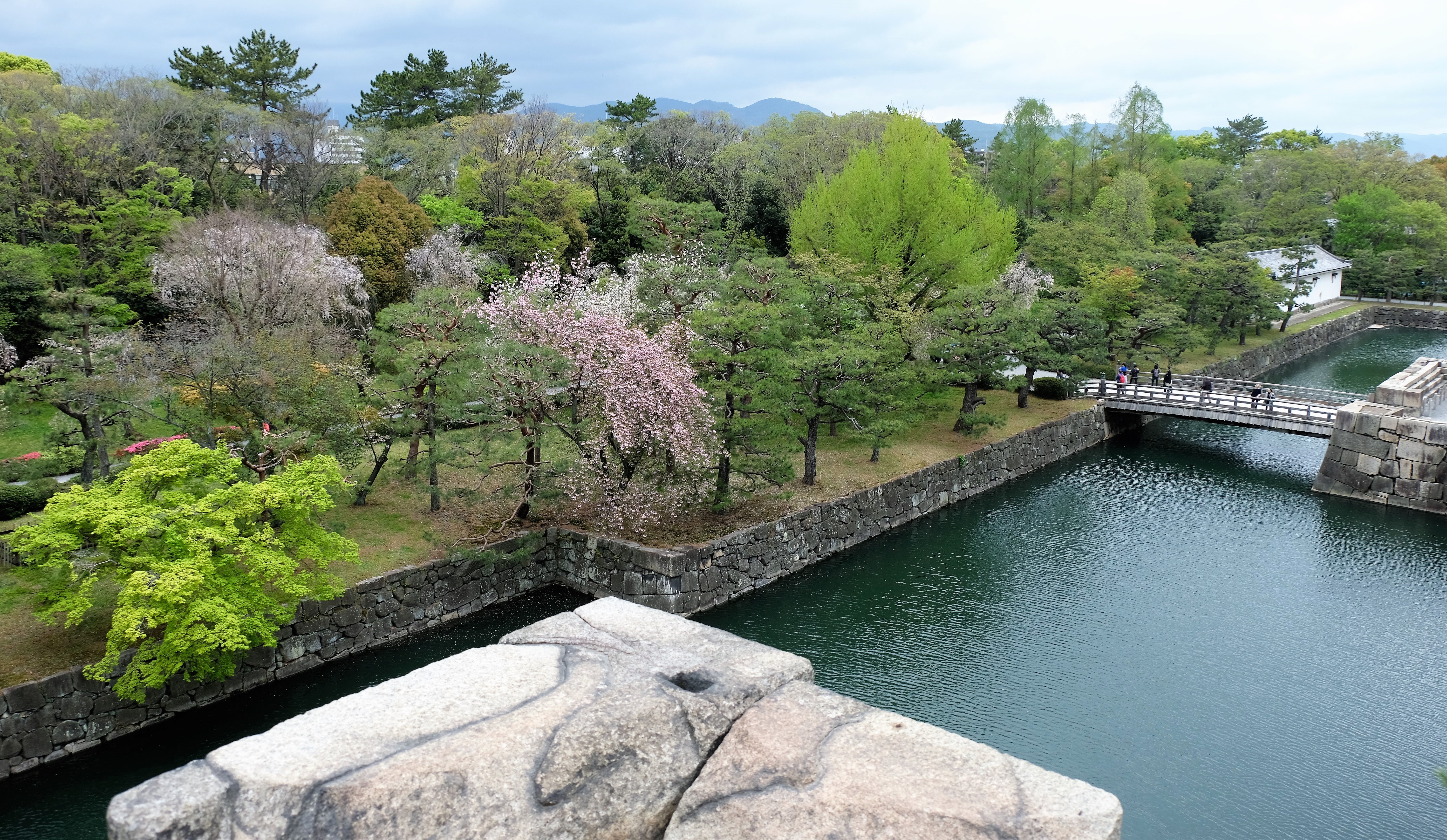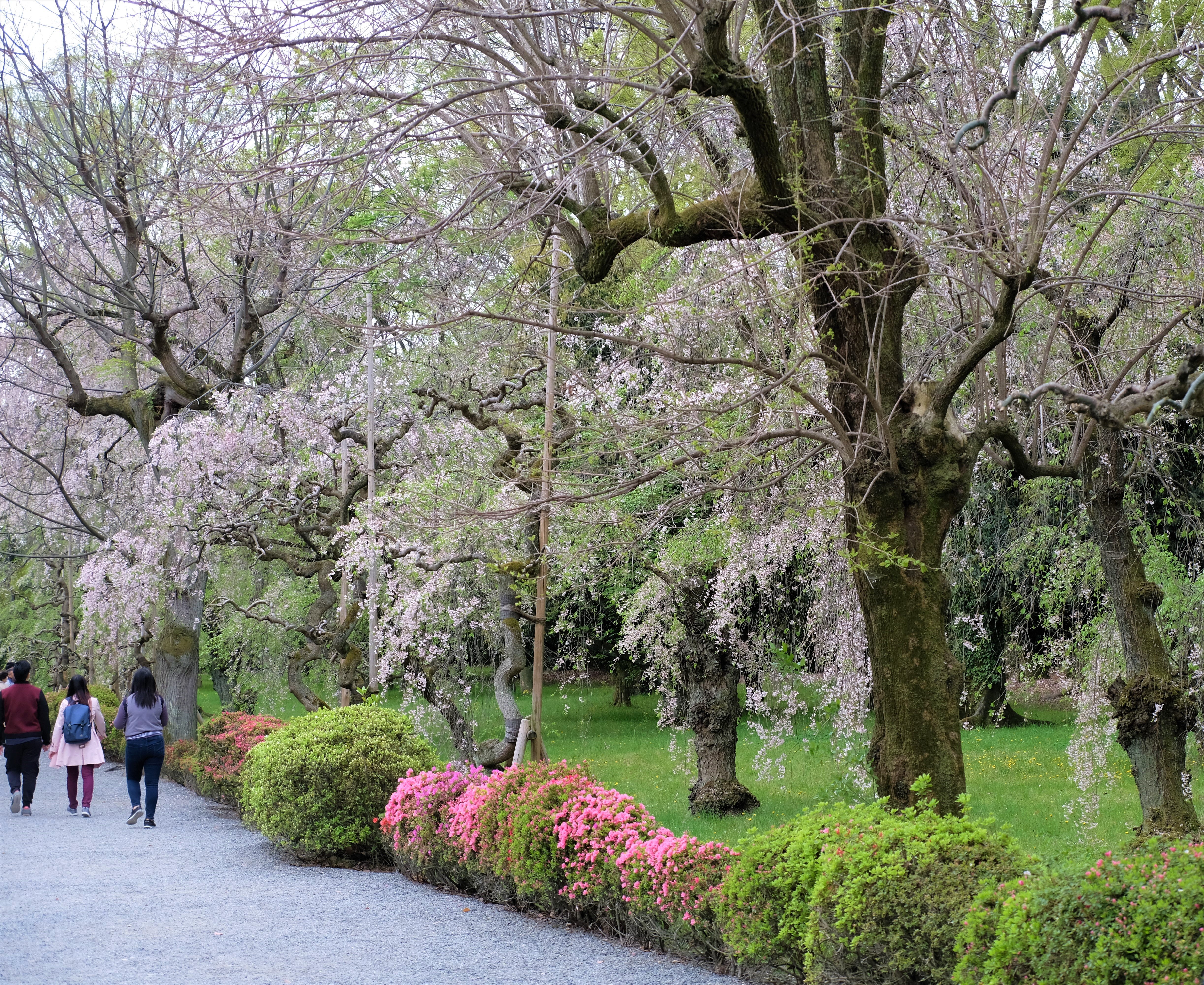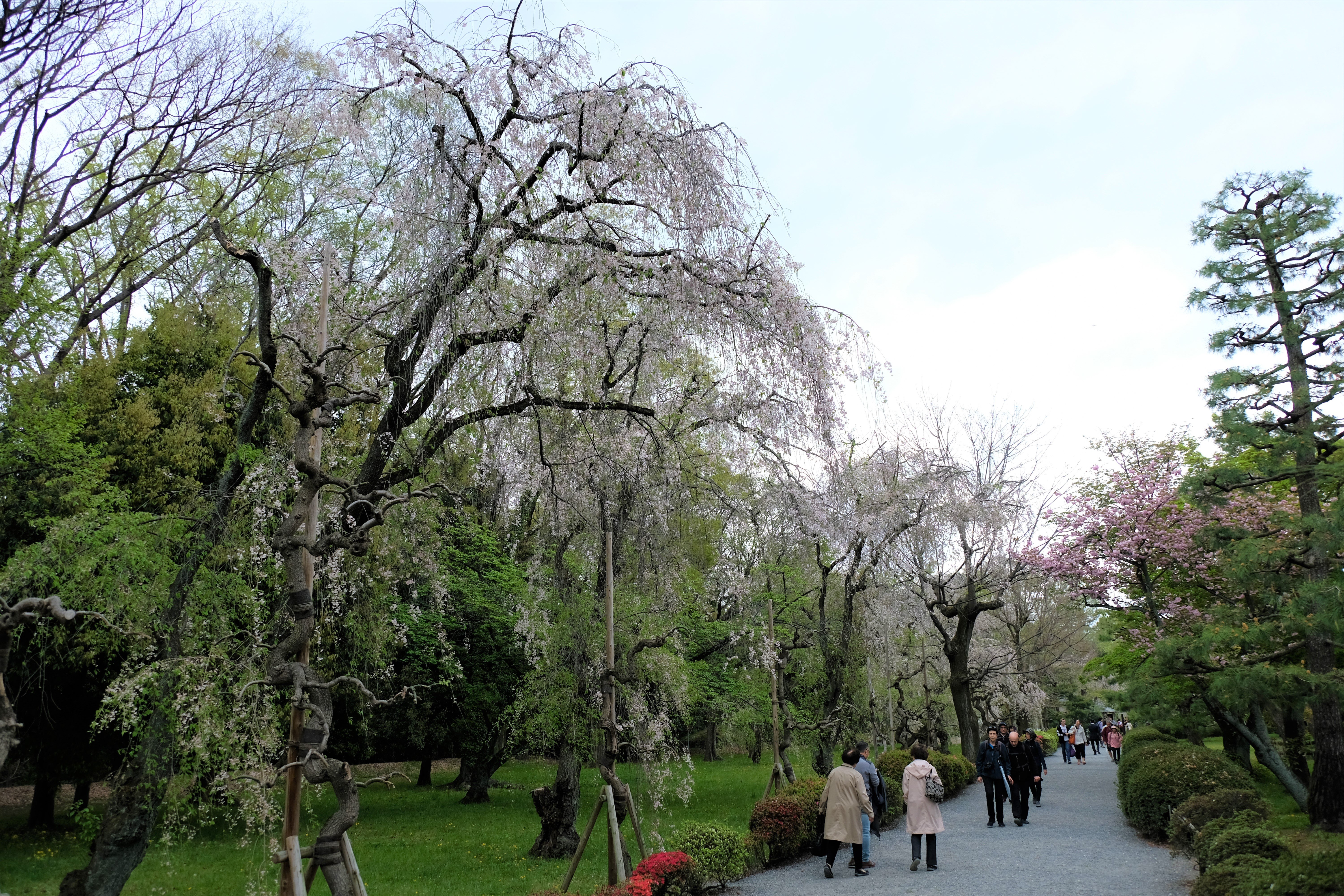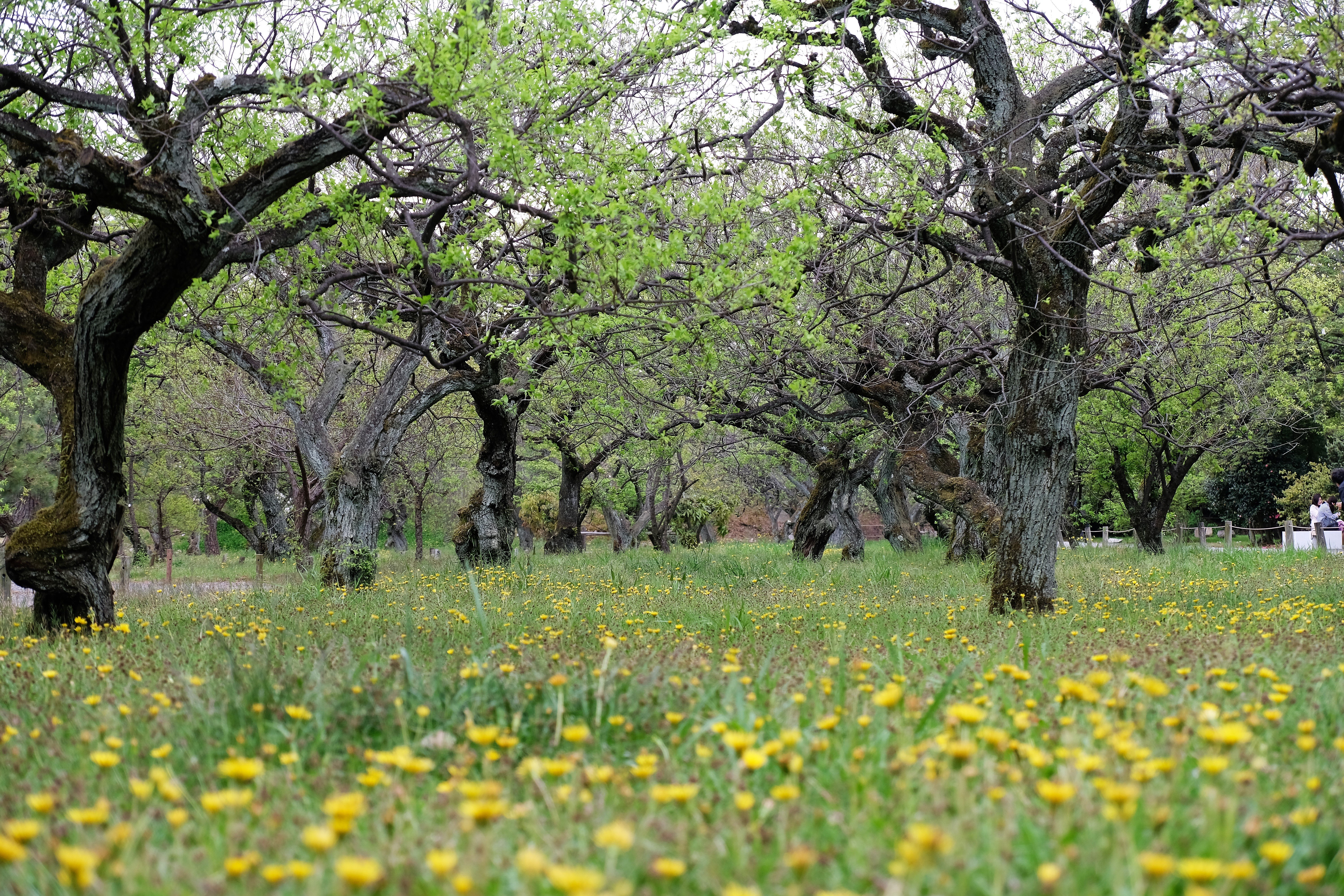 A small pottery exhibition and a separate one on kimonos was taking place.  The palace grounds are big, I found both exhibitions quite by chance whilst on my way to the exit.  Small exhibitions, then again big isn't always better.  I'm always on the lookout for pottery as you may have gathered by now, because my mother is a potter.  As for the kimonos it reminded me the Yohji Yamamoto exhibition I saw at the V&A Museum in London in 2011.  Styles, shapes and colours so different to what I've grown up with.  Not much else to say about either topic, it was just cherry on top of a lovely visit to Nijo Castle.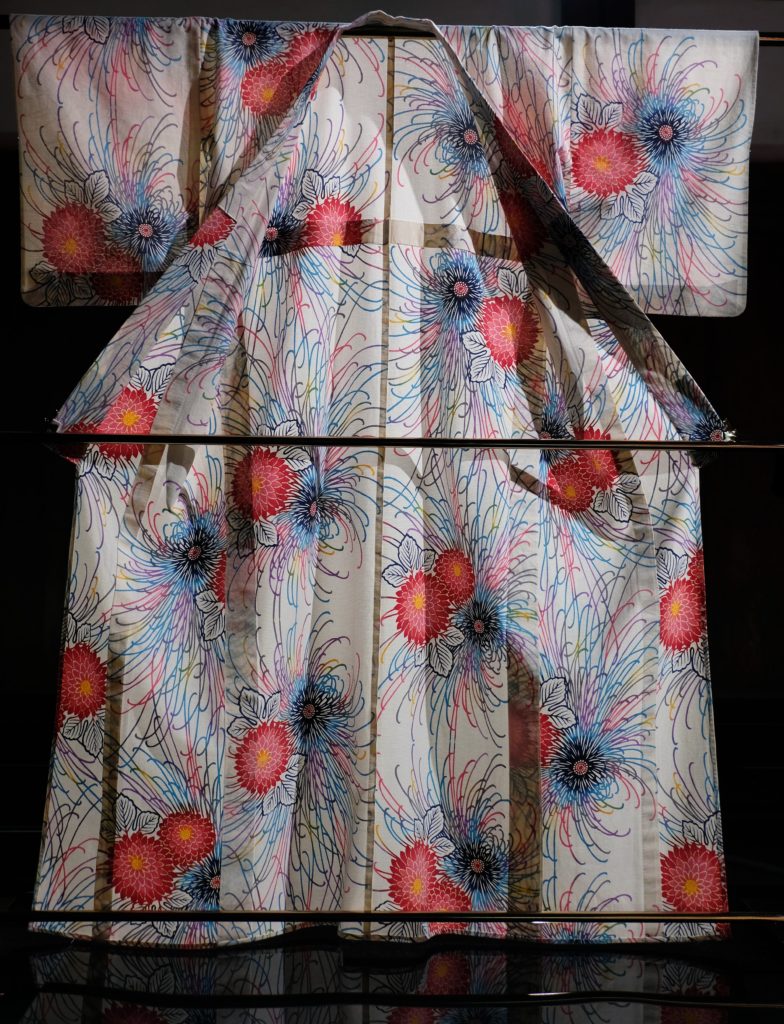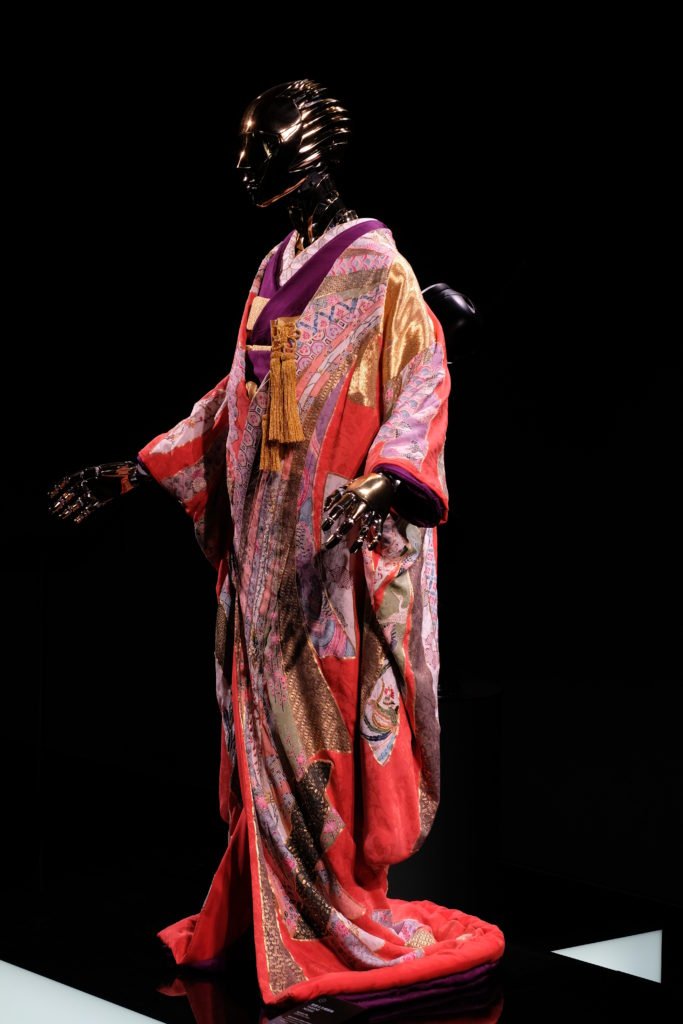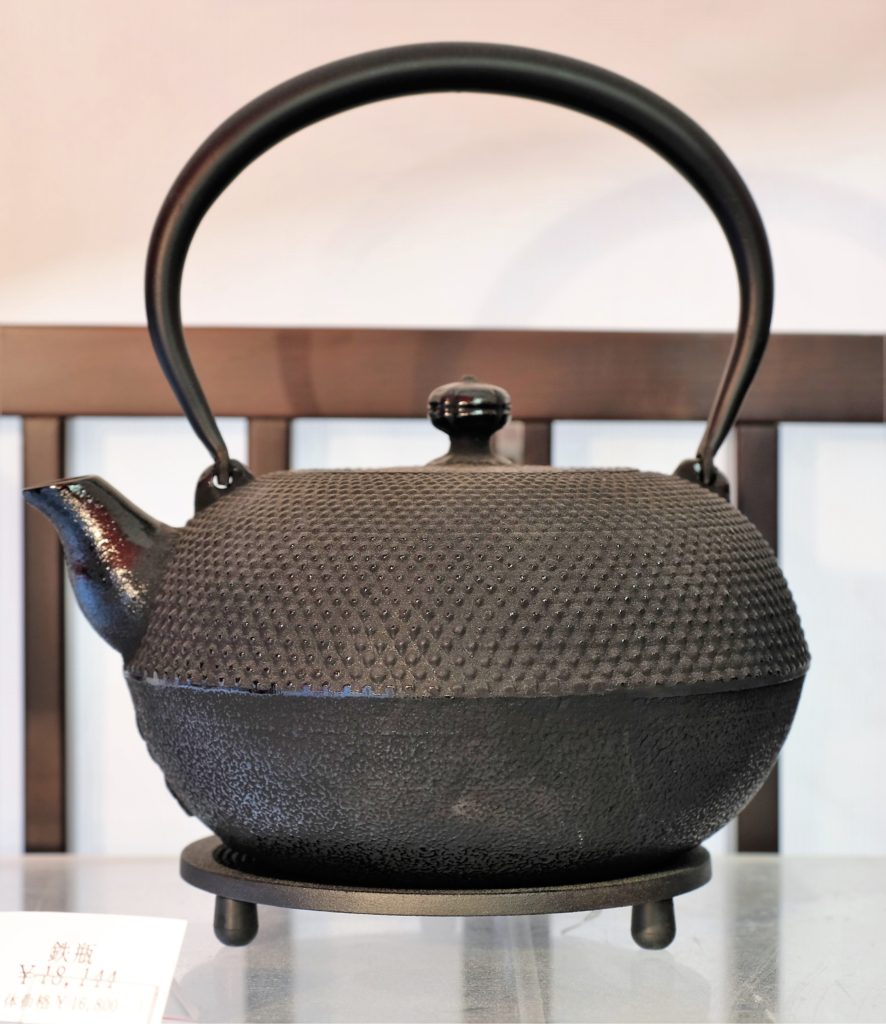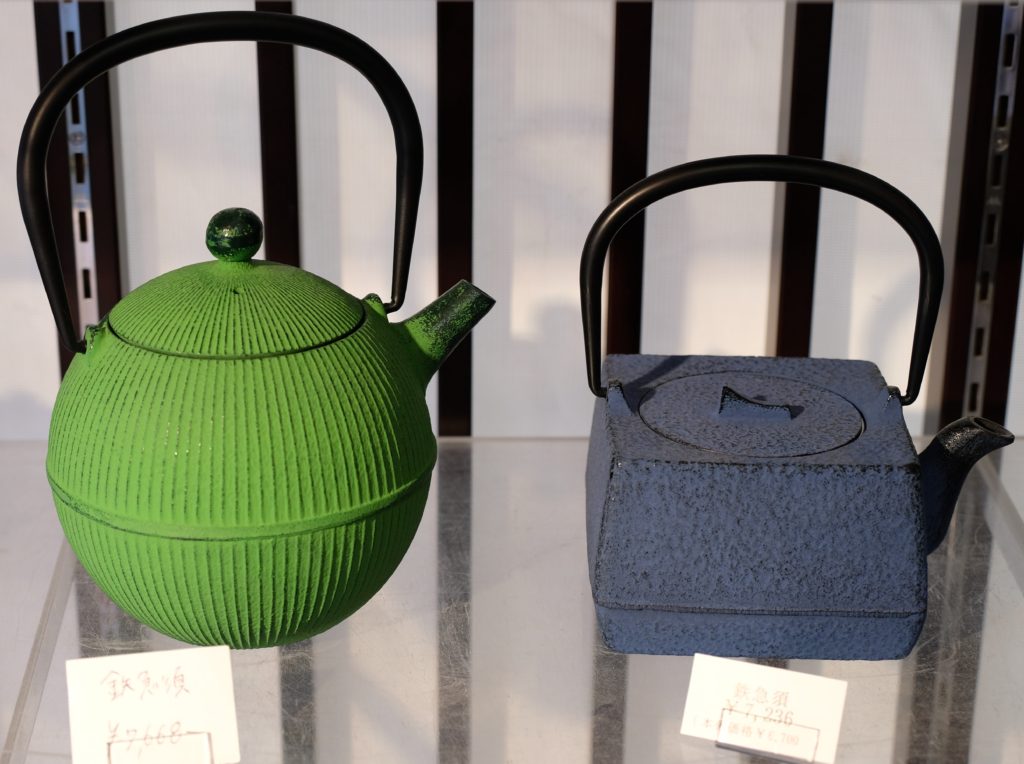 Nishi Hongan-ji
I may have already mentioned but the weather wasn't great.  As the day passed the already grey clouds where thickening and turning deep grey.  Not that it deterred me, I lived in London for 20yrs.  It was late in the day, but to early to call it quits.  Nishi Hongan-ji and Higashi Hongan-ji were only a short distance away.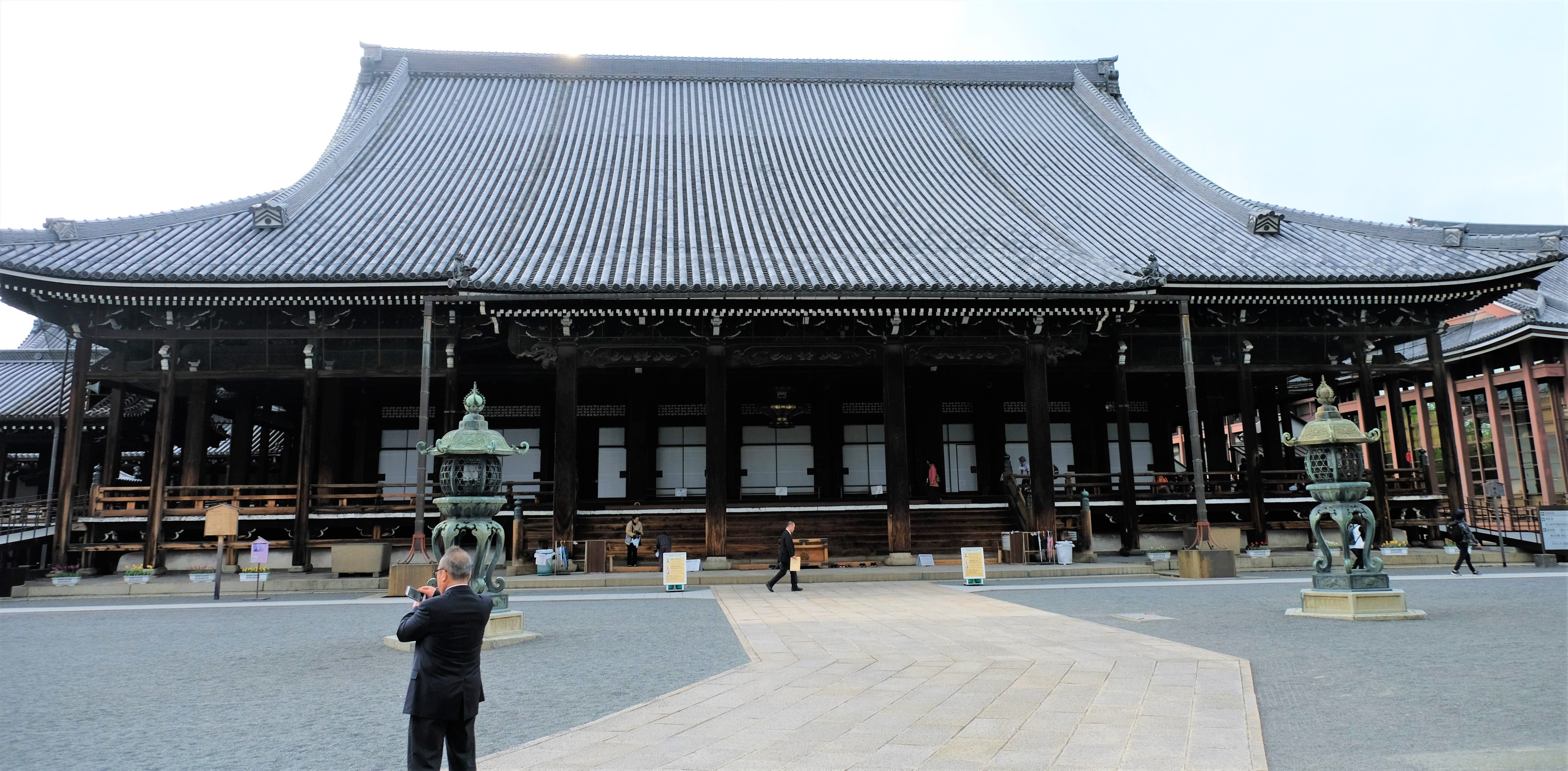 Both Nishi Hongan-ji and Hongan-ji are Jōdo Shinshū temples, a school of Pure Land Buddhism, with Nishi Hongan-ji the "head office" temple for Jodo Shinshu.  Making the complex a combination of temple and much newer administrative buildings.  The temple is a UNESCO World Heritage site, dating back to 1321, but only at its current location since 1591.  When I got there, as with so many other places, I had no idea of its significance.  With time against me before they closed for the day, I only skirted about the complex without giving it much attention.   Most of my time and attention was given to the 400yr+ old gingko tree outside the Goeido (Founders Hall).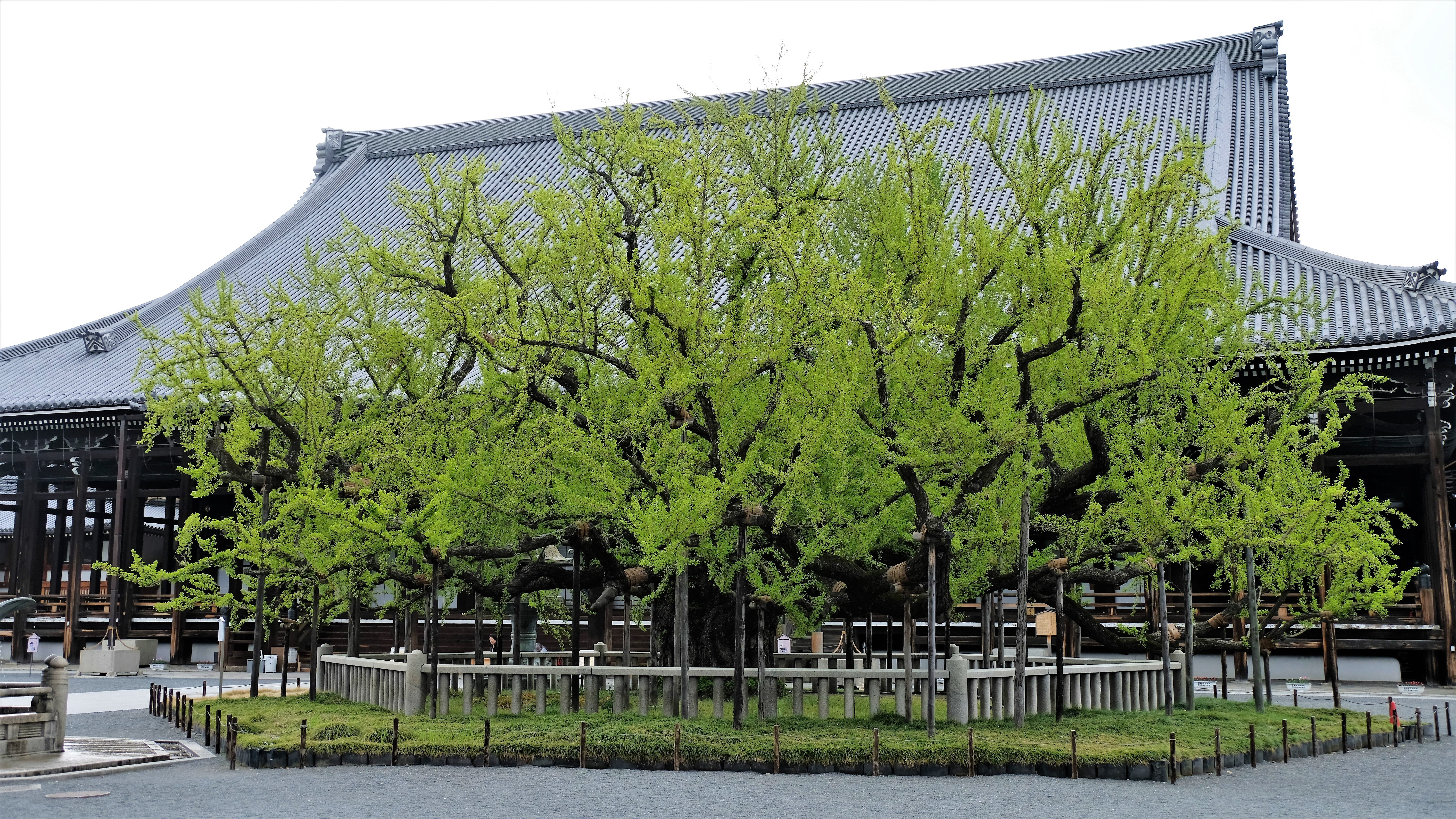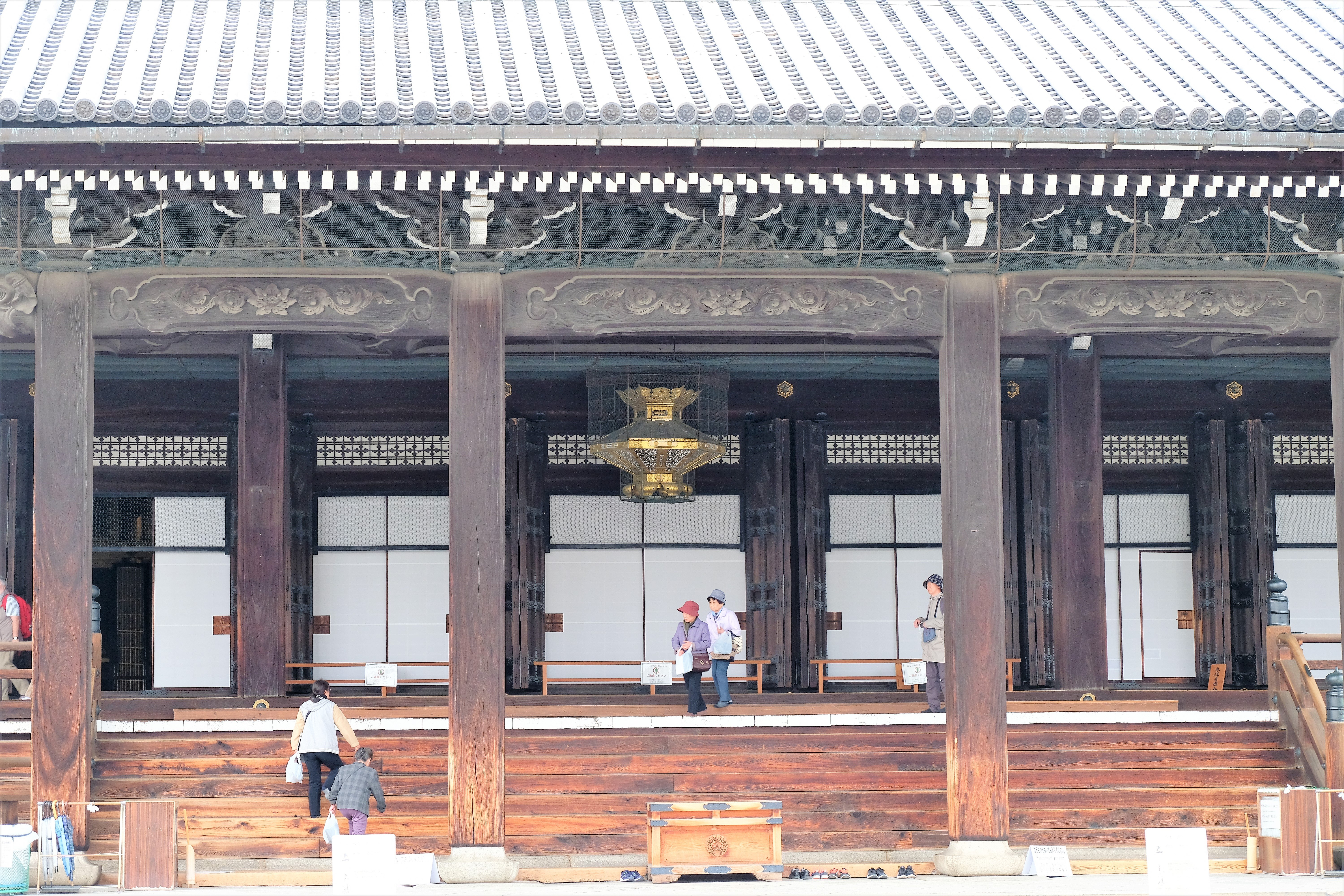 Going inside the Goeido lost its relevance without understanding the significance nor context of the temple.  Like seeing the Giza pyramids without knowing they are circa. 4500 years old.  Even so, I enjoyed taking a look around, but at the back of my mind I knew I had to leave to get to Higashi Hongan-ji before it closed too.
PS. I only got to see at most 30% of the complex, realistically missing the best bits…to my regret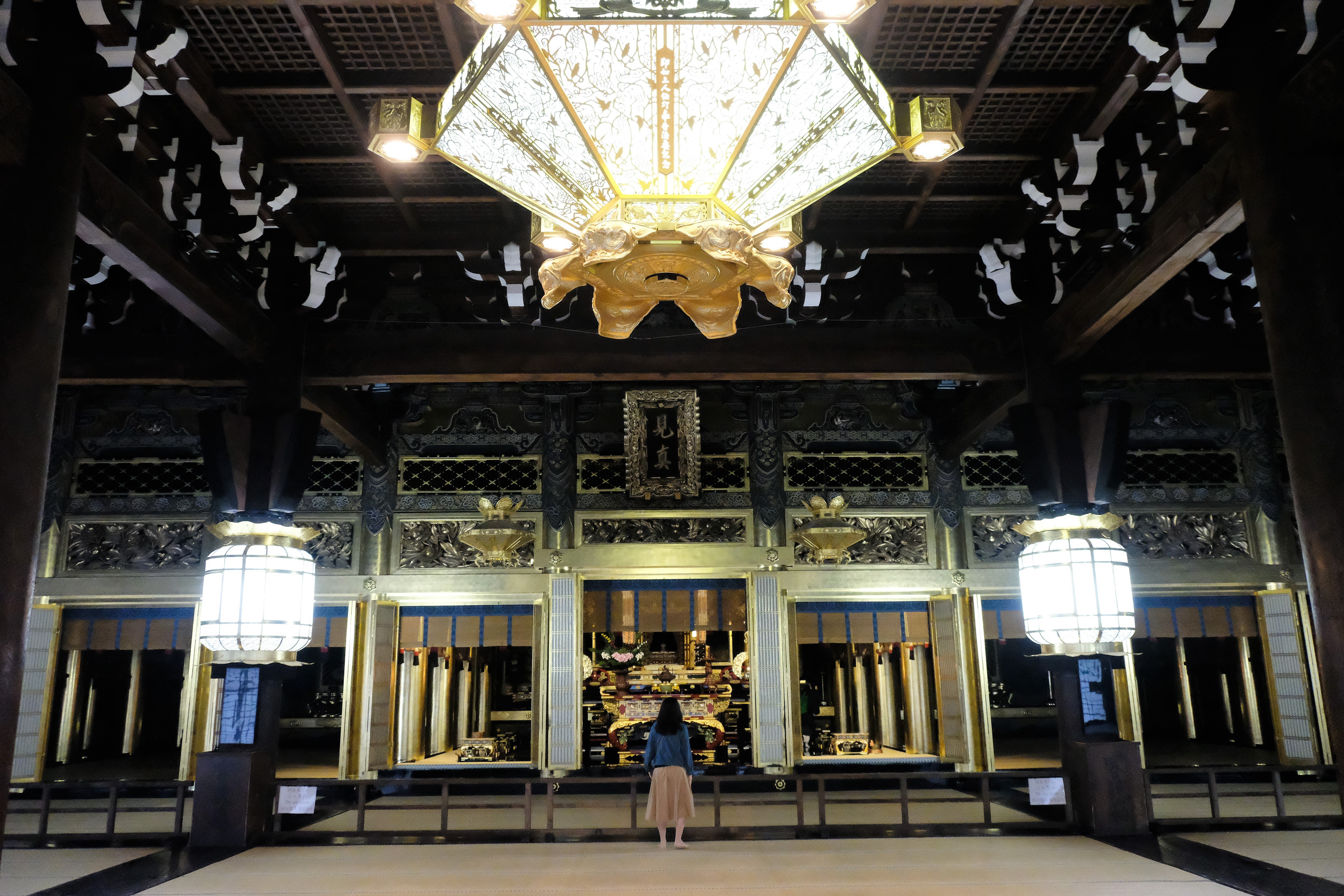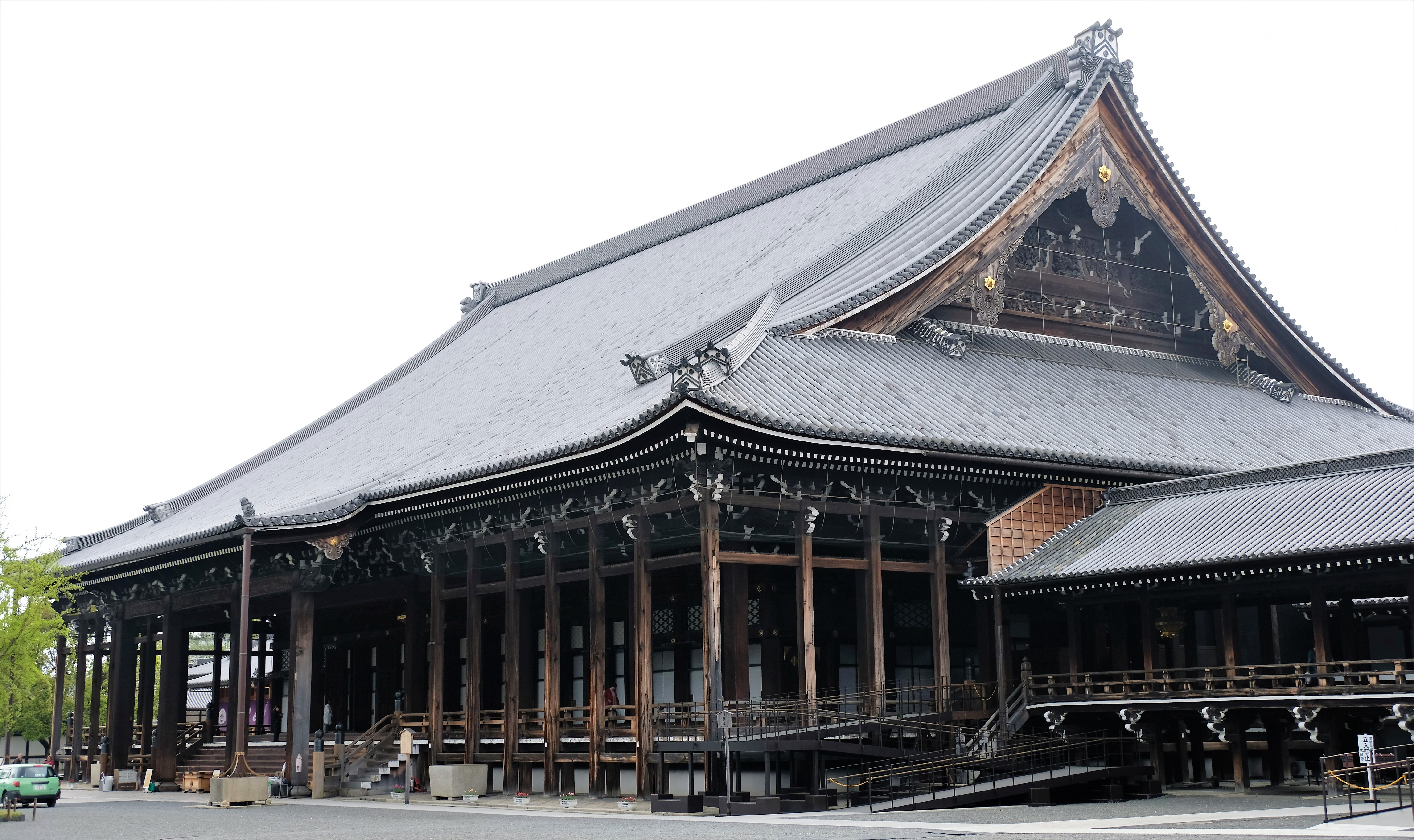 Higashi Hongan-ji
Just like Nishi Hongan-ji my stop over at Higashi Hongan-ji was fleeting, even more so.  Higashi Hongan-ji dates to 1602, like so many other buildings in Kyoto it burnt down only to be rebuilt in 1895.  Here I was rushing around aimlessly because of closing time.  In all honesty the visit was a waste of time because I gained nothing other than ticking it off my list – not the way I like to do things at all.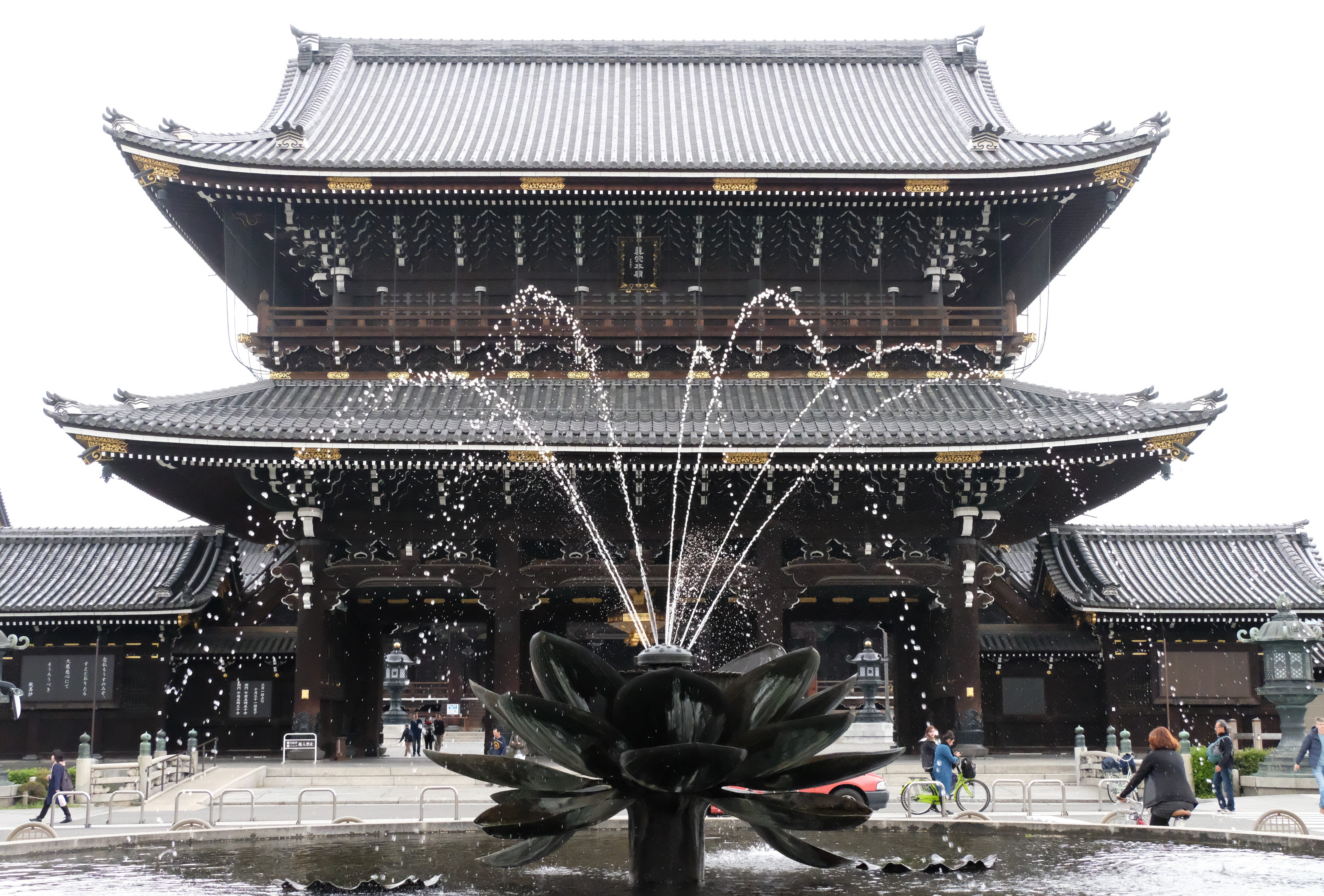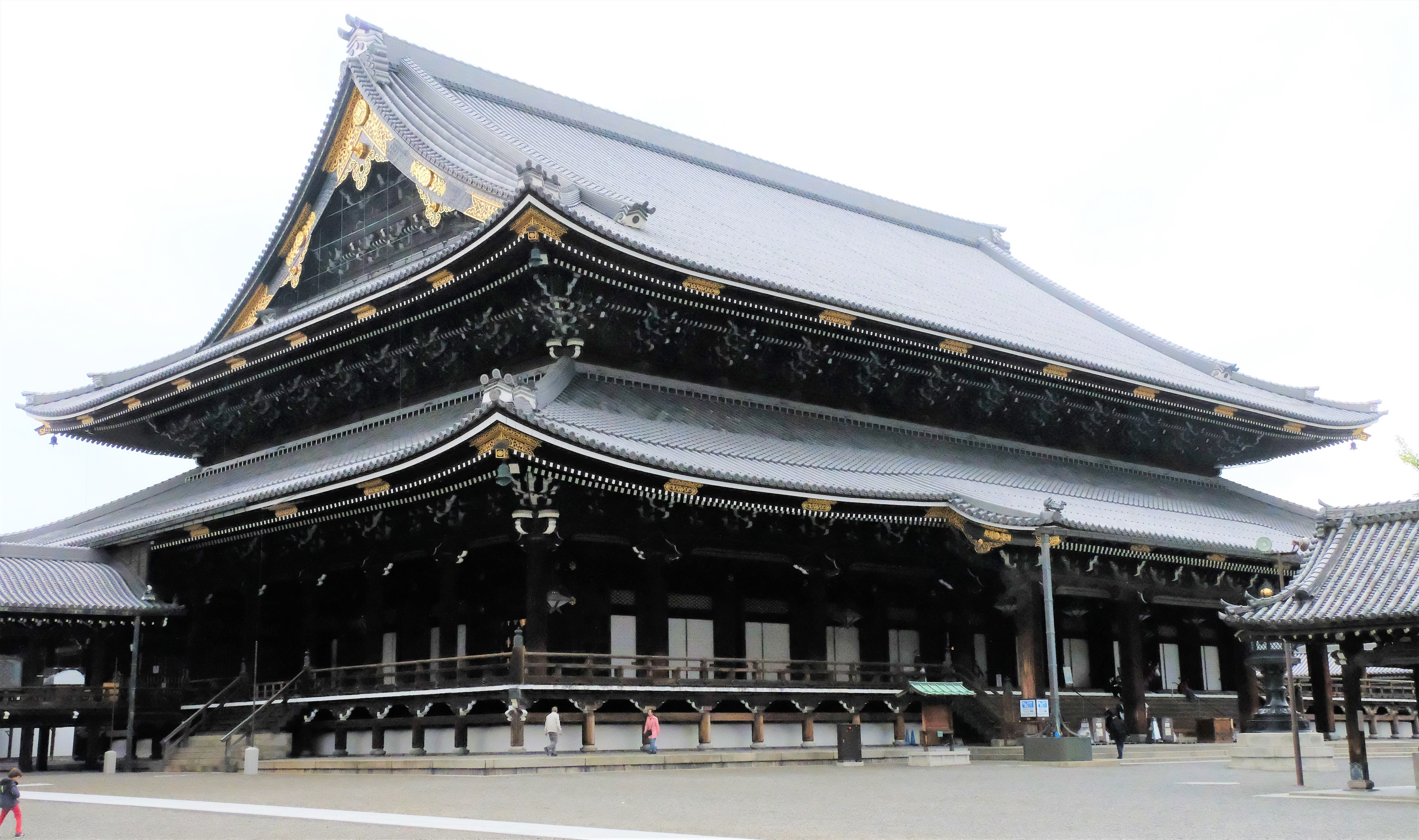 Gion
My day had been great, I really enjoyed everything I had done and seen.  Still feeling I could squeeze more into the day I thought I'd walk to Gion to try spot a Geisha.  Now before I get into this, I'm going to leave Gion and Geishas to a later blog post.  My next hotel was in Gion, and I explored the area and tried to catch a glimpse of Geishas many times.
Whilst heading to Gion, the heavens opened, and I was caught for the first time without my raincoat in my day pack.  Why exactly I had taken my raincoat out of my back I don't know, its never happened since!  Anyway, I got to Gion soak to the bone.  The sun was almost set, and the street lights cast a hazy glow shimmering against the wet surface of the road.
Yes, I got to see a Geisha, more to do with luck than anything else.  I'll leave things here, so much more to say about Gion and Geisha spotting and this post is already much longer than I had wanted.  Picking up from what I have just said, I would move hotels the next morning.  This ended up being a great decision, moving into the heart of Gion.