Koh Yao Noi, not quite Koh Tao, but a million times better than Ao Nang; more rural, more Thailand not many tourists. I arrived from Khao Sok getting a few minibuses, all arranged from Khao Sok thanks to the aid of my little sticker saying "Krabi" – I can't remember how many journeys it was, I think it was two minibuses and a tuk tuk.  Only the first part of the trip was like being on a rocking horse with the driver literally pushing and releasing the accelerator every 3 seconds (yes, I counted), it wouldn't have been too back if the ride wasn't near an hour!  Mad me laugh through, reminded me of a few rides I'd been in over the past few weeks where the drivers did exactly the same.  I don't get car or sea sick, even I was happy to finally get the car when we arrived, my stomach wasn't feeling peachy.
Ao Nang, Krabi
So the plan was to stay in Krabi on Ao Nang beach…well, that plan didn't last very long.  Ao Nang, a nice beach surrounded by fake Thailand; no different from Europe, it is filled with "holiday-tourists", talking loud at restaurants, getting drunk and acting like they own the place.  The only nice think I can say is the sunsets were beautiful – I had planned to stay three nights, I only lasted two.  Krabi is big, so my impression is only based on and around Ao Nang beach.  I know a few people who were further South in Krabi and they raved about it; far less holiday resorts, more travelling/trekking and not commercial.
I had to get out of Ao Nang, decision was quick and easy, Koh Yao Noi it was.  Koh Yao Noi, is very quiet and reminded me of Koh Tao to a degree with a more traveller feel but not quite, however the scenery of rocky outcrop islands within easy distance is a special setting.  Not as visited nor as commercial as its bigger neighbour Ko Yao Yai, Koh Yao Noi is a brief step back in time to what I imagine a lot of Thailand would have been like 10-15 years ago…I hope it keeps its charm for years to come.  Koh Yao Noi is not a party town, far from, you go there to relax, swim and get away from everything.  I'd say the most energetic thing you can do is run along the beach or take a longboat trip to the surrounding rock outcrop islands.
Koh Yao Noi
Accommodation
For my three nights I stayed at Koh Yao Beach Bungalow, very much like all the bamboo huts I had stayed in, because Koh Yao Noi is so quiet I think you could stay anywhere and it would feel like you are secluded.  Koh Yao Noi is by far the least developed island, that is precisely the attraction, so life here is slow and getting around you need a bicycle or scooter.  I wasn't going to be there long so walked everywhere making my exploration limited; instead using it as a place to plan my next steps and a base to explore surrounding islands.

One minute's walk, if that, from my bungalow is one of the main beaches of Koh Yao Noi, Pasai Beach.  A long stretch of beach perfect for doing very little bare sun tanning, eating fresh fish from the beach restaurants, watching the sun rise and swimming.  A lovely beach, not the best for snorkelling; when the tide goes out the sand below in most places is very muddy or flat rock, so you need to walk very far into the sea (maybe 300m) before you get clear water.  I wasn't that bothered, the view of the distant islands as a setting was enough for me, there are plenty of little islands in the area, far to many to count!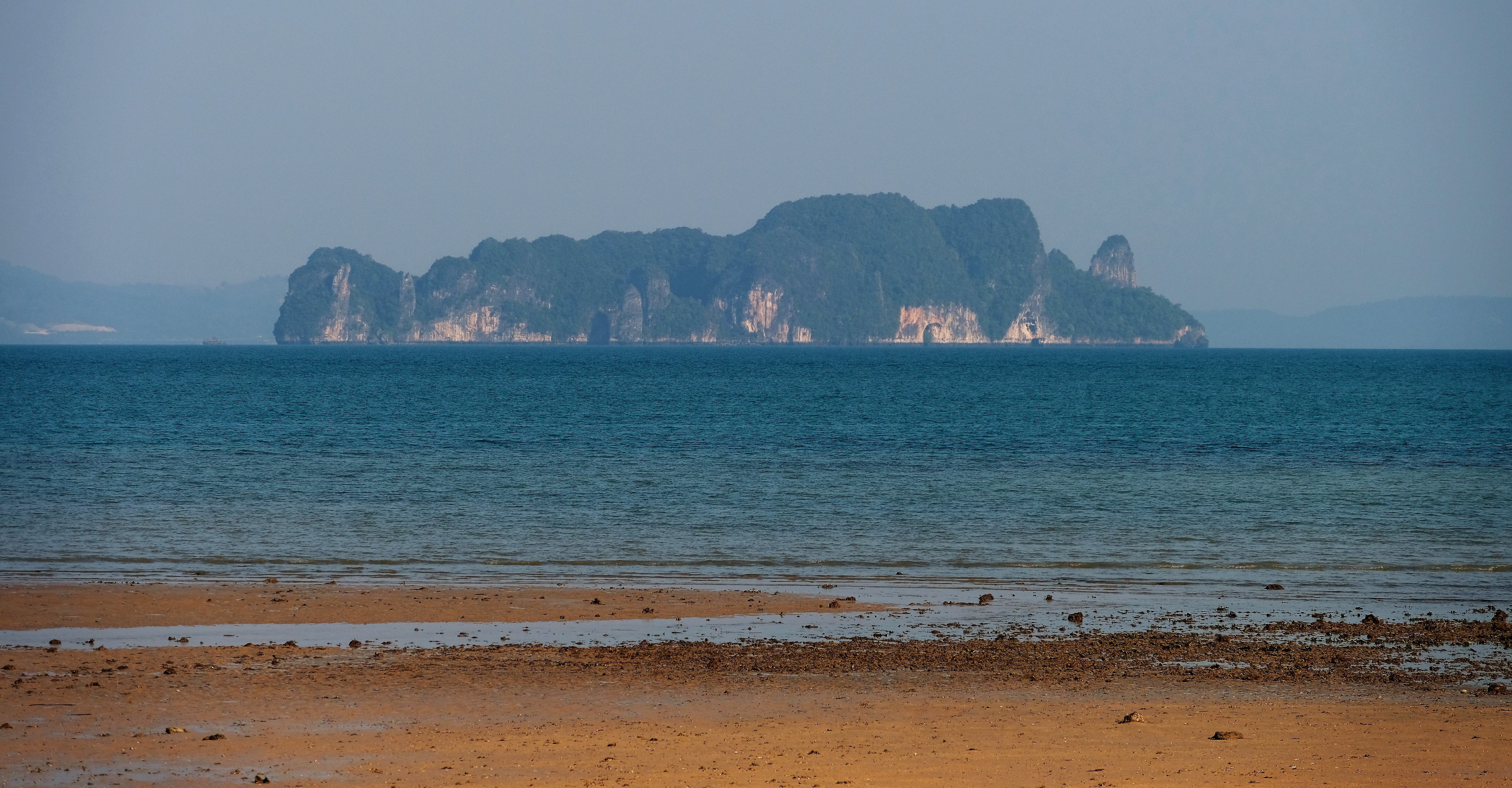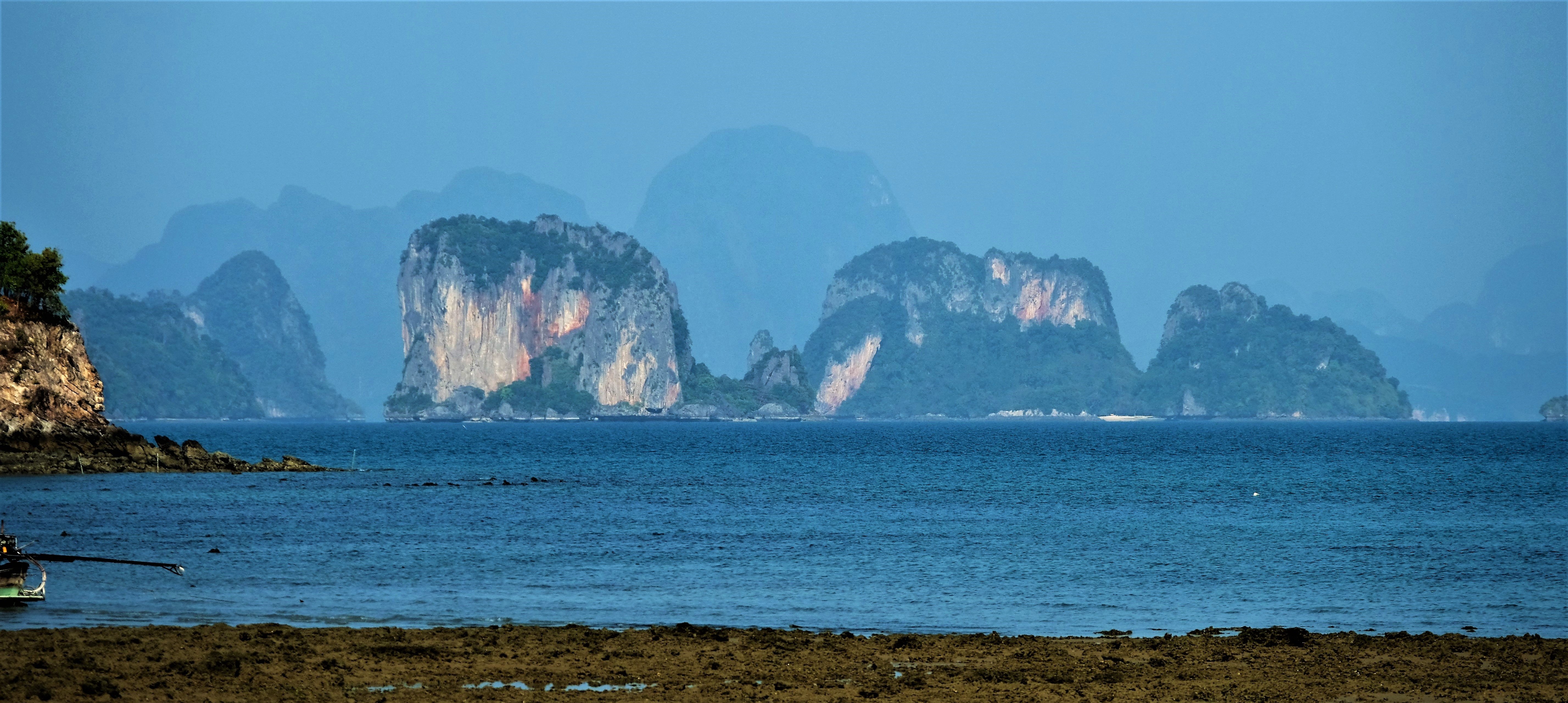 From Pasai Beach you can see Koh Nok, you could swim there at low tide even through it is a distance.  It's only a small island but nonetheless intriguing especially at low tide when then sun reflects off the golden sand making it look like an oasis, the type of island you would like to be stranded on. Most of the islands that scatter the bay (I'm guessing it falls into Phang Nga Bay) don't have beaches; lofty rock outcrops poking out of the sea reminding me of Khao Sok National Park on a massive scale.  Hardly bared rock islands, they all combine a mixture of bare rock and thick forest, making them look like gardens randomly scattered into the sea.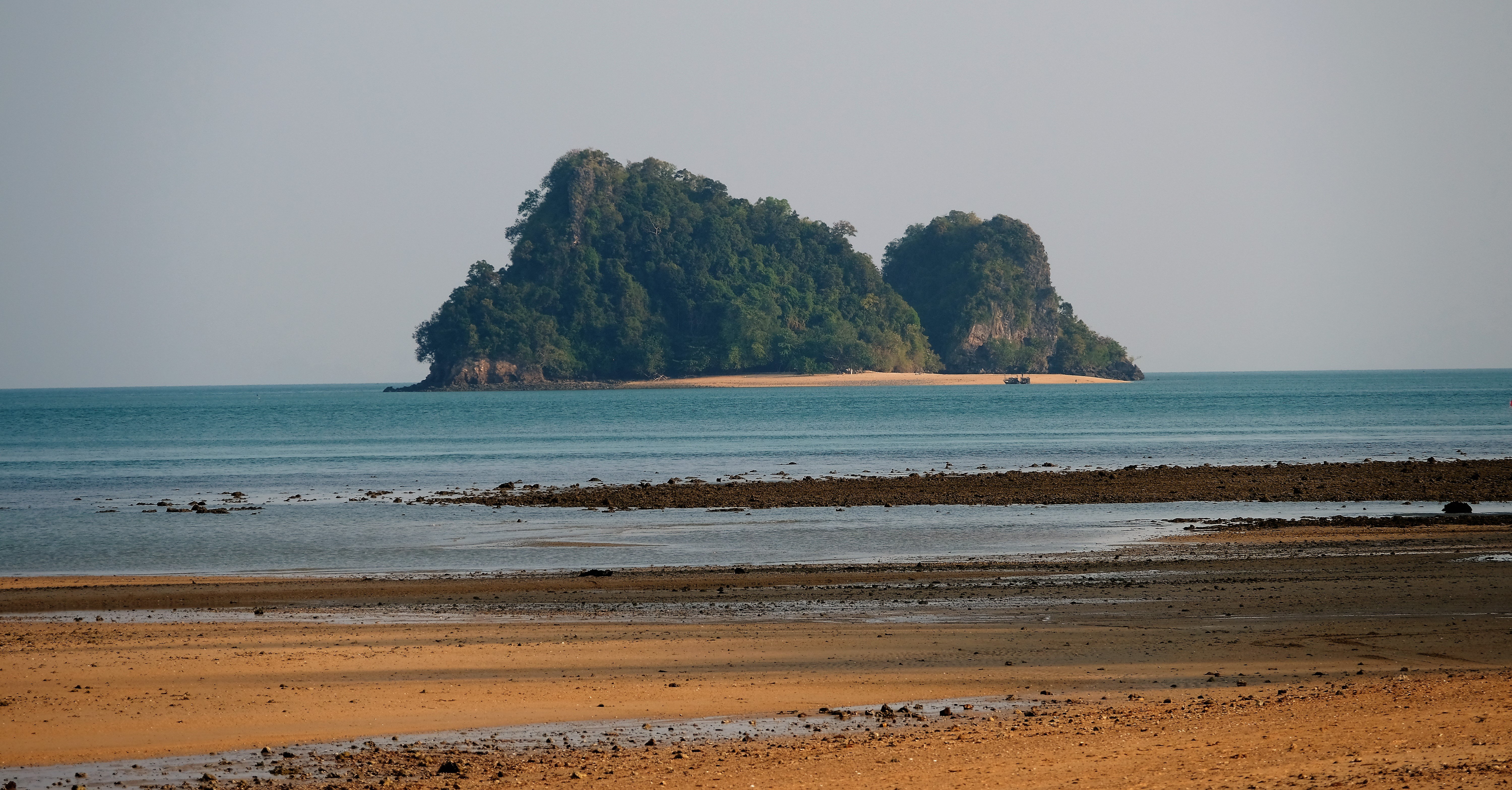 Boat trip, island visiting from Koh Yao Noi
I chose to take a tail boat trip to some of the islands alone, it is obviously the more expensive option going alone then again, I could do things at my own rate which was my deciding factor.  Having had a look at the notice boards along the beaches I think they all offer the same trips from Koh Yao Noi, maybe 2 versions.  My "captain" whom I cannot remember his name was cool, maybe the weed he was smoking added to his jolly nature.  Normally I would look back at my notes from the day to jog my memory, I don't always make notes and this day was one of those.  It's good keeping notes to remember things, I should do so more diligently as is with my diary.  Not taking notes is a prelude to my sketchy details about the detail of the day, I hope it is accurate.  On a bit of a tangent, visiting islands &/or beach locations I tend to forget about some details unlike when visiting historical site.  That's not to say that beach/island trips are void of thinking, I just think a person (me) seems to be in a different frame of mind.
Monkey Island
We stopped over at a few known locations and many other little islands, some just slowing down to pass them slowly, the more known locations spending more time at.  Considering there are hundreds of islands in the area, you would need months to navigate your way to see them all let alone spend quality time at each.  At one of the first islands, my captain called it Monkey Island (doubt that isn't its official name) we stopped a few meters parallel from the jagged edge.  Like clockwork out of the thicket came a troop of macaque monkeys ready to receive some treats from us.  I wasn't aware we would be visiting nor that we would see monkeys on the islands, it seems impossible you would get a thriving community, though small, of monkeys on some of these tiny islands.  The captain came prepared and threw out some pieces of bananas.  At first, I thought he was teasing them by throwing the food into the water far from arms reach, ha not at all!  I'm lucky to have gone on many safari's in South Africa, obviously I've seen many nature documentaries too, so know monkeys (many) are not afraid of water, I've not personally seen any swim before!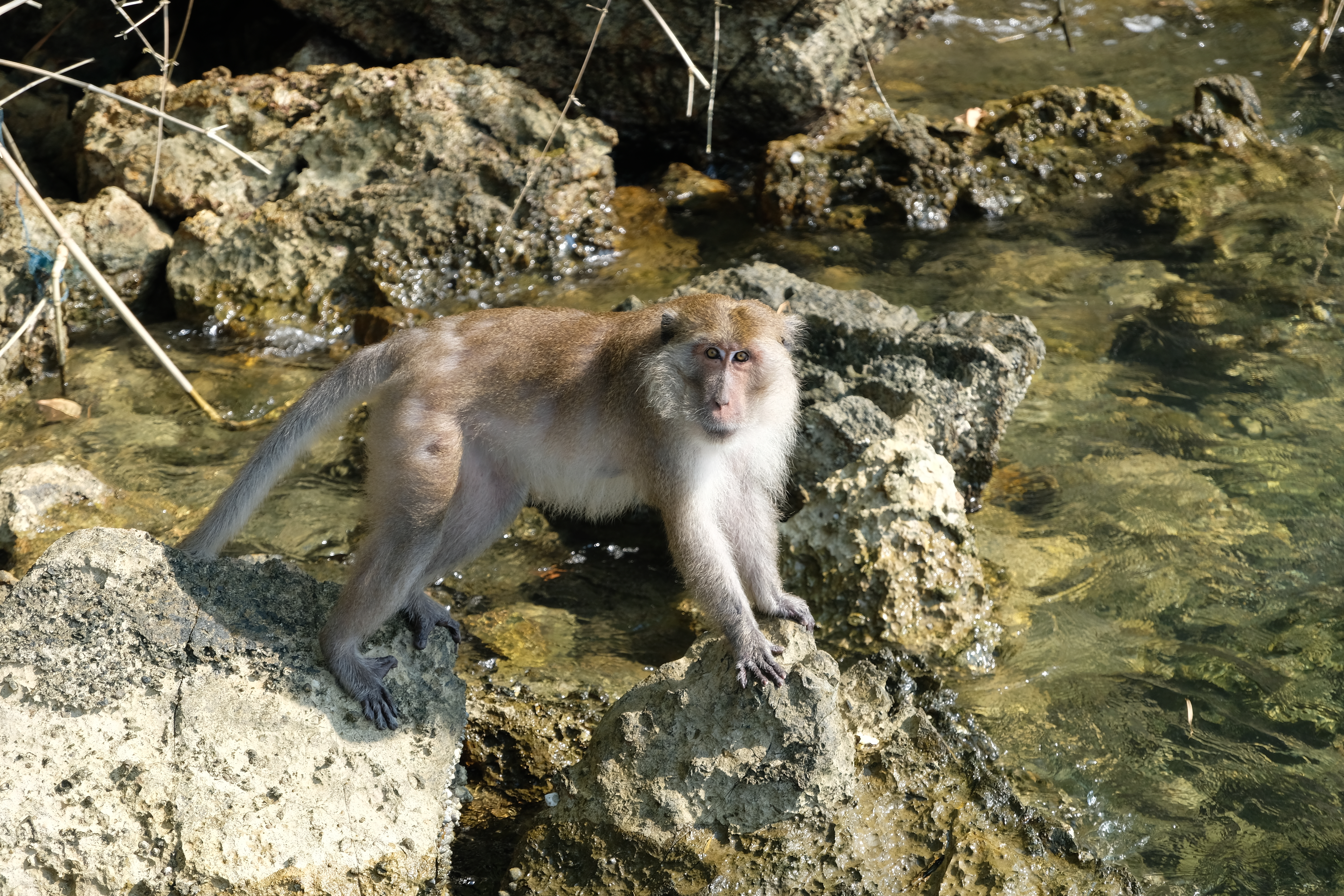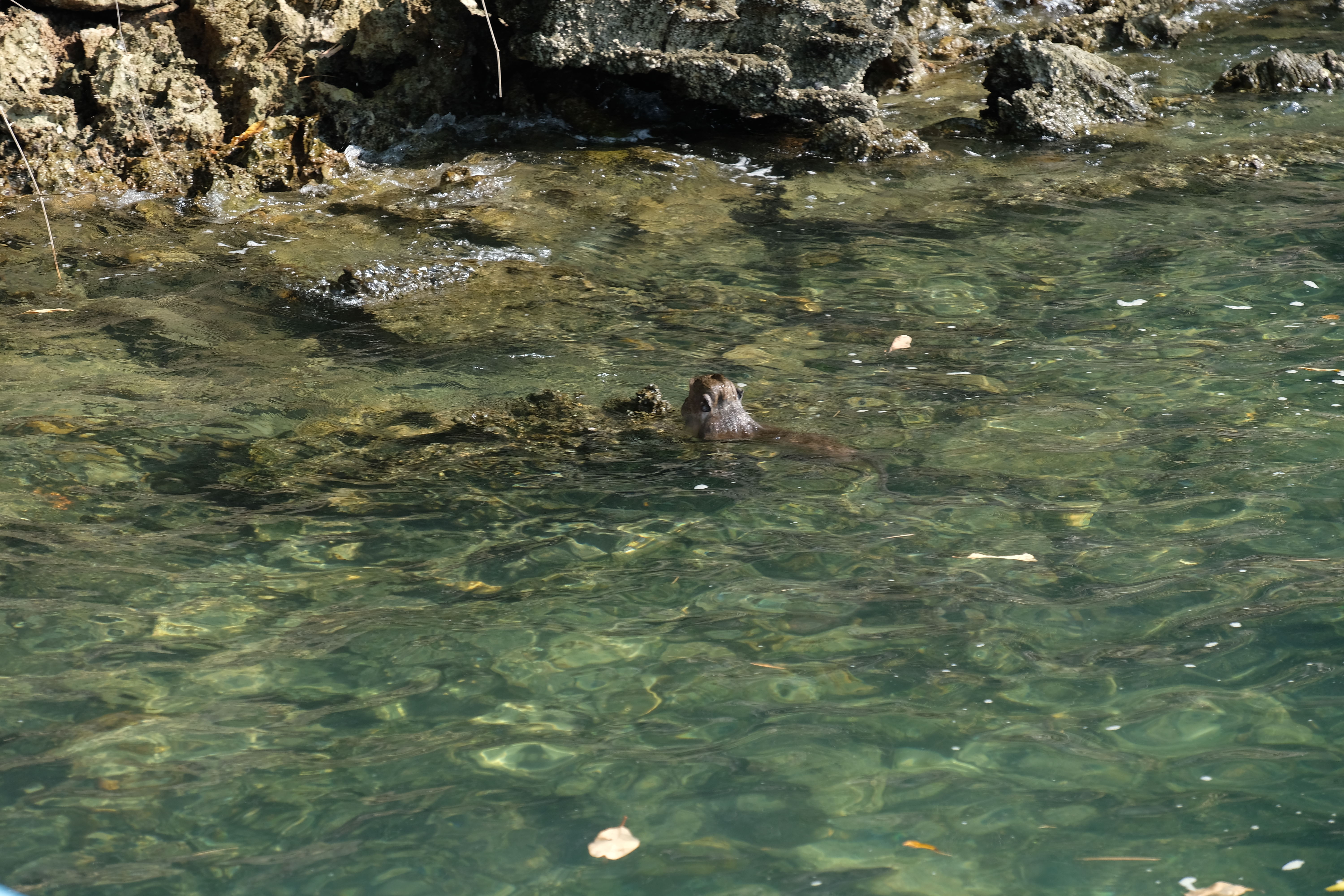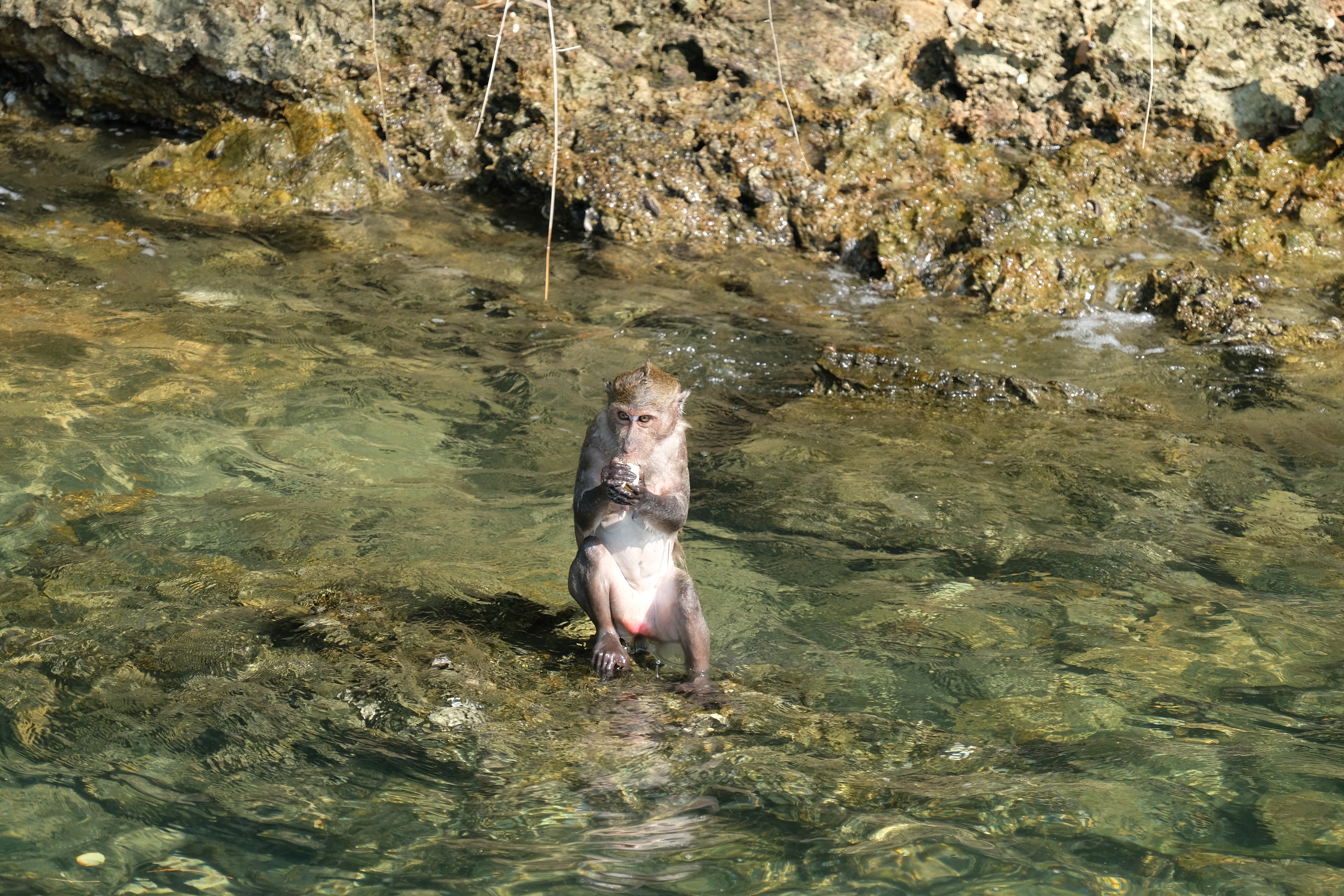 Totally undeterred by where the food was the monkeys jumped in and swam, not just doggy paddling, oh no, they dived in swimming meters under the water.  I was amazed, they seemed totally at home swimming under the water going down over a meter in depth, popping their head out to grab the food then finding a rock to perch on to eat it.  Not just the adults swam the youngsters did too.   Why I didn't take a video of them swimming I don't know, I was taken aback unexpectedly at first thinking it may just be the alpha male or a few of them that swam, not at all, swimming seems part of their daily life.  We stayed about 20 minutes, fascinated by these swimming monkeys, then headed off.
Koh Pak Bia …I think!
Yes, I say "I think" it's called Koh Pak Bia because I didn't take any notes, my bad!  We passed many other islands, an alien landscaped of strewn vertical pillars pushed out of the sea like natural obelisks.  Their white faces rising up stories high reflecting the sun near blinding you if you stare to long without glasses.  This bay is filled with cathedral like temples of the sea, where you get to witness millions of years or erosion and perfect harmony between land, sea and sky. Temples topped with roofs of green reflected in the turquoise waters below like a giant spotlight showcasing the islands. Next stop, Koh Pak Bia!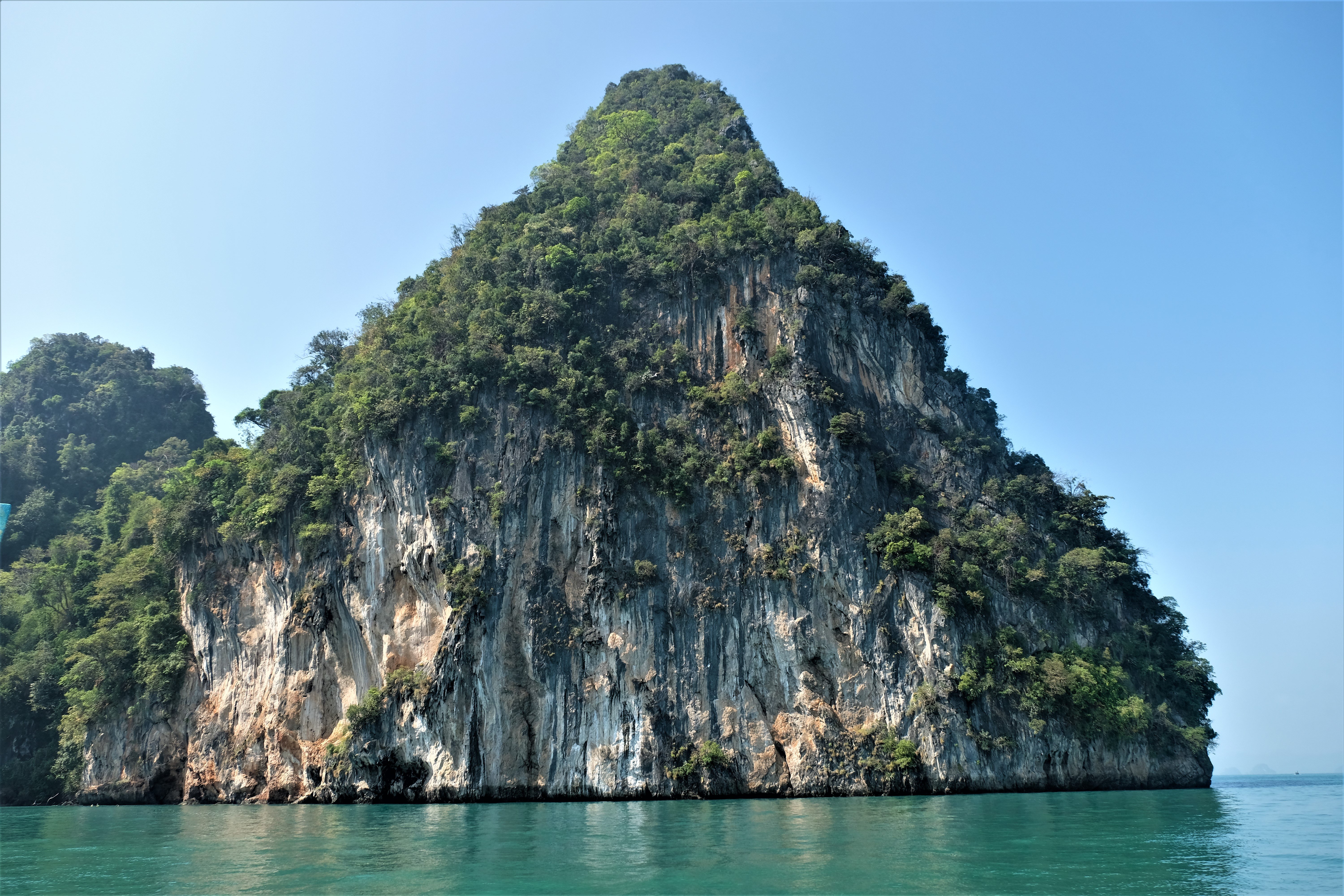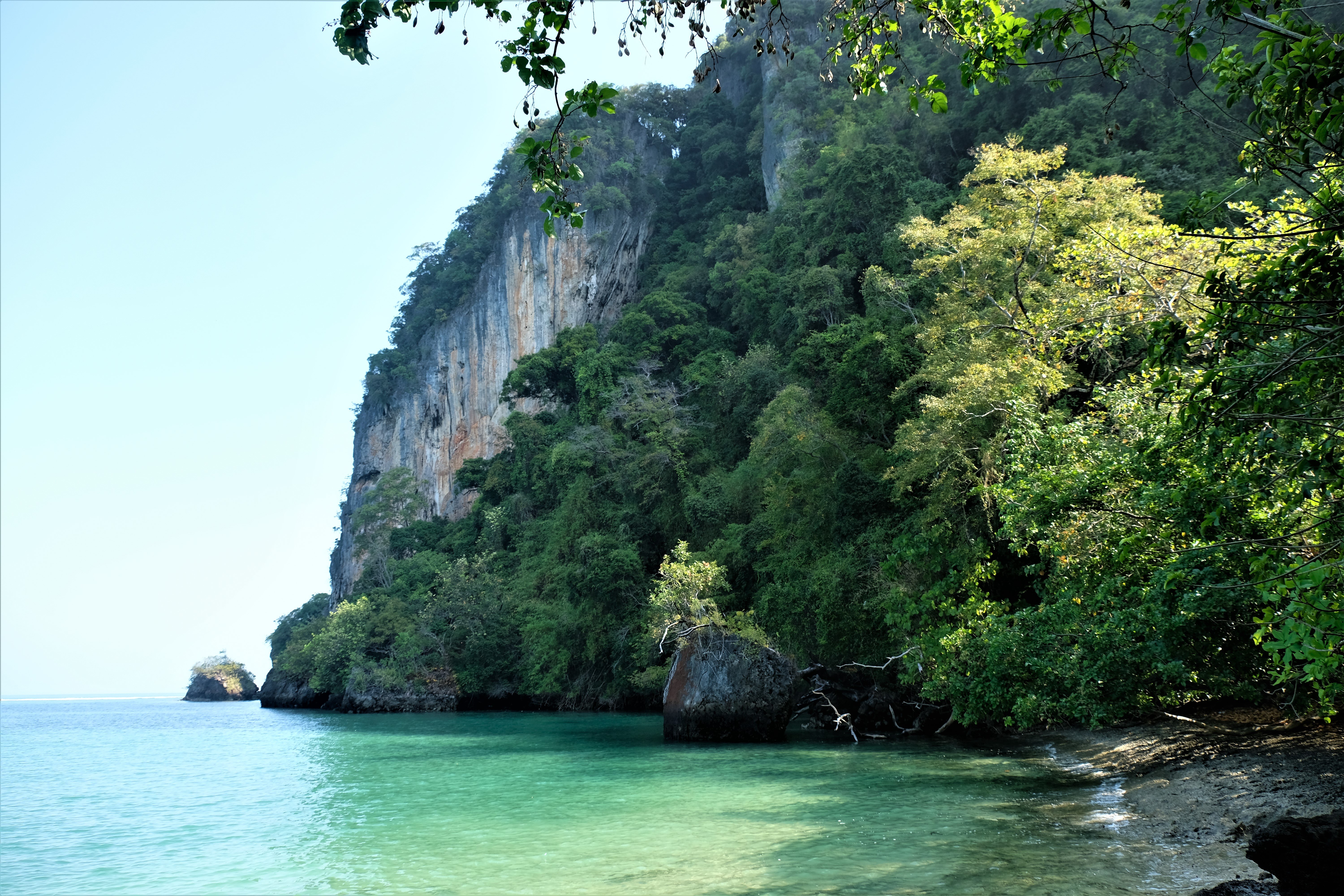 Who knows how this happened on Koh Pak Bia, though a lot smaller than "Monkey Island", ended having a solitary monkey living on it.  He seemed tame, at least not scared or aggressive to visitors, I didn't try to pat him!  With only a small beach on Koh Pak Bia we didn't stay long, I did a little snorkeling, but the visibility wasn't great with only a few meters and the variety of fish limited.  Koh Pak Bia is joined by a sandbank which at low tide joined another island about 100m away, must be a nice site to see, I didn't as we arrived there between tides – doesn't take much imagination to envisage (there are a few islands like this in the area).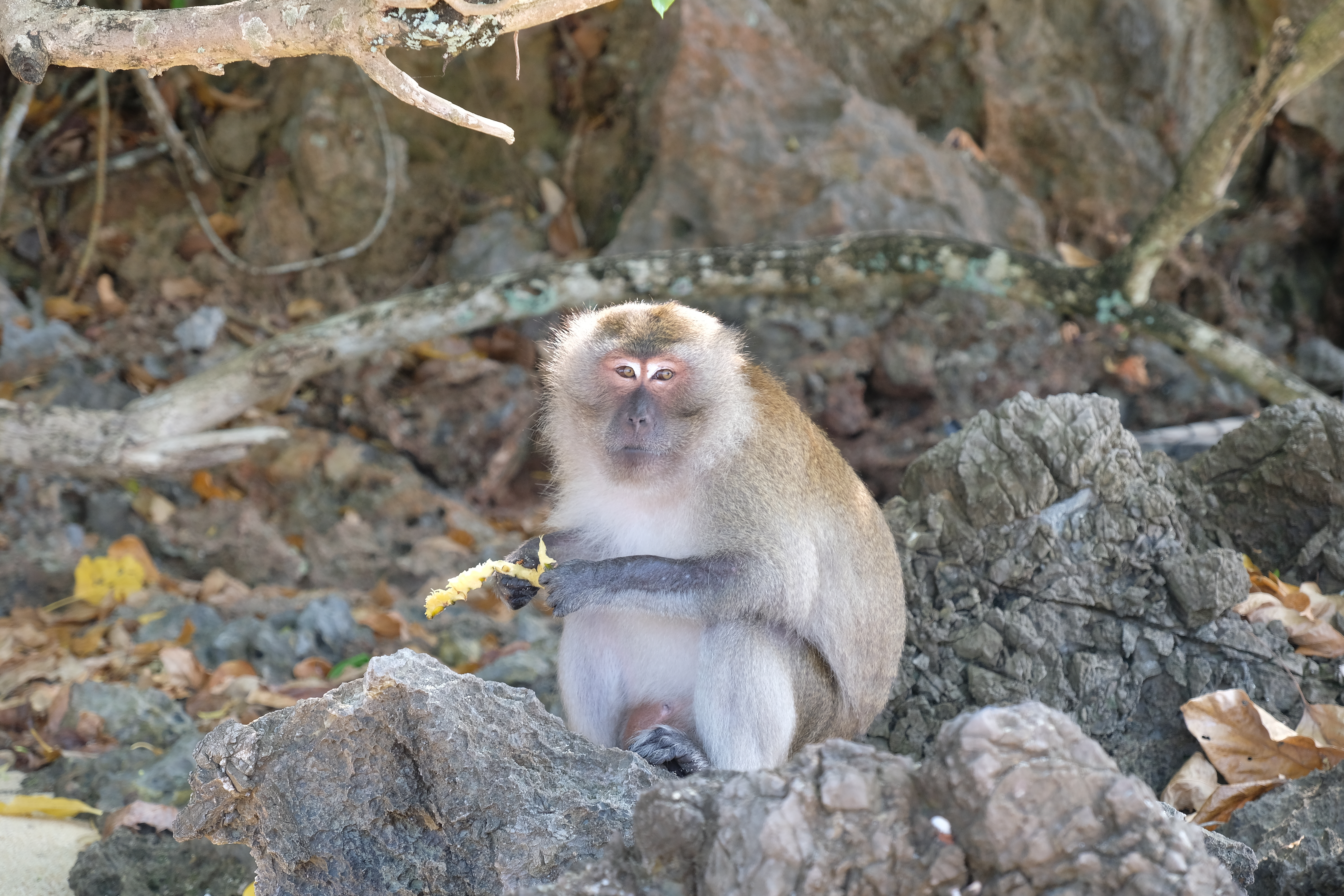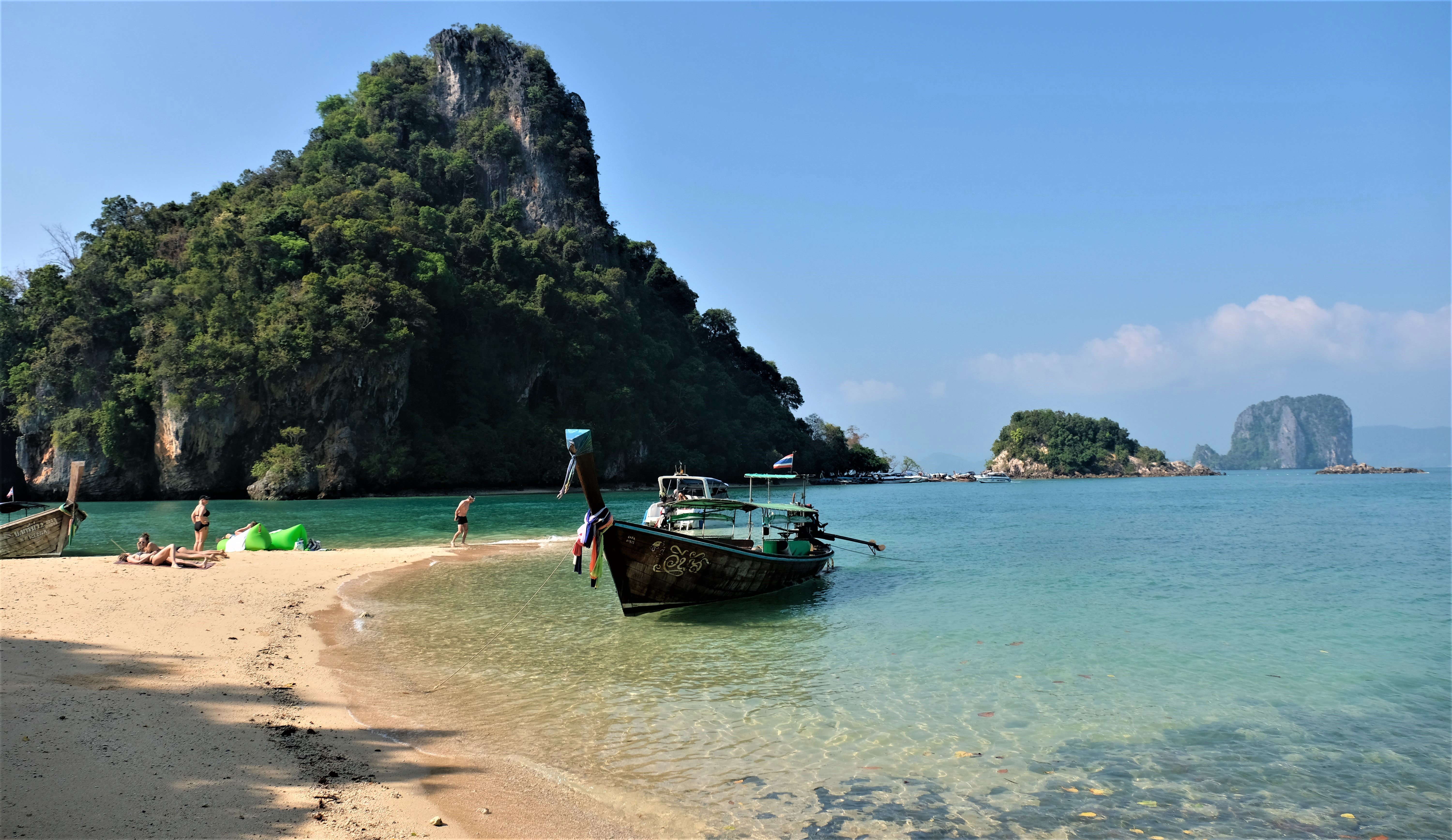 Koh Hong
Having lost count of how many islands we passed next stop was Koh Hong, a beautiful island larger than most.  What makes this a unique island, not the only one of its type in the area, is that is hides a lagoon in the middle with only one entrance/exit.  You could easily go past Koh Hong having no idea what is hidden in the centre, even the entrance/exit is well hidden.  Reality on this occasion cannot be escaped,…difficult to miss that something is happening at Koh Hong with the abundant boats circling like vultures waiting their turn to enter through the narrow split into the lagoon cocooned like a volcano crater.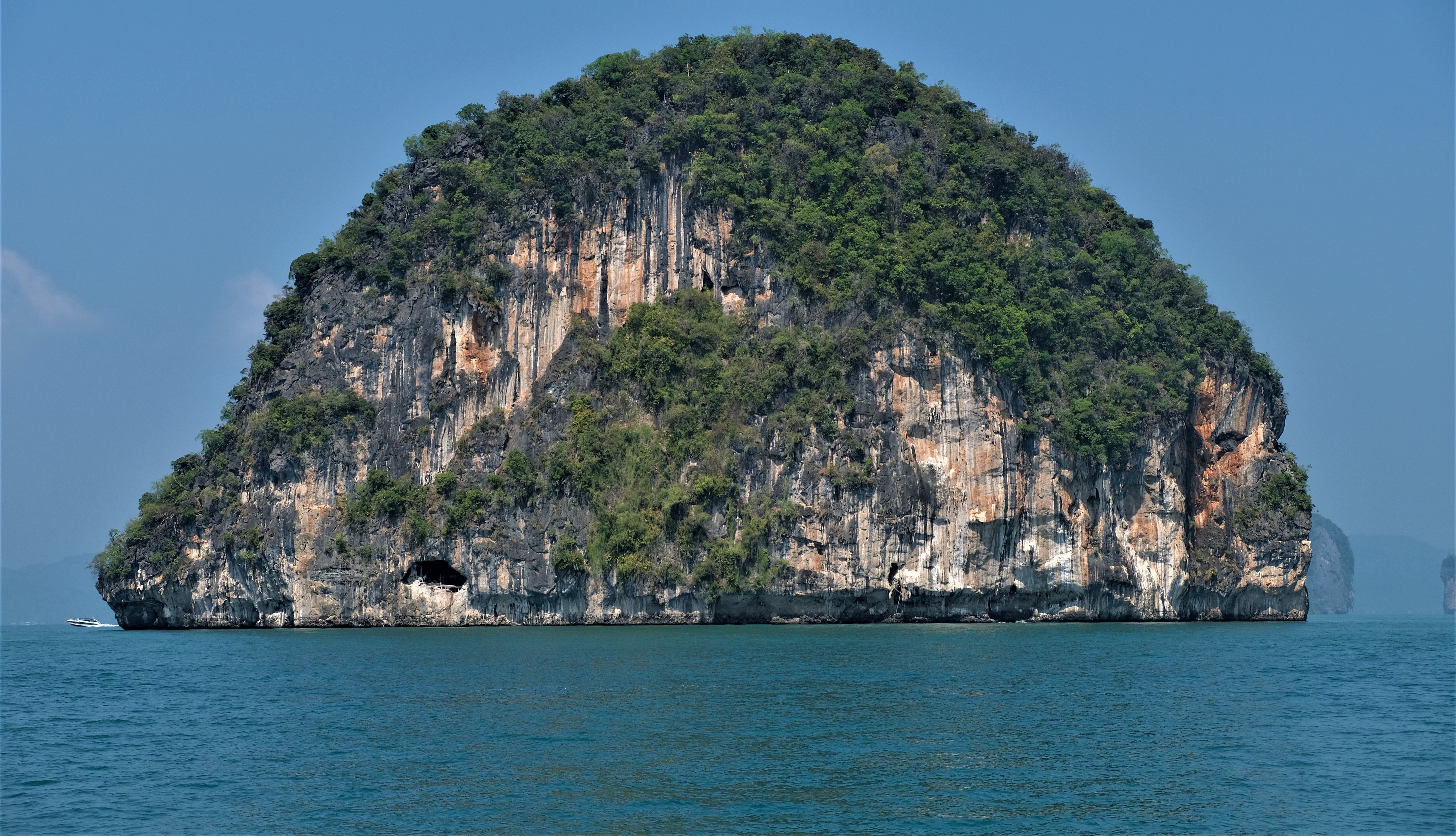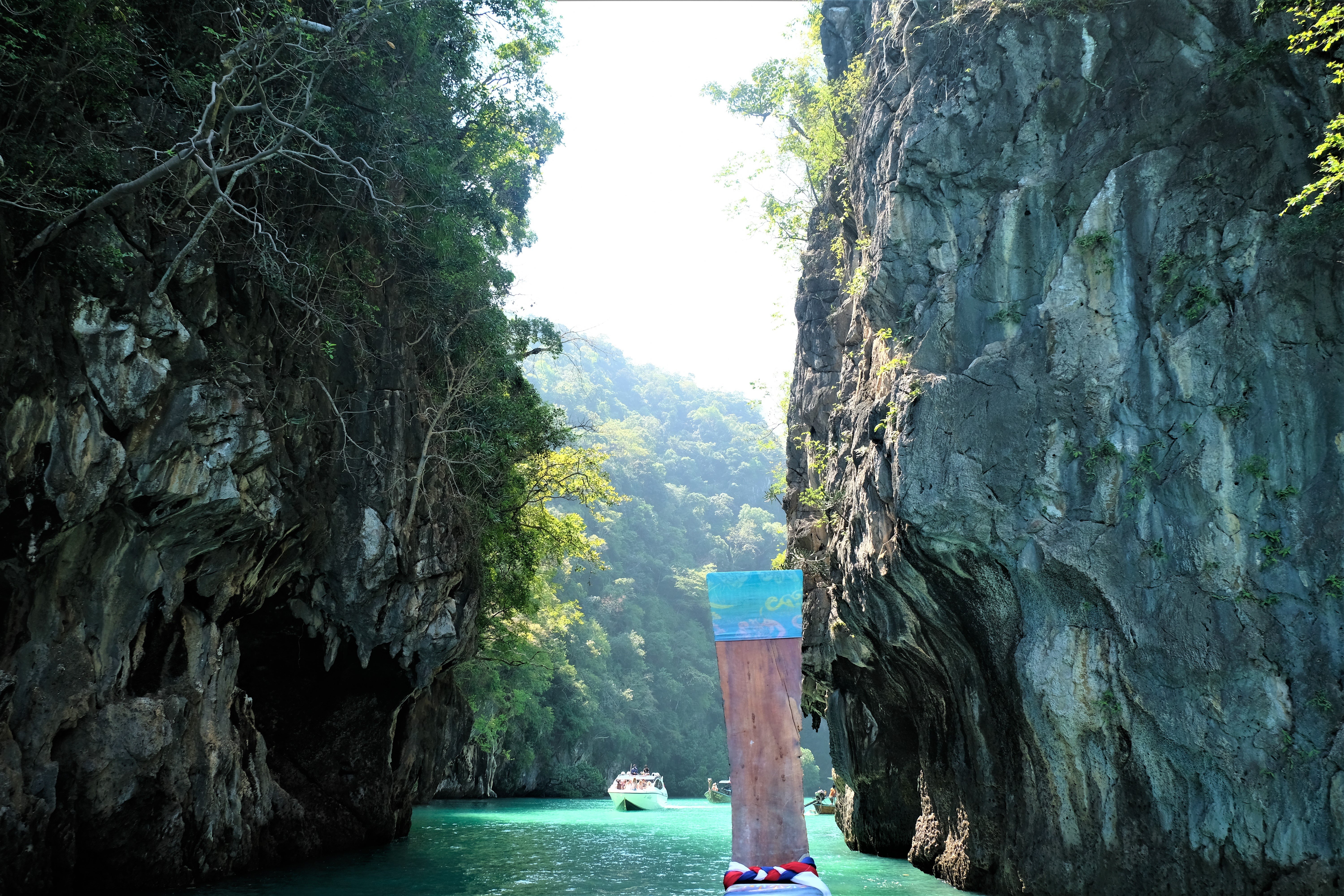 A lovely setting, like so many other places in the region tourists flock Koh Hong on mass which spoils what should (in my opinion) be a serene setting.  Now filled with speedboats roaring their engines speeding in and out like a conveyor belt taking people in then zooting off to the next "idyllic" location.
I would like to have stayed at Koh Hong's lagoon for longer, but in the middle of the bay it may be difficult the appreciate how crowded it was.  We left, I have lunch on one of the beaches around the corner on the outskirts of the Koh Hong, ahhh peace and quiet.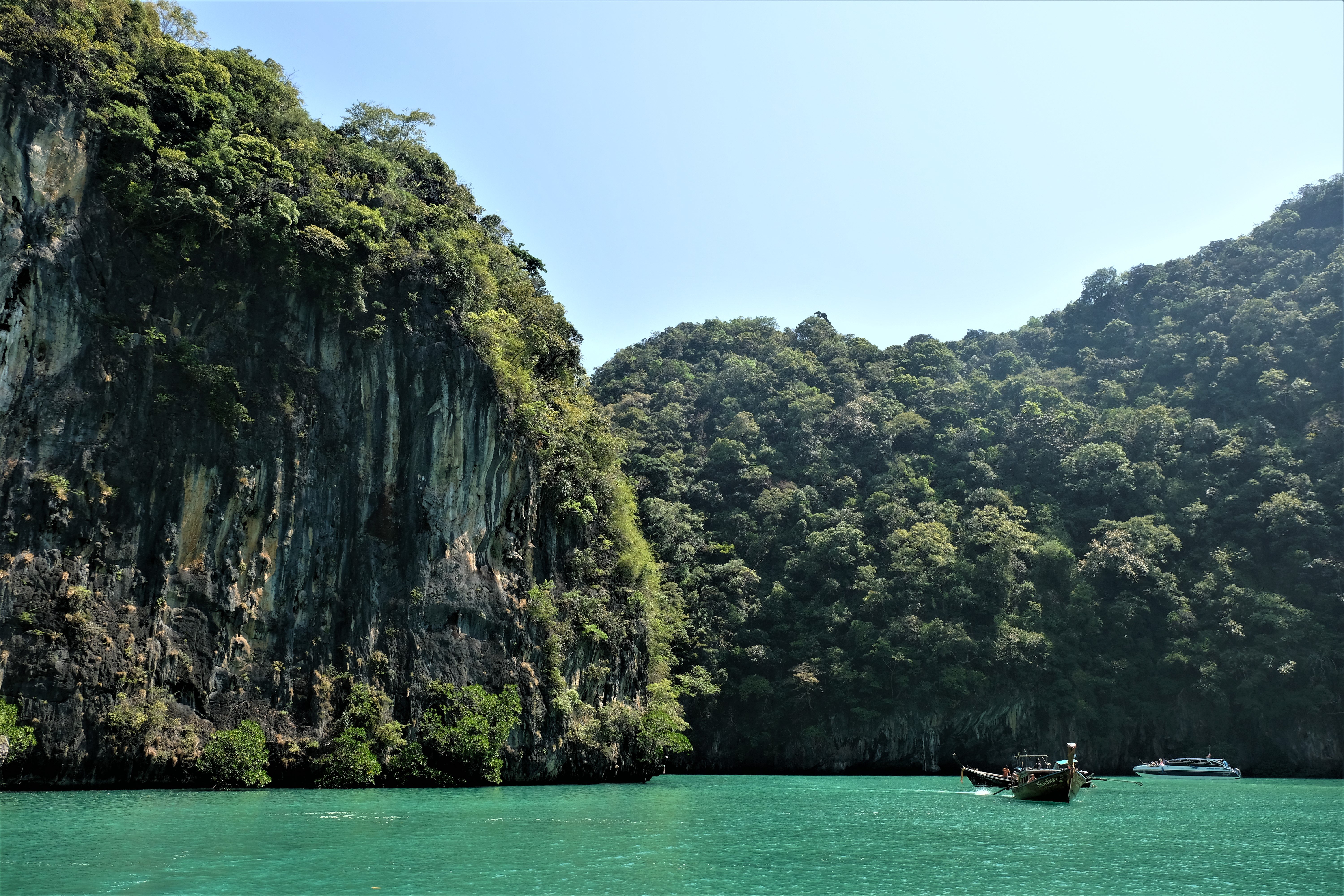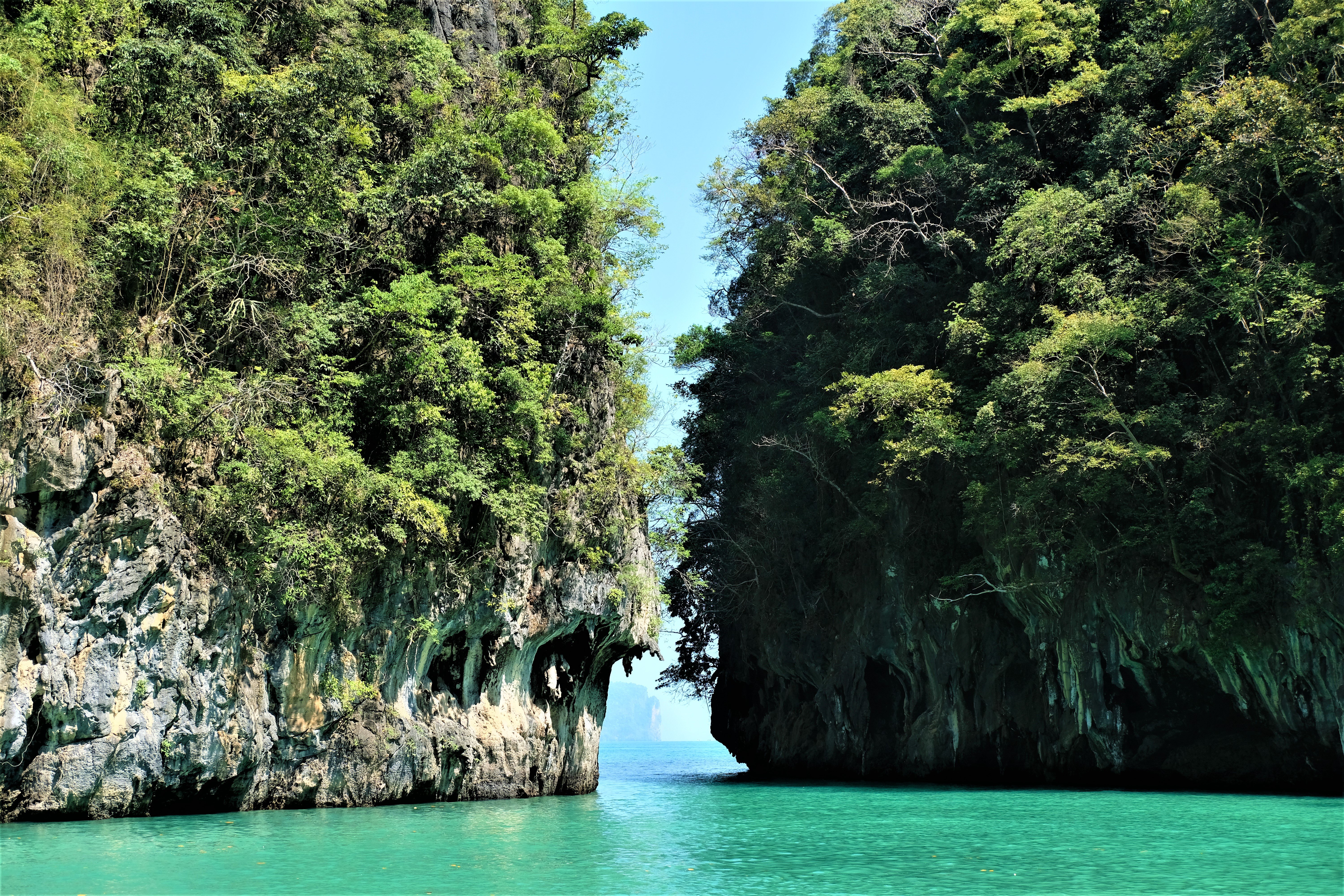 Koh Lao Landing
Another of the larger islands with vertical cliffs pulled out from the depths of the earth.  Cliffs like mammoth stained curtains of white, black and rusty light brown with facias of greenery hanging over.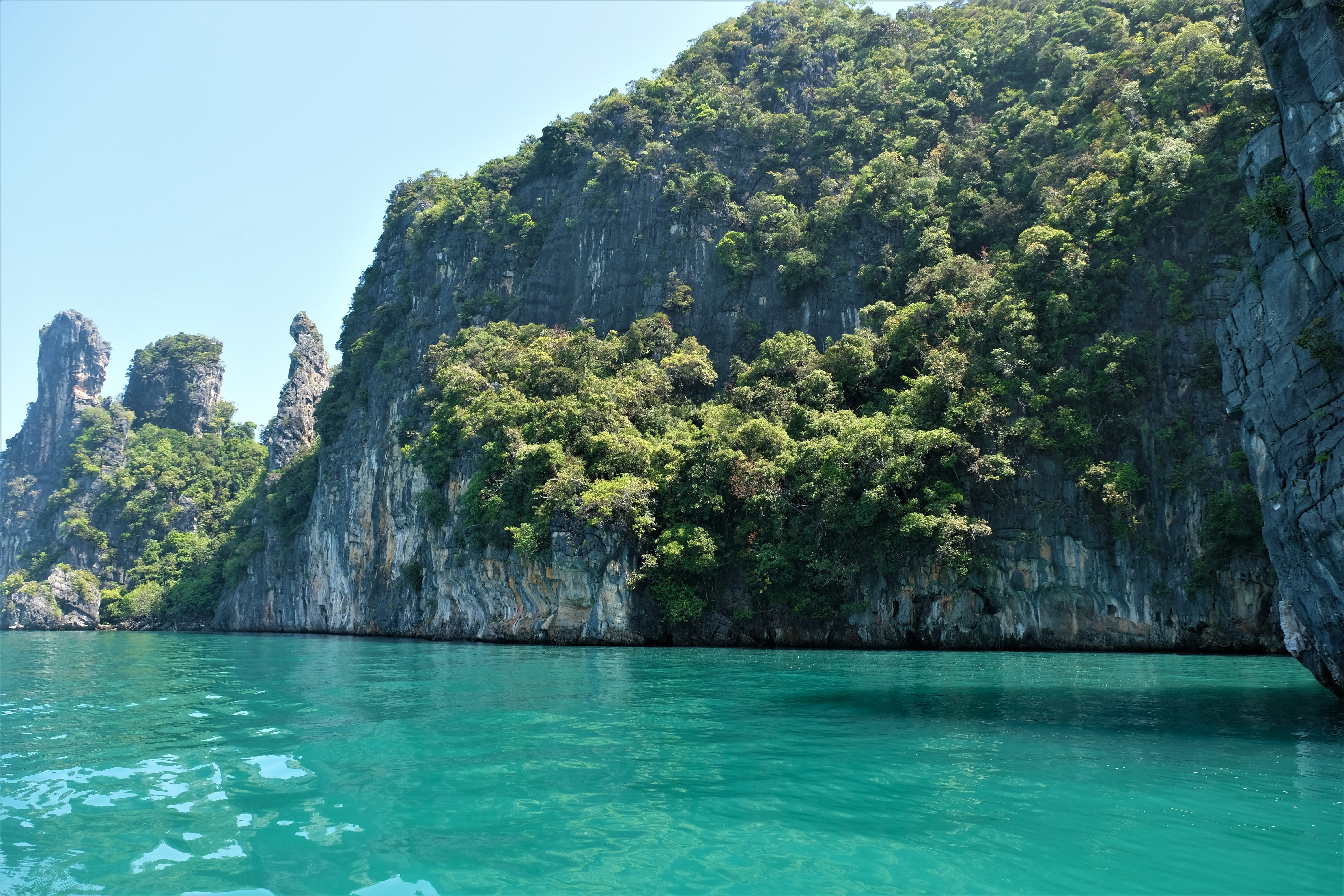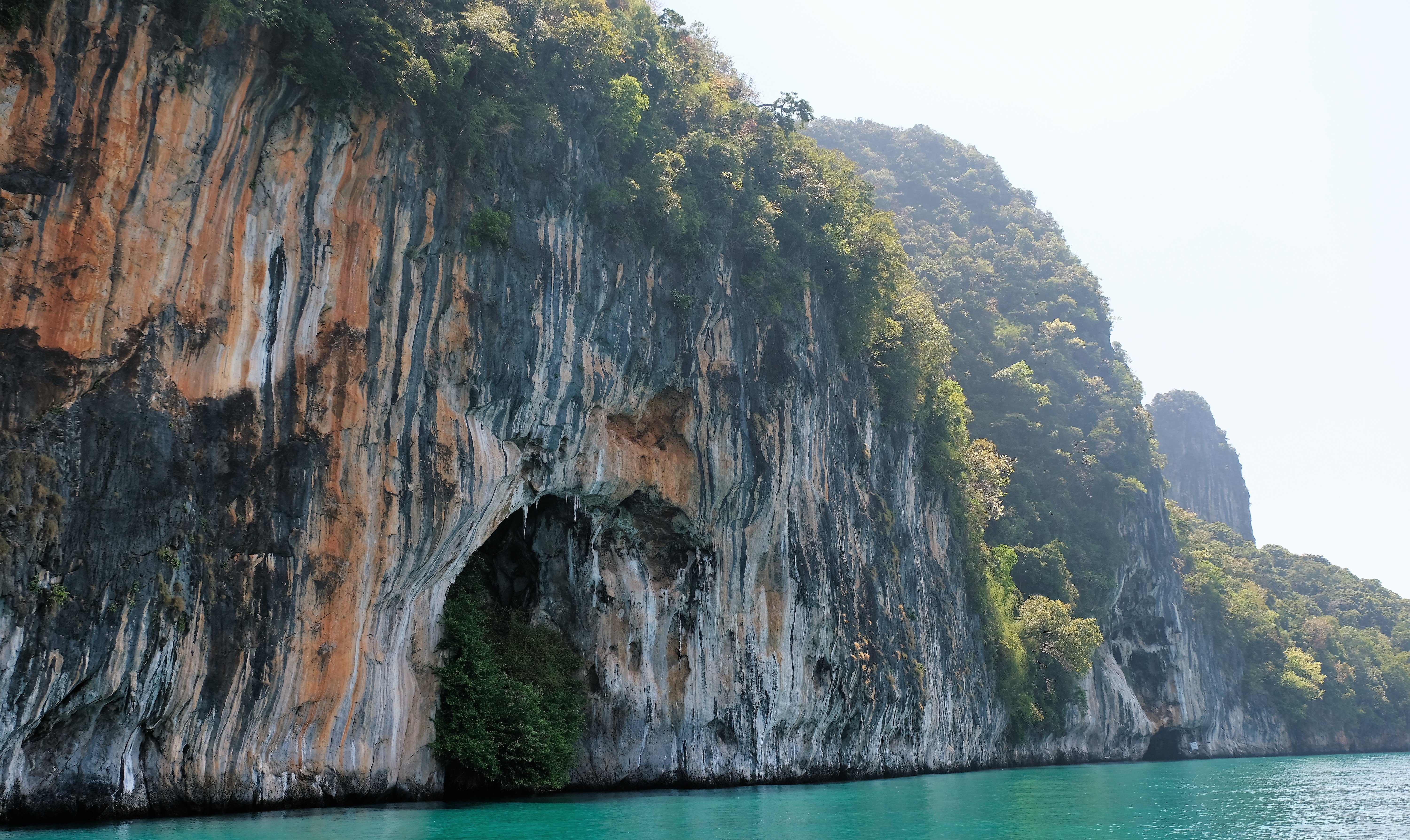 Koh Nok
Coming full circle, the first island I saw from the Pasai Beach was next.  There is a pathway from the beach to the top of the rock, not the best of paths and rather vertical at times but so worth effort of climbing for the views.  The humidity made visibility a tad murky for the islands in the distance creating shadowy mounts overlapping across the horizon, ghostly distant lands of wonder.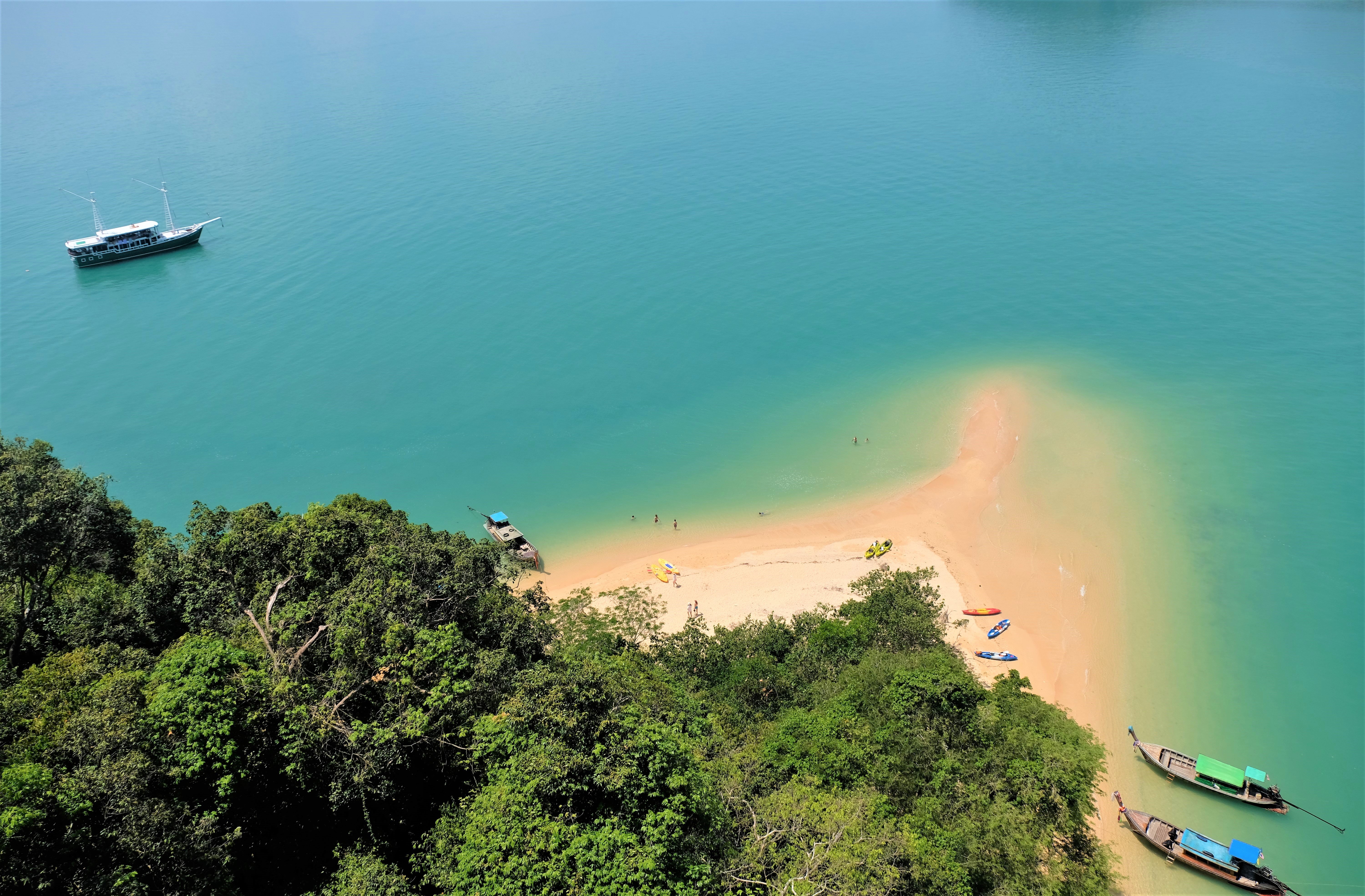 Climbing to the top was fantastic, the view of the little "y" shaped beach below, golden sand fading into the turquoise water is the view of postcards, well for me that is ?  I stayed at the top for about 25 minutes until I had to head down to cool off in the sea.  If I was a wealthy man and could afford an island this is what I would buy.
Laem Haad Beach – Koh Yao Yai
Not much to say, we visited the beach as a long detour.  Located on Koh Yao Yai a long arching sandbank beach that stretches for over 100m at low tide, even at high tide it long.  Like I've already said, Koh Yao Yai is much more commercial, Laem Haad beach beautiful as it is, has boats stacked next to each other on the one side resembling a car park more than a beautiful beach.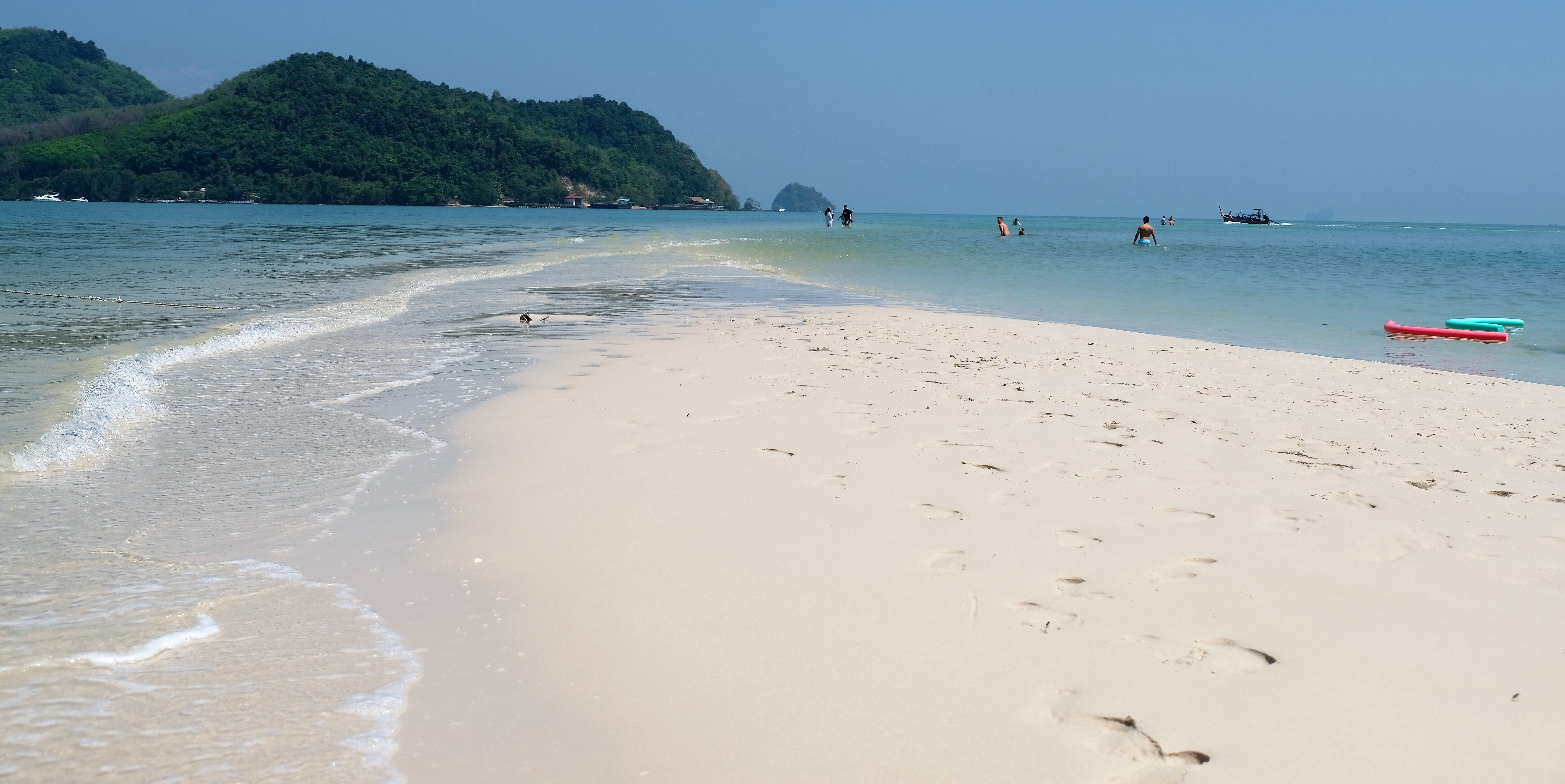 That was my day coming to an end, sadly my time in Thailand was almost over too.   I'd have one more night in Koh Yao Noi before heading off the next morning.  Next stop would be Phuket where I would finalise plans for my next trip, Vietnam was around the corner but first Phuket.
It's becoming the norm….here are some additional photos from my time in Koh Yao Noi (few sunsets from Krabi too ?