Khao Sok National Park & Cheow Lan Lake
Khao Sok and Cheow Lan Lake wasn't a planned destination, it came about after three days in Koh Phangan which couldn't live up to Koh Tao…in my opinion.  Being much bigger than Koh Tao (more commercial and a lot more developed) it also takes a bit more time to explore and get from A to B, even with a scooter.  I can't really give Koh Phangan much justice I only saw a tiny fraction of the island and like I said Koh Tao was fresh in my mind so to compare the two isn't fair either – they are different, catering for different people.  Adding insult to injury for Koh Phangan, I ate something dodgy, don't know what the only thing I can think of was when I ate at a little restaurant on the beach…needless to say I won't get into the graphic details, "eye of a needle" comes to mind…numerous times!  Enough said about that.
Bear with me, this gets a little convoluted but makes sense in the end…I hope!  I needed to add some background information before I got to Khao Sok National Park…if you're reading this I hope you enjoy it or at least like the pictures! ?
Koh Phangan has undoubtedly beautiful beaches, the water isn't as clear as Koh Tao but still worth snorkelling which I did a few times, even paddled around a few beaches with Julie and Mila – they were a few kilometres away, so I met up with them on their last day there.  It was Julie who told me about Khao Sok National Park (I Googled it saw some great pictures and made the decision), they were heading there the next day.  With my stomach "challenges" getting better and not enjoying Koh Phangan that much it planted the seed of Khao Sok National Park…I had another challenge on hand, my visa was expiring soon!  I had lost near 10 days because of the scooter accident, if I left Thailand now I would have seen Bangkok and Koh Tao, Koh Samui too but from a motel!  Hmmmm, an hour or two reading up about extending my visa and presto the decision was made.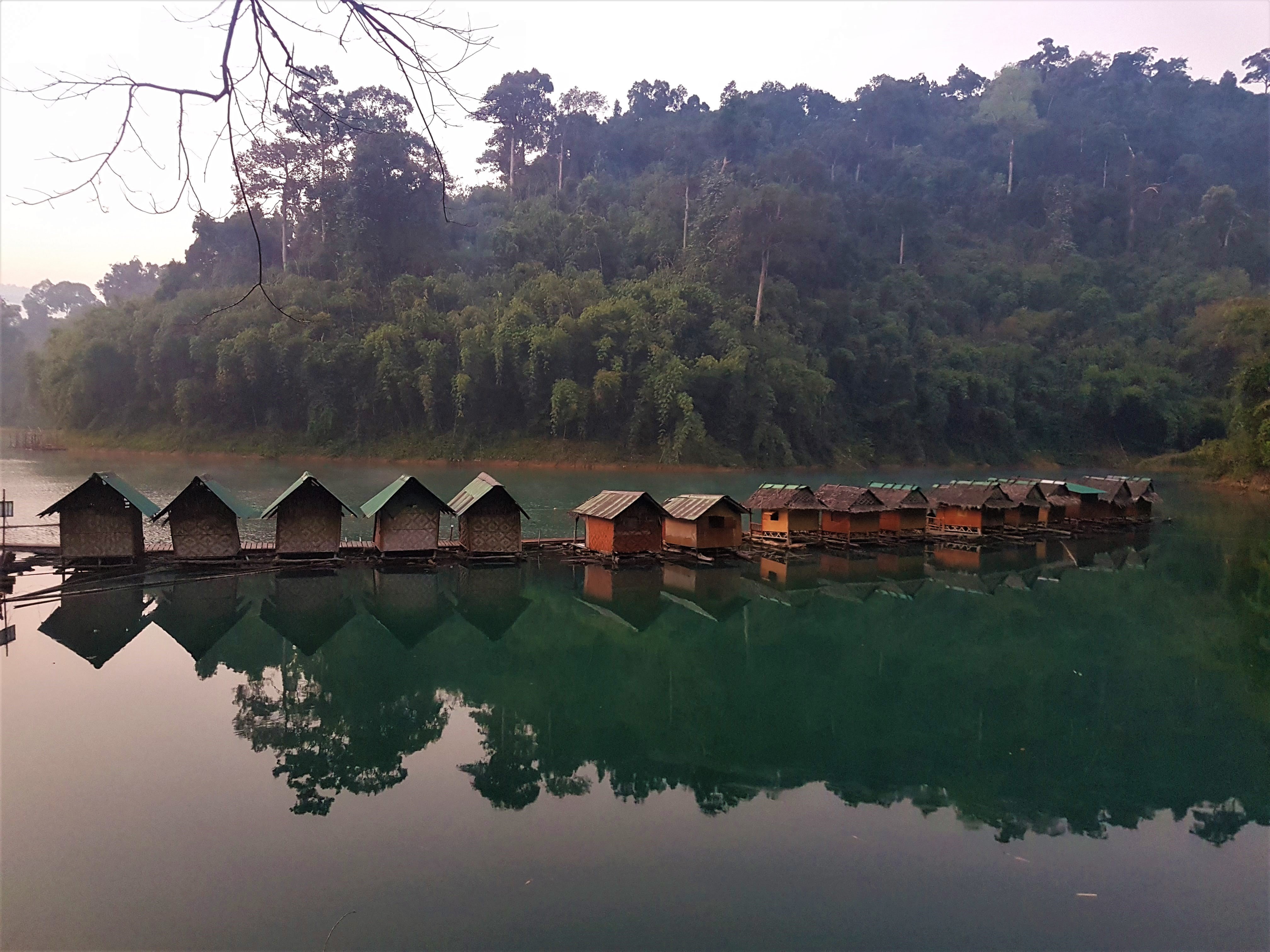 Extending your visa is easy with immigration offices everywhere.  The route to Khao Sok would take me past/through Koh Samui, there is an immigration office there too, so I would stay for two nights – only one full day which I hoped would be enough, turns out it was.  The immigration office is between Maenam Villa and Anong Villa down a little inconspicuous road.  I was sceptical about the process but must admit I was impresses, the whole process took 2 hours at most – it was efficient and organised. NB. They close the office for 45-60 minutes during lunch so best get there before 12:00, preferably by 10:00 and you sould be out of there before lunch time.
NB. For the two evenings in Koh Samui I stayed at Wazzah Resort, 1km at most from the immigration office. Very off topic, I found an amazing quaint little French restaurant run by a husband (French, he does the cooking) and wife (she is the host) located between Wazzah Resort and the immigration office. I was getting desperate for some familiar comfort food only to find out that the restaurant is quite famous on the island and only takes bookings. I got there early, before any of their bookings had arrived, the husband must have seen my disappointment (and hunger) and made an exception just for me.  I was treated like a king, no rush at all even when their other guest (who had booked) arrived, though I was polite and finished my food and left (tummy full of fantastic food).  Needless to say, the food, wine and hospitality were fantastic!  If you are in the neighbourhood I highly recommend La Boudoir / The Boudoir!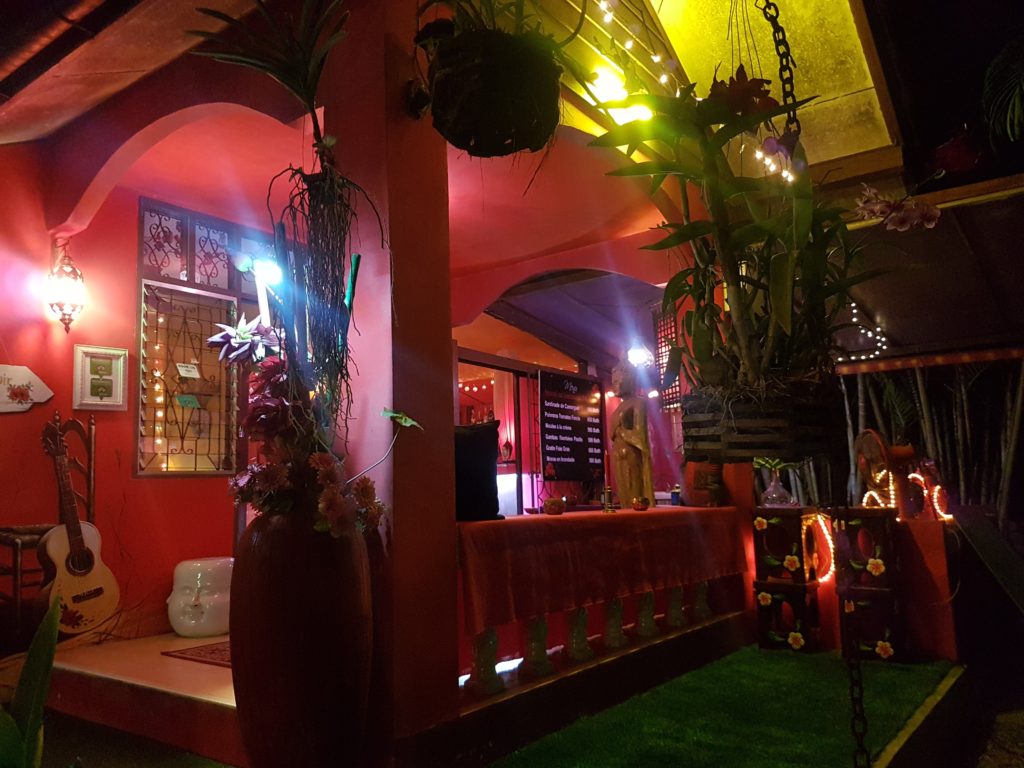 The plan was to go from Koh Phangan to Krabi, to get there you practically go past Khao Sok with only a slight detour.  Hey, it'd be silly to miss out on the opportunity whilst I'm in the neighbourhood, worst case scenario I don't like it and head to Krabi afterwards as per the original plan.  Now Khoa Sok isn't difficult to get to, it does however take time; I left Koh Samui early in the morning and got to Khoa Sok mid-afternoon.  The exact journey is a bit sketchy, if my memory serves me right them I think the journey went something like this; taxi from Wazzah Resort to bus terminal, bus to the ferry terminal then over to the mainland, mini bus to another bus terminal, then another mini bus to Khao Sok.  Anyway, like I had mentioned getting to Khao Sok is easy but takes time, over 6 hours..it was worth it!
Khao Sok National Park
You can hardly call Khao Sok a town at best a small village, with very few shops, a massage parlour to two (as is everywhere in SE Asian), it's off the beaten track but no one goes there for the shops!  The two shops that are there have anything you could want just like convenience stores and there are about 4 little restaurants – there may be more I didn't explore must that's not why I went there.
Khao Sok National Park is in the province of Surat Thani, declared a national park in 1980 with the area looking considerably different then; it has been a dense forest/jungle for thousands of years and through one of the treks I did there the area is abundant with little streams.  After it was declared a national park the government decided to build a dam wall, 94m high blocking off Klong Saeng River (used to be a tributary river to the Phum Duang River) and use the dam for hydro-electric purpose which now supplies electricity for the South.
Khao Sok National Park covers an area of circa. 740 square kilometres, with the dam covering an area around 165 square kilometres.  The park is wild and not a place to take on lightly, I wouldn't just go unplanned hiking there as they have wild elephants, tigers, bears, bores and plenty of other dangerous animals, with many places of "danger" they are set in a beautiful landscape Khao Sok National Park is no different.
Accommodation
I stayed at Khao Sok Paradise Resort for the first two days, very nice comfortable place I'd say it is one of the more luxurious places in the area – their rooms have a TV and air conditioner, first night I stayed in one of their tree top bungalows, the next night in one of their garden facing rooms.  It seemed that almost all the hotels offer the same type of day, evening and Khao Sok National Park excursions.  I'm sure you could organise it yourself I'm not sure how though as it seems everything gets organised through the accommodation no matter where you stay. I had missed the next trip to Khao Sok National Park and Khao Sok Paradise Resort couldn't extend my accommodation being fully booked.  My next accommodation was literally around the corner like 100m away at Baan Khao Sok Resort, a lot more rustic and homelier without a TV or air conditioner – to be honest I much preferred it that way, it makes more socialise more and not get distracted by spending my nights watching unnecessary brainless TV.  I also felt the atmosphere at the latter was more for travelers.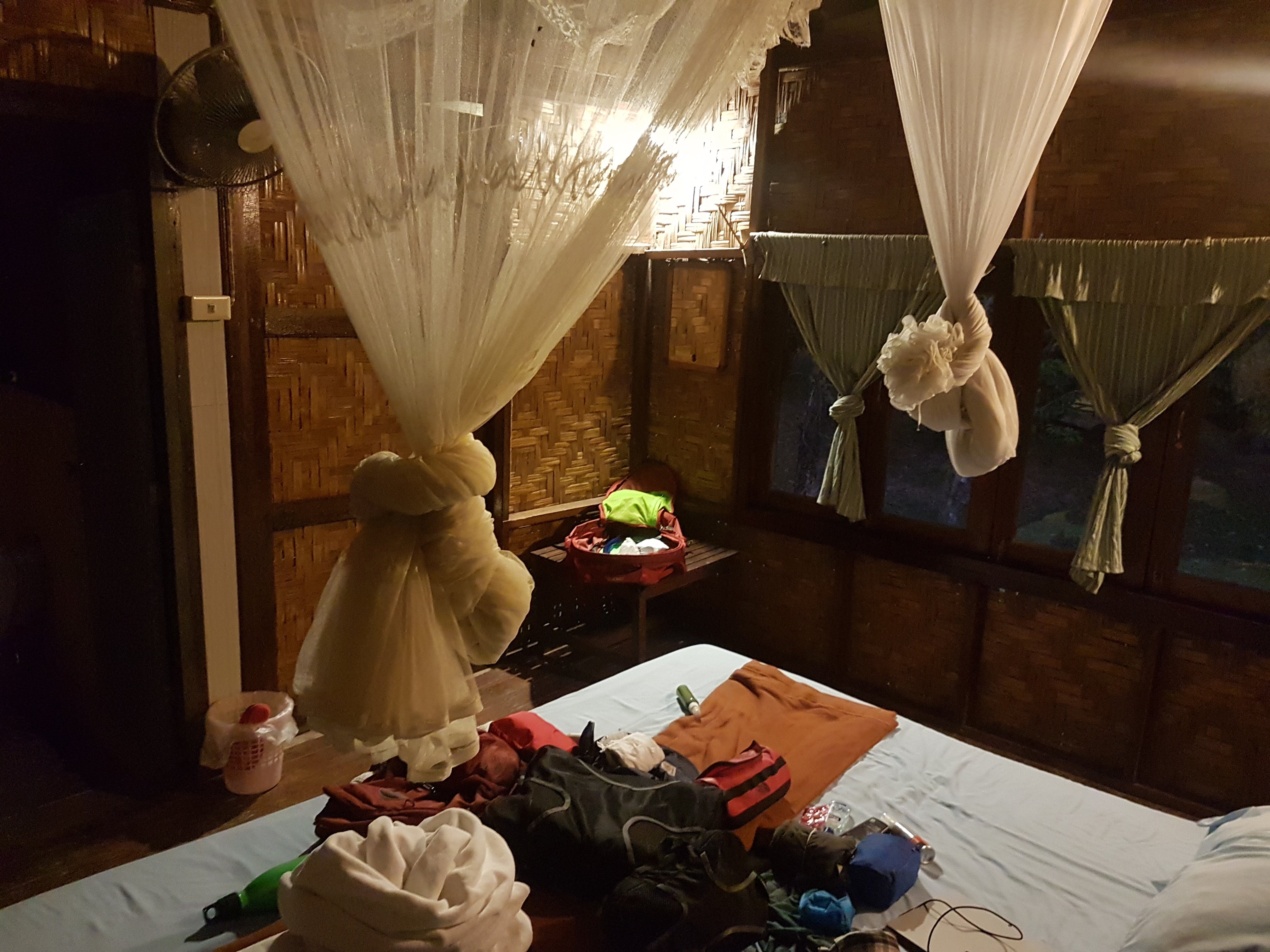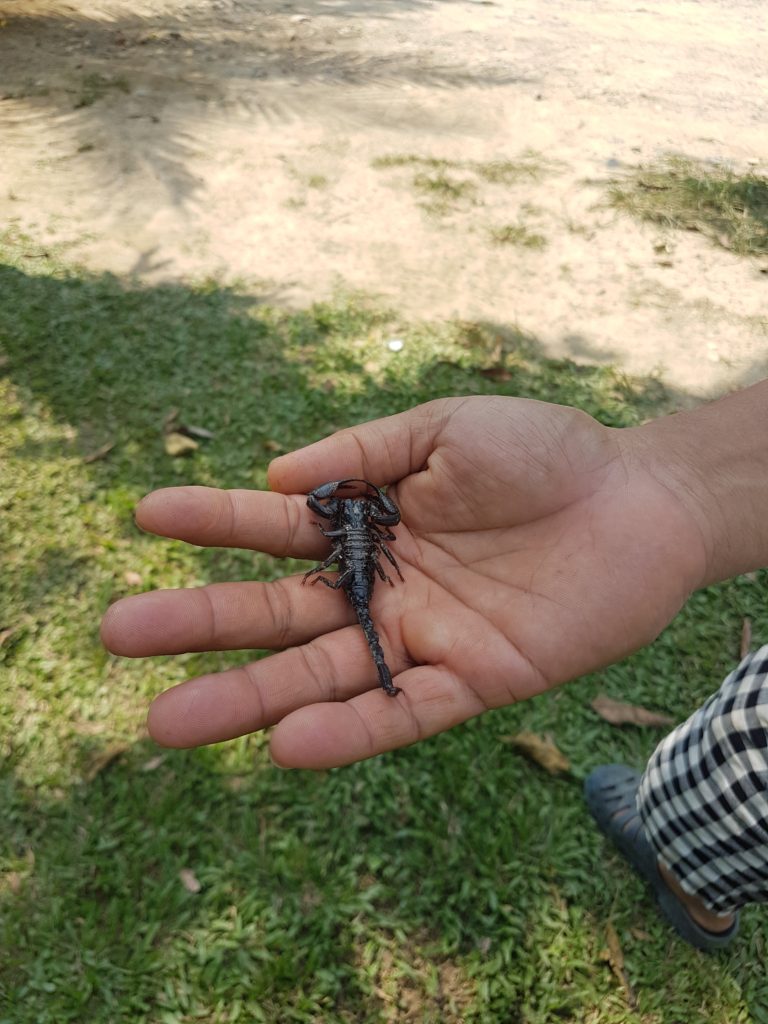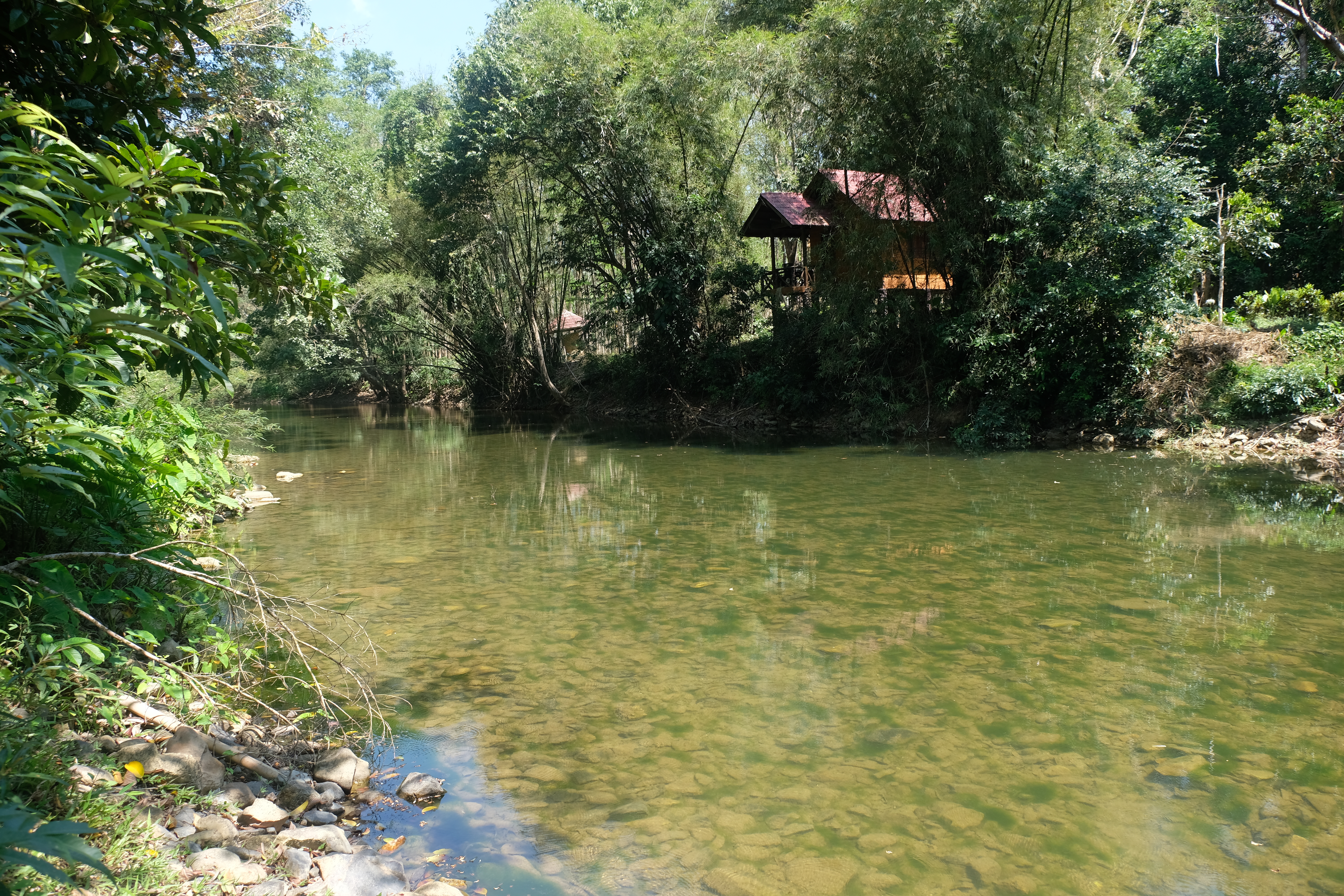 Getting to Khao Sok National Park
Quick rundown on getting to Khao Sok National Park and what the trip consists of (think it is the same no matter how/where you book the trip from).
Standard package includes:
Transfer from and back to you accommodation

2 days and one night in Khao Sok National Park (accommodation varies inside the park, but mostly consists of floating bamboo bungalows)

All food (lunch, dinner and breakfast – we were given more than we could eat)

An evening and morning lake safari

A hike through part of the forest including through a cave; from one entrance through to another.  You hike through the whole cave including a river that runs through the cave

Another cave site visit

Use of any kayaking equipment during free time at the accommodation

Drinking water
What to take if you go
I got picked up with a few people from Baan Khao Sok Resort – they recommended I only take what is needed and leave the rest of my stuff there (they look after it at no extra cost, this means I didn't need to book an extra night's accommodation whilst not being there).  Things to take:
Swimming costume

Towel

Torch

Waterproof bag – I didn't have one so used one of theirs at no cost just a deposit

Spare dry set of clothes

Toiletries

Camera

Mosquito repellent
After being picked up we stopped over in a town (don't remember the name) to connect with other people joining the tour, here we were reminded about needing a torch again with the market right there you can buy one for I think it was £1.  The journey there was uneventful, disembarked at a little pier then onto a longboat to take us to our accommodation.  The scenery to our accommodation was striking, sheer white mountains covered in dense green surrounded by deep blue water.  Riding in the boat with the sun beating down whilst getting near soaked by the water splashing up was actually enjoyable, the downside was the deafening noise from the open engine of the boat, I was quite disappointed.  It was so load by the time we got to our accommodation my ears were ringing and I was not the only one – it felt like I has been standing next to a speaker in a nightclub!  The views from the trip coupled with the setting of the accommodation did distract me from the ringing of my ears, within 10 minutes of arriving I had forgotten about the noise and was occupied by the beautiful and tranquil setting surrounding me, WOW!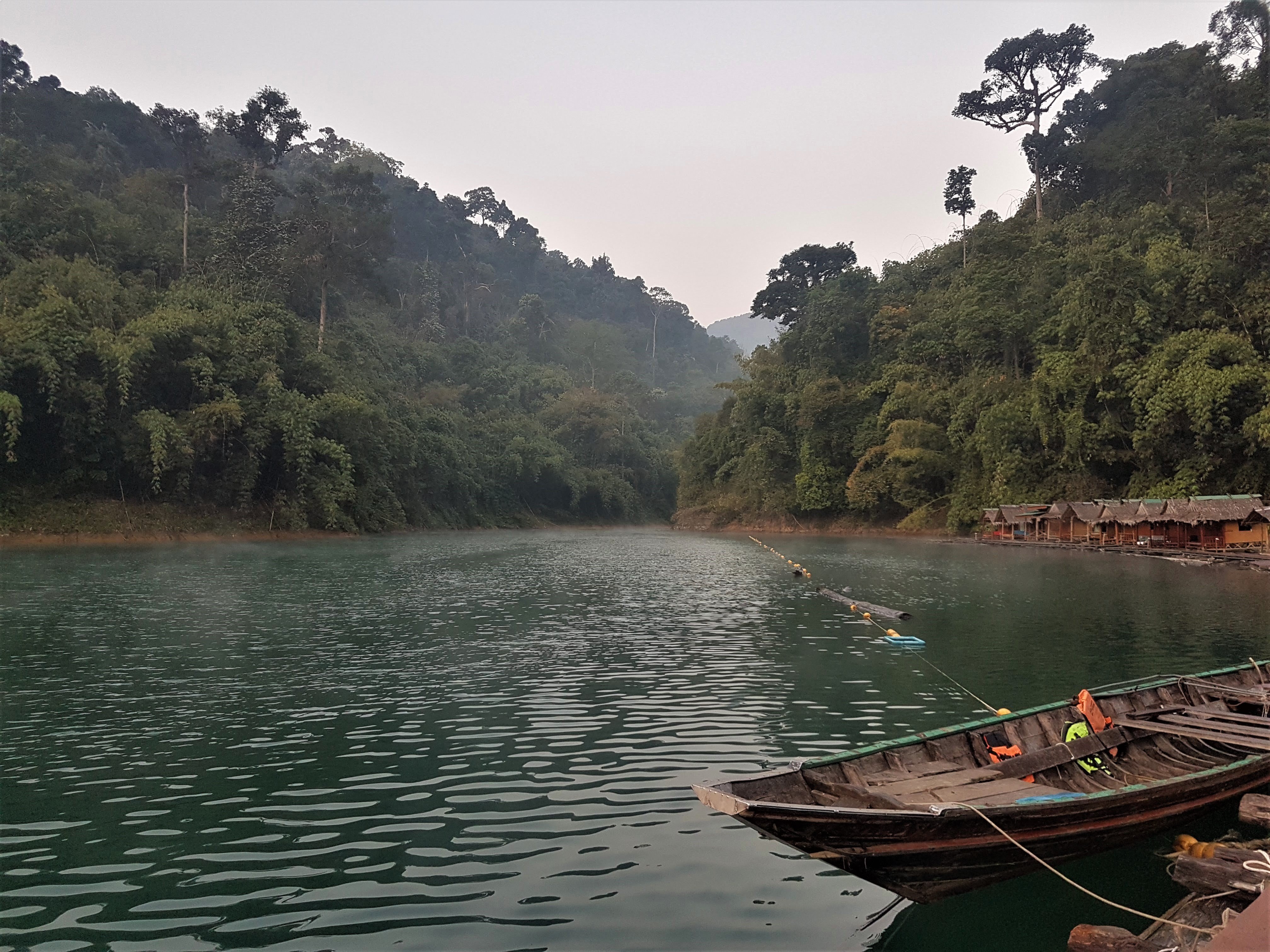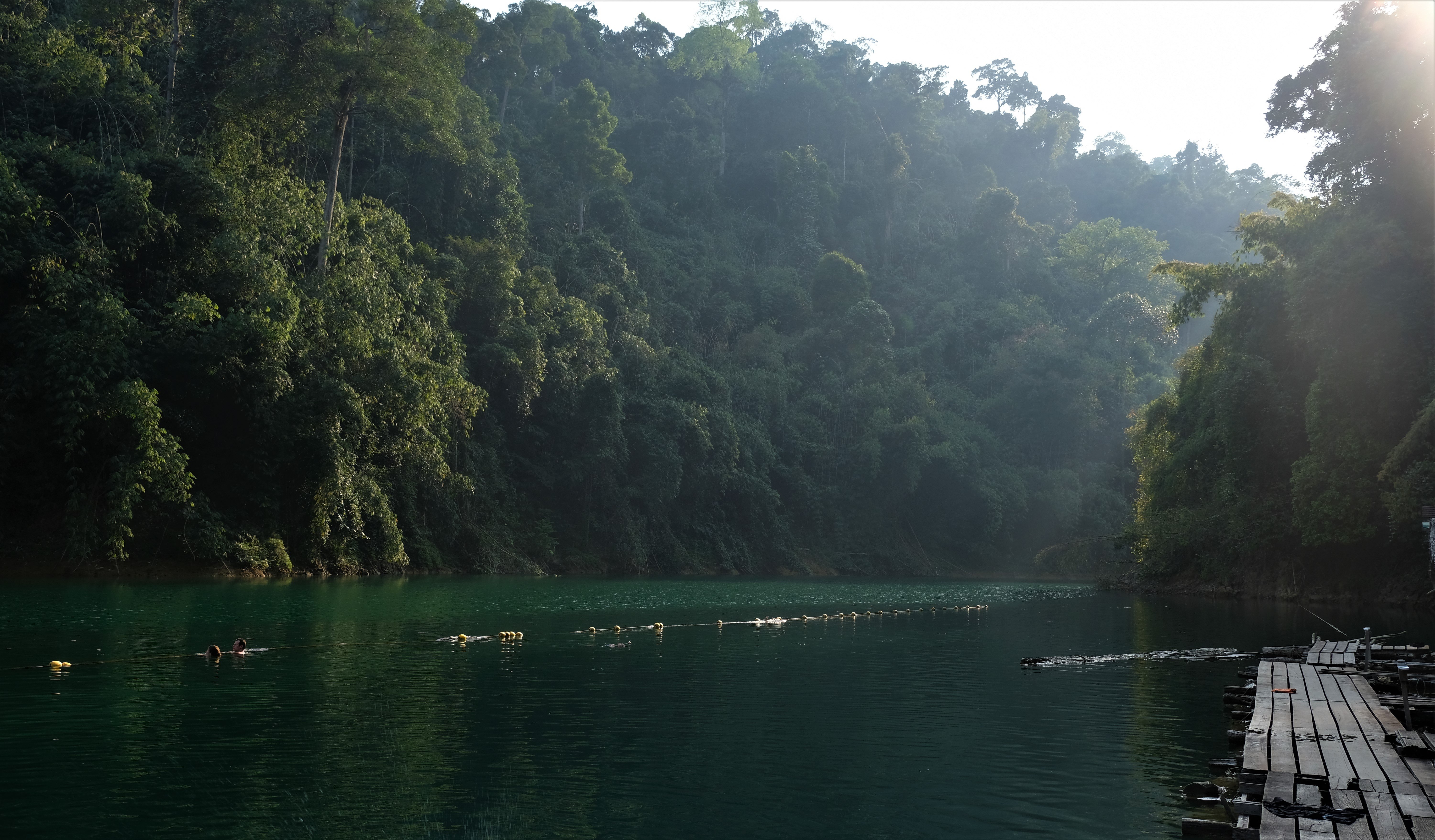 I was lucky I had a little bungalow, more like a hut, just two single mattresses, ablutions are shared a little walk away.  The setting of the huts couldn't be more idyllic, a mountain face of green behind stretching high up as the backdrop with calm clear water everywhere else.  The first thing I did, and most others was going for a swim, the water is perfectly clean but only for a few metres and as warm as a bath!  As I said this is a man-made lake so even after 30 years there is still sediment yet to settle – considering how dense the vegetation is around the lake what is not under the water would have been equally if not more dense.  Throughout the whole lake tree tops now devoid of foliage stick out like solitary scarecrows more fitting of a desert than a tropical surrounding.
Upon arrival, after the swim we had lunch, before heading off on a jungle/forest hike to explore a cave.  If you've read any of my previous post you'd know I don't have a GoPro, regrettably so and here again not having one really frustrated me! The hike itself was interesting, this place really is a jungle, with so many little streams and rivers I lost count, yes and bamboo!
Before I left to come to Khao Sok National Park everyone said you need a waterproof bag because of the river in the cave you will get wet.  Well, at first, I thought people were exaggerating, yes you couldn't avoid walking through some of the rivers, so my shoes definitely got wet, the first part of the cave the water was shallow, knee depth at best.  Then, about half way through it got deep, chest deep, I'm 6 feet 2 so could walk but most had to swim and I wouldn't want to be in the cave without my head-torch, my Black Diamond Revolt was brilliant (the battery life is the best I've ever had). The water was cool, refreshing actually after hiking through the forest which was bloody hot and humid.  The cave hike was one of my highlights of the trip, sadly I have not bloody photos!!!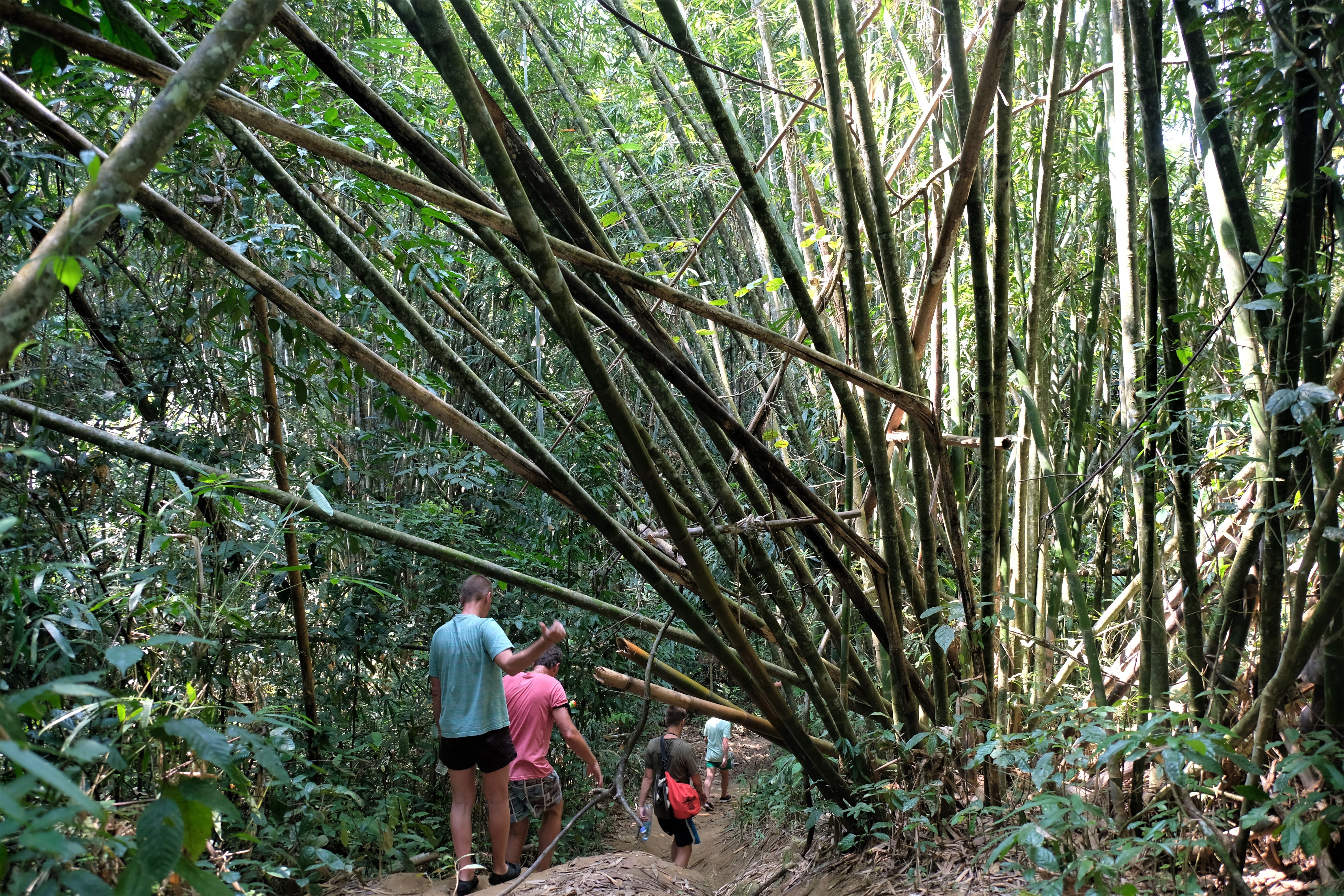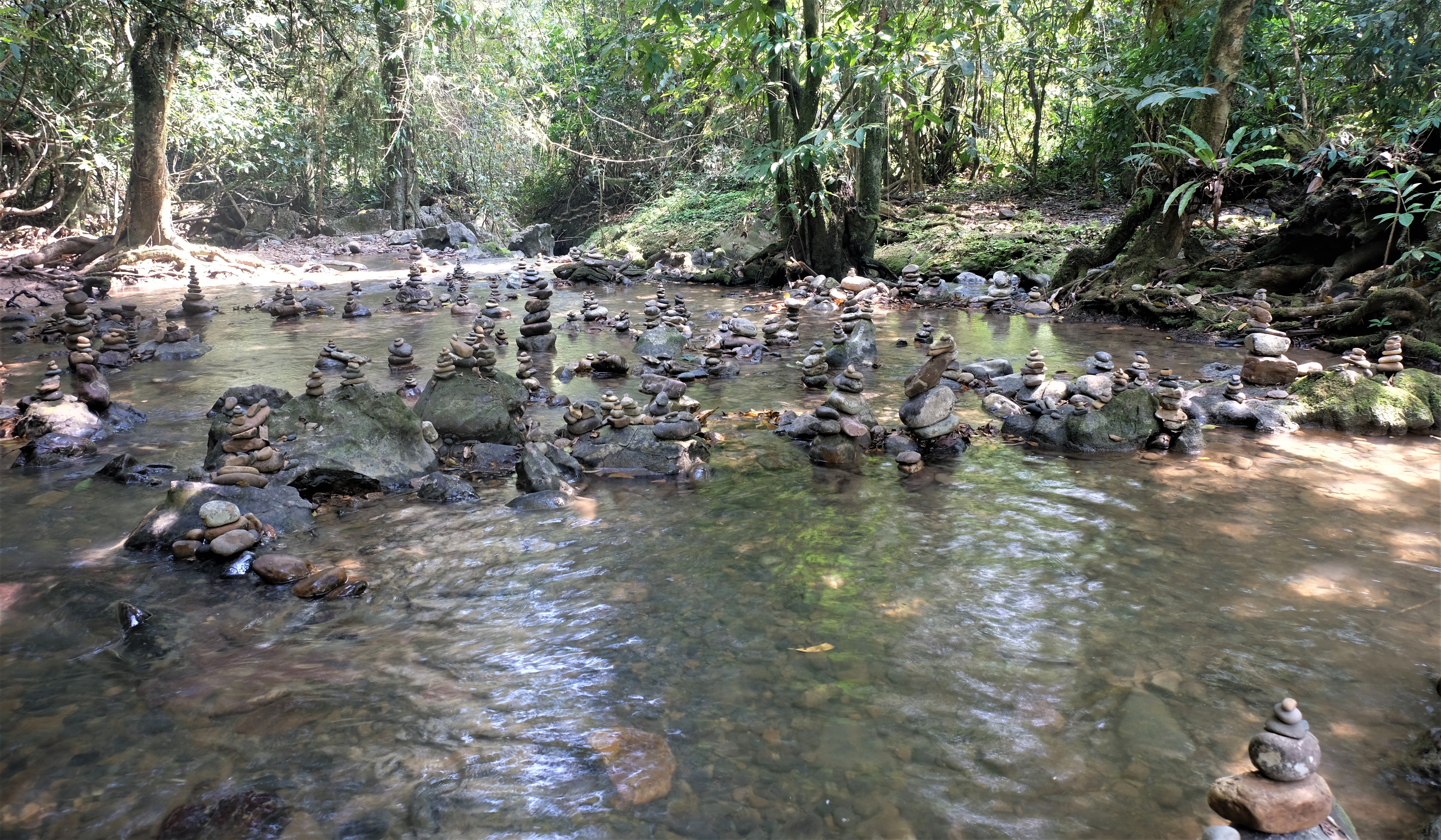 We headed back to our boat to take us to our lake huts, followed by more swimming (or kayaking) and chill time, then a boat trip at dusk for about an hour.  The area is beautiful, the lake is surrounded by mountains that pierce through the water like green volcanoes with thick vegetation from shoreline to the top.  There are two distinctive landscapes in Khao Sok National Park, first is a sea of impenetrable green, the other are sheer rock faces of white that look as if they have been squeezed from earth core to the surface.  The rock looks stretched like dry clay being torn apart, you can see the remnant of the immense like stretch marks of the tectonic plates forcing these gigantic masses or rock upwards and they crushed into each other.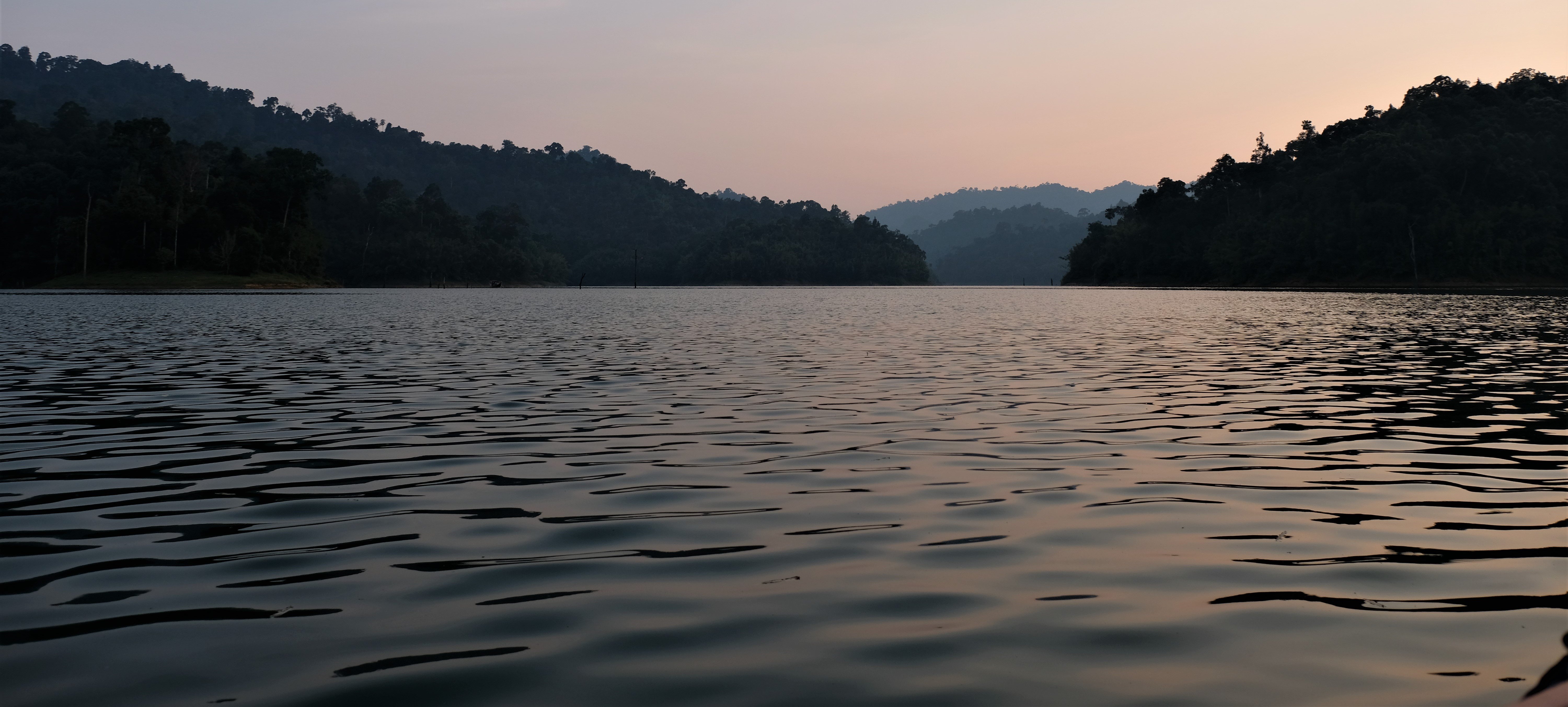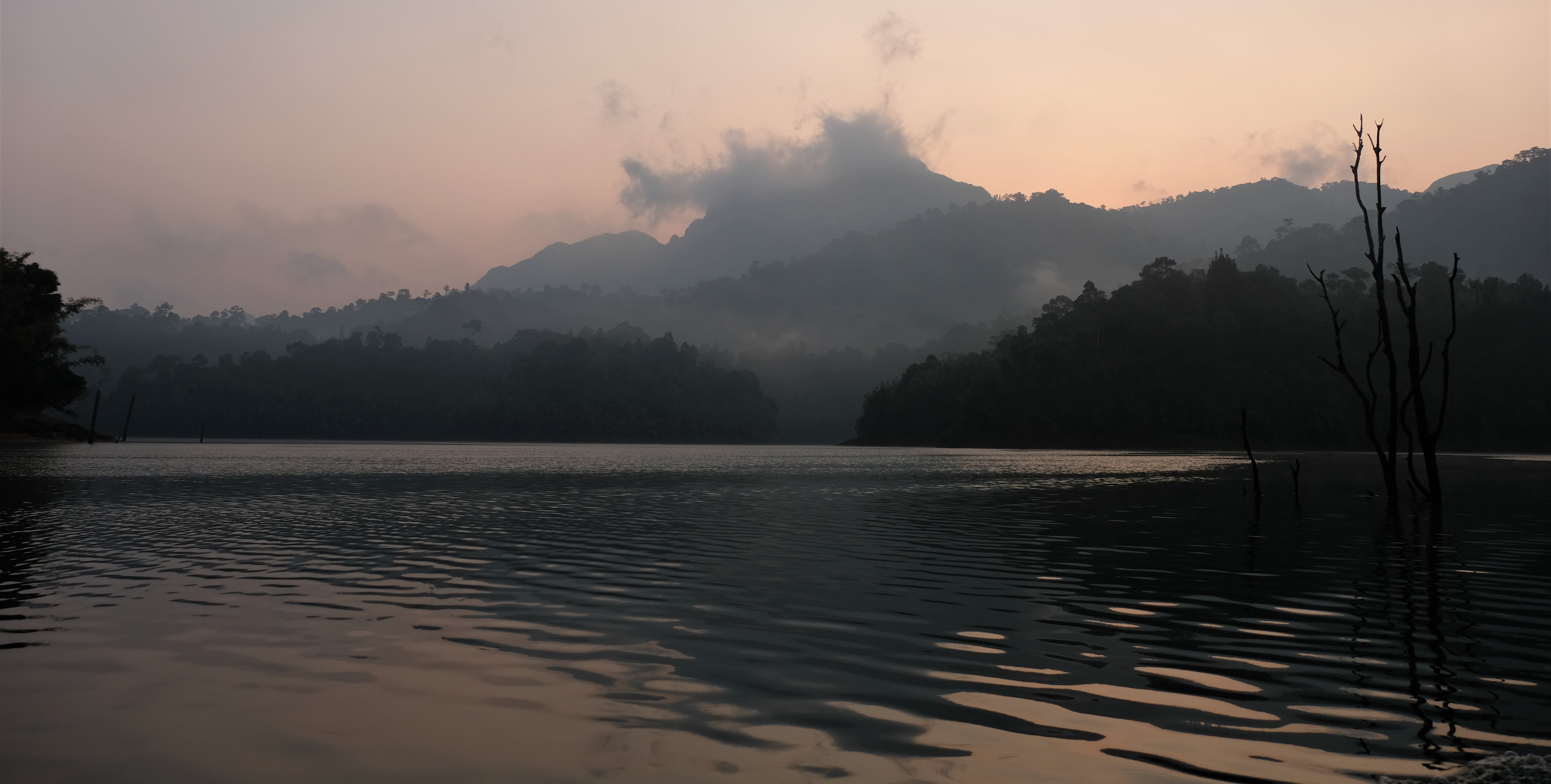 Khao Sok National Park is a place of natural beauty, such a contrast to where I had been previously even compared to the islands, they were peaceful be I was never really that far for civilisation.  Here, for as far as they eye can see is either forest of water, nature has a distinct sound, it's not quiet there are animals, birds, fish flipping their tails at the water's edge, the wind hustling through the forest and yet with all this noise around it still feels quiet.  If you close your eyes you feel like you're the only person on the planet, then you open your eyes and feel in touch with nature.  No internet, no mobile phone signal, no TV, nothing to aimlessly consume your time or distract you from appreciating what nature has on display, this place is beautiful because it is virtually untouched by man.  It is a contradiction to say this place is nature at its best considering it is a man-made lake, you cannot escape the fact that part of a forest was destroyed in building it, not to mention some fresh water fish are now extinct because of it too.  What they have managed to get correct here is Khao Sok National Park is after the lake was built they left it as is, there are no hotels, sprawling lakeside villas etc. etc.  Nature is still trying to adapt to the change, at least here they have left it to do so at its own pace – it will likely take many years for the sediment to settle.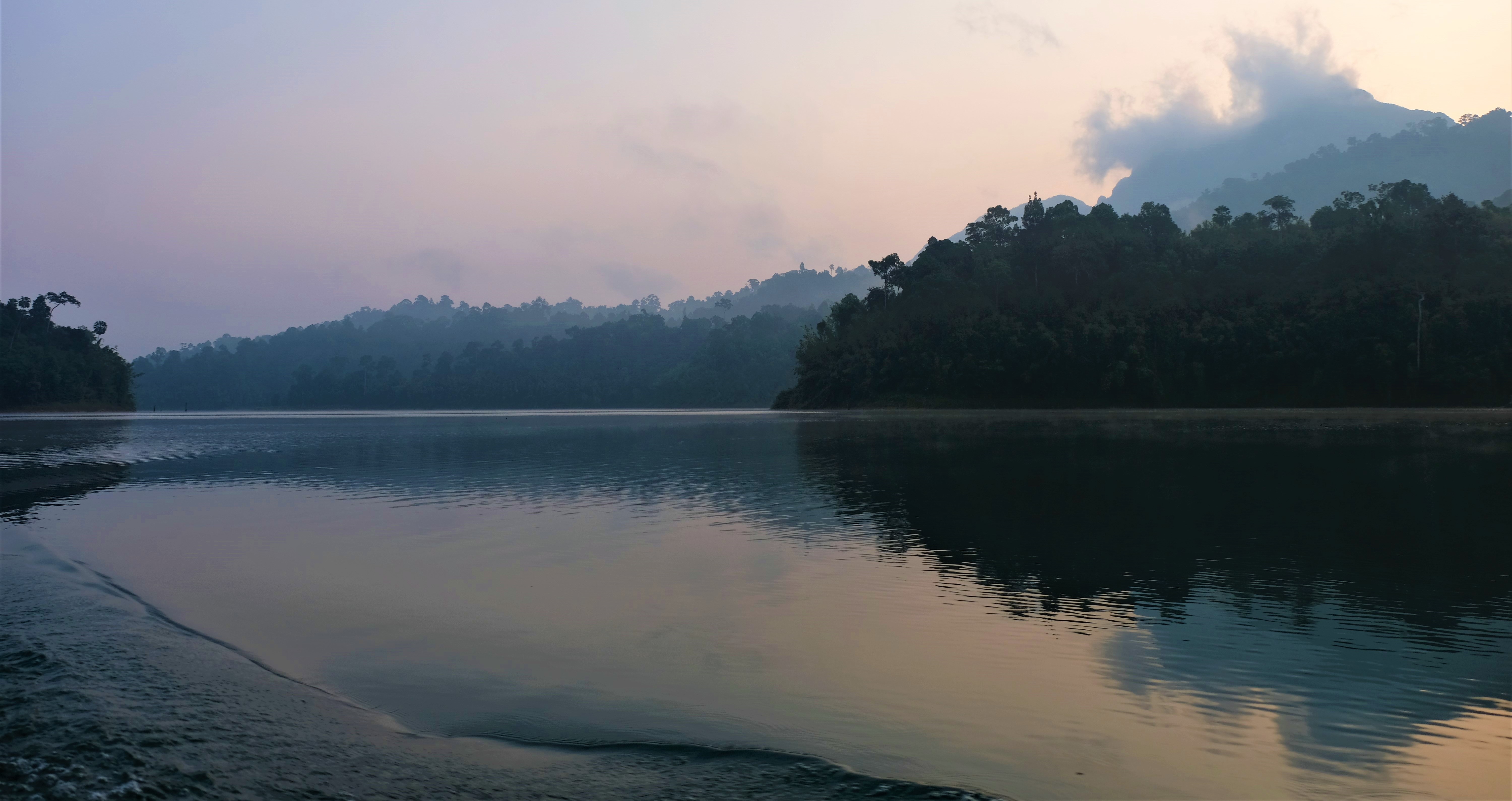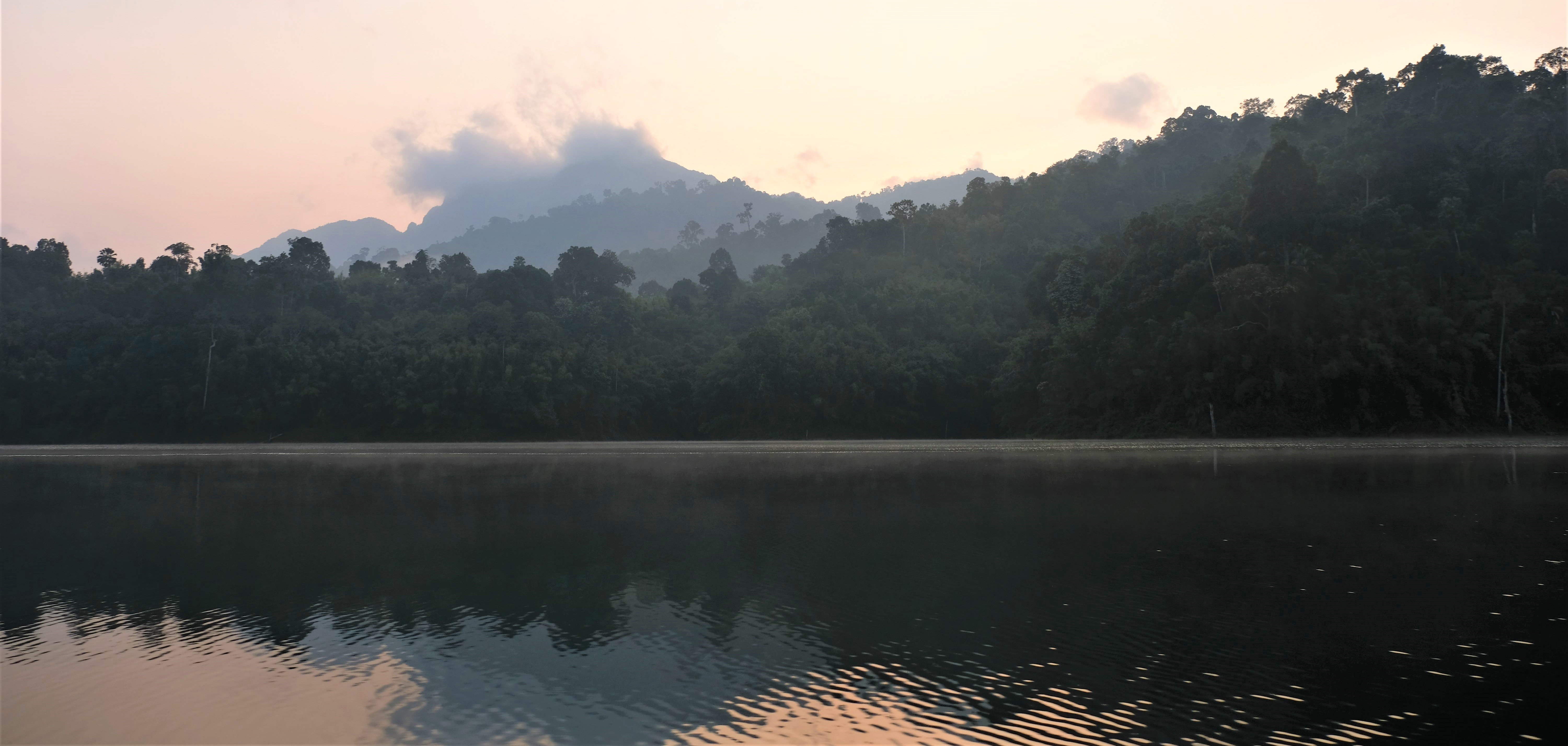 You are reminded of what was a forest below throughout the lake, the remnants of huge trees stick out of the water.  Once these trees would have soured through the forest into the sky, now their tips hide their towering trucks below like icebergs.  These eerie wooden sculptures protruding out of nowhere in the middle of this mass of water makes you thick the area has just been flooded, sadly over time they will rot away, is years to come people will forget about these giant majestic trees decaying below.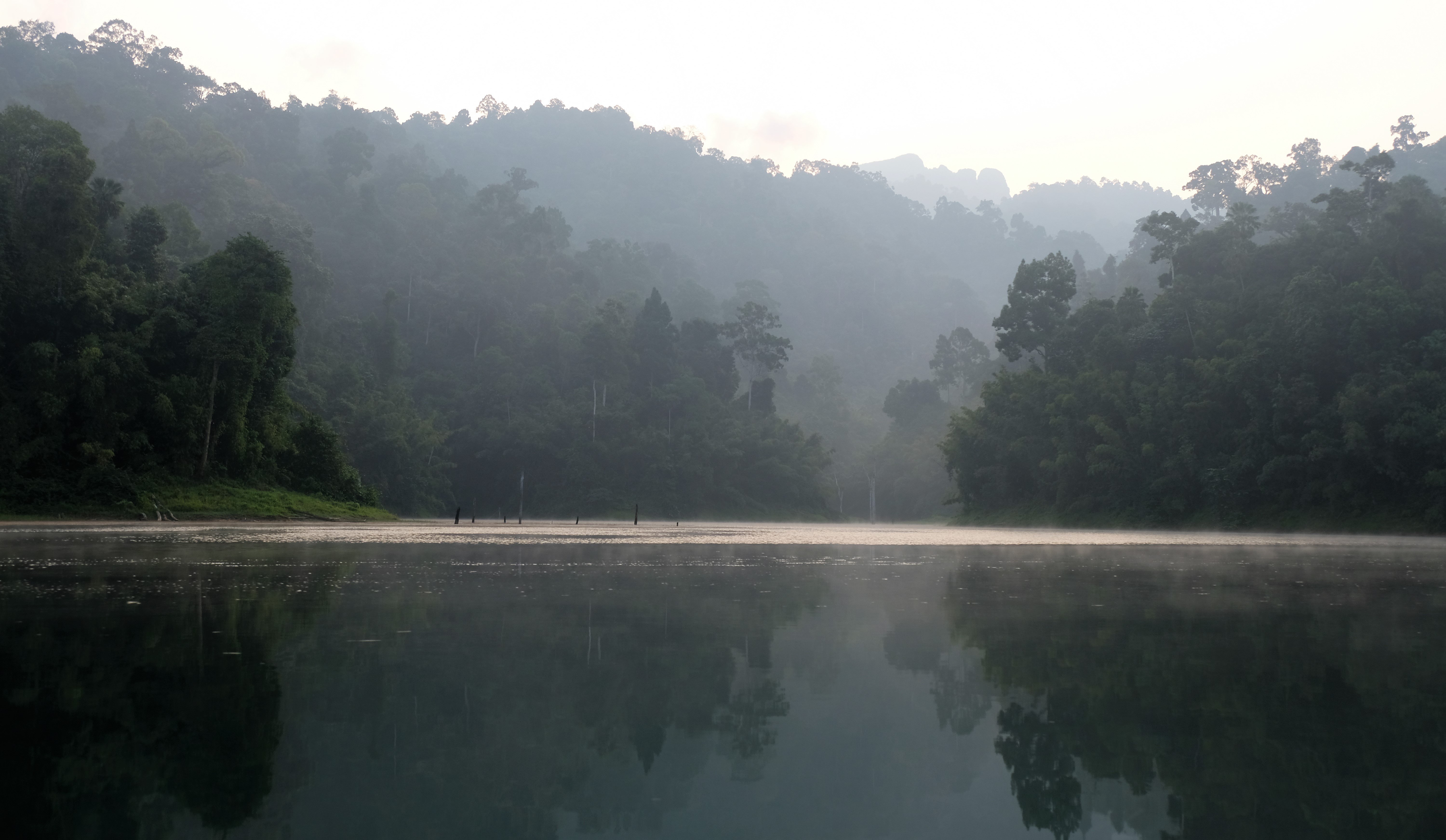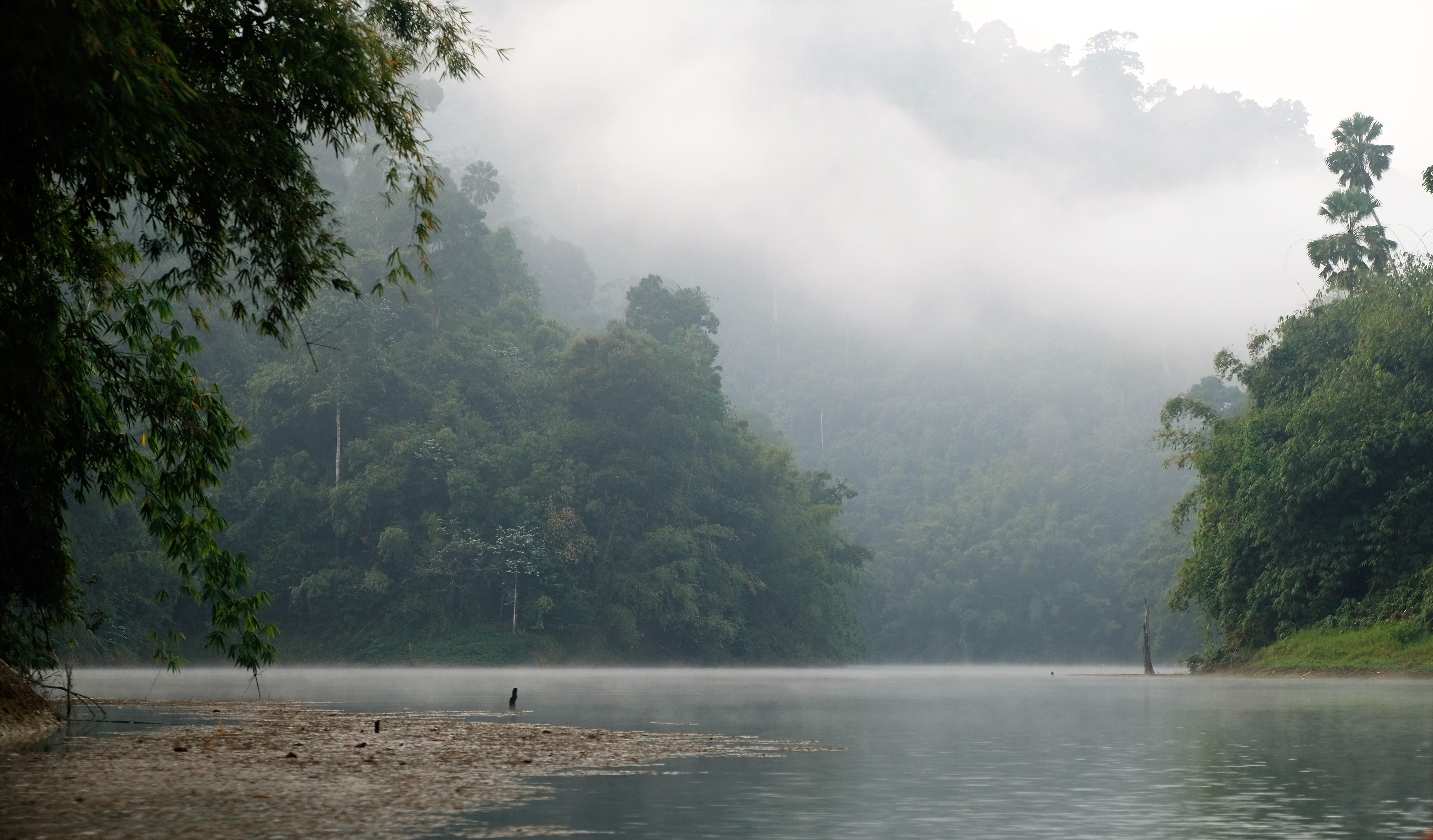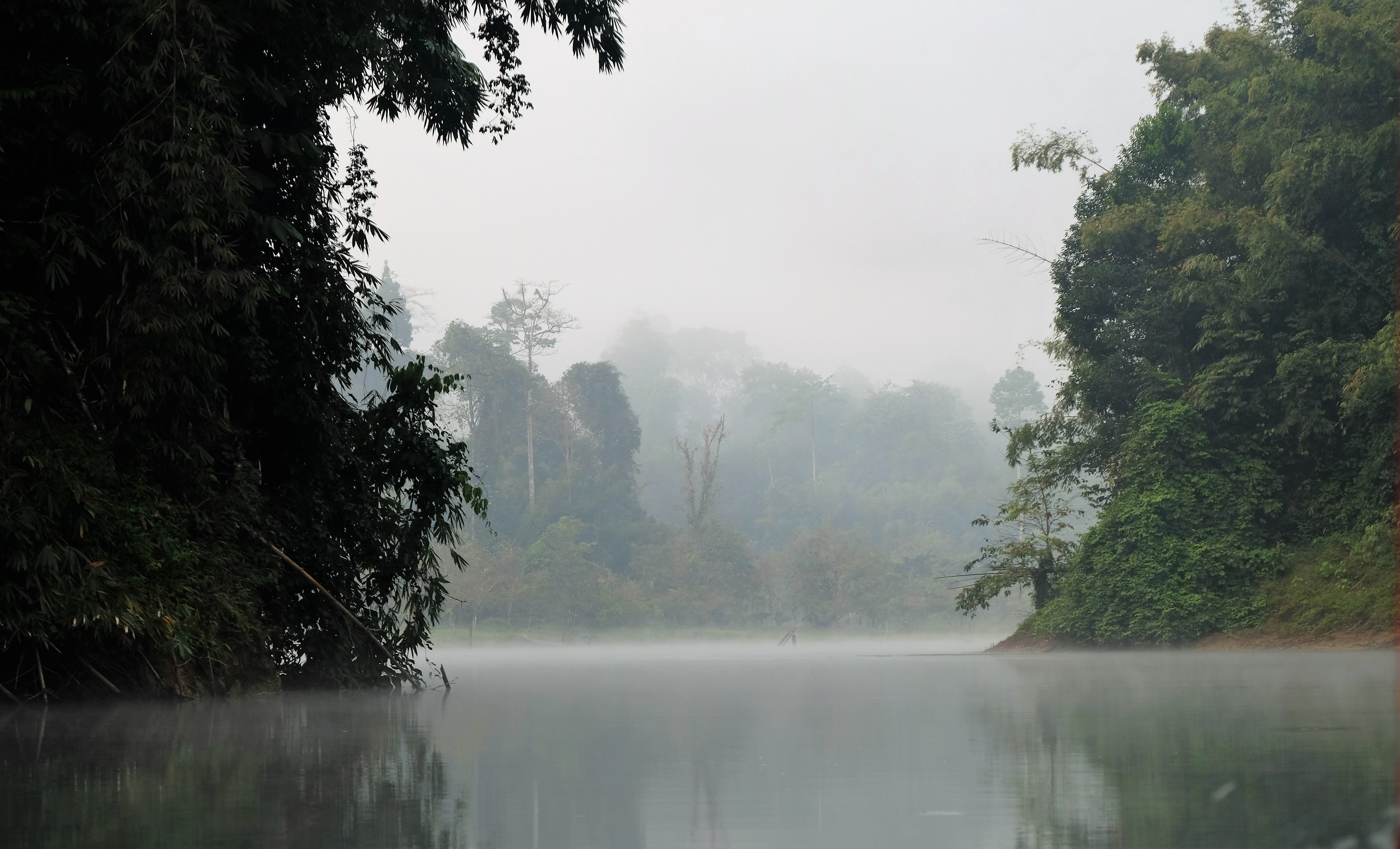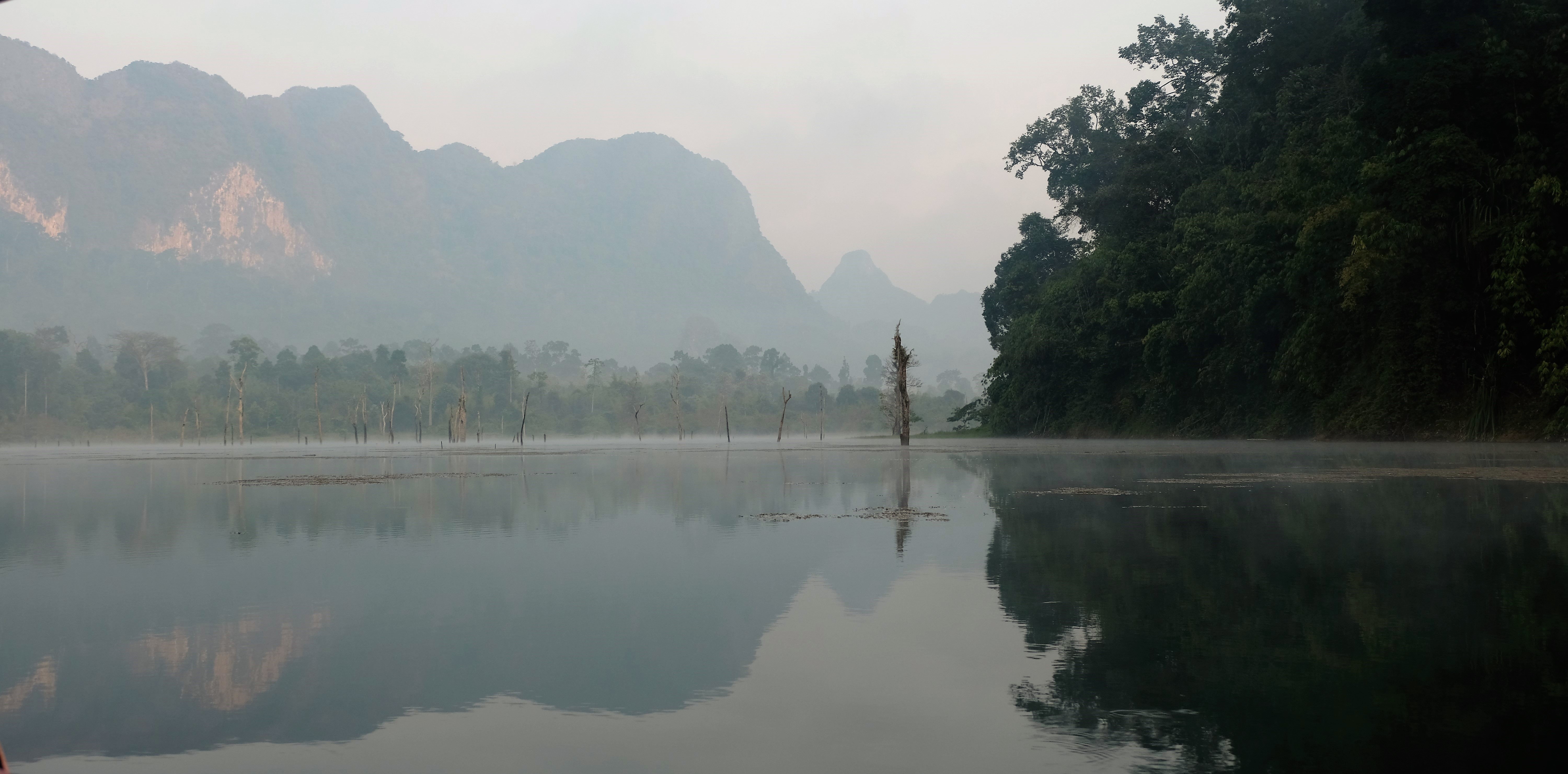 The next morning we headed out on a morning safari and were lucky to see some pig-tailed macaque monkeys, I didn't manage to get any nice pictures of them – they were a little too far up in the tree tops for my lens to reach and were climbing and jumping around.  With mist rising off the water the lake takes on a near foreign landscape, like sailing through dense only for it to clear and reveal the jungle below, like a King Kong movie.  I wish we had stayed out longer, the morning safari was picturesque in every respect, it didn't take long for the mist to clear and the sun to rise.  We were only out for about an hour then had to head back for breakfast, pack-up and start heading back – we would first go visit another cave, ride around a little then back to the pier to be taken back to Baan Khao Sok Resort.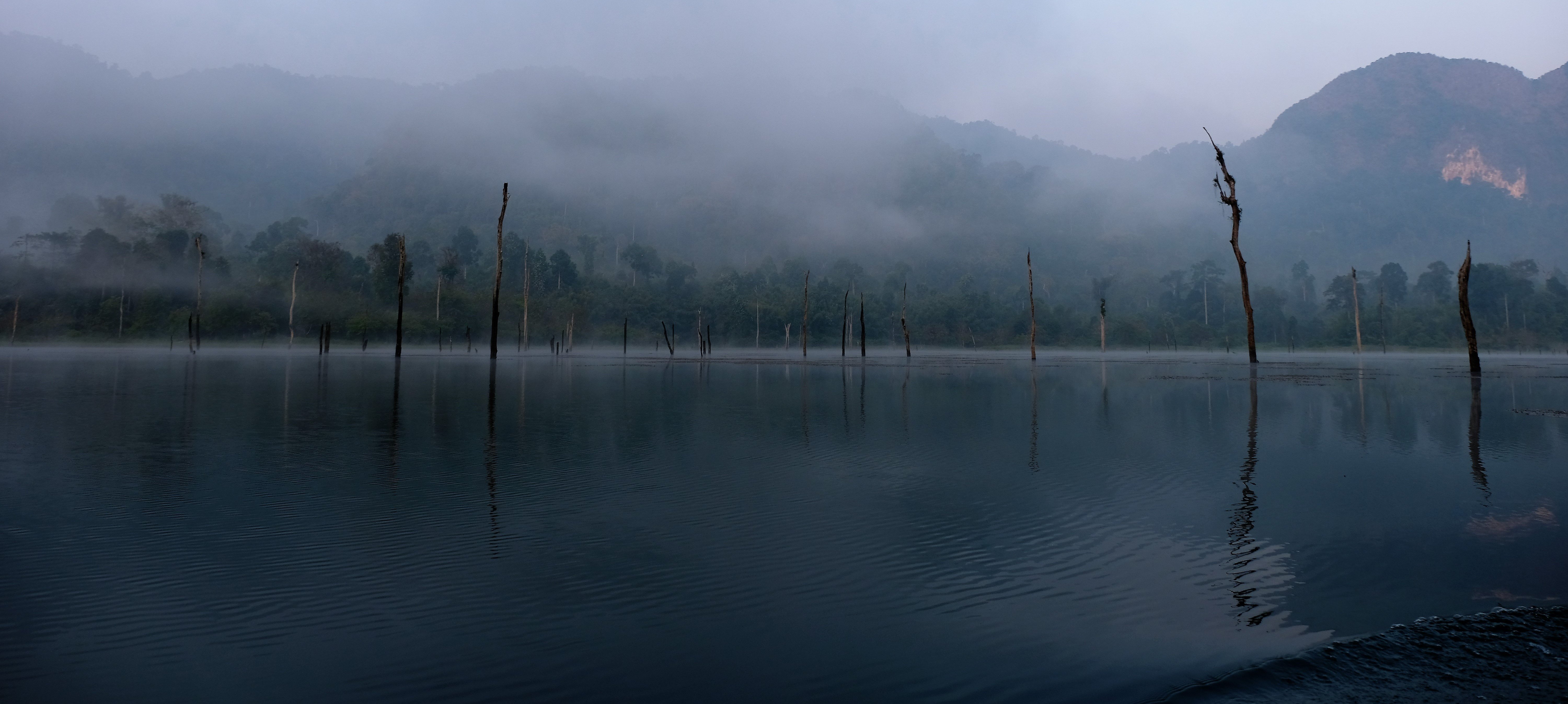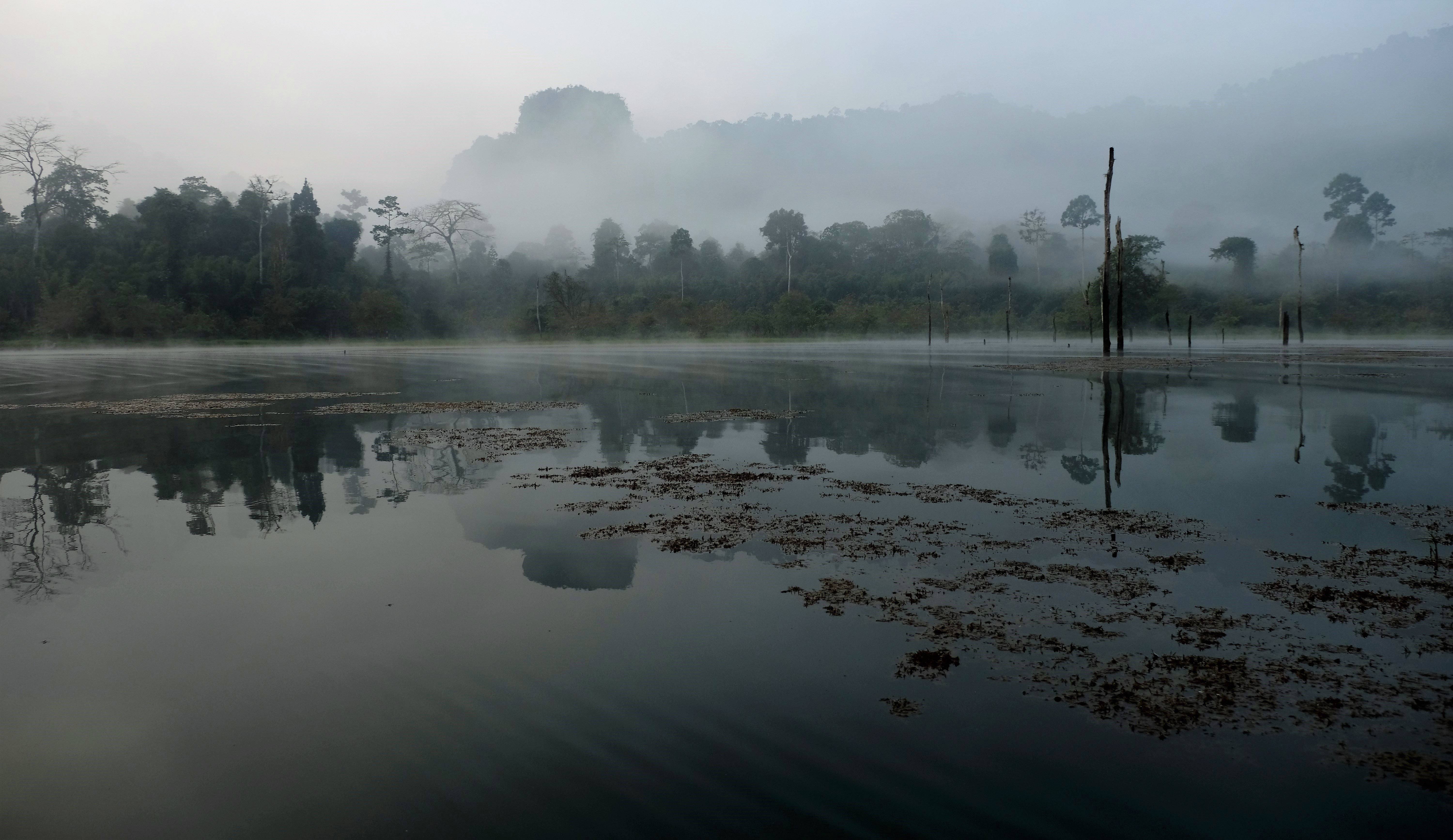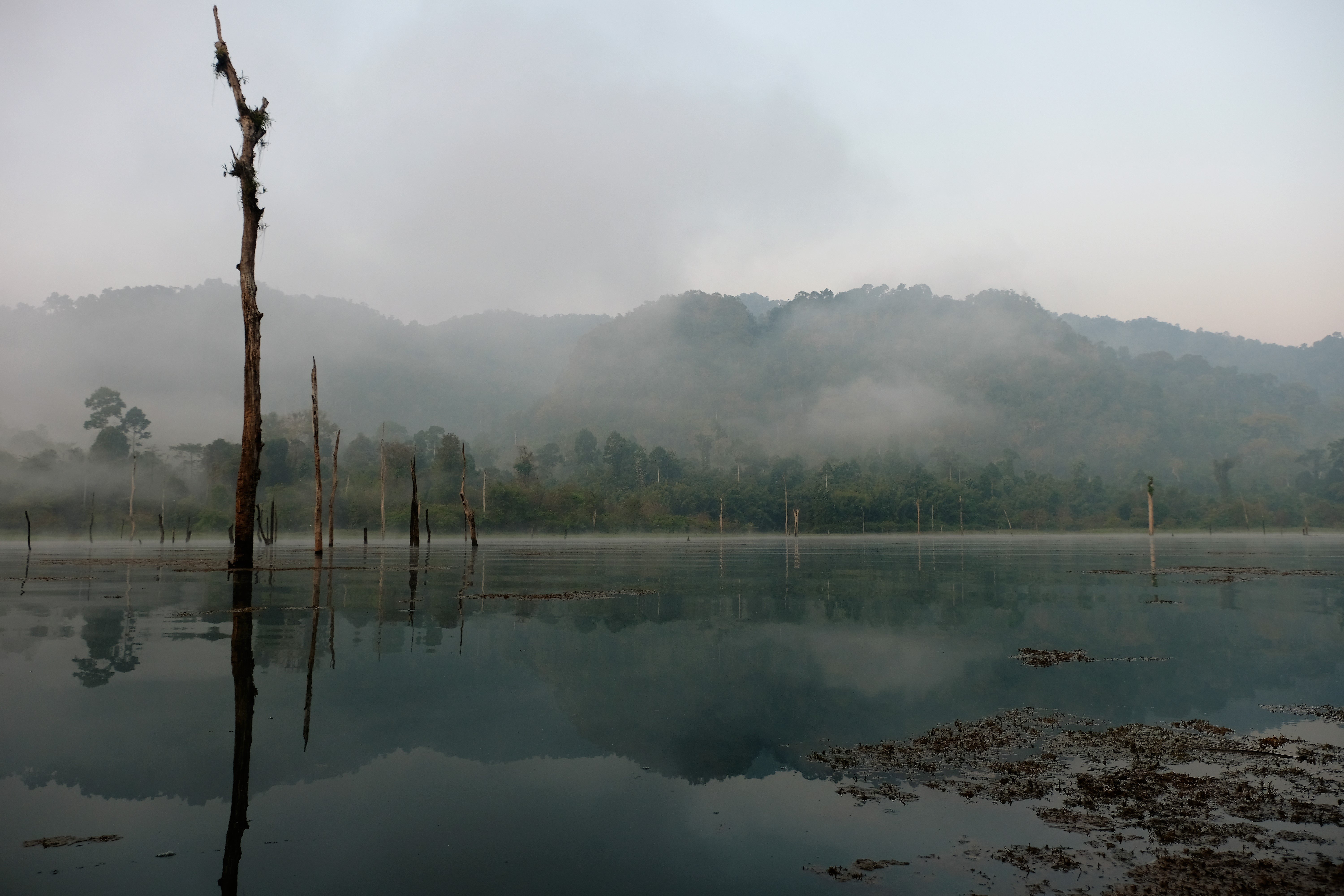 The route back was great, grrrr noisy, but that didn't faze me.  By the time we left our accommodation the sun was already relentless so the cool water occasionally splashing up was welcomed.  White rock faces tearing out of the water seemed to get bigger the further we went, the contrast of deep blue water, white vertical cliffs and rich lush green against each other makes the colours accentuate each other.  If you saw this place in a movie you would think it was special effects; it looks and feels so wild, so different that it just couldn't be real.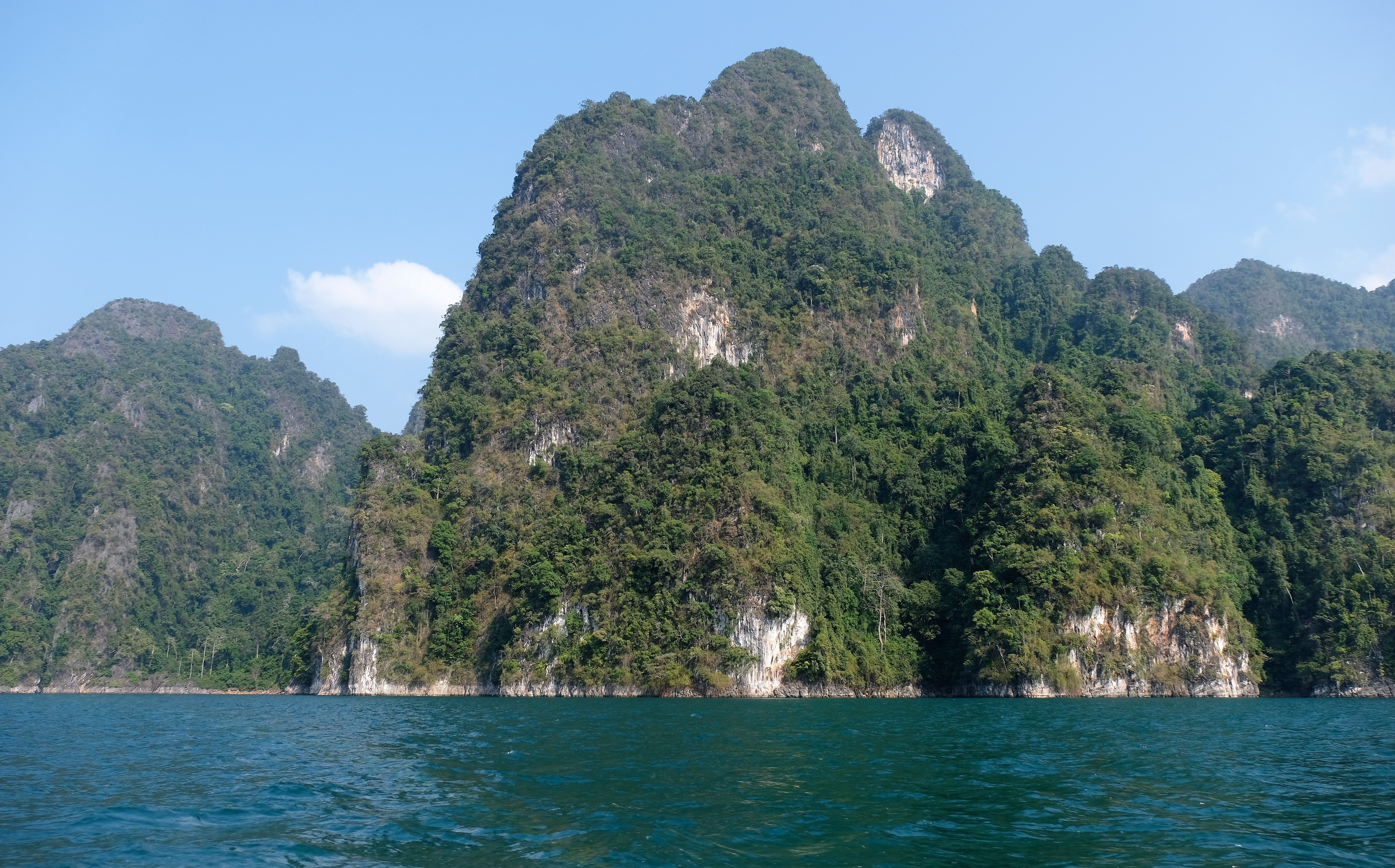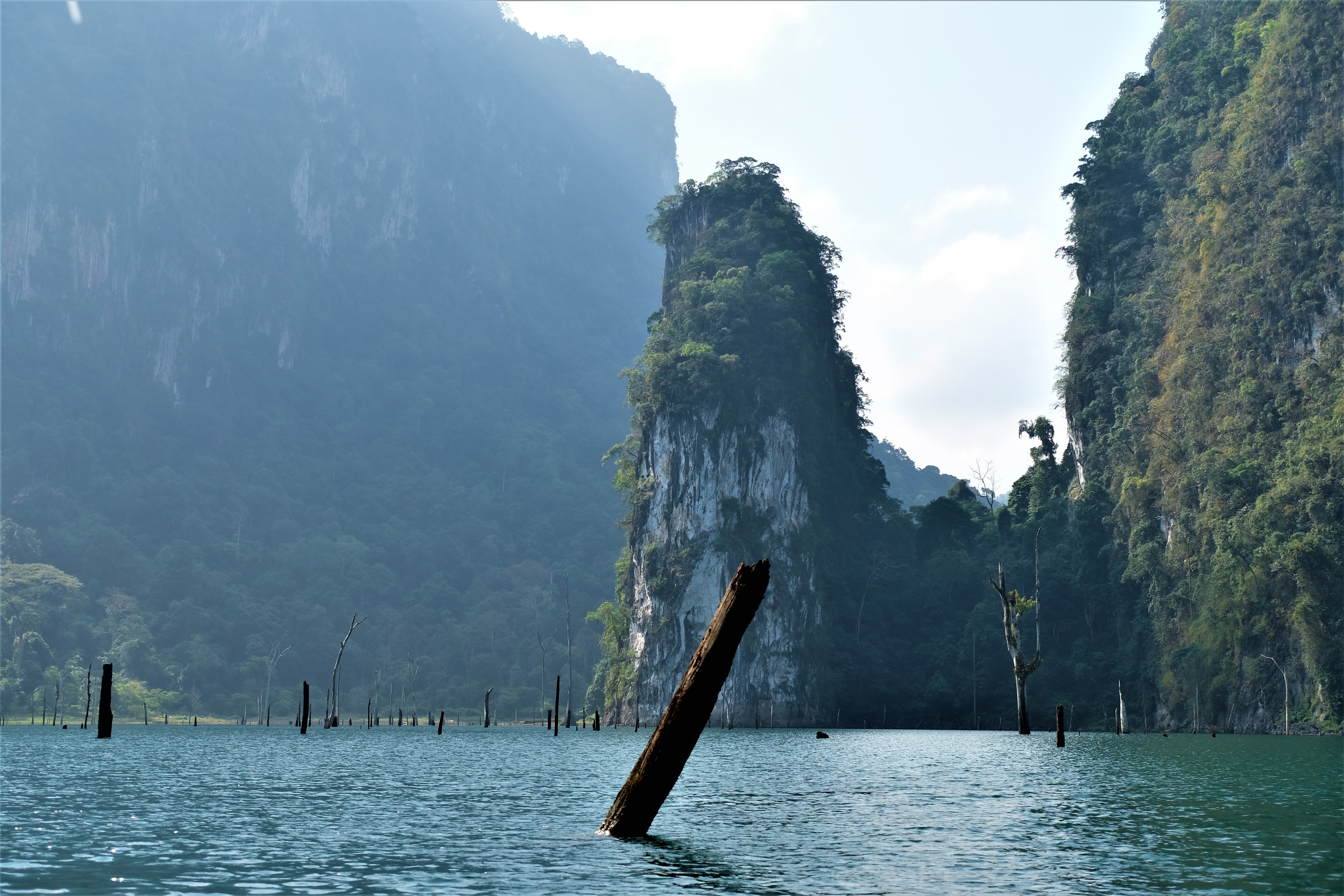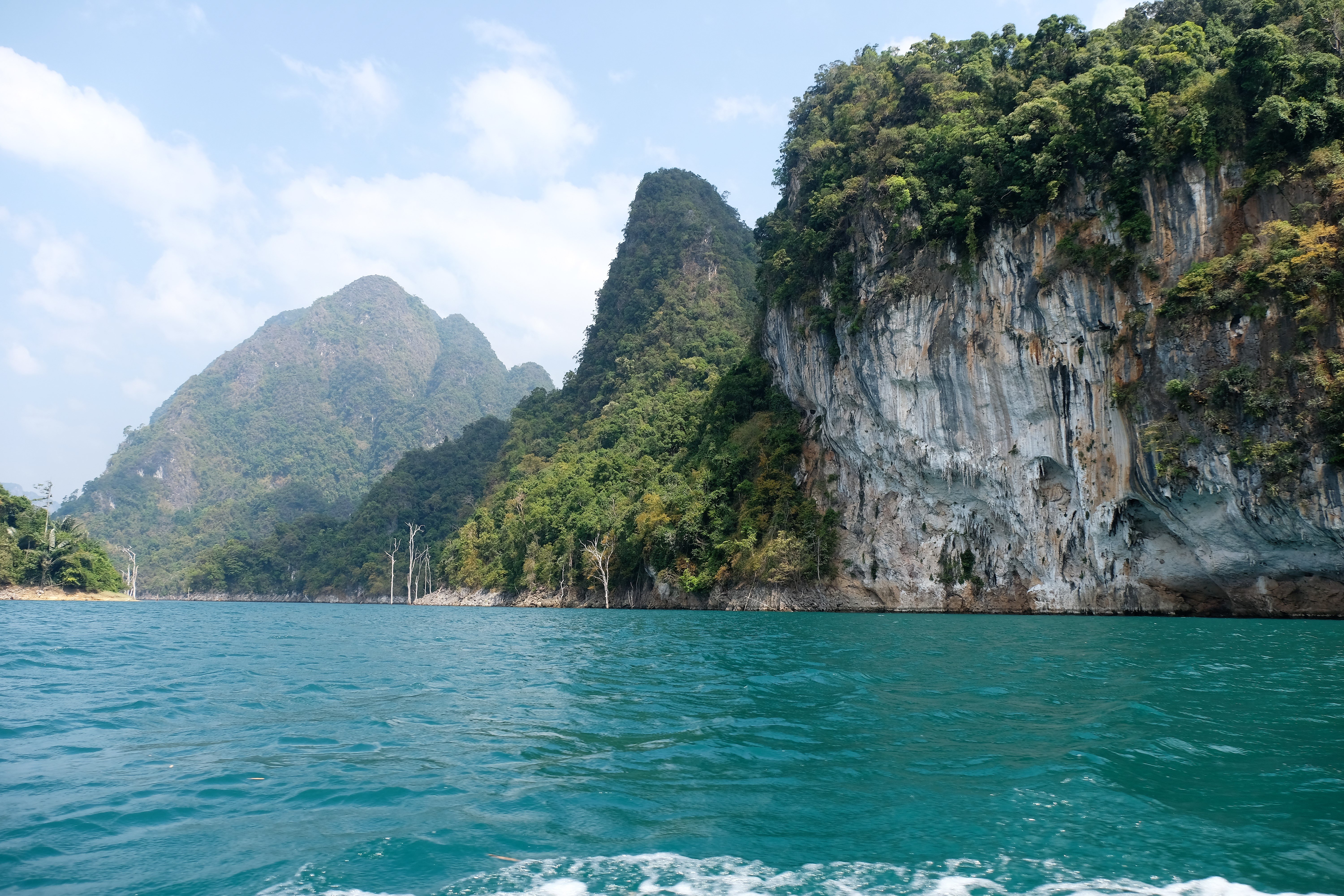 Cave no.2 wasn't so great, it would have difficult to match the experience of the first and to be fair it was only a small cave….the setting however is stunning.  Located on an island, the entrance is about 10m above the water level, that's where get the best views when you exit the cave. We were only there for 30minutes at most, next stop was out lunch destination, a secluded bay where we ate on the banks of the lake, obviously with beautiful views!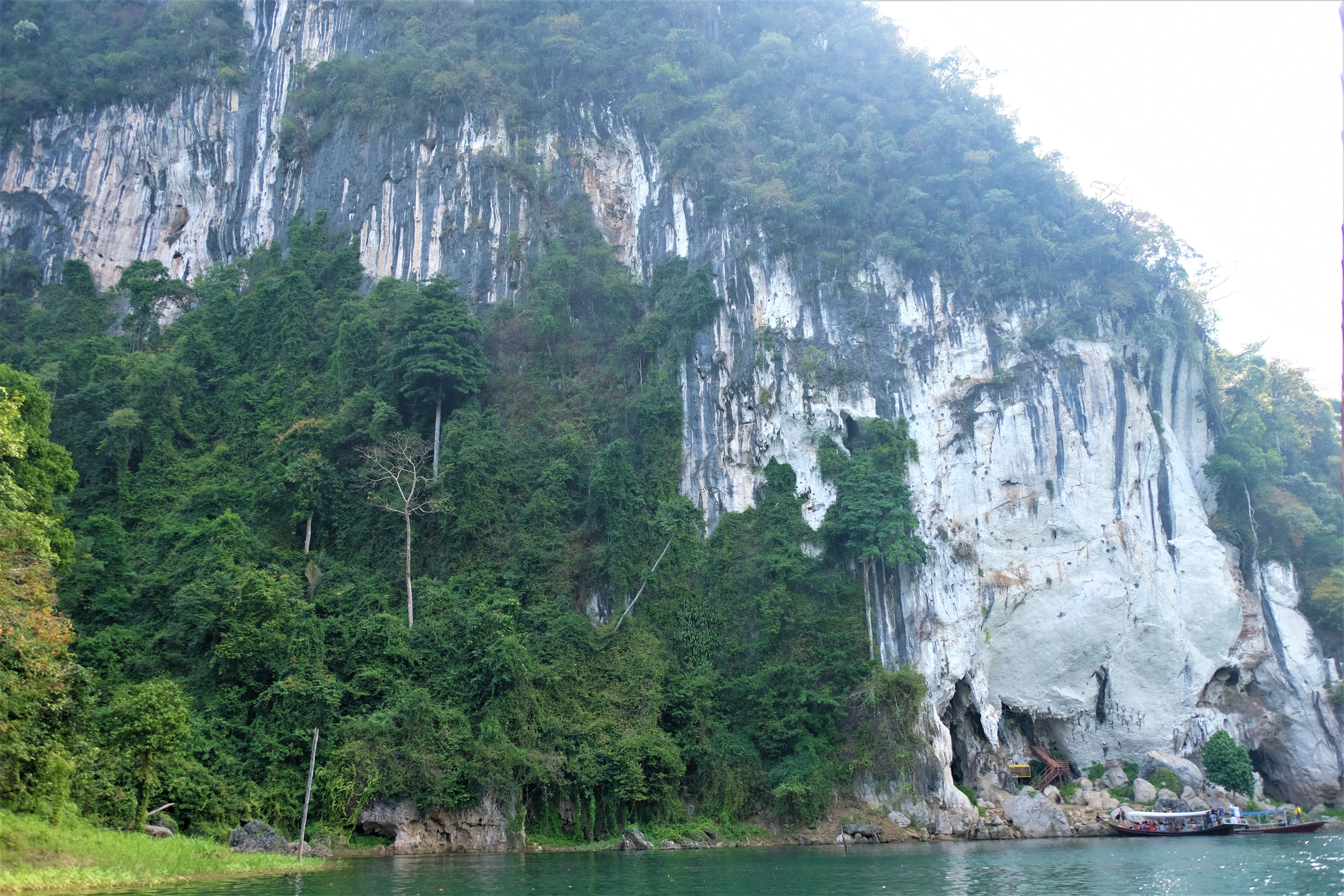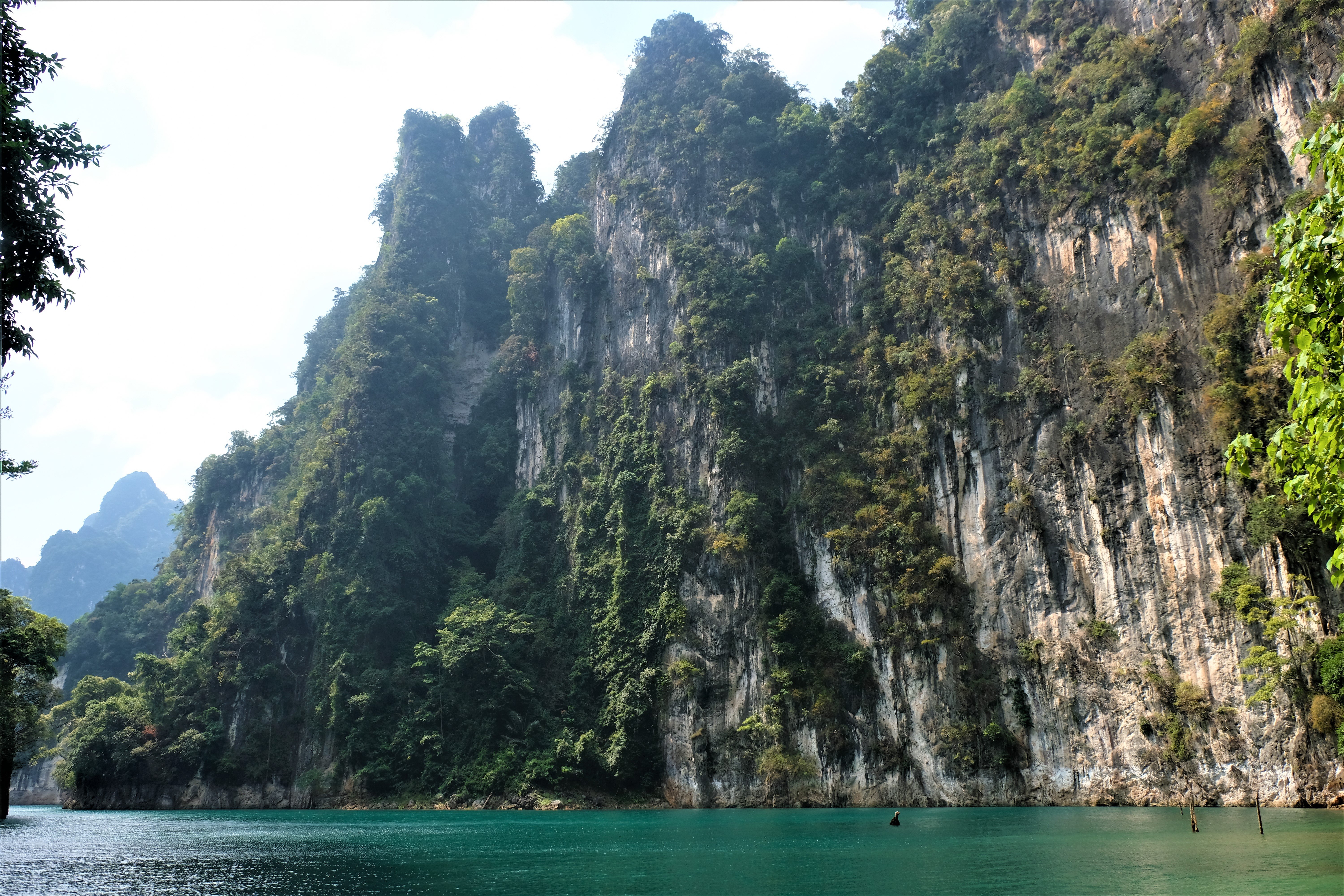 My time at Khao Sok National Park was coming to an end, I'd spend one more night at Baan Khao Sok before heading to Krabi.  I've spoken to quite a few people who've been to Thailand and many have not been to there which is a pity.  Safaris are not everyone's cup of tea and Khao Sok does offer more than just the national park, truthfully if it only had the park it would be worth the visit.  My only regret, well there are two, are 1. Wish I had a waterproof camera, 2. This supersedes point one, I would have liked to have stayed one more day and spent it paddling around or taking a very slow boat cruise for the day.
This have been a very convoluted post, sorry about that – I hope the pictures make up for the rambling!
Here are some more pictures of Khao Sok National Park that I couldn't leave out!