Koh Tao was my destination, I cannot lie I was glad to be leaving Koh Samui, maybe if I was staying somewhere else on the island it would have been better.  Koh Tao isn't like Koh Phangan (Ko Pha-ngan), about a quarter of the size, less touristy, not nearly as developed with in most opinions better beaches especially for snorkelling or diving…all in all a much better representation of island style experience.  That's not to say that Koh Tao doesn't have resorts, it does, they are nevertheless smaller and advertise the fact that they have rooms with hot water, air-conditioning is seriously a luxury.  What I liked about Koh Tao is that there are so many locations on the island where you feel far away from everything and everyone.
Going back to what I mentioned previously, speaking to people who have visited a place before you go has pro's and con's.  My reluctance to do so about Thailand has also materialised in pro's and con's, staying right by Mae Haad Pier was a definite con!  Being less than 50m from the beach was a massive positive and I was super happy to have left my hotel in Samui.  My regrettable location choice was only surpassed by my motel choice of Booking Center Guesthouse; cheap for good reason and comparatively (after my time in Koh Tao) not good value for money.  Anyway, I stayed there for three days, wasted, hobbling to the beach and restaurants, I was starting to feel like I was back in Samui.  What to do if you don't like your current circumstances, do something about it, so I moved to the East South-East side of the island to Moondance Magic View Bungalow…this is where my time in Thailand truly started.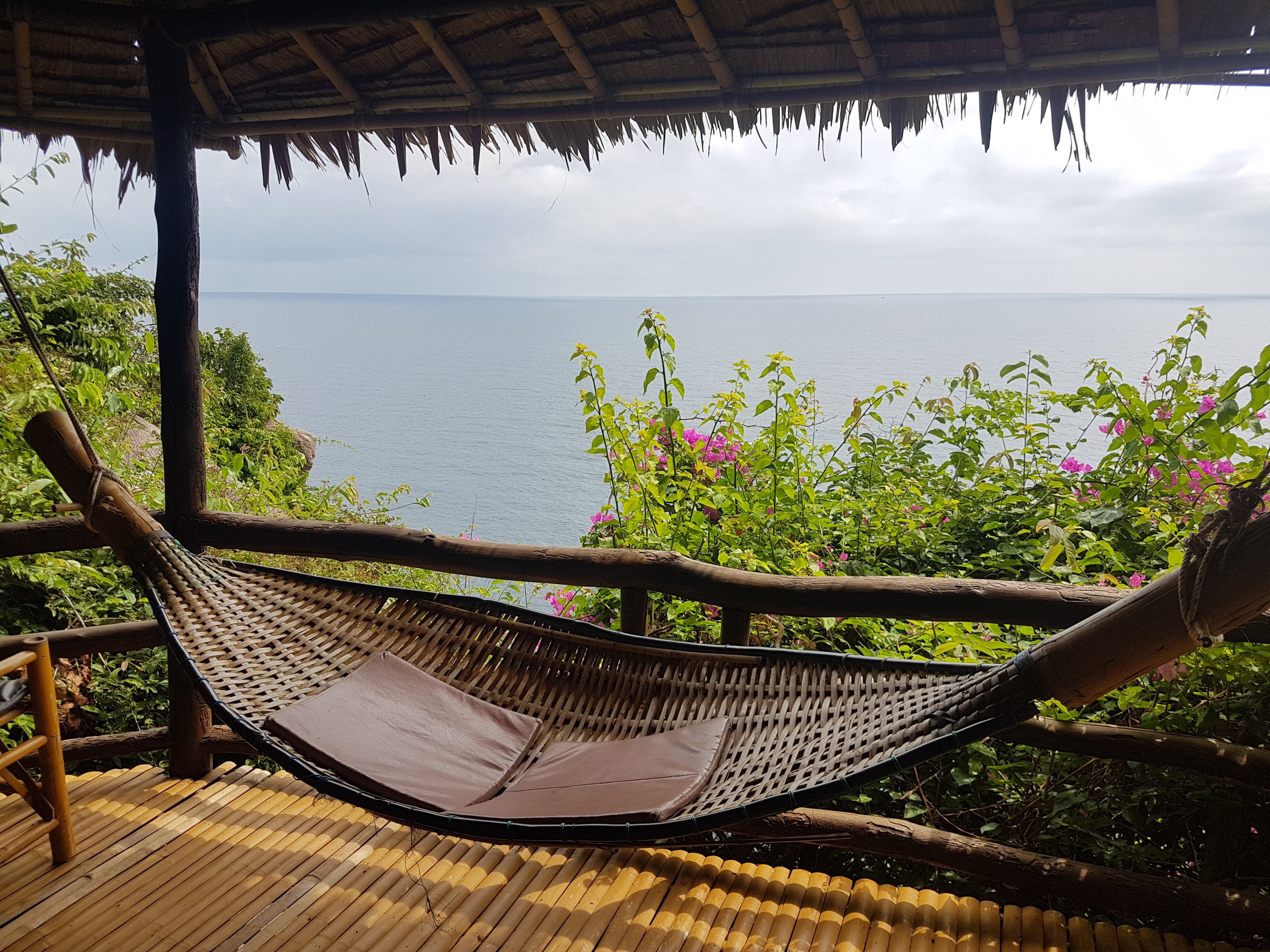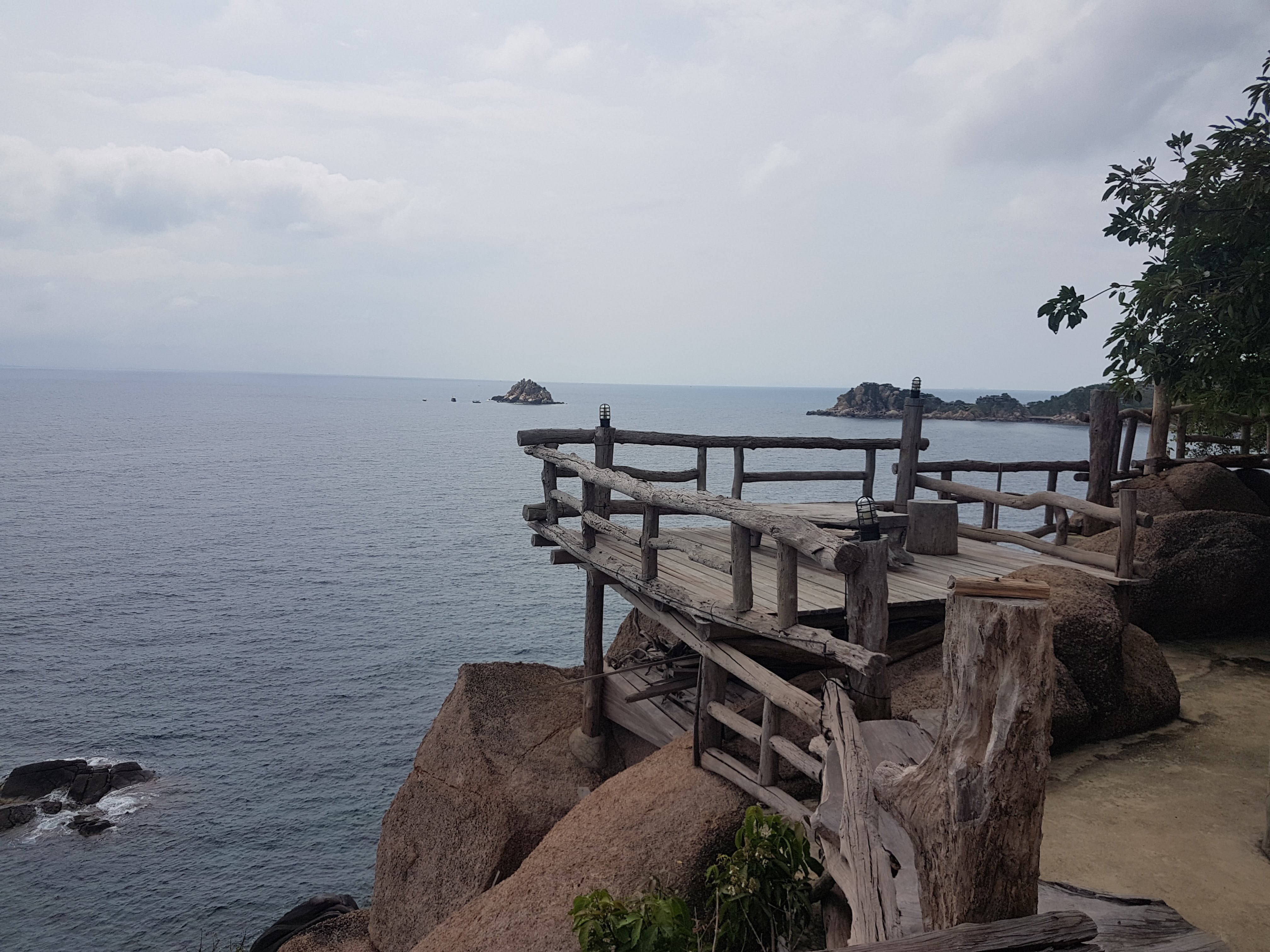 Accommodation
Moondance Magic View Bungalow is in a remote part of the island as are many parts yet still easy to get to, no that's not a contradiction; there is a good road leading there so by that it is accessible, yet because the island isn't very developed it is as peaceful and quiet as you could possible want.  The advantage of Koh Tao being small is you can quickly get to almost anywhere within 30 minutes ride too.  My accommodation was just what I needed, not on the beach but access to the sea by bamboo and wooden stairs leading down the cliff face.  My room, as basic as you can imagine, I couldn't wish for more.  A simple bamboo structure, bathroom outside (no hot water…you don't need it with the weather), double bed with mosquito net, a balcony with table and chair and hammock – all this to the sound of the sea breaking against the rocks at the bottom of the cliff.  My view was worth ten times the price, overlooking the cliff the sea below only broken occasionally by a passing dive-boat, to the right Shark Island, this place is exactly what I wanted, more so what I needed!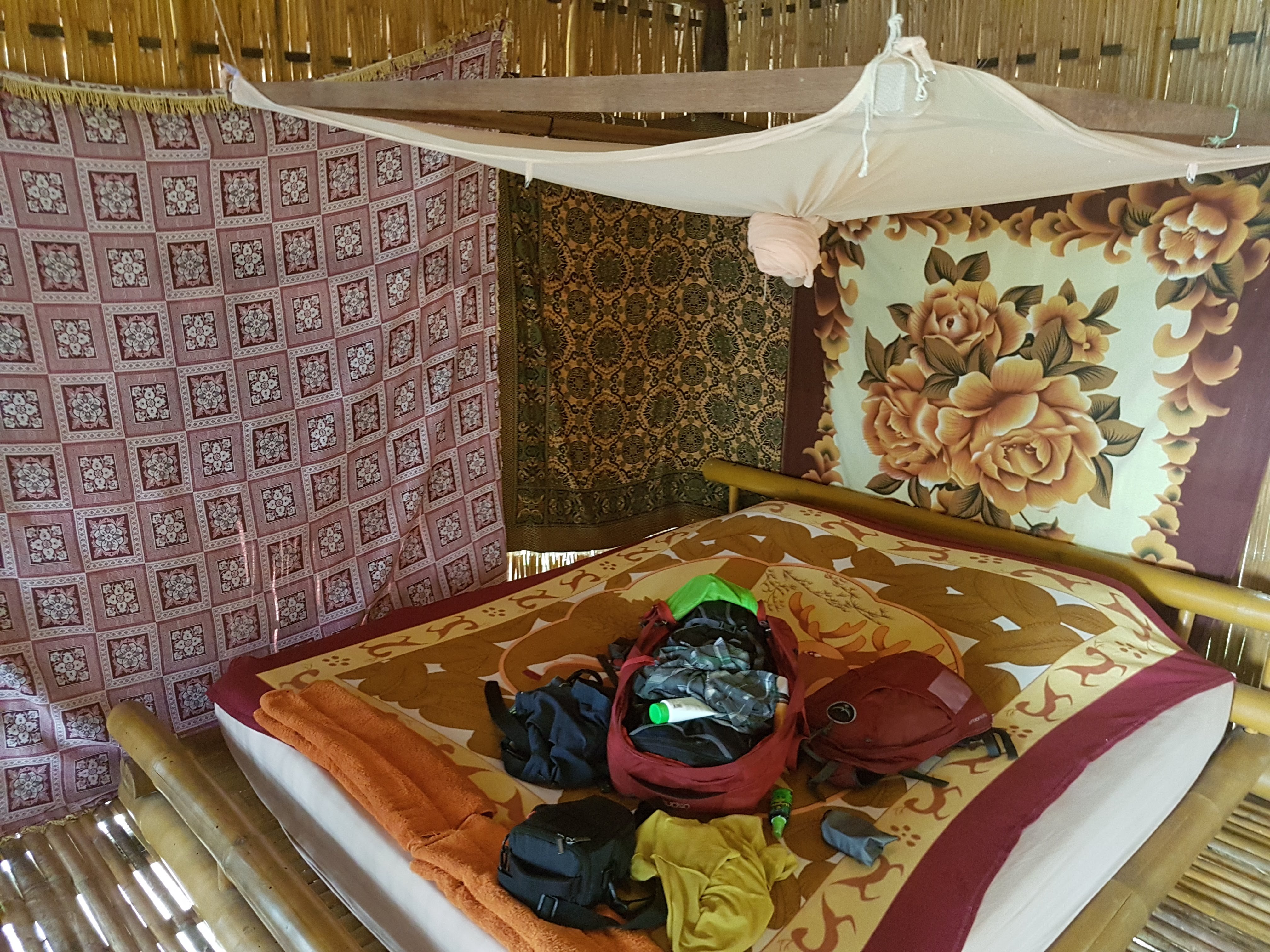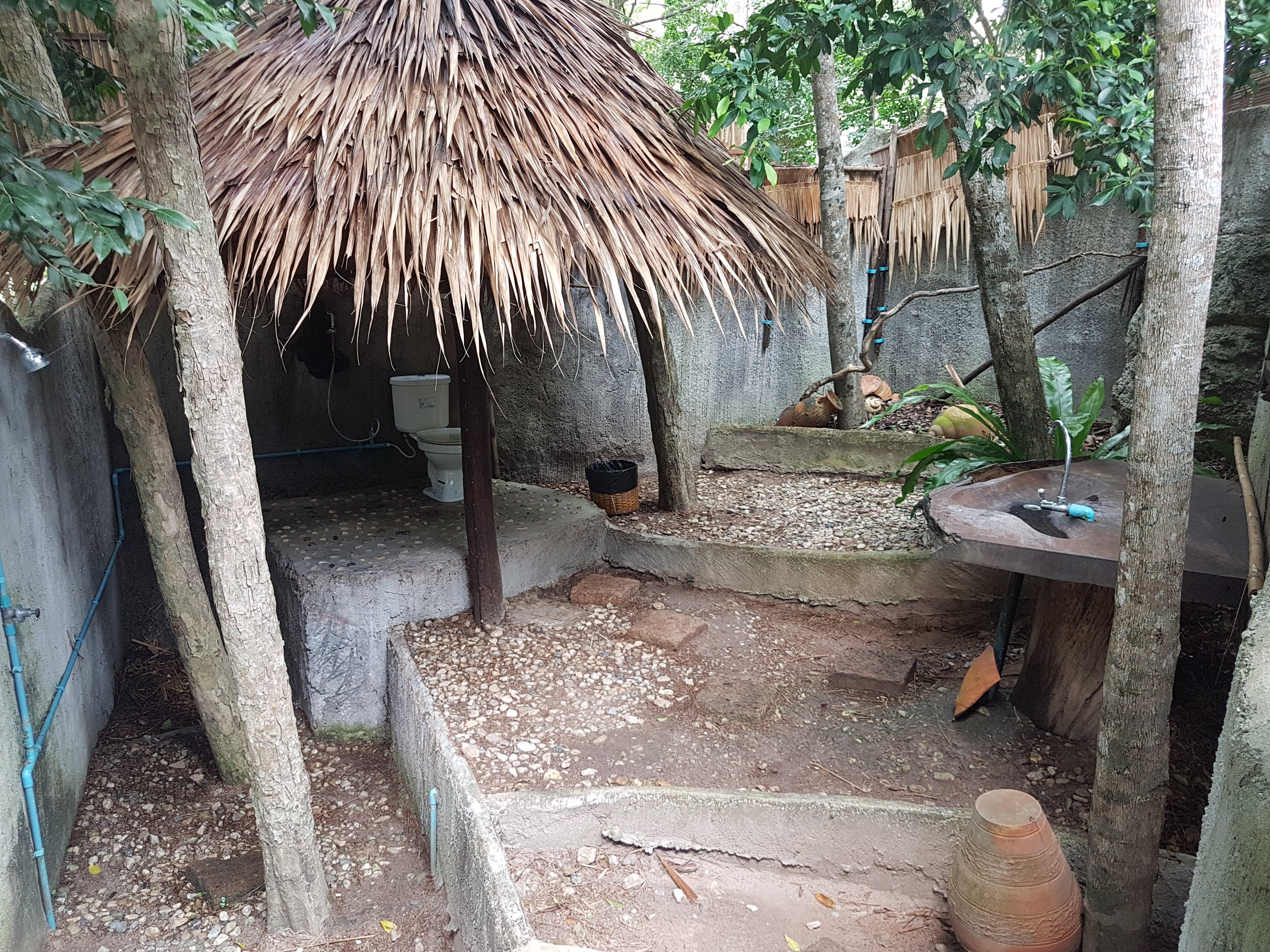 The next three days were unproductive, a good thing, the swelling of my left foot had gone down, my concern was the skin missing on top of my foot wasn't healing with the wound staying wet.  I had been taking antibiotics which I got from a pharmacy in Samui just in case; my worry was it turning septic even though I had been putting betadine on I couldn't get it to dry out, the bloody hot and humid weather wasn't helping.  Old remedies are sometimes the best, three times a day I would go down the steep rickety path to the sea, walking like a decrepit man to soak my foot in the sea.  I passed the rest of the day reading, writing and lazing about in my hammock.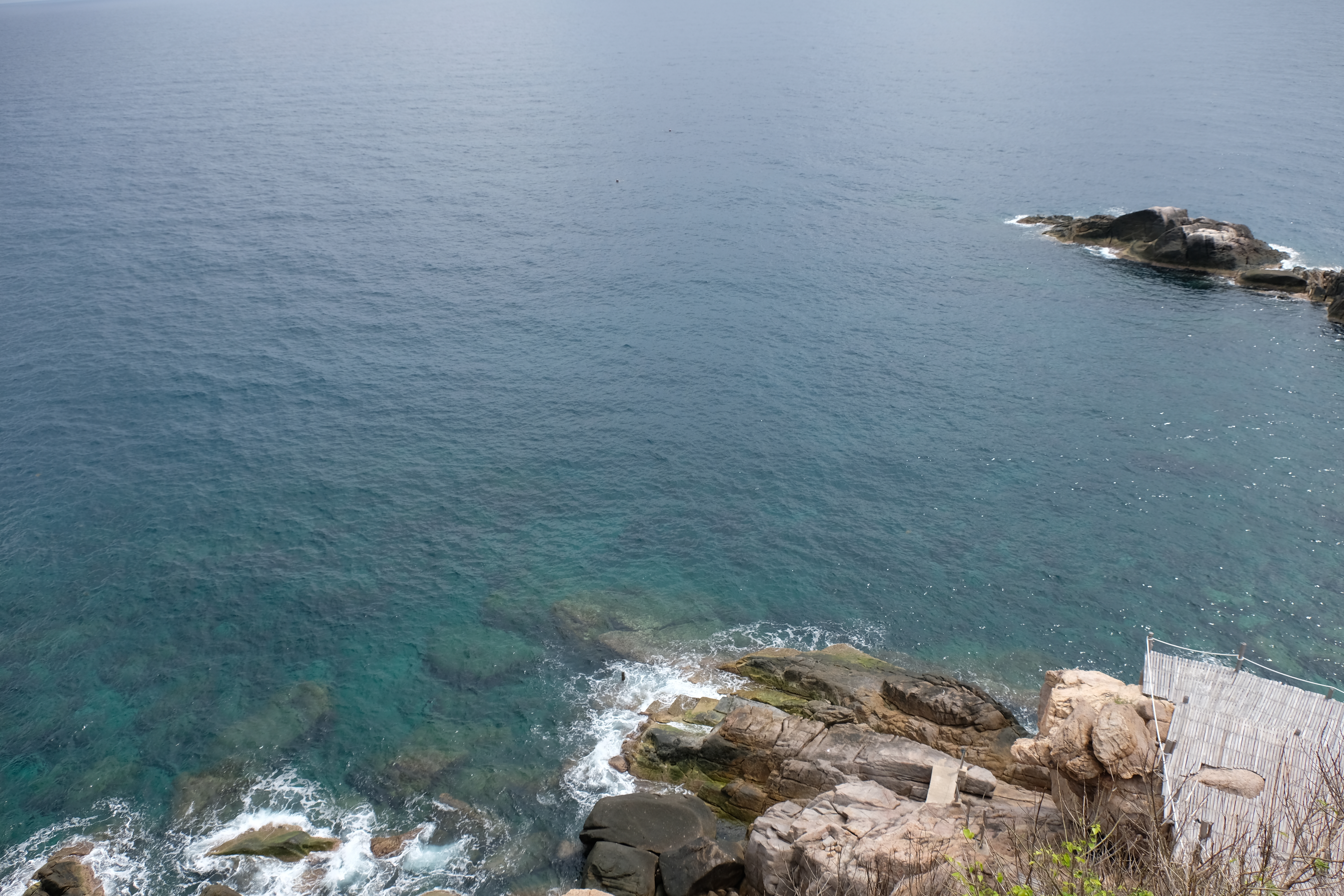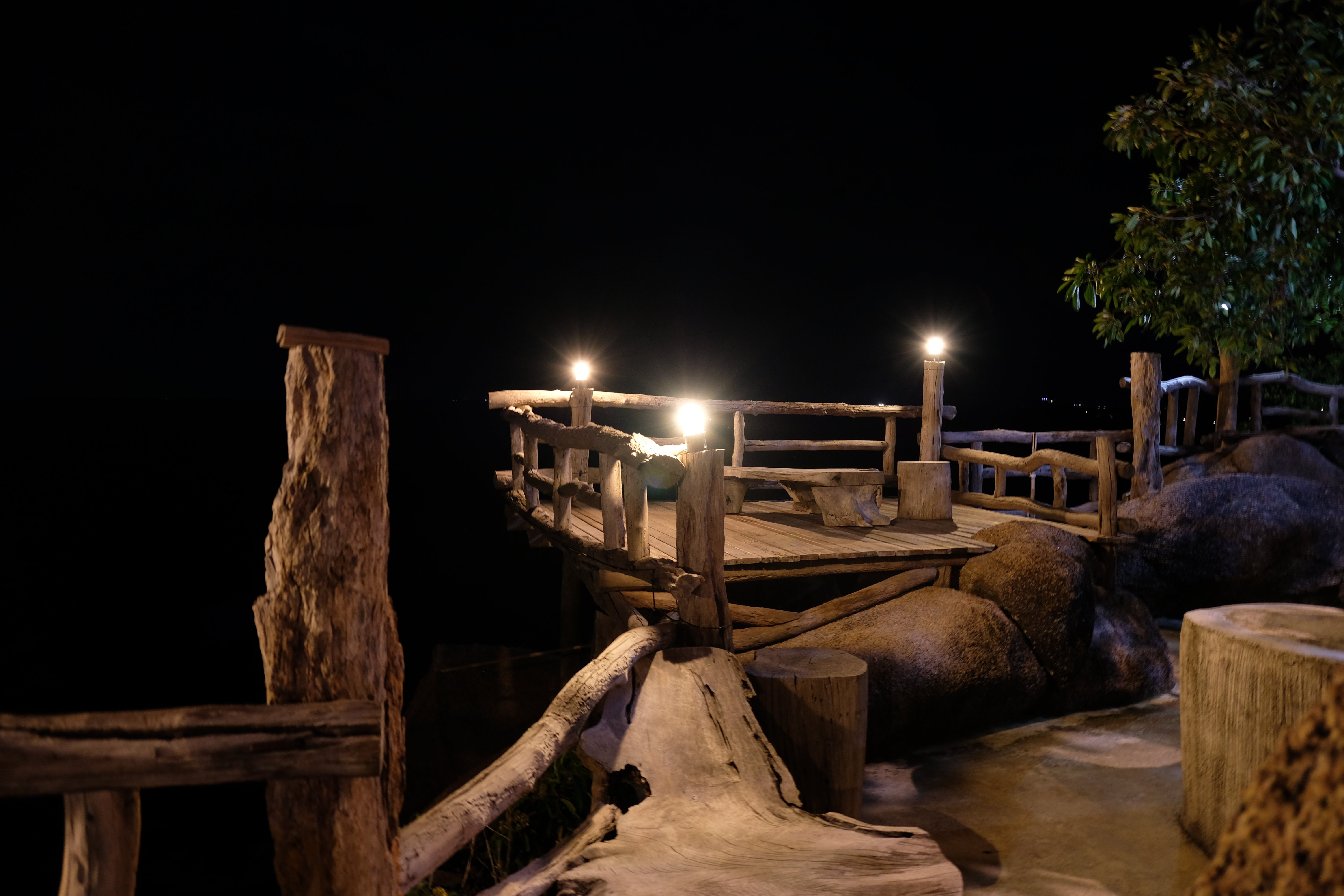 On the third day I headed back to Mae Haad pier for the sake of getting out and to buying some water and fruit, I didn't need to go that far I just wanted to get out.  Not being able to ride I took a cab, on the way back we picked up a French lady now living in Reunion Island and her seven-year-old daughter, Julie and Mila respectively, they were also staying at Moondance Magic View Bungalow.  I can't recall when we started chatting, only very little whilst sitting on the back of the pick-up or after they had checked in Julie asked if I had any shampoo they could use.  I reflect on these first encounters because of what transpired over the coming weeks and months (I write this on the 30th March which is near 2 months to the date), an interesting friendship started and continues as our travel paths crossed while on our own journeys.
Come to think of it, my time in Koh Tao was different, busy every day without doing much; every day we would explore the island and its many beach, snorkel morning and afternoon the rest of the time either relaxing on a beach or riding our scooters to find the next beach…some excursions more productive than others.  The sites of Koh Tao are beaches, more so the magnificent clear water filled in abundance with colourful aquatic life.  On my first real excursion I joined Julie, Mila and two of their friends on a longboat ride stopping at four locations to snorkel, whist going from one spot to another a turtle popped its head up right next to the boat then scooted away as quickly as he arrived.  With that encounter alone I would have been happy, that was a mere tip of the iceberg so to speak.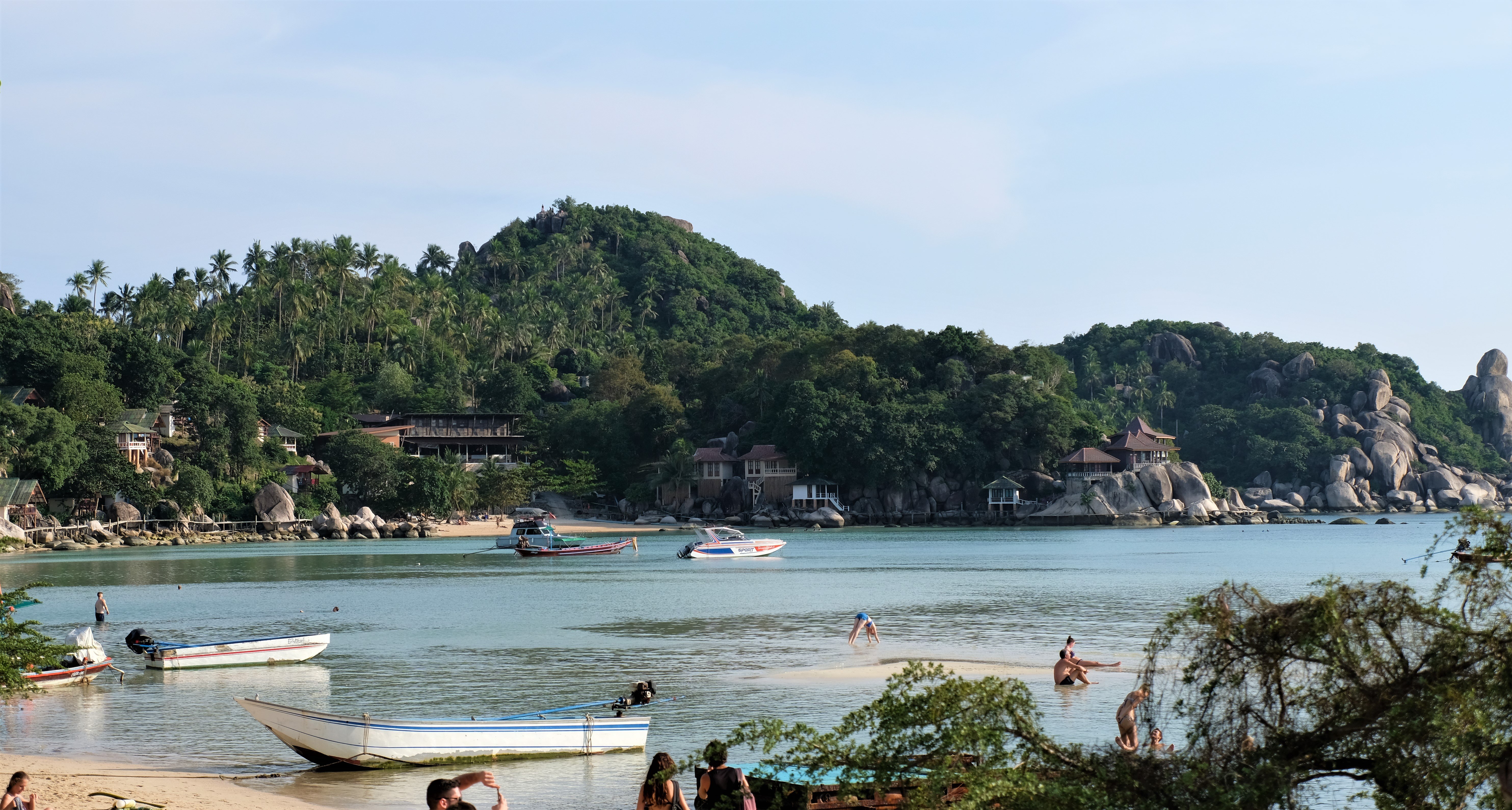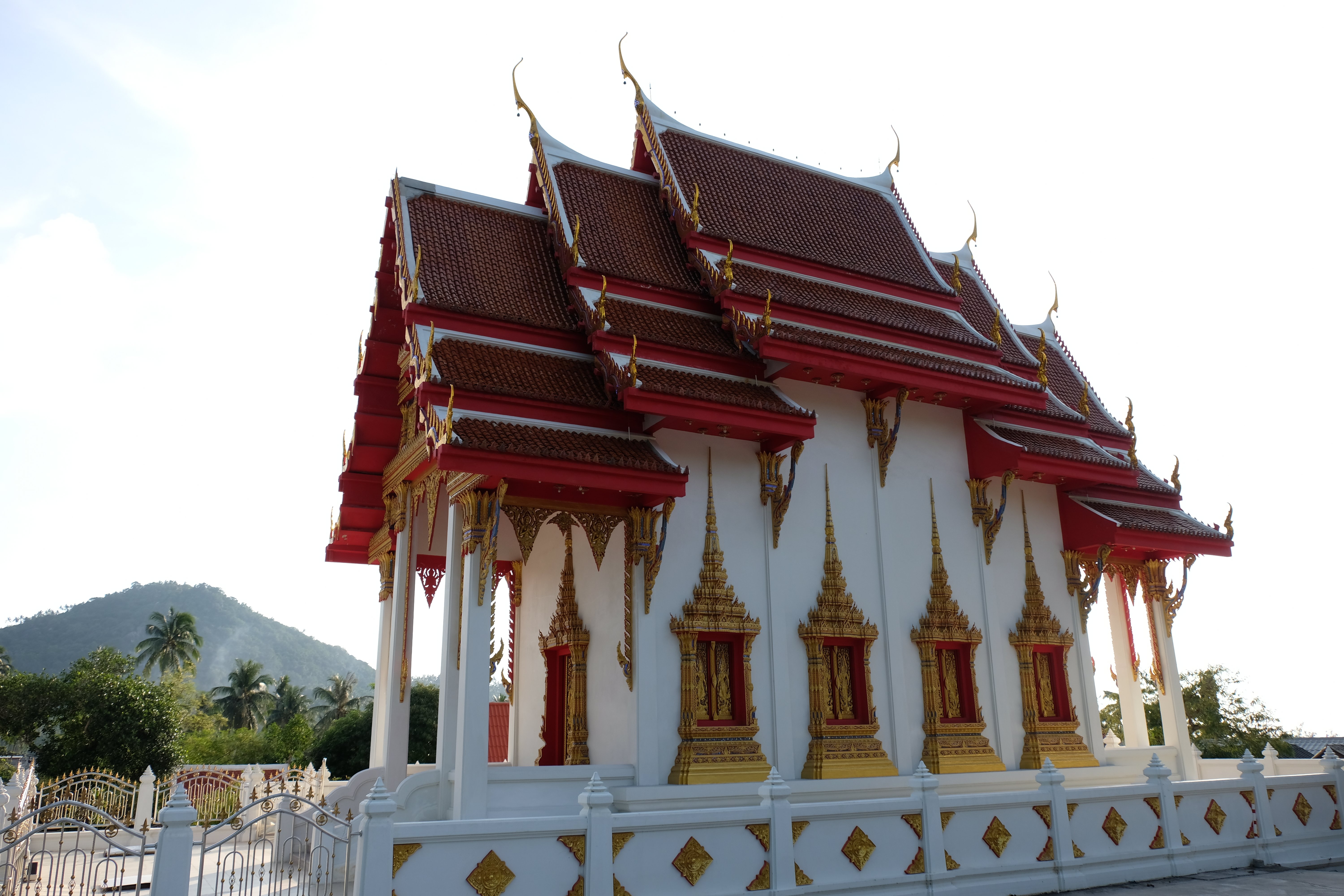 Koh Tao's has many beaches, the best are hidden
There were three locations we didn't see, Sairee Beach was intentional being the main beach and full of people, another was Nang Yuan Island that was a shame, we did snorkel around the island but didn't go to the beach again because it was overcrowded.  The last one and the most frustrating was Laem Thain beach, this was not due to any overcrowding, no, on the contrary it is one of the most secluded beaches seldom visited and therefore a challenge to get to!  There are three ways to get there by boat (expensive), paddle ski (quite a distance) the third is to walk (supposedly about 1-1.5hrs).  The third option seemed easy and it would give us (Julie, Mila and I) the opportunity to explore the island other than the beaches and sea, only thing is everyone has their opinion on how best to get there.  On our firs attempt we headed in the direction of Ao Hin Wong Bay taking a side road right about 2-3 km from the bay (I use "road" in a very broad term, it would have been better to have motocross bikes), up a hill till the scooters couldn't go further then walked following a path and Google Maps.  After a while the path ended, using Google Maps we thought we could make our way, with the vegetation so thick it would take us hours and still there were no guarantees, we headed back and would try another route the next day.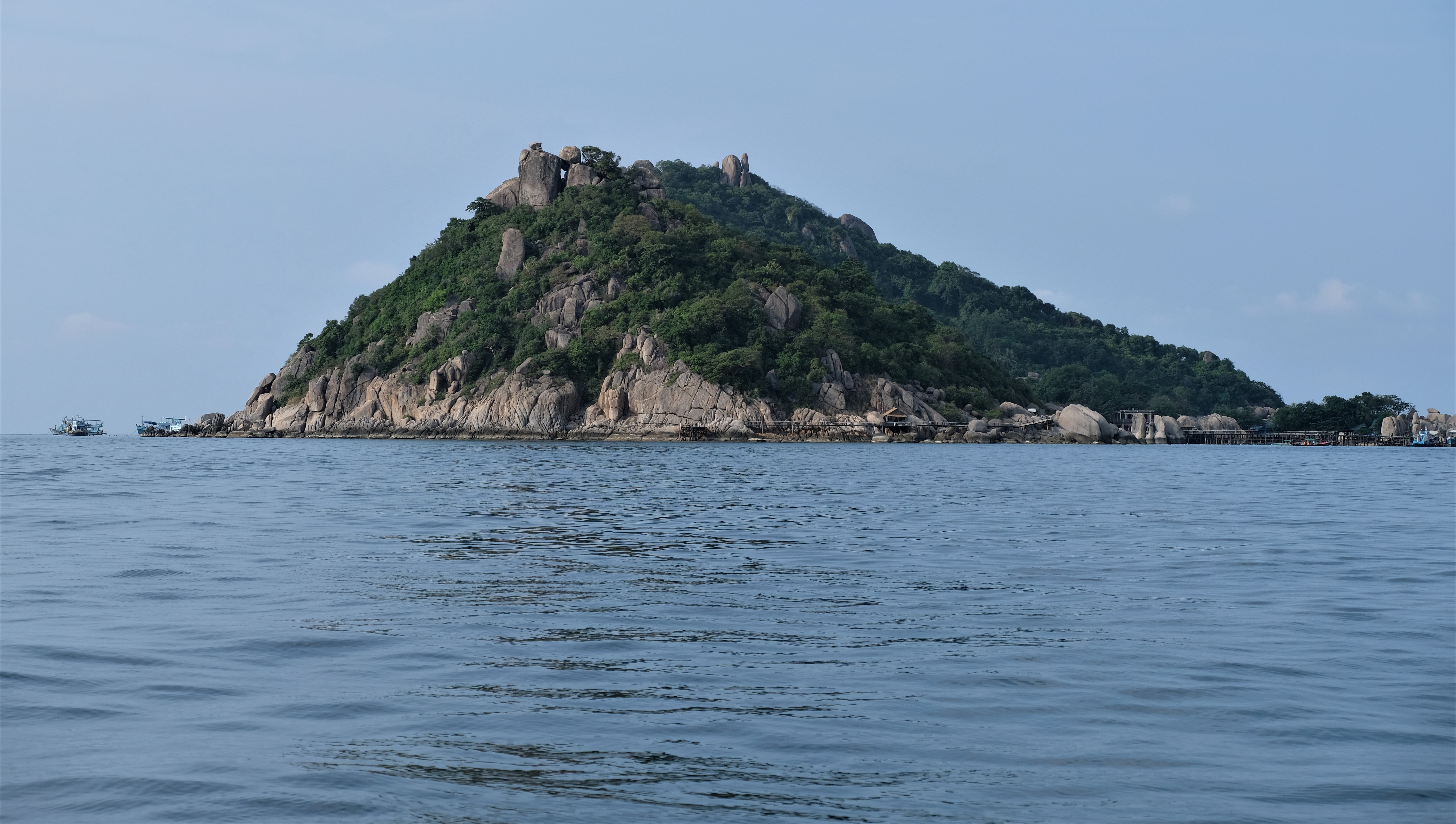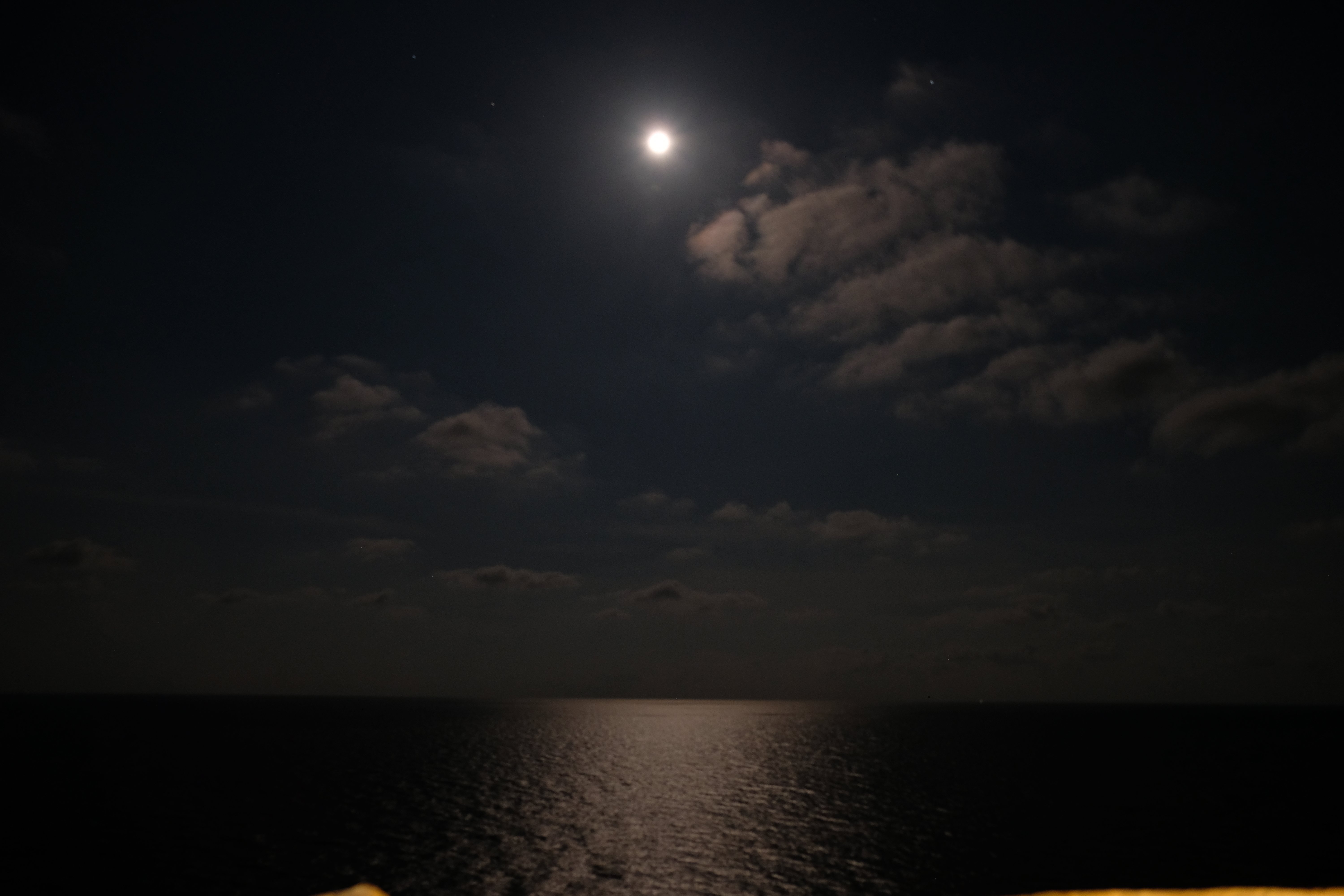 Next day invigorated we decided to try another route, heading towards Tanote Bay, turning left to Love Koh Tao restaurant, we had lunch overlooking the Tanote Bay, the deep blue sea with a foreground of lush green than clasps the bay.  We tried speaking to the waiter and staff at the restaurant, they were not much help.  After consulting both our maps we headed further inland, again a motocross bike would have been better finally arriving at a little bar/restaurant/who knows (later to find out it is called Koh Tao Two View Bar & Restaurant…not 100% sure if that is correct).  The owner knew exactly how to get there, it would take about an hour walking, all we needed to do was follow the path….so we did.  Conclusion, we got totally lost, even traversing down massive boulders, pushing and pulling each other up and down ledges as our own made path lead to nowhere. To top it off the soul of my shoe came off (5.10 I bought in Dubai, just another thing I need to update on My Gear), Julie laughed, I had to join in.  We were in the middle of a jungle drenched in sweat and here I am with no sole on one shoe…Thailand wasn't being kind to me ?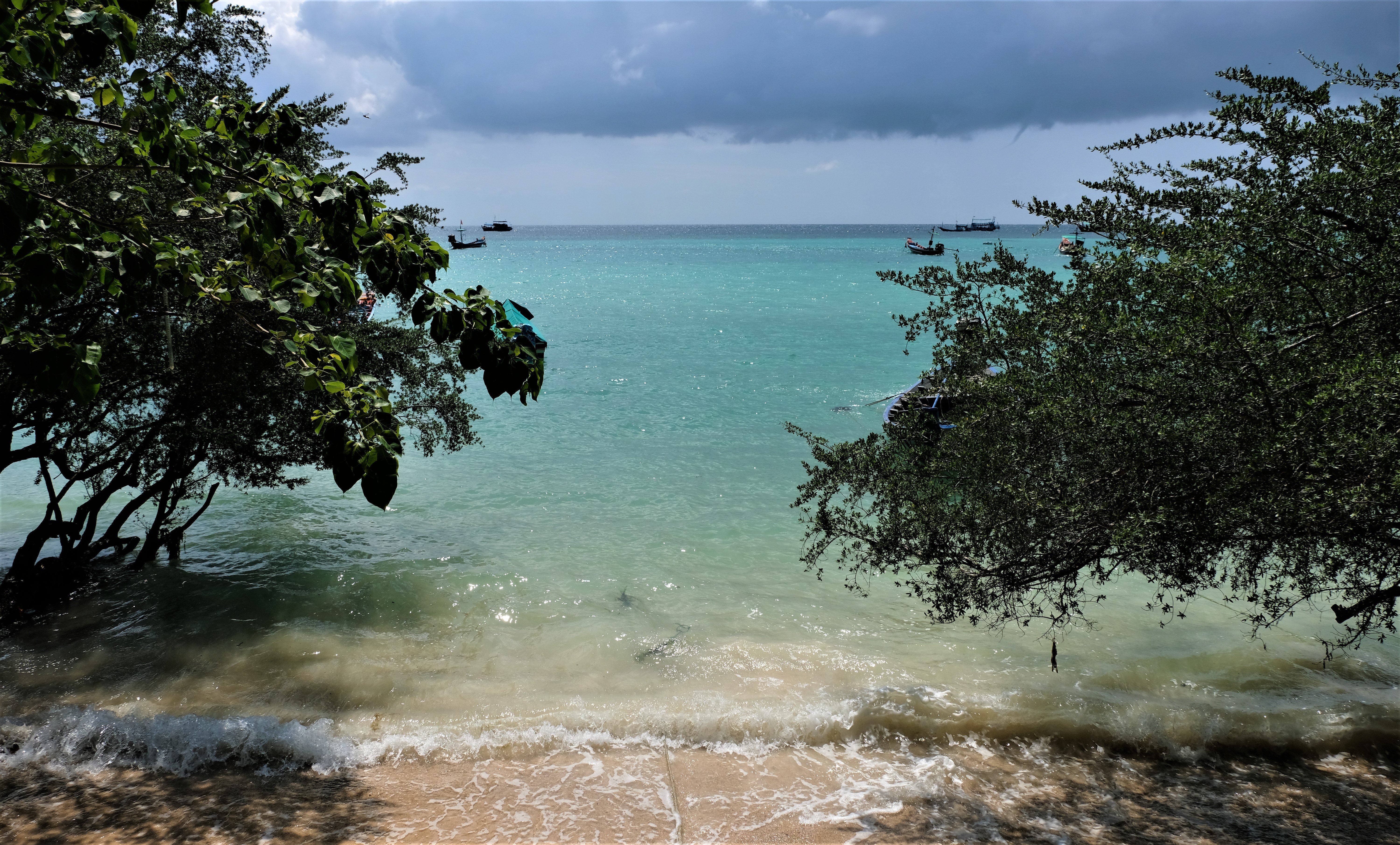 After trekking around for near 2 hours we decided to turn back, only to find we had missed the real path earlier when crossing over a massive boulder.  It was too late in the day to get to Laem Thain Beach, guess it would have to be explored another day, another time.  The next day Julie and Mila were heading off, I was planning on staying another two more days then off to Koh Phangan, for two or three days.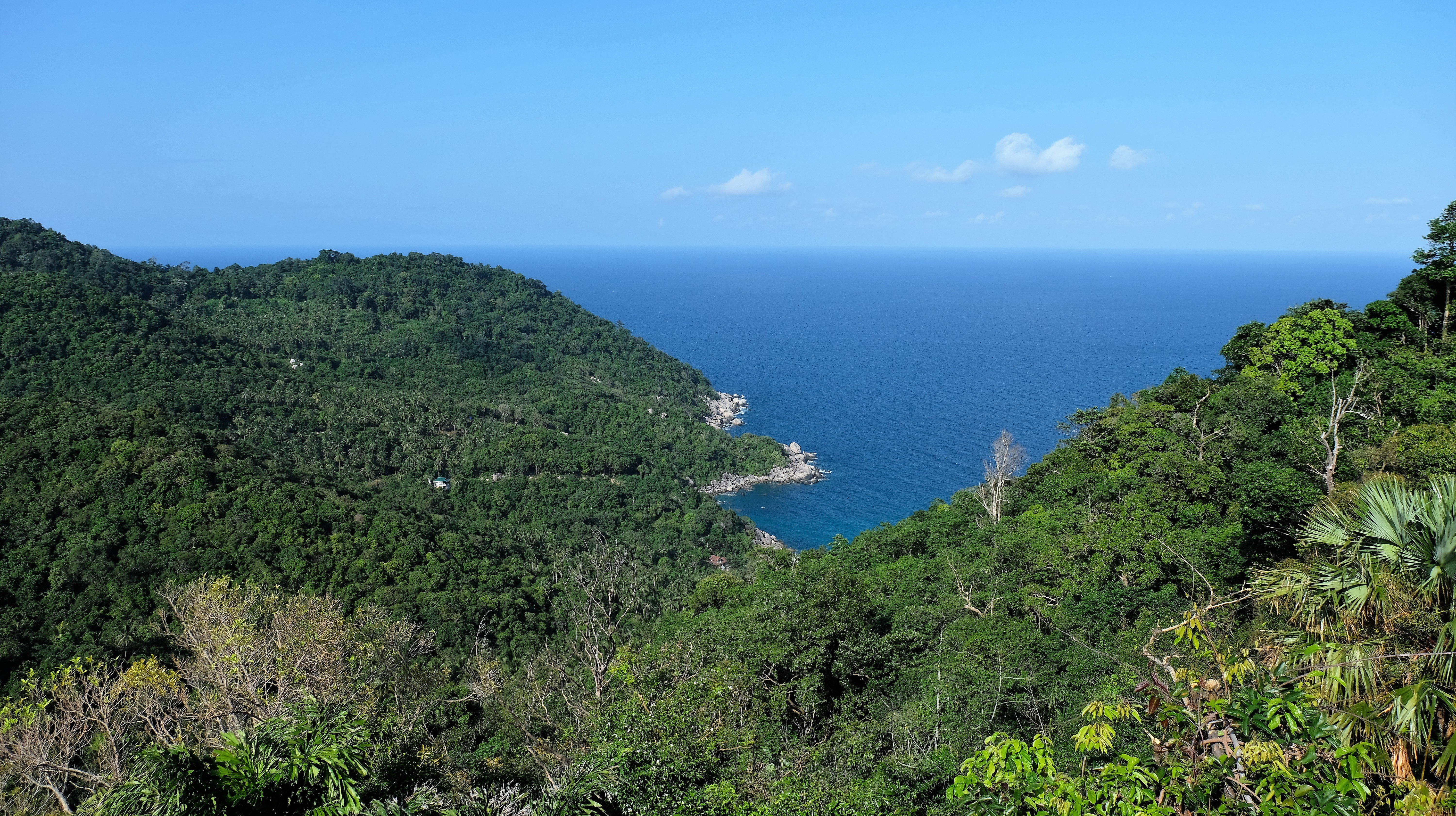 Very similar to my time in Dahab at the Red Sea my regret about my time in Koh Tao is not having an underwater camera; the beaches are beautiful and the views around the island are too, the special moments though were dominated under the water.  How do I describe swimming with a solitary turtle for 20-30 minutes.  An oddly majestic creature with peaceful large eyes gliding through the water eating seaweed.  Slowly yet purposefully and with such grace moving to the surface for a quick gasp of air then returning to the sea bed.  Other than the flowing sea on my head, snorkeling is a quiet safari watching the most delicate and colourful creatures of all shapes and sizes in a world at one with each other, a different dimension to the world we live in.

I swam in every bay I passed even if for just for 15 minutes, Koh Tao is definitely a place to go if you like the sea and the spectacular creatures that live in it.  Watching the black-tip reef sharks was a privilege to experience, I didn't get to see them many times and the normally they just darted past, still I was awestruck.  No, it wasn't the Red Sea, then again if all seas and beaches were the same life would be boring.  Here the many beaches combined with the sea life that does vary from beach to beach is like having many holidays and experiences within a small area.
My last three days in Koh Tao were spent at Assava Dive Resort on Chalok Baan Kao, in a coved with Taatah Bay and Freedom Beach. My last day I didn't get up to much, really should have tried to get to Laem Thain beach instead I cruised around and chilled by the beach…yes I was back on a scooter since I could walk again back in Moondance Magic View.  I would go back to Koh Tao tomorrow, next time to do some diving.
Next stop would be Koh Phangan / Ko Pha Ngan for three days before heading off to Khao Sok.
If you missed the previous instalment here is the link – Koh Samui, accidents are inevitable not the end of the world