Dahab
My decision to go to Dahab, Egypt on the Red Sea instead of Sharm el Sheikh was made because I didn't want to stay in a "holiday resort" area, instead I wanted a place to just chill by the sea.  My brother and sister-in-law had been there for a short while about 10yrs ago; their description of it being a small beach village environment seemed to fit what I wanted.  I'd go there for 5 days to give me time to relax, swim and make plans to head to Jordan.
Leaving Luxor at around 6:00 the flight to Sharm el Sheikh is only about 2 hours, Dahab is 100km further North I got there by arranging transport through my hotel – seems just about all accommodation in Dahab offer this.  Word of note, many of the cabs/taxis at the airport don't like taking people from the airport to Dahab because of the distance and tend to charge a lot to compensate for the time and hassle.  My transport cost $30, and that's a lot if you consider the exchange rate was 17.5:1; my rationale was oh well $30 is cheap to travel 100km in London.  You can definitely get it cheaper, if you don't want to deal with haggling the taxi drives like I said most of the hotels have or can arrange transport shuttles.

Driving from the airport to Dahab is a scenic route, the road in the best of conditions compared to what I had become accustomed to with course grey and red mountains, desert like valleys with the Rea Sea almost always in sight.  As I had come to expect we passed through two security checkpoints, one about half way and the other at the entrance to the town.  First impression, hmmm I must confess were not great; a little high street a.k.a main road through the town but even before entering the town the area has lots of ½ built now abandoned buildings which would either be hotels or apartments.  I wasn't to perturbed, I'd learnt not to judge a book by its cover, the lesson was the same here; the streets aren't the most ecstatically pleasing to the eye but the hotel, Acacia Hotel, more like a motel, was great!  Most of the hotels/motels don't look great from the street but go through the doors and you enter a bright, clean and welcoming oasis – nothing flash but you wouldn't' expect that from a small-town environment.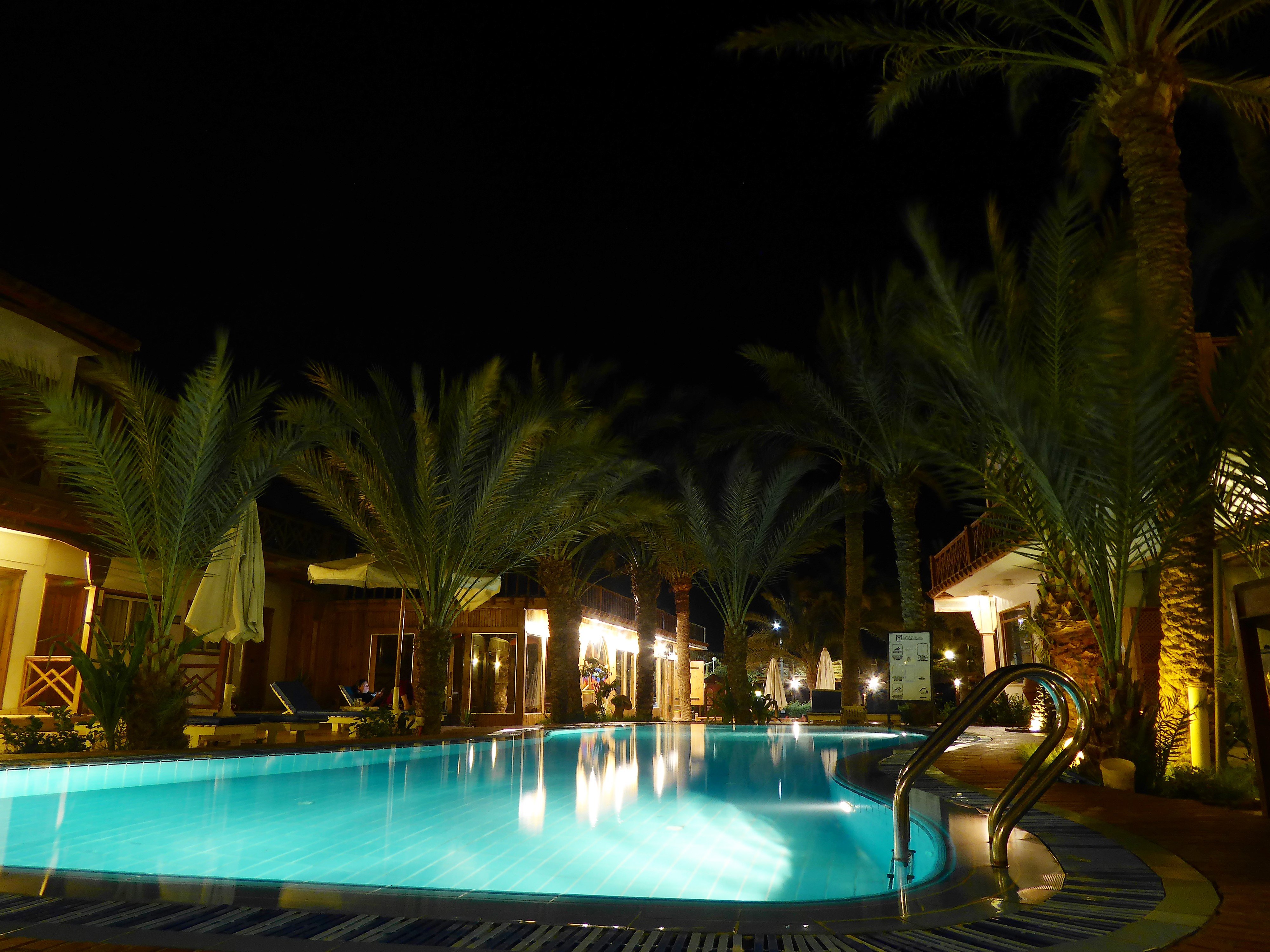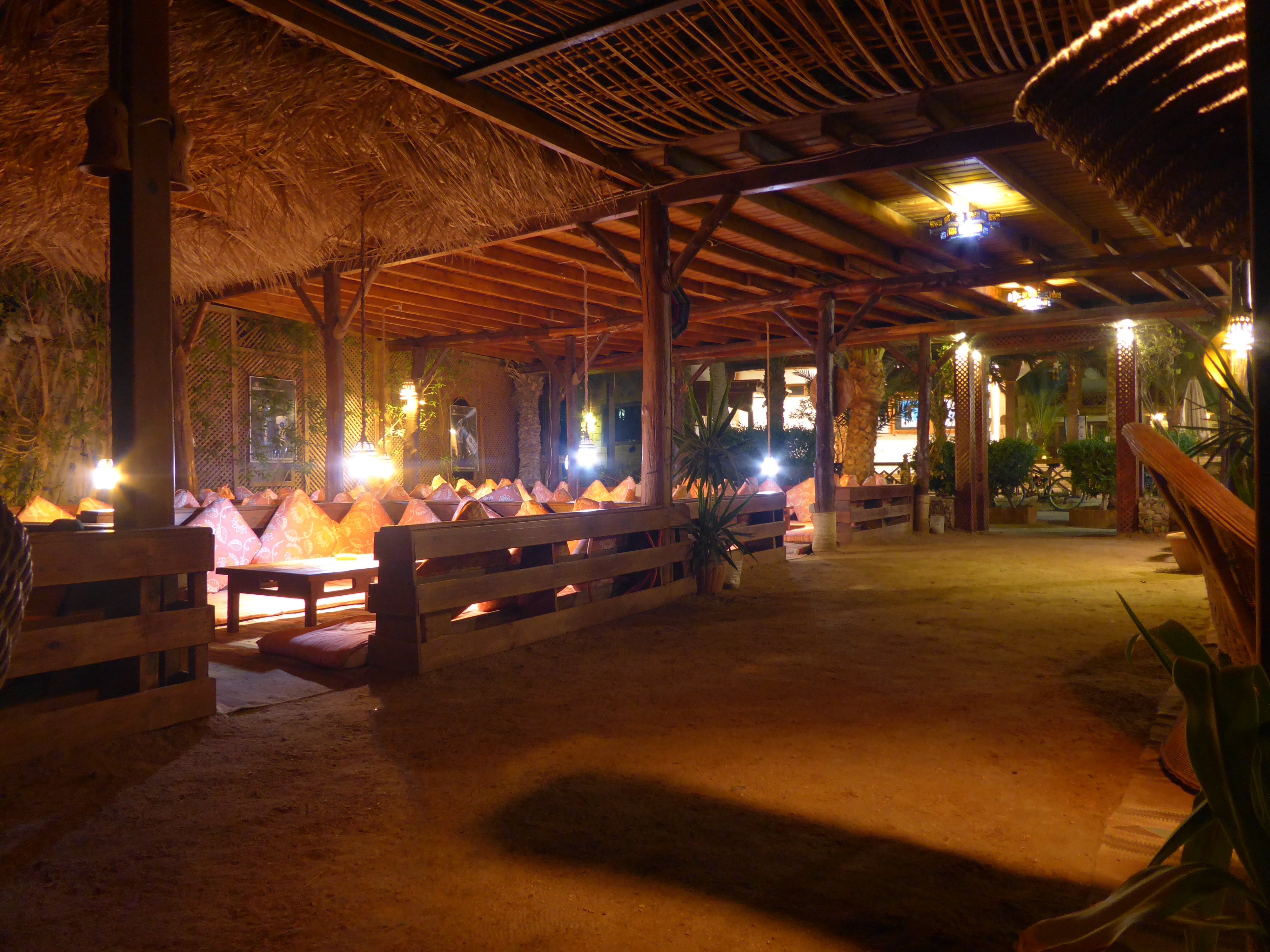 Accommodation
Acacia Hotel only has about 20 maybe 30 rooms at most, nothing grand but super clean and has everything you need including a little fridge and TV, I forgot to add that its cheap and the food and staff were great!  Every afternoon when I got back from the sea/beach I was welcomed by their artwork of towel designs, bloody brilliant and the best I've seen anywhere.  I don't know about the other hotels of which there are plenty, I wouldn't hesitate to go back and can highly recommend Acacia Hotel Dahab.   It seems most of the hotels have pools, as Acacia did and a many have dive schools/shops too.  To give you a general idea of the layout of the area, for hotels that are on the sea side; between the hotel and the sea is a promenade that runs for over a kilometer, on the other side of the promenade walkway each hotel has another section used as a restaurant, lay about area, bar etc. – I hope that makes sense, if not then the pictures will.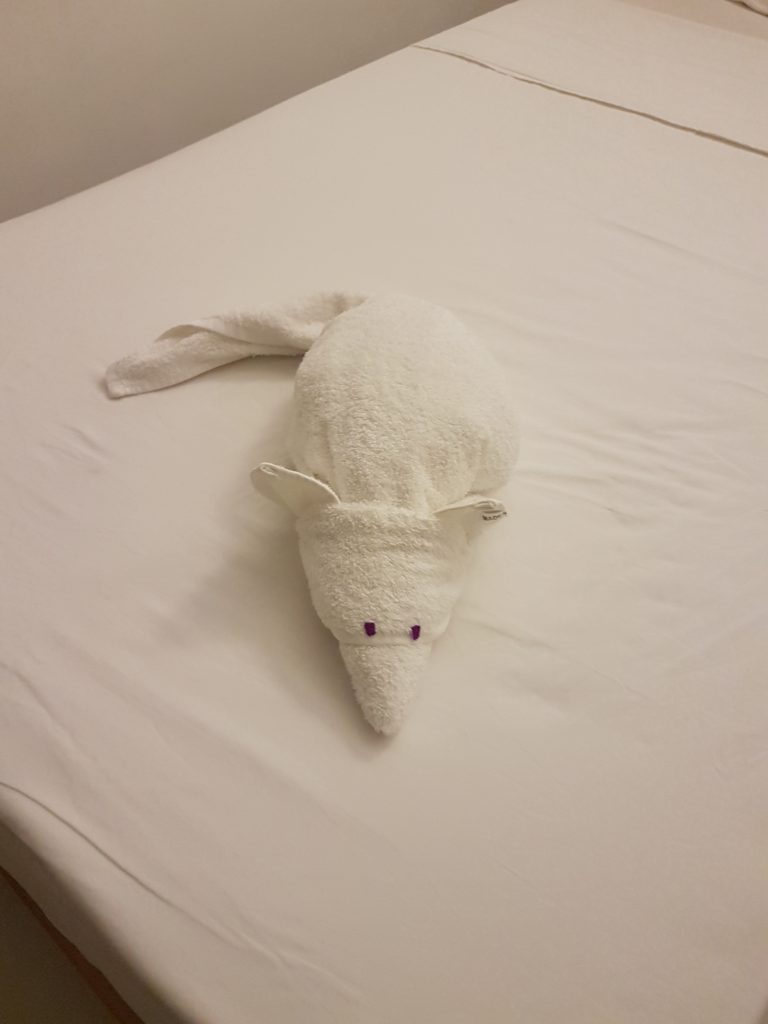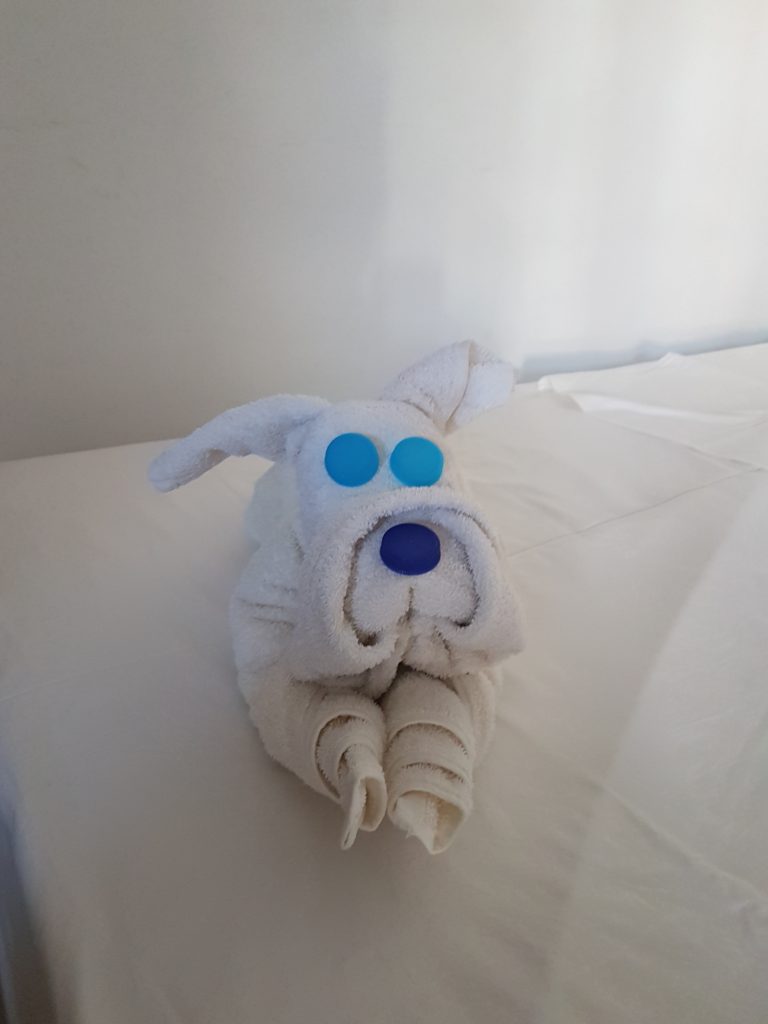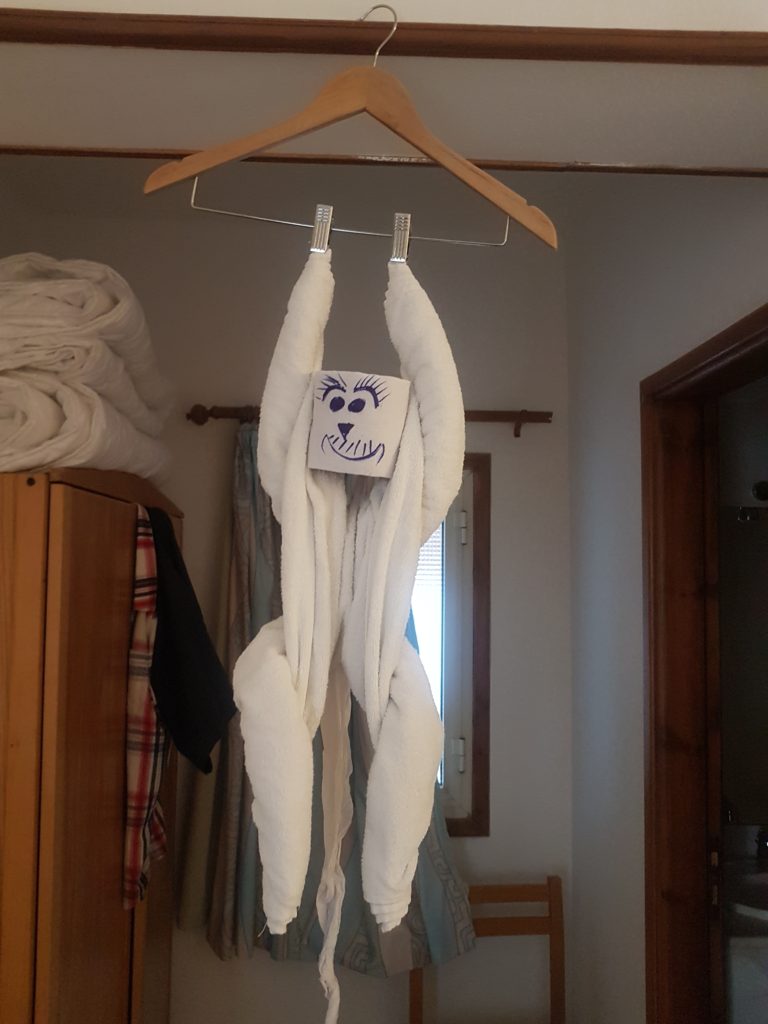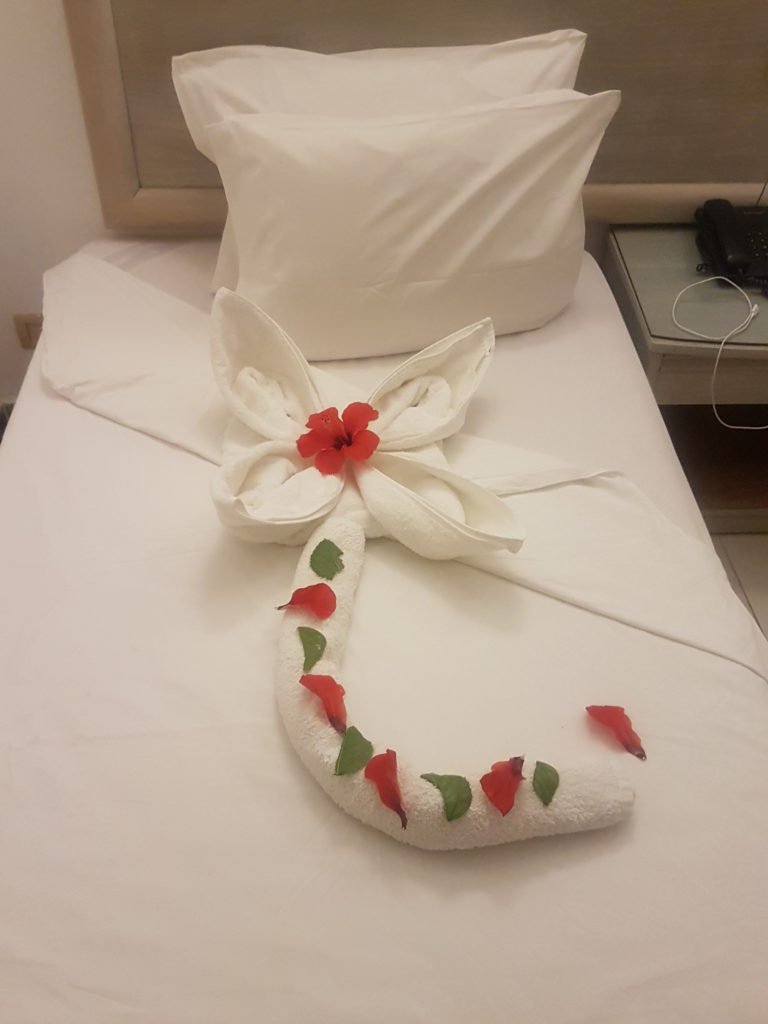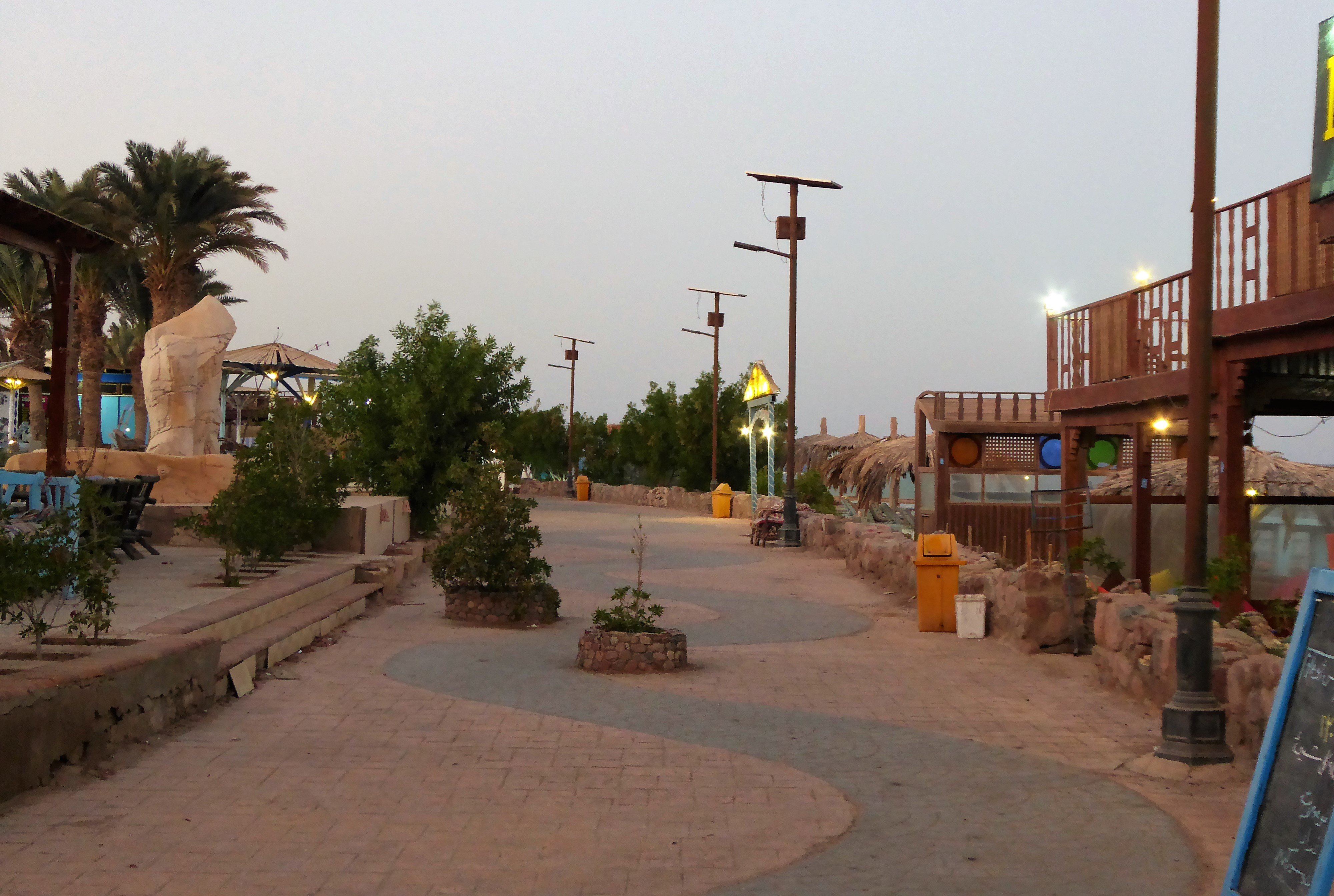 Dahab is not like the rest of Egypt at all!  It has as bohemian feel to it, relaxed, very multicultural, most people speak English and many other languages too.  It used to be a little Bedouin fishing village dating back hundreds of years; now an archaeological site unfortunately closed to the public, which is a shame.  Anyway, the place still has that village feel to it with a dash of beach vibe, a sprinkle of hippie dust and a generous helping of anyone or age that wants anything to do with sea activities like windsurfing, kite-boarding, snorkelling, scuba diving.  Dahab is one of the most chilled places I have ever been too, the hippiest resort on the Red Sea!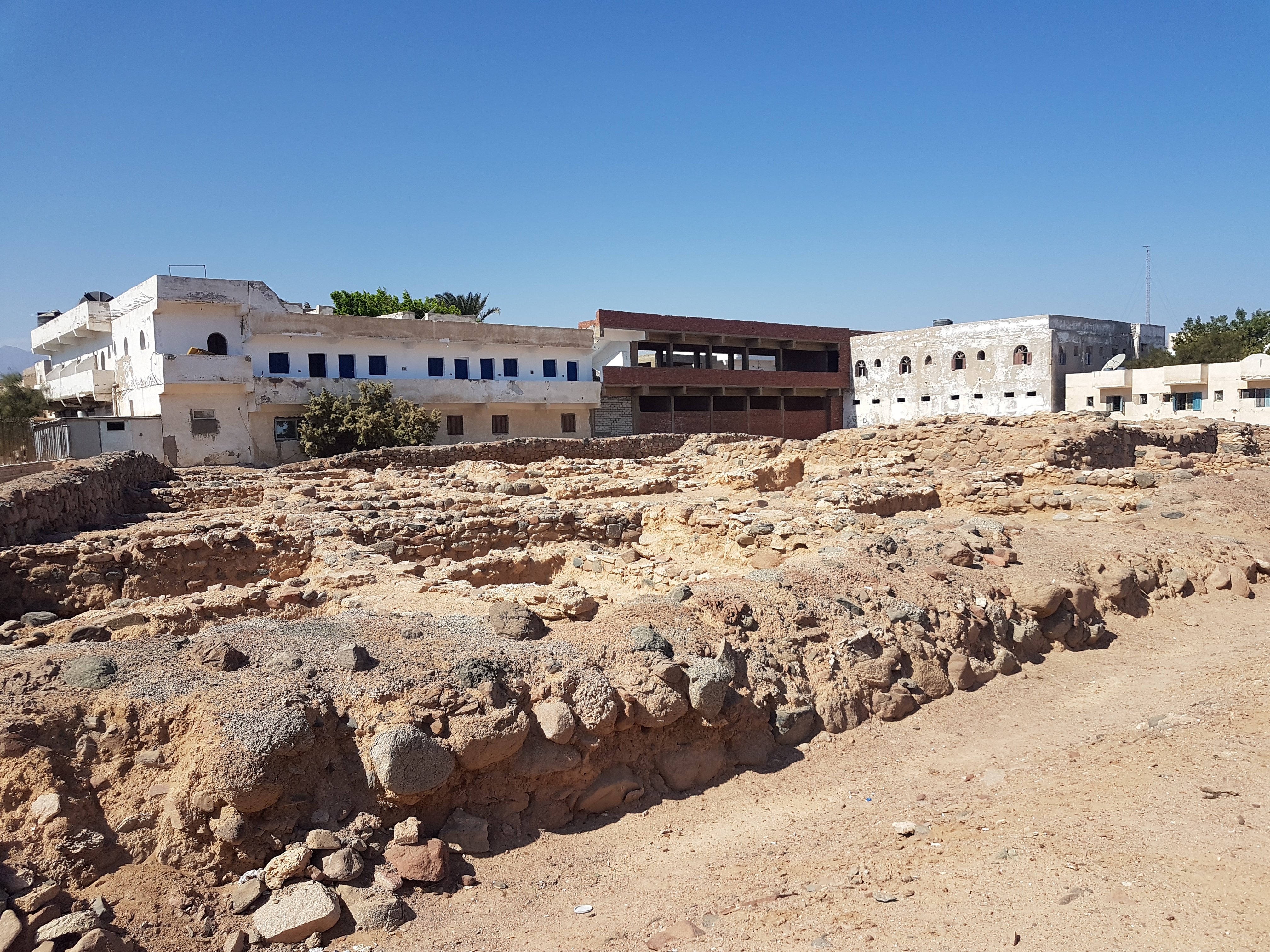 There are no beaches per say, they are stone or pebbled beaches with a long low sea barrier wall acting like a retainer spanning kilometres and only a few feet high, there are a few areas that slope into the sea.  That's not to say you cannot sunbathe, most people do so on the lounges by the restaurants, cafes and hotels or even around the pools.  Why most people go to Dahab is for the atmosphere and sea activities; not being as commercial as the "holiday resort" areas throughout the Red Sea (which is renowned for some of, if not the best diving in the world) it also has kilometres of reefs right on its shore, some famous diving spots, and renowned areas for kite-boarding and windsurfing – with access to an abundant qualified individuals and shops to support any of these activities, including technical and medical support.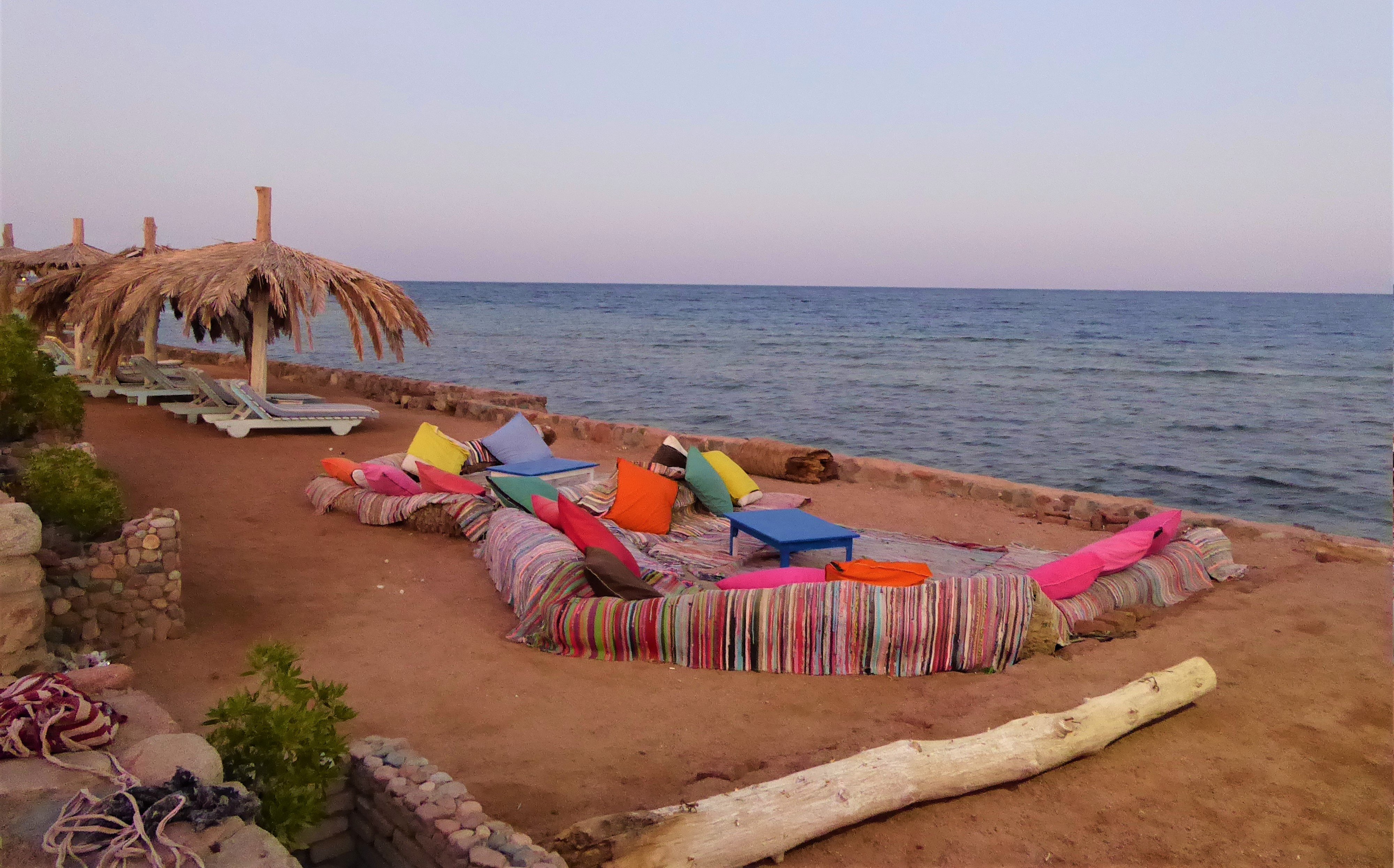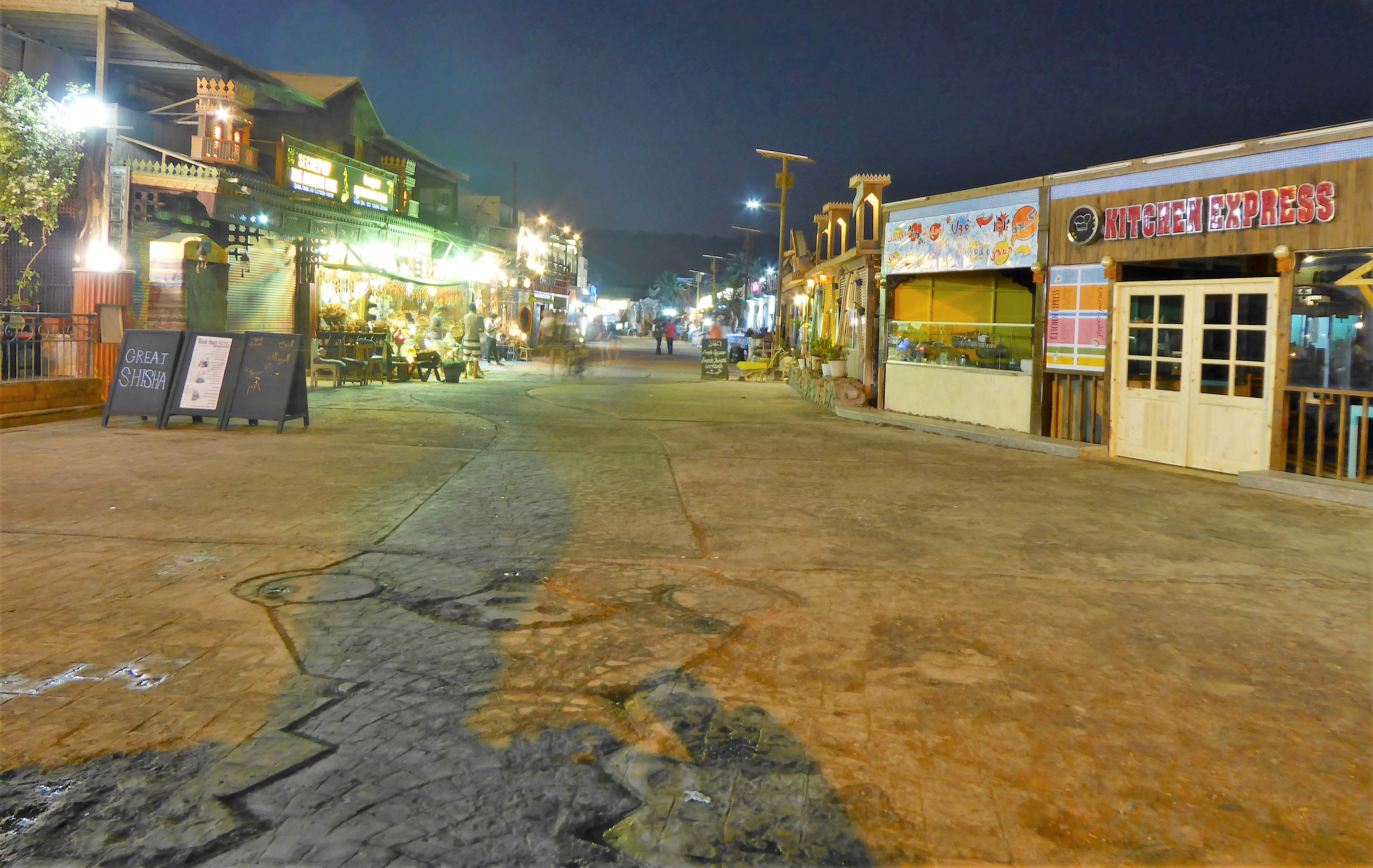 Back to my plan for Dahab, stay here a few days to chill, swim in the sea and do some snorkelling, primarily use it as a base to work out the most cost-effective way to get to Jordan, financially and time wise; anywhere in Jordan would suffice as I wanted to visit Petra.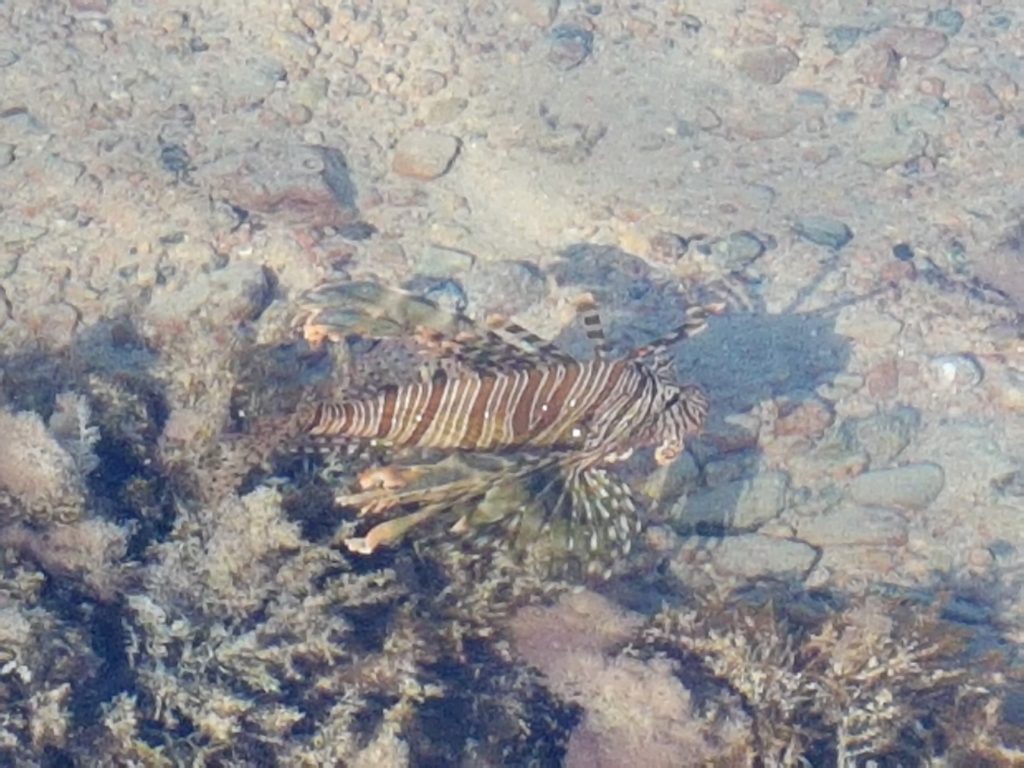 …it took less than 30 minutes of me standing at the water's edge gazing into the pristine clear water and seeing the abundance of bright fish swimming about including a few Lion Fish to decide I wanted to learn to scuba dive.  At the back of my mind I thought I'd reluctantly ask the dive school/shop at Acacia Hotel, naturally expecting it to be very expensive which would ease my desire forcing me to be content with my original plan of snorkelling…the price was a steel (cannot remember the actual price, but it was less than ½ of what it costs in the UK/London – I vaguely recall around €240 for the PADI Open Water)…and so over the next few days my plans changed, for the better!
I love water, whether a pool, sea, lake or river….but I shit myself for sharks!  I've never been attacked by one nor had a close encounter with one but somewhere deep down (possibly from watching Jaws at a young age) I have a problem with them.  Luckily the Red Sea doesn't have any however it does have many poisonous fish, that sort of thing doesn't bother me, sharks do!  The Red Sea does have sharks not real sharks though; real sharks in my book are Tiger/Zambezi, Great White, Hammerhead and other big sharks I know of in South Africa making the Red Sea perfect for me.
Diving the Red Sea
Having little knowledge about diving, still a total amateur, I have nothing to compare to, all I can base my opinion on is my dive school/shop Liquid Adventures, they are great!  The owner Bassem, he couldn't be more accommodating, personal, professional and friendly as with all his staff and my instructors too; yes instructors, the first was Housam for my Open Water and Ahmed for my Advanced….I'll get into this later.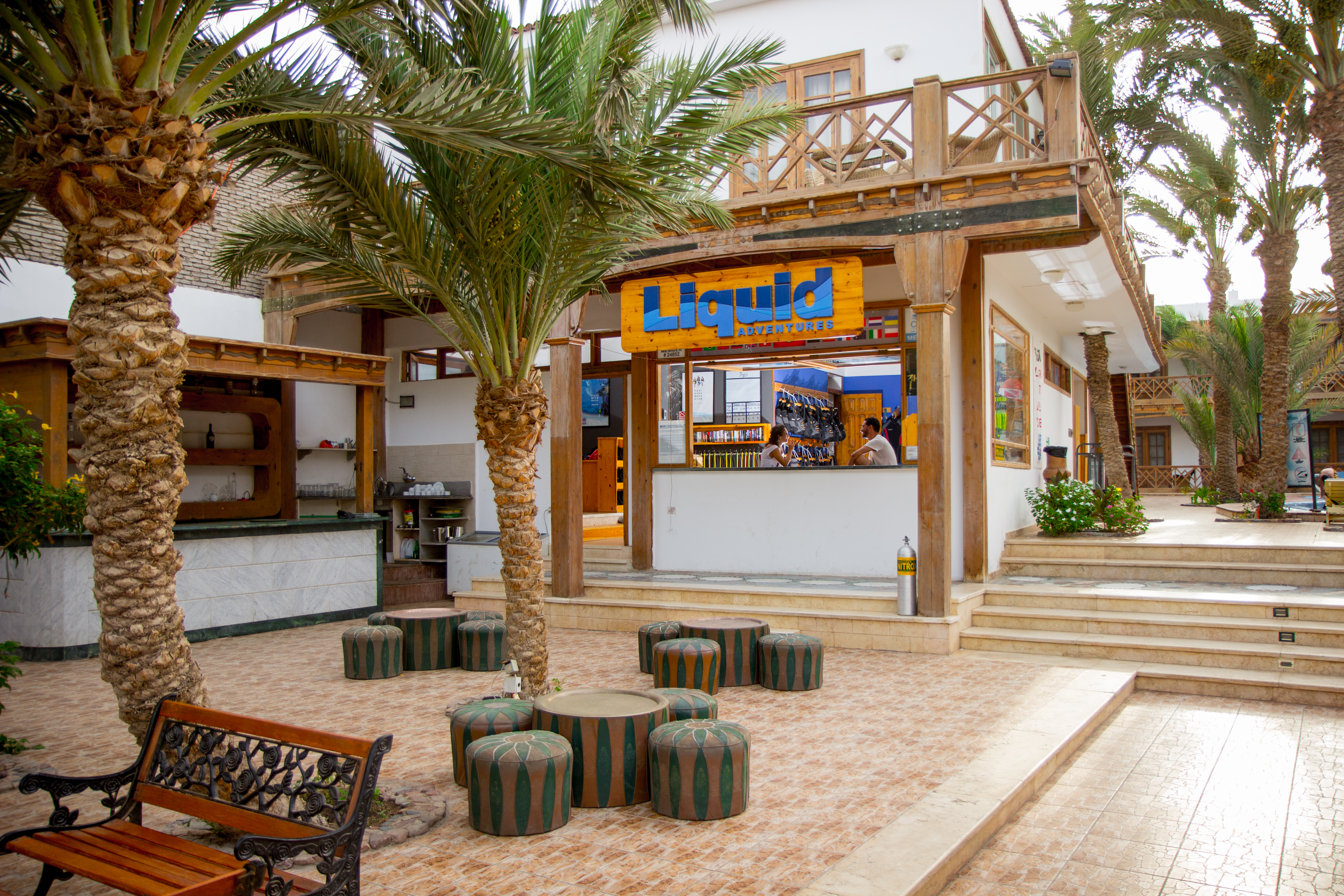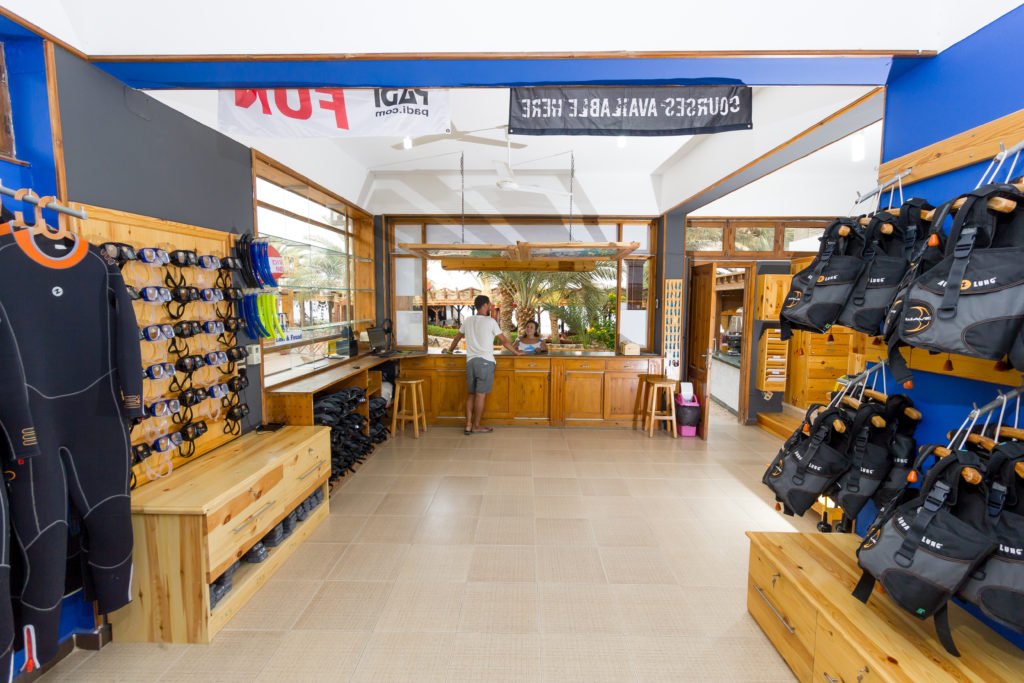 Training dives were done at the Lighthouse, the main "beach" where there is a large area for beginner/practicing divers, cafes and restaurants.  Far from being your stereotypical learner area they've got obstacle courses, sunken statues and have created a brilliant area to learn and that's not even mentioning the natural reefs teaming with thousands of fish of every shape, colour you can imagine that surpasses your imagination and what I've seen on National Geographic.  If I only take one thing away from Dahab is that I cannot believe the variety of fish and the spectacular array of colours under water, it's a magnificently fascinating and different world of spectacular beauty.
The Lighthouse it is busies area in Dahab but not overcrowded and unlike most of Egypt where I would never think of leaving my bag lying around Dahab is the opposite.  During the dives you leave your bags at the restaurant/café right next to the sea and it is 100% safe!  For the night dives, I'll get to that shortly, you leave your bags inside the restaurant/café; they wait for you to return before closing (not all close early) – most have changing facilities and a shower too that they clear regularly throughout the day.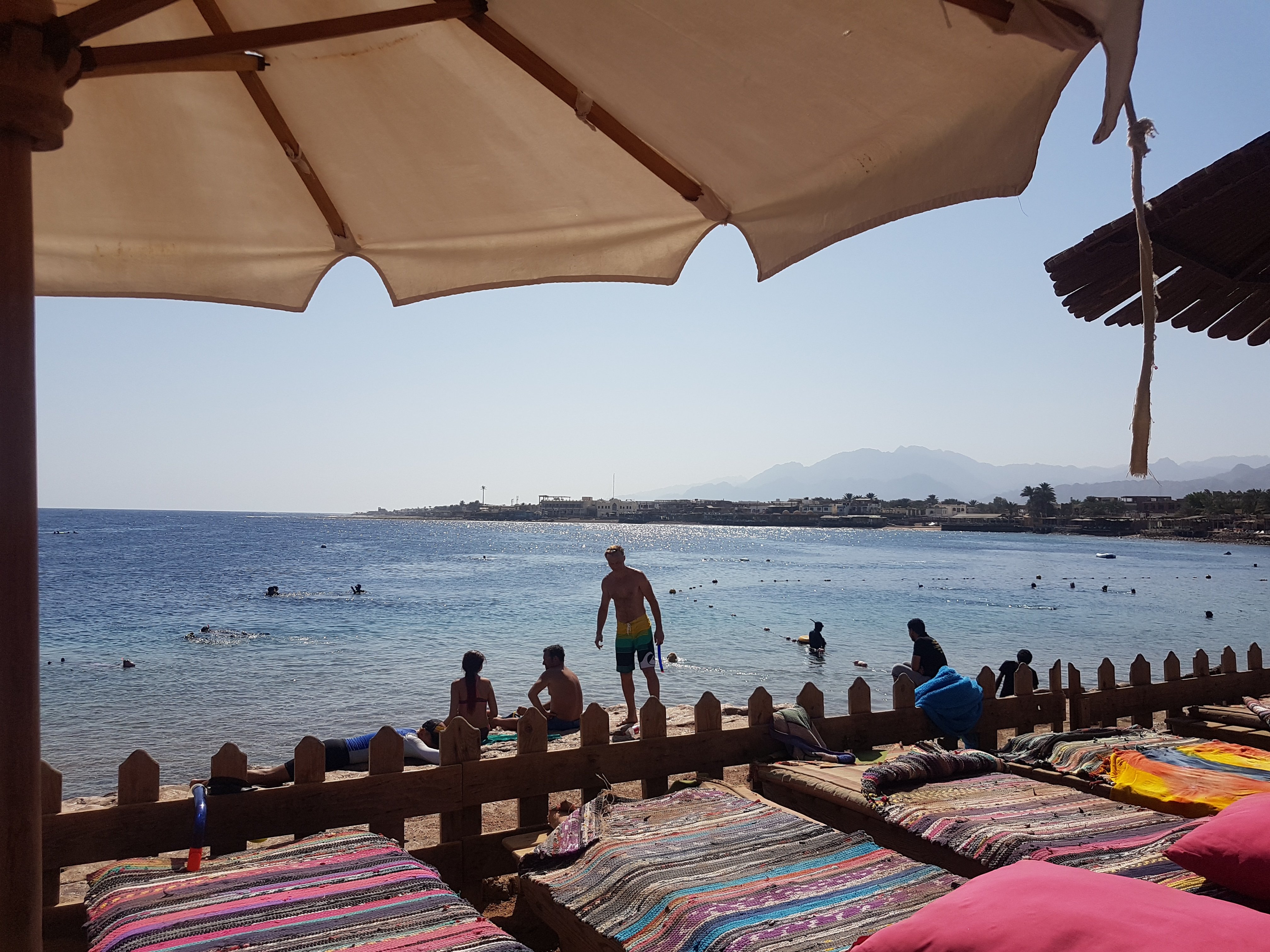 As I've already alluded to, I did my advanced course, after the open water I tried to kid myself that I wasn't interested, that only lasted 10 minutes, another decision I'll never regret.  Oh yes, before I forget, back to my plan staying in Dahab for five days…HA!  I won't bore you with all the detail, but I ended up staying for 10; it would have been more if it weren't for my visa coming to an end.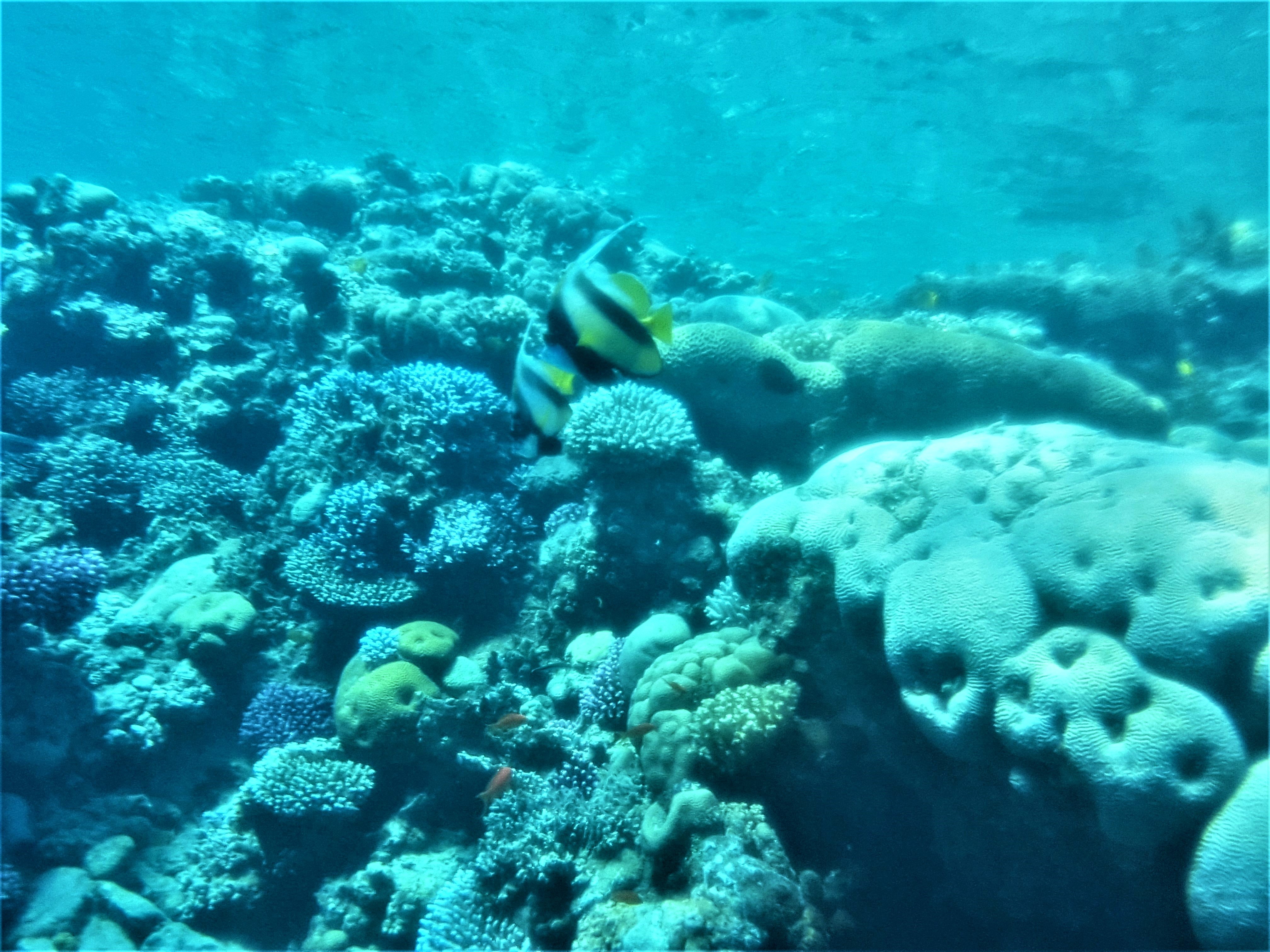 A brief summary, two thirds of my dives were at the lighthouse and the final 1/3 further down the coast is a much quieter area where I finished off my tests and passed for Open Water.  Housam was a great instructor, he balanced fun with the importance and seriousness needed too to ensure I understand everything and gave prep-work for the next day, each morning starting with a little test.  A real pity he didn't do my Advanced because he had flu symptoms, but Ahmed was more than apt and a great teacher too.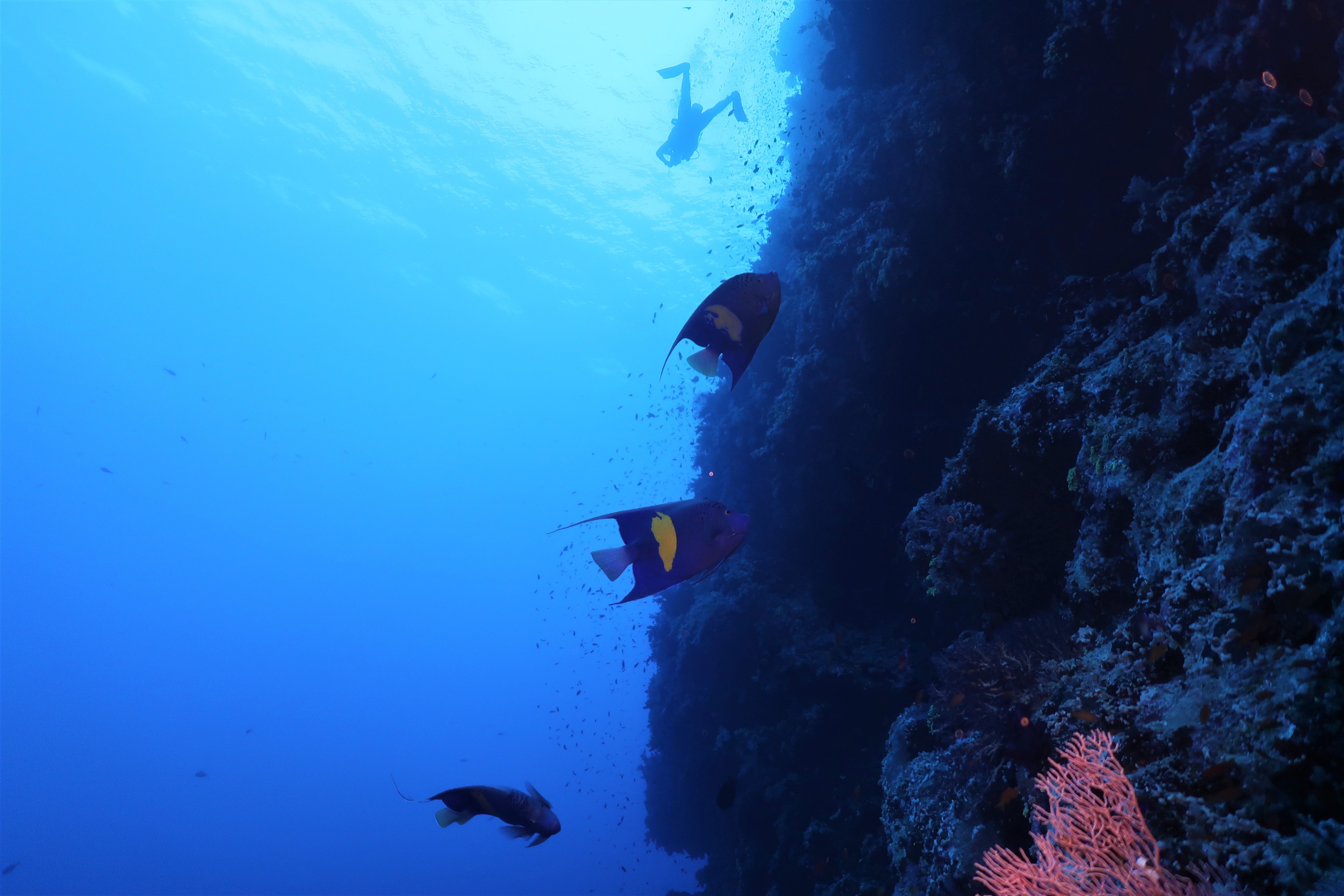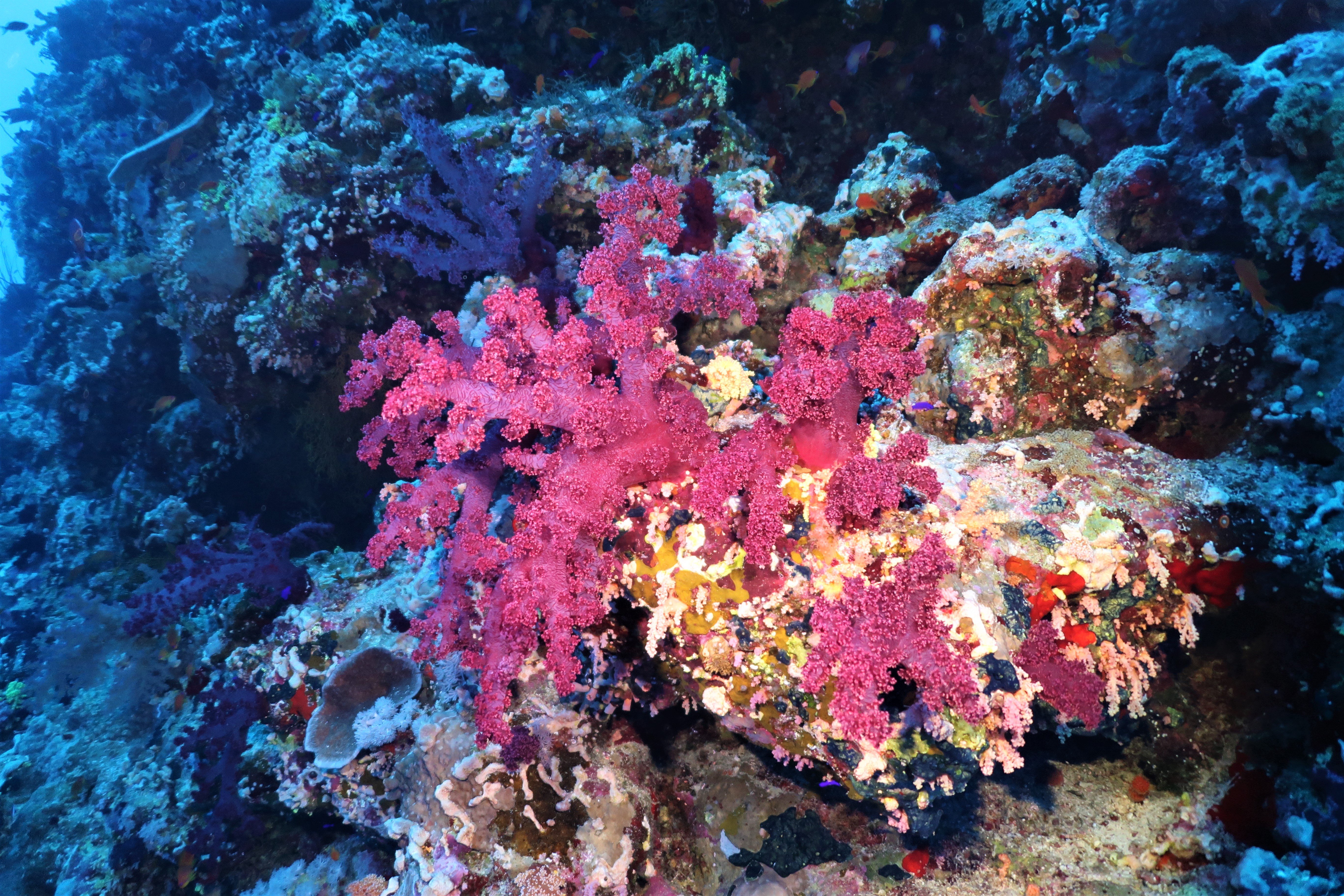 My advanced has left me with two distinct memories that I'll cherish forever, the first was the night dive the other the Blue Hole.  Going back to my illogical fear of sharks which I've covered, swimming in an abyss of black with only a torch also made me a tad nervous I cannot lie.  After less than two minutes I was completely transfixed by the near psychedelic colours beaming everywhere!  The array of aquatic life in numbers, types, colours, shapes is something for the eye to behold, a must see to believe – that the sea can display such a completely different perspective at night is quite unreal.  There were different eels, rays, stone fish, scorpion fish, a big turtle, lion fish, fish I had never seen before and fish I had only seen in books or on TV – their colours from luminous to camouflage, from big to small and every conceivable shape.  I was the like a deer caught in the headlights, like a child on Christmas morning and felt overwhelming privileged to be able to experience and see what I was seeing.  An experience I will never forget and would love to repeat, no, I will go out of my way to make sure I do it again.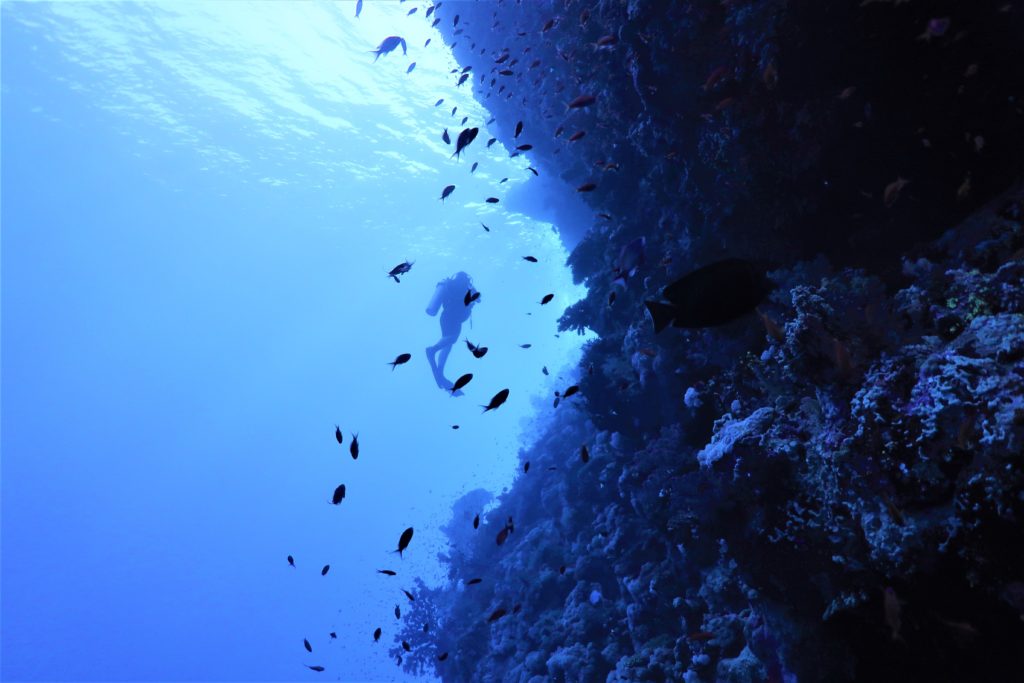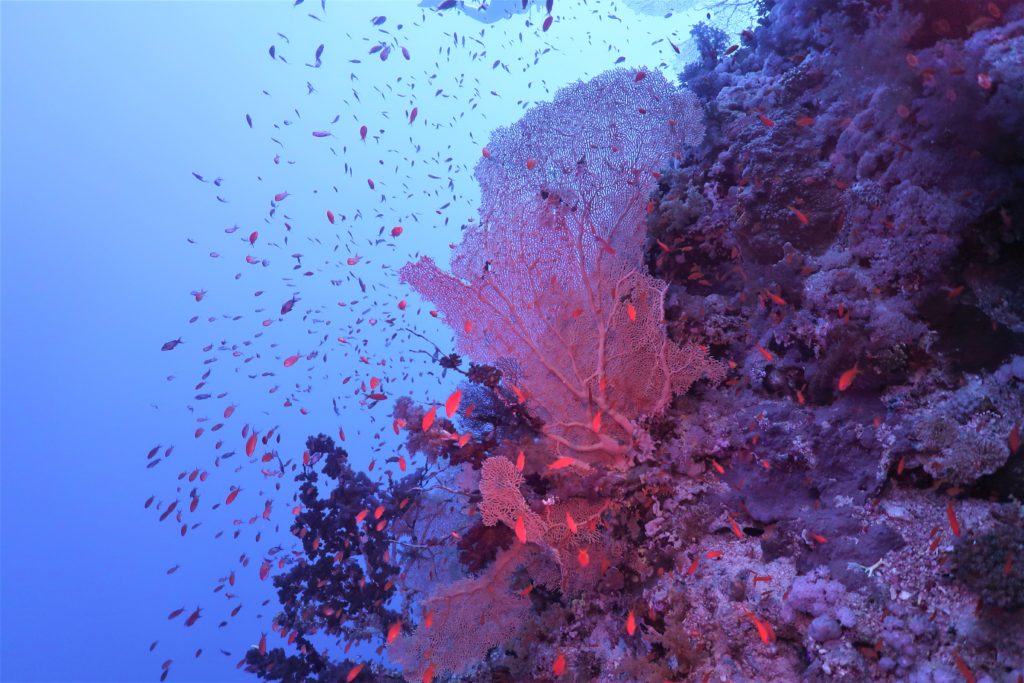 As awe struct as I was by the corral during the day, refraction of light cuts out many of the colours, notably red.  During the night dived the torch enables the coral and fish to display their true colours in majestic splendour making the day and night dives in the exact same location seen like different worlds.  On our way out during our safety stop Ahmed introduced me to luminescence, of course I had read about it and seen it on TV, seeing it for real is a natural magical show.  The blue-purple glow like a trail of light lingering behind an erratic fire fly buzzing around your fingers.  A "trippy" experience making you question your mind and senses, the flick of my fins, the swaying of my hands through the water became quite addictive just to see more of the subtle soft glow.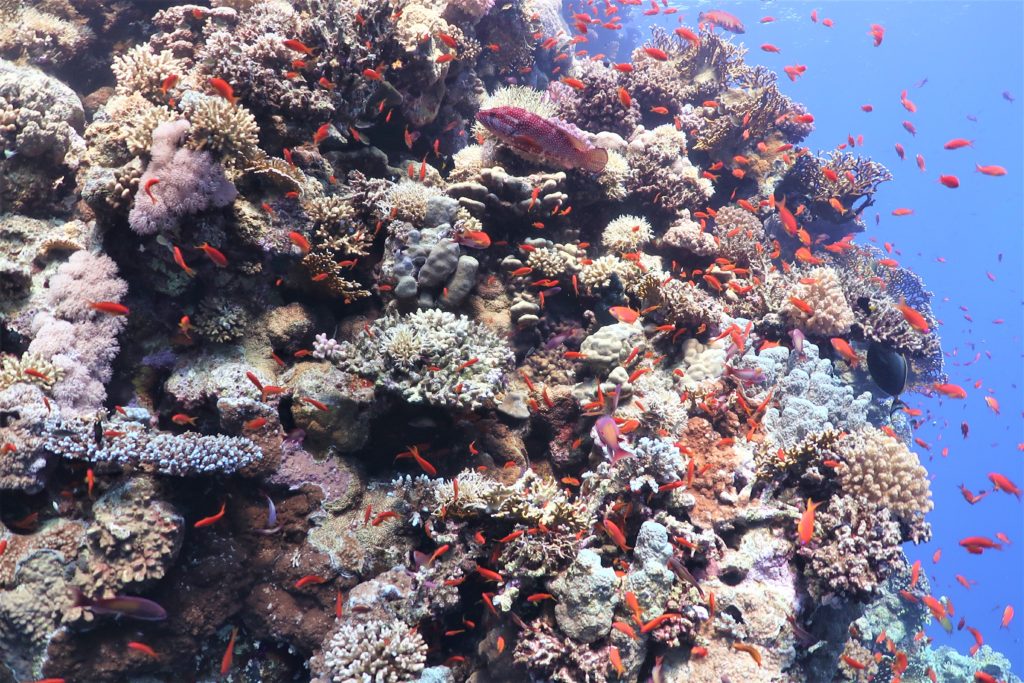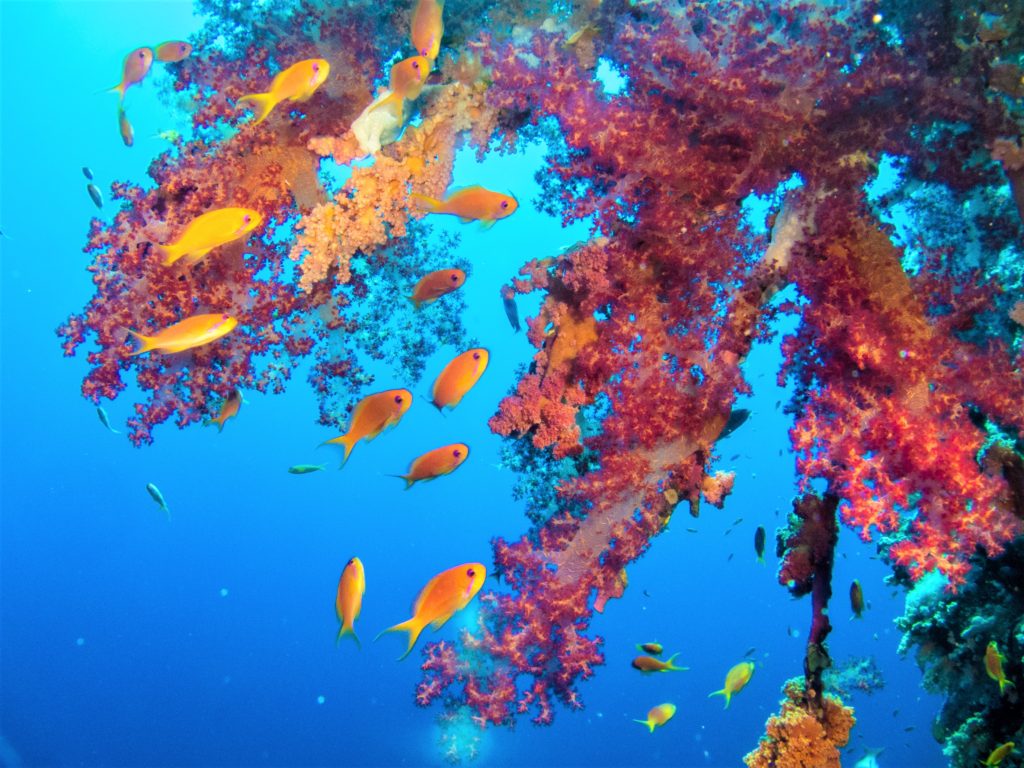 Before we went to the Blue Hole, an alluring unique natural formation about 45 minutes' drive North of the Lighthouse (including some very slow driving on a bumpy dusty road), our first two dives of the of the day were at the canyon/gorge.  Not to go into the technical side of the dives, not that they're very technical, it's just boring information, no, the canyon/gorge is just an awesome location and dive; a secluded area about 30 minutes from the lighthouse, the Blue Hole another 15 minutes further ahead, at the busiest time of the day there were max 20 divers.  Like the name suggests it is a gorge/canyon that goes down about 33m with various entry points, this was my max depth for training.  Along the route we passed an area where the ground releases oxygen through a crack in the seabed crust about 15m long, creating a constant flow of thousands of tiny bubbles rising to the surface like a kaleidoscope of thousands of miniature bubble mirrors reflecting the sunlight like sparkles of light rays.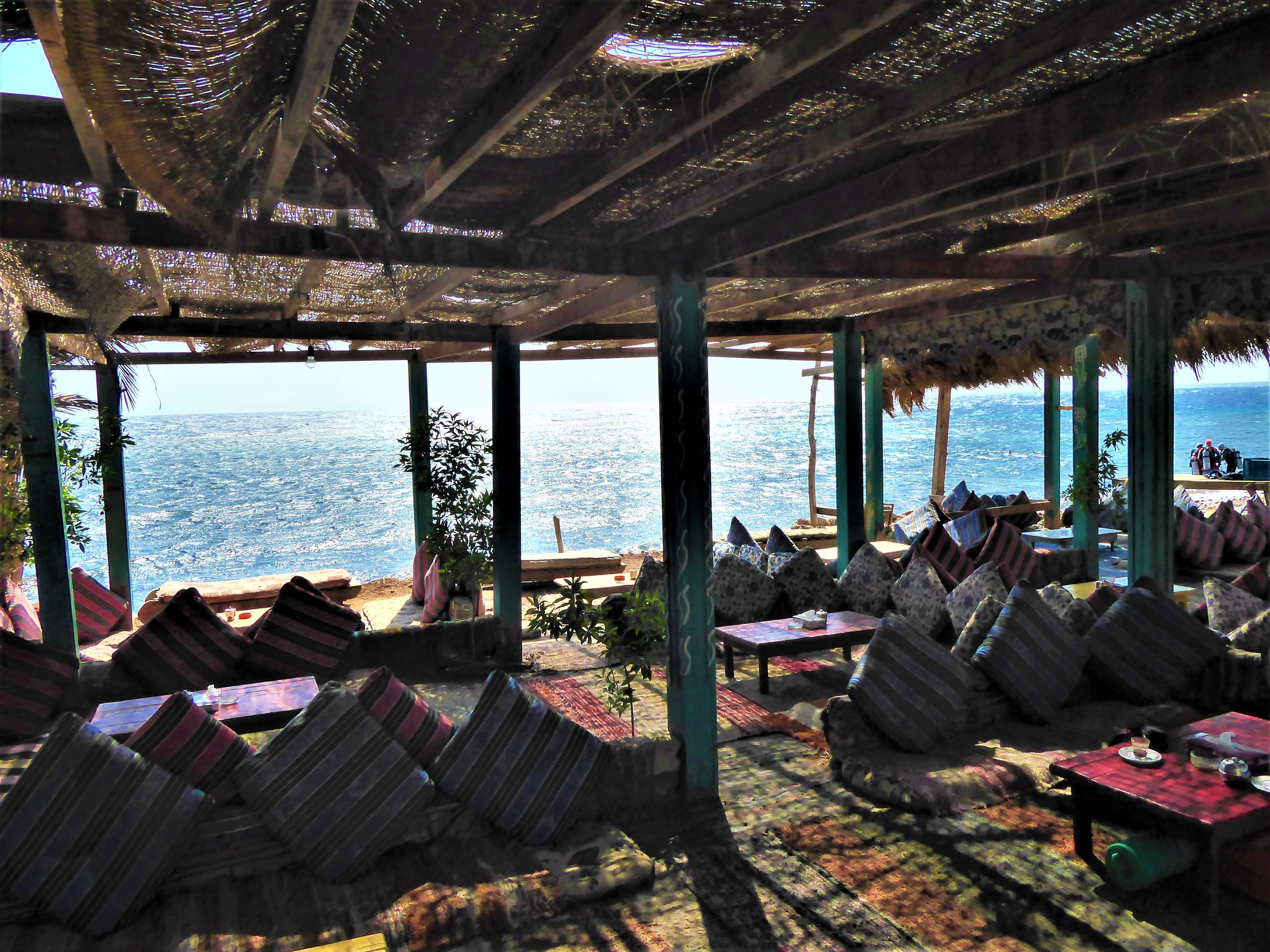 Blue Hole
World famous not only for its uniqueness and beauty but also for its perilous nature to those who don't respect it, that's why it is rate as one of the most dangerous dive sites in the world.  The Blue Hole is a sinkhole in the sea buttressed against the shore going down 100m with a diameter at the rim of around 80m.  Obviously, I'm not an experienced diver so we stuck well within my limits, at max we went 28m.  We started the dive about 80m North (The Bells) of the Blue Hole and drift dived for 250m along a coral reef cliff which drops down about 1000m, from there we went over the "saddle" and swam around ¾ of the circumference.  There is a lot more to see and dive within the Blue Hole including a 26m tunnel that starts around the 55m mark leading out into the sea, the black abyss straight down 100m is another dive only for the very experienced.   With no official tally around 15 people have died at the Blue Hole in the past 10 years, with a divers graveyard/memorial area commemorating some of those who passed away.   If you take a look on YouTube there is an eerie surreal yet excruciatingly heart-rending video of a diver exceeding his experience and without the correct equipment recording his dive to the bottom of the Blue Hole, and to his death.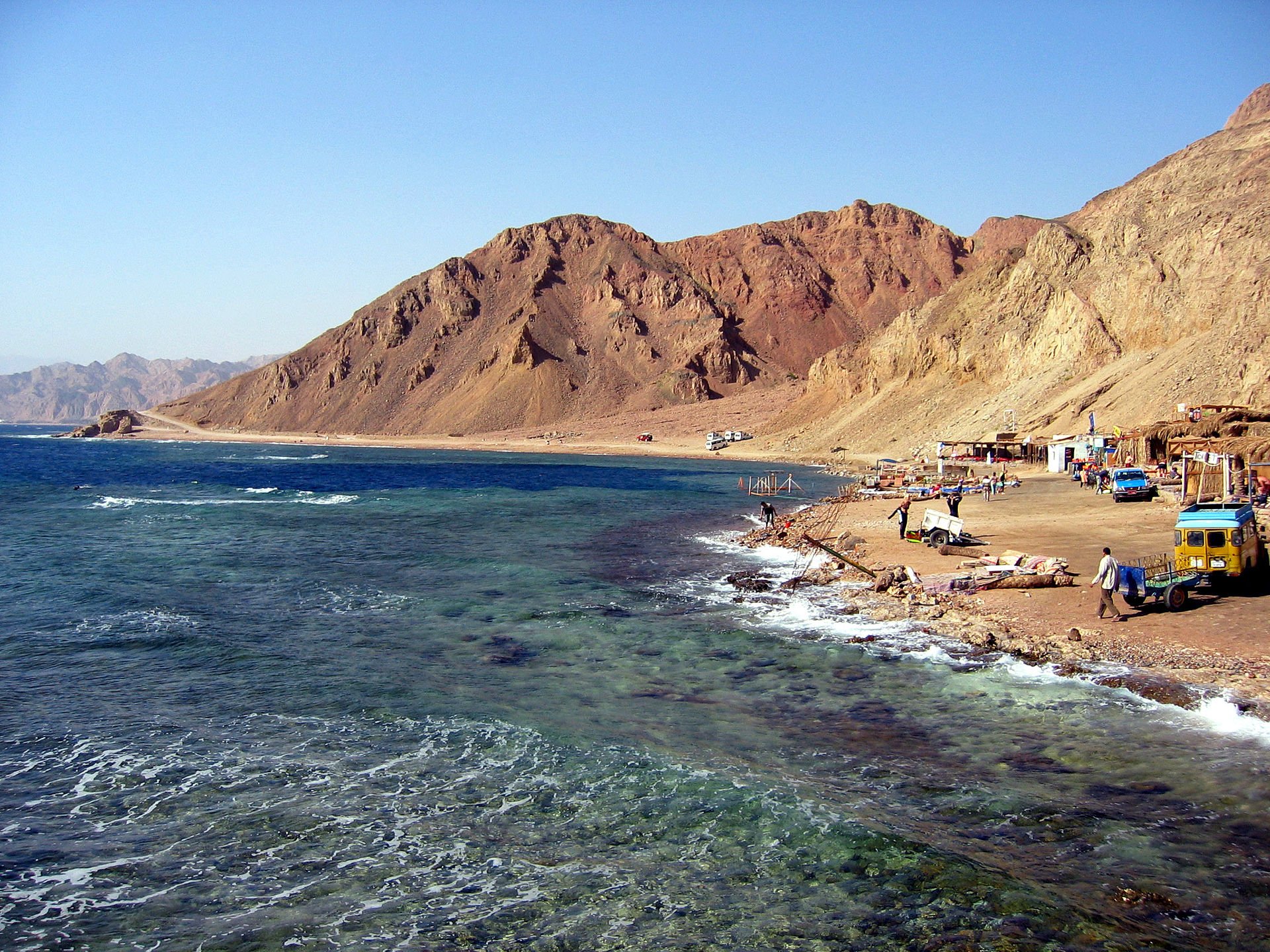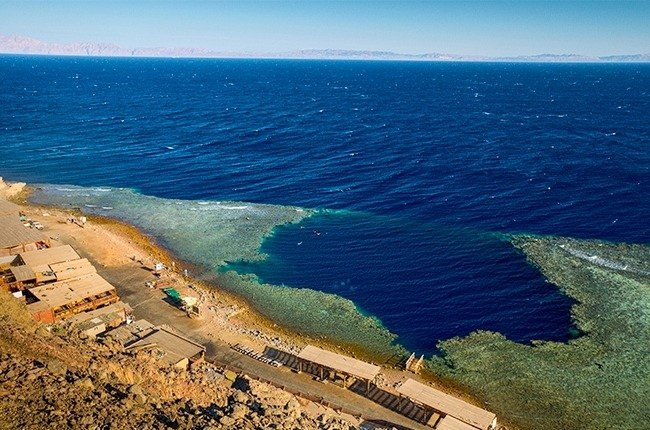 Thinking back to my time in Dahad I have two negatives, more like frustrations.  I have already alluded to the first of the night dive being short.  It wasn't' really short at all but I could have stayed under for hours, the experience was fantastic.  The second negative frustration was not having a proper underwater camera or case for my camera.  I have a sleeve for my phone that can go to 10m, great to keep your phone dry and the occasional snap in the water, it just not a practical thing to use when diving down without weighs when snorkelling.  Considering 90% of the dives are below 10m I wasn't going to take a chance to test it when scuba diving.  I took loads of pics with the sleeve, the difference between my pics and the others are like a baby's crayon drawing vs. an artist.
When I started writing this post I immediately knew I would need proper pics so I emailed Bassem and asked if he had any of his own, so curtesy of Bassem and Liquid Adventures all the proper underwater pics are from him ? – thank you!
NB. Bassem nor his shop/school Liquid Adventures are paying me, they really are just great people, that's why I'm using the pictures and have no problem recommending them.
My time in Dahab and Egypt had come to an end, pesky visa expiry dates!  All good things come to an end isn't a great statement, I like to think of it as the start of a new adventure, mine would be Jordan.  I would get the ferry from Nuweibaa, 70 old kilometres North of Dahab, cross the Red Sea to the Southern most point of Jordan, the Red Sea city of Aqaba – cost to local is $50 but for foreigners it's $90 with a journey time of around 3 hours.
Acacia Hotel arranged a cab for me, not necessary it's just easier and that cost me $30 if I remember correctly.  The drive, through two security checkpoints ?, is a scenic one; harsh terrain has a unique beauty making me cast my mind back to ancient times.  Egypt and the surrounding countries is where our oldest written history comes from and made me change my perception of the setting I had created in my mind since I was a child.
Next stop Aqaba, from where I'd make my way to Petra…I had the theme tune of Indiana Jones playing in my head.
Before Dahad I was in Luxor, If you'd like to take a look at my time there here is the link Karnak Temple Complex and Luxor Temple
Here are a few other pictures for my time in Dahab