Instead of staying in Amman I should have stayed in Madaba and used it as a base (which I did to see the surrounding area Mount Nebo, Wadi Mujib and the Dead Sea) to travel from. Madaba is cheaper than Amman and you get much better value for money too, its location is more central and closer to many attractions/sites.  I'd say Madaba would be a good base to see the Dead Sea, Mount Nebo, Amman, where Jesus was baptised and even further North, although I didn't go past Amman there are quite a few sites to see.  The historical side of Madaba is quite small and is known for its collection of mosaics at various sites, all within walking distance from each other.
Staying in hotel Salome, many of the hotels have biblical names, it was only about 10 minutes' walk to the centre of town – very good value for money too, (£27 per night including breakfast) considering what you get; nearer a normal hotel compared to what I had been staying in.  My whole journey through Jordan was badly organised, I hadn't planned on staying in Jordan long at all i.e. get to Jordan, go to Petra then leave, but I learnt there is so much to see; not just going to see things for the sake of it, no, Jordan has a lot to offer and who ever does their PR a.k.a Tourist Board are not doing a great job at all!  This unplanned/disorganised nature of my visit meant I wasted a lot of time and made my travel disjointed, this often means paying more than necessary.
So, why Madaba, there are three reasons, 1. Better location than being in Amman, it's cheaper and I prefer smaller towns to major cities, 2. I like mosaics and that is what Madaba is known for, 3. The location is better to access other sites like Mount Nebo, Wadi Mujib, Dead Sea etc.  Mosaics and Madaba go hand in hand, being famous for beautiful examples of the Byzantine and Umayyad periods, of these the Byzantine mosaic map of the Holy Land is the oldest map of the region.
Jumping back, one of the things that surprised me during my time in Madaba (Jordan as a whole, but especially in Madaba) was how many Christians are in the area, in Madaba I'd say more Christians than Muslims) and that alcohol stores are everywhere.  Just like so many places in Jordan, Madaba is an old city and mentioned by its ancient name of Moabite which is mentioned in the Bible, Old Testament I think.  Occupation dates from the Bronze Age with many rulers from different empires.  Archaeological work began in the late 19th Century which carries on today; in a very small area they hit a gold mine!
What to see in Madaba
Madaba Map / Map of Madaba / Madaba Mosaic Map
Dating from the 6th century AD, it forms part of the Byzantine church of Saint George's floor.   The map covers what is known today as the Middle East and depicts the Holy Land especially Jerusalem.  I can imagine when it was first discovered it must have been breath-taking to find such a detailed mosaic, only later to realise how accurately detailed it is, in essence, it is a map!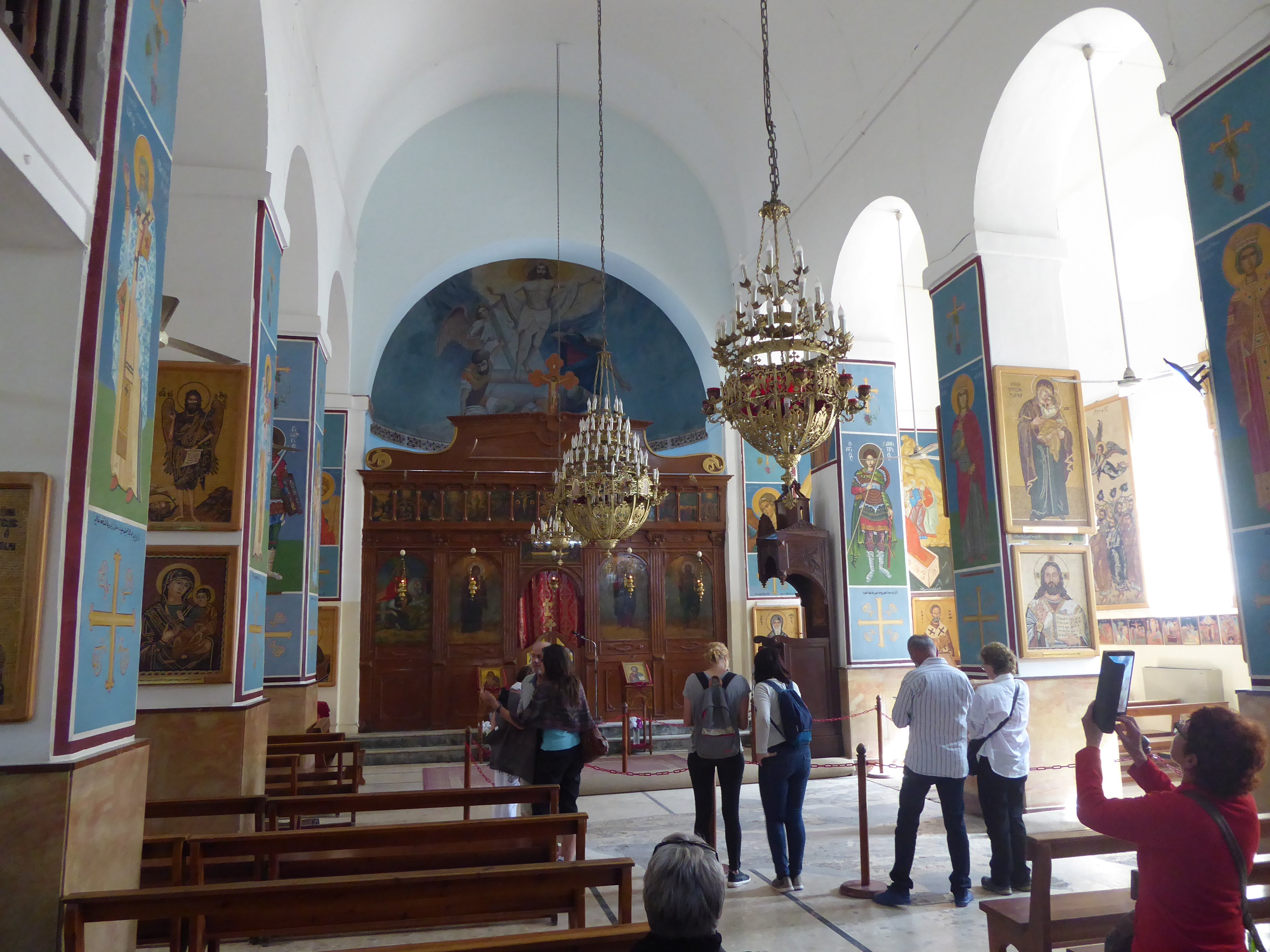 Back in the 5th Century this region was primarily a Christian area, with a Bishop and all, hence the church.  The accuracy of the mosaic map makes is possible to date it between 542-570 AD; the Nea Church in Jerusalem was dedicated on 29th November 542 which is depicted in the map, no buildings were erected in Jerusalem after 570.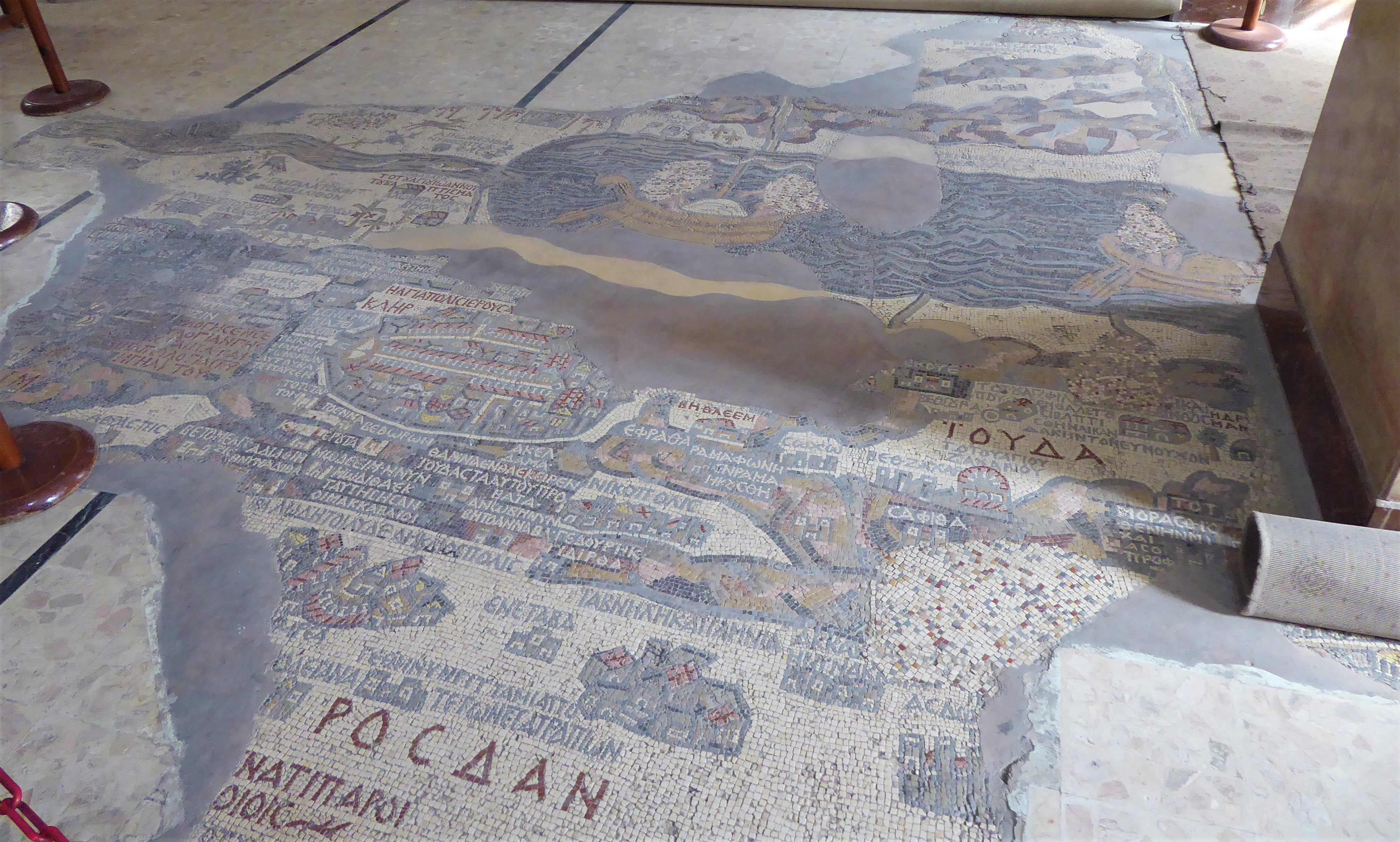 Like the rest of the region Madaba has go through a lot, many ups and downs, many rulers and many dominant religious – it was conquered by the Persians in 614 and in the 8th Century it was ruled by the Muslim Umayyad only for it to be almost fully destroyed in 746 by an earthquake.  The mosaic was rediscovered in 1884 during the construction of the new Greek Orthodox church on the site of the ancient one, although damaged it was restored and is as we see it today.  The new church, although over a hundred years old  is quaint, is not the reason people come her, no, it's odd that people come here to look at the floor and often forget to look up.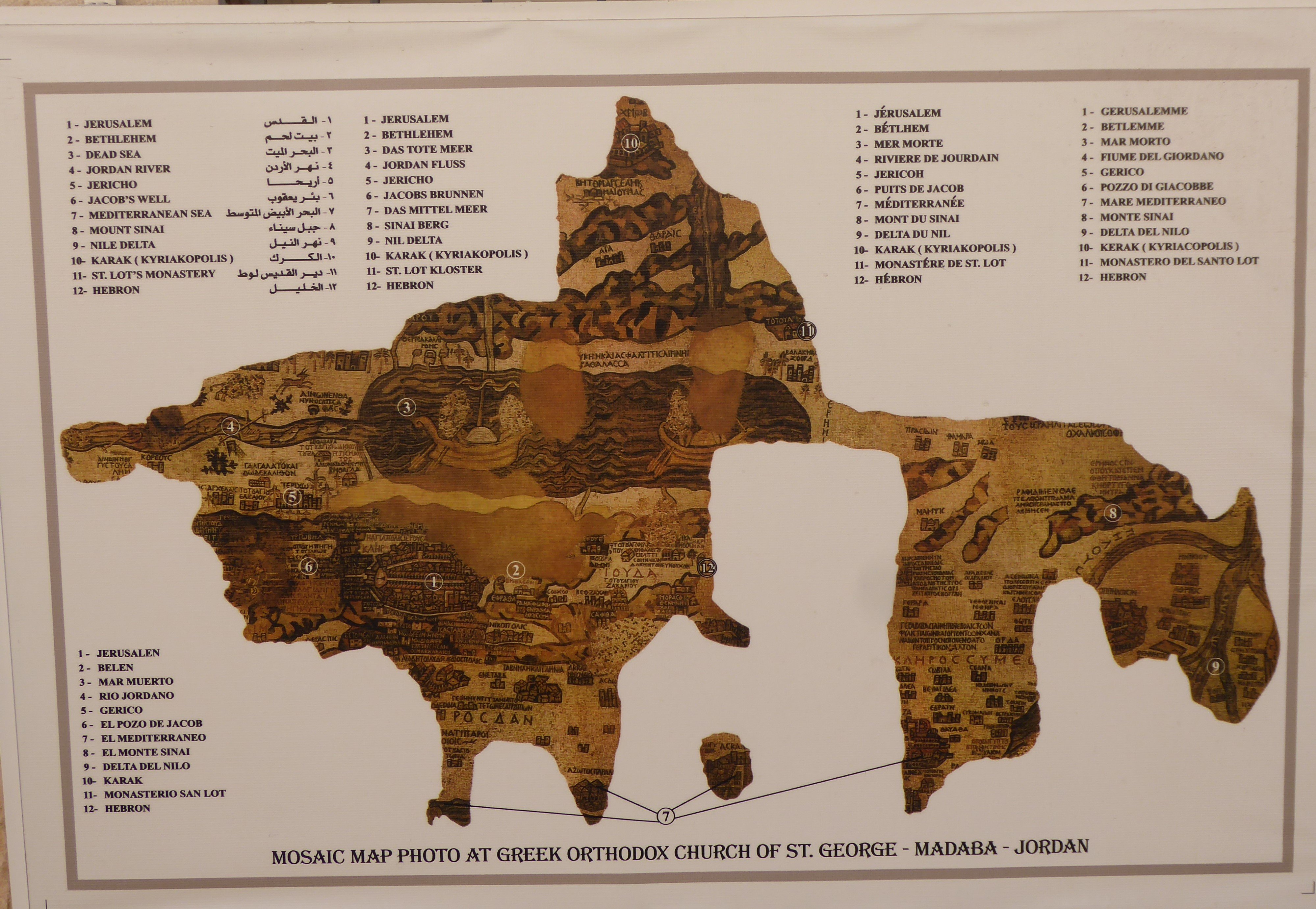 Original dimensions were 21m/7m, now 16m/5m, even now the detail is extraordinary, it lists towns names, streets, mountains, valleys, seas from Lebanon in the North to the Nile Delta in the South, from the Mediterranean in the West to the Eastern Desert in the East.  I'm sure I've mentioned before that my Mother is a Potter, so I've learnt a thing or two about pottery, the Madaba Map contained near 2 million tesserae, that is an astonishing number of little tiles!  Just counting to 2 million is a feat, placing them with such accuracy to create a masterpiece would take the patience of a saint!  I bet there were many bleeding fingers when they made it!
Madaba Archaeological Park
Is around the corner, maybe 150m from the Madaba Map, not very well signposted, I walk straight past it but most definitely well worth the visit.  From an unassuming entrance it obscures a treasure trove of finds all within a confined space of less than 1/3 of a football field.  Within the park is Hippolytus Mansion, Church of the Virgin Mary, Church of the Holy Martyrs (Al-Khadir) and Burnt Palace.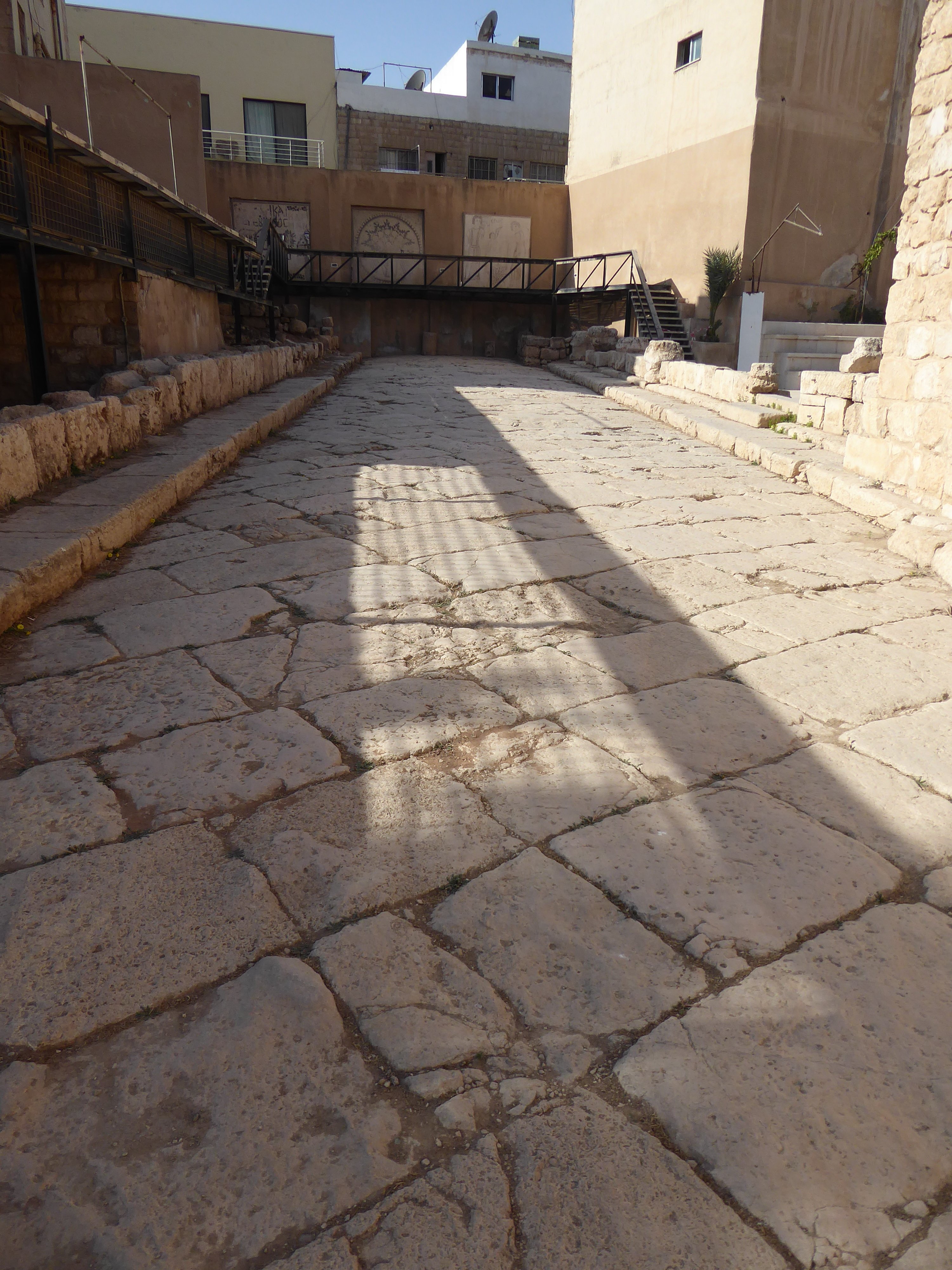 Hippolytus Mansion / Hippolytus Hall
Part of the Church of the Virgin Mary was built on top of the mansion, which in turn was built on top of a old Roman Temple.  The Hippolytus Mansion was discovered by digging through the Church's mosaic floor to reveal an even more stunning mosaic floor.  Each room leading off the Hall has its own mosaic scene, they are in immaculate condition and possibly the most elaborate I have seen.  Within the main hall the scene is inspired by the Greek tragedy Hippolytus, it is 7.3m by 9.5m.  What impresses me about mosaics is the sure effort and craftsmanship let alone the time it would take to create them, even down to the facial expressions of those depicted.  No, these mosaics are not just your standard "copy & paste", these are the bespoke version of ancient sports cars, like the Dark Ages' tapestries, they are works of art.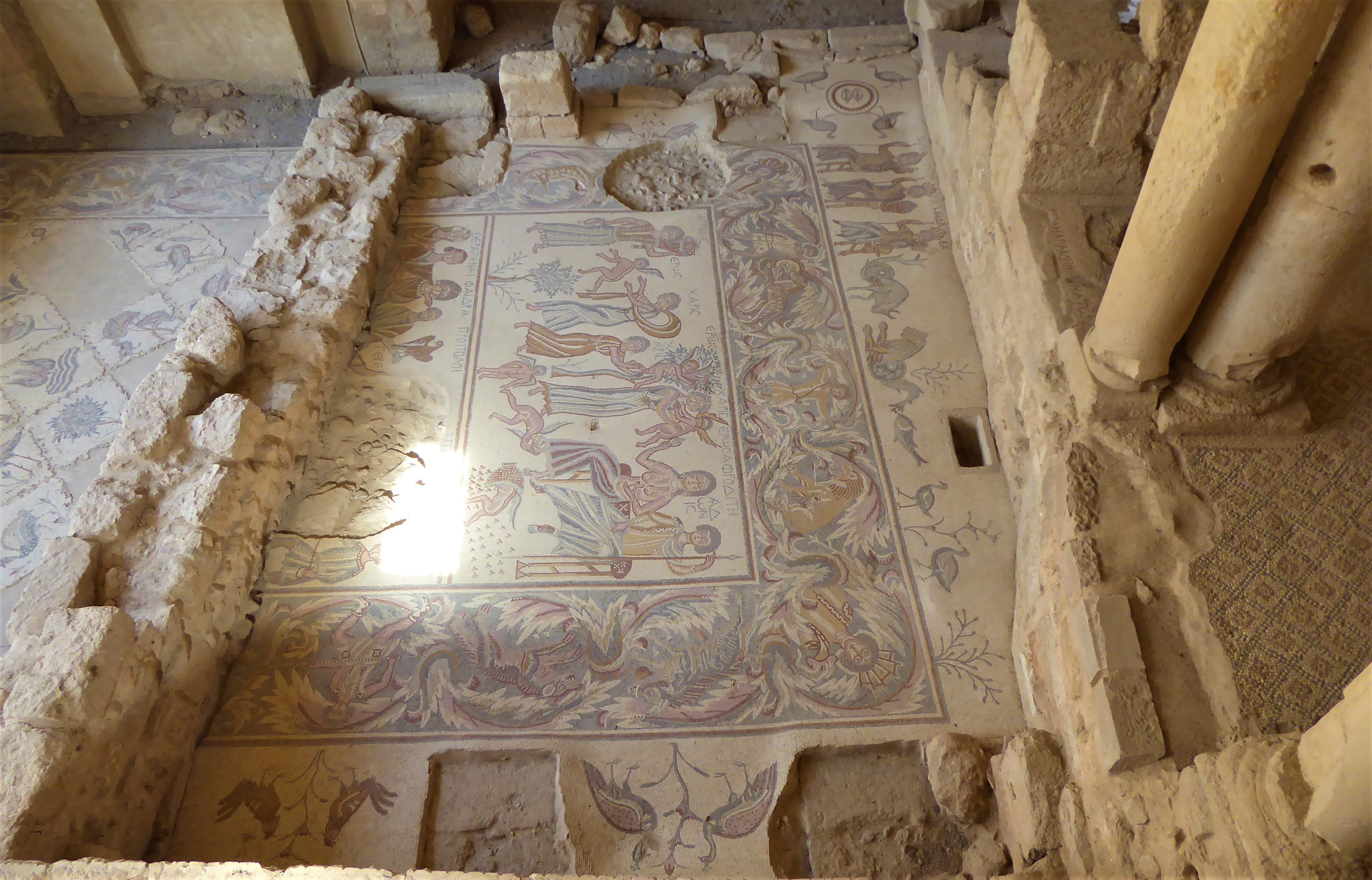 Church of the Virgin Mary
In part built on top of Roman Temple and the Hippolytus Mansion it was constructed in the 6th Century and added to by the Umayyad's in the 8th Century; these additions are the geometric type mosaics.  I didn't have a guide through the park and to be honest unless the mosaics were obviously inclined to Christian or Umayyad I really had no clue what belonged to what!  There is a caveat to that statement…a lot of the area has boards with pictures explaining what everything is…but I confess I started reading (there is a lot!) and thought oh no I'll be a smarty pants and figure it out as I go along!  Needless to say, I figured some (very little) of it out, of that little knowledge I have totally forgotten!  I moan when there isn't explanations and when there are thorough one's I don't read them all.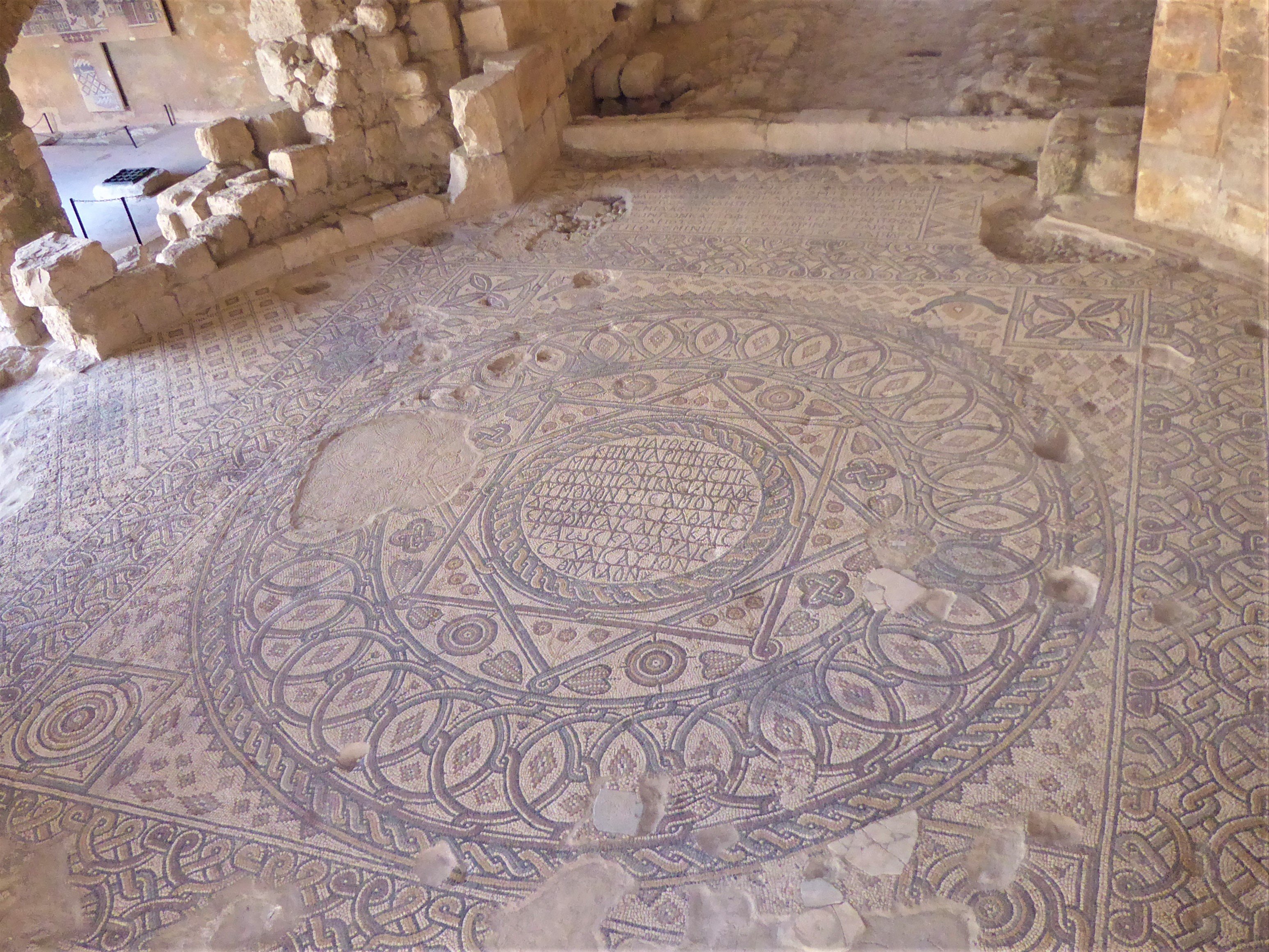 Church of the Holy Martyrs (Al-Khadir)
I was far from being mosaic'ed out, the examples in the Archaeological Park are absolutely amazing the Church of the Holy Martyrs was no different.  Although I'd say these are in the worst of conditions in the Park.  What it may lack, and now I'm being pedantic, in complexity it makes up in sure size!  The whole church floor is one fantastic mosaic, that's not to say it isn't intricate, just compared to the other's in the park it is not as complex.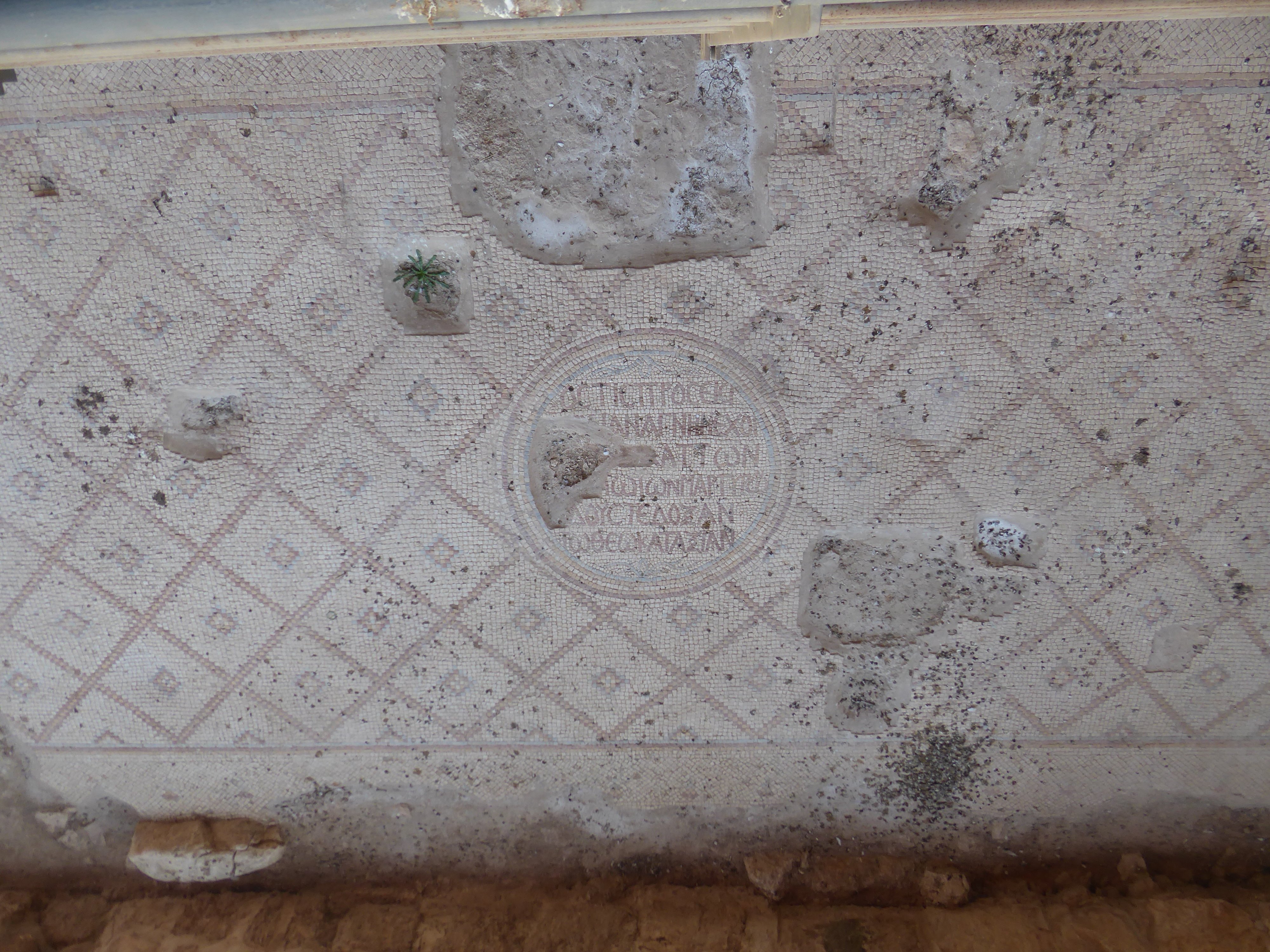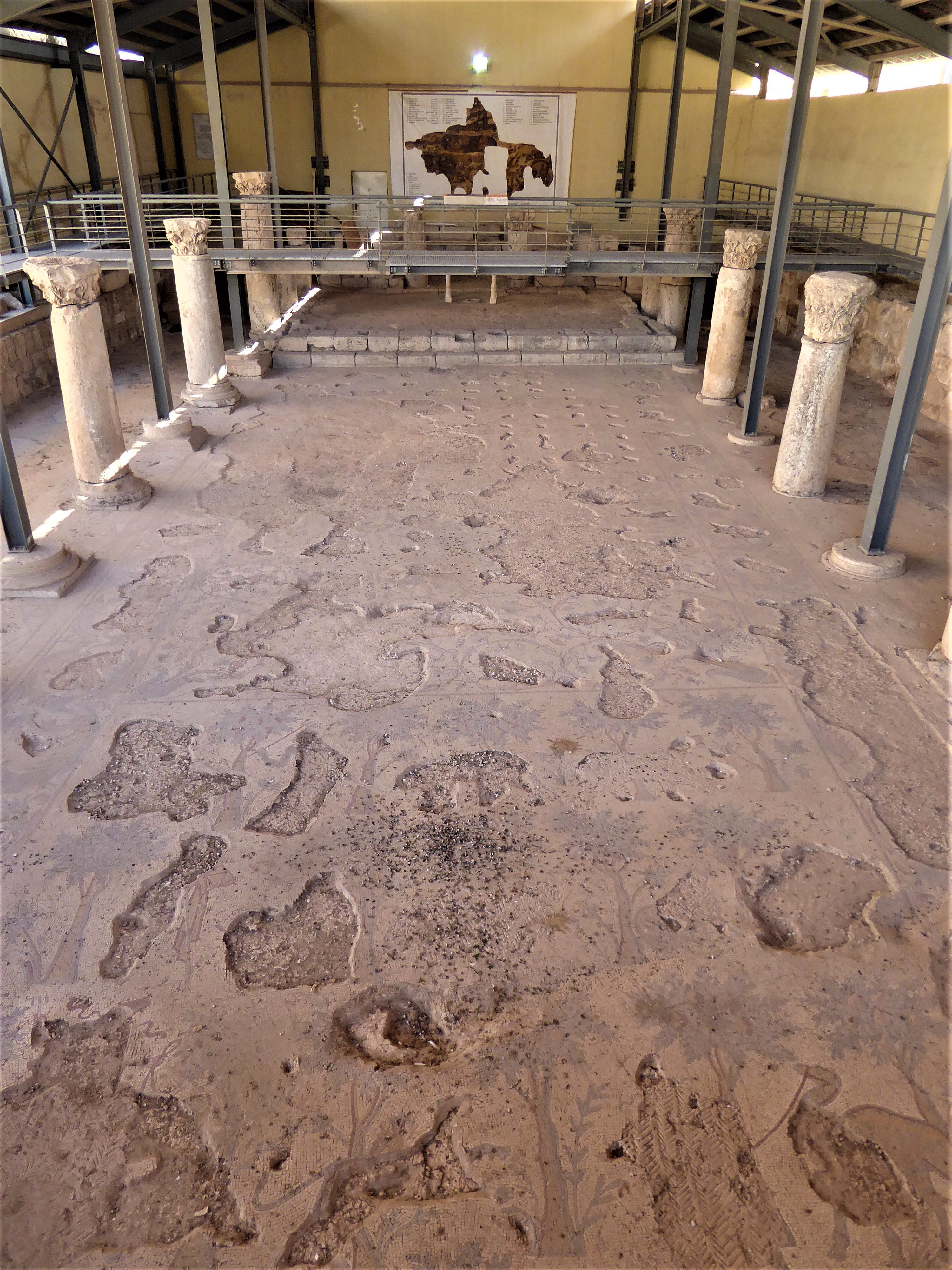 Burnt Palace
Dating somewhere between the end of the 6th to beginning of the 7th century this could only have belong to a very wealth person/family.  Every room with its own bespoke mosaic, this place had rooms, baths, hall and paved courtyard, the quality of the mosaics are as good as any.  Even though the building burnt down in the late Byzantine area the floors are very well preserved, in fact they are excellent!  The palace is still being excavated and as they do the place seems to increase in size and opulence.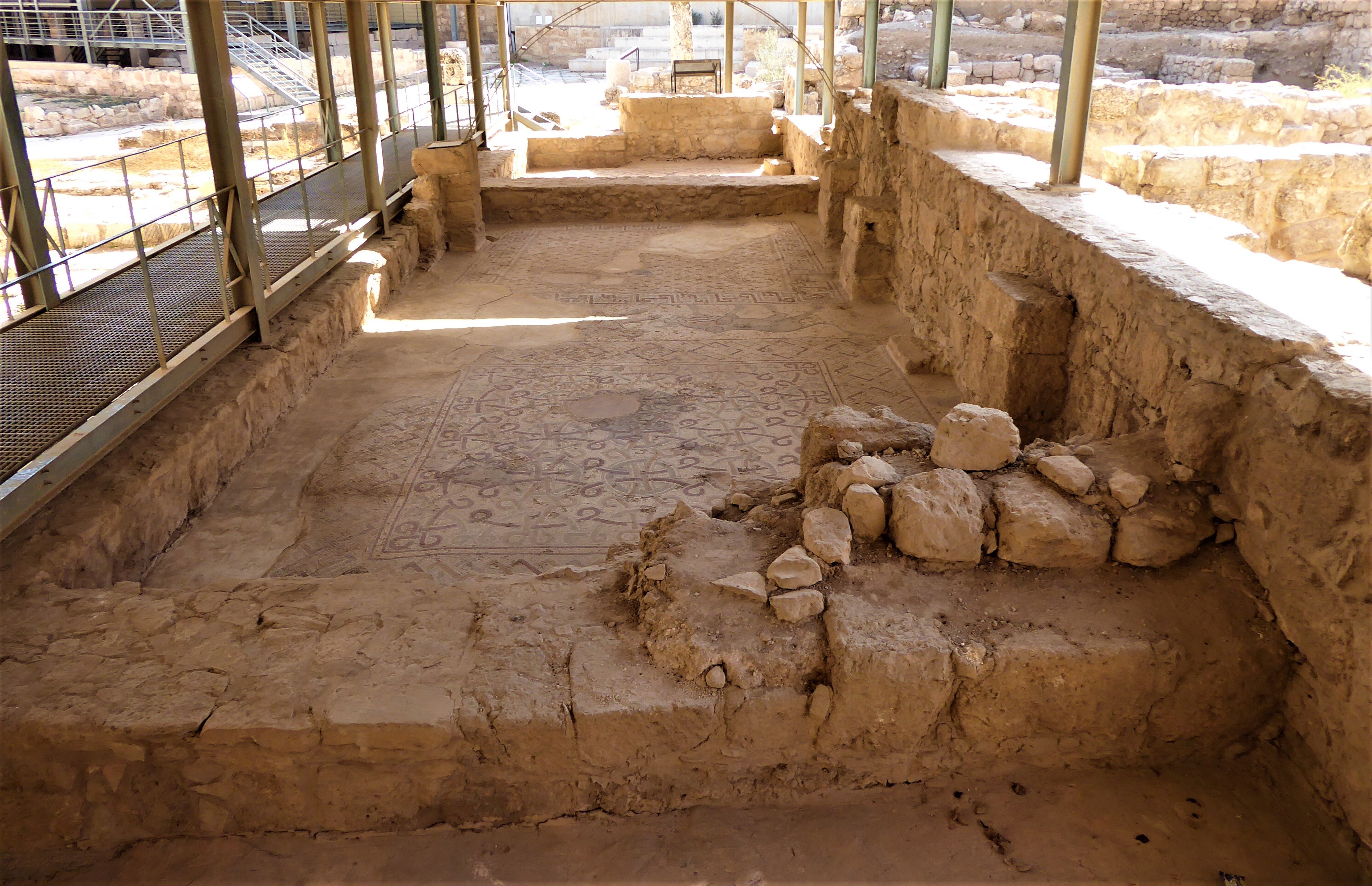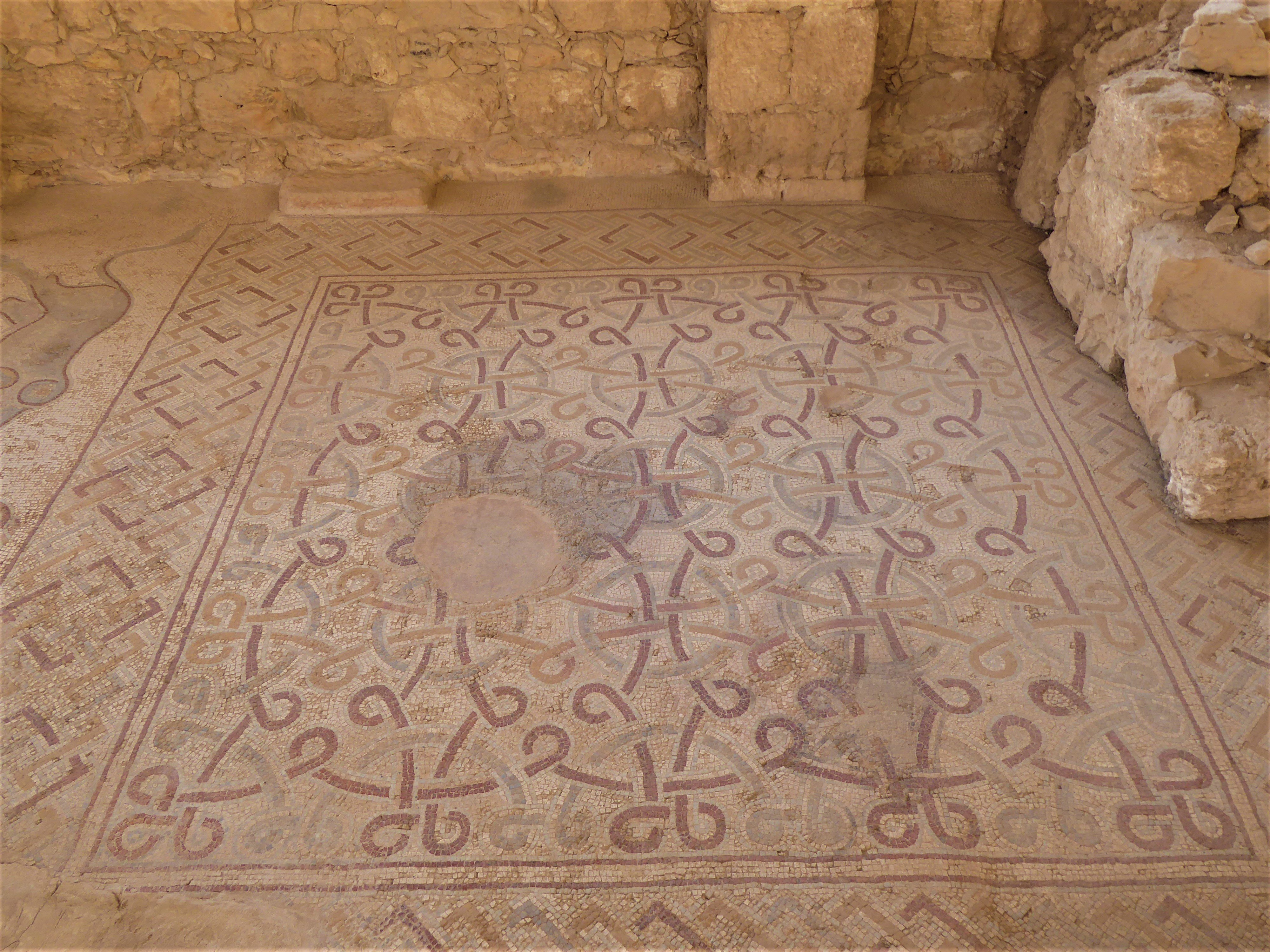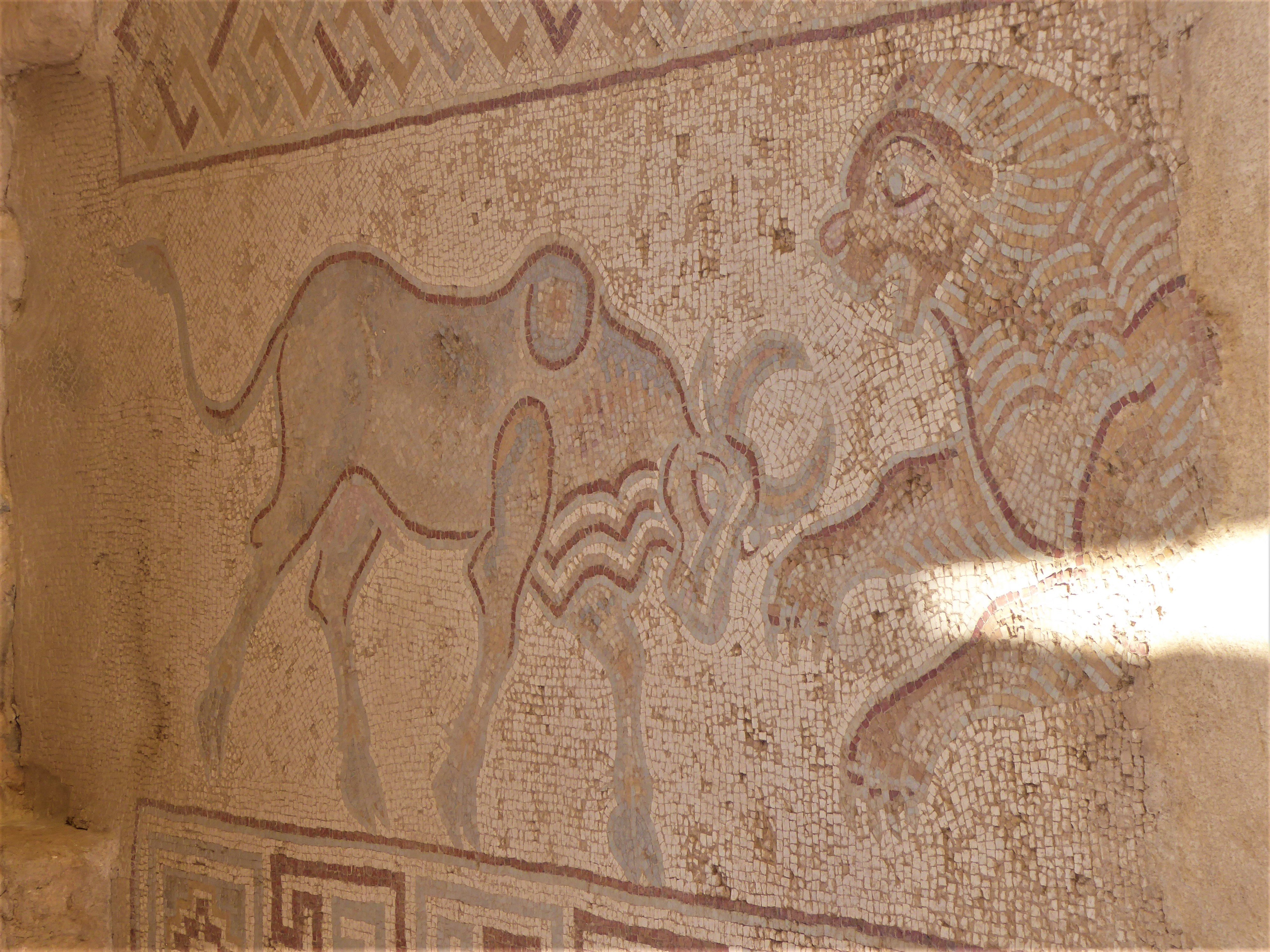 Church of Prophet Elijah & Crypt
This will have to wait till I can visit Jordan again, the crypt was partially opened but the rest of the church was under restoration so out of bounds.
Apostles Church
It is currently under restoration, so I could only get limited access and that was after speaking to the security guard.  By far the biggest mosaic I have ever seen, and that's just the centre piece of the floor, this piece de resistance is called "Personification of the Sea" and WOW it is beautiful and vast!  There was no signage at the site because it was a construction site, so I don't know much about it other that it being built in the 6th century and is Byzantine.  The entire floor is decorated, the centre and isles, each with its own design, some less complex than others.  Is the Map of Madaba had circa 2 million tesserae, then this must be multiples of that!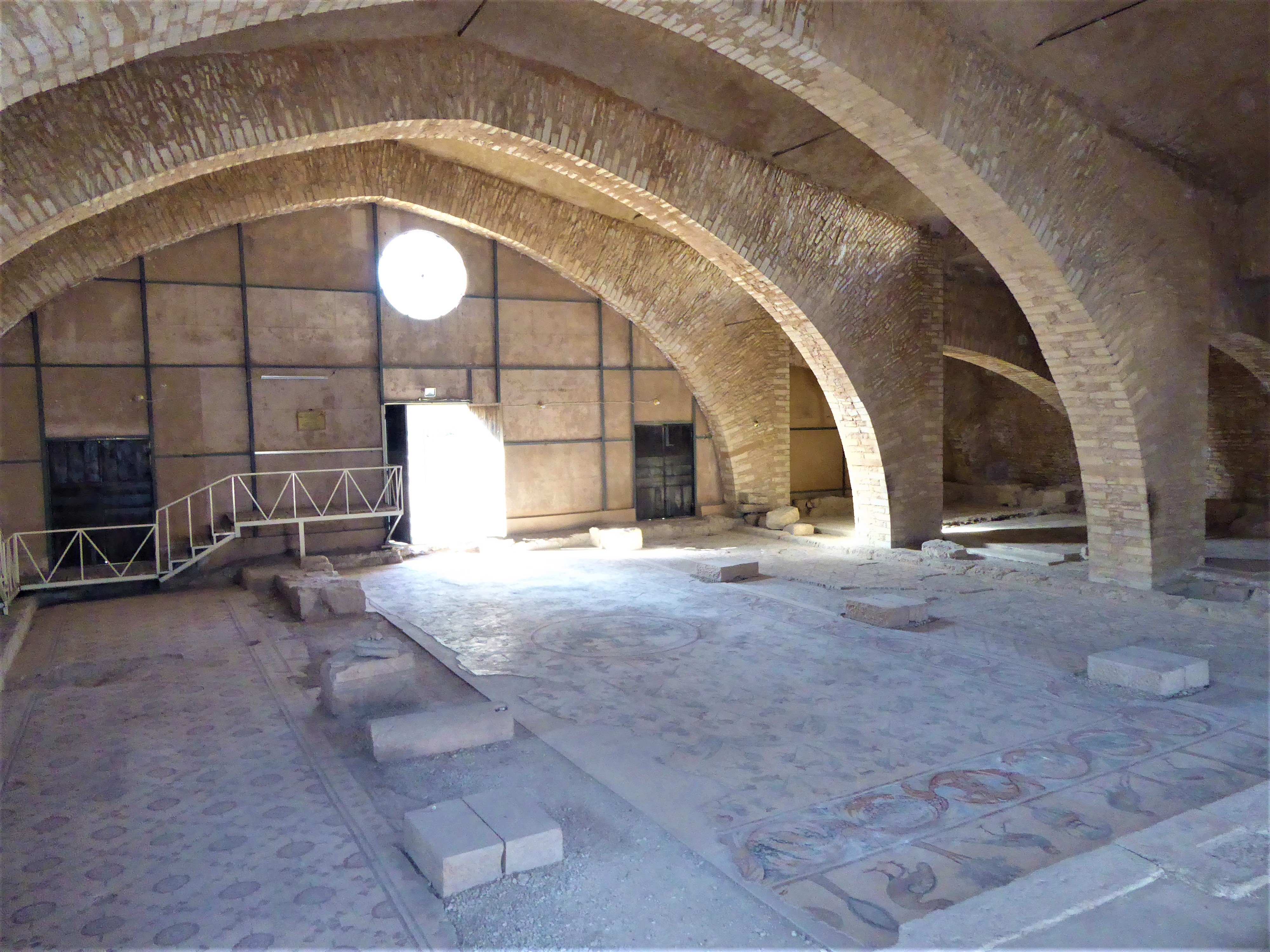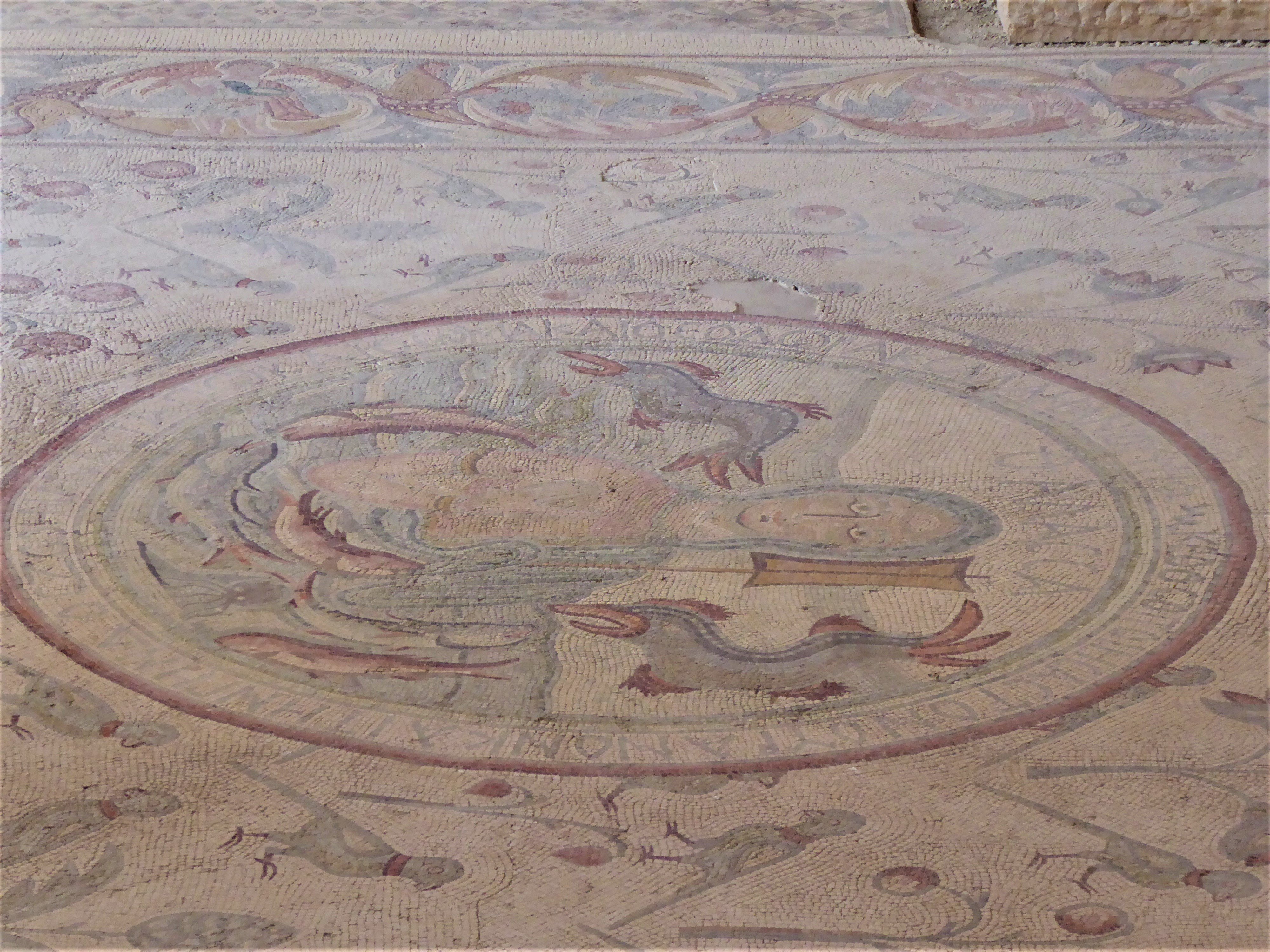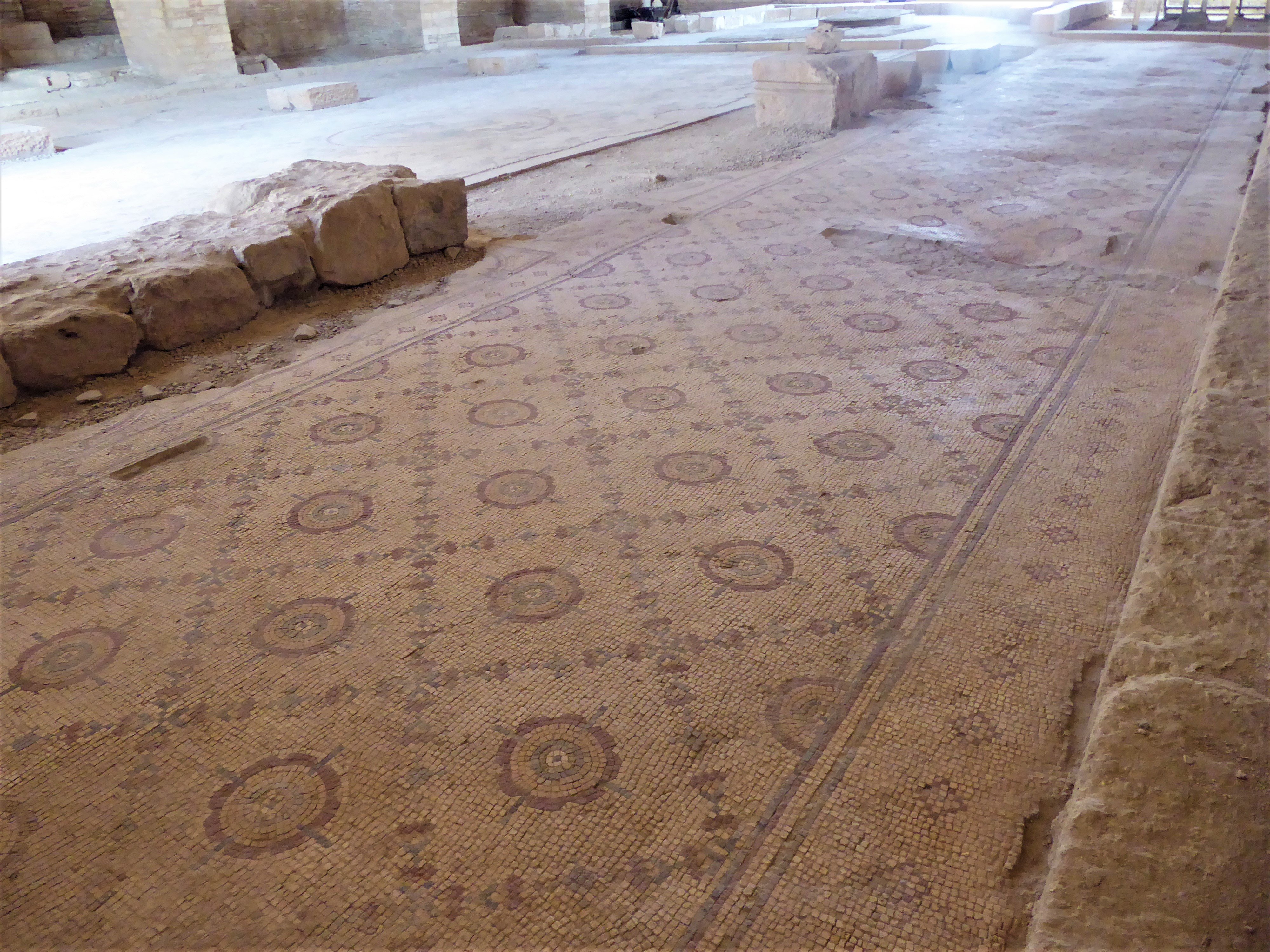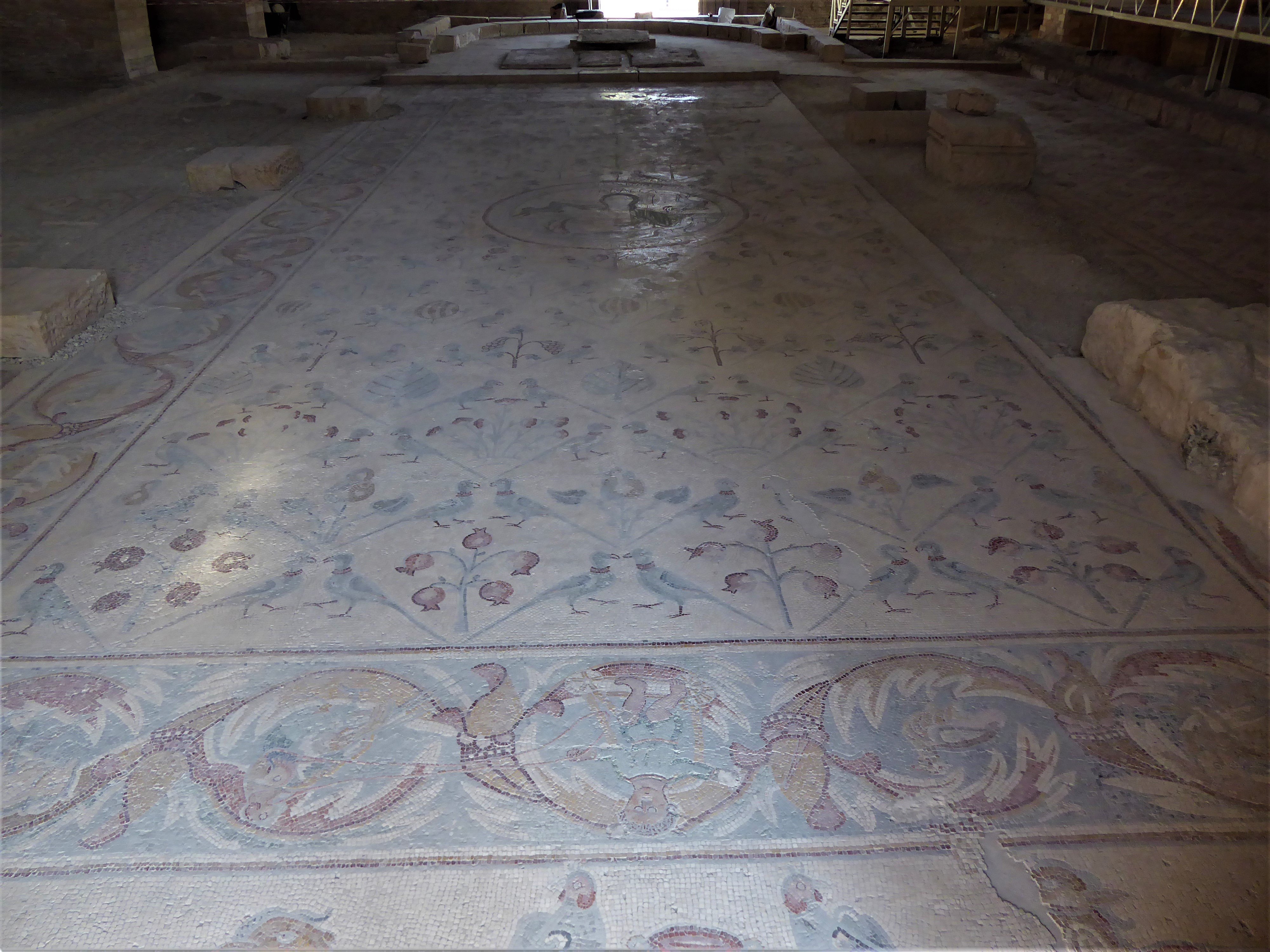 I did a little day excursion arranged with my hotel, they got hold of a local tour guide called Tawfeeq Salahat +962 7 7925 2500, very knowledgeable of the area being a local and extremely friendly.  Every time I said, "thank you" he would reply something along the lines of "don't say thank you, I'm here to make sure you are happy", he genuinely meant it, so that's why I have included his contacts details for anyone who needs or wants a tour guide.  Tawfeeq doesn't only do Madaba and the surrounding areas, he gave me loads of possible tours throughout Jordan and if I had known a ¼ of what he told me my time in Jordan could have been a lot more plentiful and quicker too!  The plan was to do a bit of sightseeing of the surrounding area just to take in the vibe, along the way we stopped at a few places on route to Mount Nebo.  Iraqi music playing on the stereo I learnt that Iraq is known for its music, whether that's Tawfeeq's opinion I don't know and although I had no clue of what they were saying it reminded me of driving to Wadi Rum, this time Tawfeeq was singing along.
The road on the other side of the mountains next to the Dead Sea are undulating and whining as you cut through valleys and ride up and down mountains, a different way to see the area, enjoyable too.  We stopped at a few vantage points then carried on and a huge shop with locally produced authentic furniture, wears, trinkets etc. etc. I didn't buy anything but enjoyed the journey.  The main stop of the day was Mount Nebo.
What to see at Mount Nebo
Perched 817m above sea level is Mount Nebo, a historical place for Jewish, Christians and Muslims although as you would expect their detail about the place varies.  The Jews and Christians believe this is where Moses was guided to where he could view the Holy Land and where he was buried – if not on, near the mountain.  The Muslims believe similar; that Moses was there too and buried there or nearby – there is a burial site attributed by the Muslims nearby.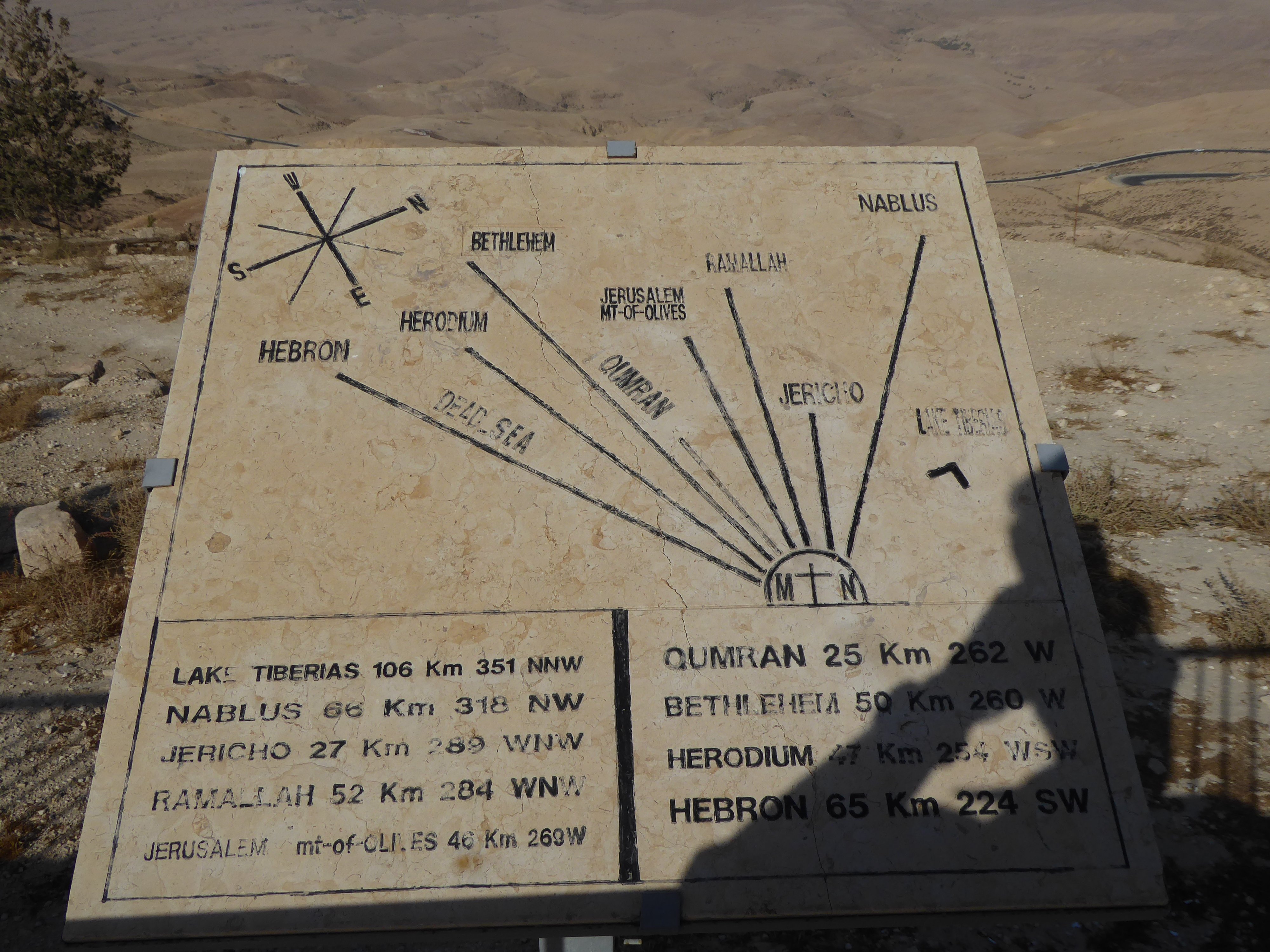 From Mount Nebo on a clear day, mine wasn't too clear you can see far into the distance from this vantage point, North is the River Jordan Valley, North-West is Jericho and West is Jerusalem.  Mount Nebo is a panoramic view of the area, overlooking the Dead Sea creating a misty haze like a light veil hanging over the entire area.  Just as I've many times before, this is a harsh and unsympathetic environment, with lots of water in the Dead Sea but useless for drinking and crops, not anything that ends up in the Dead Sea is pickled and killed.  The undulating hills and mountains that surround the area are beautiful from a distance with arid shrub sparsely decorating the valleys below.  The only green vegetation seems to higher up on the mountains, like Mount Nebo, where only the toughest foliage can work with nature to thrive.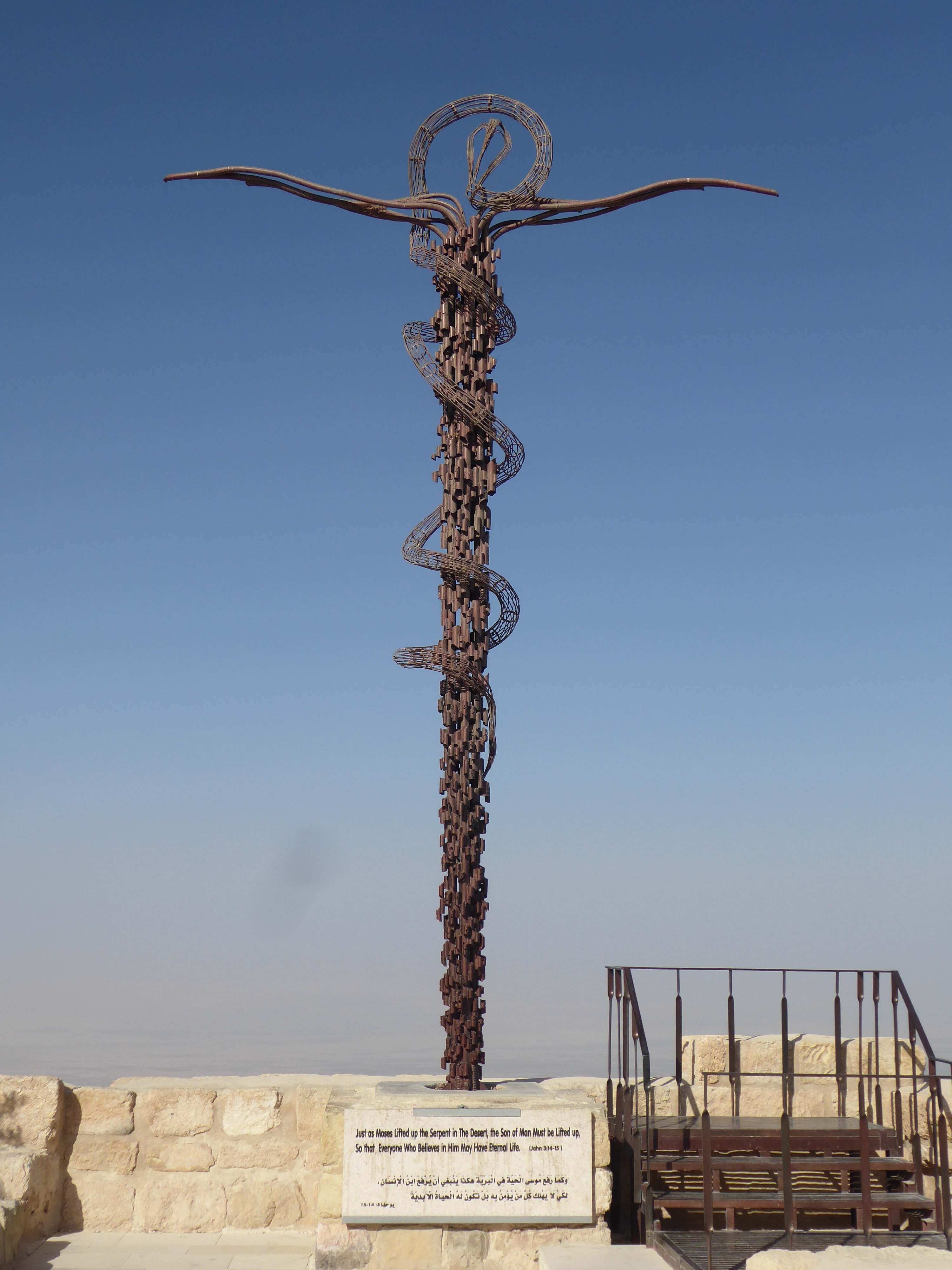 Byzantine Church and Monastery
On the peak of Mount Nebo at the very summit stands the remains of a 4th Century Byzantine Church and Monastery, having recently been restored the church almost feels news, the mosaics are in pristine condition as if laid yesterday.  As comparable to even the best that Madaba has to offer these mosaics are beautiful works of art and adorn the entire floor.  The monastery itself fits around the church, these building are unfortunately not in the best of conditions with only foundations and stumpy walls outlining what would have been a large complex.  With the monasteries I have seen, the living and working quarters are normally plain, with the grandeur left to be demonstrated in the church/chapel, here is no different.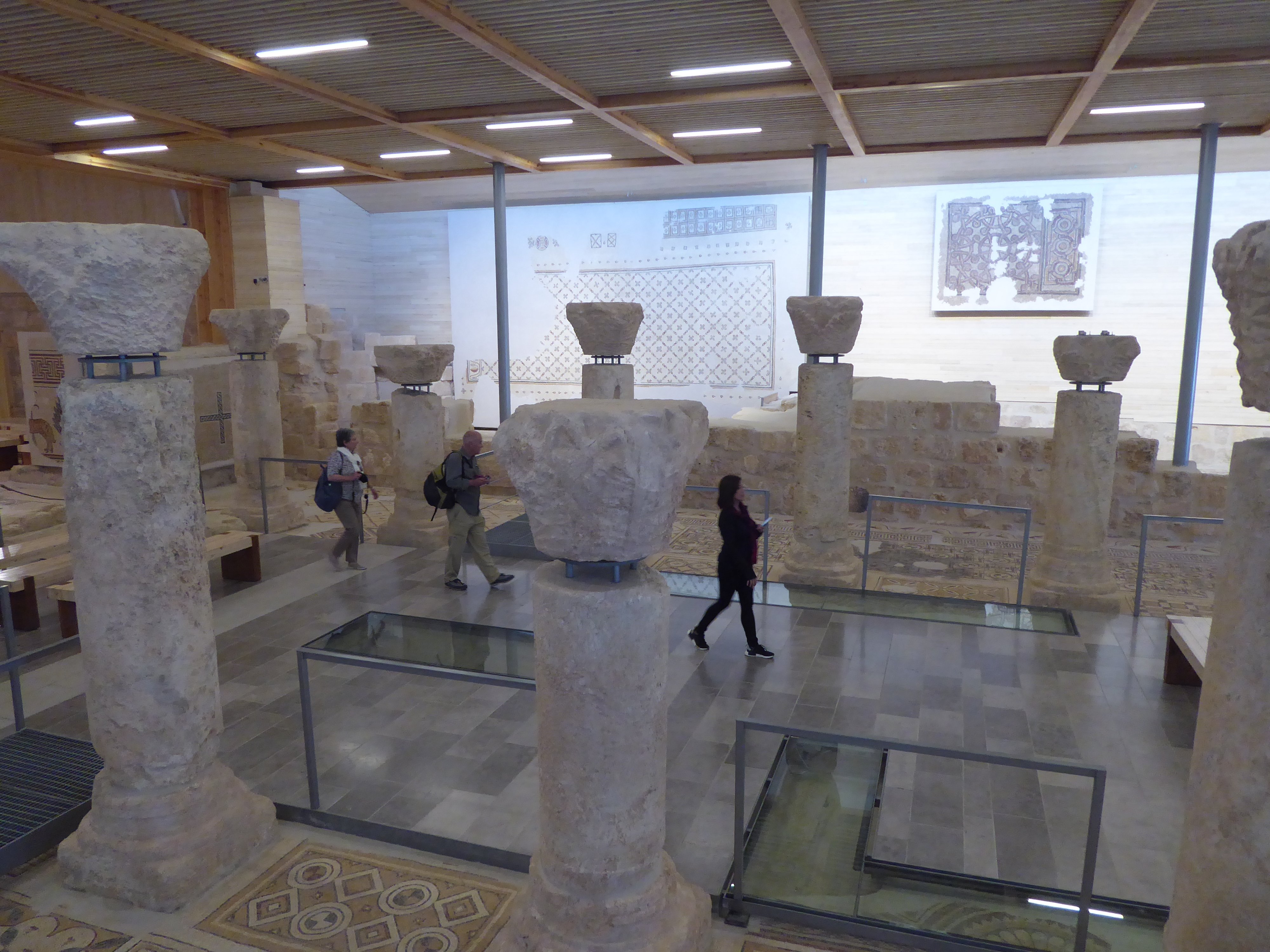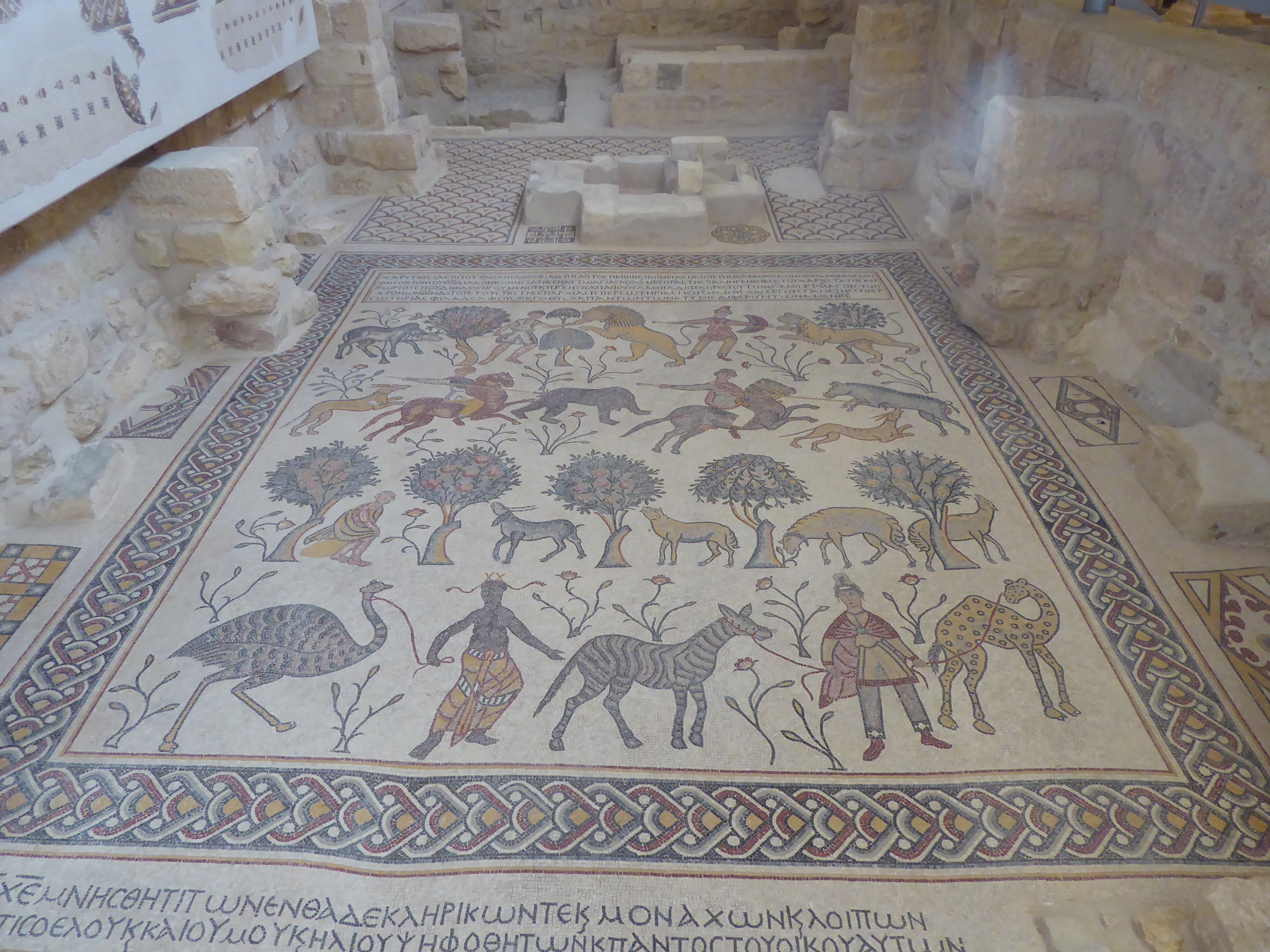 With restoration completed on the Church in 2016 I have no idea what state this place was in before, so I can only go on what I saw on the day.  The first church was build in the 4th Century, not sure when, which was added to and then rebuilt in the late 6th Century – whether the entire place was rebuilt including the monastery I have not idea or even to what extend the church was rebuilt.  Nevertheless, this may not have been the biggest churches but from the standard of the mosaics and the size on the interior pillars it must have been a special place, decorated accordingly.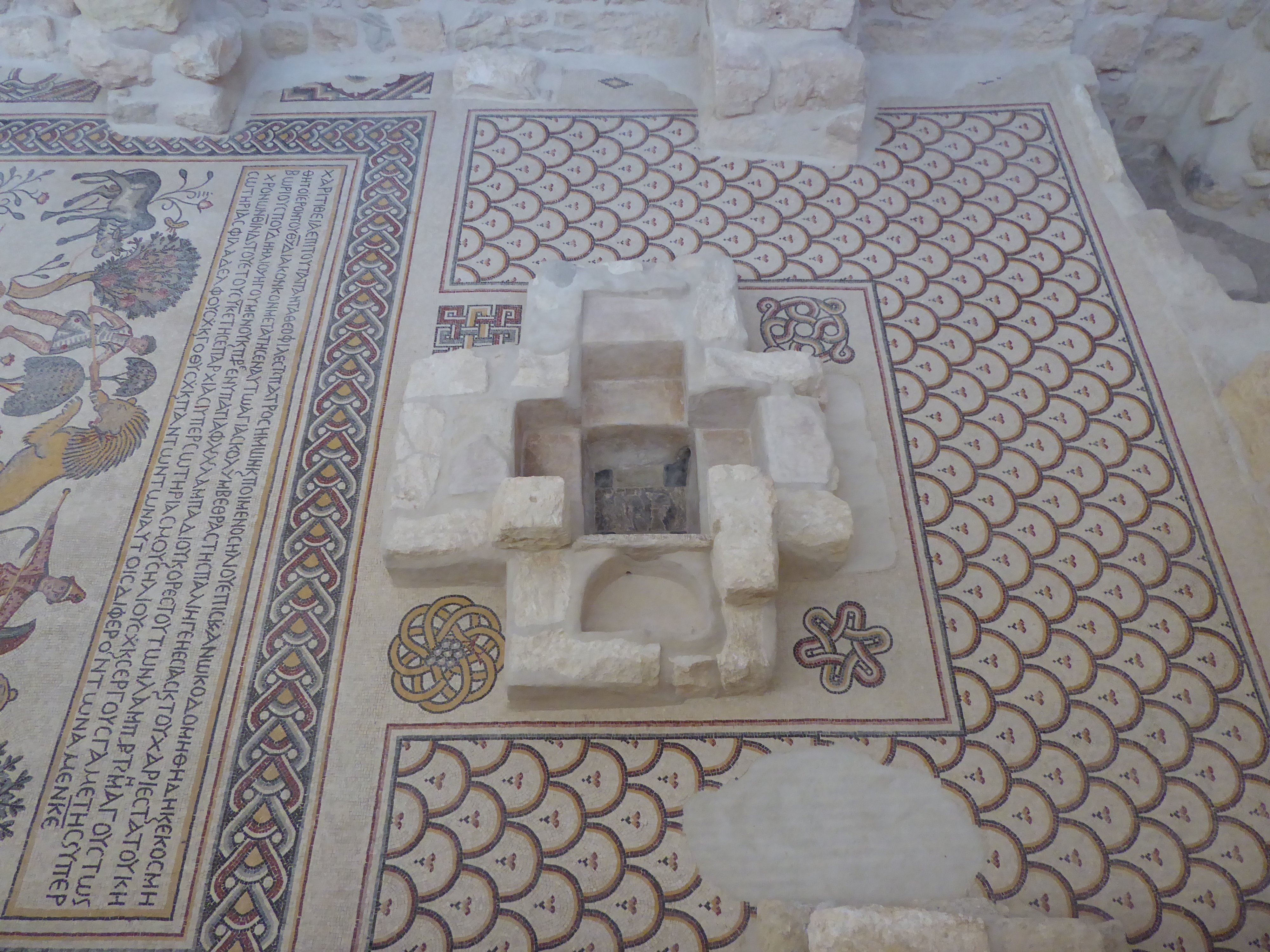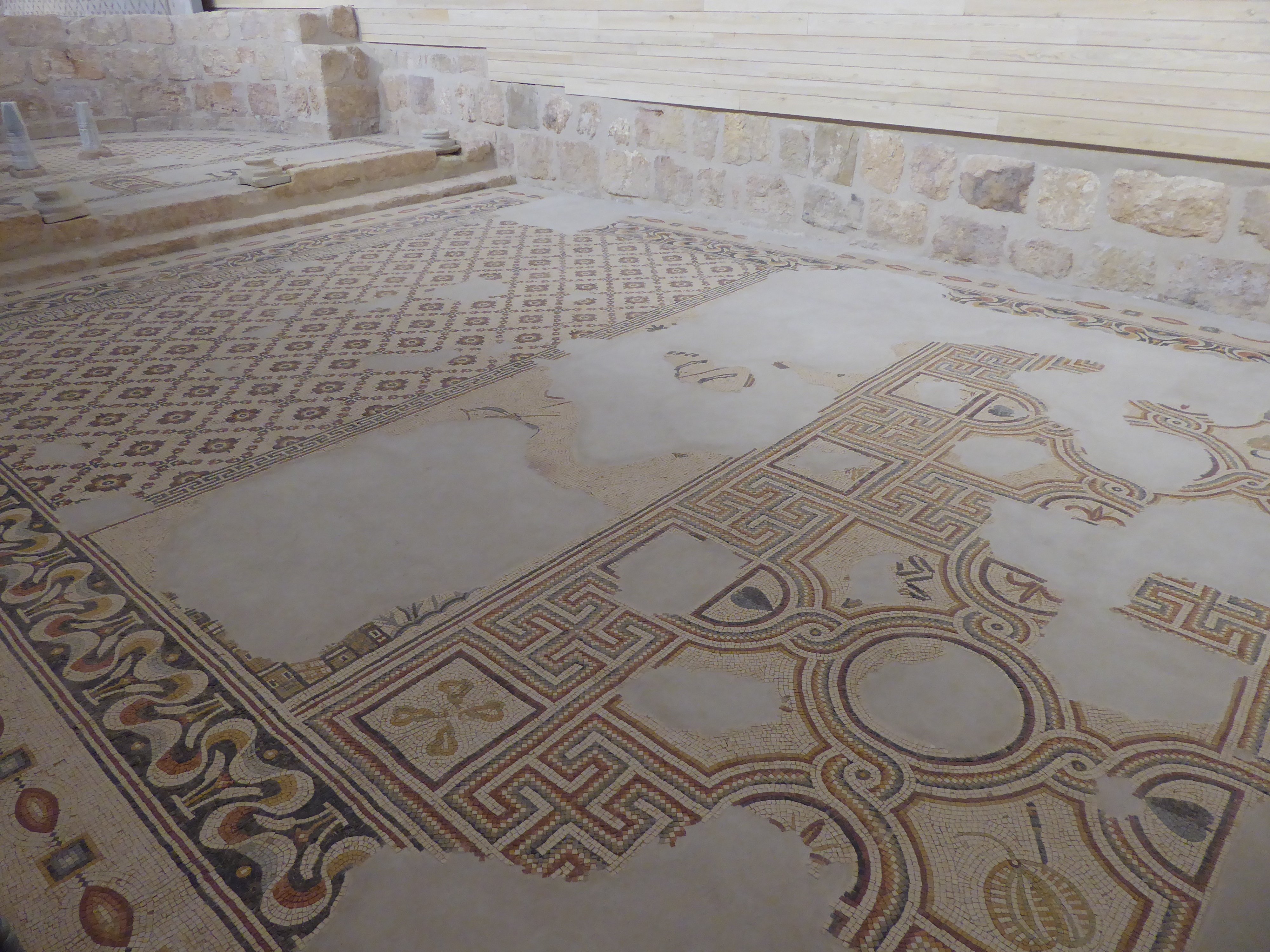 If I think back now to my time in Spain and the mosaics I saw then, I was awe struck, now it seems I have become a snob when it comes to mosaics.  Gone are the days where I would be amazed by even the tiniest of decorations, now I only get taken aback when they are massive, complex, fully of detail and near perfect condition!  If you don't get time to go to Madaba, then these mosaics are fine examples of creativity and mastery all in one, they are spectacular!
The next day would be my last in Madaba, Tawfeeq would take me on another little trip around the area and to Wadi Mujib.
If you missed my blog on Amman, where I was before Madaba here is the link – Amman, Jordan's capital, Roman's Philadelphia