Wadi Mujib and the Dead Sea
Being happy with Tawfeeq's ½ day trip the previous day we agreed to do another the following, this time a hike at Wadi Mujib and visiting the Dead Sea.  I hope this post is a short one, something I seem to struggle with keeping things succinct…let's see how it goes.
Tawfeeq took a different route than the day before, although we were very near to the places from yesterday the place looked very different as we rode next to the Dead Sea.  In the entire time whilst at the Dead Sea it always looked calm; a shadowy dark blue with a silky sheen surface and slow rocking ripples like velvet.  The sea fades towards to edges to a misty turquoise as the salt crystals reflect the light through the water, the sea framed along the coastline with a ring of white crystals along the banks.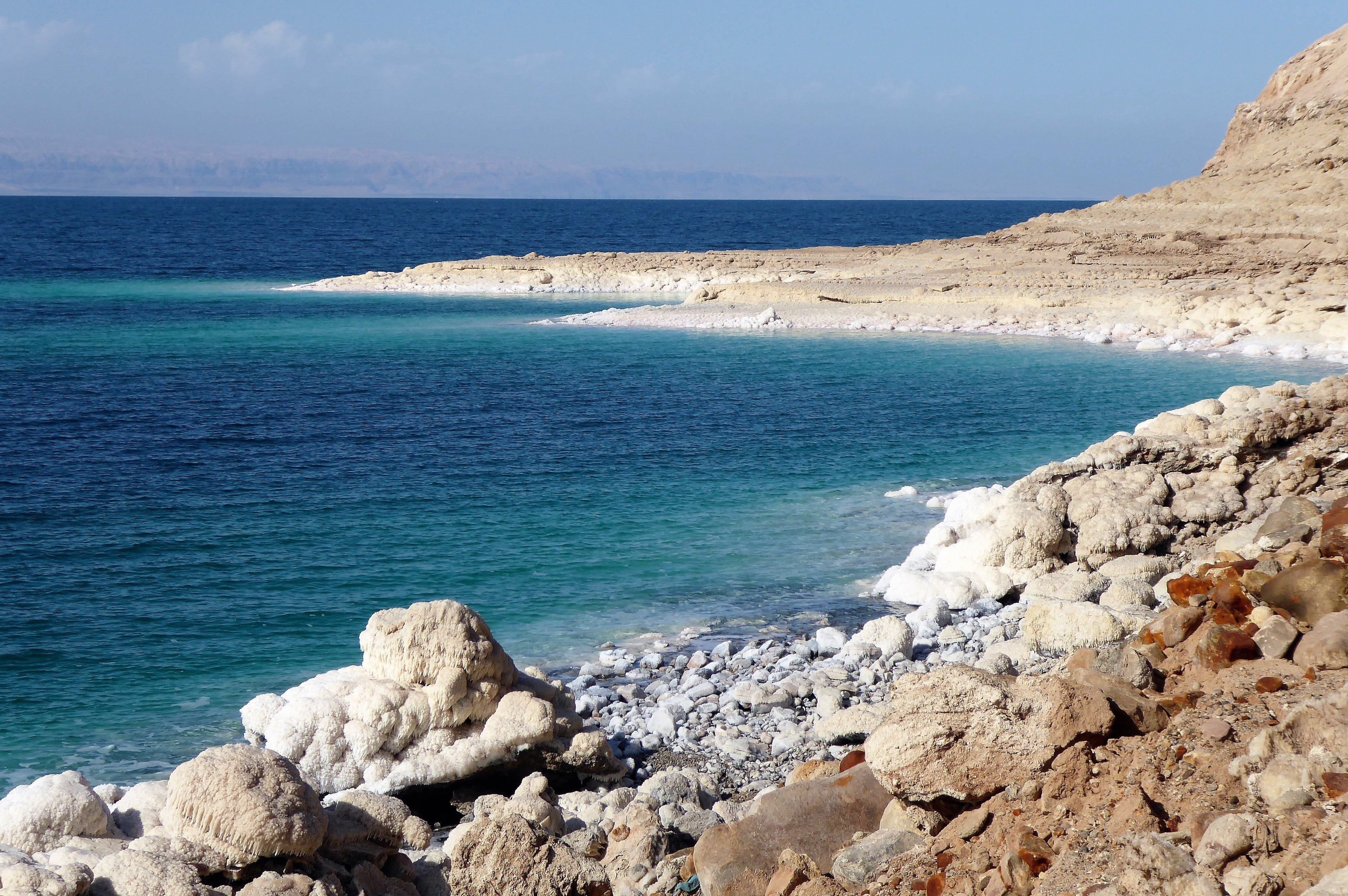 On the way to Wadi Mujib we stopped over at a few locations to take in the scenery, many overlooking the Dead Sea.  I was surprised how narrow the Sea is, Israel is a stone's throw away; the Dead Sea is dwindling every year as the water recedes and its tributary rivers too.  One thing that I will remember is the flies, they seem to be everywhere, not right by the water, instead they seem to linger 50-100m from the Sea.  Every time we stopped to take in the views we were inundated by flies!  On one occasion they gathered in their hundreds right by the car wheel, no clue why, when we road off we had to open the car windows just to blow them out!
Lot's Wife
This whole area, not just Jordan, is full of Abrahamic religious sites as you would expect; Jordan and all the surrounding countries are very much the focal point of these religious.  One such location is Lot's Wife or Prophet Lut, about 15 minutes from Wadi Mujib, the stories differ slightly between the three-major religious, the Christian/Hebrew text say that Lot's wife was turned into a salt crystal after ignoring an instruction to not look back whilst Sodom was being destroyed.  The views from this location are fantastic, with Lot's wife behind you get the perfect place to see the Dead Sea and the dense salt crystal along the shore.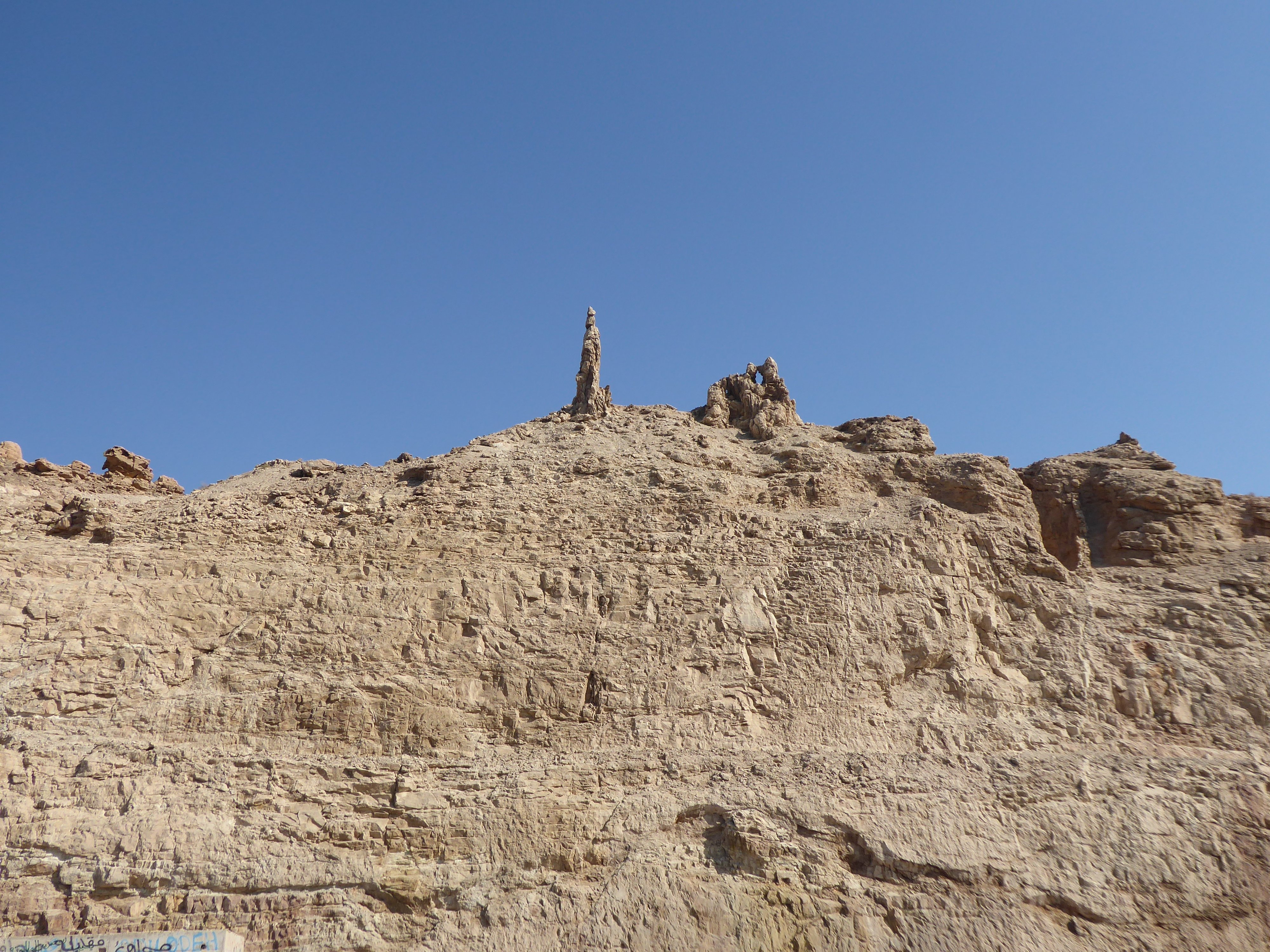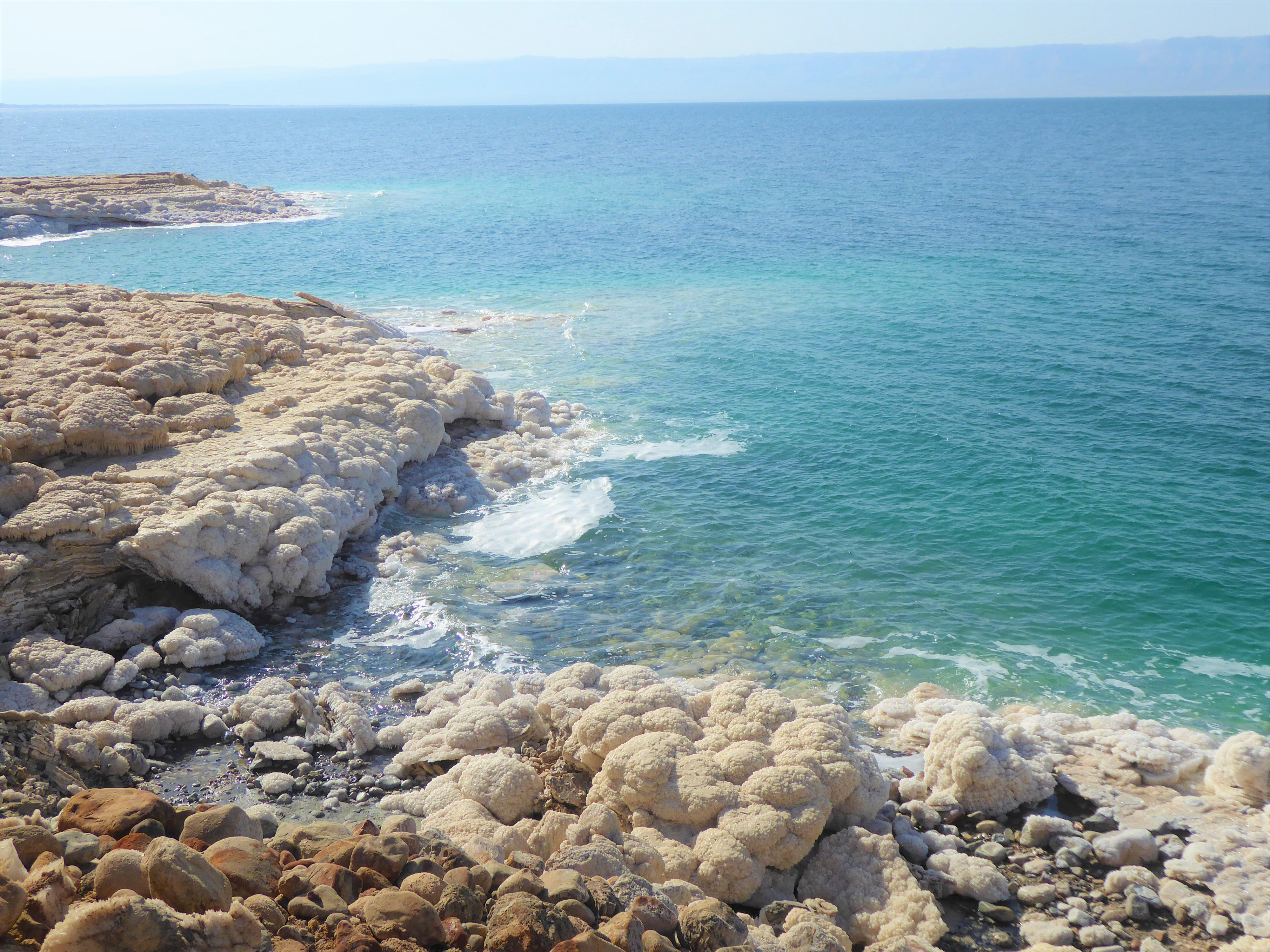 I climbed down the hillside to get to the water's edge, not advisable and Tawfeeq recommended I shouldn't…afterwards I understand why.  The hillside from the highway to the Sea is mainly rocks, nothing or very little firm too so I did a lot of sliding, even going very slowly it was a tricky descent – doing down was more difficult than going up but if I did it again I would choose an easier location.  Once at the water, the views are rewarding, the salt crystals covering every millimeter creating boulders of crystals as far as the eye can see.  No flies here, nothing lives here, the smell of salt fills the area, you feel the thick salinity in the air and the water laps the shore like runny treacle.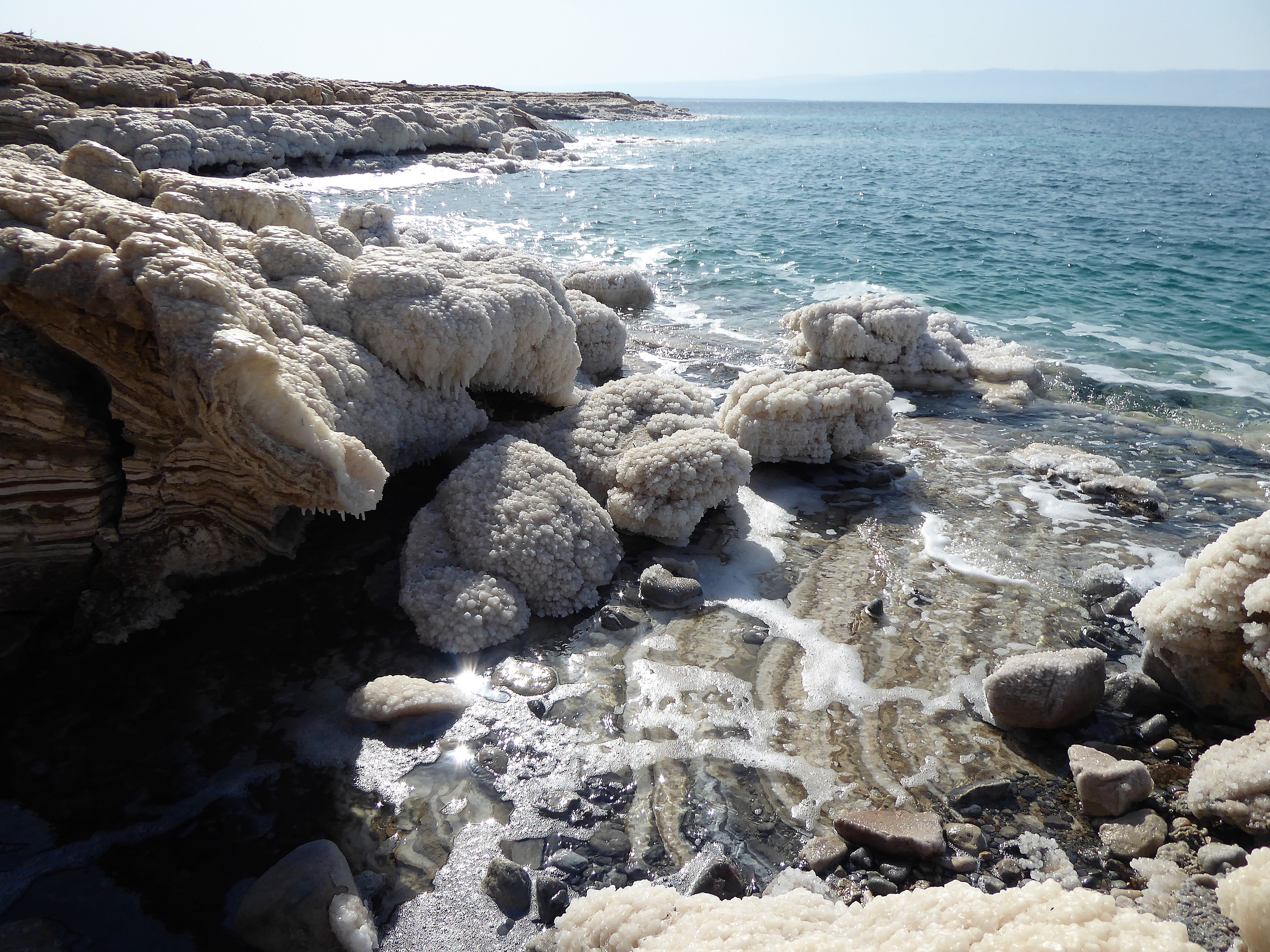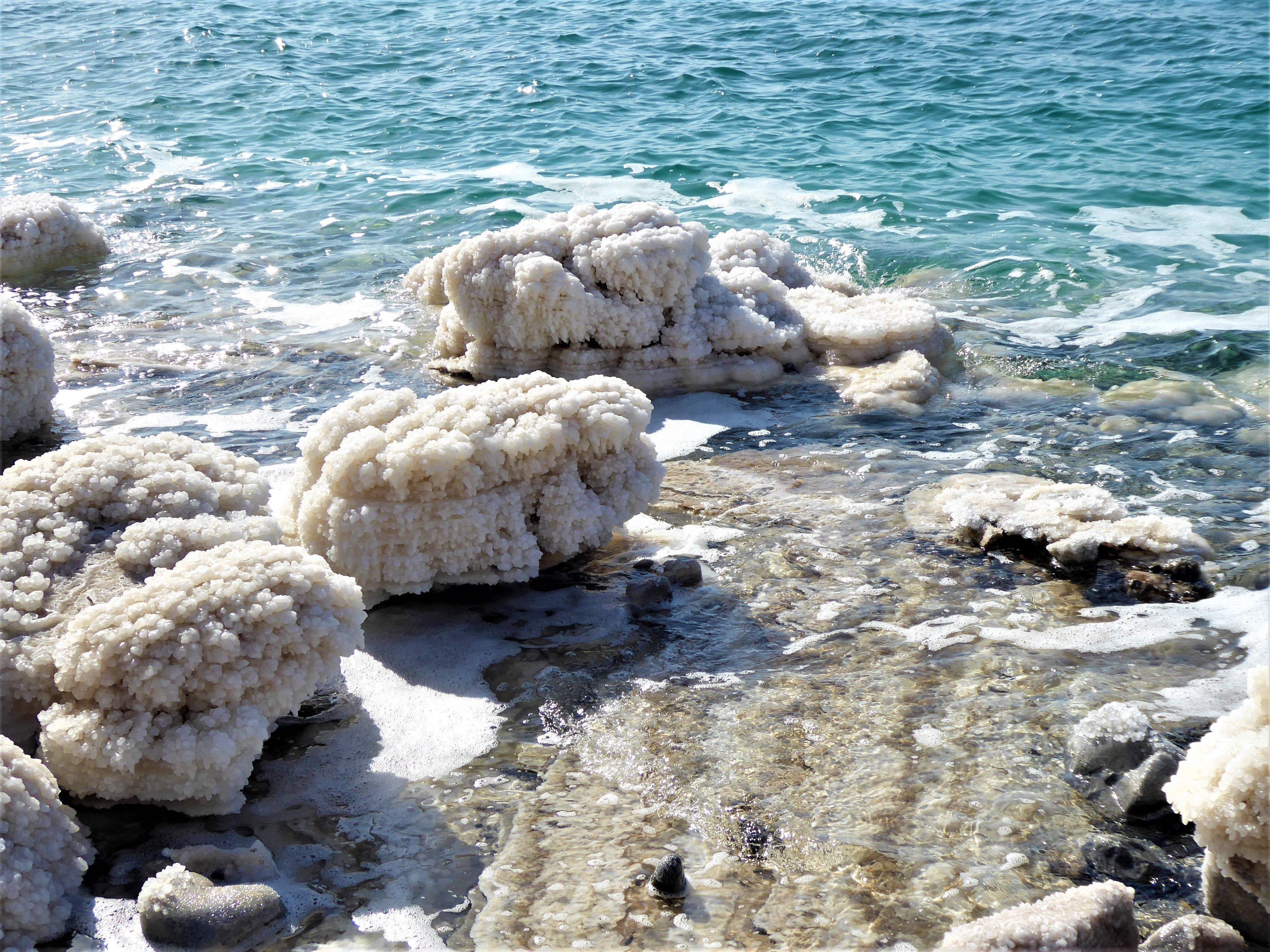 Wadi Mujib
Only a short ride further down the highway, (one that starts past Amman and runs almost the length of Jordan down to Aqaba) is Wadi Mujib.  I'd not heard of Wadi Mujib before, the first time I saw a picture of it was at the motel in Amman, a young French couple said it was nice, the pictures looked good too.  I had no idea what to expect, from the pictures it looked like a Siq with a river running through it, that is what it is.  Only difference is that you can hike through the river and up the Siq for a few kilometers, maybe 2-3km.
For the life of me I cannot remember how much entry into Wadi Mujib costs, personally it was worth it, whatever the cost! Spending days upon days in the relentless sun, walking and hiking in a dusty barren environment what could be more welcoming than hiking and swimming in a pristinely clear and refreshingly cool river!  Part of the entrance fee includes a life jacket, this is compulsory and advisable too.
Some tips for Wadi Mujib:
Take a towel

If you can, take a spare set of dry clothes or do the hike in your swimming costume/bathing suite

Wear proper shoes, not flip flops, and prepare to get them fully immersed in the water – this is unavoidable as you walk in the river most of the time and traverse up some waterfalls too.

Sometimes the water gets shoulder deep (there are ropes) and considering I'm six foot 2, there is easy swimming for most

If your camera/phone isn't waterproof or you don't have a decent waterproof cover don't take it

Before you go check with your guide or call Wadi Mujib to see if it is open.  If there is heavy rain, this gentile stream becomes a raging torrent! I'll post a video so show, however in the most it is a tranquil retreat.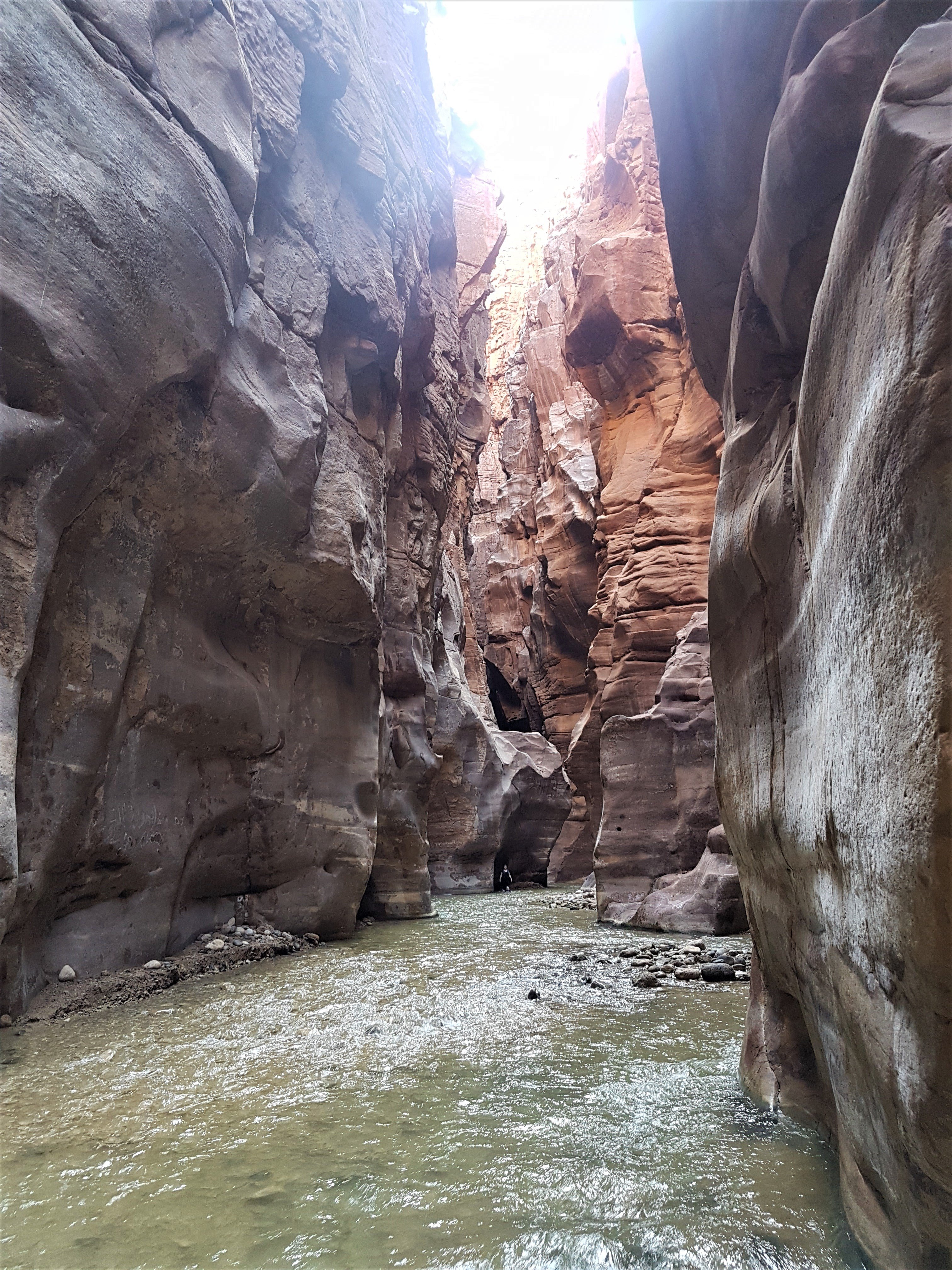 I won't bore you with the geological reasons on how this gorge was formed it does however lead into the Dead Sea at circa. 420m below sea level, but yes, like I said this whole region has Abrahamic sites and Wadi Mujib is no exception – in all probability this is the River Arnon mentioned in the Hebrew Bible.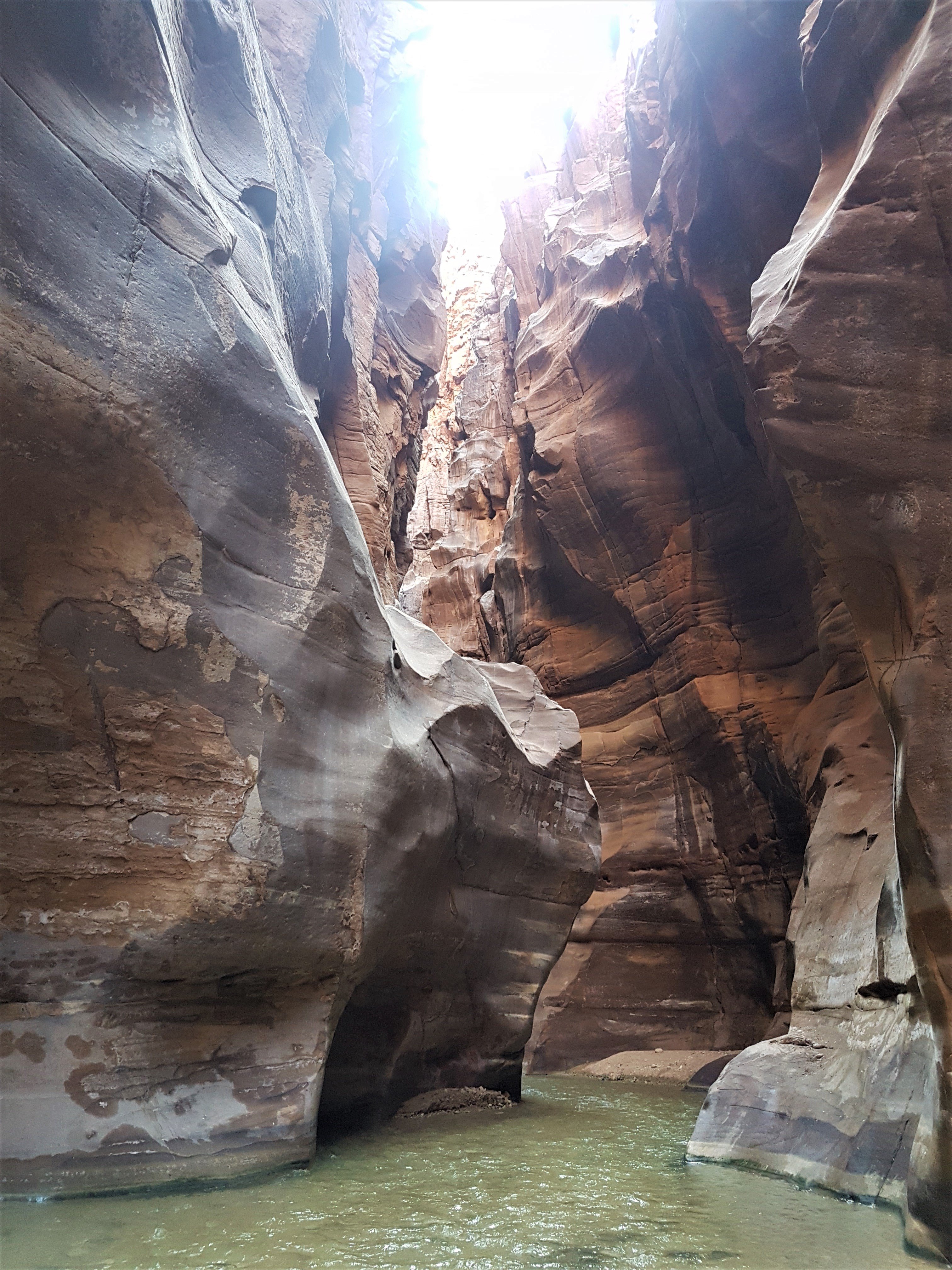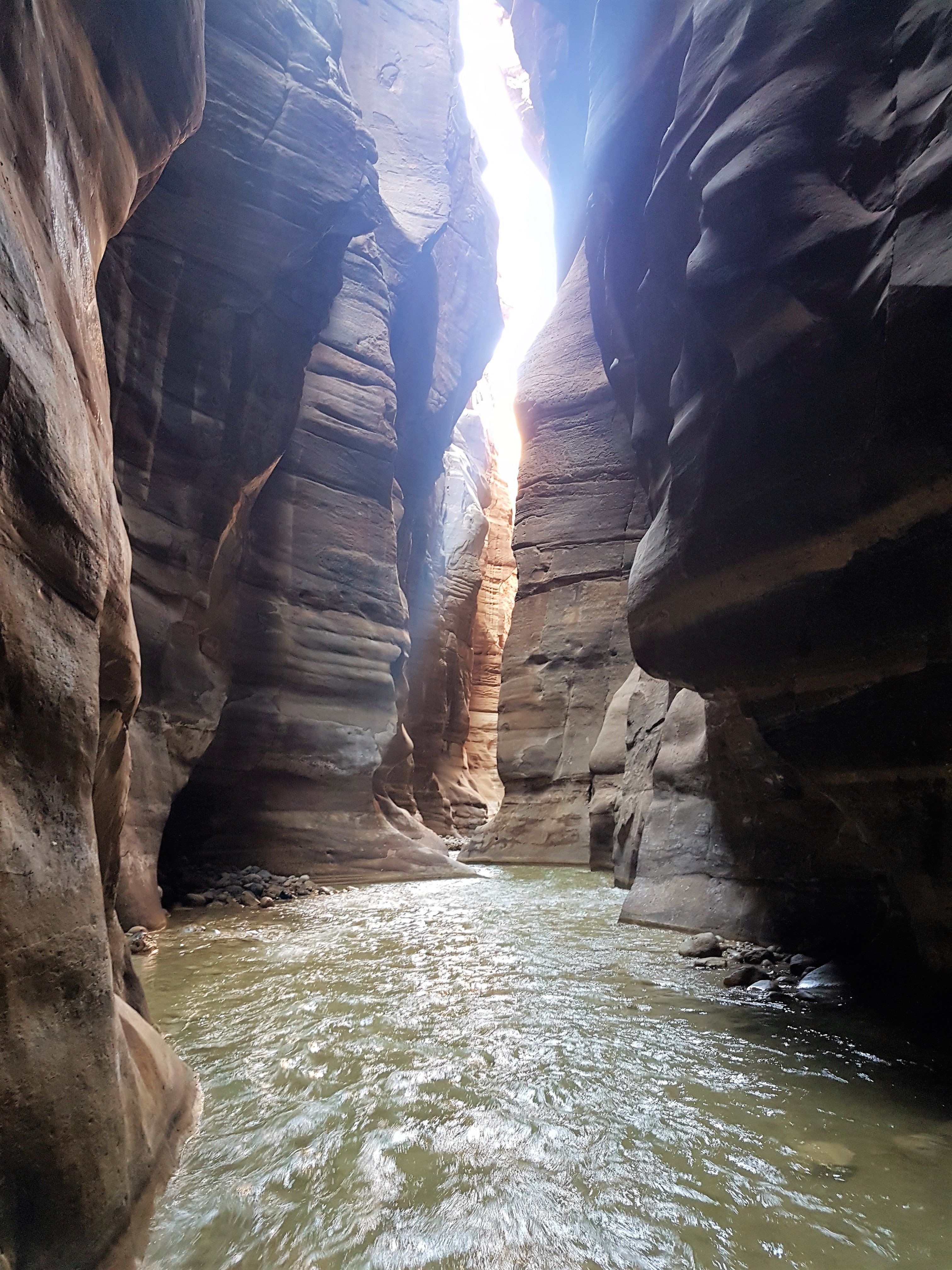 Primarily this is a "walk" through the river, with some tricky (but easy) sections along the way.  In most instance you are shin/knee deep, but like I said not all the way.  Where there are elevation changes, and there are a few, maybe 6 or 7, there are permanent fixed ropes and even a ladder at one of them.  To me this is a place where you take your time, as much or as little as you have, preferably go when it is not busy too, or else you could get stuck in a traffic jam as I did at one point with a group of 15 mature tourists – I just helped them pass and held back for a bit so that I had solitude.   A round trip at Wadi Mujib only takes 1 to 2 hours at most, it is fun, relaxing, soothing and gives you time to reflect and take in the stunning surroundings whilst staying cool.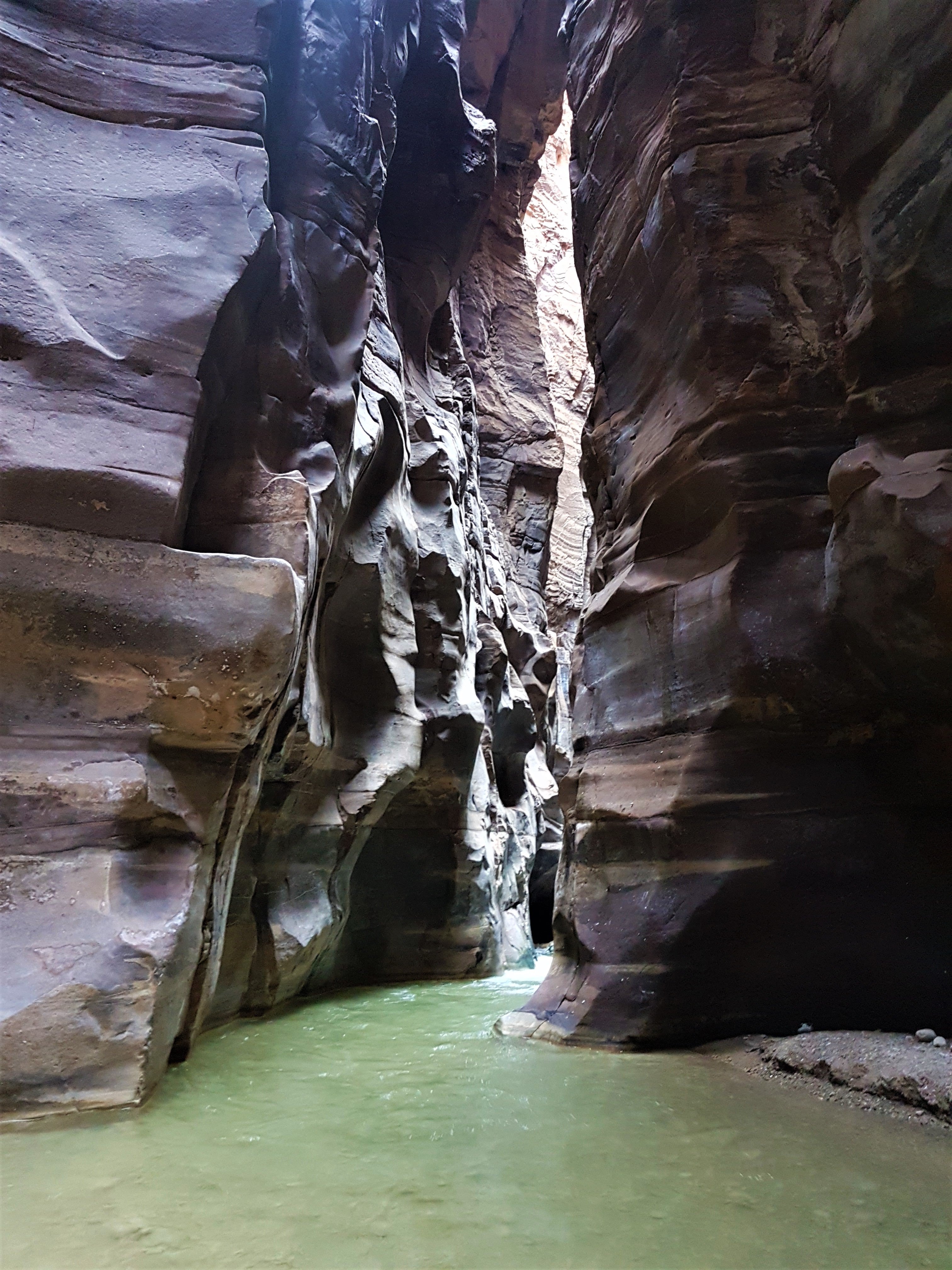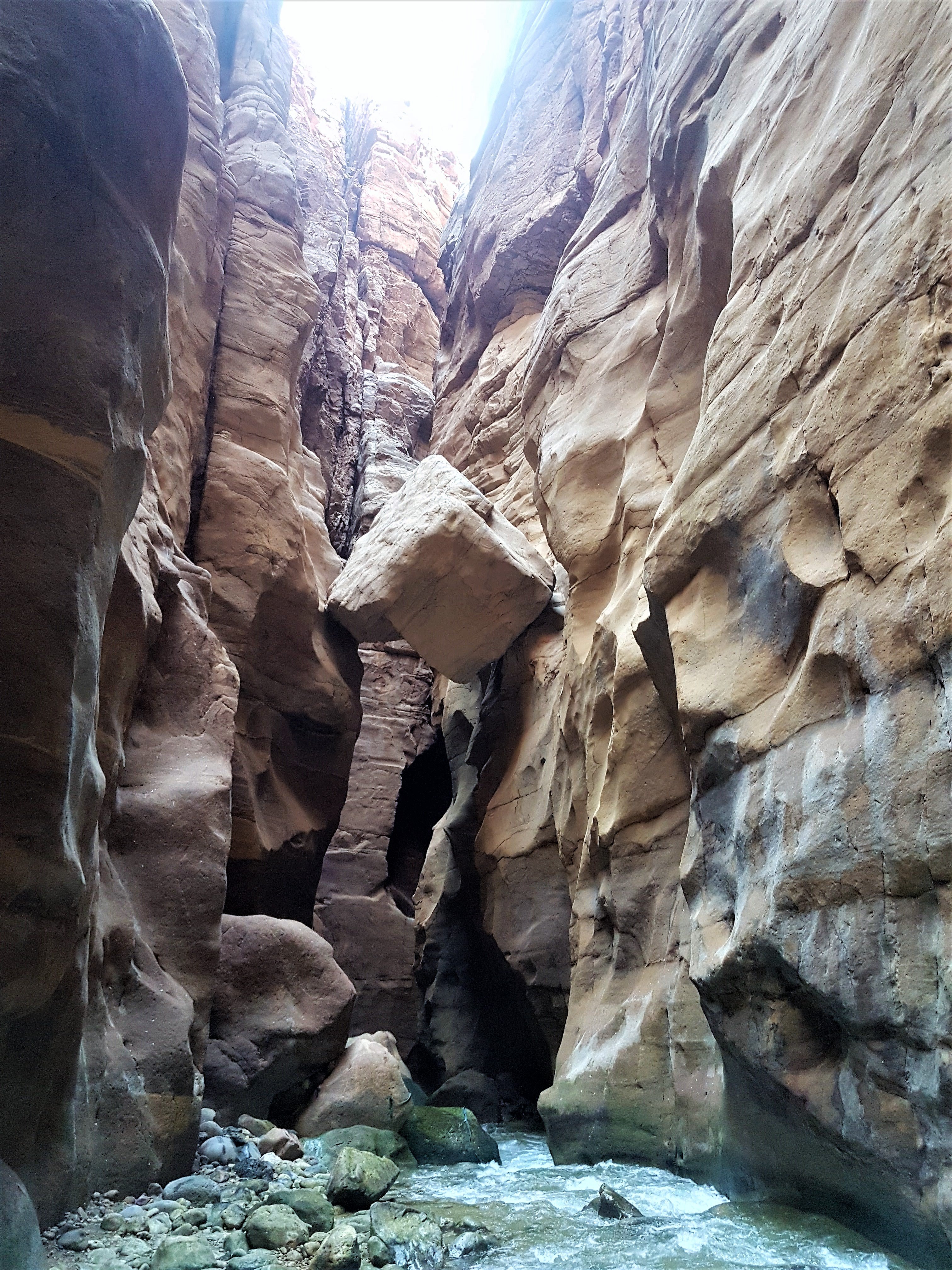 Wadi Mujib gives you a feeling of little contrast between the water and the cavern that stretches 70 odd meters high at points.  The rippling water against the curving rock compliments each other, separate elements, but have been lock together for thousands of years, they are one, their shape, flow, texture and reliance have been in unison long before any inhabitant arrived here to create what we see today.  This gorge has been forged at fractions of a millimeter over the years, looking up the rock surface is like looking back in time, a clock spanning over thousands even tens of thousands of years.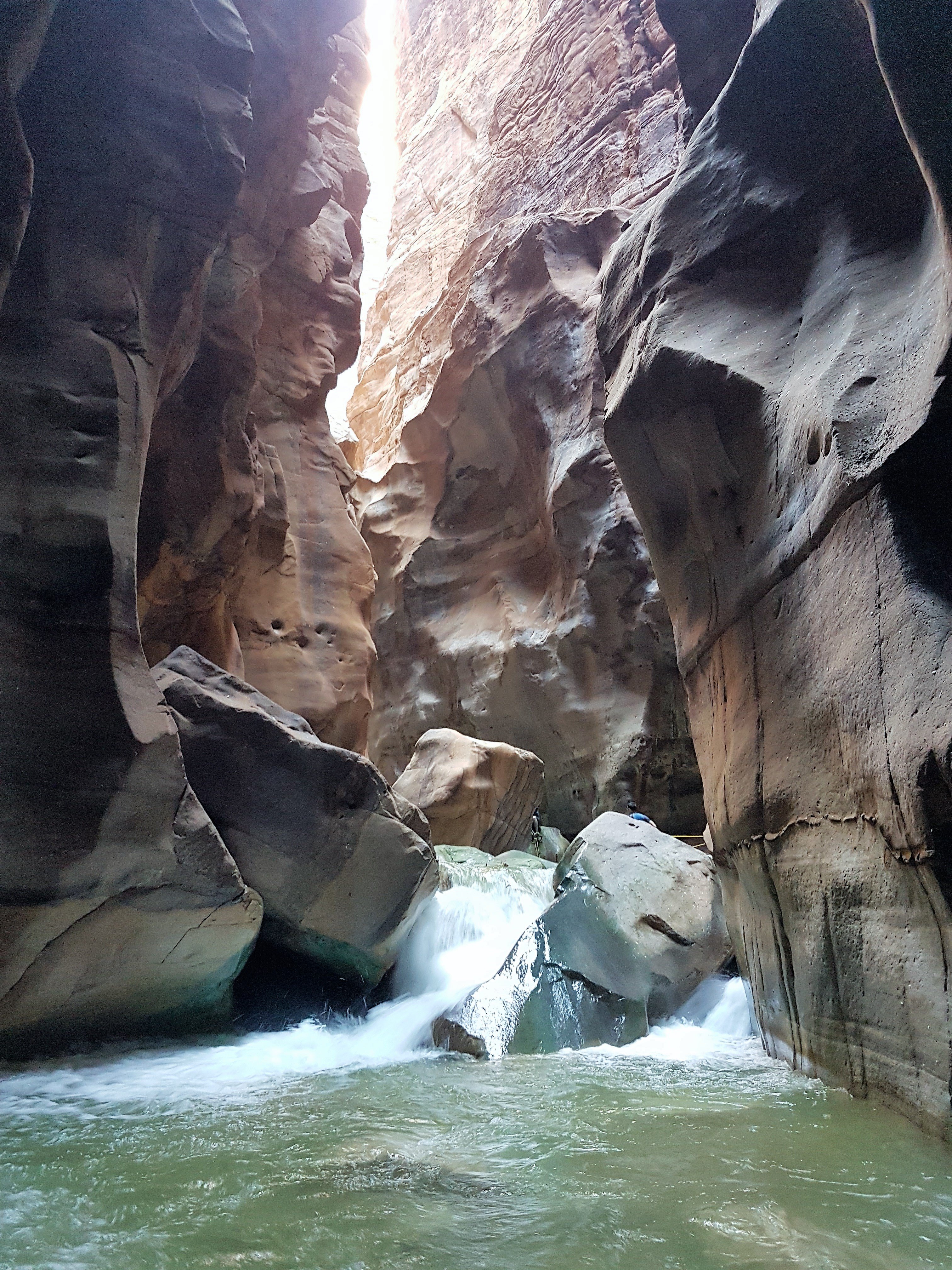 Dead Sea
Somewhere along the line in Jordan, maybe when I traversed (slight exaggeration!) down the hill to the sea, my camera got some dust (or something) inside the lens causing a smudge halfway between the centre and bottom righthand corner!  GRRRRRR!!!  So, after unsuccessfully trying to clean it, not possible with no tools I had to revert to my phone and keep using it for the next few weeks (more about that later, and I need to change my blog to reflect my new camera).
Anyway, staying at the Dead Sea is expensive compared to the rest of Jordan, it only has resorts therefore you pay accordingly.  My plan was to use it for some quiet time and plan the next leg of my journey, my thoughts were Israel or Turkey.  My resort, Jordan Valley Marriott Resort was just like all the others, although it was nice to have an air conditioner, swimming pool and private beach (think all if not most do), you are quite limited as to where to eat and tend to only stay at the hotel – ps. The breakfast was delicious, and the spread has got to be the most expansive one I've ever seen.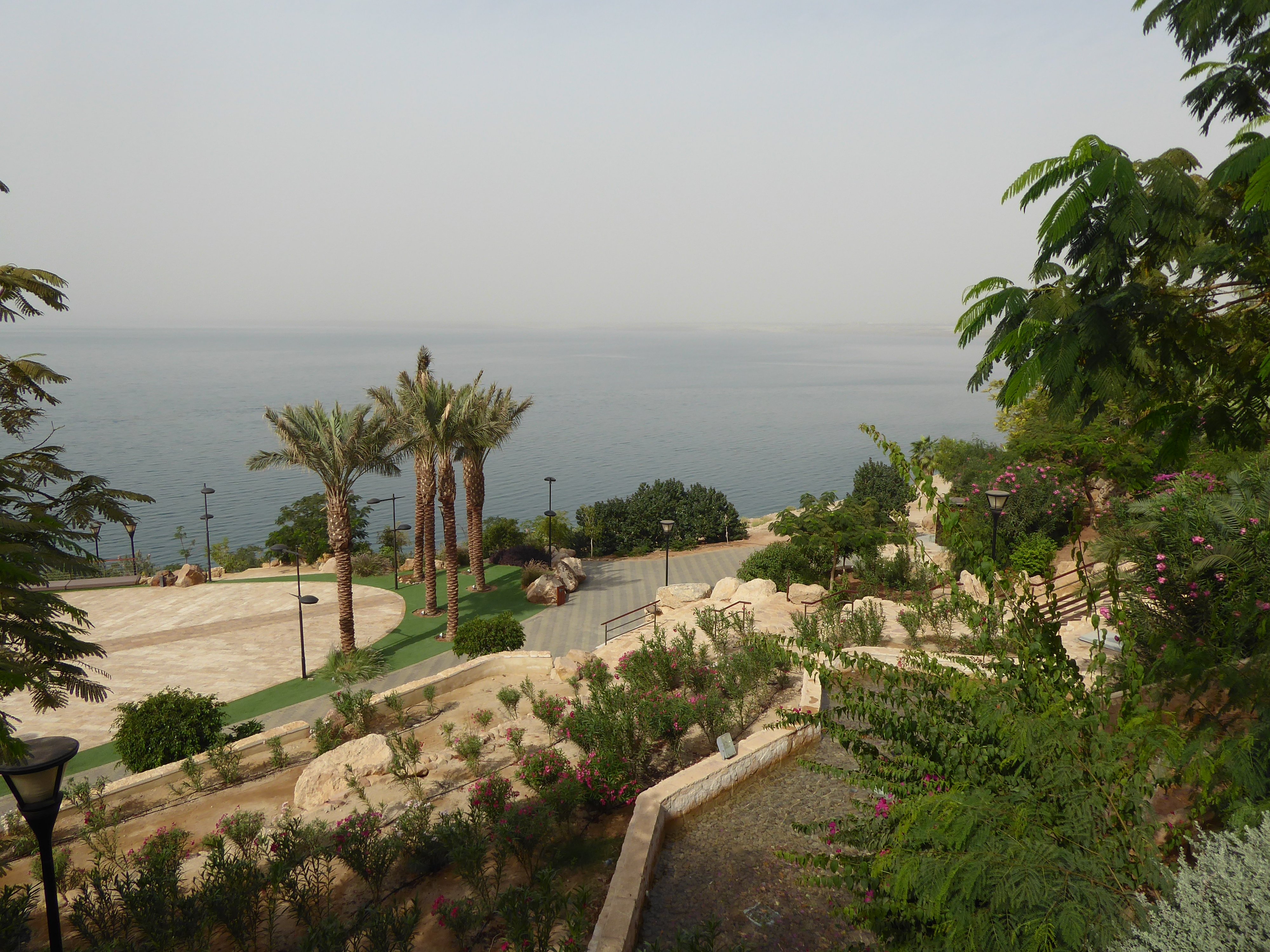 In retrospect I used my time at the Dead Sea productively and got a lot of writing done, at an expense and wouldn't do the same thing again if I had the chance.  An alternative would be to spend 2 days at most at one of the resorts then leave, accommodation starts at around 90 Dinar per day including breakfast, so more than double the price from the most expensive place I stayed in.  Why do people go to the Dead Sea you ask?  Forget the resort, of which most workers seem to be Philippine, people go there to indulge in covering themselves with Dead Sea mud and float along the water without any strain to keep afloat.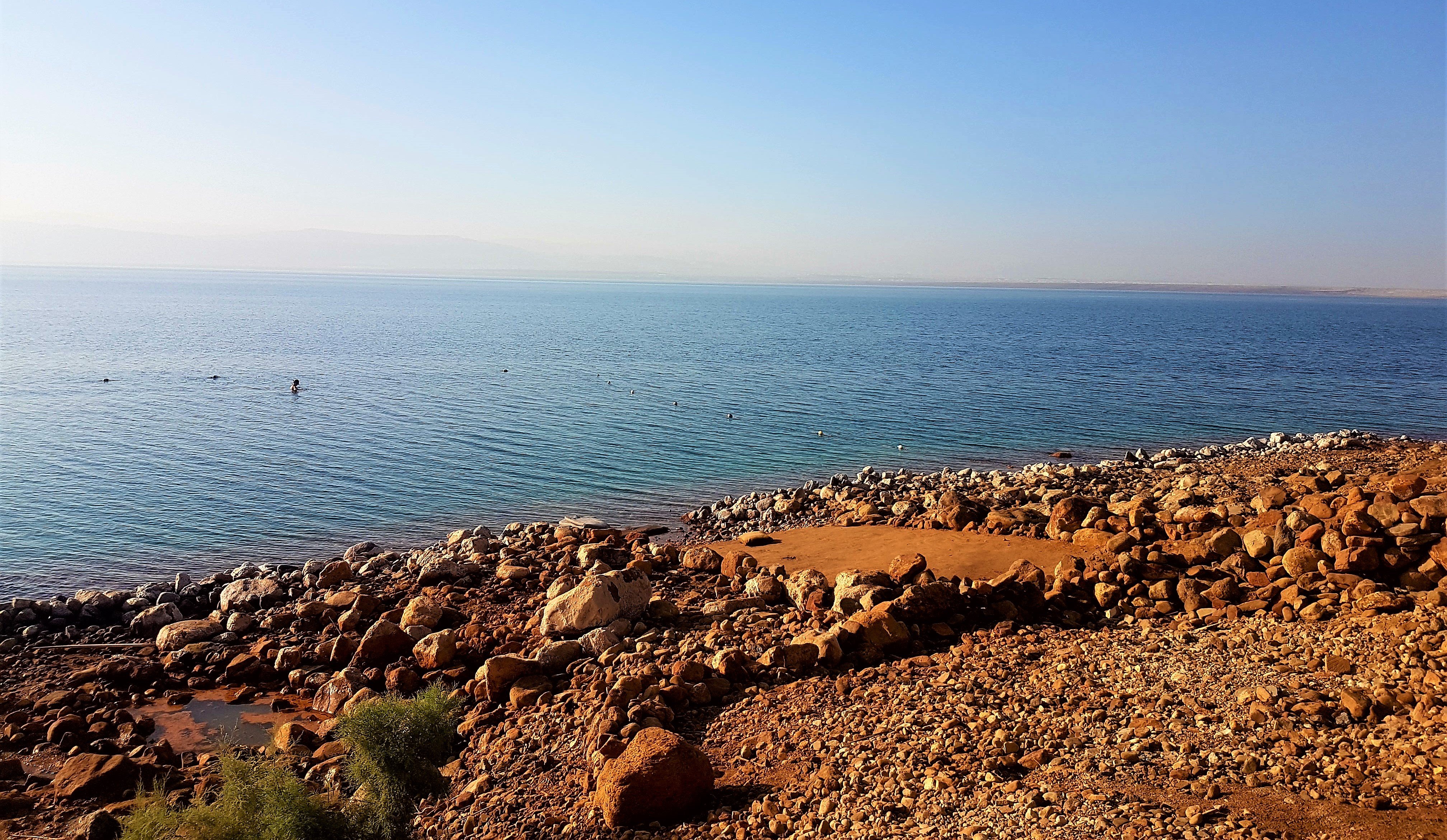 Does Dead Sea mud work, scientifically I have no idea, it does without doubt make your skin feel bloody awesome after you wash it off, as smooth as silk.  It made me laugh seeing all shapes and sizes covering themselves in this gunmetal grey mud, of course I did it too!  Keep it on for a while till it dries then wash it off in the sea – I think all the resorts offer mud spas with all the bells and whistles!   The photos aren't great, with the sun glaring from behind and using my phone, not to add my hands were covered in mud, I did the best I could, I'm sure you get the idea.
Floating on the Dead Sea…is a strangely surreal experience.  Most people have heard that you can float on the Dead Sea, the salinity is near or just over 33%, but most people won't understand unless they have done it, not only the Dead Sea other places too.  To put it into words, the water is so dense that you need to put effort in to stand up!  It is not possible to sink unless you tied weights to yourself, a lot of weight…walk into the water, lie back and voila!  No matter what you try you just don't sink; you can put your hands behind your head and bring your knees to your chest, all that happens is you bob around but don't go any deeper as is there is a strong but extremely thin film holding you up.  There are two downsides to the Dead Sea, 1. Don't get it into your eye, it's so salty it burns like hell. 2. Don't get it into your mouth, it tastes vile, the taste lingers on for a looooong time!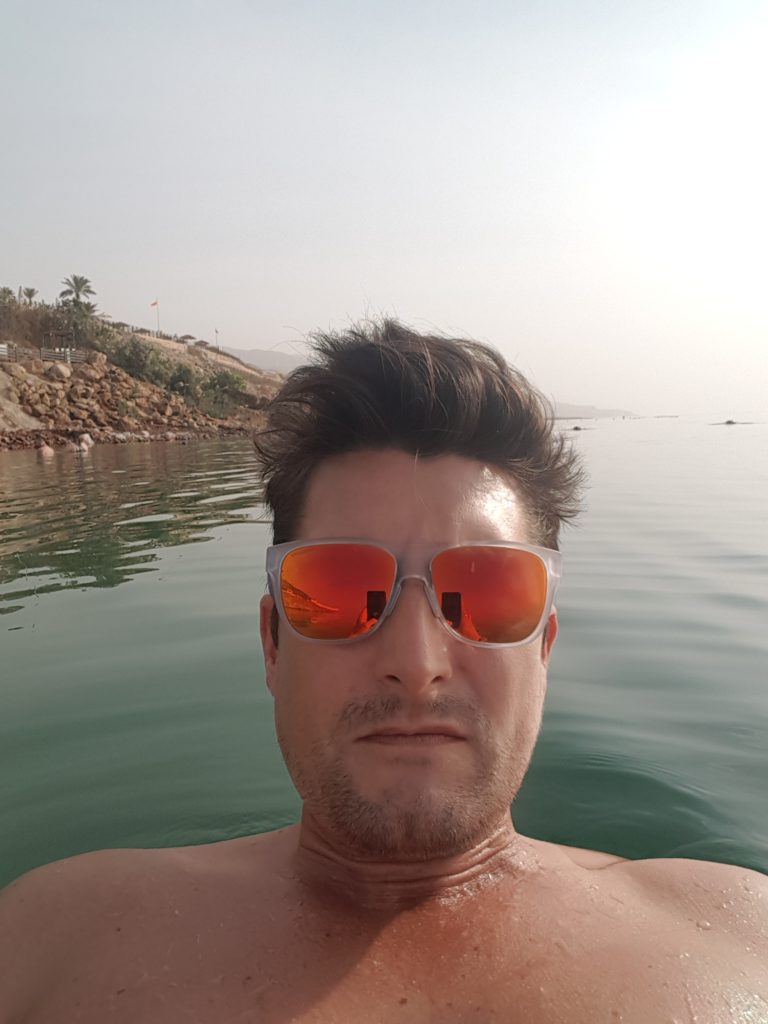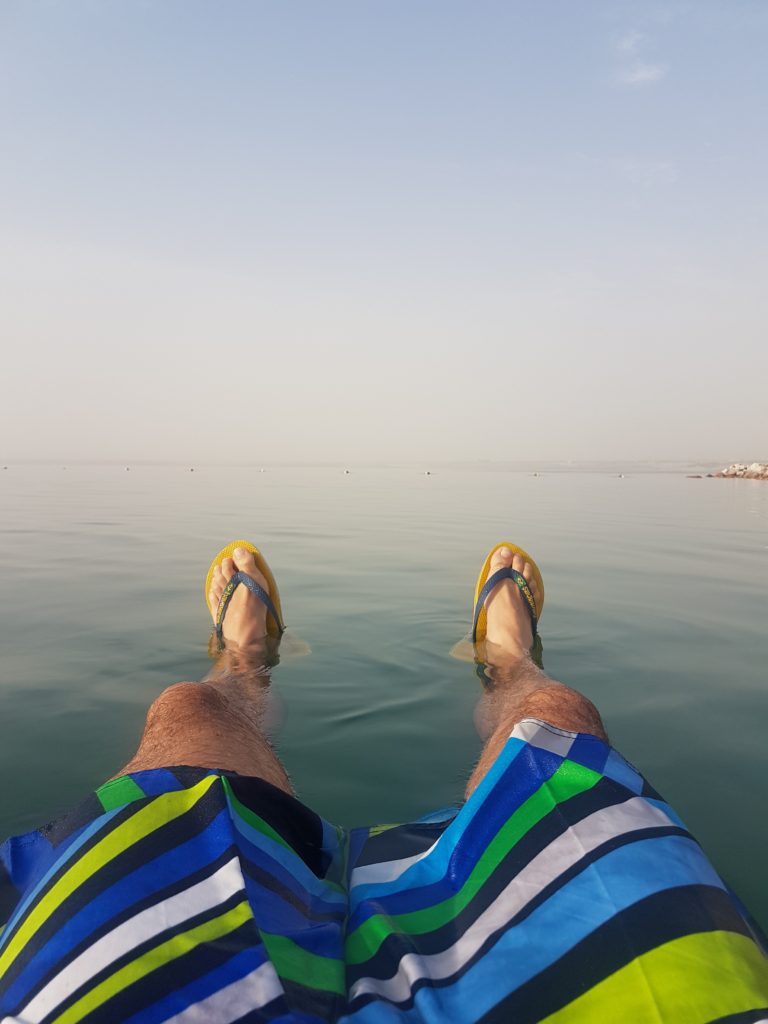 The Dead Sea is the lowest land on earth at 420m below sea level and at its deepest near 320m.  Nothing lives in the Dead Sea, no fish, plants etc. the banks of the short are either rock, stones or salt crystals.  The water is so salty that it feels oily, the swells of the water move slowly as if needing extra effort.  It reminded me of stirring melted ice cream, still soft to the touch with a slight sludge but somehow only slightly less fluid as water.  It was a strange and interesting experience, love to do it again but only for a day and no more.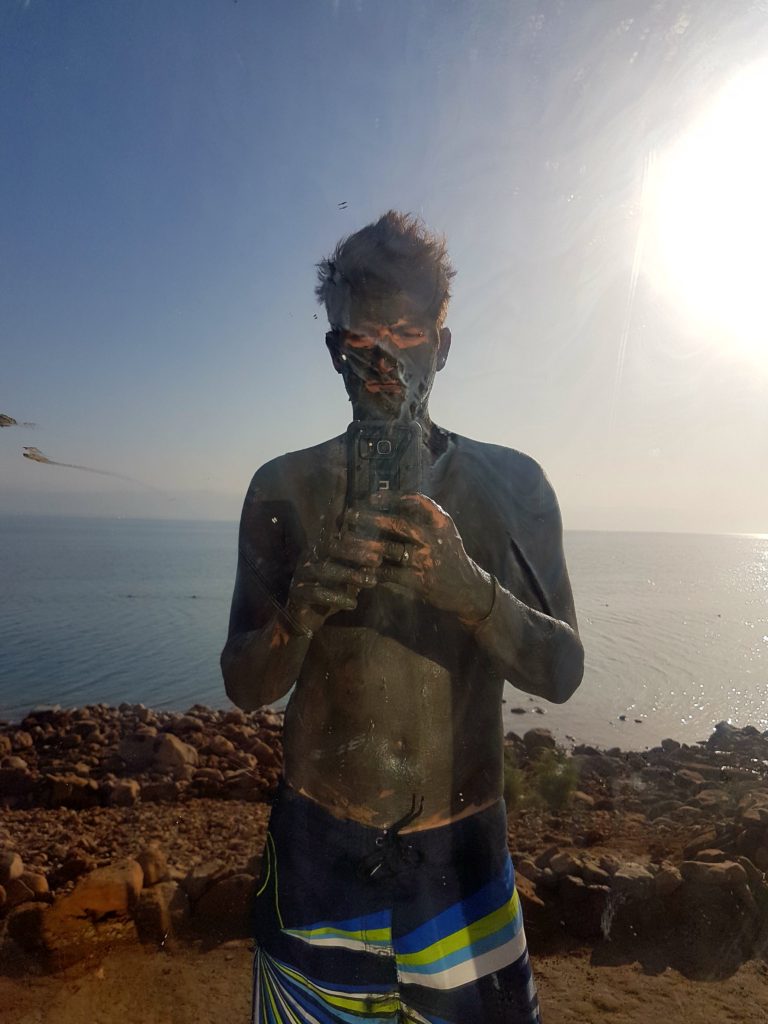 With time running out, needing to get back to the South Africa before heading to Namibia to my friend's wedding early December (whilst there I would head back to Cape Town to spend Christmas with my mother), a decision needed to be made where to next.  Israel was top of the list, reluctantly I had to go for plan B, Istanbul – from there is would also be easier to fly directly to Cape Town.  I only had 6 days to play and Israel is too big to be seen in 6 days, added to that I was extremely surprised at just how expensive Israel is!  Next stop, Istanbul!!!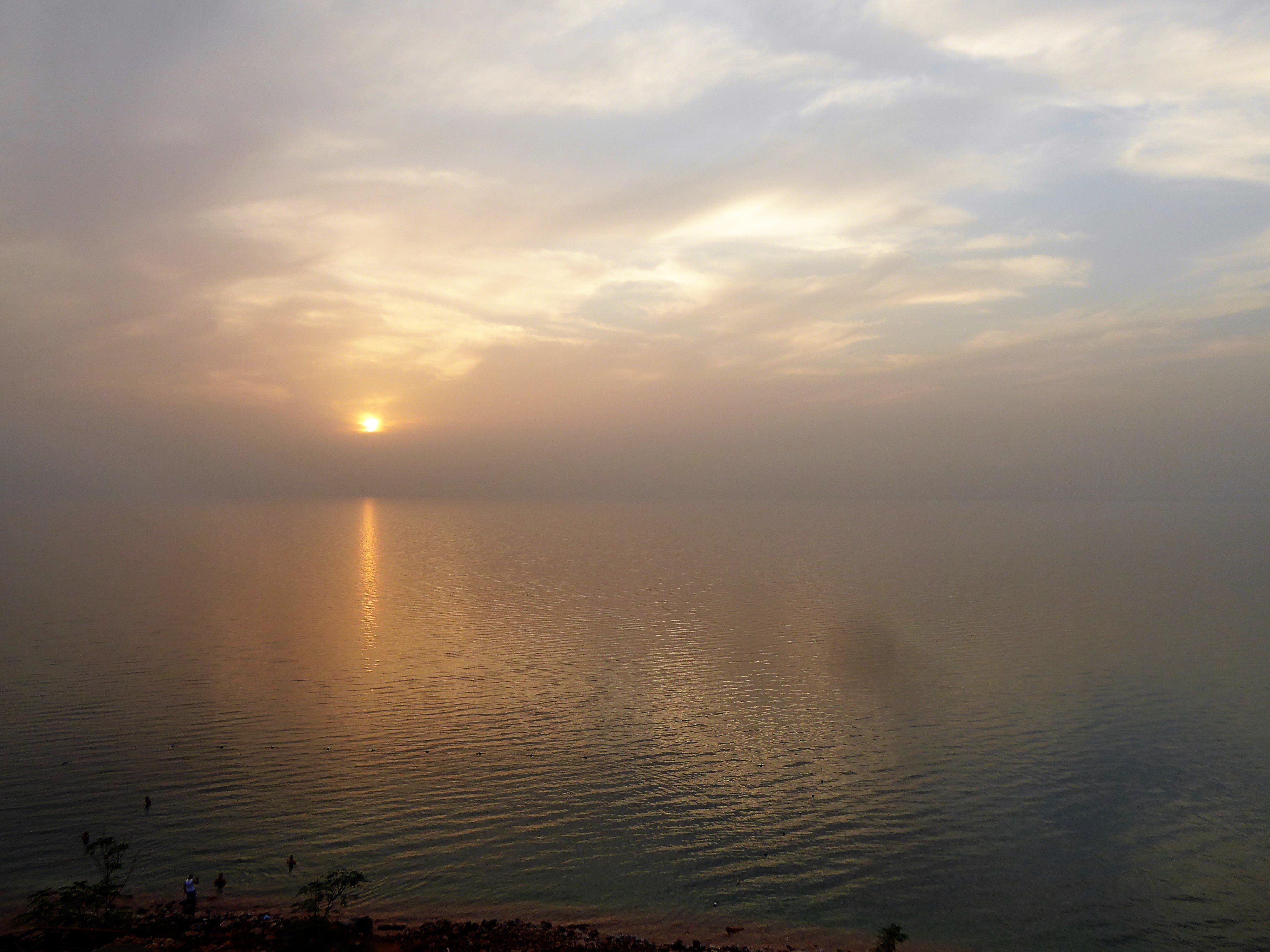 I've said it a few times, Jordan is a remarkable place, very safe, great people and affordable too – they are in desperate need of better marketing.  The country has so much to offer no matter what your fancy history, religion, scenery, spas, diving, sea etc. etc. I had wanted to go to Egypt all my life, it was great going, if somehow, I missed it and went to Jordan instead I wouldn't be disappointed. To Jordan, thank you and I hope you get more visitors to explore your fantastic country.
If you missed my previous post her is the link to Madaba and Mount Nebo
Just a few more of Wadi Mujib