As I mentioned in my previous post I heard about Wadi Rum from a couple I met in Dahab, after I Googled it my decision was easy because it is right by Aqaba and only a fraction of a detour heading to Petra.  Wadi Rum was a last-minute decision, my planning was lazy at best and as helpful as Costa Marina Hotel were in making arrangements for me I could have done it at half the price, if not more!
Backtracking a little to give you some information; getting to Wadi Rum is easy, getting around Jordan is very easy, whether by cab or public transport, the latter is mostly a bus service (small busses that take about 30 people max).  Cabs are cheap in compression to Europe but very expensive compared to Jordan's bus service.  A cab ride from Aqaba to Wadi Musa shouldn't cost more than 30-50 Dinar, the bus cost 7 Dinar – you can go from Aqaba to Amman on the bus for near 20 Dinar.  The busses depart from the city centre bus depo, starting quite early with 6 busses leaving per day (Aqaba to Wadi Rum) – the latest leaves before 13:00 (I think).
Getting there
So, my lazy planning (I used the fact that I was busy writing my blog on Egypt as an excuse) resulted in me paying $50 to be collected from the hotel by a member the camp site I was visiting, and $80 for the rest; lunch, 4×4 desert drive, one night's accommodation, breakfast and taken back to Aqaba – yes, back to Aqaba, I'll explain later.   I got picked up by a driver in a 4×4 pickup which had seen better days at 10:00 and we headed off to Wadi Rum.  My driver, a Bedouin in his early 20s with a sprightly slender figure full of energy and an infectious natural broad smile.  His English was terrible but a thousand times better than my Arabic, something I kept reminding him of as he kept apologising for his limited English.  Conversation was limited but that didn't stop us trying, a simple sentence causing jovial confusion.  What bridged this language hurdle was when I asked him what the music was playing on the car radio "Bedouin music, you like?", me saying "yes" seemed to make him very happy and his smile doubled in size and he cranked up the volume near full!
I had no idea what the words of the songs meant, all with deep dulcet voices still they sounded sharp and soulful.  Our drive through this biblical landscape with such old expressive traditional music playing (blaring ?) seemed the perfect soundtrack.  Wadi Rum is only about an hours' drive from Aqaba, half of which we had the music pumping, I had a moment of happiness and contentment.  I wish I had remembered the drivers name.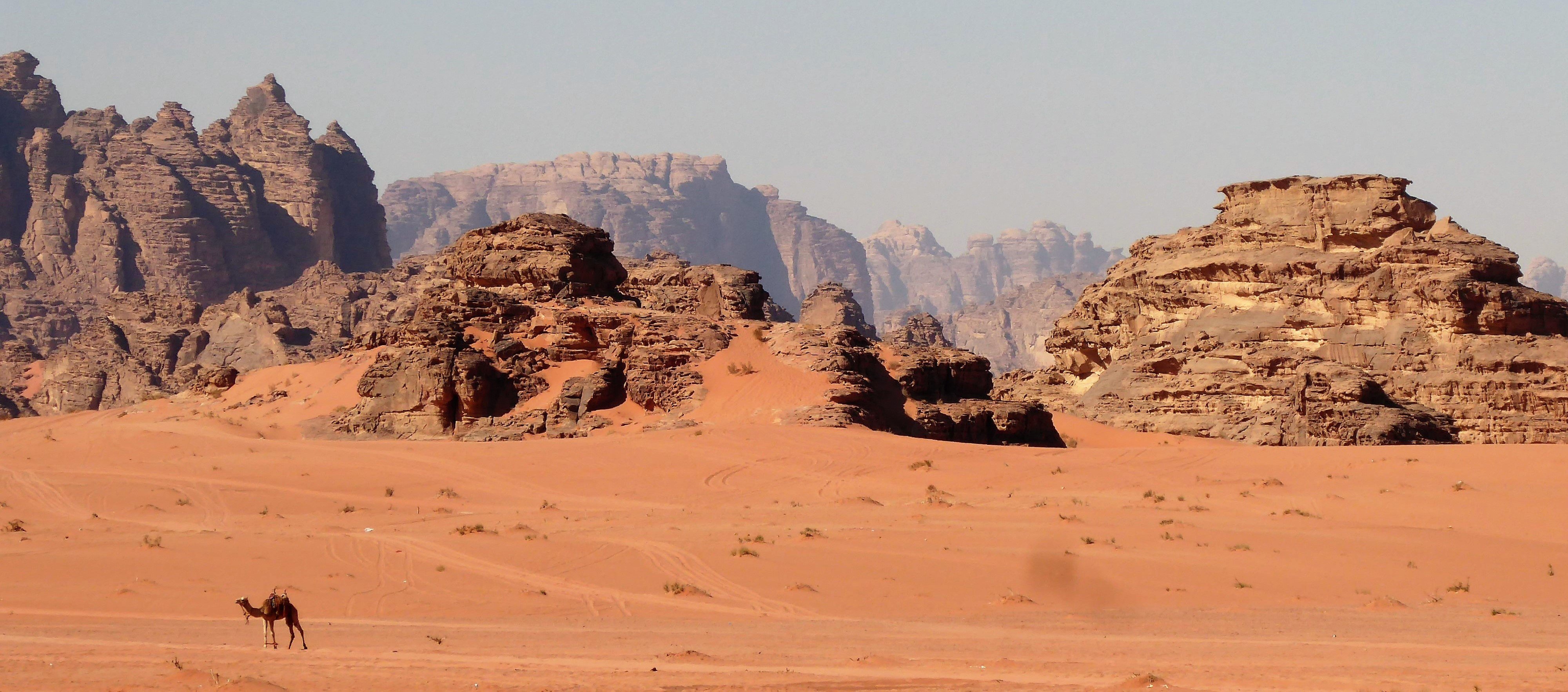 Wadi Rum
Means "Valley of the moon", an area covering 720 square kilometers of desert and rocky boulder type mountains of sandstone and granite.  It has been inhabited since prehistoric times including the Nabataeans who left their mark with engravings carved onto the rock throughout the area.  Deserts are odd places, their beauty and charm stemming from the fact that there is nothing, only the occasional desert shrub, the only sounds coming from the wind.  The area is famous for many reasons not only that T.E. Lawrence rode through the area many times, it has been used as a location for many movies like Lawrence of Arabia, Red Planet, Transformers, Prometheus and The Martian to name just a few.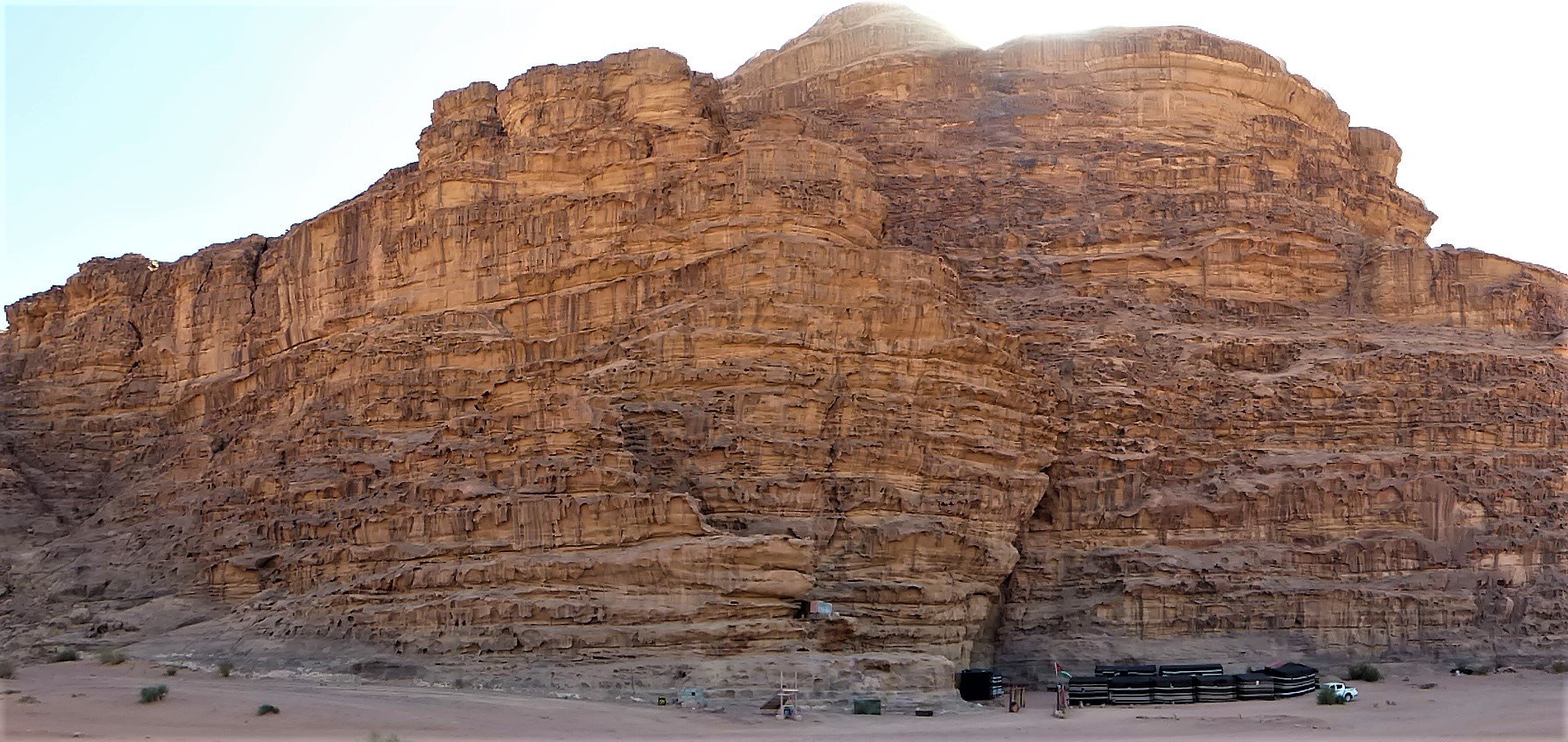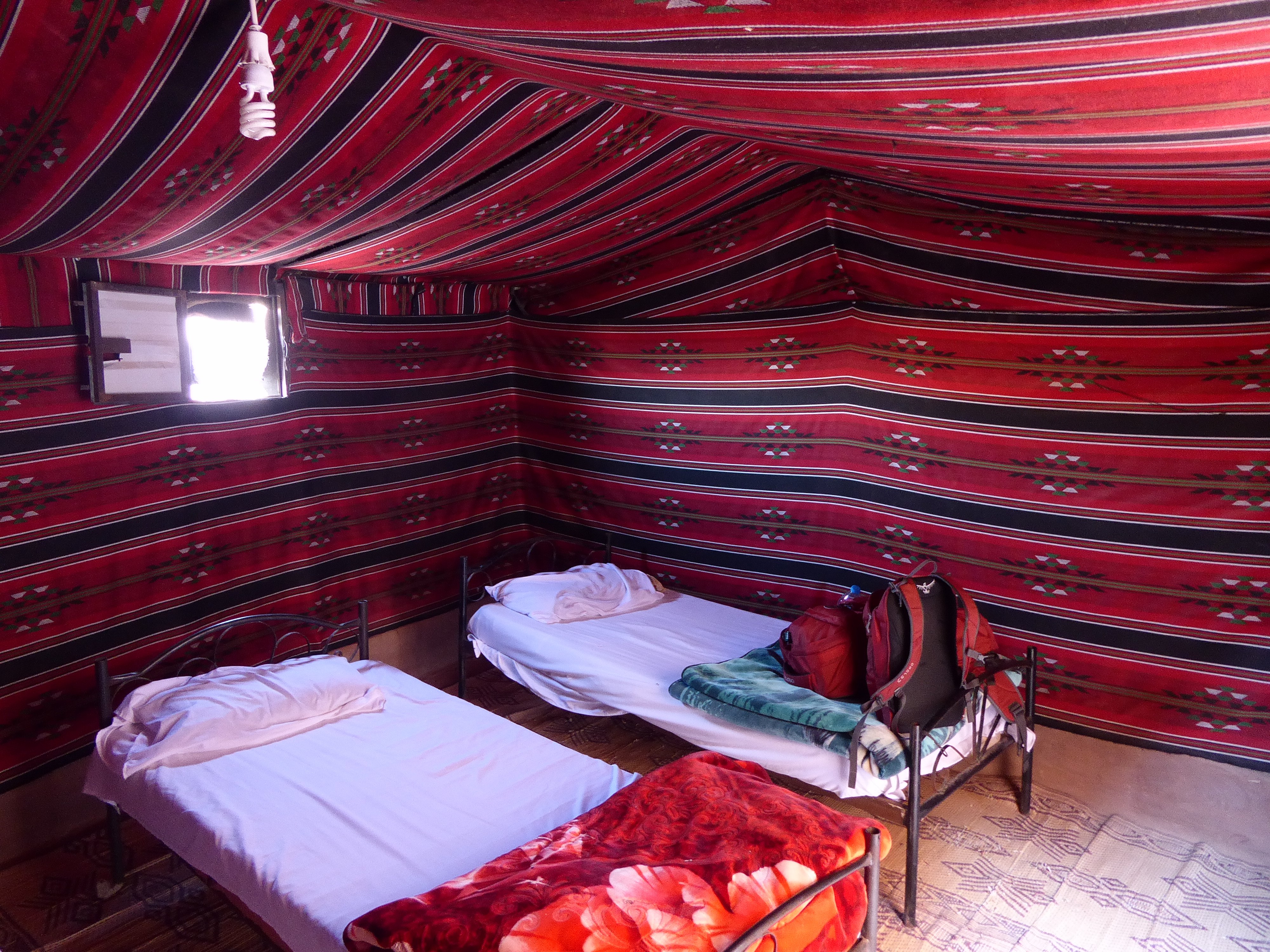 The area is scattered with campsites, all far from each other, most are more traditional there are however a few "glamping" sites with see-through domed roofs and who knows what else – not my cup of tea.  My camp site was the stereotypical site, corrugated steel sheeting rooms wrapped in traditional material to look like genuine Bedouin tents.  The room was very basic, and the sheets were old but they were perfectly clean (the bed also had a thick blanket on it, at mid-30 degrees that day it seemed so out of place, but would be so needed later that night), the ablution facilities really surprised me, again very basic toilets, basins and showers but absolutely spotless, better than many of the places I had stayed in.  What gave me the "wow" factor was the setting of our camp (I have no idea how may photos I took); set against a mountainous rock of sandstone, worn by the abrasive wind carrying sand it has created a masterpiece of natural beauty.  All the mountains here have been sculpted by nature over millennia, at a distant these sandstone rocks look like gigantic cinnamon candles reused over and over again with the melting wax running down the sides – they are magnificent!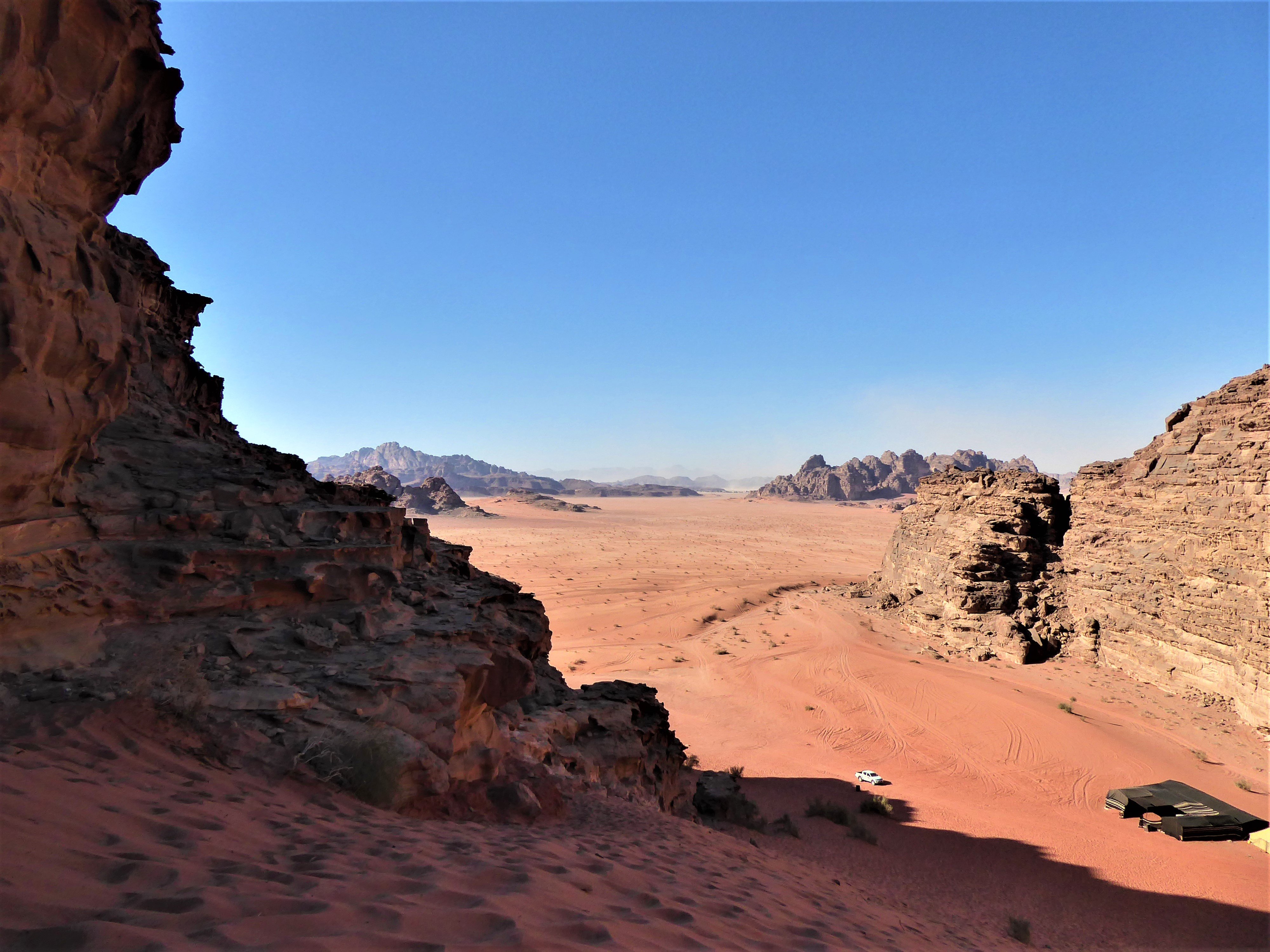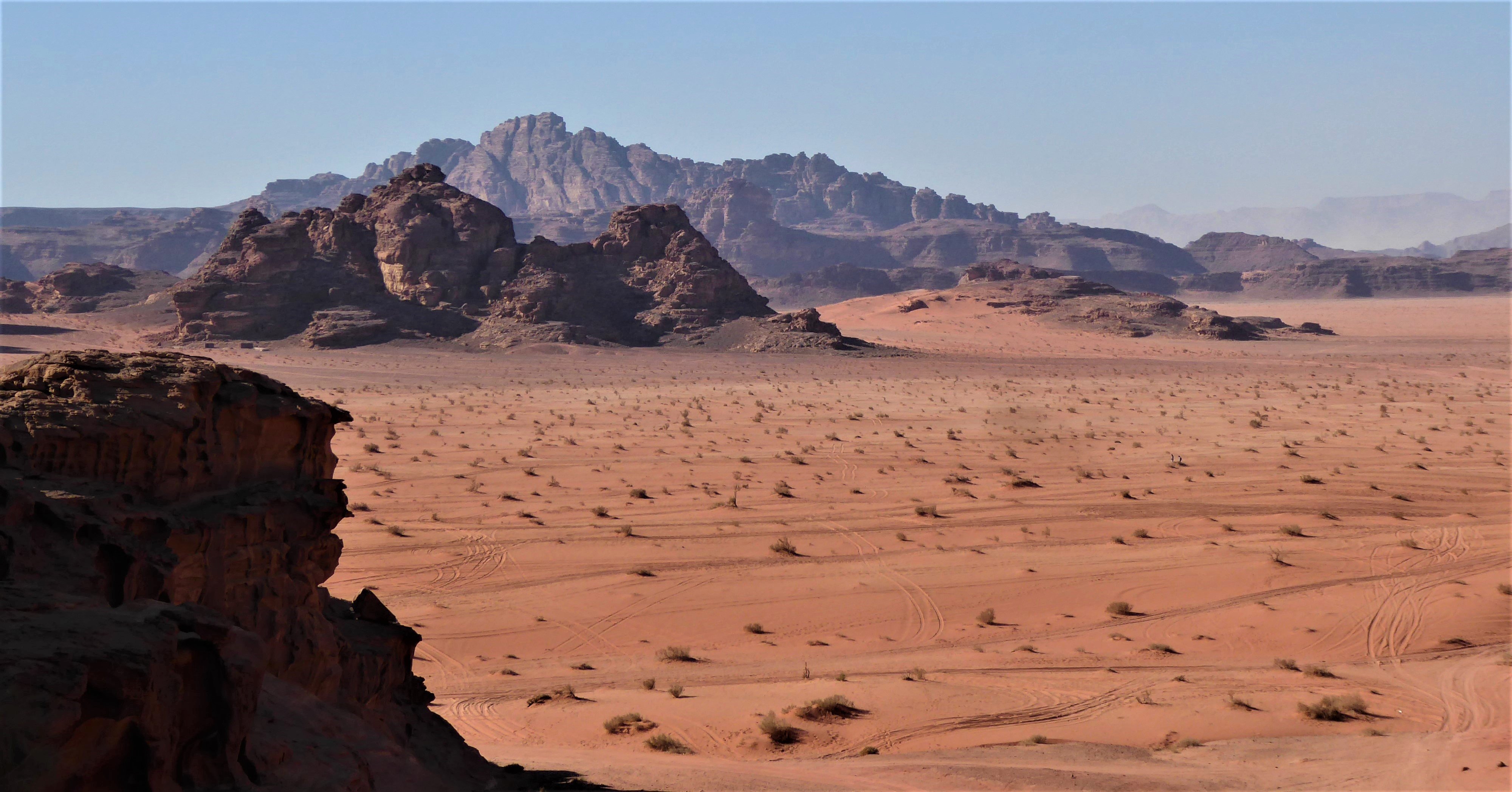 Arriving at camp I was greeted by the owner/manager, another native Bedouin, Salman ([email protected], +962 777 321069 or +962 799 603157) – also a cheery guy who offered me tea from an old blackened aluminium kettle sitting on the fire.  Tea is a way of life here, with what seems like a bottomless kettle they offer you all the time – I had more tea during my time there than I have had in over 15 years, very nice tea.  Tea was done so of I went on my 4×4 drive.
Driving through this balance of vast barrenness and every shade of brown you would think the place dull, it's not, I felt a energy and the landscape to me was magical.  The beauty of this space, crafted by nature and time it is as alien as can be is a place where time has little weight nor impact.  In today's world where we measure things in seconds, here time is measured over centuries, what you see today has changed little to that which inhabitants saw centuries ago.  The Pharaohs of ancient Egypt saw almost exactly what I was seeing, here nature is boss and that's what makes this place so awe-inspiring and beautiful.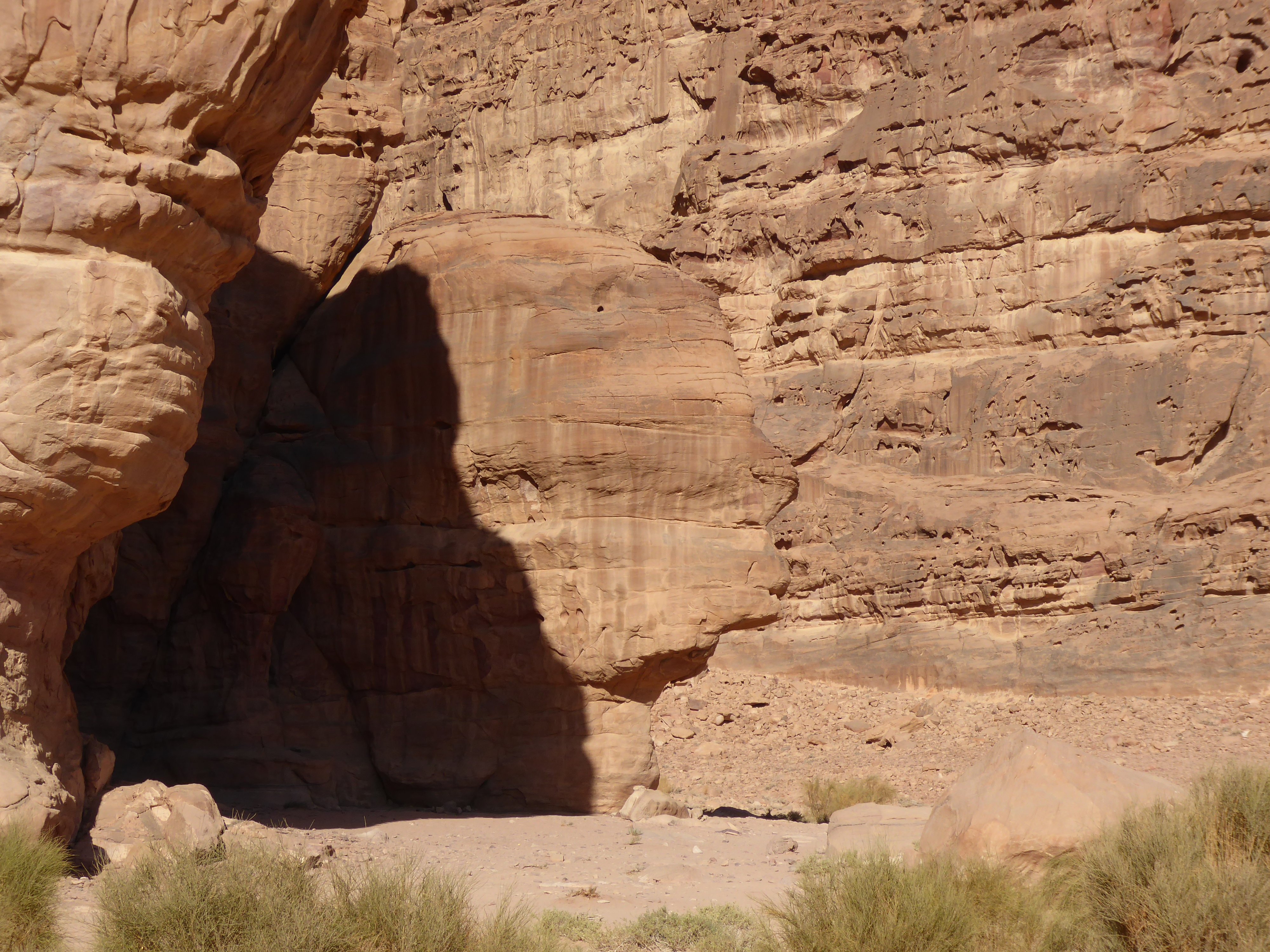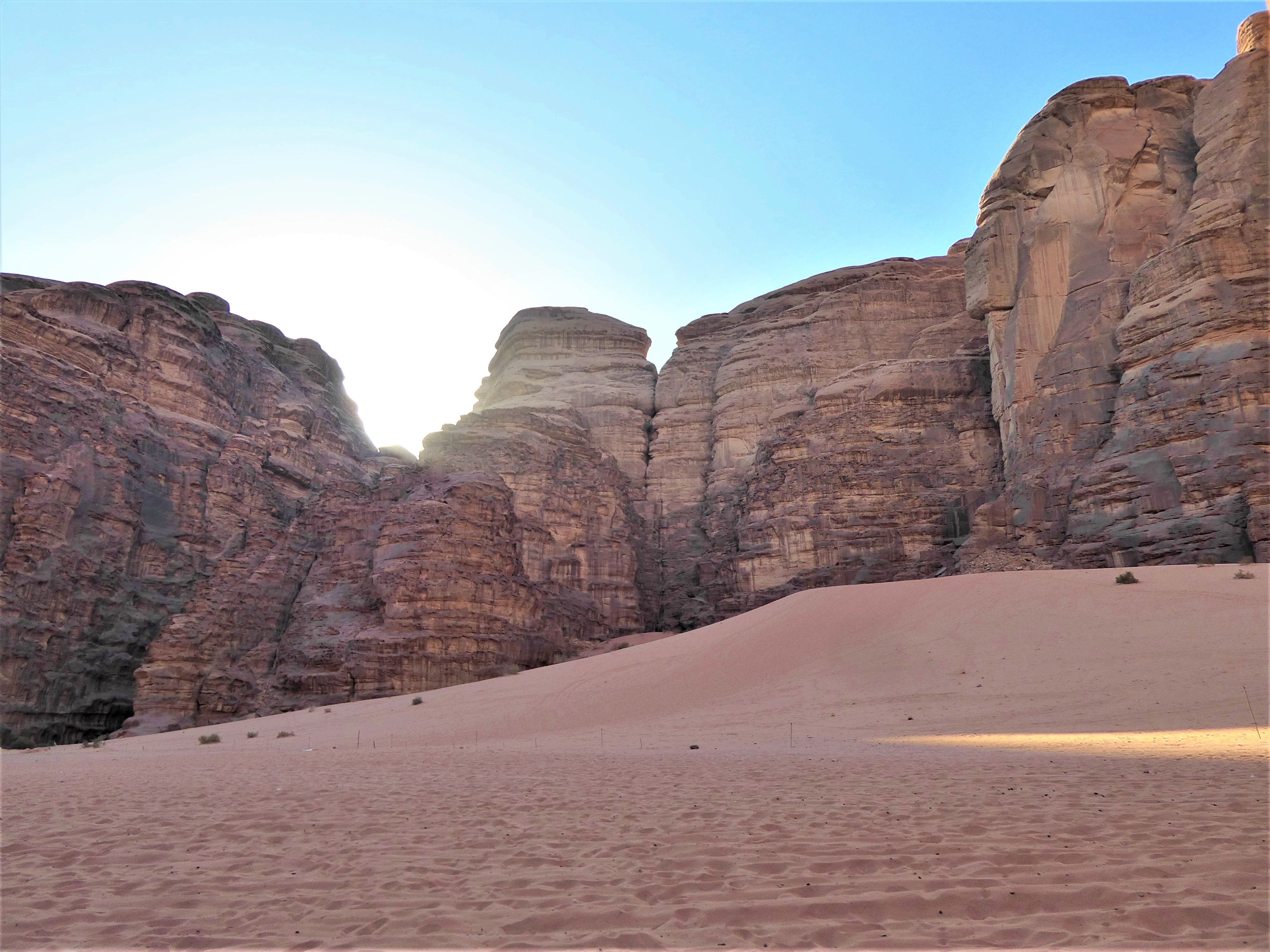 The drive was great, we stopped at a few places where Salman showed me the stone engravings, picturesque landscapes and at a traditional Bedouin camp, of course to have some tea.  Surprisingly there are still quite a few traditional Bedouin tribes live in Wadi Rum, where their lifestyle has changed very little – now their trade is mostly with tourists, but the desert is still their home.  Wadi Rum covers a large area so I only got to see a fraction of it.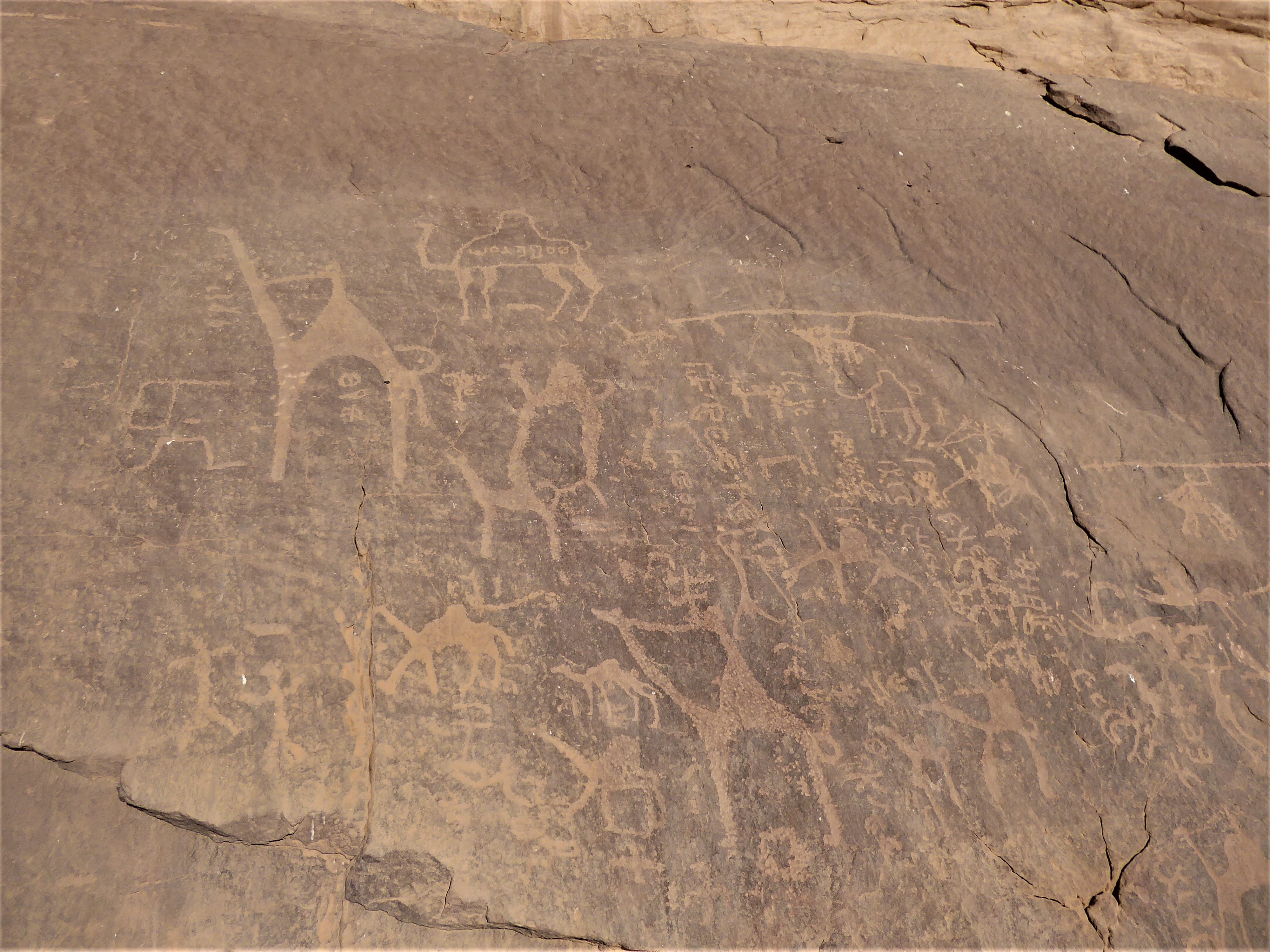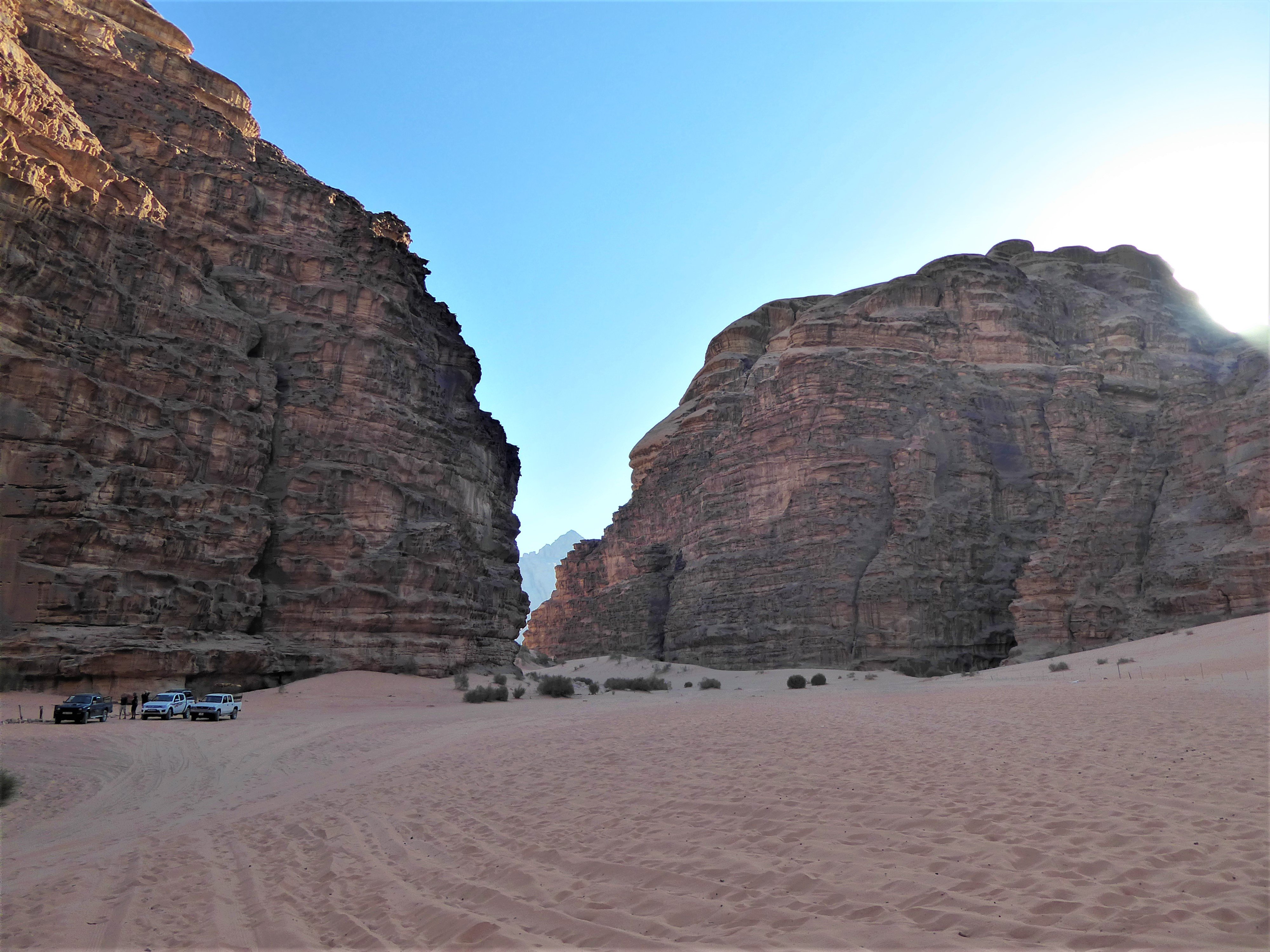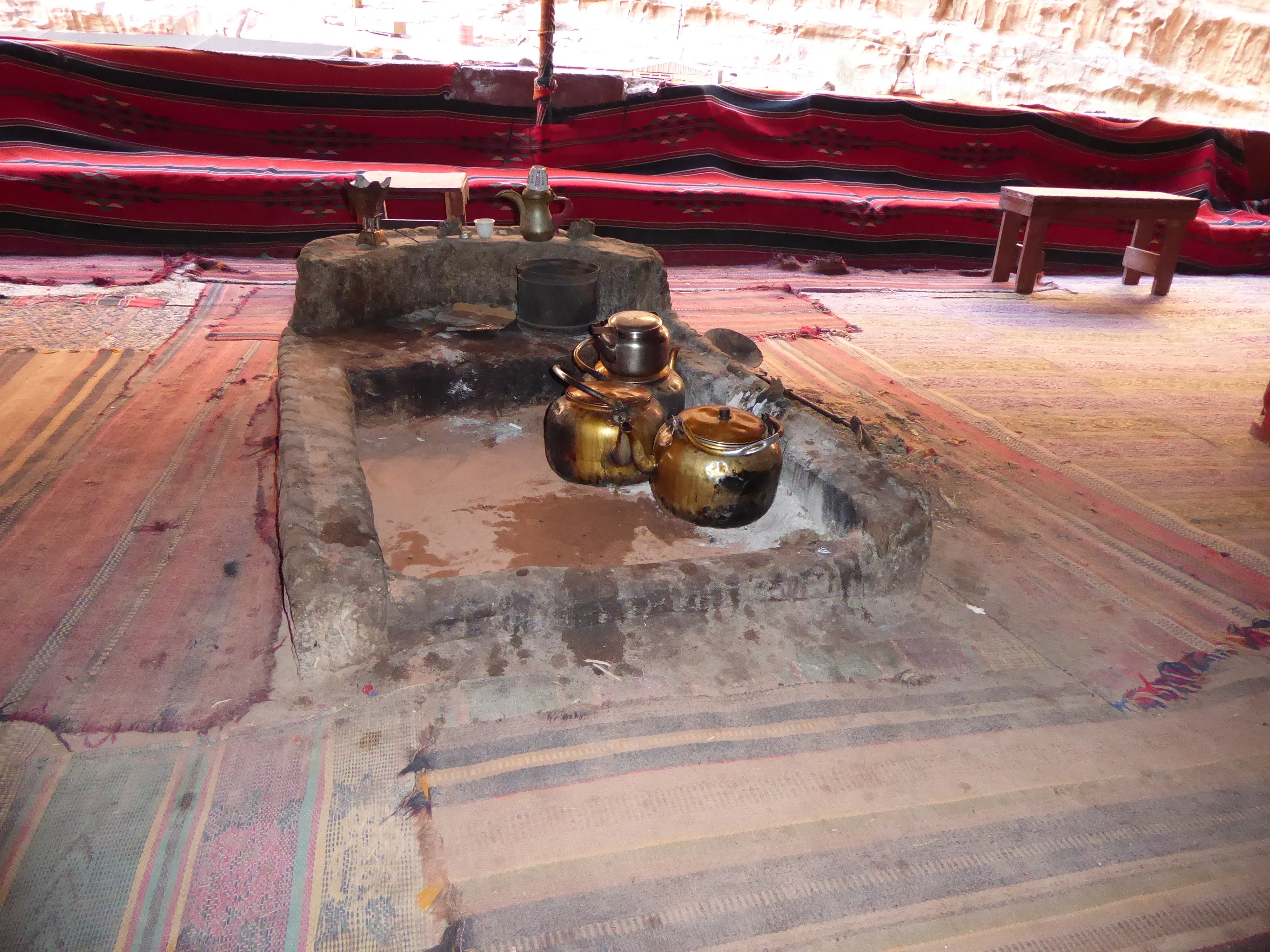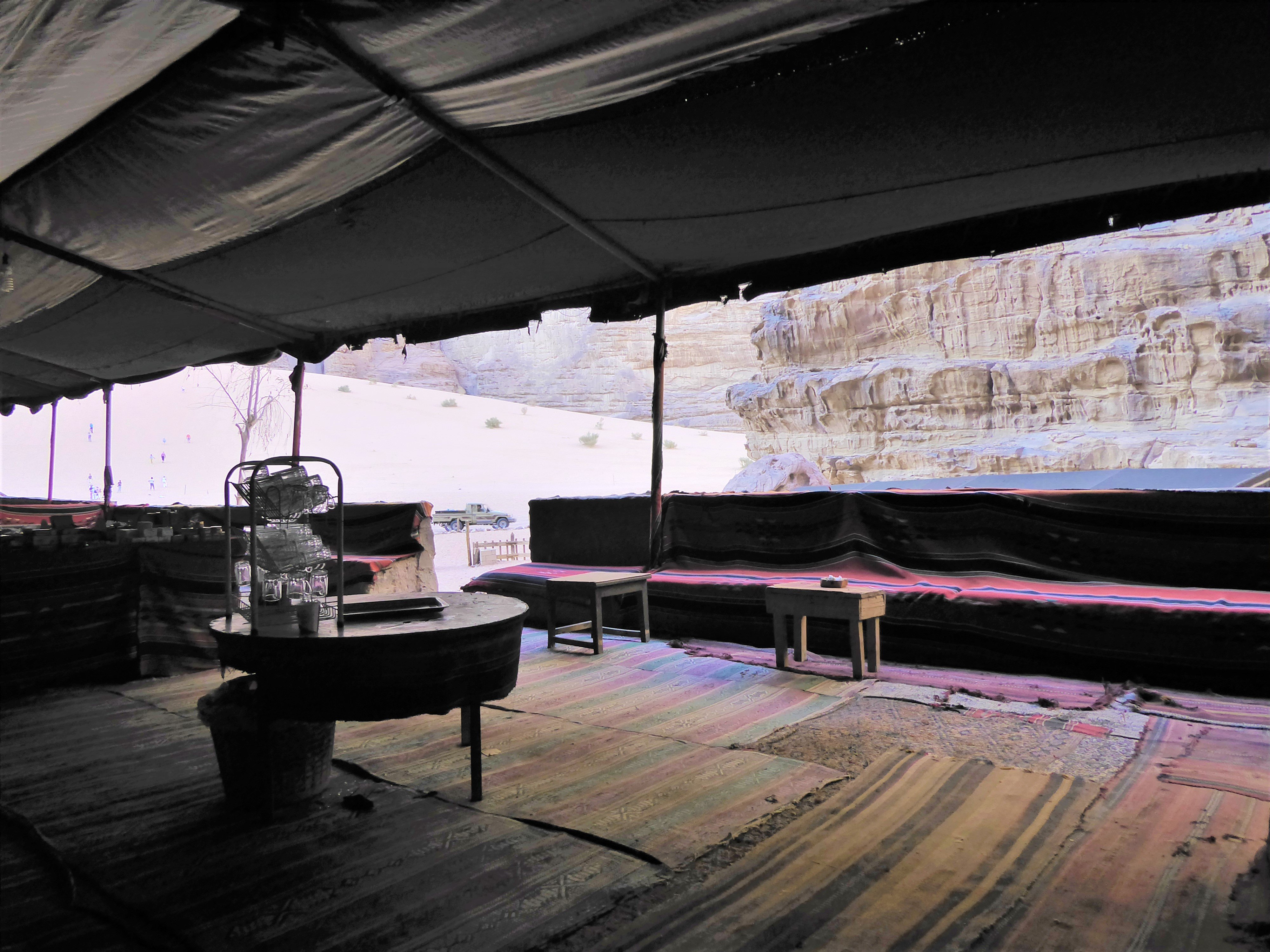 During autumn and winter, it is still hot during the day with the sun setting earlier and quickly.  After our drive I diddle dandled around losing track of time which meant I missed the drive to the sunset spot where everyone gathers from all the camps.  Alternating between running and a brisk London walk through the thick sand with my daypack on my back was bloody tiring.  It was only about 4km, but I was exhausted by the time I arrive, with 20 minutes to spare before the sunset show began.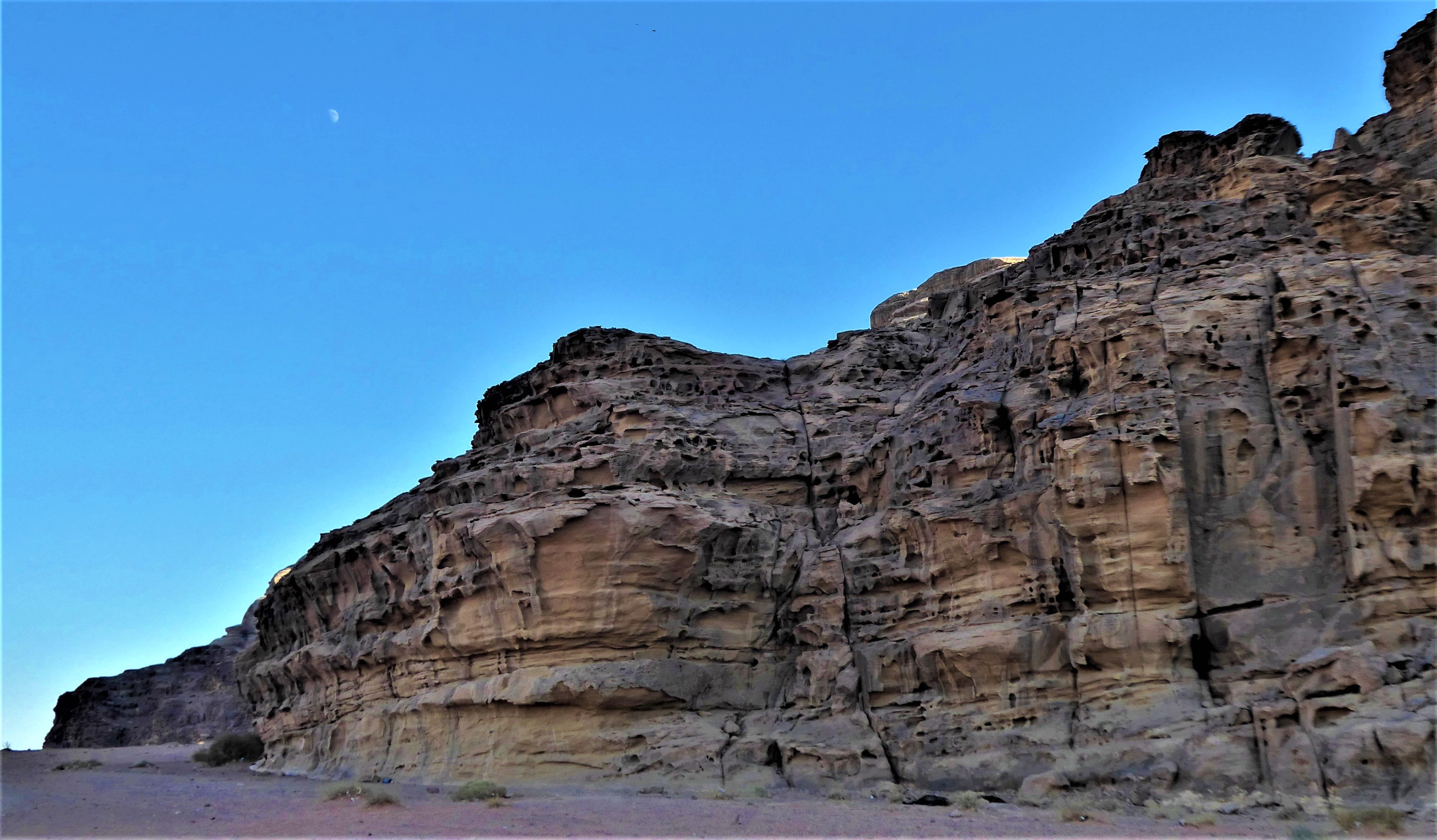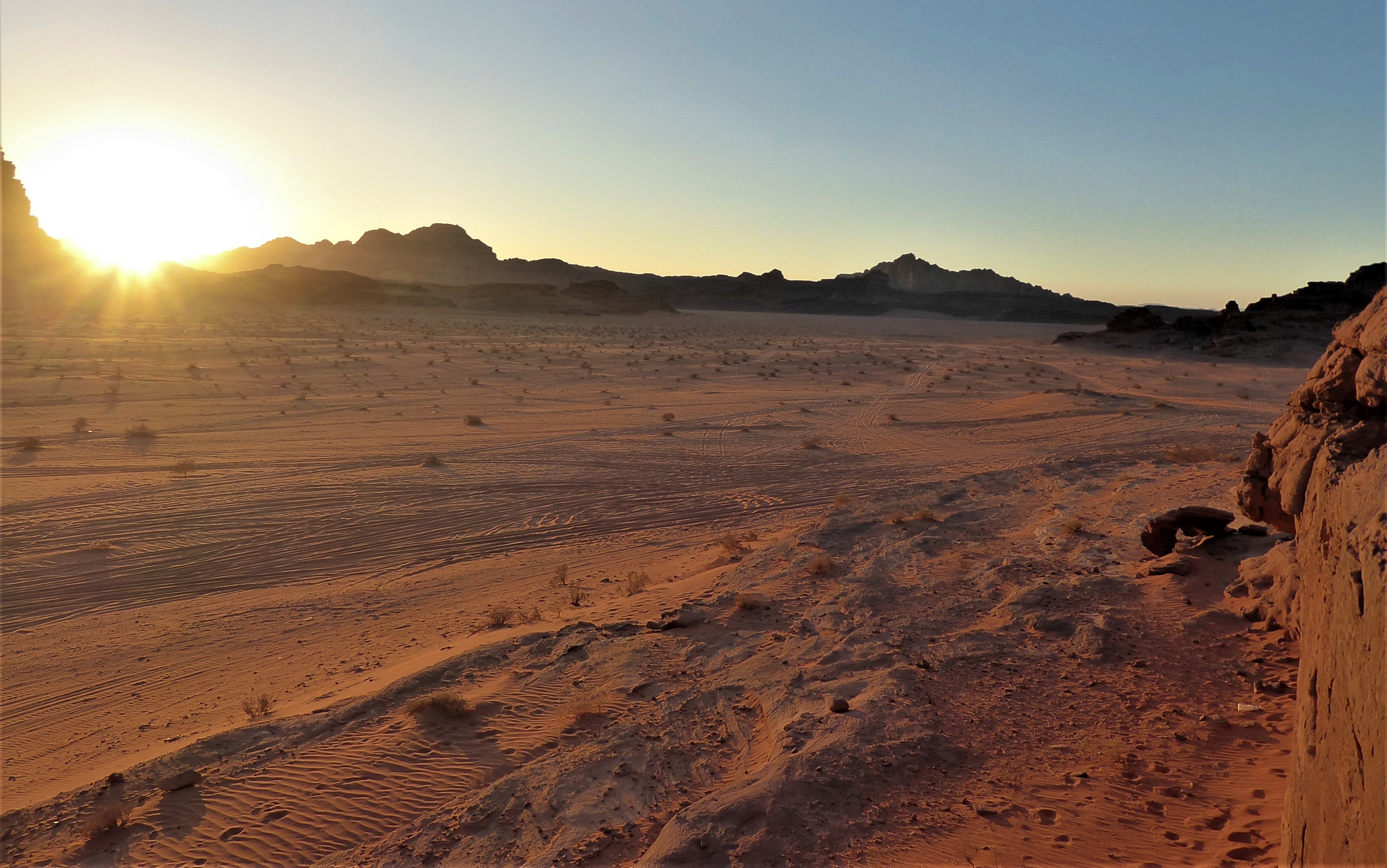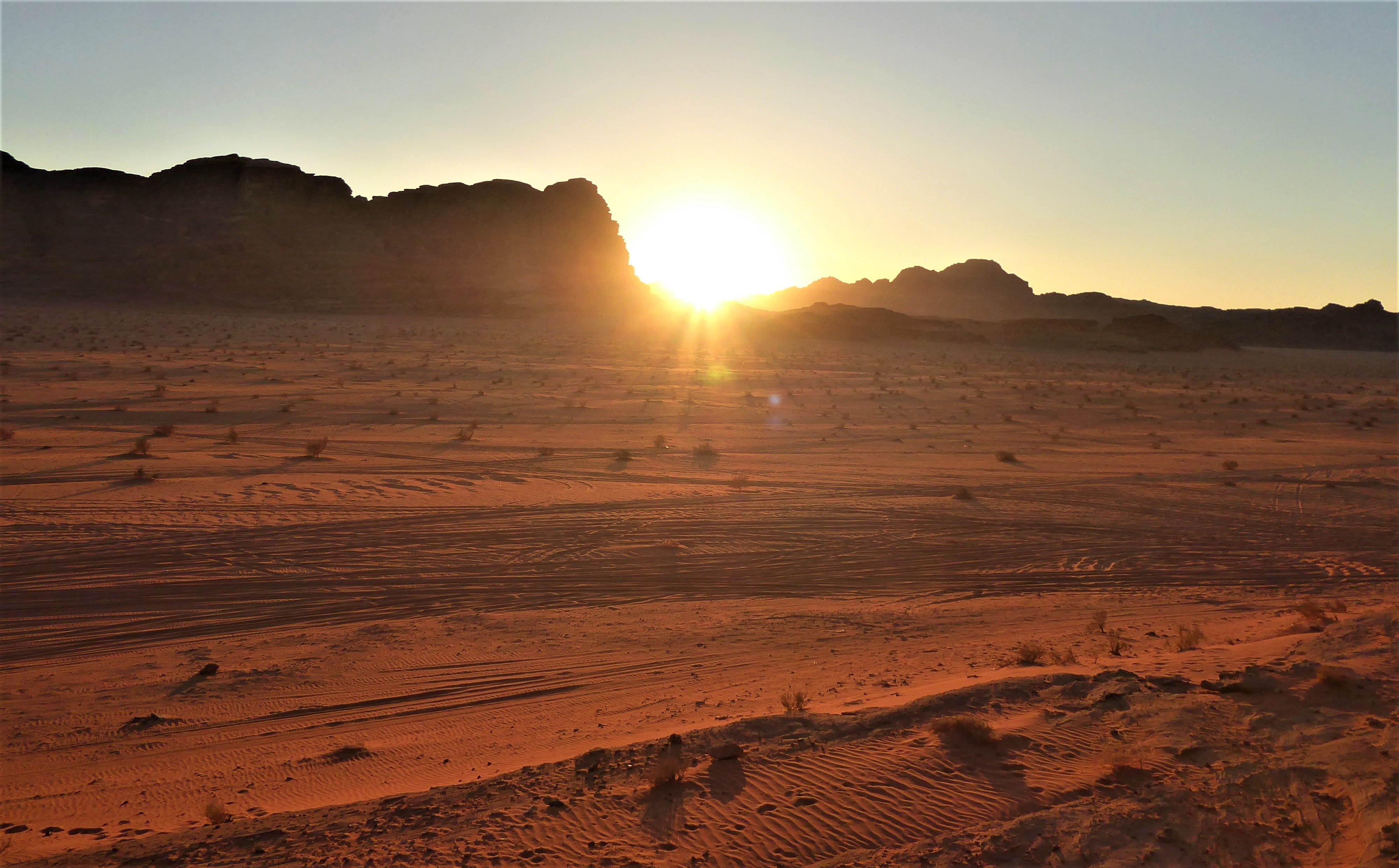 By the time I had walked back to camp it was dark, the temperature already beginning to plummet so a fire at the campsite was a warming welcome.  There were 12 campers of varying age (inclusive of myself) with Salman and three other site helpers sitting around the fire, dinner was served shortly after dark, it was plentiful and delicious, accompanied with enough tea to flood the desert – almost everyone went back for seconds.  The tea flowed throughout the night whilst we all chatted around the fired like long lost friends who you haven't seen in years only to end when there was no more firewood.  I hope and did try to take some photos of the night sky, but the moon was so bright that it lit up the sky and desert, so it was impossible – at least for the equipment I have.
Next morning was an easy slow rise followed by a breakfast of cheese, olives, meats, boiled eggs, humus etc. etc. and tea, more than double we could have eaten.  By 11:00 my driver was ready to take me back to Aqaba, I reluctantly followed, just one more day here and I would have been satisfied.
Yes, I headed back to Aqaba, a stupid decision that came about because of my lazy planning.  Most people go straight from Wadi Rum to Petra on the bus at a cost of around 4 Dinar.  I used my extra night in Aqaba to write as frantically as my memory allowed me, still writing about my time in Egypt.  The next morning, I walked the 20 minutes to the bus stop for the bus to Petra, only 7 Dinar!
Next stop Petra, oh my, I had no clue at Petra there would be so much to see, it's much bigger than I thought.  Honestly, Petra blew my mind!
If you'd like to take a look at my previous post here is the link to my brief stay in Aqaba, before that was my time at the Red Sea in  Dahab.
Just a few additional pictures