Finally arrived in Amsterdam
I found our hotel on Booking.com whilst on the train from Rotterdam to Amsterdam, it looked central at a reasonable price inclusive of breakfast.  As with the previous night's options were limited or very expensive as you would expect in a major city.  From Amsterdam Central Station we rode through the city centre for approximately 3.5km at a leisurely pace to get to the hotel. I'm yet to figure out how the traffic laws work in Holland e.g. scooters can use the bicycle lanes with helmets not required, bicycles don't seem to stop for anything like pedestrians, cars or even traffic lights (the only thing they do stop for is Trams) and I can't work out why they have different crossings for pedestrians and bicycles; they also cross the road at different times as their traffic lights differentiate between cars, pedestrians and bicycles.  No matter where we went, not just in Amsterdam but everywhere in Holland cycling and cyclists are catered for with their own (in 99% of the time) dedicated bicycle lane.
Accommodation
Hotel Fita is situated South West of Central Station in a suburban feel road lined on both sides by black poplar trees.  As it was late Spring they were filled with shiny new green leaves, their colour accentuated against the brown face brick buildings giving the road a continuity only broken up by the beige sandstone colour window frames.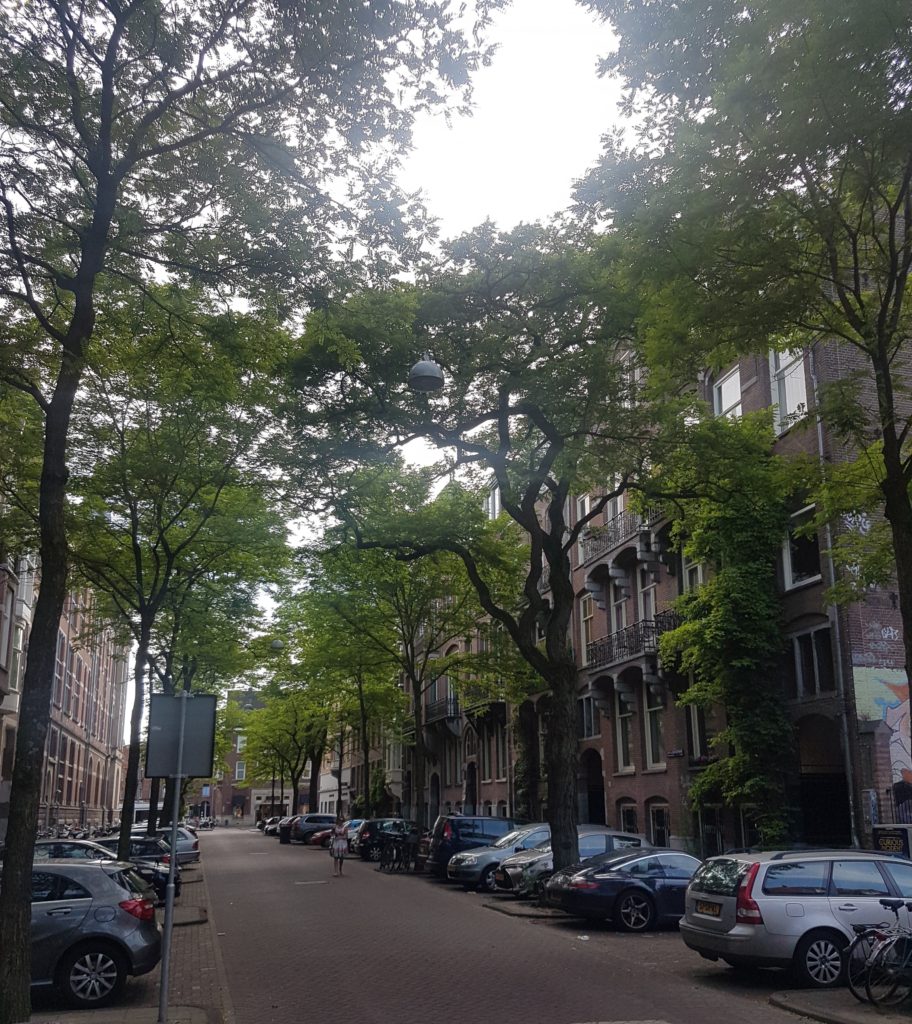 Great restaurant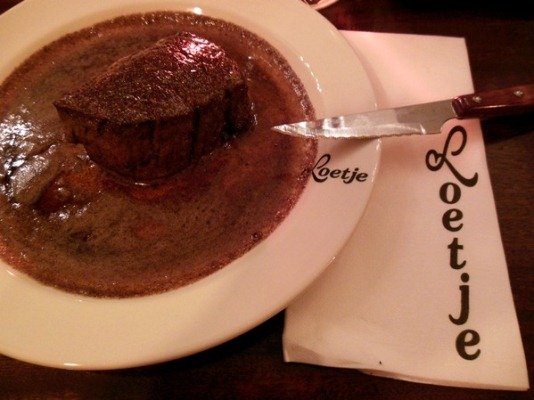 By our luck the hotel was around the corner from the Van Gogh Museum and 30 minutes' walk at most to the city centre so the location was perfect, as we weren't going to be in Amsterdam long at all it was a shame not to be able to fully explore everything around us (all the more reason to go back and explore the city more thoroughly).  Taken from a recommendation by the hotel; a small hotel nothing fancy but I'd highly recommend it if you are looking for something well priced, good location, clean and punches above its weigh with the little extras like coffee selection in the room, good breakfast, really useful and friendly service (ps. We had fresh pancakes the next morning and they were scrumptious!).  The restaurant, Café Loetje just the other side of the park from the Van Gogh Museum looked promising, nothing to write home about but seemed to be filled with locals and a variety of ages including families which is a strong positive indicator when looking for a place to eat in an area you do not know.  Language was not a problem, they spoke perfect English and have English menus too, the food is well priced and tasted delicious – I had their speciality "Biefstuk ossenhaas Ball", it looked rather odd, a piece of steak in gravy oh well when in Rome…… Coming from South Africa where good steak is law and part of your five-a-day essentials I have high standards for steak and theirs passed with flying colours, the only complaint I had was with the gravy…..they should have put more on the plate, bloody delicious!
We had arrived in Amsterdam late afternoon and had eaten at Loetje was early to giving us time to shower and plan our return journey the next morning which turned out a little more challenging that we had hoped because of train and ferry times; train to Rotterdam, then ride to Hoek van Holland port about 30km away (absolutely no alternative way to get there so fingers crossed Brent's knee would be ok), Ferry to Harwich, train to London Liverpool Street followed by 5km ride home – easy peasy.
Strolling around Amsterdam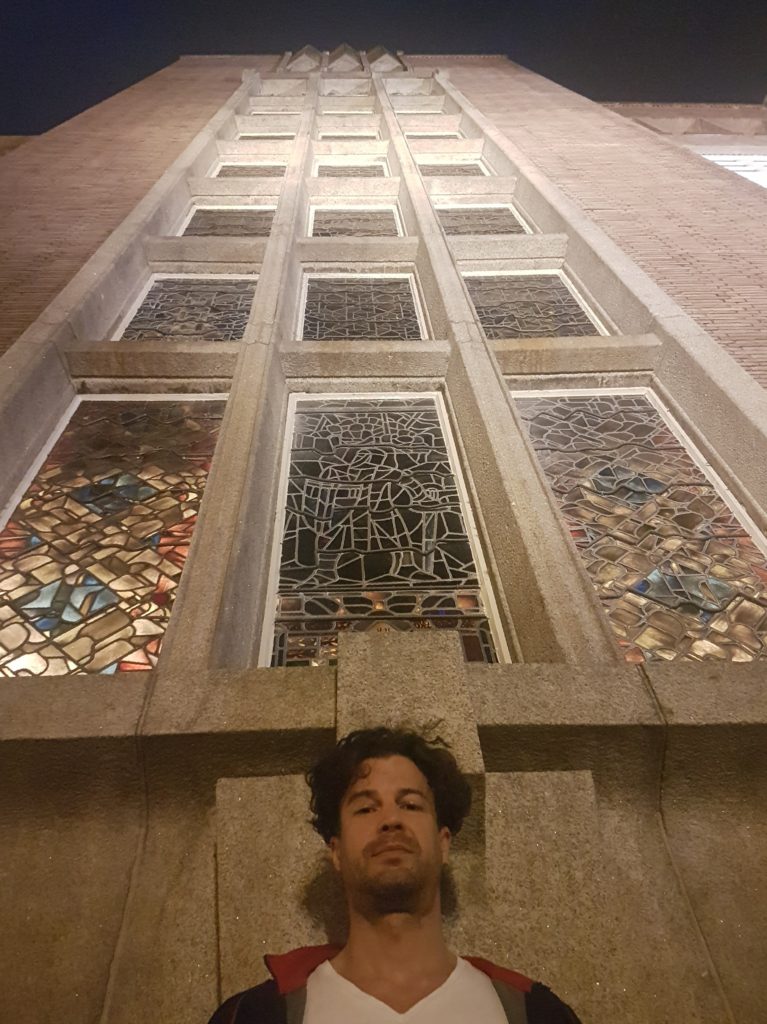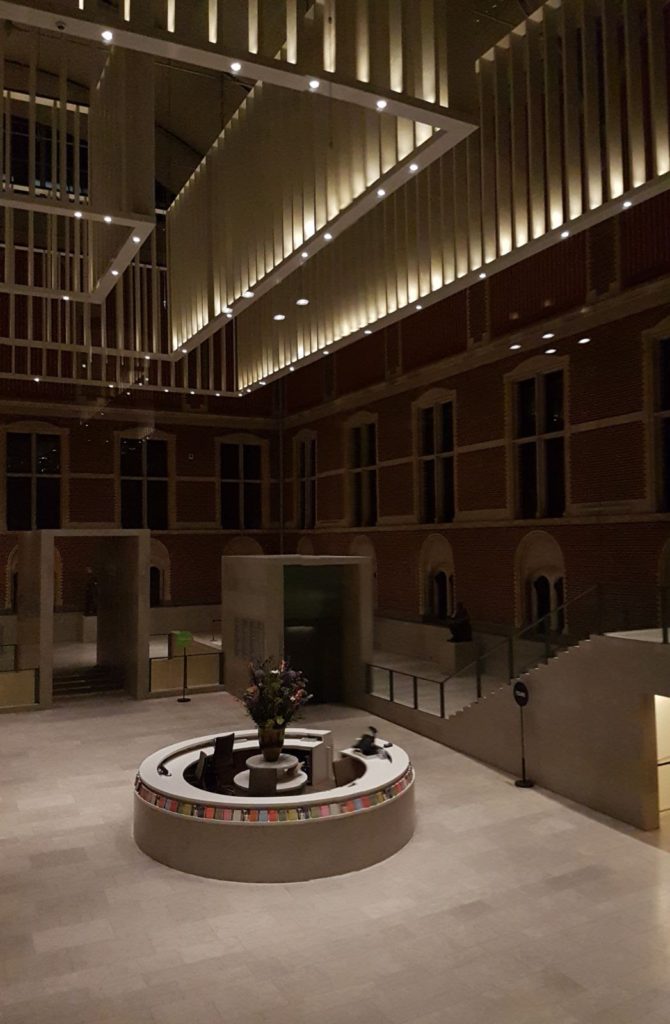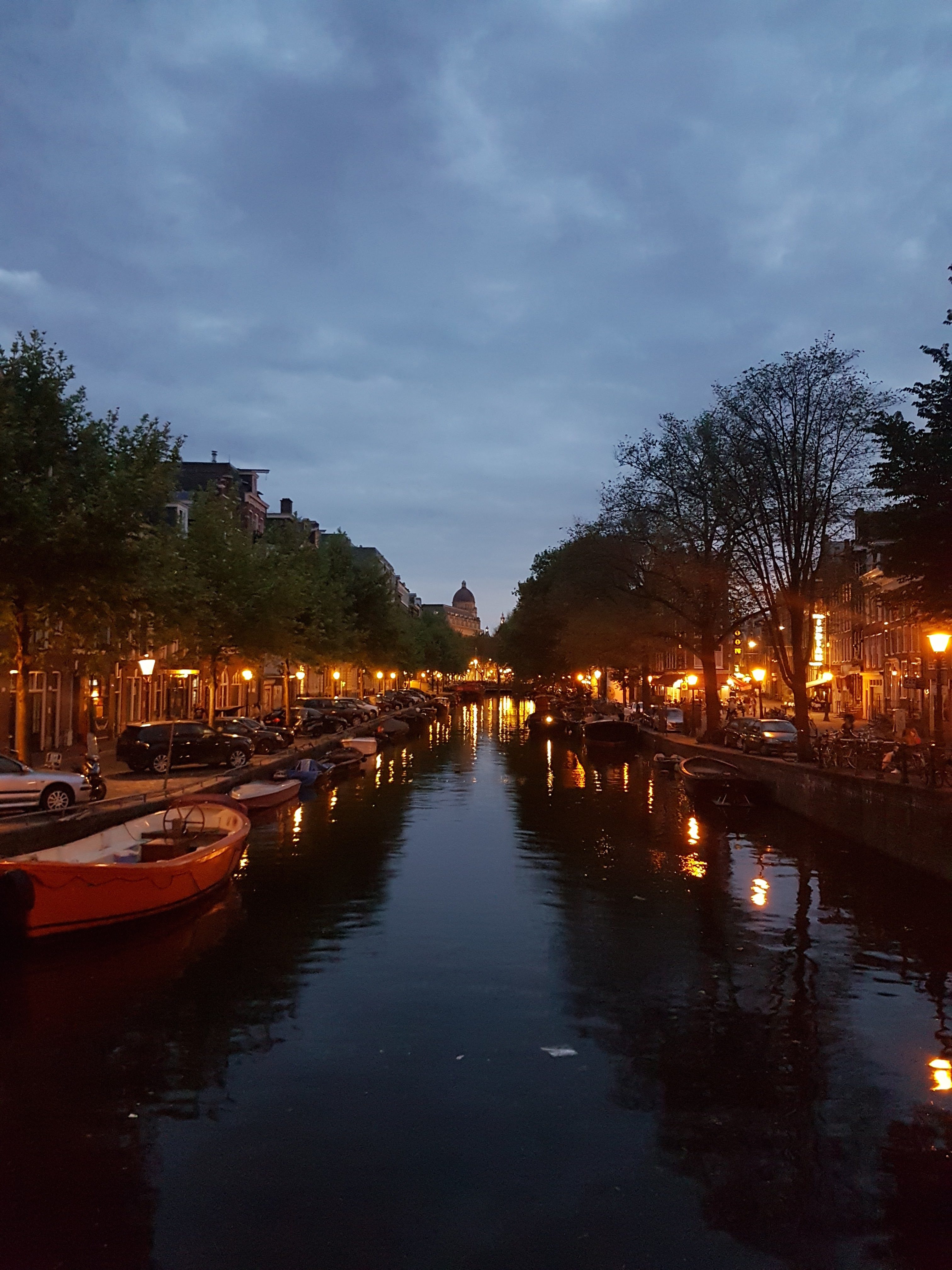 There wasn't much time that evening however not taking a walk around Amsterdam would have been scandalous!  A write-up about Amsterdam would require and be deserving of an anthology of books, my ten cents worth is a mere drop in the ocean!  It is a fantastical city combining the old and new, decadence and institutional, sleazy and chic the list goes on.  The city has an old established feel with uniformity in colours and architectural design.  Even the wonky buildings concertinaed between more recent buildings fit seamlessly into what at a quick glance seems like an intentional master plan – unlike many old cities everything looks well maintained, looked after and clean.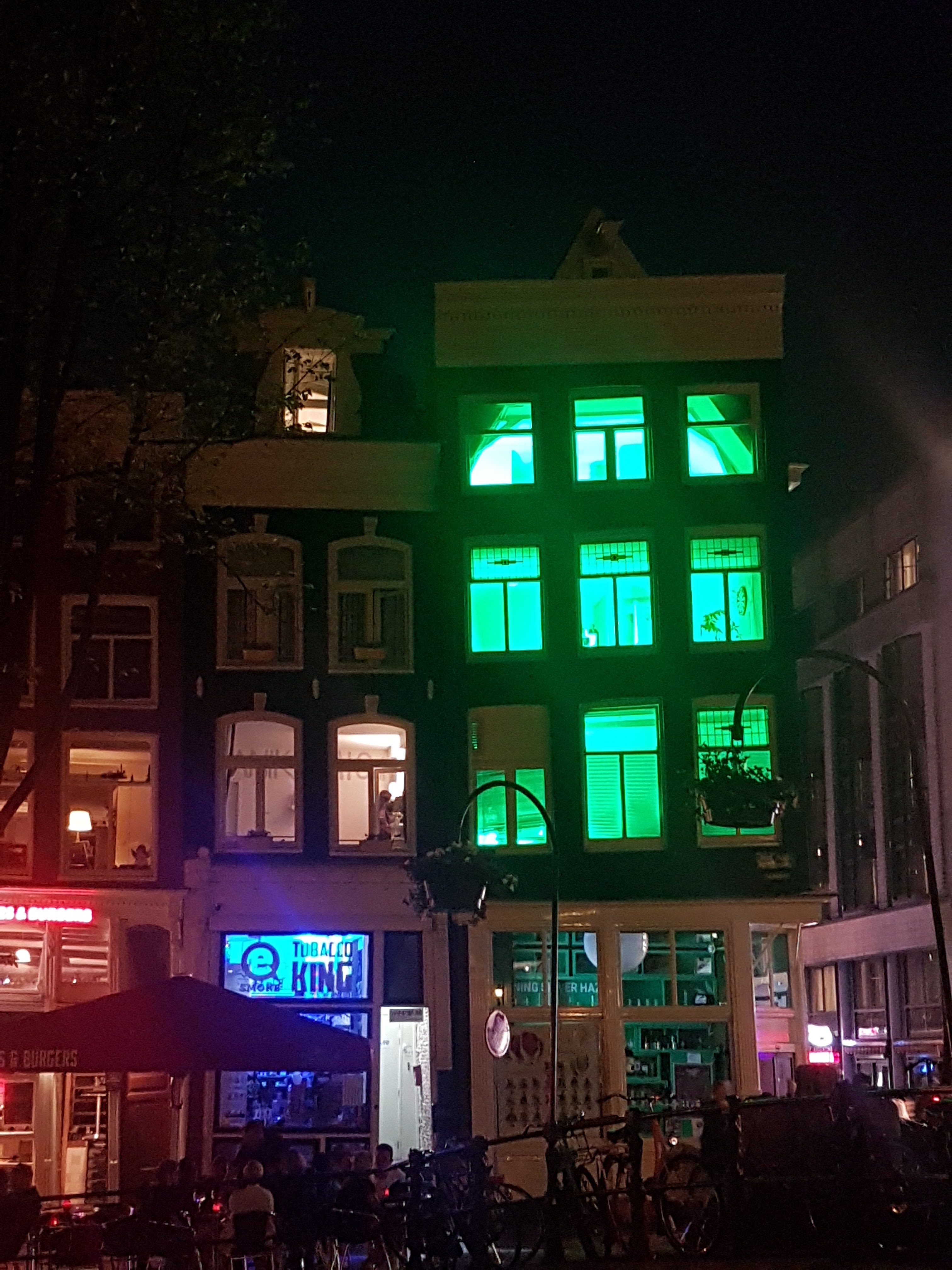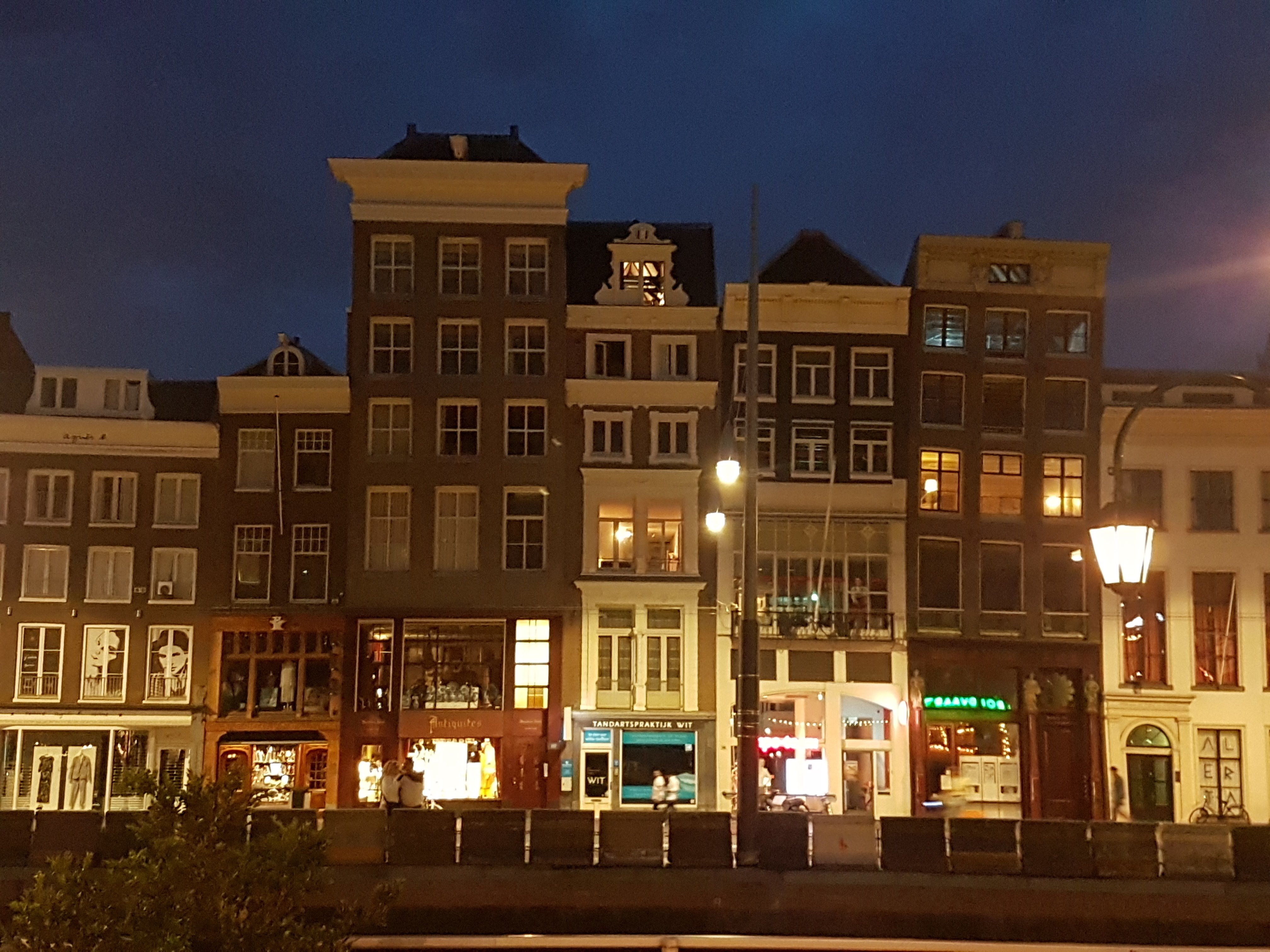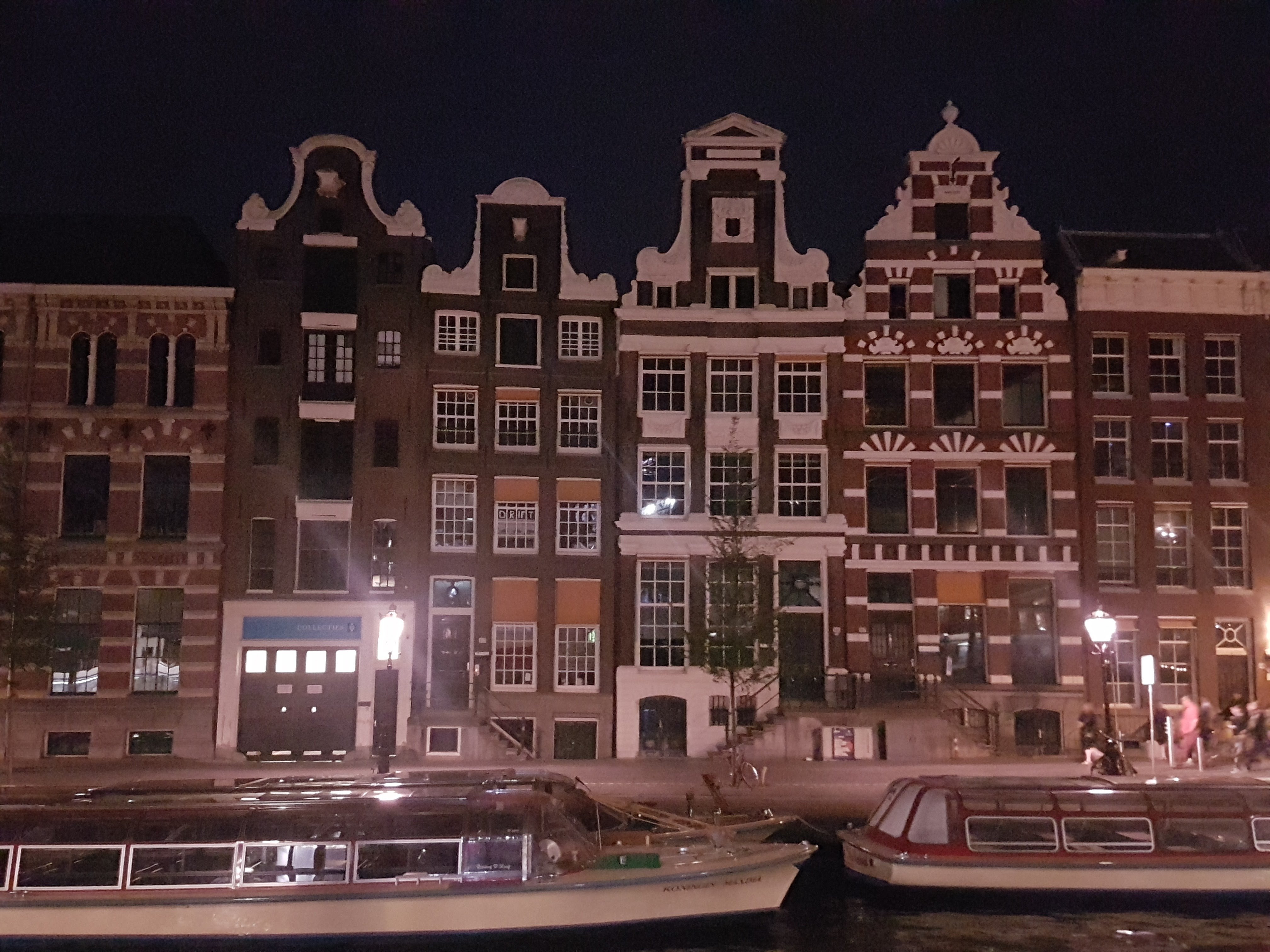 All in all the city has a healthy vibe and buzz to it and can satisfy any interests no matter age or interest from the boutique clothing stores, modern galleries of graffiti artists, retro and classical antique stores and of course everything else Amsterdam is famous for, not just the red light district; which is perhaps the most unconventional tourist attraction in the world – visited by gawking eyes from all walks of life even families of young and old go to see in practise the oldest profession in the world.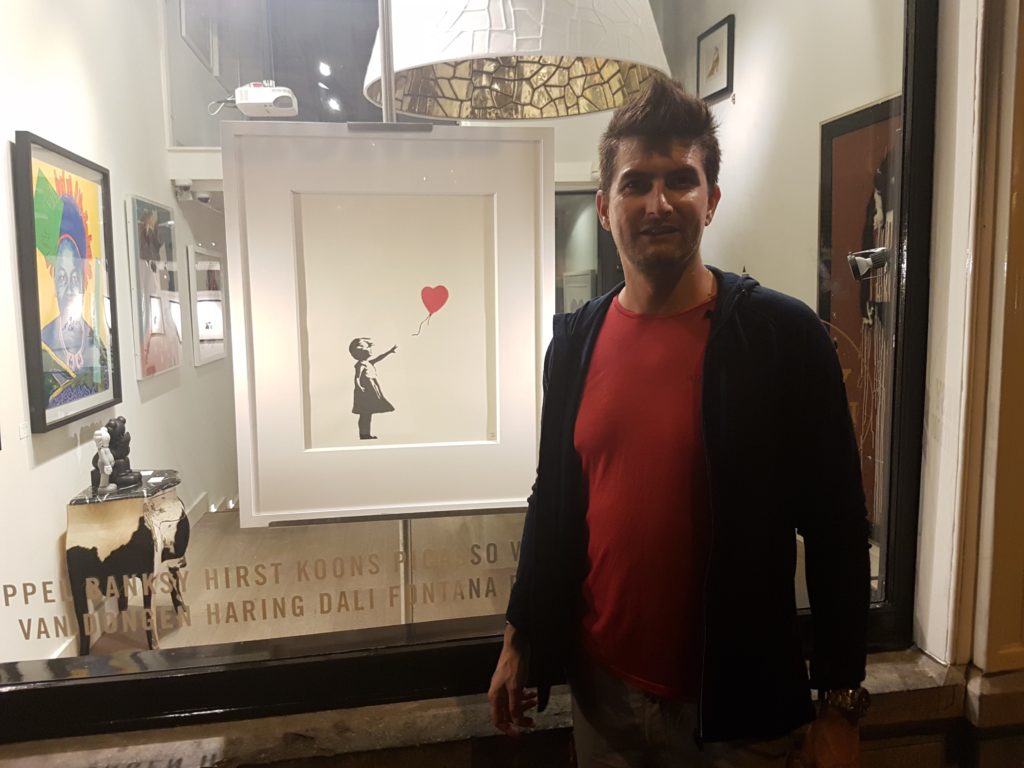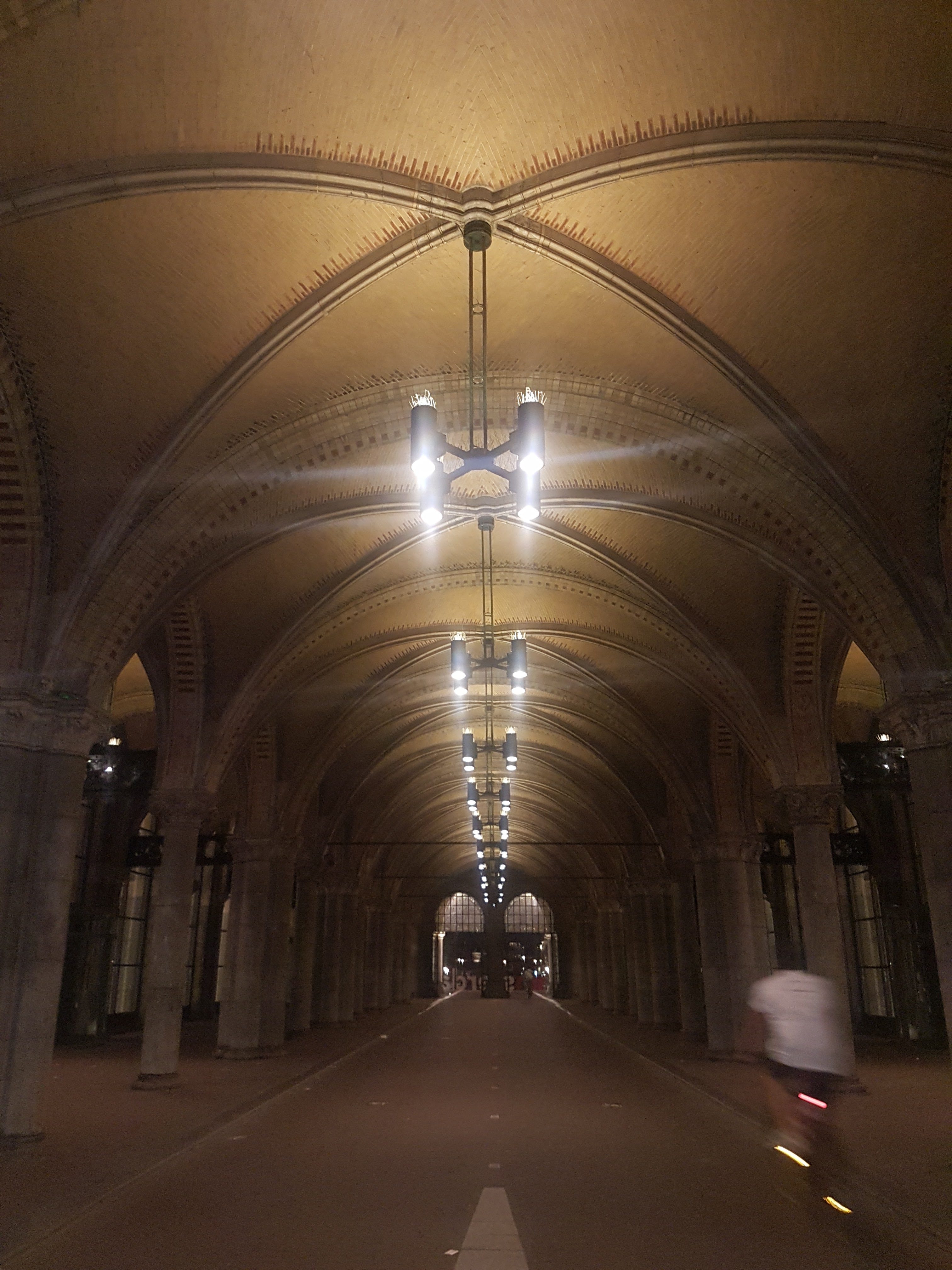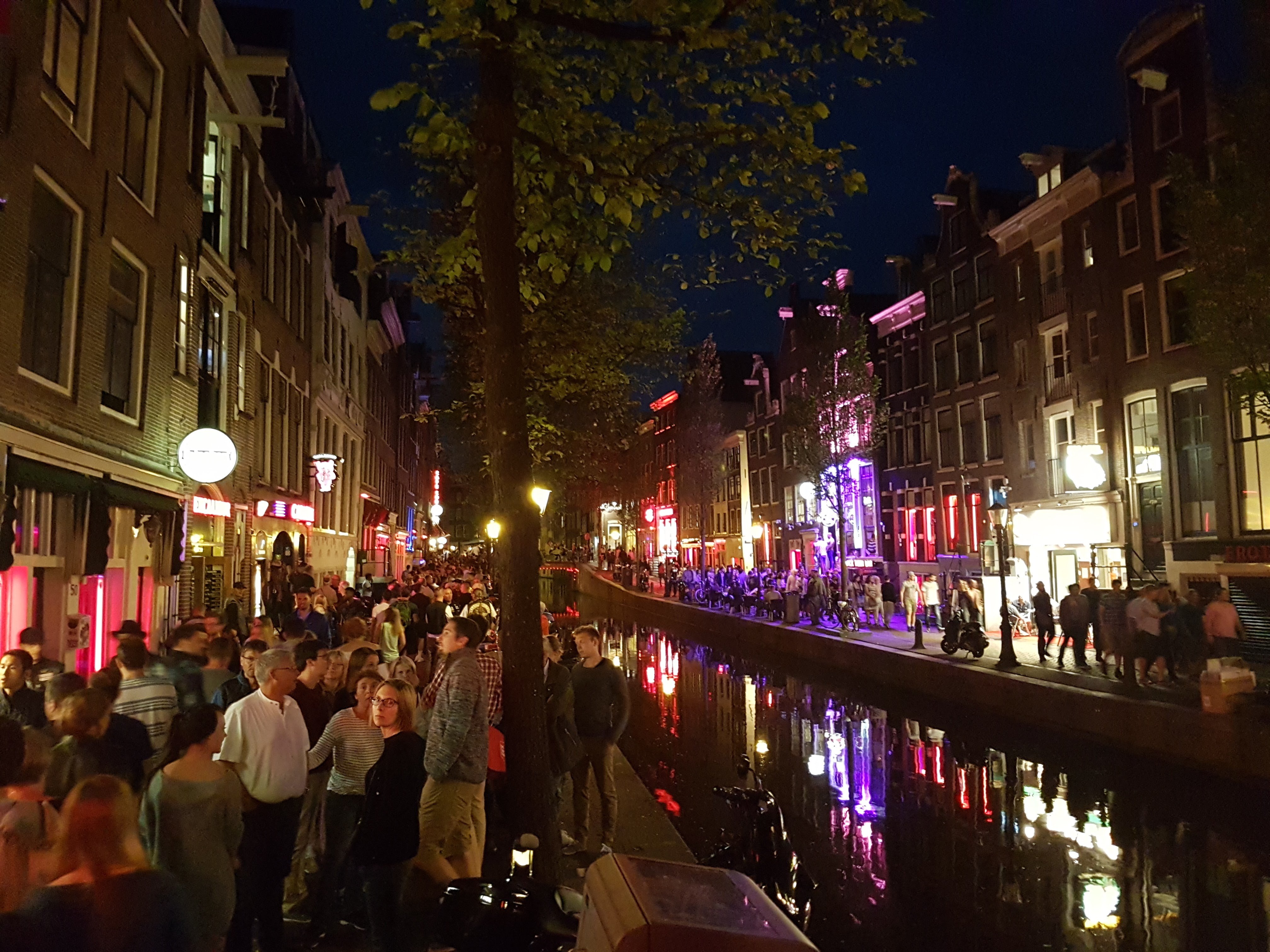 Heading back to the UK…close call
The following morning, we pottered about to pass the time, not enough to go anywhere and too early to head to the station, Amsterdam South station just over 3km away.  Having decided out of caution not to take the fast train from Amsterdam Central because bicycles (non-folding) are not allowed on the train, although we did the day before it was a Sunday and the train was empty, if like London there would be no way to take a bicycle during peak morning hours.  Amsterdam South station was a safer option as they allow bicycles, it would take a little longer to get to Rotterdam and we had factored that into our trip the previous evening.  We left the station at 14:20, final check-in for the ferry was at 15:30, meaning we were in a bit of a pickle! Rotterdam is the second biggest city in Holland and it took some time getting out, city cycling is slow, full of stop/starts even with dedicated bicycle lanes and Hook van Holland was 30km away!  My recollection from Rotterdam to Hook van Holland is one of dead legs, strong cross and head winds; the views were irrelevant I only remember cycling along a canal/duct for the last 20 minutes other than that we were going as fast as we, me that is, possibly could.  Brent was pushing me to keep up, the only reprieve I had for him which came later whilst on the ferry was that he told me even he was at the limit.  Obviously, we made it onto the ferry having only got to check in at 15:40 I felt a great sense of success with a heavy inclination of relief!  A 6 hour sea crossing awaited us giving my legs, now feeling more like stumps of lead a very well earned rest.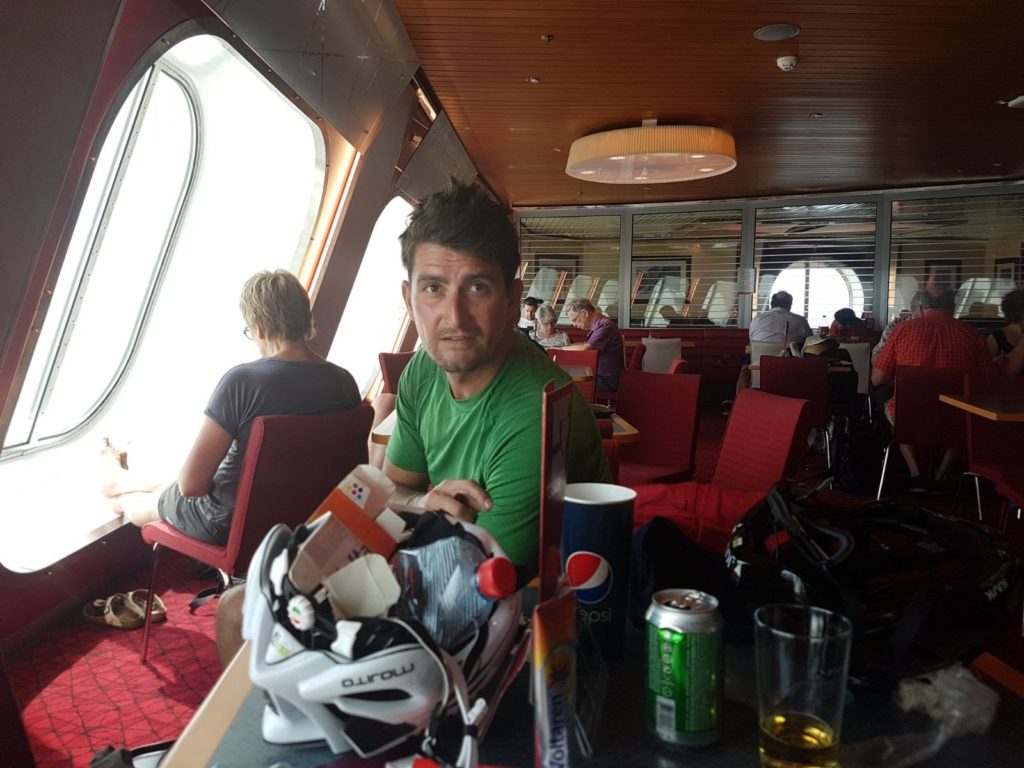 As luck would have it once we passed rapport control at Hook van Holland another cyclist, also from the UK informed us that there were no trains from Harwich to London due to engineering works.  We didn't think much of it at the time however having investigated further when on the ferry the engineering works were true – a bus replacement service was in operation but no bicycles were allowed, this was confirmed even having my sister-in-law (Roxi) call the train company to check, double check, triple check!  Alternative routes were non-existent, those that were all incorporated a segment on a bus.   Luckily, up to now I was beginning to think I must have Irish blood in me, there were two busses at the station – one filled up with a school tour of Dutch students, the other was practically empty.  The bus driver, a recipe of equal measures sarcasm, I don't give a shit attitude and self-importance turned out to be our saviour; since our bus was practically empty he allowed Brent and I, and the guy who we met at passport control to put our bikes in the luggage compartments and off we were to London Liverpool Street.  We got home near midnight, we had covered over 300km and though my legs were tired I wished our trip could carry on.  A consolation for Brent pushing on the last leg to Hook van Holland, he had to go to work the next day and I could have a sleep in…..justice is served!  Hahahaha!
A little nota bene; the other guy on the bike (Pete if I recall, who also happened to live in the same complex as Brent) bought Brent and I a bottle of water each, the vending machine at Harwich only took Pound Sterling and no notes, Pete had Sterling and bought us water – a little act of kindness that was really appreciated.  Now upon reflecting back on our trip as a whole we encountered many little acts of kindness from total strangers when we least expected it but needed it the most – the world is not as bad as TV and social media broadcasts.
If you missed Part 1 and 2 of Cycling from Calais to Amsterdam here are the links:
Cycling from Calais to Amsterdam – Belgium and Holland Part 2