Getting from the UK to France then Belgium – Route LF1b
The LF1b route was our choice, my brother and I took the train from St' Pancras on Thursday just past 7 o'clock to Dover.  St' Pancras is about 3 miles cycling from his house and we had some time when we got there to buy some food, we were unlikely to get food at the hotel in Calais because of the time we were to arrive, just before midnight.  From Calais station to the port is also about 3 miles, we were a little pressed for time so rode reasonably quickly because when we got to Dover Station I checked the tickets which said we should check in one hour before departure (on-line it had said 30 minutes!), we arrived at the station 50 minutes before departure hence the quick ride. Passport control, checked-in all was going well…..the only thing missing was, the ferry!  The ferry arrived an hour late which resulted in us leaving over an hour and a half later than planned, the knock-on effect was that we only got to our hotel at 2am as the hotel was about 4 miles from the port (we took a slight detour to the hotel considering it was pitch black, we didn't have lights and let's just say the road signs in Calais are not the best nor is my French).  We got to bed after near 3am.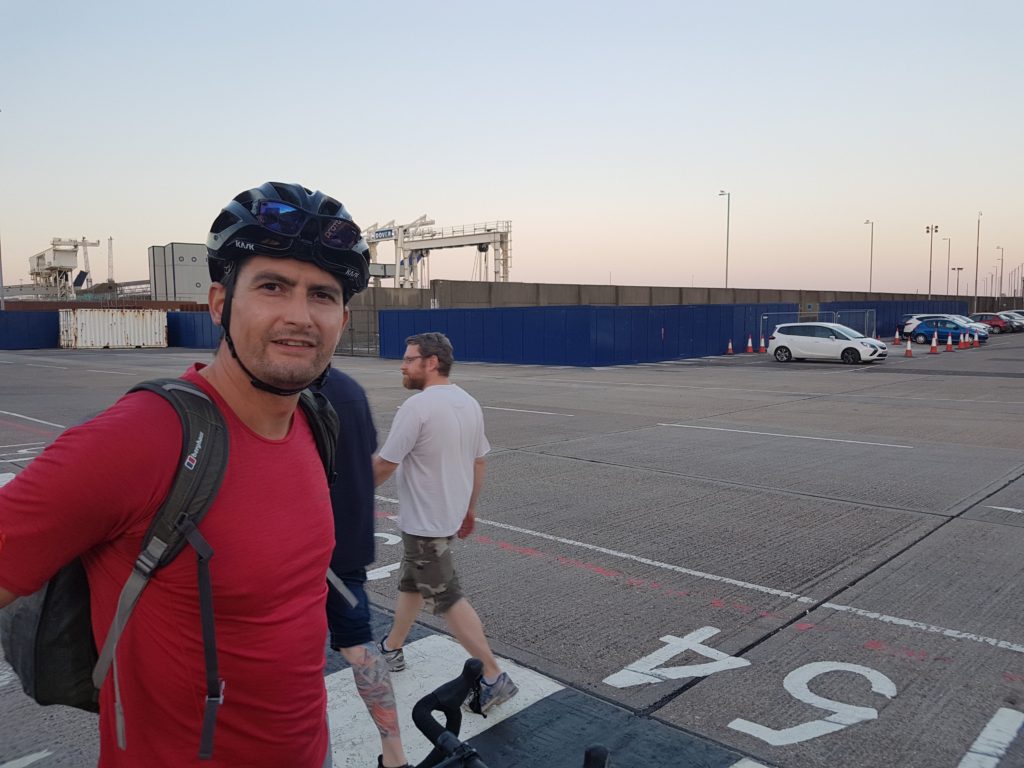 Accommodation
Our hotel, aptly named the Brit Hotel Calais is nothing to write home about, we weren't on a flash holiday so my criteria for hotels in these situations is quite simple – is it clean, is the location good and do they offer breakfast, the latter isn't always relevant but when you plan on moving on the next day it's time consuming to spend the morning looking for a place to eat.  The hotel was quite cheap, £30 pp and €8 for breakfast.  The place was clean, tidy and the service was very friendly – the porter even gave us 3 litres of water for free when we arrived.  Would I stay there again, sure.
After the delay in arrival we knew our plans were going to change, we needed a good night's sleep considering the ride the next day; by the time we had breakfast we only hit the road at 11:30.  Cycling through Calais, not the prettiest of towns, though it does have that French quaintness in parts and as we began our ride remnants of ww1, ww2 and some wars before were dotted around.  I'd like to say our ride commenced well but with either cross or head winds I began to wonder if the wind would ever relent or blow throughout the weekend……how enjoyable would this be!?
Once we had left Calais centre (which was punctuated for many stops as is cycling in any town or city centre) the roads were nice and open, flanked on both sides in the majority by farms and fields and although you don't get much time to totally take in the views it was a welcome pleasure breathing in the fresh air and taking in what possible of the views.
Remnants of WW2
Our first stop for a late lunch was in Dunkirk, we had done close to 50km and the light continental breakfast needed topping up – with the wind it felt like 100km!  I hadn't thought much about what to expect from Dunkirk, I love history and Dunkirk is famous for WW1 and WW2 but nonetheless hadn't given it much thought.  We weren't doing the tourist "thing" and only wanted to fill our bellies then head on.  A quick filling lunch in the town centre which surprisingly (for me) was quite a nice little town, very friendly service unlike the stereotypical French service; my approach to going to a non-English speaking country is to learn a few words like hello, please and thank you, and when needing to ask a question starting off with "I apologise/sorry but I don't speak……", I use this instead of starting off with "do you speak English". 
Come to think about it everyone throughout our trip was either friendly or very friendly.  We left the café with renewed energy for our next leg of the journey, something I should have mentioned our was that from leaving Calais our first goal was to get onto the LF1b bicycle route (North Sea Route) which is like a bicycle highway through Belgium and Holland (the full length of this route is 6 200km; the North Sea Cycle Route is established in all the countries bordering the North Sea: Belgium, the Netherlands, Germany, Denmark, Sweden, Norway, England and Scotland).  Through Dunkirk centre there were quite a few war monuments but it's not until you get out of the town centre that, in my opinion, you get to see real war remnants and scars across the landscape.  All along the coast which became a reoccurring theme throughout Belgium's West coast are war fortifications. 
Pillboxes, cannon bases, turrets, small and massive concrete batteries are ominously planted everywhere.  They juxtapose the now serene farms, valleys and fields a sea of green topped with yellow rapeseed blossoms. Cursing the wind under my breath I intermittently had flashbacks that in the not too distant past this was a battleground of epic proportions, a pivotal place in WW2.   We were cycling through and over history to the blissful noise of the wind blowing through the trees and rapeseed fields, the occasional mechanical noise of cars and trucks passing by.  Almost 77 years to the day that we were passing through Dunkirk (26 May – 4 June 1940) over 300 000 Allied soldiers had evacuated to the UK, 30 – 40 000 had to surrender and around 4 500 deaths either in the town, on the beach or at sea.  These concrete fortifications 70 odd years ago were planted into the ground to resist the most heaviest of bombardments of the time are now consumed by nature in silence.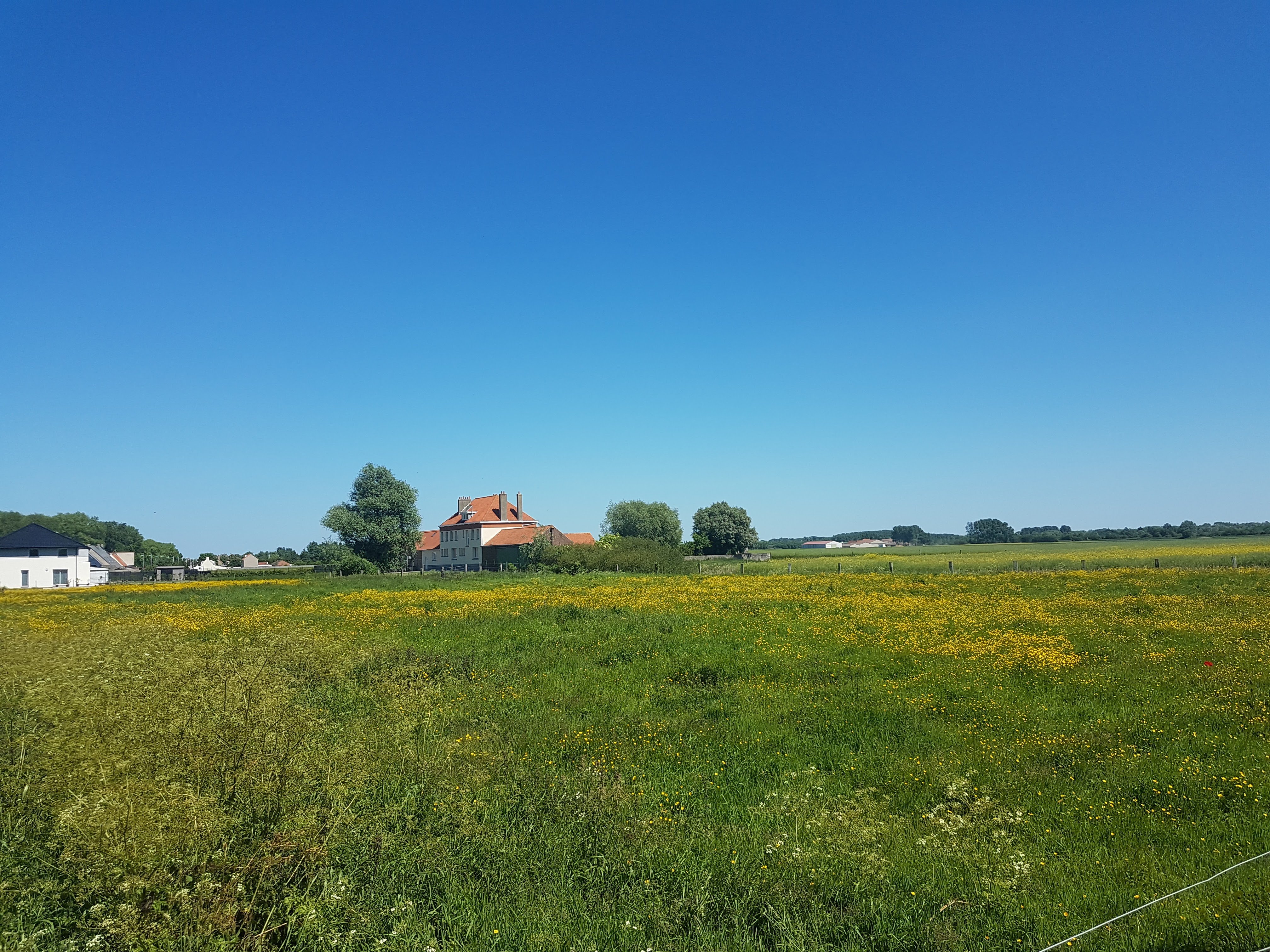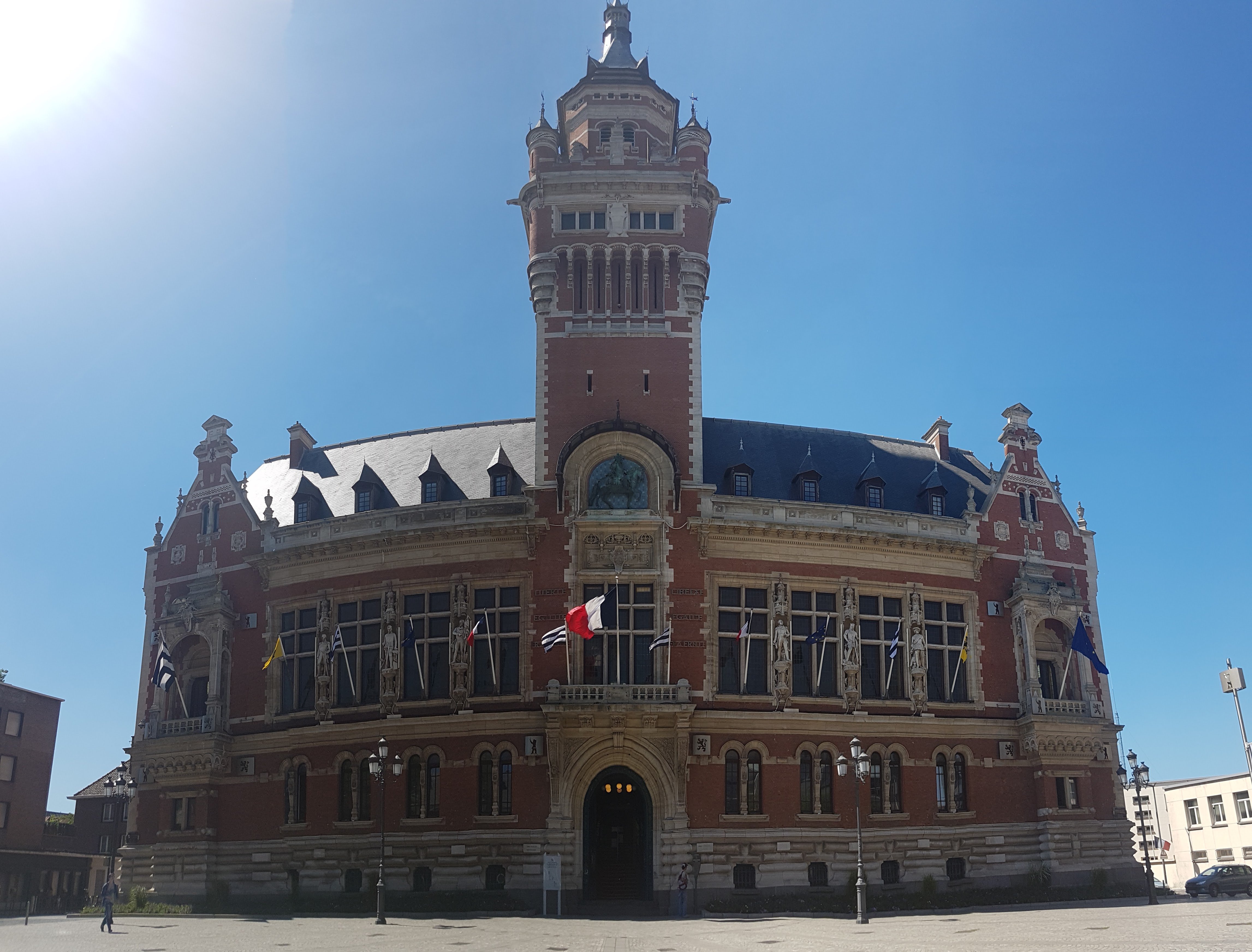 Following the LF1b Cycle route
We continued out of Dunkirk and planned to end the day in Holland, anywhere over 100km from Dunkirk would do, the further the better.  The cycling was going well, the wind had abated and the roads when out of town were long stretches of bicycle roads so we could put our heads down and push on.  The going wasn't as fast as we had hoped, stopping numerous times to check we were going in the right direction and constant stop-starts when going through towns.  We were in Belgium in no time, found the LF1b (North Sea Route) and I was quite astonished how bicycle centric Belgium is.   Not just the LF1b but the cycle lanes are very well maintained, they are everywhere and given preference on the road.
The LF1b primarily runs along the coast and in Belgium their Western Coast is the local holiday destination, this was to become important later in the day we just didn't realise how important! On occasions, we took some detours to buy water and if we weren't on the LF1b route we were pretty much cycling parallel to it.  For anyone wishing to ride this route one piece of advice, this route is very busy with riders and pedestrians, large parts of the route are on the beach promenades meaning if you want to ride fast or at a good pace it's simply not possible – so if you want a fantastic cruise just ambling along to soak up the scenery and vibe then stick to the LFb1.
Our trip was a combined on and off the route, every now and then it was a welcome break to ride through the crowds and then back off to make up time.  The promenades along the coast are very well maintained, paved 99% of the time and stretches for many many miles with wide beaches on your left and holiday apartments on the right filled with people of all ages and throughout has a real family feel to it.  My brother and I assumed it must be a long weekend as everywhere was full of people, the weather was hot too which in Europe is lapped up to full extent!  We did have a bit of a laugh between to two of us because the European pale skin isn't as used to hot weather and many people looked like lobsters and undoubtedly would be suffering the next day – in the UK the Monday was the bank holiday.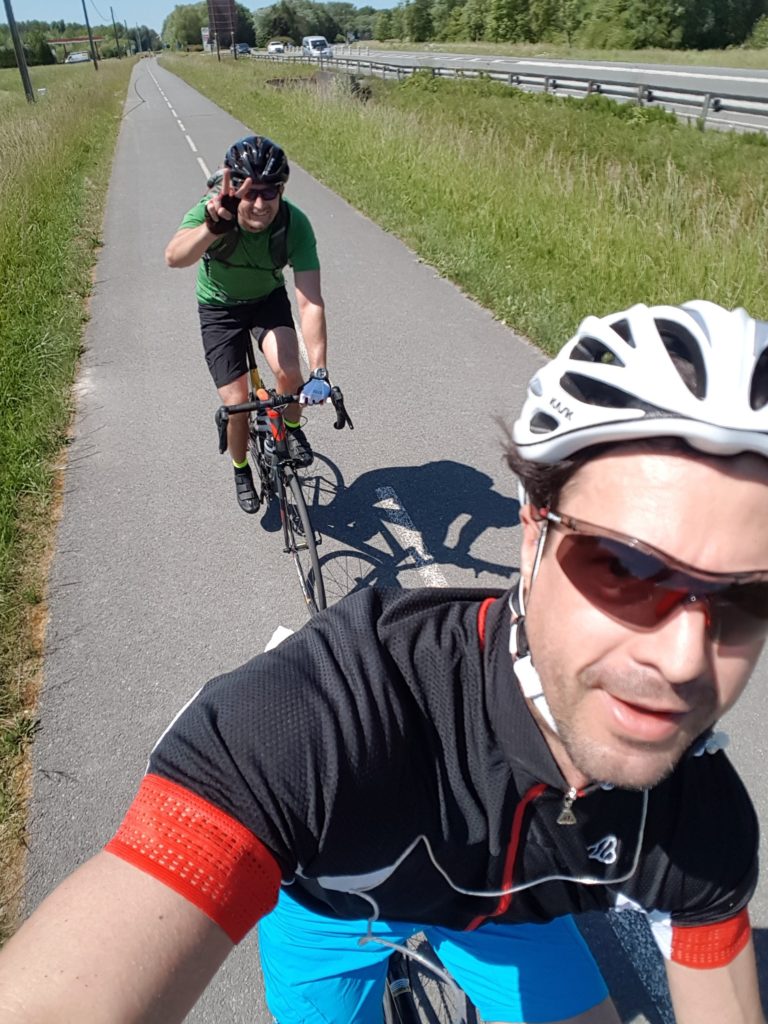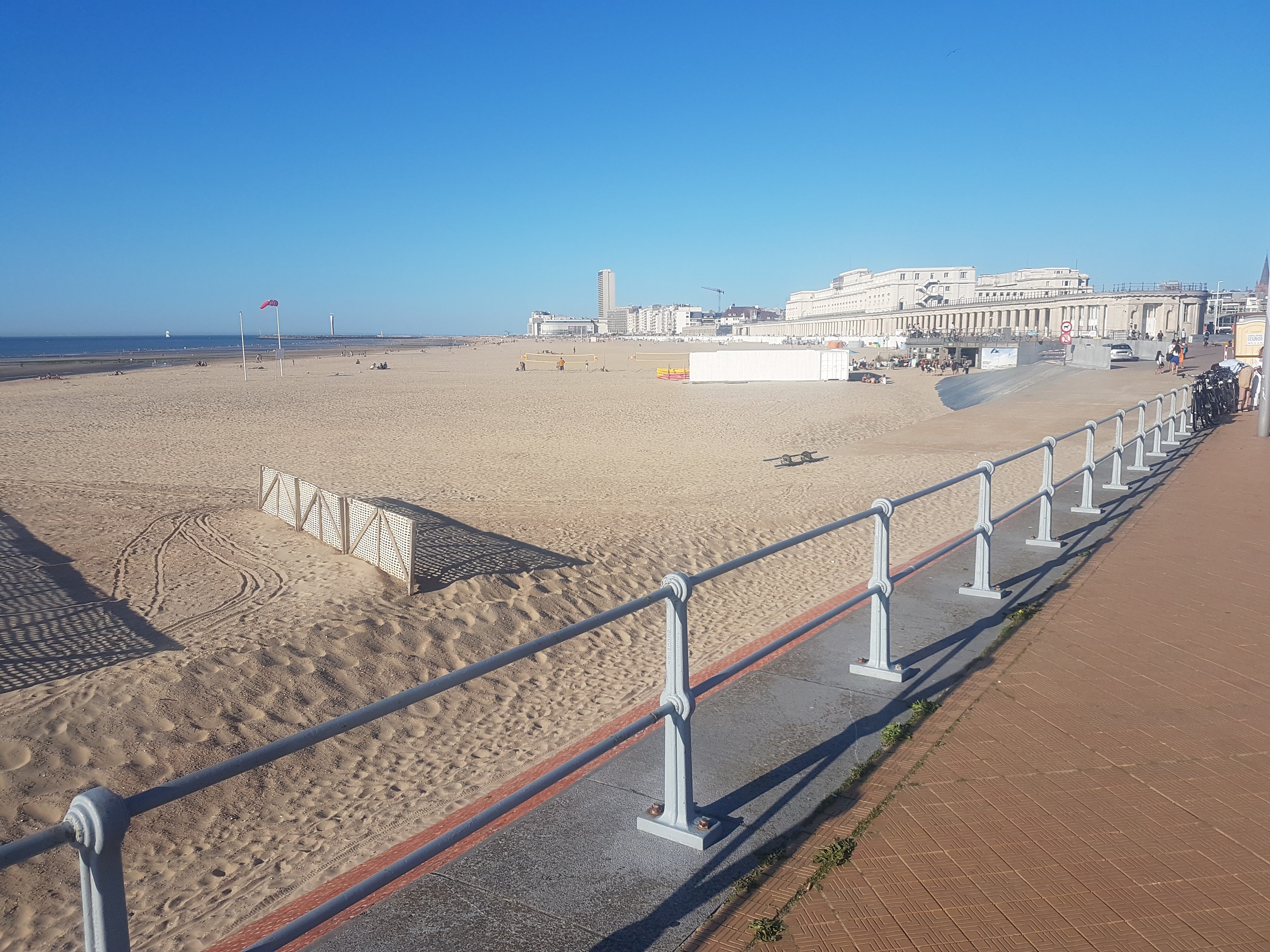 Pit stop in
Nieuwpoort

We had done close to 80km that day, taking the very late start into consideration we were doing ok so stopped in Nieuwpoort for a quick break and plan where to stay that evening.  It was just after 17:00 when we stopped, with the sun setting near 21:00 we could do another 50-70km quite easily so set our goal to end up in Holland that evening, anywhere near Middleburg.  Ha! If only it where that ease!  Back to us not know how much of a holiday destination Belgium's West Coast is!  Searching high and low on Booking.com, Trivago.com and Airbnb the closest room, of any description we could find was in Lille, 80km away, inland and perpendicular to the direction we need to go! 
A 160km roundtrip detour just was not possible!  Everywhere was full, we considered cycling non-stop to Amsterdam but realistically with no proper lighting to ride at night that would be verging on irresponsible.  Nearly 45 minutes had passed and we hadn't found a place, I refreshed my searches constantly, nothing, then a hotel popped up with one double room, quite expensive but hell we needed a place to stay.  Hotel Andromeda in Oostende became here we come, the downside, Oostende was only 18km away and would force us to change our plans for the rest of the trip. We had not choice, we would head to Oostende have a nice dinner and early night.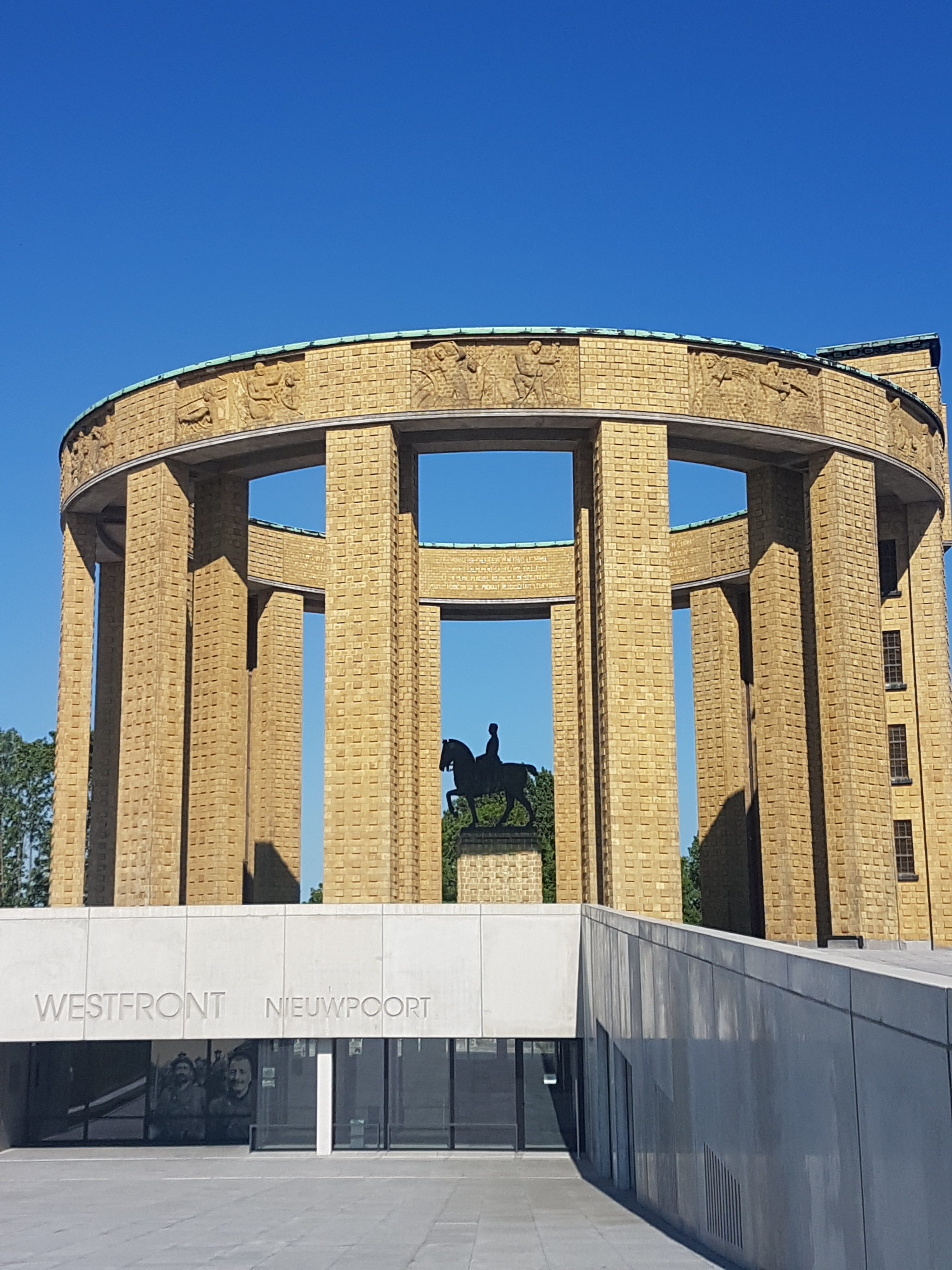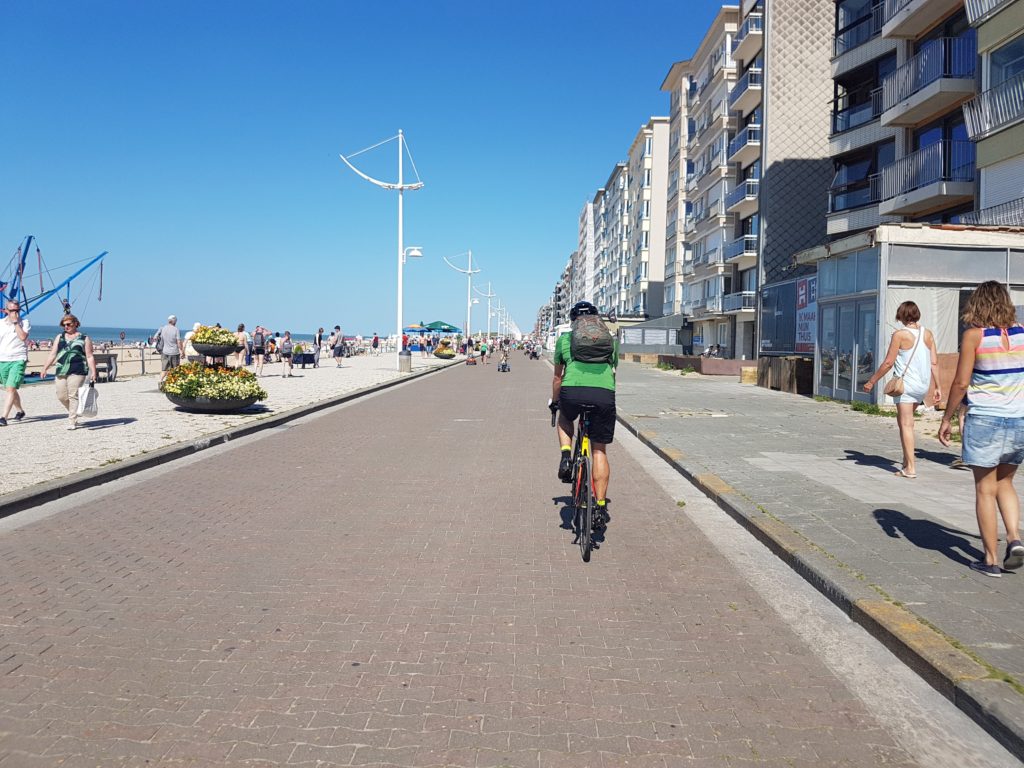 Nieuwpoort to Oostende
It's a short distance and just about the whole distance is on one long straight road, left side is the sea and the right what look at first to be grass banks.  After only a few minutes on the road the grass banks where at regular intervals broken up by huge concrete WW1 and WW2 fortifications (mostly WW2).  I wish at the time I had known their significance; these fortifications were part of the Atlantic Wall which stretches from Norway till the Spanish border, with a length of nearly 5300 kilometres. The "Wall" was started in WW1 but put into full operation and fully fortified in WW2 to withstand an invasion of occupied Europe by the Allies.  The section we were cycling past was part of the Atlantic Wall Open Air Museum which is a military museum just before you enter Oostende that has preserved fortifications of the Atlantic Wall dating to the First and Second World War. 
*Over 60 bunkers and two miles of trenches – is among the best preserved sections of the defensive line in Europe. The fortifications survive because they were built on land belonging to Prince Charles, Count of Flanders who decided that they should not be destroyed after the war, but be kept as a national monument. During the German occupation of Belgium in World War I, the Aachen Battery was built to defend nearby Oostende on the land which forms part of the museum. Though it is not as well preserved as the later fortifications, it is one of the rare coastal defence fortifications that survive from this period.
The majority of the preserved bunkers and trenches at the site date to the construction of the Atlantic Wall during the second German occupation during World War II. Numerous bunkers, gun emplacements and trenches were built on the site, including the well preserved Saltzwedel neu Battery. Several of the fortifications have been renovated to their wartime condition and the museums also displays uniforms and equipment used by the garrison. *
Next time I'm in or near the region I'll go out of my way to take a look and explore the museum in full.  Even if I did know about it we didn't have the time to stop and take a look, but I would have at least spent more time giving these concrete structures and the area some contemplation of respect for the history they represent.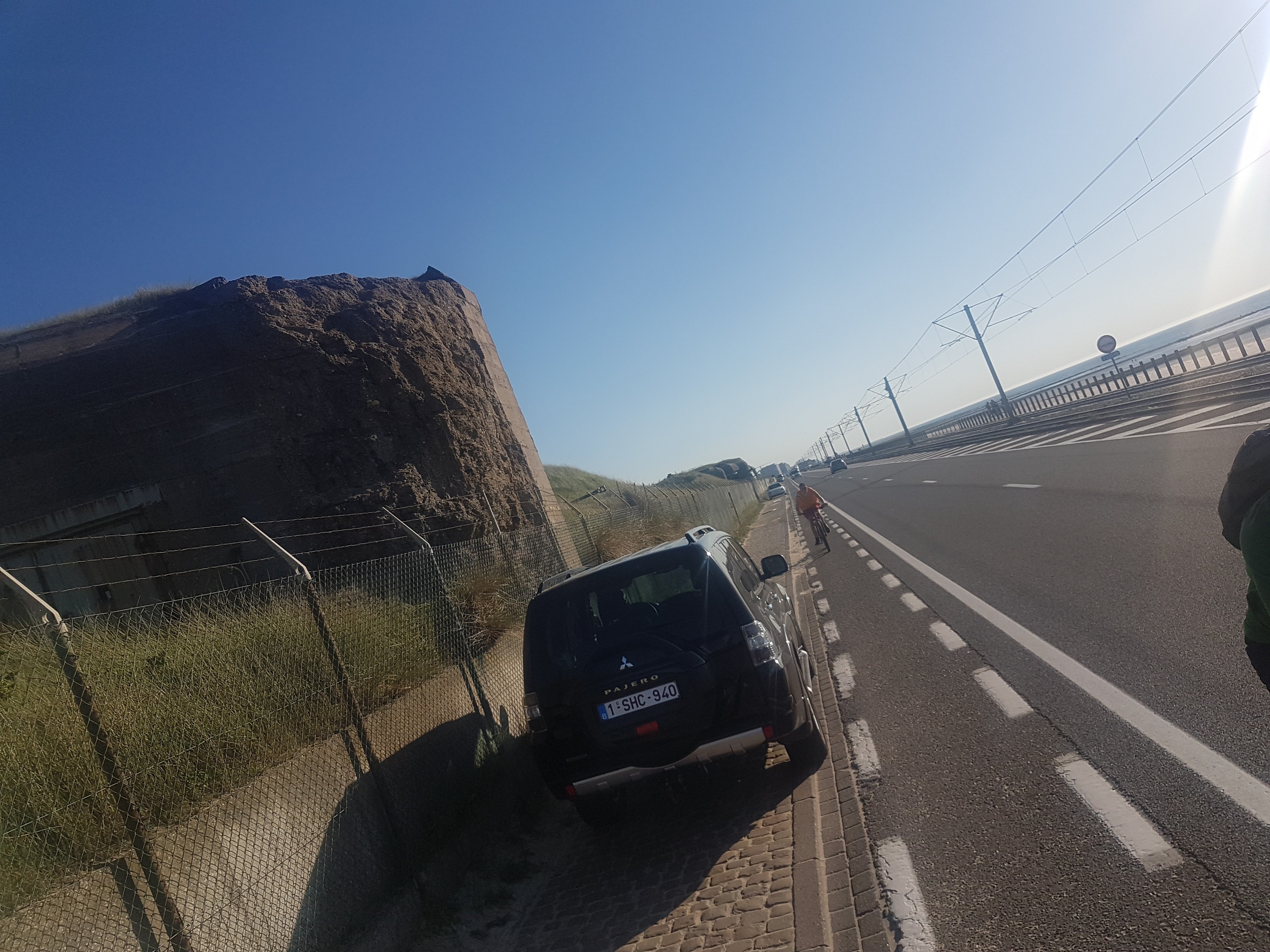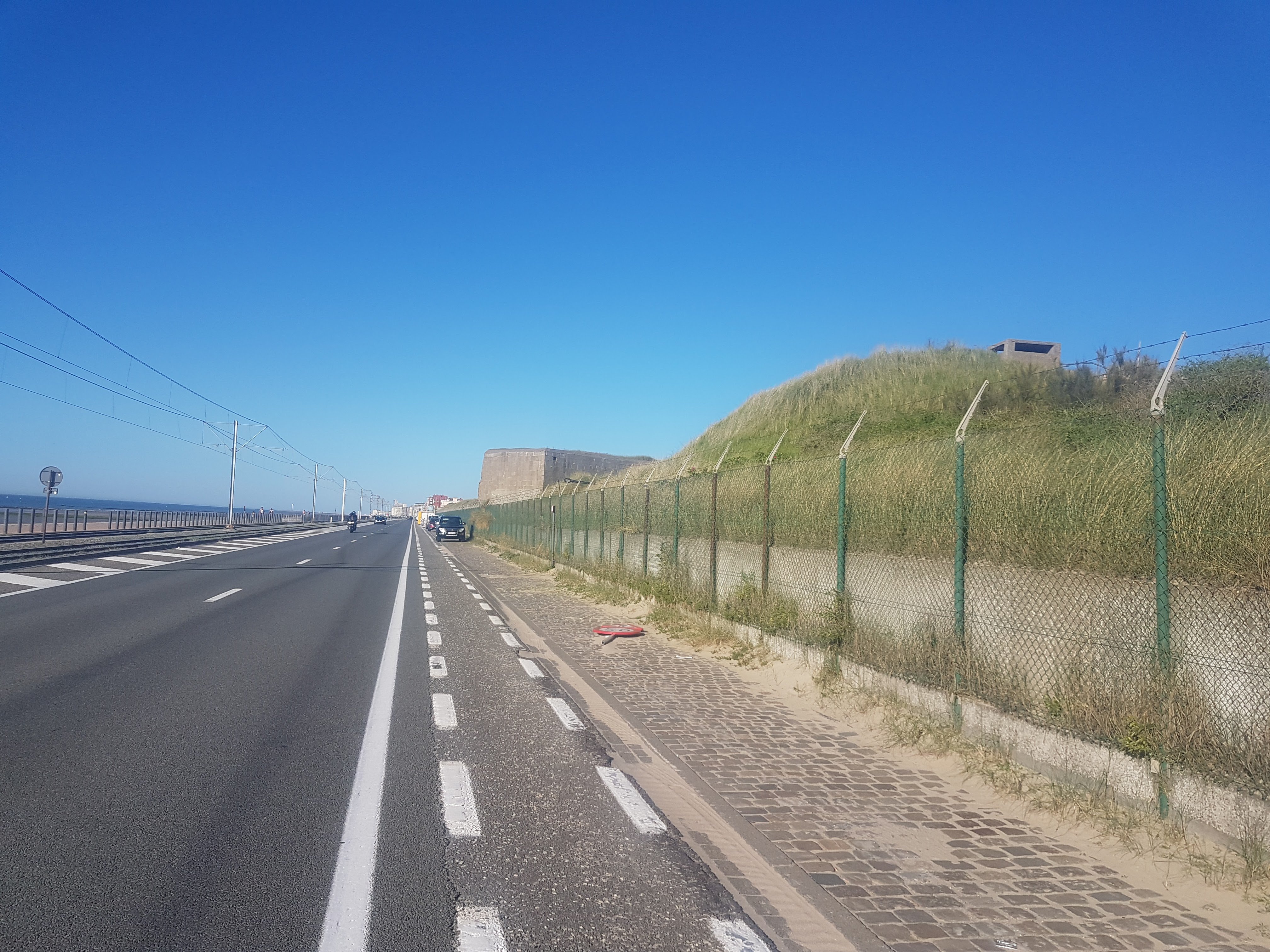 Upon arrival in Oostende the town was abuzz with activity and holidaymakers, the sun was still shining and everyone was soaking up the rays, beach and sea, we had arrived at a packet holiday town.  Checked-in, changed then off to treat ourselves to some Belgian beer, well deserved we thought and sitting at the hotel terrace basked in the sun overlooking the promenade and the white sand beach was a fantastic way to finish off the day.
…..end of part 1
…..some additional snapshots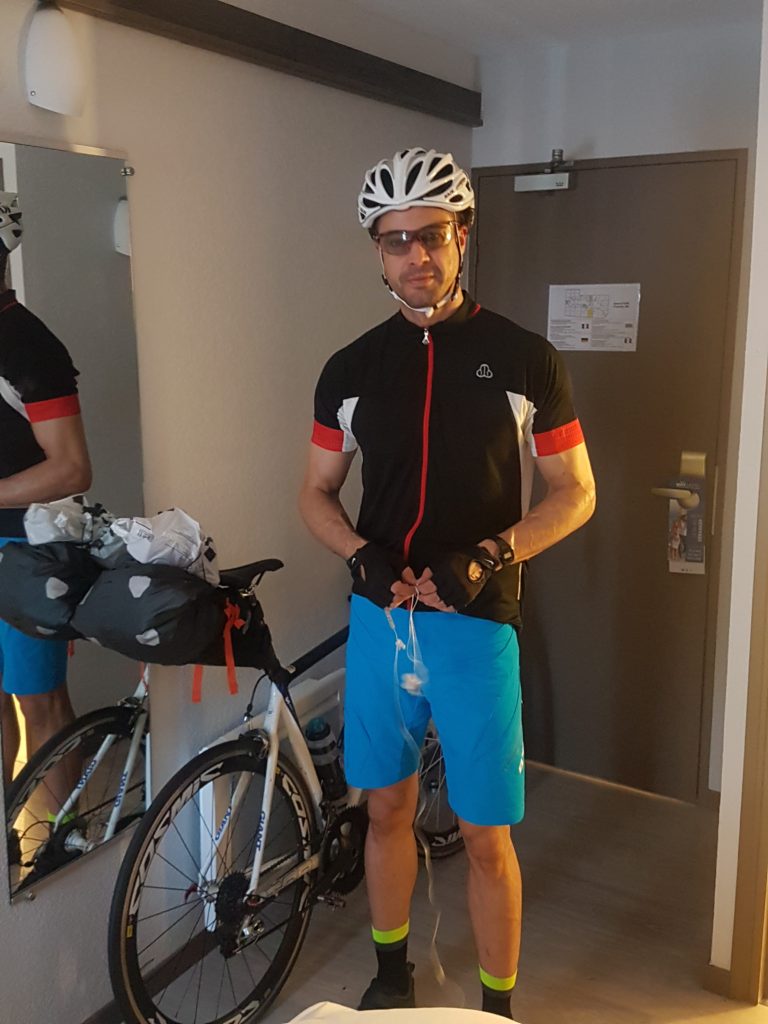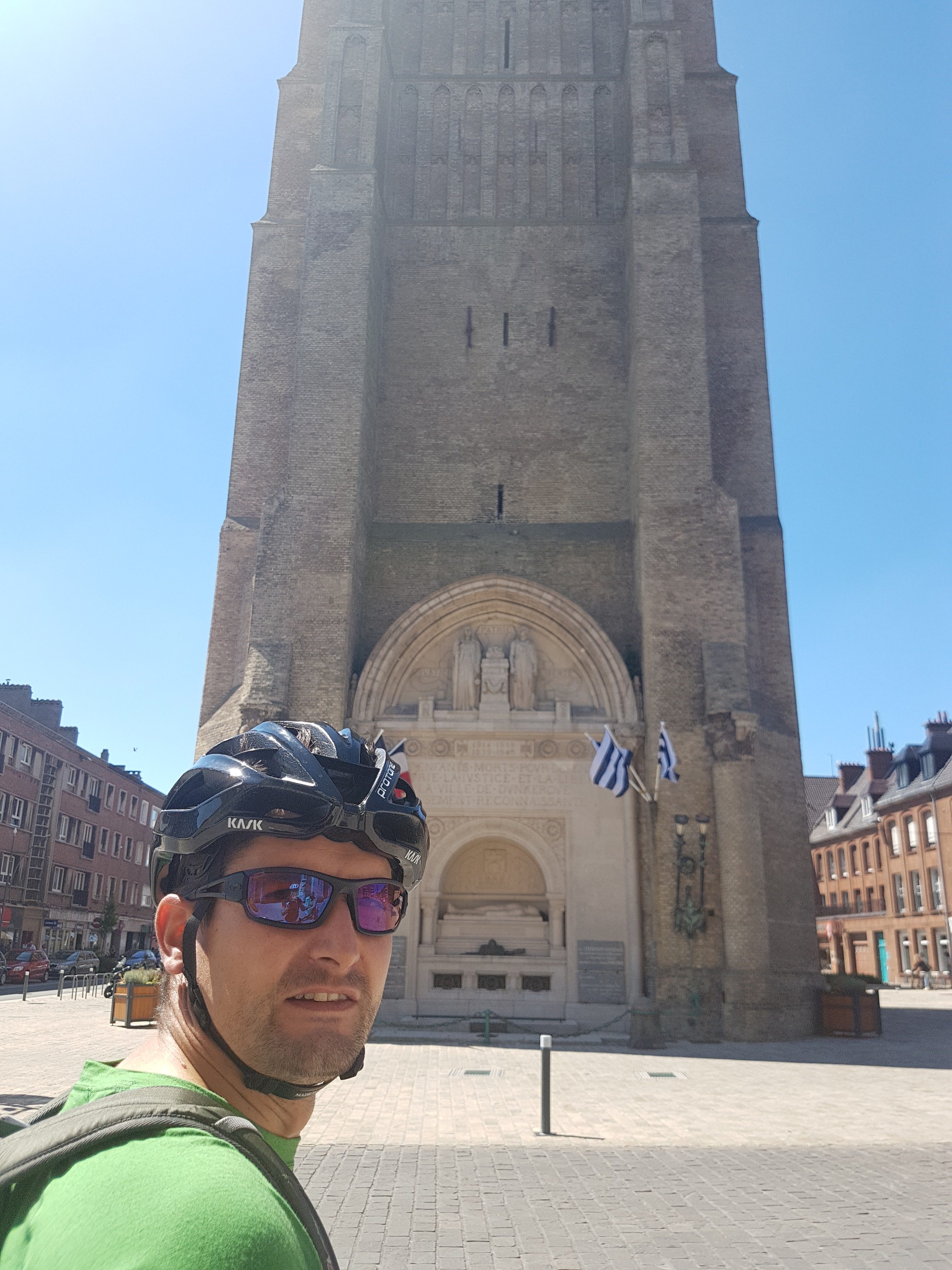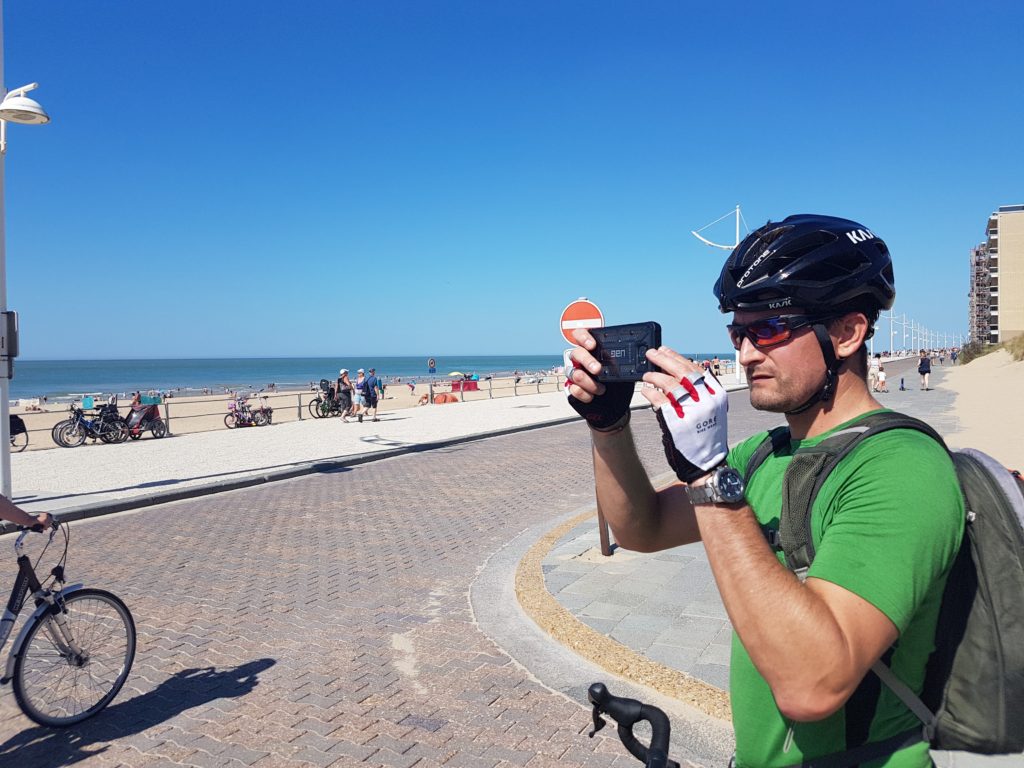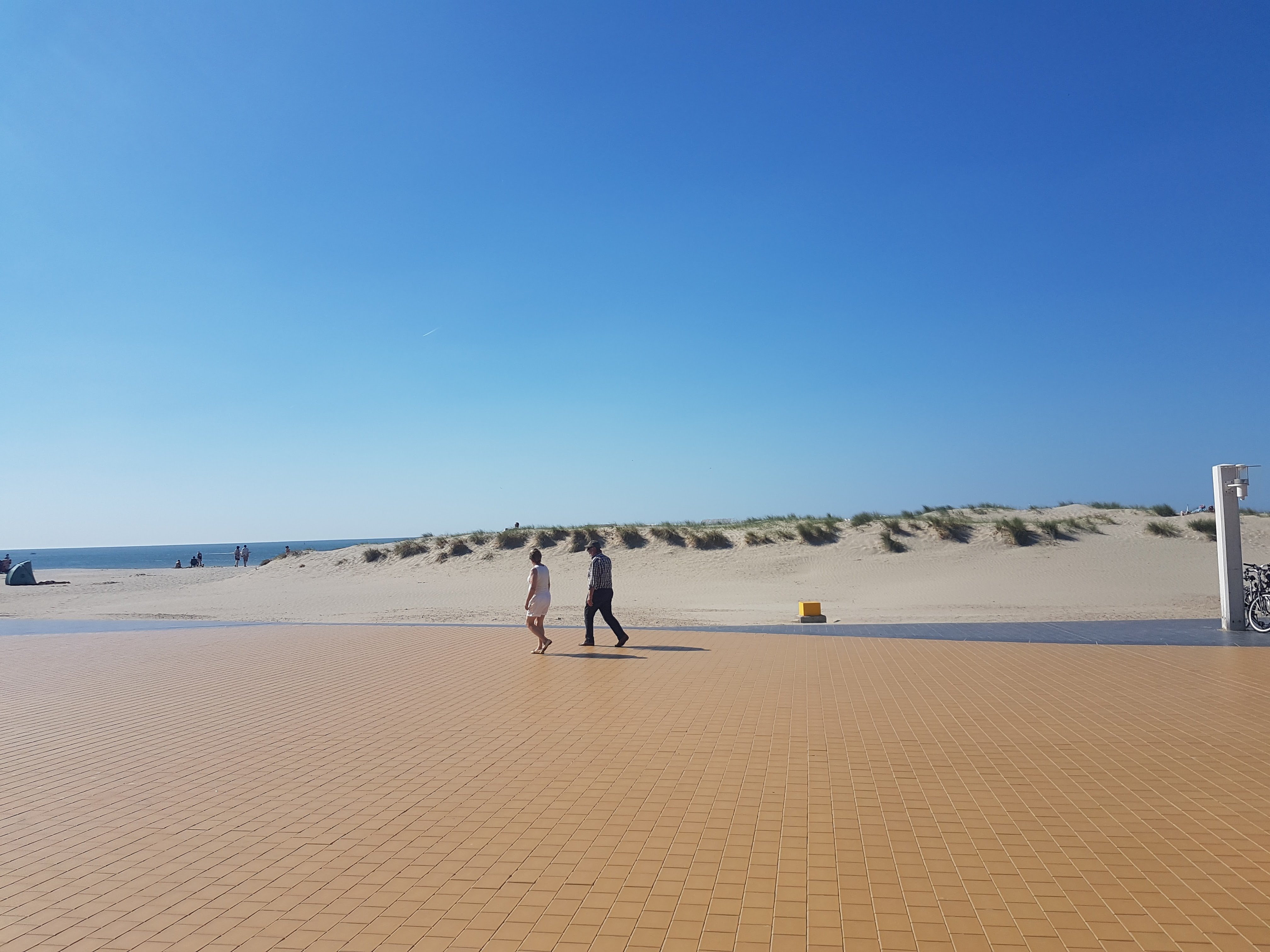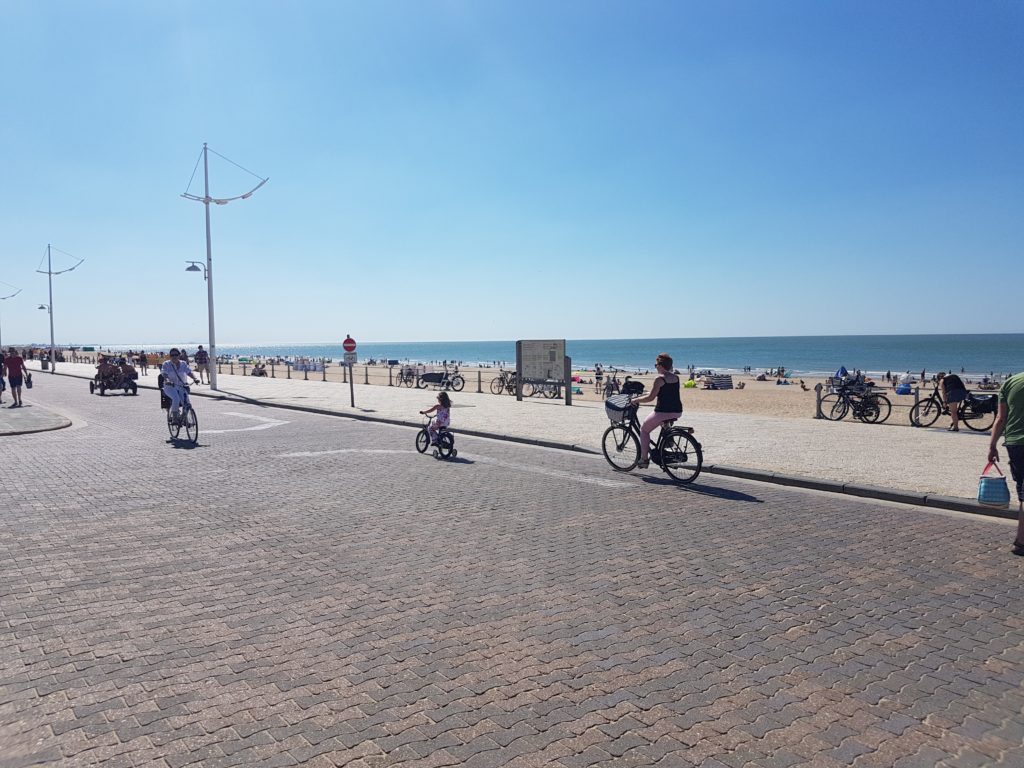 For Part 2 and Part 3 of the cycling trip from Calais to Amsterdam here are the links:
Cycling from Calais to Amsterdam – Belgium and Holland Part 2