Route 62 and Jongersfontein in the Western Cape
Some of the less well known towns in the Western Cape (lesser known to me that is) can certainly throw up a pleasant surprise and well worth visiting or in the least stopping over for a quick visit.  Embarrassingly I haven't explored the country of my birth nearly as much as I would have wanted to, slowly but surely I am chipping away at it, at a glacial pace but with conviction to do a thorough job!
I'm lucky that my mom moved to the Western Cape about 6 years ago, Montagu to be precise (hence my previous little post about Montagu – I'll elaborate more on it as times goes on I'm sure of it), and She and her best friend (Herma) have been my tour guide of the area and surrounds.  Finally, I've started to visit places that I've known the names of for many years but never been, and what a beautiful part of the country it is.
On one of my trips we went to Jongersfontein, right next to Still Bay (about 180km from Montagu) via Barrydale.  Now Barrydale in itself to most people is too small to even call a town, and doubtful many people would spend more than just a few hours there at most but it is well worth a detour to visit the quaint stores selling local produce from food, garments, trinkets, pottery and restaurants.  Amongst these shops is Diesel & Cream, for those who don't have much time to stop and look about then you MUST at least have a milkshake there, they are awesome! 
Diesel & Creme in Barrydale
Barrydale is along Route 62, something like South Africa's version of the famous Route 66…..not as glamorous but then again who would want to replicate Route 66 when you can have your own African style Route 62.  The food at Diesel & Cream is good, the milkshakes are the perfect drink during the boiling hot Spring, Summer and early Autumn.  The decor is a mix is 60's-70's service station, rock 'n roll and rockabilly with friendly smiles for service.  Upon your departure your jaw will be exhausted because of the thick milkshakes however you will feel refreshed by their hospitality and ready to hit the road again.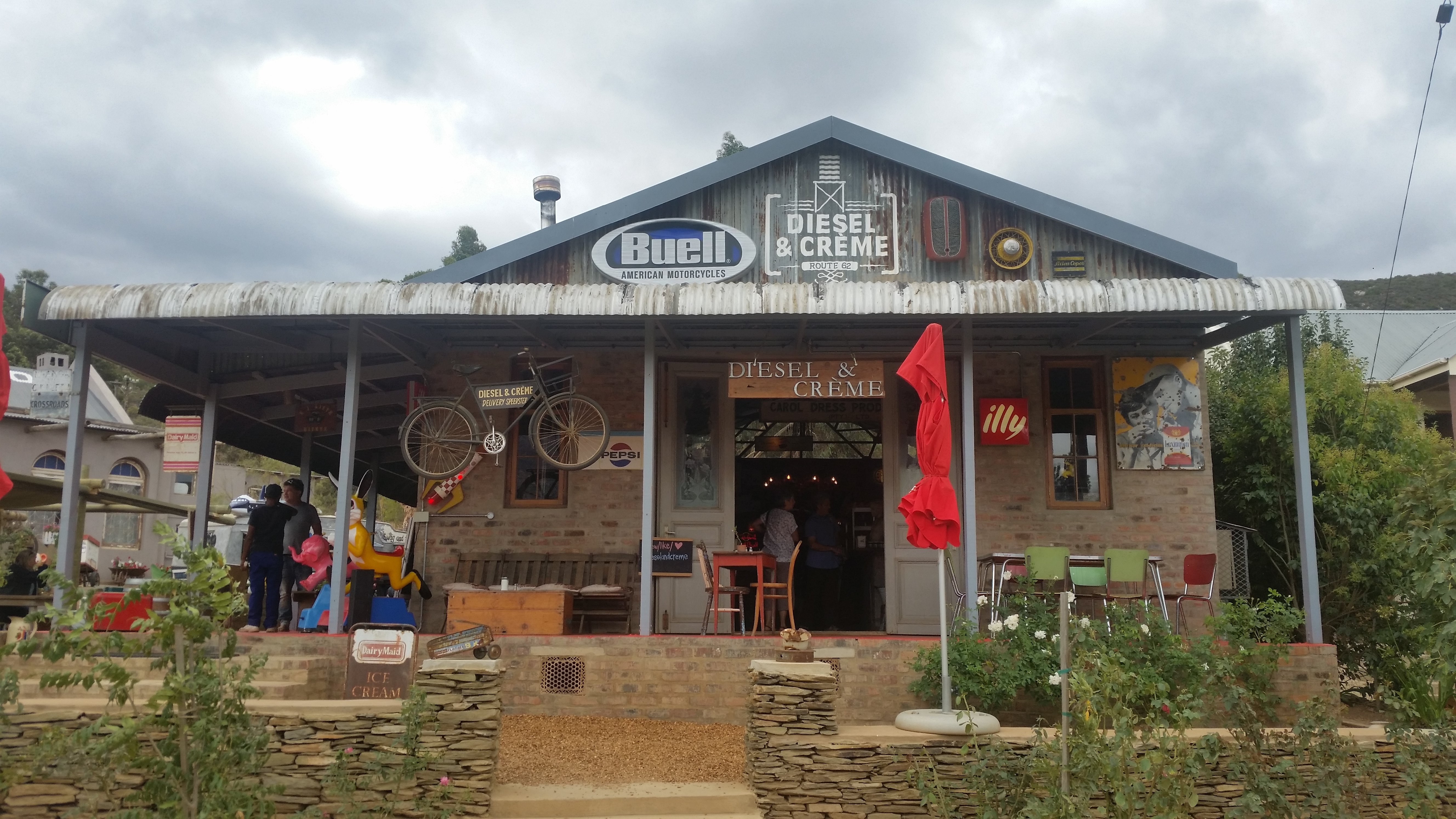 Inverroche Distillery
Another little inconspicuous stopover we made, by recommendation, was at the Inverroche Distillery.  No grandiose entrance and we missed it at first and had to turn around, so glad we did!  I like gin, but wouldn't normally go out of my way for it nor have I been interested in finding or trying to visit any distillery.  It's amazing how your perceptions can change!  Smart but small reception and tasting area, I must confess I was at first slightly disappointed and didn't think much of the place.  The receptionist/host was knowledgeable and friendly, the latter an overriding trait I experience in almost all parts of South Africa, yet we were there to taste the gin so hurriedly ask to commence. 
A small range consisting of 3 gins, 1 rum and 1 brandy liqueur (I don't like rum or brandy at all), oh well I thought at least give it a go!  I'll start off with the rum and brandy, we ended up buying a bottle of brandy liqueur, easily the nicest brandy liqueur I've ever had.  The rum, we didn't buy a bottle but in my next visit I most definitely will, same as the brandy, it is by far the best brandy I've had.  On a more serious note, the gin, we bought two bottles, the clear and the amber, I regret not buying the yellow.  All three are unique in flavour and easily drunk neat or the usual tonic water.  The white goes with grapefruit, yellow with lemon or lime and amber with orange or citrus.  Next time I'm even close to the neighbourhood Inverroche will be on my list…..I'd happily make a major detour to go there and if I find it on the shelf it'll be in my basket in a flash!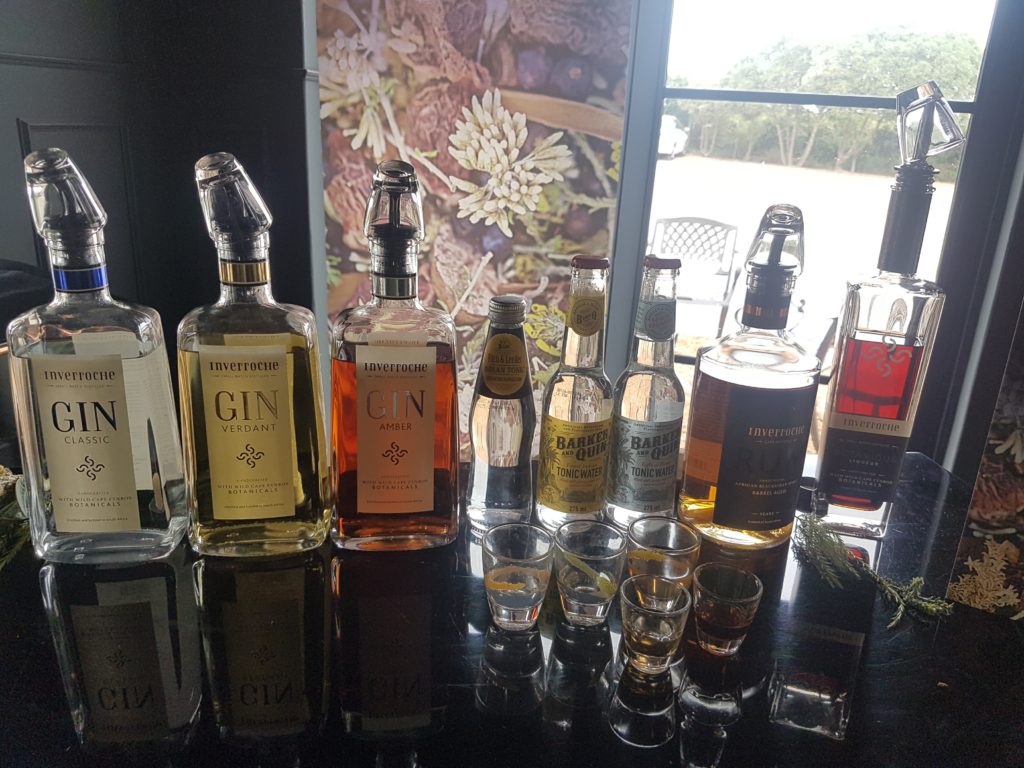 What a way to start the trip, a milkshake followed by gin, our next stop Jongersfontein. The place we stayed at was in Airbnb, sleeps 6, self-containing, large kitchen, lounge and huge balcony – out of season it's a steel at R600 (about £45), not a swanky place but lots of space, very clean the views are spectacular and you couldn't get any closer to the beach. 
Jongersfontein
It's is about 10km from its more well-known neighbour Still Bay / Stilbaai, both great holiday destinations for R&R; little town centre with all amenities, attractive little shops with everything you could want – if you are looking for a thriving nightlife this is not the destination for you, we did go out of season so things may differ then but I doubt it.  Why would you go there?  As I said, if you want some quality R&R, beach walks, sun tanning, swimming (the sea was surprisingly warm) or just reading a book in the sun to a backdrop of splendid white sandy beaches then you will not go wrong heading to either.  As the location is away from the larger towns and cities you regularly get a glimpse of wildlife coming into the gardens like Small Grysbok Antelope (translates to small grey antelope), various birds of prey and many little tortoises – if driving there please be careful as many get run over.  The breaches are extremely well maintained including footpaths which wind along the scrub from one beach to the next, if you keep an eye out you will may get the see some of the very cure Rock Dassies (Rock Hydrax in English….I think).  Out of season the museum was closed, pity