Moving into Old Quarter Hanoi had nothing to do with my homestay, they were fantastic, I wanted to be in the thick of it, that means Old Quarter Hanoi.  I had been at the homestay for 3 nights which gave me two full days of sightseeing, my new hotel was Mai Charming Hotel and Spa.  Lots of hotels have a "spa", nothing fancy nor what I would call a "spa", it normally means they do massages, waxing etc. I chose it because of the price and location, slap bang in the middle of Old Quarter Hanoi, perfect.
Something I forgot to mention in my previous post (Hanoi, cauldron overflowing with charisma) was the weather.  Although overcast and murky on most days, it wasn't cold, with a few days having a light drizzle even a few heavy rains during the evening.  Even so, I wore shorts and a t-shirt just about the whole time, only needing my fleece on two evenings.  Even though the sun wasn't out during most of the days, it stayed hot and muggy, fine for traipsing about the city but not so great for photos.
Old Quarter Hanoi
Think of Bangkok's busiest area, then condense it, add more people and scooters, a less well-off and heaps more charm, that's the easiest way to describe Old Quarter Hanoi.  You could explore the area till the soles of your shoes wore through and you'd still only see a fraction.  It's not because it's so big, it covers a reasonable area, no, the reason is the mesh of roads of varying width and what seems like hundreds (exaggeration) of alleyways, added to that, every centimeter is used for something.  Example, what I assume would have been an entrance passage to an old house is now a clothing store, where if you walked straight instead of sideways, your shoulders would brush both sides of the clothing hanging up.  So many of the "restaurants" are so tiny they only have seating for 5 or 6 people, the rest side on the pavement.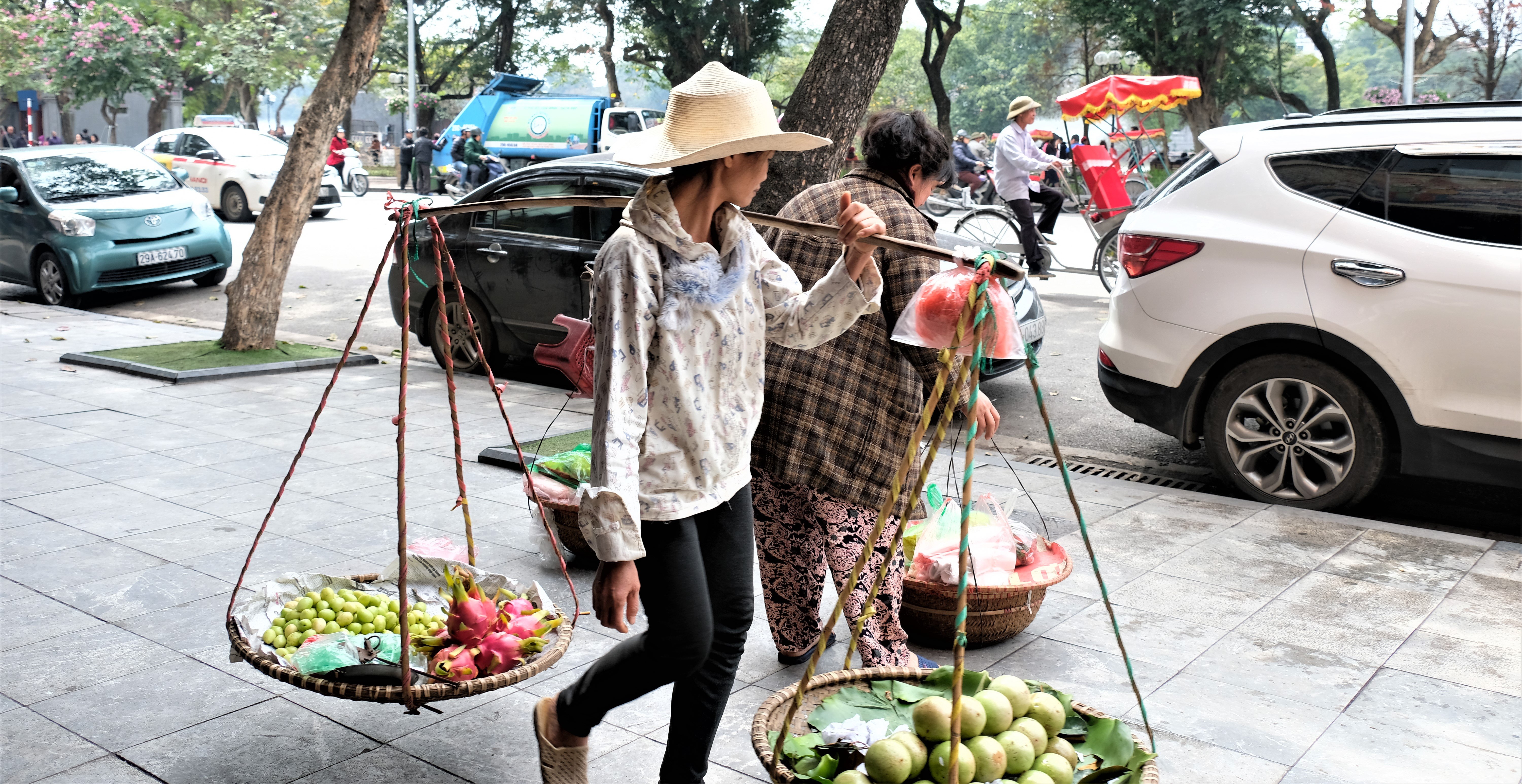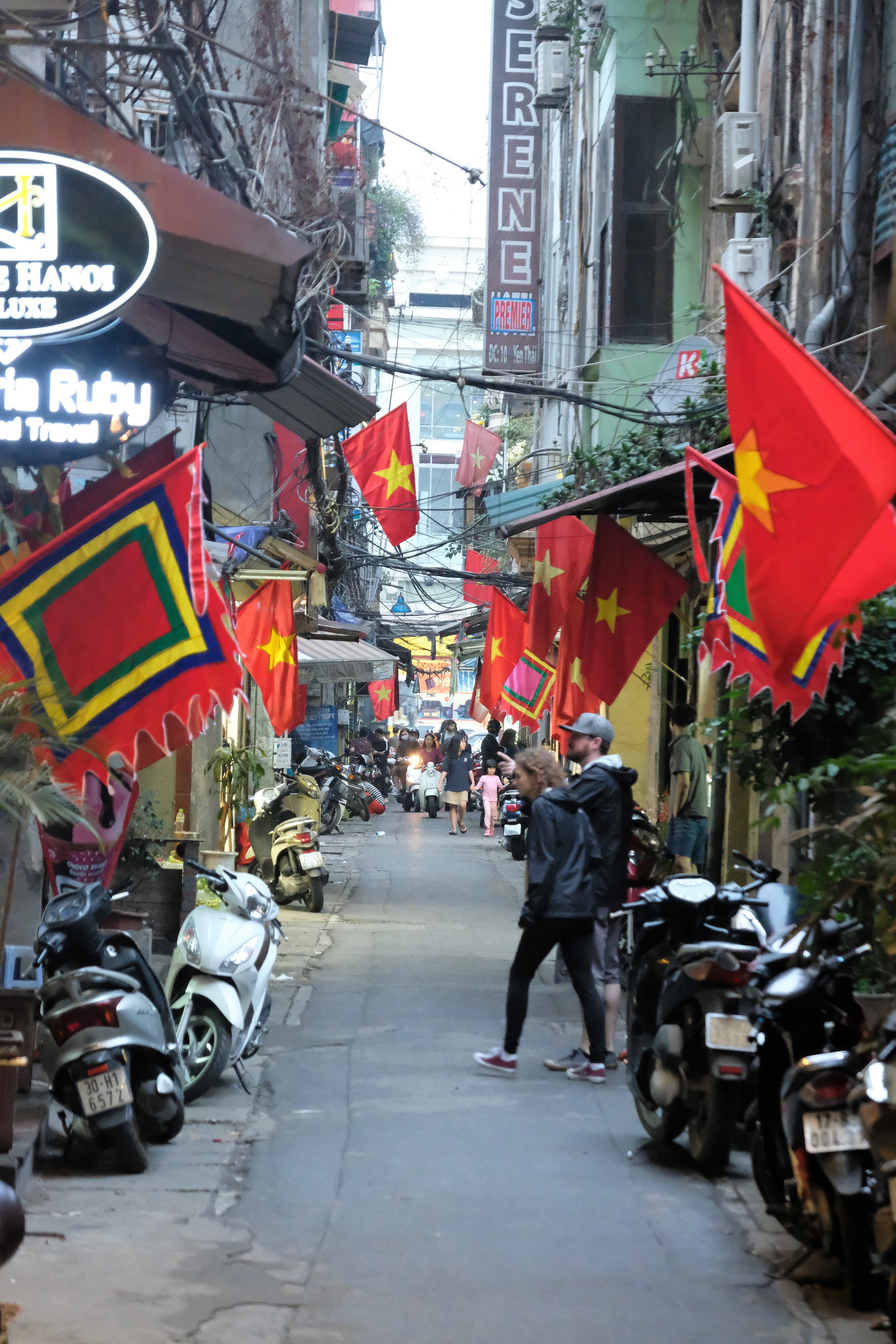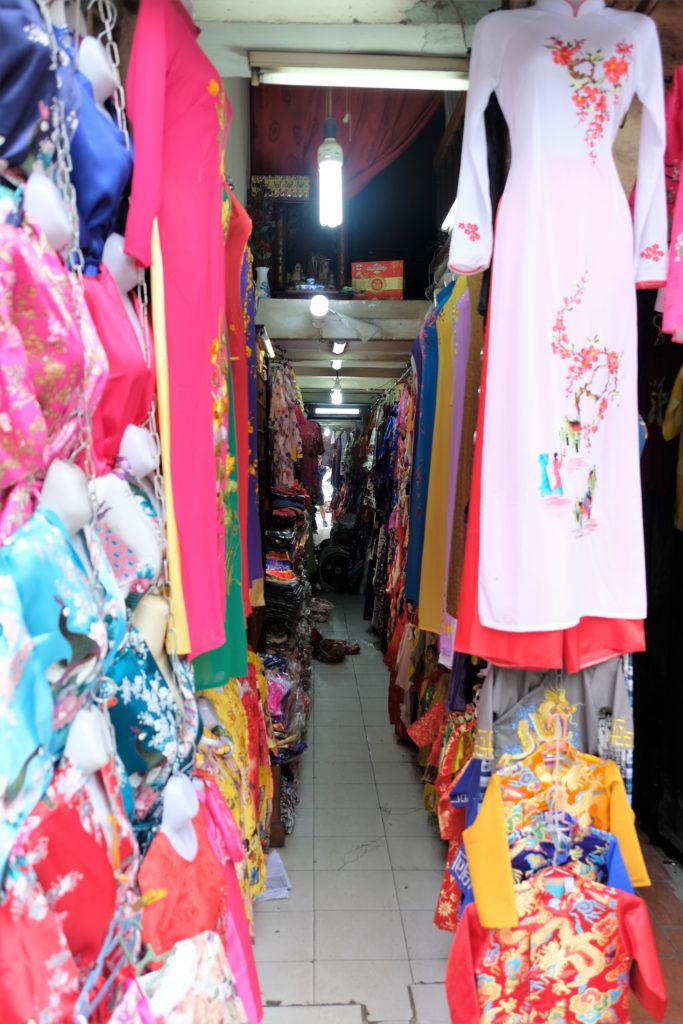 Mixed between high-fashion brands is an array of colourful stores selling everything, I mean absolutely everything.  Describing Old Quarter Hanoi as vibrant is an understatement, with the buzz of people punctuated with a backdrop of noise, colourful stores and the smell of delicious food wafting through the air.  Of course, there are many knock-off clothing stores, especially outdoor brands but they are outnumbered by the craft stores from paintings to pottery, the latter of very high standards.  There is no uniformity, I walked past an exclusive whisky store (very high-end) tucked in the middle of nowhere.  The only part within Old Quarter which is a little familiar i.e. well-known coffee franchise and Western'esque feel, is just in front of St Joseph Cathedral on Nha Tho road.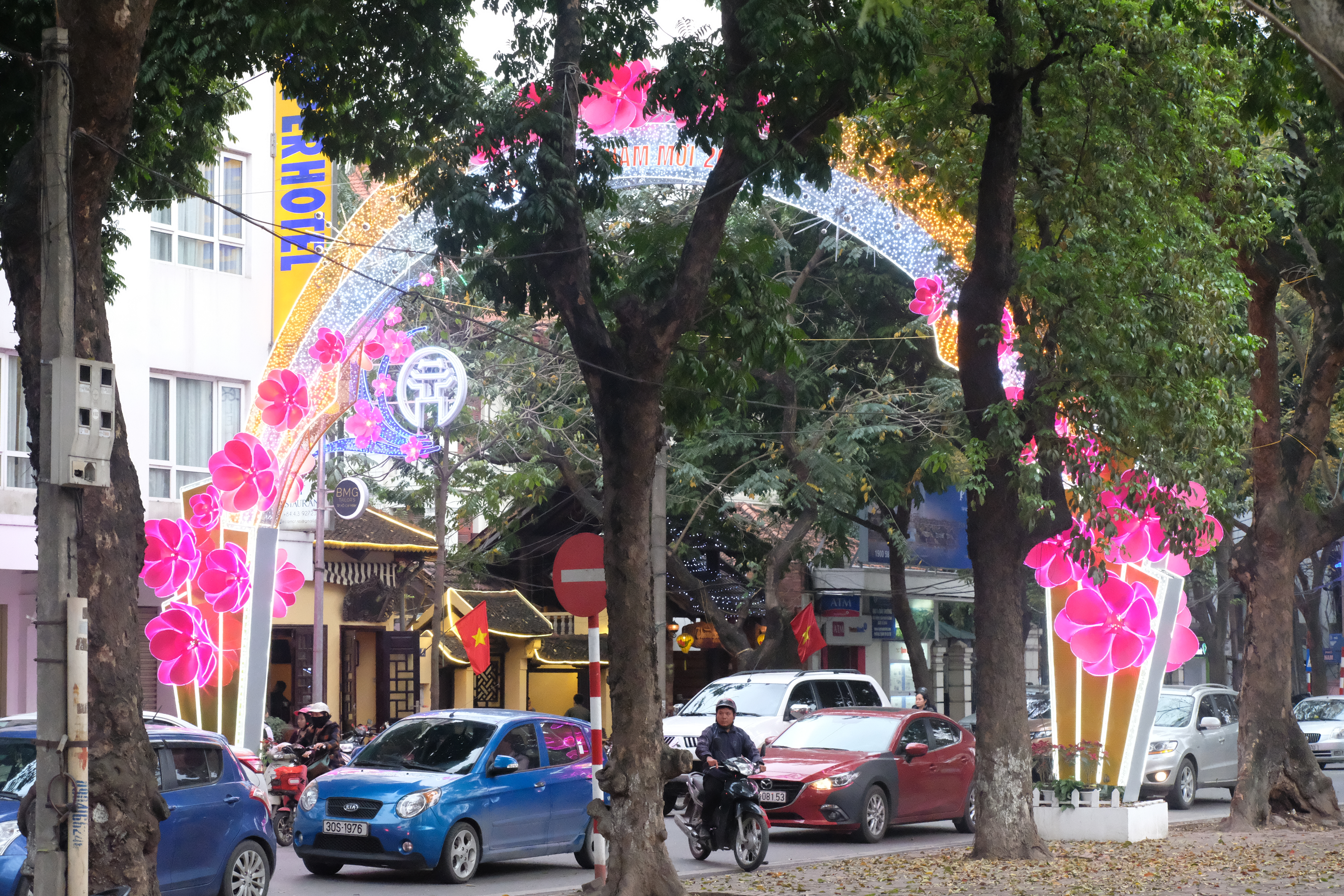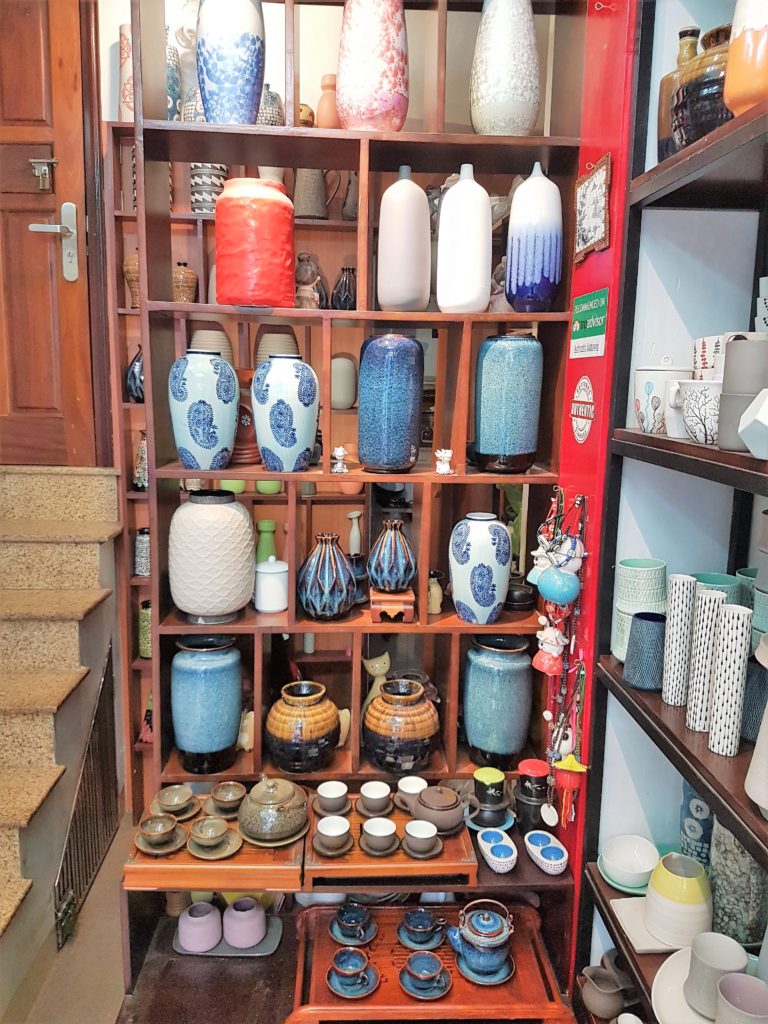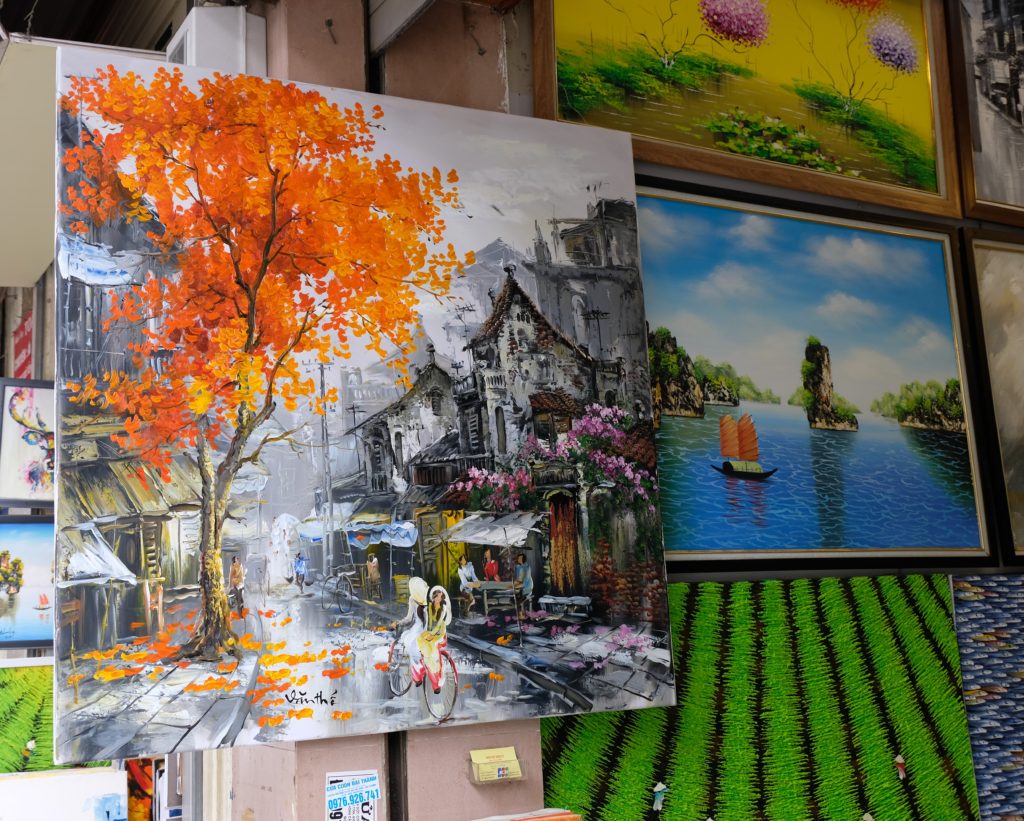 Hanoi Food
Not having much choice for food by my homestay, moving to Old Quarter Hanoi was a double edge sword; with so much to choose from it was difficult to choose.  I tried to eat at a different place every timey, only eating at the same place twice.  To confess, my first meal in Old Quarter Hanoi was at a upscale restaurant, great food but for the price no worth it considering the great eating street food you can get at a fraction of the price.  Even the little restaurant/stalls, the food may not look flash, but they are full of flavour and gives you a much better experience to every day like of residence of the city.  My fear for want of a better word of eating street food had long past, since my first few days in Bangkok.  There were many times in Hanoi that the food may not have look very appetising, only to be proved wrong once I taste it. I can honestly say there was nothing I ate that I would go back to tomorrow to eat again.  Vietnamese food throughout my time in the country grew on me, I really like the variety, simplicity and mixtures of flavour.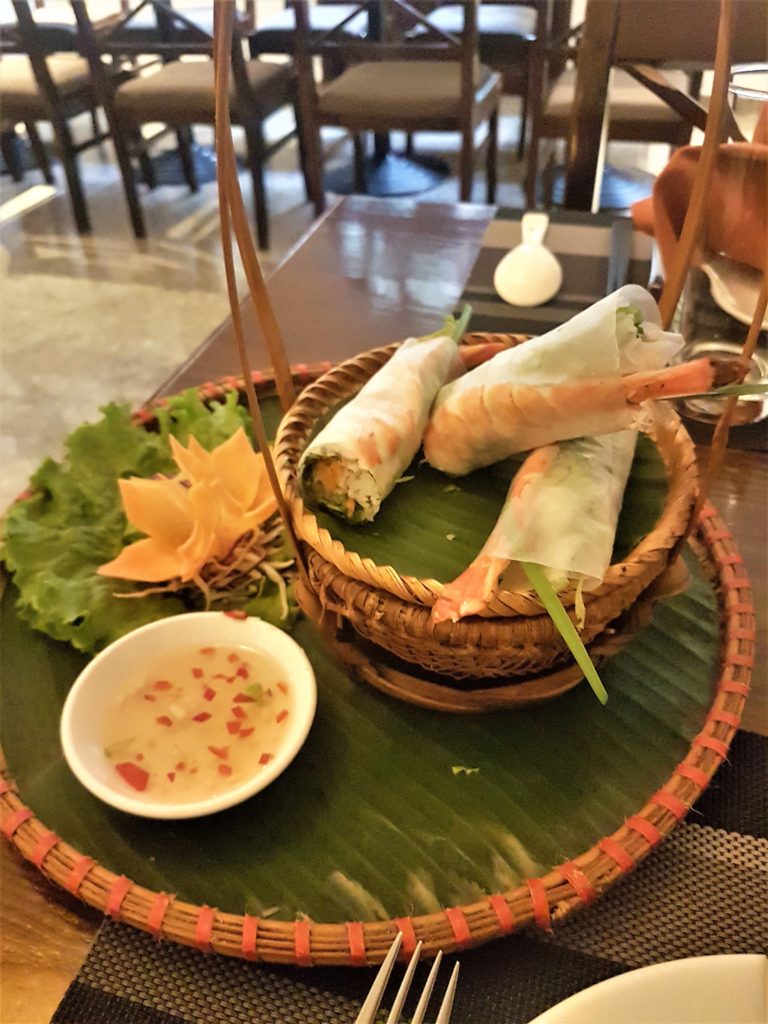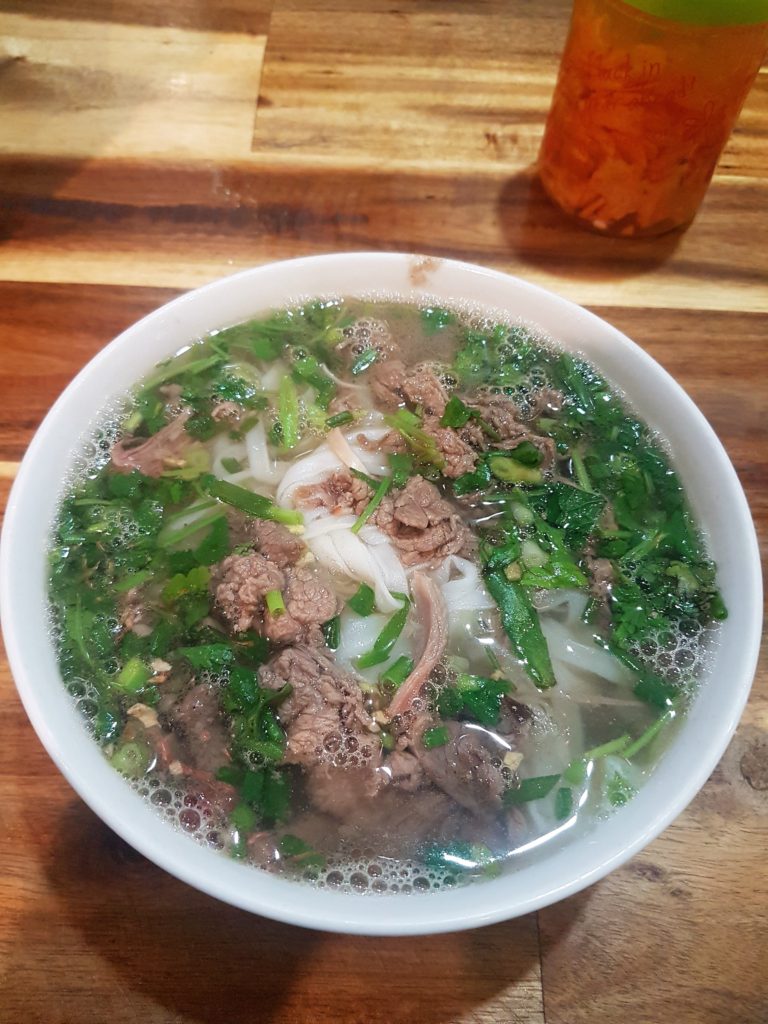 A stupid yet obvious observation to say, if you don't eat properly whilst travelling it eventually comes back to bite you in the ass, with lack of energy and motivation…for me that includes bad headaches, if I don't drink enough water too then migraines.  So, no matter where I go I make sure I eat properly, luckily Hanoi have fantastic food, for long trips I try keep at least one banana (or fruit) and always some nuts to snack on to take the edge away.  As much as I hate to admit it, I was rather pedantic at my house in London when it comes to cleanliness, I had to become flexible with my stance on that as soon as I started travelling – except for a little hiccup in Koh Phangan I have had no problems whatsoever – going make to my "mantra" Learn, Explore and Expand your being…I'm trying hard to do all.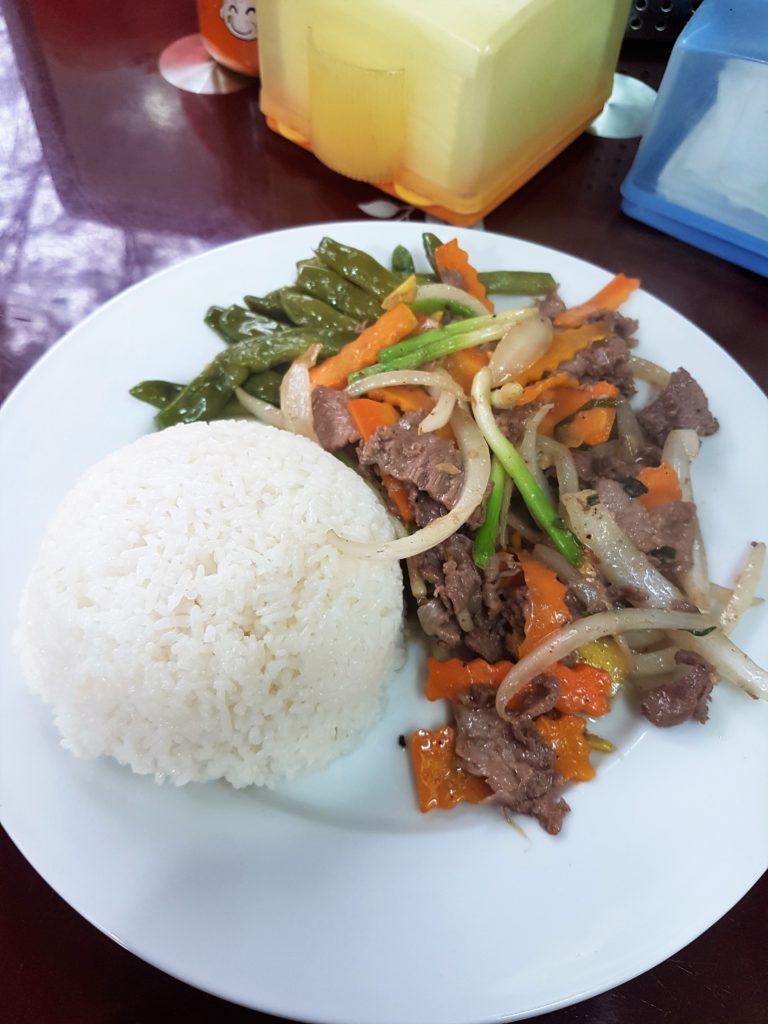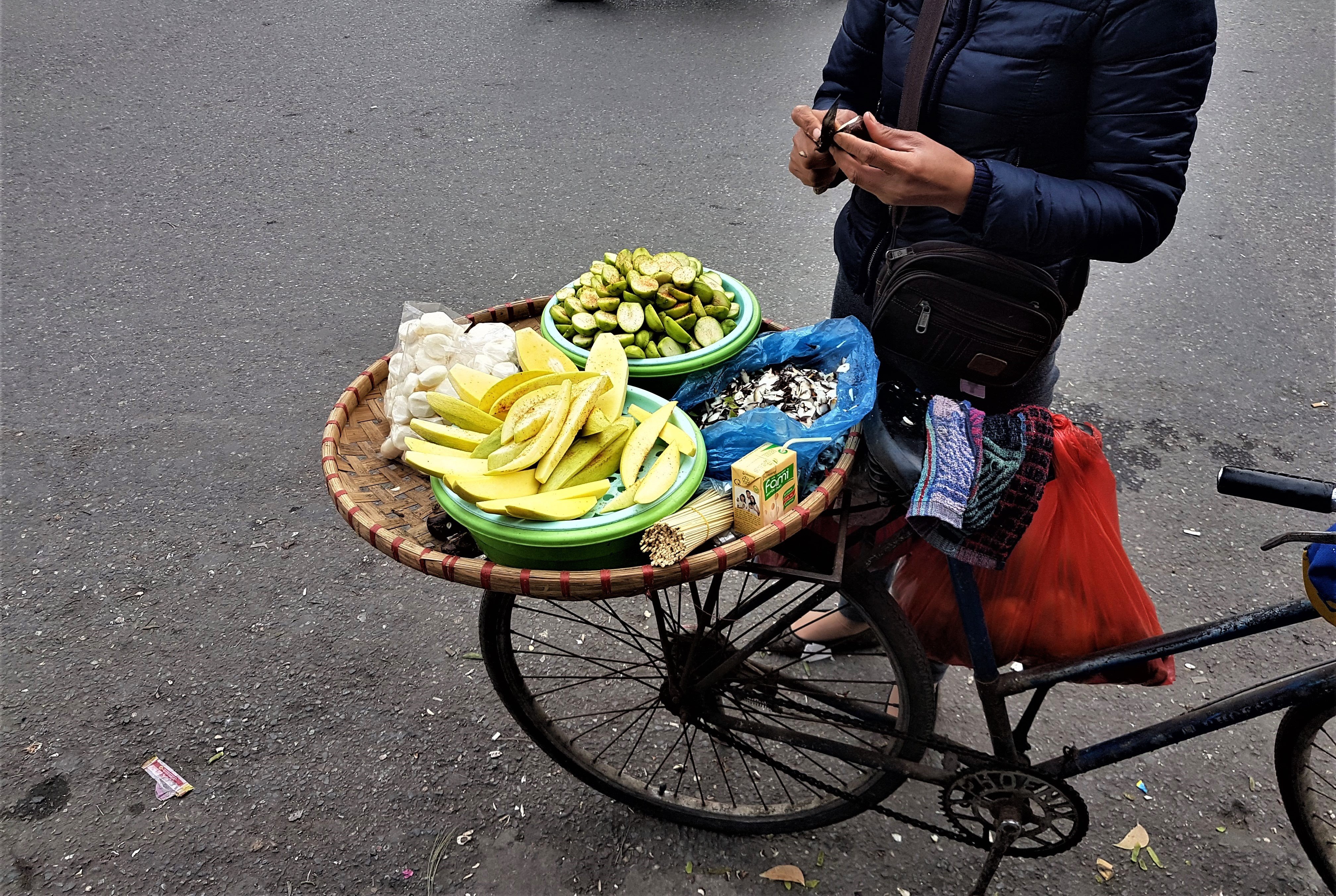 Temple of the Jade Mountain
I had walked around quite a bit on my second day in Old Quarter Hanoi, I'll get to why I didn't do much on my first later.  Throughout Vietnam, there are streams, rivers, dames and lakes everywhere, in Hanoi that is no different.  Hoan Kiem Lake is one of the bigger lakes in the city, with the Temple of the Jade Mountain located on the lake access by a red footbridge.  For such a prominent location I was surprised I could find much information about it, it is dedicated to Confucianism, Taoism and Trần Hưng Đạo the latter a 13th century war hero, the mix of these three is odd in itself!  It was built in the 18th century with repairs done in the mid-19th century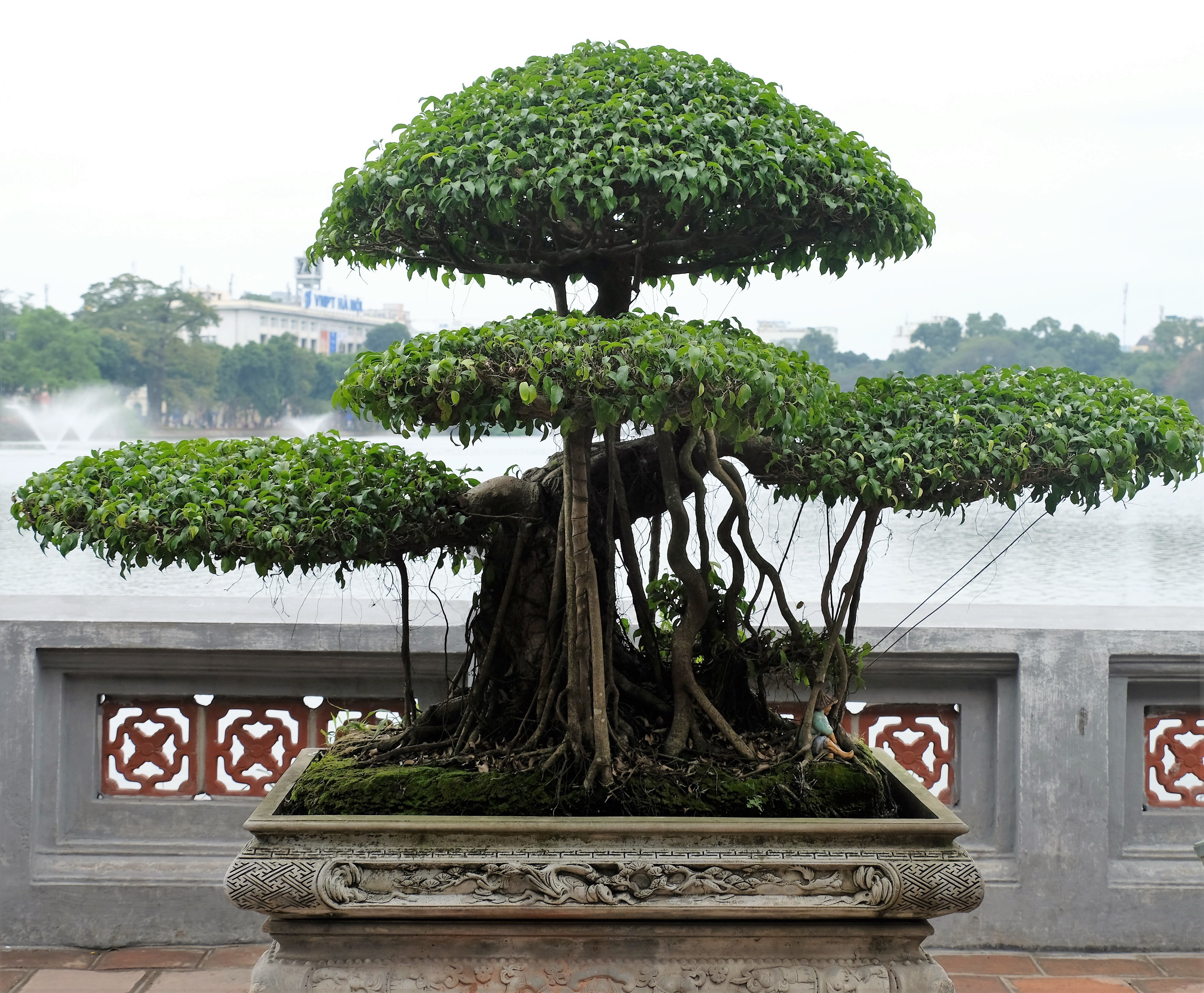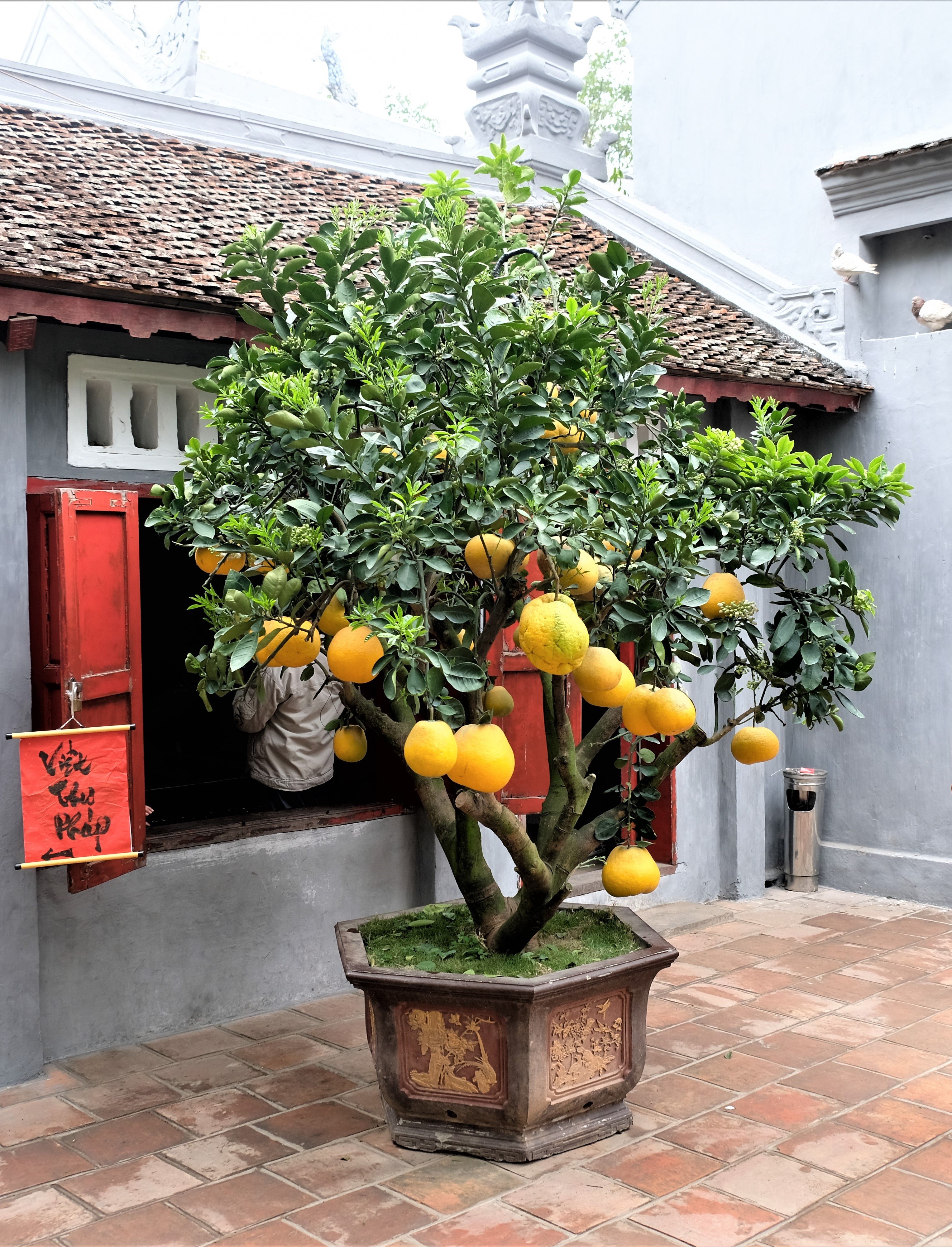 Wondering around the Temple of the Jade Mountain, I didn't go in, gives you some fabulous views of the city even though the muggy murky sky gave a blanket of haze.  The island trees have taken a life of their own, the very opposite to the potted trees that resemble bonsais, so perfect some of them don't seem real.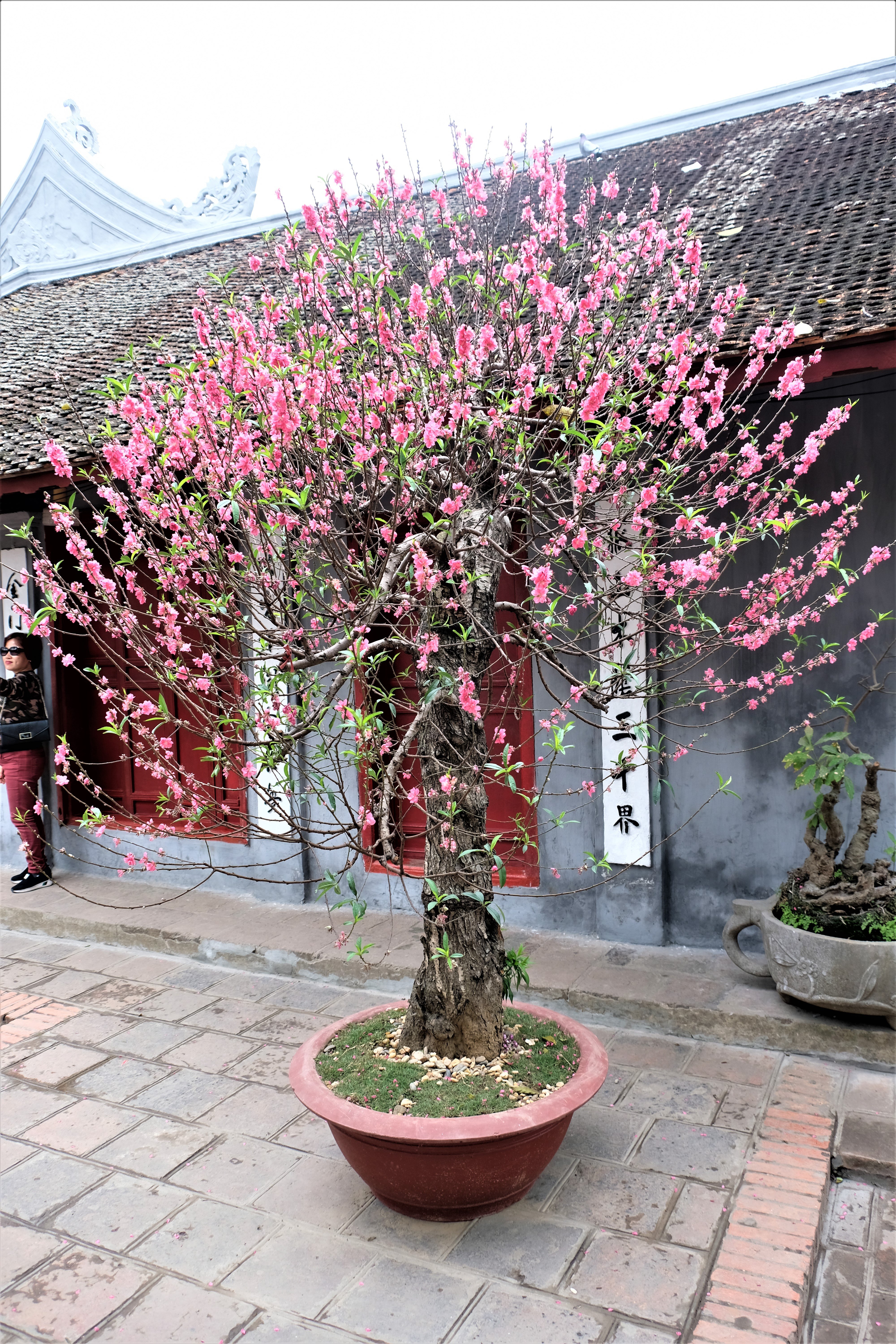 Hoan Kiem Lake
Itself has an interesting story, Hồ Hoàn Kiếm meaning "Lake of the Returned Sword" or "Lake of the Restored Sword", very similar to the Lady of the Lake story of King Arthur, only this time the lady is a golden turtle.  The lake's name was changed by Emperor Lê Lợi to honour and thank the God as he used to sword to conquer the invading Ming Chinese.  I haven't been able to find out when the lake was built but seems there has been a lake in the area since the 15th century at least.  On the other end of the lake is Turtle Tower, this was built circa 17th-18th and is linked to this folklore.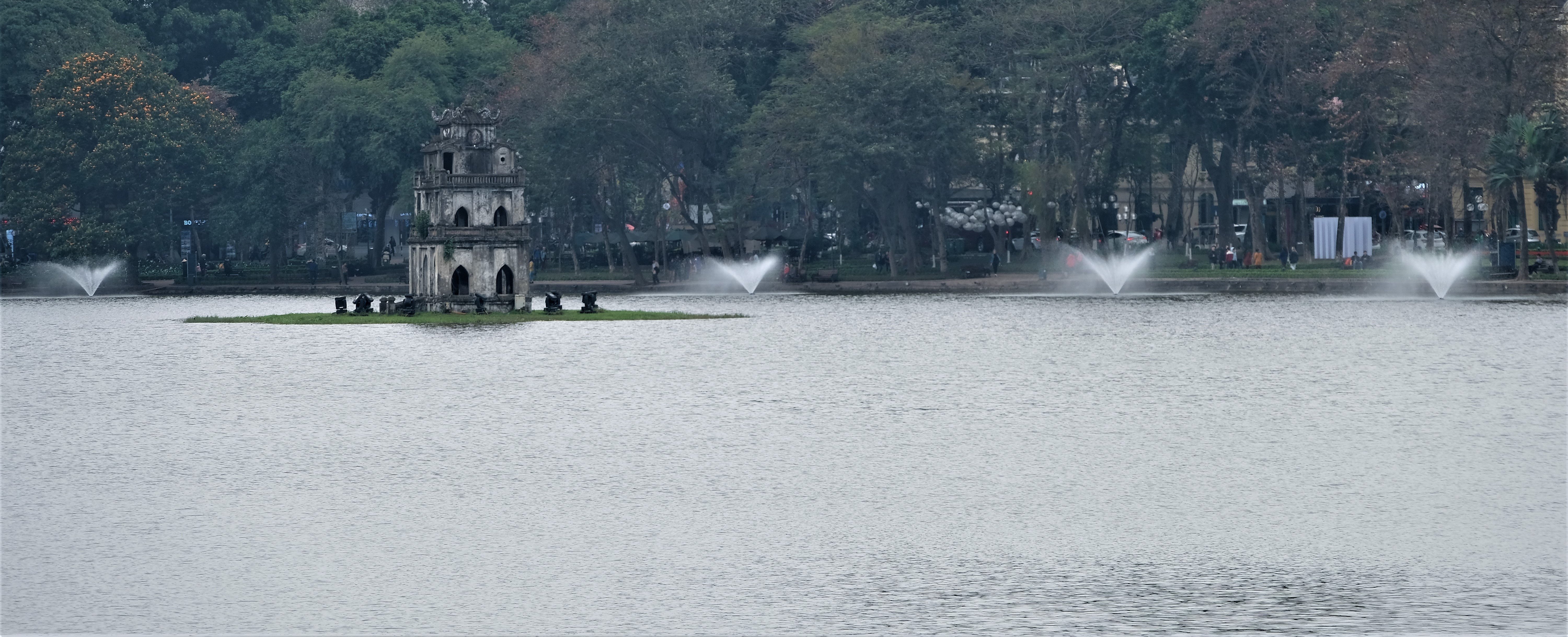 Thang Long Water Puppet Theatre
Water Puppet show, never heard of it, let alone Thang Long Water Puppet Theatre! Never knew there was anything like water puppet shows nor Hanoi being famous for it.  I heard lots of people mention it, with my first day in Old Quarter Hanoi having heavy rain I had cabin fever, at least I got to catch up on some writing.  Next morning was spent exploring the area and took the late afternoon show.  Terrific location for the theatre right across from Hoan Kiem Lake very near to the Temple of the Jade Mountain, I had no idea what I was going to see, at worst it was only a 45-minute show so why not. I'd later find out that Thang Long Water Puppet Theatre is the most famous of its kind, not just in Vietnam but throughout SE Asian.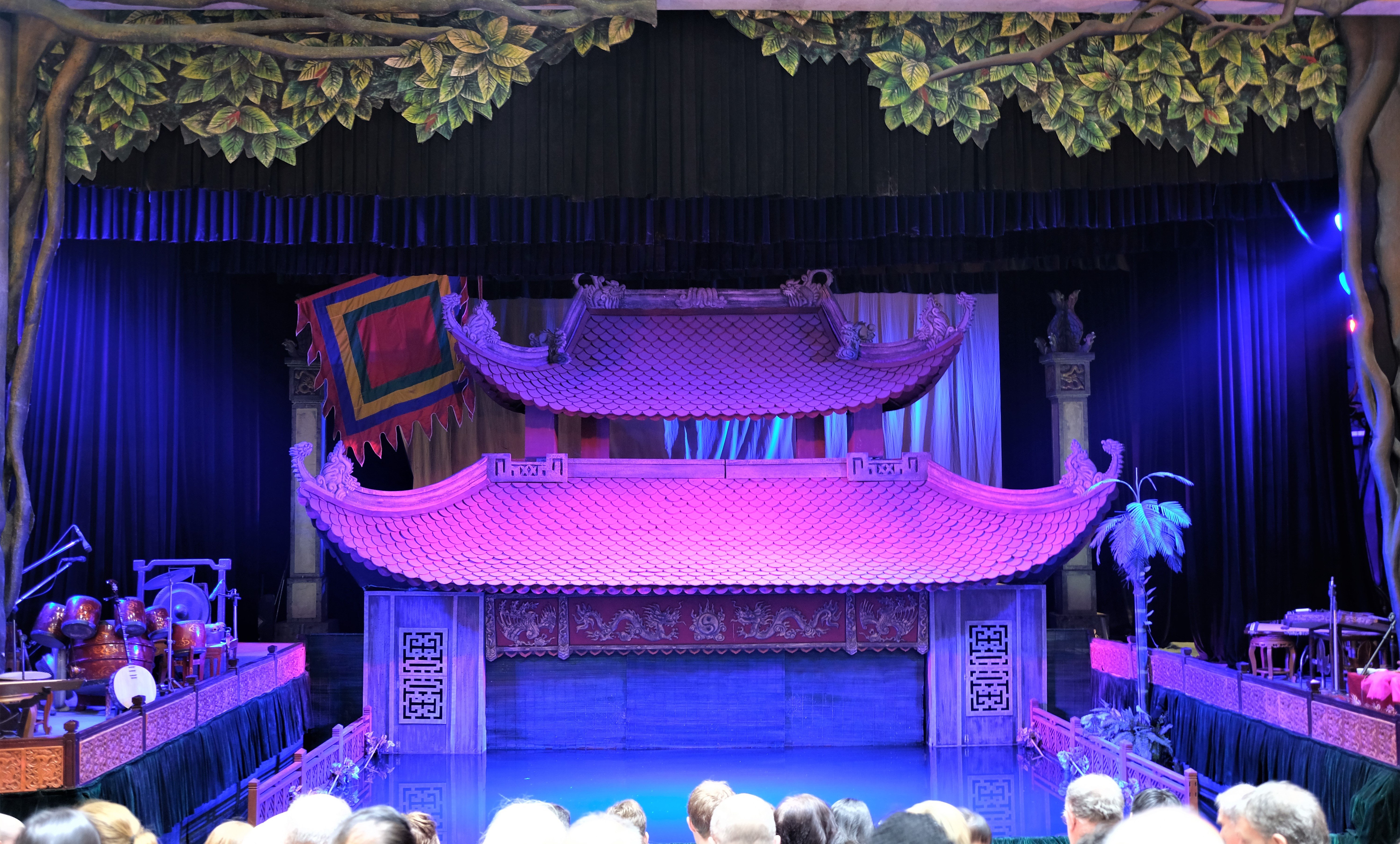 Well, what an entertaining show which mixes theatre, music, myth and legend in a style unique to Vietnam.  The tradition of Water Puppetry dates back to the 11th century, in Vietnamese they call it Múa rối nước (I have no idea how that is pronounces! ?) which translates to "making puppets dance on water", and that is exactly what they do.  Without getting too descriptive, there is a pond for a stage about waist deep, the puppeteers hide behind the curtain at the back of the pond.  The puppets are attached to a rod (I guess) that stays hidden in the water and controlled by the puppeteers, sounds simple, that's what I thought.  Not at all, some puppets have articulating arms, there are water spouting sea serpents, magic turtle misting the water, phoenixes, fire breathing dragons along with everyday scenes from catching fish to planting rice, it was a great show, every interesting and an experience I've never heard of or know of another country that has it. To summaries, I'd go watch another water puppet show if I had the opportunity…and I did when I visited Hoi An later during my time in Vietnam.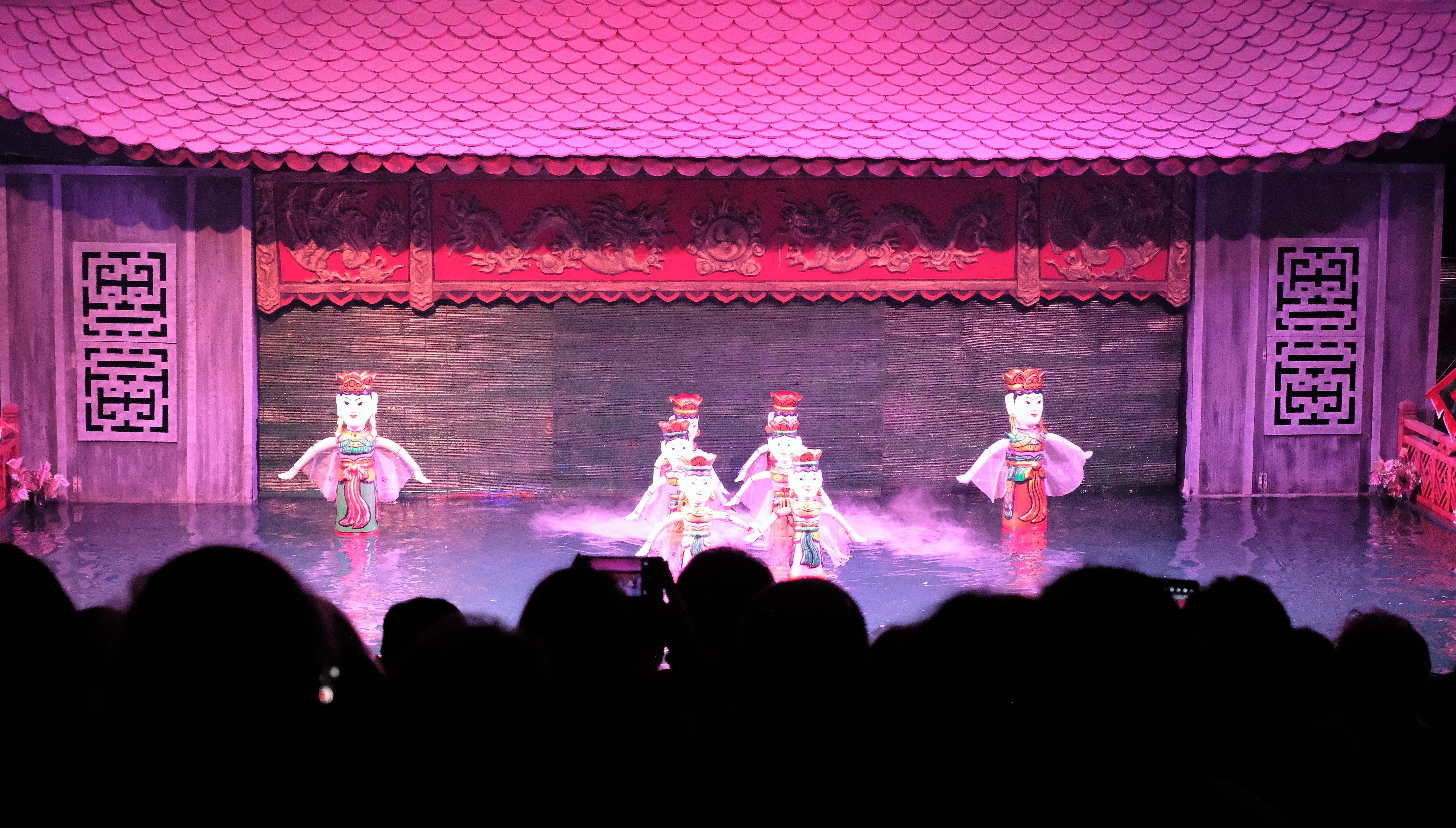 The next day started off much the same, it may sound crazy but I just walked around, up and down roads into areas I had not been, even revisiting the same areas.  I headed towards the Thang Long Water Puppet Theatre, just up the road I found and intersection that to a degree reflects my thoughts on Western brands arriving into Vietnam.  What is quite a stylish building, now plastered with advertising, what a pity!  Vietnamese food is great, why they hell would they want some rubbish burgers etc!  Along my surveying of the city I came across a road running parallel to a raised train line on Phung Hung Street, under the arches were painted frescos of various scenes, many of Vietnamese life from city to countryside.  I'd classify it as organised street art, they were painted in celebration for the Lunar New Year, Tet in Vietnamese – these paintings have become quite an attraction for the locals.  I love urban/street/graffiti art, what I found intriguingly interesting was how the locals were interacting with the art; where as in most other countries I've seen people take pictures of the art, not always, but here most people were taking photo's to be a part of the pictures.  As if taking the pictures as if they were in the countryside or part of the actual picture.  Nothing wrong with that, I just found it interesting how culturally different they were interacting with these paintings.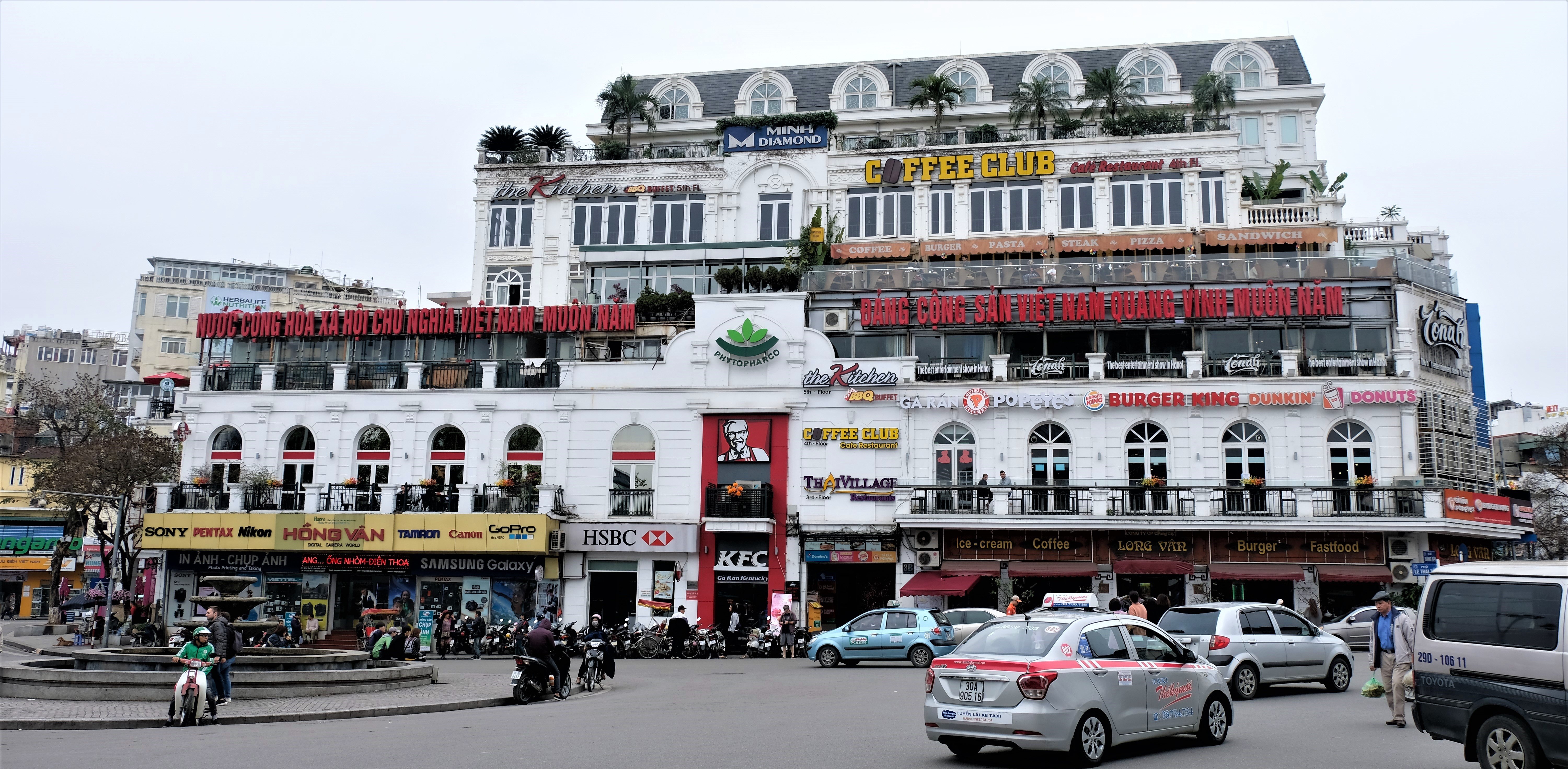 NB. Before I carry on with my story I wanted to mention about using my mobile/cell phone:
Mobile phone reception is quite good in Vietnam (at least where I went) and in Hanoi especially.  With the road names not being clearly signed compounded by their density and the myriad alleyway roads it is easy to get lost and disorientated, so getting a PAYG (pay as you go) sim card is in my opinion essential so you can use the maps on your phone – I used Google Maps and it was perfect. Converting back into British Pounds it was very cheap; I can't remember the exact prices, but I bought a Viettel sim with a few gig data and cost me around £5-8 – I used it heavily throughout my two weeks in Vietnam without topping it up.

You can get sim cards everywhere, I got mine at a large phone/electronics store in the middle of Old Quarter Hanoi, it took about 10—15 minutes at most to get everything up and running.  I'm quite reticent to use little corner stores that sell everything including the kitchen sink to buy sims, but that's just me.
Hanoi Street Train
Scouring travel blogs, I read about a street in Hanoi where a train runs through a neighbourhood so close to the houses that you can touch it (definitely not recommended!).  I found the location easily, very much in the heart of Hanoi, just a little on the outskirts of Old Quarter Hanoi – from my hotel less than 10minute slow walk.  The first time I got there I had just missed the train, I got there just before 16:00 as I was told the train comes past at 16:00, wrong.
Even during daylight, it doesn't take much imagination to see how close the train tracks are from the houses.  Running through this residential area twice a day there is about 2m either side of the tracks before the backdoor "porch" of the houses begins, these themselves vary in width, with widest 1.5m max.  All the residence belongings outside are packed against the properties, the following evening I'd experience first hand just how close the train passes through.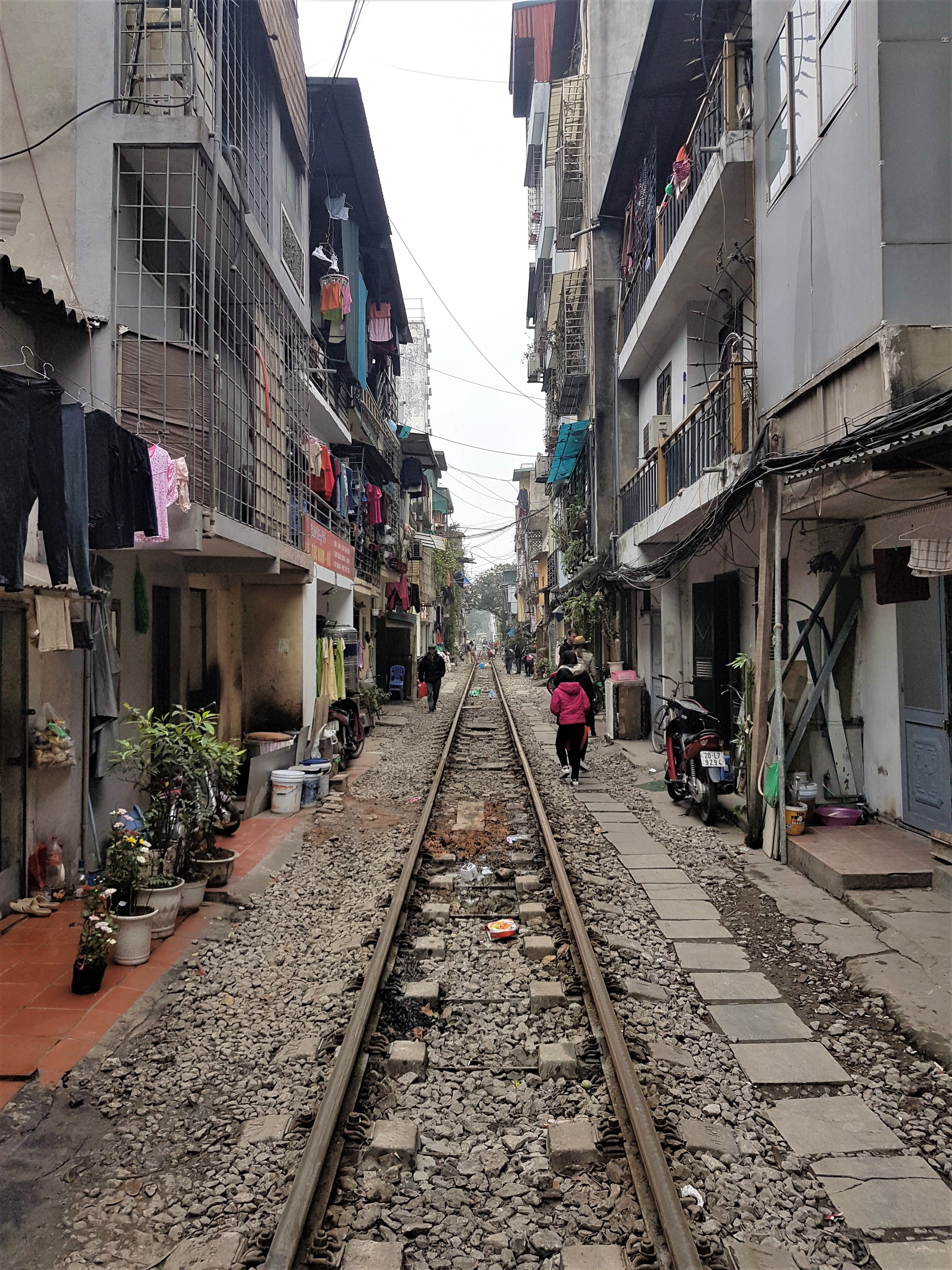 For anyone planning on going to see the Hanoi street train, here are some help points:
The most common and easiest location to see the train is near where Tran Phu and Ha Trung streets meet

The train is scheduled to pass through at 15:30 and 19:30

It often runs late, for me it was 30 minutes late.

It goes faster than I thought it would – don't try to touch it when it does, guaranteed to hurt or injure
The next evening, I arrived just after 19:00, like I mentioned above it arrived 30 minutes late, so I killed the time pretending to act like a professional photographer clicking away.  Hmmm, some pictures came out ok, many not – still learning how to fully utilise my Fujifilm X-T2….with little success and more frustration (it's the user's fault not the camera ?)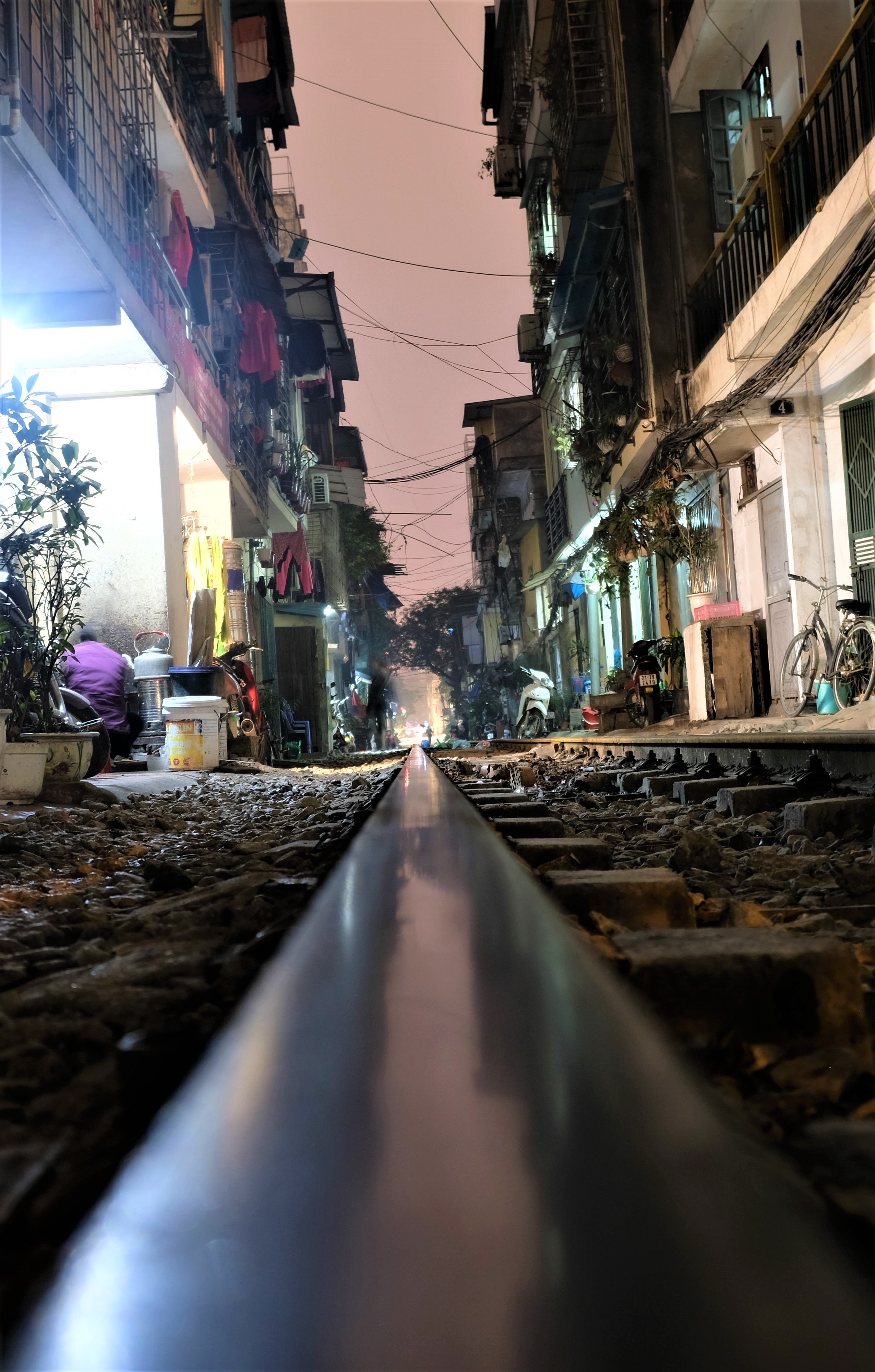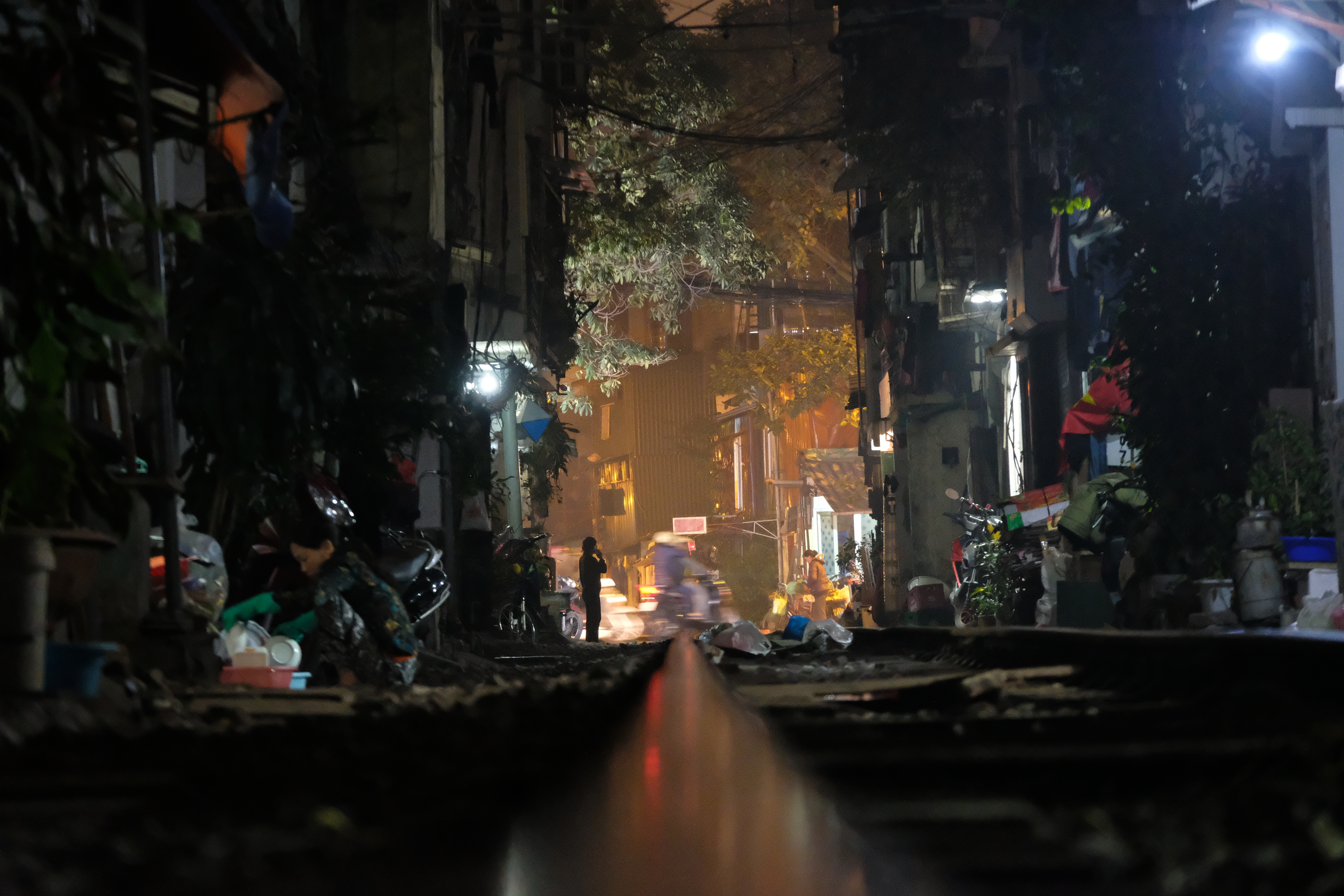 Finally, the train arrived, it's a bloody big train!  I'm used to trains living in London, this is one of those older types of trains (the horse more like a freight train), it seems even bigger as you stand on ground level, obviously there is no platform.  It motors past at what speed I don't know, I recon between 40-50km/hr.  Only once the train arrives do you really appreciate how close to the houses it passes, it must be near 4m high too!  As quickly as it arrives it goes by just as quickly, like nothing had ever happened the residence come back outside to carry on with their daily routine.  This is an odd "tourist attraction", to me it just reinforced how densely populated the city is and how it has grown organically whilst adapting to its needs.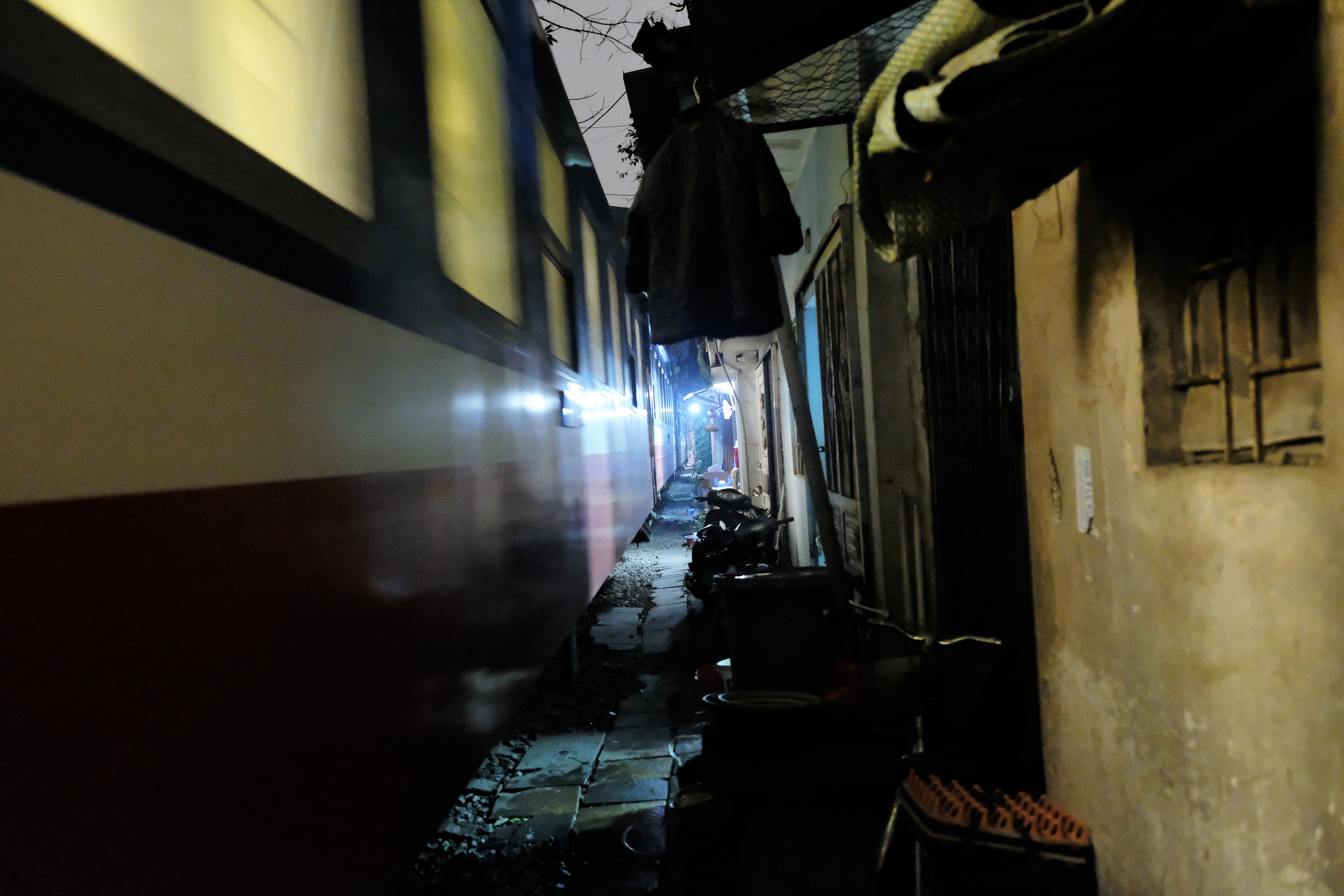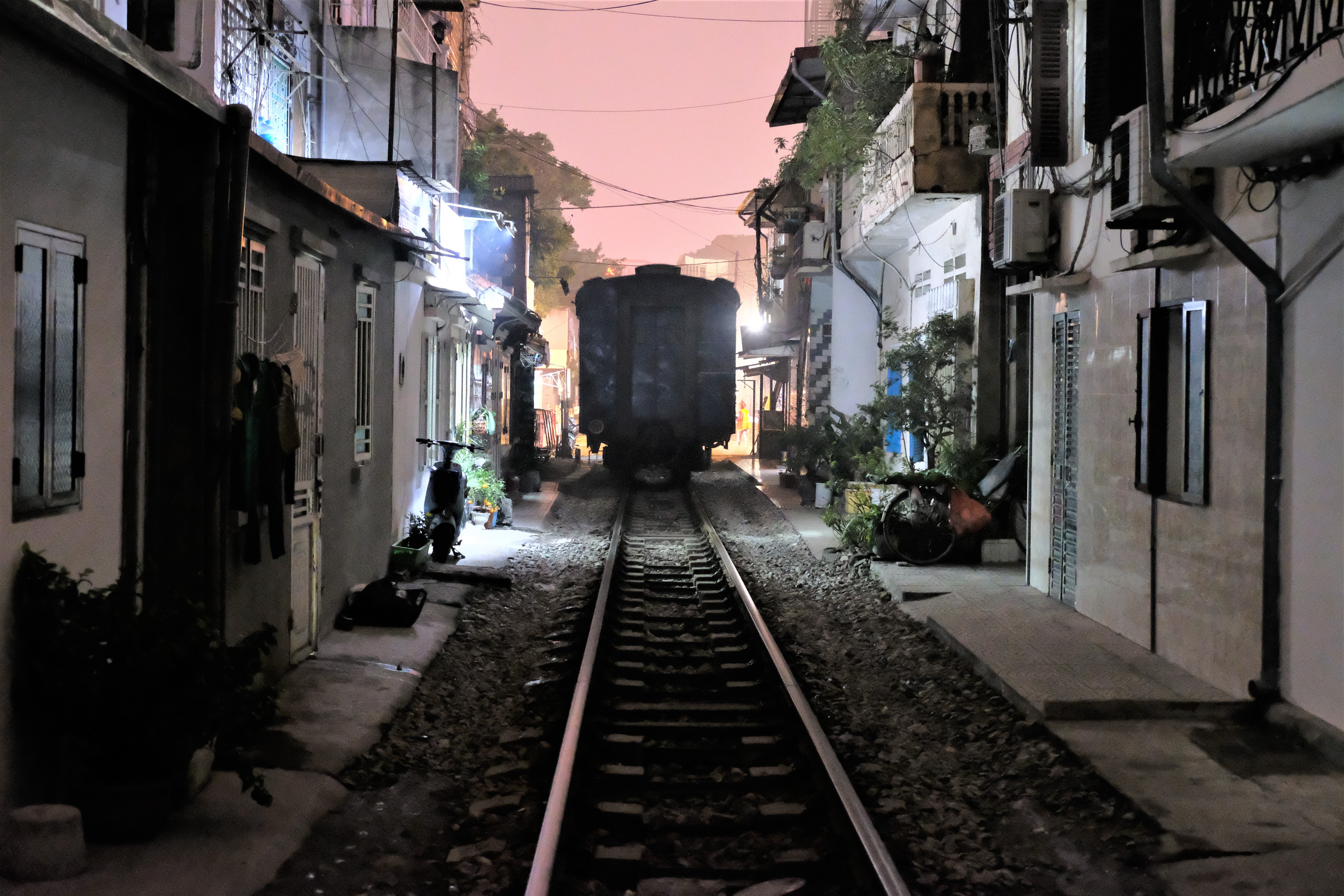 If I think to how some other countries are (my adult experiences are dominated by living in London), this sort of thing wouldn't be allowed for a hundred of reasons, health & safety would have a heart attack!  Here common-sense with the economic drive of a capitol city (no doubt money plays a part too), the inhabitants are not concerned with this minor inconvenience, no, they've adapted to it and no doubt have other more pressing issues in life to worry about – not a bad lesson to take through in life.
St Joseph Cathedral
After the delayed Hanoi Street Train my stomach was calling me for attention.  I headed back into the hub of Old Quarter Hanoi to get some dinner, finding a hostel with a terraced rooftop restaurant overlooking St Joseph Cathedral – a central point for tourists, hostels, homestays etc. etc.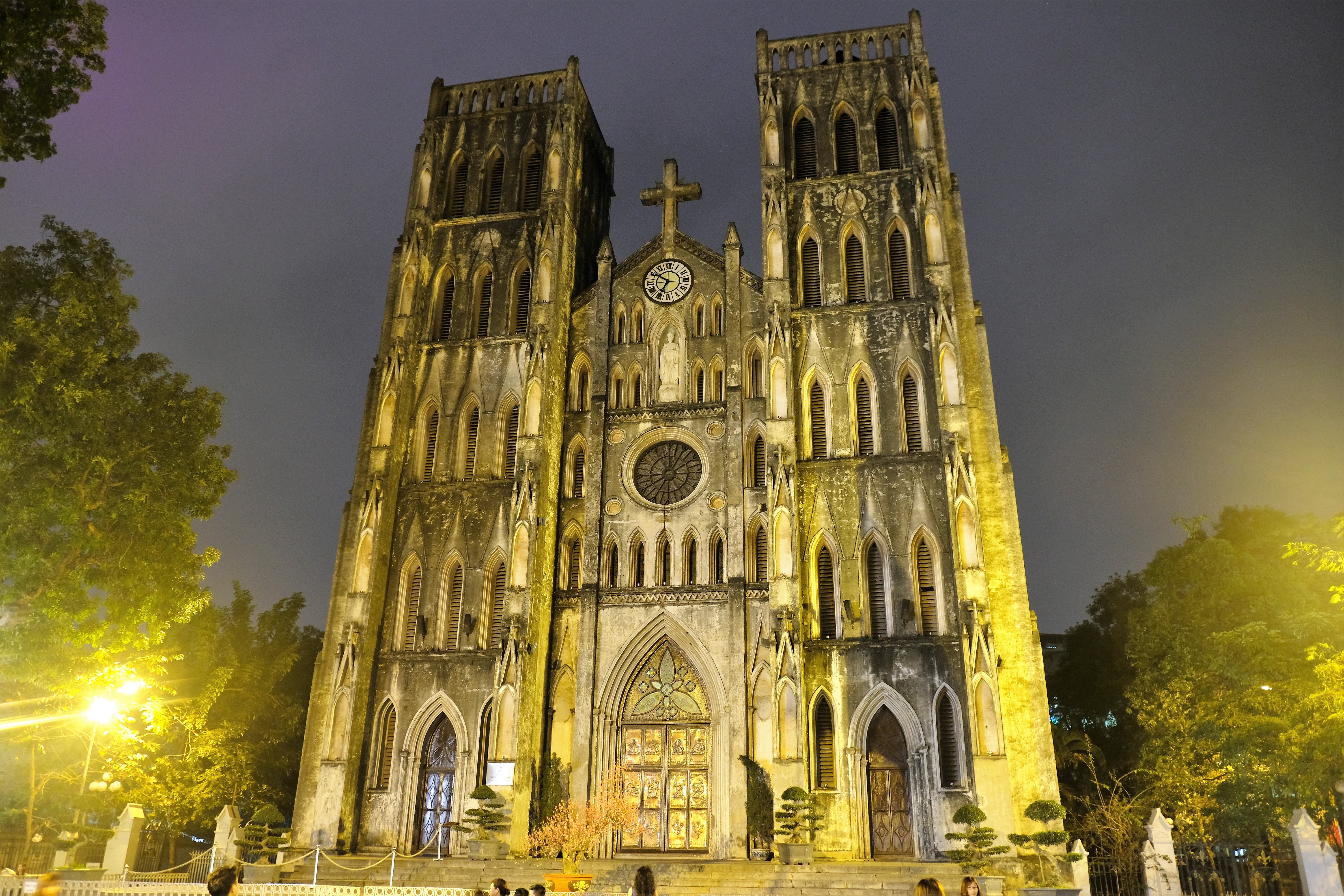 A great example of Gothic Revival, it's made to look even more gothic with the pollution stained concrete.  Reminiscent of Notre Dame on a much smaller scale, it was built in the late 19th Century when the French occupied Hanoi, it was completed in December 1886.  It has a checkered history.  An 11th temple pagoda was destroyed in order to build the cathedral, given, the pagoda was in a very bad state from its original glory at 80m high.  After the retaking of Hanoi by the Vietnamese (Viet Minh) circa. 1954, the government closed down the cathedral, it was reopened in 1990.
Taking a look back at my time in Hanoi (part 1 – Hanoi, cauldron overflowing with charisma) including what I have written in this post, I feel I have not done it justice.  Hanoi is a beautifully ugly city that is underrated in every respect, I wouldn't hesitate to visit it again.  Filled with friendly people, delicious food, tradition, religion, politics and colour, this is a city and people that against many setbacks have refused to give up.  Amongst the many deteriorating buildings, the city blooms with flowers, literally and figuratively, there is an effervescent undercurrent of positivity and determination.  From strolling through the streets like I did, I only touched the surface of what this city has to offer, so much more to learn and explore.
Tomorrow I would be heading to Bai Tu Long National Park, my time in Hanoi was sadly at an end.