Aswan was ending on a high and it wasn't done yet!  Jumping forwards before I continue, my contact at the travel agency Emmanuel (Don't know why it is called South Sinai Travel based in Aswan) turned out to be excellent what he meant by a personal 1-2-1 guide was that Mahmoud (who studied Egyptology and Tourism at University and a freelance tour guide) would accompany me from start to finish at every site!  The price included transport to and from the boat to the sites, site entrance fee too for the Temple of Kom Ombo, Temple of Esna, Valley of the Kings (entrance to 3 tombs, but not Tutankhamun – this is not included in the standard ticket for anyone), Mortuary Temple of Hatshepsut, Karnak Temple and Luxor Temple all with a very qualified and great guide. I thought I knew a lot but Mahmoud filled my brain with so much information that I could not take it all in, my fault for asking him so many questions.  I look back and feel guilty for my initial thoughts about Emmanuel and Mahmoud who unknowingly created some of my most memorable times in Egypt – Thank You.
The Nile Cruise was leaving Aswan in the afternoon leaving most of the morning free to explore.  A quick motorboat ride over the Nile to the East side of Aswan (the Nubian side of Aswan) near the bottom of the mausoleum of Aga Khan (Aga Khan III – Sir Sultan Muhammed Shah).  Unless invited by the Aga Khan foundation it is closed to the public.  As a mausoleum it stands secluded and proud on the crest of the hill and visible from most of Aswan.  Built of pink limestone and white marble inside, it was built by Aga Khan's wife where he was buried two years after his death.  A poignant custom still observed today is a red rose being placed on Aga Khan's tomb every day, a continuation of a custom Aga Khan's wife did whilst she was alive.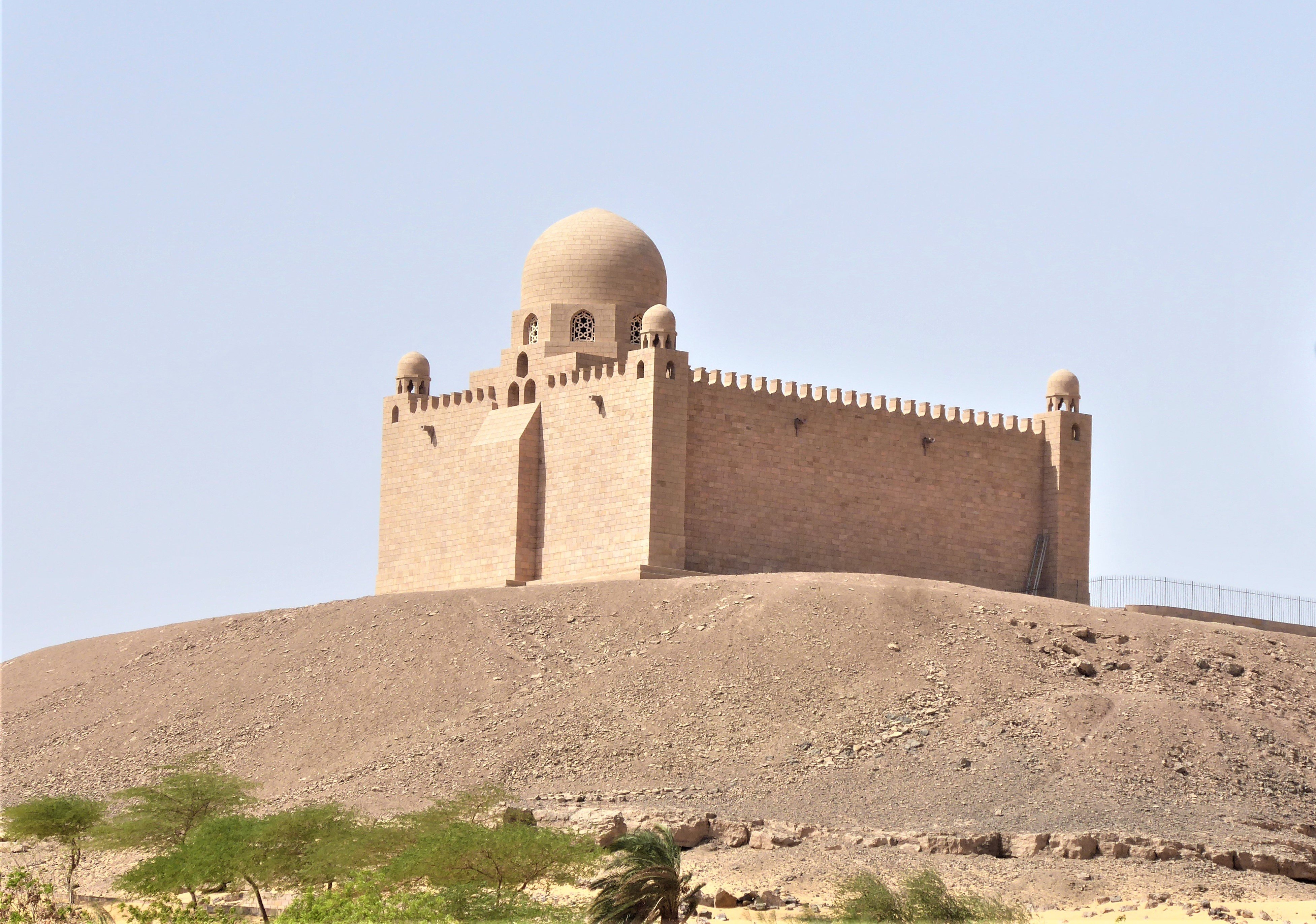 My new camel whom I named Colin, was much bigger and in considerably better condition to Gavin and like to moan and begrudged to go fast but once at a canter cruzed effortlessly and responsive.  We road for about 30 minutes into a mix of sand and rocks but what struck me was before I got onto Colin was just how soft the sand was, extremely fine; each step you take is so much effort with you foot sinking in near the ankle.  My hat is tilted with much respect to those that lead the frontier in the silk route, Wahabis and Bedouins traveling for weeks in this terrain is a feat unappreciated that should be compared to climbing Everest every day, I salute them.
Monastery of Anba Hatre / Monastery of Saint Simeon / Simon
I'd like to say I had become proficient in riding a camel but I doubt that, more like comfortable, not like I have much experience but the ride is more soothingly hypnotic than riding a horse.  Considering the terrain underfoot they grace the desert with such aplomb except for when they stand up or sit down, then they are more akin to a cat coughing up a fur ball.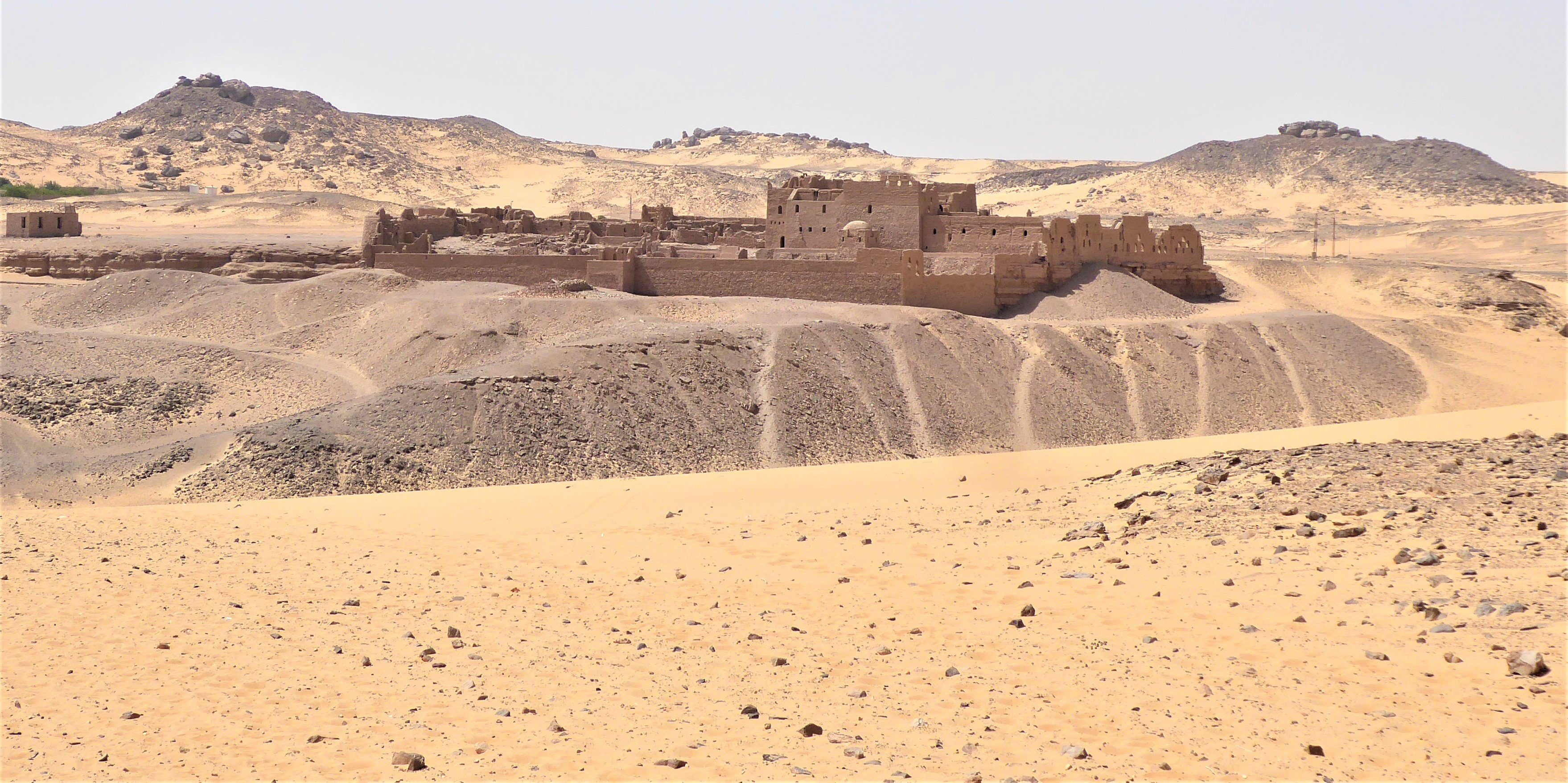 Not having researched the monastery I don't know what I was expecting but certainly nothing the size and grandeur that stood before me now.  Yes, it is very degraded but so would anything that hasn't been occupied since the 11th century AD and left to elements in a desert.  What is left is the sprawling shell and some tantalising niches of the monks life, what the interior looked like and how they lived.  There should be a stream of people visiting this gem of a place but alas Mahmoud and I were the only one's except for the security guards.  If I had to choose between the unfinished obelisk and this monastery hmmmm, I think the monastery.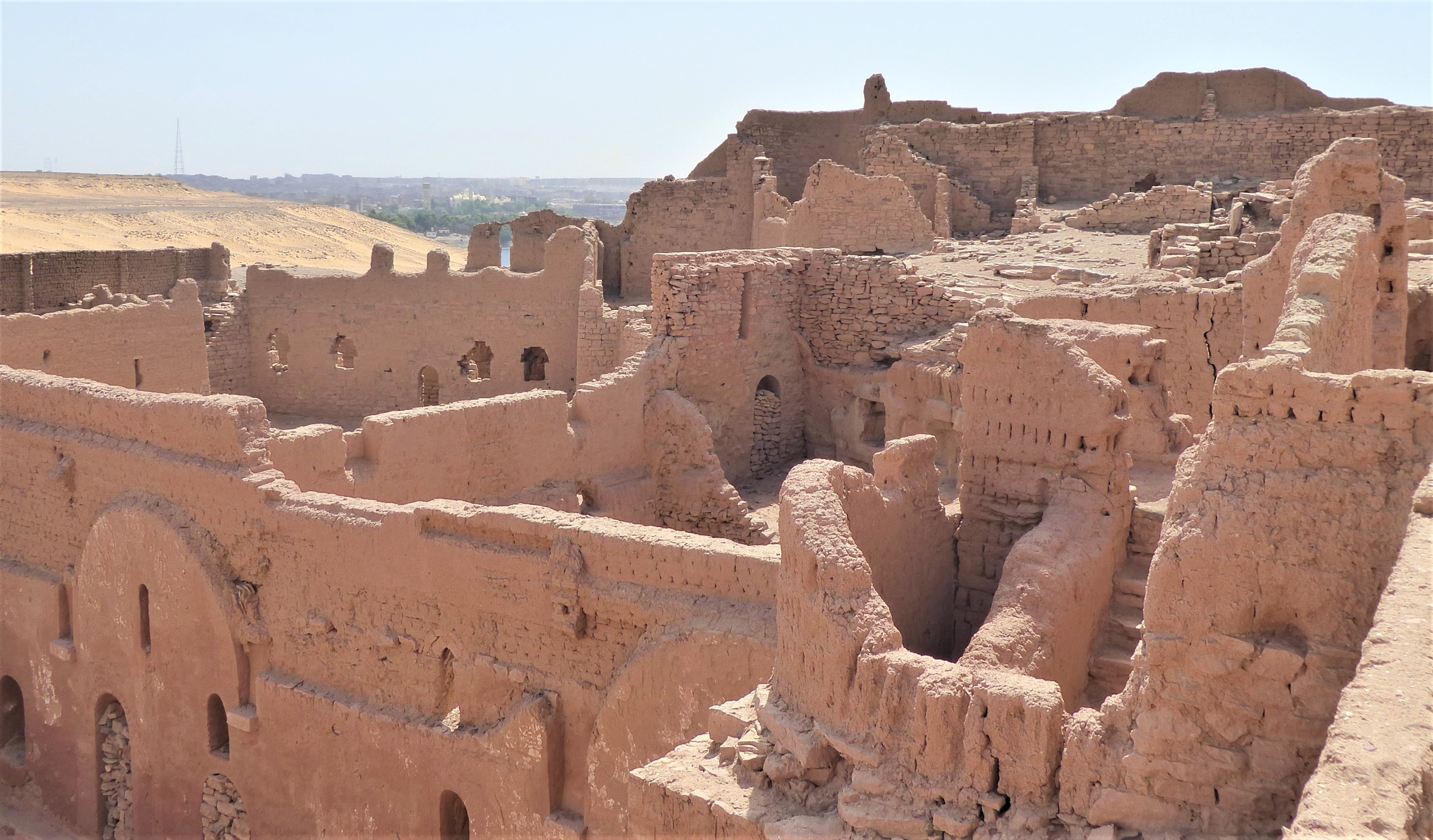 A Coptic monastery starting around the 6th century BC and was originally called Anba Hatre, added to over the years it eventually became known as St. Simeon.  Divided into two terraces caused naturally by the shape of the hill it is built on it was constructed, the lower part primarily as the church and those related to its functions, the upper as the living and working quarters for the monks.  It was built out of mud bricks and had domed and elongated rooves; this helped keep it cool in the summer and warm in the winter.  The shape of the roof along with strategically placed windows helped circulate the air.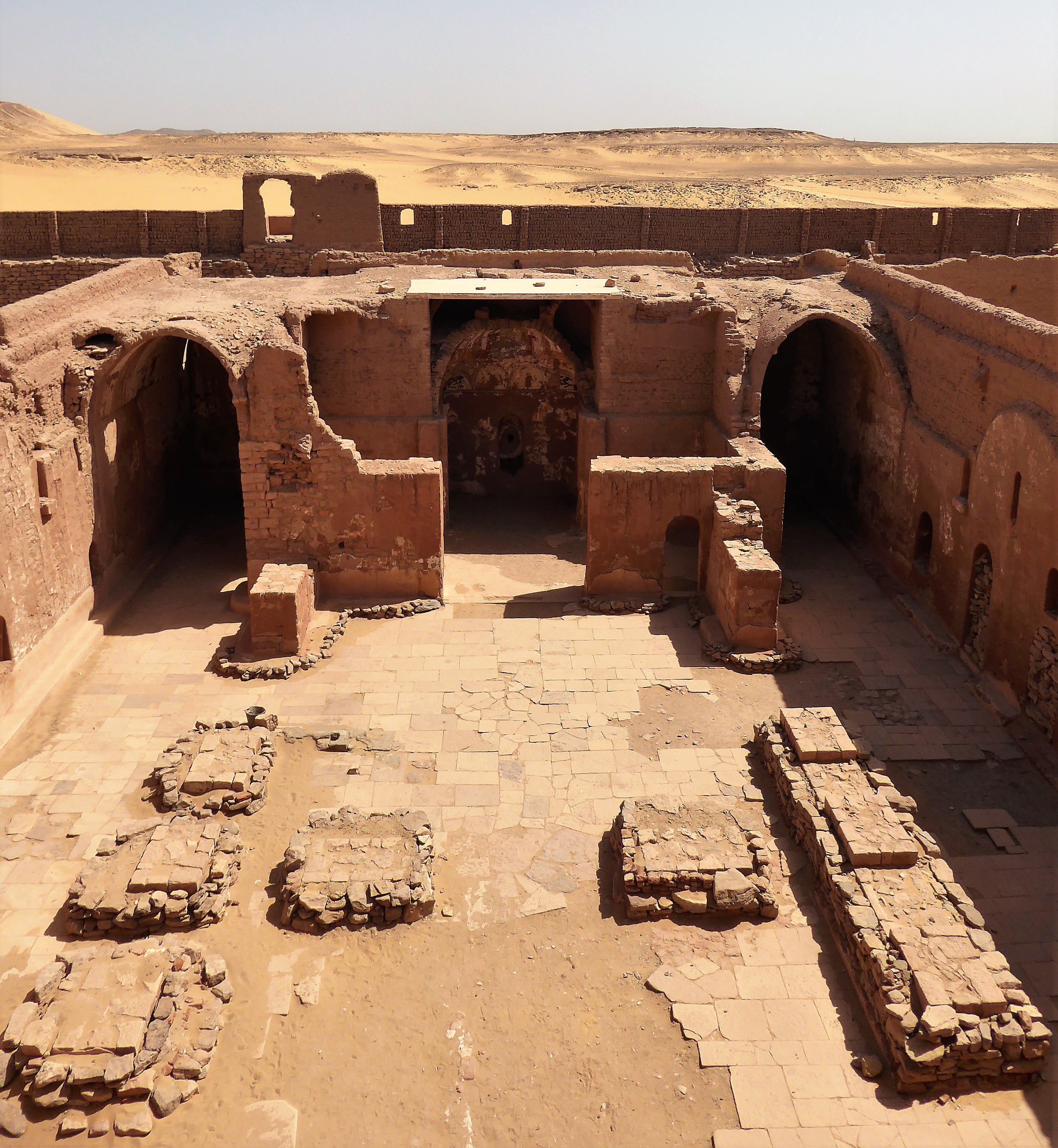 The main chapel still has remnants of the main alter naive with Jesus and other holy elder men painted on the domed roof and walls.  They may not be in the best of condition however Mahmoud said most of the church was painted and what a welcoming change that must have been from such an unforgiving and monotone surrounding.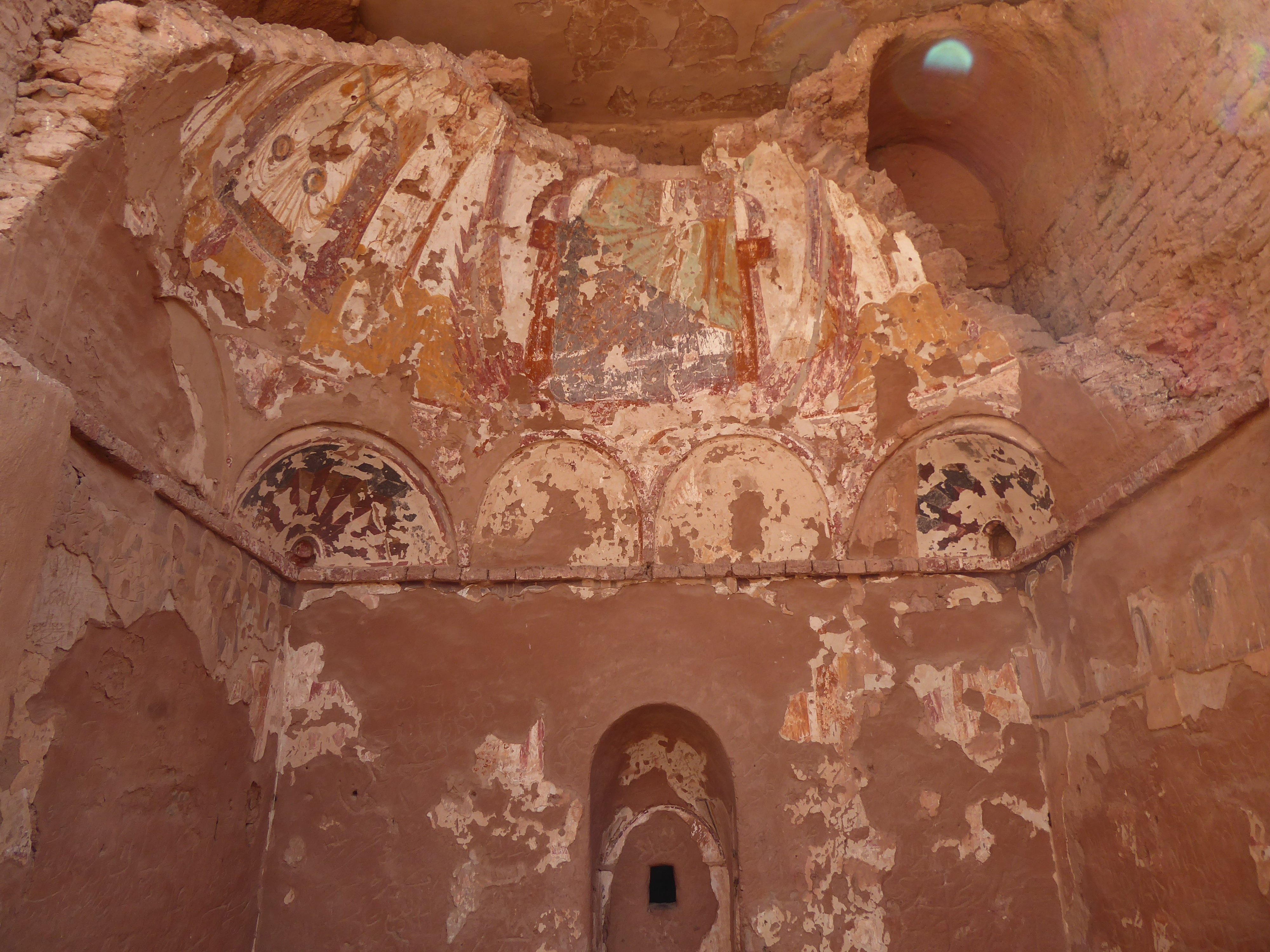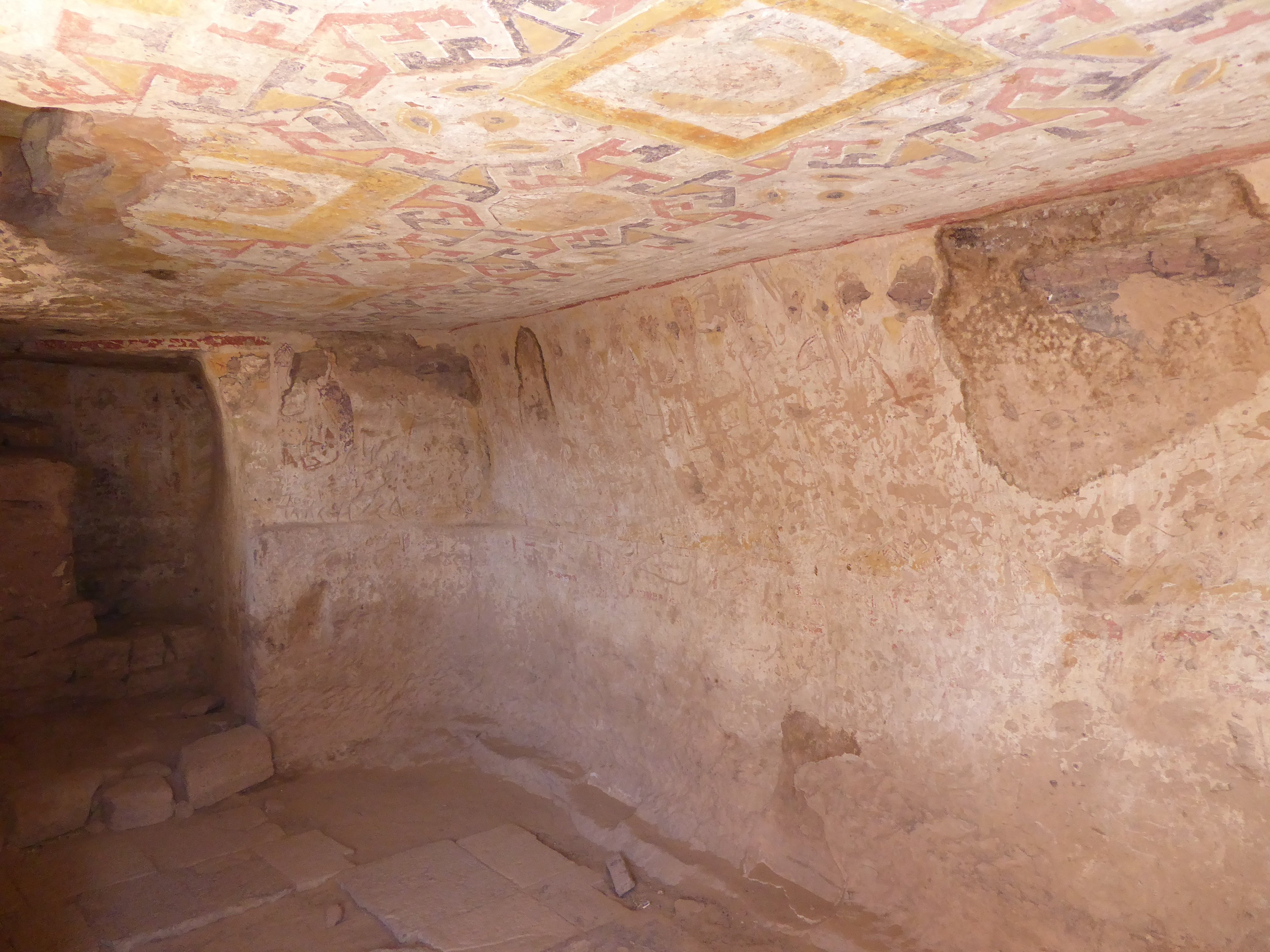 We didn't explore every corner of the complex encircled with a rectangular wall meters think with guard towers at the corners and along the wall.  These were necessary to protect them from nomadic desert dwellers who saw them and those living on the East bank of Aswan as a soft target – these raids were more common during droughts.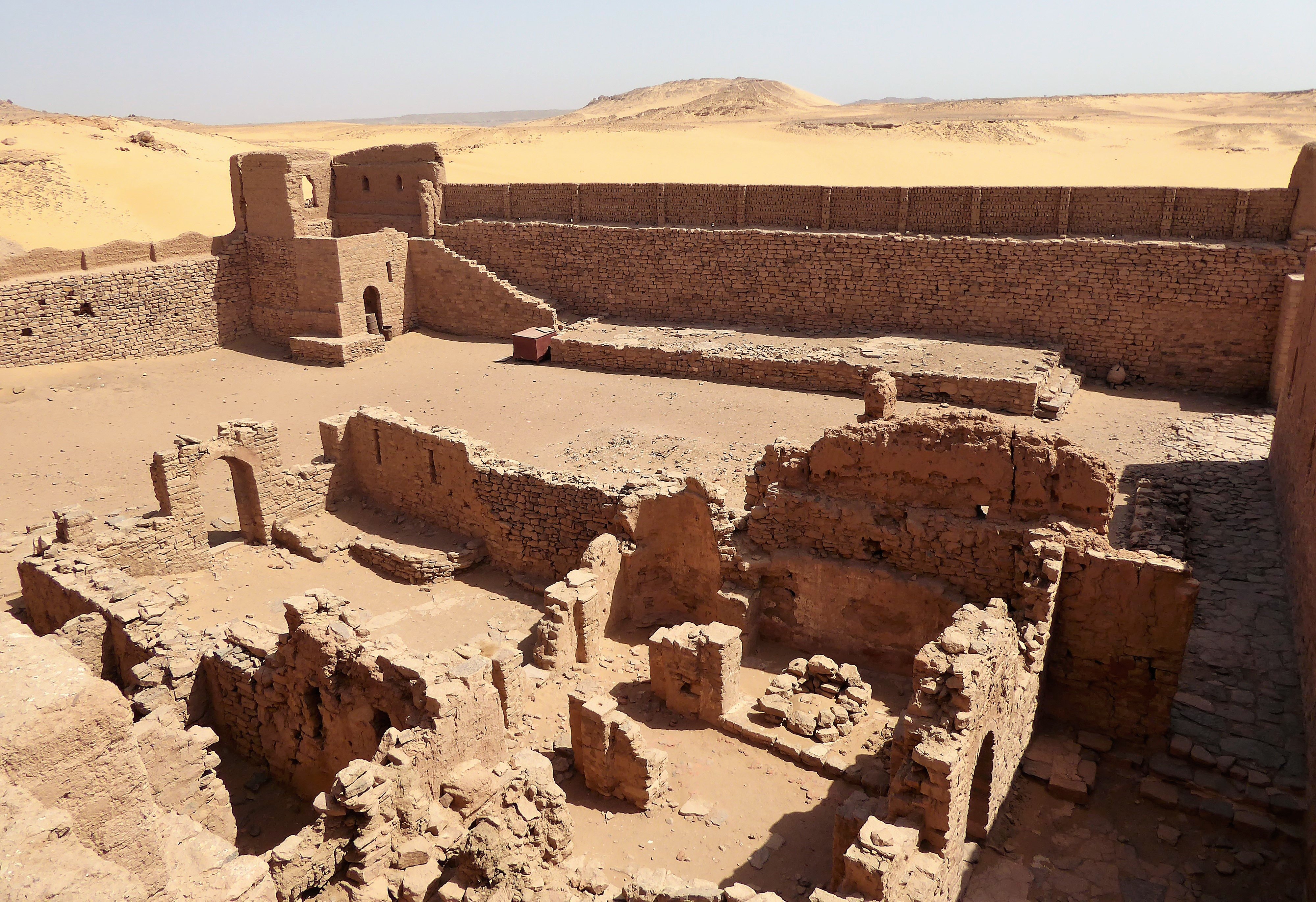 Some parts of the monastery are in fantastic condition especially the guest living quarters, taking Swedish minimalism to the extreme these areas were off domed corridors, which now play host to its current inhabitants, bats.
The kitchen area layout and designed to look after and feed the approximately 300 permanent residence with oversized ovens, oil grinders, dining rooms (just mud brick circles as seating where they sat together in small groups) shows how industrious the monks were.   Maybe compared to todays health and safety stands they would struggle because to drive the massive granite grinder they would use animals, maybe an ox…double that would pass a health inspector of today ?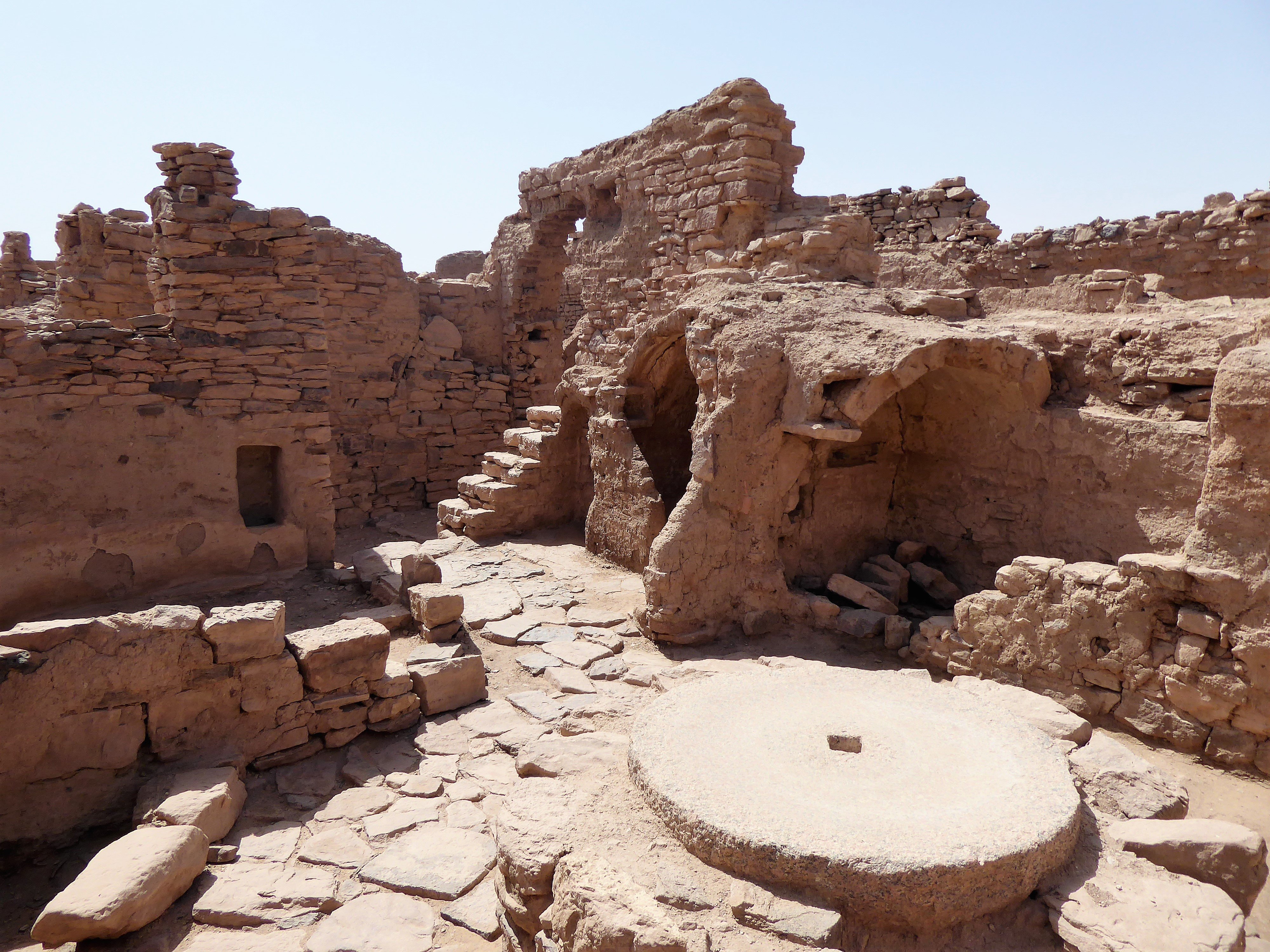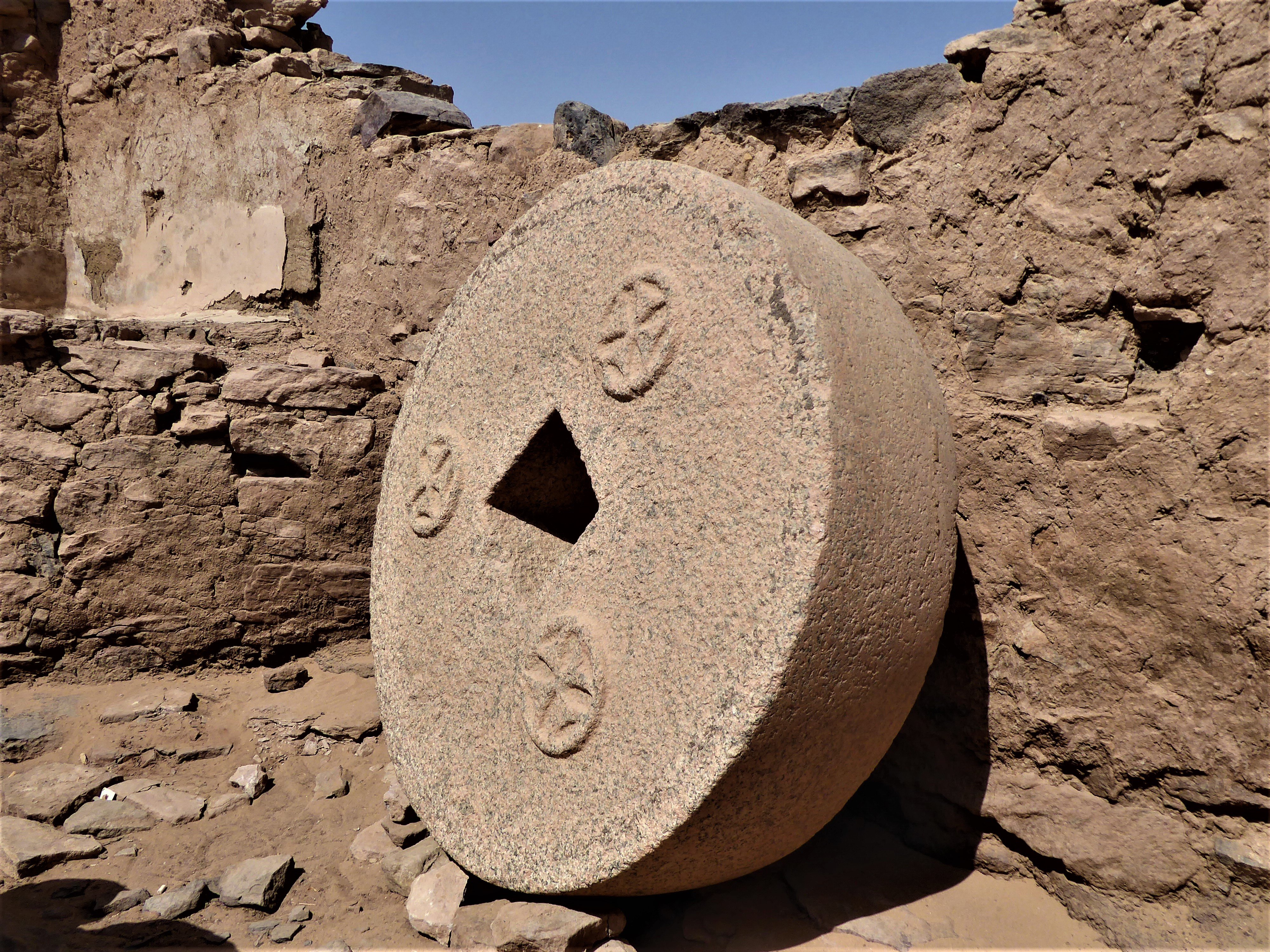 The monk's living quarters covers most of the upper terrace with toilet, washing, launderette and more facilities.  Adjacent to this area was there working area, they made pottery as the major source of income and sold it to those living on the East side.  Large storage of varying sizes jars were their main products but not exclusive and the area now is scattered with thousands of pieces of pottery shards.  You have hardly take a step without standing on the pieces, some very thin and showing the potters hand and finger trails as he worked on the wheel.  Many have little designs either by tools but most using the potter's fingers to pinch or mark the pot in a repeated manner to make a pattern.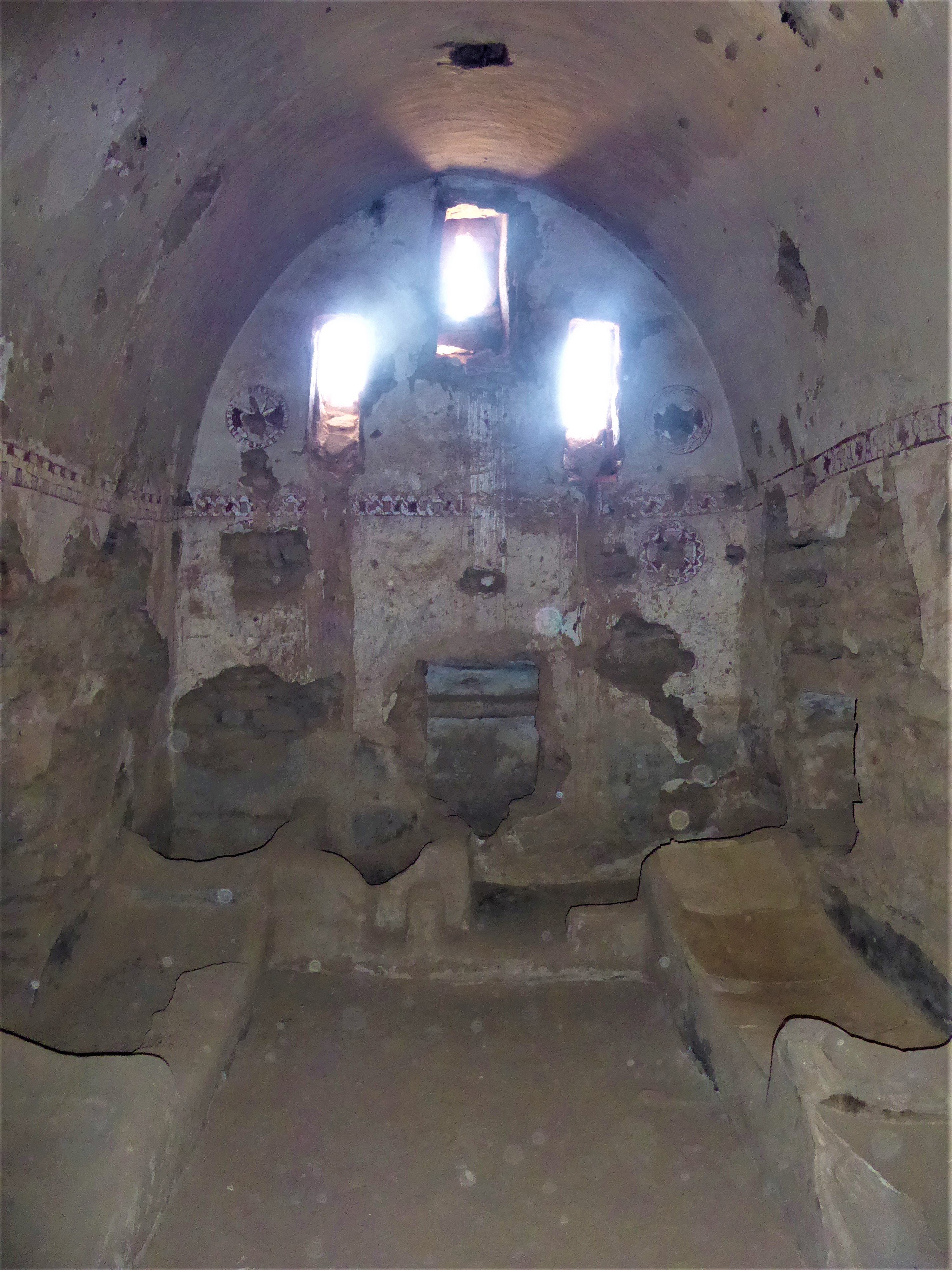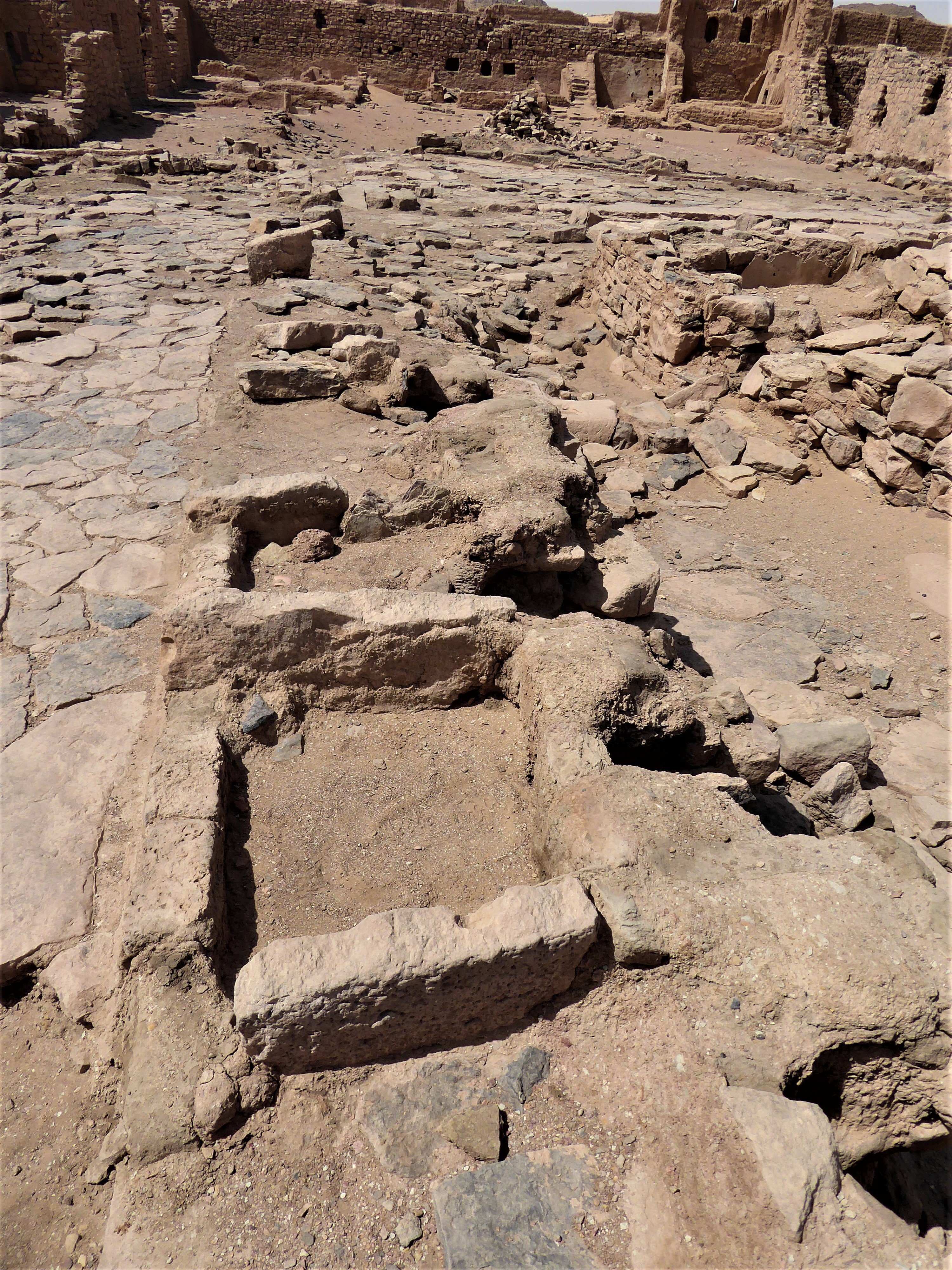 They used a kick-wheel and coiling to make their pots, none of the former have survived and most probably the stone was reconstituted to be used somewhere else in Aswan after the monastery closed.  There is however one of their kilns still reasonably intact, you can't get close to it but shows how industrious there were and what scale they were producing.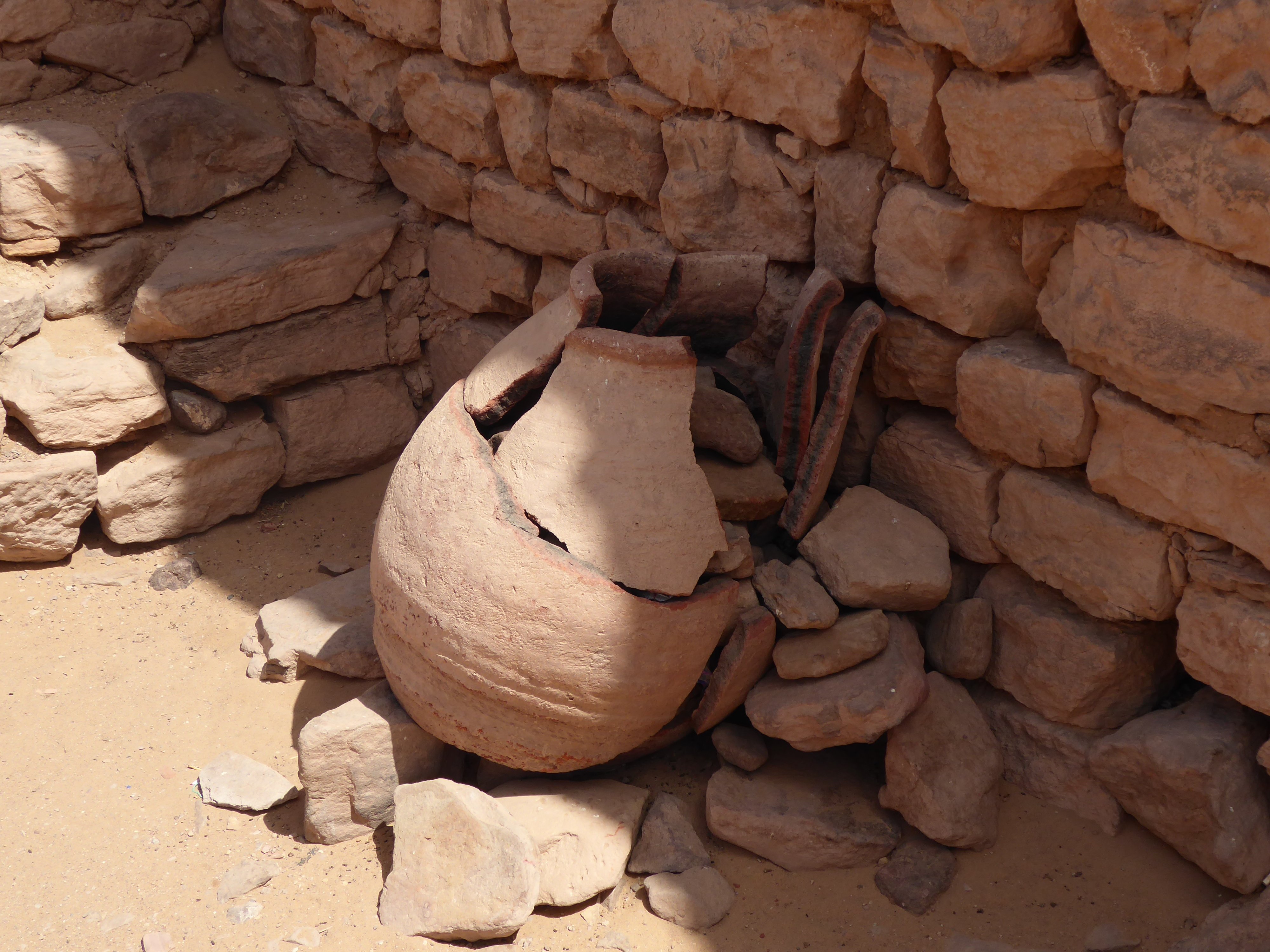 About halfway between the tombs and the monastery we passed through a large area (many football fields) divided into sections by stones.  Mahmoud told me that before the 2011 revolution this area would have been teaming with market stores as a stopover for tourist going between the monastery and tombs, even a coffee/tea/café.  I couldn't believe that things had been so different before 2011 and I couldn't fathom even seeing anybody else here as we passed through.  Everyone I'd spoken to has said things are on the road to recovery but seems a far way off on how busy their tourism industry used to be – I hope it recovers to surpass what they had, and soon.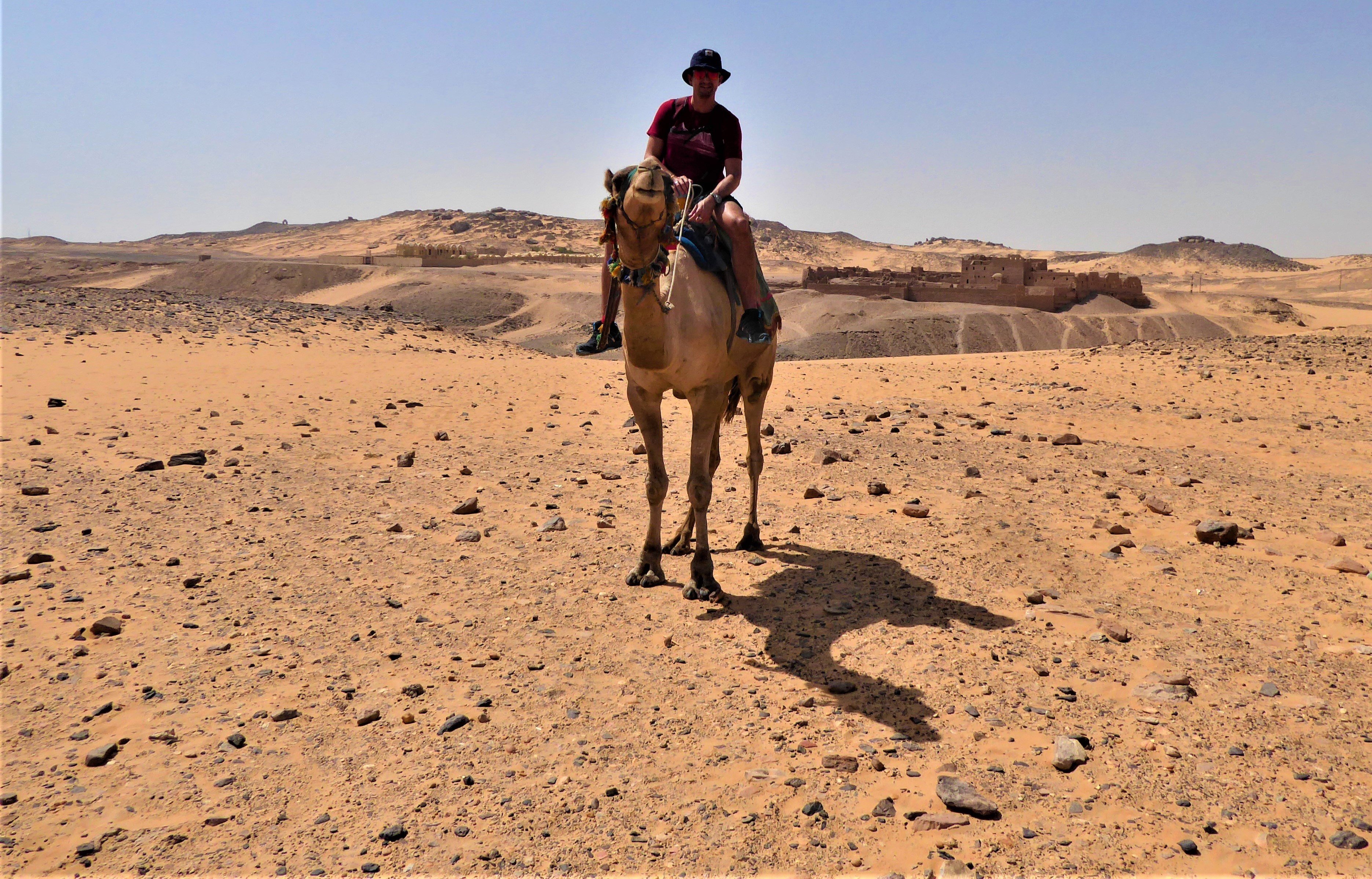 Noble tombs of the Nubians / Qubbet el-Hawa
45 minutes from the monastery, some at a canter speed which Colin seemed to enjoy as much as I did we arrived at the Tombs of the Nubian Nobles, locally known as Qubbet el-Hawa where you get a great view of the East bank of Aswan. This has got to be one of the best sites I've been to and people don't go visit as much as others I'm told because it is so rustic, dusty and a bit difficult to get to (either go the way I did or have the climb the stair up the mountain).  I would much rather have seen the tombs than Philae and that should say it all!  They were enticing from far away and hide most of what can been seen when you are there, I was blown away!
So much is, if not all of what is special about this place is hidden away and can only be seen when you get there.  From a distance it only looks likes holes cut into the mountain and I'd have been happy just to see that, here is a necropolis, painted tombs, halls with pillars a church are so much more.  The archaeologist suggest that they have discovered at most 30% of what is there, what they have discovered isn't fully excavated either with many tombs still needing the labyrinth of tunnels filled with sand cleared out.  Most of the tombs are from the Old Kingdom so they are 4000-4500+ years but there are others from the Middle and New.
Sarenput I Tomb
Dating to the early middle dynasty (3500 years ago) during the rule of Pharaoh Senusret I, Sarenput was a noble with many title like Mayor of Elephantine (used to be seen as separate to the rest of Aswan); an island in the Nile in Aswan which was a centre of trade most notably for ivory hence its name, he was also the overseer of the priests of Satet and a few other titles too including representing the King for trade with the Nubians.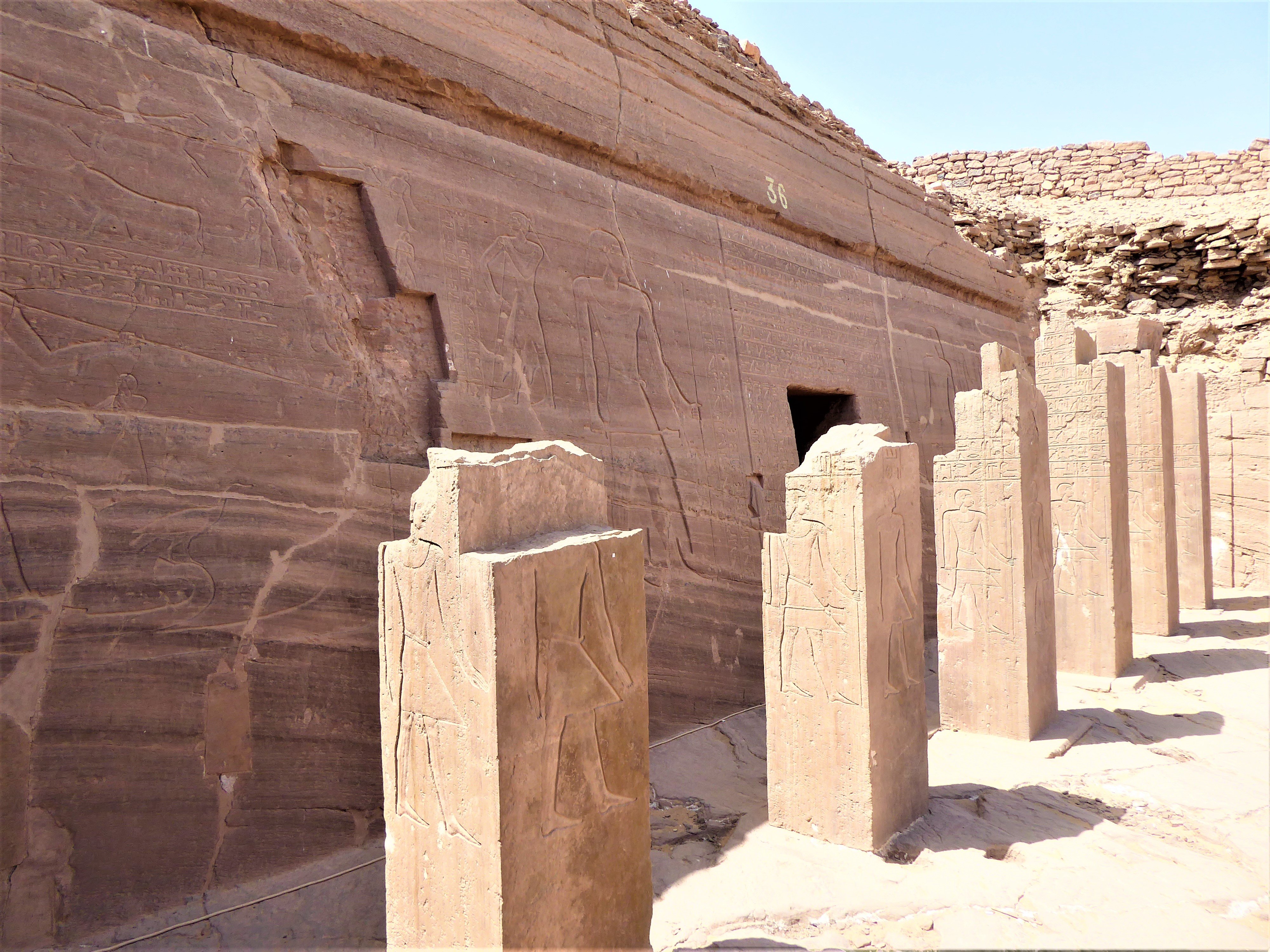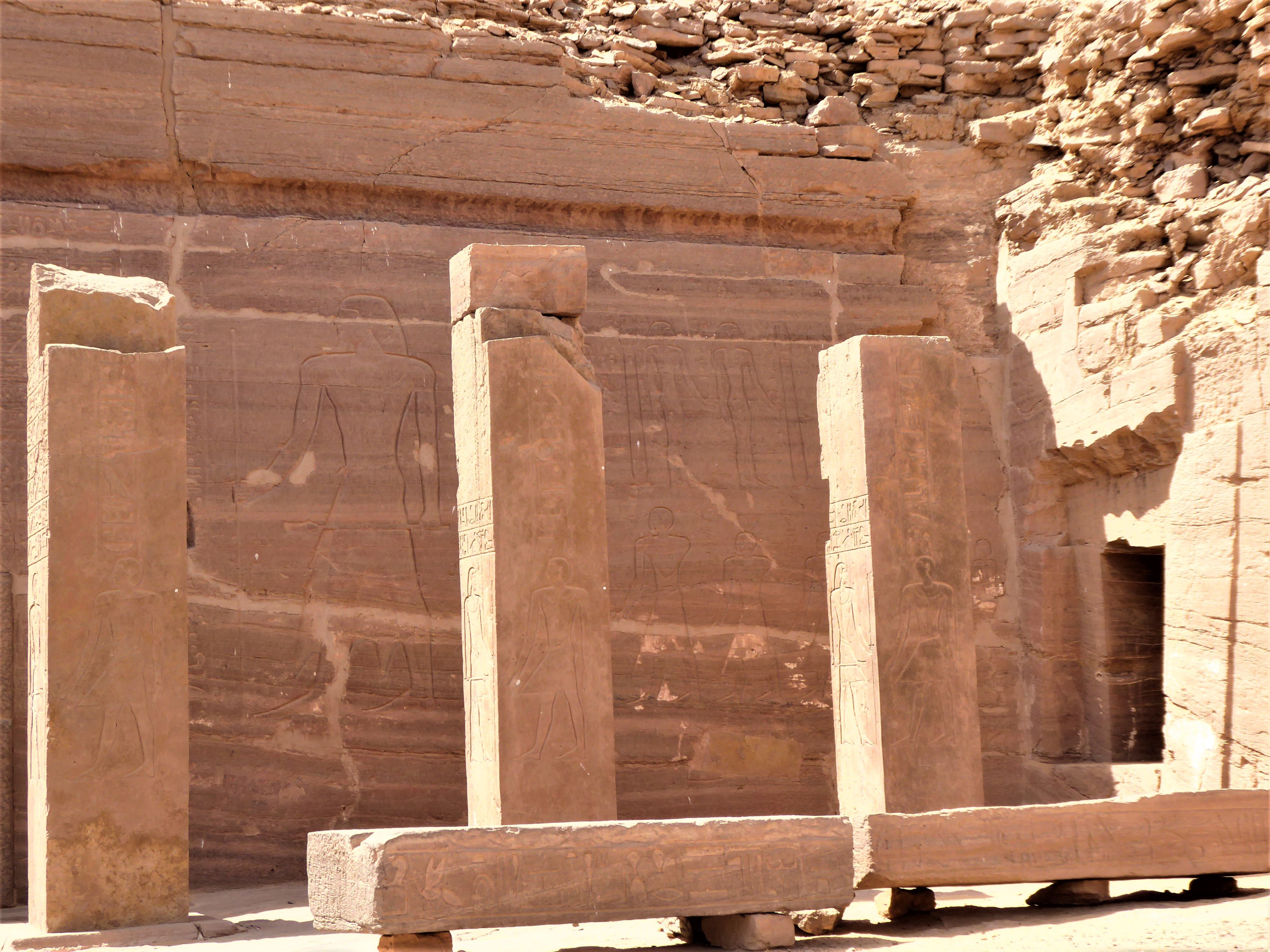 A very impressive tomb even if it were only for the façade before you enter; a wall with entry way inscribed with hieroglyphics on either side leads you into a large courtyard cut into the mountain which too is inscribed with the exploits of Sarenput  cut into the sandstone bedrock like an ancient billboard.  About a 5th of the outside was likely covered near the entrance where square columns now stand, a roof of sandstone creating a porch effect before entering.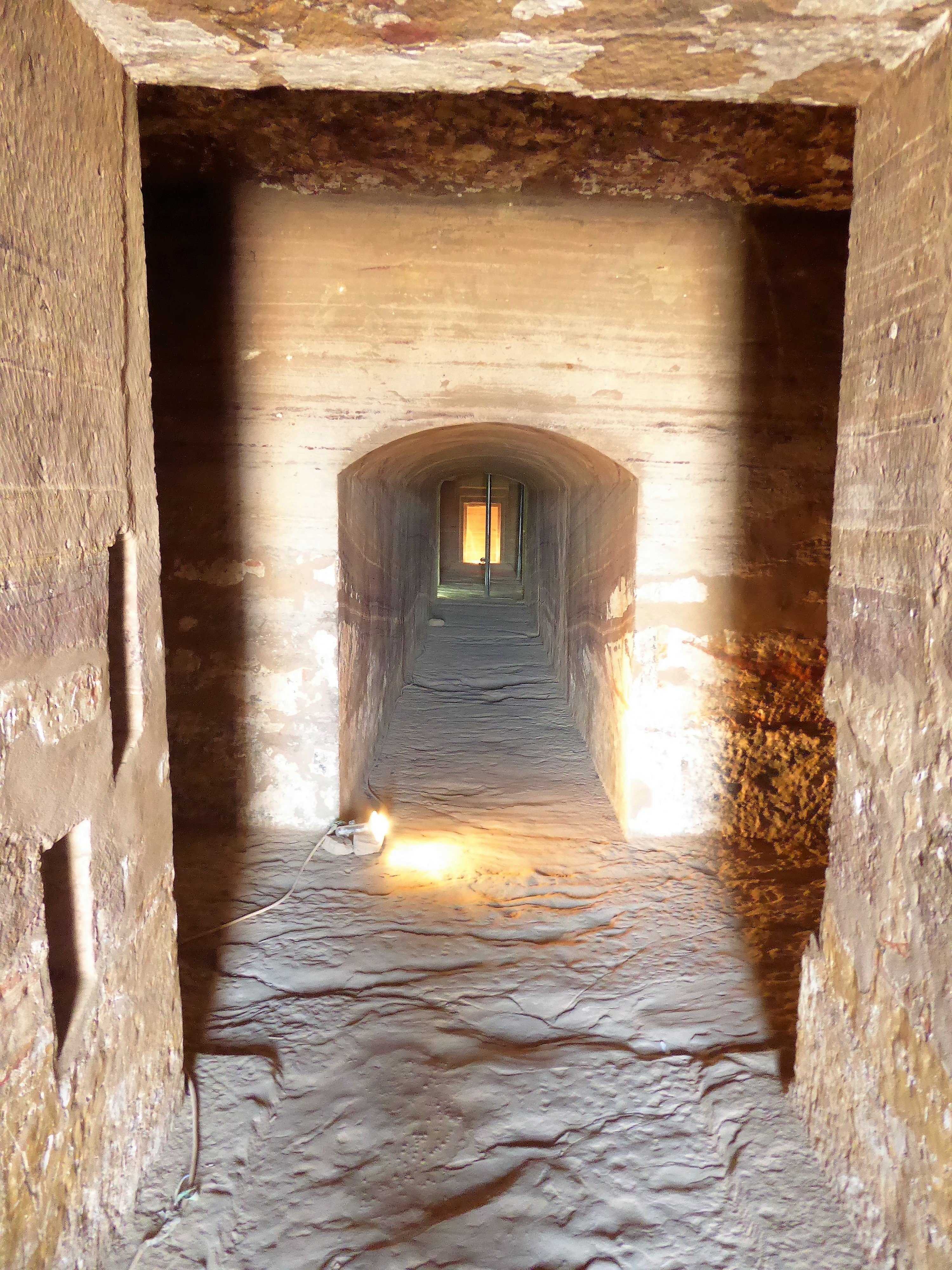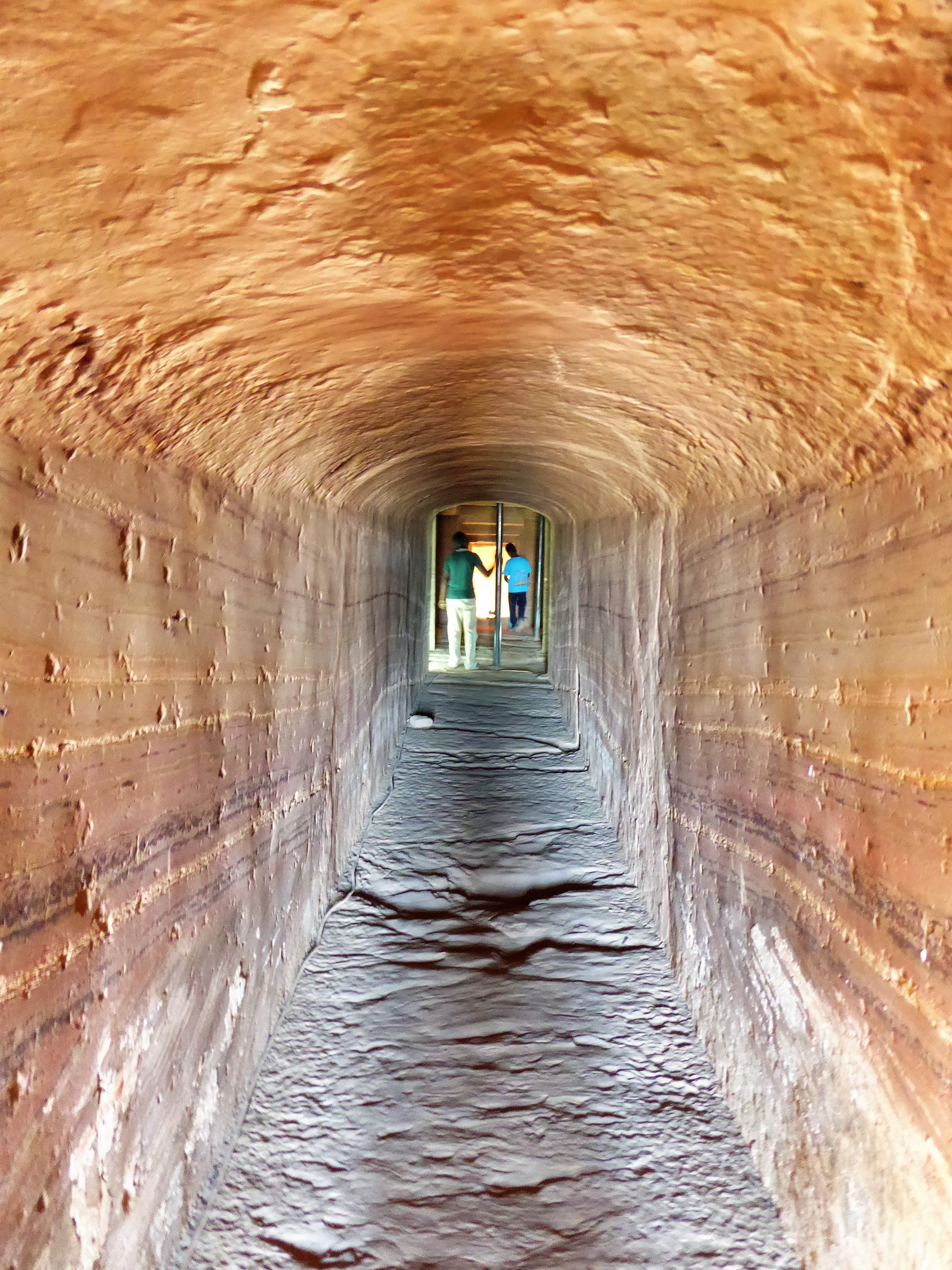 The first chamber rectangular in shape and dominated with square columns to support the ceiling still have remnants of depictions representing Sarenput, his family and oddly his dogs too.  The quality of the paintings clearly of lower quality to that of the carvings outside – the consensus is that a royal artist was used to do the carvings outside and a local artist to do the inside, the quality is chalk and cheese.  The first chamber leads to a large corridor, much bigger than those in the Giza Pyramids but I still needed to duck down quite a bit, this long corridor leads to what would have been the burial chamber.  About a 3rd of the size of the first and lower too its pillars whitewashed and painted reliefs are in a bad state but surprisingly the main alter which would have had a statue of Sarenput is still clear and vivid.  As my time in Egypt progresses I am becoming more flabbergasted at how well preserved some of the artifacts are and the condition and richness of the colour of some of the painted reliefs are, beyond extraordinary.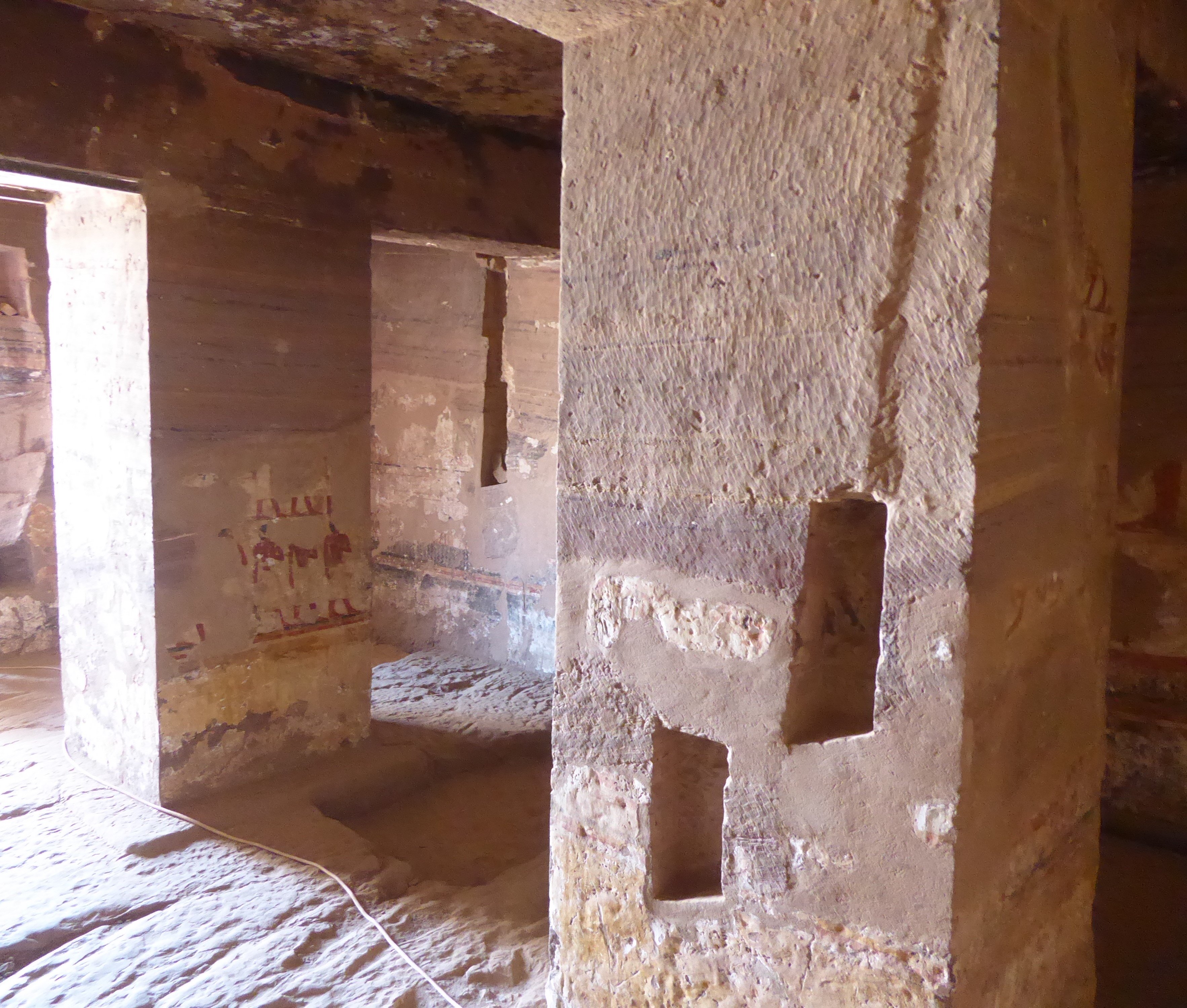 As we carried on through the tomb complex we passed numerous other tombs which are being jointly excavated by a Spanish University and the Egyptian Antiquities Authority.  Some are quite simple, well, if you call something the size of a double garage cut into solid rock and decorated simple.  Others, a complex of tunnels yet to be excavated with pillars and niches throughout, like I said simple.  With so much still to be found and explored I have no doubt there will be a or many hidden gems.
Heqaib / Hekaib / Hekayeb Tomb
Currently not open to the public but the exterior of Heqaib's tomb is a spectacle.  Surrounded by other tombs you forget that these are not built the pillars, doors, stairs and walls all used to be part of the mountain now cut out to create this tomb complex.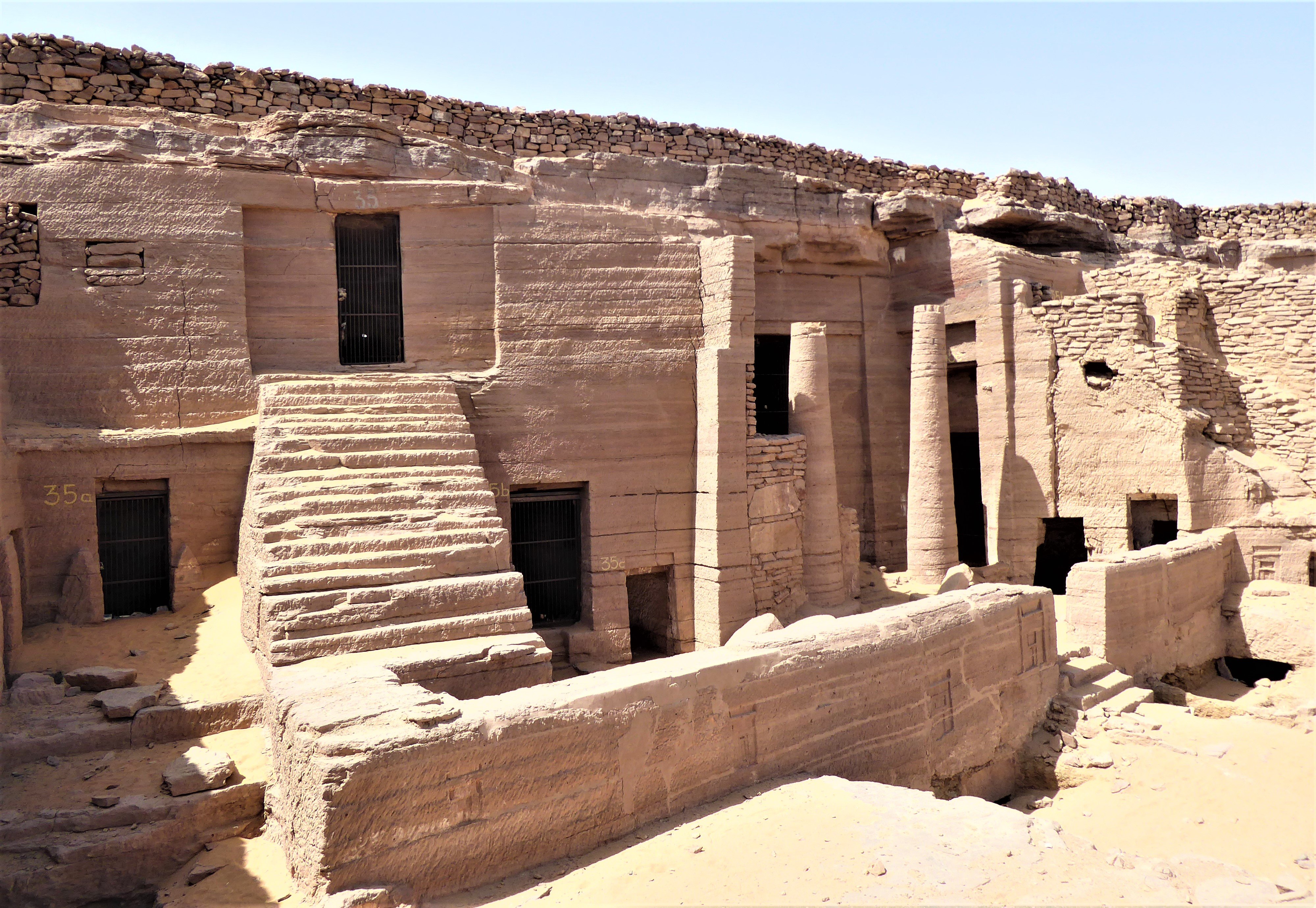 Sarenput II Tomb
The nephew of Sarenput I, but did proceed him (maybe not immediately afterwards) lived during the time of Senusret II, III and Amenemhat II and held the same and additional titles to that of his uncle, maybe that was his motivation to go bigger on his tomb.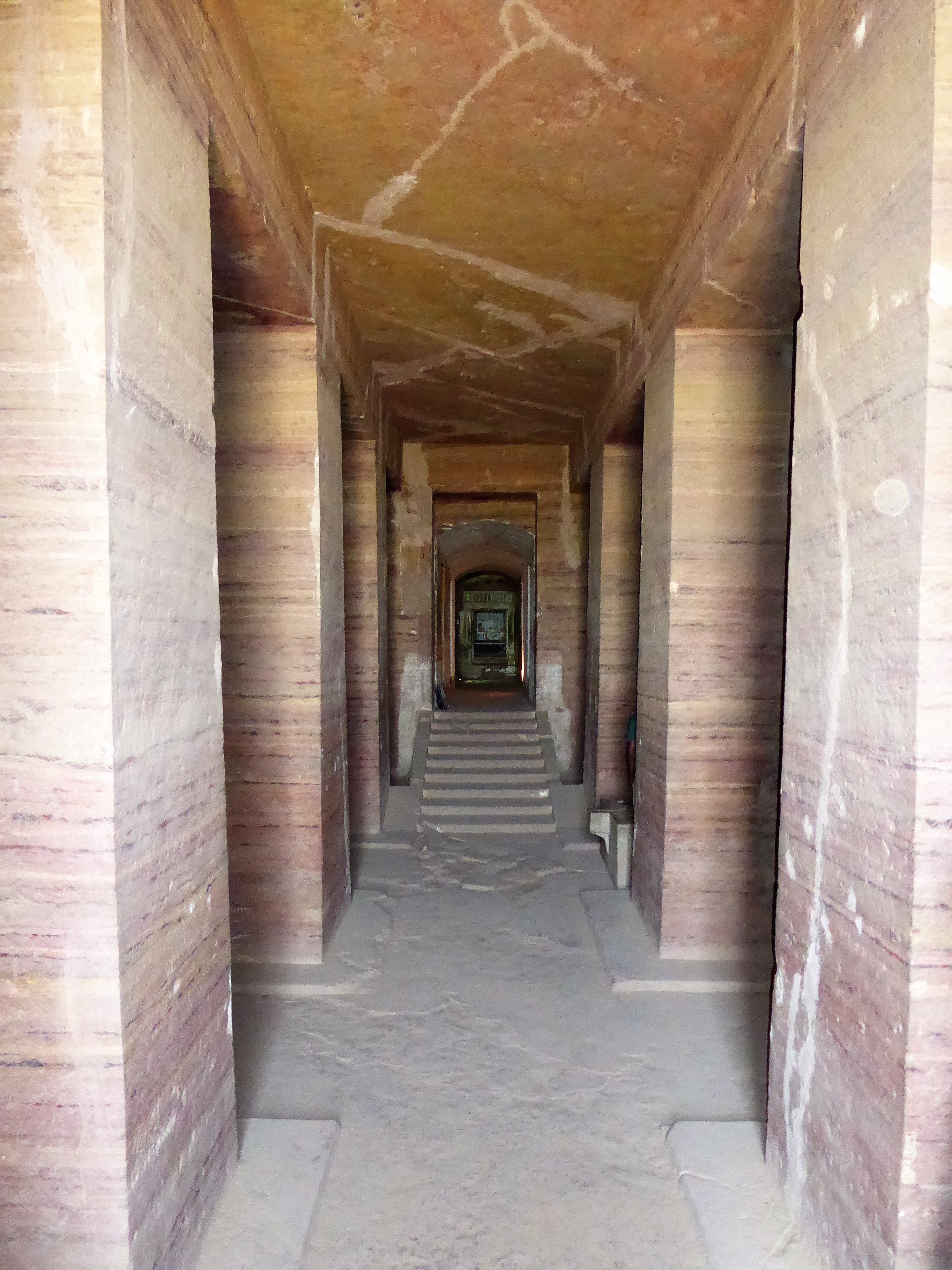 It follows the same shape to his uncle's an entry hallway, corridor then burial chamber…just much bigger!  Entering the first chamber, a hallway with 6 stout square pillars showing no signs of wear with sharp perpendicular edges with little to no decoration, only on the walls.  At first glance I thought the pillars were painted but in fact the rhythmic layers of natural colours is the natural coloured layers of the sandstone.  Even in places where is it rough it brings life into the cavernous space, in places where it is polished to shines with a low sheen reflecting the light from outside in the most subtle array of colour.
The pink granite alter table for offerings and to ensure the dead has sustenance for eternity looks new and passing it the stairs cut into the rock leads to the corridor.  It would have been whitewashed and decorated throughout it has four niches cut into it with status of Sarenput still in situ.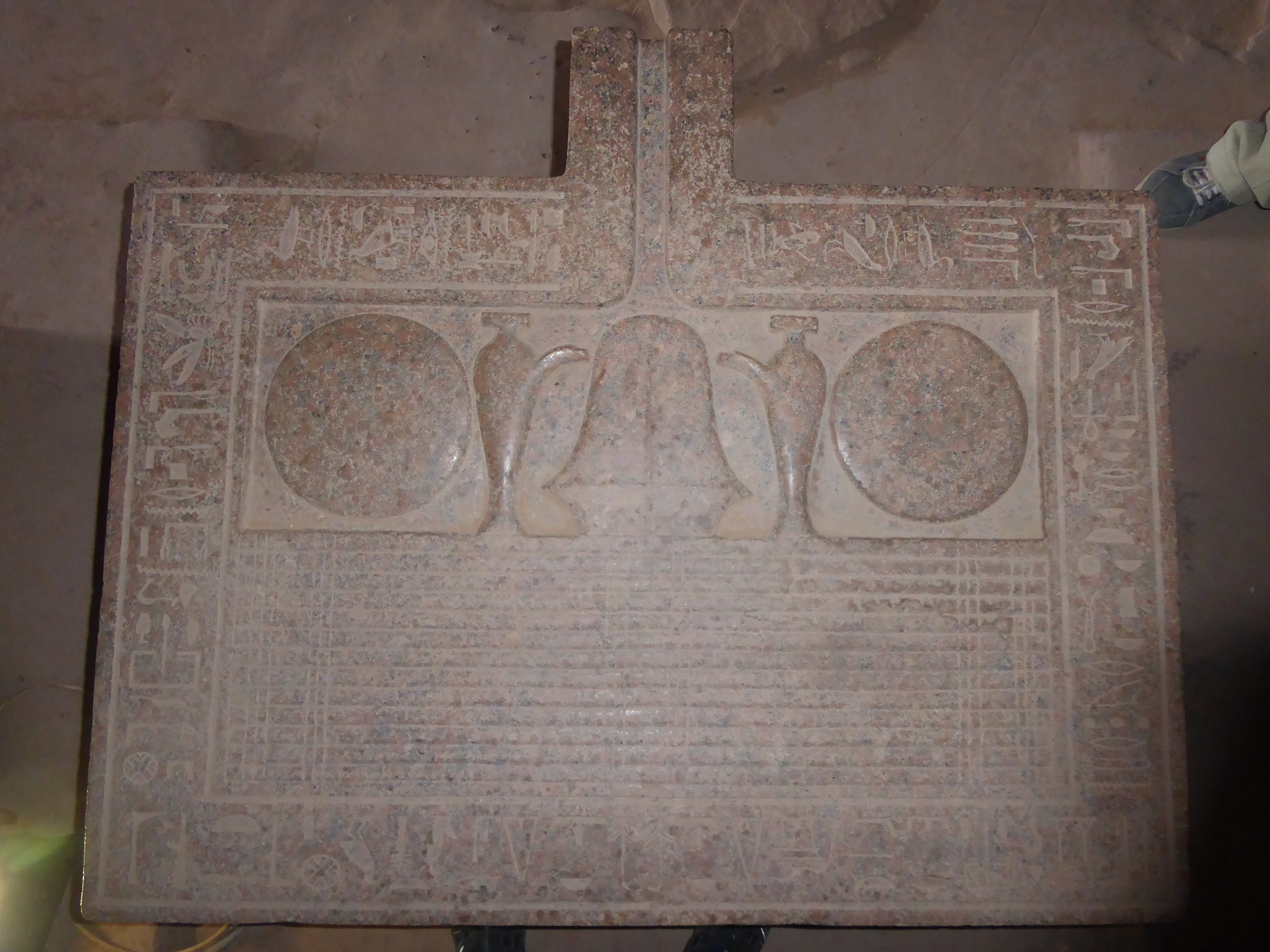 The burial chamber's alter decorated with scenes of Sarenput, his wife and children, the dry air preserving the artwork in unbelievable detail and reflects the light from the tomb entrance some 30m+ away.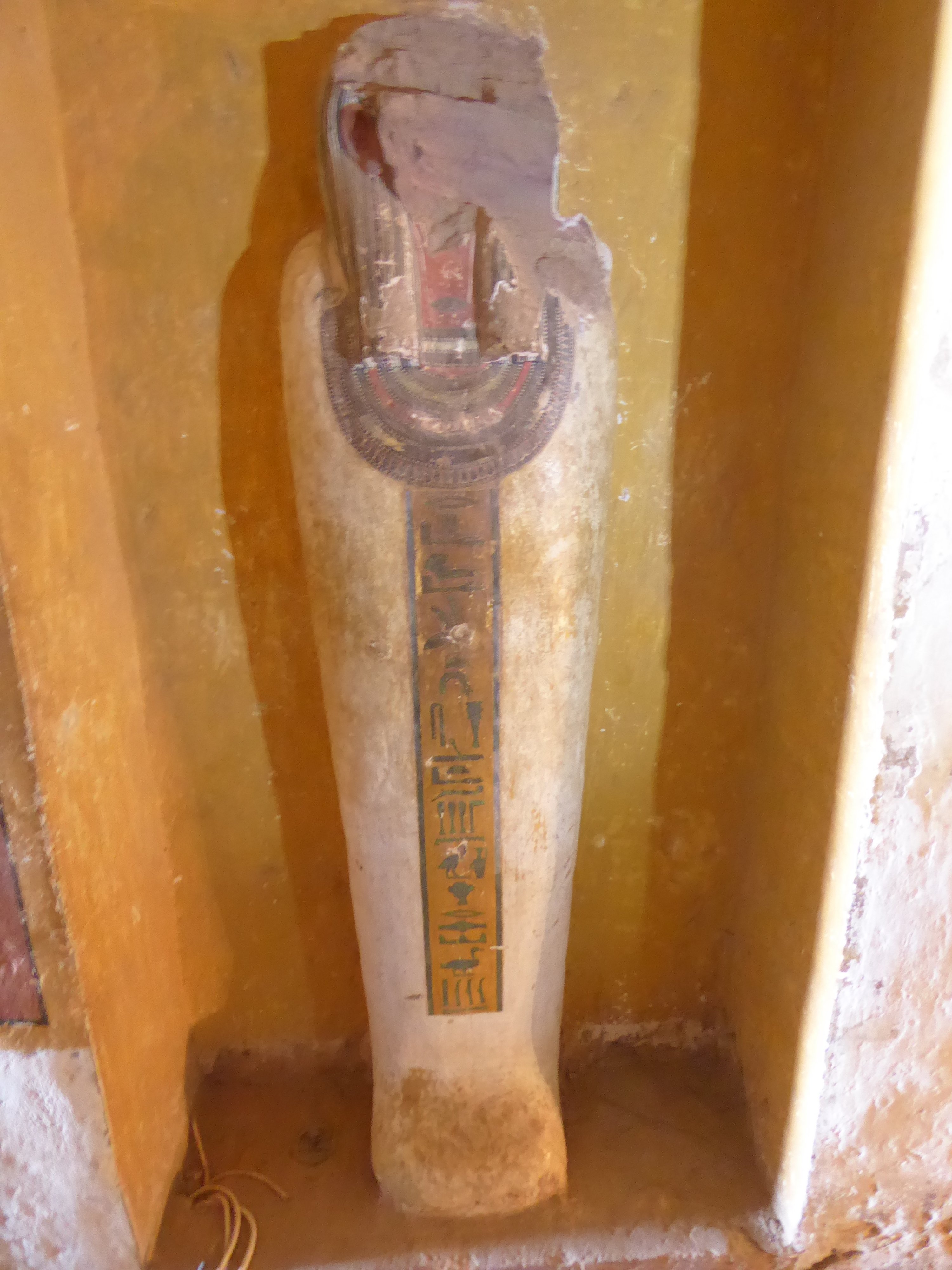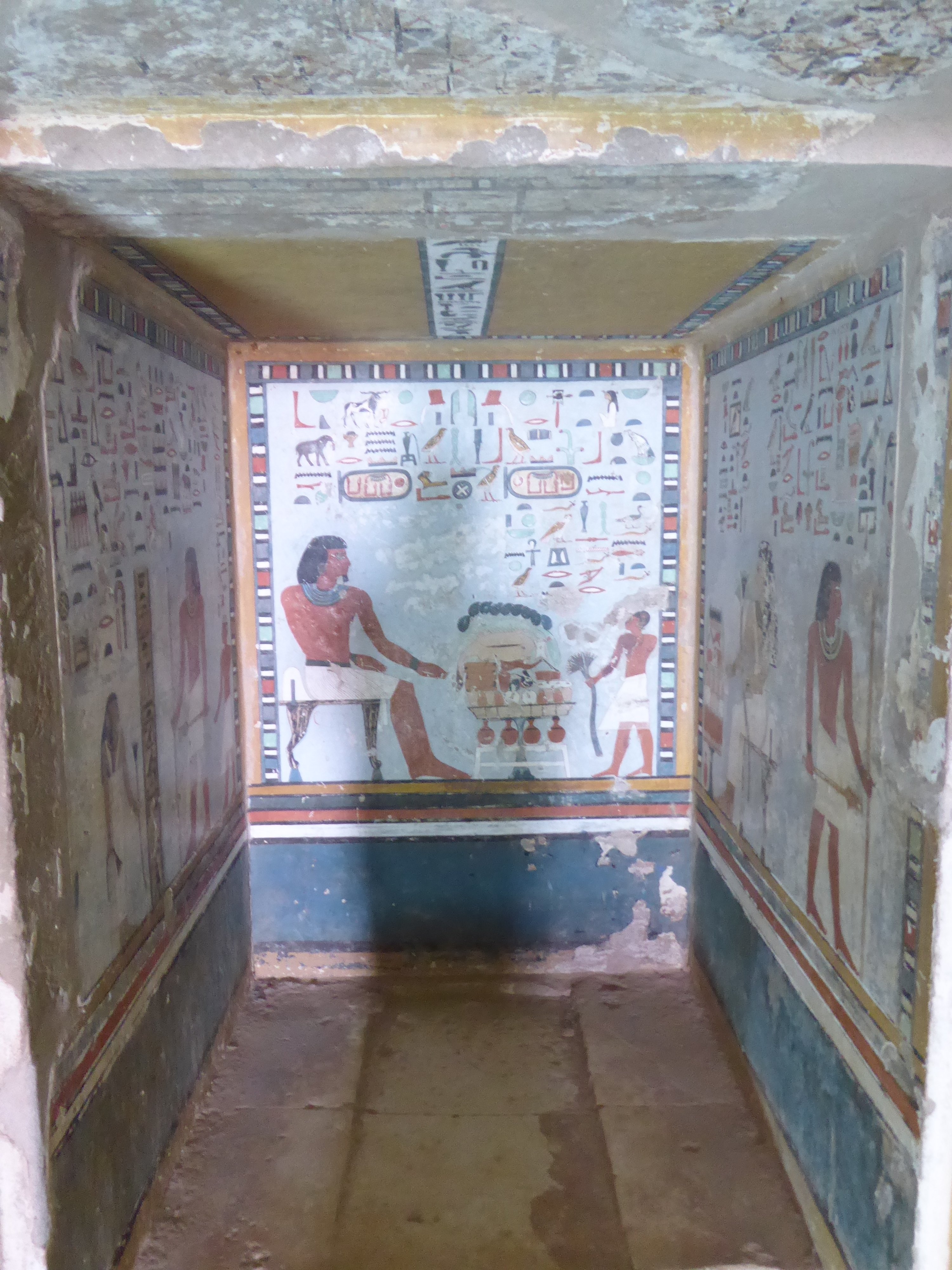 Coptic Church
Built in part to escape persecution (if my recollection is correct around the 7th century AD – I think) it reuses old tombs that have in part been altered. The main chapel is inside the rock and a combination of the original rock and mud bricks have been added to the sides and in front to help create more seclusion.  Inside it is difficult to distinguish what is church and what tombs, this is easier towards the back where there are plenty of tomb holes leading deeper into the mountain.  What is clearly distinguishable is the Coptic art, paintings and inscriptions prominent in what would have been the main hall/chapel?.  The hall/chapel has 4m+ pillars, painted reliefs and carvings into the rockface not in the best of conditions and there is more graffiti from across the centuries now than once what was.  I couldn't really find out much about the church and stupidly I didn't take any notes about what Mahmoud said!  Still, even without knowing the detail this man-made cave reused over centuries is a perfect demonstration of the ingenuity of ancient and more modern times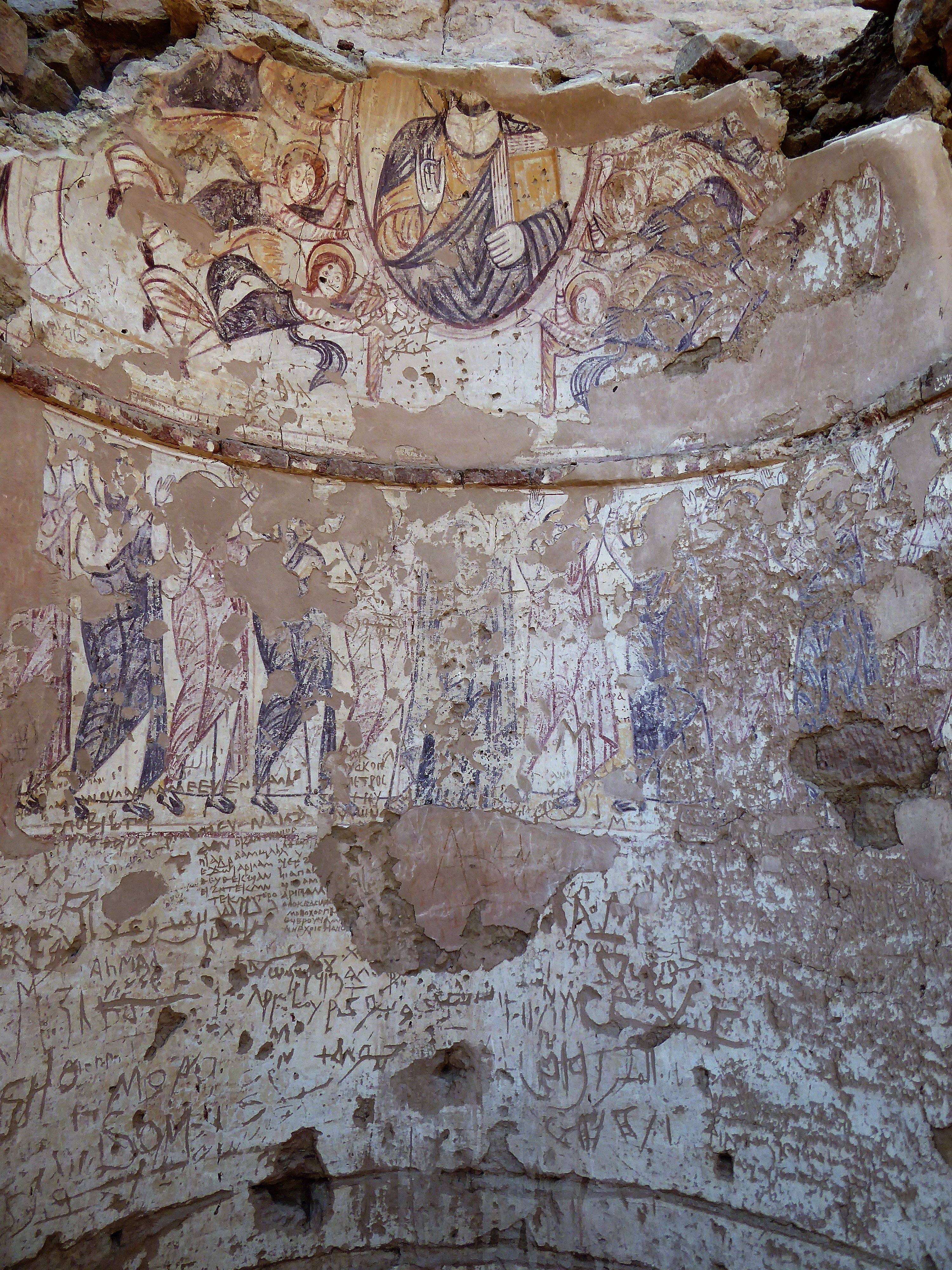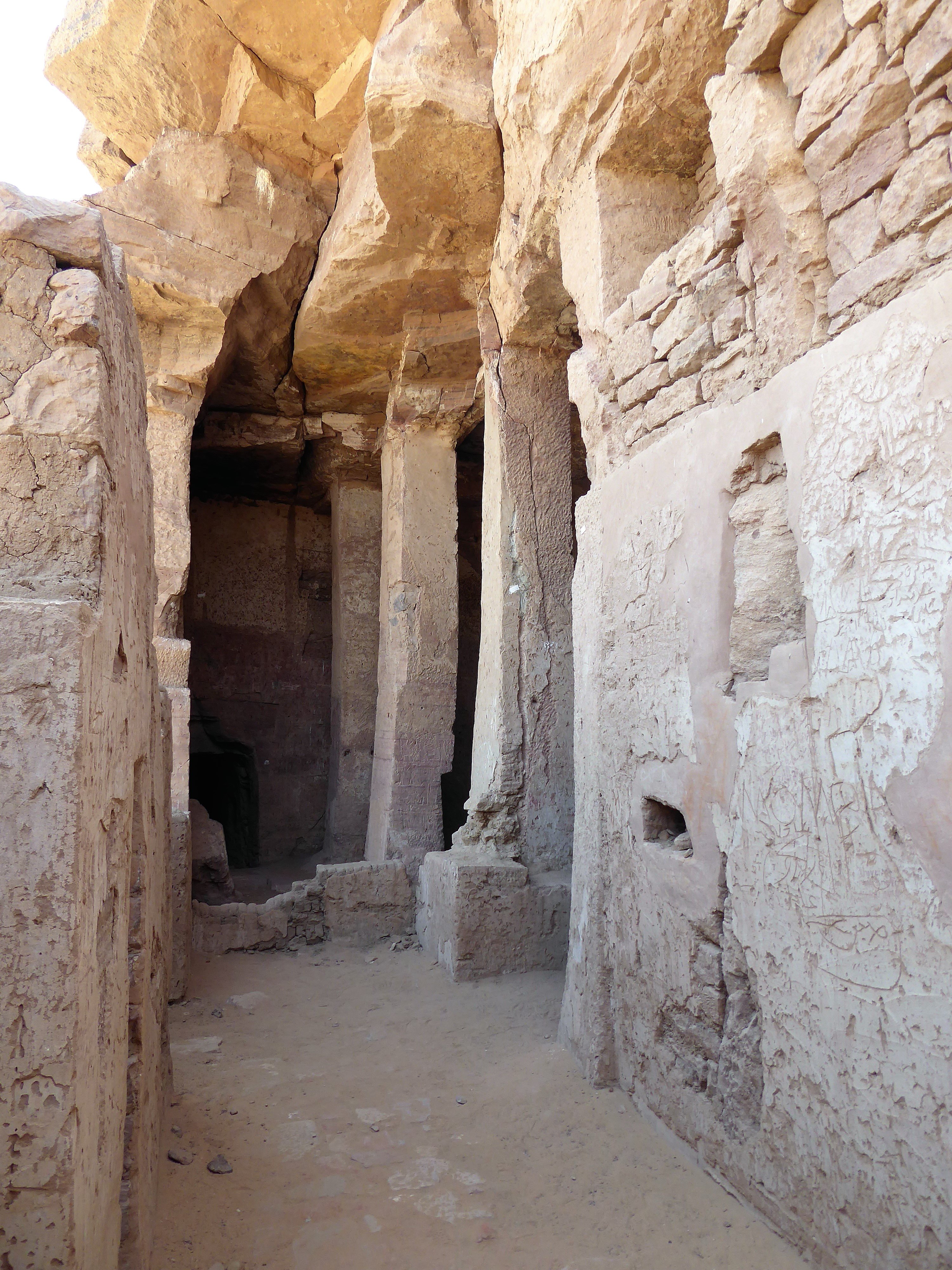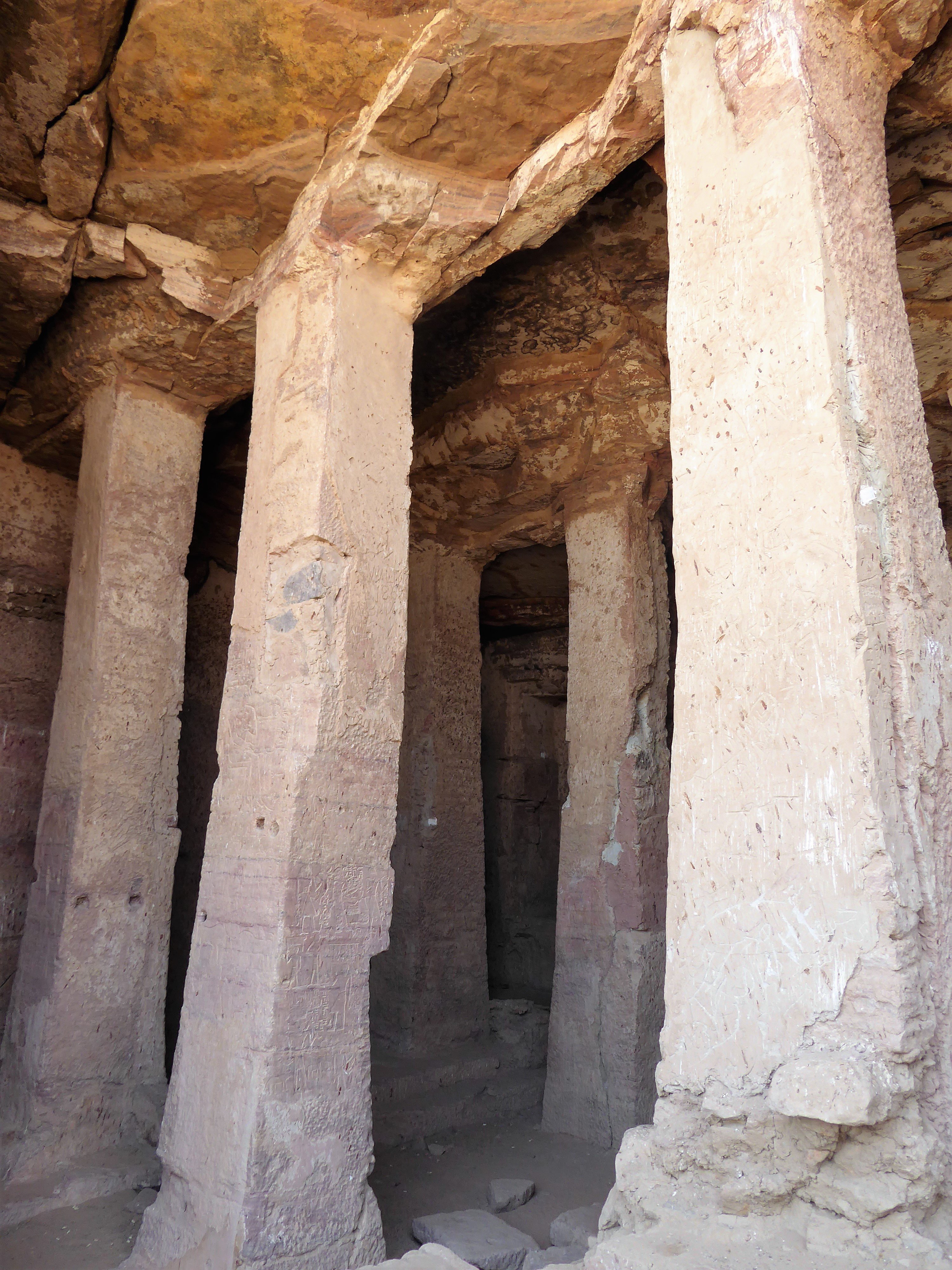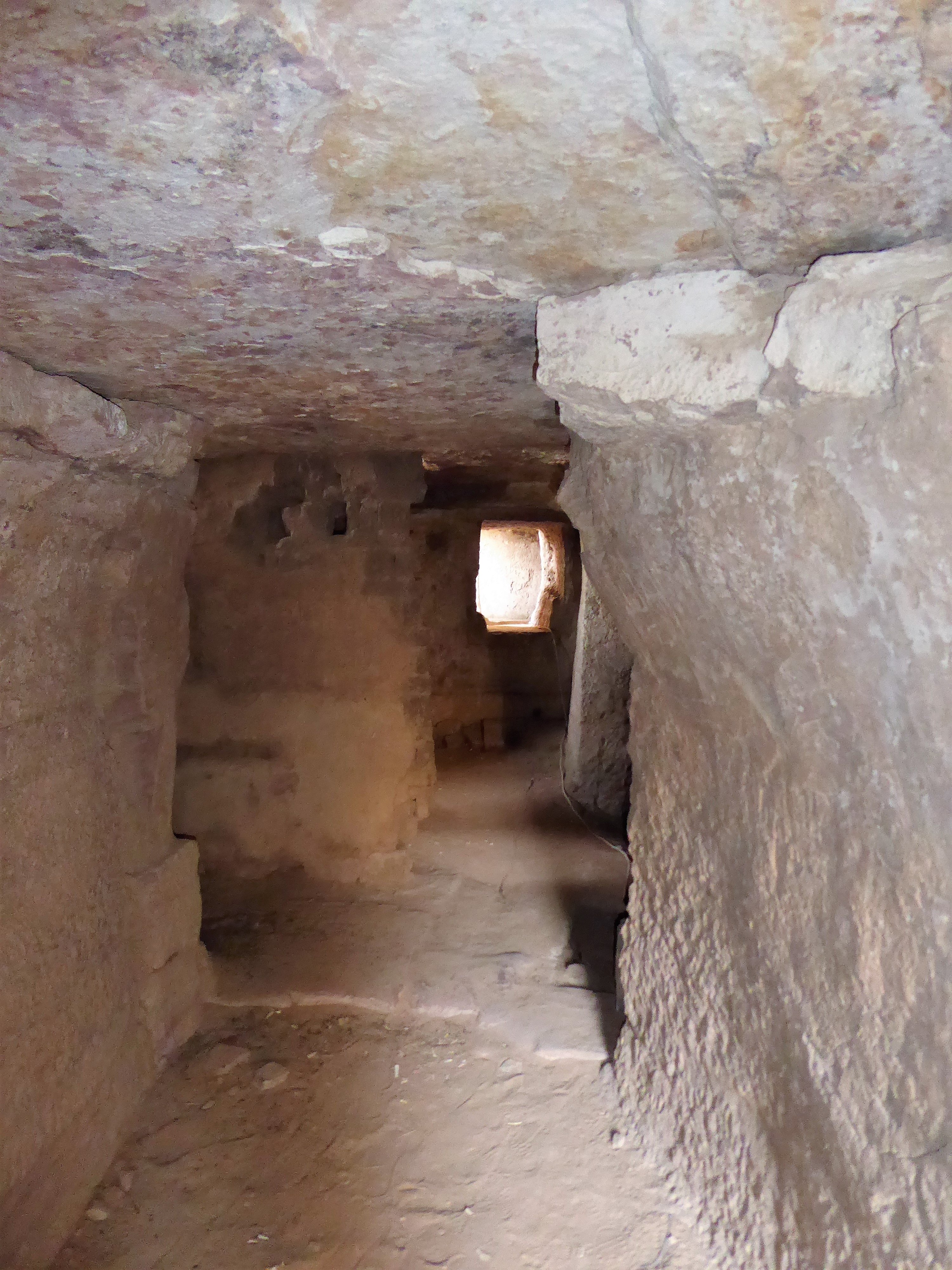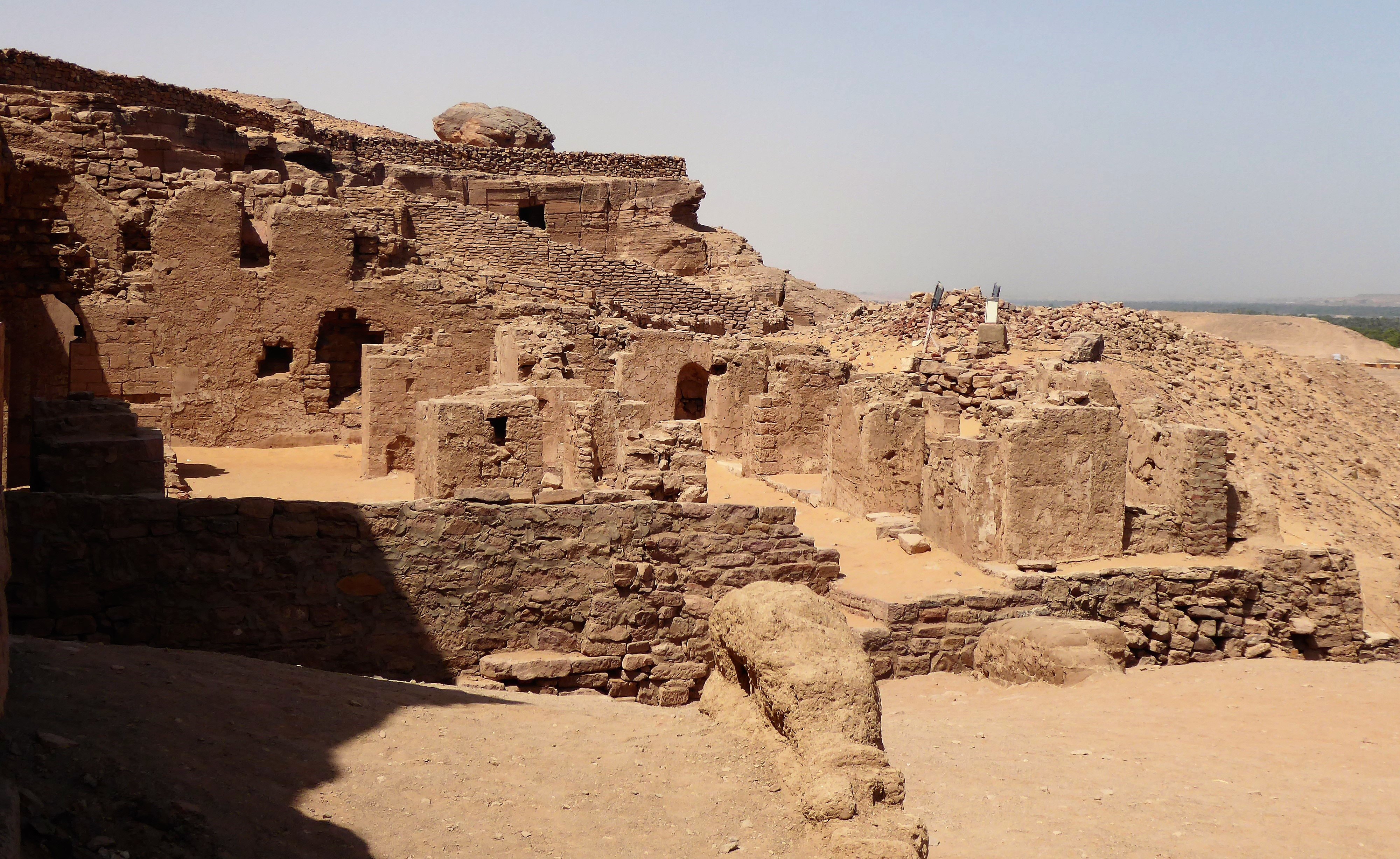 Harkhuf / Herkhuf / Horkhuf / Hirkhuf Tomb
Dates to the Old Kingdom (4000yrs+) during the reign of Merenre I and Pepi II.  He was governor of Upper Egypt and responsible for trade, he was born in the region and a native Elephantine.  Other than what is inscribe at his tomb not a lot is known about him except that he lead 4 excursions into Nubia.  His last excursion is the most famous having captured/bought a dwarf/pygmy from the land called Lyam (no idea where that is – either very South or very West).  The king was so excited to hear the news about the pygmy that he request he/she be sent immediately to him.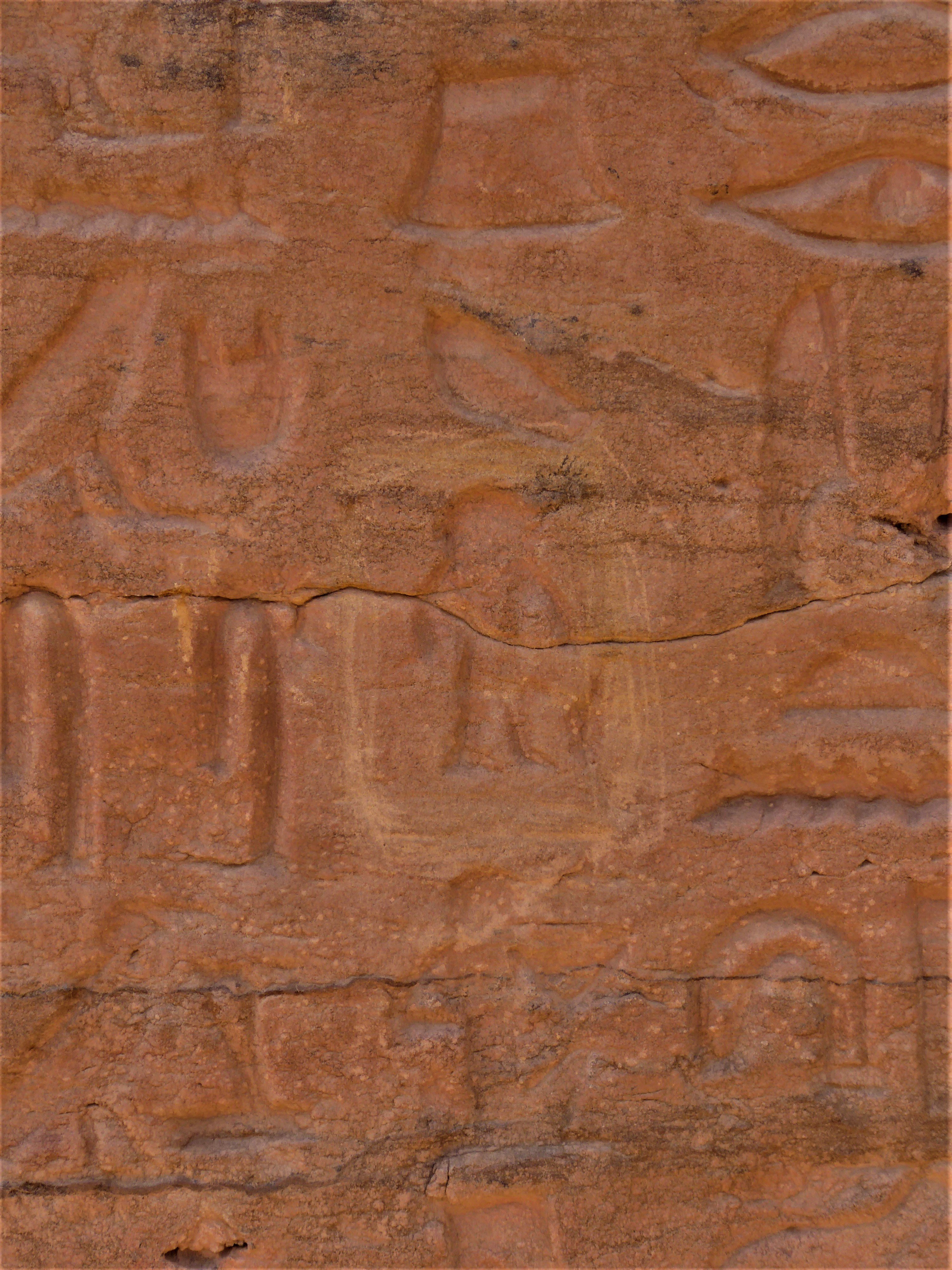 The tomb is quite plane with the colours of the rock bringing life to the dead stone, the columns neatly carved with his exploits and commendations from the Kings.  A false door in the middle giving Herkhuf access to the current world and entry passage into the life thereafter.
Mekhu and Sabni Tomb
I've put these two together because the two tombs are made into one, Mekhu is the father and Sabni the son; Mekhu's part of the tomb has round pillars and Sabni's square.  Mahmoud told me so much about both and after further research I could find almost nothing about Mekhu even though he was a senior figure, I think governor.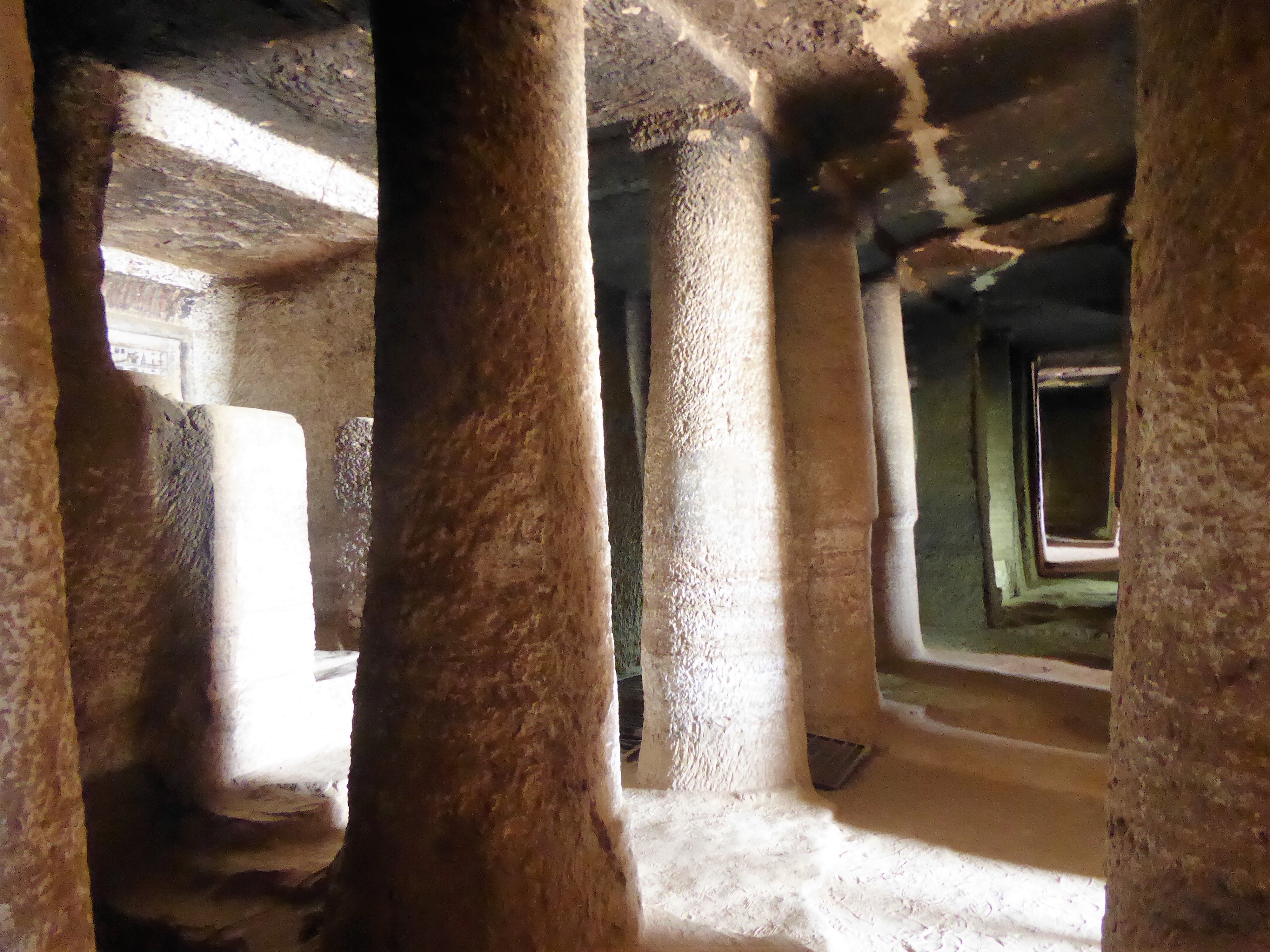 Both tombs are over 4000yrs old and not even the oldest at Qubbet el-Hawa where some are 4500yrs+.  Both father and son lead excursions into Nubia, on his last his father died and Sabni retrieved his body and buried it in the tomb; a story well scribed into both tombs.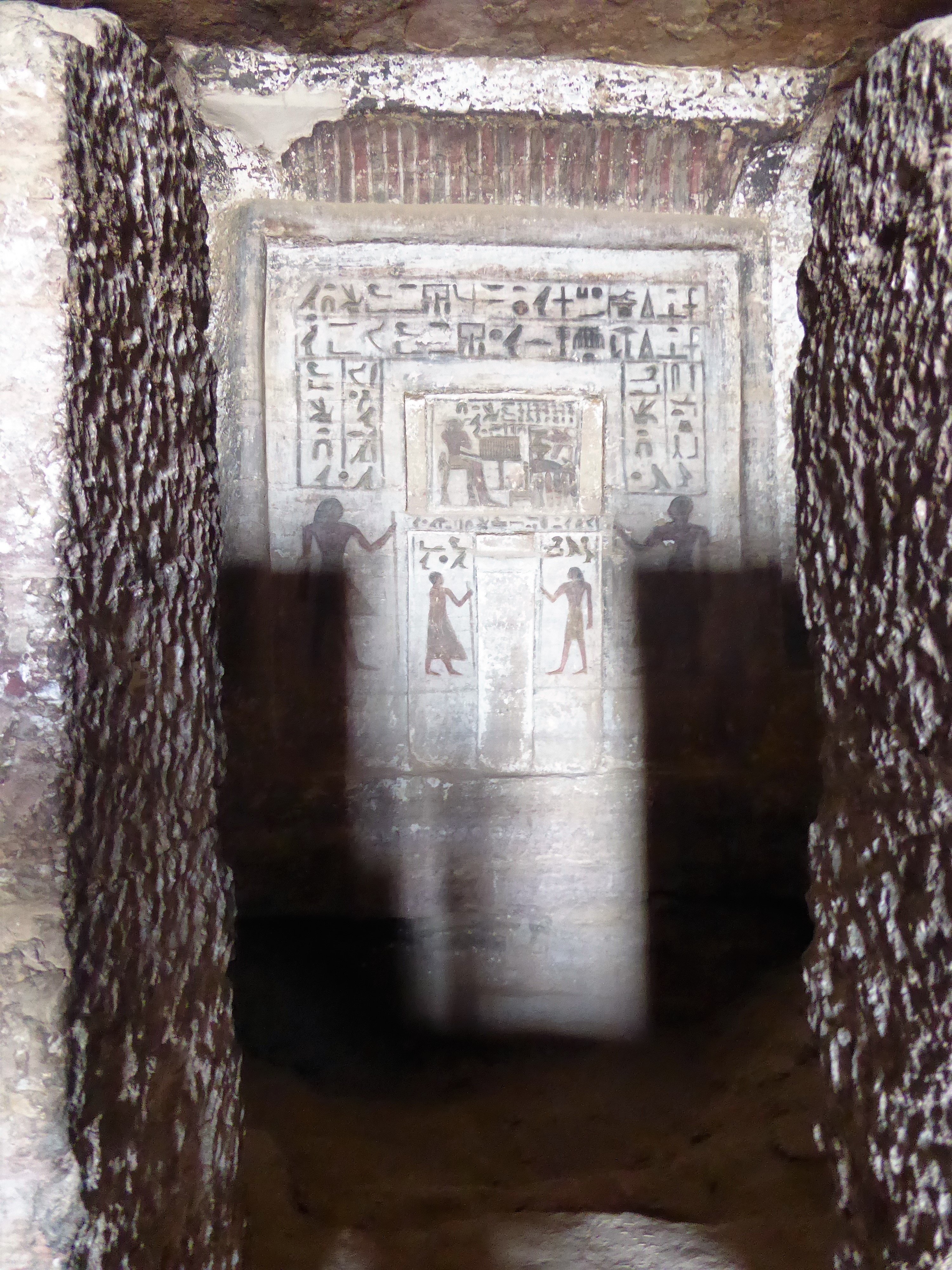 Not much is left of the funerary chapel in front of the tomb, with the tomb long rectangular in shape with further corridors cut down &/or horizontally into the mountain for those of his family – almost all of these are either partly or full of sand and there must be at least 8.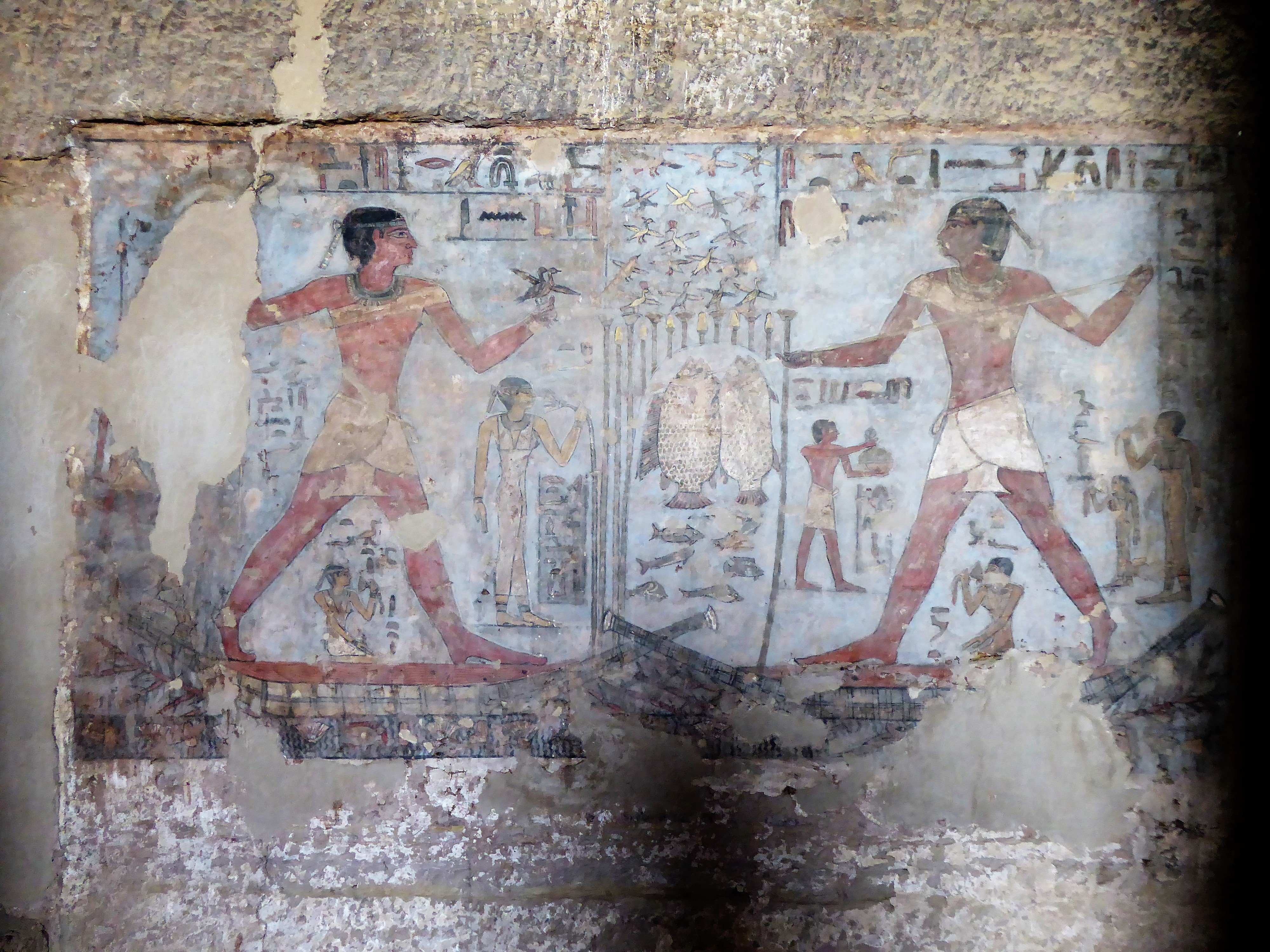 Both tombs which are open to each other with the only difference being the shape of the pillars have false doors, inscriptions and Mekhu's offering altar still in place.  Combined they cover a large area, maybe close to 40m long with not much of the coloured decoration left except one wall in Sabni's tomb right near the false door; a depiction of Sabni hunting and fishing on the river, standing on a reed boat.  It's at least 4000 years old, probably 4100+, this mural and the rest of the tomb would have lit this dull space with extravagant colour.  The outlining is still perfect, the colours obviously faded but still clear and bright today.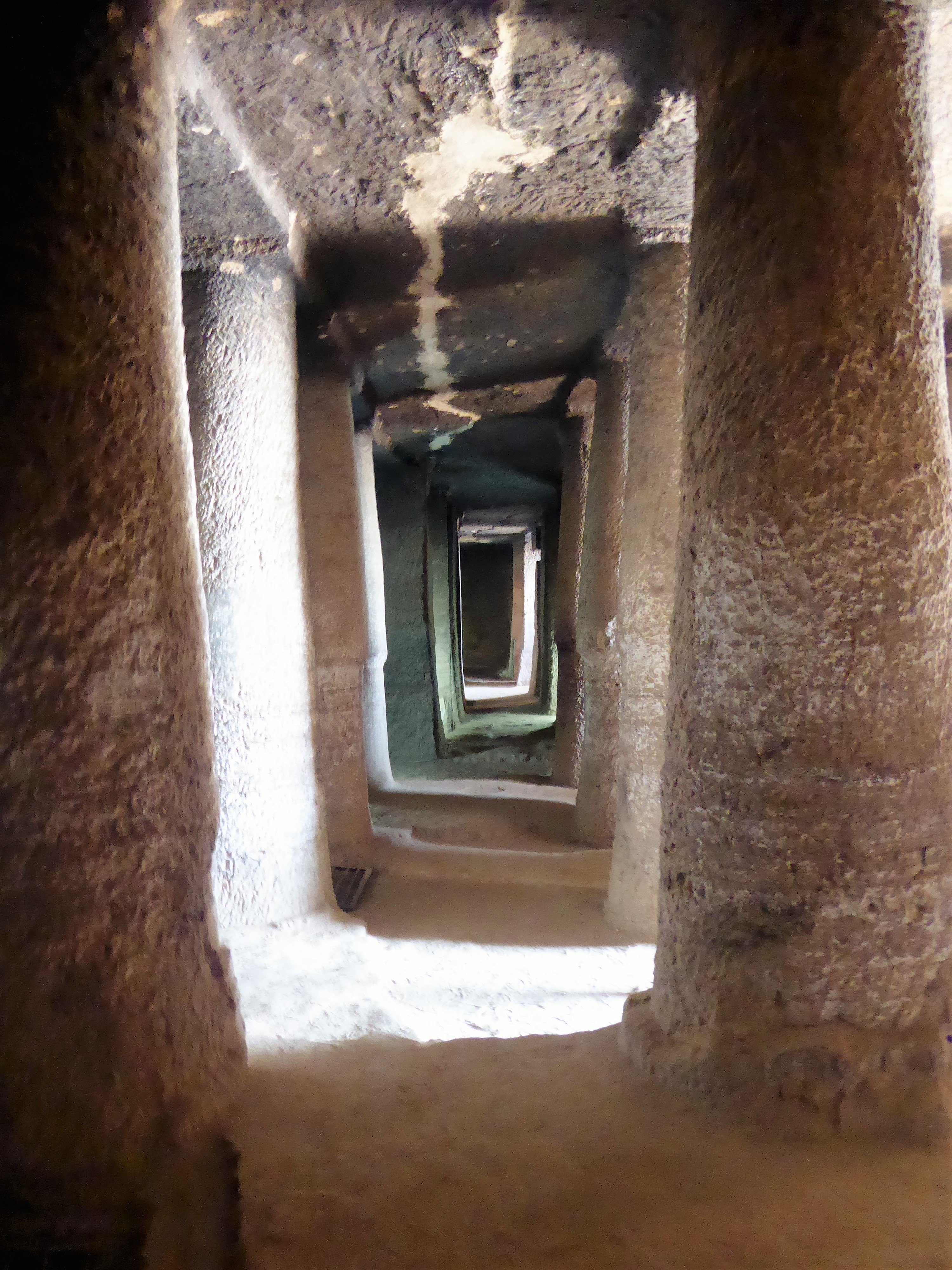 Some other tombs
I couldn't find out which of these belong to who, like I said the hill is full of tombs where ever you look, just wanted to include the pictures.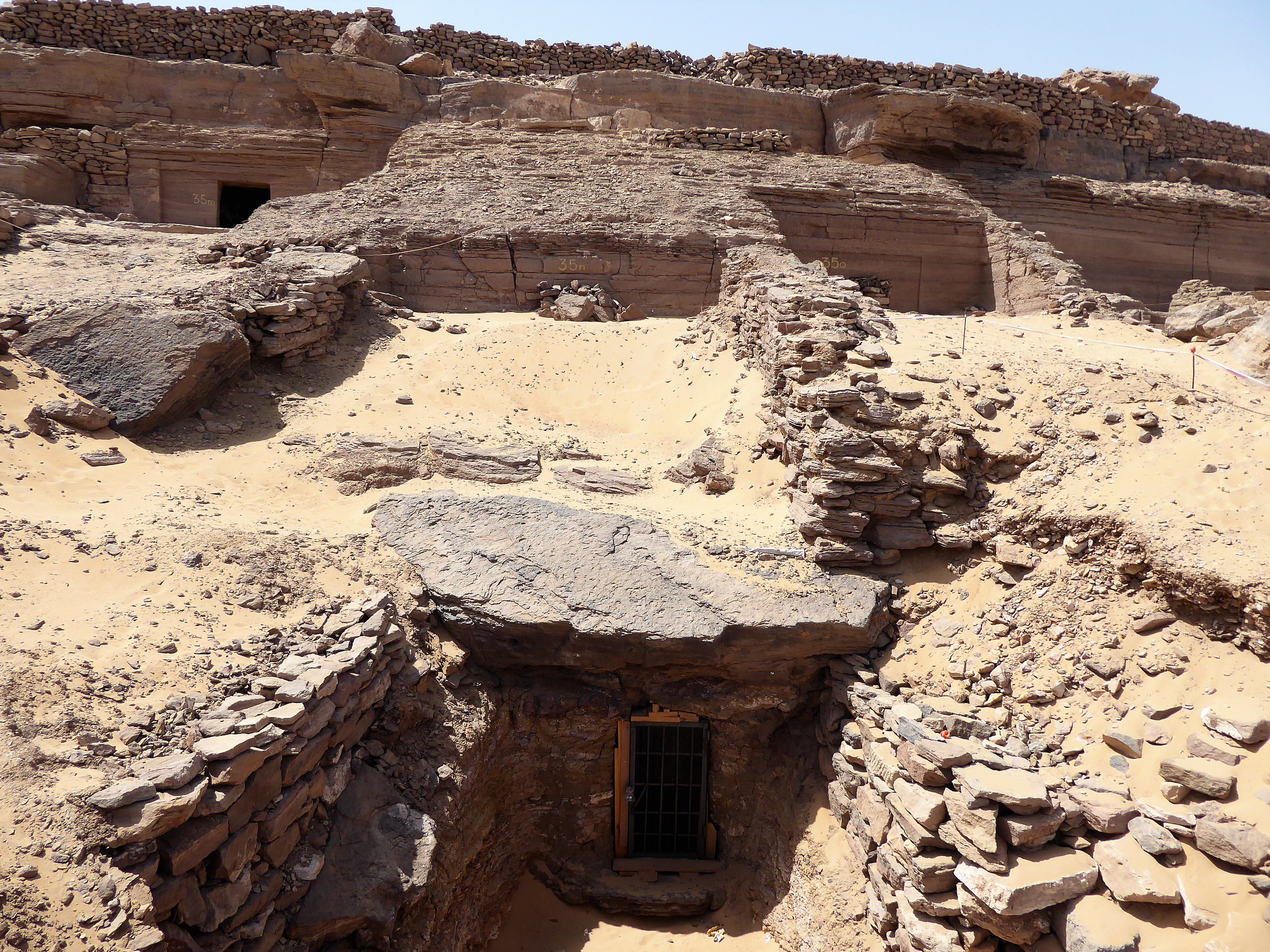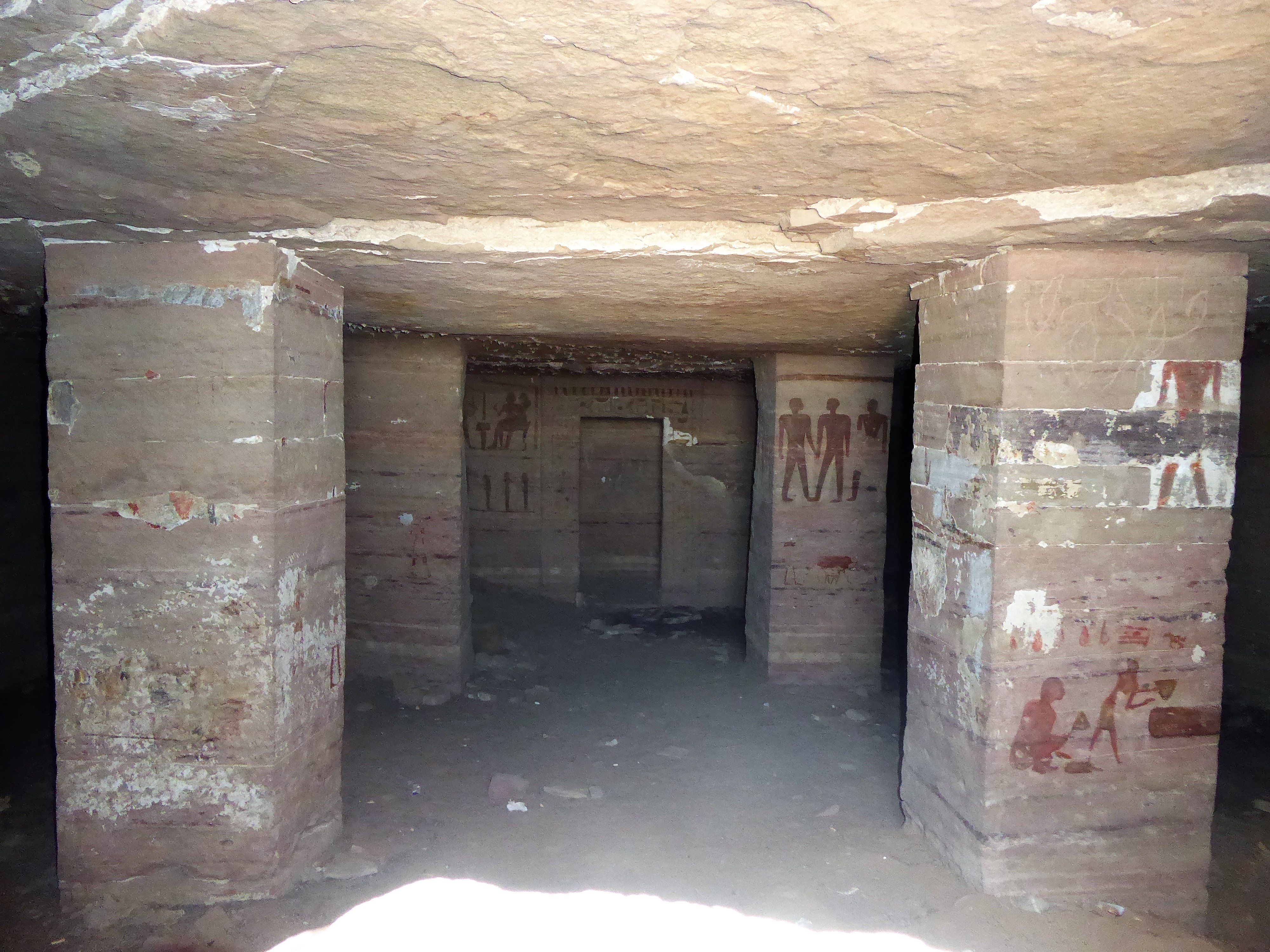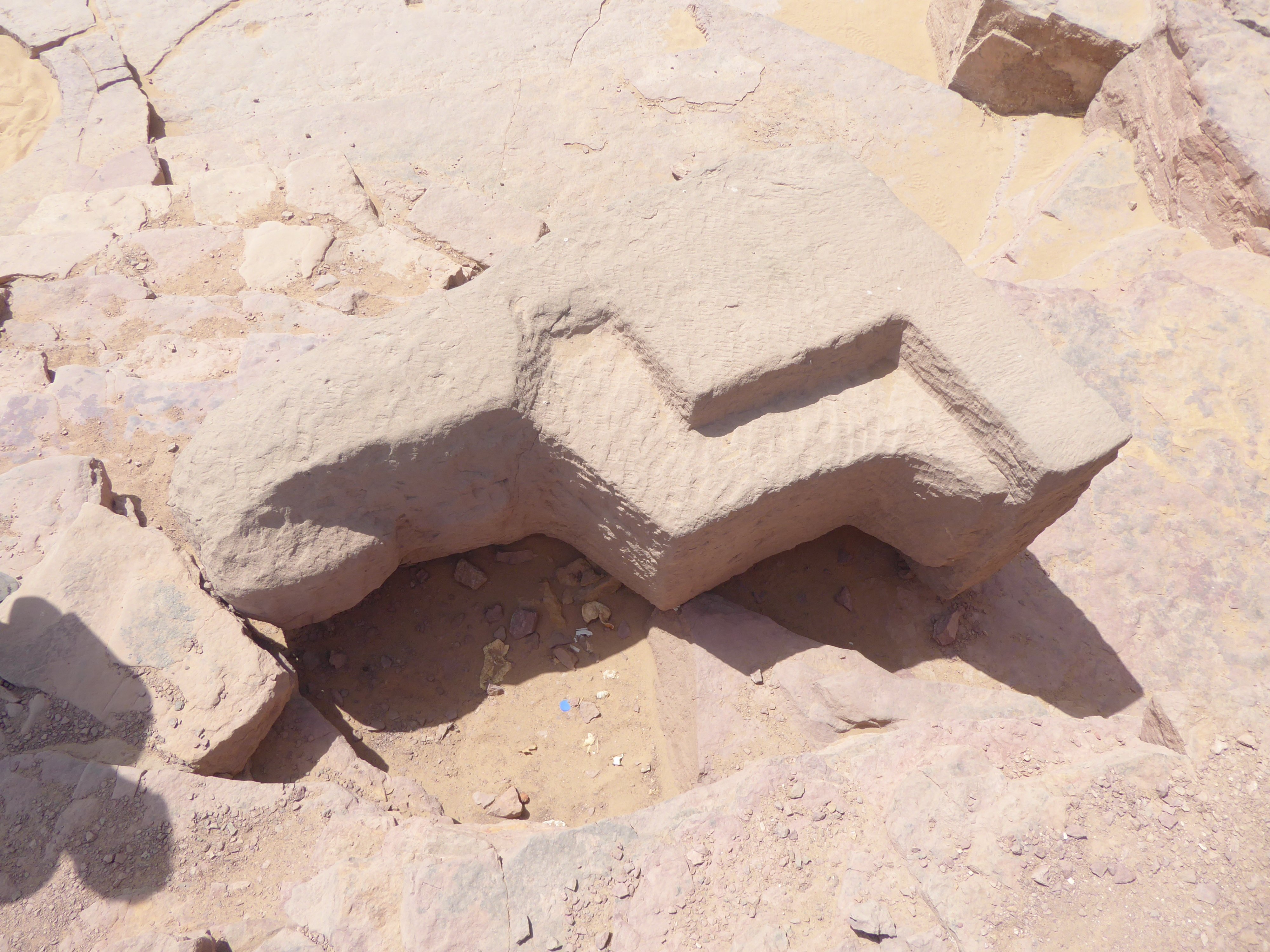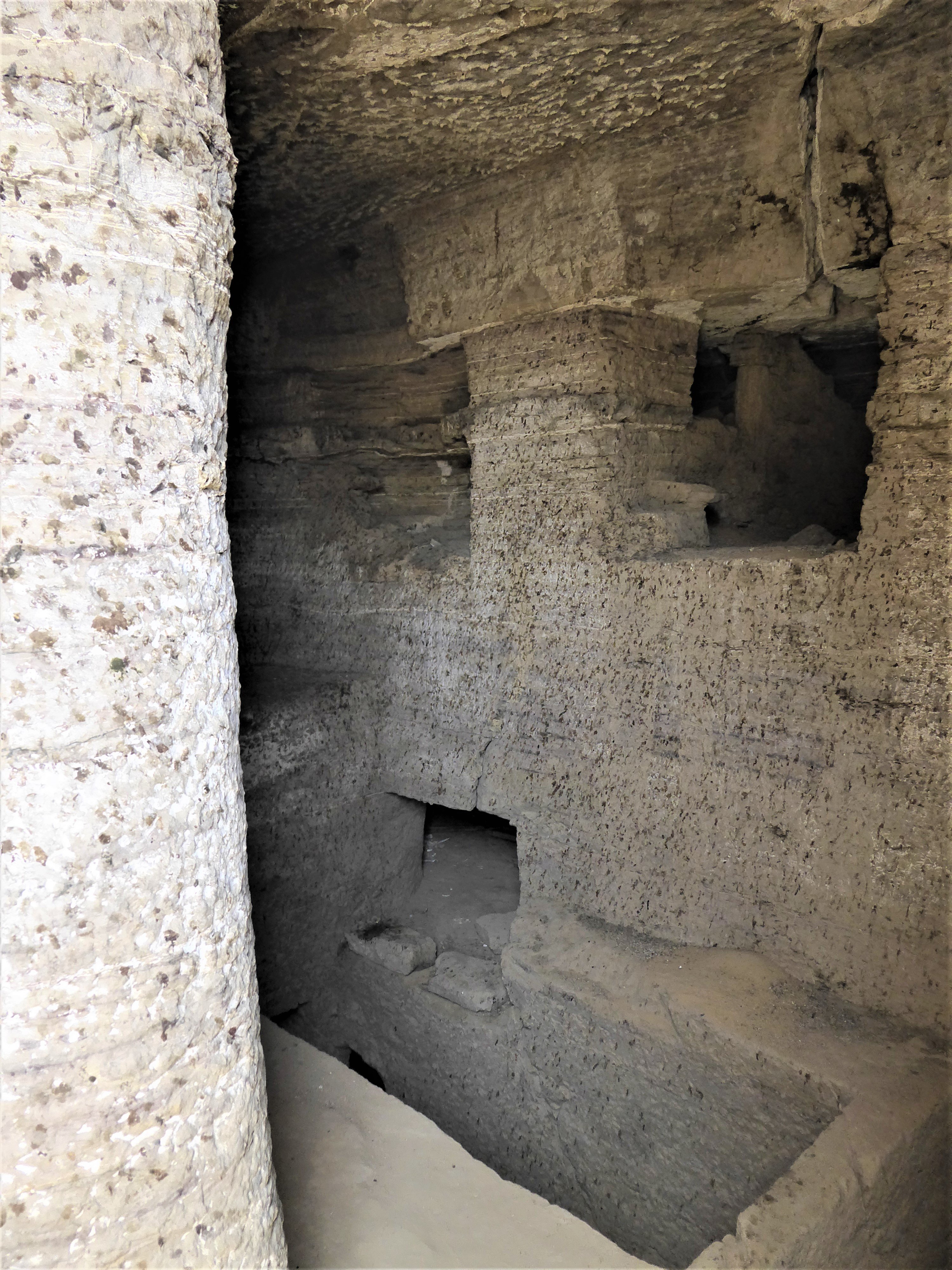 We had finished our trip and I was reluctant to leave Aswan, I would have preferred to stay another day and come back to explore some of the other tombs or at least revisit those I had just seen.  The decorations of the tombs are marvellous but hands down the magnificence of these tombs are the reshaping of a mountain to look like a village with church, temples, tombs, walls, roofs etc. etc. all that with stone, wood and copper tools…freaking amazing!
I was leaving Aswan later that afternoon on my Nile cruise, Aswan was a great surprise and I didn't even see everything…still plenty of history to see on my next visit!  It may seem out of the way being so far South from Cairo but Aswan is so worth it if you get the opportunity and has a lot more to offer than just Abu Simbel…I would have loved to have seen it.
Thank you Aswan and good bye, lots more of Egypt to see!