I spent the majority of the day sorting out accommodation and travel plans to Cordoba so the day may have seen wasted but it had to be done, the rest of they day I wondered endlessly, but intentionally around the city…..sooo much to see!  Throughout my time in Seville I was keen to see more of the inside of the monasteries, convents and churches but so many of them are closed and those that are do so during odd hours, pity.
Casa de las Duenas/Palacio de las Dueñas/Palace of the Dukes of Alba/Palacio de las Pinedas
I popped into Casa de las Duenas/Palacio de las Dueñas/Palace of the Dukes of Alba/Palacio de las Pinedas, I had been twice before and it was close, as luck has it third time!  To some degree the name gives a hint, this is owned by the House of Alba and therefore own by the Duke of Alba, it's an actual home; the Duke and extended family seldom stay there however still have rooms etc. there so not everywhere is open to the public.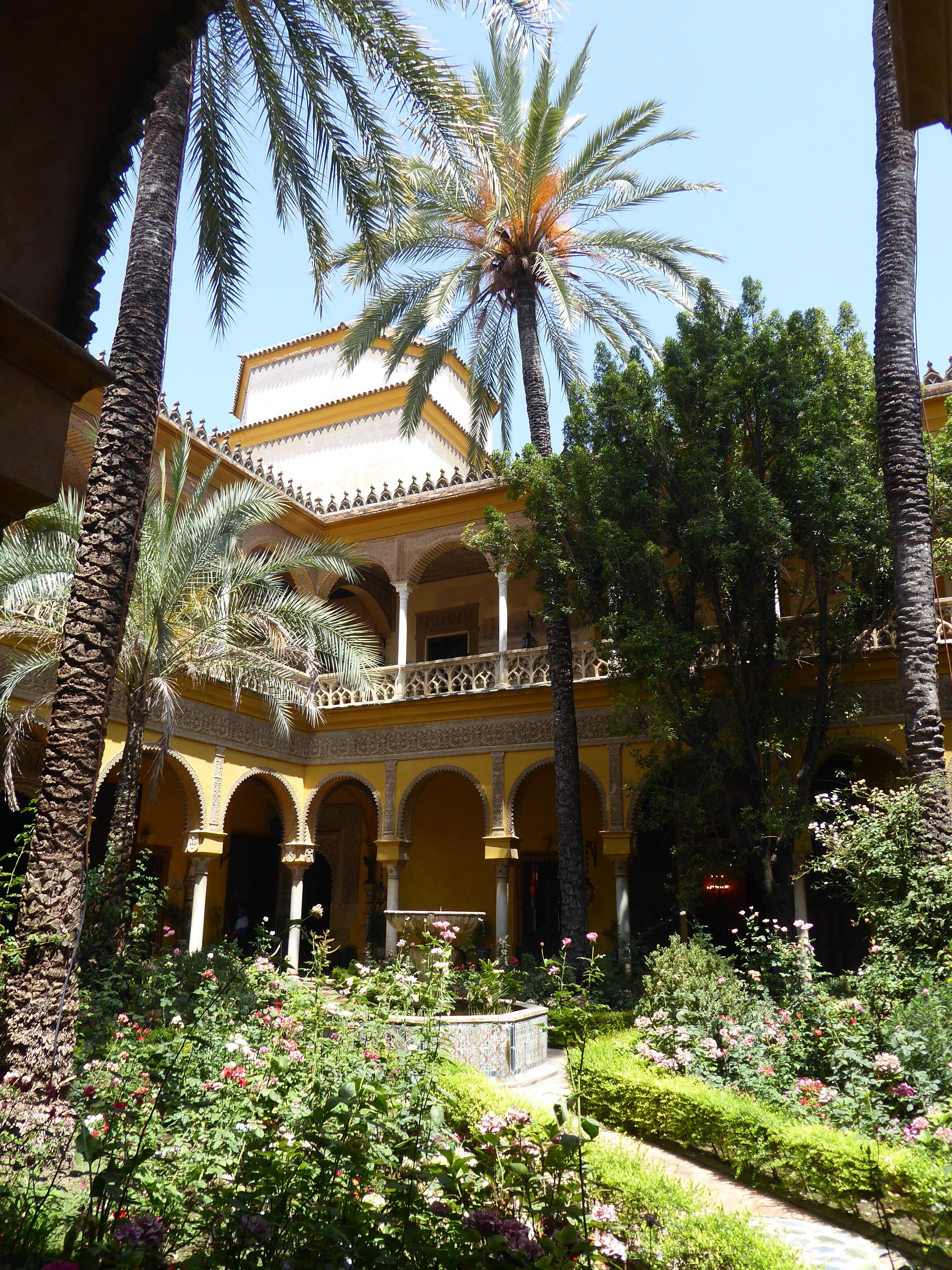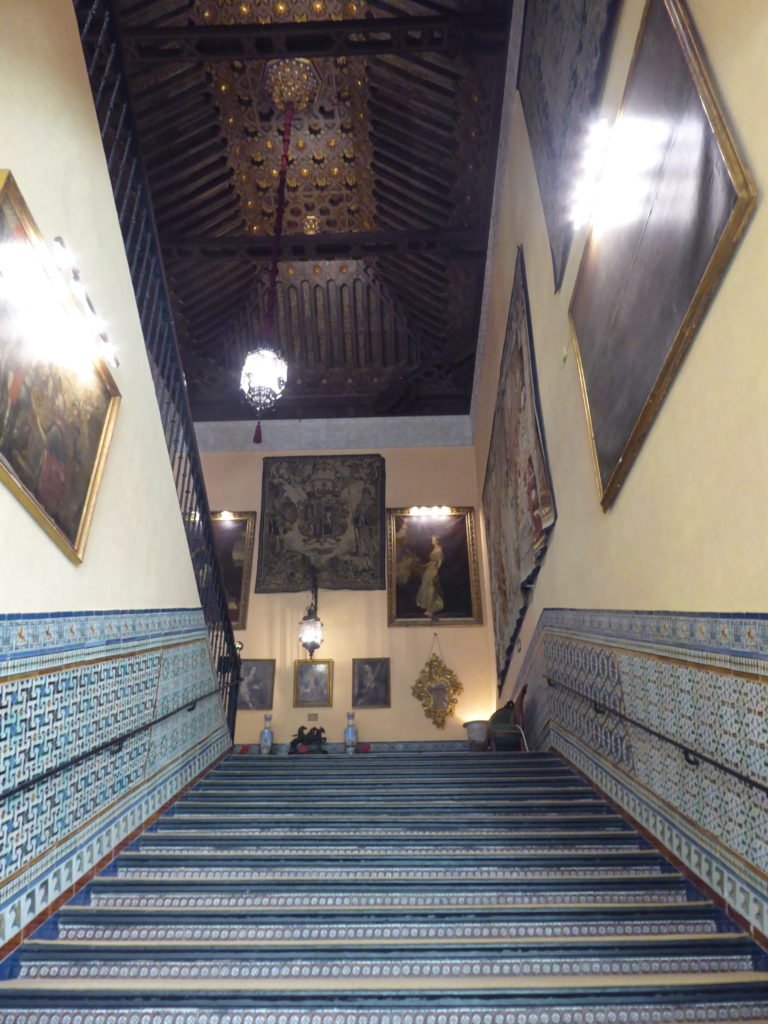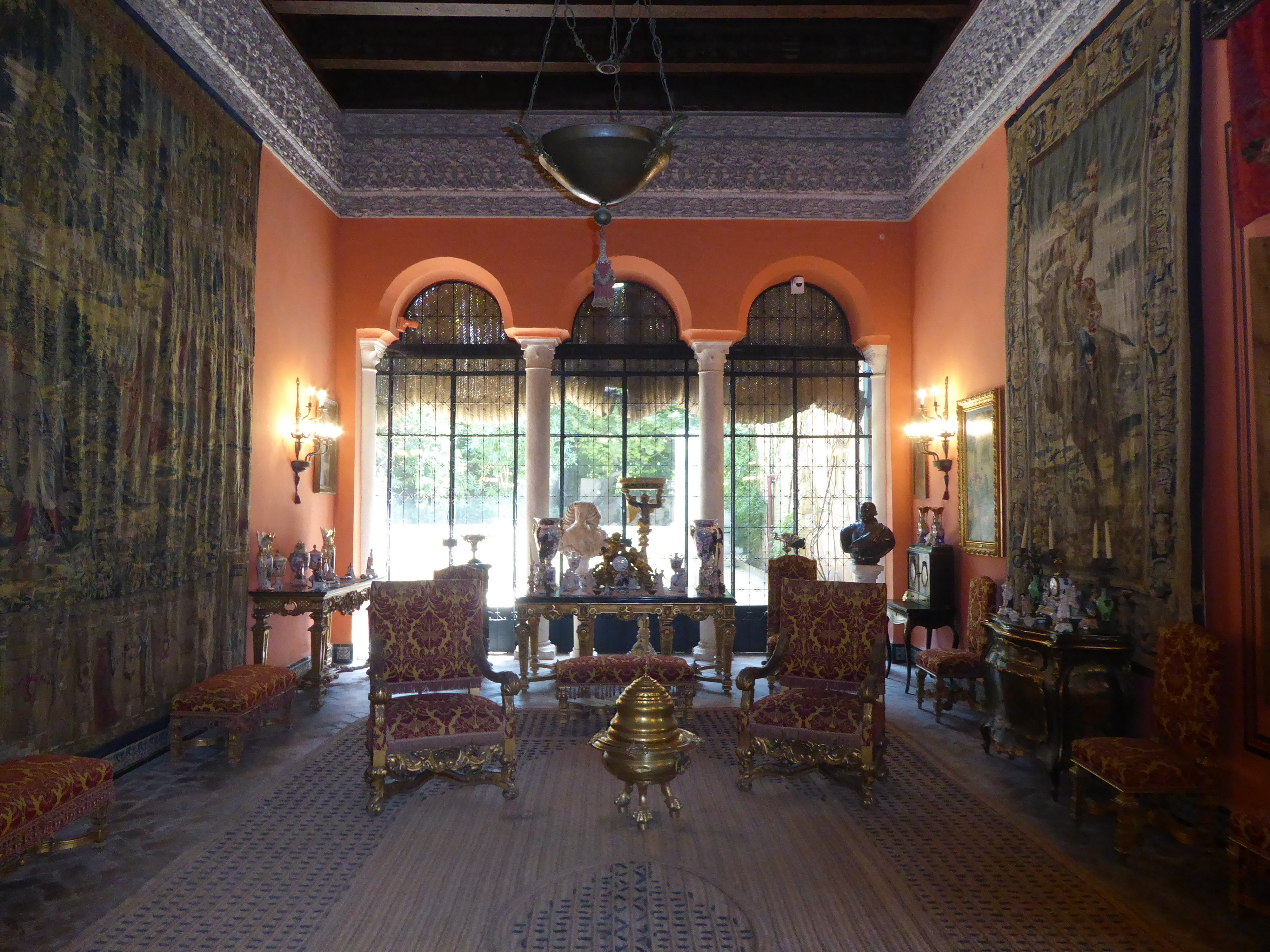 In the late 15th century the economy was strong and many famous buildings still standing now were build during that time, as is the case with Palacia de las Duenas – which is now a national monument.  I opted not to do the whole guided or audio tour, maybe the latter would have been a good choice; there is so much inside, so much history and as expected from a prominent aristocratic family the objects inside are old, priceless and come with a very long lineage.  Doña María del Rosario Cayetana Fitz-James Stuart y de Silva, 18th Duchess of Alba de Tormes, Grandee of Spain (28 March 1926 – 20 November 2014) was the previous head of the House of Alba, she until her death held the Guinness Book of Records title for the largest number of noble titles with 57 titles – the current head now, is Carlos Fitz-James Stuart, 19th Duke of Alba.
Old City Wall
A rather long deviation took me to the old city wall, almost no signage or information for a substantially long stretch of it remaining sturdy as the day it was built, now left nearly discarded and forgotten.  Today it forms a natural boarder between the old and new city requiring no explanation as it is noticeable the immediate change in roads, architecture…….and distinct lack of tourists ?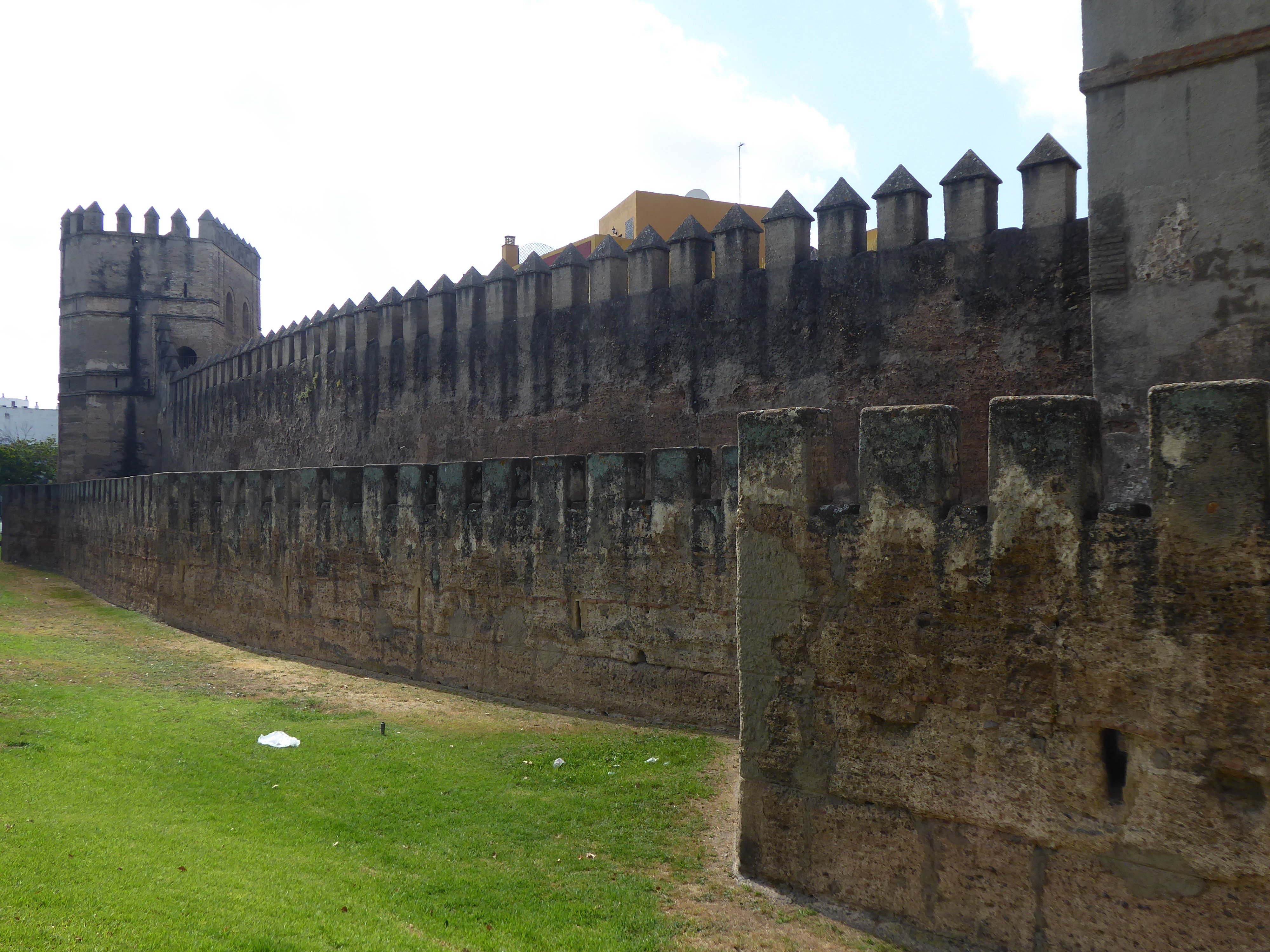 One of the things I like about Seville (historical part) is that you don't need to go trekking to find or see something interesting i.e. historical, without it feeling imposed upon you; the cathedral is stunning in all aspects but it is an imposing structure with lines of tourists queuing up making you feel more like a conveyor belt on a production line, whereas the majority of Seville is not like that.  You could easily not spend a penny/cent on the "tourist attractions" and still have a tour through 1000+yrs of history, see fantastic architecture past and present and have a unique experience without breaking the bank account.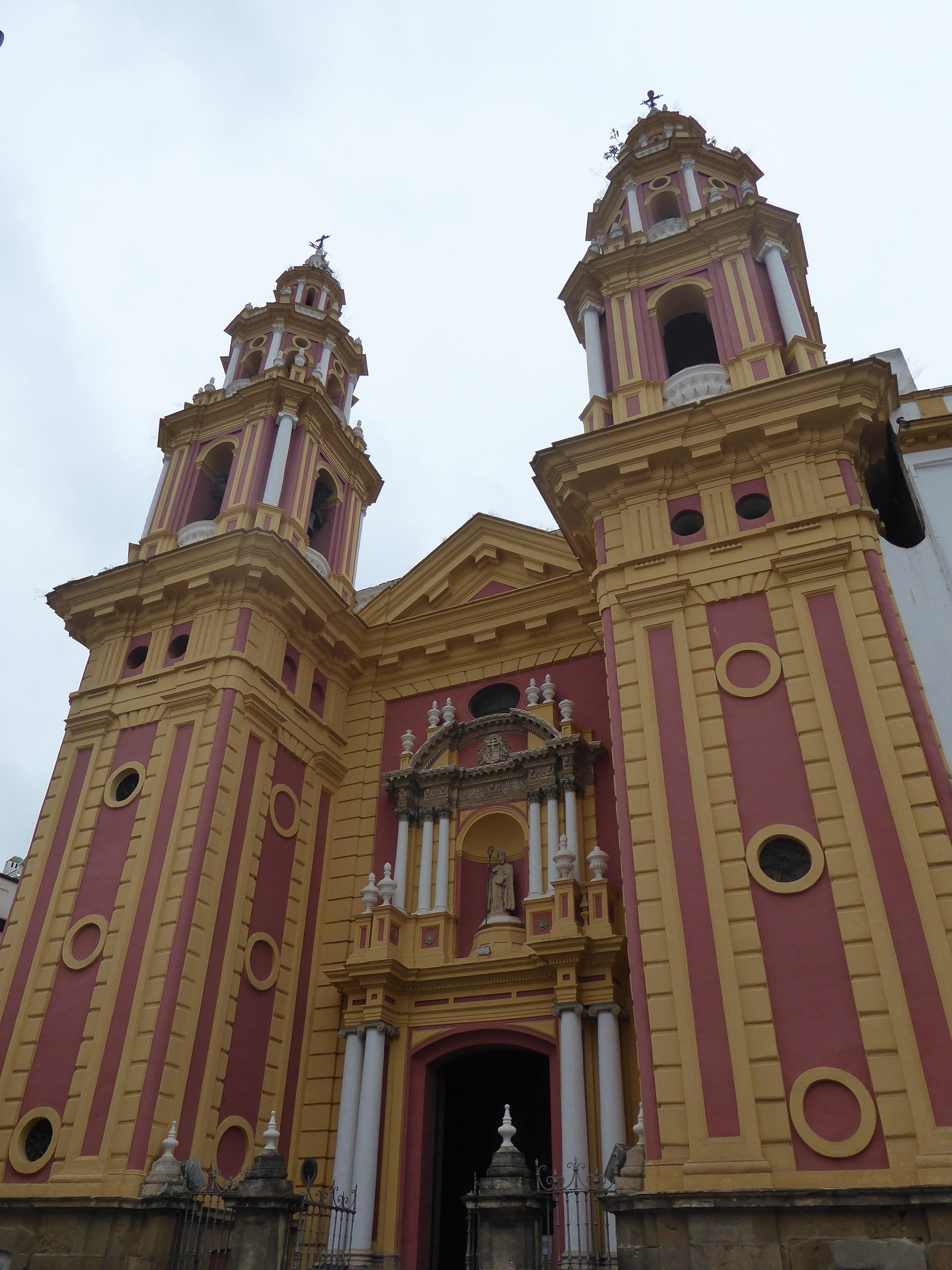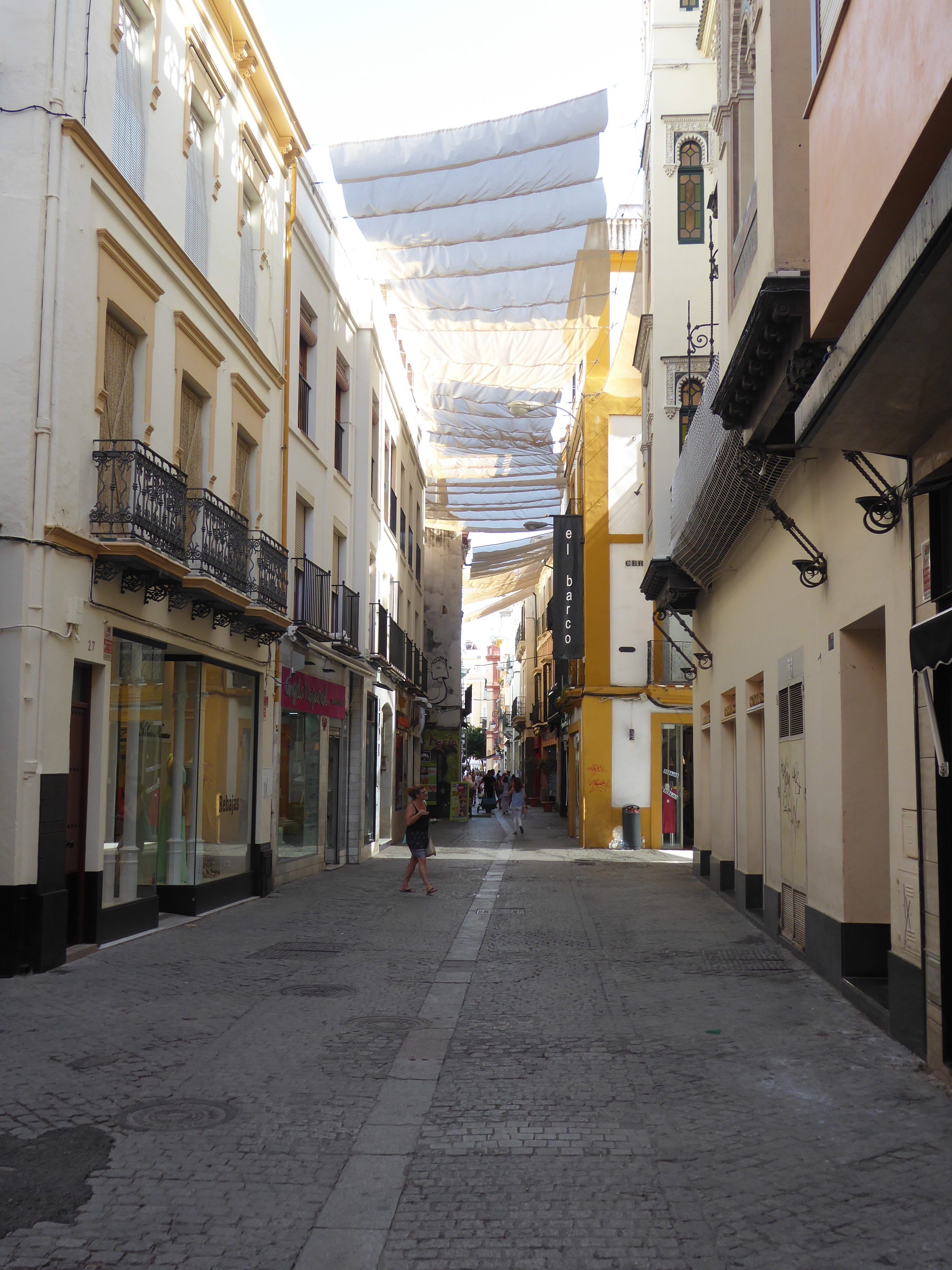 La Casa de Pilatos/Pilates House/Casa Pilatos
Maybe it is just my perception, as lesser known and visited palace not even a stone's throw from my hotel is La Casa de Pilatos/Pilates House/Casa Pilatos, an Andalusian palace and permanent residence of the Dukes of Medinaceli – they seldom stay there but do still have private quarters there which are out of bounds to tourists. The building is a mixture of Renaissance Italian and Mudéjar Spanish styles. It is considered the prototype of the Andalusian palace.  They also own Palacio de Oca in Galicia and Hospital de San Juan Bautista in Toledo.
A brief inclusion, the Duke of Medinaceli is a noble title going back to the late 15th Century, many holding prominent and powerful positions in the Royal Household and politics, a few of them also held the title of Viceroy of Naples – this explains the remarkable display of Ancient Roman sculptures, reliefs and decorations.  Not that it has anything to do with Rome, the palace was used for parts of the 1962 movie Lawrence of Arabia.
Before I go on about the tiles in the palace, my Mom is a potter meaning I've been brought up with pottery my whole life meaning information naturally gets passed on (theoretical, not practical) – lucky for me, I enjoy art.  Like many of the very old buildings they can portray a battered and weathered exterior, like an old classic sports car left out in the sun only in these instances the interior has aged with utter grace exuding flair, refinement and style of an era that can only be read or dreamt of today.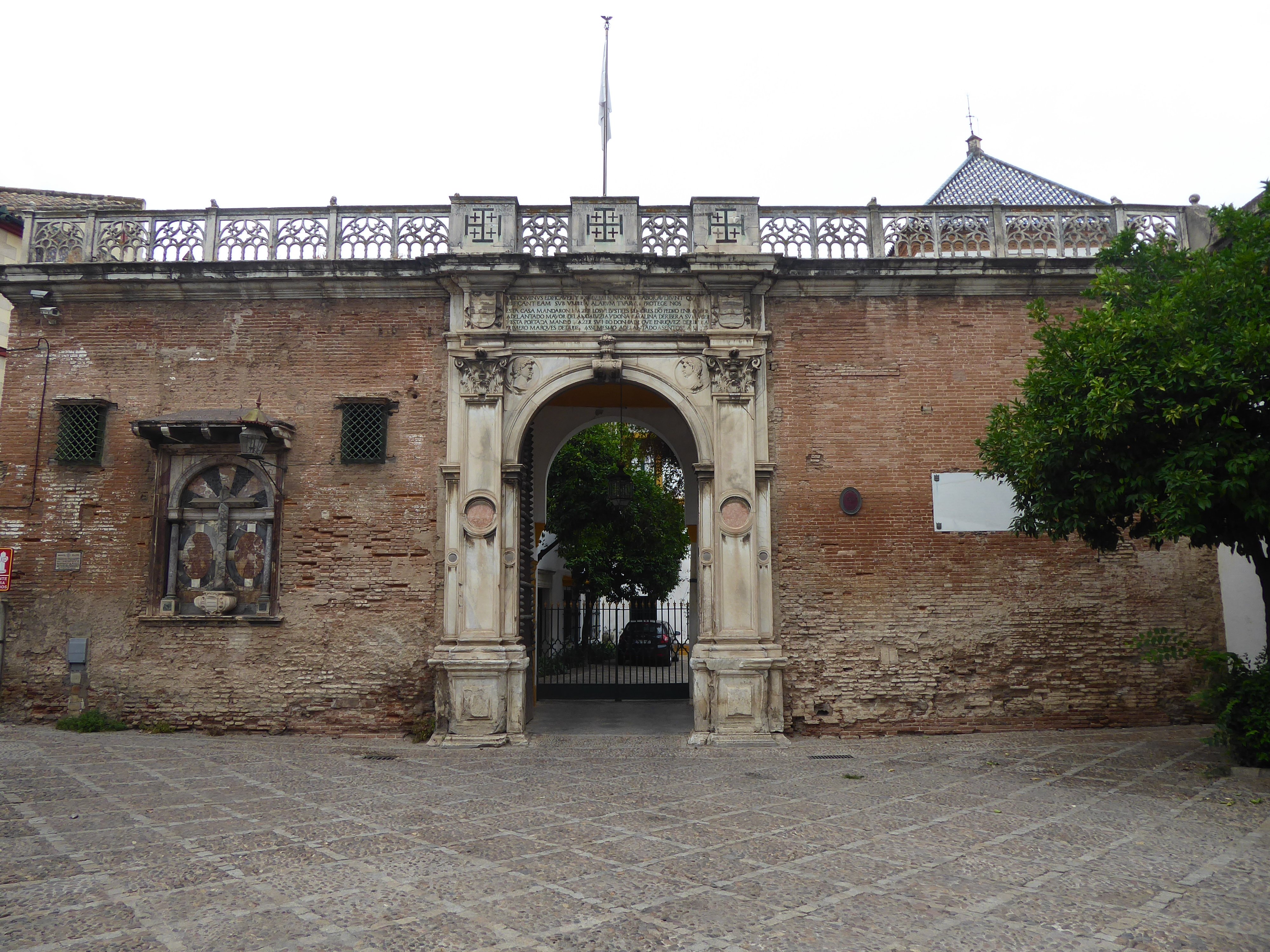 My pre-warning is self-explanatory from the photos, when it was constructed in the early 16th century it was adorned with the precious azulejos tiles, peak production meant they were ordered and manufactured at 2000 tiles a week, an astonishing amount at the time and even by today's standards! Even now, six hundred years later the colours are accentuated against the intricate and extravagant Moorish motifs in lime mortar that frame the tiles and doors.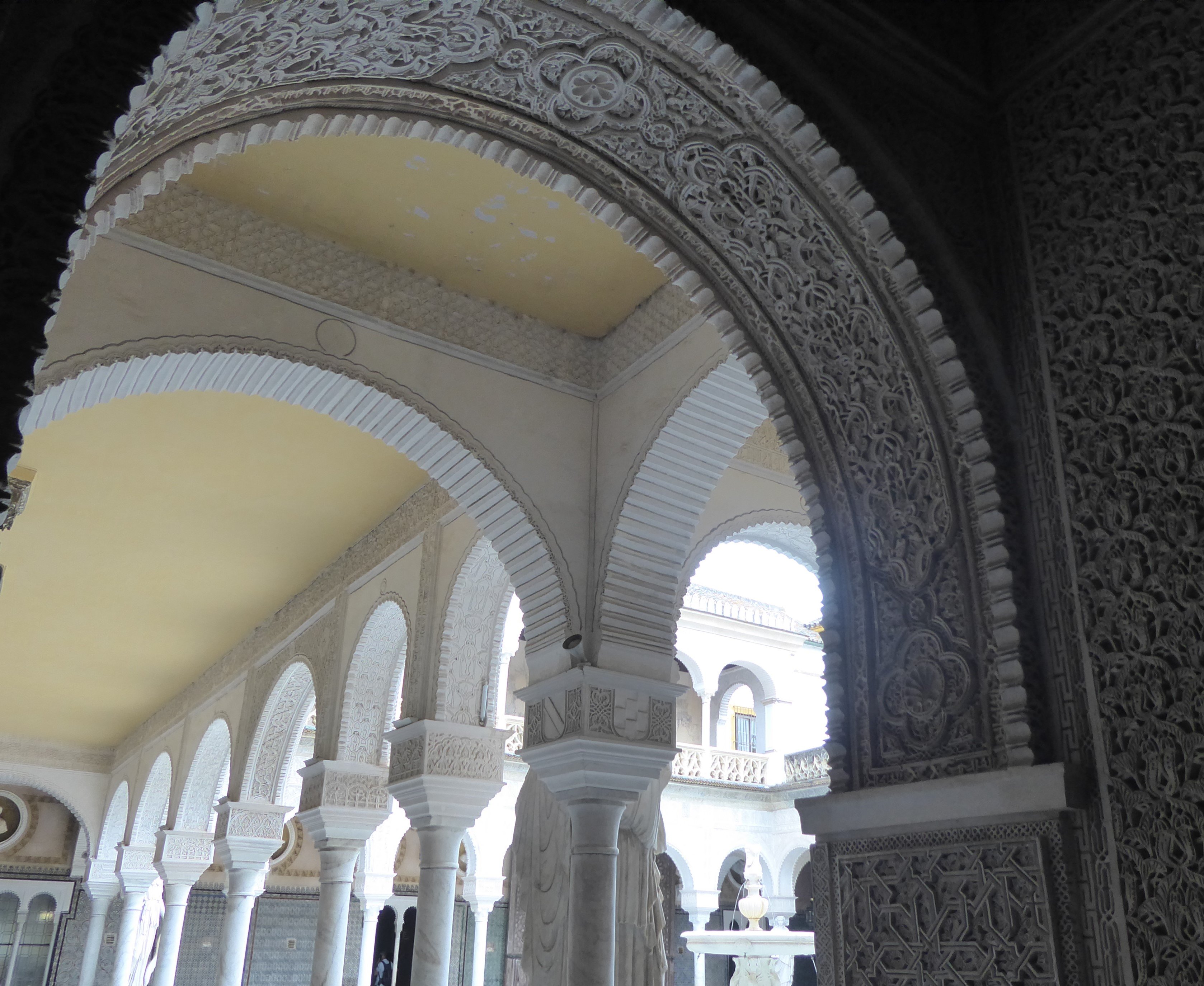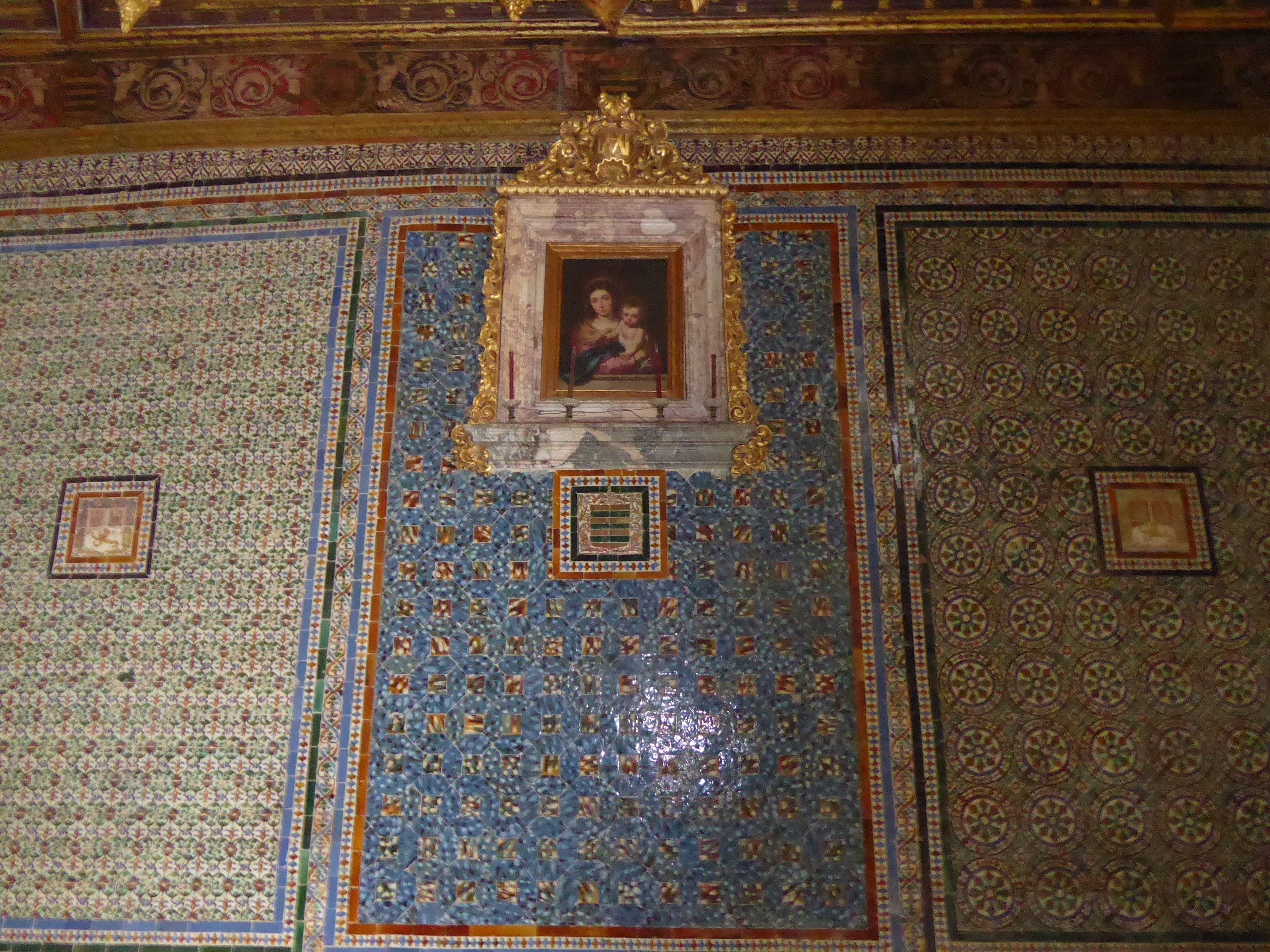 There are features throughout the building, nothing was left without decoration making every millimetre ornate including the ceilings of mahogany, at the time painted in deep reds, blues and yellows with symmetric shapes or Mudéjar honeycomb (Stalactite work) with gold to represent the night sky and glittering stars.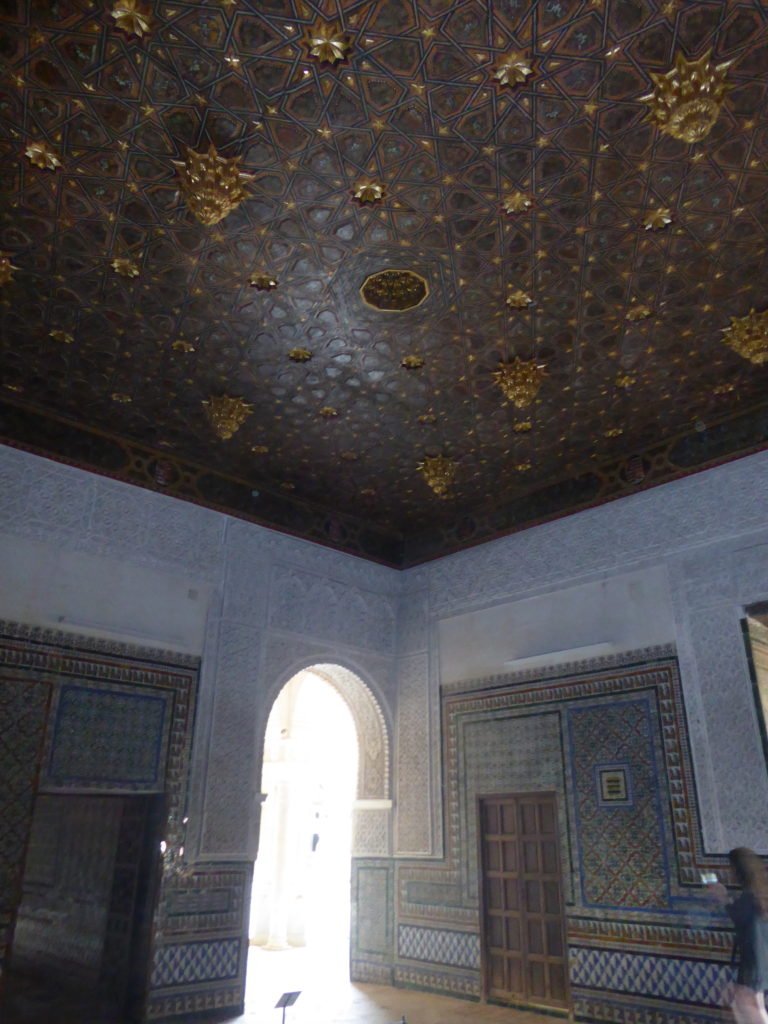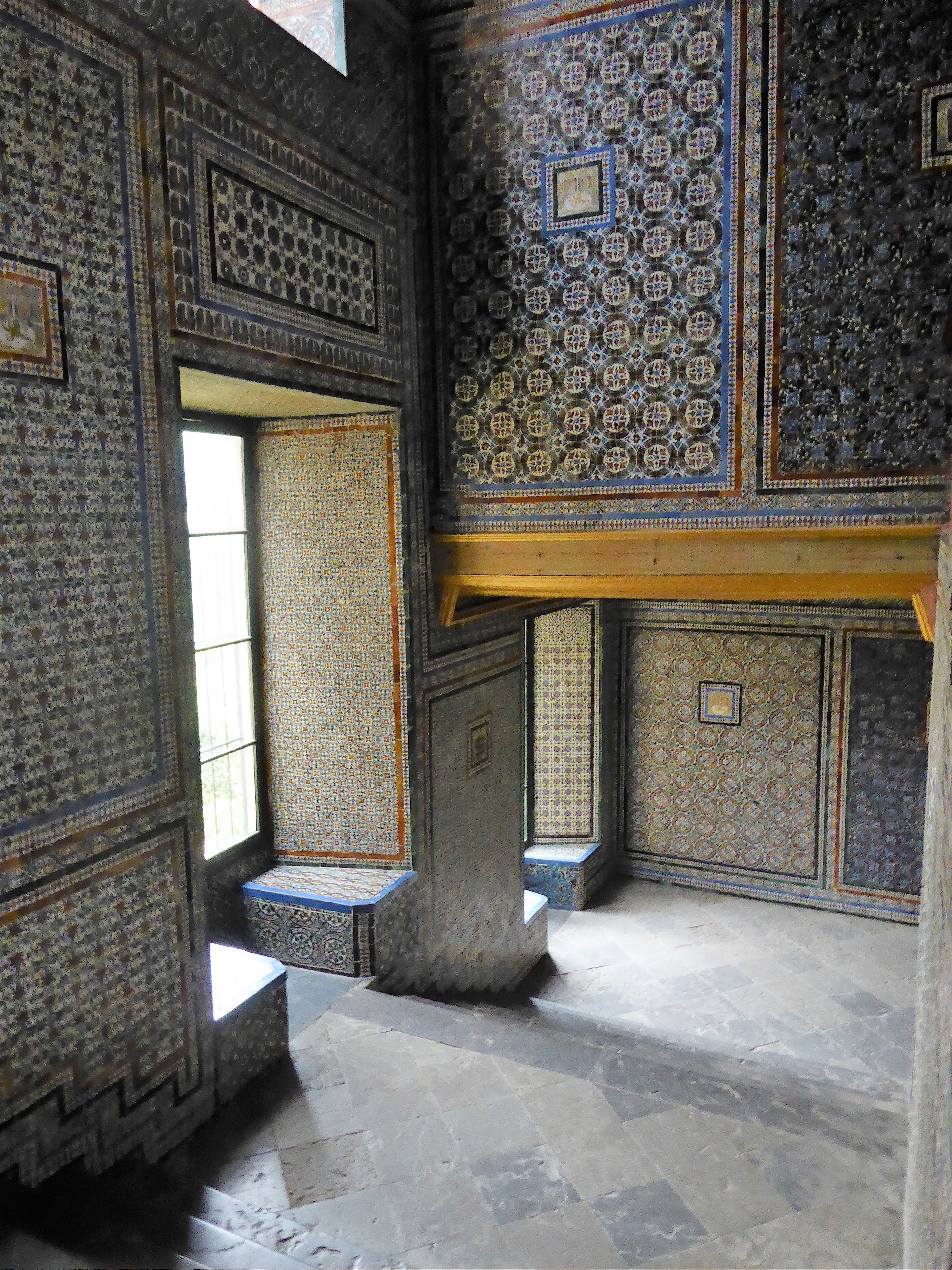 Dotted around the palace in abundance are Roman marble reliefs and sculptures, including one of Apollo which was altered to add a head piece in the 16th Century as it wasn't in keeping with the fashion at the time of Romanesque depictions!  Can you imagine altering a 1500 year old sculpture because it isn't fashionable, sacrilege!   The addition of the head piece/helmet has now been removed and still on display, in another room.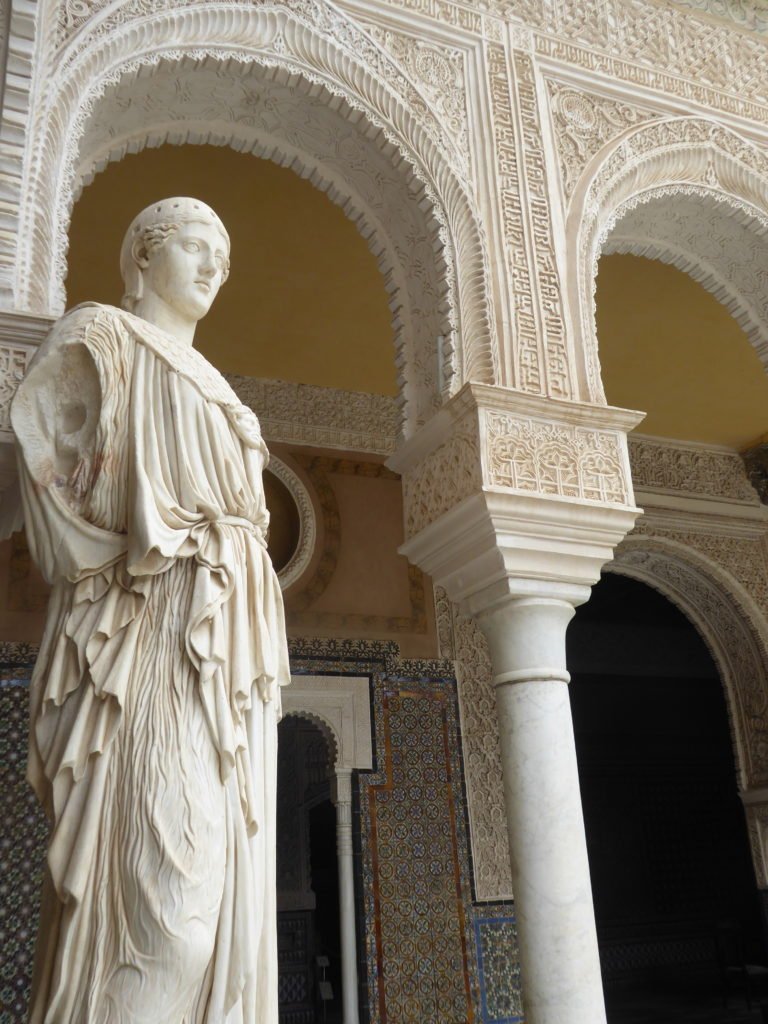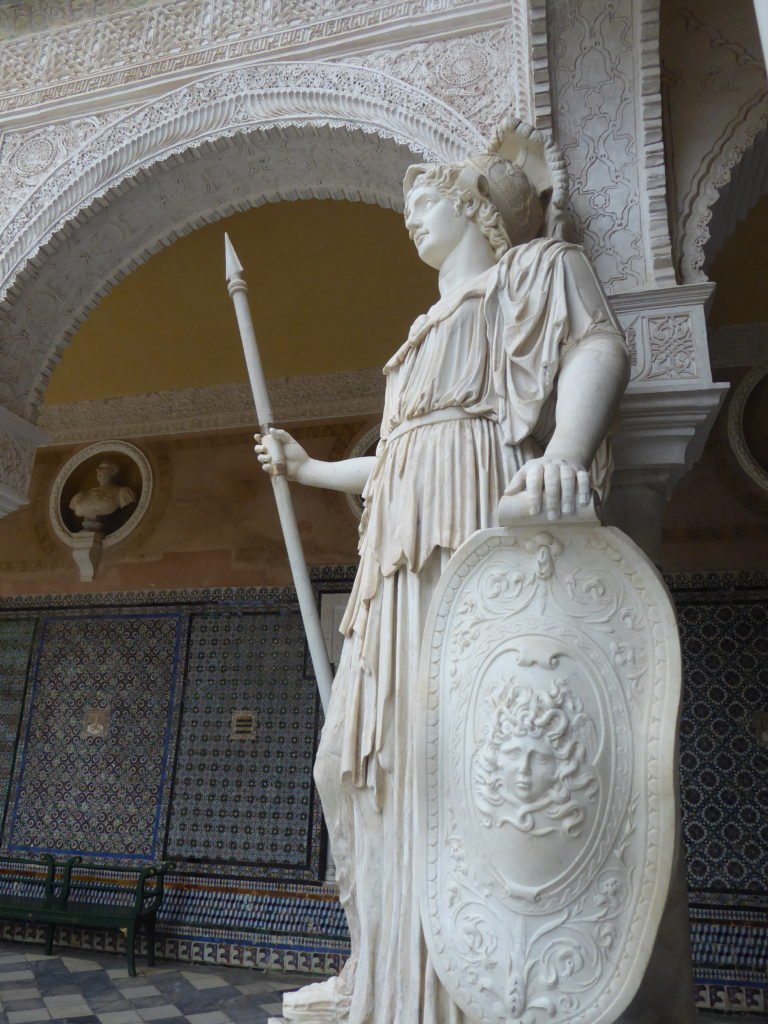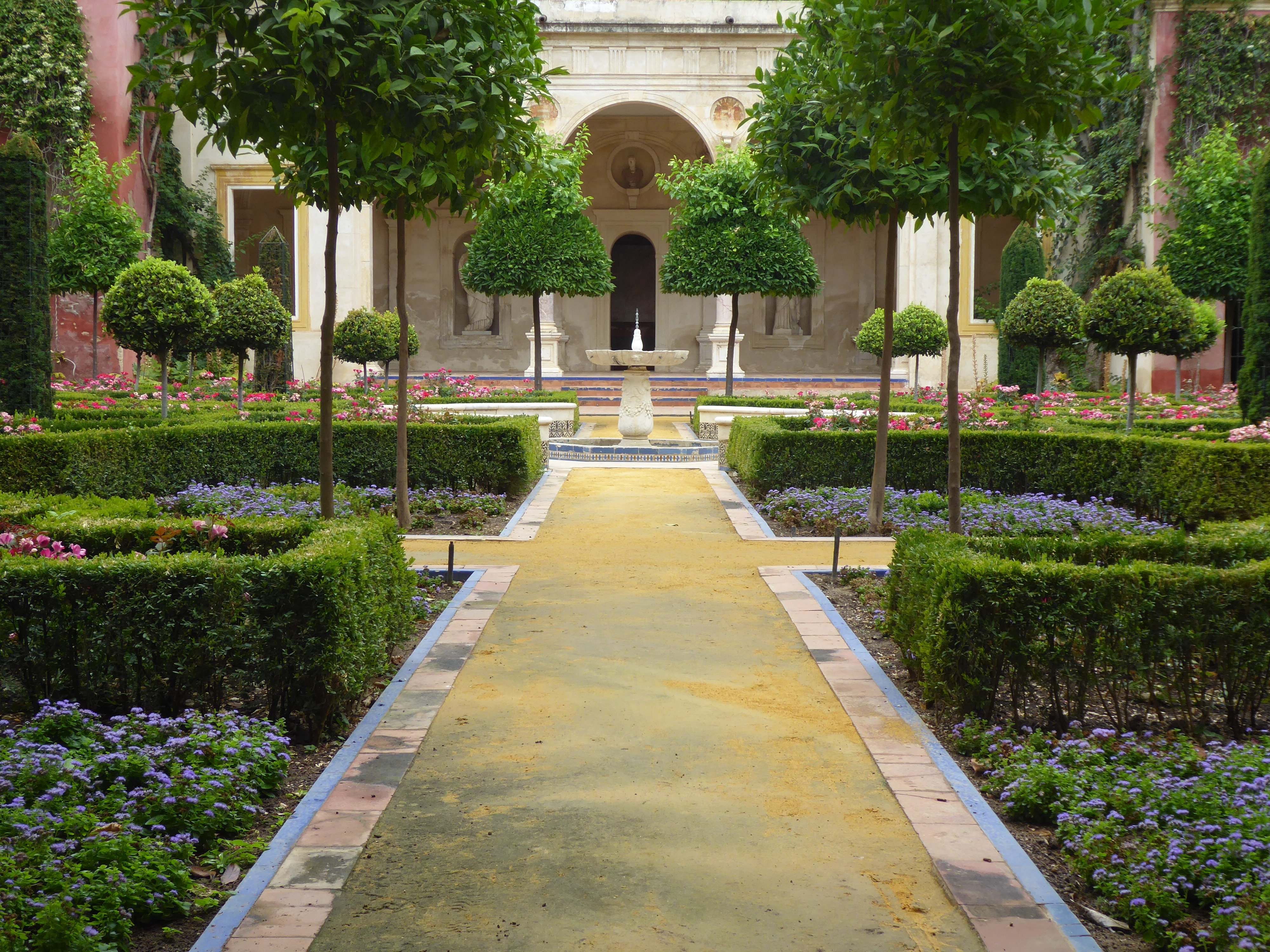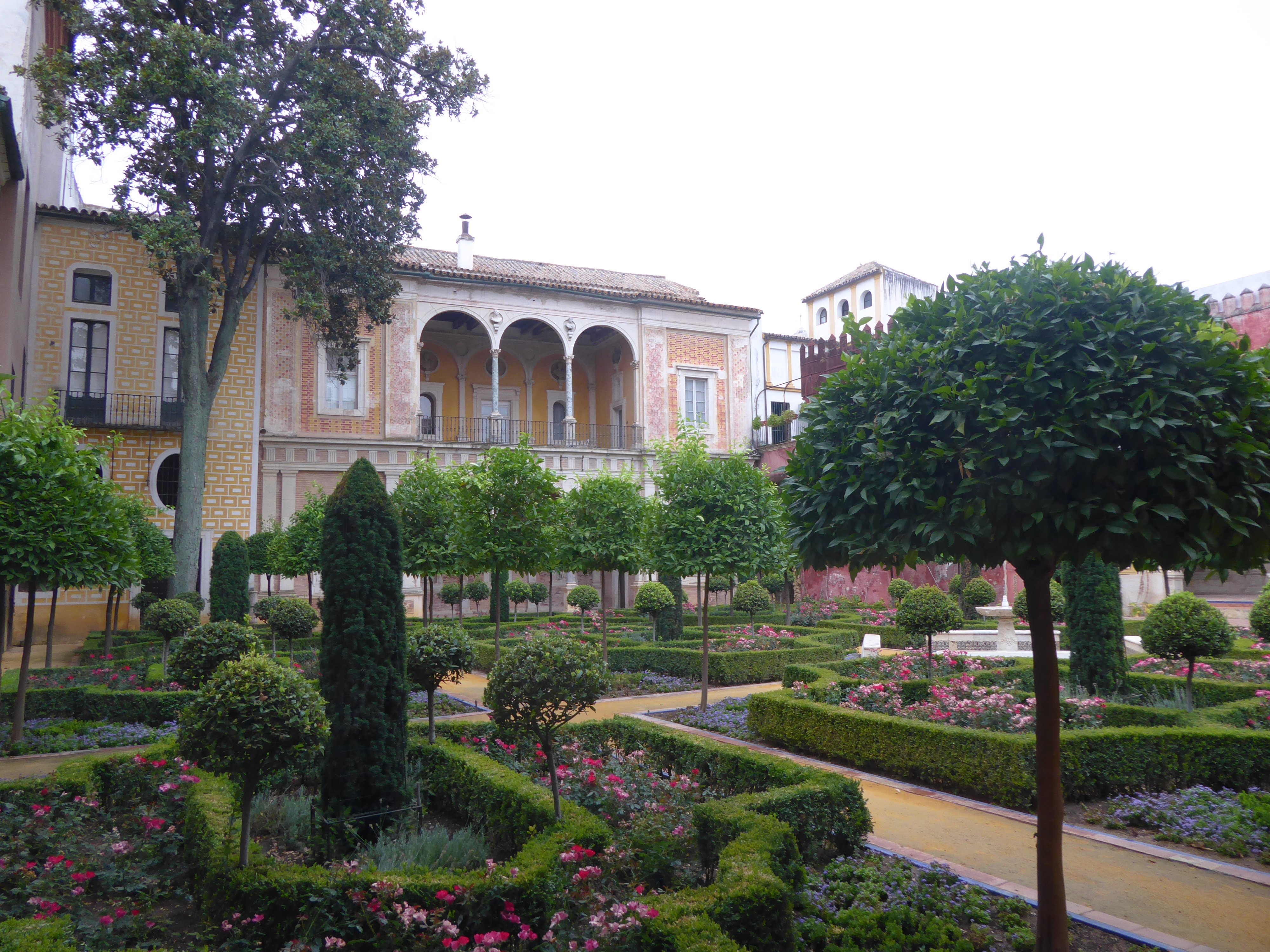 I really enjoyed this visit for a few reasons, not only because it was less busy but everything inside the stories and gardens.  Tucked snugly away from the hustle and bustle of the city I think this palace is epitomises the Seville experience……great place!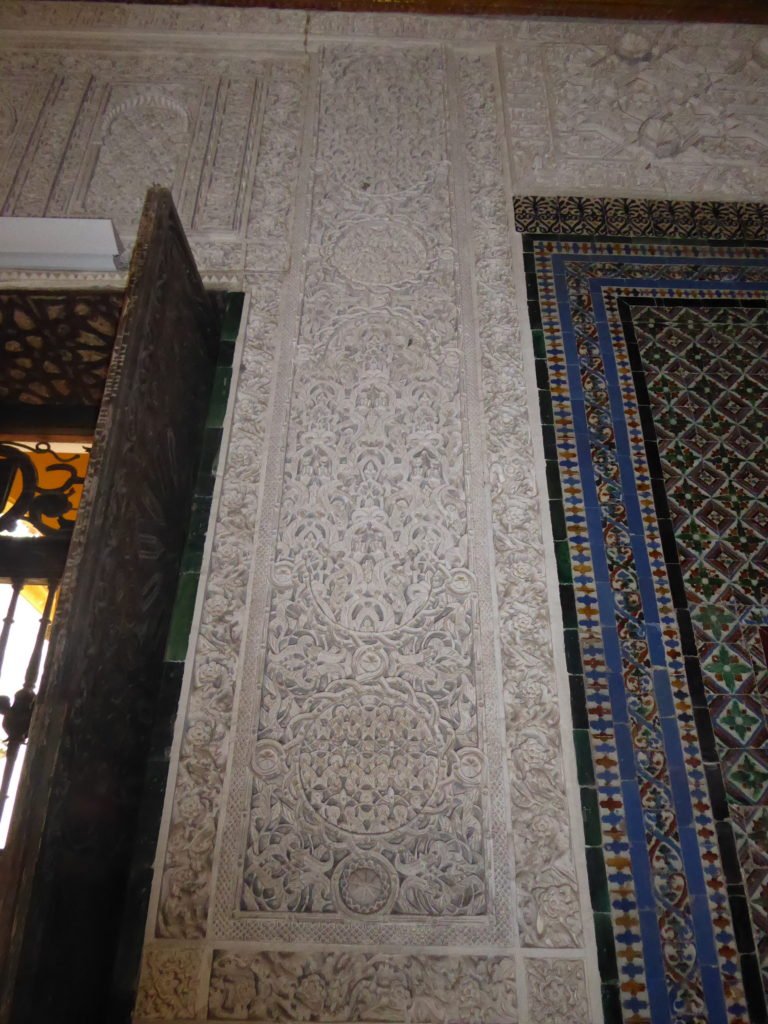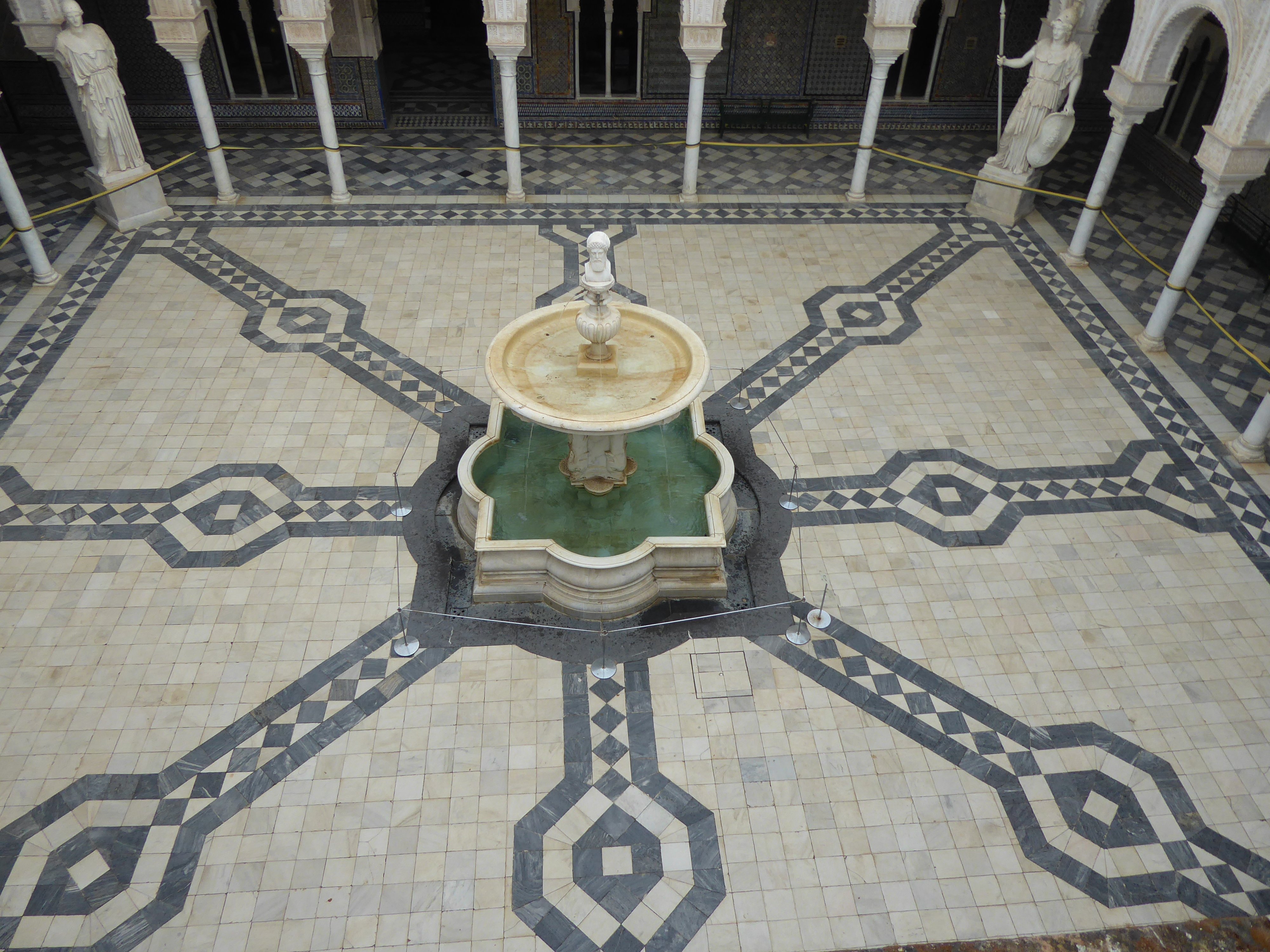 Next stop, Cordoba, on the Renfe train it takes 40 minutes and about 140km away.
In case you missed them, here is part 1 and two of my time in Seville: